Refresh your wardrobe with unique jewelry from five outstanding Etsy sellers.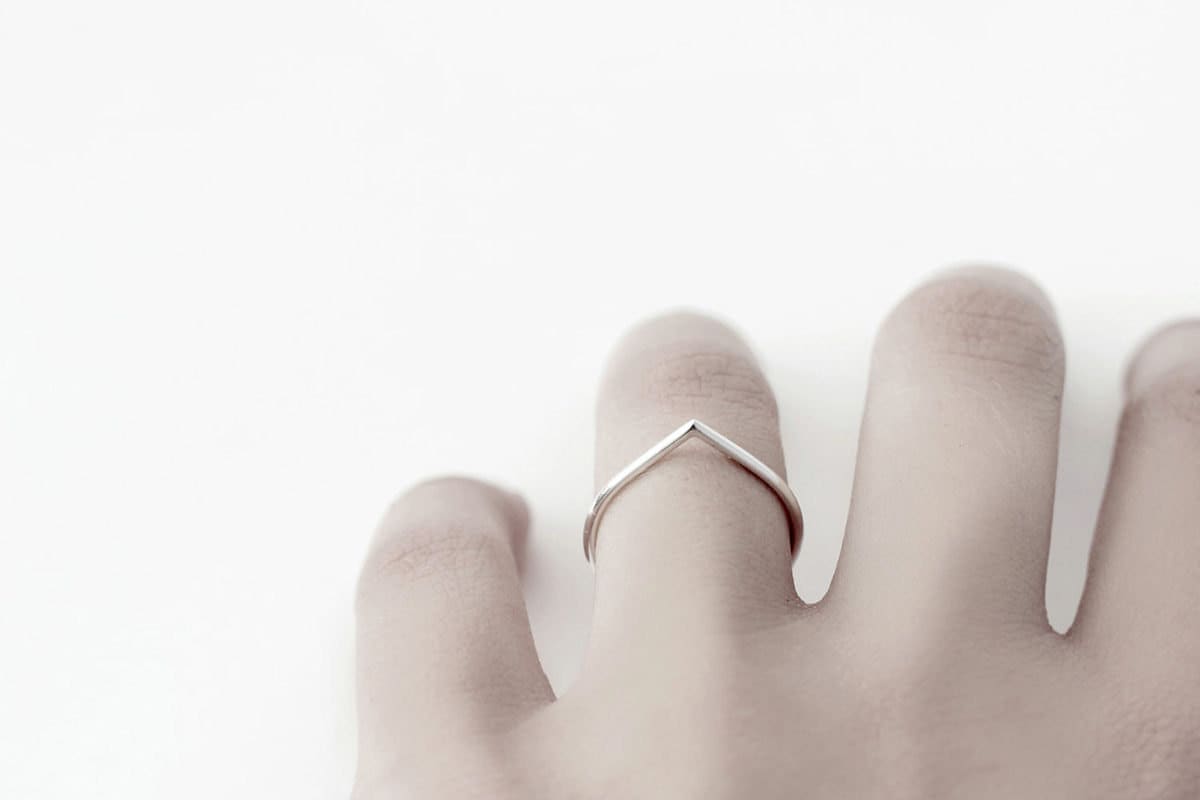 Many of us claim a signature piece of jewelry — be it a sentimental souvenir, a personalized present, or an investment piece purchased to honor a major milestone in life — that's close to our hearts (or our fingertips) almost every day. But that doesn't mean we can't mix up our jewelry game once in a while, perhaps with a whimsical wild-card piece to brighten a gloomy morning or an edgy accessory that lends us a little extra toughness when we need it most. Whatever kind of jolt your daily dressing routine could use, there's a designer on Etsy creating something beautiful, enchanting, or completely unexpected to fit the bill. If you're due for a wardrobe update — or even in the market for a new signature piece — start here.
Wrapped wonders from Beata Te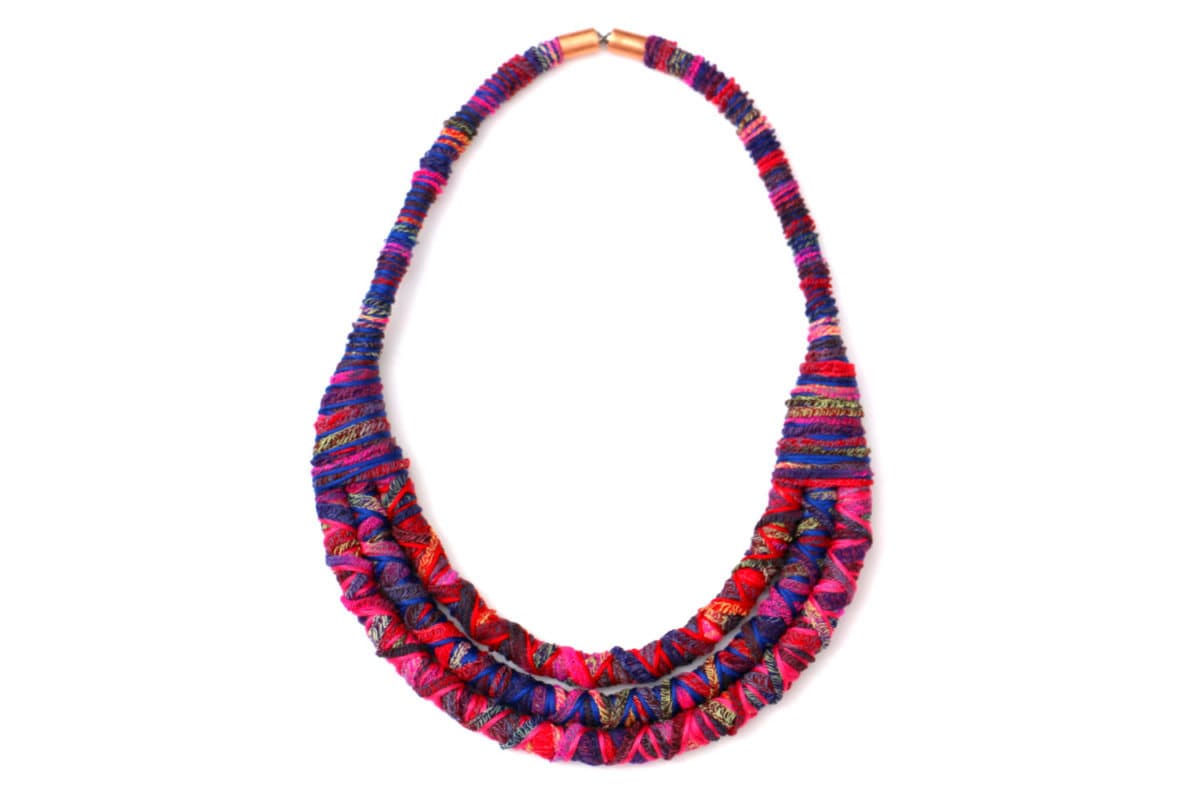 Wrapped bib necklace
; $80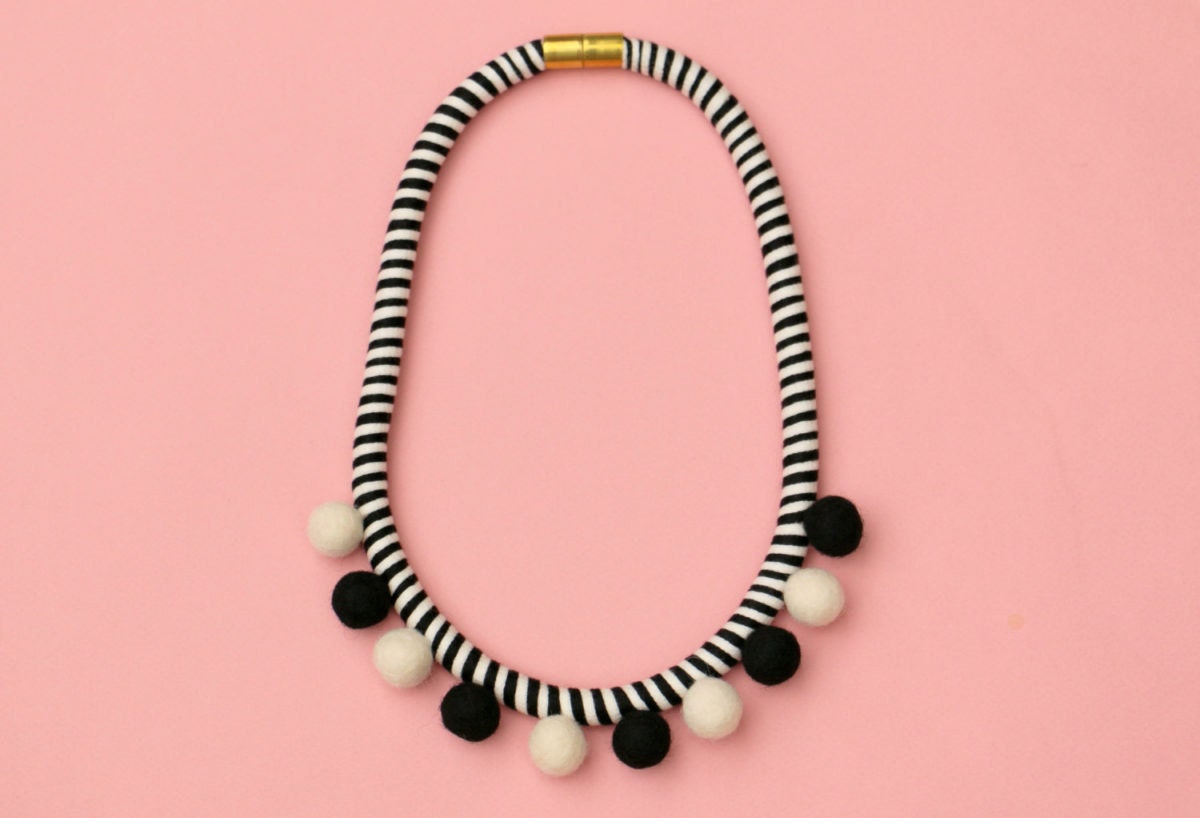 Black and white pompom necklace
; $64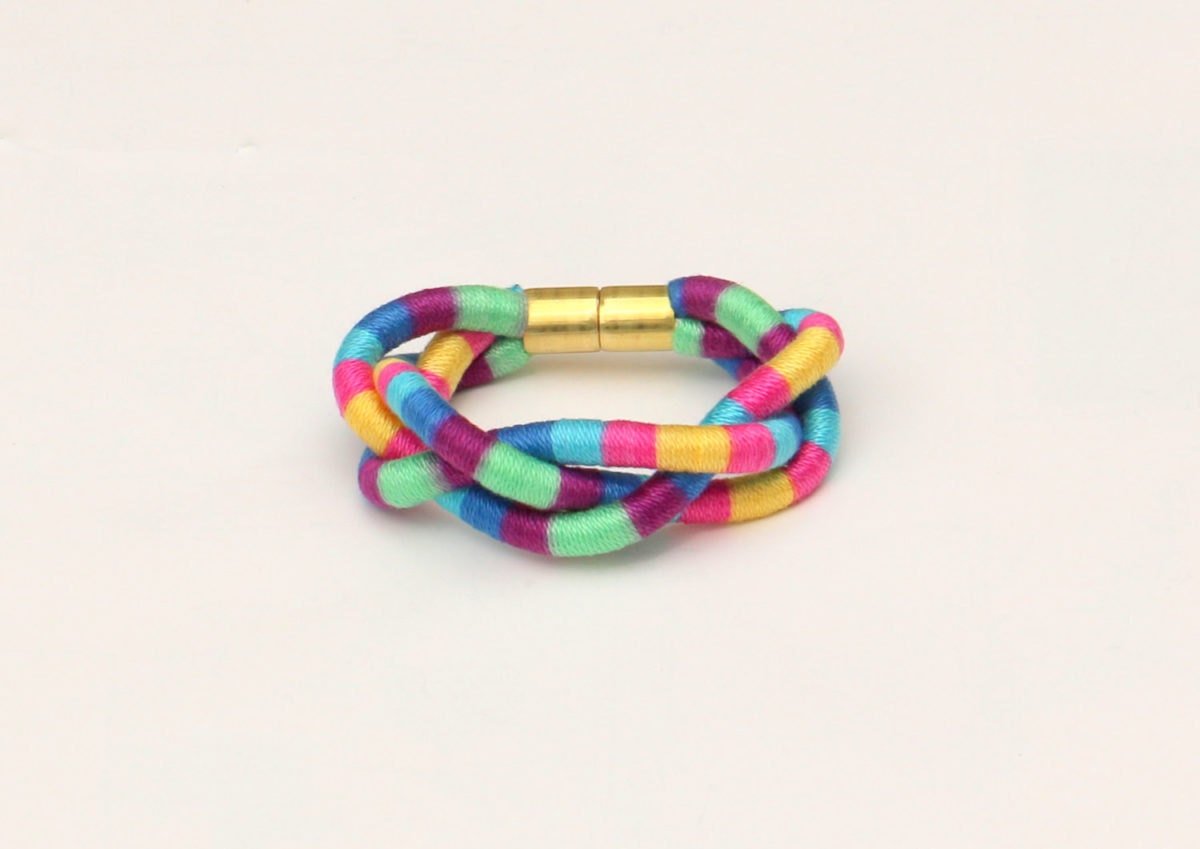 Braided rope bracelet
; $46
While the name for Bonnie Beata's handcrafted line of wrapped-rope jewelry riffs on an Italian phrase that translates as "lucky you!" (and of course, her own surname), it was a lot more than luck that won Bonnie the Community's Choice prize in 2015's
Etsy Design Awards
for Germany and Austria. Instead, you can chalk that up to her playful use of bright textiles — combined in ways that evoke everything from prim midcentury femininity to '70s glam to contemporary color-blocking — and to her dedication to quality in every detail. Here's proof: when the Bonn, Germany-based designer couldn't find a clasp that lived up to her standards, she decided to develop her own custom closures from scratch. Don't miss the newest additions to her collection, a series of date night–ready pieces rendered in black, white, and brass.
Minimalist metals from Mirta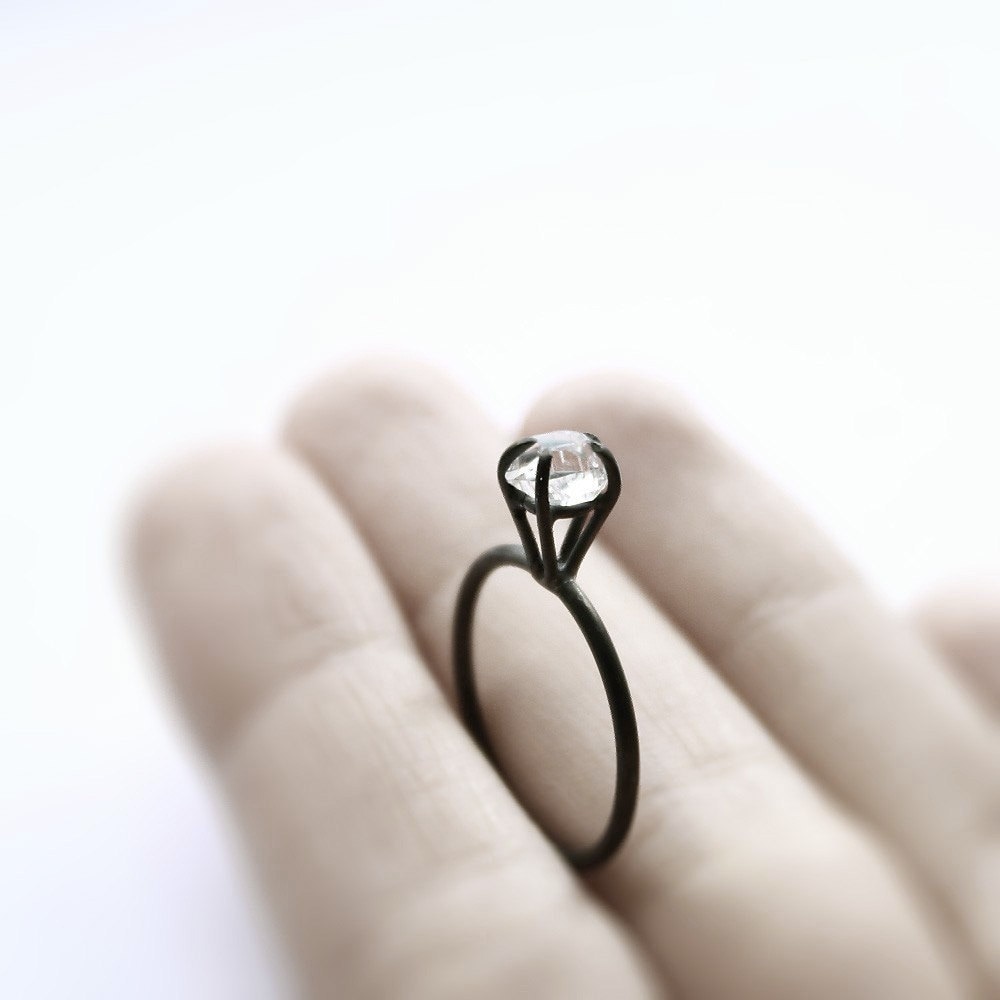 Herkimer diamond and sterling silver ring
; $120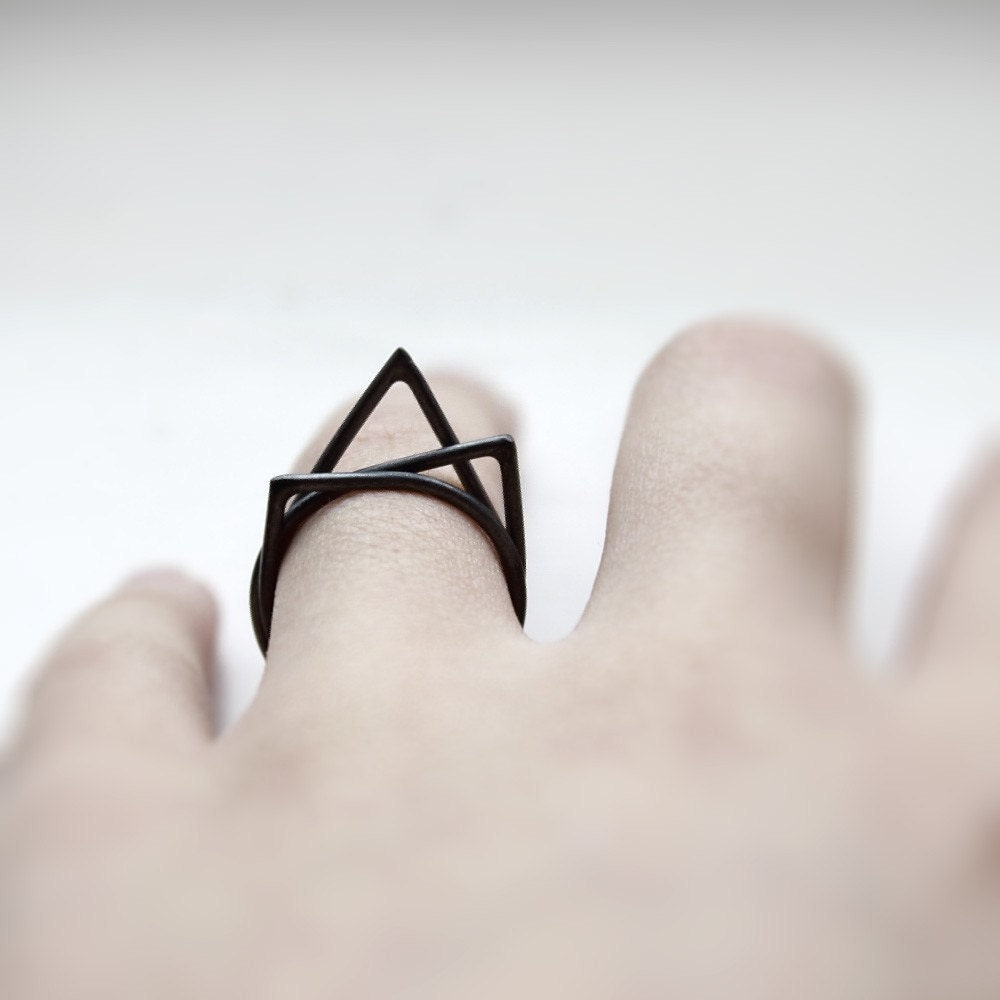 Oxidized sterling silver stacking rings
; $100 for three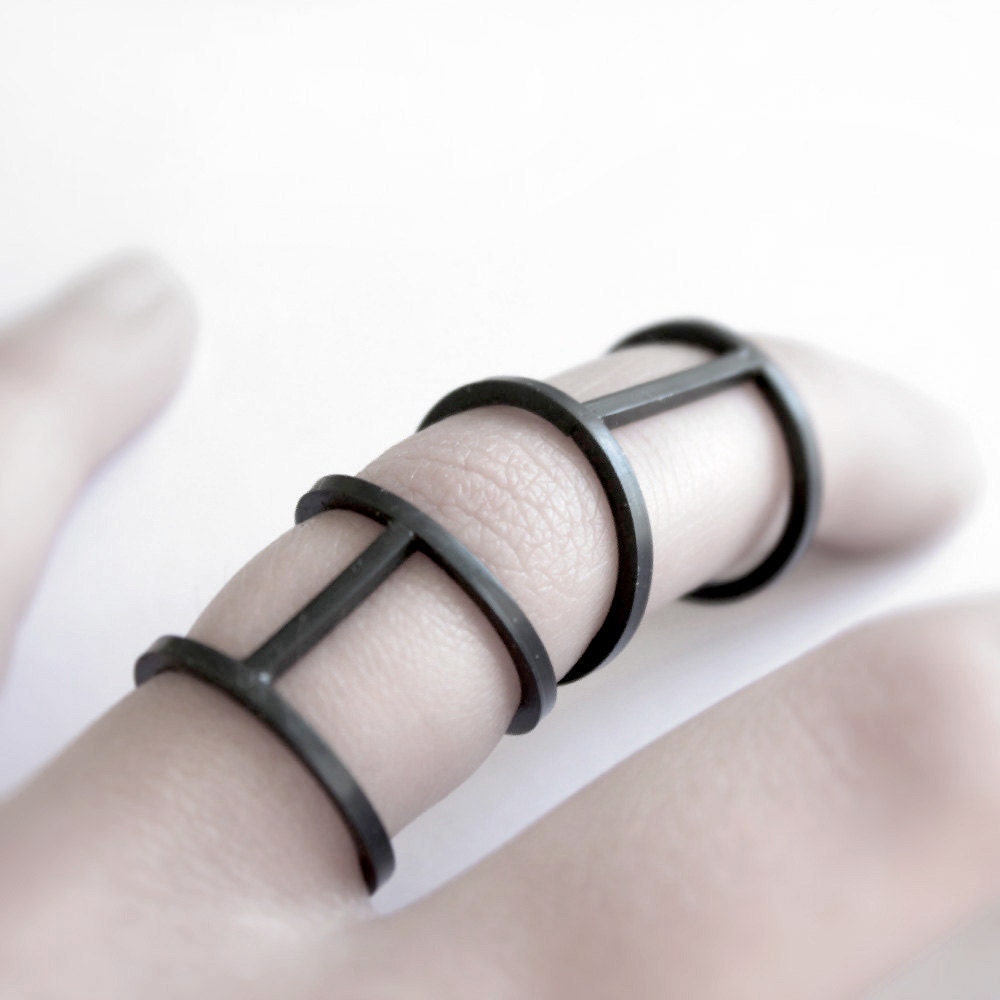 Oxidized sterling silver joint ring
; $170
Working from her studio in Zagreb, Croatia, architect-turned-metalsmith Andrea Simic of Mirta Jewelry does masterful, minimalist things with satin-finish sterling and polished gold, no doubt. But it's Andrea's oxidized sterling silver pieces that first caught — and kept — our attention: They're like pen-and-ink drawings come to life! Another particularly impressive feat? The way the designer manages to stretch a limited palette of materials to deliver such a diverse range of aesthetics, turning out
delicate, branch-like bracelets
;
tough, spiky ear cuffs
; and
chunky, azurite cocktail rings
with equal aplomb.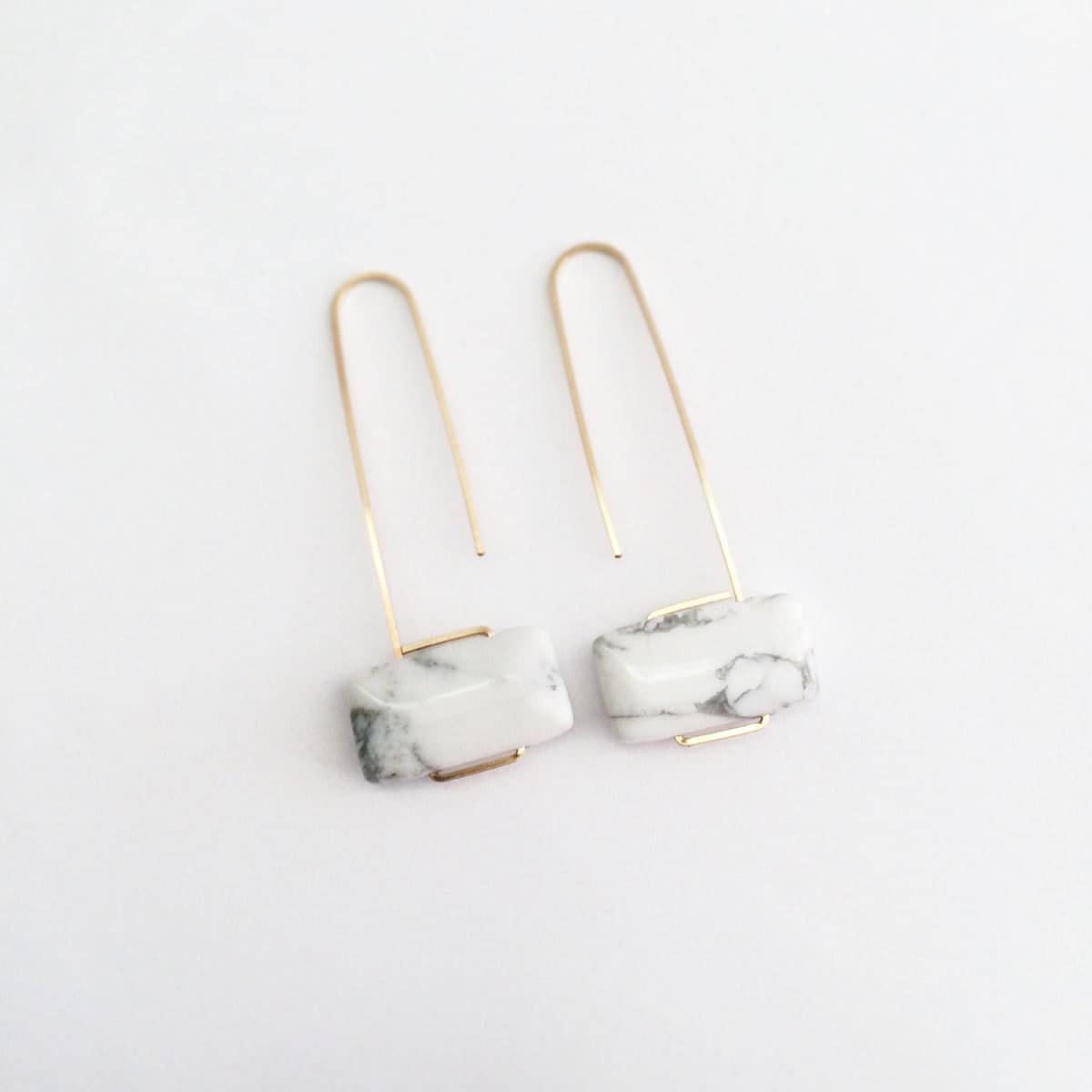 White howlite earrings
; $32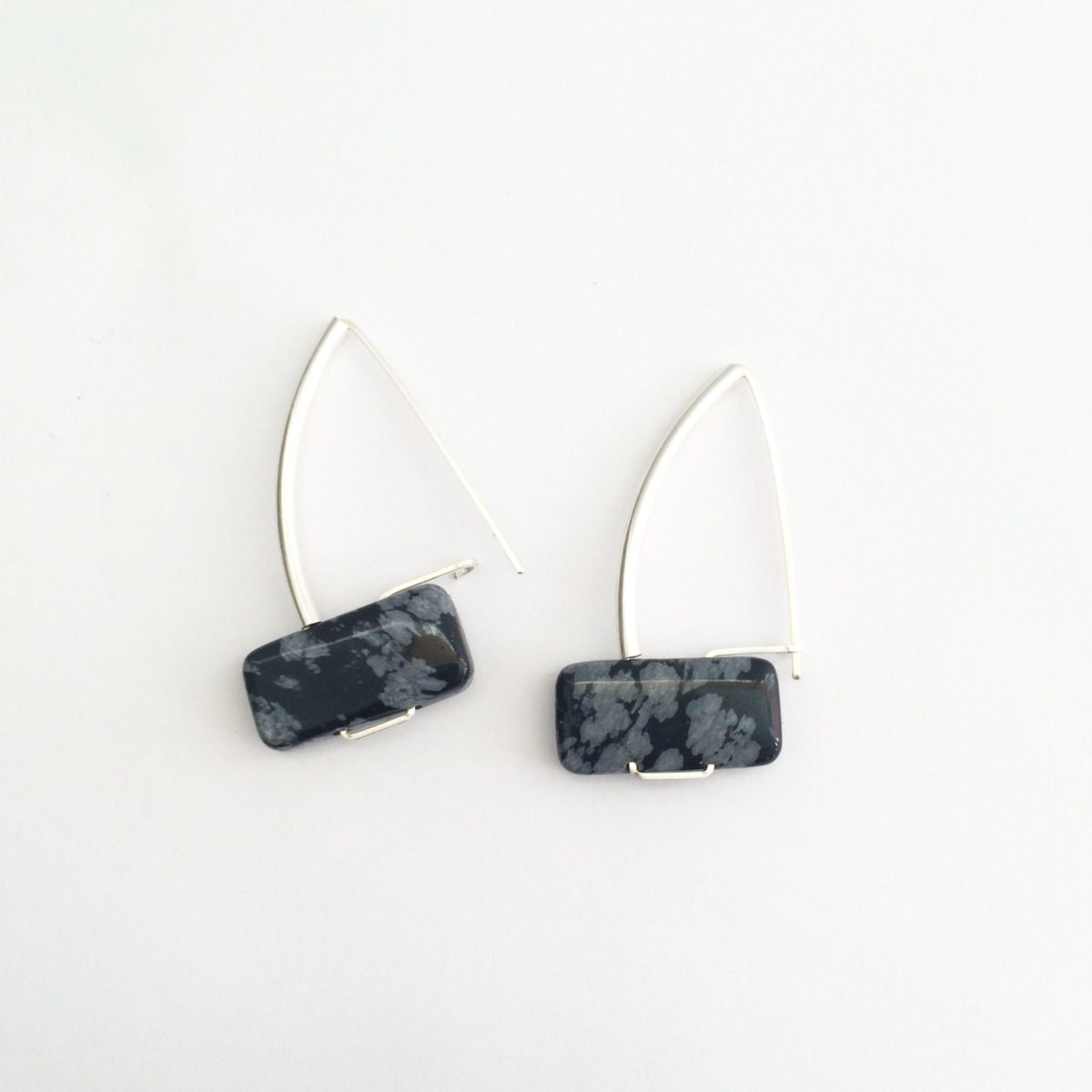 Snowflake obsidian earrings
; $36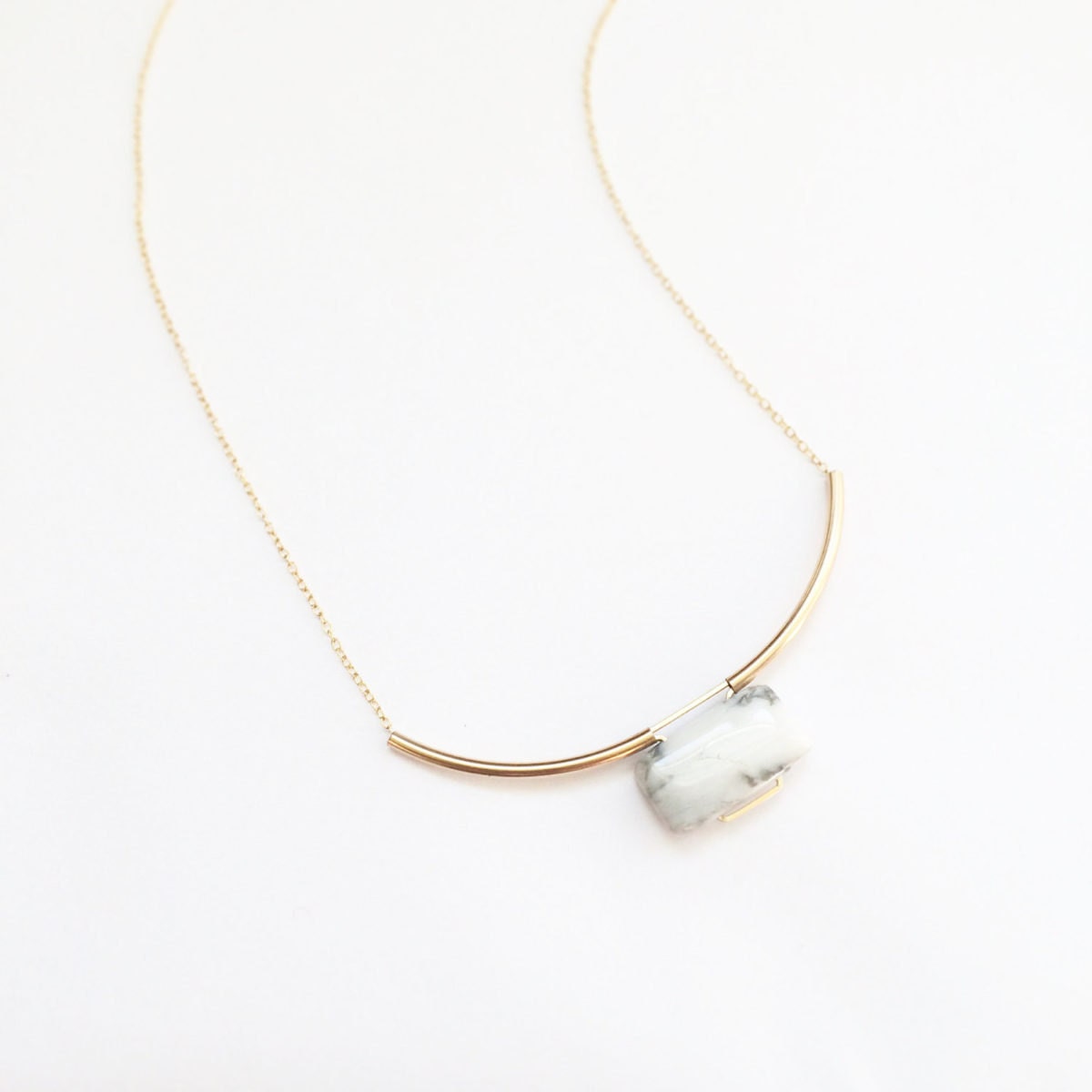 White marble howlite necklace
; $56
It's more than just the clean lines, simple shapes, and focus on quality materials that convey Seattle jewelry maker Shayest's admiration for design on a larger scale: In fact, she's even named the styles in her "visually concise" line of slender drop earrings and semi-structured necklaces for her favorite artists, architects, and industrial designers, from Ludwig Mies van der Rohe to Marcel Breuer. The tightly restricted range of utterly unfussy settings lets Morning Ritual's block- and pillow-cut stones — from onyx, obsidian and malachite to howlite, lapis, and jasper — take their rightful place in the spotlight.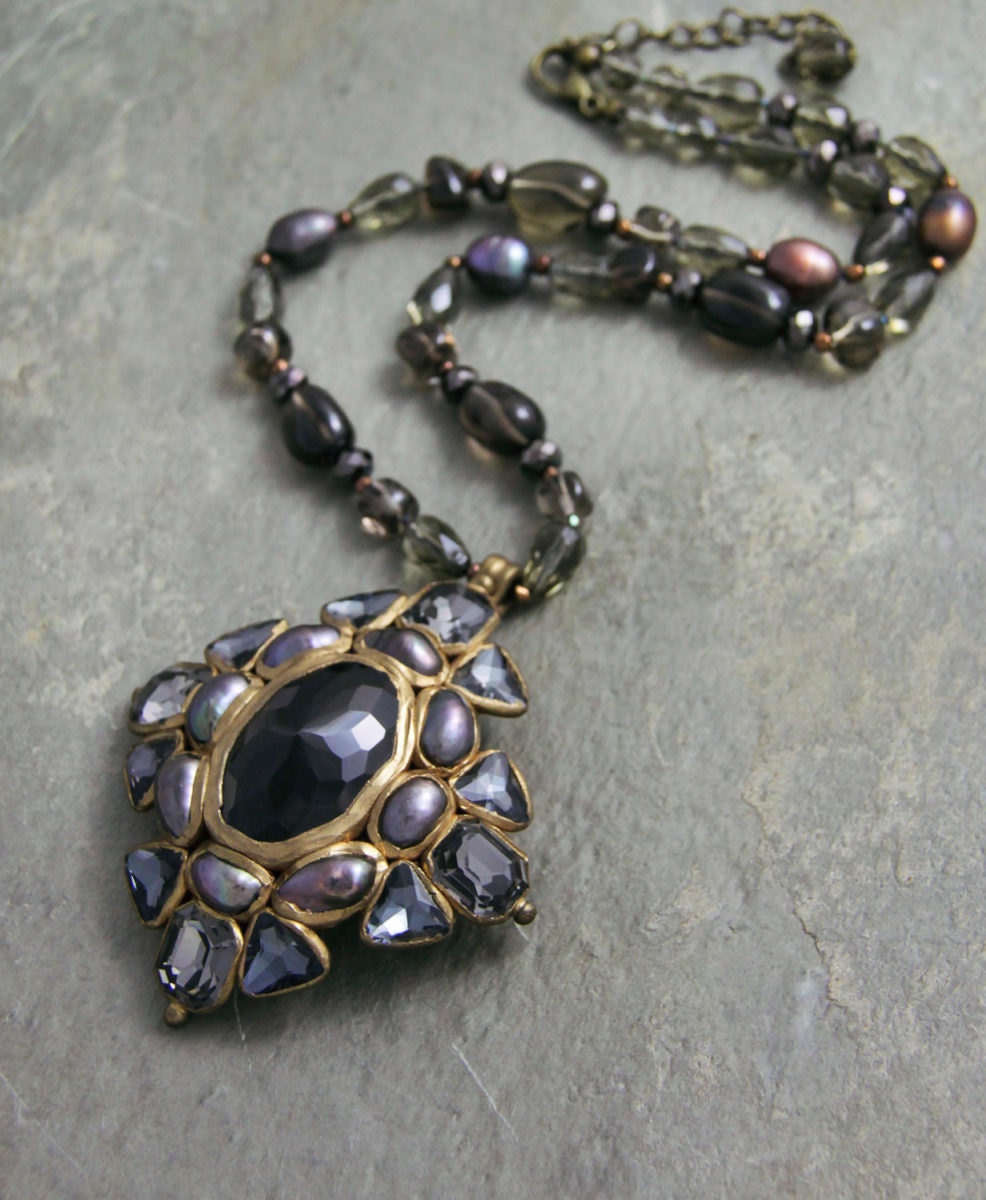 Smoky quartz cross pendant
; $145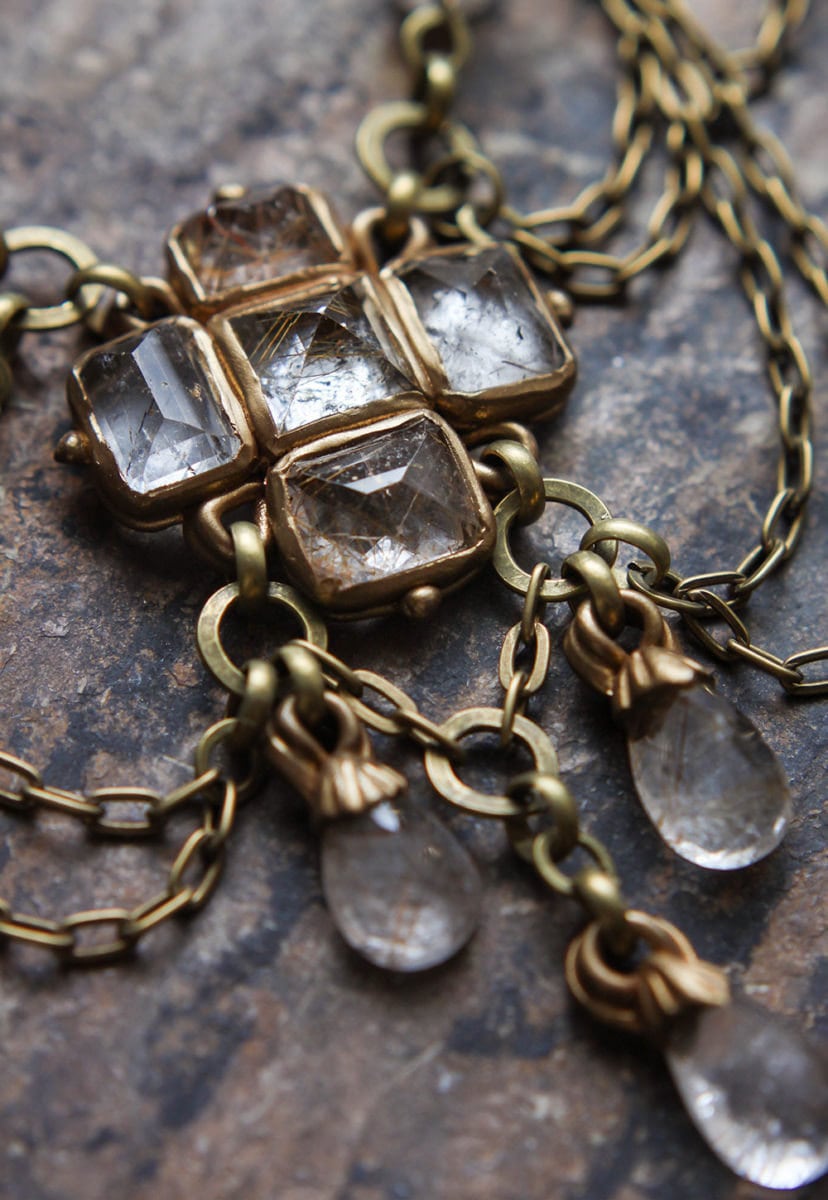 Rutilated quartz necklace with chain swags
; $265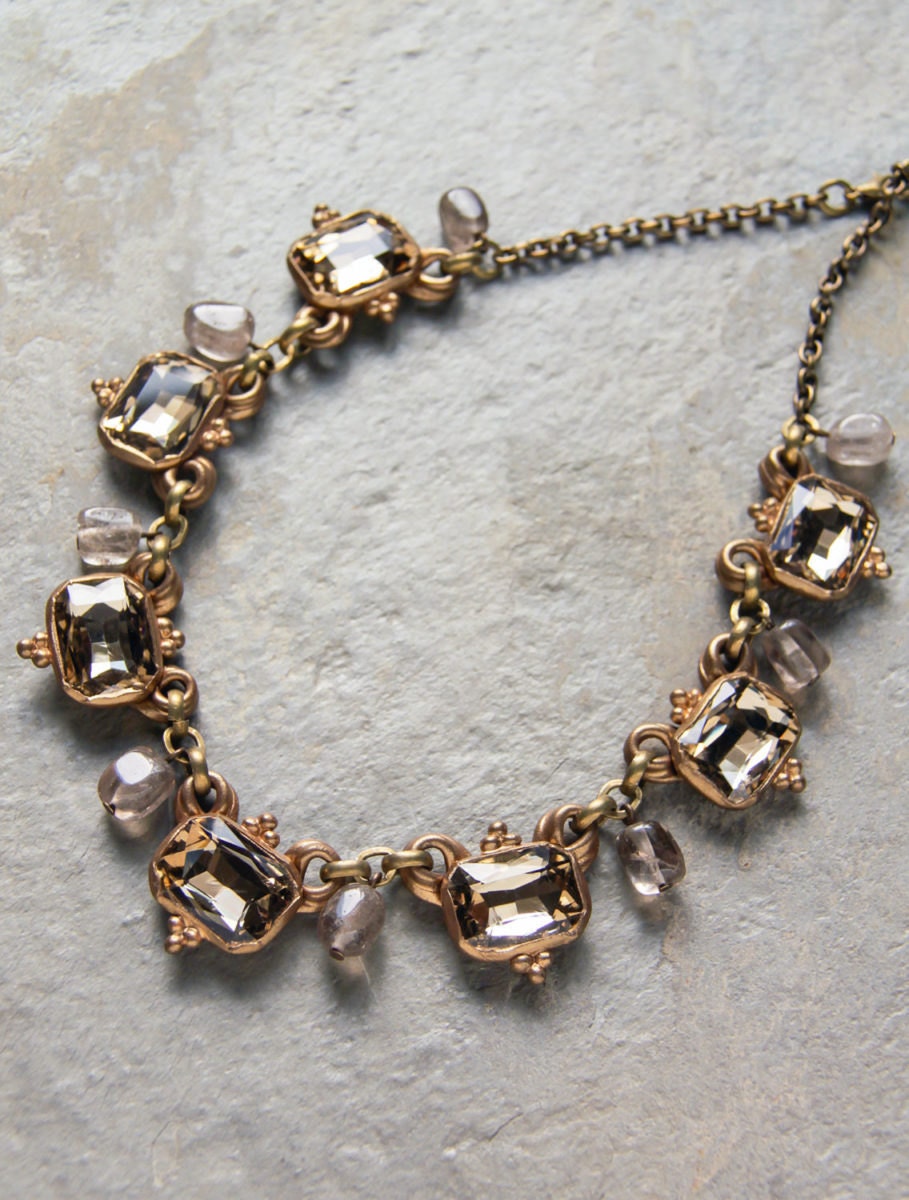 Crystal and quartz choker
; $110
Like a modern-day crafts-aisle alchemist, Kotomi Yamamura of Kotomi Creations has conjured her own improbable recipe for making ornate statement jewelry with old-world, heirloom appeal — from some truly humble materials. To produce her price-conscious line of "historical decorative" adornments, the London-based designer combines antiqued-metal chains, glass beads, semi-precious stones, and one not-so-secret (but oh-so-clever) ingredient: polymer clay, tinted with mica powder to produce an antiqued-gold look, which she uses for all of her settings. Magic!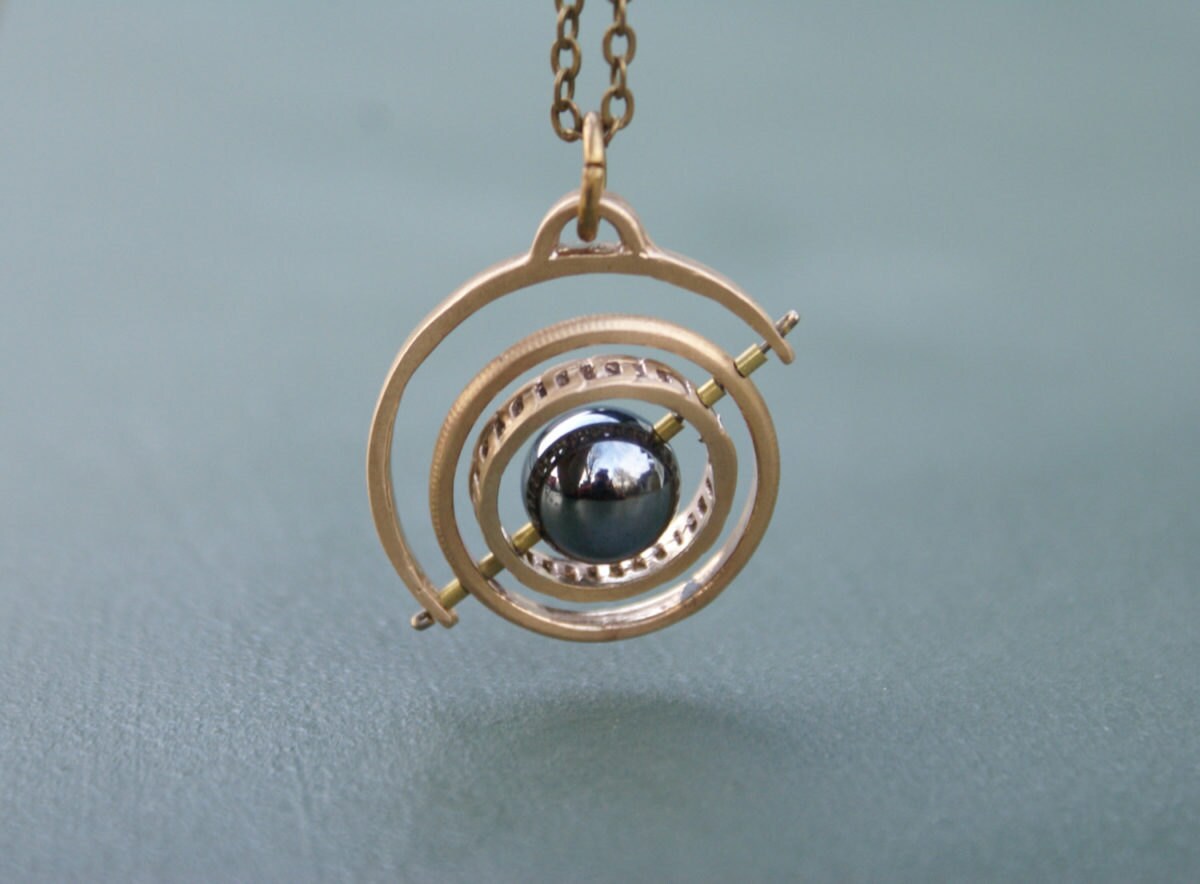 Bronze and hematite spinning pendant
; $94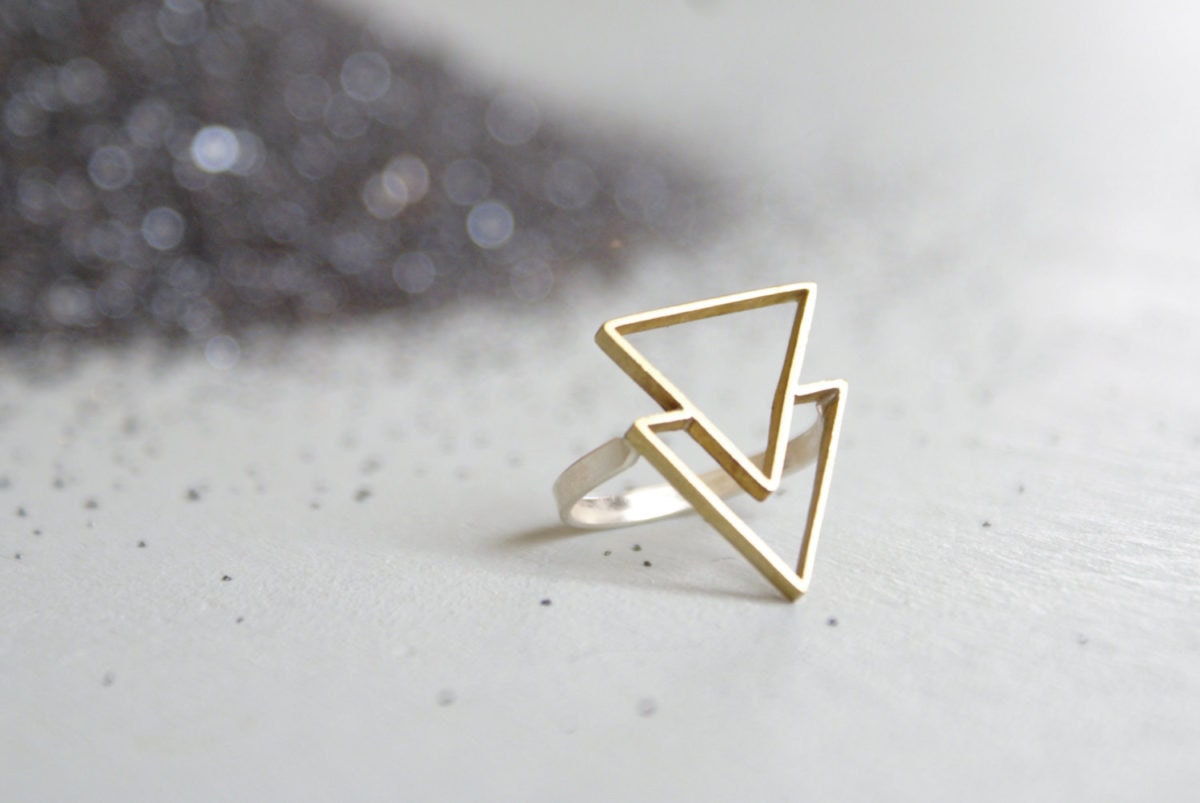 Brass and sterling silver double triangle ring
; $64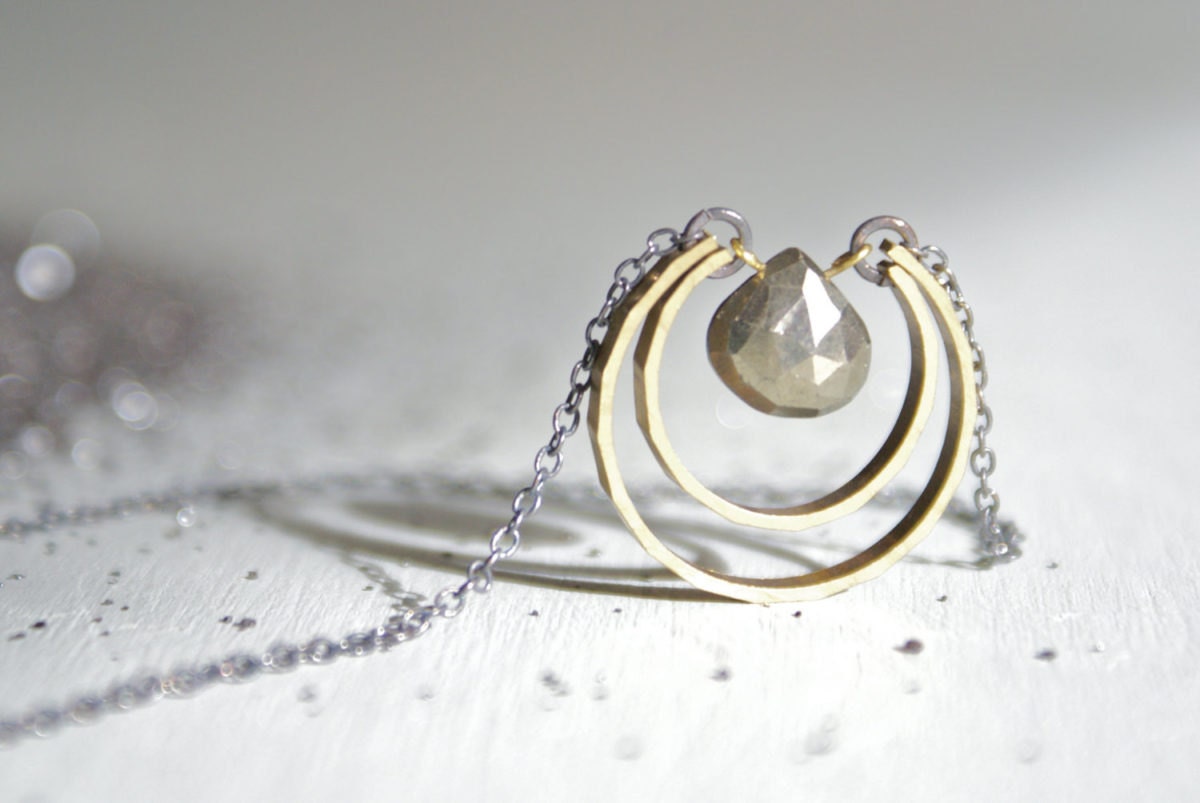 Sterling silver, pyrite, and brass pendant
; $52
From gyroscope-inspired spinner pendants to a capsule necklace that conceals a rolled-up note, there's more to Betty Yates's designs than meets the eye. The Portland, Oregon-based maker first dabbled in jewelry design during a metalsmithing class her sophomore year of college, and now works on her line full time. The secret to her success? Following one simple rule: to always make pieces that she herself would reach for every single day. "If I'm excited to wear it, I know others will be too," she says.