by Valerie Rains
Browse and shop one-of-a-kind ornaments that put your signature style on display.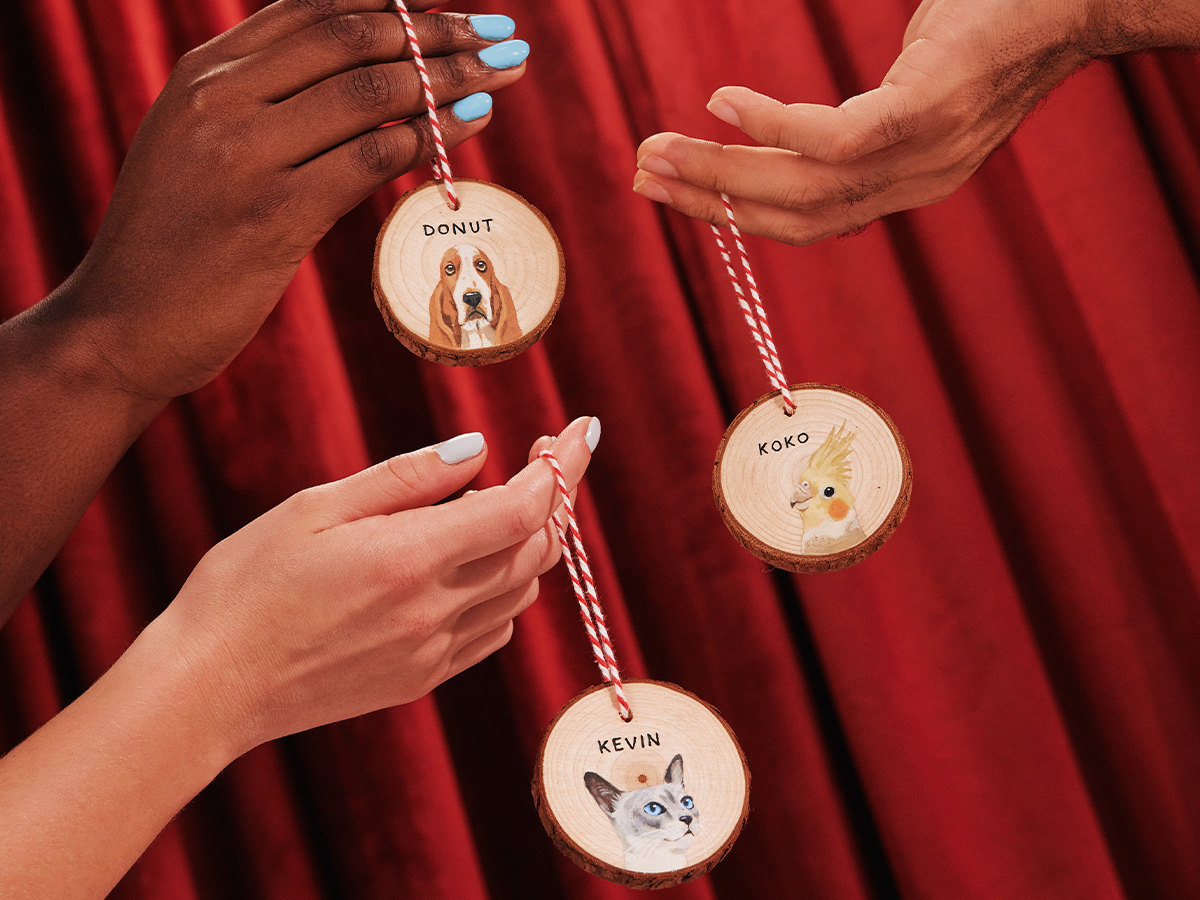 No piece of decor puts your personal stamp on the holidays quite like an ornament. In that magical moment when you first light up your tree, your lovingly arranged baubles at once reflect the unique Yuletide vibes of your household and illuminate all your most cherished milestones.
What's more, accumulating and exchanging new ornaments with your loved ones year after year can be a memory-making experience all on its own. So to help you make those additions even more sparkly, silly, or sentimental, we've combed through Etsy's extensive ornament offerings and put together a festive shopping guide, in the form of a jolly jingle (we couldn't resist). We hope it inspires you to build your own very merry assortment this season.
Something old...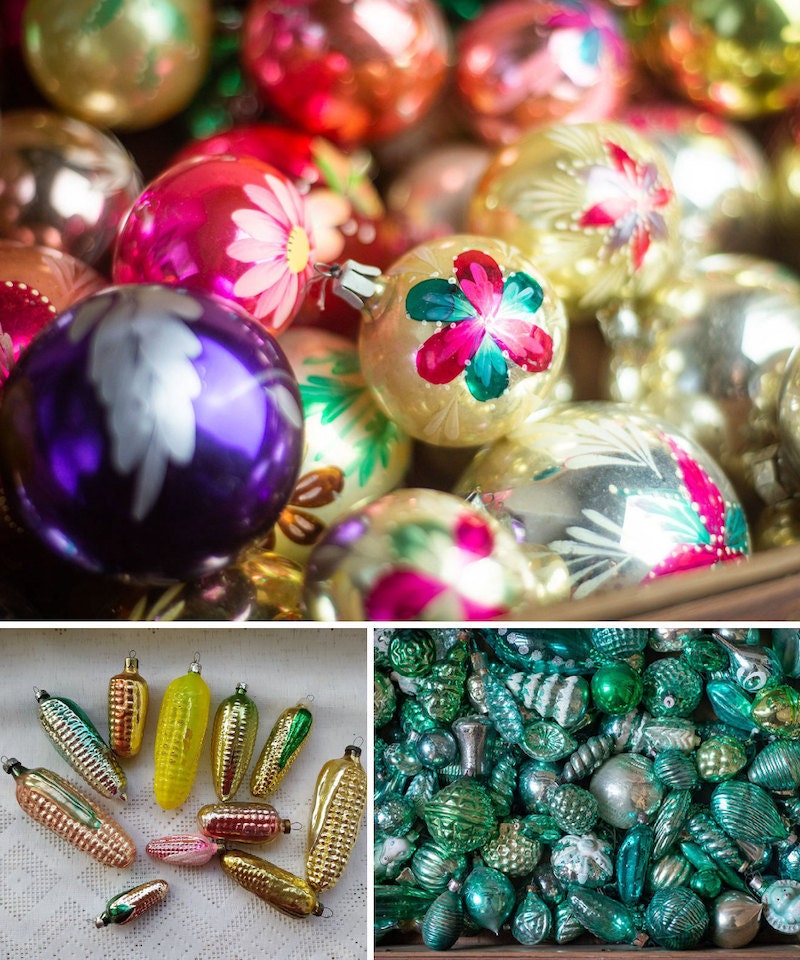 SHOP (clockwise from top left): Custom set of vintage ornaments from Grannysbox, $45; set of green glass ornaments from Grannysbox, $46 for six; vintage corn ornaments from Old Box, from $5
Something new...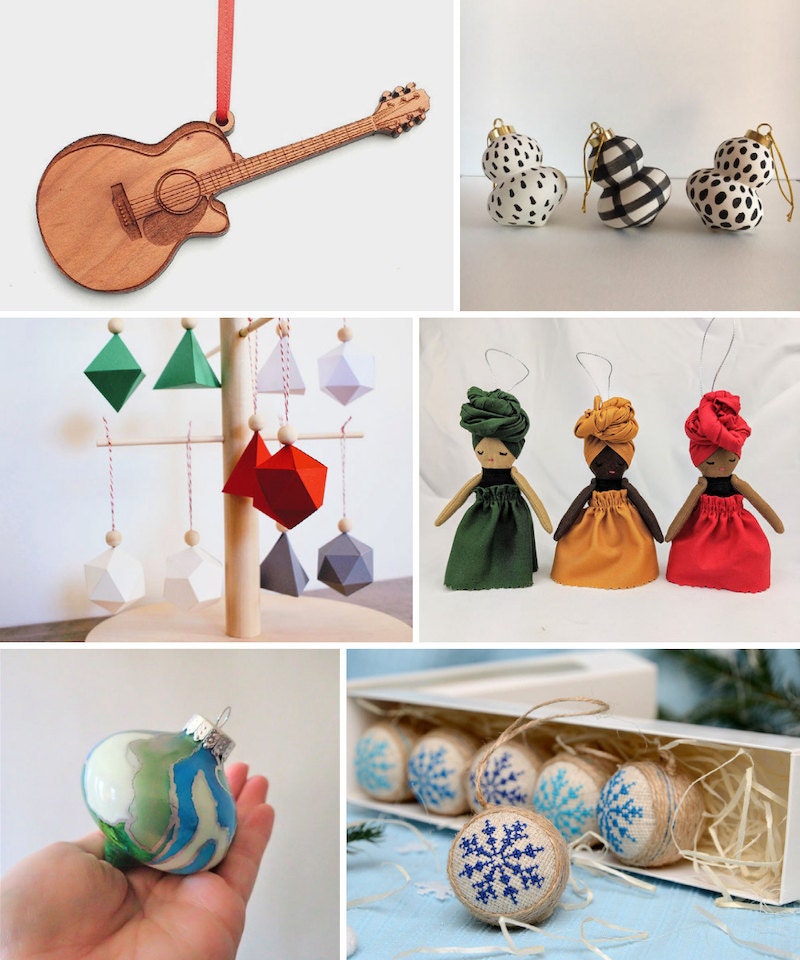 SHOP (clockwise from top left): Wood guitar ornament from Nestled Pine Woodworks, $11; set of three modern black and white ornaments from Charisas, $39; set of three doll ornaments from The Sewinista, $30; set of six embroidered snowflake ornaments from Sunny Flowery, $50; painted abstract blue and green ornament from Schemata, $29; geometric paper ornaments from Occasional Papercraft, $12
Something to add to your holiday zoo…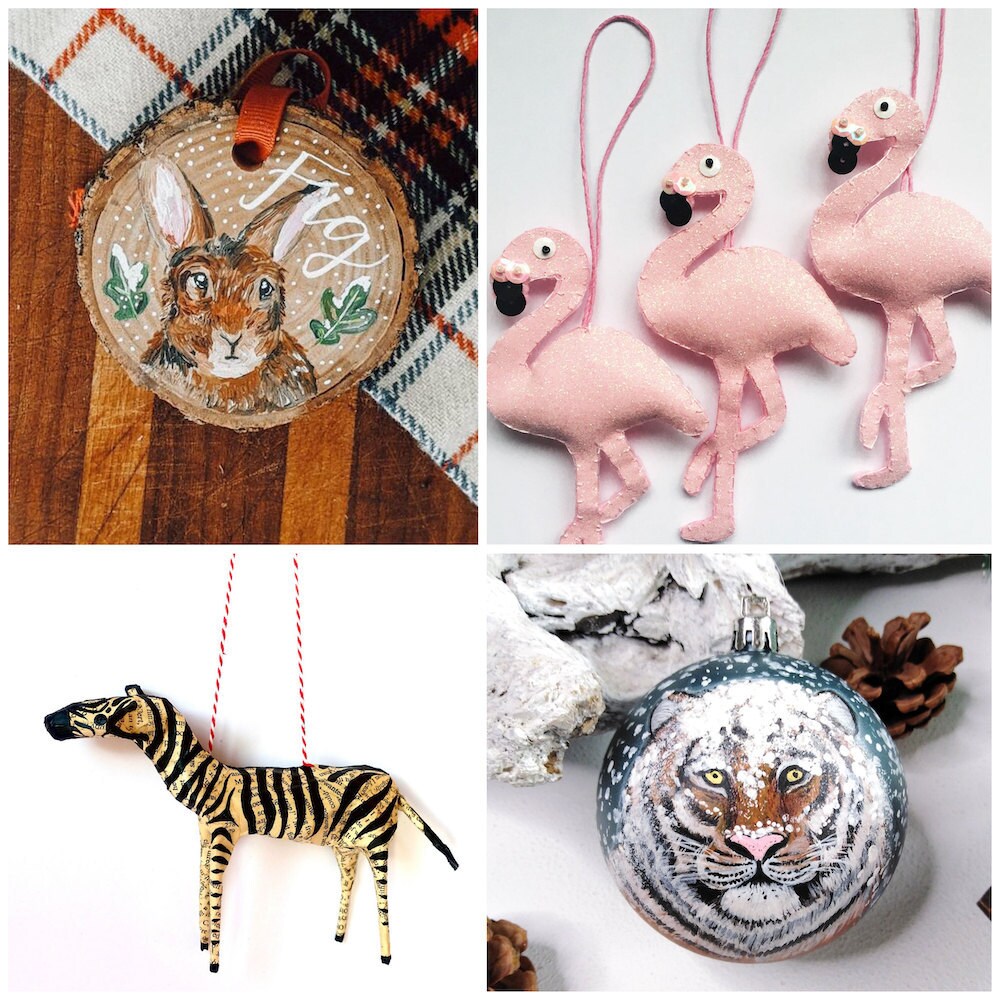 SHOP (clockwise from top left): Personalized pet ornament from CiaraSpurlingDesign, $50; glitter flamingo ornaments from TextilesByBecca, $11; hand-painted tiger ornament from NastyaMagicThings, from $42; papier-mache zebra ornament from Paper Pine Tree, $54
Ornaments that sparkle and gleam in the light...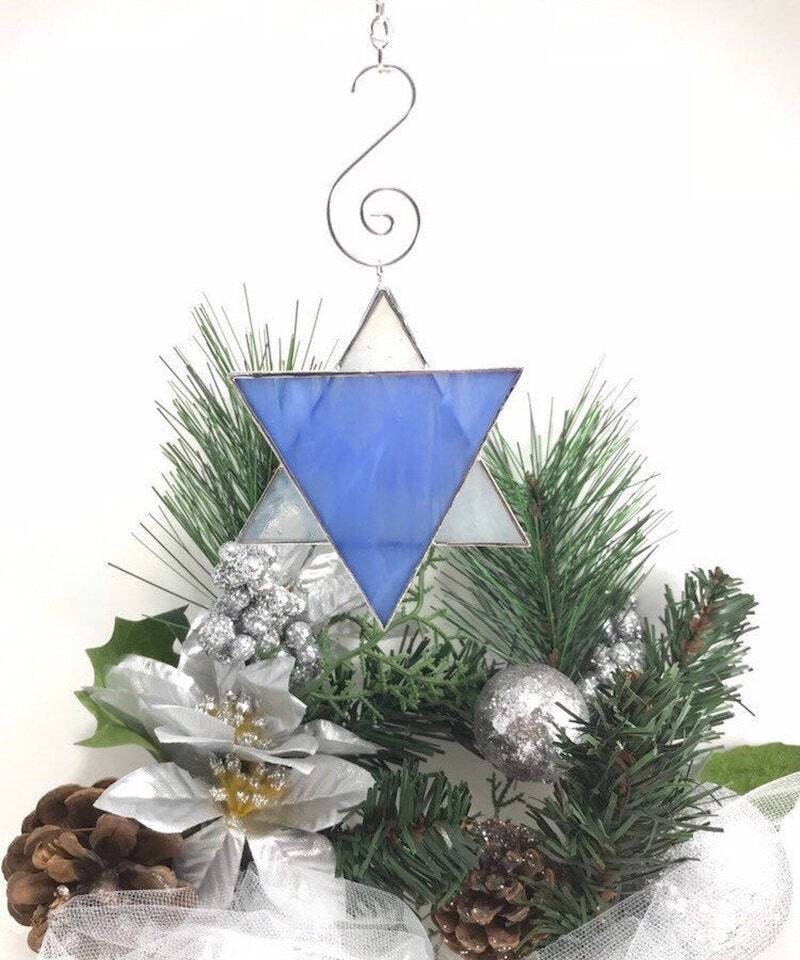 SHOP: Stained glass Star of David ornament from Mom's Glasshouse, $16
Ornaments jewel-toned, pastel, or bright!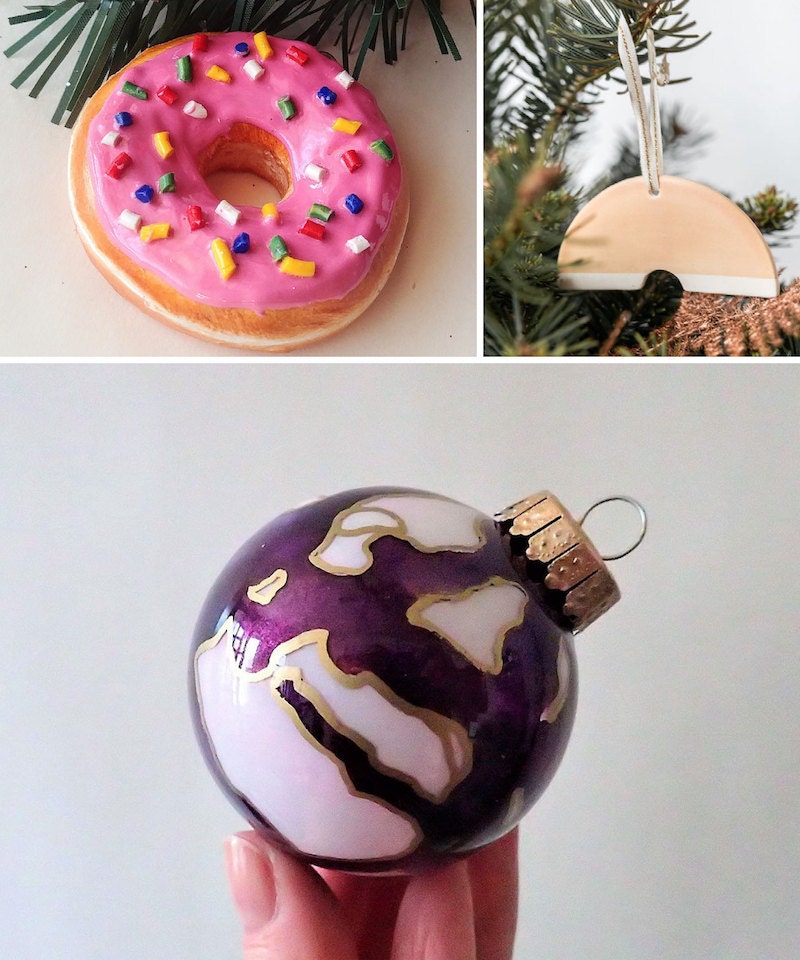 SHOP (clockwise from top left): Doughnut ornament from Malyn's Handmade, $30; pastel ceramic arch ornament from Hereafter, $25; hand-pained purple glass ornament from Schemata, $26
Ornaments that double as something to do...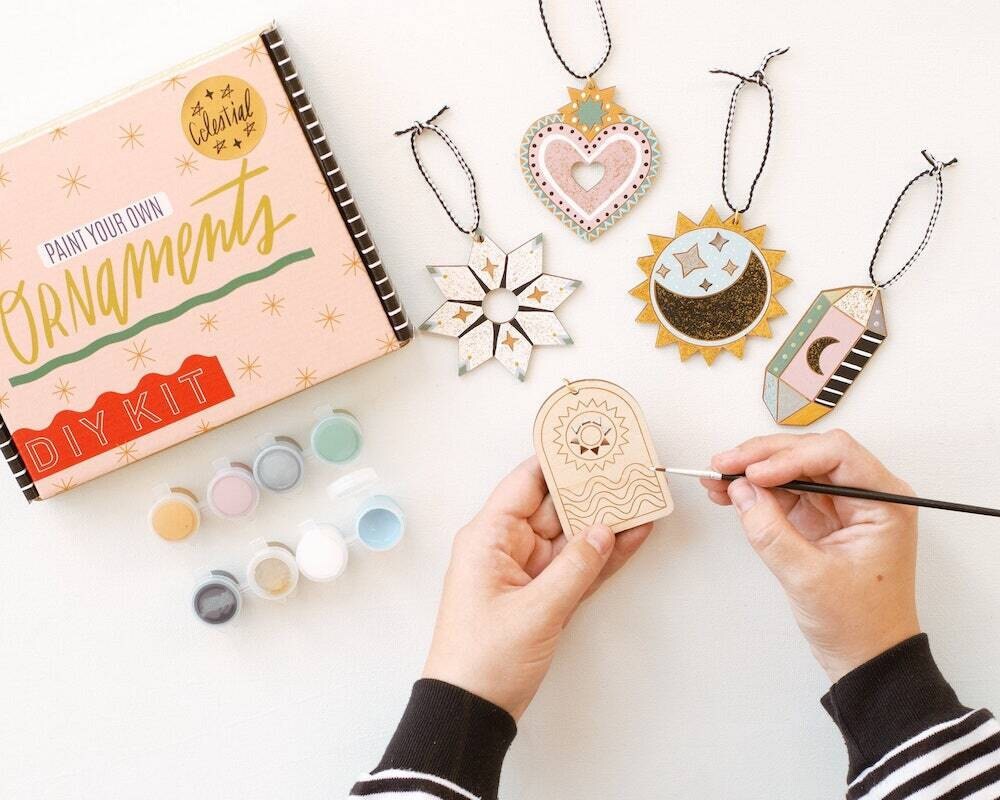 SHOP: DIY ornament painting kit from Jill Makes, $38
Ornaments that clearly were made just for you!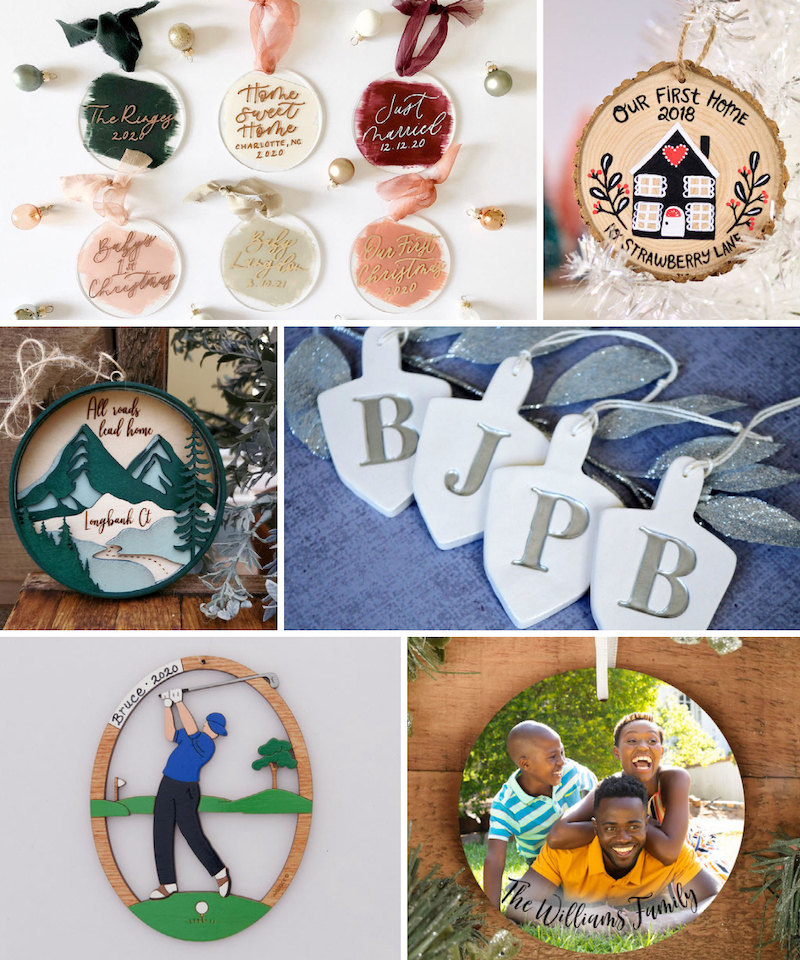 SHOP (clockwise from top left): Personalized painted acrylic ornaments from Alexis and Lynn, $25; personalized wood housewarming ornament from Emily Kinsella, $50; set of four personalized dreidel ornaments from Susabellas, from $55; personalized family portrait photo ornament from Pooky Noodles, from $14; personalized golf ornament from Wallace Wood Ornaments, $19; personalized 3D home ornament from Artisanal Joys, $15
Looking for even more ornament inspiration? Learn how to make nostalgic gingerbread-style salt dough ornaments in our original tutorial from Heather Baird of Sprinklebakes.