In the market for a little packing inspo? We polled our team for their personal packing checklists—and wow, did they deliver.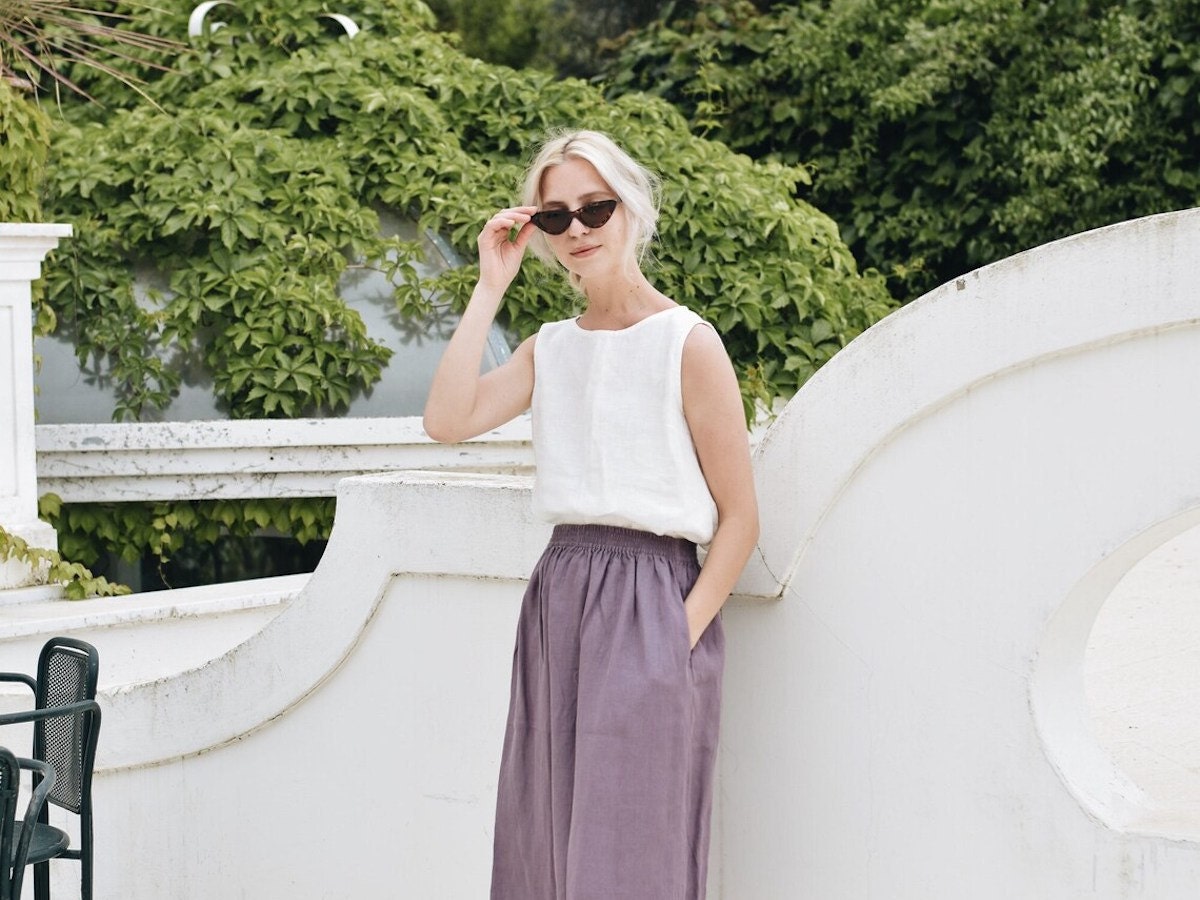 Pack your bags and put on that out of office: It's officially vacation season. Whether you're planning a big international adventure (can we tag along?) or a more local weekend excursion, the time has come for a little well-earned R & R. If it's been a minute since you've busted out the old trusty duffel bag and dusted off your travel accessories, you're not alone. But don't let that packing checklist stress you out! We asked our team to share the trip-saving travel finds they never leave home without, and when we say they pulled through—they really pulled through. From plane-friendly jumpsuits (with pockets, duh) and go-with-everything statement earrings to room sprays that make any space feel like home and sleeping masks to help you get the shut-eye you need, consider this your new list of must-pack finds, courtesy of Etsy's most wanderlust-fueled staffers. Bon voyage!
So, what's in our bags?
A versatile jumpsuit
Packed by: Isabella Diaz, Community Education Manager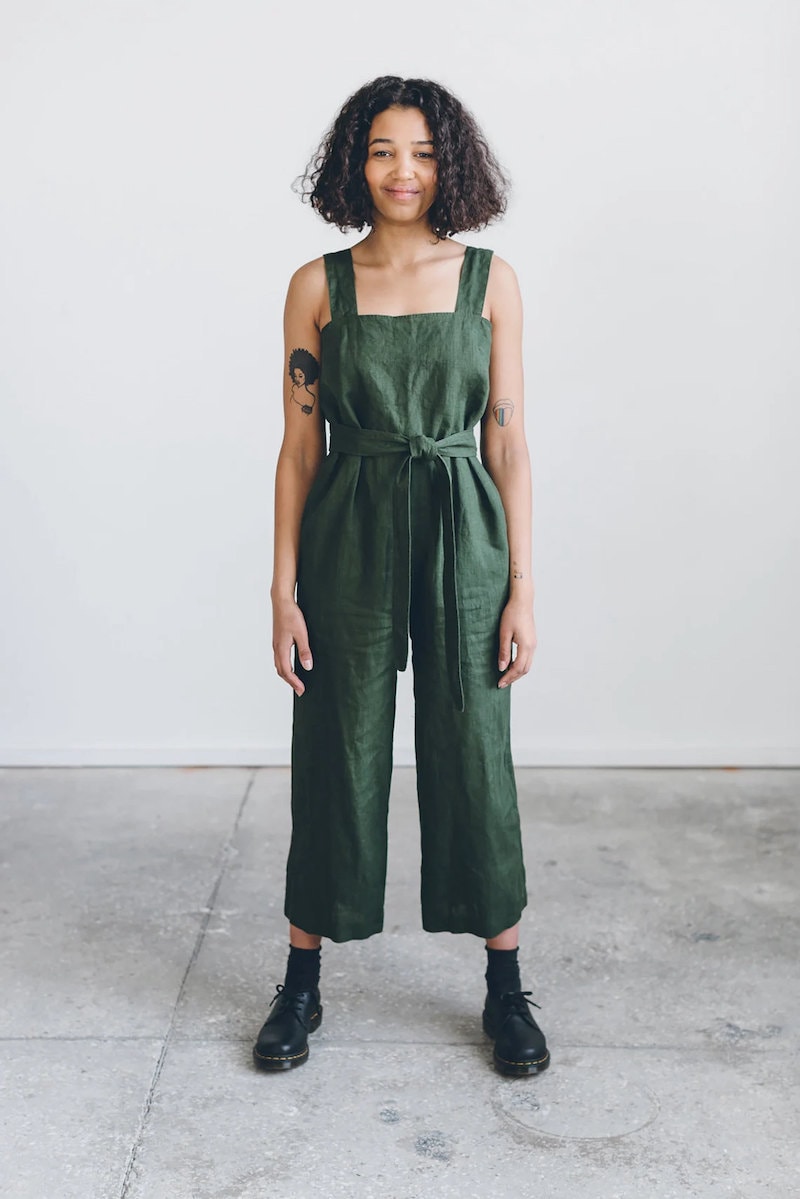 SHOP: Wide-leg linen jumpsuit from Linenfox, $92
Why Isabella loves it: "Jumpsuits have recently become my go-to outfit for traveling. They are typically a bit looser than other articles of clothing making them super comfortable on planes and trains. They can also be styled up to serve as a cute daytime or nighttime look once you get to your destination. Love a versatile piece! Bonus points if they have pockets—in this one I can fit my phone, wallet, passport, a lipstick, and a handful of dog treats (just in case my pup Pepper needs a snack while we're on the go!)."
A piece of fabric that does it all
Packed by: Yumi Lawlor, Legal Counsel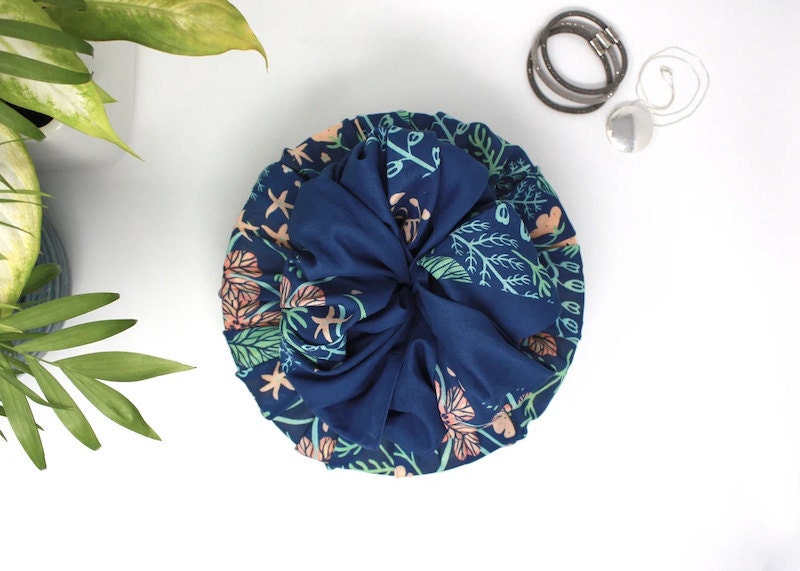 SHOP: Furoshiki fabric wrap from Kindly Yarn, $10
Why Yumi loves it: "I grew up with my family traveling back and forth with furoshiki- or bojagi-wrapped items in their luggage. Using Japanese furoshiki or Korean bojagi cloth today keeps me connected with my heritage while helping me be resourceful! I can pack without packing cubes, present gifts without one-time-use gift wrap, have a back-up scarf on hand for chilly moments, and fashion a make-shift bag for an unexpected purchase."
A handy notebook
Packed by: Larissa Tapler, Technical Support Manager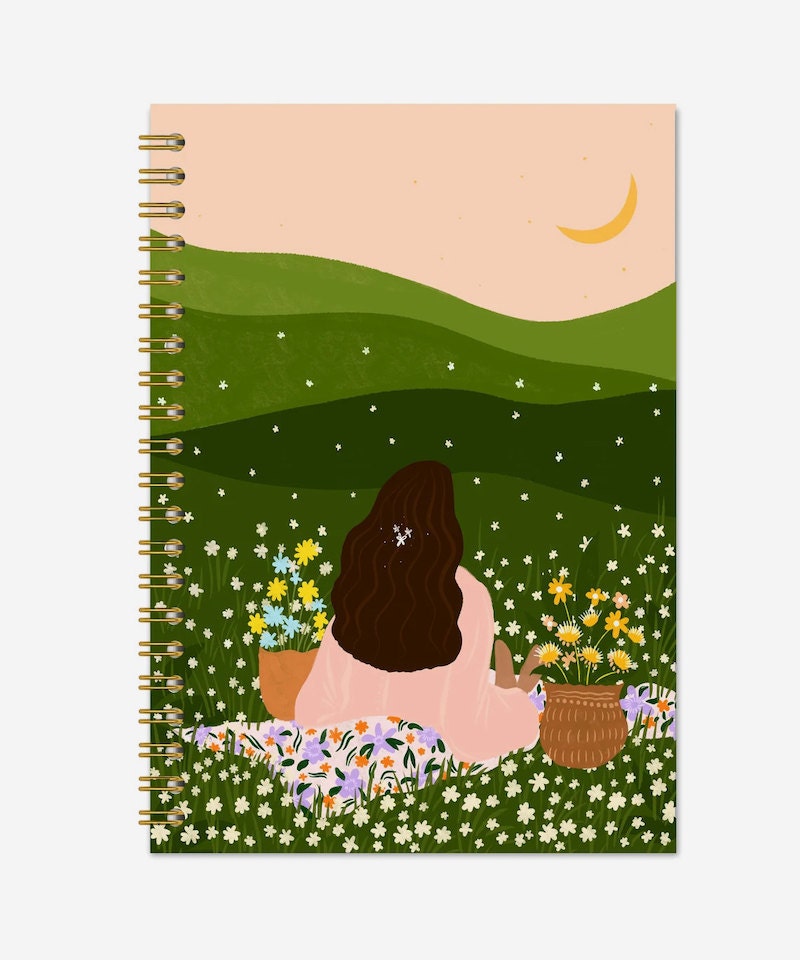 SHOP: Illustrated spiral notebook from Lunette by Parul, from $13
Why Larissa loves it: "I've learned the hard way that it's a very good idea to have all your travel details (flights, hotel, itinerary, emergency contacts, etc) in an accessible place that doesn't require internet or a phone. The second I started keeping a small journal with me, I found that not only did it give me peace of mind when traveling but it was also a great place to jot down little details about my journey."
A sentimental necklace
Packed by: Josefine Andrae, German Content Lead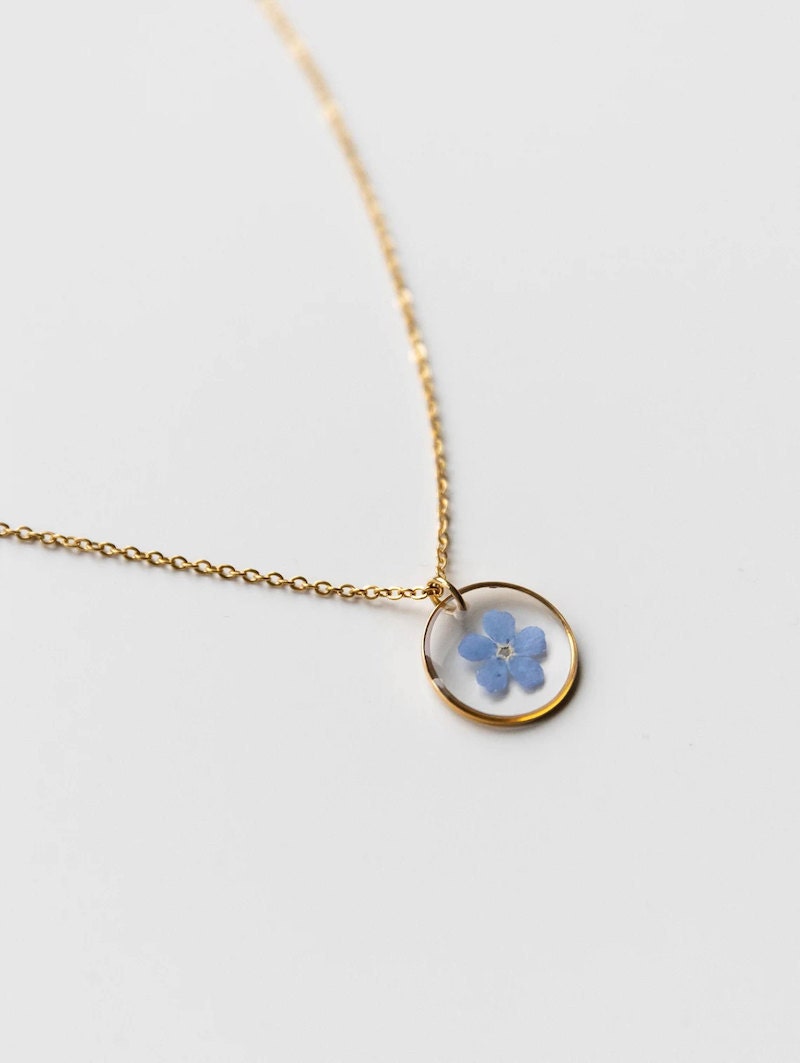 SHOP: Pressed flower necklace from softeternity, $48
Why Josefine loves it: "My boyfriend got me this necklace with a pressed forget-me-not and whenever I travel solo, I make sure to wear it. Maybe not exactly an indispensable travel item, but it's comforting to be reminded of home when I'm far away. Plus the dainty gold chain is ideal to spruce up a simple travel look."
Leather cord keepers
Packed by: Alexander Melton, Product Manager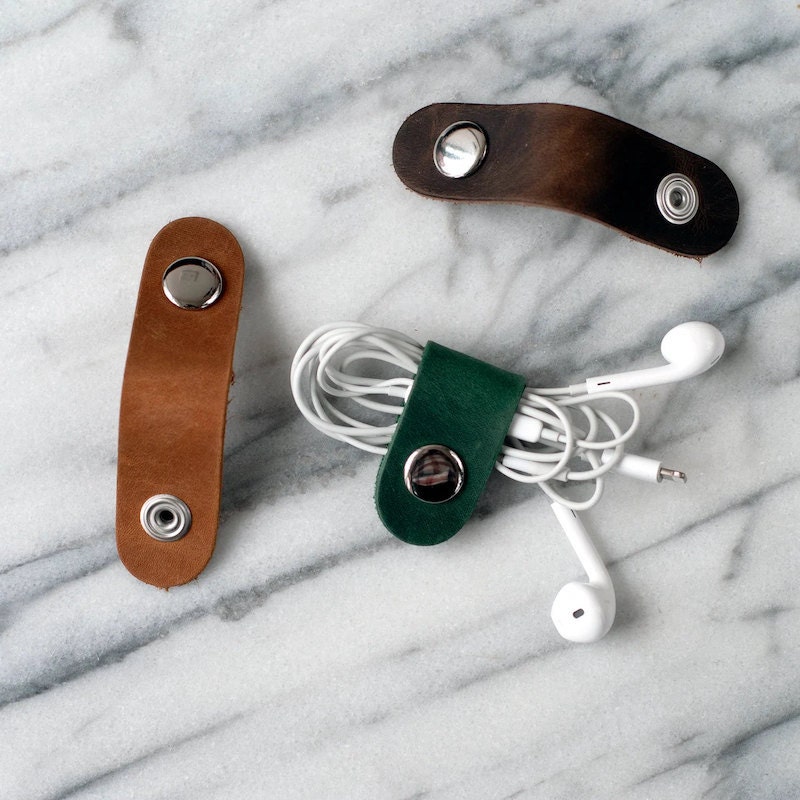 SHOP: Leather cord keepers from zeynNY, $12 for set of four
Why Alexander loves it: "I travel with a lot of electronics which means I travel with a lot of cables. To help my backpack avoid becoming like my parent's basement (hello box of coiled up VCR cables), I use cord wraps. These make it easy to grab exactly what I need from my backpack and prevent tangling."
A roomy straw tote
Packed by: Arylee McSweaney, Engineering Director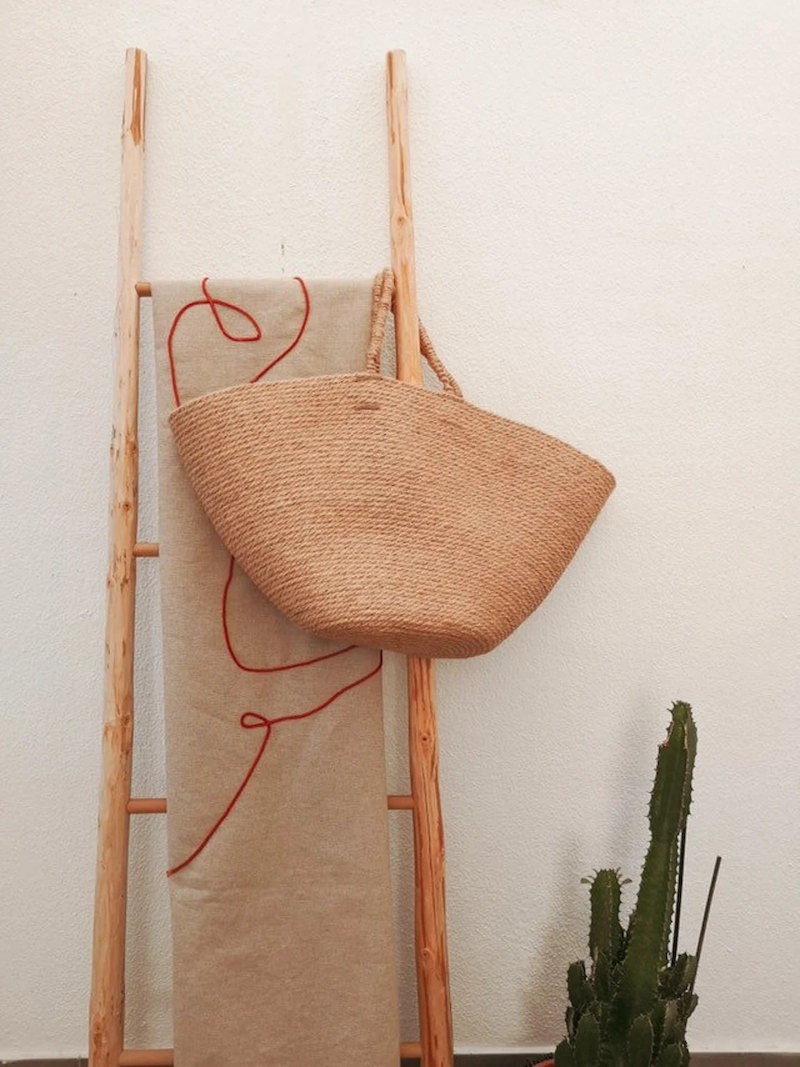 SHOP: Straw market bag from Nuage Home, from $95
Why Arylee loves it: "For me, a good straw bag is a must! I travel a lot to the beach in the Caribbean and Central America. And I always have a straw bag with me. These bags are stylish, they fit all my essentials, and they can weather the elements of a humid, tropical climate."
A soothing room spray
Packed by: Danielle Delmolino, Partner Success Manager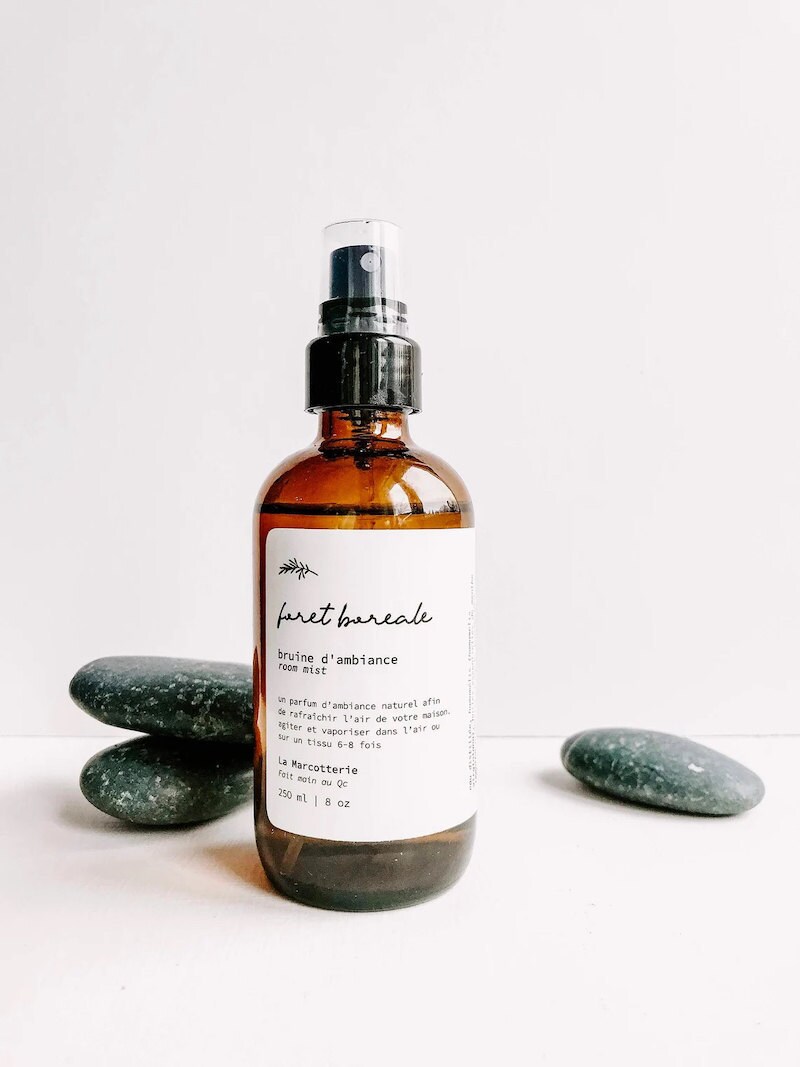 SHOP: Boreal Forest-scented room spray from La Marcotterie, $24
Why Danielle loves it: "Traveling with a room spray is ideal for relaxing in a new space. Get a scent that reminds you of home, or a calming scent like lavender to prep your room for rest after a busy day of travel and adventures. The spray is small enough to bring in an airplane carry-on or fit into your pack on a camping trip. I love freshening up my tent and sleeping bags!"
A neutral blazer
Packed by: Ashi Diamon, Product Insights Specialist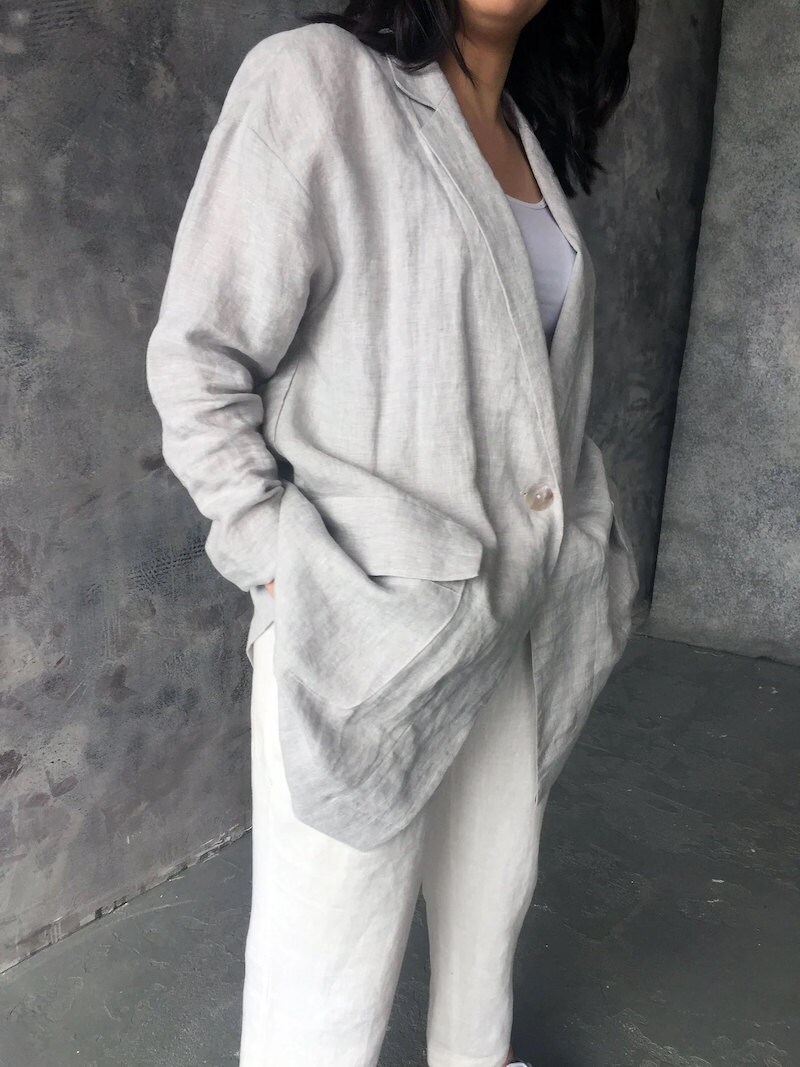 SHOP: Long linen blazer from MaTuTu Linen Style, from $105
Why Ashi loves it: "I recently went on a weeks-long trip to Paris and had to make a few articles of clothing stretch into many different outfits, and a lightweight, oversized neutral blazer like this was incredibly versatile! It tied together dozens of outfits, didn't weigh my luggage down, and made simple outfits look effortlessly chic. Layer this over jeans and a T-shirt or over any patterned or solid-color dress, and it will instantly make you look put together!"
Snazzy statement jewelry
Packed by: Alyssa Campbell, Senior Production Designer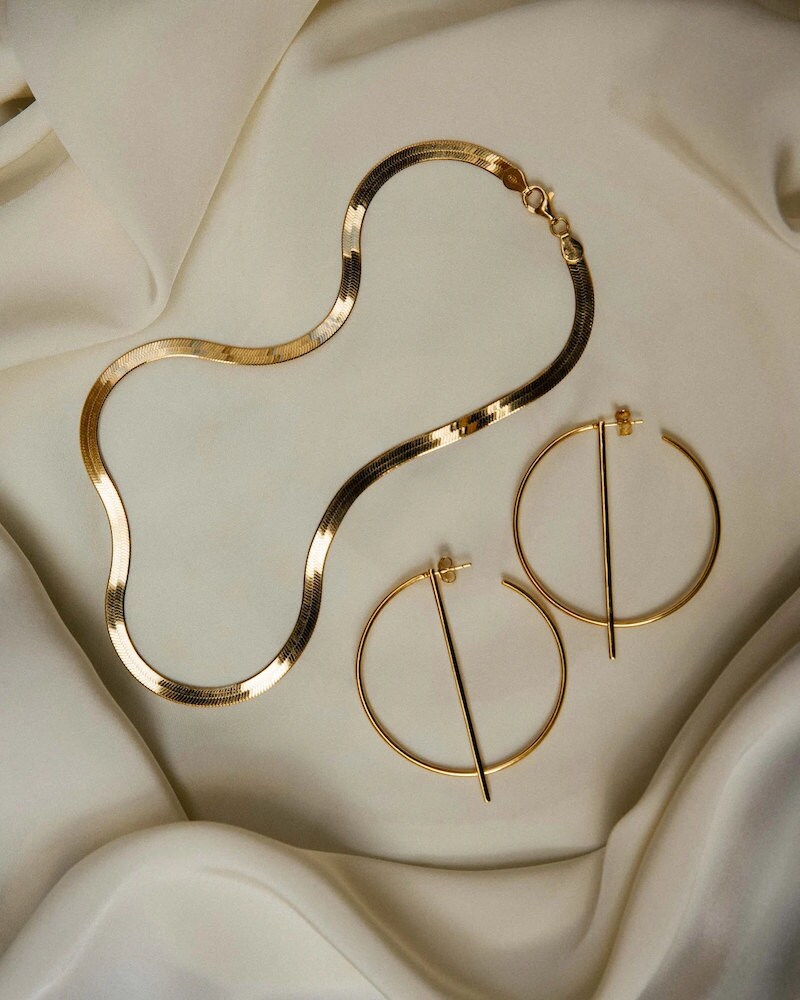 SHOP: Gold geometric statement hoop earrings from Meberr, $78
Why Alyssa loves it: "I like to travel only with a carry-on and generally wear all black or a small palette of colors. I recently spent 30 days working from Belize and had limited space for outfits, so I love adding fun statement earrings to upgrade any outfit. A pop of color or statement size is my favorite addition."
Quick-drying towels
Packed by: Aravis Moore, Food Program Manager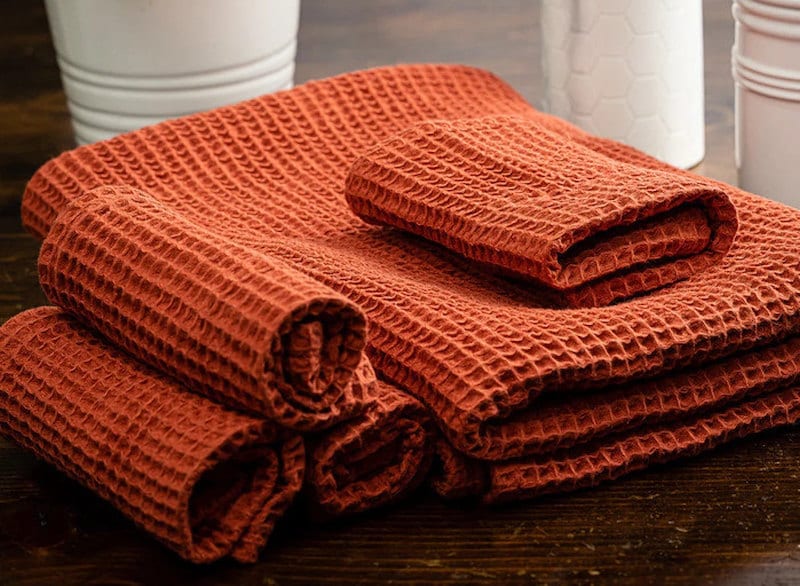 SHOP: Waffle weave bath towels from Mel's Muslin And Gauze, from $24
Why Aravis loves it: "I always pack a spare towel in my carry-on when I'm headed to a coastal city, in case my hotel isn't stocked with supplies for a beach day. Turkish towels are super-absorbent and quick drying, but they pack down to the size of one of my sundresses!"
A stylish sleeping mask
Packed by: Jenn LaBelle, Workplace & Employee Connections Director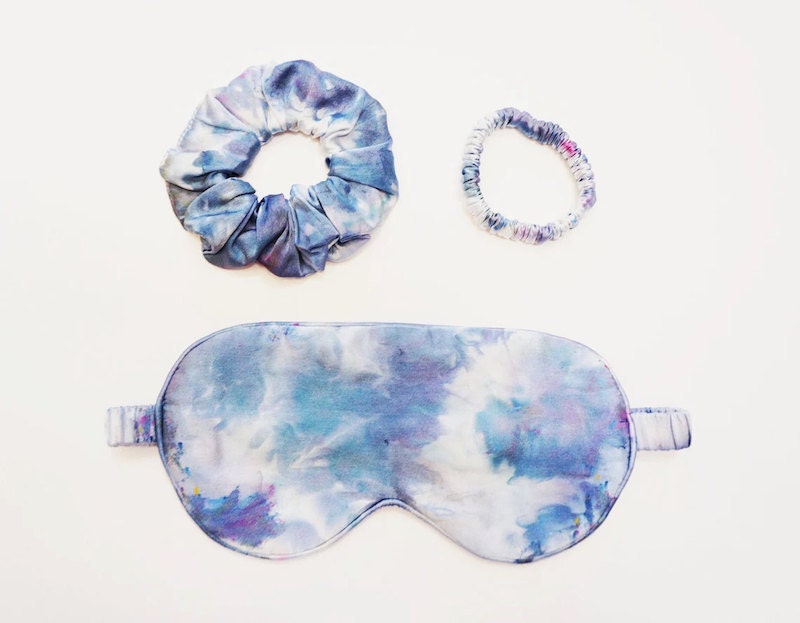 SHOP: Tie-dye sleeping mask with matching scrunchies from Yuiitsu Dye Shop, $50
Why Jenn loves it: "For me, good sleep is a travel essential! A mask like this one helps me shut out the world when I need it most—on a long flight, in a too-bright room (or when your roommate wants to read and you want to sleep!), or anytime that you need a luxurious nap. And this stylish and silky set comes with cute hair ties, too! Love."
Swimwear that doubles as shorts
Packed by: Lyle Phillip, Email Marketing Specialist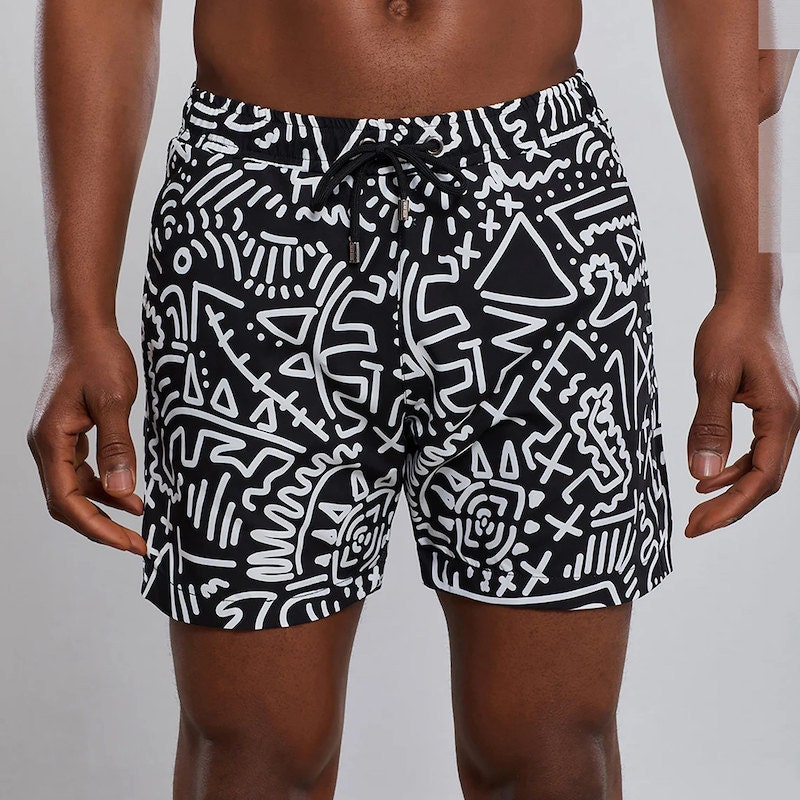 SHOP: Men's patterned swim trunks from Dear Deer Menswear, $59
Why Lyle loves it: "I'll usually go for comfort over style, but these swim trunks check both boxes. I love the bold print just as much as knowing that they can double as board shorts, which can mean less things to pack. These are a must-have for a day at the pool or beach, a stroll down the boardwalk, or as a finishing touch to a casual—and comfortable—outfit."
A comfy camera strap
Packed by: Anna Victoria, Learning Experience Manager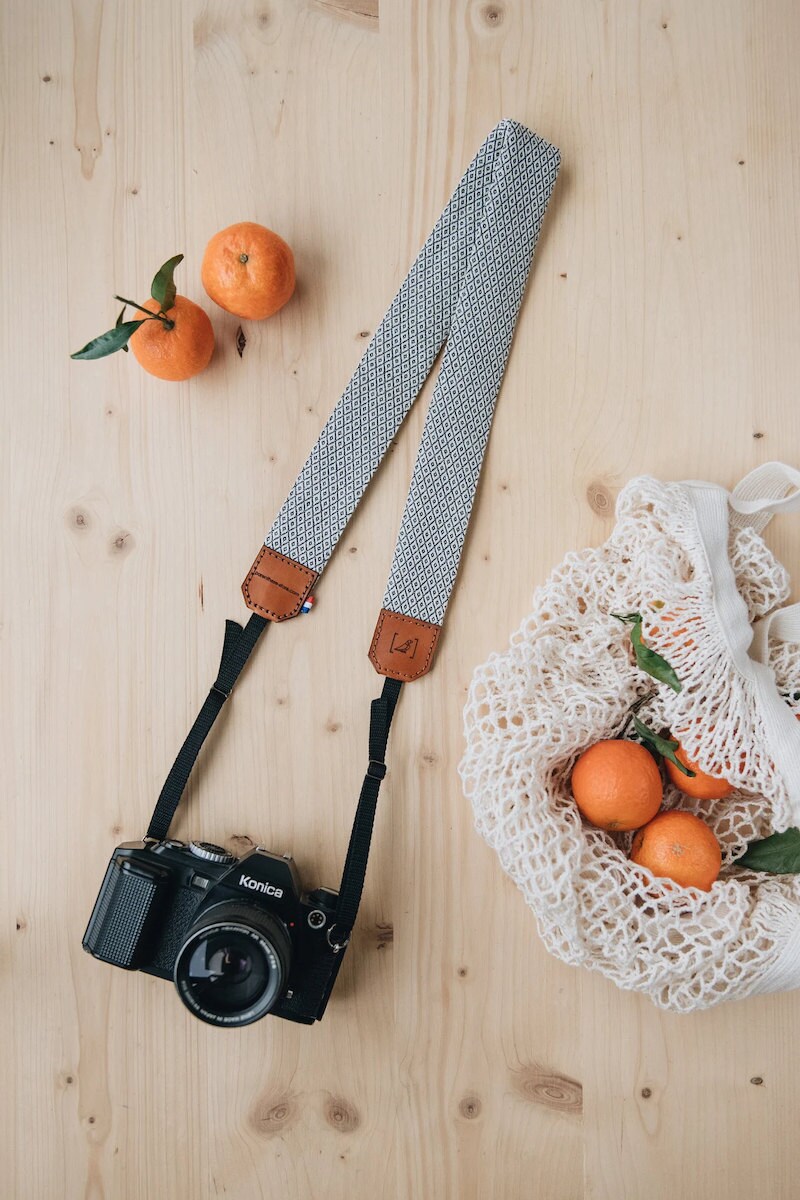 SHOP: Adjustable cloth camera strap from Parenthèse, from $49
Why Anna loves it: "Getting comfortable straps for my favorite travel accessories—my camera and my binoculars—has totally changed the game when I'm traveling both near and far. I'm so much more likely to take them with me and keep them handy when there's no discomfort involved, and it helps that they're fashionable, too!"
A personalized multi-tool
Packed by: Ankit Manocha, SEO Manager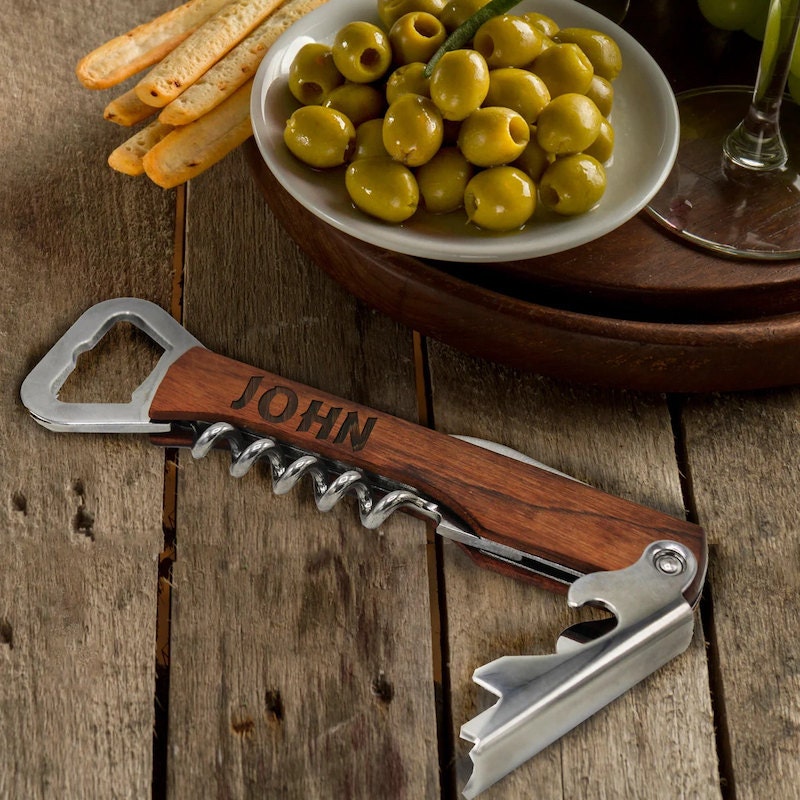 SHOP: Personalized multi-tool from My Personal Memories, $10
Why Ankit loves it: "I'm a big fan of a multipurpose tool that can be used for everything from opening champagne to divvying up a snack on the go. This one is small, easy to carry, and looks extra-cool with your name engraved on it."
A compact jewelry case
Packed by: Alex Ketchum, Travel and Entertainment Specialist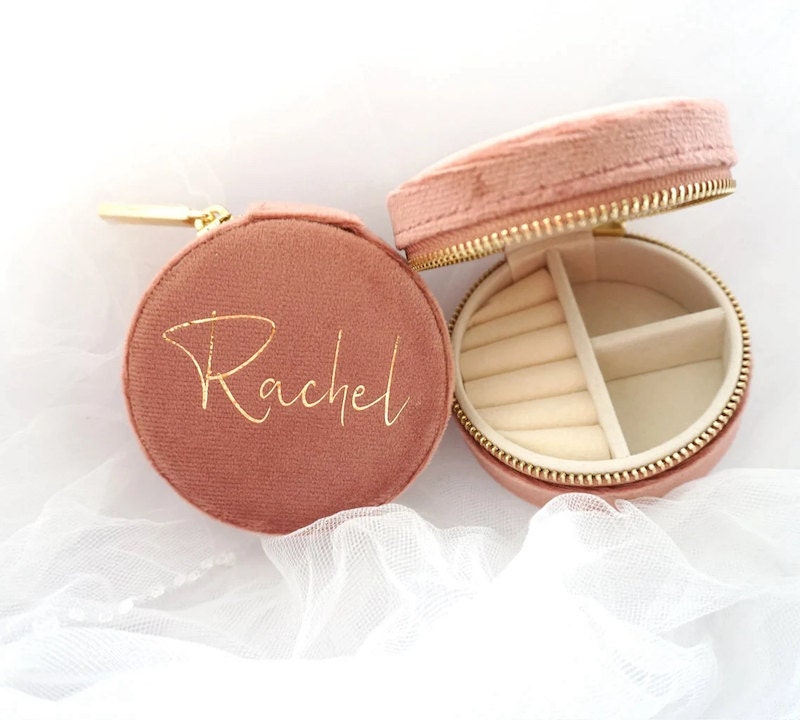 SHOP: Personalized velvet jewelry travel case from Made In Rose, $22
Why Alex loves it: "Layering jewelry is a form of self expression for me. I always have at least seven or eight pieces on at a time, and I take my jewelry with me everywhere I go. Traveling with jewelry can be especially difficult to keep everything secure and in good condition, which is why a good travel case is so important. This mini one is light and easy to hold in my carry-on. It keeps everything organized and prevents tangles, and most importantly, I'm always assured my valuables are taken care of!"
A pack of playing cards
Packed by: Lindsay Stern, Senior Operational Excellence Program Manager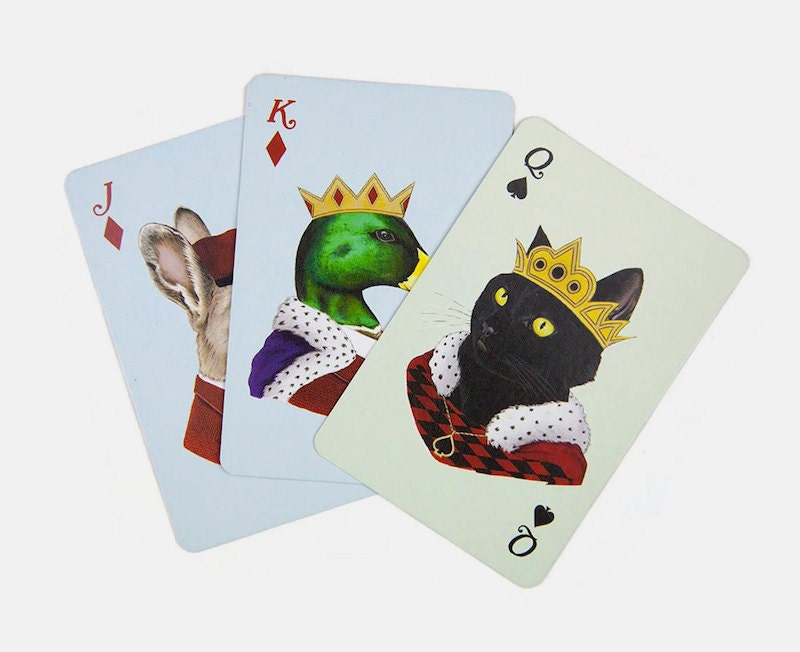 SHOP: Illustrated playing cards from Berkley Illustration, $15
Why Lindsay loves it: "As a parent, it's really important to be prepared with fun toys or activities to occupy my son in transit. Ideally these are small and lightweight so they take up minimal carry-on bag space. Now that he's 9 and we can more easily play games together as a family, a unique deck of cards checks all the boxes."
A hands-free belt bag
Packed by: Aaron Rodriguez, Senior Content Strategist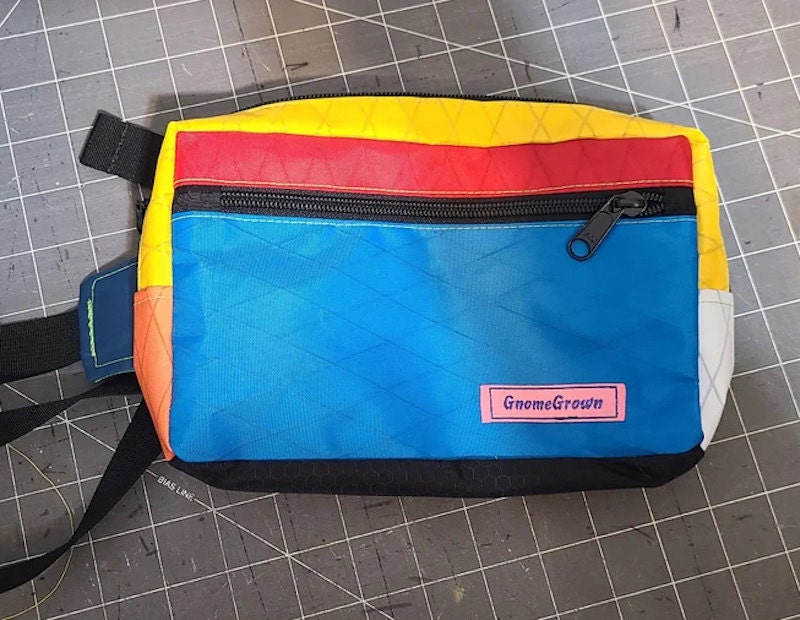 SHOP: Color-blocked belt bag from Gnome Grown Gear, $45
Why Aaron loves it: "When I travel I don't like carrying a bag, because I need my hands for things like pointing at cool sights and eating local snacks. So this fanny pack comes with me on pretty much every trip. It's the perfect size—fitting everything I might need without being too bulky, and as someone who loves color, the fact that it's so bright and vibrant really makes me smile. I give it two thumbs up, which once again is very easy to do because it keeps my hands free."