The 11 coolest costumes and freshest decor and party ideas to have on your radar this Halloween.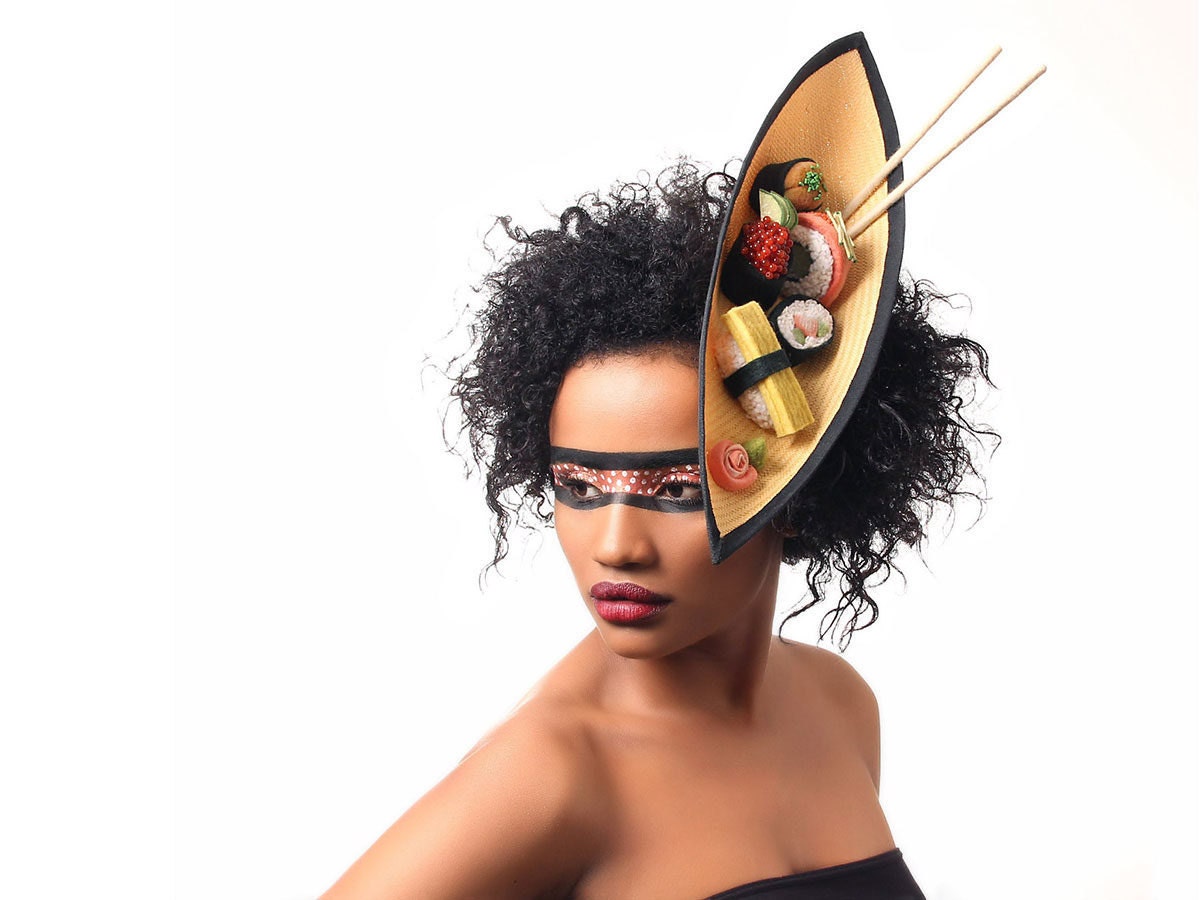 The Etsy Trend Guide is a compilation of fresh trends our experts are noticing across Etsy and the industry as a whole: what sellers are creating, what shoppers are loving, and what's hot right now in the wider market.
Perhaps more so than with any other holiday,
Halloween
is a time for creativity—which makes our marketplace of 1.8 million imaginative sellers* and millions of unique items a genuine jackpot of ideas and inspiration for expressing your own personal style through a seasonal (or spooky) lens. While each year brings its own fresh catalog of pop culture and current events–centric costumes, not every trending look is tied to a headline. Some, like those featured here, riff on themes and motifs that have been gaining ground in people's minds, homes, wardrobes, and cosmetics bags all year long. From starry-eyed makeup looks and millennial pink pumpkins to elegant metallic spiderwebs and wearable tacos, these are the Halloween spinoffs of our favorite 
2017 trends
—and we can't wait to see them take shape in haunting 
home decor
, surprising party supplies, and one-of-a-kind 
costumes
this October. Not feeling matte black decor or carnival-chic outfits this year? Never fear. If you shop now, you can still get a just-your-style accessory custom made by an Etsy seller—or find a
DIY pattern
to make something truly your own, even at the last possible minute.
Trending party and home decor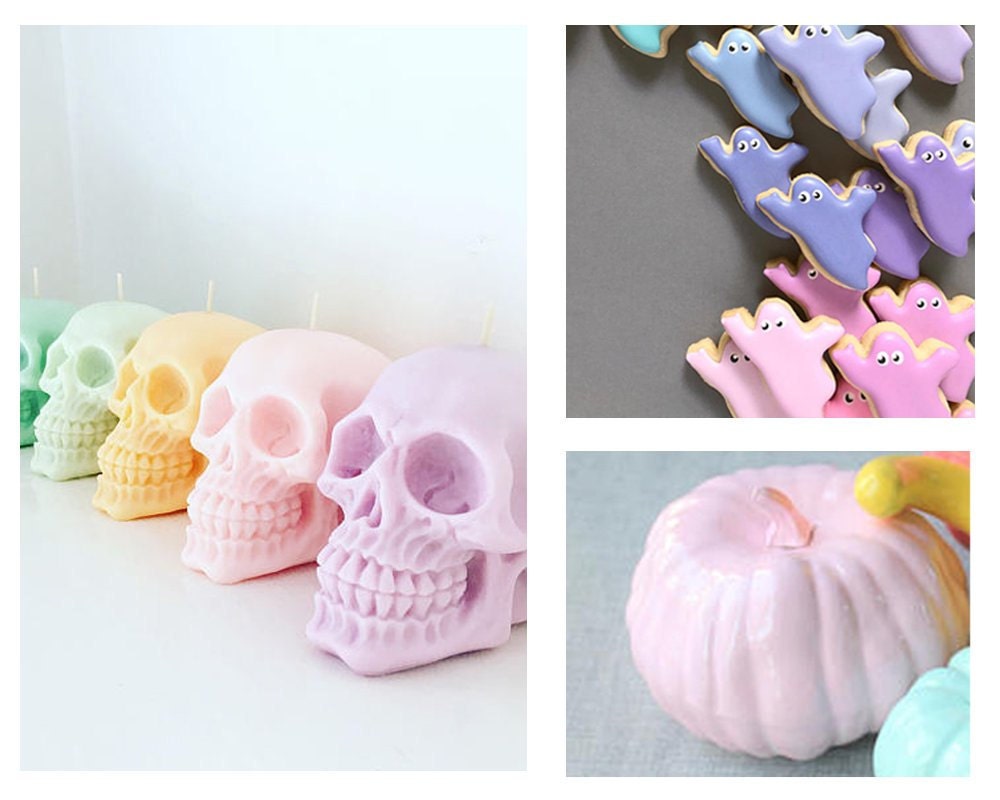 >
Pretty pastels
In a decisive pivot from the traditional orange and black Halloween palette, this year shoppers are looking for more colorful ways to celebrate the holiday—and pretty pastels are the answer. With the
millennial pink
trend still going strong, it's no surprise that candy-colored looks have begun making their way into Halloween party decor and treats. The real shocker? That you might just decide to keep those lavender skulls and pale blue mini-pumpkins on display well into spring.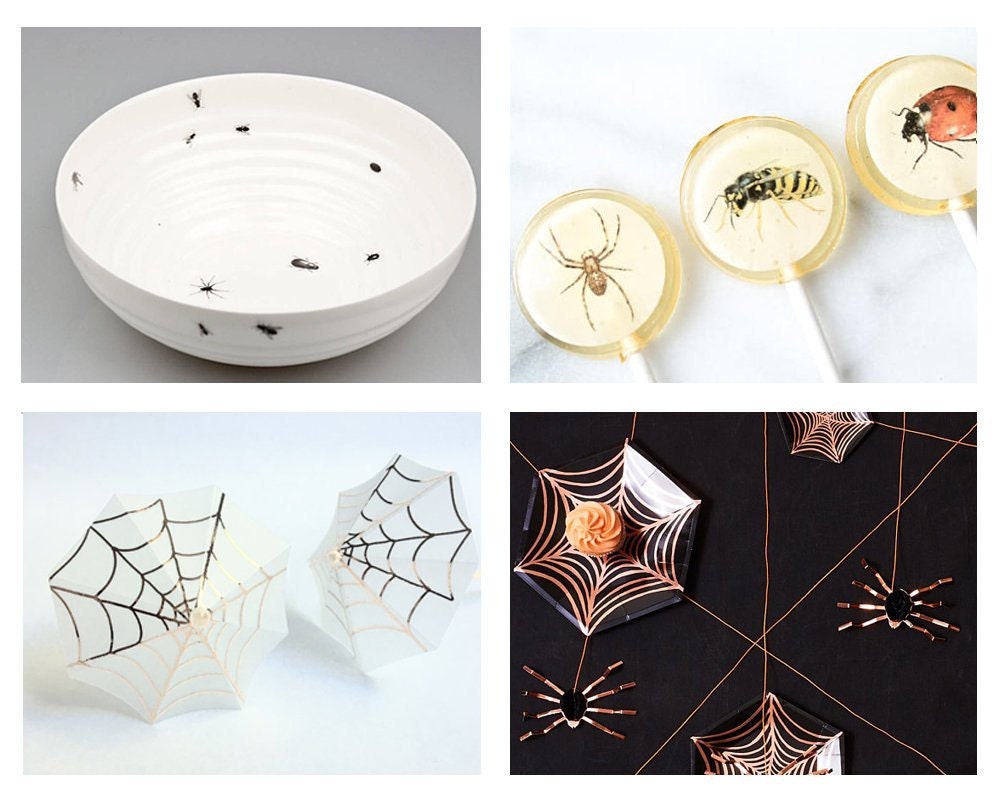 >
Not-so creepy crawlers
Spiders are inextricably linked with all things spooky (in fact, in medieval times, spiders were believed to be the evil companions of witches), so it only makes sense that these eight-legged icons would figure heavily in
Halloween decor
. What's new this year? More realistic representations of their spindly figures (think vintage science-chart illustrations) and metallic gold-tinged webs that take the arachnid's habitat to an almost elegant place. (Almost.) You can find the refined darkness dwellers appearing on plates, paperware, and even
snacks
—where they're sure to make your party guests' skin crawl.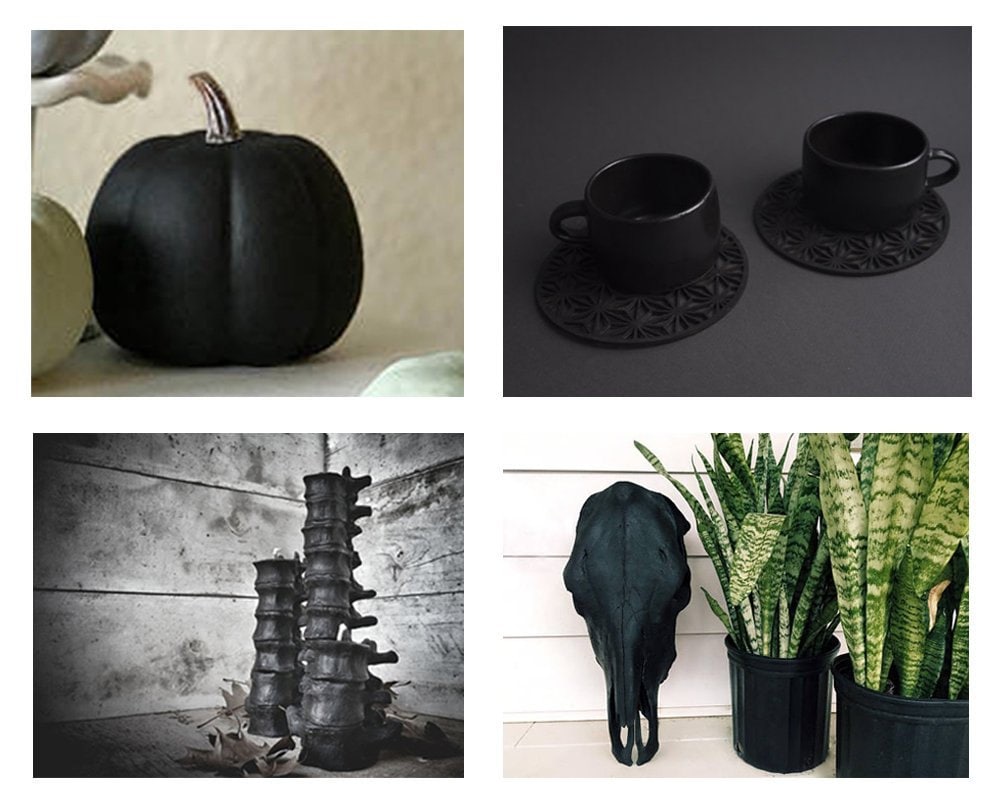 >
Matte is the new black
This year we've seen a spike in interest for ink-dark hues all year round—black really is
the new black
. But this season's fresh update to the color is the finish: matte. Matte black has been trending in the home and living realm for months, casting its shadow on everything from kitchen wares to wedding decor, and it's no different for the darkest holiday of the year. Get the look with chalk-painted pumpkins, matte serveware, and creepy black beeswax candles shaped like spines.
>
Polished pumpkins
In Halloween terms, pumpkins are about as perennial as can be—but this year's crop comes with an emphasis on glam materials and personalized details. (No garden-variety gourds here!) Shoppers are searching for pumpkins in every color of the rainbow, plus eye-catching metallics, luxe velvets, and even glittery galaxy themes—although we'll always have a soft spot for Etsy Orange. For DIYers, decals offer a less-messy alternative to carving and allow for intricate designs even beginners can pull off.
Trending costumes and accessories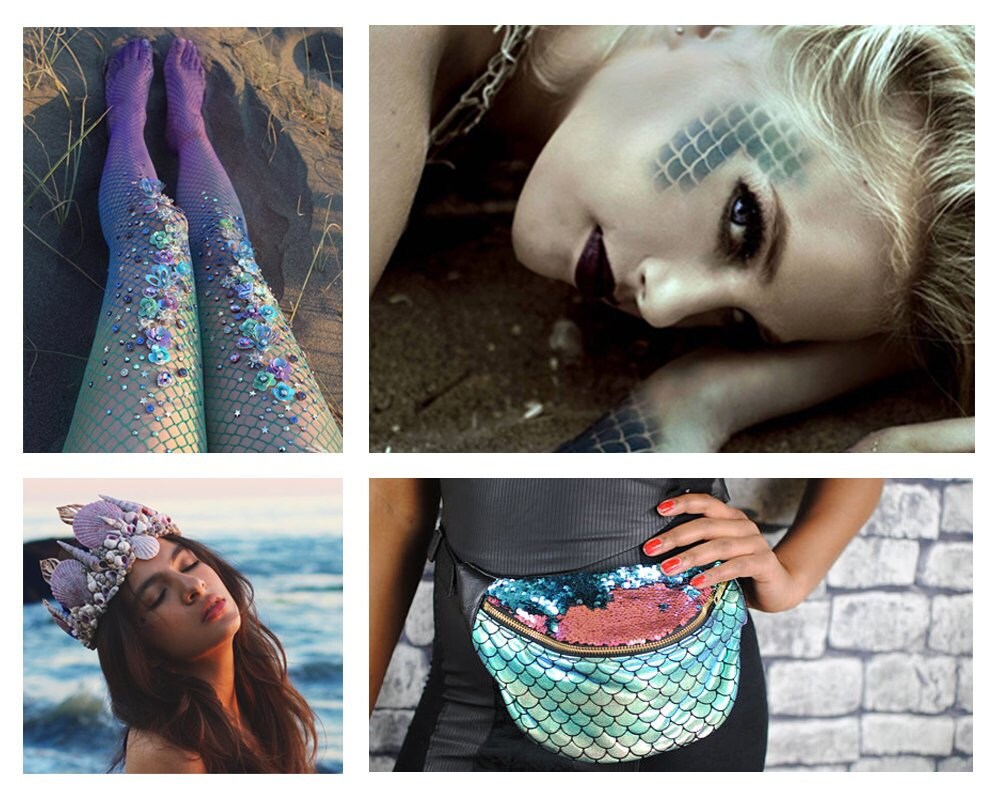 >
Sophisticated sirens
From mermaids (and
purr-maids
) to fairies and unicorns, mythical creatures have been trending all year. This Halloween, though, the scales are tipping even further in mermaids' favor, thanks to the sophisticated silhouettes, shimmering details, and enchanting, iridescent cosmetics that help bring the look to life. (Think ethereal, not Ariel.)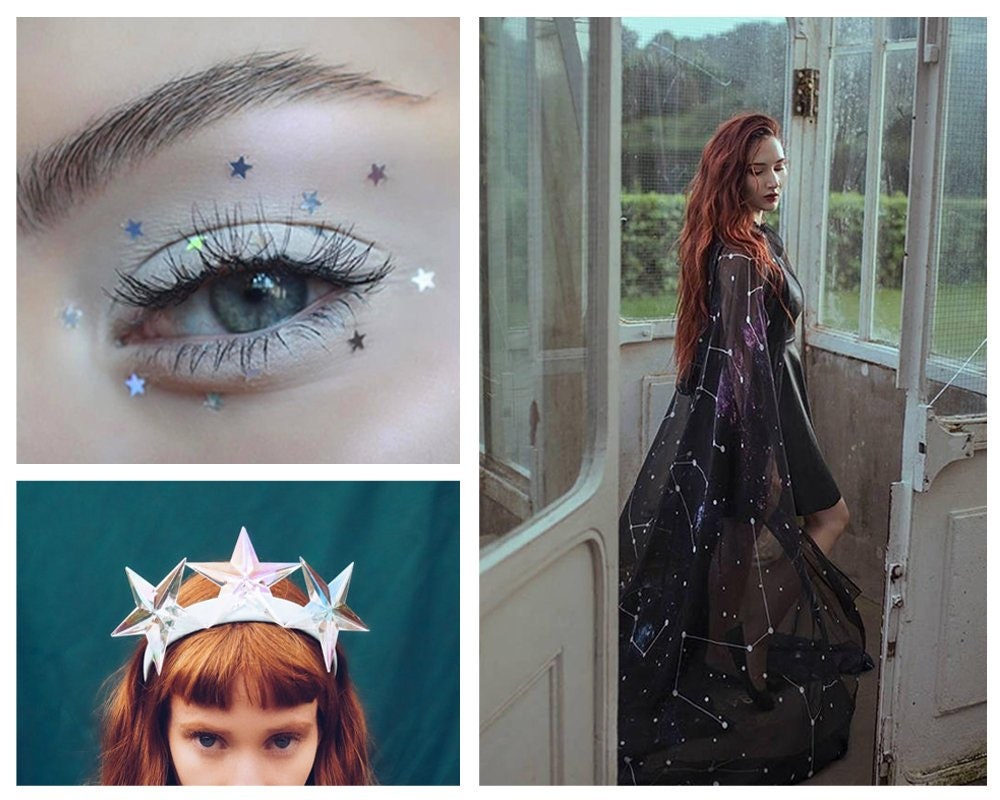 >
Cosmic journeys
From this summer's
North American solar eclipse
to an ever-increasing interest in astrology, the celestial trend is going strong, with galaxy prints, stars,
zodiac signs
, and more showing up on everything from necklaces to pillows. In fact, 'celestial' is one of the top searches of the year on Etsy, and we predict it will translate into one of the biggest trends of the year for Halloween costumes too. Go galactic by donning a bold, metallic star tiara and a sheer, constellation-print cape, or just focus on a next-level makeup look that leans on starlight, space dust, and sparkle.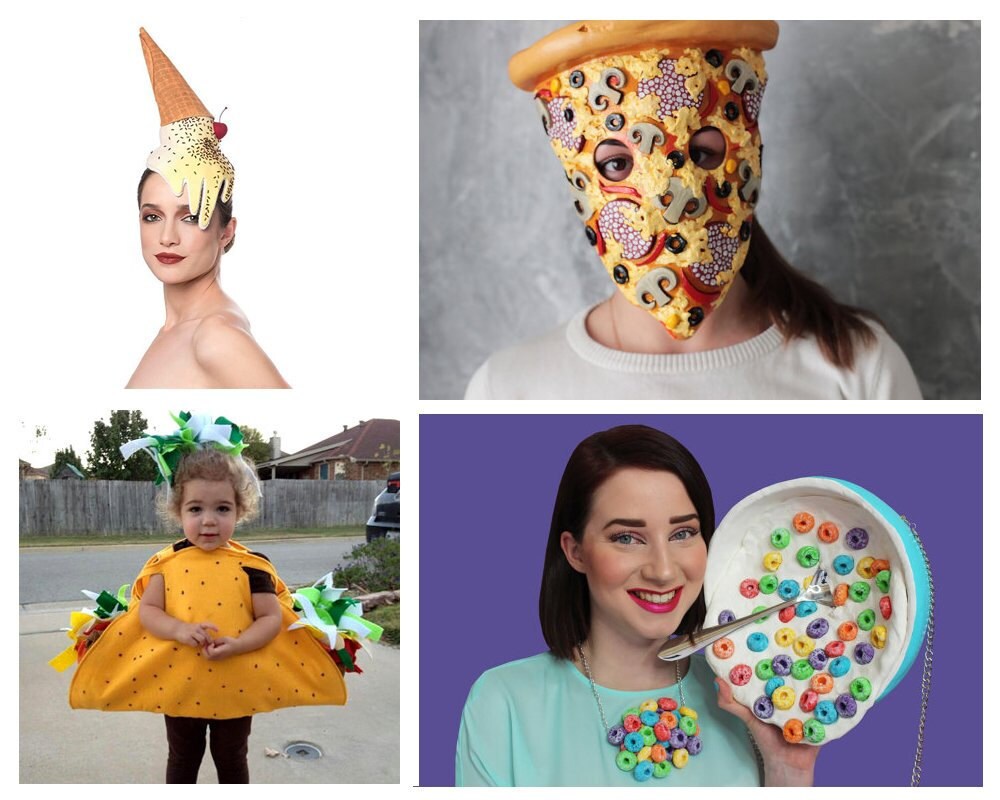 >
Food fright
The phrase "You are what you eat" is taking on a new meaning this Halloween. While pizza, tacos, and donuts have been trending year-round, now they're making their way into fun and colorful costume designs. These ensembles are a creative way to show off your
favorite food
with tastebud-teasing accessories like realistic pizza masks, colorful cereal jewelry, and tot-friendly taco suits.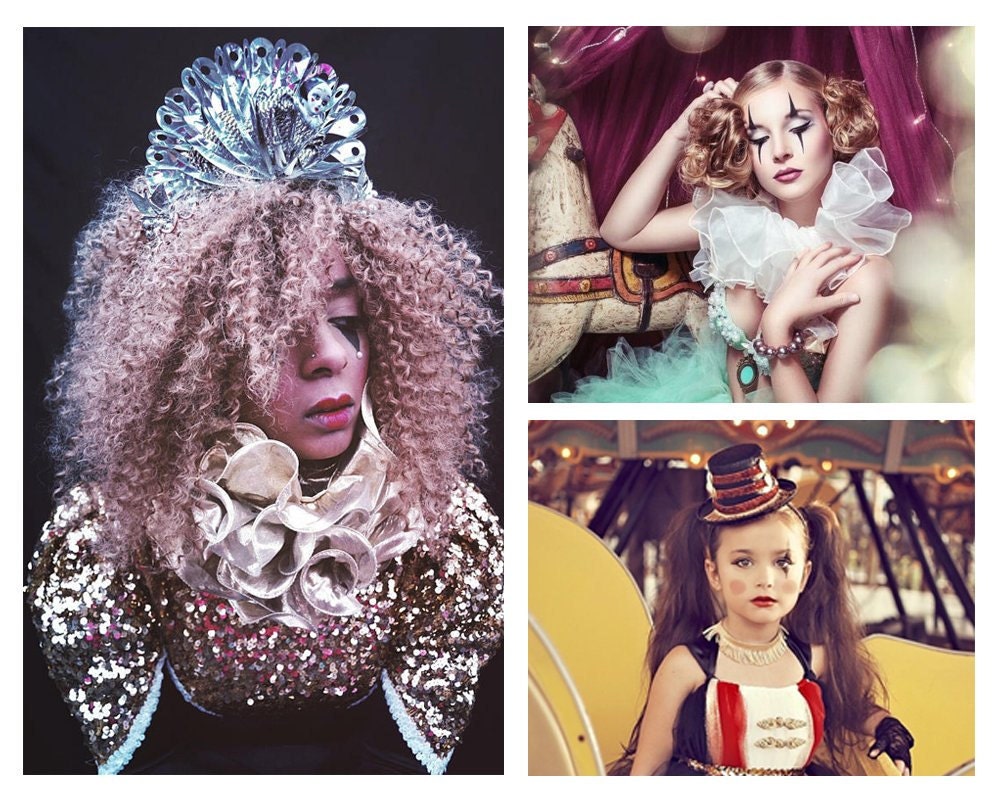 >
Send in the clowns
With the
IT
redux on the big screen this season (and the clown-focused new installment of
American Horror Story
 on small ones), circus and carnival styles are top of mind for Halloween. All you need is makeup and a few key accessories—headpiece, ruffled collar, or top hat—to take this costume from creepy clown territory to carnival glam.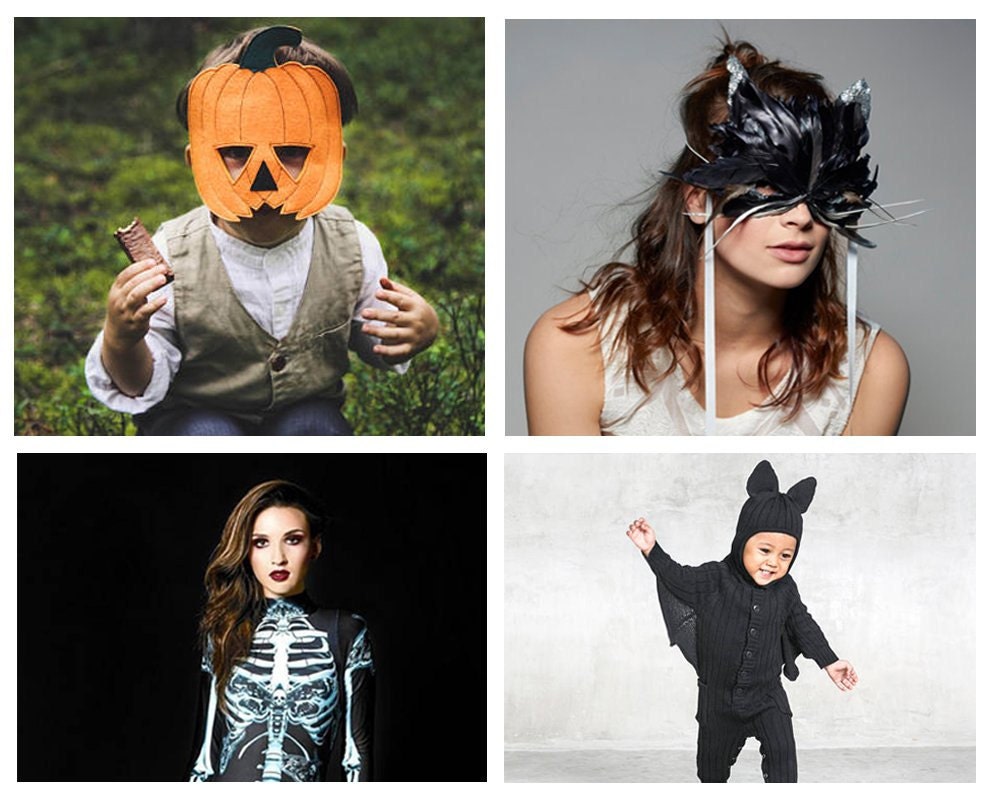 >
Handcrafted classics
When you think about Halloween, you likely think of pumpkins, ghosts, and skeletons (and, of course,
sweets
). Etsy sellers are bringing back all the classics this year—but with a fresh upgrade. A black cat mask fashioned from lustrous feathers or an artist-designed skeleton-printed bodysuit delivers bespoke, handmade appeal that puts their mass-produced drugstore counterparts to shame.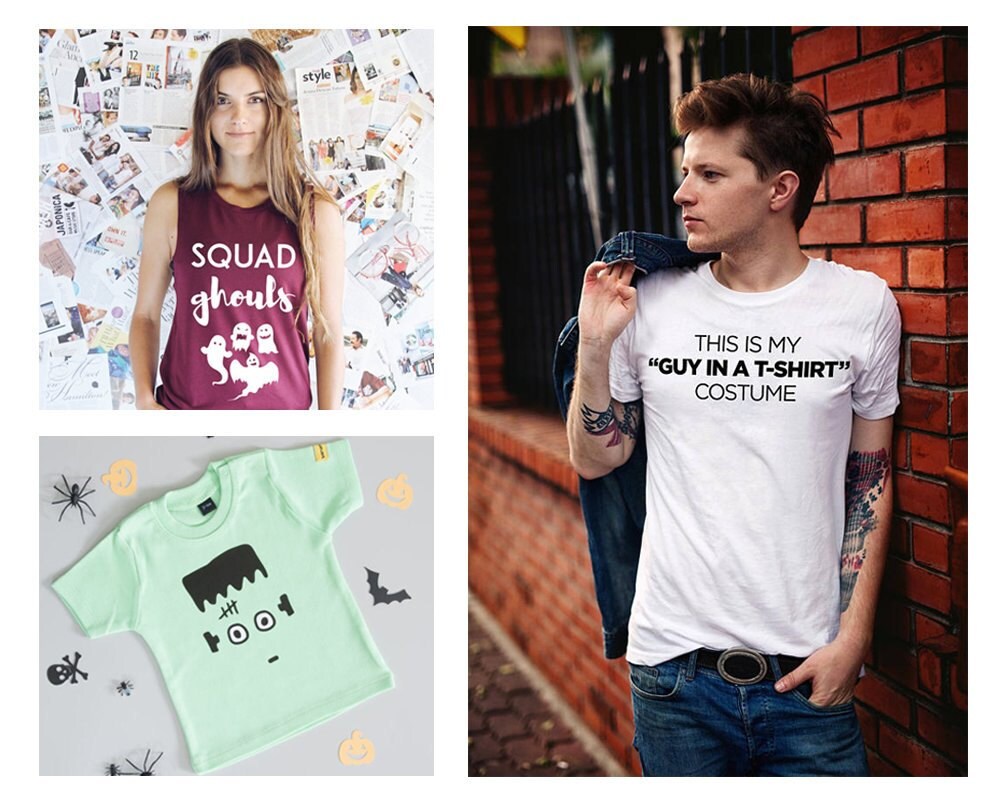 >
The non-costume
Don't have time to pull together a costume for Halloween? No problem! One of the top trends for costumes this year is actually a non-costume—a new twist on the rising trend of
graphic message tees
that we're seeing everywhere on Etsy. Wearing a tee with a cute and clever slogan shows you tried at least
a little
—and isn't that all anyone can ask for?
>
Kids' costumes that last
This year, parents are choosing creativity and comfort for their kids' Halloween attire, turning to
heirloom-quality costumes
that their little ones will want to keep on all night—and play dress-up in all year round. From capes to overalls to coats, these costumes are designed for maximum multi-functional wear—for as long as they can fit in them.
*As of June 30, 2017