From statement-making veils and flirty bridal capes to desert-themed decor, these are the wedding trends you'll spot everywhere this year.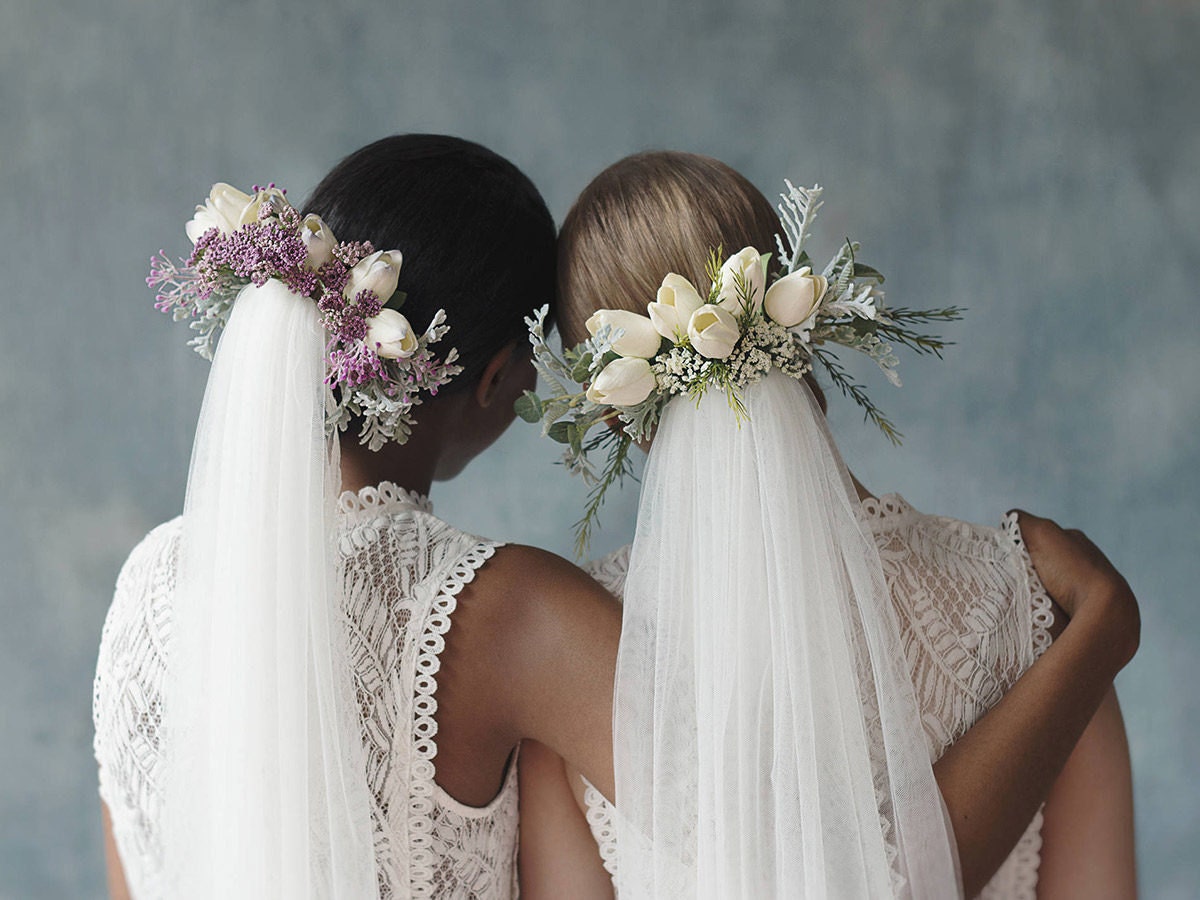 The Etsy Trend Guide is a compilation of fresh trends our expert is noticing across Etsy and the wedding industry as a whole: what sellers are creating, what shoppers are loving, and what's hot right now in the wider market. These trend predictions for 2018 are based, in part, on past top searches across categories on Etsy.com.
In case you haven't noticed from your (suddenly diamond-filled) Instagram feed, engagement season is upon us. Nine out of the 10
most popular days to get engaged
fall between Christmas and Valentine's Day, which makes now the perfect time to delve into the latest
wedding trends
Etsy sellers are embracing, and brides- and grooms-to-be are excitedly searching for. From endlessly customizable etched-acrylic decor to stacking wedding ring sets you can assemble in one-of-a-kind combinations (and add to over the decades to come), these trends—like so much of what makes Etsy special—are all about taking a style or idea that makes your heart beat faster, and then making it completely and utterly your own. Today, I'm here to give you the lowdown on the wedding looks, motifs, and details we're head over heels for right now—all of which can be personalized, with an Etsy seller's help, to become the just-right realization of your big-day dreams. Which ones make you want to say, "I do?"
Style
Stacking rings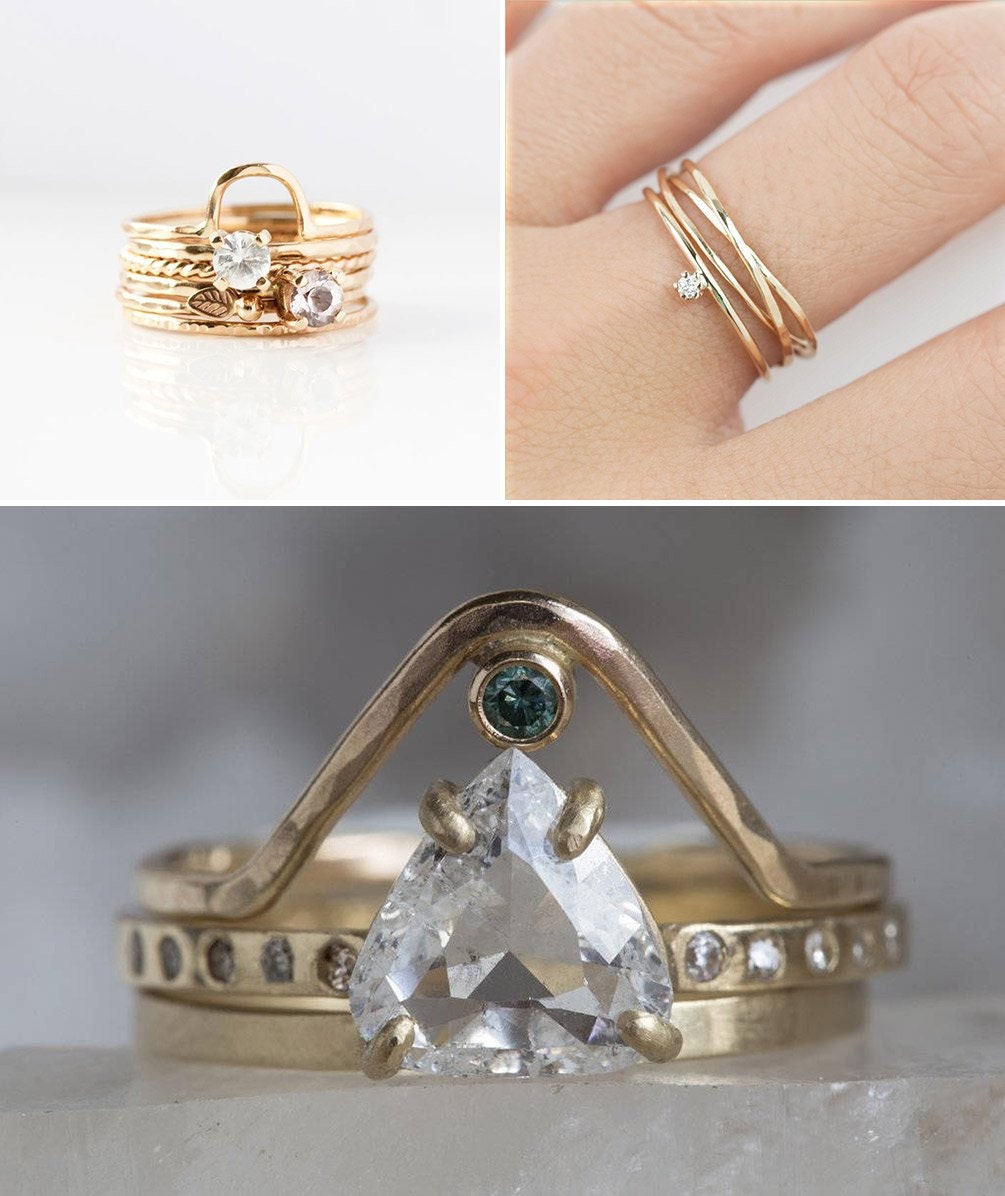 >
The hottest wedding trends don't exist in a vacuum, and the ring trend we love most right now elevates a favorite everyday accessory: stacking rings. In fact, the term "
stacking rings
" currently yields over 131,000 search results on Etsy, and views for these pieces are up 68% since 2017. Reimagined for a matrimonial setting, the highly customizable sets allow fashion-forward brides to mix up their look on the daily, and invite couples to mark
anniversaries
and other major milestones with glittering new additions. No matter your reason for choosing this show-stopping look, a little extra bling never hurt anyone—especially when it's got the potential to be the gift that keeps giving year after year.
Embroidered embellishments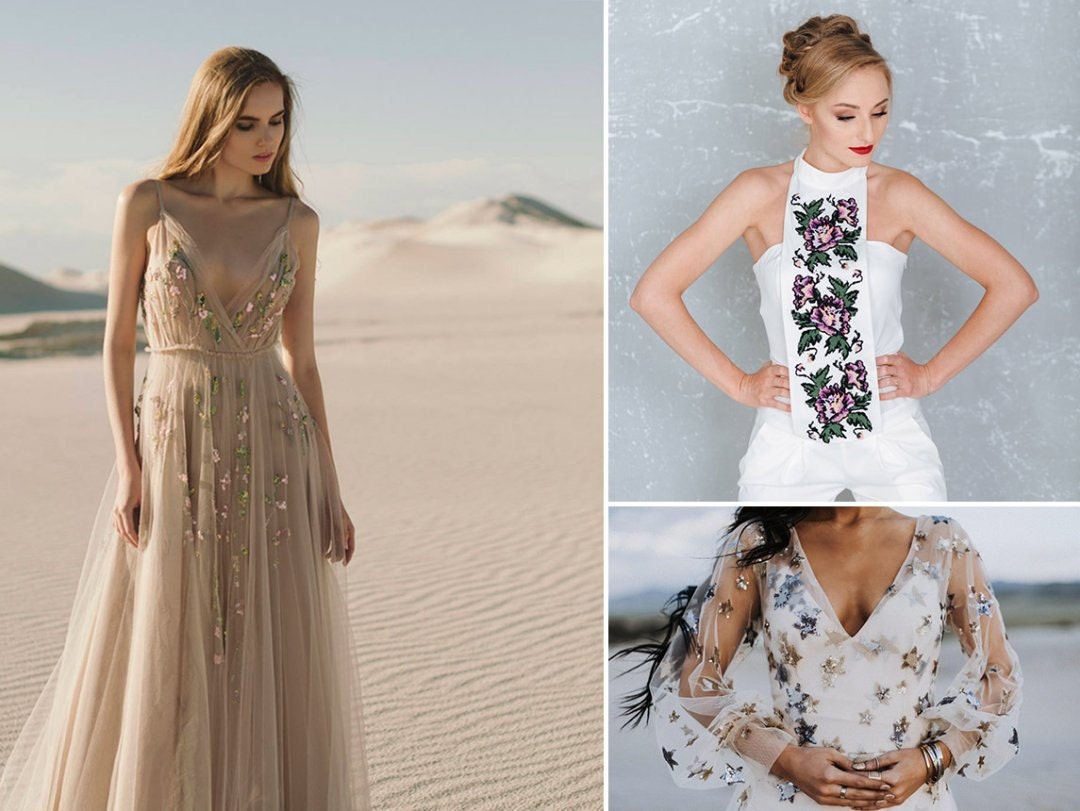 >
For some brides it's all about the gown, and this year, embroidered details are the must-have bridal wear style to seek out. Bursting with bright blooms and bold stars, these hand-stitched beauties lend a feminine touch of folksy-meets-formal flair to any matrimonial getup. On Etsy, the term "embroidered bridal wear" is pulling in 40% more product views this year than in 2017. This style is perfect for
bridal gowns,
but we're also loving the look applied to one of the other 
biggest trends of 2018
: bridal jumpsuits.
Statement veils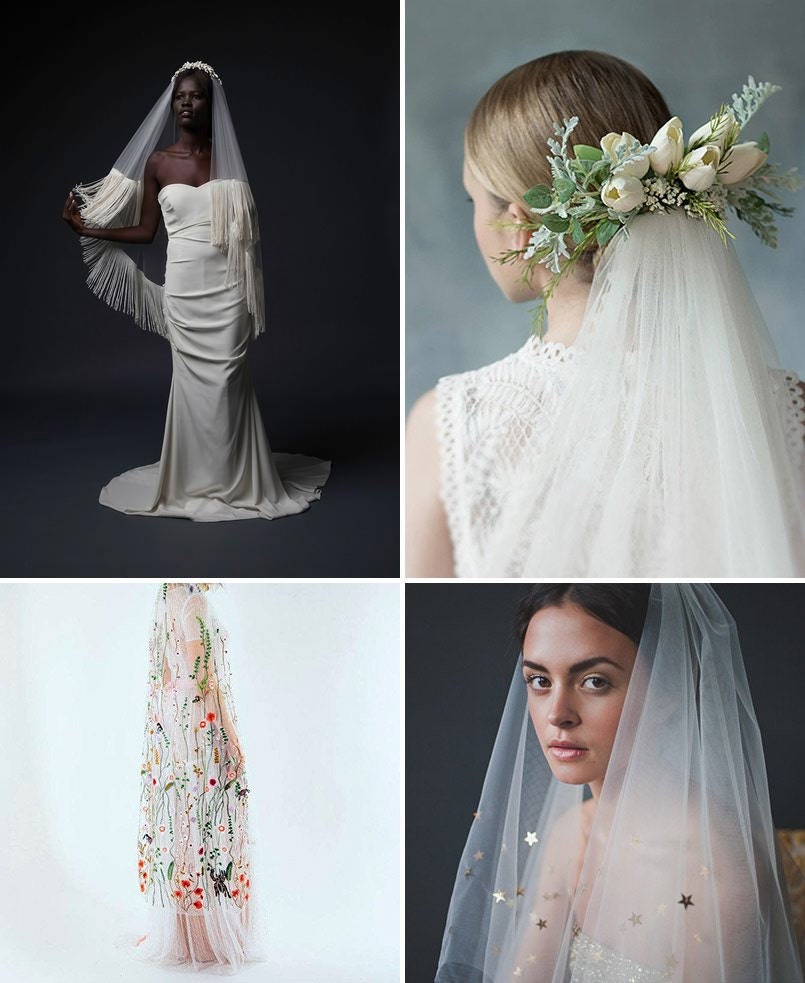 >
For
the minimalist bride
who wants a more understated look (that still has a little punch), statement veils are the trend to try. Paired with simple, streamlined gowns, these veils come to the fore as their glittery, attention-grabbing companions. Jazzed up with flowing fringe, tiny blooms, or even a sprinkling of metallic stars, today's
veils
are as central to the bridal ensemble as the dress itself. Whether you're wearing one down the aisle or rocking it all the way through the reception, the once-pared-down and traditional veil is more visible, lush, and varied than ever. Etsy shoppers are certainly catching on: The number of views for
dramatic veils
has soared 213% since 2017.
Flirty capes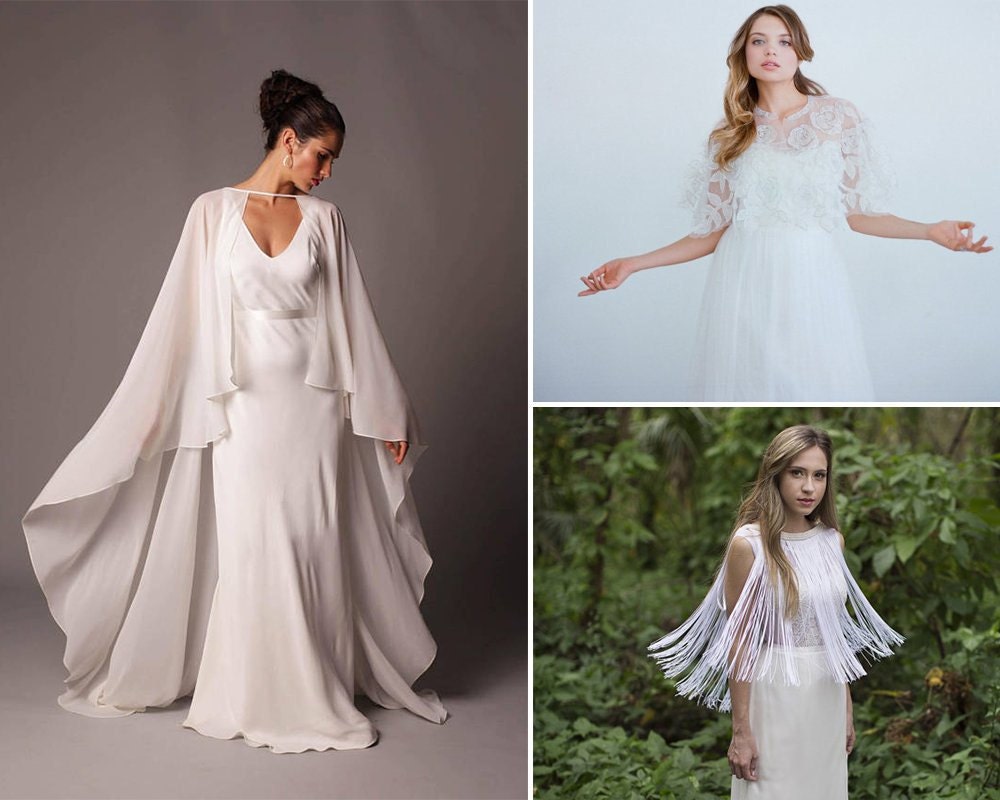 >
As someone who adores all things glam and dramatic, I am a die-hard fan of wedding capes. And so are more and more Etsy shoppers: Within the last year, on-site searches for "
wedding capes
" have increased by 44%. These jaw-dropping styles are designed for the bride looking to stand out, and they also provide a great option for shoulder coverage during a more traditional ceremony or a quick and easy pre-reception change. And let's not forget the endless swooshy power poses you can strike in bridal photos—can you say "superhero chic"? Oh, the drama!
Decor
Clear acrylics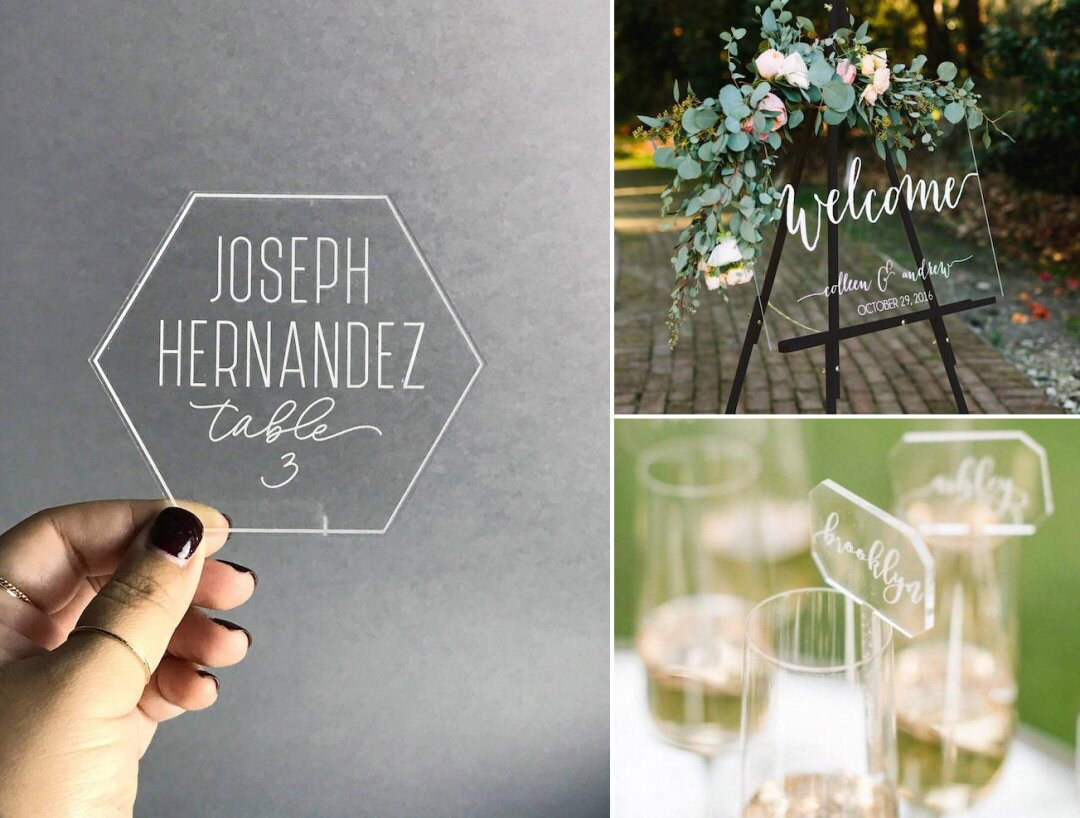 >
Modern and minimalist styles come together in this fresh wedding decor trend. Clear acrylics are making their way into weddings everywhere in 2018, from signage to invitations to place cards and more. On Etsy, the number of views for the term "
clear acrylic wedding
" has increased by 309% this year. This crisp style pairs especially well with loose, romantic greenery and florals in ceremony and reception decor, but thanks to the material's neutral nature, there's no wrong way to incorporate acrylic accents into your big day. Bonus: There's literally no color scheme it can't match.
Guest book evolution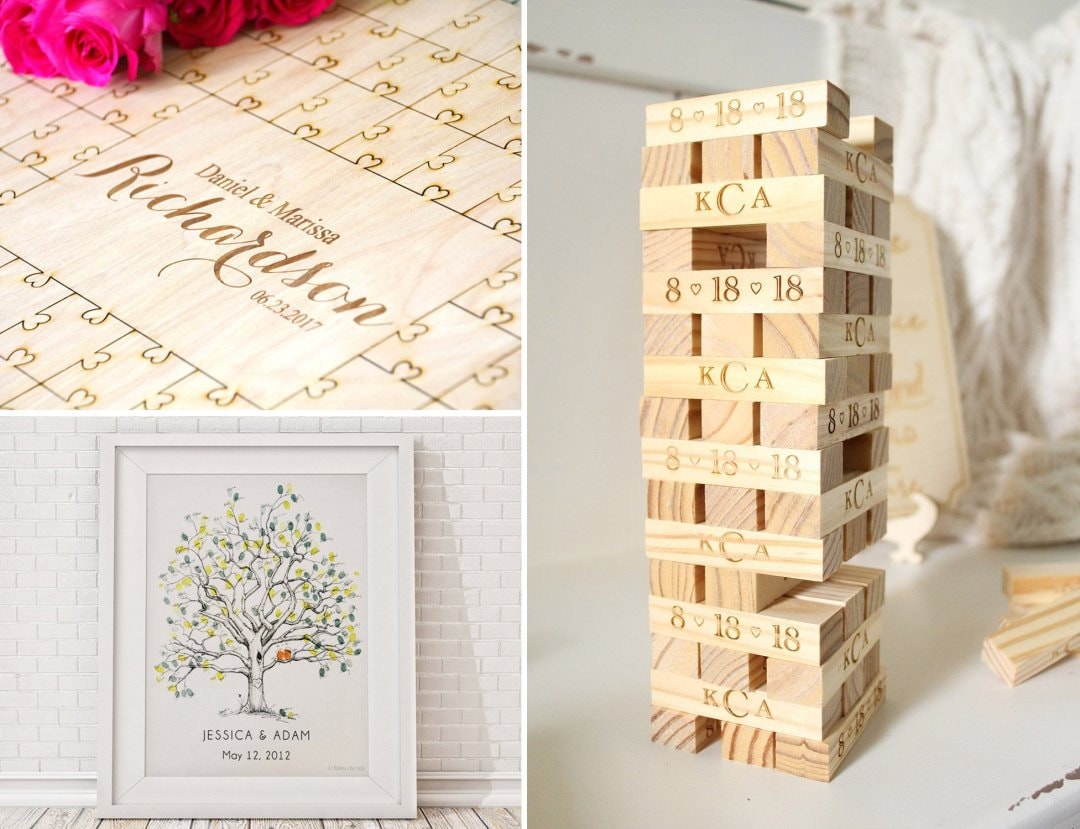 >
The idea behind the guest book is a sweet one: Invite wedding guests to share words of wisdom and special memories, and give the happy couple something sentimental to pull out from time to time. But who really wants to keep a big book brimming with craft paper on their living room shelf? Ever the innovators, today's brides and grooms are opting for new guest book options that capture thoughtful snippets from guests and double as creative, stylish keepsakes for their homes. In the last year alone, searches for "
guest book alternative
" have increased by 53% on Etsy, with sellers creating unique treasures like puzzles, globes, and games that are decidedly display-worthy.
The new rustic: Southwestern style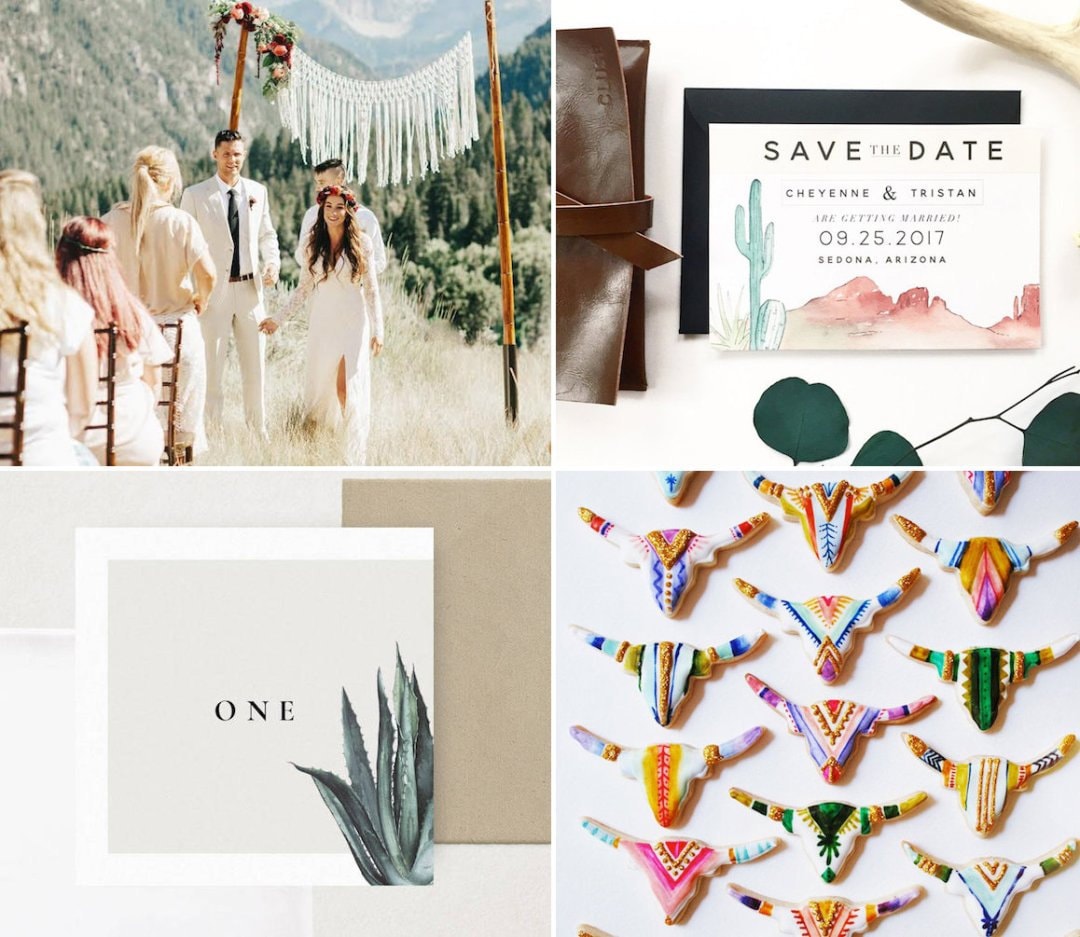 >
Move over barns and burlap, there's a new rustic look in town. We've all seen the way farmhouse-centric weddings have dominated the wedding scene for the last few years, and while there's certainly a time and a place for mason jars, I, for one, am ready for an update on the romantic-yet-approachable theme. This Southwest-tinged look pulls straight from the
desert inspo
playbook, with muted greenery and bright pops of color taking center stage. Think Arizona sunsets, adobe homes, textured wood details, and O'Keeffe-esque watercolor landscapes, with mini cactus wedding favors for every guest. Etsy sellers are already capturing this vibe and have seen a 72% increase in views for products associated with the term "
southwestern wedding
."
Pet-friendly weddings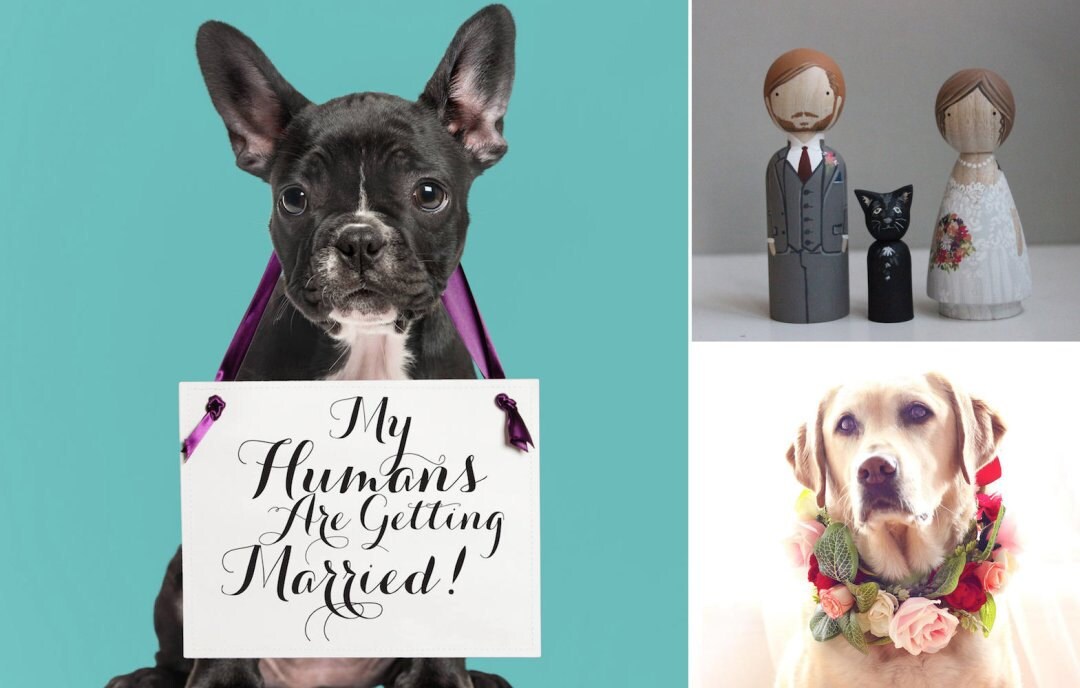 >
A day as special as your wedding should be shared with your closest friends and family—and that includes your fur baby. In 2016, pets were included in
8% of weddings
, and Fido's prominence (and participation) is only expected to grow. Whether you're hunting down the perfect "here comes the bride" doggie sign or searching for a personalized collar or custom tuxedo for your furry ring bearer, you'll find more than 30,000 search results for "
pet wedding
" on Etsy. (Say it with us:
You may now lick the bride!
)
2019 prediction: puffed sleeves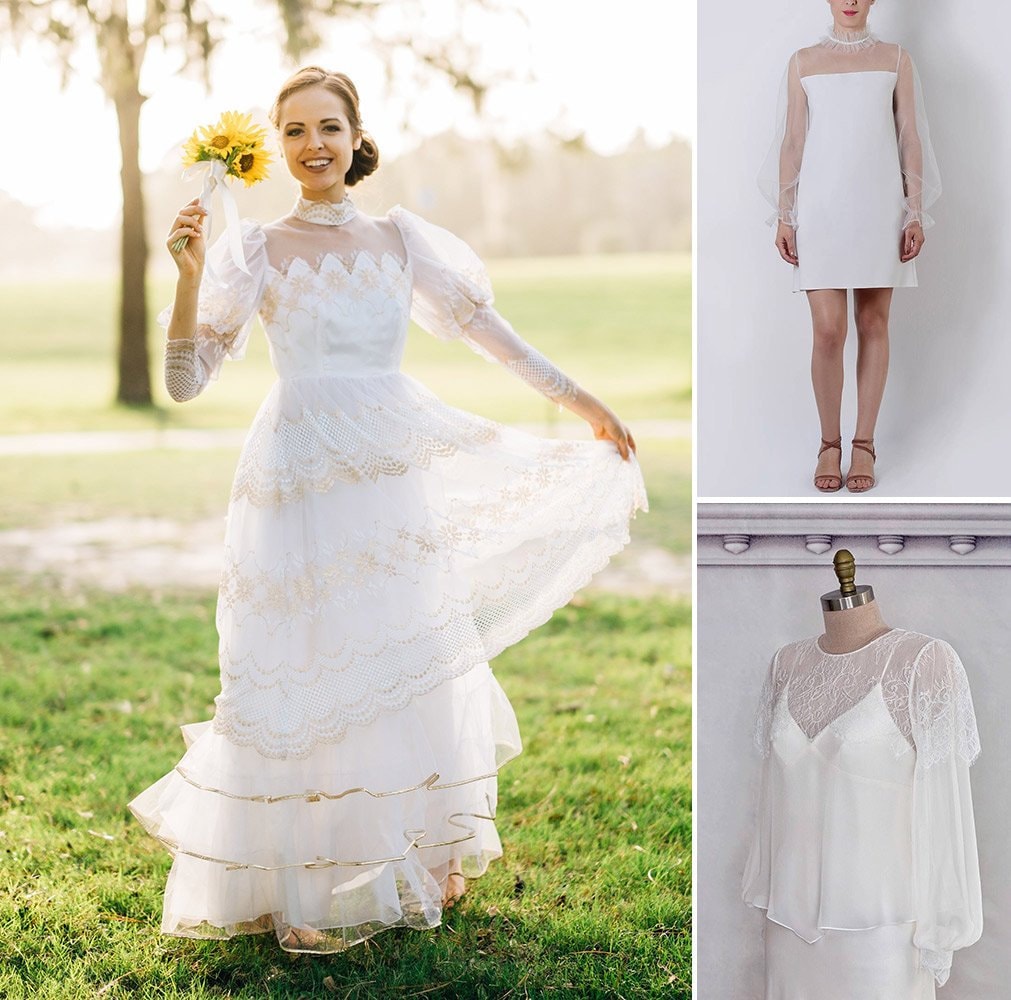 >
From ruffles and bells to dramatic puffs,
statement sleeves
have been ruling both runways and retail for a few seasons now—and I predict the time has come for the latter style to make a big splash in bridal, following
wedding jumpsuits
and
celestial motifs
as the big-day trend of the moment. This voluminous throwback look, which can be seen on everything from ball gowns to trumpet silhouettes, is an understated take on the admittedly over-the-top sleeves we remember fondly from '80s and '90s prom style. Some of these sleeves are even detachable! Not surprisingly, Etsy sellers are already taking note of this trend, and who knows? Maybe Meghan Markle will choose to rock the look for her upcoming royal wedding—channeling, of course, Princess Diana's famous puff-sleeve gown. We all know that much like Diana, Megan is a real fashion rule-breaker. I know I'll be anxiously waiting to see what she wears!