by daniellexo
This holiday season, treat your shoppers to something made just for them.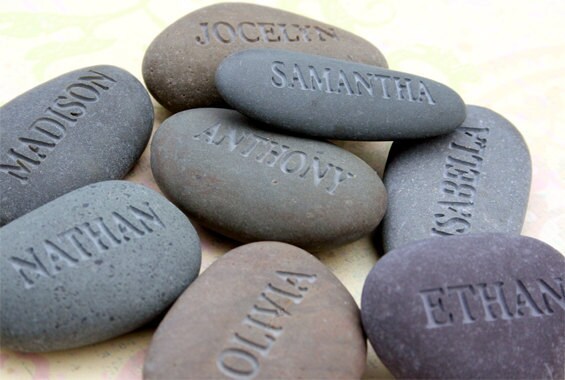 When Etsy seller 
One9designs
started selling custom work, she thought she'd be flooded with ideas and requests from her customers. As it turns out, her convo inbox remained empty. So she created custom item listings in her shop and gave her buyers a few examples of what was possible, and the orders started rolling in. "That showed me the importance of having a wide variety in my listings — just saying, 'Would you like something custom? I can do whatever you want!' wasn't specific enough for people. I needed to jumpstart the process with options," she says. "Once I increased the options (by creating more listings), my sales increased as well." Sometimes our buyers need a little push. I've experienced this firsthand, so I wanted to put together a guide to selling custom work. I put a call out in the Etsy Forums to gain wisdom from those who have experience selling custom work and the response was fabulous! Read on for some tips from the best in the biz.  
Payment
First of all, I suggest creating a detailed custom item listing with a set price. This way you're sure to receive payment before creating this unique item. Many of you agreed with me, including
One9designs
, who said, "I felt strange asking for [payment] in the beginning, but now I don't even give it a second thought — and nobody has ever questioned me!"
Item Listing Tips
Start with a very overt title; something like "Custom Linen Pennant Banner" will do. Stating that the item is custom or personalized up front will grab the right buyer's attention. "Each of my listings states 'custom' or 'made to order' because I am never really sure which way a customer will search," says dlkdesigns.
My very favorite custom listing title?

I will draw/paint a portrait of your pet for you. by SarahMcNeil — quirky and to the point!
Item descriptions can get tricky — there's a lot of information you want to give the buyer, but you don't want to overwhelm them. Make good use of short paragraphs, bullet points and links within Etsy. For example, instead of explaining your custom policies in each item listing, link to your Policies page instead.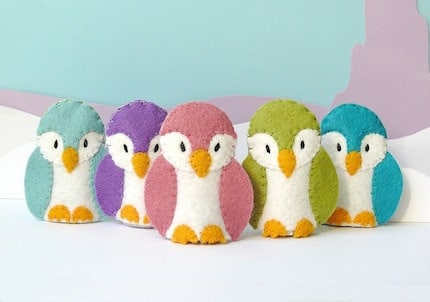 Pastel Penguin Family by Stayawake
Make sure to clearly state the options the customer has to choose from.
Avoid saying, "Pick any color you like and I'll let you know if I have it." Your buyers aren't as familiar with your materials and may not be great at visualizing different patterns or colors. Lindy from
Stayawake
has experienced this and says, "I offer all my puppets in ANY colour, but I have found most customers are pretty overwhelmed by that and very rarely ask for customizations. So I make a few different selections and make sure I have photos of the colours I think might work best." Asking your buyers to make too many choices can leave them paralyzed with anxiety. (I'm fascinated by the
Paradox of Choice
. Read more about it
here
.)
StudioElan
agrees, "Don't make choosing too complicated. I make a separate listing for each possible mug colour so that the buyer doesn't have to leave me a colour choice as well as the personalization information."

Personalized Elegant Mugs by StudioElan
Give a brief outline of the customization process, including all of the information a buyer needs to give you in order for you to start the process.
Annie from
SpiffingJewelry
says, "I think it's important to clearly spell out all of the options your customer has in as few words as possible because it's very easy to overwhelm the customer with info. I like to sum up what info I need at Checkout in a little checklist so the buyer knows what to expect."
ClutchThat
says, "Most of my orders are custom and personalized. The best tip I can give is that the seller ask the buyer to include all of the details of their customization in the Message to Seller box in Checkout." Great advice from Erin, a.k.a.
imadeyouabeard
: "Having the turnaround time clearly delineated helps too. Even if it doesn't take a week to make the item, it's good to have the extra time to be able to fit in the custom work with your regular duties." End with a link to send you a message through Etsy Conversations if they have any questions, but don't rely on too much prior communication. "I try to include as much information as possible in my listings so that the buyers will get most of their questions answered right away, such as price discounts for multiple purchases or lead time," says
NovaofLove
. Don't forget about your item tags! "I've found that the '
custom
' tag works very well — people want something that's JUST for them!", says 
1mADwoman
. And 
SweetPervsion
 agrees, "I've also been putting the word '
personalized
' in the title and tags. I think it's helped quite a bit." "I offer a category in my shop called 'Customize It' where buyers can purchase custom add-ons for their items. For example, if you want to purchase a banner, you can also purchase a listing to add your child's name, change the colors, or use a different image. I include a link to this section of my shop in each listing." Great tidbit from 
getthepartystarted
!
Photography Tips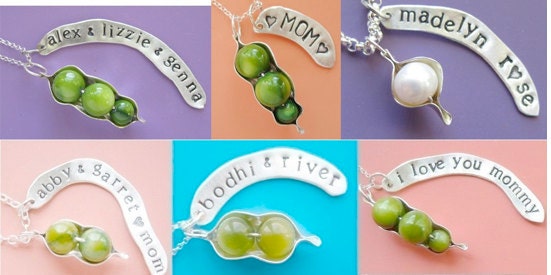 Customizable Peapod Necklace by Sudlow
Longtime Etsy seller Rachel of Sudlow has listing custom work down to a science. "I try and show as many variations as I can in my pictures. I allow for upgrades if desired and show the prices for those."
Etsy seller
Lirola
 allows you to choose your size and fabric in her listing for a
Cowl Neckline Dress
. She breaks down sizing information and displays fabric swatches all in one image within the listing. Brilliant!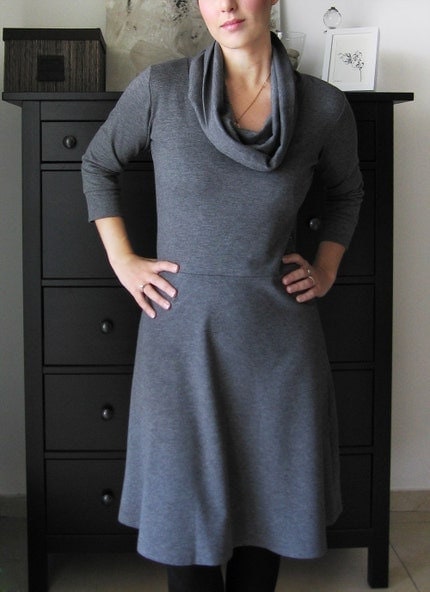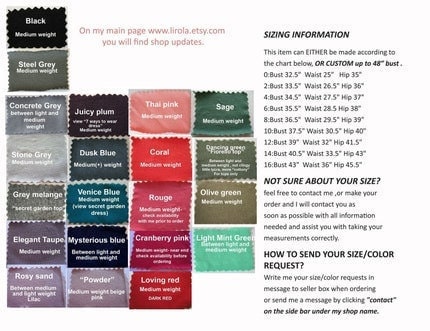 Cowl Neckline Dress With Long Sleeves by Lirola
If you are offering something like a custom portrait, be sure to show as many samples as possible in your listing. Etsy illustrator EmmieBean shows a wide range of subjects in her listing for a custom portrait. "You can minimize any uncertainty in a buyer's mind by having great samples of your work in your shop. Then they know exactly what kind of quality and creativity they can expect!"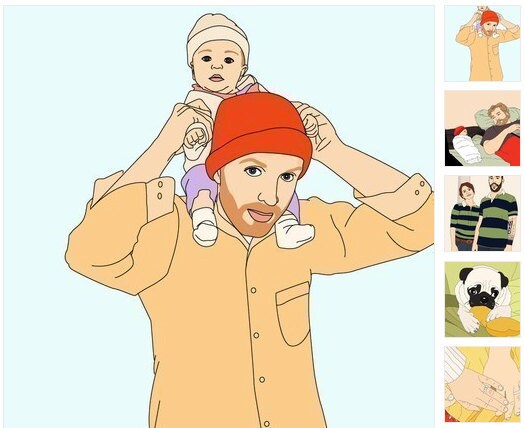 One Custom Portrait by EmmieBean
"A lot of our customers are very visual, so we try to send picture examples of different options in addition to typed descriptions. For more complicated projects, we like to send pictures at different points of completion so that the buyer has time to interject before the item is complete," say Jake and Megan from Nerdnest.
Marie from MarKhed is in agreement. "I always think of custom work as a project that the client and I will work together to make. So I'll always make the item, then before it is completely finished I take a photo and send it to my client for approval."
Victoria, the artist behind 
vsc83
, adds, "After the customer has ordered a custom listing, I like to convo them with a photograph of their item before I ship it. This reassures them that they are getting what they asked for when they purchased the custom listing."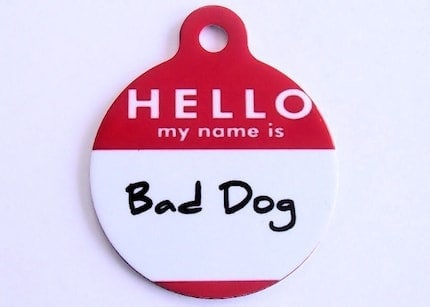 One last photo tip: Don't forget to have a little fun. BowWowzerZ suggest being a little quirky. "If you can find a unique way to draw attention to your customization, I think it helps. My 'Hello My Name Is' tags are one of my bestsellers because I put 'bad dog' where the name will go. People get a chuckle and get drawn into my shop to look around."
Communication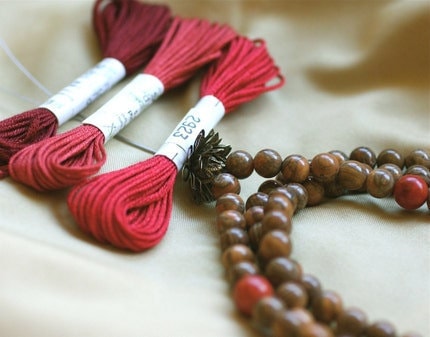 Custom Meditation Mala Restringing by Compassionmalas
"The main thing for me is thinking of the custom customer as someone I'm in a short, but nice, relationship with," says
Compassionmalas
. As with any harmonious relationship, good communication is key. Veena, the artist behind
knittingguru
, has been offering custom items on Etsy since 2006. Communication is paramount to her success, she explains: "I spend a lot of time emailing back and forth to make sure my customers are satisfied." She adds, "Unless I'm dealing with a customer I know well, I always request payment before I make a custom order."
Set expectations.
"State your policies about returns, exchanges and cancellations clearly, as in most cases, custom items are hard to sell to other customers," says
Oktak
. The holidays can get a little hectic, so
CutNGlue
suggests setting a cutoff date and sticking with it. "You want all of the customers to get their items on time, so leave plenty of time for shipping." "I also really want to stress how important it is to be honest with the customer about everything — your abilities, your availability, and most of all the time it will take until they have the final product in their hands," says jewelry artist
pepidesigns
. Woodworker 
krtwood
 shares a video of his process in his shop announcement. What a great way to let a buyer in on your creative process! This definitely adds to his advice: "Build a relationship of trust. Remember that they came to you, so they must like what they saw of what you have done, so trust yourself as you work out the details. Keep it simple. Being too open about options doesn't work. 'I can do anything' doesn't give them anything to start with. Be specific."
Remember to be realistic.
Chris from
ShopRedLeaf
(once featured in the
Quit Your Day Job series
) warns, "Custom orders are not a good time to be sourcing new vendors, new shipping methods, trying new methods, or to be reorganizing your work space." If you don't have time for the entire custom process, think about
offering a simple option
— even something as simple as a monogram can make a buyer feel special. Etsian
StudioCherie
agrees and writes on her blog, "Occasionally I come across an item on Etsy with my name on it, literally. It makes me think, 'Wow! They made that just for me.' Even the first letter of a person's name can have that effect." So, what are the most popular monograms?
StudioCherie
lets you in on a great secret: "I think the best resource is to be found here at 
Parents.com
. There is a 'search by country' for current popular names (if you make baby items), or in the U.S. by decade of the most popular baby names." This blog post is just the tip of the advice iceberg. If you want to hear more, make sure you check out
this forum thread
. There's a ton of really thoughtful advice, but remember, do what works for you!
Etsy Success Holiday Boot Camp | Finding Your Niche | Sign up for Etsy Success Emails