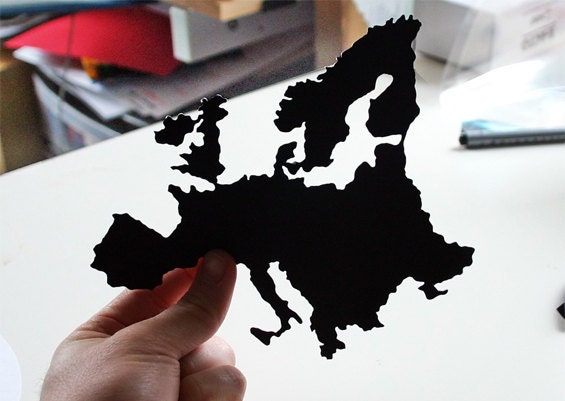 Did you know that during 2009 30% of sales on Etsy involved a buyer or seller outside the U.S, reaching over 160 countries? A lot of that action is happening in Europe.

Setting up a shop is technically the same process for a seller anywhere in the world, but we know selling from Europe comes with its own challenges. So I went to the Etsy community with the question, "What tried and true tips do you have to share?" With the help of many of our successful European sellers, I bring you a two-part guide to selling from Europe. (These tips are actually great for most sellers outside the U.S.!) Part 1 will cover product development, descriptions, tagging, and community. Part 2 will dive into shipping, customer service tips, and legalities.

Your Unique Niche Etsy buyers are looking for unique work they can't find anywhere else. As a seller in a far off land, you may just have a leg up! AThousandJoys says, "The best thing a European Etsian can do is really show off your heritage and be proud of your traditions and where you are from. That's what makes your work so unique and exciting and sets you apart from the thousands of other goodies that can catch a buyer's eye right in their backyard." Deepindigo agrees, "Be original and don't be afraid of show your country's culture. In this ever-shrinking world, it can be refreshing."

The techniques and materials native to your country are not just fresh to U.S. buyers, but also to buyers all over the world who share or are interested in your country's history. Etsy seller byAMOR uses this to her advantage and says, "Try to include something unique to your country in your designs, whether it be a material or a technique. I love to use Connemara marble and Kilkenny marble. My local Irish customers love the stones and other buyers are interested in unique materials from my country!"

Slippers From Lithuanian Wool by ing00te

While you should embrace your differences, remember that a lot of your buyers will come from all over the world. 

Vilte

 says, "As most of your clients will come from the U.S., study their trends. There are some 'weird' obsessions Americans might have — like buying everything with owls and mustaches!"

Descriptions and Tagging If the English language doesn't come easy to you, Belgian seller ArtMind suggests letting your buyers know why your descriptions might not always use proper grammar. She says, "If English is not your main language and you're not too comfortable with it, it doesn't harm to state this in your profile. You can call it 'creative English' to indicate that you try your best." I find most buyers are very understanding. I've even heard of a buyer taking the time to help a seller rewrite all of her shop descriptions!   Etsy has a very supportive community. There are lots of ways to practice your English right here on the site. 5erg says, "Most difficult for me about the language is that no one teaches you at school how people really talk in the U.S., so for finding the best tags it might be useful to hang out in the Etsy Forums from time to time — or just read the Forum threads to see what common words people actually use. You could even start a thread to ask about the tags you might use for your craft." Great ideas! English Etsy seller FeltandWeave suggests becoming familiar with the different words Americans may use to describe your work — thus what keywords shoppers will be searching. "Items are often called by a different name, some bags are also called a purse, a brooch can be called a pin, so try to use your tags accordingly." If you need help with this, spend some time browsing similar items in your Category. You'll probably pick up alternate terms in no time. This blog post, International Tagging, can help and has a list of common American English words translated to British English terms.

Wellies British Flashcard Shirt by charlieandsarah

To appeal to American and European buyers, ErikaPrice suggests you "make sure your tags include both American and European English spellings." Make sure you let your buyers know where you are shipping from. ThongbaiTatong writes, "In the beginning of each product description I mention that this item is from the Netherlands. Further down the item description I say, 'Be well informed about the purchase as I ship from the Netherlands. Please visit my Shop Policies for more information about shipping, refunds, etc.' Then I add the link directly to my Shop Policy page for people to click easily. It helps because, firstly, a lot of people think it is nice to buy a product from overseas. They see it as something special, coming from somewhere far away and mentioning where your product comes from is a kind of advertisement. And secondly, people know that this product is shipping from the Netherlands, so they know what kind of delivery time to expect." Lastly, make sure you are using metric and imperial measurements in your listing. This blog post, How to Internationalize Those Measurements, can help. Vadjutka says, "Sometimes I have a hard time counting in inches, so this conversion site is a friend of mine." And don't forget, clothing and jewelry sizes vary from country to country as well. Here's a website to help you convert jewelry and clothing sizes.

Irish Gaelic Text Glass Tile Magnets by CrowBiz

Set Your Location Make sure you've set your location to City/Town, State/Province, Country, Europe. That way if a buyer wants to shop by City, Province, Country or all of Europe, they'lll be able to find you. Mirthquake adds, "If you are from Holland, don't just say Holland, but say 'The Netherlands, Europe.' Don't be mistaken for Holland, Michigan." Lamarquisedesanges has found many buyers through the Shop Local tool and says, "Make sure you're not being too precise with your location, so that people will be able to find you through Shop Local. If you enter 'Mortagne Au Perche,' which is lost in the middle of the Normandy countryside, there is little chance someone will find you." Find out how to set your location here. 

Four Transportation Prints by gracehesterdesigns

Community Etsy Teams are a great place to find other sellers in your area. creamrose says, "I recommend joining a European Team, or at least popping in on the UK thread or the Euro thread (both in Teams and Events Forums), for advice and good chats!" "I second joining the European/UK Etsy Teams. They're full of good advice from people who've likely struggled with the same issues you might be facing as a new person. Don't be shy about asking for help, everyone is very friendly!" says nicolehill. Debs102 gets lots of help from her Team: "I sell from Wales and find being part of Etsy Teams is a big help — I learned that ladybirds are ladybugs, colour is color and a stocking stitch is stockinette stitch!" Joining forces with a local Etsy Team can also help you spread the word about your Etsy shops and Etsy. ABoxForMyTreasure says, "Etsy isn't that well known (yet!) in many countries in Europe, so if you're a new Etsian, take every opportunity to tell people you meet about the site and what it's about. Spreading the word will lead to more local customers." The Etsy Forums can also provide support. SunflowerWoolArt suggests checking in with other sellers after you list a new item: "After I list something new, I often ask for advice in the Critique section of the Etsy Forums concerning the names that I use for my items. Native speakers often suggest some better or alternative terms, which I can use in the titles or tags so my items can be found more easily." Do you have a tip or resource to share with international sellers? Let us know in the comments below! 
........