Make everyday meals memorable with heirloom-quality bowls, plates, and cups from some of the top handcrafted and vintage pottery pros on Etsy.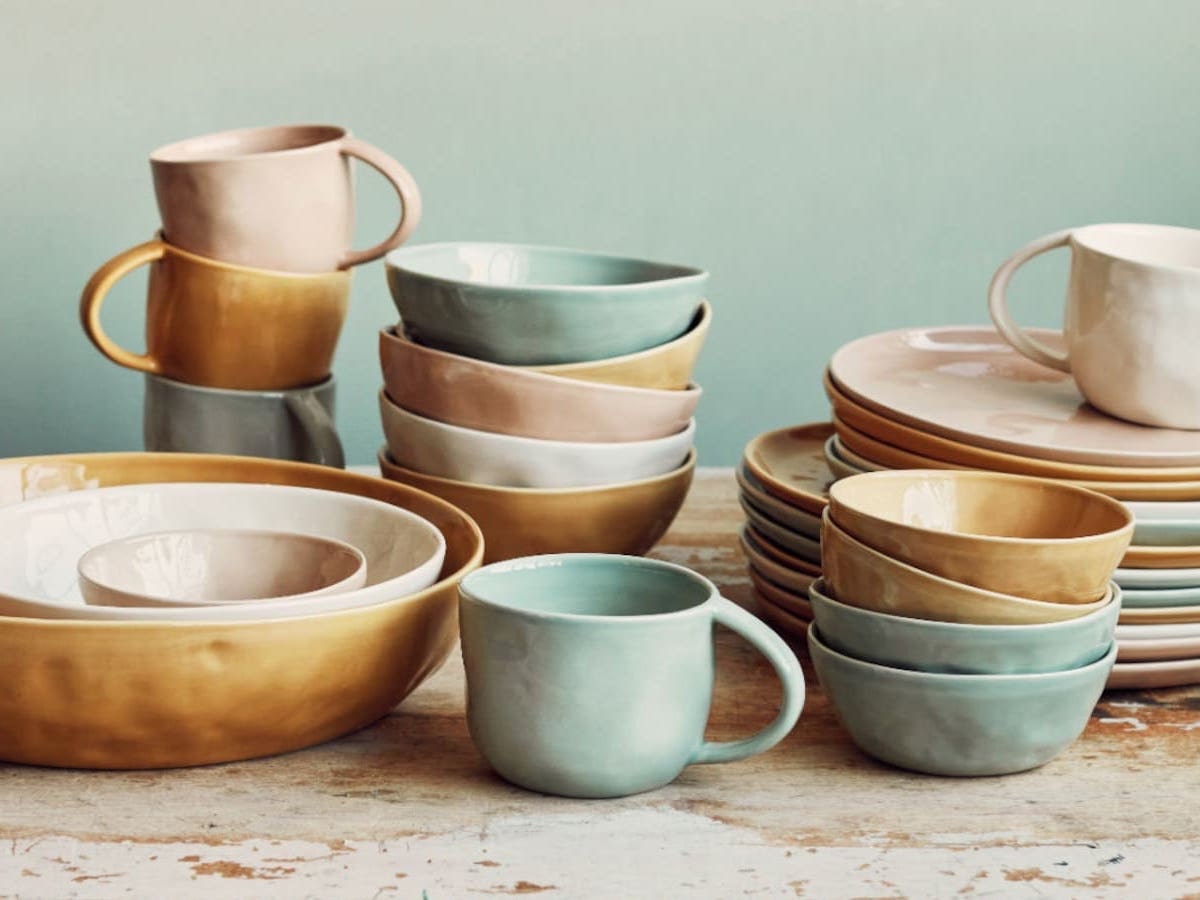 Whether you're staging a candlelit supper for two, hosting a festive feast with friends, or just doing your best to keep hungry little mouths fed, something magical happens every night as soon as the places are set. Suddenly your loved ones gather 'round, and it's all about sharing good food and togetherness. No moments are quite so precious—or more deserving of the beautiful backdrop of your most prized plates, gorgeous glazed bowls, and deep-edged porcelain dishes.
Equal parts handsome and hardworking, the right set of quality crafted dinnerware will last for generations and make every trip to the table feel like a celebration. To help you start building your own heirloom collection, we've rounded up some of the most talented makers and vintage curators in the world of dishware. From softly speckled stoneware to rough-hewn clay vessels with eye-catching organic shapes, their remarkable designs remind us that every ceramic cup and porcelain plate has its own rich history behind it. Read on to discover the thoughtful details that distinguish pieces from these dinnerware pros, then shop each of their unique creations.
Understated elegance from Barton Croft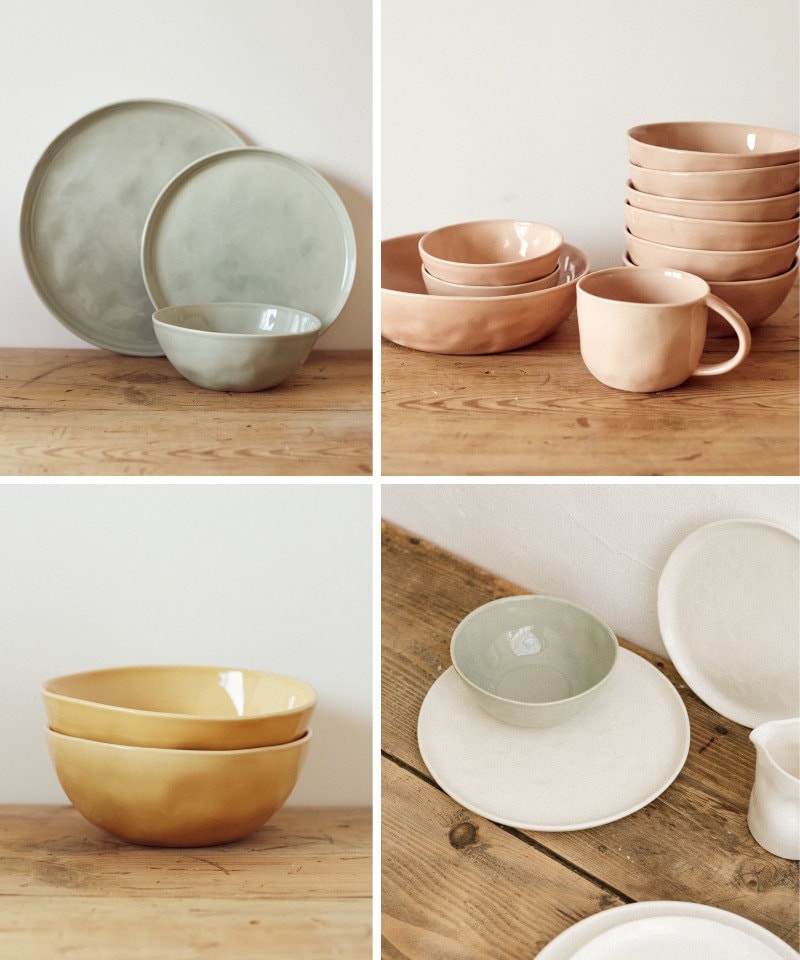 Shop dishware from Barton Croft. Mugs from $37 each, bowls from $63 for set of two, plates from $68 for set of two.
"I want more people to know the simple joys that good pottery brings to everyday life," says Laurena Lawson, creator of UK-based stoneware shop Barton Croft. "Even a few minutes with a cup of tea can be a chance to slow down, savor, and enjoy." To that end, Laurena spent years refining her designs at the wheel, honing each high-fired stoneware bowl, mug, and plate to form a line of easy-to-reach-for pieces that feel as good in the hand as they look on display. "All the small details have been carefully thought out and improved for the best user experience," Laurena explains of her polished, pastel-glazed place settings, which come in soothing shades of sunrise pink, dijon yellow, and seaglass blue. "For example, our everyday bowl has a narrow base that fits perfectly in the palm, while our mug has a large, comfortable handle that will work for the whole family, whatever the size of their fingers."
Tablescape tip: To complete the picture, Laurena recommends coordinating her dishes with vintage cutlery, linen napkins and other homey objects that accentuate the meal without distracting. "Keep it simple," she says. "Focus on the guests and the memories they'll make."
Antique rustic charm from Muddy Heart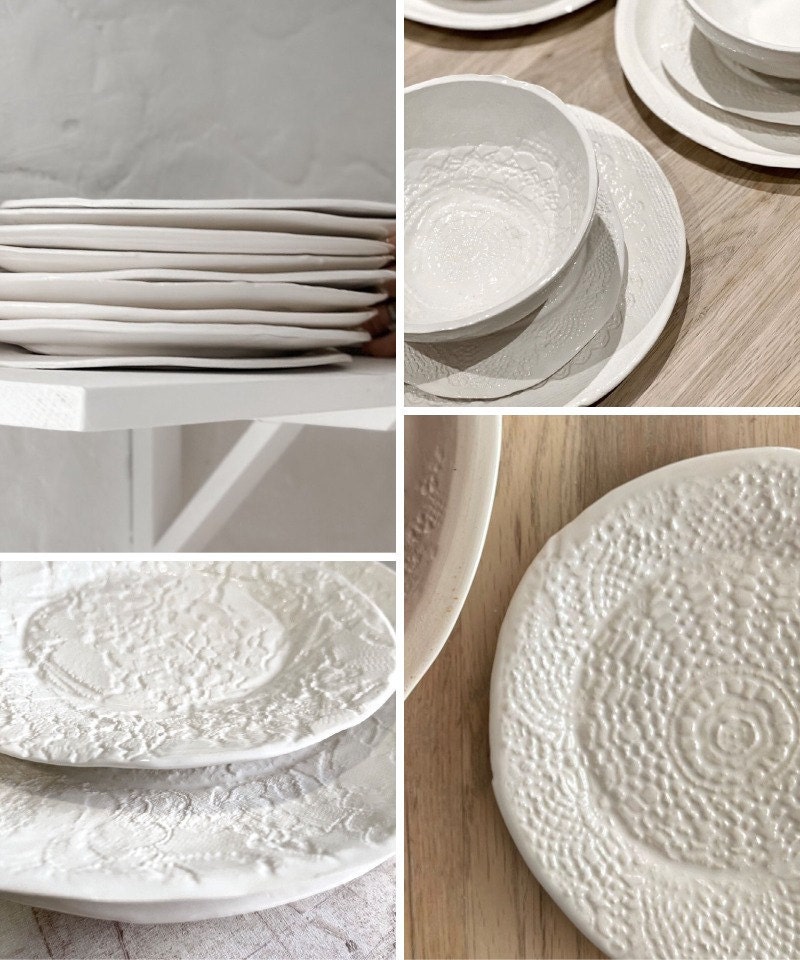 Shop dishware from Muddy Heart. Cups from $59 each, bowls from $117 each, plates from $35 each.
Coming from a large family, it's fitting that North Carolina potter Meli Paxton has crafted a meal-ready collection that's big on character. "My pieces look like old antique dishes found at a French flea market. They give that chic, effortless, collected look that's always in fashion," she explains. We're particularly fond of the Muddy Heart maker's hand-textured dinnerware sets, which feature a romantic heirloom lace motif that would look right at home serving puddings and porridge at a quaint European cottage. "I don't follow the antiquated idea of 'special occasion wares,'" Meli says, adding that she uses her own personal set for everything from breakfast cereal to homemade lobster ravioli. "Investing in timeless, well-made pieces is the key to a beautiful meal every time."
Tablescape tip: When it comes time to design a feast, Meli loves to dress up the dinner table with natural elements like branches, flowers, or even mint or basil bouquets arranged in small vases. Her only advice? "Keep them short enough so you can see people."
Versatile minimalism from Mr. Bowl Ceramics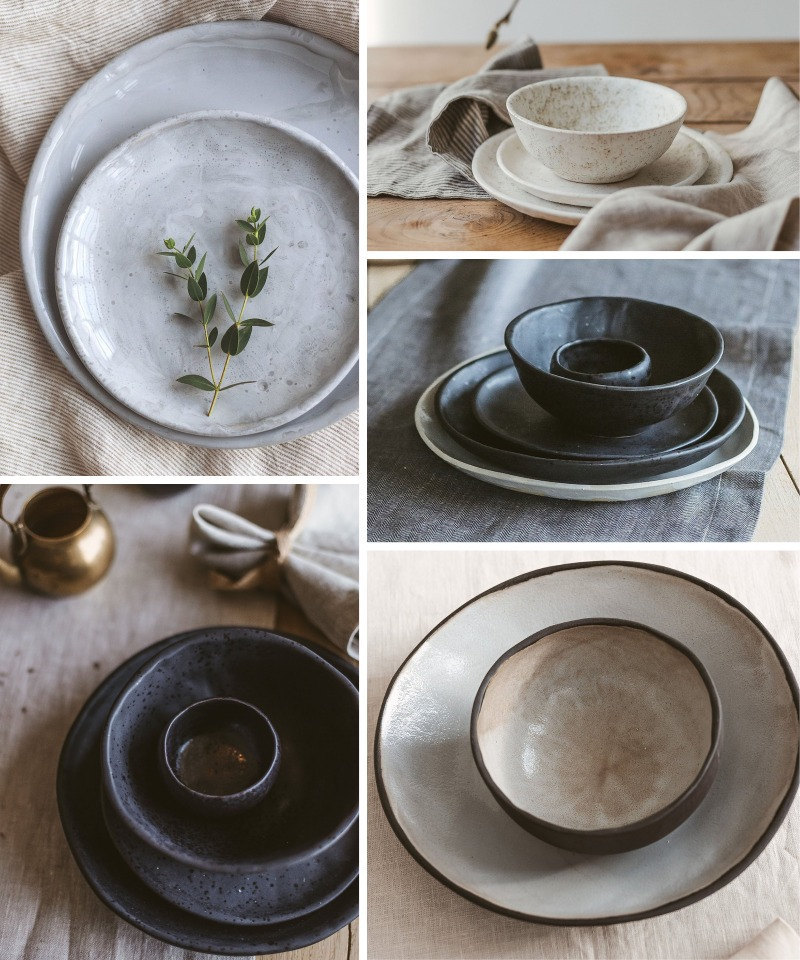 Shop dishware from Mr. Bowl Ceramics. Cups and mugs from $35 each, bowls from $40 each, plates from $40 each.
Simple, functional, and altogether stunning—in a way, the dishes from Mr. Bowl Ceramics defy categorization, and that's by design. With their neutral hues and smooth, organic shapes, these versatile vessels lend themselves to all types of decor styles ranging from modern to Japandi. "There are no rules, only a lot of room for imagination to create a fine dining experience," says Indre Beganskaite, who runs the Lituania-based ceramics studio with her partner and best friend Rasa Juskiene. Their number one aim? "To produce dinnerware that brings the whole family together at the table, inspiring new traditions and reviving forgotten ones," Indre explains. For the duo, this means an intensive, weeks-long process that begins with kneading and rolling out raw clay and culminates in freshly fired small-batch sets starring bold matte black soup bowls and creamy white speckled dessert plates.
Fluid forms from Free Folding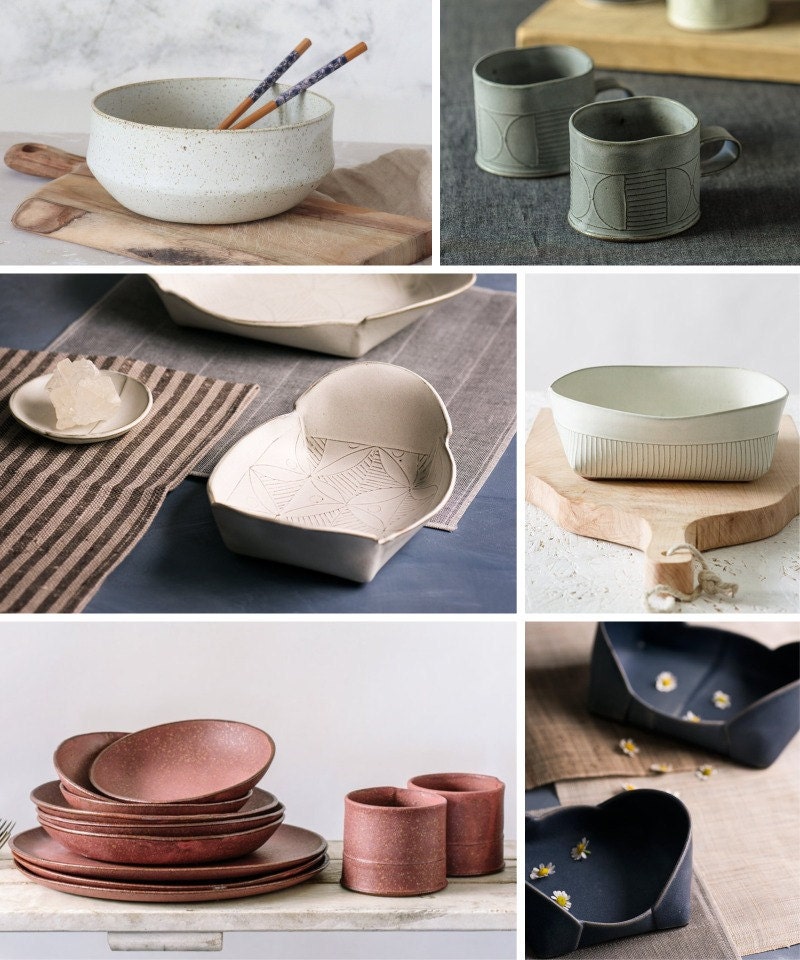 Shop dishware from Free Folding. Cups and mugs from $33 each, bowls from $38 each, plates from $48 each.
Hand-built by carefully folding together clay sheets, the functional ceramics from Israeli studio Free Folding play with the relationship between softness and structure. Featuring gently sloped, coarsely textured shapes that give each finished bowl and plate the appearance of both movement and stillness, these avant-garde designs from the mind of artist Michal Keren Gelman are sure to make a statement at suppertime. "I love to take a clay sheet, fold it, give it some capacity, and create a container," Michal explains of her unique, freeform process. An innovator at heart, Michal also developed a special relief technique that mimics warm, earthy metallics, and experimented her way toward using thinner, lighter weight clay walls while maintaining durability. "Though delicate and fine looking, the pots are amazingly practical," Michal says. "They're dipped in my own glaze recipes and fired to a high temperature, making them oven, microwave, and dishwasher safe."
Timeless classics from Convivial Production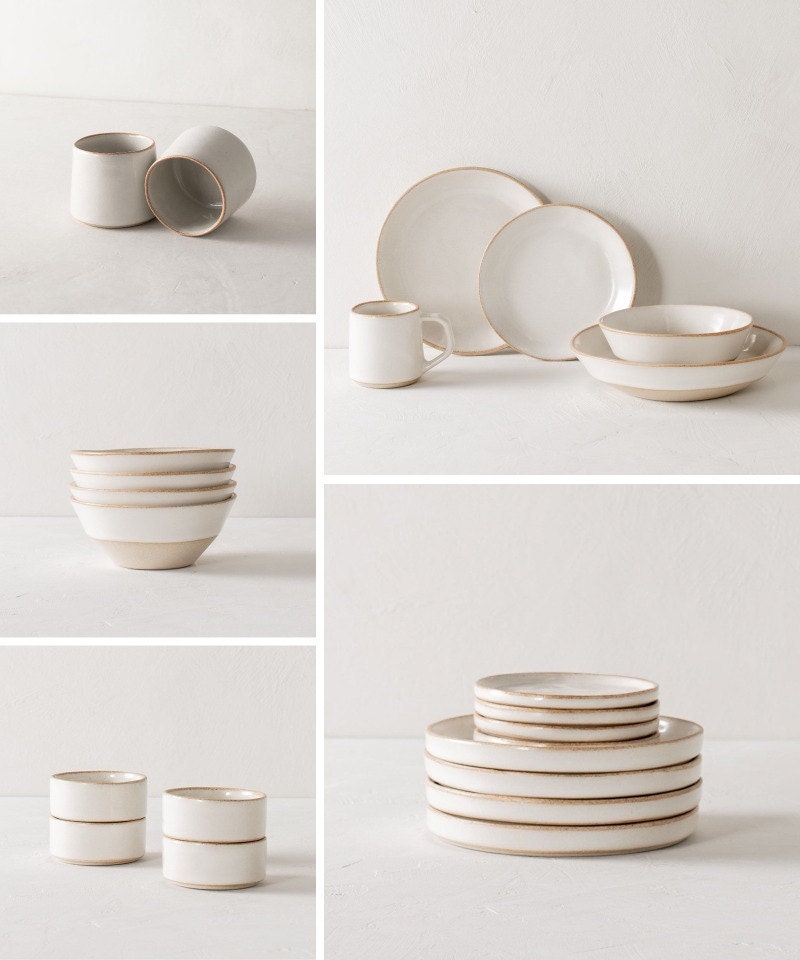 Shop dishware from Convivial Production. Cups from $32 each, bowls from $14 each, plates from $12 each.
If an empty plate is a clean slate for serving beautifully braised beans, tender filets, and mouthwatering morsels of cake, then the effortlessly elegant dinnerware designs from Convivial Production will make the ideal stage for all your most memorable meals. Produced in a single time-tested ivory white glaze, this perennially popular Missouri line from shop owner Chentell Shannon purposely keeps things simple to allow chefs' creations to shine. Cleverly, each dish is also designed for attractive stacking when not in use. "We love the idea of our tableware serving as display pieces in open shelving kitchen concepts," Chentell explains. Her other major design consideration? Comfort. "We want our bowls to feel cozy when held from underneath, and the rims of our plates to be rounded so that people enjoy holding, serving, and interacting with them," she says.
Tablescape tip: A pared-down approach to bowls and plates also encourages creativity when styling place settings. "We recommend using our wares as a base for layering. They're the perfect starting point for mixing in other personal pieces," explains Chentell's colleague, collections designer Danielle Coleman.
Colorful country chic from Sarit Ceramics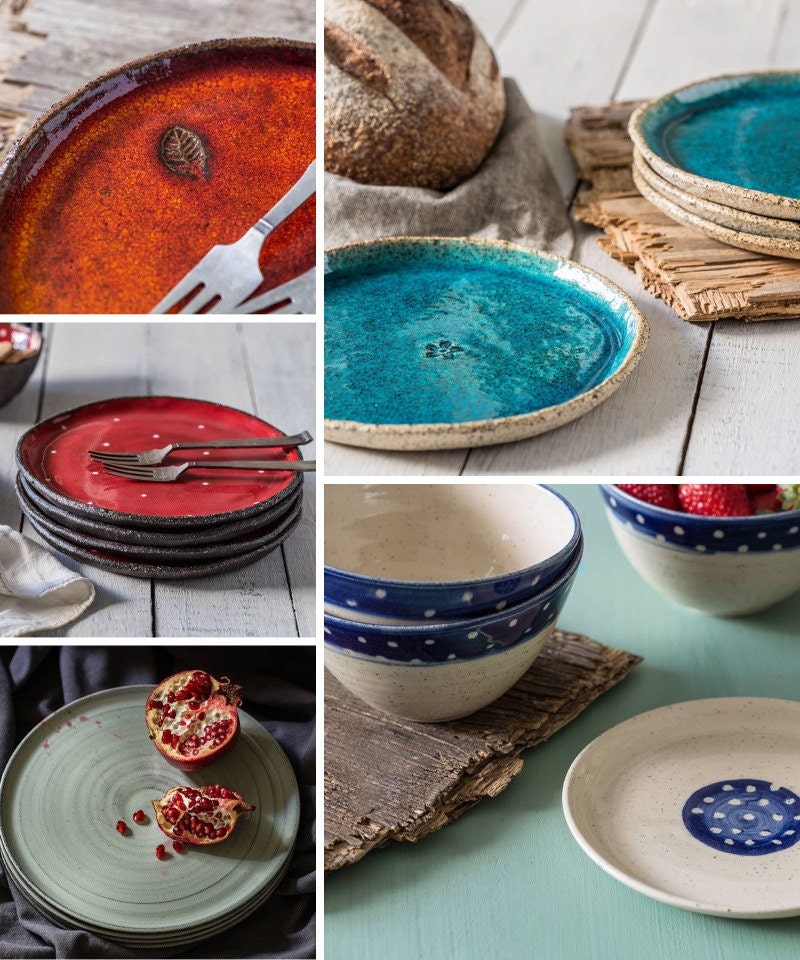 Shop dishware from Sarit Ceramics. Cups from $40 each, bowls from $38 each, plates from $48 each.
Prefer a tabletop with a pop of pigment? The richly hued, rustic pieces from Sarit Ceramics are designed to make moments of daily bread breaking that much brighter. "I'm inspired by the colors and textures of nature," explains functional pottery expert Sarit Reshef, who runs her shop from Israel where she's influenced by "the blue of the sky and the sea, the brown and yellow of the earth, the green of grass and trees, and the red of the blossoming flowers in my garden." For Sarit, deliberately contrasting shiny, vibrant glazes with rough, muddy clay creates a certain warmth and harmony on the plate, which she often tops off with a romantic imprint of a single bloom or leaf. Perfect for adding an extra-homey touch to any country cottage or bringing a welcome handcrafted touch to a more modern abode, these scene-stealing dinnerware sets are sure to leave a lasting impression.
Scandinavian simplicity from 1220 Ceramics Studio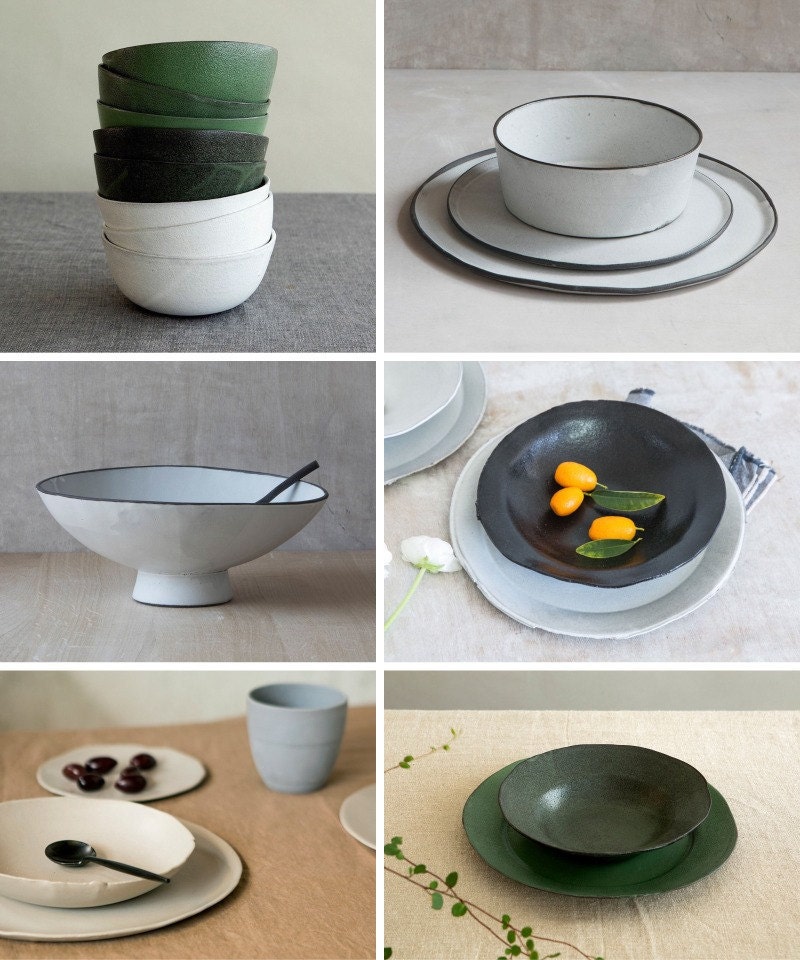 Shop dishware from 1220 Ceramics Studio. Cups from $13 each, bowls from $14 each, plates from $36 each.
For Israel-based ceramist Lior Shachar, the key to minimalism is intentionality. "When I design an item, I always think of its function first: what it would be used for, what one can eat from it, and how it will look on the dining table." From there, she rolls her clay into slabs and allows each crude-edged dish and crisp plate to take shape. "Simplicity comes from deep thought, and keeping a deliberate roughness to the material that leaves it closest to rawness," explains the prolific pottery pro and owner of 1220 Ceramics Studio, who has 25 years of experience. Inspired by Scandinavian design principles, Lior's sophisticated pieces boast a slick smoothness that begs to be picked up and passed around a table. Our favorites? Her line of black clay bowls dipped in a white matte glaze, which feature thin exposed black rims for an unfinished look that's still clean and modern.
Pre-loved mismatched sets from Vega Vintage Finds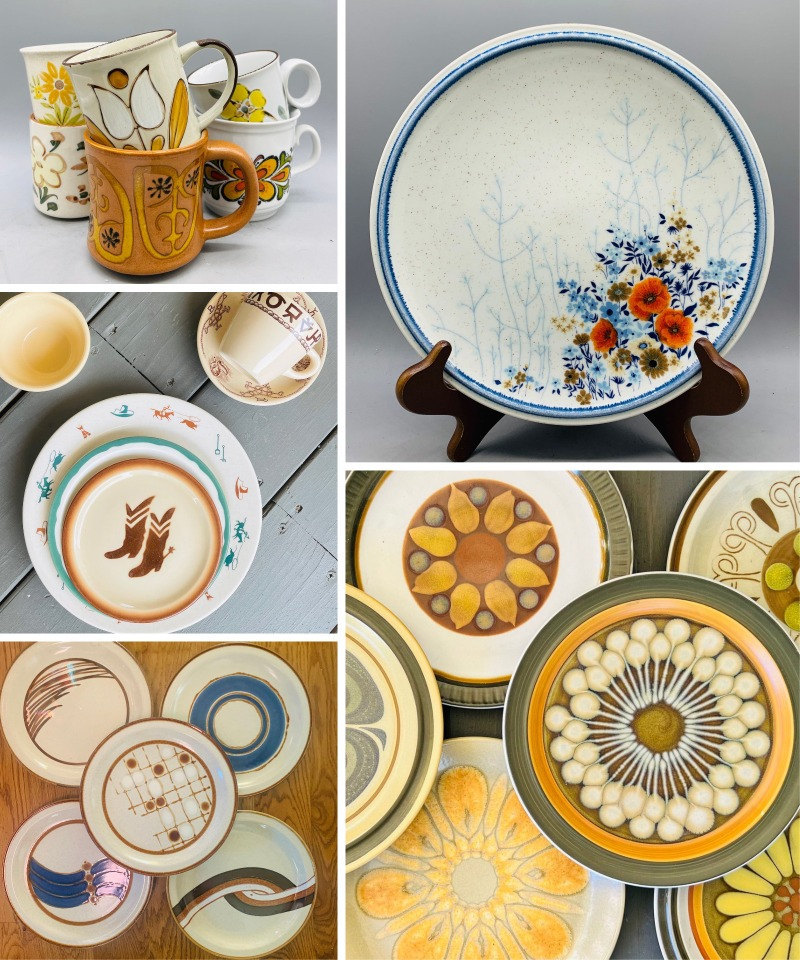 Shop dishware from Vega Vintage Finds. Vintage mismatched sets from $4.50 each or from $40 for set of 5.
Vintage lovers rejoice! If it's stoneware with a story you're looking for, you'll adore browsing the curated, old-timey sets from Nicole Amadril of California shop Vega Vintage Finds. Lovingly arranged into playful combos of 4 to 8 plates organized by color and pattern—with the occasional cups, saucers, and bowls tossed in—Nicole's extensive collection offers something original for everyone. "My aesthetic is pretty eclectic," she says. "I can appreciate Homer Laughlin's Eggshell line with its delicate pink florals as much as the colorful geometric designs in Casual Cream's Electra line." And with over a decade of experience sourcing and assembling mix-and-match plate packs, Nicole has refined her intuitive process down to a science. "I pull out one of each pattern in my inventory (taking up both my lawn and my neighbor's) and see which pieces look like they complement each other," she explains.
Tablescape tip: "Be bold, embrace color, and don't be afraid to try something different," Nicole says. "I had a customer who had a brilliant idea for her dinner parties; she purchased my mixed place settings according to the personality of her dinner guests!"
Earthy organics from Every Story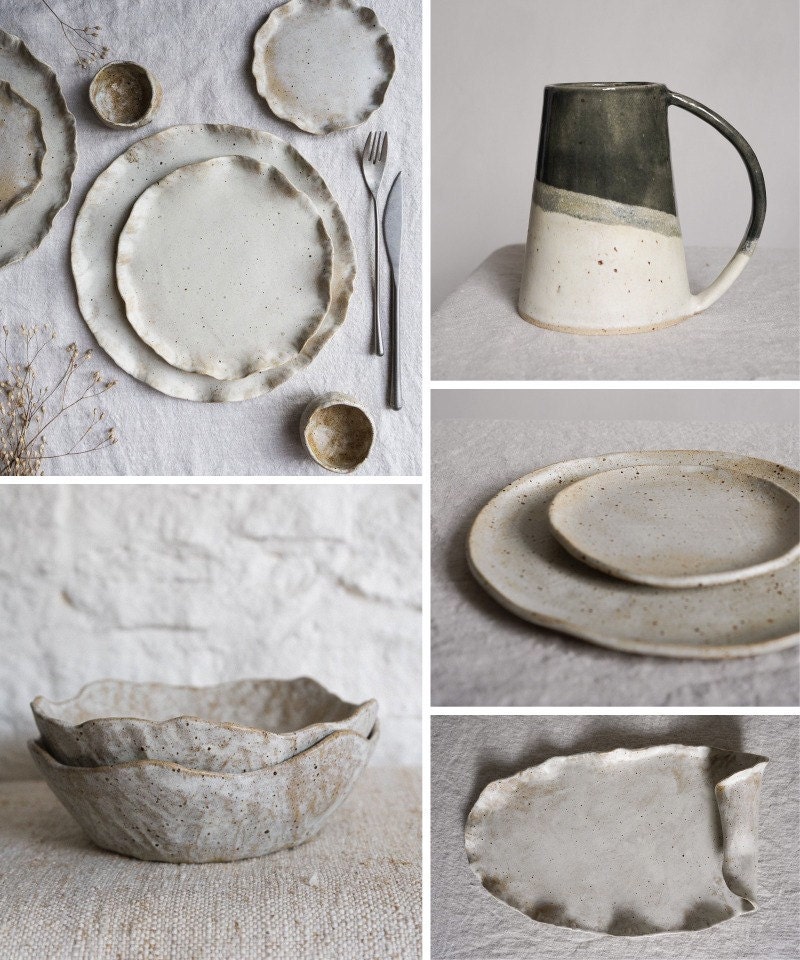 Ceramist sisters Abby and Hannah Livesley have perfected the art of imperfection. Their raw, earthy designs embrace natural variation, organic textures, and the rustic charm of a milky off-white glaze. "Being surrounded by nature is where we're most inspired, and we love bringing this into our pieces," explain the UK-based creators of Every Story Studio, an effortlessly styleable line of wabi-sabi bowls and plates. And though they're bedecked with decorative flecks, rippled rims, and other delicate details, don't mistake their whimsical wobbles for anything but ideal for every day. "When making our plates, we're mindful that they will hold an array of different recipes, so we work hard to ensure they sit perfectly flat," Abby explains. All that's left for you to do? Gather your loved ones around the table and fill them to the brim. "For us," Abby says, "that's where some of the most special memories are made."
Tablescape tip: "Our pieces work well together, creating a wonderful display for any table setting," Abby says. "We like to style ours with different elements from each of our ranges—mixing sizes, shapes, and shades of glazes."
Want even more warmth and texture for your tabletop? Check out these handcrafted accent pieces from talented ceramists on Etsy.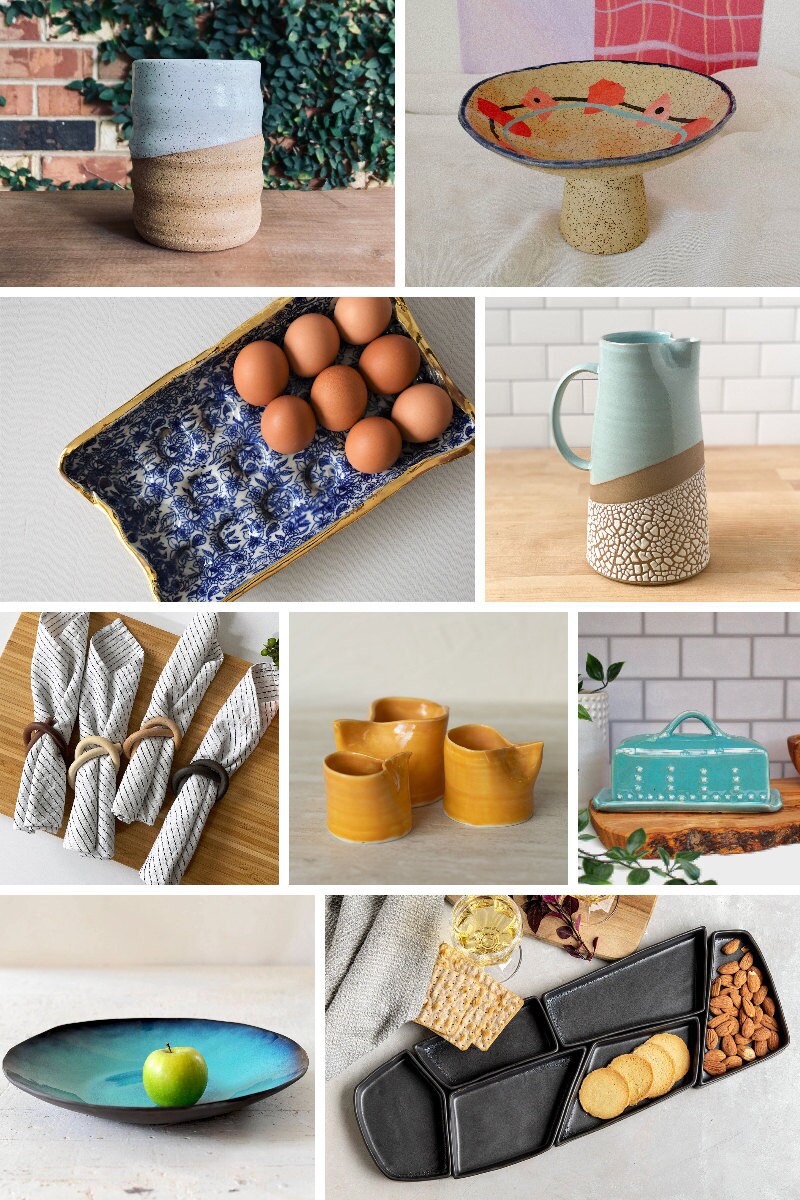 SHOP (top to bottom, left to right): Stoneware tumbler from Blanc Pottery, $45; ceramic pedestal from Victoria Ceramics Shop, $266; blue and gold egg tray from Claylicious, $92; stoneware pitcher from Rhyno Clay Works, $168; ceramic knot napkin holders from Sunday Studio Brooklyn, $85 for set of 4; porcelain sake set from Black Girl Wild Pottery, $45; covered butter dish from Back Bay Pottery, $73; large fruit bowl from Ingrid Debard Ceramics, $190; puzzle serving plate from Clay by Dannah, $128