Learn how two dedicated makers of fairy houses became enchanted with the art form — and how you can get started, too.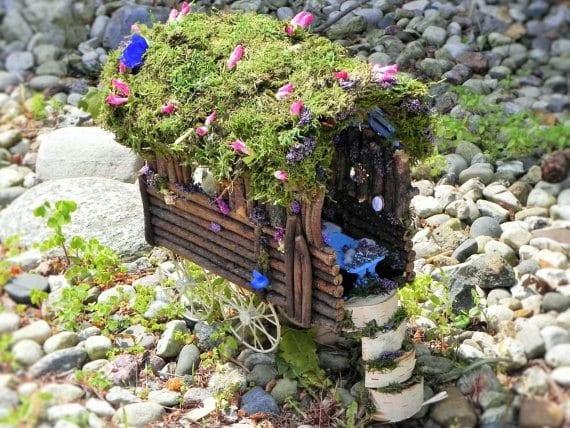 For husband-and-wife artists and Etsy sellers
Mike
and
Debbie Schramer
, collecting beautiful specimens of mosses, flowers, seeds and twigs was just a natural part of their frequent hikes near their former Washington State home. But on the day Debbie used some of those materials to make a miniature chair, the real magic began. In a twinkling, the couple entered a world they previously didn't know existed, the world of fairy culture — a vibrant international community of artists, nature enthusiasts, and lovers of small and mysterious things — whose enchantment brought them friends and customers from around the world. Twenty-five years have passed since that first little chair came into being, and now in their new book,
Fairy House,
 Mike and Debbie show you how to make tiny treasures of your own, from a teacup fashioned from an acorn cap to an entire house full of woodland furniture. They also emphasize the spiritual rewards connected to working so closely with the natural world. "Nature has a language that can teach us and guide us, as people and as artists," Mike and Debbie say. "If you let
the beauty of nature
inspire you and speak to you in its gentle way, your talents will emerge to give you a comforting peace and joy." Here's their story.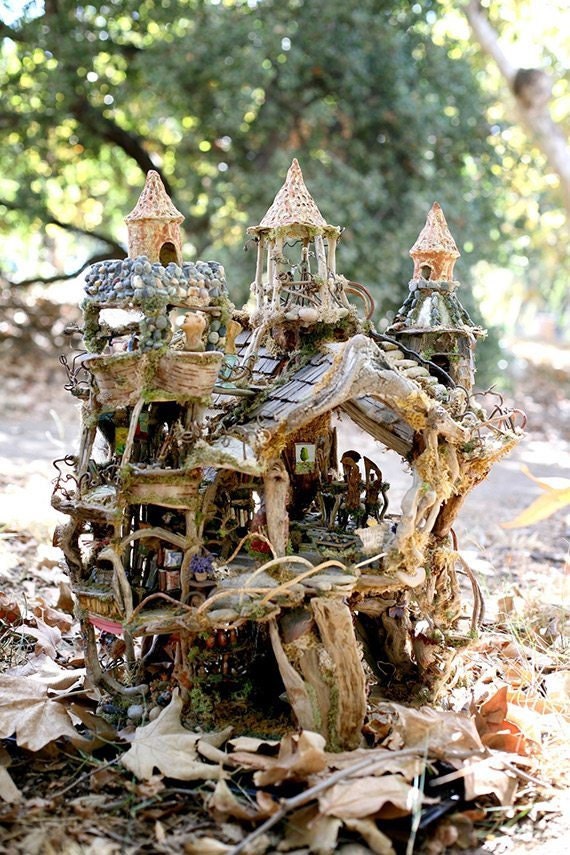 Mike and Debbie Schramer's Fairy Castle
When did you make your first fairy house? And had you ever heard of one before you made one?
Debbie:
 I grew up writing poetry and playing musical instruments and I had always loved doing different kinds of crafts like making dolls, handmade books and cards. But no, we'd never really heard of fairy houses before we started doing this 25 years ago. At the time, our sons had just started going to grade school, and when I found I had more time to myself, I was excited to use my creative talents again. The first project I tried was making a full-size Adirondack chair; when that didn't work out, Mike suggested that I try making a miniature chair instead. I used some materials I had gathered from a couple of acres near my mom and dad's place in Washington, and it was so much fun I kept doing it.
Mike:
We have always loved nature. When we would go for hikes, Debbie was always picking up things she found, so we already had quite a collection of wild grasses and flowers. And Debbie's mom was our biggest mentor. She always said, "You have so much talent. I wish you would use your talent." She really encouraged us.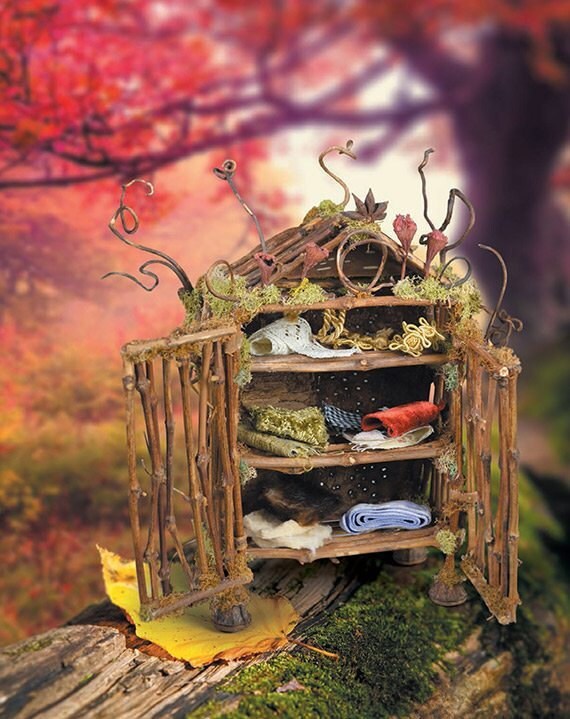 A handcrafted cabinet from the book
Fairy House
When did you imagine this could become a business?
Debbie:
In February 1991, we had a little exhibit of miniature furniture at a local library. Some interior designers saw the work and ordered things from us. Then we contacted the designer
Mary Emmerling
 for some marketing advice; that led to an article in
Victoria
Magazine
.
Mike:
From that one article we got 800 letters — sometimes 18-20 a day — plus 200 phone calls, and galleries wanting to carry our work. The first batch of orders from that
Victoria
article was equal to three months of my take-home pay. I quit my job and we did only this work for the next six years. It opened up our artistic abilities so much that we began painting and sculpting, too. Debbie is so creative with materials, with fabrics and vintage things, that we started selling antiques, and now we do a combination of art and antiques. And for the past three years we've also been teaching art to mentally disabled adults.
Debbie:
We really had no idea our little fairy furniture would give us so many amazing experiences. As the interest in our work grew and more people came to love our fairy furniture, the more happiness we felt and the more humbled we were by such appreciation. It was truly a dream come true for us, because we had always wanted so much to work together. We each had different ideas about making our pieces, so it was exciting to be inspired by each other.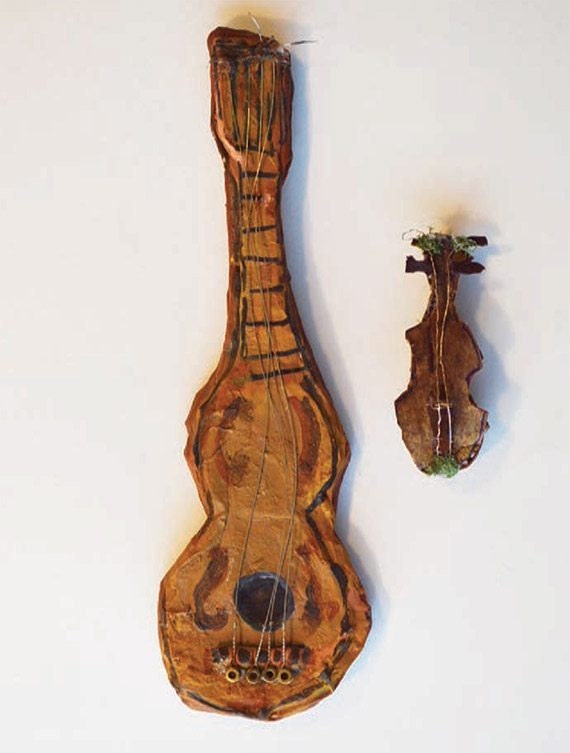 Handmade miniature birch bark instruments from
the Fairy House book
How did you grow from making fairy furniture to making fairy houses?
Mike:
In 1993, the Seattle
Folklife Festival
invited us to make something to display — whatever we wanted. We're not sure how they heard of us, but by that time our pieces had been featured in many books and newspaper articles. We were working with an art rep then, too, who took our pieces to the San Francisco, Atlanta, Chicago and New York Gift shows. So our art had a lot of exposure. We had always wanted to build a castle, so we did, out of branches from a 50-year old wisteria tree that was being cut down in a Washington state park to make room for some structures. We thought it was sad that such a beautiful, flowering tree would be removed, so we asked if we might be able to have some of the branches. We filled our flatbed truck twice with branches to make what we called the Fairy Treehouse. It was 5 feet tall and 4 feet wide, with 10 rooms and a little observatory at the very top. It took us about four months to make, and we used every kind of material from nature: branches, twigs, vines, roots, moss, leaves, flowers, pods, shells, stones, seeds, berries, herbs, wild grasses and anything else we could gather or grow. Finally, we furnished it, adding tiny books and dishes, brooms, mirrors, sculptures and paintings, wood for the stove, herbs for drying and many other wonderful small details that we hadn't thought of making before.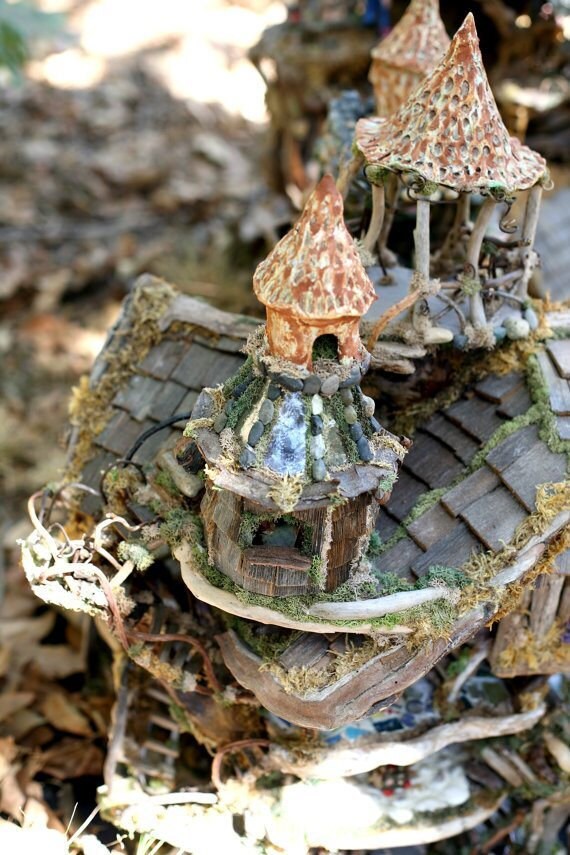 A view of the Fairy Castle from above
Debbie:
People loved it, and then around 1994-95 the
American Visionary Art Museum
in Baltimore contacted us. They were planning their opening and "The Tree of Life" was the title of their inaugural exhibit. The founder and director, Rebecca Hoffberger, was interested in our Fairy Treehouse, so we sent her a video of it; she called us back and said she had started crying when she watched it. That almost made
us
cry!
Why do you think people react so most strongly the first time they see one of your fairy houses?
Debbie:
We all have memories of Tinkerbell or Hansel and Gretel. People are drawn to
miniatures
and small things, and everybody loves nature. Nature brings back those memories, and helps us feel the inspiration of another world.
Mike:
People are excited when they see that someone has visualized what they have imagined since they were children. And it can be anybody — we've seen big men who look like loggers break into smiles when they see a fairy house.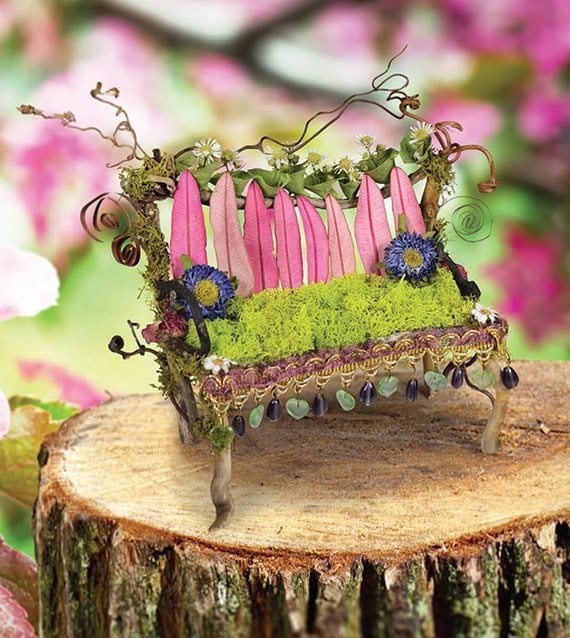 Fairyhousethebook
Is there a sense of community in the fairy house world, and are you involved with it?
Debbie:
Definitely. Since we started this work we have met so many people who love fairies and fairy tales. There is a
Faerieworlds Festival
 that draws people from all over the world with its music, art, and incredible creativity. And a website — 
fairyist
 — that has a wealth of knowledge about the fairy world.
Mike:
It's an international cult phenomenon. We've had the opportunity to work with
Brian and Wendy Froud
, who are very well-known fairy artists who worked on
The Dark Crystal,
 and we were approached by the artist and filmmaker
Ian McCaig
 about a film he was working on about the book
The Wizard of EarthSea
by
Ursula LaGuin
. Ian wanted us to be conceptual artists for the film and to create some props in the movie. He was also working on an animated film of
The Sorcerer's Apprentice
and asked us to make a small chair for one of the scenes of the film; we sent him a chair we'd made of seaweed strands and jacaranda pods. Unfortunately, neither film was produced due to distribution problems, but we hope to have another opportunity one day to work in the film or television industry using our nature art.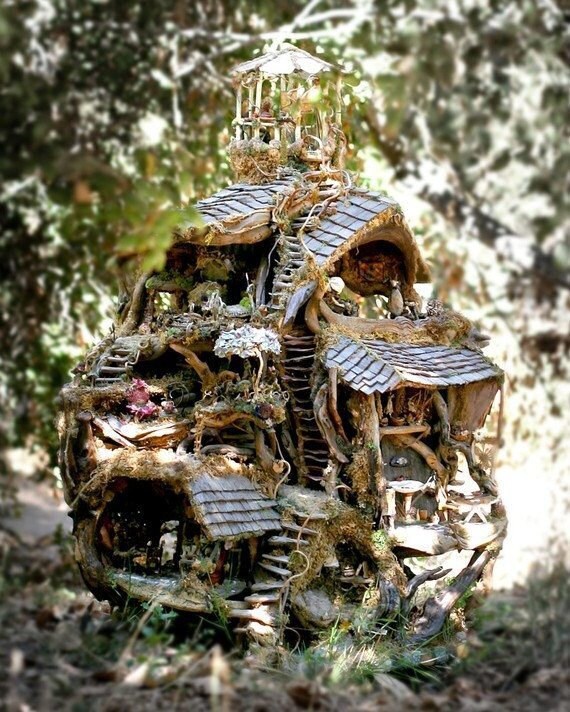 The Schramers' Fairy Treehouse
How did your book Fairy House come to be published?
Mike:
I always tell people it's really simple if you have patience: Just get married, have children, have one of them — our son Mathew — grow up and become a filmmaker, then have him make a
documentary
 about your work and show it to Christopher Robbins, who became our publisher at
Familius
. Simple!
Debbie:
We're very excited because the first printing sold out during pre-orders — so we were in our second printing even before our official release date!
What's the best fairy project for a beginner to start with?
Debbie:
Probably a chair. Everybody uses a chair every day. It's very relatable. Then a table, which is basically a chair without a back.
Mike:
You can build your skills as you go. First we built furniture, then a house. In the beginning my mind was faster than my hands. Now my hands have caught up, and I can really enjoy the solitude of working with these materials and experiencing the excitement and the flow.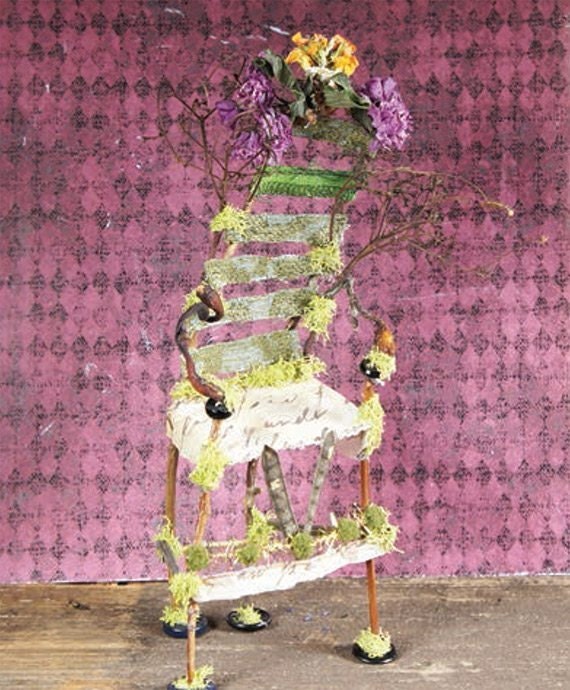 A fairy chair featured in the Schramers' book,
Fairy House
Have you ever seen a real fairy?
Debbie:
I don't know that I have ever seen a real one, but I have felt their presence. It depends on how susceptible you are to the magical world of the forest. I always feel there are spirits or little gentle people who live in that world.
Mike:
Once on a hike we met a couple of girls who told us that
we
were the fairies. Of course, if you know anything about fairies, the rule is if you asked me whether I was one, I wouldn't tell you anyway.
Are there other experiences and pleasures a nature artist can have, besides making the work itself?
Debbie:
Yes. Using our imaginations as artists, as we did when we were children, helps us to be happy. It can help us escape a burdensome world or stave off boredom or negativity. Making our nature art has also expanded our imaginations and improved us as human beings because we have become more sensitive and aware of the natural world around us and its beauty. When we began to be more creative, we "filled out" as people and felt more satisfied with who we were. I love the gentle world of the fairies and like to believe that they are quiet, soft-spoken spirits, kind and caring. Through this work, I have often felt a kindred spirit guiding me, like a muse or a spiritual sister who knows my truest self and can keep me close to the gentle, childlike person that I really am.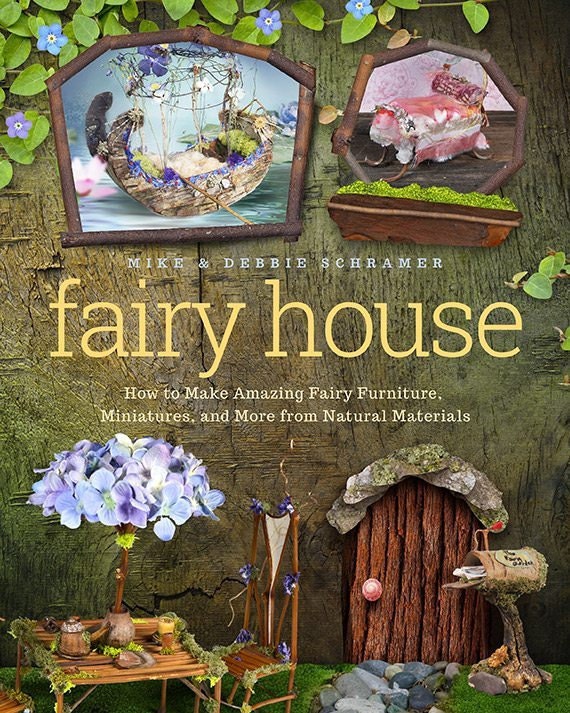 The cover of Mike and Debbie Schramer's book,
Fairy House
Are there other nature artists and fairy house makers whose work you admire? 
Debbie:
 There are many fairy house makers and nature artists whose work we like. Alice Hudson, who created "A Palace for Wednesday," an amazing fairy house made from twigs, moss, paper and other materials, is one — her fairy house can be seen at the
Mingei International Museum
in San Diego (there is also a book and video about her fairy house).
Pandorajane,
who is on Etsy, makes wonderful natural fairy furniture and other unique pieces, and Elaine Falbo of
Bella Flora
in Portland, Oregon, makes beautiful fairy furniture that's very delicate and pretty. We also like Laura and Cameron Martin (a mother and daughter team), who wrote the book
Fairy Island
and create wonderful fairy dwellings, furnishings and other very detailed pieces. Sally J. Smith creates rustic and natural looking fairy houses from little stones, moss and twigs. And then there's Carol Betsinger, who uses rustic bark, curly branches and moss to create very woodsy fairy houses.
Shop Fairy Houses, Kits and Supplies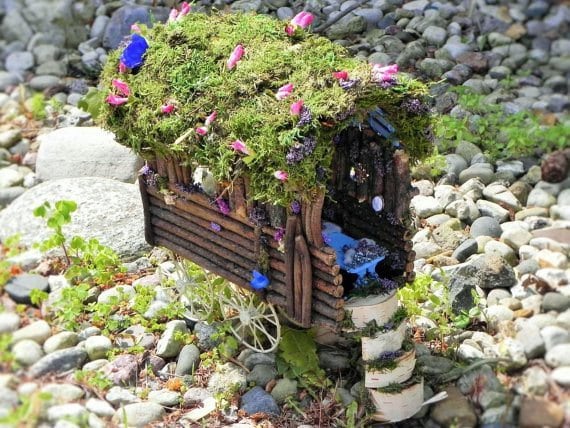 TinkerWhims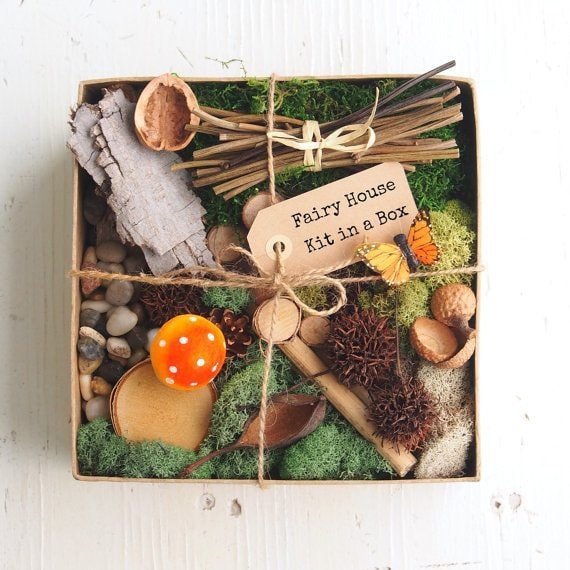 FairyFolk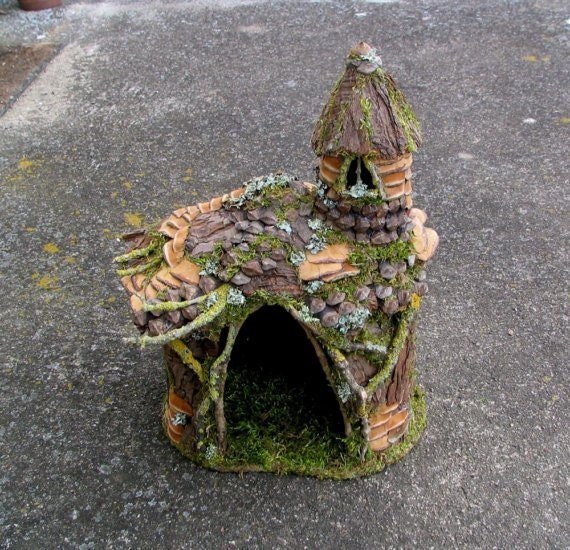 PandoraJane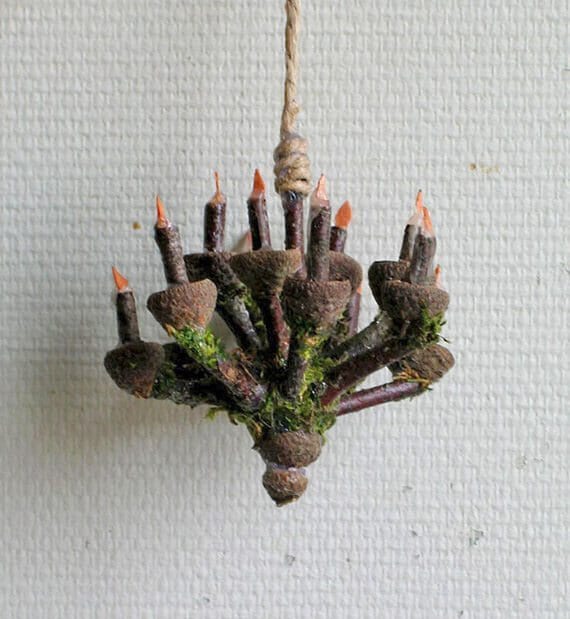 PandoraJane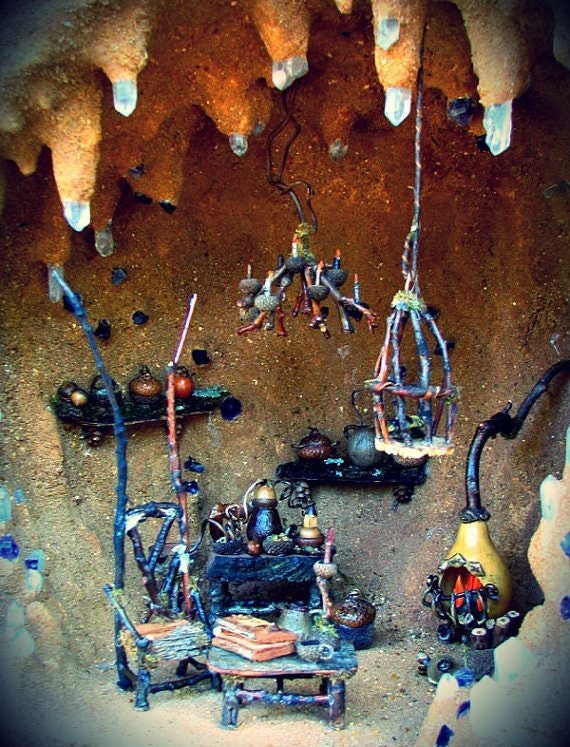 PandoraJane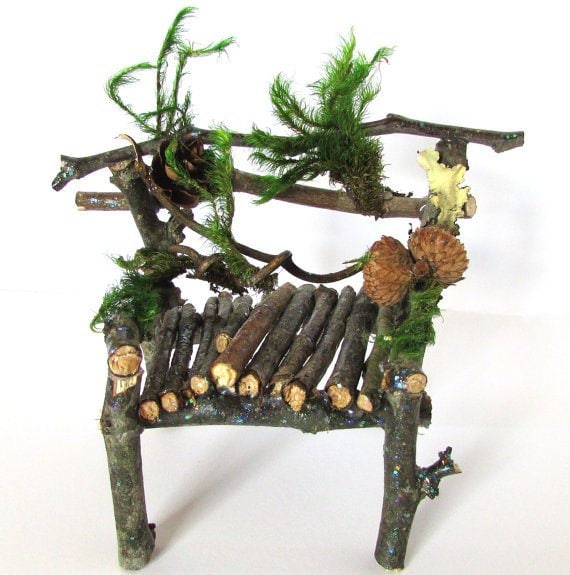 AllMixedUpGirl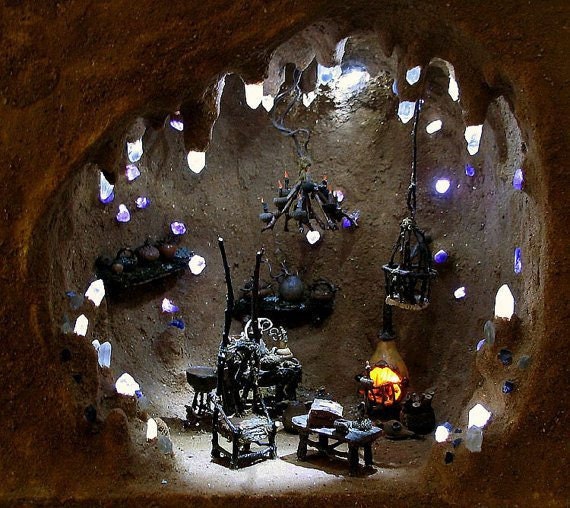 PandoraJane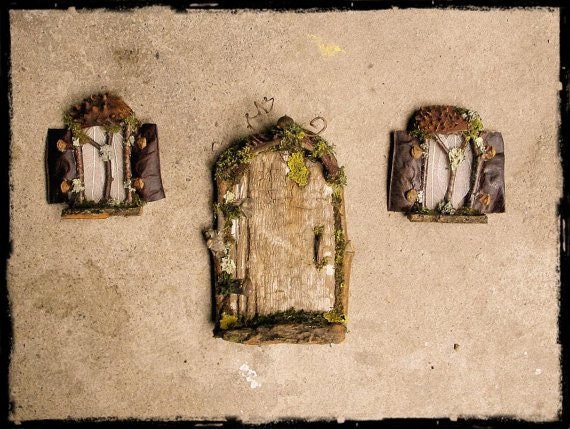 PandoraJane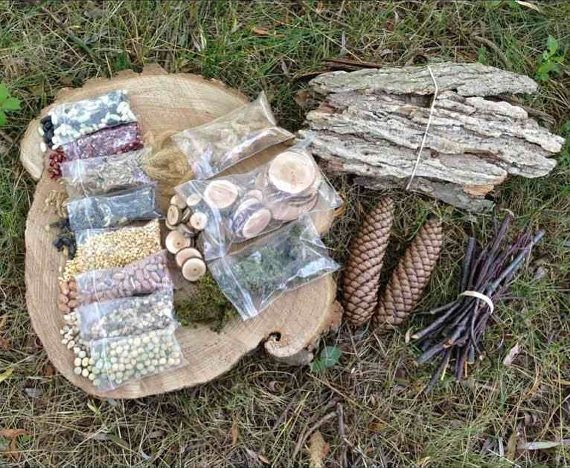 FatBlossomFarm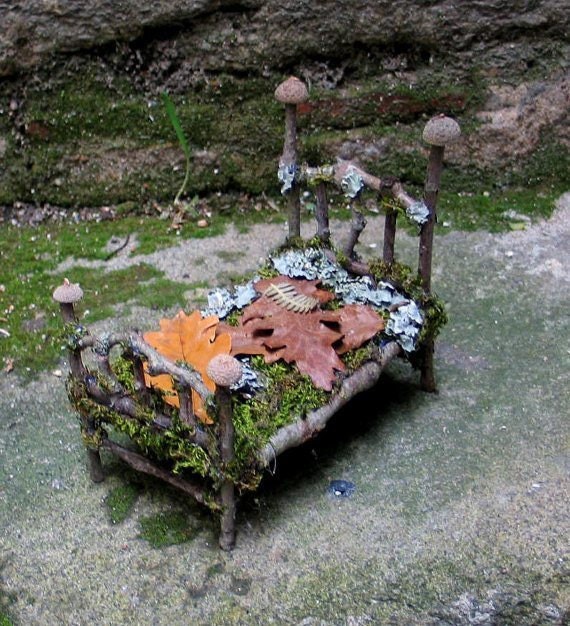 PandoraJane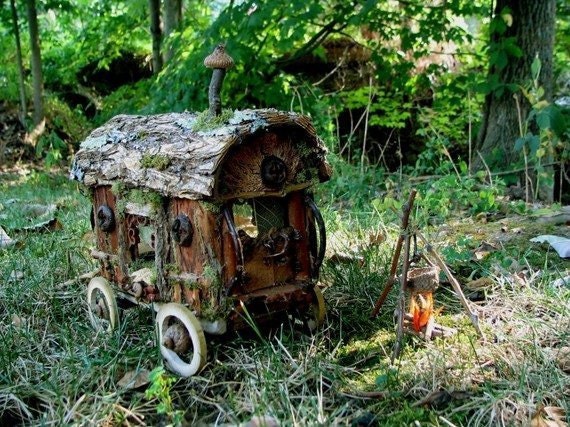 PandoraJane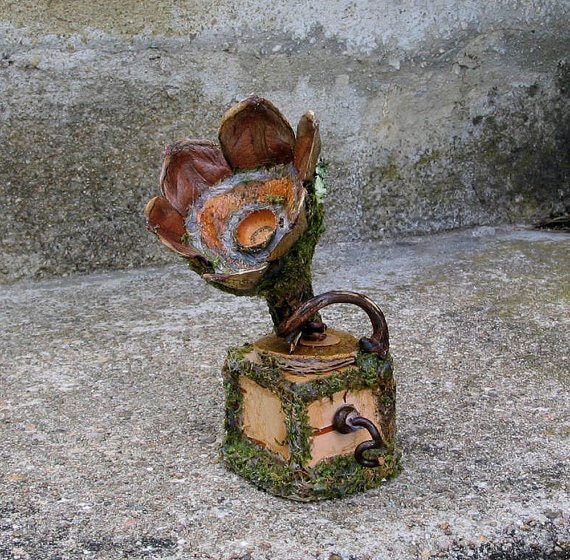 PandoraJane