Add some autumn flair to your front door with these popular fall wreath styles for every porch.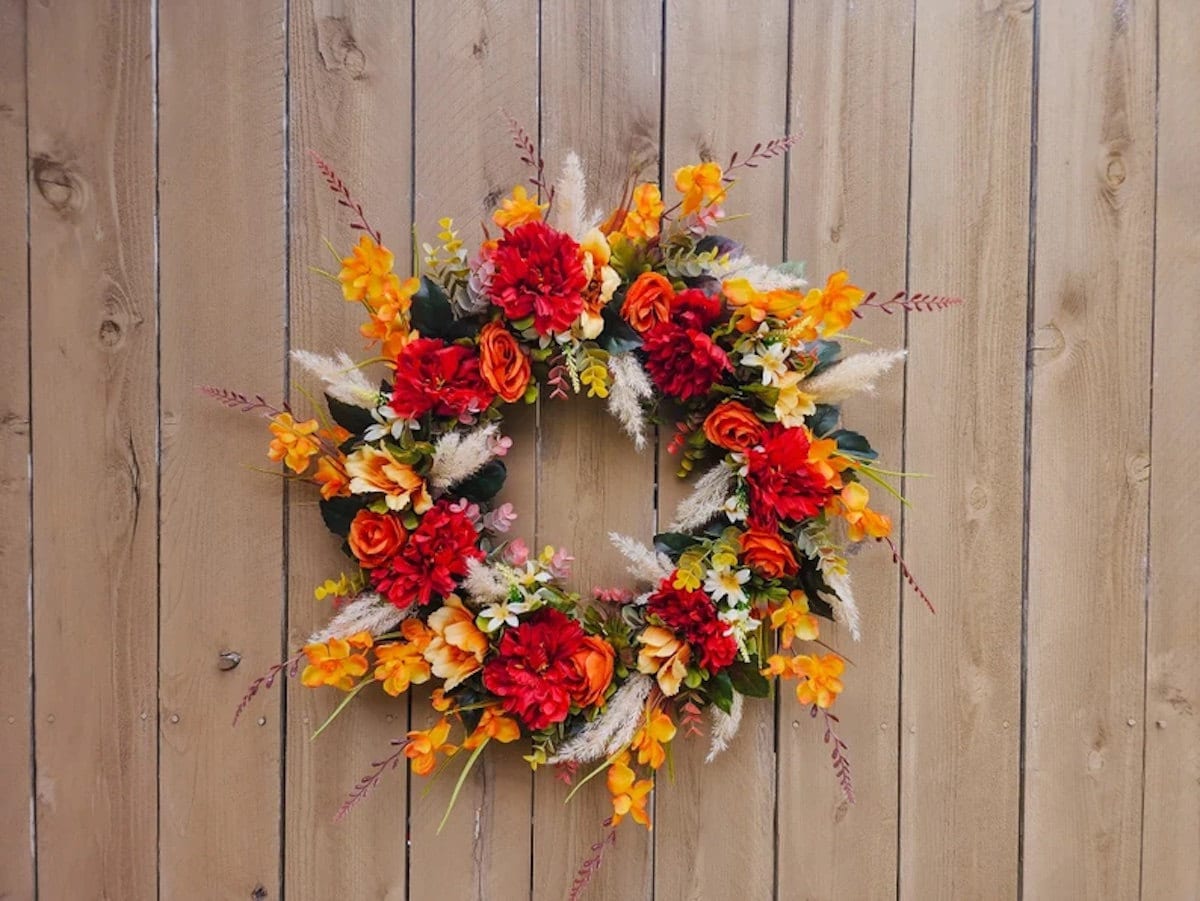 Do you live for fall wreaths—and pumpkin spice? Are your favorite activities making apple cider caramels, cute-sweatshirt appreciation, and leaf-pile jumping? Amazing news: Your favorite time of the year is here. And if you're looking for one more way to share your autumnal cheer, you might want to announce the arrival of the coziest of seasons by picking your favorite fall wreath style and adding it to your door. Whether you opt for a cool-toned, minimalist wreath or a bold farmhouse number, trust Etsy to offer the exact fall door wreath ideas you need to bring your perfect autumn vision to life. 
Check out a few of our favorite fall wreath ideas—and meet some of the talented makers behind them.
Fall wreath idea: Hoop wreaths with fall flowers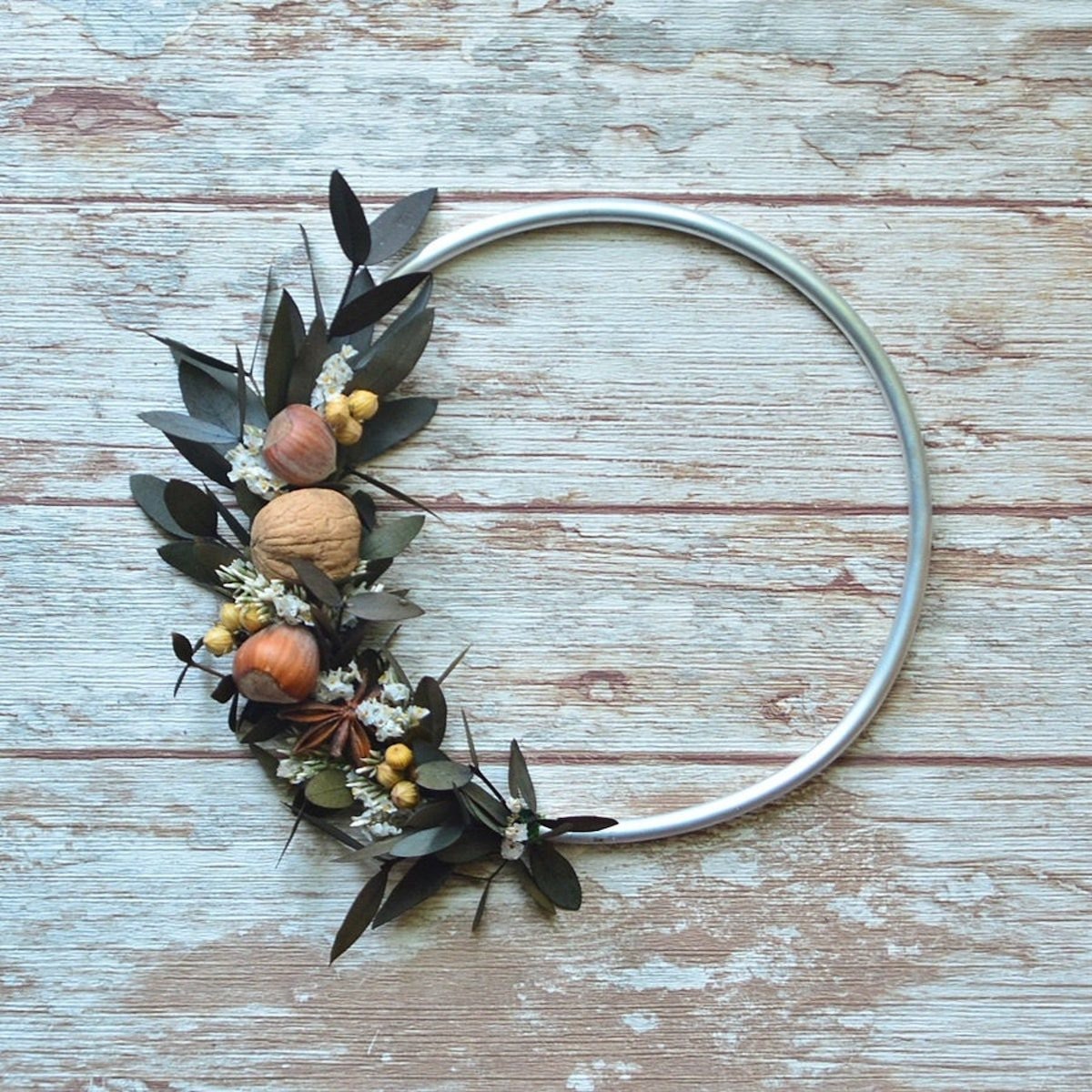 SHOP: Hoop wreath from DecoMintStudio, $28 
If you're more into minimalist chic, look for a fall wreath style like this hoop wreath featuring soft greens and natural elements like walnuts, flax seed pods, and more.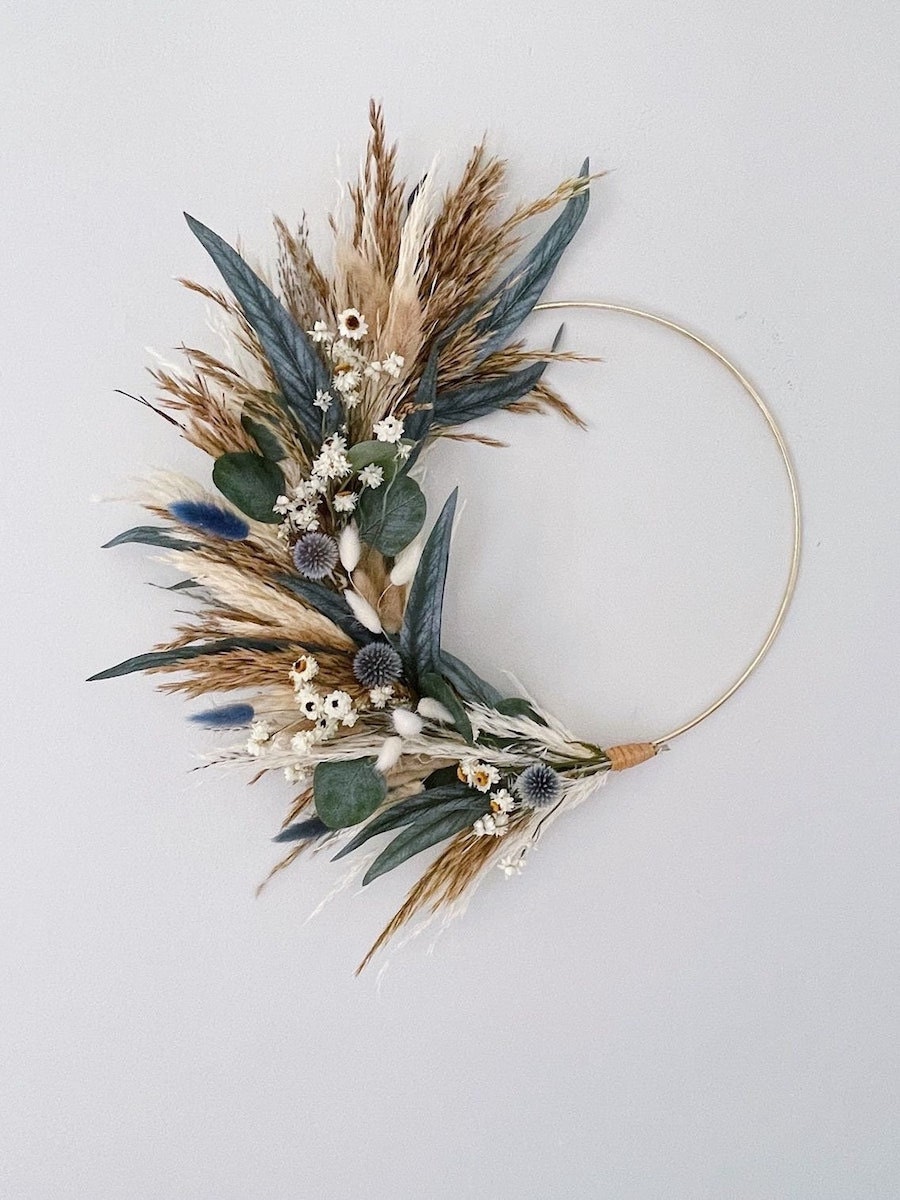 SHOP: Fall grass wreath from NovaWreaths, from $79 
Who says autumn is only for warm tones? Try this soothing, subtle blue-and-brown arrangement to make your door both moody and beautiful.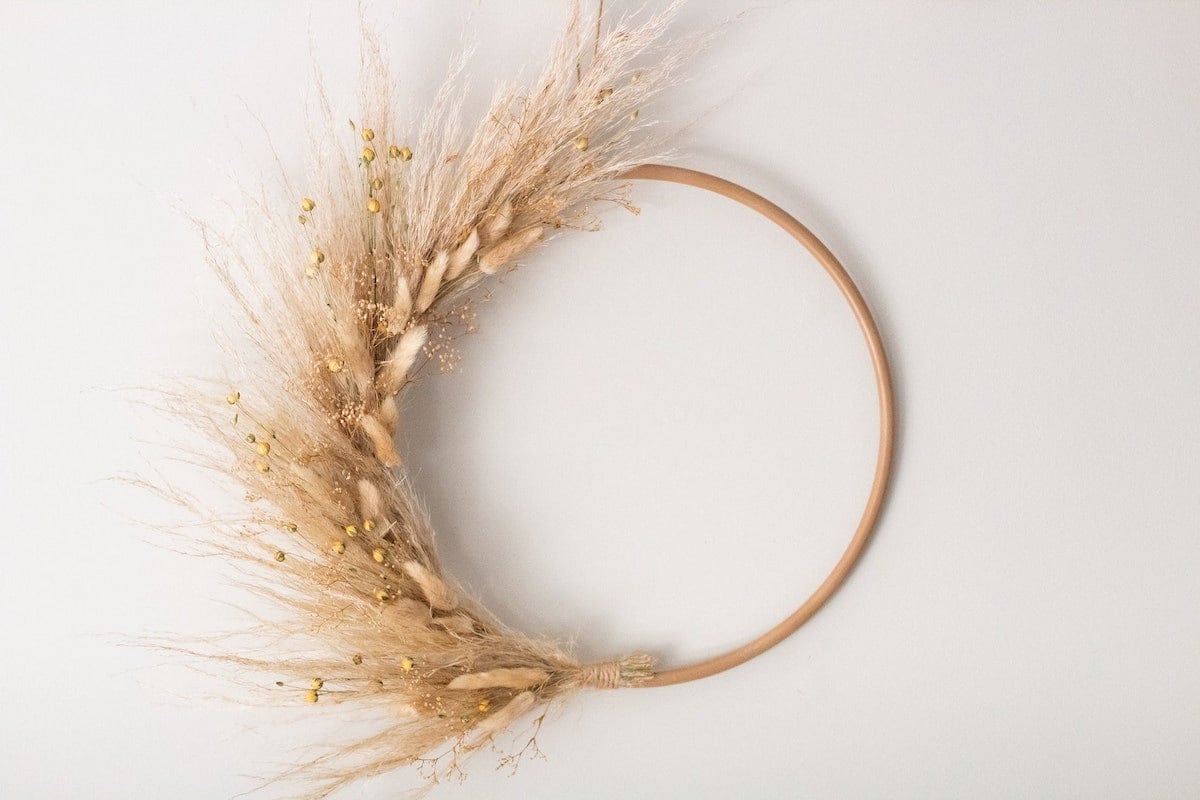 SHOP: Dried botanical wreath from HarborandHomeShop, $55 
Earthy meets ethereal in this airy, half-halo design.
Fall wreath idea: Traditional styles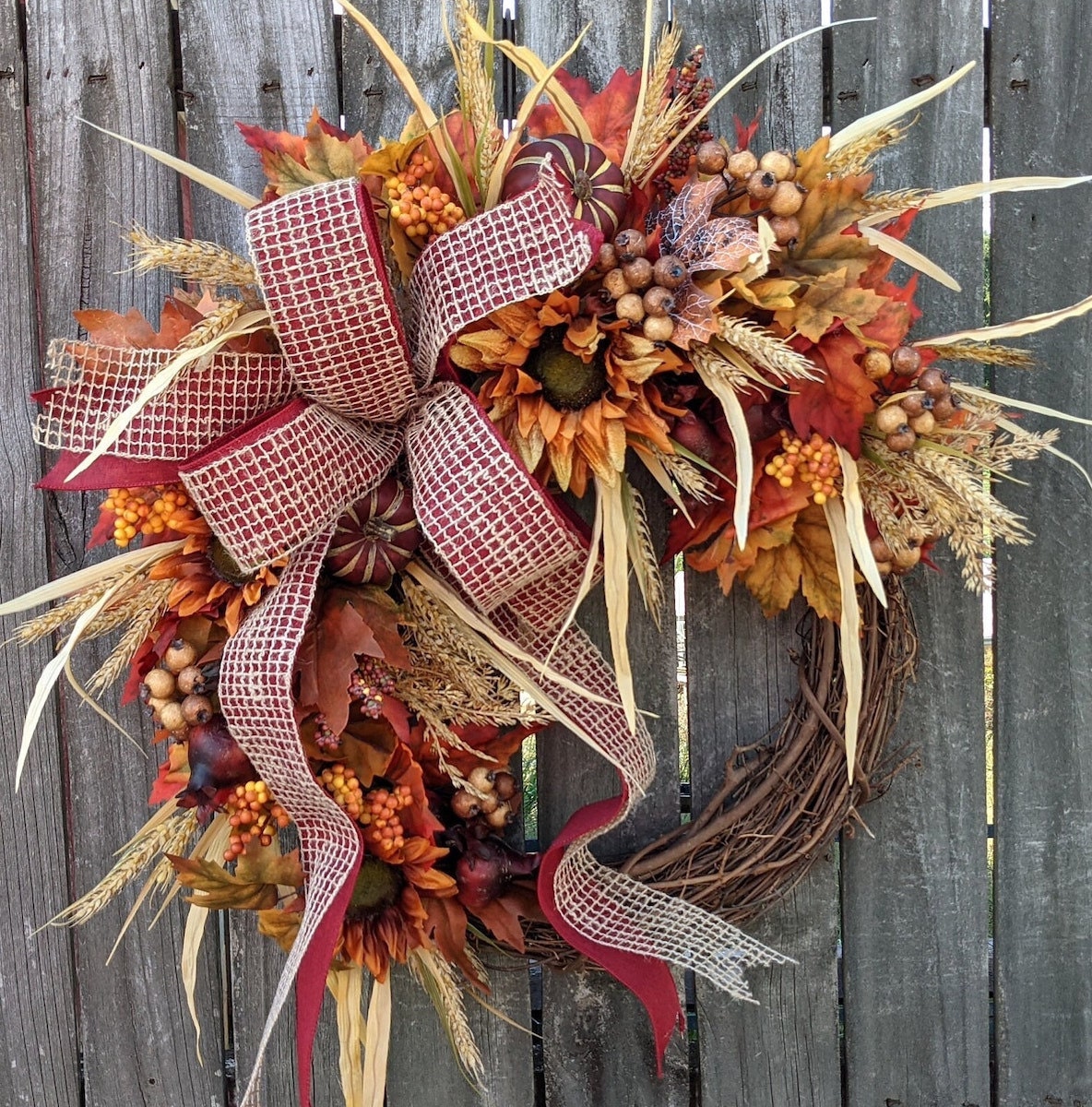 SHOP: Fall wreath from HornsHandmade, $137
Linen and burlap, grapevine and gourds—could you ask for anything more from a rustic fall wreath?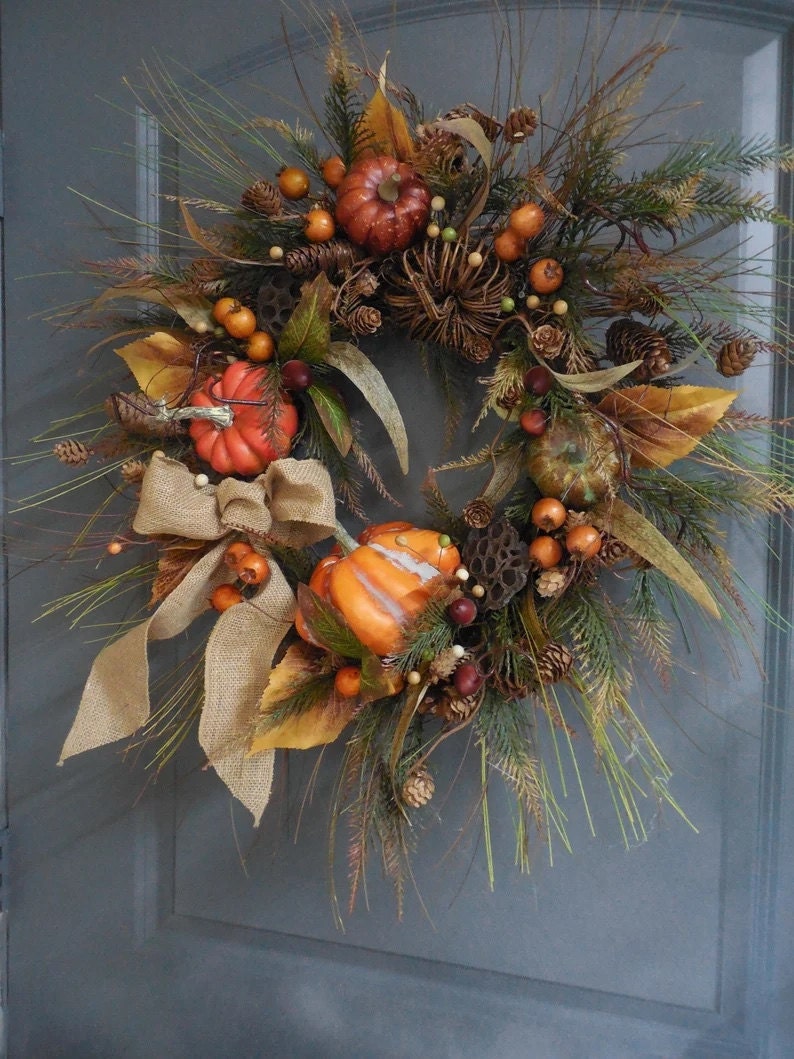 SHOP: Fall wreaths from Forevermore, from $85
Wild and wispy and dotted with pinecones, this fall wreath idea is like a walk in the woods you can hang on your door.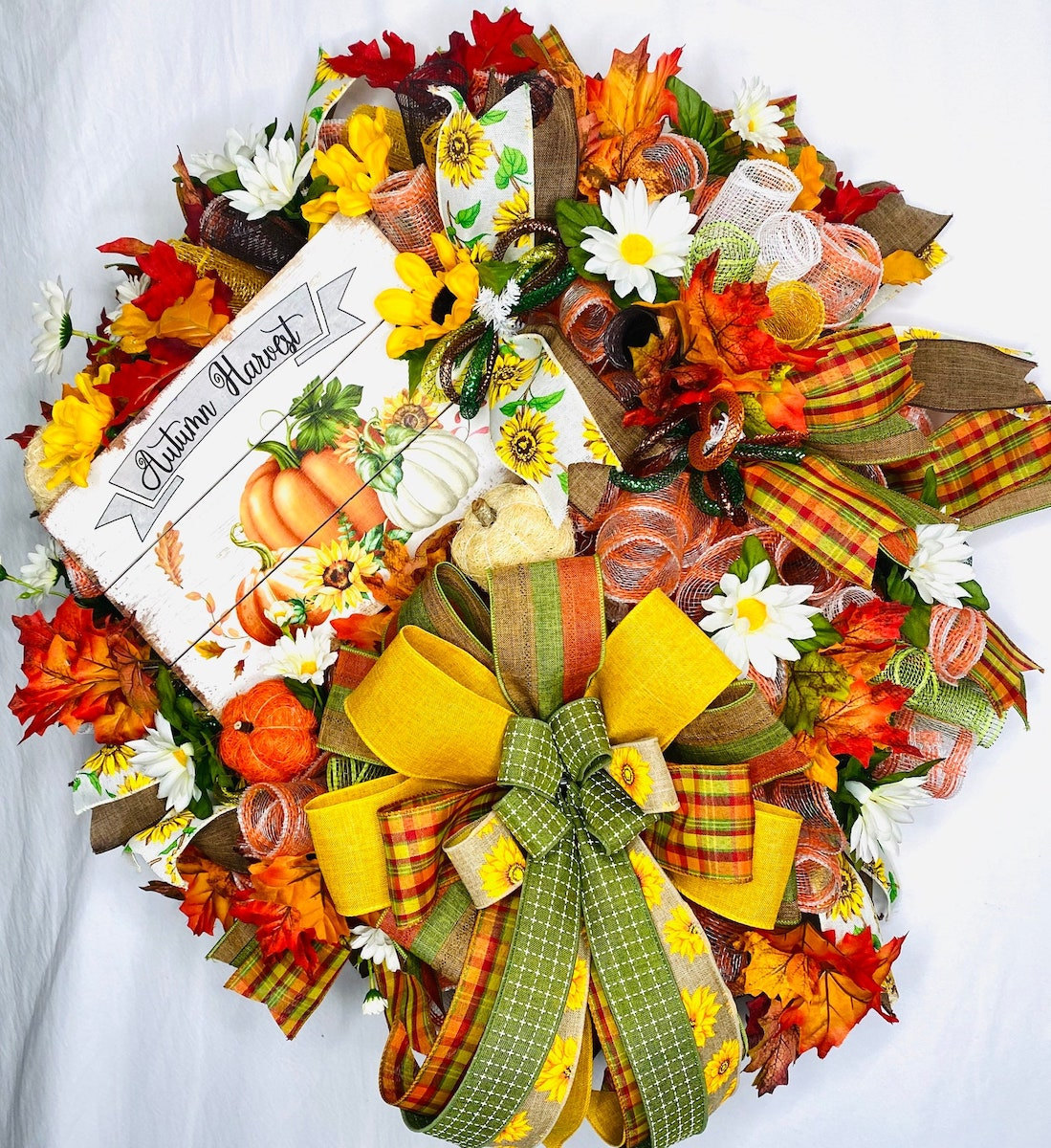 SHOP: Thanksgiving wreath from KarlaDivineCreations, $130
This bounty of blooms and bows comes complete with a fall sign to help you get your welcoming message across.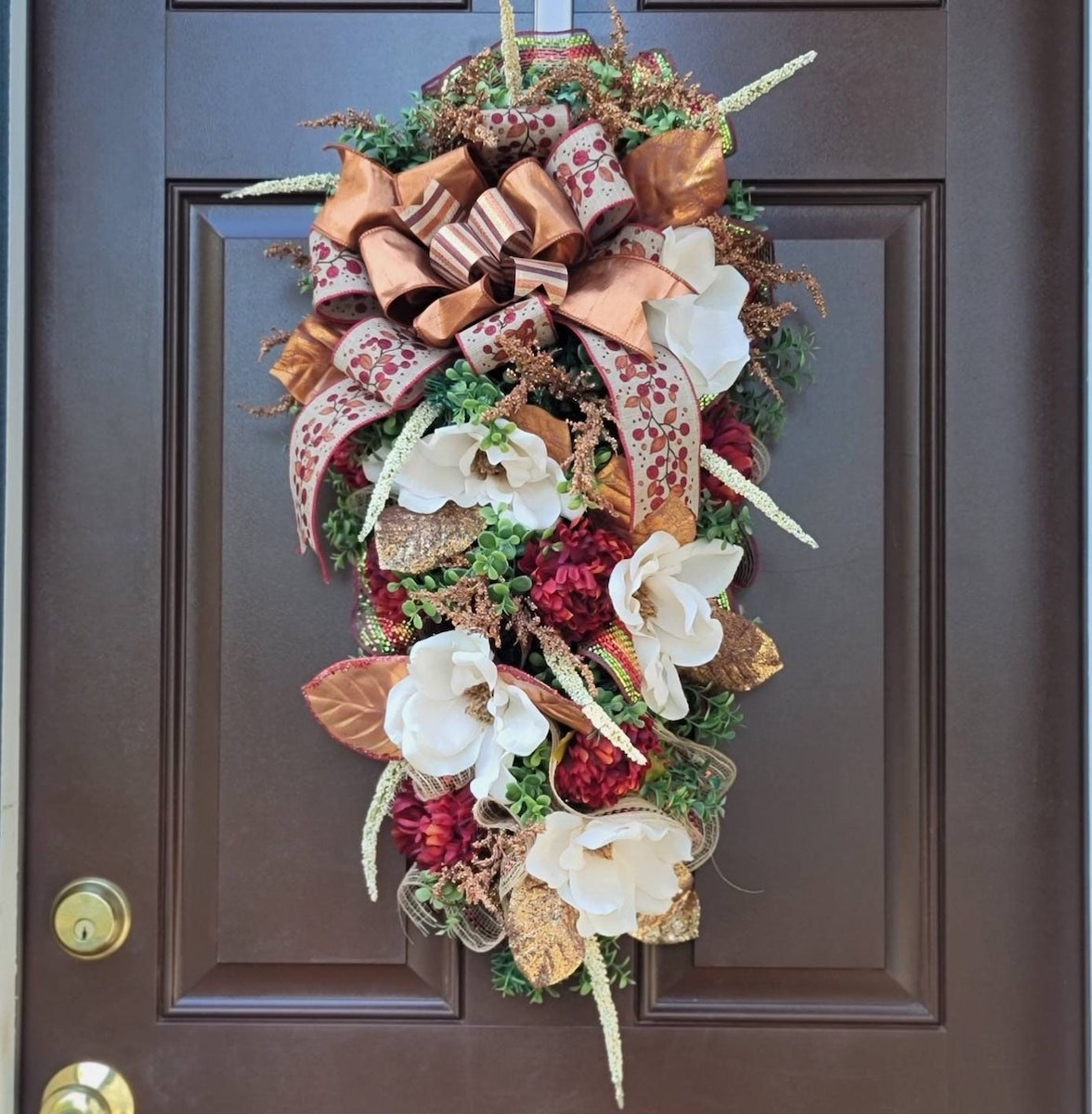 SHOP: Magnolia swag from JimsDaughterDesigns, $175
Shimmering bronze ribbon and creamy magnolia blossoms deliver an elegant, elevated look that lasts.  
Unique fall wreaths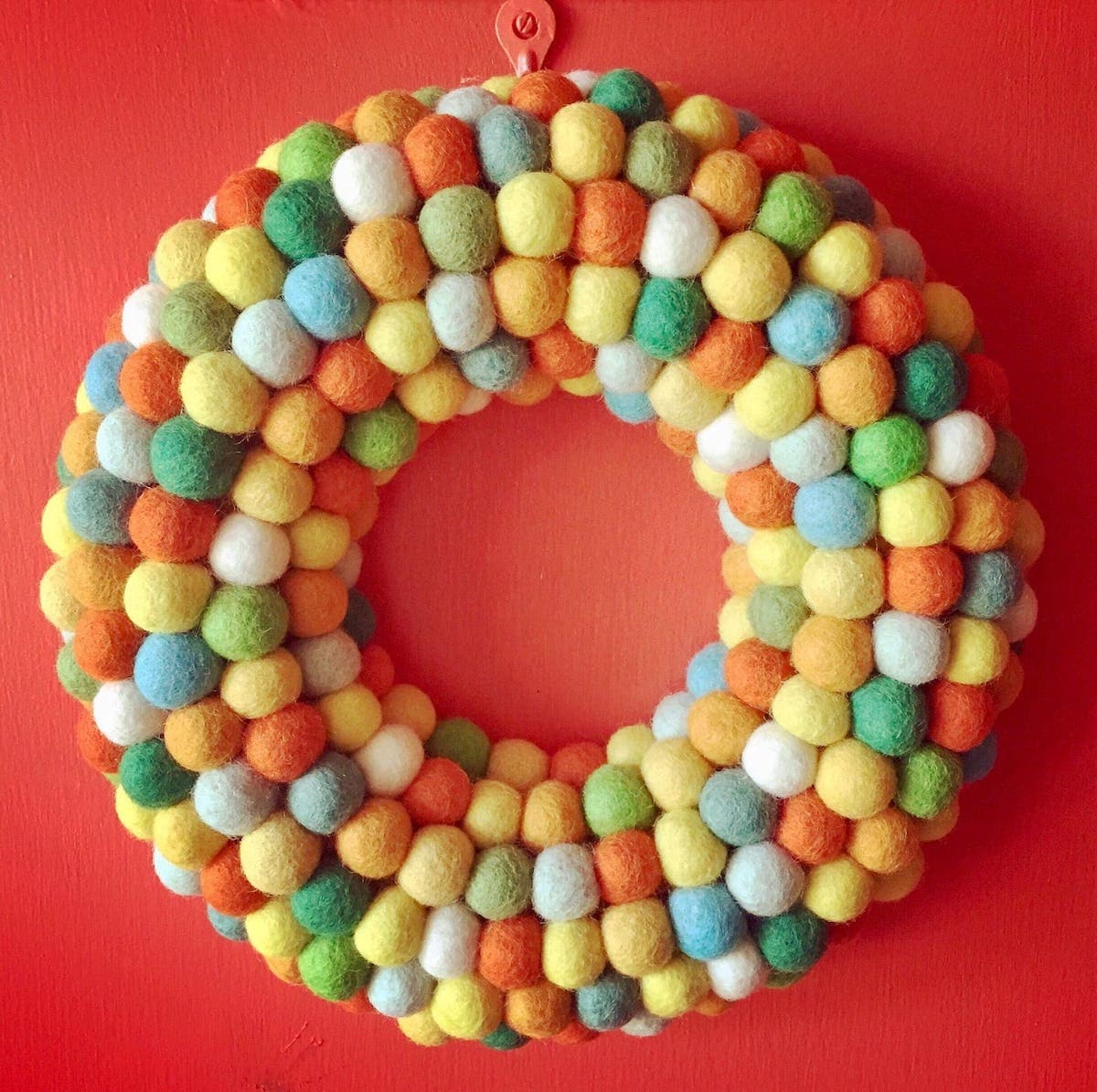 SHOP: Custom felt ball wreath from Hoppsy Daisy, from $155
A felt-ball wreath in a custom palette lets you decide what constitutes "fall colors."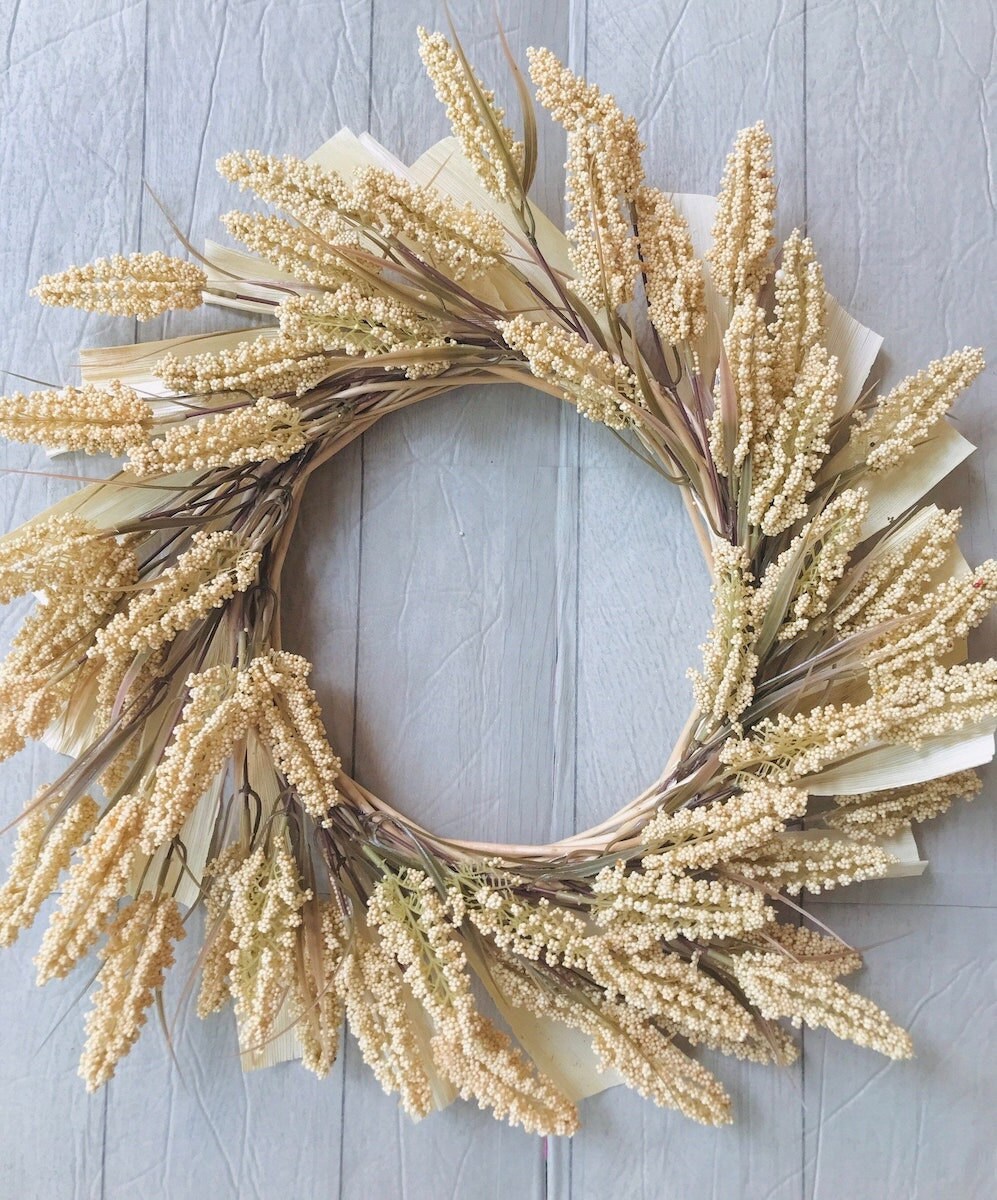 SHOP: Faux heather and corn husk wreath from ChristinaEllaDecor, from $66
Faux heather and corn husks give this monochromatic number its distinctive tactile appeal.
Plus: Where to buy fall wreaths
Meet four wreath makers we love and learn a bit about their distinctive fall wreath styles.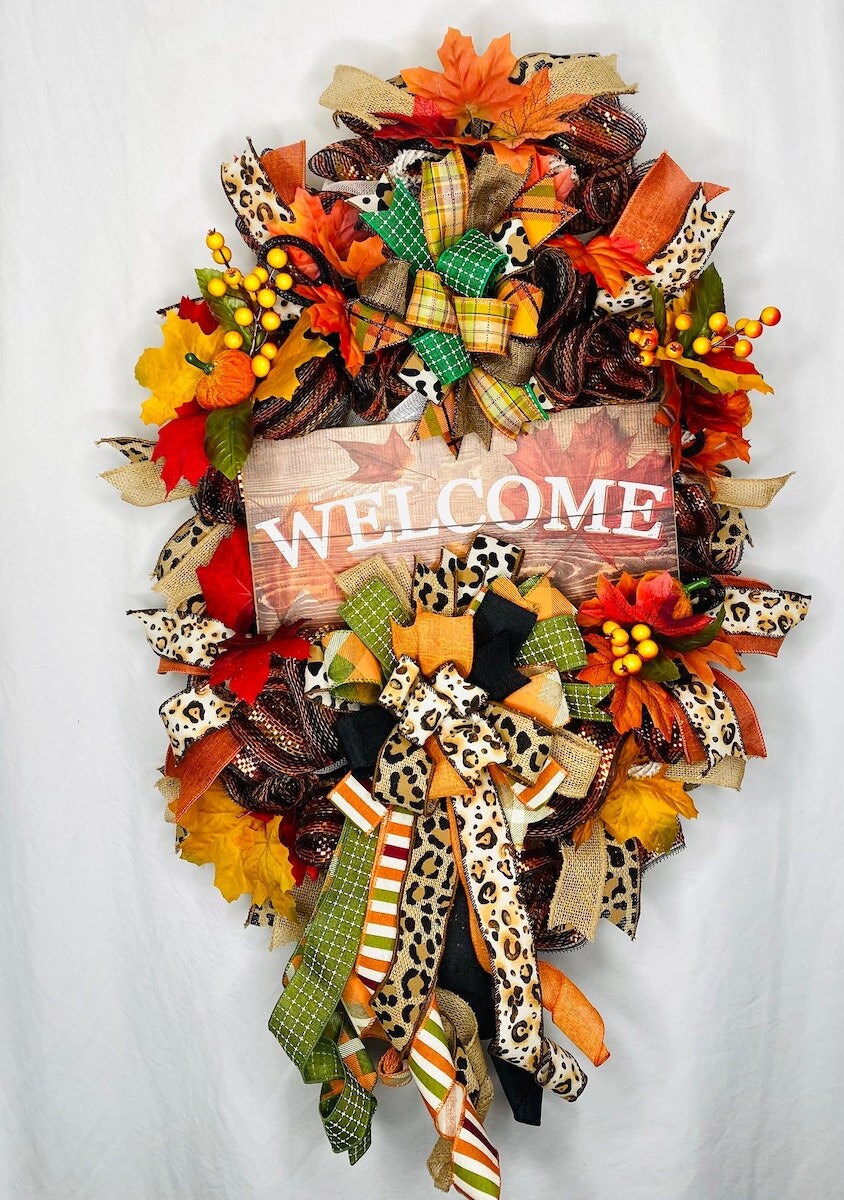 Fall wreath by KarlaDivineCreations
When Karla of KarlaDivineCreations retired from her nursing job, she decided to try out crafting—and where else to start but wreath-making? "With lots of practice, to my surprise, I found it was enjoyable and therapeutic," Karla says. When designing her wreaths, Karla starts with a sign or a certain color and builds her creation from there. Her focus on high-quality details sets these fall wreaths apart, from the intricate foliage layers to the color-coordinated bows tied just so.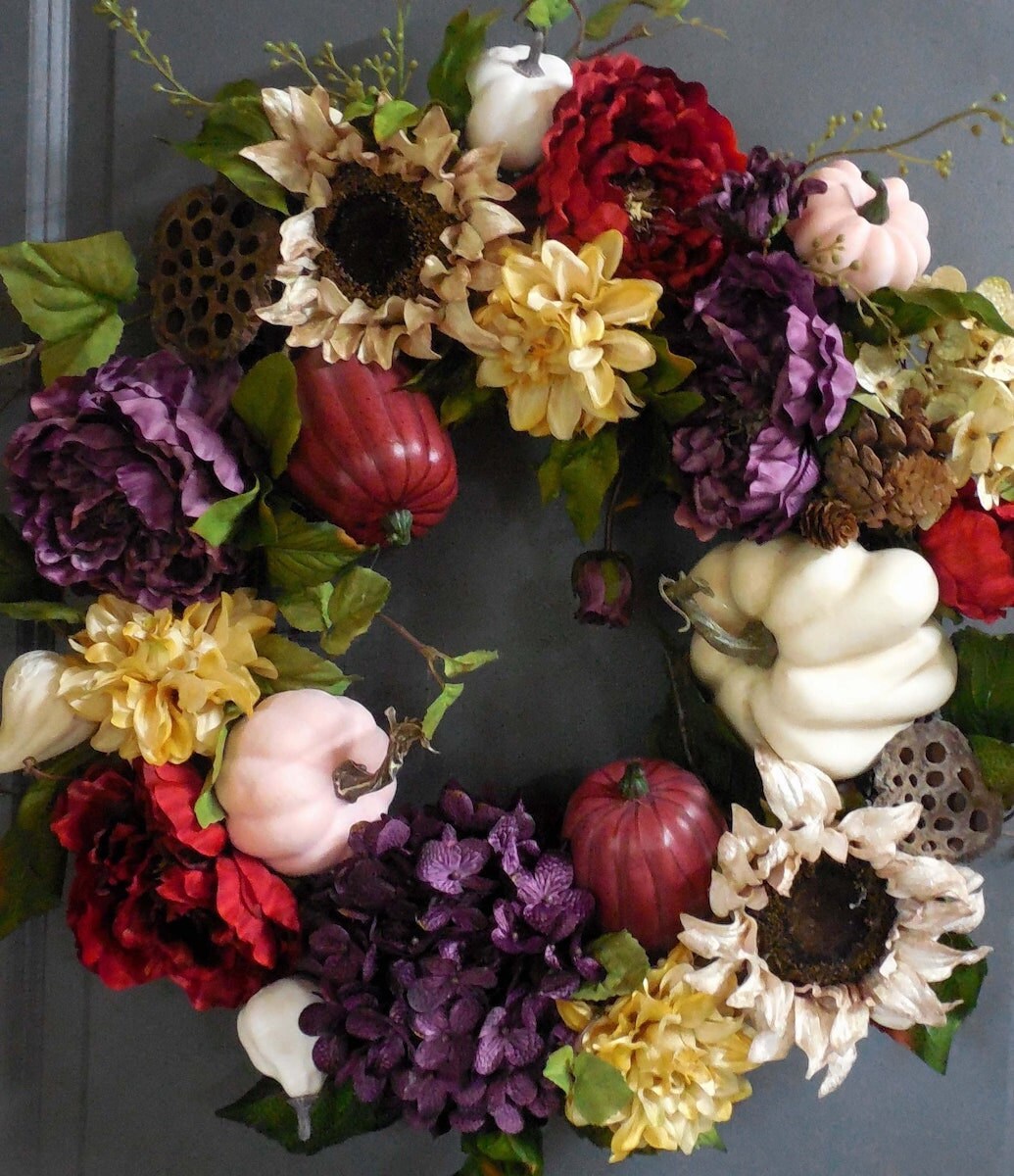 Fall wreath by Forevermore
For those seasonal celebrants who believe more is always more, Forevermore's lush fall wreaths, which incorporate a mix of natural and artificial materials, are the pinnacle of the form. "If I get overwhelmed, I take a walk through our surrounding woodland," Heather says. "Mother Nature always inspires me." Like the flowers and greenery in the wreaths themselves, shop owner Heather's enthusiasm for making them is abundant. "I love what I do," she says. "I wish there were eight days in a week instead of seven." Spoken like a true maximalist.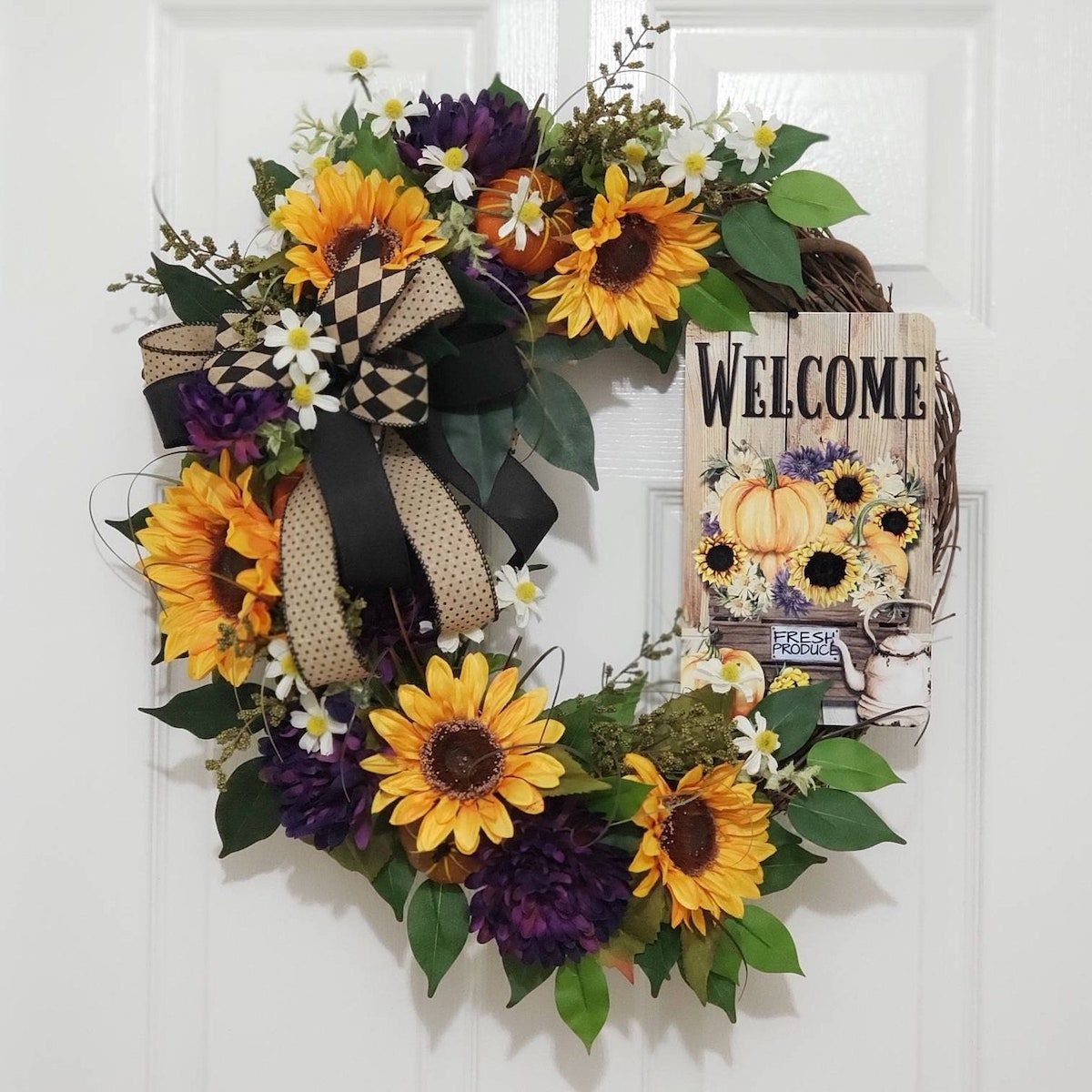 Fall wreath idea by JimsDaughterDesigns
Danielle Fisher of JimsDaughterDesigns started wreath-making one Christmas as a mom of two young twins(!), when she was looking to make that time of year special for her little ones. After searching in vain for a wreath she loved, Danielle decided to make her own—and the rest is handmade history. Using faux blooms, playful signage, and a lot of heart, she creates wreaths for any and all occasions.  "I fell in love with wreath-making because I could create something unique each and every time," Danielle says. "And I love unique, beautiful things." Us too, Danielle.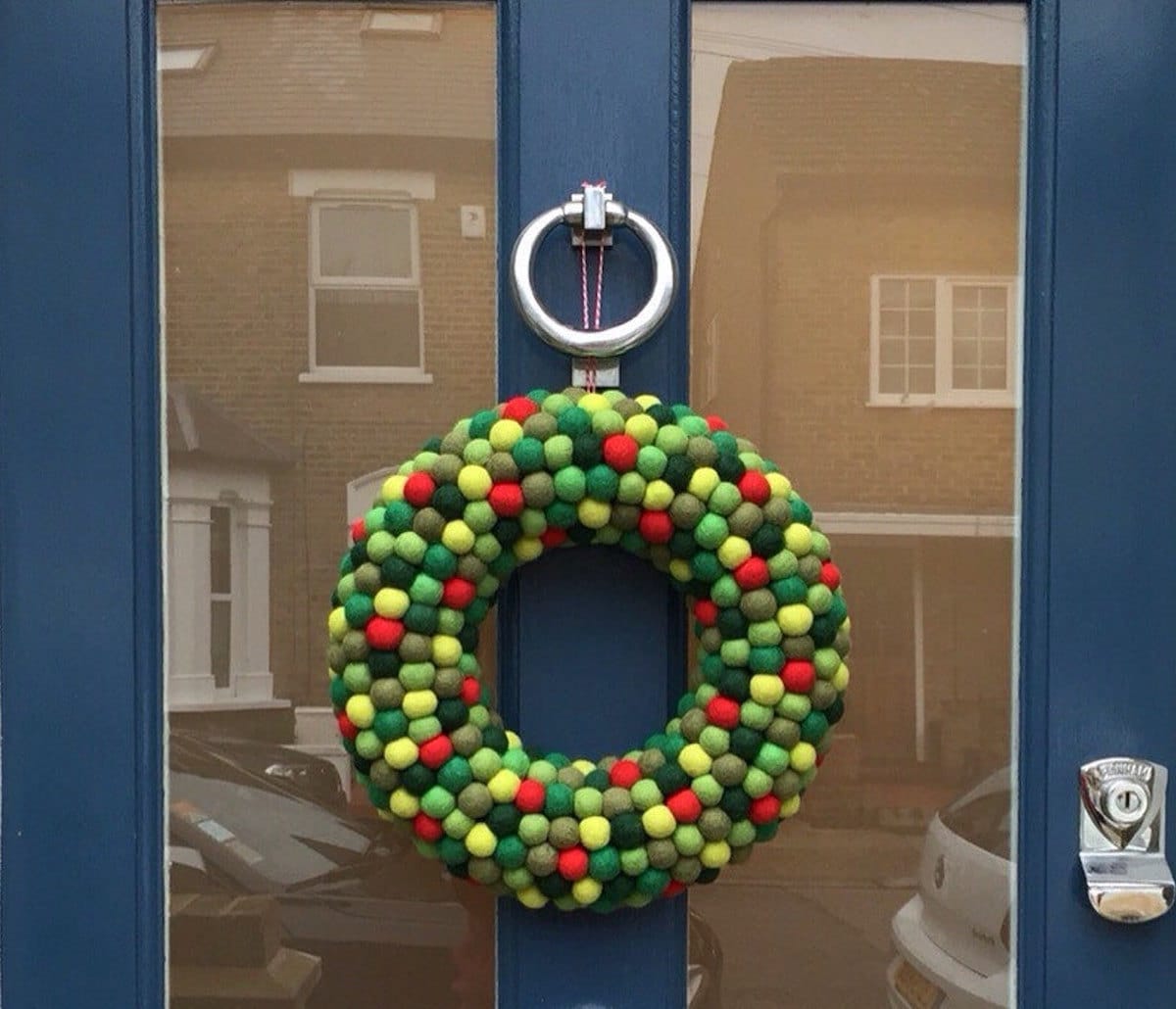 Wreath by Hoppsy Daisy
From a young age, Anja of Hoppsy Daisy made handmade decorations and gifts for family and friends; she crafted her first felt-ball wreath seven years ago and has been working in the medium ever since. "I don't work from a template," she says. "Each wreath is a truly unique creation." (One especially complex piece measured 24 inches across and incorporated 900 multicolored felt balls.) Hoppsy Daisy's nontraditional wreaths are perfect for those whose door-decor style falls on the modern end of the spectrum.