The six hot home decor trends that will have you itching to redecorate this fall.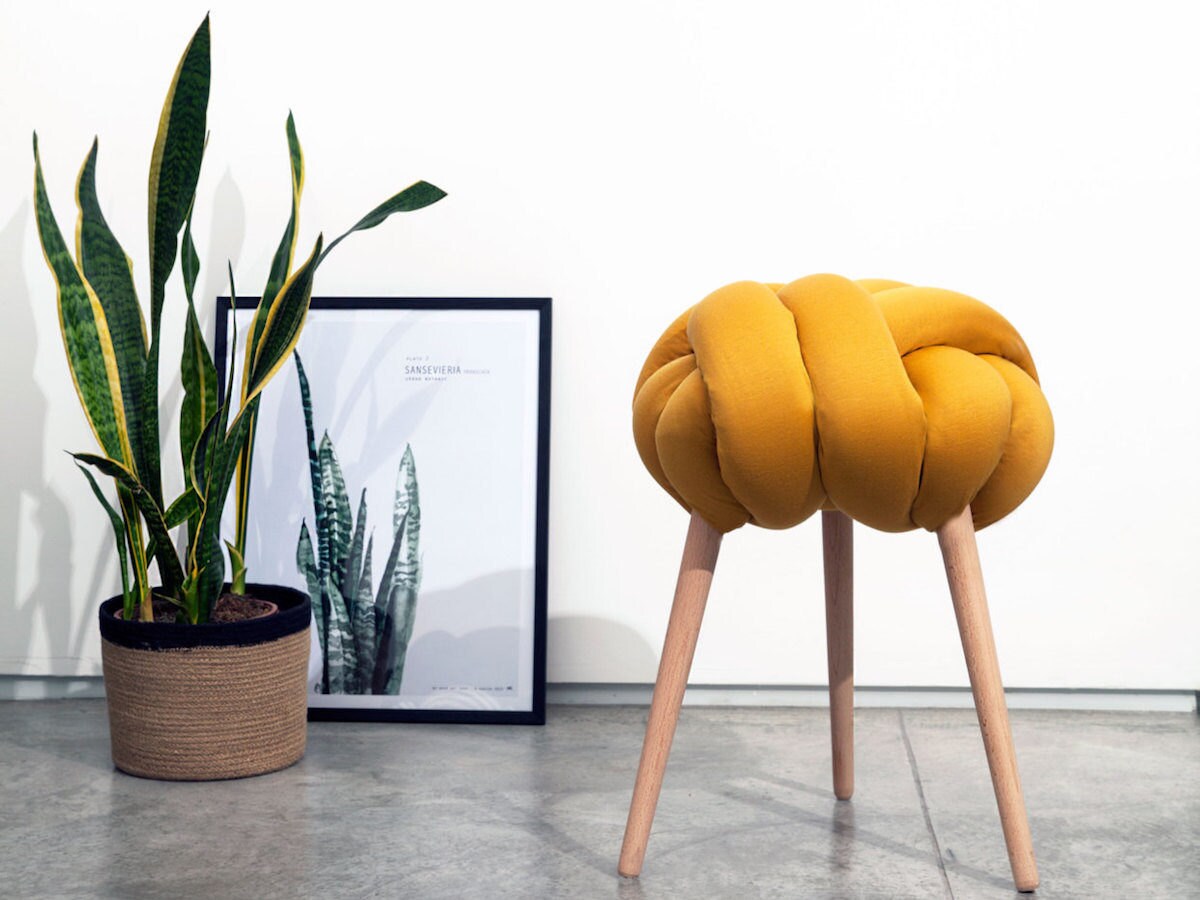 The Etsy Trend Guide is a compilation of fresh trends our experts are noticing across Etsy and the industry as a whole: what sellers are creating, what shoppers are loving, and what's hot right now. These Etsy home decor trends are based on some of the top searches within the Home & Living category on Etsy.com over the past eight weeks.
There's no space more intimate—and more reflective of your unique brand of personal style—than your home. Whether it skews a little more
boho
, adamantly
mid-century
, heavy on the
vintage
, or decidedly
modern
, the collection of items under your roof adds up to an interior footprint as distinctive as you are. But that doesn't mean your style has to stay static. If you can have a season-long love affair with a television show or a pair of chunky-heeled boots, you can also introduce new decor elements into your home that speak to the looks getting you excited
right now
. With the seasons changing and free time shifting back indoors, fall nesting is officially in full swing. And this season, the biggest
home decor trends
on Etsy are all about creating a cozy environment that conjures a hint of nostalgia—whatever that means to you. From cabin-chic decor that recalls winter getaways past, to wallpaper that transports you straight back to your childhood bedroom, the hottest interior trends of the moment offer contemporary takes on comforting classics—and there's no better time to try them out in your space.
Old-school glassware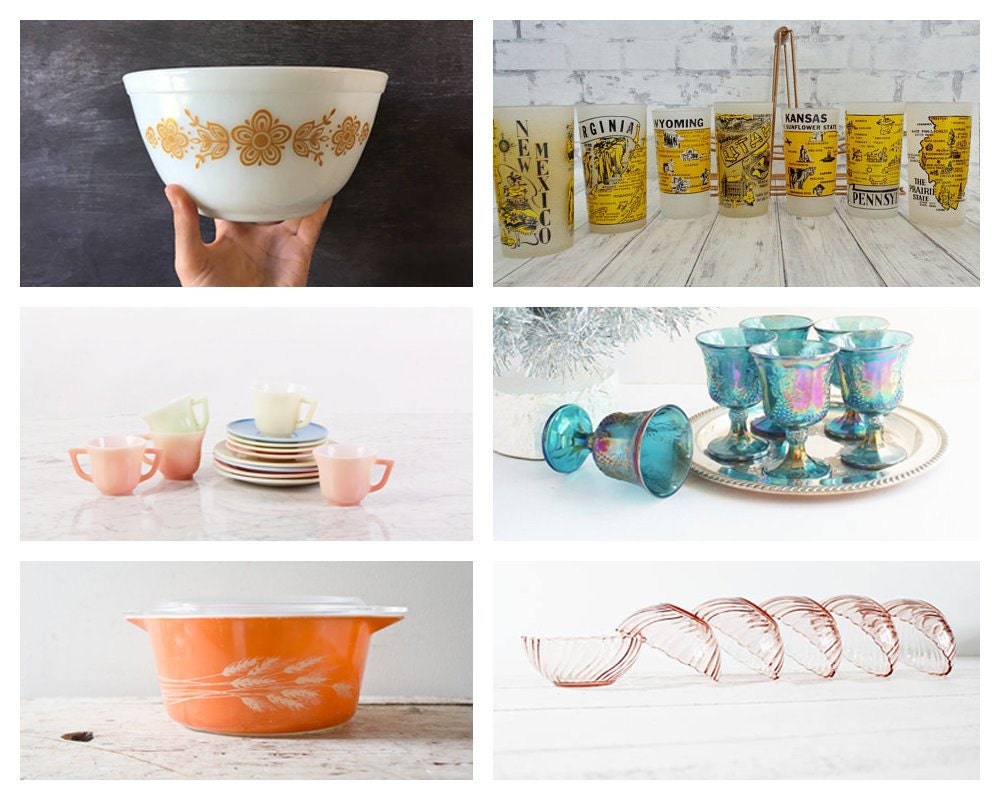 >
The time has come to dust off the cookbooks that sat on our shelves all summer, and gear up for a fresh season of fall
meal planning
. And this year, shoppers are exhibiting a hearty appetite for sturdy
vintage serving dishes
and colorful glassware that can stand up to the savory soups and bone-warming casseroles that are now on the menu. These old-school pieces are enjoying a moment in the autumn sun, with searches for vintage Pyrex, textured
Depression glass
, pale, opaque milk glass, and shimmering carnival glass sky-high. There's something for every style, but all evoke the comfort of Grandma's kitchen—and demand an indulgent, calorie-laden meal to match.
Statement wallpaper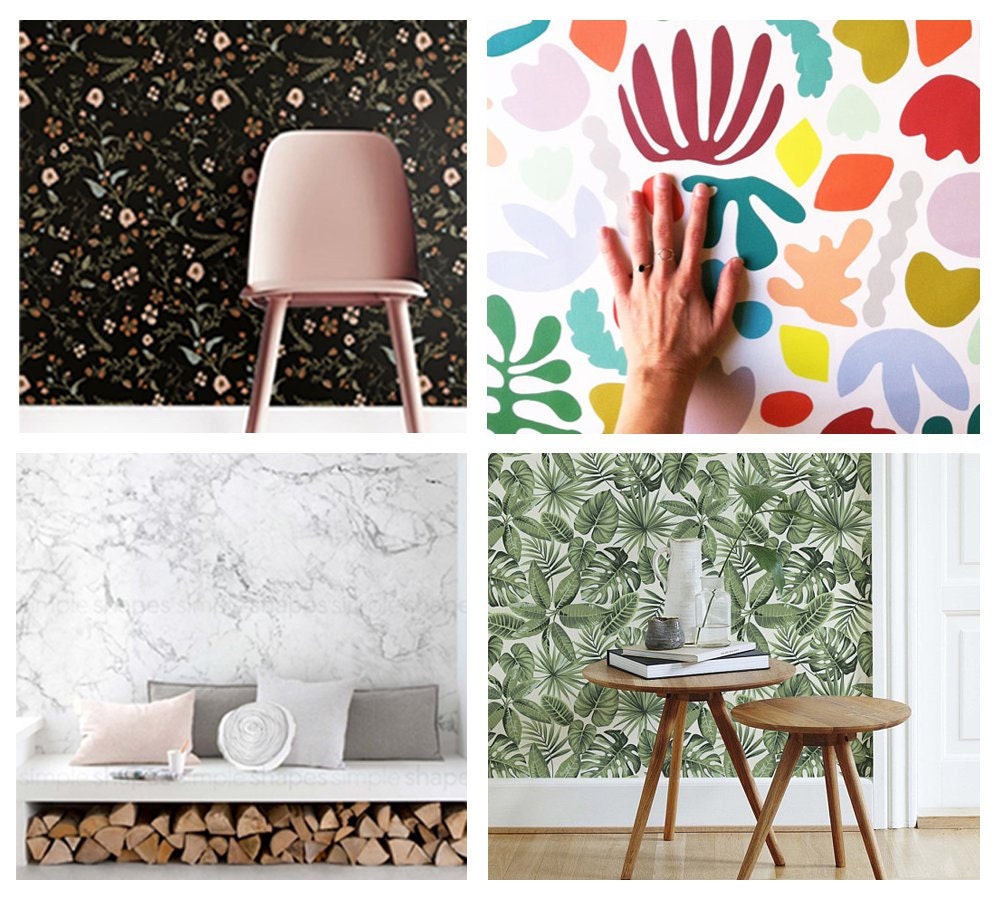 >
Any painting, print, or new-wave
macramé
you choose to
display on your walls
 tells your house guests something about you—but perhaps none speaks quite so loudly as a bold, modern wallpaper. This season, Etsy shoppers are going all-in on self expression—'removable wallpaper' is one of the top searched terms in Etsy's Home & Living category—with prints and motifs that make their unique point of view entirely unmistakeable. Choose a
bright palm print
or abstract floral design to celebrate your love of nature, or go for something more reserved, like a cool swath of white marble, to mirror your understated outlook (and mimic the crisp finish of a neutral-painted wall). And if the idea of covering all that precious wall real estate makes you nervous, never fear: many of the best designs are as easy to remove as they are to apply.
Stained glass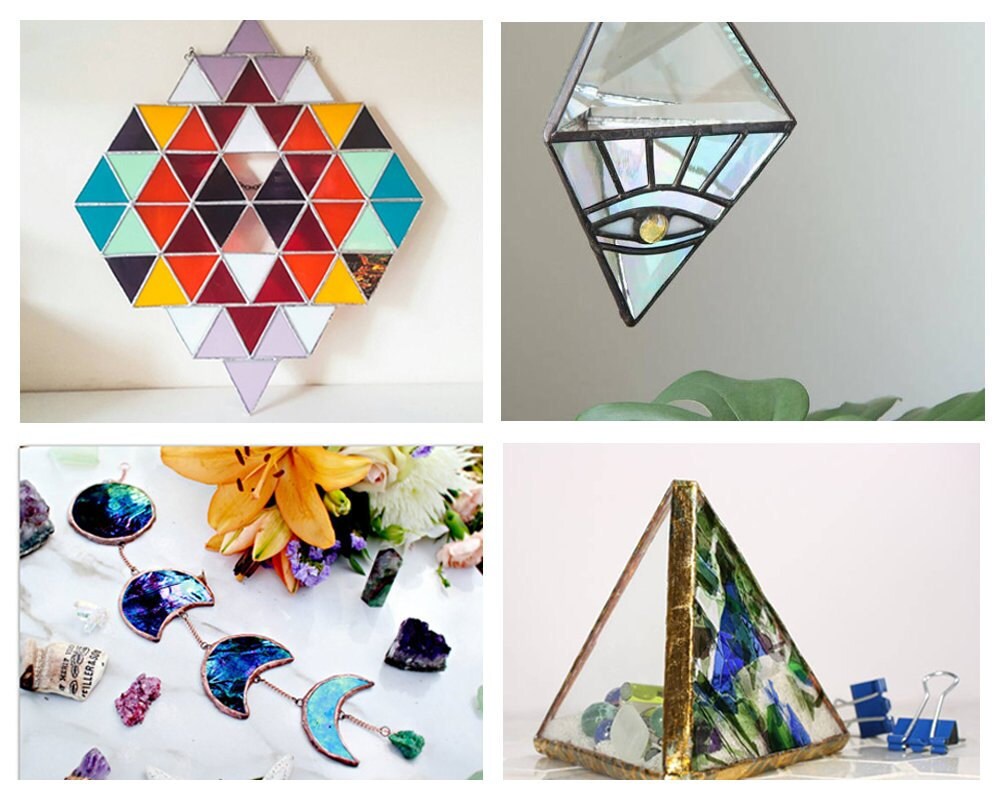 >
For over a thousand years, stained glass has adorned the windows of churches and universities, among other esteemed haunts, casting colorful shadows through their hallowed halls. This old-school look is officially back on the home decor scene: Shoppers on Etsy are increasingly searching for 'stained glass', and, from wall hangings to ring dishes, Etsy sellers are putting a fresh spin on the well-known material and the results are positively
dazzling
.
Asymmetrical wreaths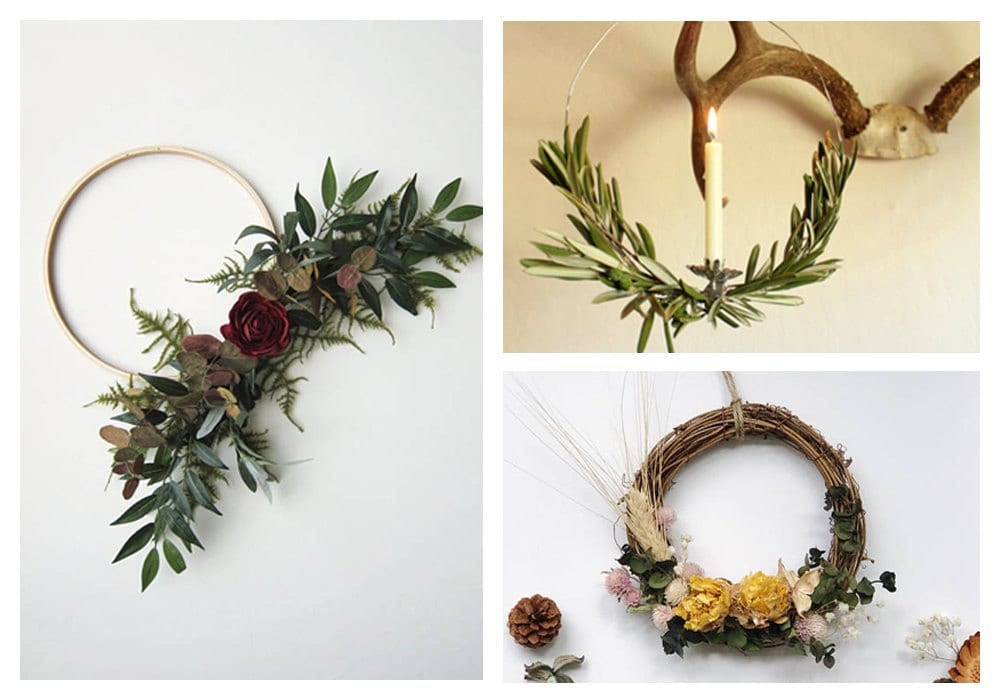 >
A staple of the season, wreaths are also one of the most searched items in Etsy's Home & Living category. But this year, Etsy sellers are branching out from traditional takes on autumn's most festive home decor hallmark—and shoppers are embracing the refresh. Inventive new shapes (who says wreaths have to be round?), modern designs, and intentionally askew arrangements characterize the most popular perennials
decorating front doors
this fall. Whether you opt for sprigs of olive branch or boughs of classic pine, it's
greenery
go-time.
Stylized seating
>
Fall: the perfect time of year to throw on your
coziest sweater
and curl up in a cushiony chair with a
good book
and a
warm drink
(PSL, anyone?). But before you head for an overstuffed, underwhelming armchair, take note: This autumn, Etsy sellers are upping the ante on seating. With shoppers searching for bean bag, rocking, and accent chairs, creative furniture designers on Etsy are reimagining the classics, and proving that when it comes to taking a seat, you don't have to decide between cute and comfy.
Cabin fever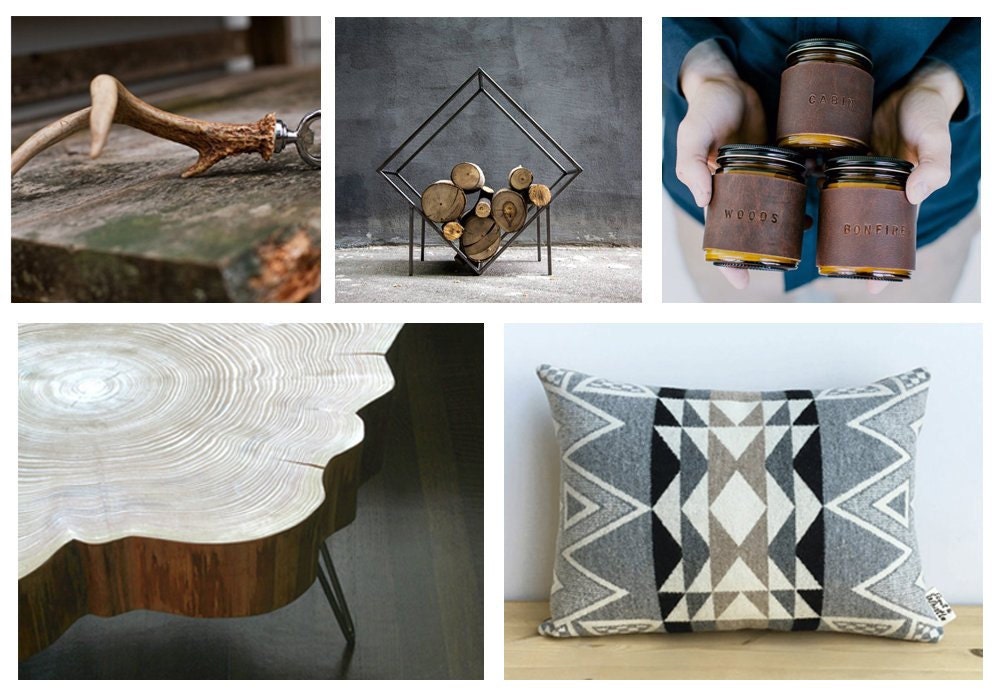 >
Tempting as it may be—especially during
flannel season
—we can't all pick up and move to a cottage in the woods. The good news? It's easier than ever to recreate the
log cabin feeling
at home, with more and more shoppers designing
cozy home retreats
regardless of their zip code. Perhaps unsurprisingly, wood pieces feature prominently in this trend, with searches for live edge wood, wood lamps, and wood coffee tables topping the charts. But before you go full-on sylvan, keep in mind: This fall's cabin look skews a little more modern, and a little less rustic. Geometric shapes and unexpected materials like steel add contemporary elements to the mix, while warm fabrics and faux taxidermy (hello, antlers!) ensure the cabin vibe carries through.
2018 prediction: Wabi-sabi
As Etsy's resident trend expert, I'm always searching for up-and-coming designers and emerging trends from among the more than 1.8 million creative sellers* and millions of unique items on Etsy. Here is my top home decor trend prediction for 2018.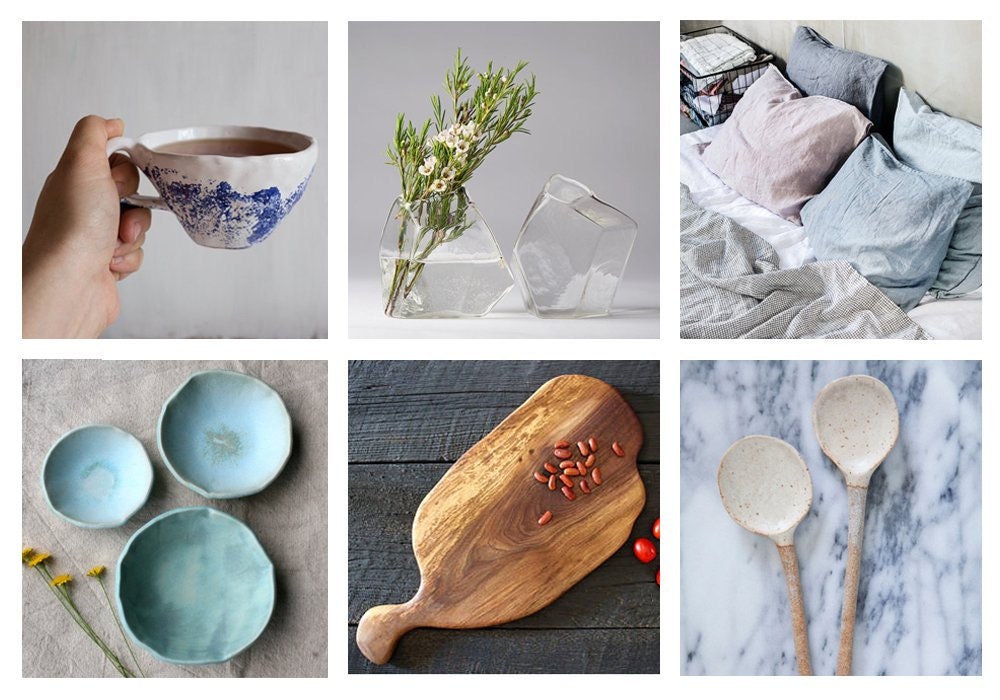 >
In life, as well as in home decorating, I firmly believe in keeping it real. Which is a tall order in the age of of pervasive Instagram perfection, when staged photos, strong filters, and universally flattering lighting reign supreme. As a real human, with a real life, and occasionally a real messy apartment, I'm ready for a change—and I don't think I'm alone. That's why I think next year is going to be all about wabi-sabi. An ancient Japanese worldview centered on impermanence and imperfection, wabi-sabi is the perfectly imperfect and thoroughly refreshing philosophy around
home decor trend
we've been waiting to resurface. With an emphasis on organic materials, fabrics with innate imperfections, and natural shapes galore, wabi-sabi is all about embracing authenticity—it's the anti-retouching—and it's about to make its way into our homes. When applied to home decor, we're talking hand-built ceramics, wrinkled linen sheets, and wood with uneven grains. Perfect for minimalists and maximalists alike, a wabi-sabi approach to home decor honors the beauty of embracing your authentic self and the space you live in.
*As of June 30, 2017