From his silly sense of humor to his insatiable sweet tooth, honor your favorite things about your dad with a unique gift for Father's Day.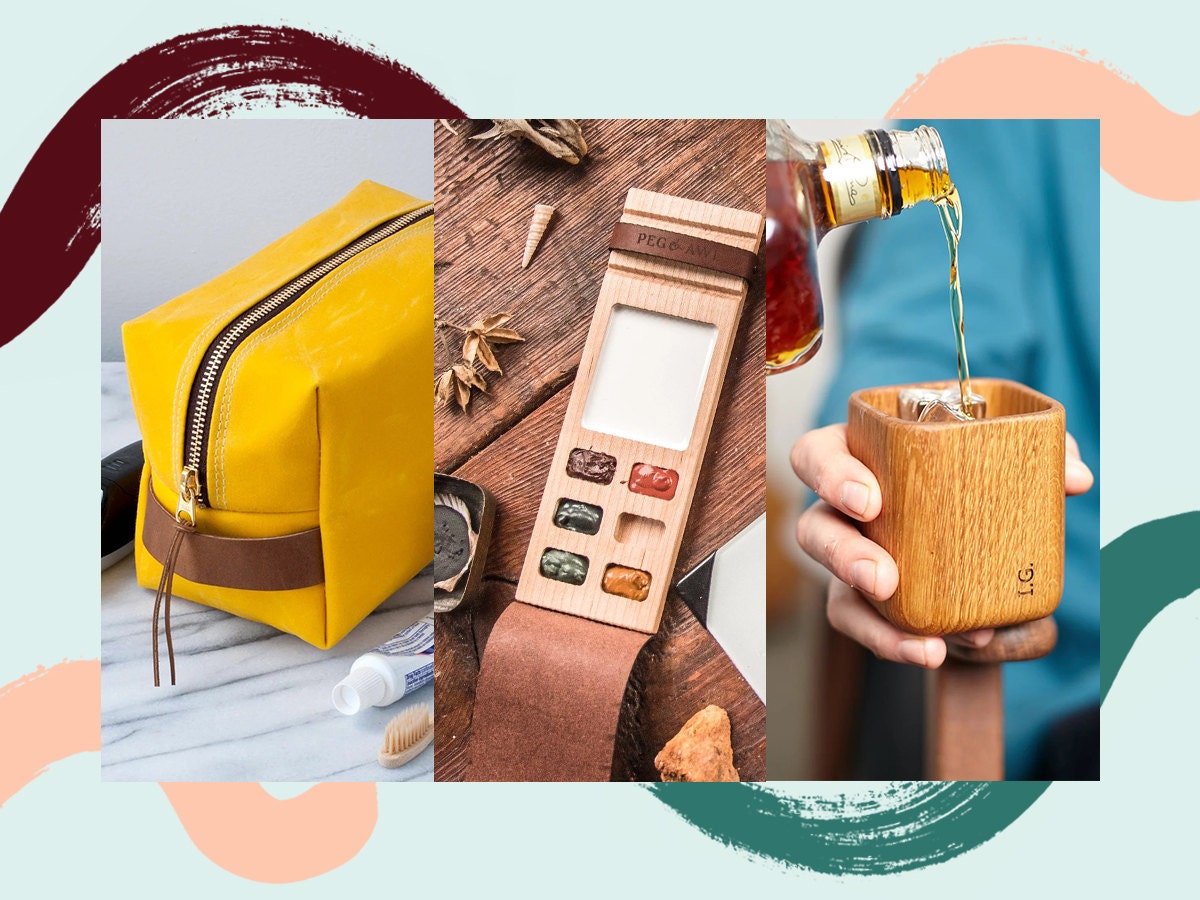 Close your eyes and bring to mind the father figure in your life. Are they rocking out on the air guitar in the middle of the living room? Putting their signature spin on frozen pizzar? Quietly tending to their beloved backyard garden? Every dad out there is different, defined by their own unique set of hobbies and interests, likes and dislikes, habits and quirks—all of which add up to create the people we hold so dear. So this Father's Day, we're celebrating the super-specific things that set our dads apart with one-of-a-kind presents that feel tailor-made for them. From outdoorsy decor to stylish accessories, read on to discover Father's Day gift ideas that speak to our favorite things about our favorite guys—brought to life by talented small business owners on Etsy.
In celebration of…
His goofy dance moves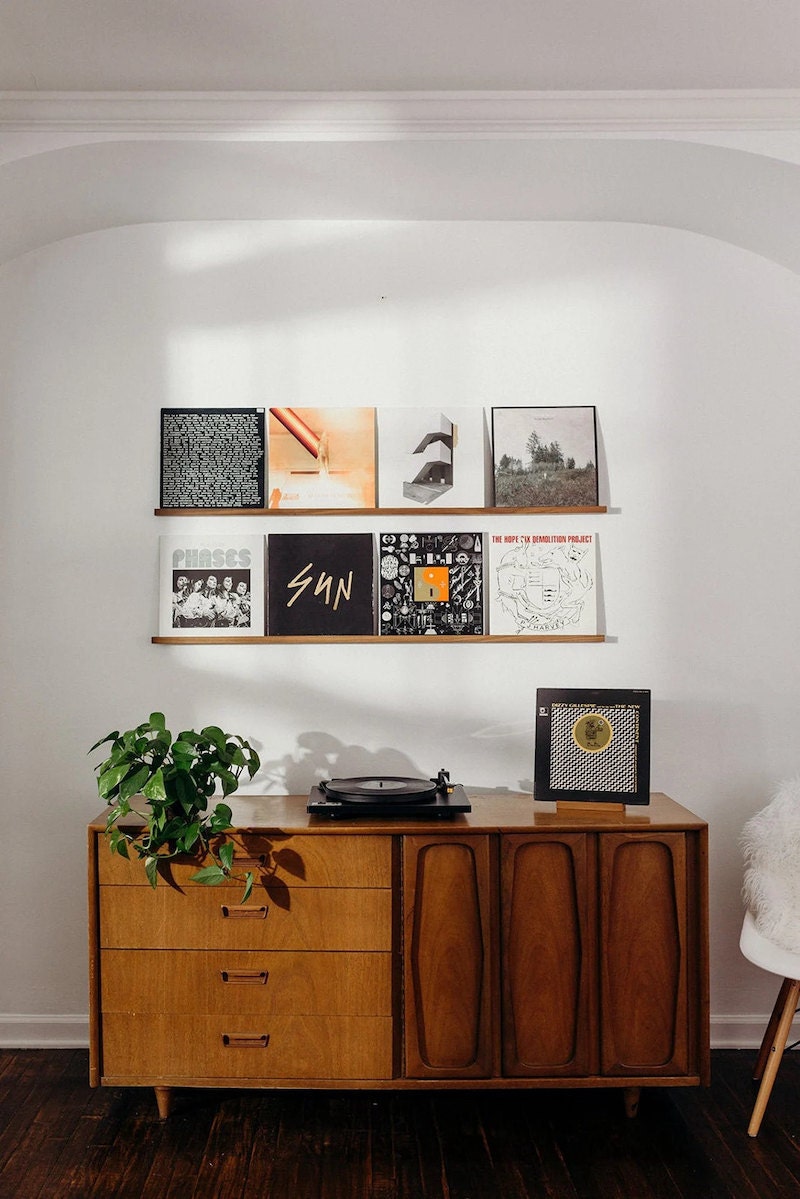 SHOP: Wooden record storage ledge from Divider Records, from $68
Sure, they embarrassed the heck out of you at weddings as a kid, but today you wouldn't have it any other way. Made to order, this solid wood record ledge will let Dad display his grooviest, most bust-a-move-worthy albums in a place of pride.
His sweet tooth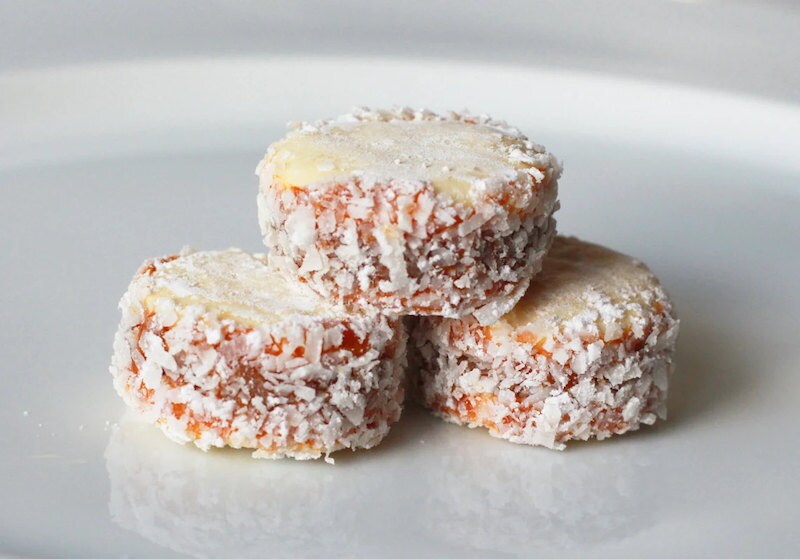 SHOP: Coconut alfajores cookies from Dulce Art, $27 for box of 15
If you grew up sneaking pre-dinner cookies in the kitchen together, you'll make Dad's day with a set of these popular coconut alfajores, homemade to perfection and delivered in a gift-ready box.
His sense of humor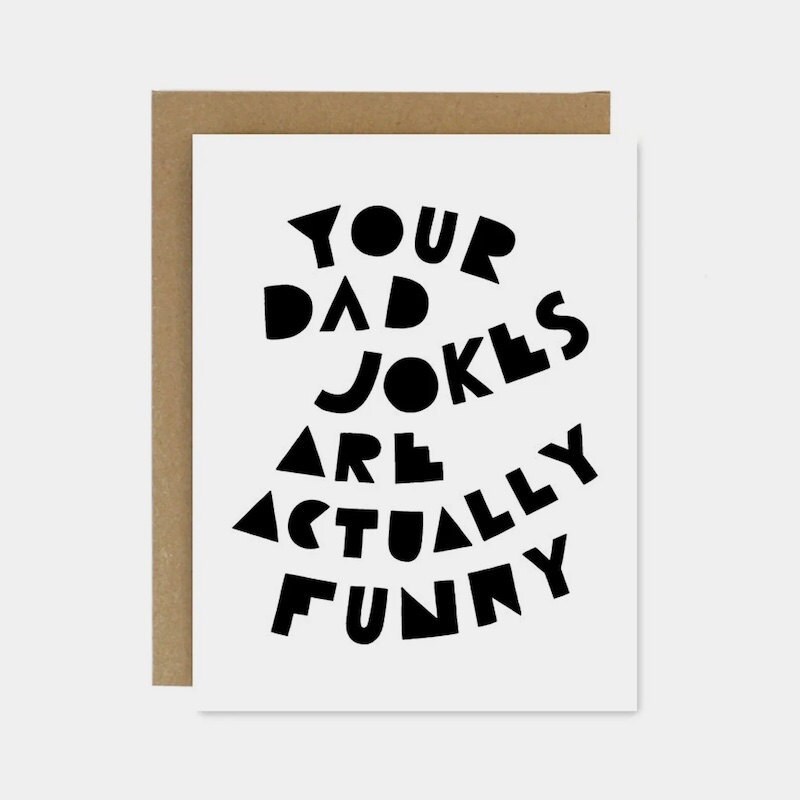 SHOP: Dad Jokes Father's Day card from Worthwhile Paper, $5.50
You love to groan and roll your eyes, but deep down Dad cracks you up—and if there's any occasion to fess up and let him know it (say, with a thoughtful handwritten card), it's Father's Day.
His signature dish
SHOP: Matching daddy-and-me "Pizza" T-shirts from Xenotees, from $20
Pay tribute to Dad's sophisticated taste buds with a pair of matching pizza tees for a Father's Day gift he can wear alongside his mini me while they make their way through a tasty pie with all the toppings.
His outdoorsy streak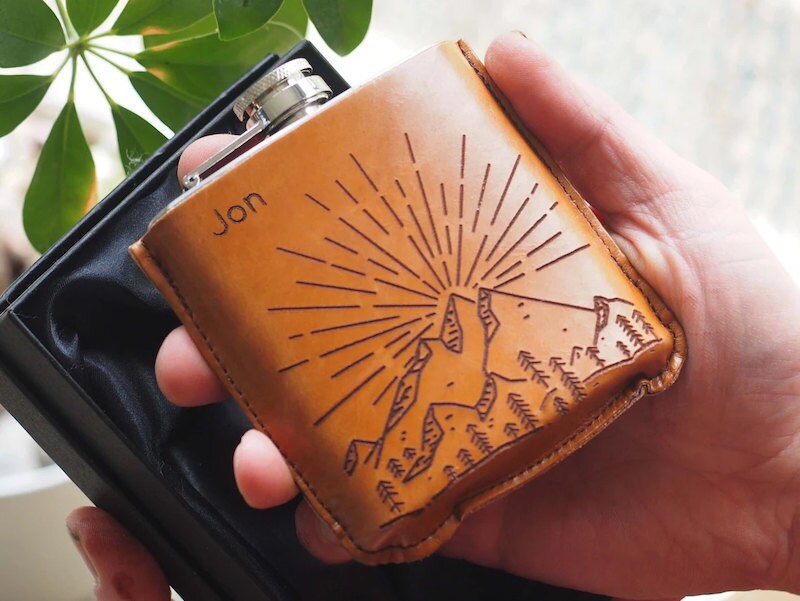 SHOP: Personalized leather mountain flask from Stabo, from $48
If hiking is Dad's happy place, a leather hip flask engraved with a stylized mountain motif, his name, and an optional message of your choosing is the perfect personalized Father's Day gift to help him celebrate his success after his latest summit.
His trademark bed head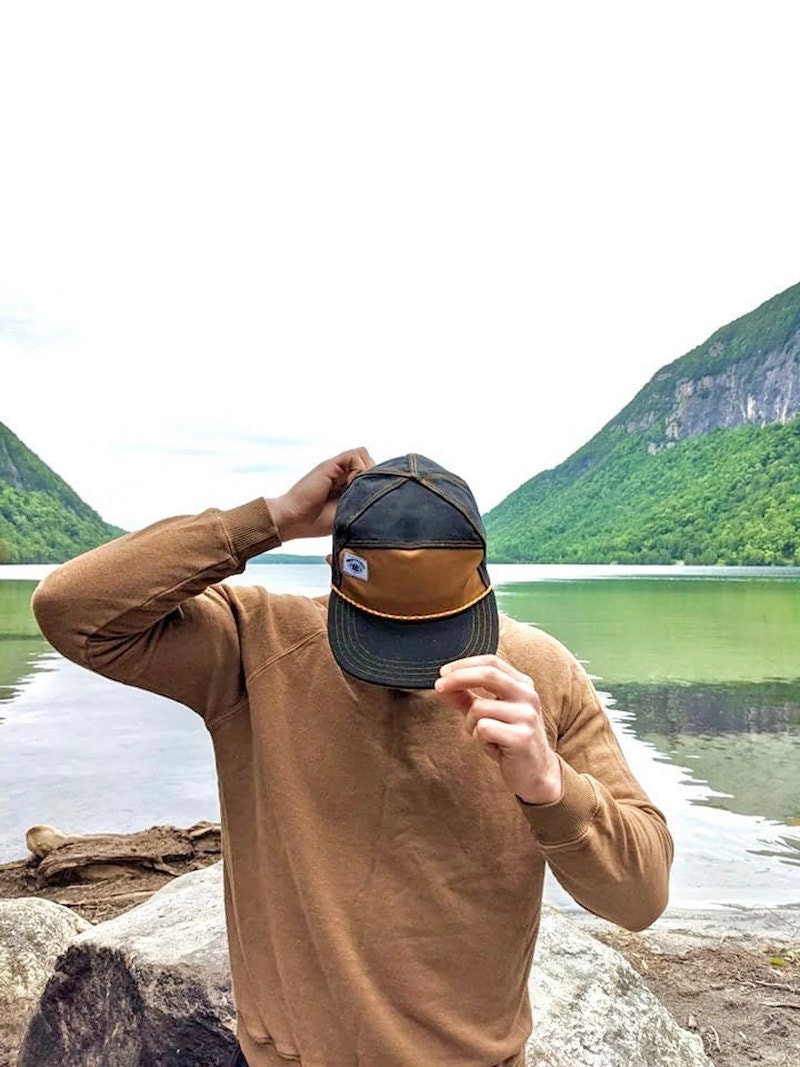 SHOP: Handmade six-panel baseball cap from Ministry of Culture, $64
His mad scientist hair is the stuff of family legend—which is why you'll almost always find Dad rocking a baseball cap. Upgrade his collection with a handmade six-panel hat sewn from sturdy waxed canvas with a flexible lightweight brim and eye-catching neon paracord rope accent.
His wanderlust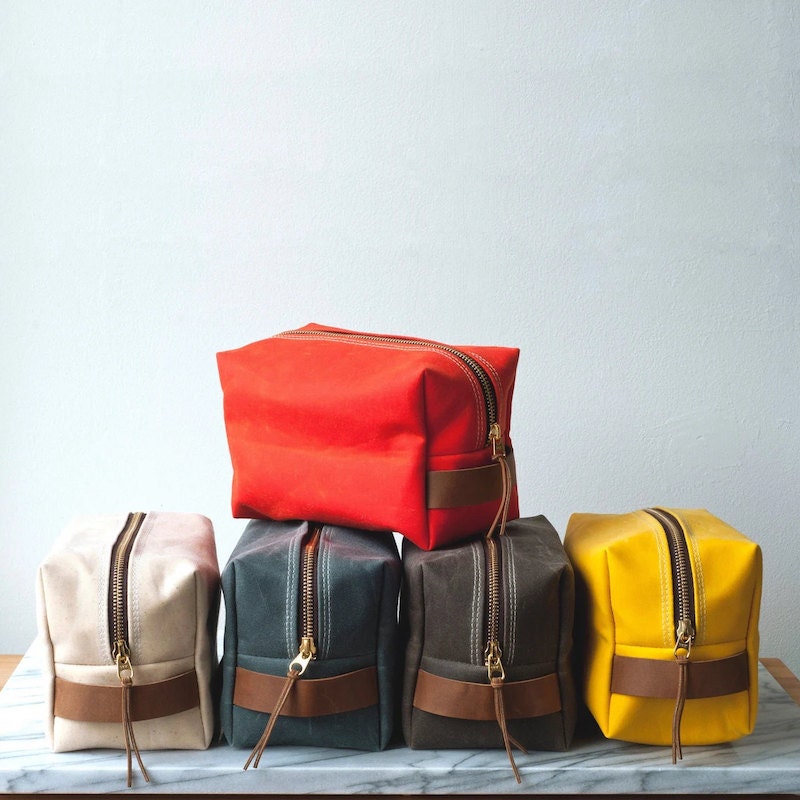 SHOP: Personalized waxed canvas dopp kit from Zeyn NY, $81
He introduced you to the joy of an impromptu road trip and the magic of discovering a brand new locale. Say "thanks for the memories" with a custom dopp kit, available in five classic shades, that he'll be thrilled to bring along on his next adventure.
His hometown pride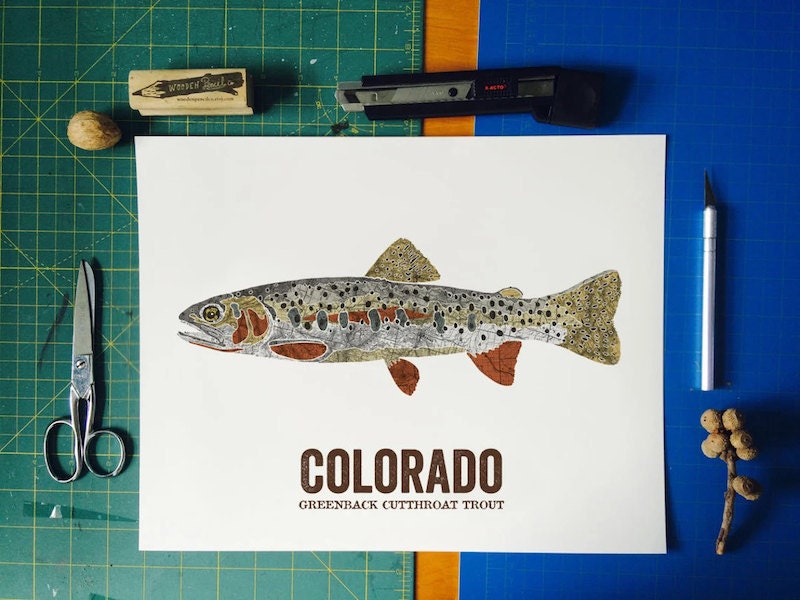 SHOP: State fish print from Wooden Pencil Co., from $42
"Be proud of where you came from," he said. Show Dad you paid attention with this Father's Day gift idea: a creative wall art print that reps your OG stomping grounds, like this stunning state fish framer.
His taste in tunes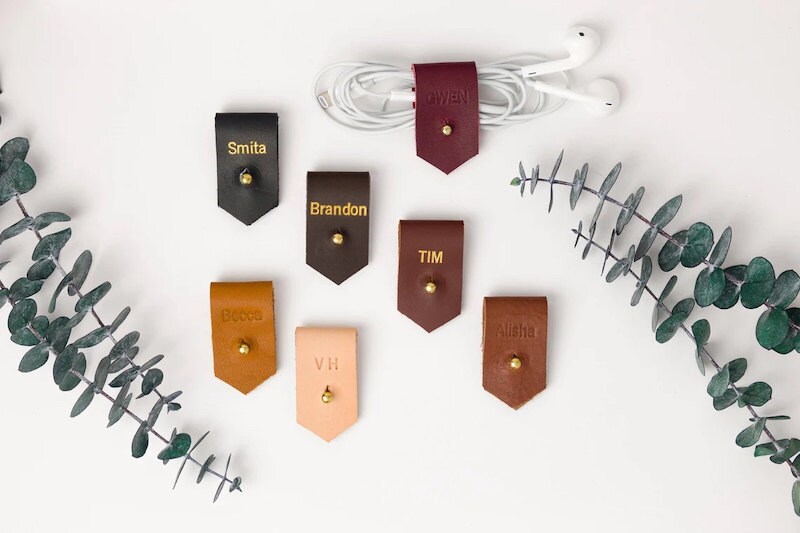 SHOP: Personalized leather earbud cord keeper from Keyaiira, from $10
Ranging from the most obscure oldies to today's Top 40, Dad's music preferences defy categorization and his earbuds are never far from reach. Help him keep his headphone cords tangle-free with a personalized vegetable-tanned leather cord organizer stamped with his name or initials.
His singular style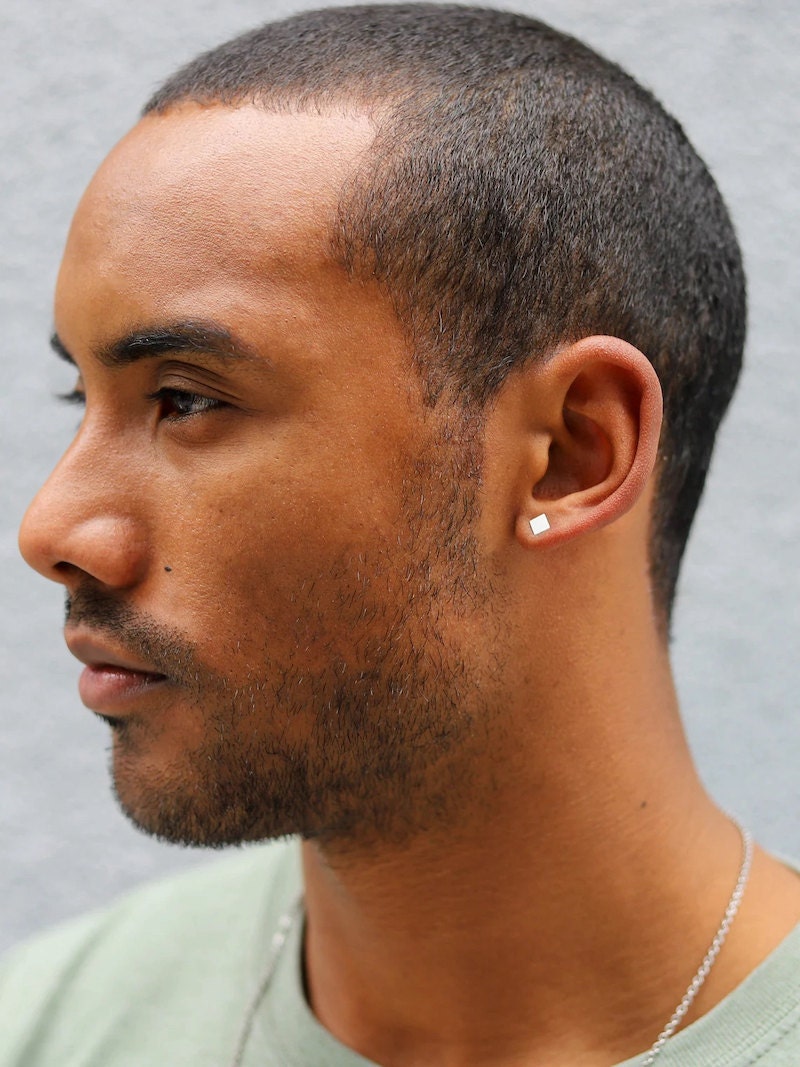 SHOP: Square stud earring from Le Silve Stone, from $19
There's nothing cookie-cutter about Dad's fashion choices, so why should his accessories game be any less strong? Whether you opt for an understated earring or a bolder initial chain, surprise him with something special to add to his jewelry box this Father's Day.
His personality-packed sock collection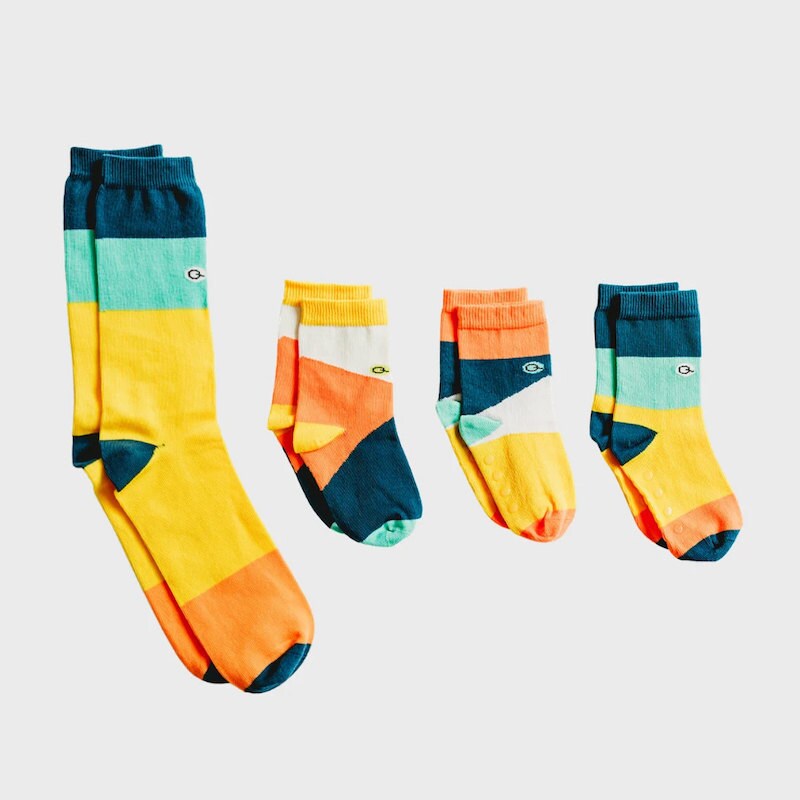 SHOP: Matching family socks from Q For Quinn Socks, from $35
If his sock drawer is as sunny as his personality, this vibrant color-blocked pair is guaranteed to brighten his day—especially since it comes with coordinated kiddo sets for those adorable daddy-and-me matching moments.
His appetite for adventure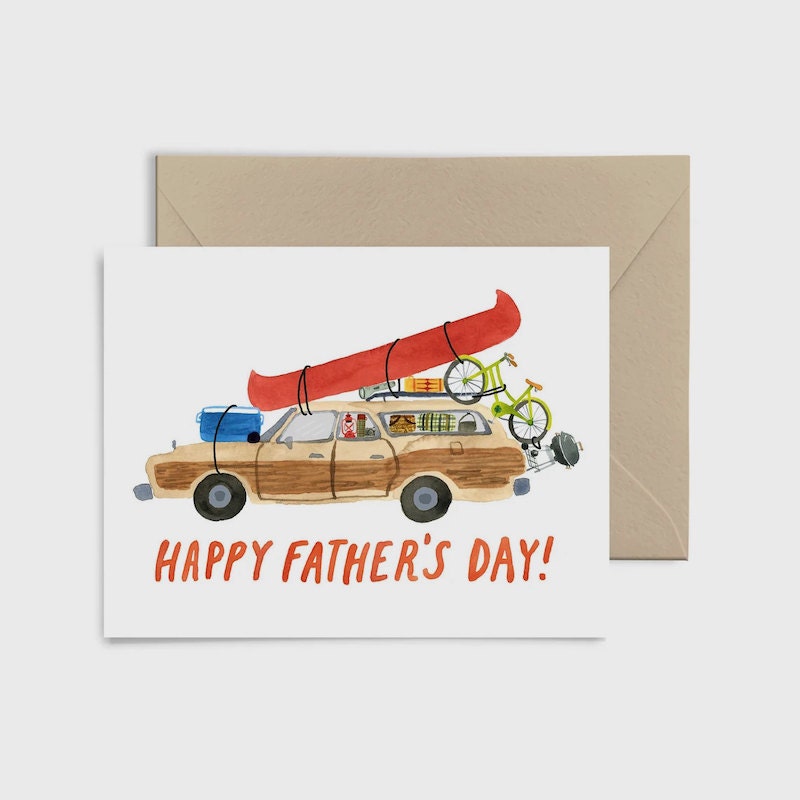 SHOP: Station wagon Father's Day card from Little Truths Studio, $5
Just when you thought you couldn't fit one more thing in the car, Dad was there to save the day with his can-do 'tude and unparalleled packing prowess. Honor his love of the open road with a hand-painted card that nods to every epic adventure you've shared together.
His artistic eye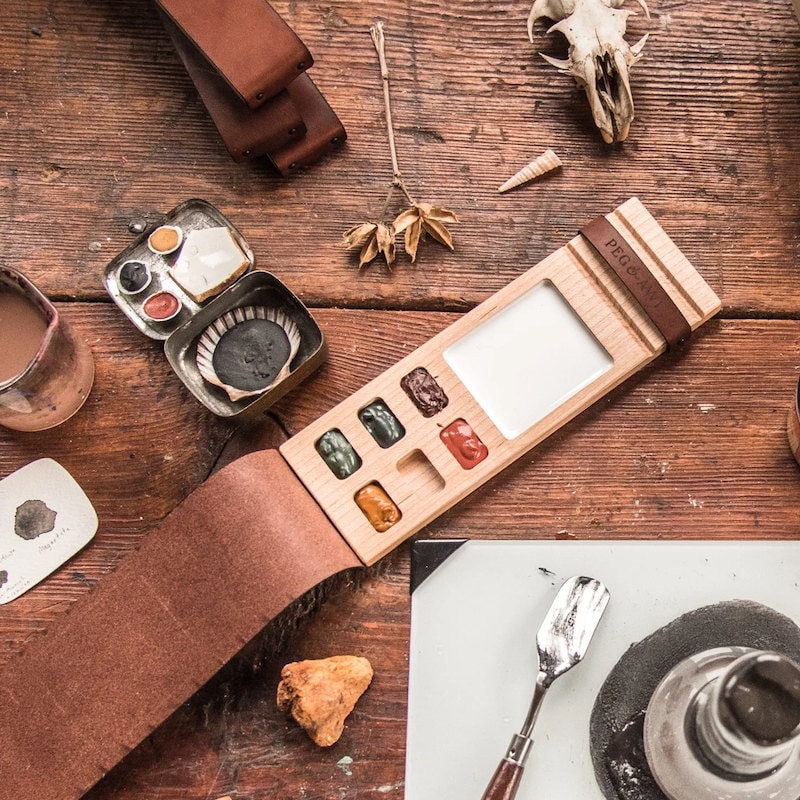 SHOP: Wooden six-well paint palette from Peg & Awl, from $56
He proudly displayed every single one of your scribble-strewn kindergarten artworks on the fridge and even framed one for his office—because nothing made him happier than watching you follow in his creative footsteps. Help him create his own magnum opus on the go with a portable palette with six paint wells designed for watercolor and gouache.
His soft spot for animals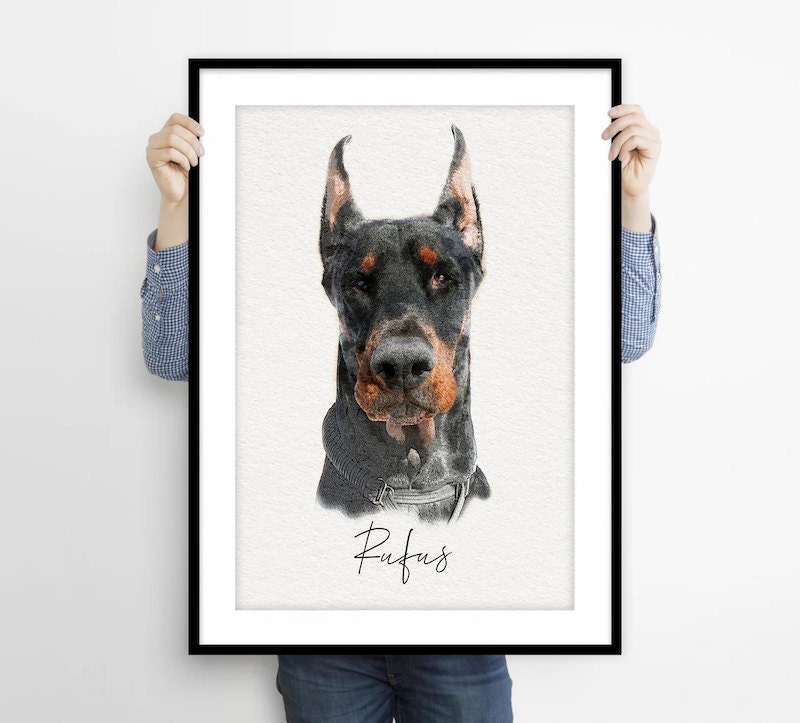 SHOP: Custom pet portrait Fusion MM, from $35
They don't call them man's best friend for nothing! For one of the best Father's Day gifts in town, commission a custom portrait of his faithful furry sidekick to really pull at those heartstrings and celebrate their extra-special daddy-doggy bond.
His fierce fandom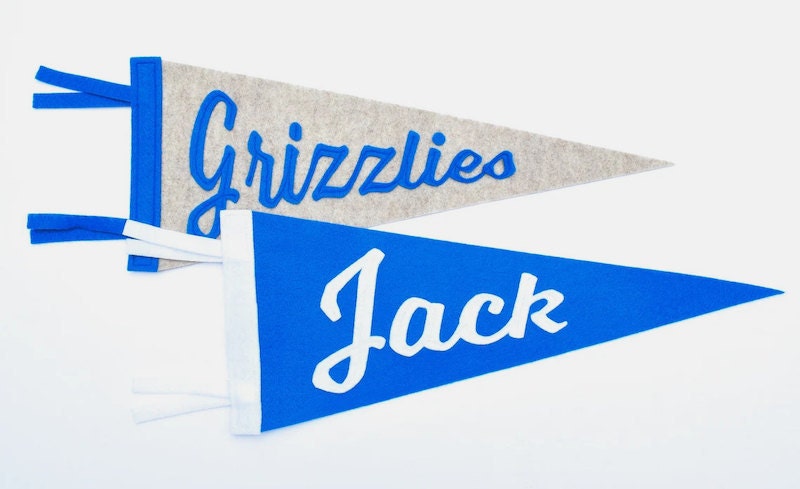 SHOP: Custom pennant flag from Three Travelers Wool, $25
Whether he pledged his loyalty to a Big Ten sports team or little-known indie band, a much-loved local biz or binge-worthy brand of ice cream, cement his status as number one fan with a made-to-order pennant flag emblazoned with the name of his favorite thing.
His sentimental side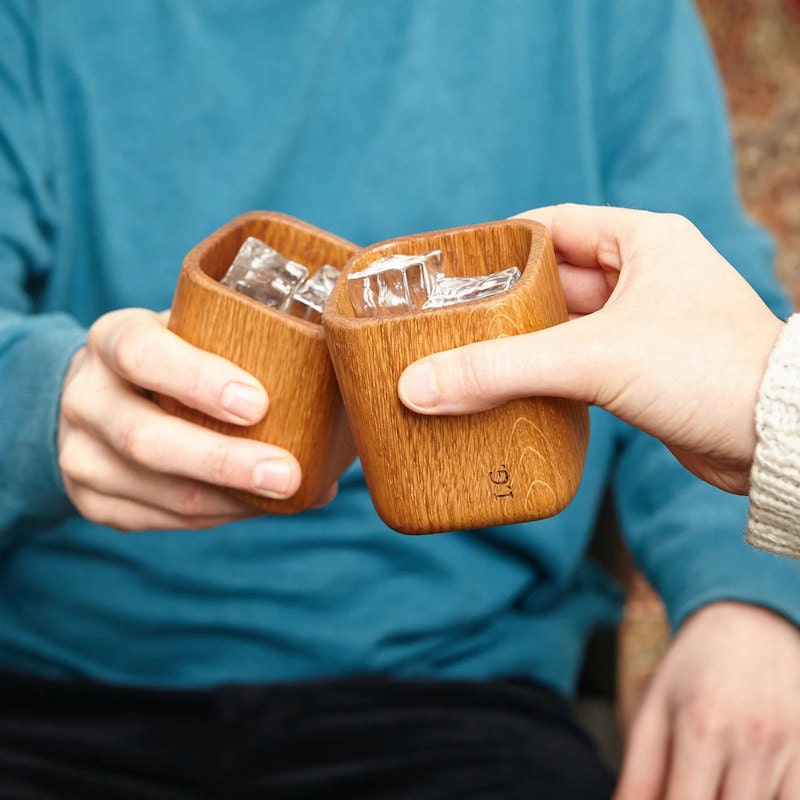 SHOP: Personalized oak whiskey tumblers from MijMoj, from $46 each
A prankster, a provider, a supporter, a friend. You can call your dad many things, but you can't call him a man of few words. So before he clears his throat and launches into his next feelings-fueled toast, gift him a glass worth cheersing—like this personalized tactile oak tumbler.
His handy skills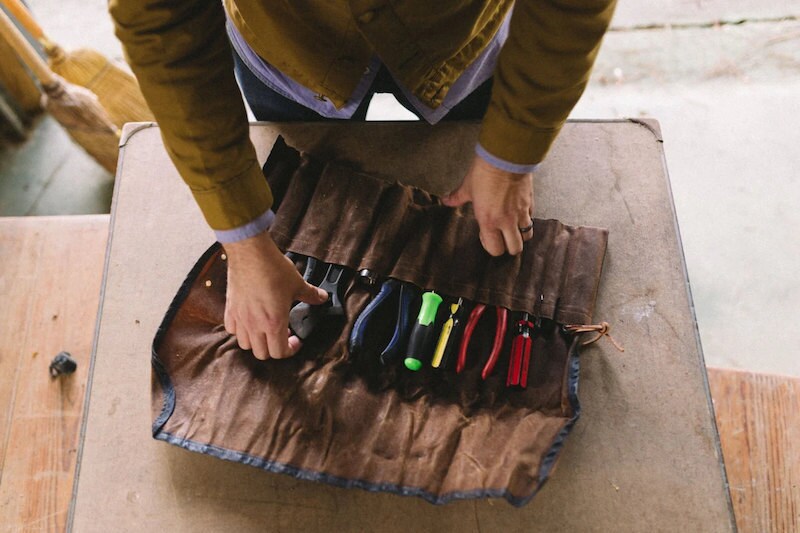 SHOP: Waxed canvas tool roll from Sturdy Brothers, $76
Whenever the dishwasher sputters or the car doesn't start, your first call is clear: It's Dad to the rescue! If he's the reason you know how to wield a screwdriver and change a spare, he deserves a sturdy waxed canvas tool roll as a small token of thanks for all the times he's come through in a pinch.
His weakness for ribs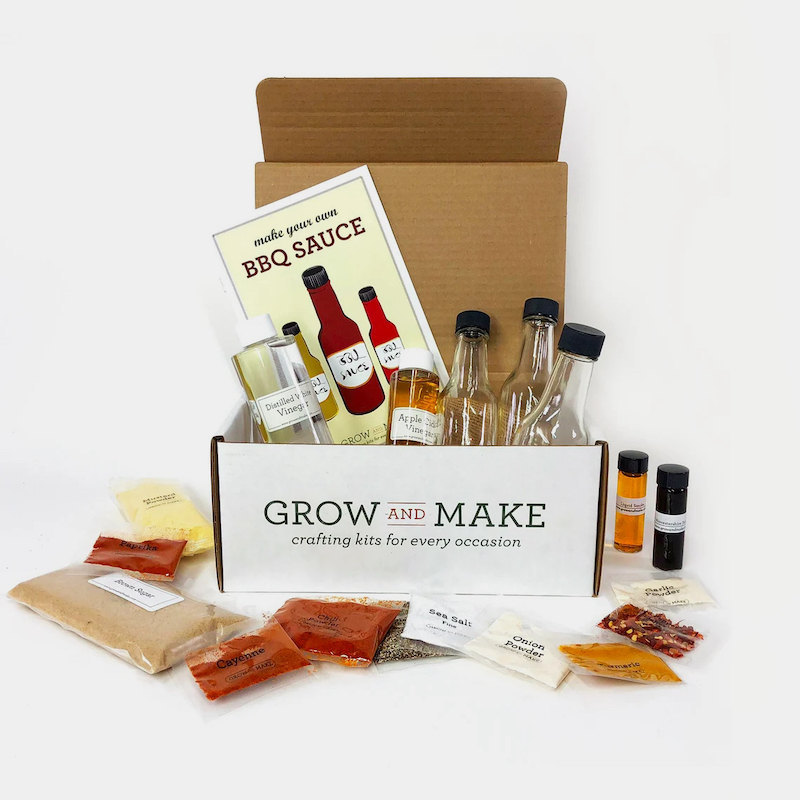 SHOP: DIY barbecue sauce kit from Grow and Make, $45
It took him years to fine-tune his famous rub, but hey, you can't rush perfection! Take his hobby to the next level with a DIY barbecue sauce kit that comes with everything your favorite grillmaster needs to whip up three finger-licking flavorings to complement his prized proteins.
His green thumb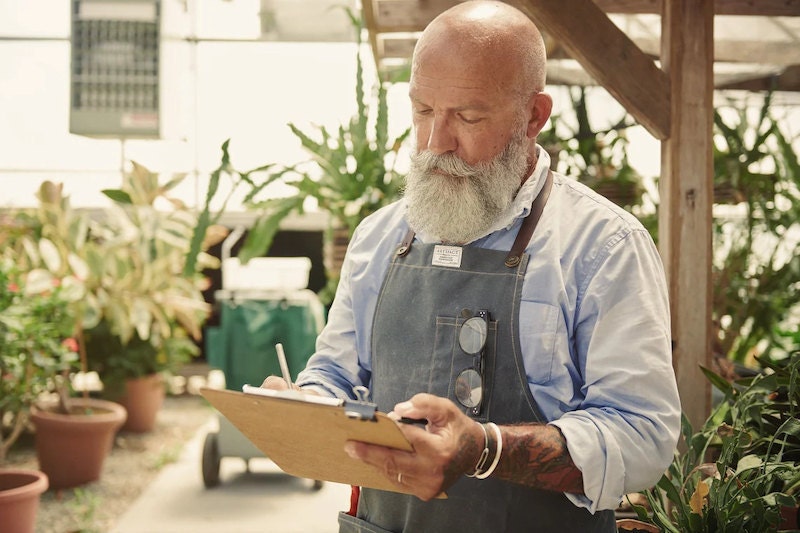 SHOP: Waxed cotton gardening apron from Artifact Bags, $120
Every year, he patiently counts down until the final frost has melted and it's time to stick those seedlings in the ground—and then he spends all summer nurturing them with the same TLC he showered on you and your sibs. Send him out to tend to his plant babies in style with a waxed cotton gardening apron designed specifically for happy days spent wrist-deep in soil.
His work ethic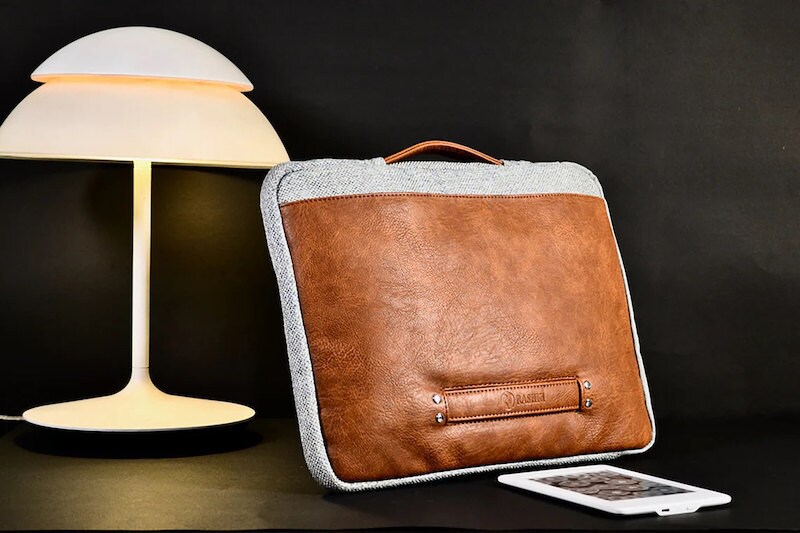 SHOP: Vegan leather laptop case from Rashki, $60
He's the hardest working guy you know, and one of the most humble, too. Show him you recognize his quiet hustle and appreciate all the extra hours he's put in over the years with a sleek vegan leather laptop sleeve with two spacious compartments and a convenient handle.
His love of family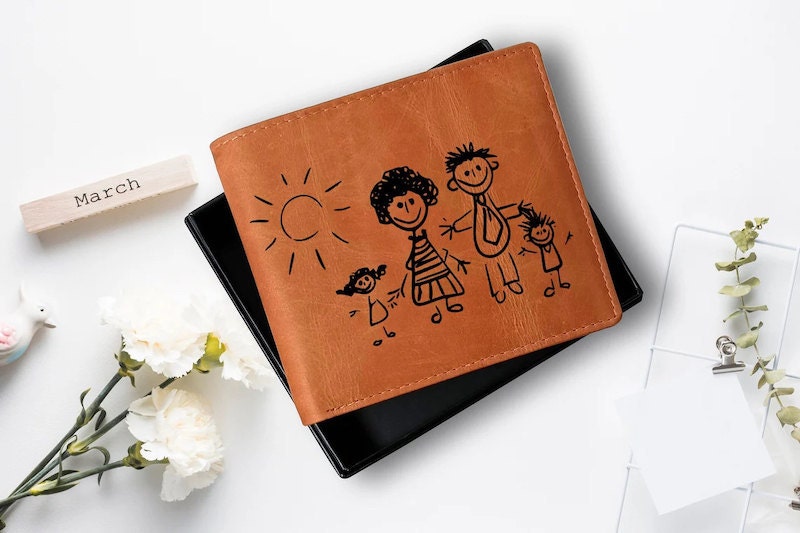 SHOP: Personalized leather wallet featuring kid drawing from Leather Gift Company, from $30
He stayed up late burning the midnight oil to ensure he could sneak away for school pickup and those all-important soccer games (and no one cheered louder from the sidelines!). His love for his family runs deep, and a custom leather wallet laser-engraved with a drawing from one of his favorite tiny humans is the perfect gift for Father's Day to help him show it.