by Hindsvik
"When we first met 4 years ago we wanted a place of our own so badly that we ended up renting a dive motel for weeks and decorating it to our taste.".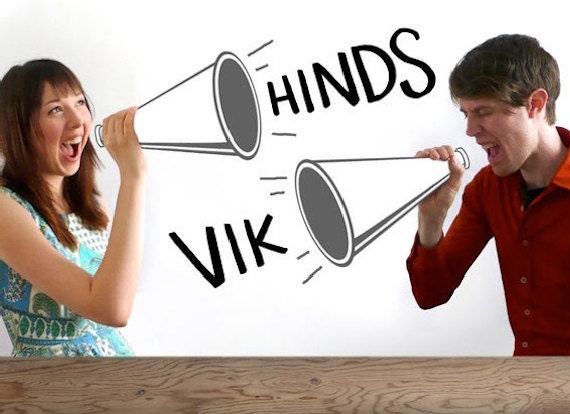 Tell us a bit about yourself.
Hi There! Nice to meet you! We are Daniel and Valeria, who live in a small town in Canada with our baby cat that never fails to amuse us throughout the day. We started our shop Hindsvik in June 2009 after wanting to share our love of vintage pieces and design with others alike. Our shop Hindsvik comes straight from the heart and is a collaboration of curated objects and collections we find. Each and every item on the store is something we love, and we don't believe in adding things to the shop that we don't love or that aren't usable. We keep most of our items in original condition because although we like refurbished things, we prefer the real deal! Right now we're in the middle of renovating and redecorating our 1940s home on a budget and are very much into all aspects of design. Because of this, we try surround ourselves and live with beautiful objects both in our home and in everyday life. We also try to think outside the box when it comes to decorating, storage solutions and home renovations and immerse these ideas into our shop. When we first met 4 years ago we wanted a place of our own so badly that we ended up renting a dive motel for weeks and decorating it to our taste. Eating mostly microwaved pies, packaged salads, lasagna and drinking lots of wine, it was definitely a summer to remember! The owner thought we were so cute she gave us a deal, so we decided to stay a little longer until we found our current house. We also enjoy travelling very much whether it's a road trip to Northern Canada or flights abroad. So far we have driven around the country of Iceland twice and recently driven around Southern Japan (planning on going back and explore the North). We love staying outside of the major cities while travelling, renting a car and avoiding the popular areas like the plague. We tend to migrate towards rural or uninhabited areas (The Far North and Volcanic areas are currently of interest).
Apart from creating things, what do you do?
Apart from starting a new business we spend our days fulfilling our hobbies which include bike riding accompanied by delicious picnics, experimenting with International foods, making music, sewing, filming and photography, rolling around in bed, spooning each other, sleeping in late and gazing at the Cosmos. You can also find us in various locations chipping away at minerals to add to our growing collection of museum quality specimens that will one day actually be on display instead of sitting in boxes :)
What first made you want to become an artist?
You don't decide to become an artist, you are one!
Please describe your creative process.
We think a lot about home decor, furniture and design. It's pretty much an obsession. We think about what we want, our personal taste and aesthetic and which items we would love to carry in the shop. The next step is the hardest which is acquiring our items. Driving around and searching for unique things is always fun but you don't always find what you want, or something that's good enough for the shop. We set very high standards with what we want to carry and make sure we love it. Coming home we clean every vintage piece thoroughly and get ready for photographs and listing each item. This process is painstaking but fun. We're lucky enough to have the same taste and choose to live, work and be together without a problem.
What handmade possession do you most cherish?
Daniel - A small felt, encased Cicada that Valeria made me for my birthday a few years ago! Valeria - Our DIY plywood bedroom! You can see our blog for before/afters!
Name your top five books, movies, musicians, and websites besides Etsy.
Music - It's really impossible to pick a favorite band. Here are some great bands we've been listening to lately or for some time:
Beirut
Okkervil River 
Animal Collective
Anything from 
Sore Thumb Records
Movies -
Wonder Boys 
Anything by 
Werner Herzog 
Picture of Light
 by Peter Mettler Documentaries on Space, Science and the Cosmos Websites -
Flickr
Twitter
Apartment Therapy
Home Decor and Design blogs
What advice would you give to artists who are new to Etsy?
The same advice we would give for everything. Love it or leave it!
What are your favorite features on Etsy? What new features would you like to see?
We really love the 
Etsy Home Decor
 Storque Articles! It's always fun browsing through some great spaces. It's such an inspiration. We would also love to see a direct conversation link from a purchased item regarding that particular purchase.
How do you promote your work?
Right now we haven't done too much in terms of promotion. We have a 
blog
 where we write about things we like, progress on our home, architecture and spaces with shop updates in between. Other than that we have a twitter, flickr and facebook fan page. All of these things were designed for fun, sharing inspiration and documenting our lives rather than promotion.
In ten years, where would you like to be?
Leaving from our apartment abroad and waiting at the airport checking our shop from the latest Blueberry (Oops I meant Blackberry) with our adopted babies thinking about where to put that huge meteorite we bought in our self-designed Shipping Container home. All while sitting in the First Class Lounge drinking beers and eating gross but oh-so-yummy airport food and deciding on what to watch together on the airplane, what drinks we want to order an whether or not the in-flight fish meal will be enough to satiate our appetite! And of course, getting home and rolling around in bed, spooning each other, sleeping in late and gazing at the Cosmos :)