by lebouton
"These days, I can't get Buckminster Fuller out of my head."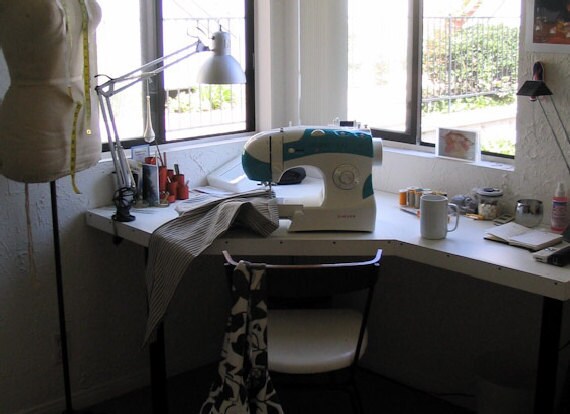 Tell us a bit about yourself (name, location,affiliations, personal stuff).
Hello. Thank you for choosing me as a featured seller. My name is Lisa Dorr, and I make (mostly) clothing for children. My shop is Le Bouton (French for button). I am 37. I have been in California for almost two years. Prior to that, I come from deep Maine roots, and have lived in many places on the Eastern sea-board. California is still a shock, and my mind is not entirely made up about it. New York City may be the only place to live, and Paris, and maybe Portland, Me., and the outskirts of Gainesville, Fl., and Jersey City.  
What is the first thing you can remember making by hand? How and why did you make it?
If my memory serves me right, I think it was an indian headdress made from seagull feathers, and a piece of old sheeting. This was needed in order to be Princess Tigerlily.  
What inspires you? Where do your ideas come from?
For the most part, inspiration comes from Frances, and personal heroes . The ideas for clothing are from images that I have seen, and would like to re-create, whether in a film, or an illustration, or on the street. Inspiration also stems from the desire to recreate the world, to make it more interesting, and to elevate standards. My heroes are people who live to create a world that they dream of. These days, I can't get Buckminster Fuller out of my head.  
What are your favorite materials?
For childrens' clothes, I love to make pieces out of good, heavy linen. Linen wrinkles so beautifully, and on a kid, it looks so rich, and artful. We're all influenced by what we wear, and when children wear linen something interesting happens, they become more thoughtful, and kind of relaxed. I really love pillowcase ticking, and I'm on the lookout for good, rigid denim. I like fine cotton lawn, and heavy cotton jersey. I hope to find more of the amazing wool that the stove-pipe sweater was made from, that was beautiful. What else... I hope to make something out of wool flannel soon... an interesting vest, or little coat.  
What have been the most valuable lessons learned from other artists on Etsy?
Most valuable lesson? Patience, if what your making resonates, then it will catch on exponentially, so be ready! And take great pictures.  
Why should people buy handmade?
Buying handmade is one of the very few ways to directly do something in this world, when many experiences have been removed from us. For a seller who is making items on a bespoke basis, that seller is really thinking about YOU when making your order. It is a very personal process. For those of us who hope to support ourselves with this endeavor, buying our handmade items is not just support in dollars, but encouragement to keep going.  
What features/services would you most like to see on Etsy?
Well, maybe the ability to have sub-genre shops. This would enable people to keep a cohesiveness in their vision. For instance, I have many ideas for clothing, but not all of them would look right as Le Bouton. So, if I wanted to make Le Bouton Maison, or Le Bouton Jardin, or Le Bouton Ecole having seperate shops for each would be very nice. Also, it would be great if people could contact a shop via conversations without having to sign in. Can one do this already?  
Apart from creating things, what do you do?
That little girl you see in the shop? That's Frances, she's my girl. Six years old, and just finished kindergarten. We're reading, and swimming, and playing cards, and putting puzzles together, and painting, making food, watching movies, listening to music, writing...  
Read any good books lately?
I've just started to read a book that I'm in love with, and can only read in small increments. It's Midnight's Children, by Salman Rushdie.  
In ten years I'd like to be...
In ten years, ten years. Certainly making clothes, and shoes, and paintings, and photographs, and furniture, and maybe making the textiles that the clothes are made from, and traveling with frances, and speaking Spanish, and French, and building a house, and riding a bike everywhere, and long-distance swimming, and gardening, and maybe finally learning how to play the banjo, and i would love to learn how to make incredibly fine yogurt like the type i lived on in france, and cheeses, and bread, and it would be fun to live on an apple orchard and make calvados, and maybe learn to play a few tunes on a piano, and maybe be in a play, or become involved with a theatre, learn how to surf, and get back into scuba diving, and then making more clothes.