by SandraHealy
"We are Sandra Healy's carved animals. Left to herself, she'd never get around to doing this interview, so we will take it on."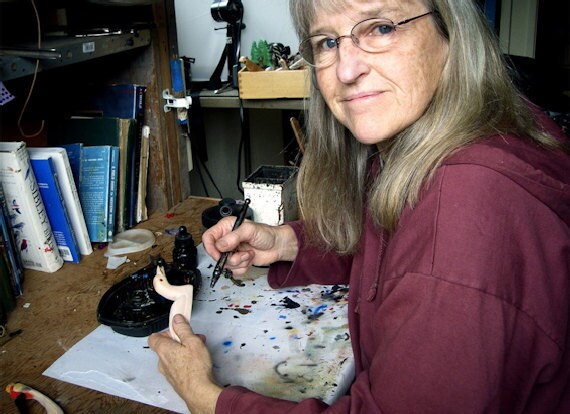 Tell us a bit about yourself.
We are Sandra Healy's carved animals. Left to herself, she'd never get around to doing this interview, so we will take it on. She is honored to be an Etsy Creatured Seller! We live in a small house on 5 acres with no neighbors to look at. The only beings around, other than us carvings, are the bear, deer, skunk, raccoon, birds, and other creatures which wander and fly through their land on which we live. She walks across the deck to work in her studio, and a couple times a week drives somewhere. We are in northwest California, far north of the area which many people call northern California.
Apart from creating things, what do you do?
A few times a year she leaves us resting in our dark drawers and travels in her VW camper to go hiking and backpacking. Typically she goes to Death Valley in the winter, and in the summer backpacks in the Canadian Rockies, and hopefully some other trip somewhere. At home, she hikes and runs, mows the open acres of the land, cuts and splits firewood, lazes around, removes non native and nurtures native plants, and enjoys the little redwood grove. Sometimes she plays piano or the Lyon & Healy harp. She spends much time neglecting various home maintenance projects.
What first made you want to become an artist?
We think she's always done artistic things, but we animals only started taking over her life about 1975.
Please describe your creative process how, when, materials, etc.
She loves the wildness of animals and enjoys the glimpses she gets of them in the wild. She doesn't show every one of our feathers or hairs, because that's not what you see in nature: usually you only see a blur and a shape. So that's what she does: blurs and shapes. Somehow we end up looking like animals! We are all wild animals; she even shys away from making some that do exist in the wild, but which have become pets. She designs us using her many books and the internet as resources, then cuts a thin plastic template which can be reused many times. The designs have to be made with consideration for the grain of the wood; long legged birds are a problem since our legs and beaks go different directions, and she doesn't want us to be easily broken. Here's the process: 1. Draw around the animal templates on a basswood board and cut them out using a scroll saw. 2. Rout out areas which need to be deeper; this saves her hands for the finer work. 3. Listen to a recorded book or podcasts and carve, carve, carve, using chisels and knives. We enjoy the feeling of taking shape this way. 4. Sand us with a handy speedy sander. 5. Burn in a few details, then airbrush our colors. This brings us to life! 6. Brush on 3 coats of wood finish. 7. If you repeat this 37,000+ times, as she has, you'll start to figure it out.
What handmade possession do you most cherish?
Sandra tends to be oblivious of her domestic surroundings, and isn't much of a cherisher since things get lost in the mess. She does like the things she uses, like handmade bowls and mugs, and the oval boxes which her sister makes from various hardwoods.
Name your top five books, movies, songs/musical groups, and web sites besides Etsy.
She's now reading Our Inner Ape by Frans de Waal, and Winter World by Bernd Heinrich; she reads many science oriented books, like Trilobite by Richard Fortey. Also, she enjoys the strange novels of Jose Saramago, and books by Allende and Kingsolver. Also she's now reading (again) My Antonia by Willa Cather. David Attenborough movies are her favorites. Many natural history movies are too shallow, over dramatic, inaccurate, or anthropomorphic compared to his. Movies about people are less interesting. As animals, we agree totally. She doesn't have any favorite websites. Music: lately she's been listening to piano music of Eric Satie played by Thibaudet, traditional Irish harp music played by Grainne Hambly, Buddhist chants by Choying Drolma, Armenian music for guitar played by Kolanian, and her brother's CD "Under the Influence".
What advice would you give to artists who are new to Etsy?
We are quite new to Etsy. Sandra read all the helpful information Etsy provides, and learned a lot from the forums. Sometimes we feel neglected when she spends too much time there. She has fun and tries to be patient, and sticks to doing her art which she enjoys, and not promotion which she doesn't.
What are your favorite features on Etsy?  What new features would you like to see?
Etsy as a whole is very attractive, and we enjoy the community aspect very much. All of us carved animals like hanging out in Sandra's Etsy shop, and are pleased to go to different homes from there. We regularly pop up in the Treasuries where we get to meet new animals and other beauties. The essential things are: a place for us to meet the public, a way for people to find us, and an easy way for them to buy. Improvements to the present features are a much more pressing issue. A drop-down menu from "your etsy" listing the "your shop" pages would be very handy. We'd like all the photos displayed within Etsy to be the same shape, rather than some square and some rectangular. Also it's silly that items show up as "sold" when they haven't even been paid for yet.
How do you promote your work?
Sandra is hopeless at promotion: she doesn't do it. So we've taken over the task of going out in the world and bringing back business for her. At craft fairs she hides behind the booth and leaves it for us to draw in customers.
In ten years I'd like to be...
She'll be still hiking and backpacking, no doubt. Whether she still carves will depend on how her hands hold up. Maybe it will be time to retire soon! Perhaps she'd take up a hobby. Like carving, for instance.