by tumbleweedsoddities
"It isn't uncommon for us to hold impromptu business meetings on bike rides or rush home while running errands to experiment with a new design."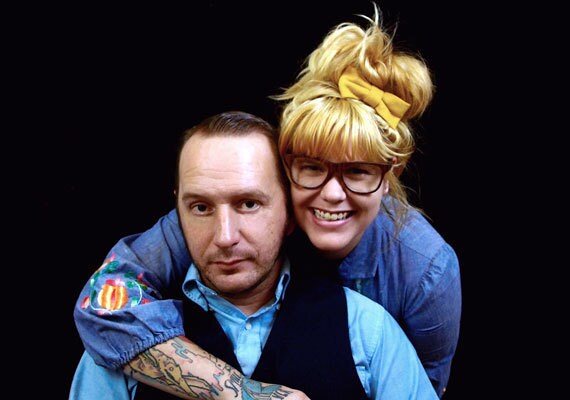 Tell us a bit about yourself.
Tumbleweeds Handcraft
is Doug Switalski and Beca Lewis Skeels. We live and work in the historic St. Elmo neighborhood of Chattanooga, Tennessee. We get to wake up and start our work day, every day, with the mighty Lookout Mountain outside our windows. Handcrafted wood veneer sunglasses are our livelihood, as unlikely as that may be for a pastry chef and a skateboarder. Doug and I tend to live the "don't tell mom the babysitter's dead" kind of life. There is a little alligator snapping turtle living in our TV room, an archery target in our driveway and more pizza and chocolate cake nights than not.
Apart from creating things, what do you do?
Skateboarding and long exposure photography for him; archery, blogging and the fine art of Southern baking for her. We both love to explore new places, shoot impossible targets like quarters and bottle caps with guns in the woods, search for treasures with the metal detector, and take our two sweet pups on hikes up the mountain. Generally, we just do all the cool stuff every 12-year-old vows to do when they are all grown up and don't have parents telling them what to do!
What would be the title of your memoir?
Until We See You Again, Goodbye Forever and Other Love Letters Written From the Post Office Lobby
.We are so grateful for the United States Post Office for two reasons: 1. USPS takes our little creations that we work so hard on and love so very much, and sends them safely all over the world. We may never see them again in person, but when we see photos of people wearing our glasses on Twitter or Instagram, it's like we went all over the world, too! And 2. Waiting in line at the post office is the best downtime to check email, enjoy a Popsicle or candy bar, and make friends with the awesome postal workers who say "thank you" every single time we bring in a box full of packages. I secretly like to wish our packages good luck, and say goodbye each time we take a batch to ship. Traveling across the world is hard work!
Where does your inspiration come from?
We get inspired by so much! Doug loves the 1970s and how wood veneer was used in that decade. Everything that could be veneered was, and we have a van that is filled with veneered surfaces to prove it! We are so inspired by the community around us, our awesome customers, finding new purpose for something that would have otherwise been thrown away, vintage fashions and the amazing Etsy community that has shown us so much love over the past year. Inspiration is abundant – lucky us!
What does handmade mean to you?
Handmade means seeing and feeling human fingerprints that you just don't get from a machine-made item. It really is the blood, sweat and tears put into each and every step along the way. It's more than that, too — it's putting food on the table, paying bills and giving artists and makers the opportunity to create their own success.
Who has been most influential in your craft?
For me, Doug has been most influential. I went from using offset spatulas and pastry tips to power tools and sandpaper, and everything that I learned about working with veneer, I learned from Doug. He encourages me to be confident in my work and to always strive for the absolute highest quality in whatever I do. I still make cake in my free time, but it's been so awesome building this business with him. For Doug, the furniture maker
Victor Di Novi
has been most influential. Doug learned, hands on, that if you don't have a tool you need, make it yourself! Be brave, find your niche and give it your all. Our family is also incredibly artistic and encouraging and really gives us the backbone we need to create this life and stand behind our business.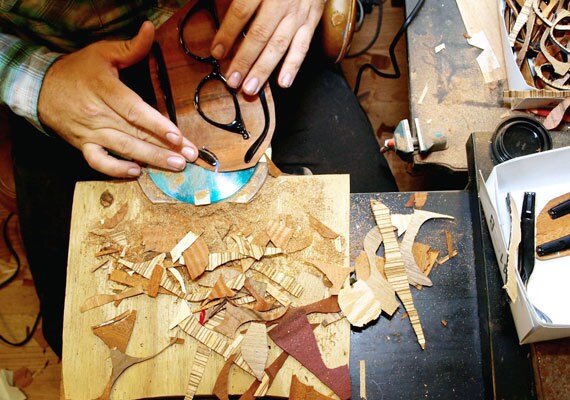 When did you know you were an artist/maker?
We were both born into really hands-on, creative families, and it was inevitable for us to become artists and craftspeople.
How would you describe your creative process?
Ongoing and constant. We live and breathe it. It isn't uncommon for us to hold impromptu business meetings on bike rides or rush home while running errands to experiment with a new design. Our Etsy shop is both of our full-time jobs, and it's even more all-consuming than we imagined in our wildest dreams! The demand forces us to always be honing our creativity and creating new product all the time!
If you could peek inside the studio of any artist, designer or craftsman (dead or alive), who would it be?
It's so hard to choose!
Saul Bass
, because he's a genius. And
Angela Singer
, because there really is nothing better than taxidermy covered in rhinestones and fake flowers. And to be on the movie set with the
Coen Brothers
would be a dream day.
What handmade possession do you most cherish?
Our home is filled with heirlooms from both our families and dear old friends, and it seems like every time we visit home, we acquire more! Doug has a beautiful silver and turquoise ring handmade by our good friend Sid, an 80+ year old jewelry maker and country-western guitar player in Tucson, Arizona. Sid is such an inspiration to us, and every piece of turquoise we use on our sunglasses came from his private collection that was gifted to us on our last visit, along with the ring. One of my most cherished possessions actually comes from an Etsy seller and good friend, Danielle Tanner of
Girl and Parrot
. It's a watercolor portrait of our little family that hangs in my office. It means so much to me and reminds me that family is first. It's what drives me to always look forward.
How do you get out of your creative ruts?
We pack up our '79 Dodge van with the dogs, fishing poles, watercolors and our bikes, and get as far away from our work as possible. Into the woods or on the river, where we can breathe a little easier, see the big picture and get excited about getting back to work.
Where would you like to be in ten years?
We have plans to eventually move back to the small fishing village in central Florida where Doug's family comes from and where we find the best kind of solace. Build a house close to his mom, and if, by good grace, people still want our sunglasses, we'll still be making them. We would like to open a breakfast bakery at some point as well, and a hunting dog rescue.