by Valerie Rains
After producing home goods for an international retail chain, this Israeli designer found true fulfillment by launching her own line.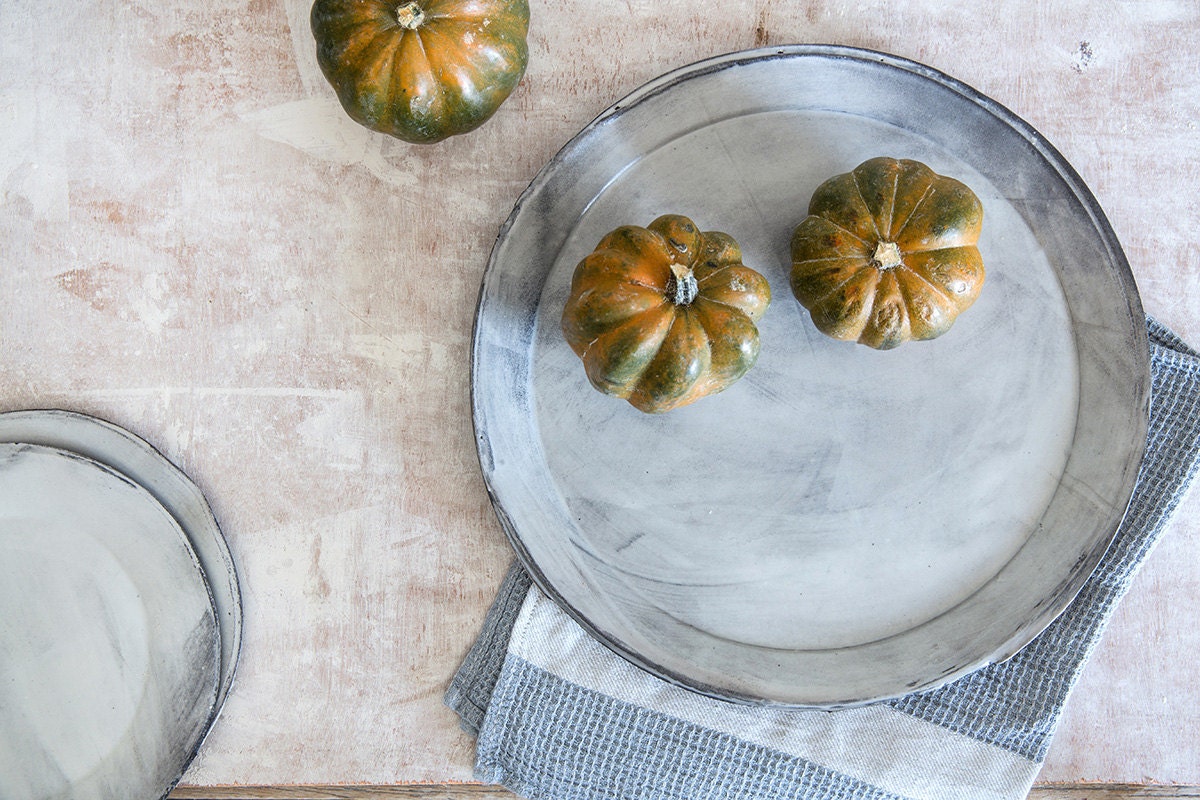 Everyone measures success in her own way — and bigger isn't always better. For Israeli ceramicist Lior Shachar of 
1220 Ceramics Studio
, leaving a position that had given her products international exposure was the ultimate career milestone. It had all started small enough: After meeting a fellow entrepreneur in Tel Aviv, Lior agreed to produce ceramics for a new bath and home goods boutique. Flash forward 15 years, when that shop had expanded to dozens of retail outlets across Europe, North America, and Asia. Lior found herself with a staff of her own and a wider audience than ever for her work — and the feeling that something was missing. "With time, I began feeling worn out and that my creativity was being subdued due to the nature of the commercial world," Lior says. "I knew I needed a change." Without knowing quite where she'd end up, Lior went solo, launching a line of dining and serveware under the name 1220 Ceramics Studio (a reference to the temperature at which her dishwasher- and oven-safe work is fired). "Moving from mass-producing for a commercial brand to
becoming my own brand
has been my biggest achievement so far," she says. "Finally, after so many years of working for a brand name that is not my own, I am designing, creating, and selling my own brand, which is 100% mine and truly represents who I am."
To learn more about Lior's unique vision and see inside her Jaffa studio, read on.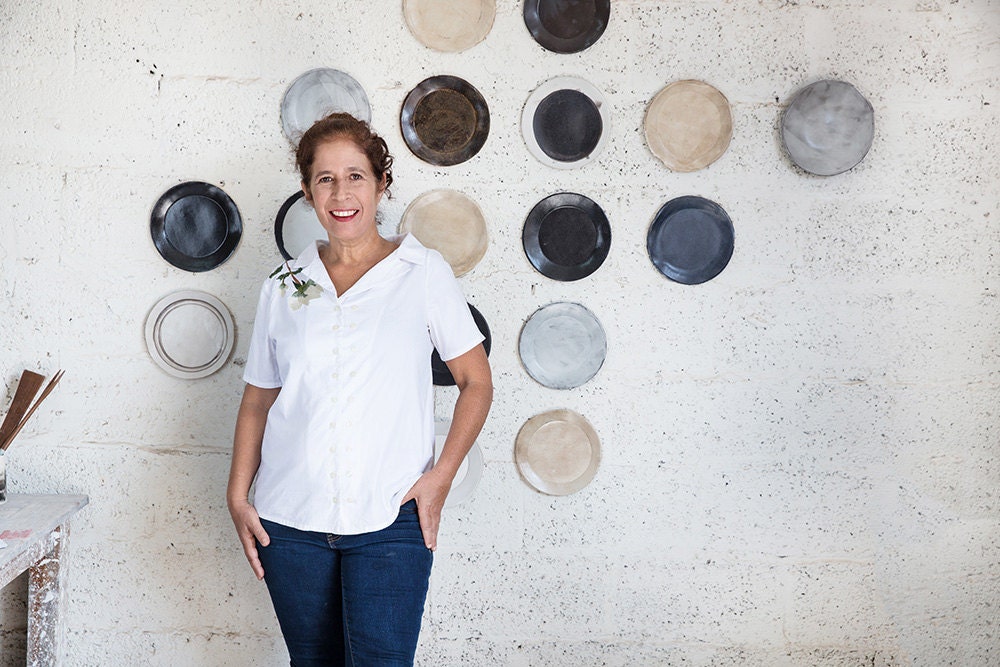 When did you try working with ceramics for the first time, and what was that experience like?
My first experience with ceramics was at a very young age. I was around ten or eleven years old, a rather dreamy girl, when a good friend of mine introduced me to clay. She was attending ceramics classes not far from where we lived, and when I decided to join her for a session, I immediately fell in love with the material. I enjoyed the physicality of it — playing with it, molding it into a desired shape and then squashing it in search of a new shape. Although my passion for ceramics remained strong throughout those early years, I never thought of it as a possible career. At college I enrolled in art therapy studies, along with visual arts and art history classes. But it was only in one class that I felt I could reflect on and express all the parts of my artistic personality: the ceramics studio. Since then,
I have worked with ceramics
every day for over twenty years.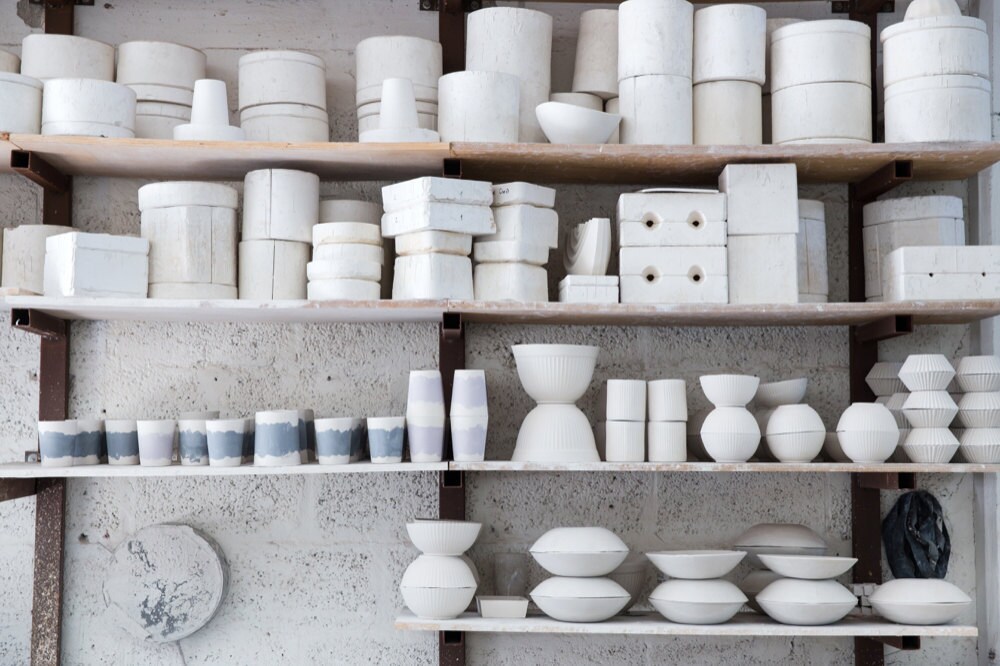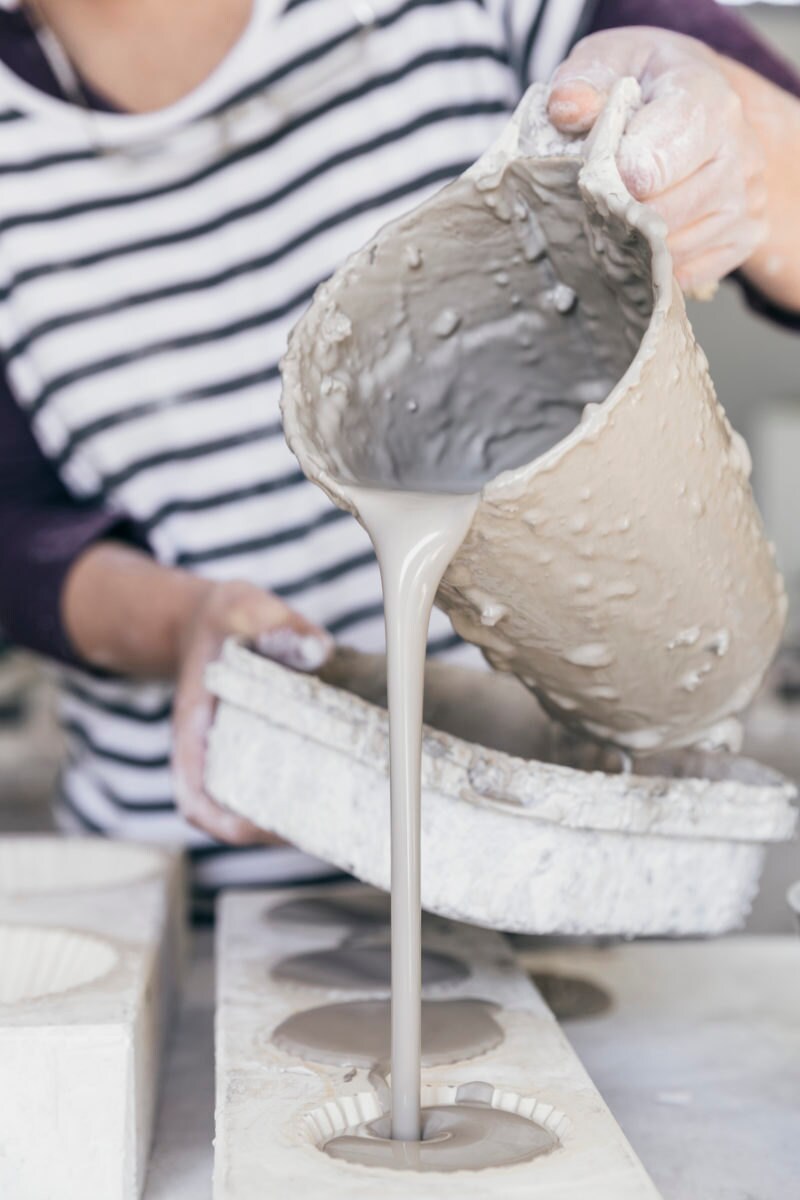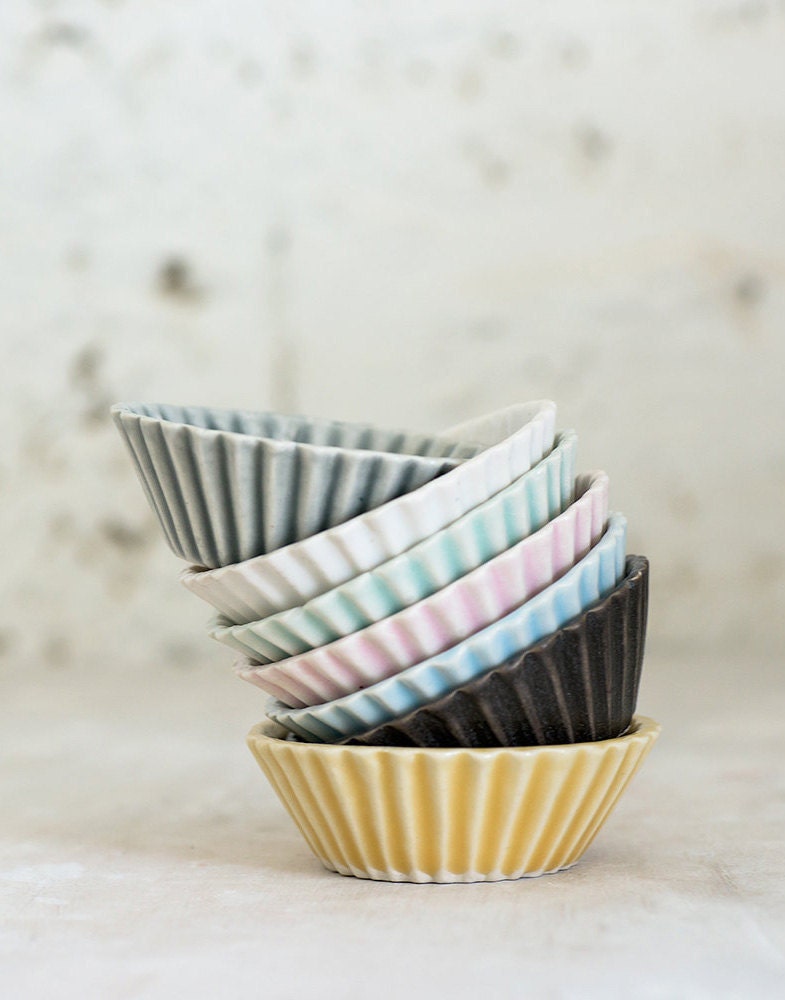 Tell us about your workspace: Where do you do your creating and what tools do you use?
My studio is located in an industrial building that accommodates artists and craftsmen from a variety of fields. The studio has an open-space concept with no partitions. There I have my wheel, slab roller, a wide table where I roll out the clay, a casting table for mold-making, a mixer to prepare the material, and a working surface to design and create my dishes. Most of my work is done by hand, without using mechanical equipment.
You work with slip casting, slab rolling, and wheel-throwing — which of these techniques do you enjoy the most?
I like all the techniques, but my favorites change from time to time. Currently I am very much into working on the slab roller — tapping into its vast potential and truly investigating it. There is something to be said for working with actual surfaces, which allows for preserving the natural state of the material itself and revealing its primal nature.
How often do you debut new designs or collections? Do you have certain times when you work more on the design part of the business?
I try to create new designs every three to four months, but I am always thinking two steps ahead; even as I'm working on an existing collection, I am already contemplating the next one. When I feel that I have a very good idea, I will stop everything to sketch it and prepare a primary model. That sometimes happens when sales slow down, so in hindsight, I realize there is a good reason for the timing of it.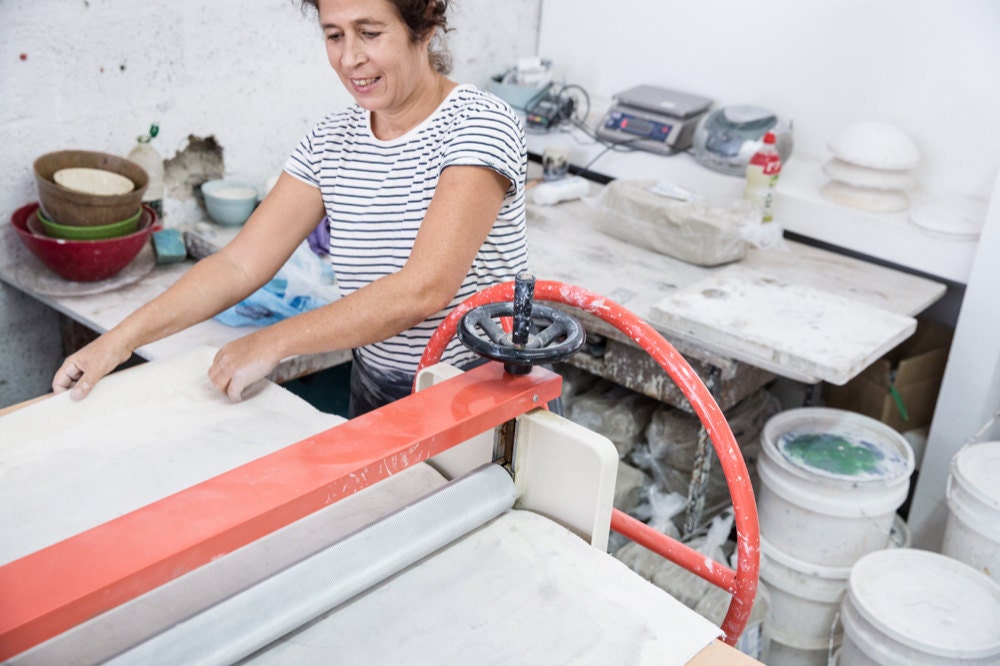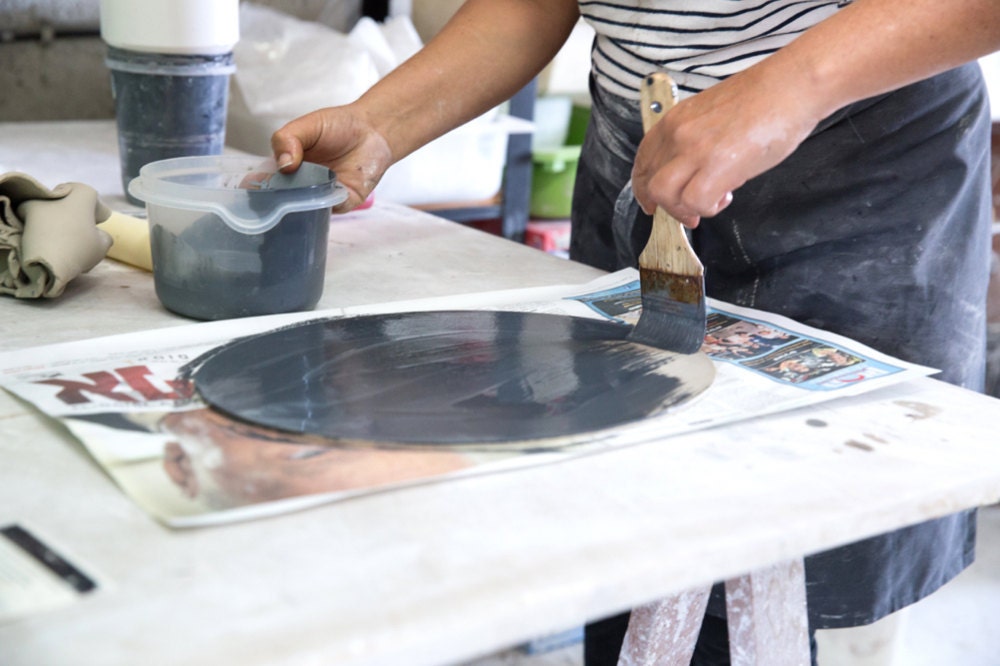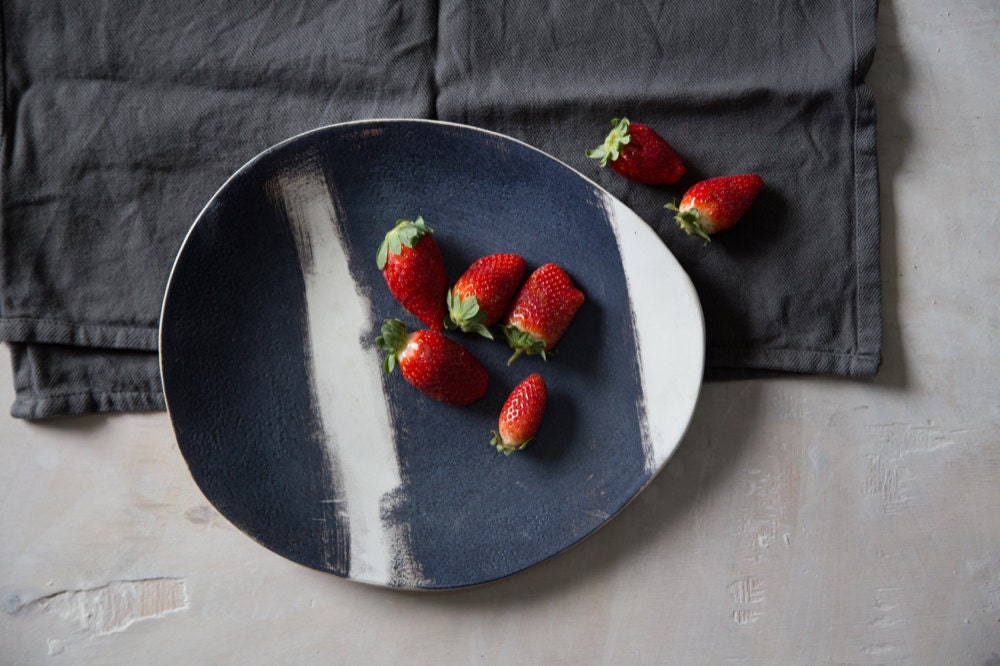 Your work has such a strong, identifiable aesthetic. What was the process like for finding and developing your style?
In order to find
my unique voice
 I had to go through a long process of exploration of the possibilities that lie in the material, as well as the challenges it presents. When I design an object, it is important for me to create something truly unique and to offer products with a specific aesthetic that shows my vision. I always think of an object's function first — what it will be used for, what one can eat from it — but also how will it look on the dining table. I enjoy hosting dinner parties and I love the visual part that goes with it. Yet, I am also aware of the importance of striking a balance between the food one cooks and the dishes it's served in, so that one does not overpower the other. The balance and the equilibrium between the two is something that interests me.
What are your best tips for styling a beautiful table for a dinner party or special-occasion meal?
First, I like to put together different types of dishes for a more eclectic ambience — I find it is usually more interesting than using just one set of dishes that may create a more homogenized look. On the other hand, I think it is good to maintain a monochromatic look, so that no color is too splashy or stands out; this is especially important for keeping a balance between the presentation and the actual food served. A
graphite-black
color scheme can offer a great variety for setting up a beautiful table. I am a big believer in creating a warm atmosphere at the dinner table, and one easy way to do that is to place a few large bowls at the center of the table to hold the main courses of the meal or a number of appetizers, as you would for a family-style meal. These bowls create an anchor for the guests, a kind of gravitational center for the entire table, inviting them to form close interactions and converse with greater ease. I also like to combine earthy materials like wood and bamboo and natural fabrics like linen or cotton as the decorative foundation for the setting.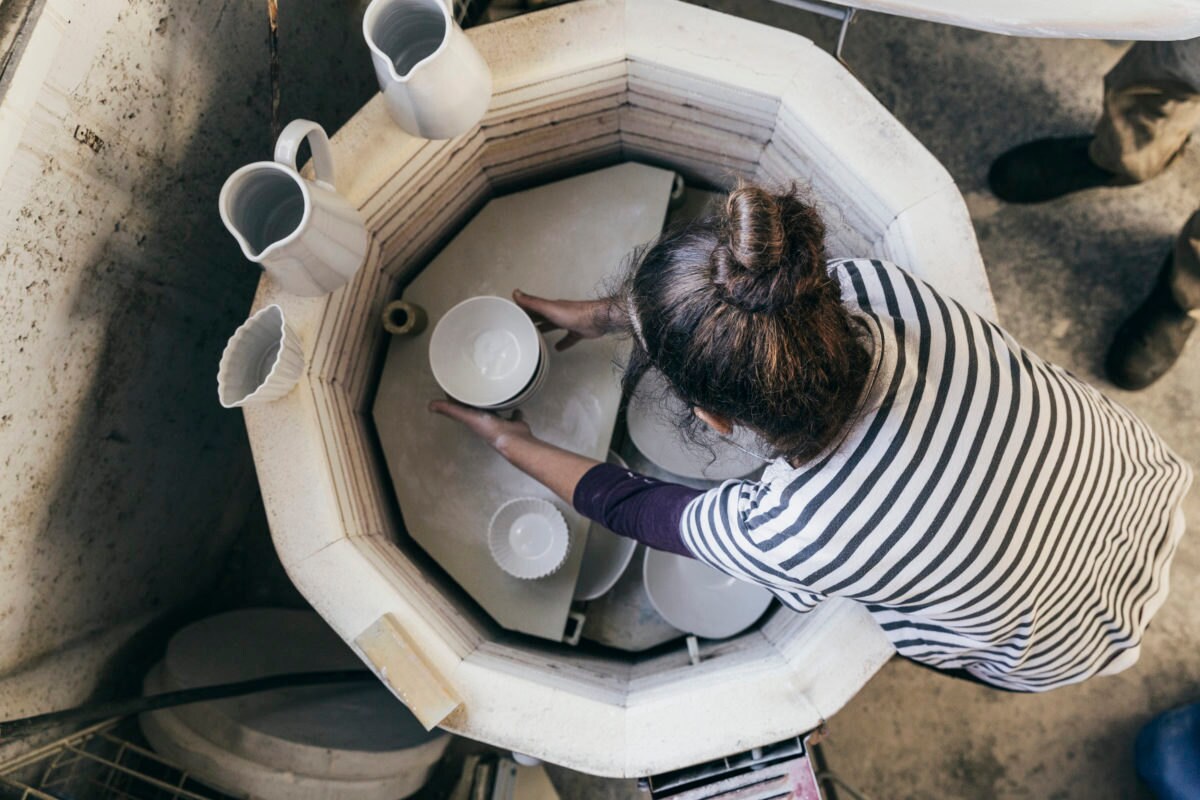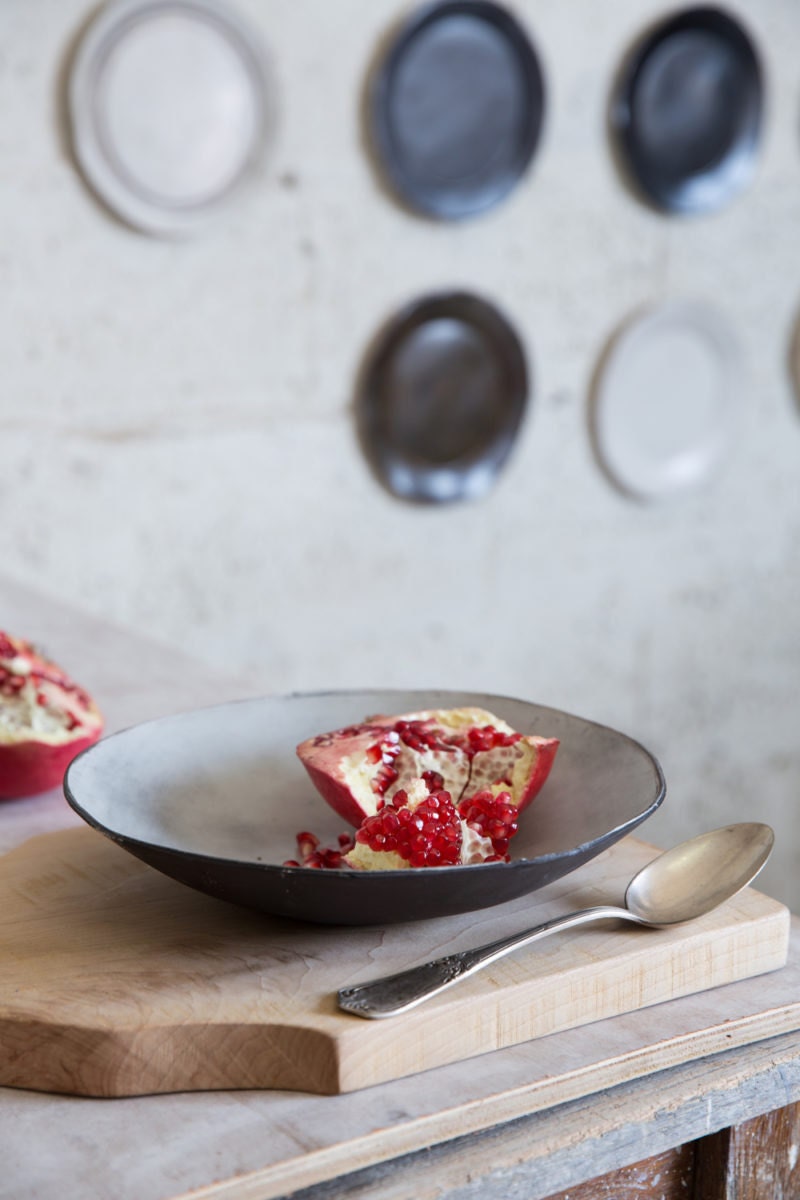 What are some things that inspire you in your work?
My inspiration comes mainly from food. I love every aspect of entertaining, cooking, baking and serving food. My mother, who was not only a great cook, but an expert in food presentation and table setting, used to hold dinner parties where she would serve each course in its own special dish. She was a collector of dishes from all over the world. I guess she passed on her
passion for dishes
to me. In addition, I find inspiration in the blogs I read and the cookbooks I buy. Another big source of inspiration for me is nature itself — in particular, materials like trees and stones, and their incredible textures.
Do you have any design heroes or creative role models?
There is no doubt that minimalist art and architecture have had a great influence on my designs. The modernist principle of allowing the material itself to become the subject of investigation, inviting the viewer to experience the aesthetic properties of the material, is a significant guiding principle for me, especially in my kitchenware design. I also admire the basic principles of Scandinavian and Japanese design styles; each of them show, in quite different ways, how to use clean and minimalistic lines. I follow closely the works of Wu Wei Cheng and Jono Smart, who represent two contrasting elements of inspiration for me. In Cheng's work, the raw material and unfinished edges create a somewhat rough look, yet a very sophisticated one. In contrast, Smart's works are slick and smooth and offer a sense of precision that is very inviting. Both of their influences can be seen
in my work
.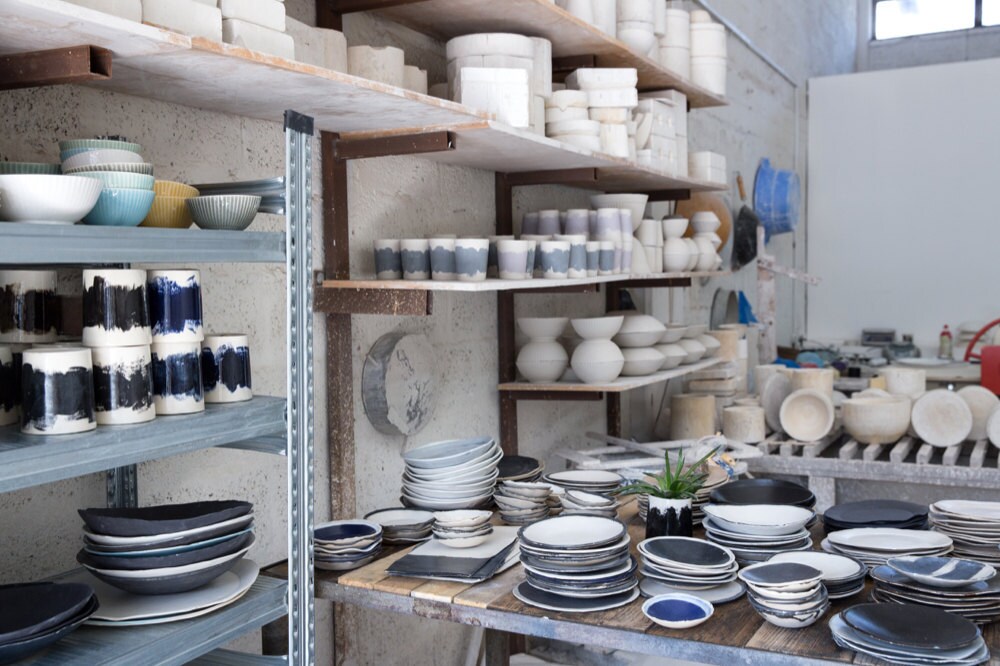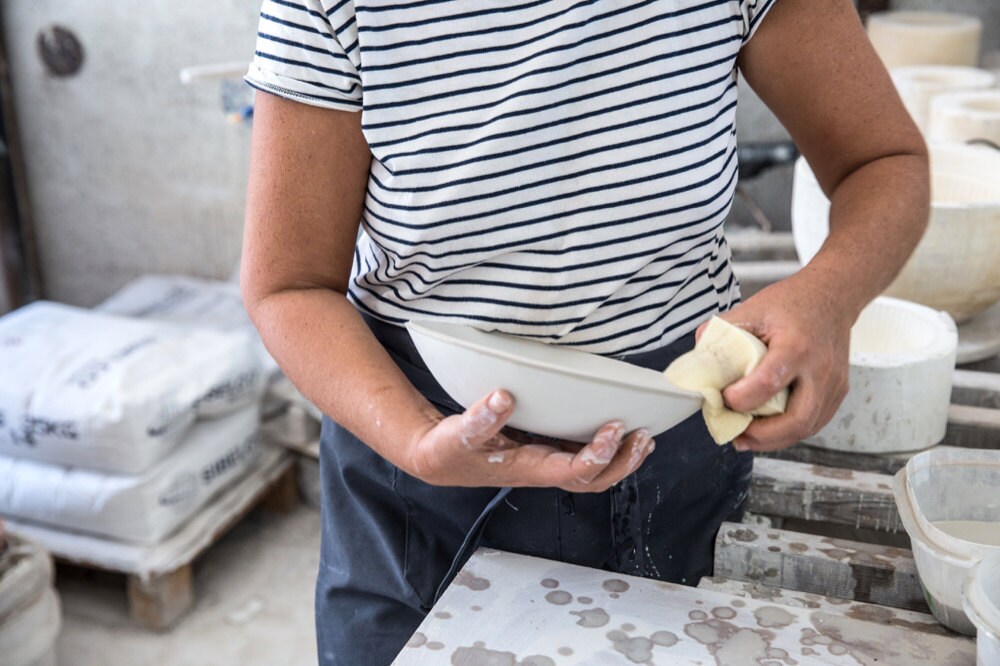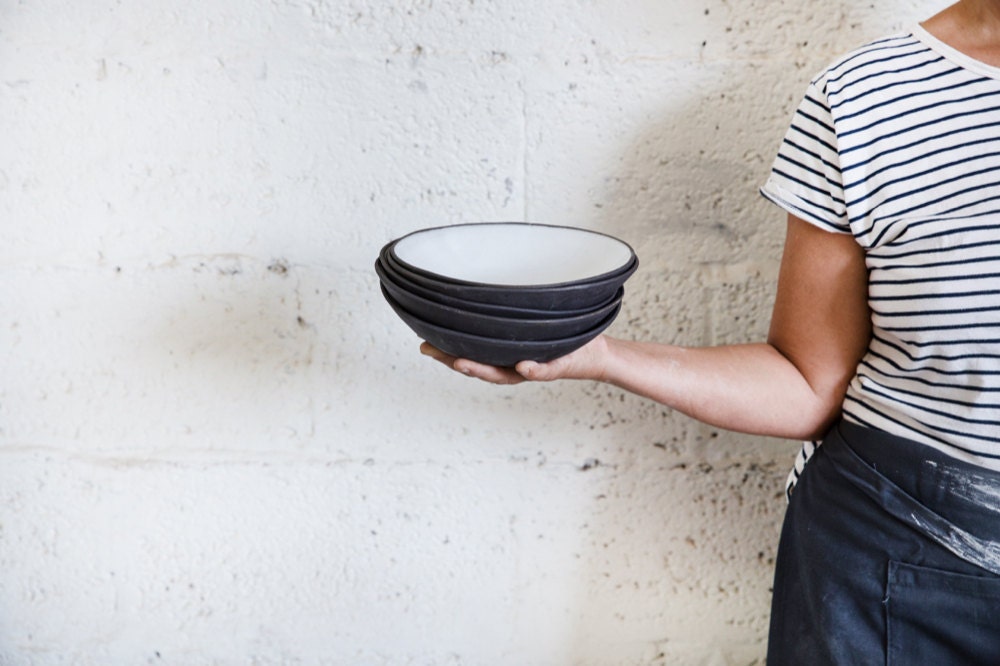 What other art forms or creative pursuits do you enjoy?
I find great joy in cooking and baking. In our home, baking is something for the whole family, and I always include my two daughters in the fun. Some of our shared results can be seen in the photographs of bakeware in my Etsy shop. I also channel my creativity into gardening; I love working in the garden, and my favorite thing is to plant seasonal flowers, vegetables, and local herbs. I think it is complementary to my connection to clay — after all, the soil, too, is that kind of malleable material.
What is your favorite thing to bake?
Lately I've been making a lot of fresh vegetable quiche, fruit tarts and pies. The time I spend in my kitchen led me to work on a 
pie baking dish
, and I've had great results using it — it does make great pies!
What are your goals for the future of your shop?
To keep on creating and enjoying the fruit of my labor and to immerse myself in creativity. Knowing that people enjoy using my products is very satisfying to me.
Follow 1220 Ceramics Studio on Facebook, Instagram, and Pinterest.
Photographs by Lior Zilberstein and Tal Sivan-Ziporin for 1220 Ceramics Studio.