Inspired by her Taiwanese heritage, this imaginative seller makes giftable goodies that celebrate everyday delights.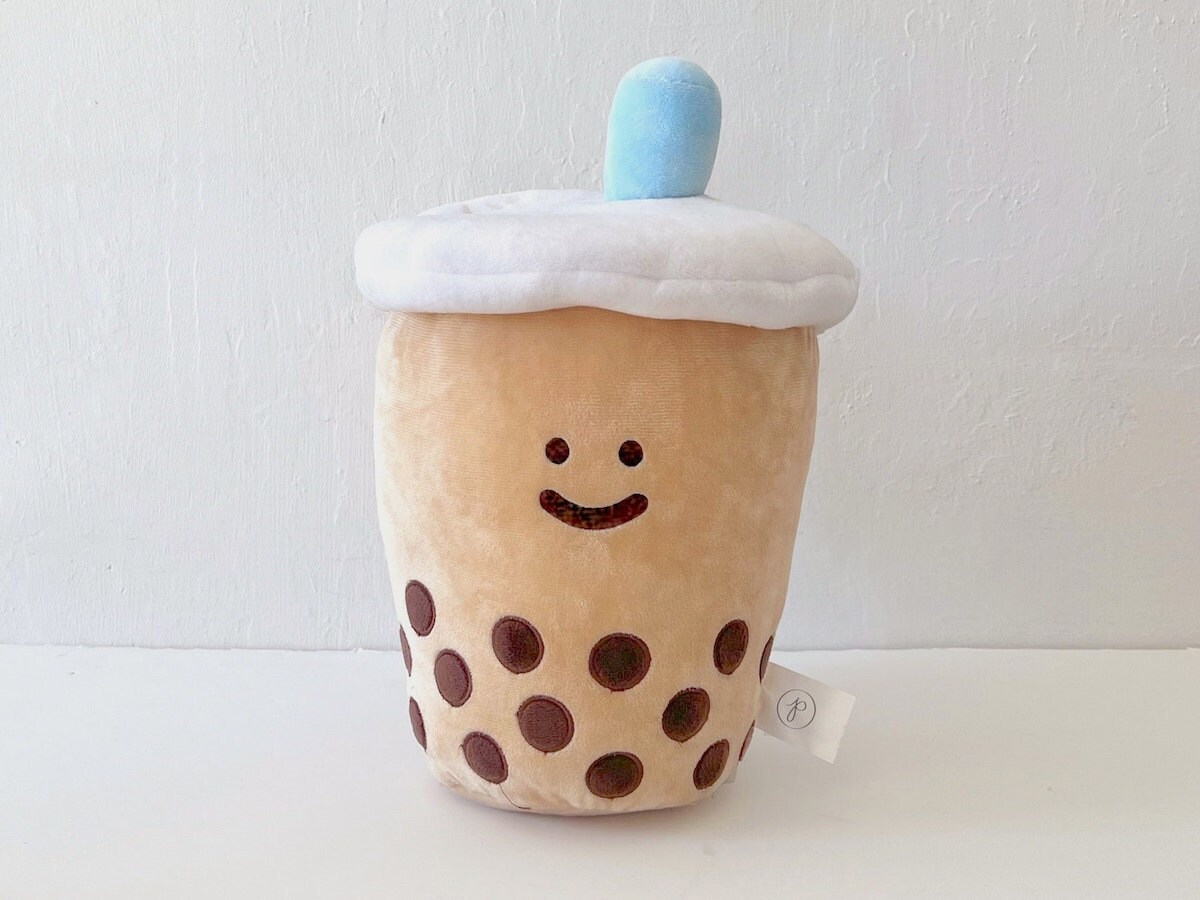 In our Featured Shop series, we shine a light on a standout shop from Etsy's talented seller community, offering readers a behind-the-scenes look at their process and story.
Grabbing a bubble tea with a good buddy. Receiving a heartfelt handwritten card in the mail. Cuddling with a precocious puppy. Sometimes, it's the little things that leave a lasting impression on us. For designer Kirstie Wang, owner of whimsical stationery and gifts shop A Jar of Pickles, it's her own fond memories of food and family that inspired her charming collection of dumpling plushies, ice cream pins, dog-adorned notebooks, and smiling sushi stickers—all perfect for a pick-me-up. Whether you could use your own dose of dopamine or want to pay the joy forward to a friend, there's an affordable, adorable delight to be discovered in her playful, California-based line.
We caught up with Kirstie to geek out over greeting cards and get the scoop on how her upbringing has influenced her designs. Read on to see for yourself what makes A Jar of Pickles so magical, then be sure to click play for an exclusive behind-the-scenes studio tour!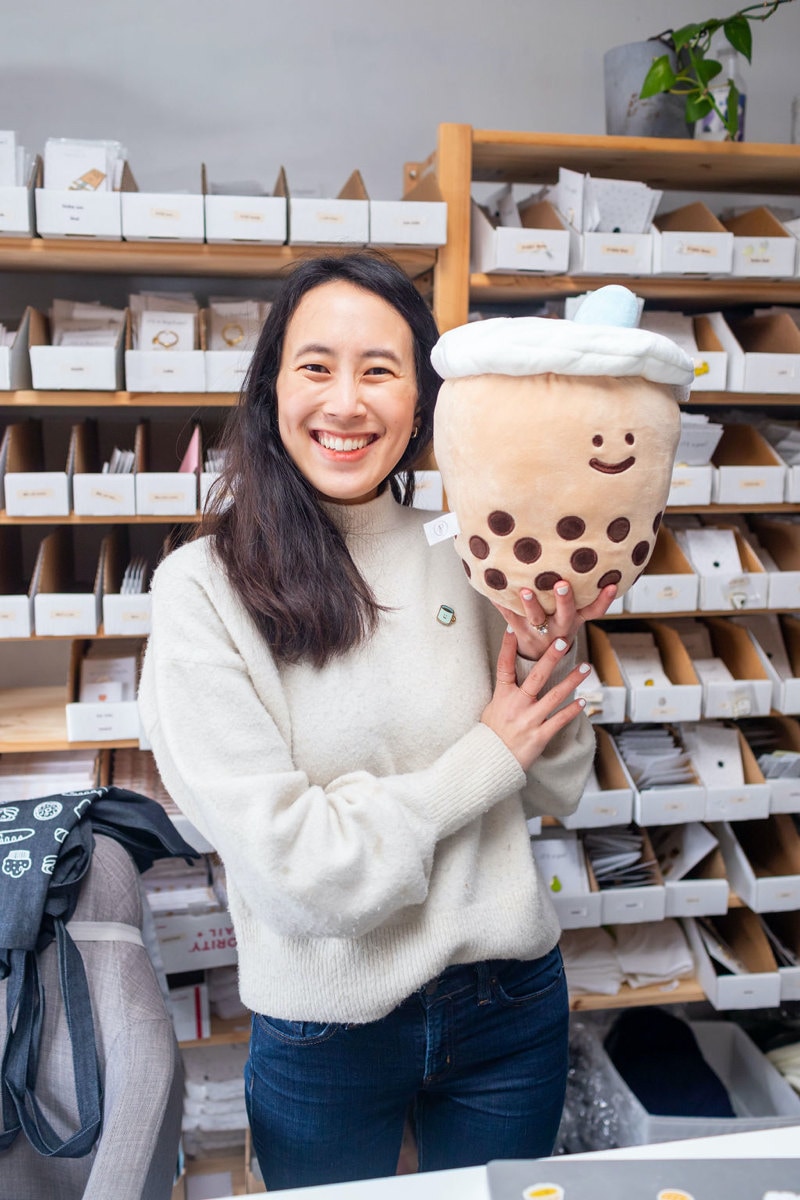 Let's cut to the chase: How do you come up with your super-cute designs?
It's really a personal reflection of what I like and what I want to see in the world. For me, I experience a strong emotional connection when I see something that's part of my background and the way I grew up culturally, so that's what I love designing. And I definitely find that's true for my customers, too.
Which products seem to resonate most strongly with your customers?
Items that depict the foods that I grew up with and I love eating. Our boba series does really well, for example. It represents a subculture, especially among my customer base, of something that people are really passionate about and love, but you don't see represented as much in the mainstream. People love being able to show off the things they love on the products they're using.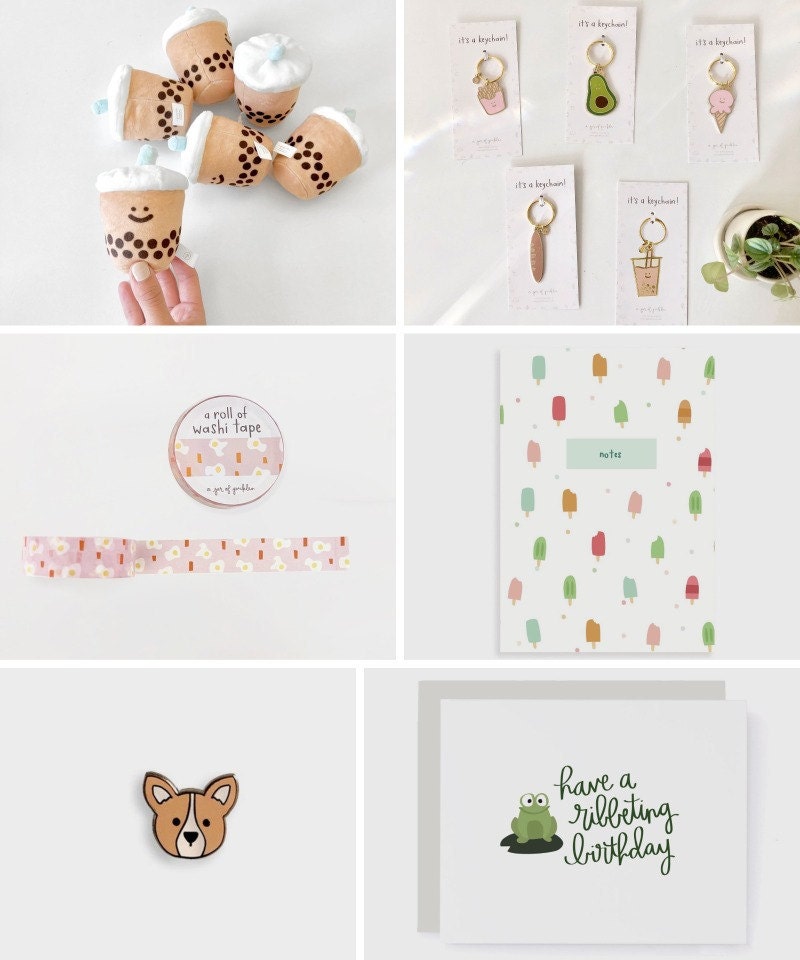 SHOP (clockwise from top left): Mini boba plushies, $15 each; assorted keychains, $20.50 each; popsicle notebook, $10; "ribbeting" birthday card, $6.50; corgi enamel pin, $13.50; egg washi tape, $8 — all from A Jar of Pickles.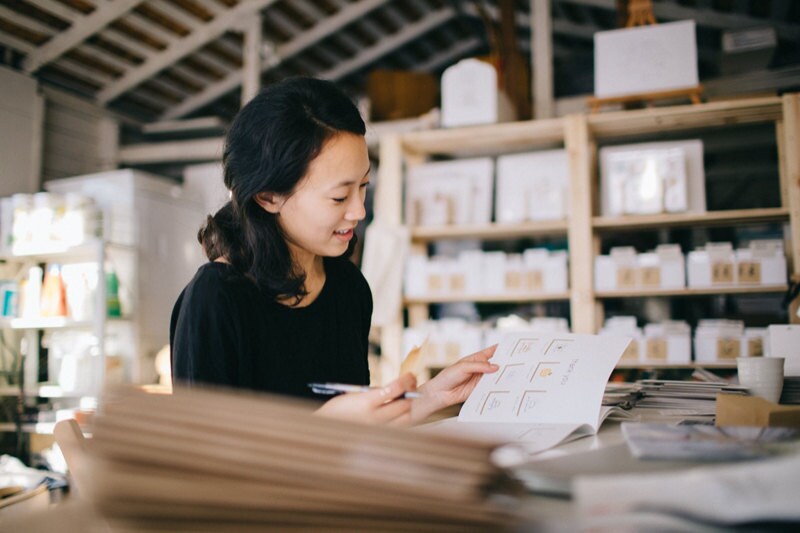 A lot of your work is influenced by your heritage. What are some of your favorite or most impactful memories from your upbringing?
My parents—they worked so hard as immigrants from Taiwan in the '70s, but they were also really joyful in day-to-day life. I think they actually inspired the ethos behind A Jar of Pickles, in the sense that business is hard work and you have to put in the effort and the time, but there can be a lot of happiness in everything you're doing. They raised me to always see the positive and know that there's a lot to celebrate and be thankful for, and that's something I've taken with me.
How does that positivity shine through in your aesthetic?
I like to describe my style as graphical and minimal, with pops of color and a little bit of whimsy. For me personally, I would say I'm a more minimal person, but I really am very happy and playful. So I think with the pops of color, I go towards a lot of blues, a lot of pinks, a lot of pastel colors—anything that makes me personally feel really happy and really confident.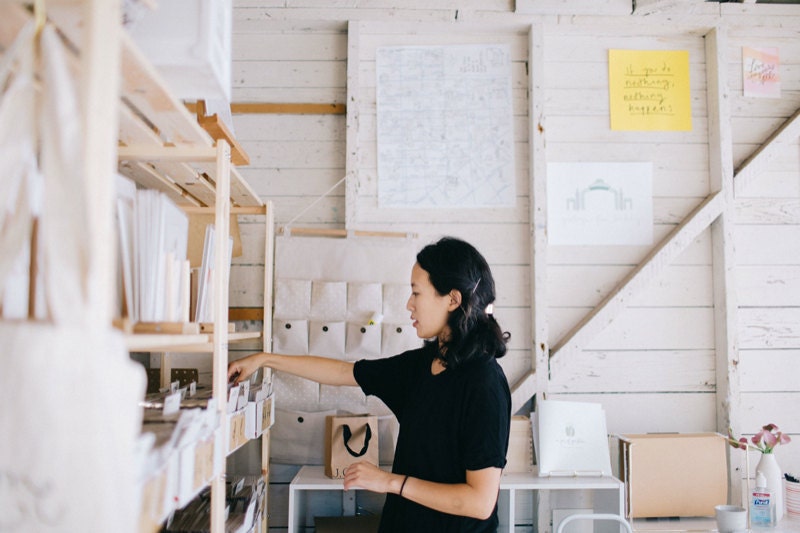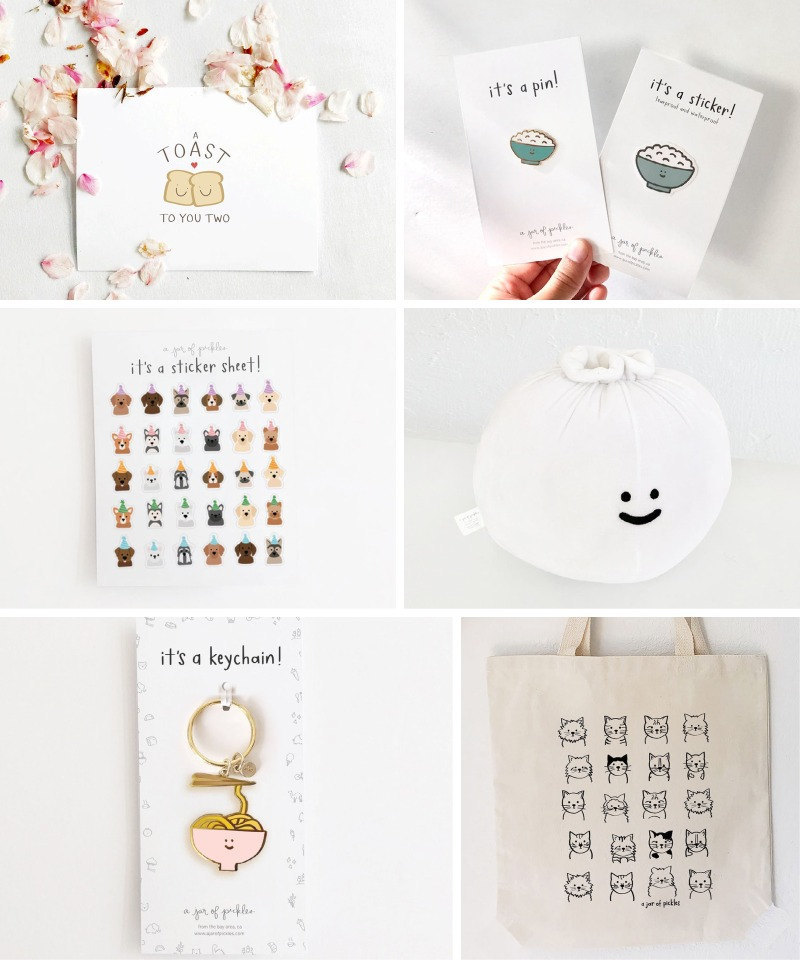 SHOP (clockwise from top left): Toast wedding card, $6.50; rice bowl enamel pin, $13.50; bao dumpling plushie, $43; cat tote, $28; noodle keychain, $20.50; puppy party sticker sheet, $7 — all from A Jar of Pickles.
Today, your product line includes so many fun giftables like pins and keychains and plushies, but you actually began with greeting cards. What made you start there?
There's something very heartfelt about taking the time to write out a note. I've always been very passionate about expressing love and friendship in that way. I have a large box of cards I've collected from other makers and I love sifting through them and choosing the one that feels right for the moment. I've also collected all the cards I've received in the past two decades and keep those in a box of memories. It really captures the feeling of that moment in your relationship with somebody.
Looking at what you've created, what are you most proud of?
I'm really enjoying growing the team. I love working with other people and having them give me live feedback so we can build something together. That and the fact that my team and I are actually running the studio from the front of my parents' house now. We just moved in about two months ago, but this space means a lot to me because I'm not only able to pay my parents rent, but also have lunch with them and see them on a weekly basis. So it's really fun. It means so much to me that I'm living out this creative dream because of the stability they provided for me.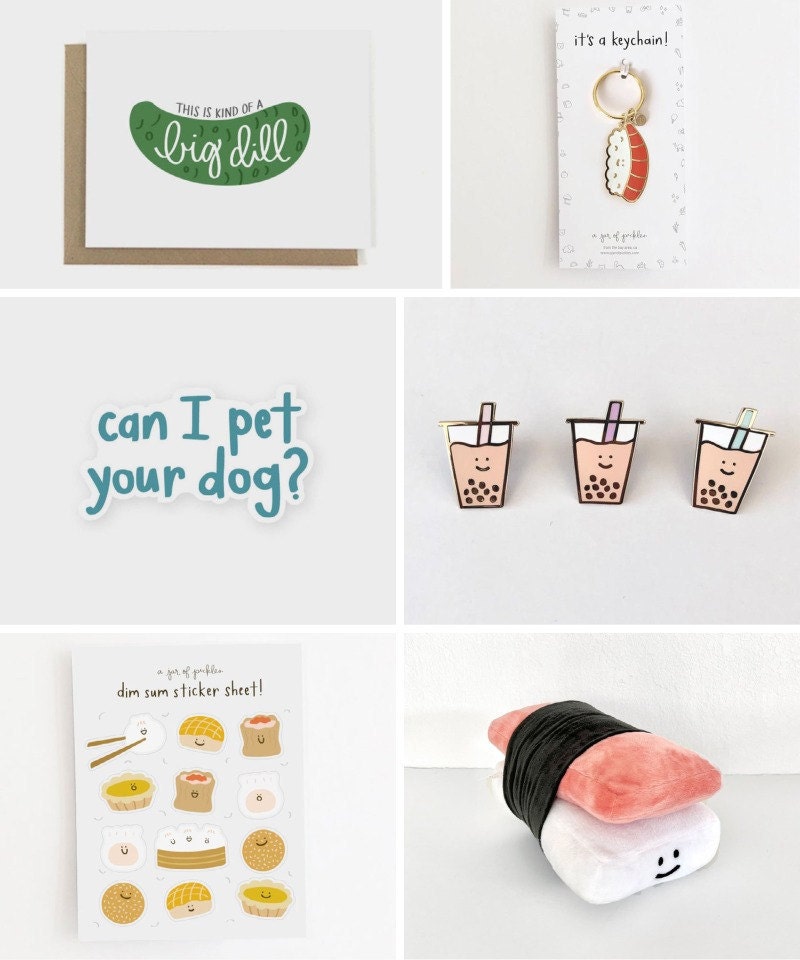 SHOP (clockwise from top left): "Big dill" greeting card, $6.50; sushi keychain, $20.50; boba pins, $13.50 each; musubi plushie, $40; dim sum stickers, $7; "can I pet your dog?" vinyl sticker, $6 — all from A Jar of Pickles.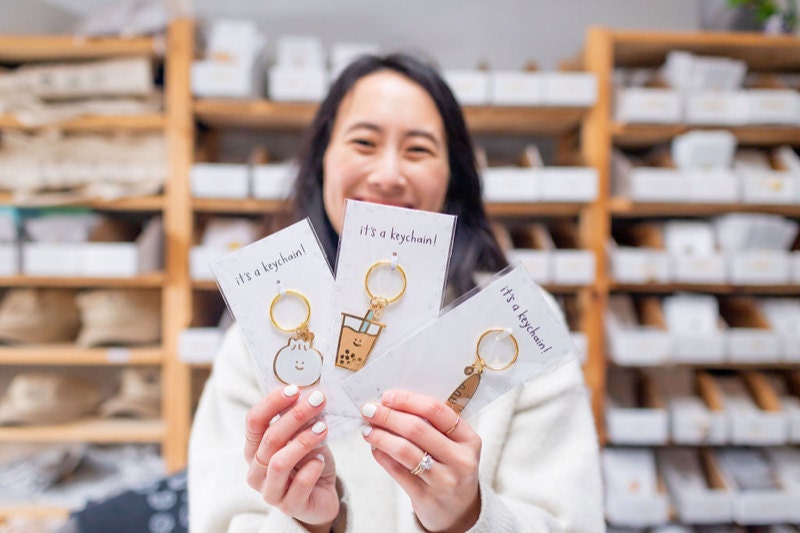 Click play to go behind the scenes with Kirstie!
Follow A Jar of Pickles on Instagram.
Photographs courtesy of A Jar of Pickles.