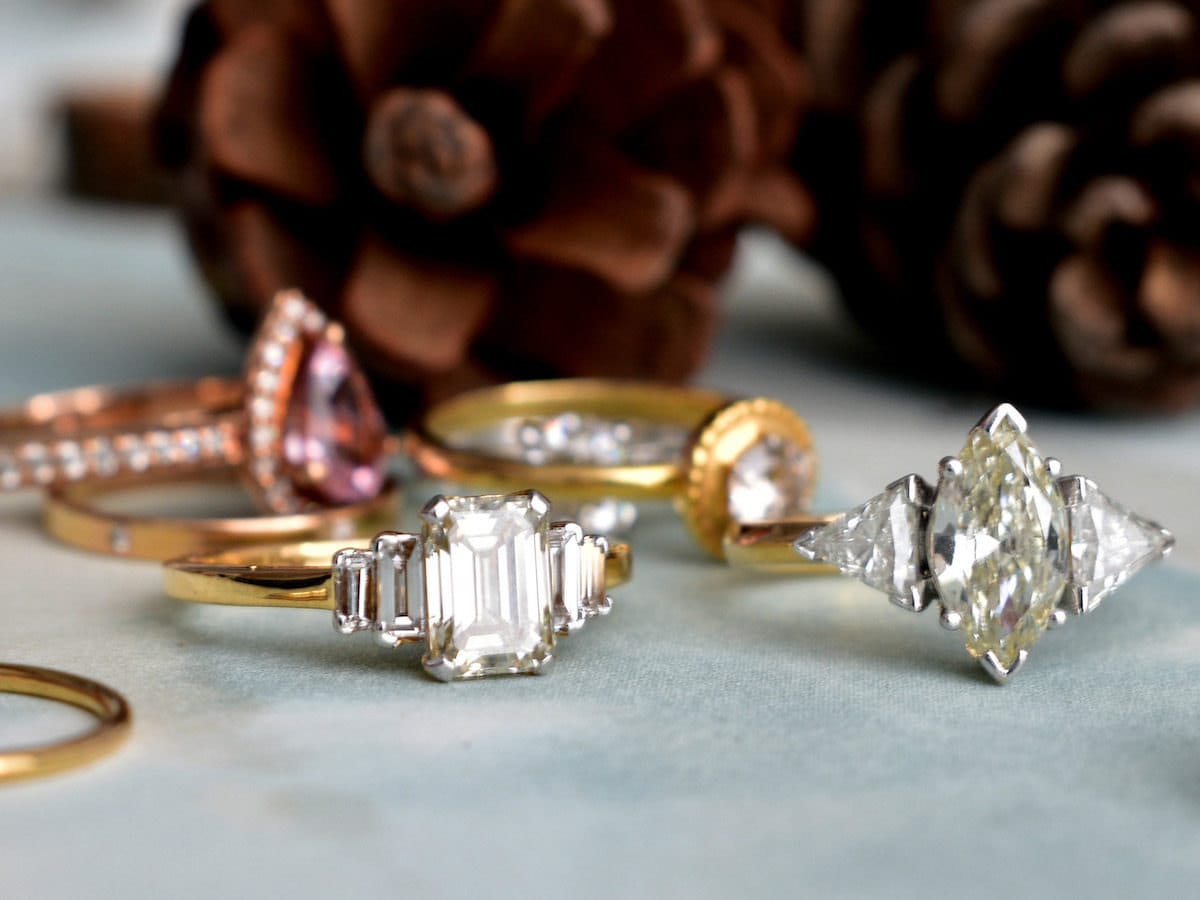 In our Featured Shop series, we shine a light on a standout shop from Etsy's talented seller community, offering readers a behind-the-scenes look at their process and story.
Since launching Abhika Jewels with her husband Abhishek in 2014, designer Madhulika Anchalia has prided herself on pushing her creative boundaries to help married-couples-to-be express their individual style through one-of-a-kind wedding jewelry. From unexpected sculptural commitment bands to inventive interlocking wedding ring sets, she strives to create symbols of love as unique as each couple's relationship. "Jewelry is a very personal expression of self," says Madhulika, who received her design degree from the National Institute of Fashion Technology in India and spends her days dreaming up sparkly creations in her Delhi studio.
Explore the Abhika Jewels collection
The name Abhika comes from the Sanskrit word for "fearless," which Madhulika says perfectly encapsulates her hands-on approach to jewelry design. "To us, being fearless means looking beyond this traditional way fine jewelry has been created, bought, and worn," says Madhulika, who enthusiastically welcomes custom orders from her international clientele. "We want to make the buying experience more personalized. Our hope is that customers will relate to the jewelry they buy—and not just because it looks beautiful. We want to help them express themselves with our pieces and cherish them for a long time."
Read on to learn how Madhulika and Abhishek bring their enchanting designs to life—then shop the Abhika Jewels collection.
What do you love most about designing jewelry?
The challenge of creating those minute details in a piece is what excites me and inspires me every day. But what I love most is knowing that my jewelry is going to be an integral and memorable part of someone's life for decades—and possibly generations. Whether it's a gift or a wedding ring, jewelry is intimately linked to our emotions. There's a connection with another person through each piece, and that lasts forever. I think that's part of the reason they make such great heirlooms.
What are some of your most popular items? 
Our two-piece wedding ring sets have been an all-time favorite for our customers, who like their daintiness and wearability. Another popular piece for wedding-planning couples is our seven-diamond chevron stack band, which can be customized for almost all shapes of gemstones and looks great with any style of engagement ring.
Customers also really love our single diamonds studs, which I actually initially made for myself. They are perfect for almost all piercings and available in different sizes. And the studs have a fully-threaded post which make them very secure.
How do custom orders work? 
We do a lot of custom orders and completely love them! Most of the requests we receive are from someone who is looking to add to their engagement ring with something like a ring guard, or complete the set with a wedding band. We ask for detailed photographs and dimensions, and based on the design, we suggest options, keeping in mind their preferences and budgets. We also create a mock-up of the suggested design along with their existing ring to give them an idea of how it will all look together.
Have you ever made a connection with a customer that went beyond the sale?
We did one of our first custom orders for a woman in Barcelona. She shared her story with us and asked us to design a two-name ring to commemorate her daughter. When she received the ring, she was over the moon. The realization that our jewelry can make such an impact on someone emotionally was a big revelation to me. We've kept in touch after that and even spent a day with her when we were visiting Spain. 
The holidays are coming up fast—a time when many couples get engaged. What advice do you have for picking out engagement rings? 
First, plan in advance if you can. Two or three months is a good time frame to find the perfect diamond for a great price. And if you want to create something totally out of the box, we are all ears! 
We also suggest planning for the engagement ring and the wedding band at the same time if possible, since it can be a little more tricky to create a second ring around an existing ring. When you plan for both together, everything from the quality of stones to the color of gold matches precisely, and you get a perfect set.
What's your design process like?
Usually, I start with an idea and sketch the basic forms and shapes, but at times, I'll also design around specific gemstones. For every piece, practicality and comfort are top of mind. At the end of the day, every accessory—whether it's jewelry, makeup, clothes, or shoes—can feel like add-ons that you just want to take off, unless they are like a second skin, which is what my aim is for every piece I create. 
Once the design is finished, Abhishek sources the diamonds or gemstones, and then we turn my sketch into a 3D model and make a wax resin model, which we use to cast the piece in the desired metal. Then it gets filed to perfection, we set the gemstones, and it is polished. We have four other people on our small team who help with the computer models, metalsmithing, and shipping. 
How do you source your stones and metals? 
We buy gold and silver from government-approved vendors. We buy our colored gemstones from Jaipur and diamonds from Surat, two big hubs for jewelry. Because we buy from these markets, we're able to get our gemstones at very fair and genuine prices by cutting out the middle men. It also lets us in on the non-commercially available gemstones as well, which are truly unique. This helps us create one-of-kind-pieces while also keeping our prices as affordable as possible. 
How have your designs evolved over time?
Our customers have greatly influenced our designs. Their requests have pushed us into exploring new things. We don't limit ourselves to one style of jewelry. We are constantly learning about different kinds of materials and techniques, and daring to bring them together to create something new and exciting in a way that it makes sense for the wearer and not the world. We want each person who visits our shop to find something they are looking for and can connect with.
What's next for your shop? 
We are planning to expand our collection in the coming months, including more necklaces and body-piercing jewelry. We also have a few exciting new designs for stack wedding bands that we'll be launching soon.
Follow Abhika Jewels on Instagram, Facebook, and Pinterest.
Photographs courtesy of Abhika Jewels.