The surprising source material behind the decorative tableware and subtly striped jewelry from this family-run workshop? Recycled skateboards.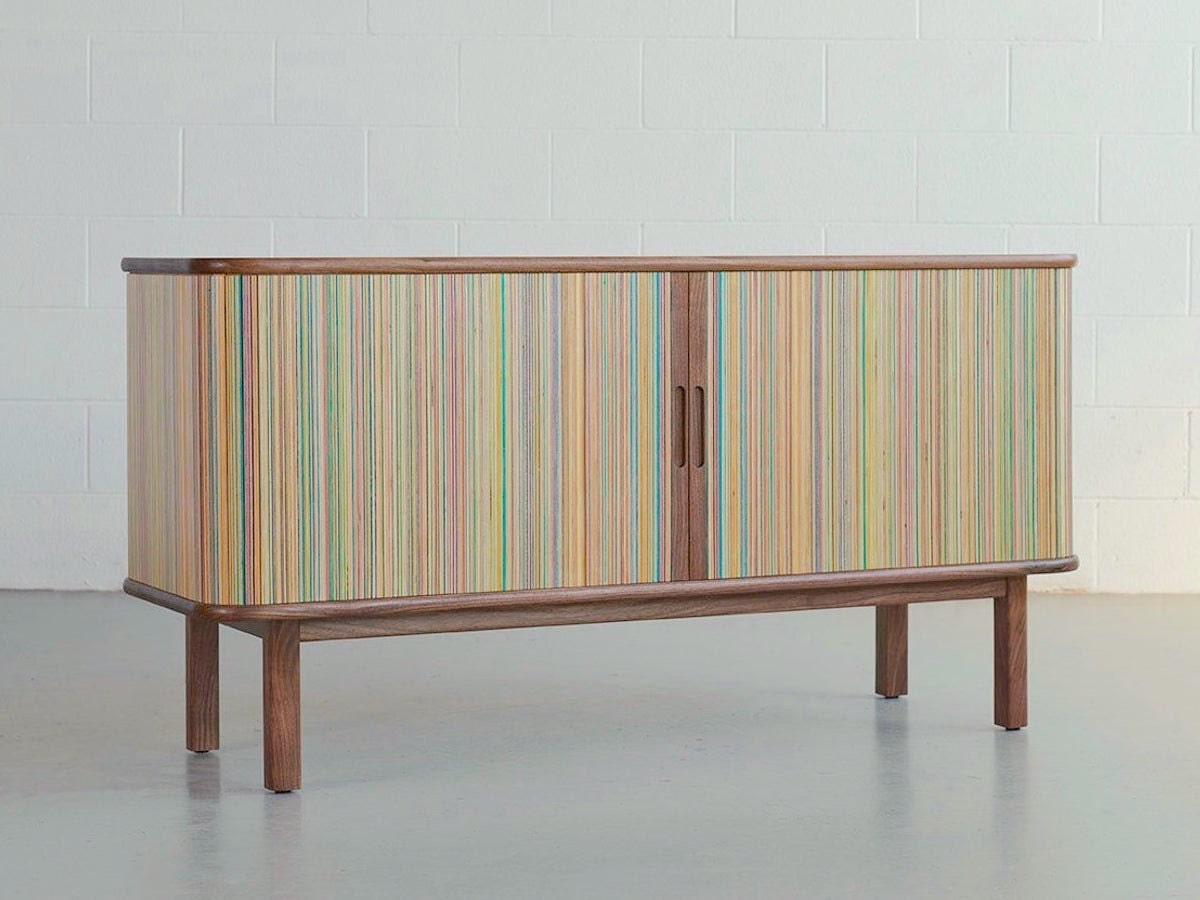 In our Featured Shop series, we shine a light on a standout shop from Etsy's talented seller community, offering readers a behind-the-scenes look at their process and story.
Looking at the sleek, polished credenzas and decorative dishware in Etsy shop AdrianMartinus, it's hard to believe the pieces are crafted from wood that lived a former life rolling around skate parks in Calgary, Canada. But that's exactly the point. "We don't want you to immediately see it and think, 'That's an old skateboard,'" says Martinus Pool, who founded the business with his brother, Adrian, in 2015. "When you hear that it's a recycled skateboard, we want that to be a surprise."
Explore the AdrianMartinus collection
What's less surprising is that transforming used skateboards into wooden works of art is an intense undertaking. The process of cleaning the boards alone takes the team of three—Martinus, Adrian, and Adrian's partner Anne Tranholm—a whole day of scraping and sanding. In the end, though, the hard work is worth it for the eco-minded trio, because it means no wood goes to waste. "Our design approach has always been influenced by figuring out what we can do with what we have," Martinus says of their earth-friendly ethos, which all began with finding ways to repurpose their sporty source material. And because skateboards are made of sturdy 7-ply maple, you can bet that each carefully constructed conversation piece—from bowls interlaid with a mesmerizing mish-mash of wood scraps to succulent planters subtly striped in pink and red—is built to last. 
Read on for more from Martinus on how the eco-conscious team carved out their own style in the woodworking world, then shop the AdrianMartinus collection.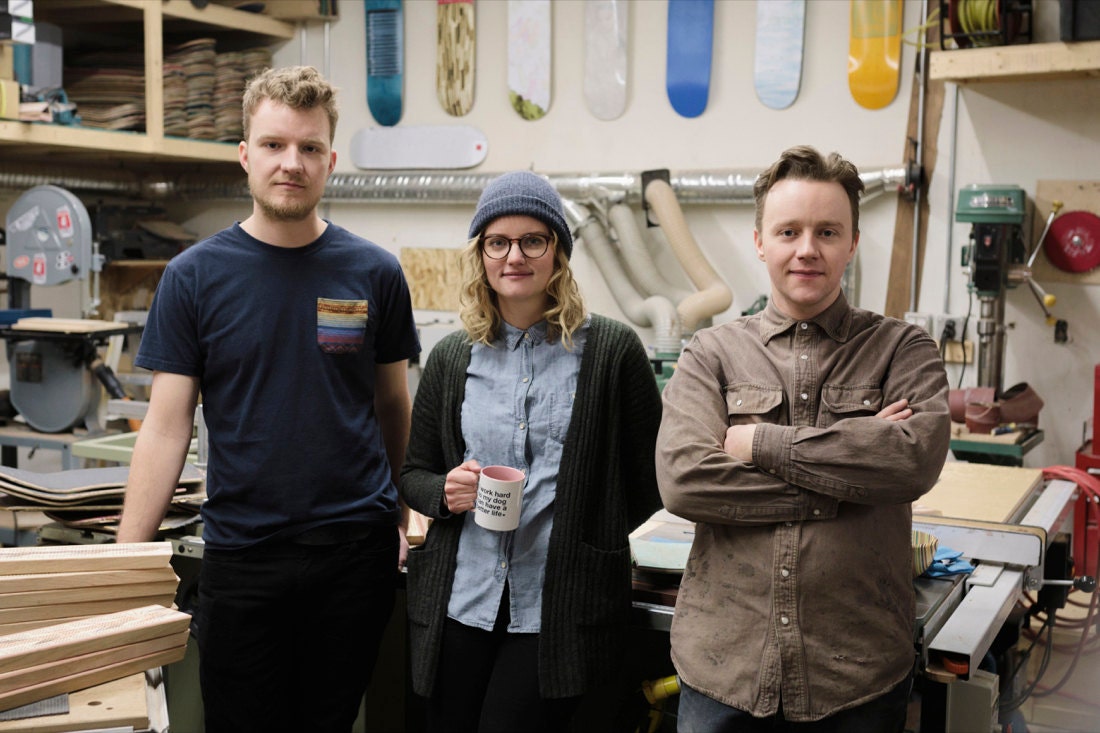 How did you begin woodworking with skateboards?
We grew up outside of Red Deer, Alberta, where we always had some woodworking tools around. Working with skateboards came naturally because it was just the material that we had and we wanted to see what we could do with them. From there it was just about saving our own boards and asking our friends who worked at skate shops to save scrapped boards for us, so that's how we got our supply going.
What role does sustainability play in your designs?
Before we started our business, we were doing interior finishing for houses, and we saw how much material gets thrown out on a job. We went dumpster diving for offcuts, or the leftovers from the installs, and we'd ask ourselves, "What's going to be the best way to use this so that we'll get the most yield?"
With the skateboards, those are made of really high quality wood—solid maple the whole way through—so it's just about working hard to put this beautiful material to use. So our design approach is a little backwards. We start with the existing raw material, meditate on it, and then figure out what we're going to do with it.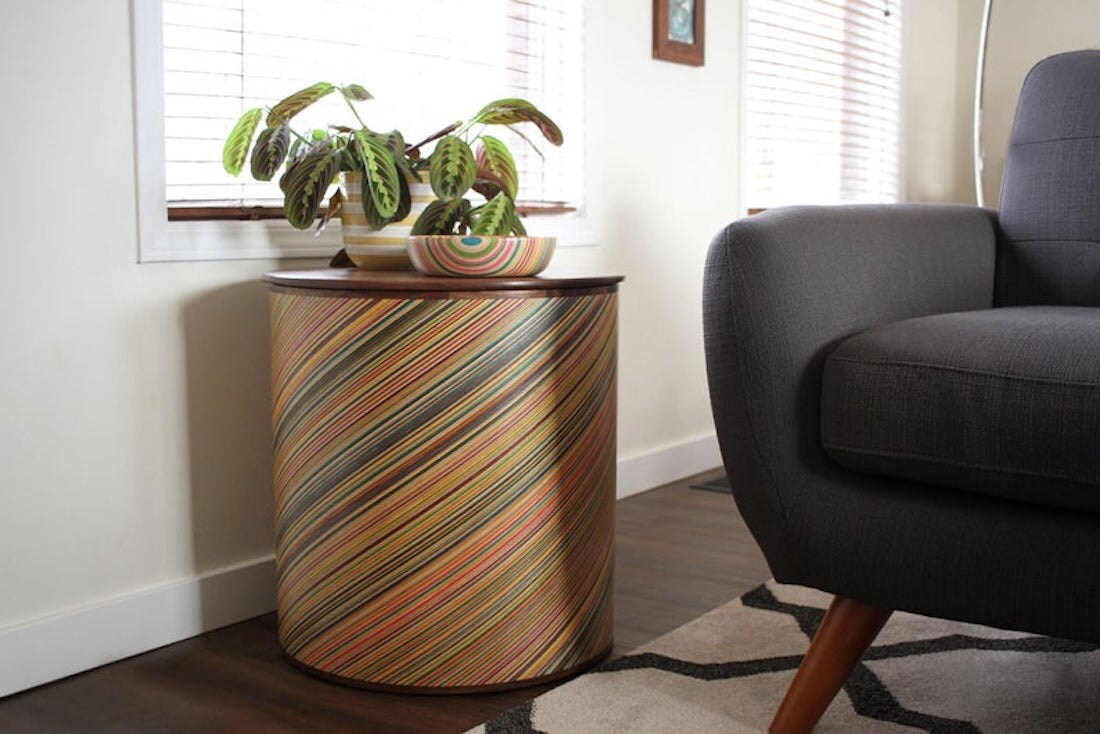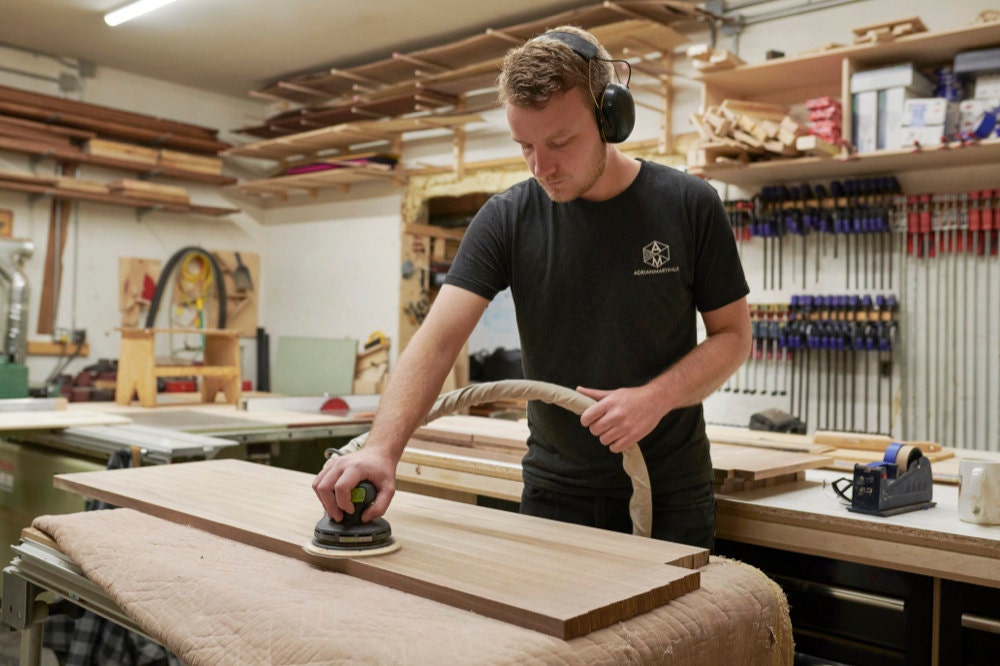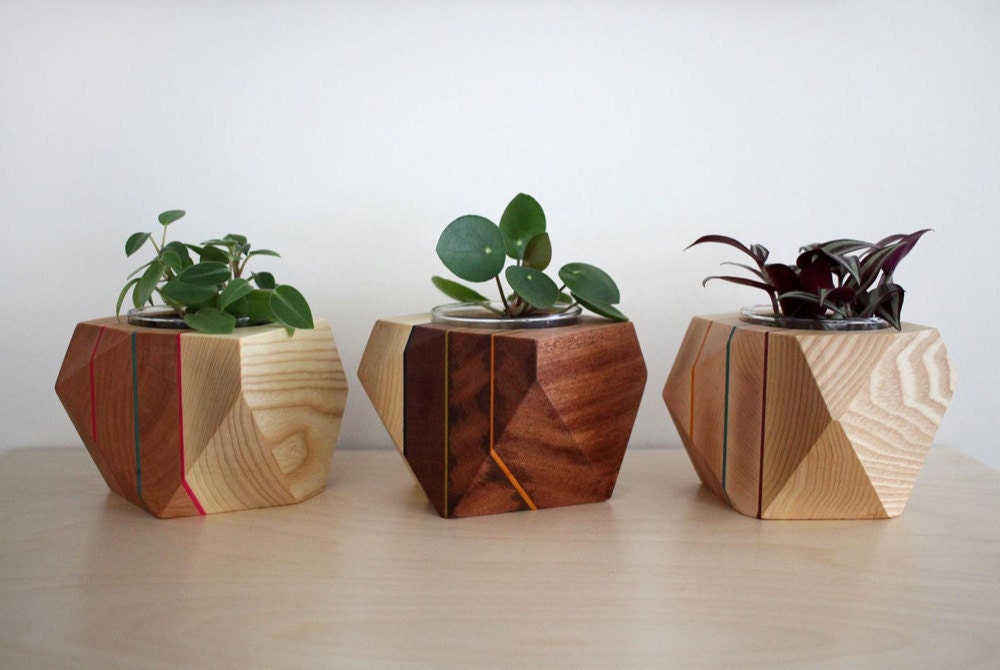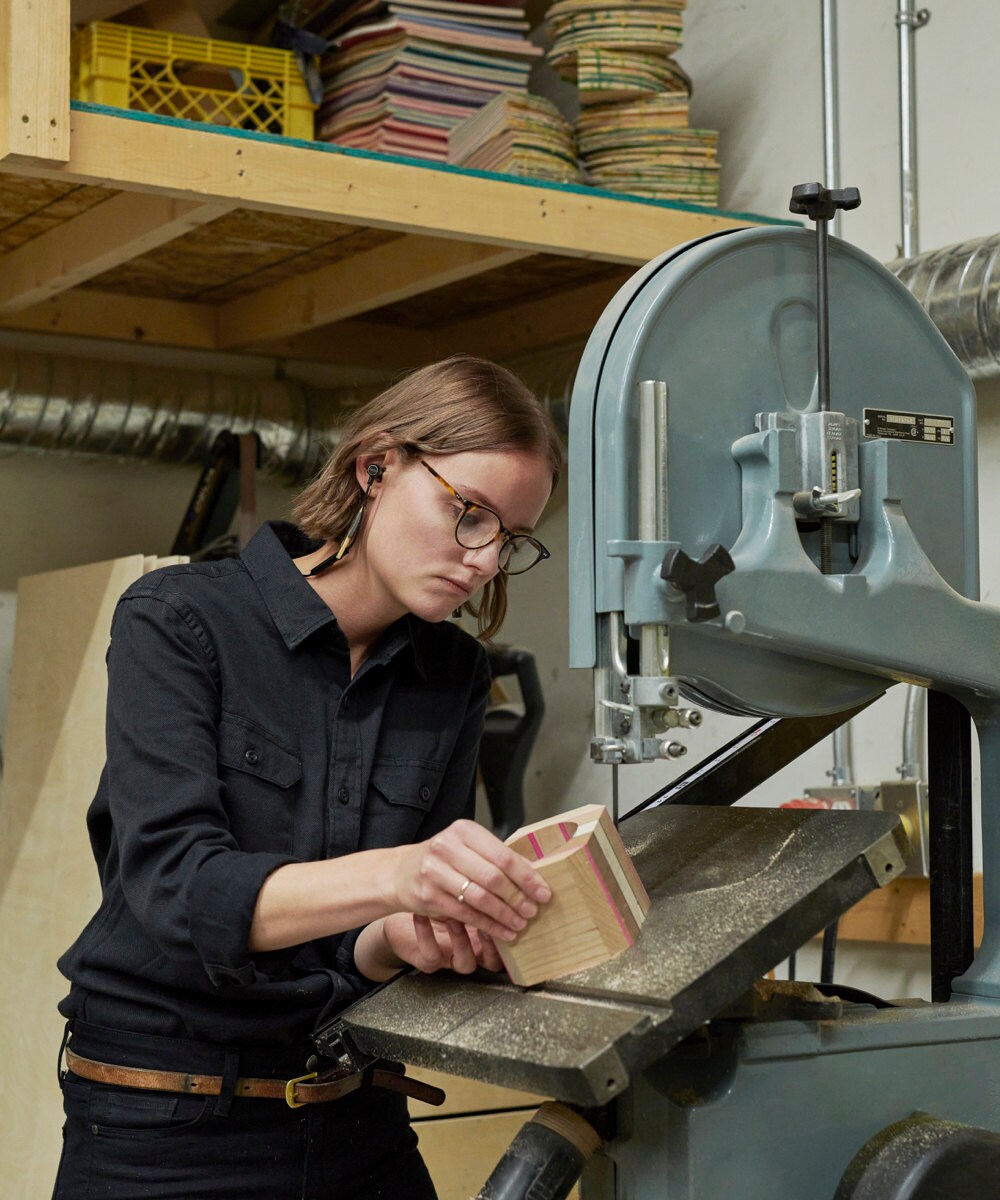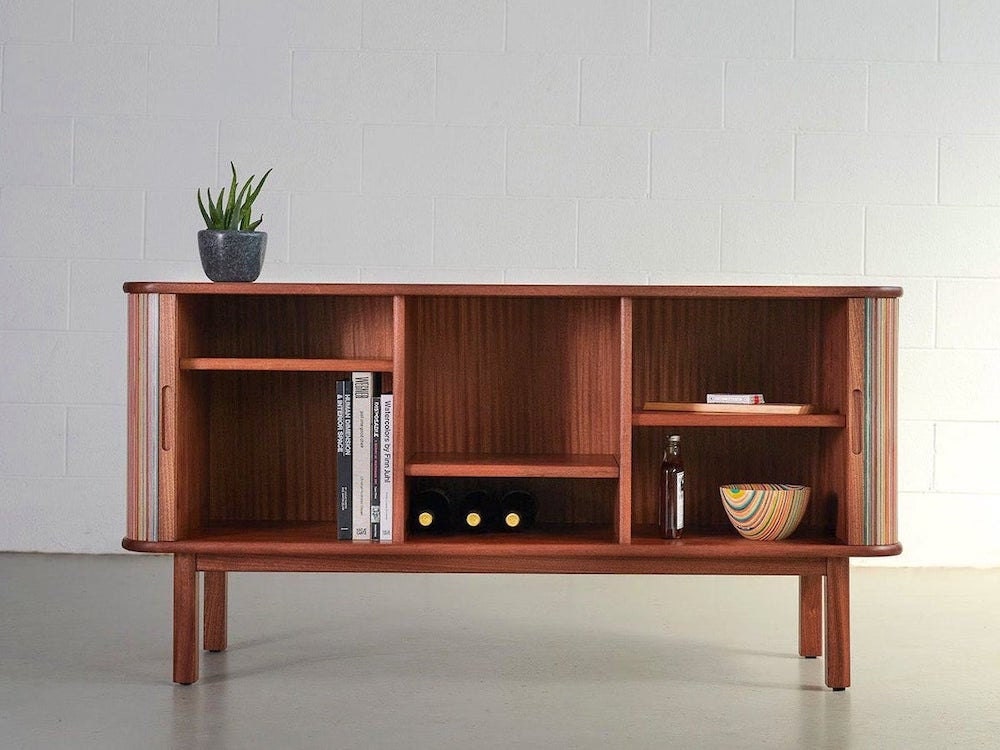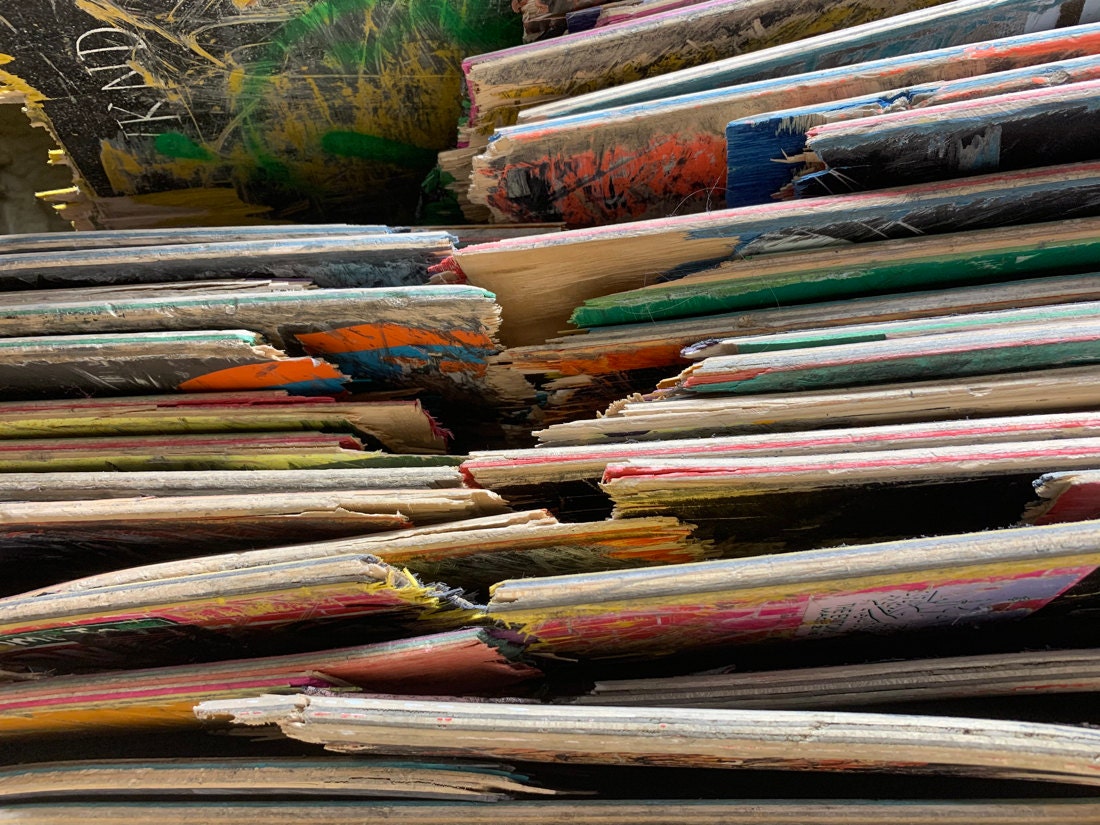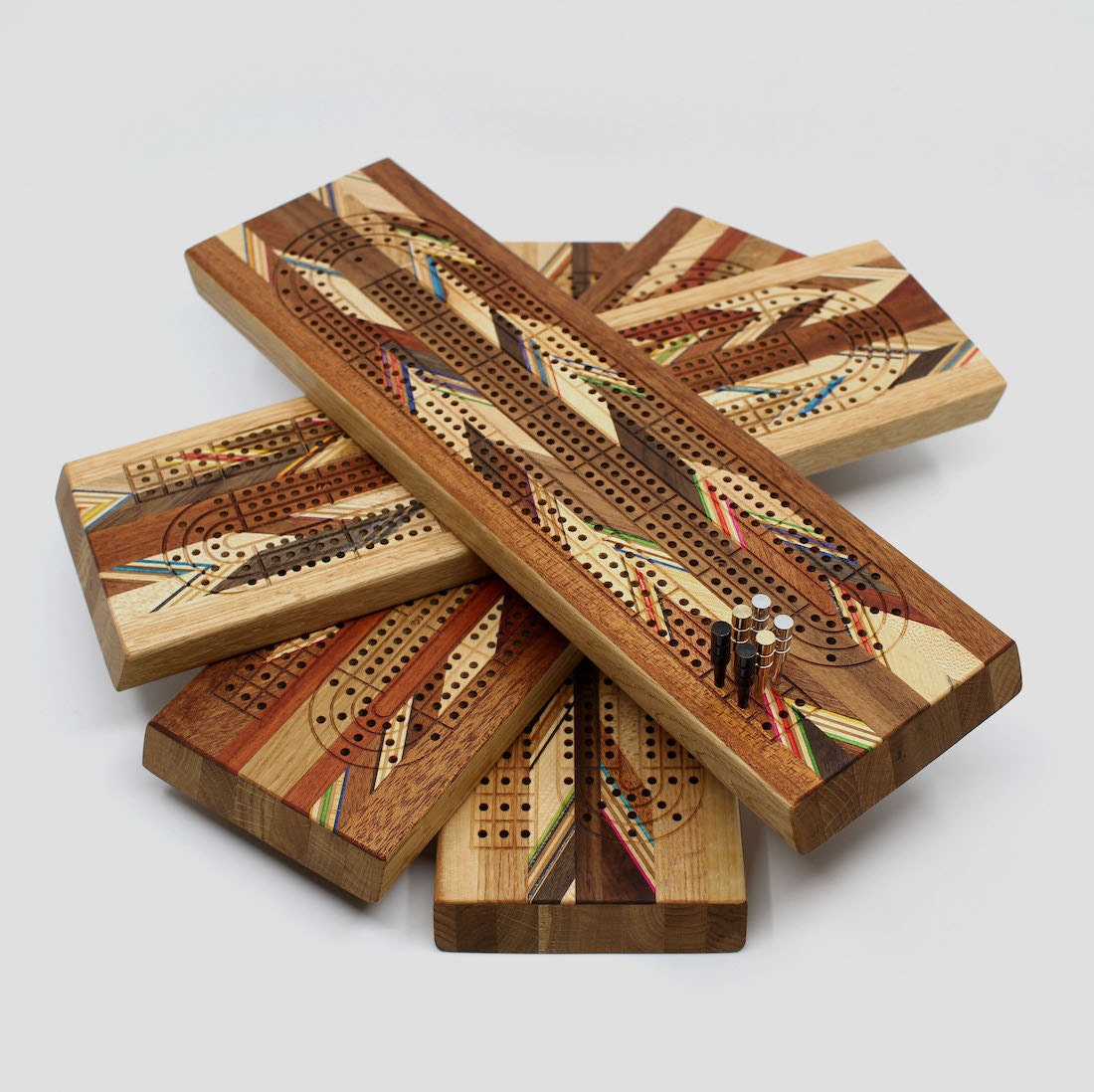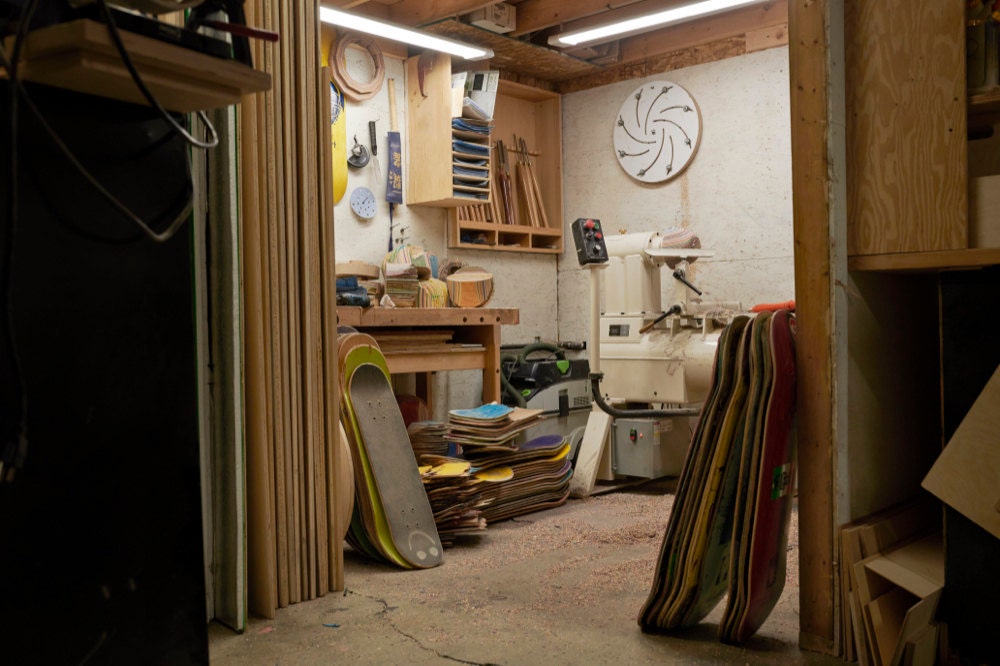 Tell me about some of your more popular items.
Our crib boards are probably our number one sellers. I think it's because of both the aesthetic and the price point. It isn't just your typical crib board—it's also a really nice piece that you could leave out on your coffee table. The jewelry does really well, too, especially our earrings. And so does our slab top coffee table, which is a simple slab made out of skateboards with an option to add hairpin legs.
What designs are you most proud of?
The furniture, for sure. We've got our process down so well that we're very confident in the quality of it. In general, I'm very proud of anything that really pushes what you think is possible with the material. For example, the R5 coffee table, where we bend the skateboards around the curve, rather than just doing a sharp corner, and our Round Boi tables. The aesthetic of those pieces are both dictated by the material.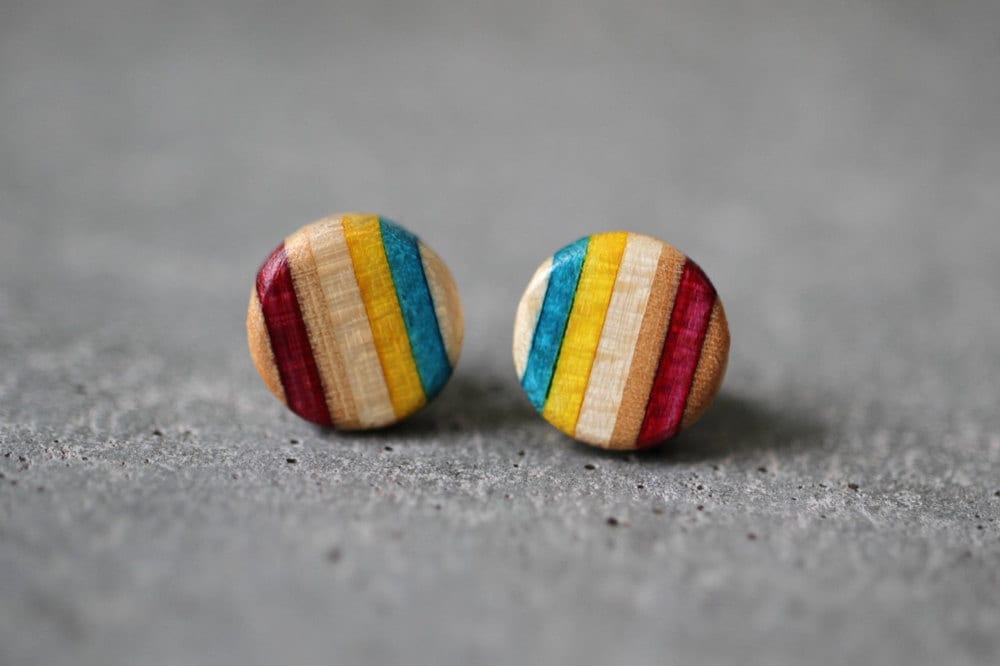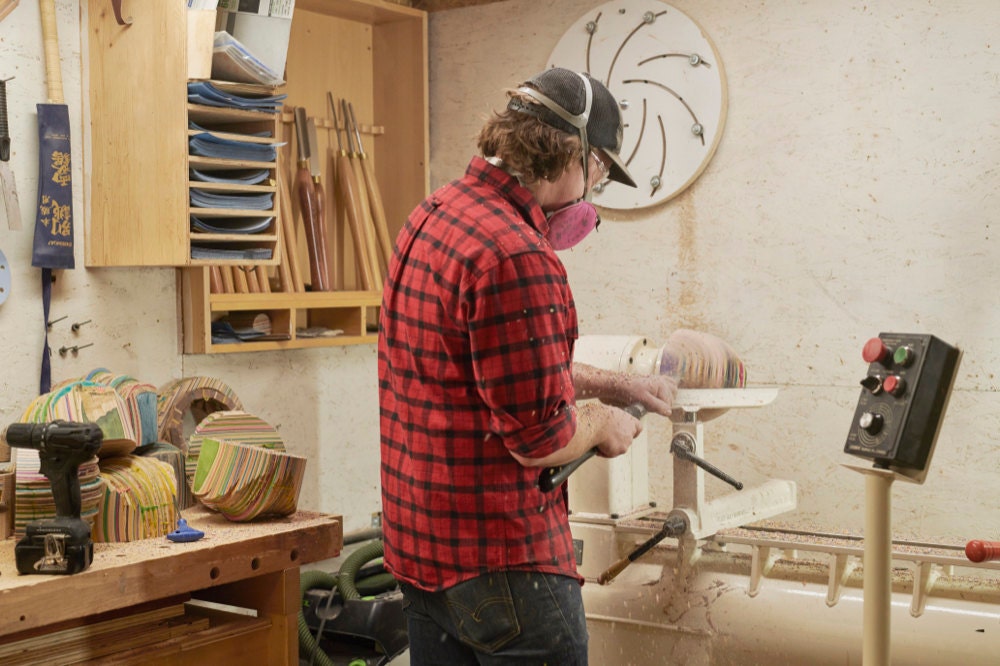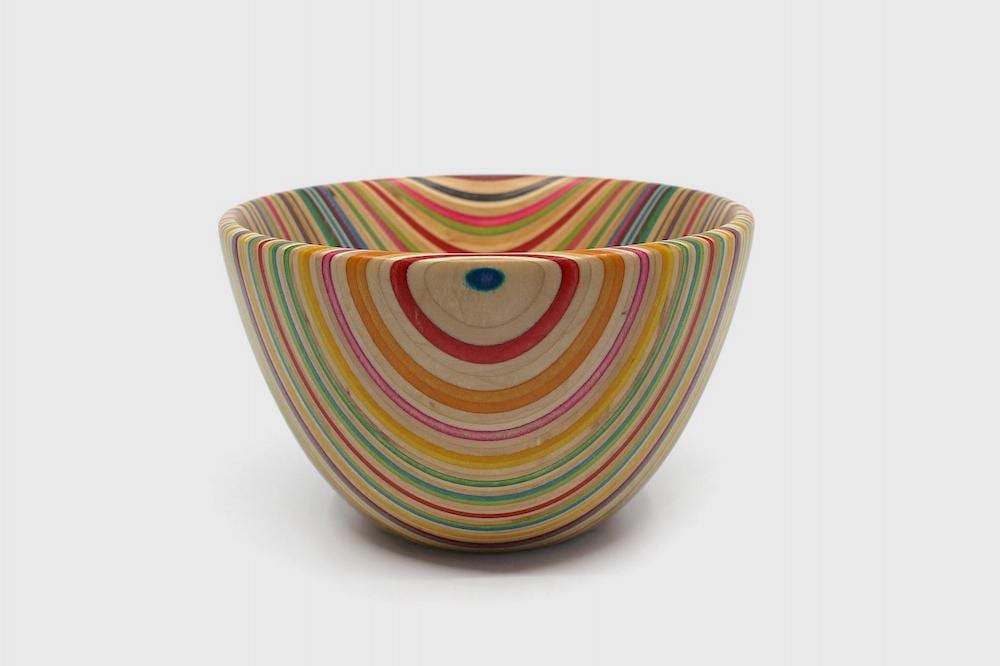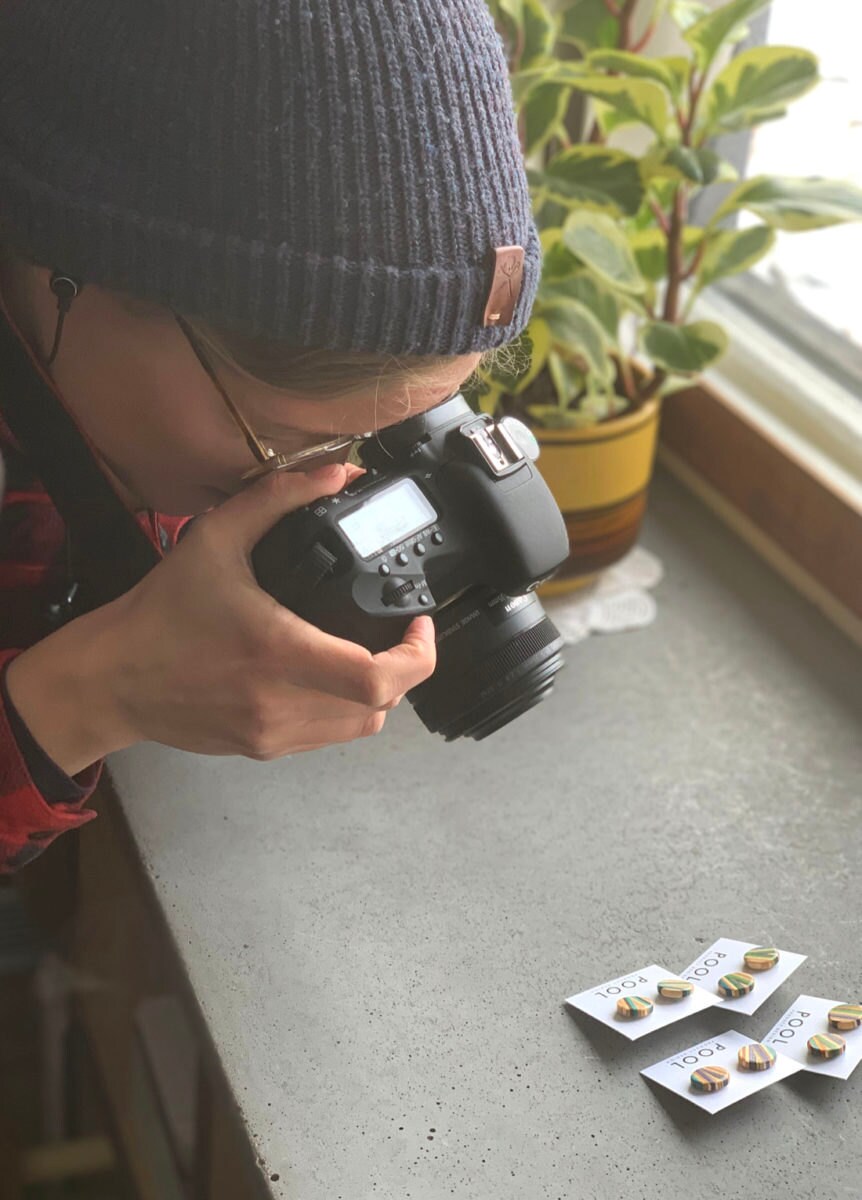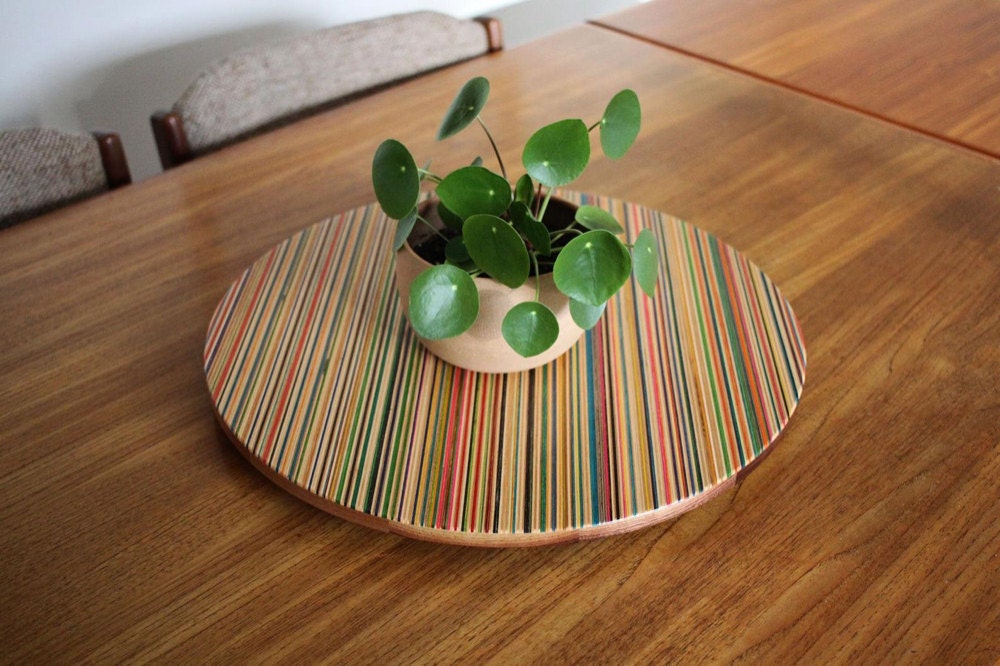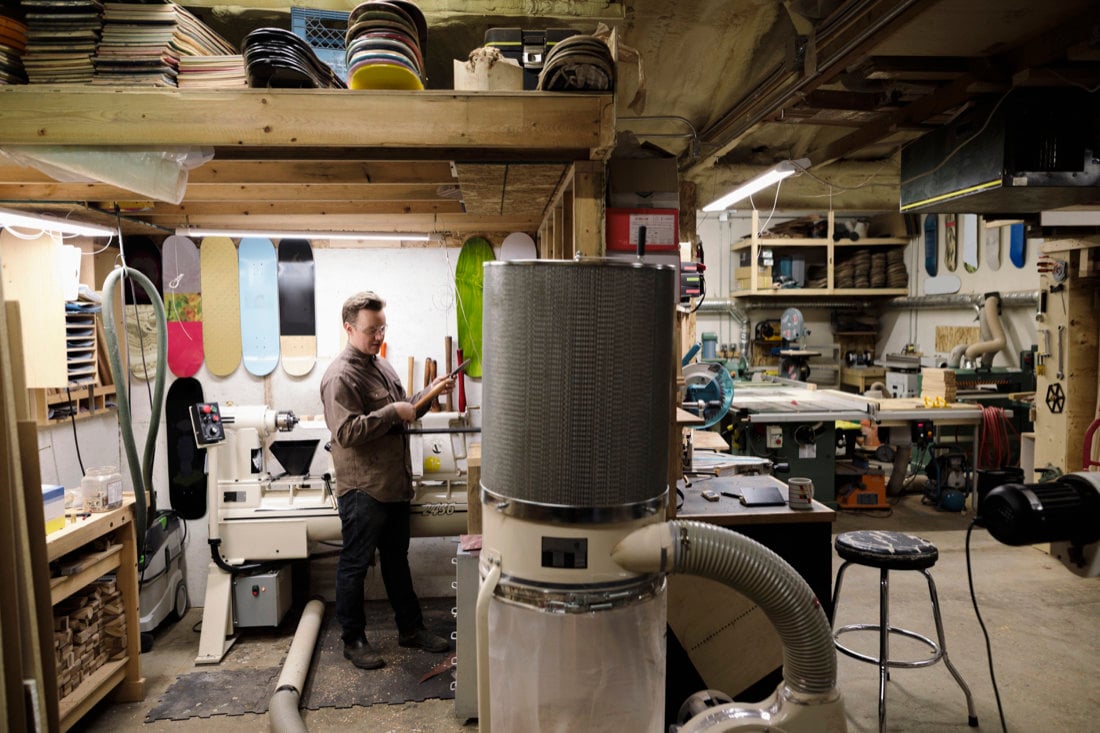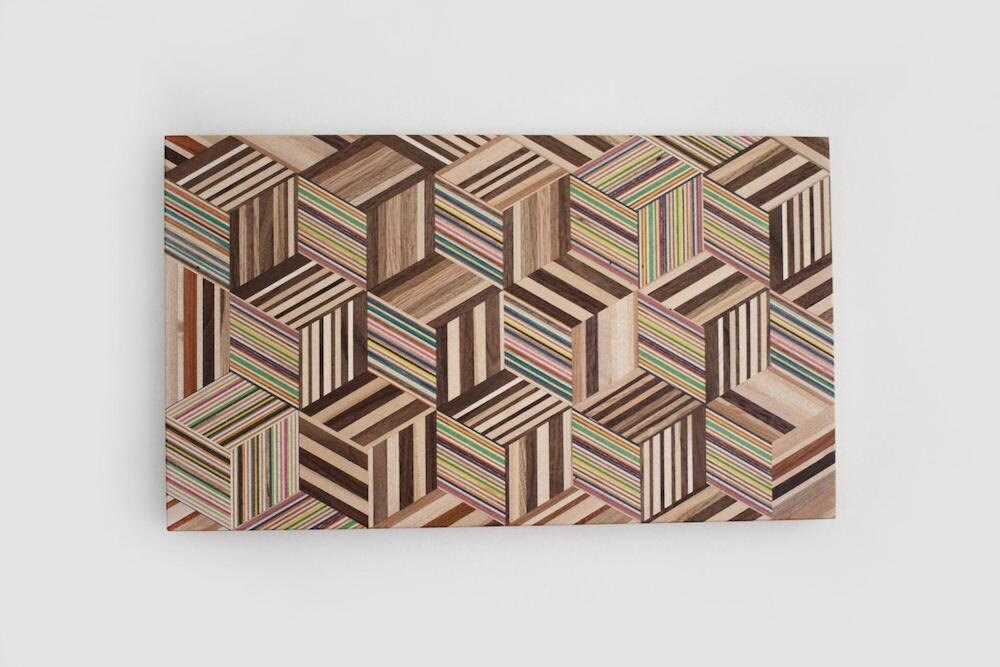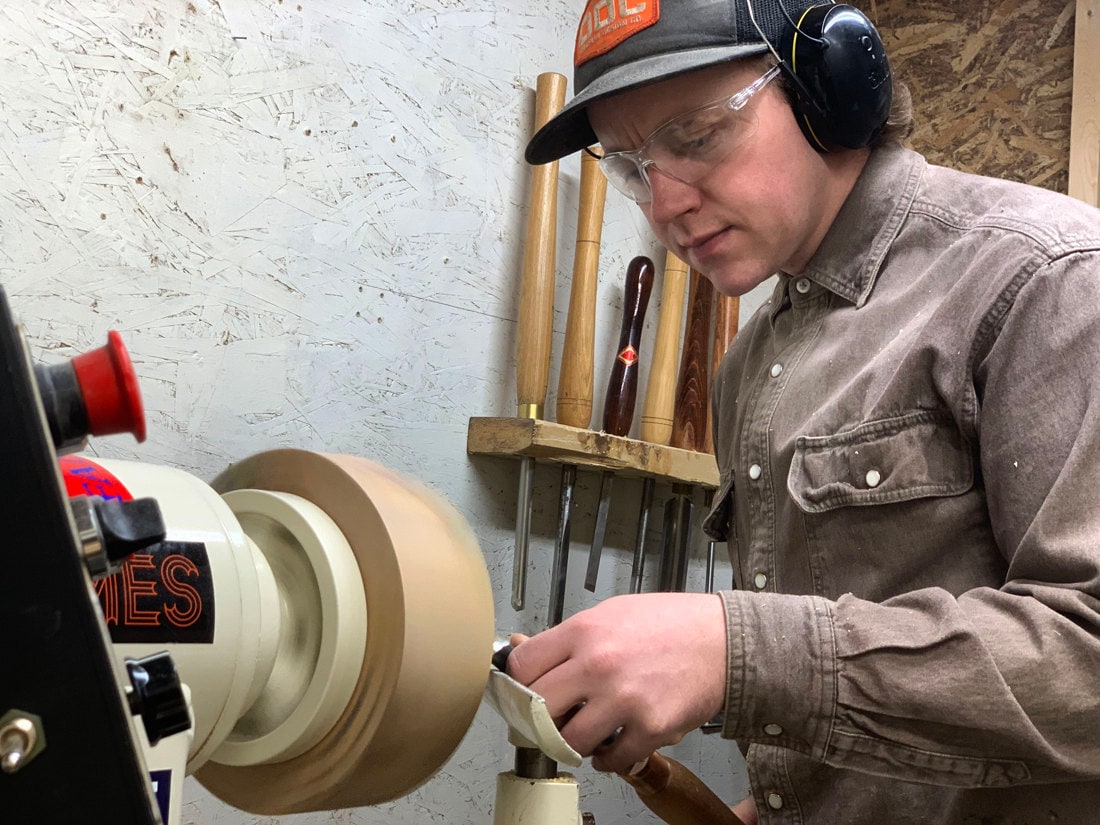 What's the first step in the process of upcycling a skateboard?
We sort the pieces by how they get used. Anything that's broken down the middle gets put into one section, or if it's just worn out it goes into a different one. Then we wait for a hot day to roll around, and we lay all the boards out in the sun in our yard. The sun heats up the adhesive of the grip tape so we can peel it off more easily. We do it in big batches and spend an entire day doing it, and that'll be enough for four or five months. Then we have to remove the residue from the grip tape, so we scrape it off by hand with a cabinet scraper. 
What other measures do you take to prep the skateboard wood?
We sand off the paint, graphic, and clear coat. We grind and polish it using an angle grinder, then we sand it again to take out some of the deeper ridges. This is all to get the skateboard back down to clean, bare wood, and it's the most labor-intensive part. Then we cut the boards up into congruent pieces. The nose and tails are set aside to be used in our bowls, since that part is already curved. The centerpiece is the prime cut because it's flat and really easy to laminate.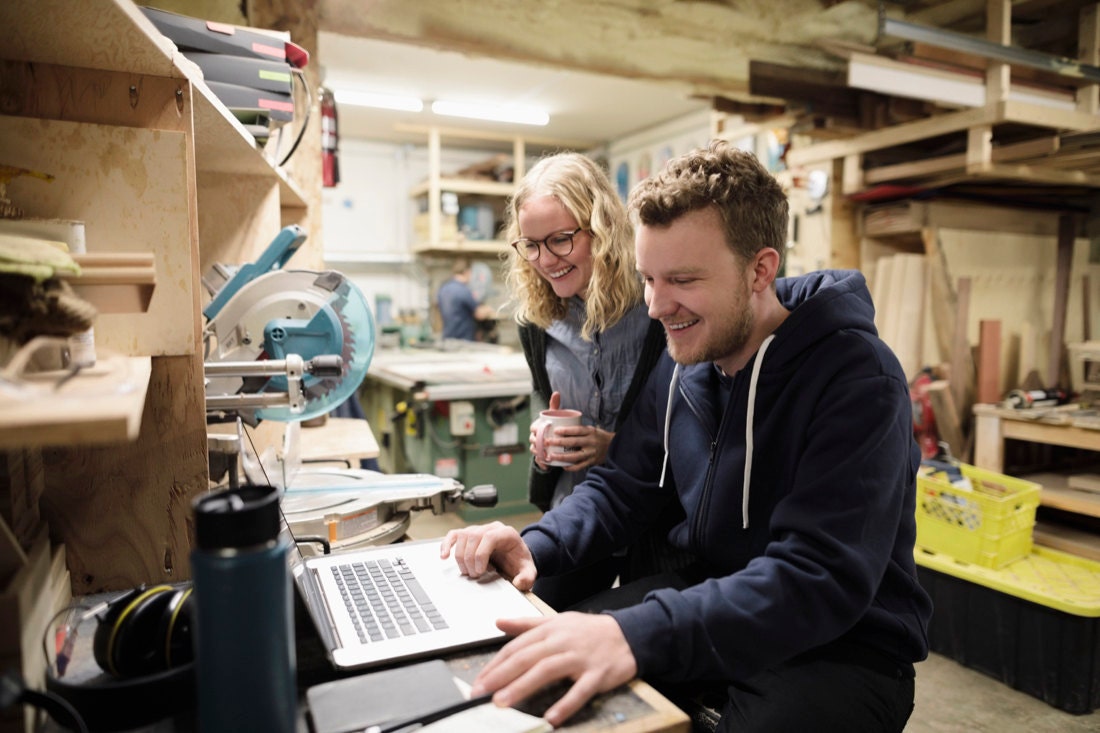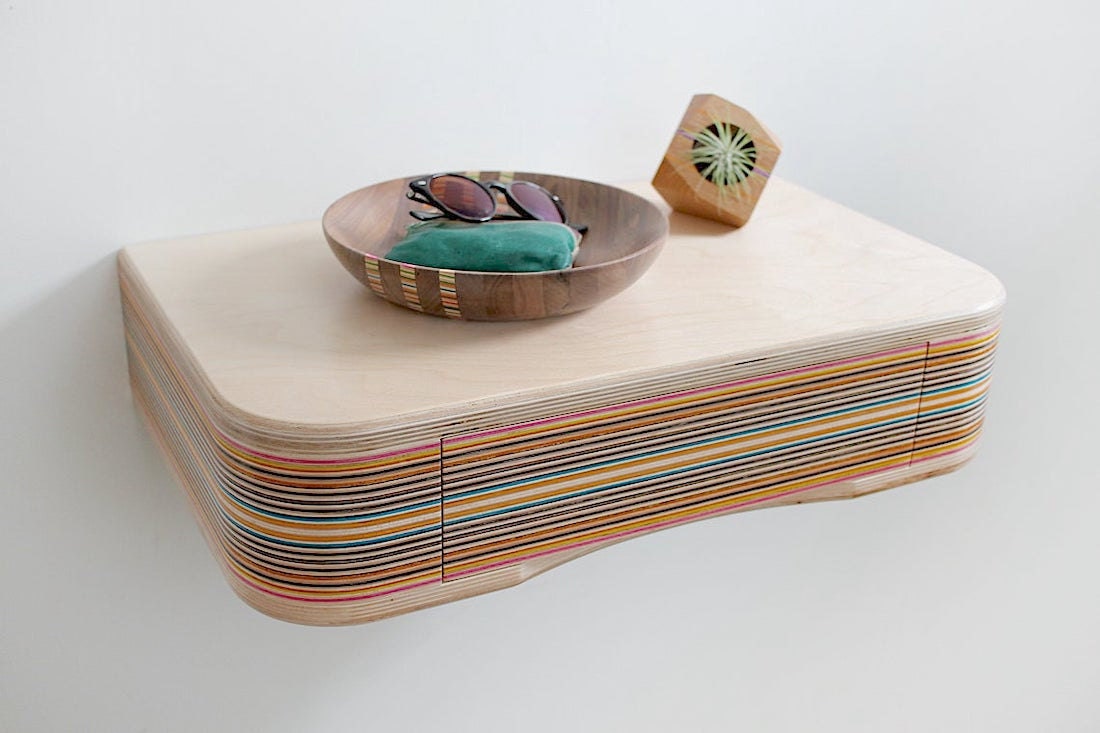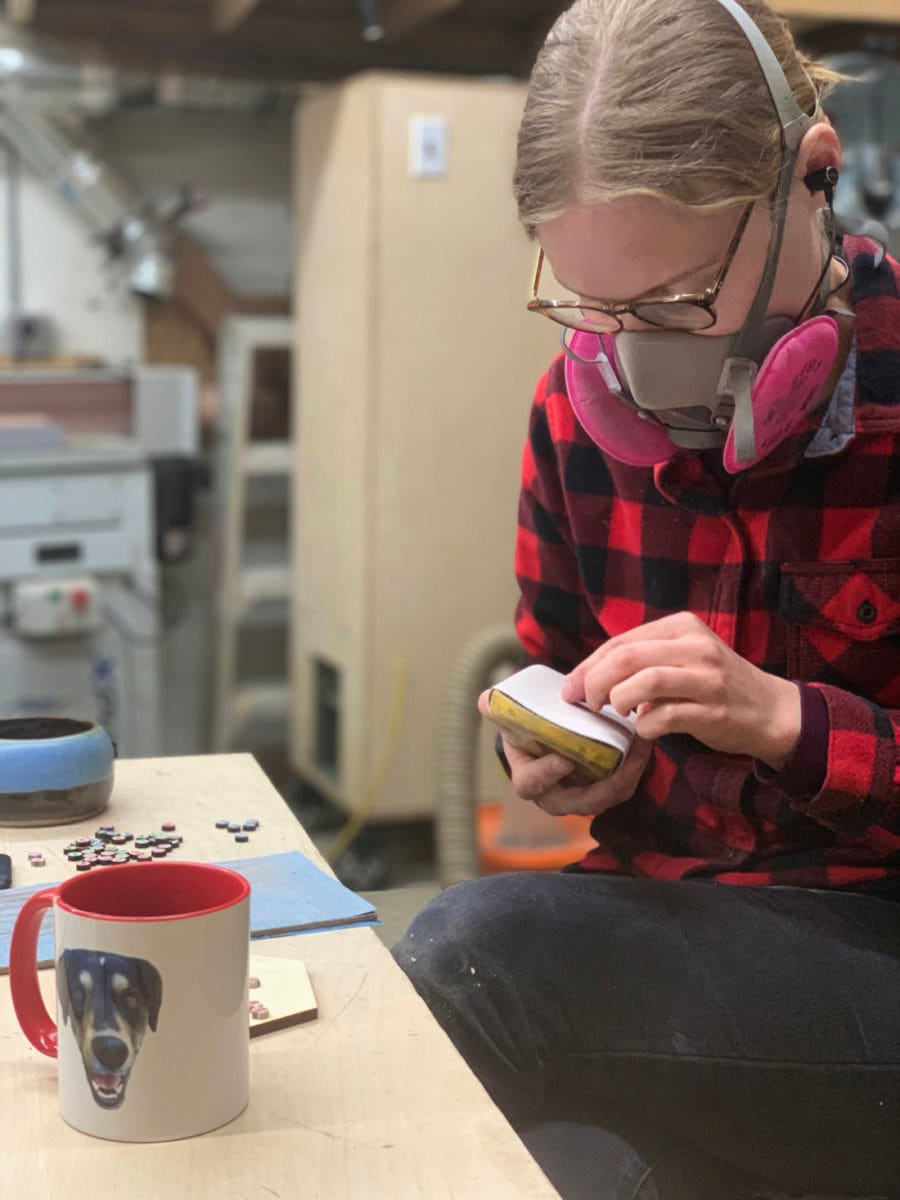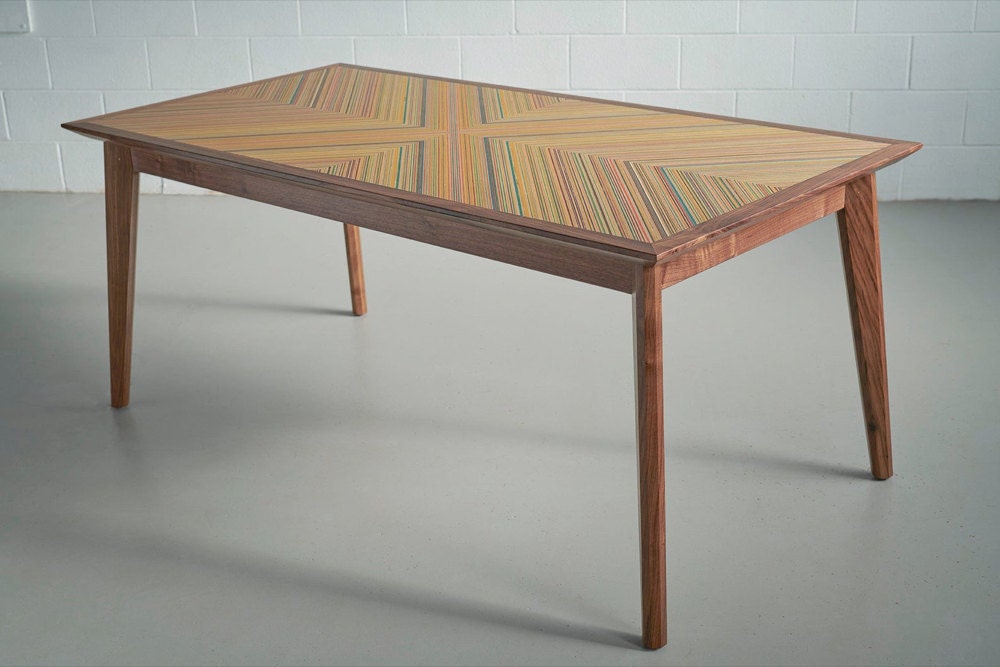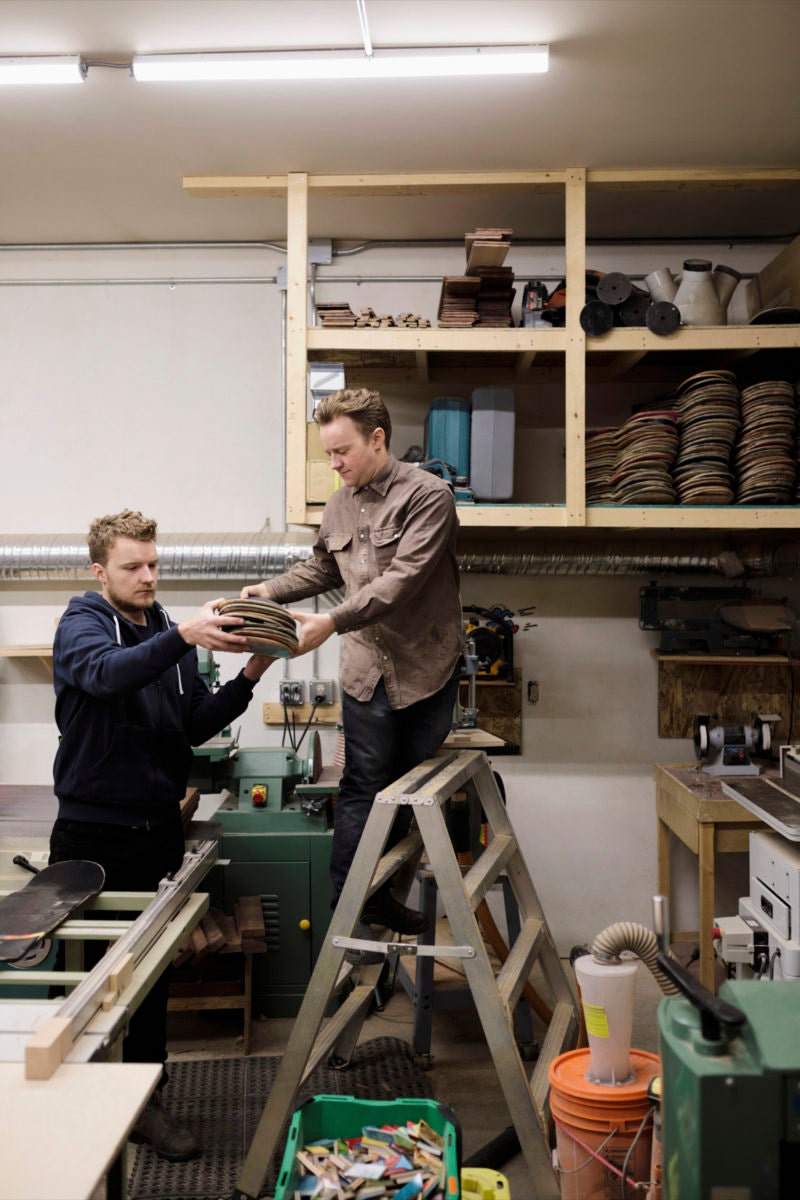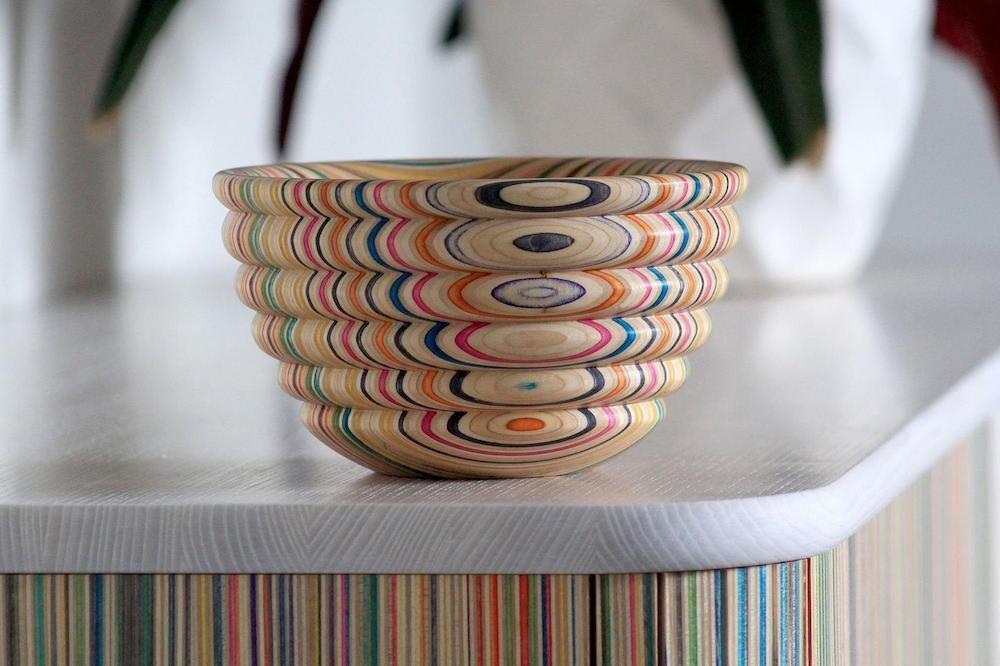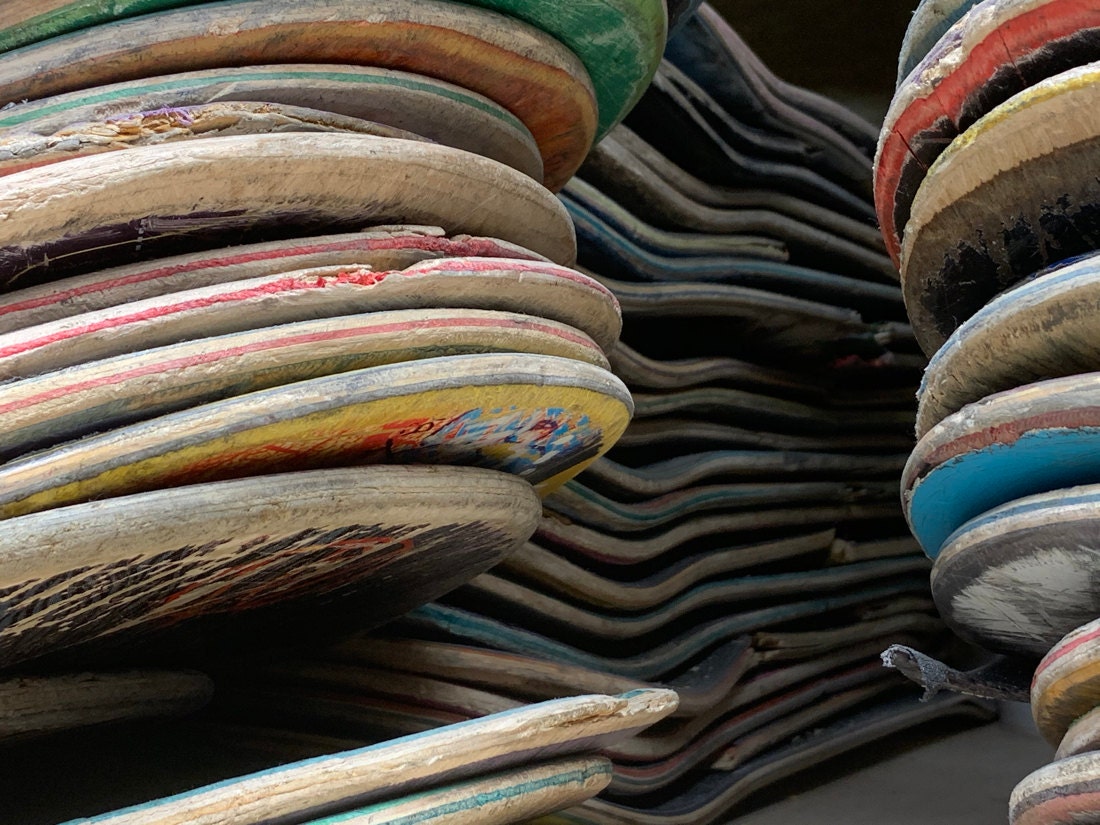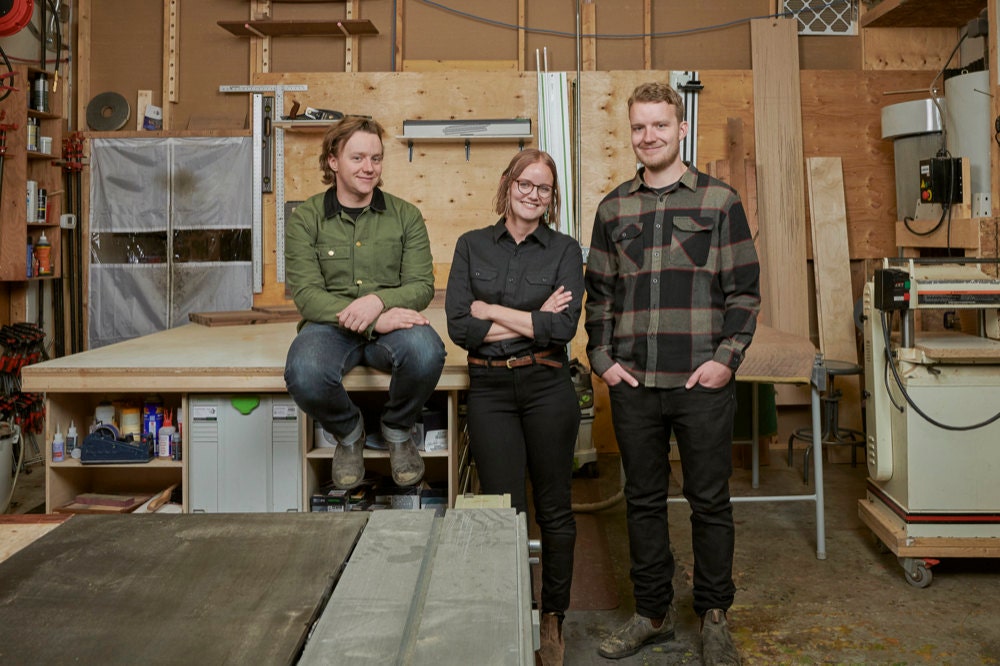 What are some of your favorite ways you've seen buyers incorporate your pieces into their homes?
Lately we've seen a lot of people post Instagram Stories about using the crib boards as a fun at-home activity, which is really nice to see. But the best jobs are when we work with the buyer to fit a piece into their home by making something that works within the constraints of their space.
So designing made-to-measure furniture?
Yeah, but it goes beyond just measurements. For example, we designed this one huge coffee table around someone's room. The space was already finished so we were able to say, "This is the wood you want to use for the trim, because it'll match the cushions really well. And these are the colors we're going to use because that's what will complement your artwork."
We also recently did a commission for a bench, where we stained the trim, base, and underside in black ash to match their dining room table, and it looks so good in that space. It's nice to be able to make something that really complements our customers' homes.
Follow Adrian Martinus on Instagram, Facebook, and Pinterest.
Photographs by AdrianMartinus.