by Valerie Rains
Perfectly pared-down pendants, slim stacking rings, and unconventional stud earrings set this chic line of ultra-modern jewelry apart.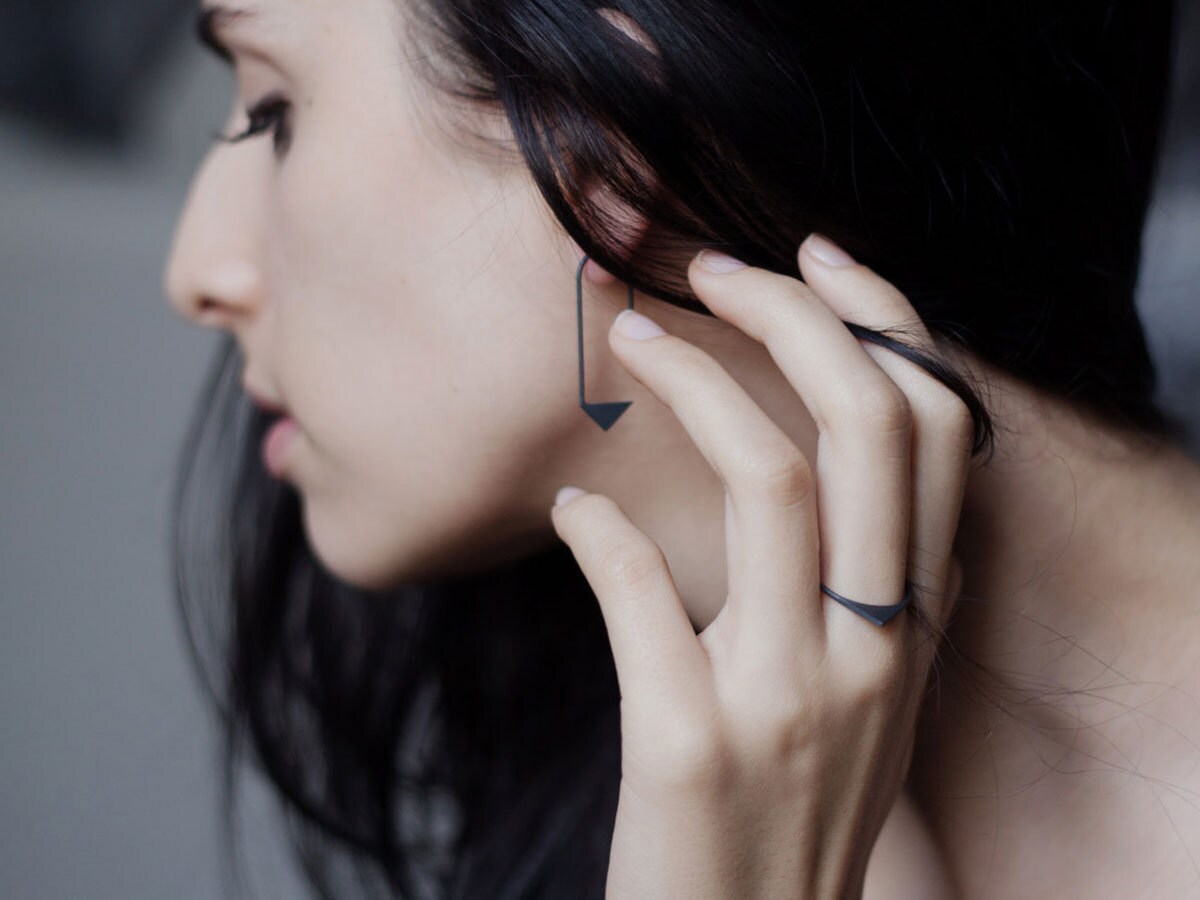 It's funny how monumental, life-changing events can emerge from the most ordinary, unremarkable circumstances. Ask Fernanda and Jérome, the founders and designers behind minimalist jewelry line 
AgJc
 how they met, for example, and the answer you'll get is fuzzy at best. "It was here in Barcelona," Fernanda offers, reaching for details. "We had a friend in common who introduced us one night—I think it was at a dinner?" The precise coordinates of that initial encounter may not be permanently etched in the pair's minds, but the impact of their introduction is felt every minute. For two years, this couple has lived and worked side by side, day in and day out: first in a jewelry studio in Paris, where they moved a few years after meeting and created their earliest designs, and as of six months ago, back in the city where it all began. "We are partners 24 hours a day," Fernanda says. Their compatibility is reflected in both the harmony of their line and the specificity of their aesthetic. Proof that all you need is love? Maybe. Or at least a clear and common vision.
Read on to learn more about how Fernanda and Jérome produce their distinctive designs, and shop the AgJc collection.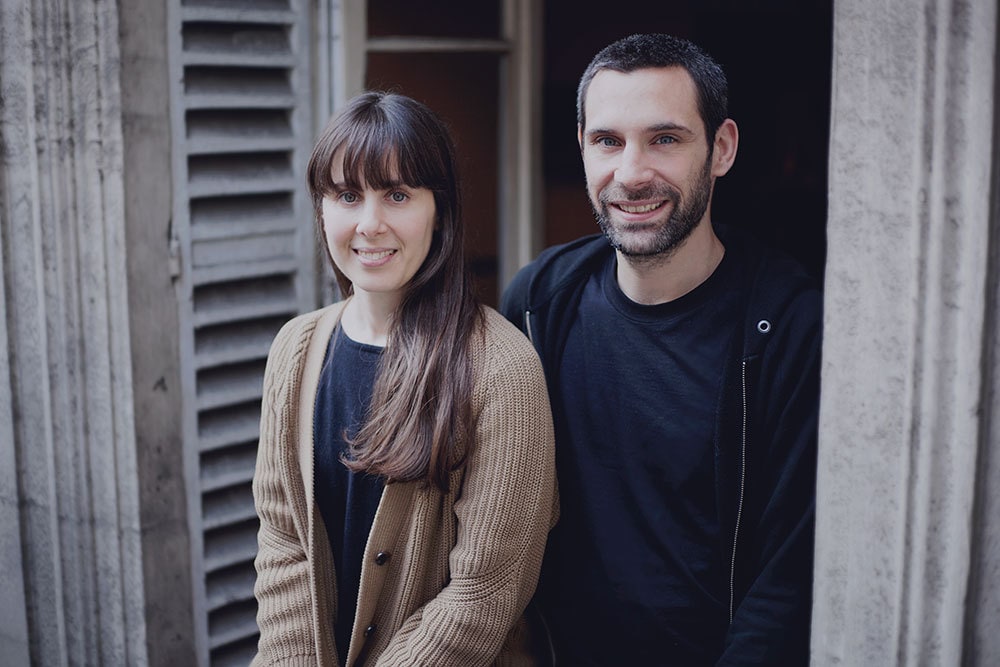 Your work has a very distinctive, recognizable style. Has your line always looked this way, or has your design vision evolved over time?
Because we're always working and having new ideas, we do obviously evolve, but I think the aesthetic for
the line
has been the same from the beginning. The clean lines, the geometric work: It's really just what we like. Of course, geometric styles had a big moment a few years ago, and now it's a little bit less popular. We are always going to work with clean lines, but we're trying to adapt our work a bit—not to do what's "in" at the moment, what's trendy, but to adjust our work around what is currently selling.
You have both either studied or worked in interior design or interior architecture. Does that influence your design style? What inspires you?
Architecture is one of the most important things, and industrial design sometimes, also. But also nature: I think we're all inspired by nature. The human body is another source of inspiration—we're always looking at the women around us and thinking about how our pieces might look on a woman's ear, or on her hand. Ultimately, we find inspiration all the time, everywhere. We travel as much as we can, and inspiration can come when we're at the beach or on the Métro. We try not to talk about work all the time, but sometimes we can't help it. We really have fun doing what we do.
Once you started selling your work on Etsy, did you have success right away or did it take a little while to get going? What was that experience like for you?
It was a process—everything was really gradual. In the beginning, I was working part-time in the tourism industry and doing more of the work on
the shop
, while Jérome and I were both designing. The first year we didn't get many sales and we just had to keep believing that it was going to work. The second year it was better, the third year I quit my job, and by the fourth year we started to think, "This could really be our dream, to work together and make a living with our jewelry." About two years ago, Jérome quit his job and we started to work on jewelry full time. Our line has grown a lot: We started in a little space inside our home and now we're about to open a retail shop with an atelier.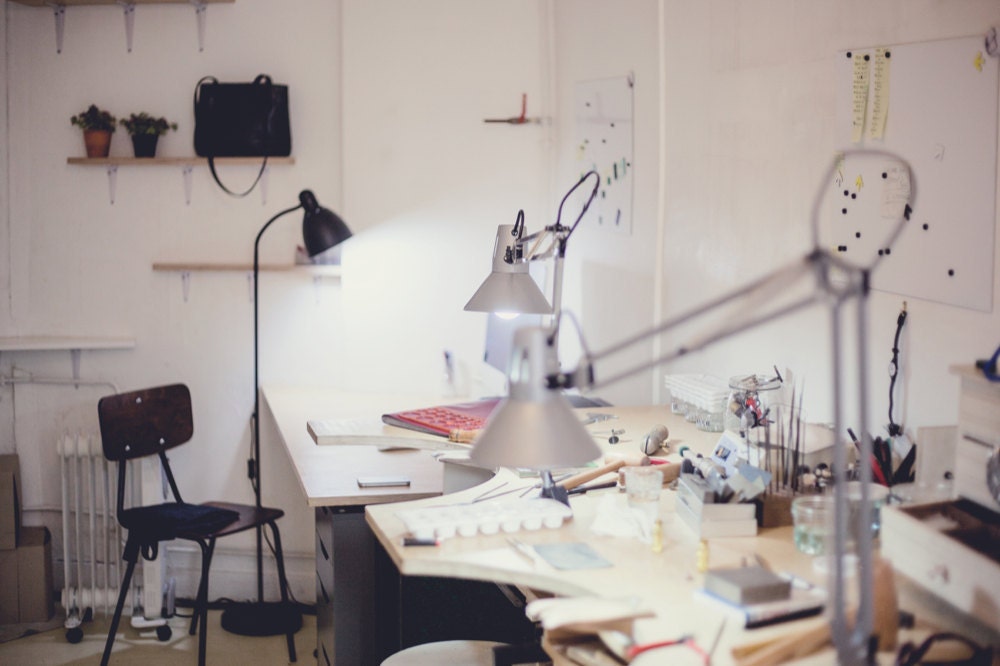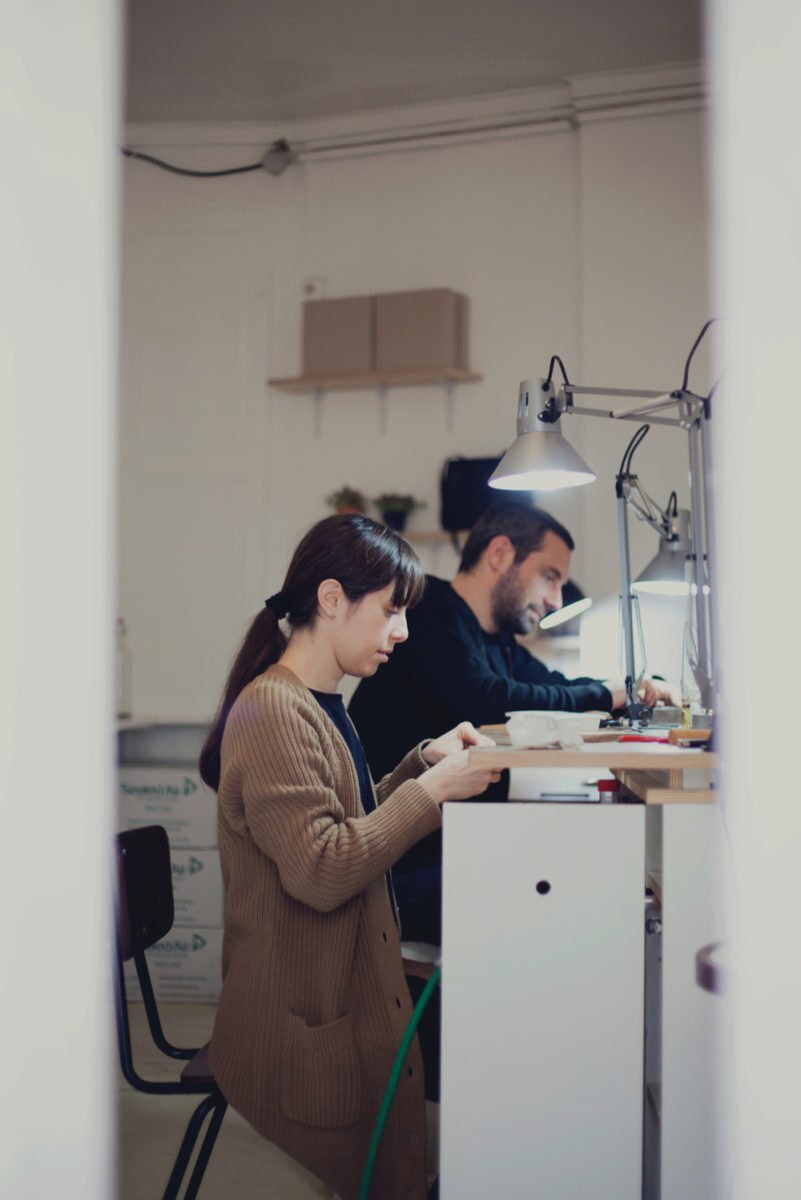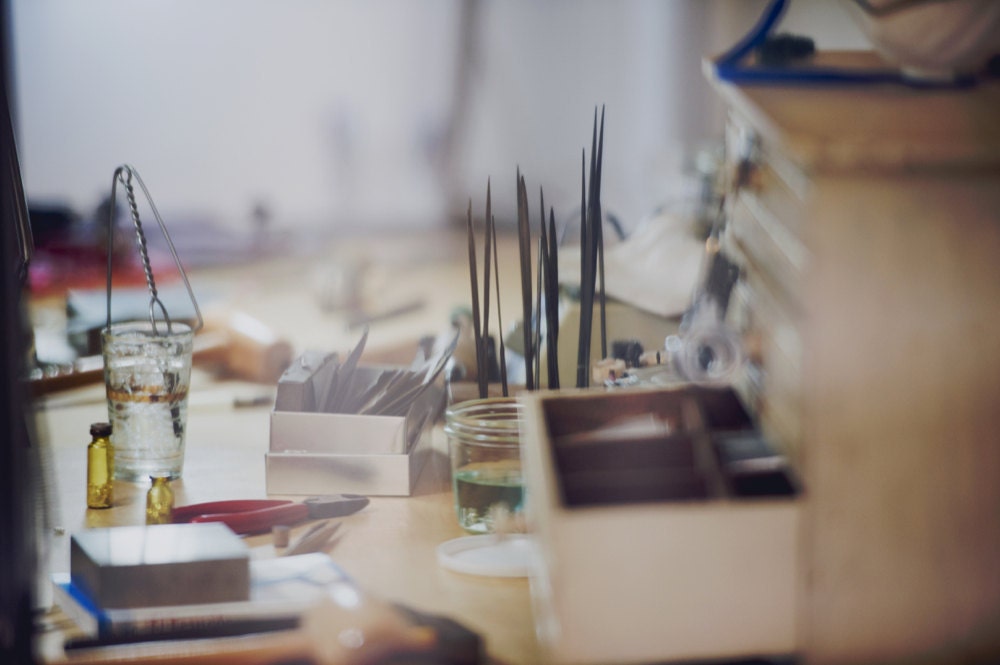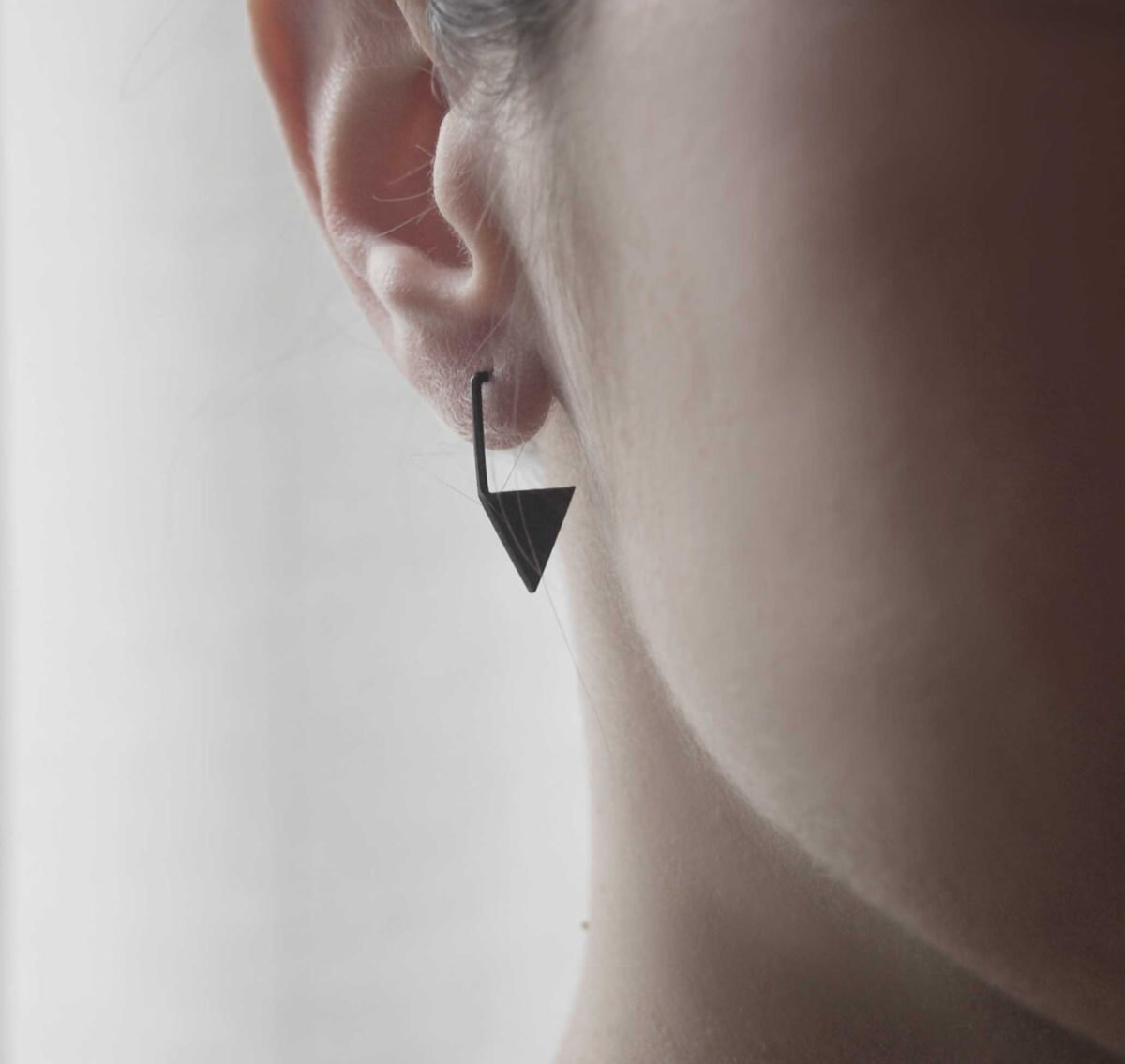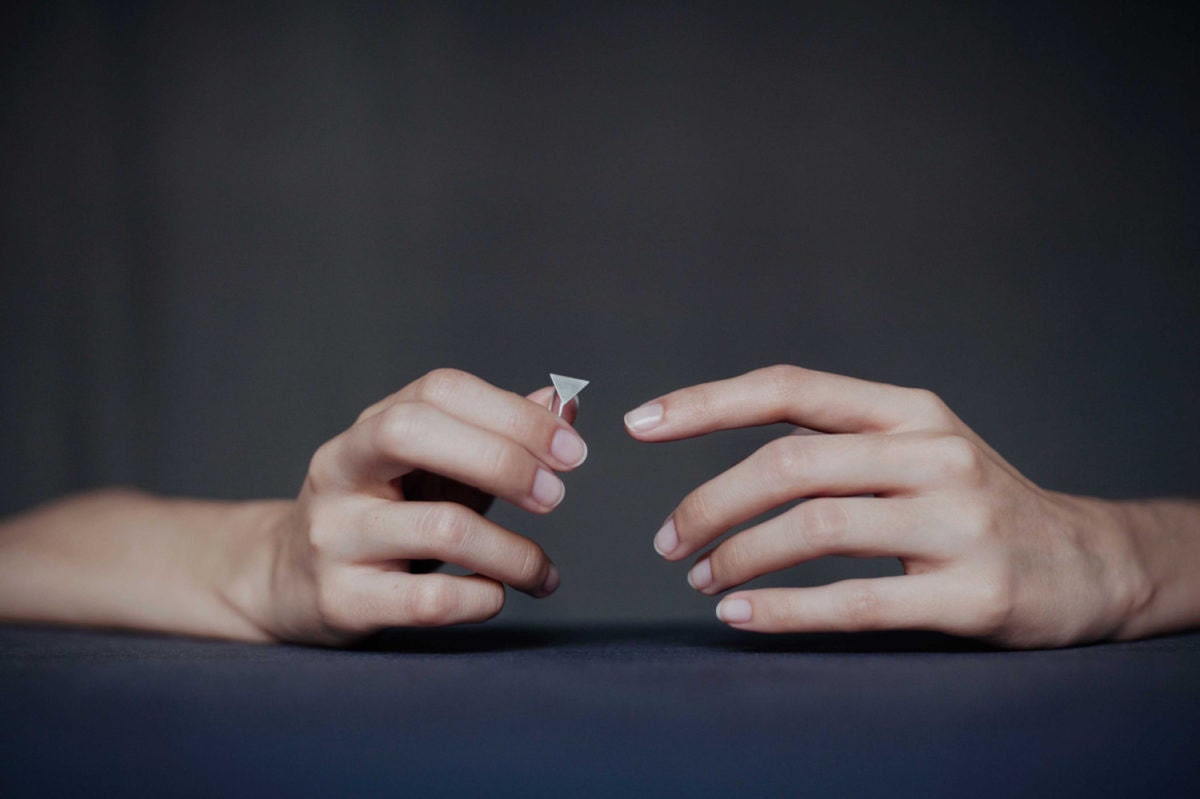 How exciting! What's the space like?
We found a small place in Barcelona, near the coast, and Jérome has been designing and building all the furniture for it—it's going to be great. We'll have a workspace on one side and a brick-and-mortar shop on the other: a little space to sell and a little space to work. Actually, here in Barcelona it's not 100% legal to work with silver at home, so we needed to create a place anyway—and we were ready to stop running our business from home. We have high hopes for our next phase. We're excited to have more time to design again; we spent most of the last six months moving and getting things ready for the new space.
Will you walk me through your design process? What tools and techniques do you use to create your jewelry?
When the idea or inspiration comes, the first thing we do is either draw a sketch or make a little maquette—like a sample or a model made with paper. We like to work in 3-D, and paper works well for us since the things we make are quite small. Then we use traditional jewelry making techniques. We don't use wax; we cut and solder
every piece
ourselves. We buy the silver and then we cut it, curve it, manipulate it, make the form, and then we solder. It's like a work of construction, but on a really, really small scale. It's not a serial process, it's truly a handmade process; we do it that way because this is what we love to do. Then we polish the silver, or we oxidize it so that it gets really black. We try to keep the surface color as much as possible, and as the piece evolves it will develop a patina, and we'll begin to see shadows and light.
Does a design always work out on the first try, or does it sometimes take on a new form as you go?
Sometimes the first version can lead to another idea, and then another; sometimes we choose different pieces from different parts of the process. And in that way, we can see the development and evolution of our line within the same collection.
How do you two divide up the design work and the other parts of running the business?
We try to be able to do everything, both of us, in case something were to happen one day. But as you can see, I'm usually the one behind the computer—I handle most of the communication with our clients, I do all the social media, and I create our
item listings
—and Jérome spends more time at the bench in the studio. But design-wise, it's both of us.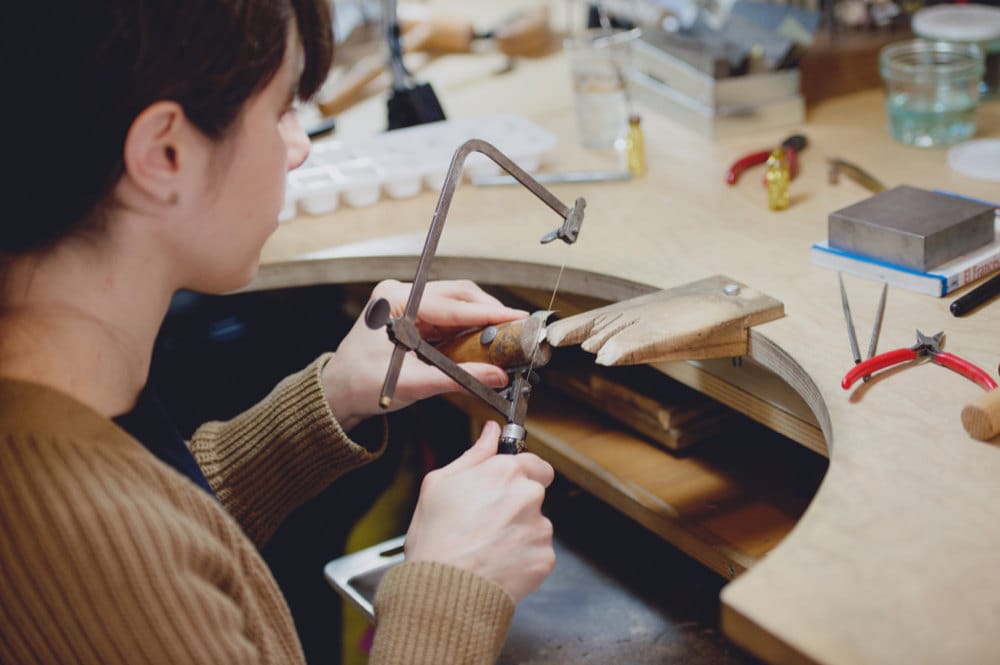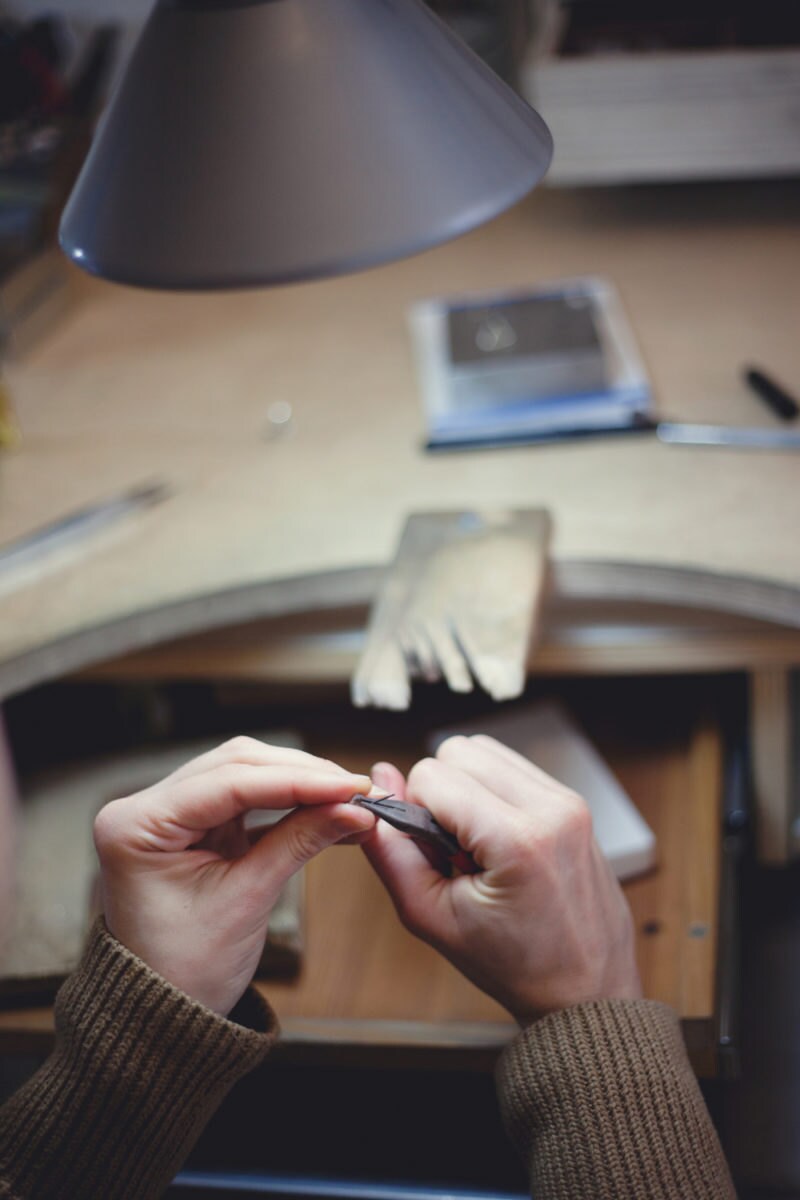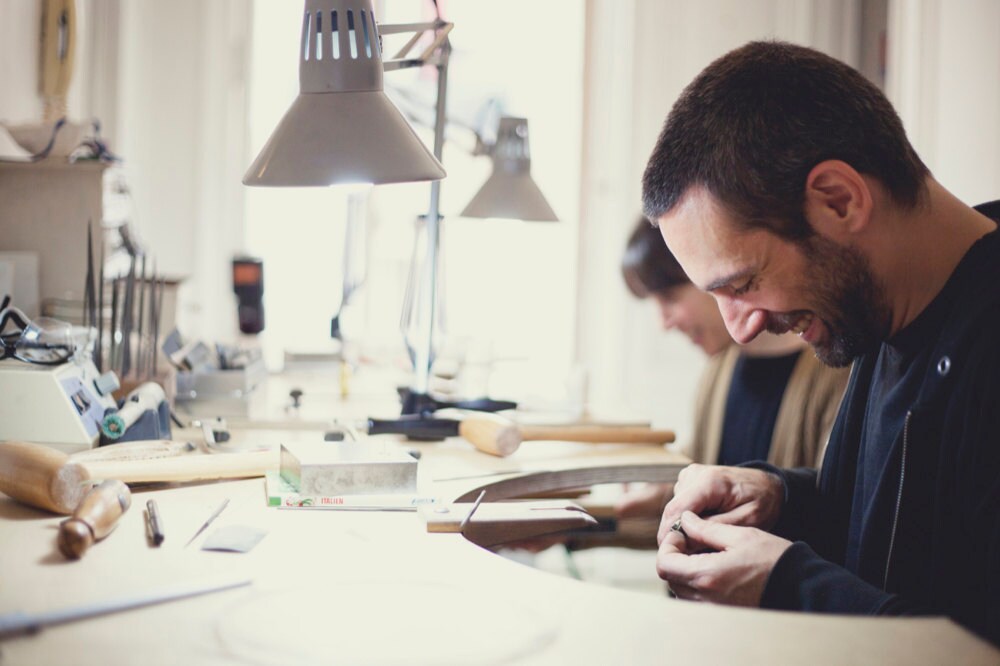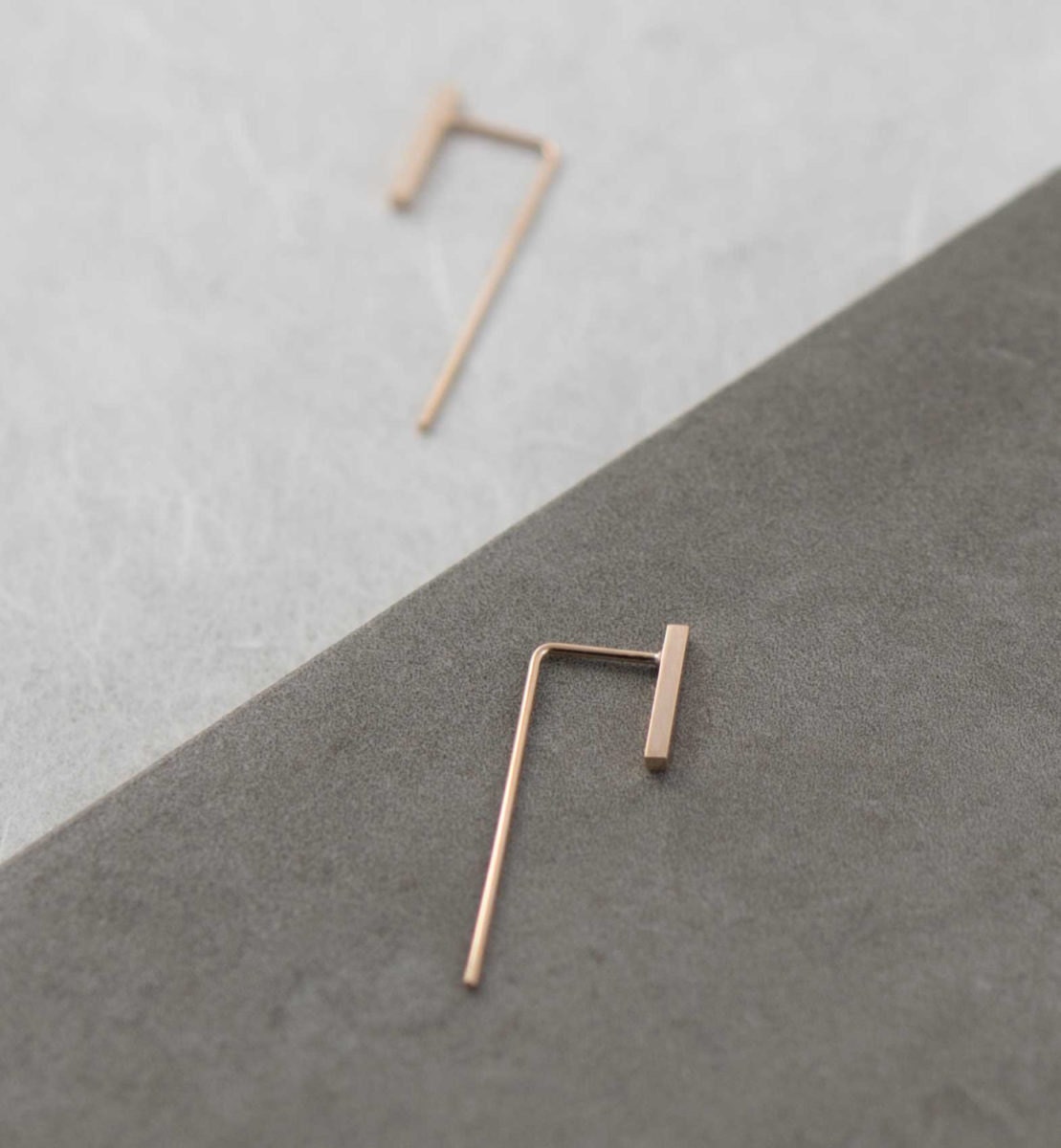 Let's talk about your design philosophy. What defines a good design for you?
We think that good design is a mix of being comfortable to wear and beautiful. Sometimes we might have an idea for something that looks great, but it's not wearable. Or it could be wearable only for a special occasion—but we want to make jewelry for every day. People do buy
our jewelry
for special occasions, though, and when they tell us about it, that feels great. Maybe it's a boyfriend who is buying something for his girlfriend for a special moment, or the girl who wrote us to say that she'd bought herself a pair of earrings as a gift to celebrate the end of her chemotherapy. There are always people behind every sale, and one of the things I like about Etsy is that we're still in touch with a lot of our clients. One mother even sent us a drawing that her child had made of her wearing one of our pieces of jewelry.
Is there anything new that you've experimented with lately design-wise that you're excited about?
At the moment, we've been putting all our energy into designing our workspace; we try to make and design everything we surround ourselves with, but it's difficult because sometimes we don't have the time. But very soon, we will have
a new collection
coming out with a lot of simple lines and little hoops, some rings, and more necklaces, because our clients have been asking us for that. We think it's going to be very nice.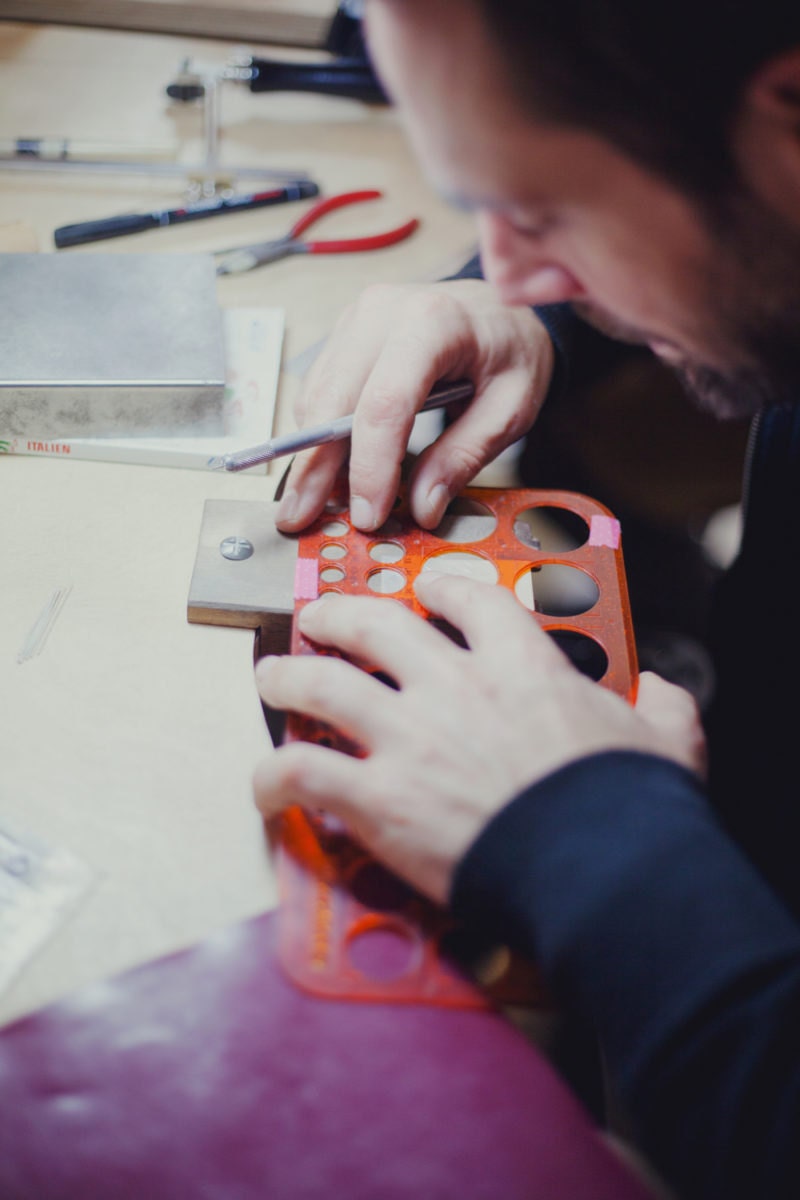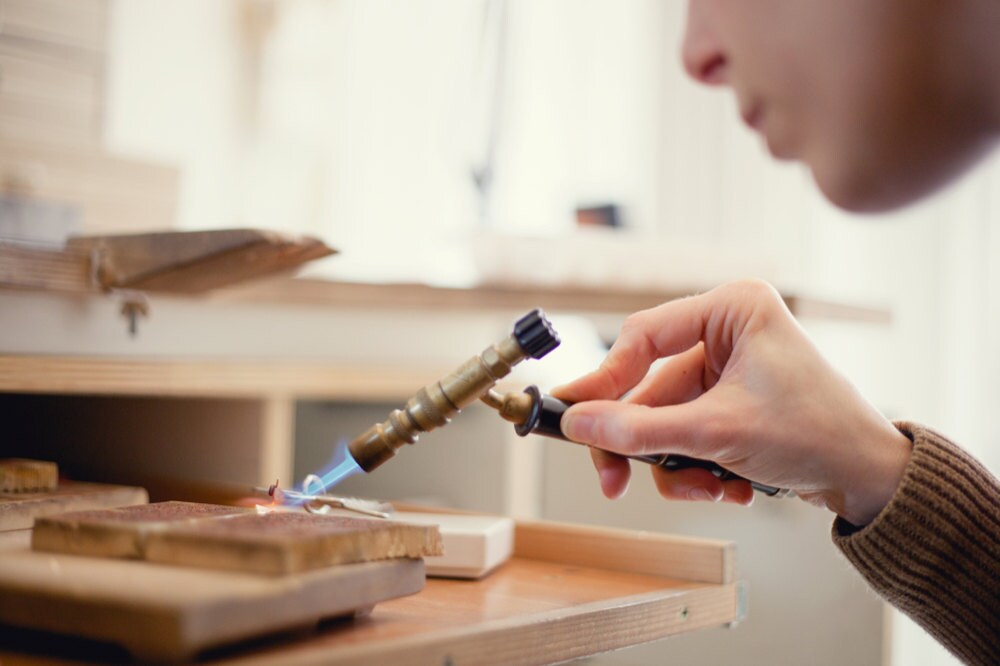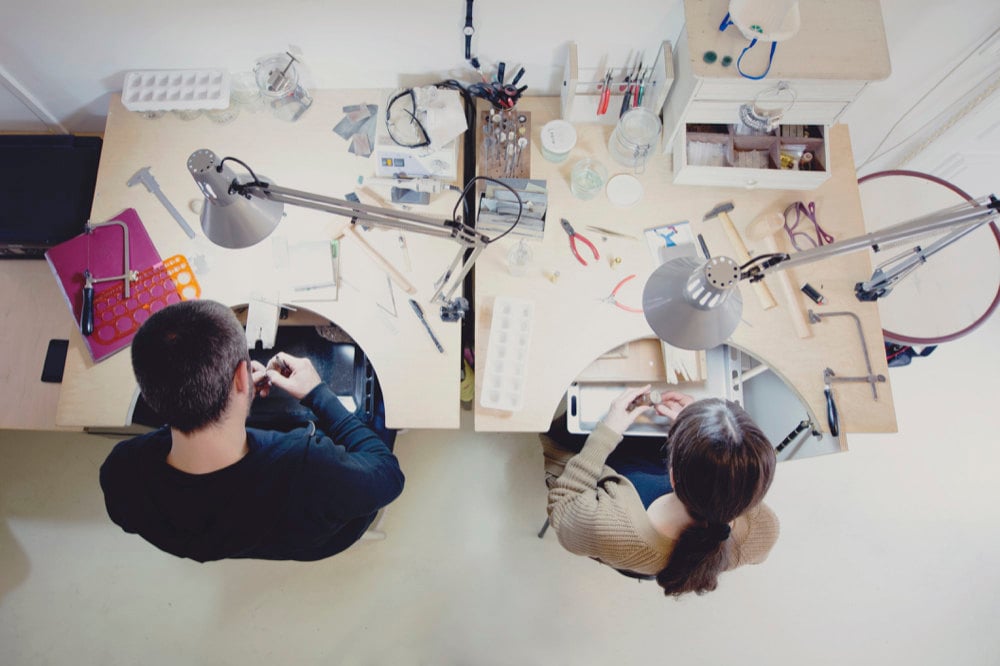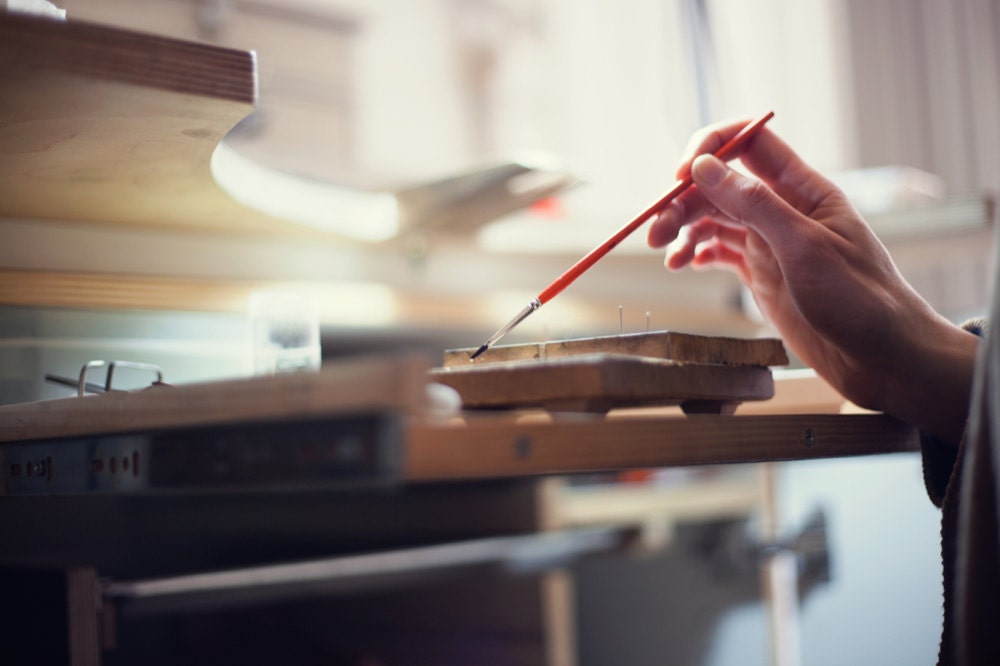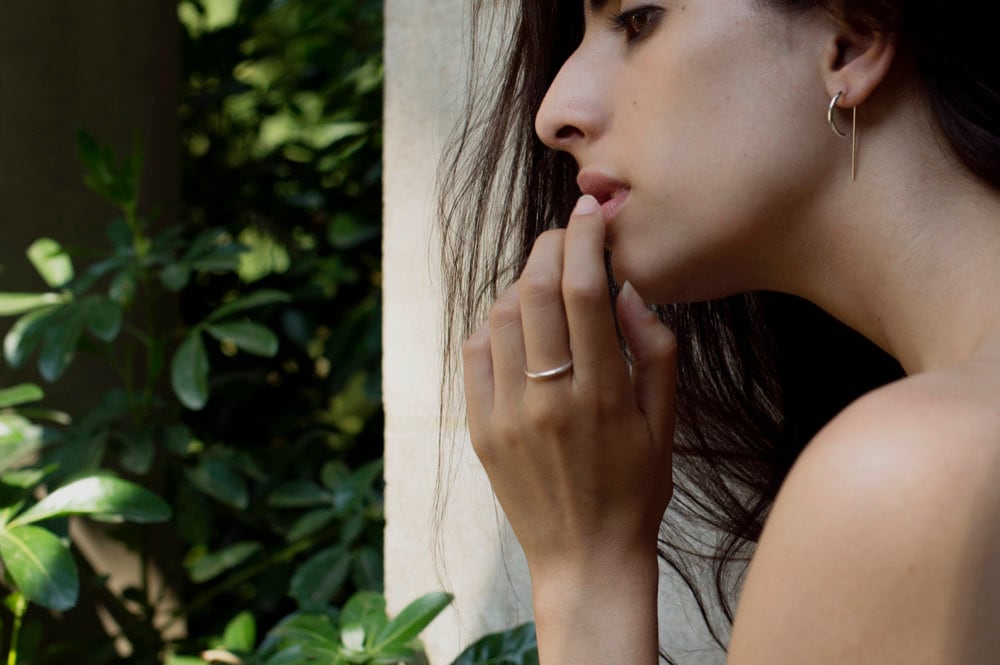 Speaking of customer requests, is there anything else that you've considered adding to your line based on feedback from your clients?
It's mainly necklaces—and bracelets, also. A few clients have asked us to make a nose ring, because it's something clean and geometric, but I don't know if we're going to do it. We don't have the experience and we don't have our noses pierced, so we would need to find some nose models! But once things quiet down at our new space, we are going to introduce a lot more necklaces and bracelets, and I would like to make some pins too. We have books and books full of ideas waiting to be made.
What are you most proud of about your work or your business?
That we are surviving by doing things with our hands, and that we work in amazingly good conditions that we created for ourselves—even as we're competing with people who work in very bad conditions. We're also proud to have a clear style, and that people can recognize our designs. And that I learned to speak English—through Etsy!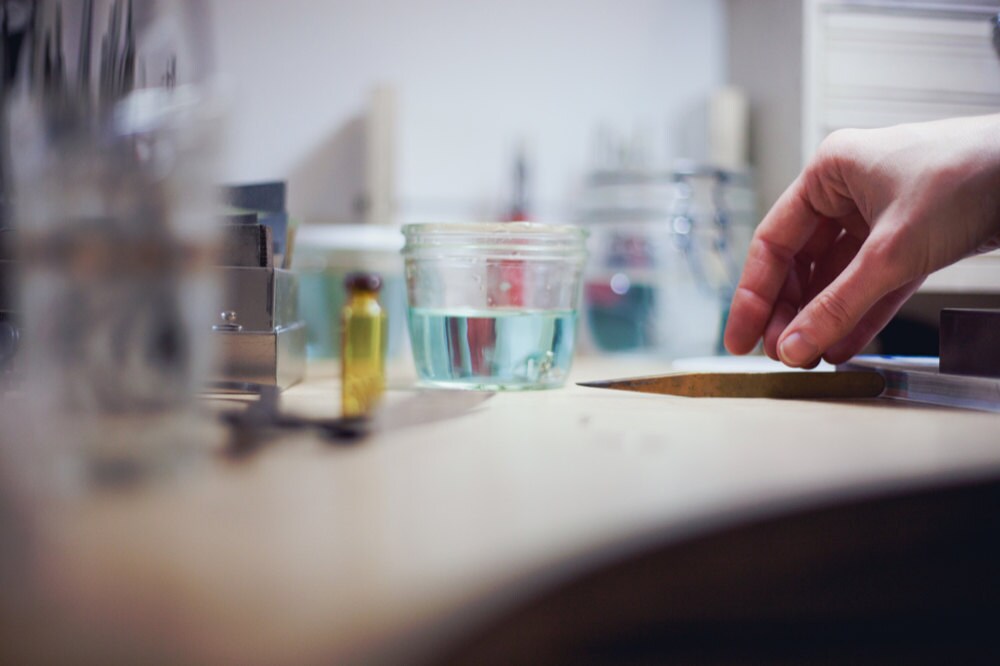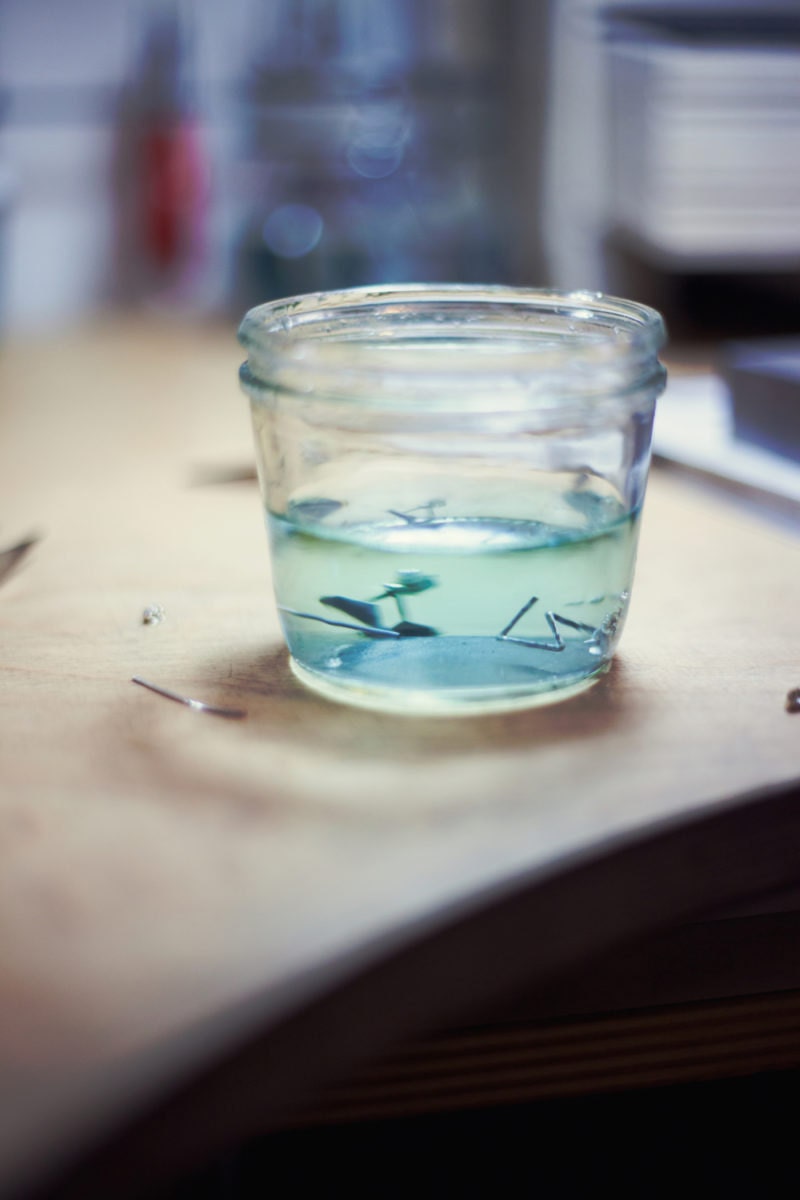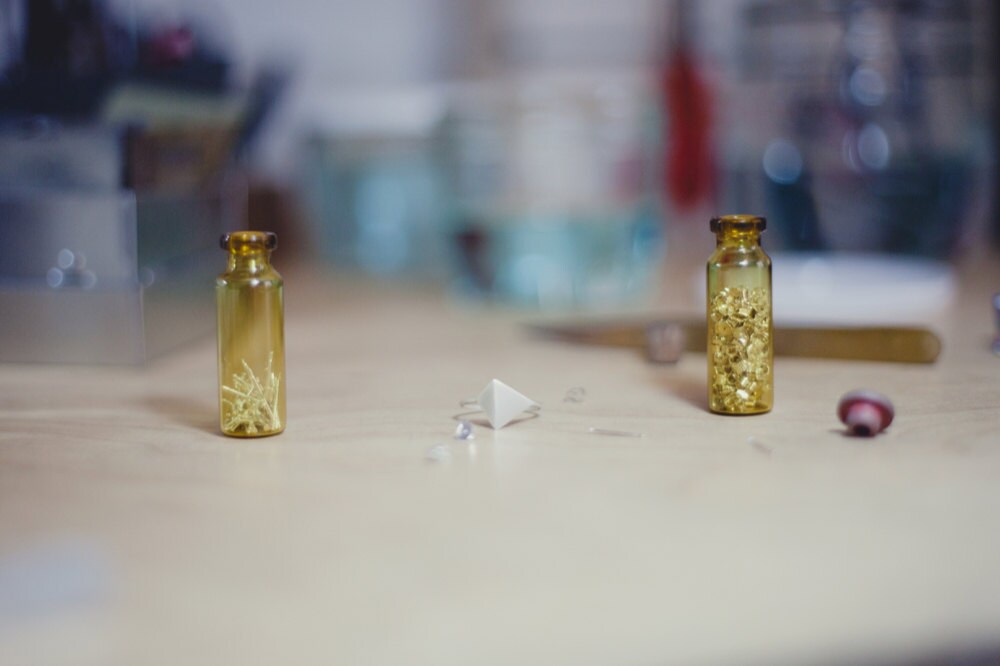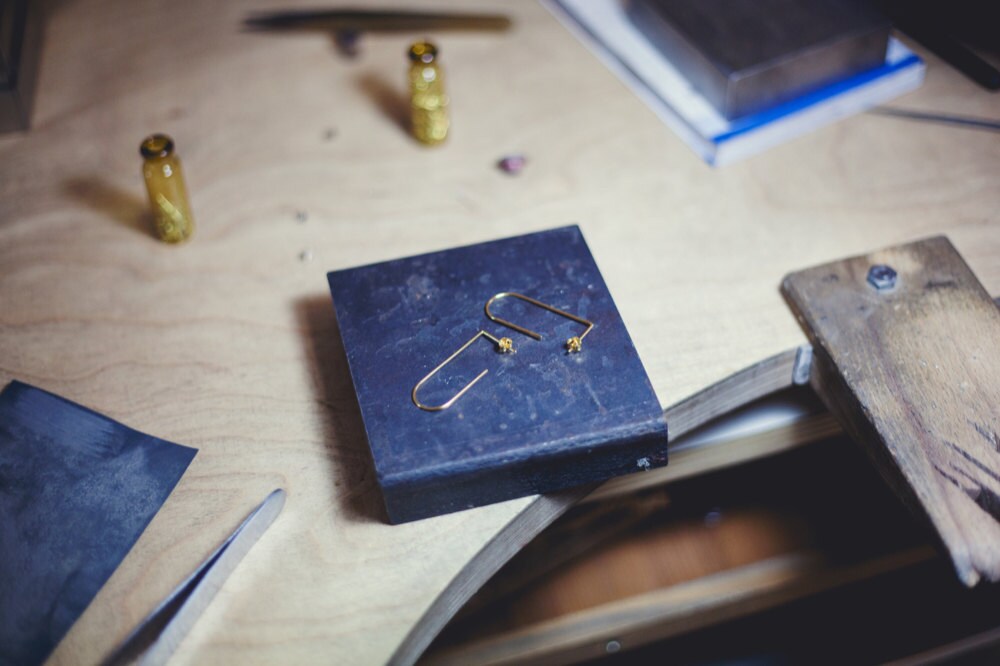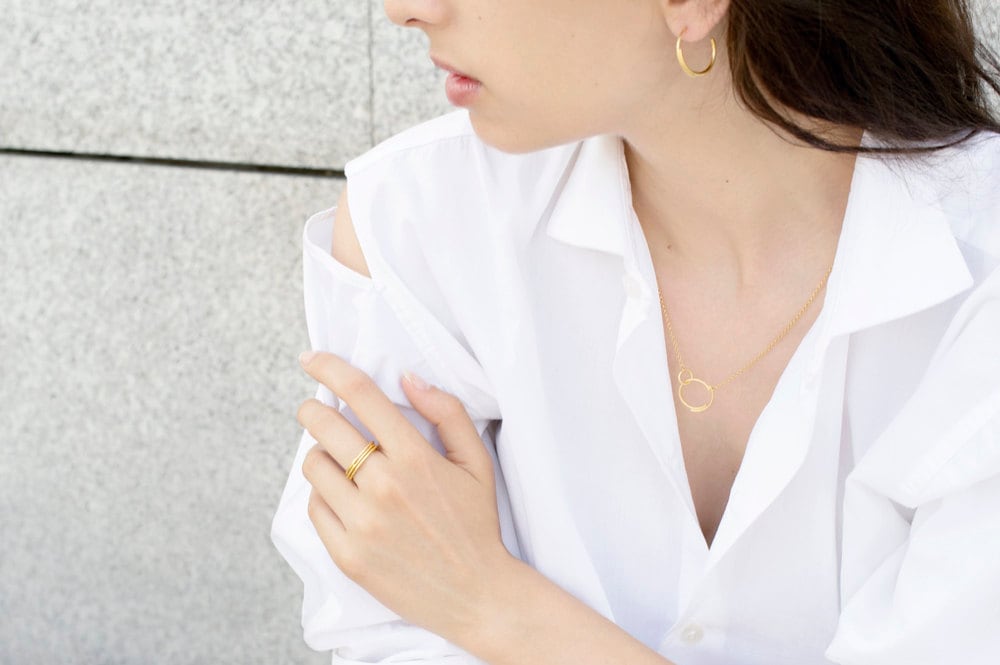 What are your dreams for the future of your line?
The main thing we hope for is to be able to grow while maintaining an ethical approach to production. We have so many ideas that we don't have enough time to make now, so we are thinking that our next step will be to find somebody to help us with production, so we can have more time to keep designing. We want to keep things small and simple and handmade at our space, but we are also trying to grow a little bit—we're looking at how we are going to do that while still upholding our values.
Follow AgJc on Facebook and Instagram.
Studio and process photographs by Charity Thomas; product photographs courtesy AgJc.