Pairing clean lines with radiant citrines, carnelians, and opals, this gift-worthy statement jewelry puts a modern twist on timeless elegance.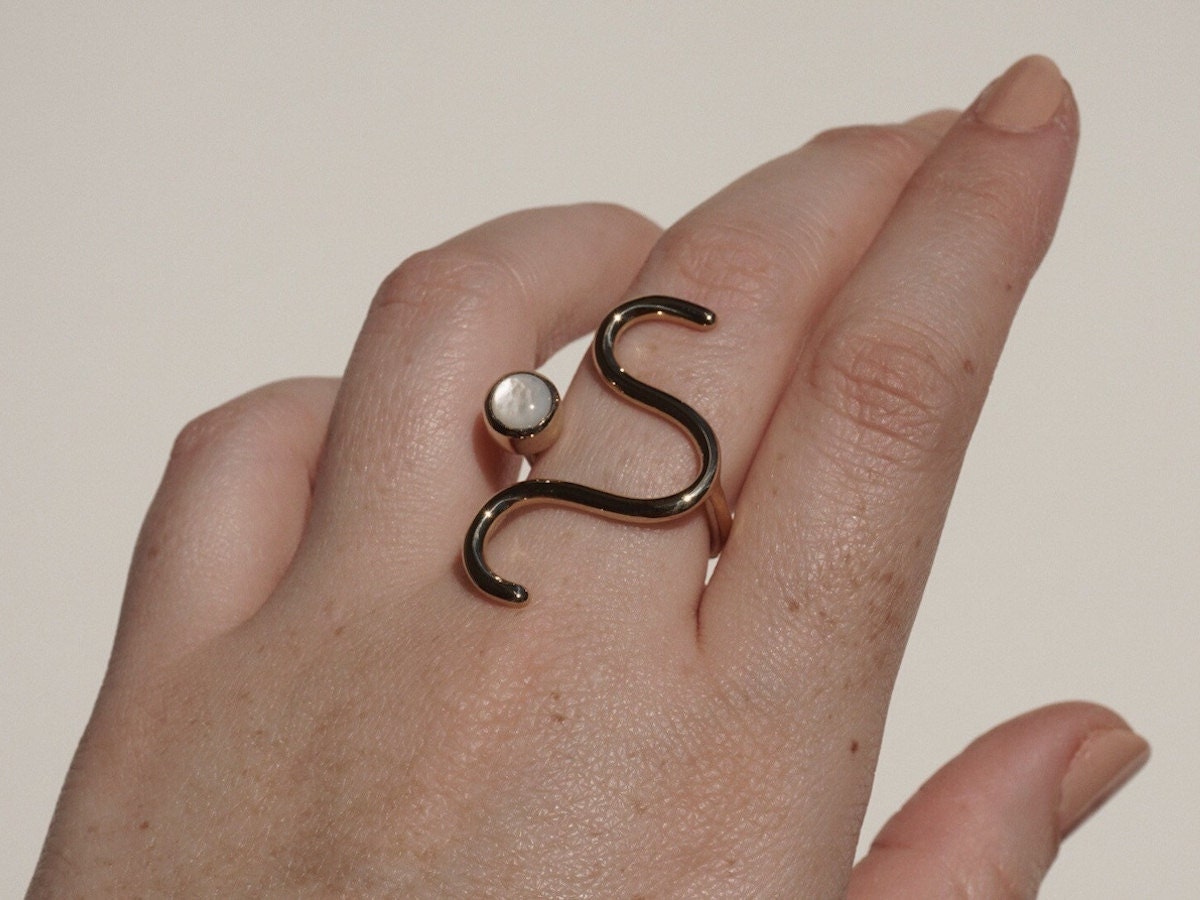 In our Featured Shop series, we shine a light on a standout shop from Etsy's talented seller community, offering readers a behind-the-scenes look at their process and story.
Whether it's a simple curved statement ring offset by a single carnelian stone or an eye-catching pair of oversized, arched dangle earrings, the gift-worthy jewelry from Aleishla sparkles with possibilities for every personality. Designed and handcrafted by husband-and-wife team Aleishla López and Isaac Crespo in their home studio in Lares, Puerto Rico, each piece in the modern collection is made to deliver maximum impact with just a few clean, organic lines and the well-placed pop of a gemstone accent—a signature combo that appeals to both minimalists and those with a splashier sensibility. "I find it really special that I get to create pieces with my hands that people choose to wear to communicate how they see themselves—how they feel on the inside, without words," metalsmith Aleishla says.
Explore the Aleishla collection
The same is true when customers select Aleishla's pieces to express how much they care for their sisters and friends, wives and grandparents. "Sometimes people come to our shop and say, 'Oh, this looks like this person or that person,'" Aleishla says. "I think that's really cool that my customers can see their loved ones in my pieces." From 14-karat gold keepsakes to brass and silver staples with an understated edge, a hand-picked present from Aleishla is a meaningful way to meet the moment, be it a major milestone or an everyday "I appreciate you" for that special someone in your life—yourself included.
Read on to learn the inspiration behind Aleishla's timeless designs and discover her picks for different personality types—then shop the Aleishla collection.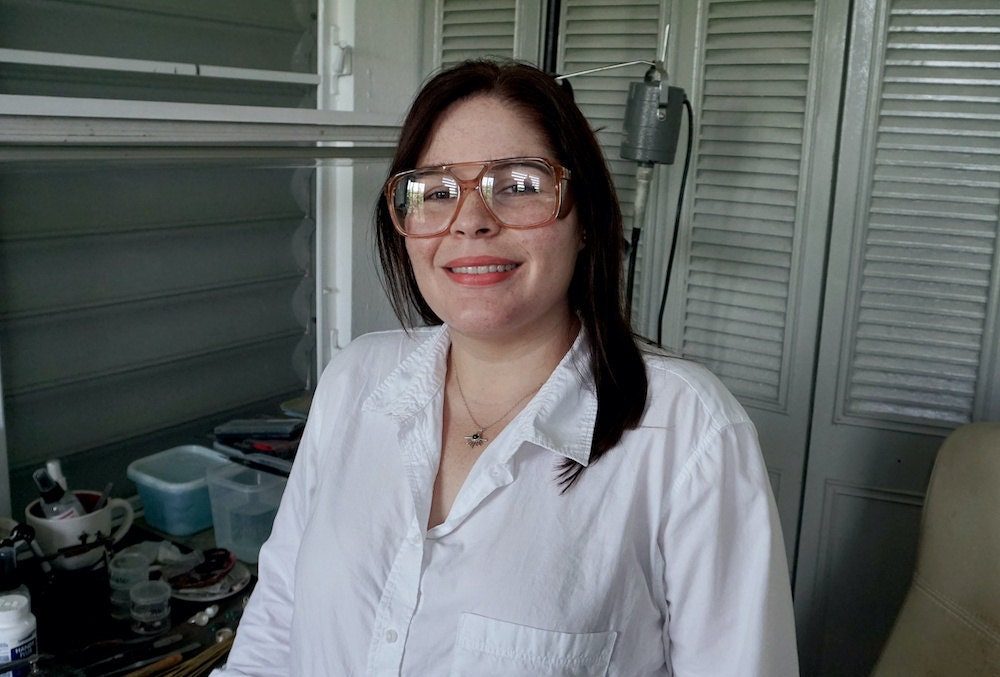 How did you get your start as a jewelry designer?
I started making bridal accessories when I was planning my wedding in 2014. My husband, who is experienced with business administration, began helping me with polishing pieces and designing. We make a good team. We ran with those wedding offerings for about five years. Then I took metalsmithing classes, and that changed everything. I started setting stones and making very different items. It took me a while to move into everyday accessories instead of bridal, but that's what we've been doing ever since.
Where do you find inspiration for your current pieces?
I like simple, clean, organic lines and playing with movement. To me, outer space is so captivating and full of interesting colors and forms. I love working with stones that have very galactic looks, like opals. They add a whole new dimension. I also enjoy Moroccan architecture and how there's so much care put into tiny details. That inspires me to be very sensitive to small details that add character to my pieces. It makes everything more personal.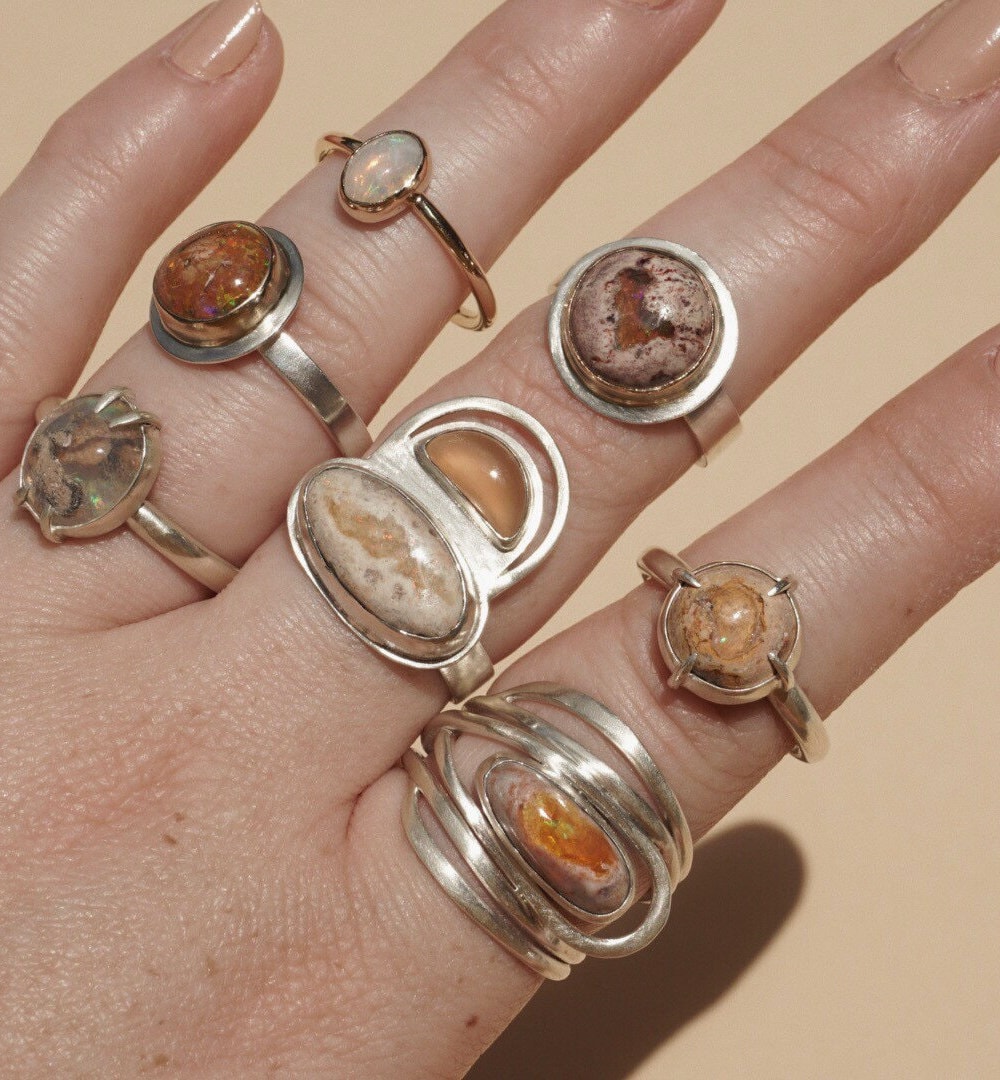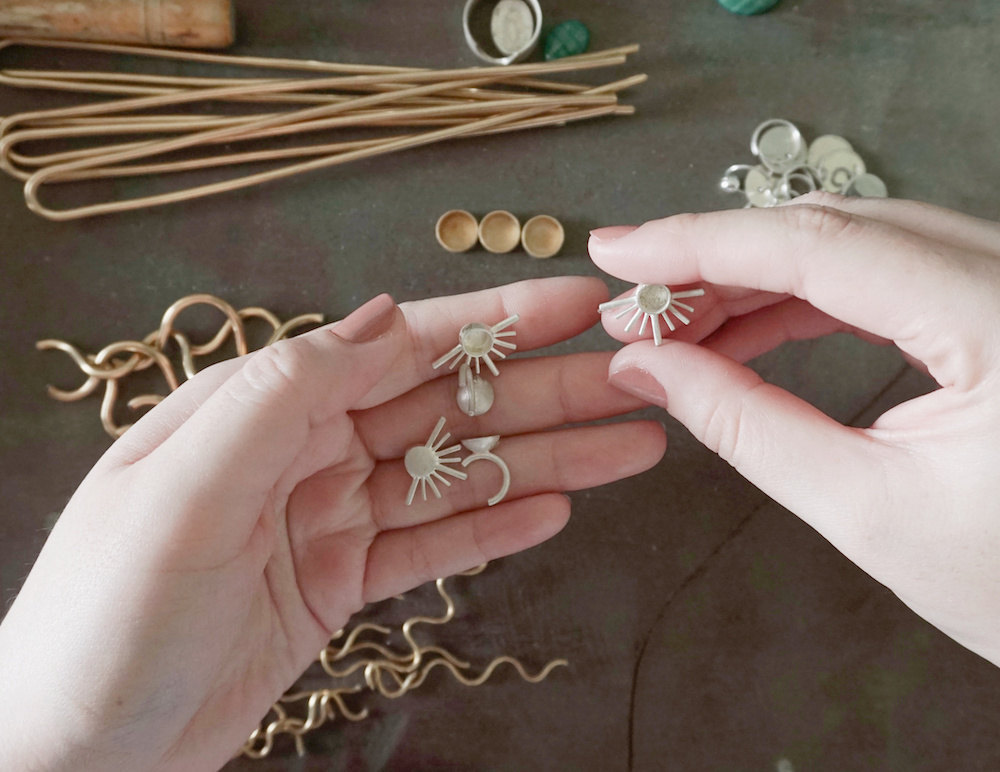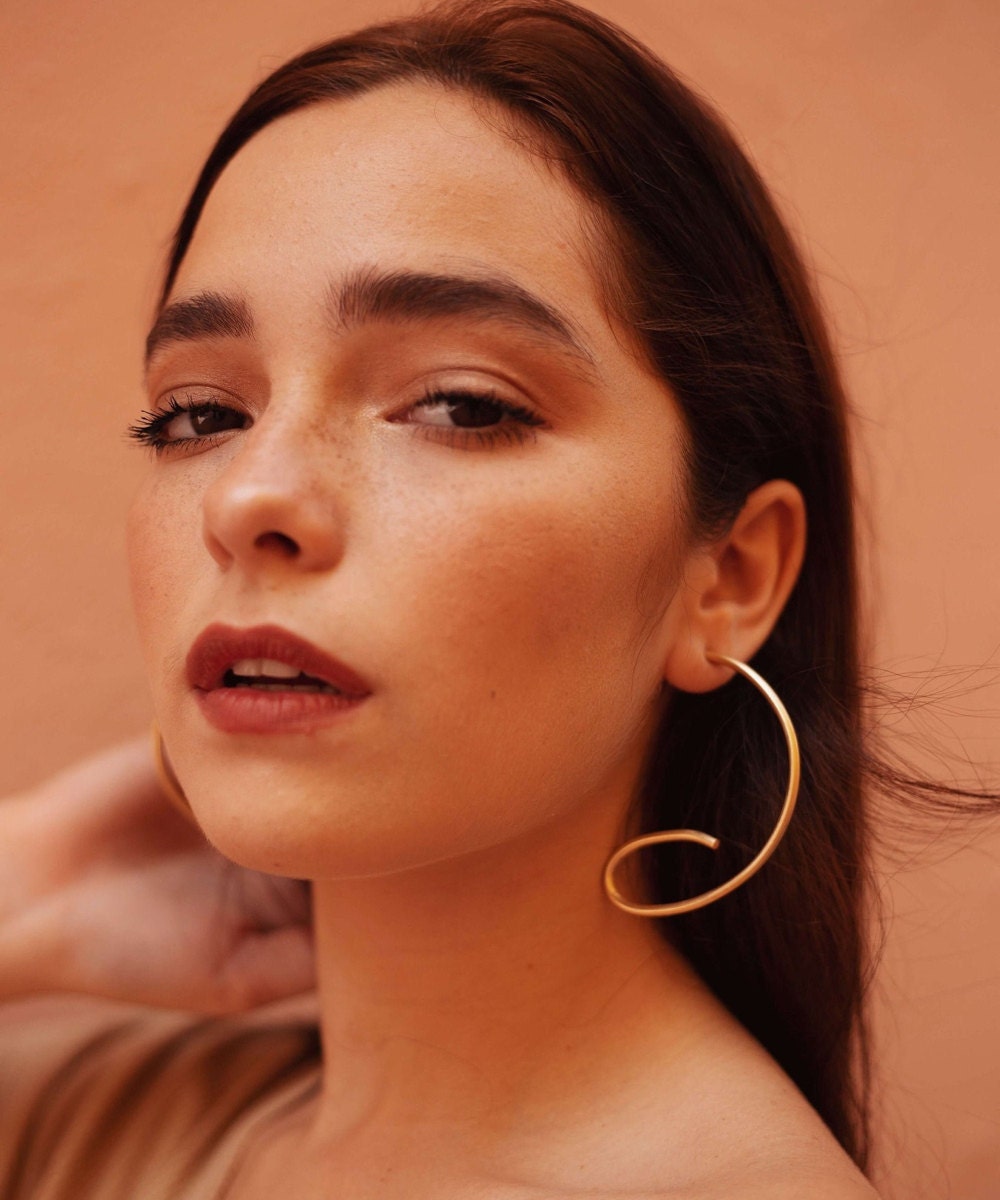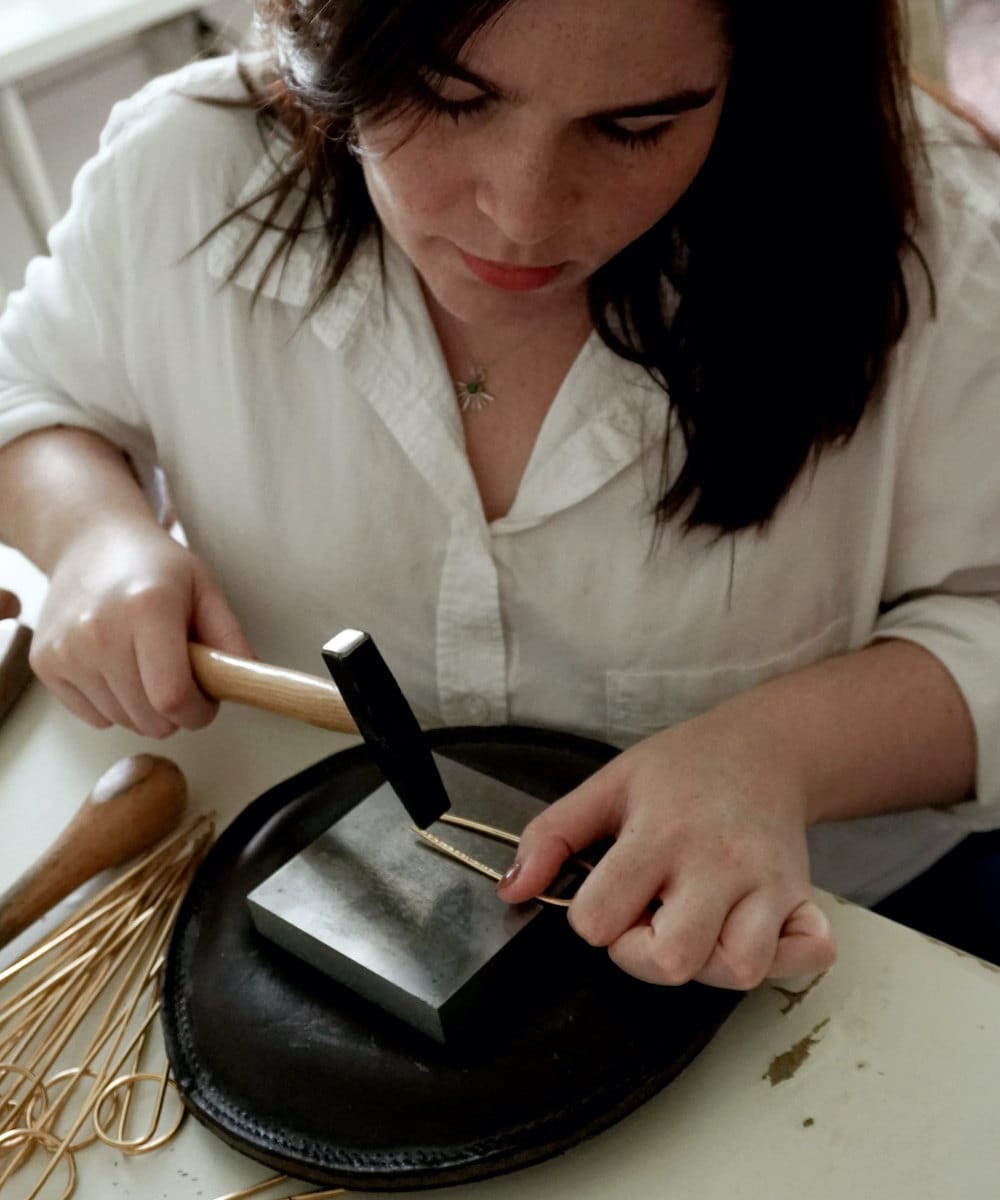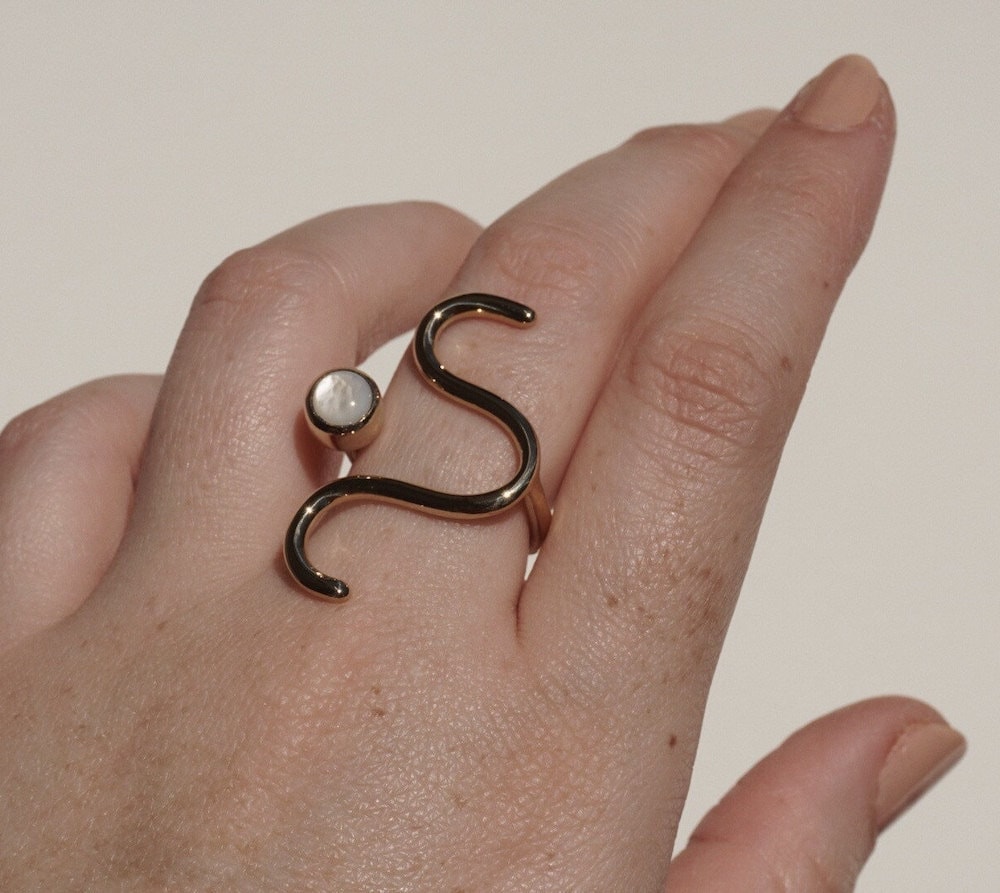 What's the story behind your bestselling items?
My bestsellers are the really bold arch earrings that have mother-of-pearl beading inside the center. I've been making those earrings ever since we launched the brand, and they've always been a top seller. When I designed them, I was actually trying to make a hairpin, but the arch turned out to be too short. So I was like, "This would work like an earring," and they were born from there. 
Rings are another bestseller. They're very playful and unique. The rings that have a wave shape? People sometimes think they look like snakes. But the actual inspiration was sound waves. I was doing a little research of different space elements and got very into the movement of sound waves, so I hand formed little squiggles and added a stone resonating with it. People are always like, "How is this a ring? How does it work?" Then they try them on and see how these rings are simple pieces that also make a statement.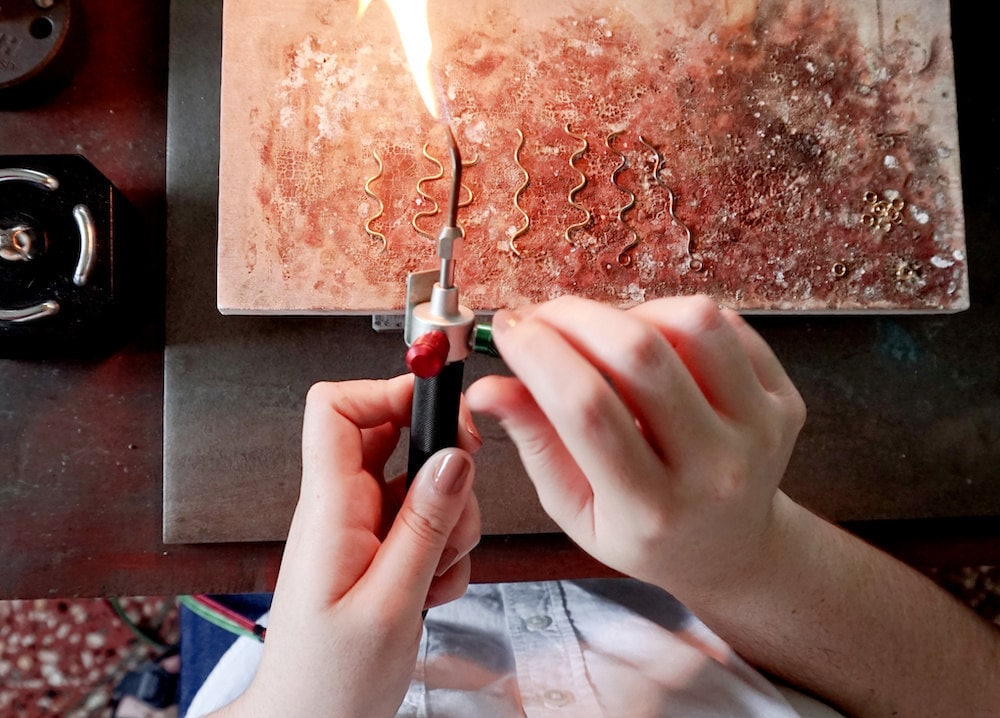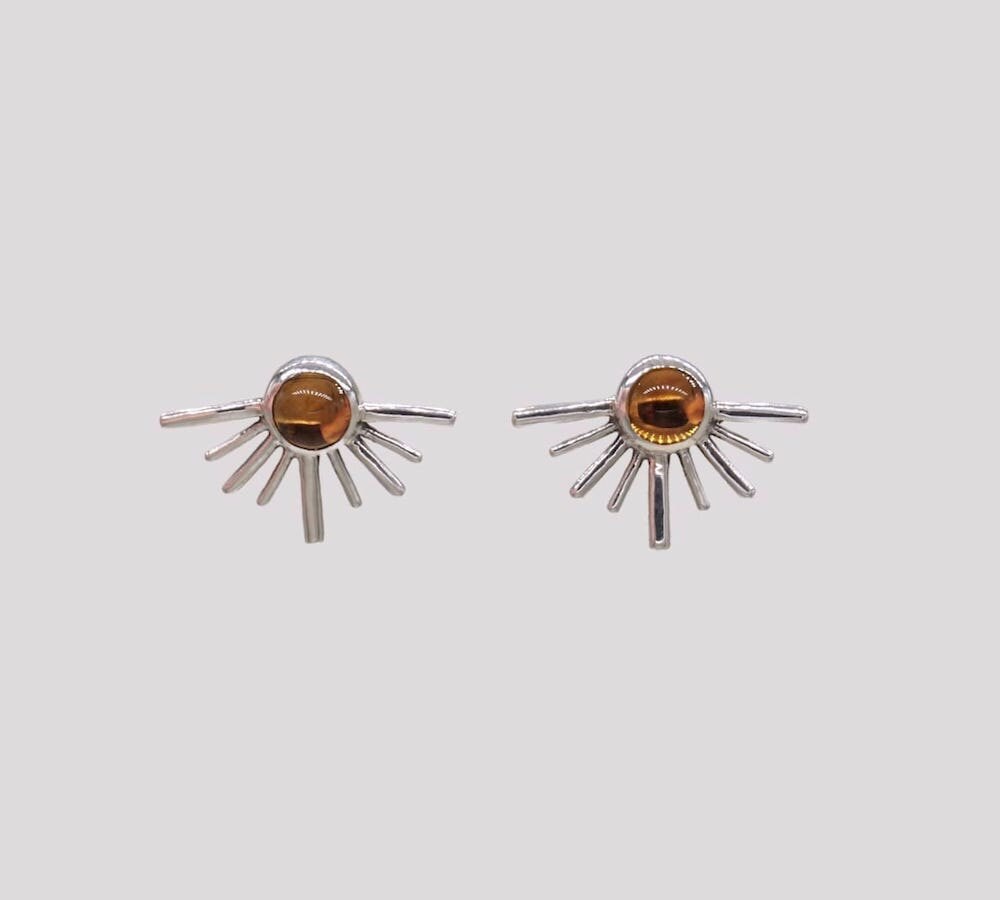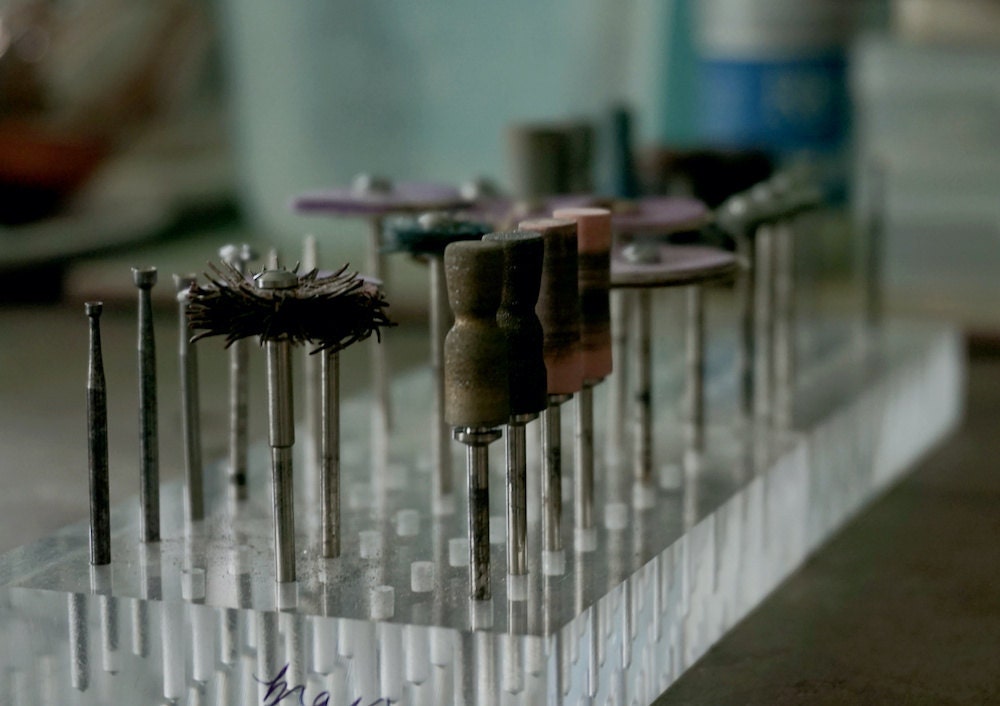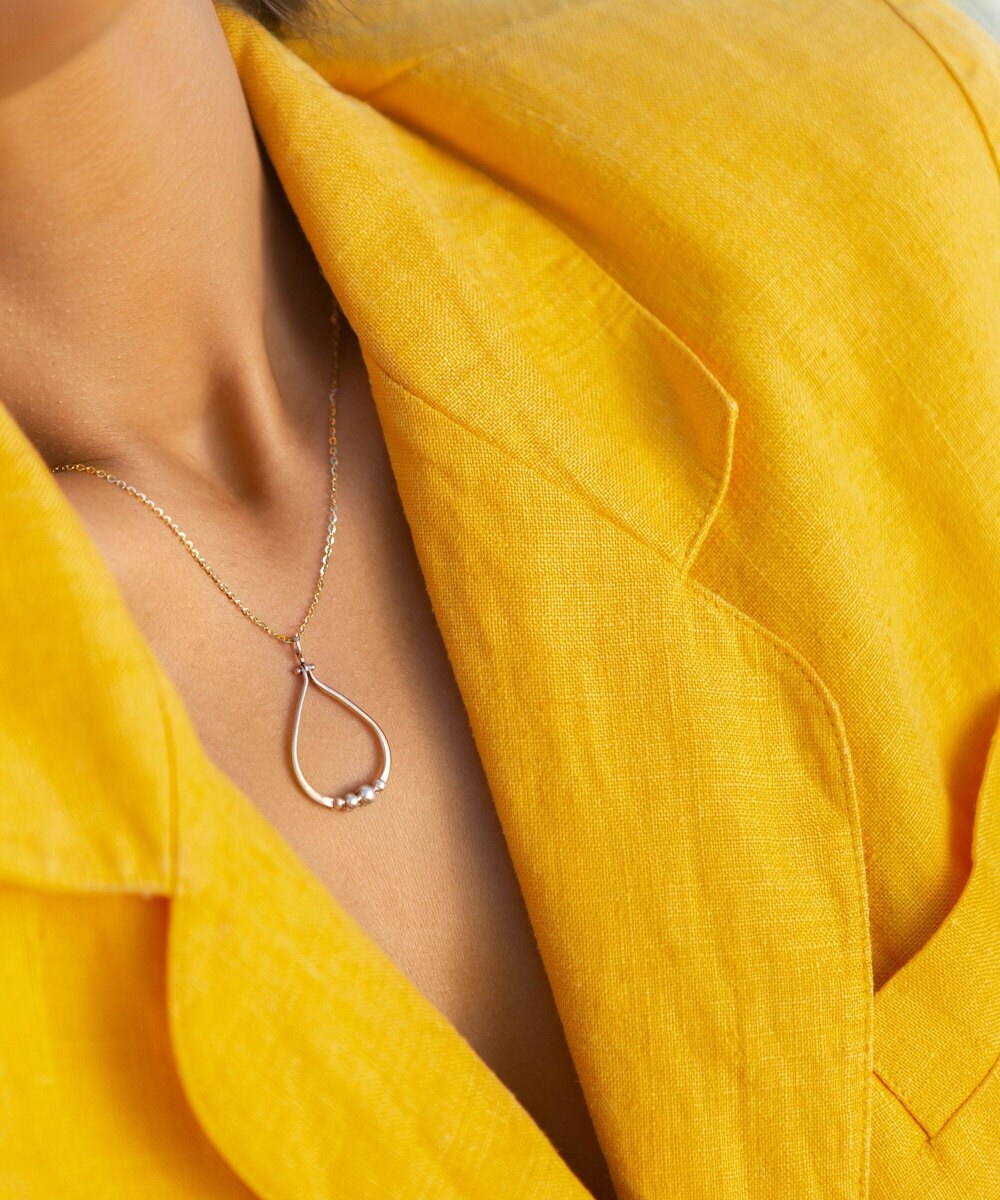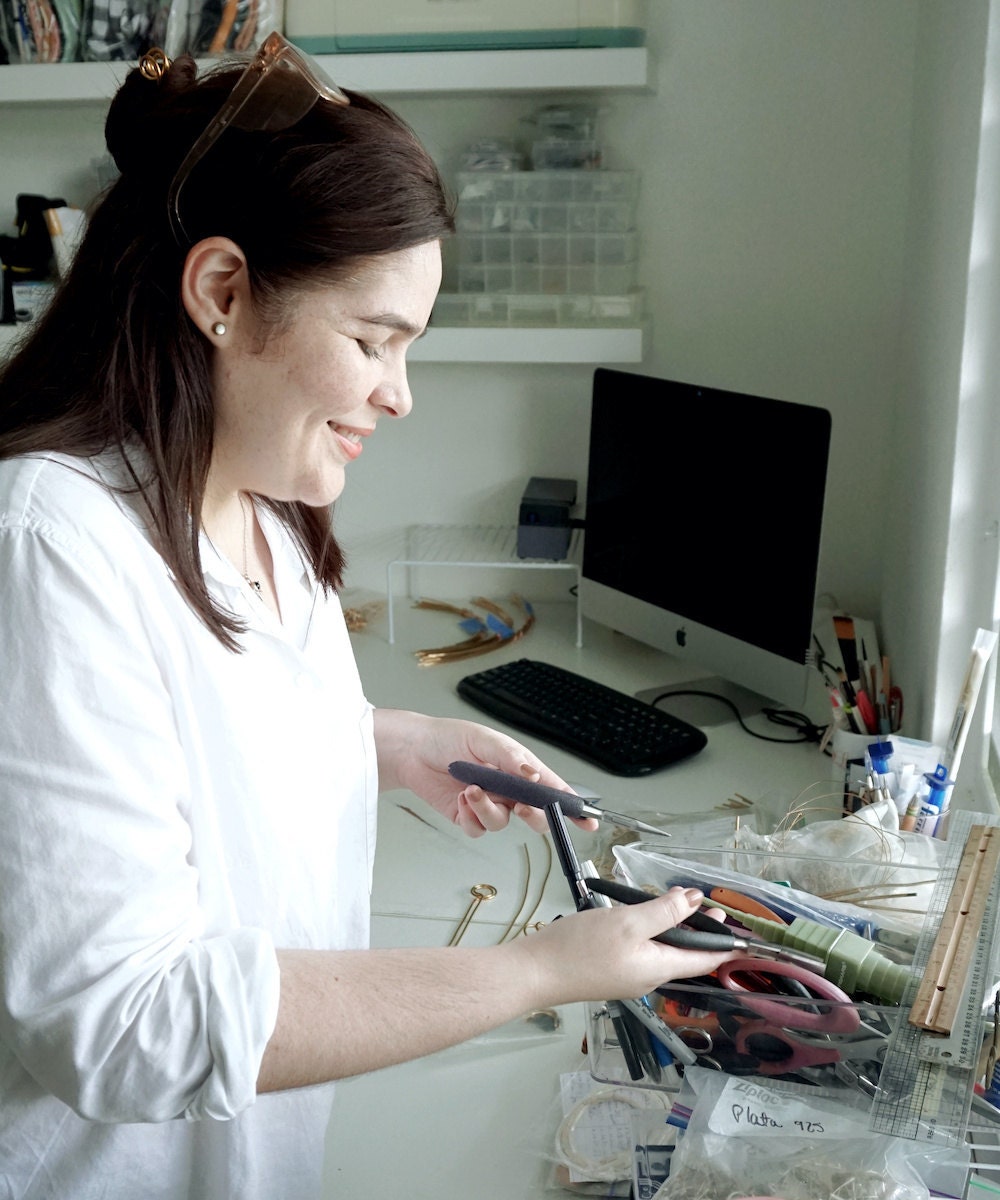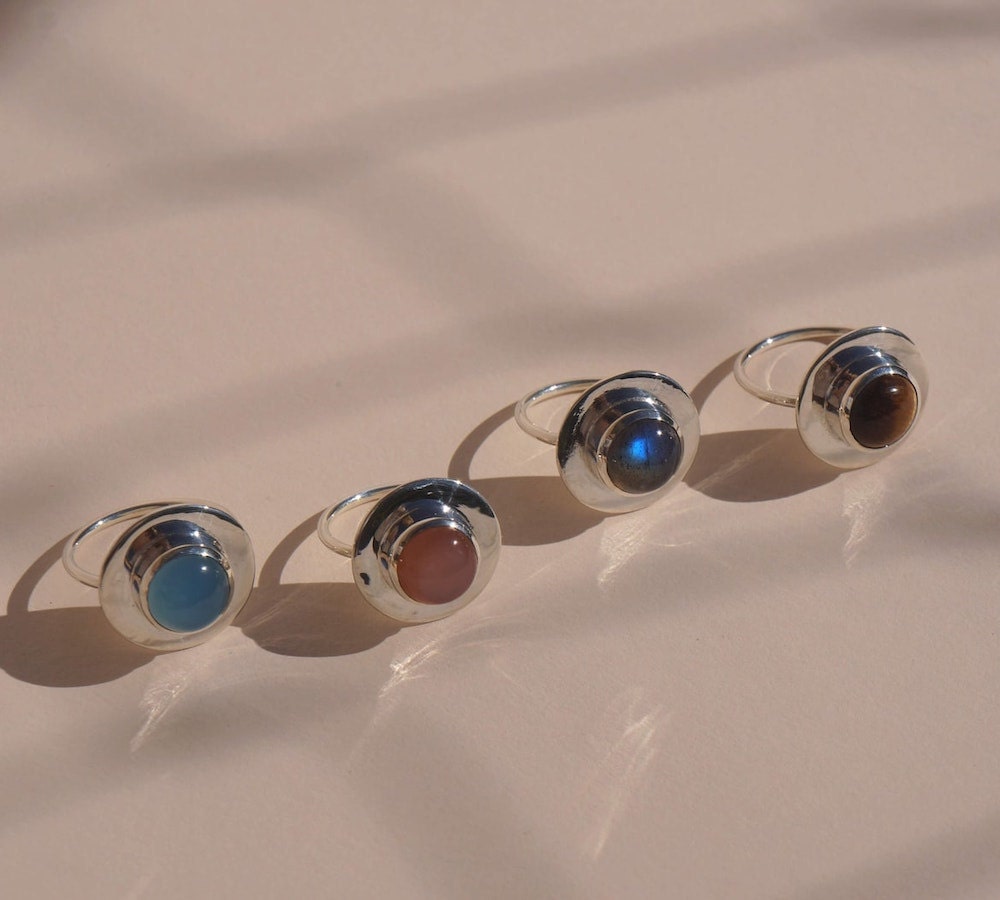 What are your tips for picking out jewelry as a gift?
Think about the recipient's style and what type of jewelry you usually see them wearing. What type of colors do they wear? Are they a more conservative or bold type of person? The answers to those questions tend to lead to a good choice. For the bold person who enjoys fun statement jewelry, the the Zar earrings, the Lluvia earrings, and the solar hoops would work great and complement their personality. For the sophisticate who appreciates detailed pieces, I'd suggest the Solecitos earrings or necklace, or the Meteorito earrings. For an artistic person, I'd recommend a one-of-a-kind piece, like the aquamarine ring or the Onda No. 2 ring.
What special occasions do you often see commemorated with your pieces?
We've seen our customers buy presents for birthdays, graduations, Christmas. We recently had a husband who bought stud earrings for his wife, and he was so excited because she rocked them when they had dinner on their anniversary. We'll include a handwritten note with a message to the recipient and we place a seal on the box so when they open the package, it feels like a special gift.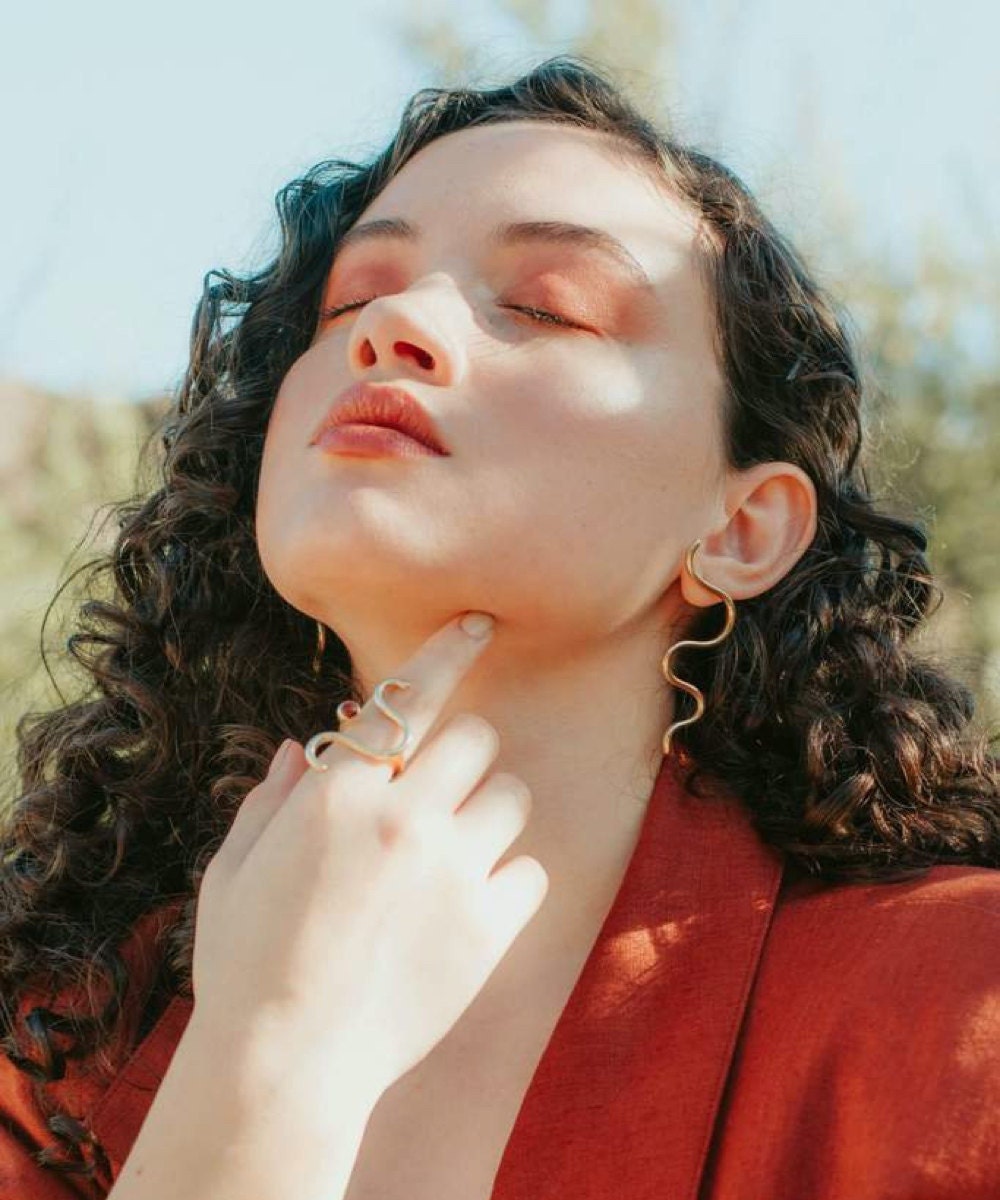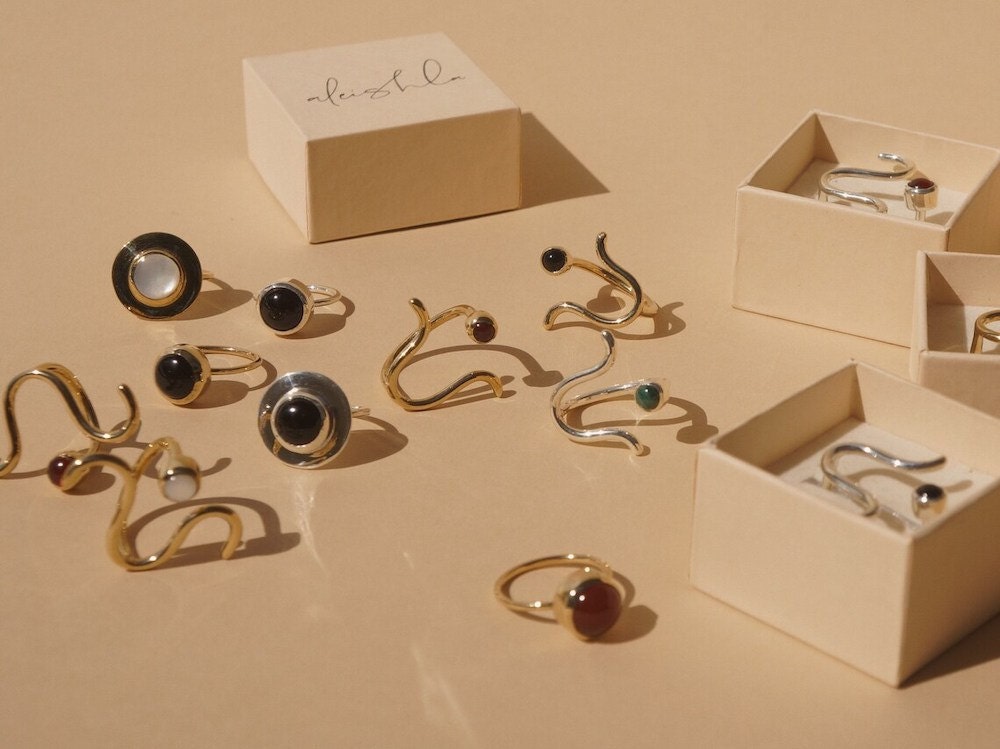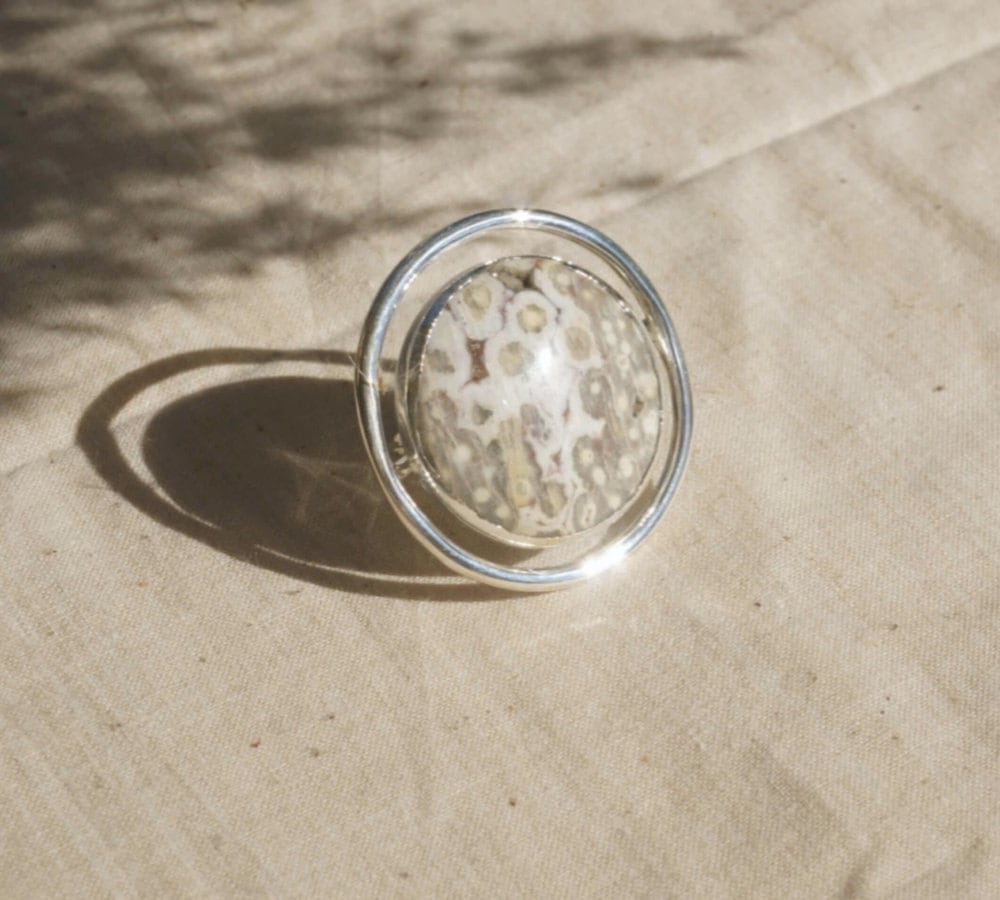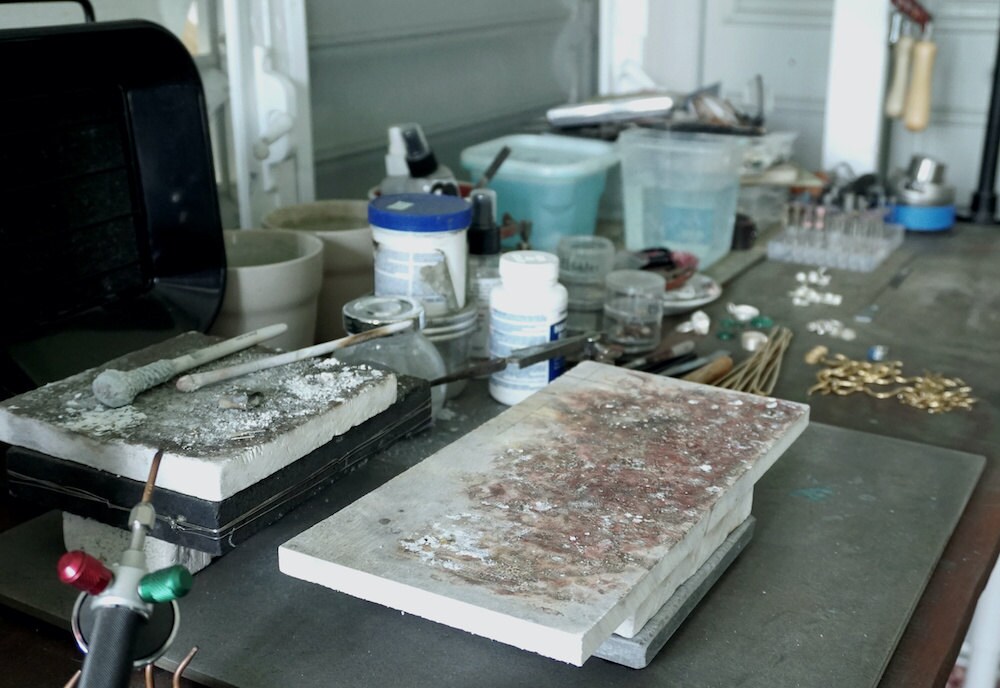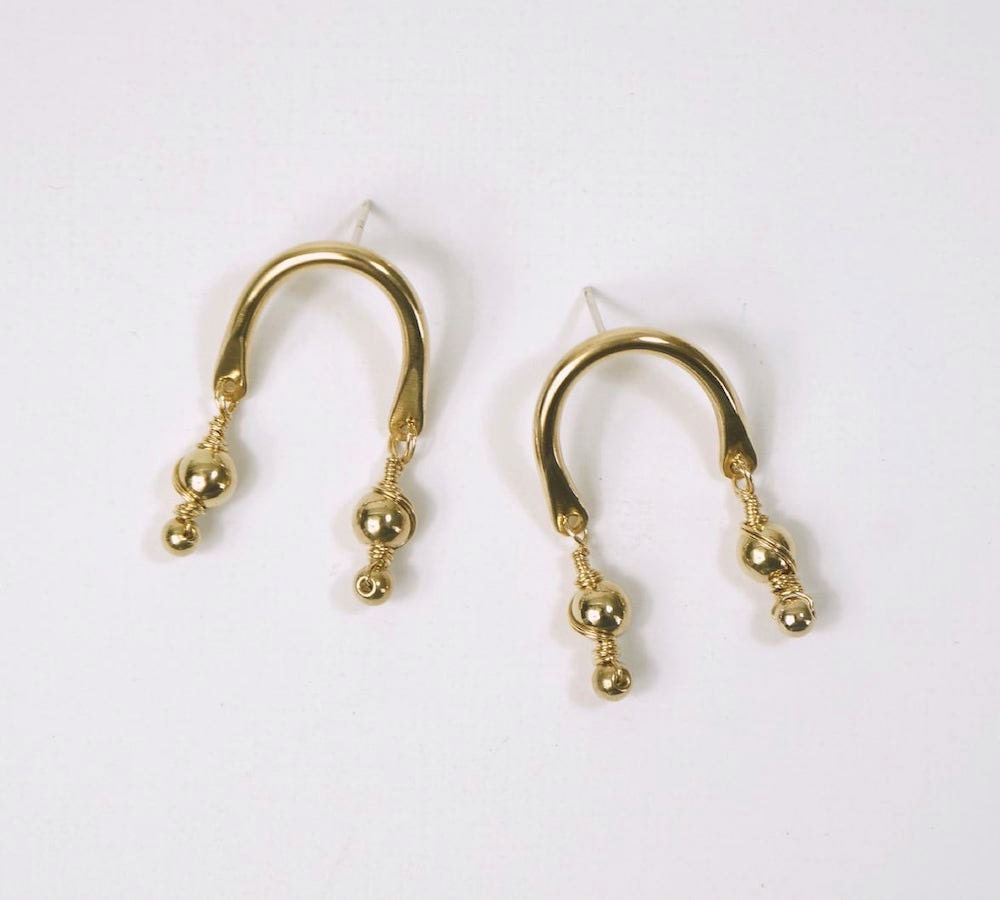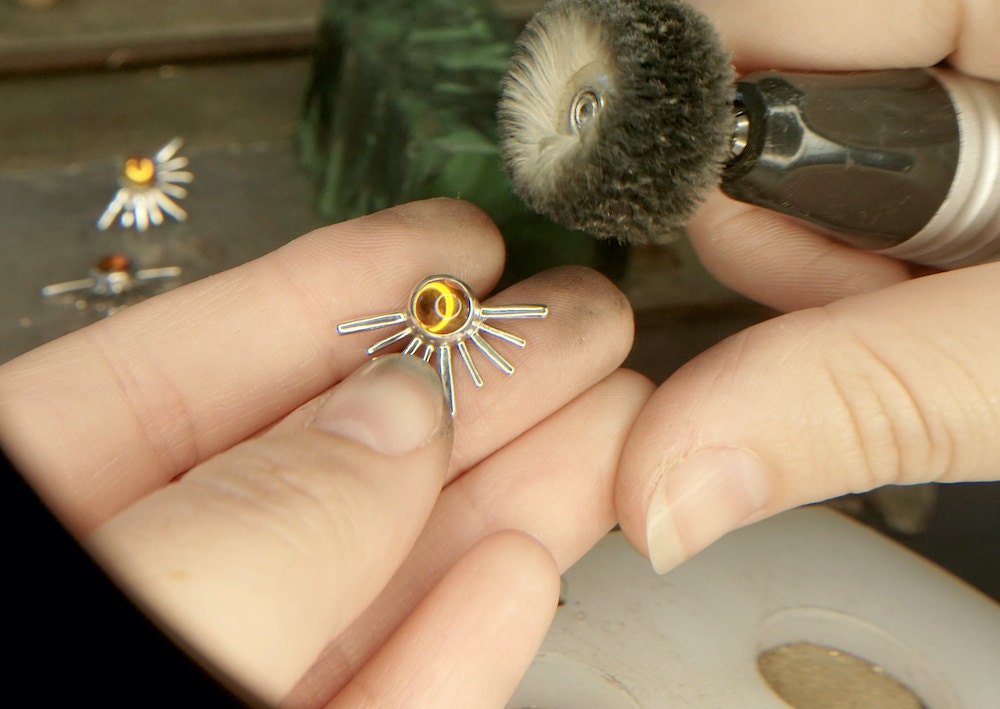 Can you tell us a bit about your design process?
When I'm making a new piece, sometimes I sketch, and sometimes I just start playing with metal and stones. I watch how the metal looks and how it reacts with the stones, and I keep tweaking it. I basically always start with my pieces with a sample made in brass. I try it on to see how it feels, how it looks, and how it moves. I have very sensitive ears and if I can wear them all day and not be bothered by the weight, then it passes the test.
How has your product line continued to evolve over time?
Last year, in addition to brass and silver, we started to work with more fine metals, like gold, and to focus on more staple pieces that are timeless.
I also have lots of pieces on my to-do list that are inspired by where I live here in Lares, which is a small town in the northwest of Puerto Rico with a lot of tropical nature. From my workspace, I have a green view full of plants. I can hear birds all day long, and the wind and the rain. It's beautiful and peaceful. We are very in sync with the rhythm of the environment. It inspires me to just go with it, to not push things.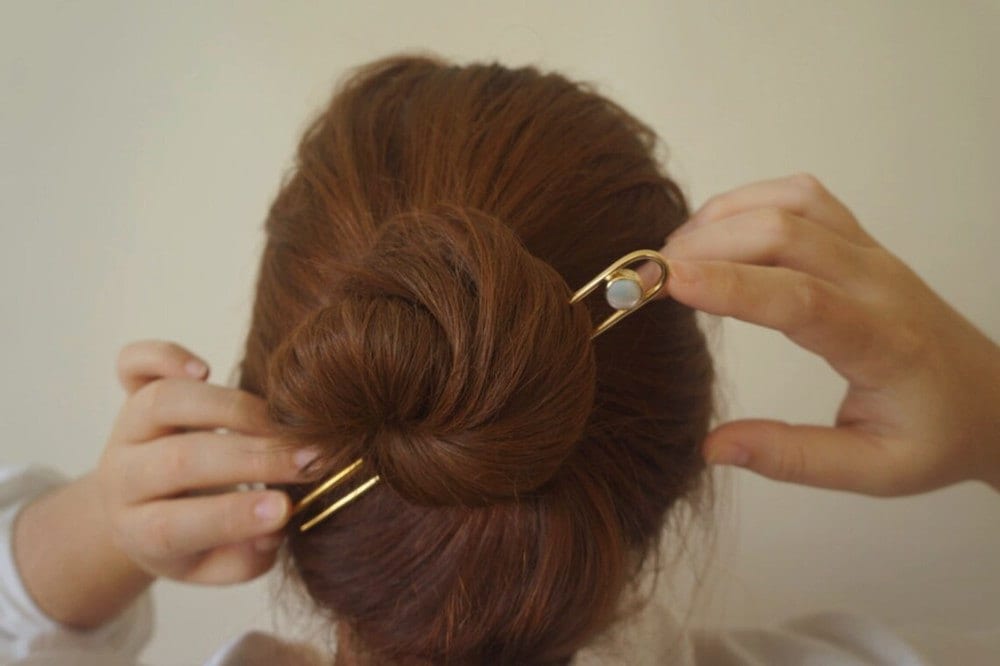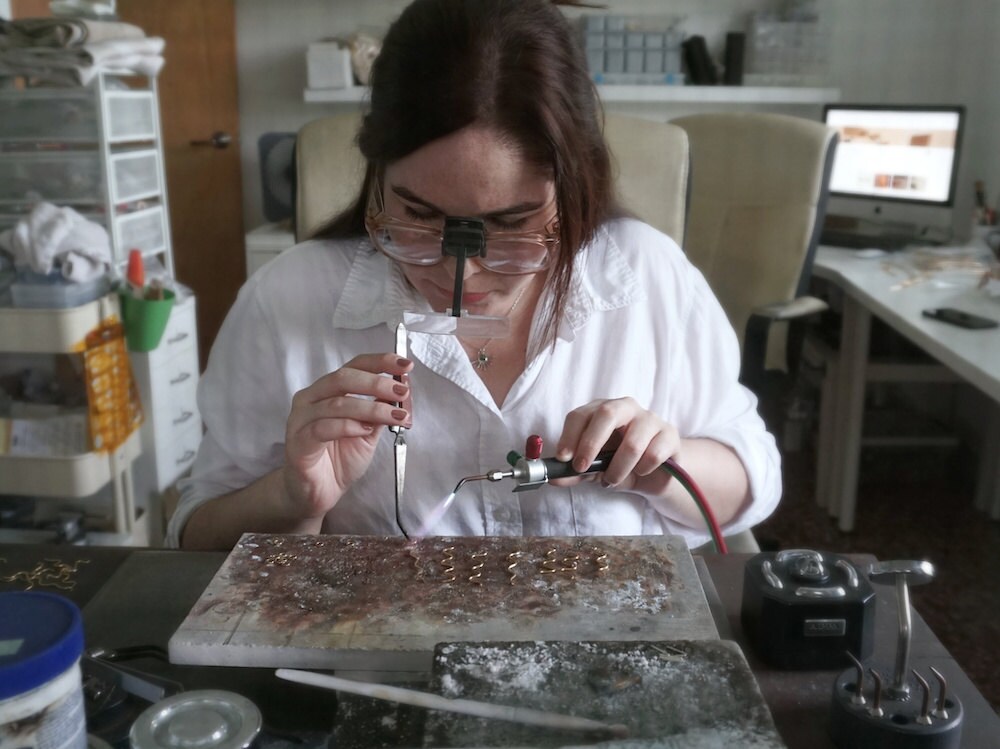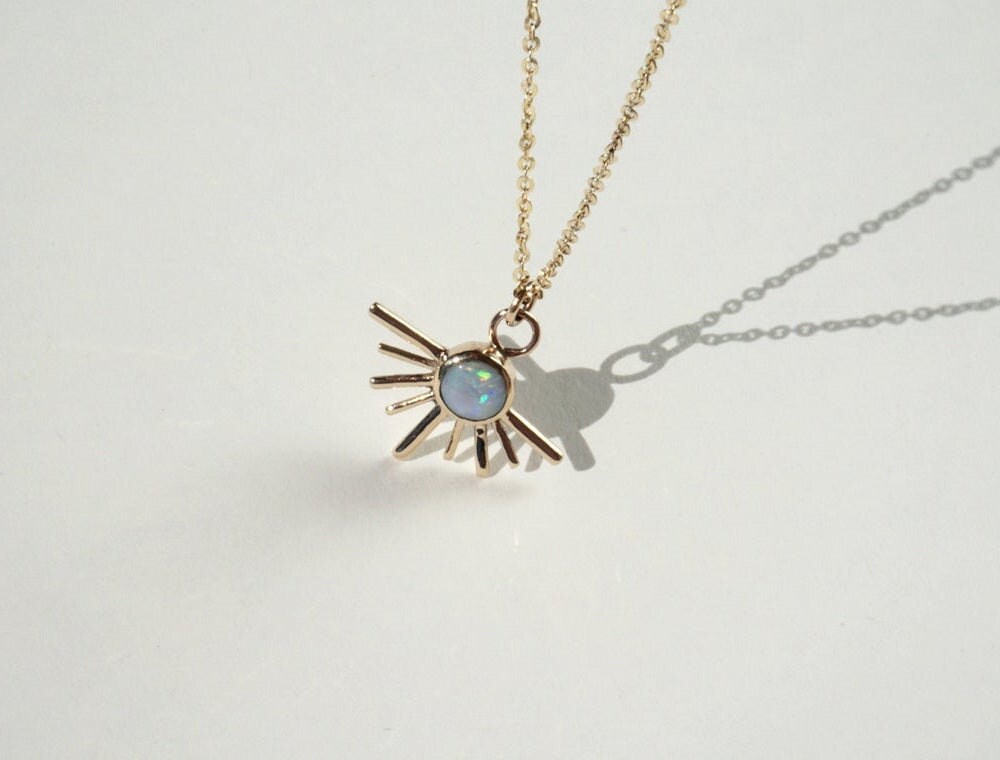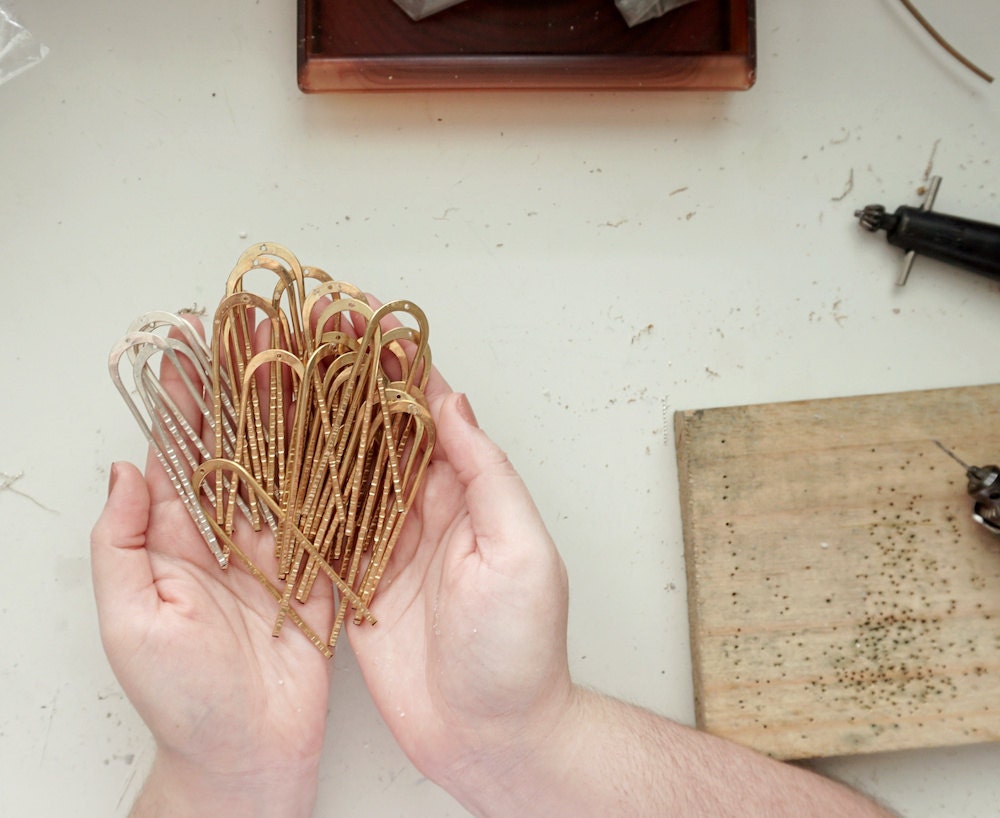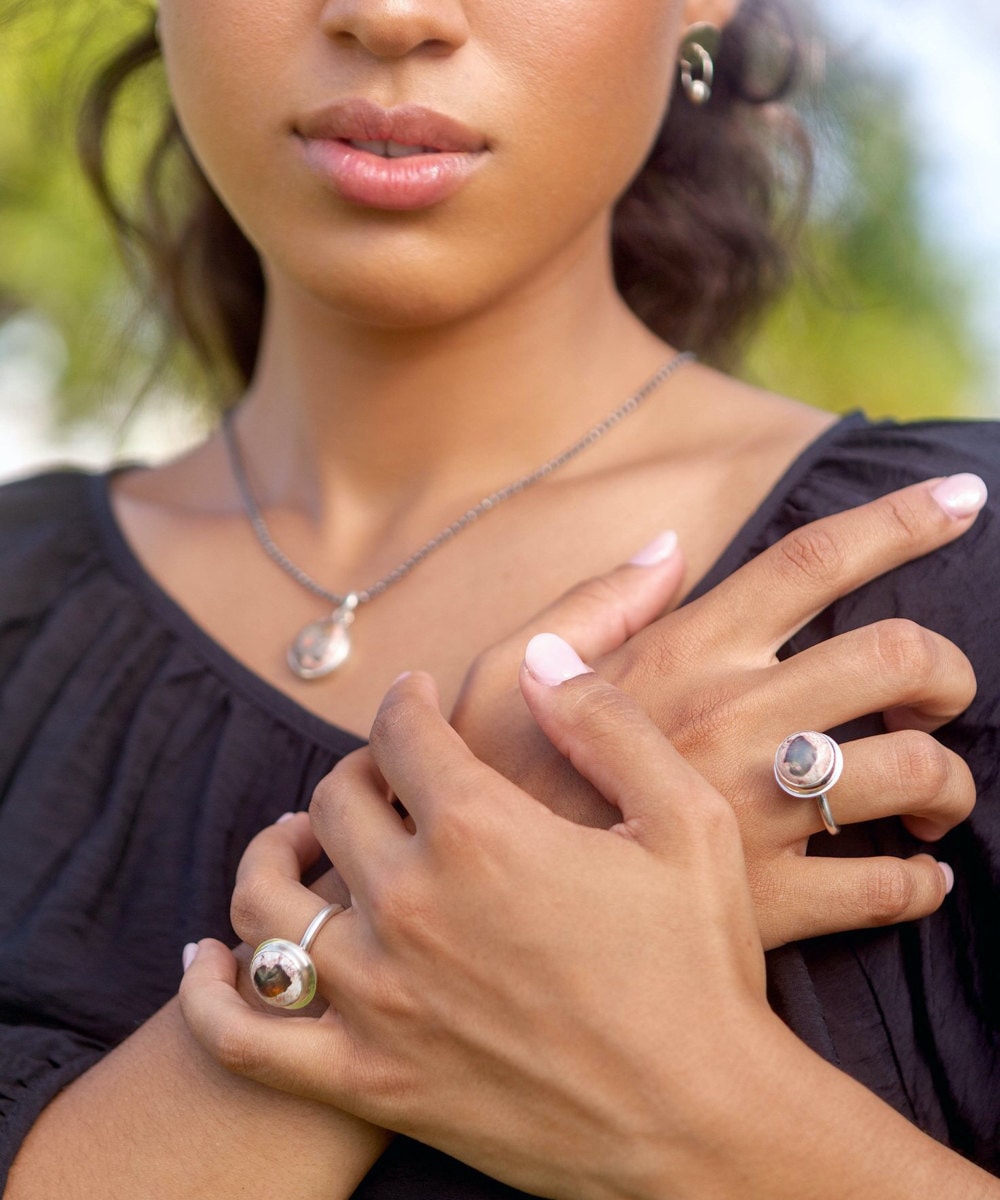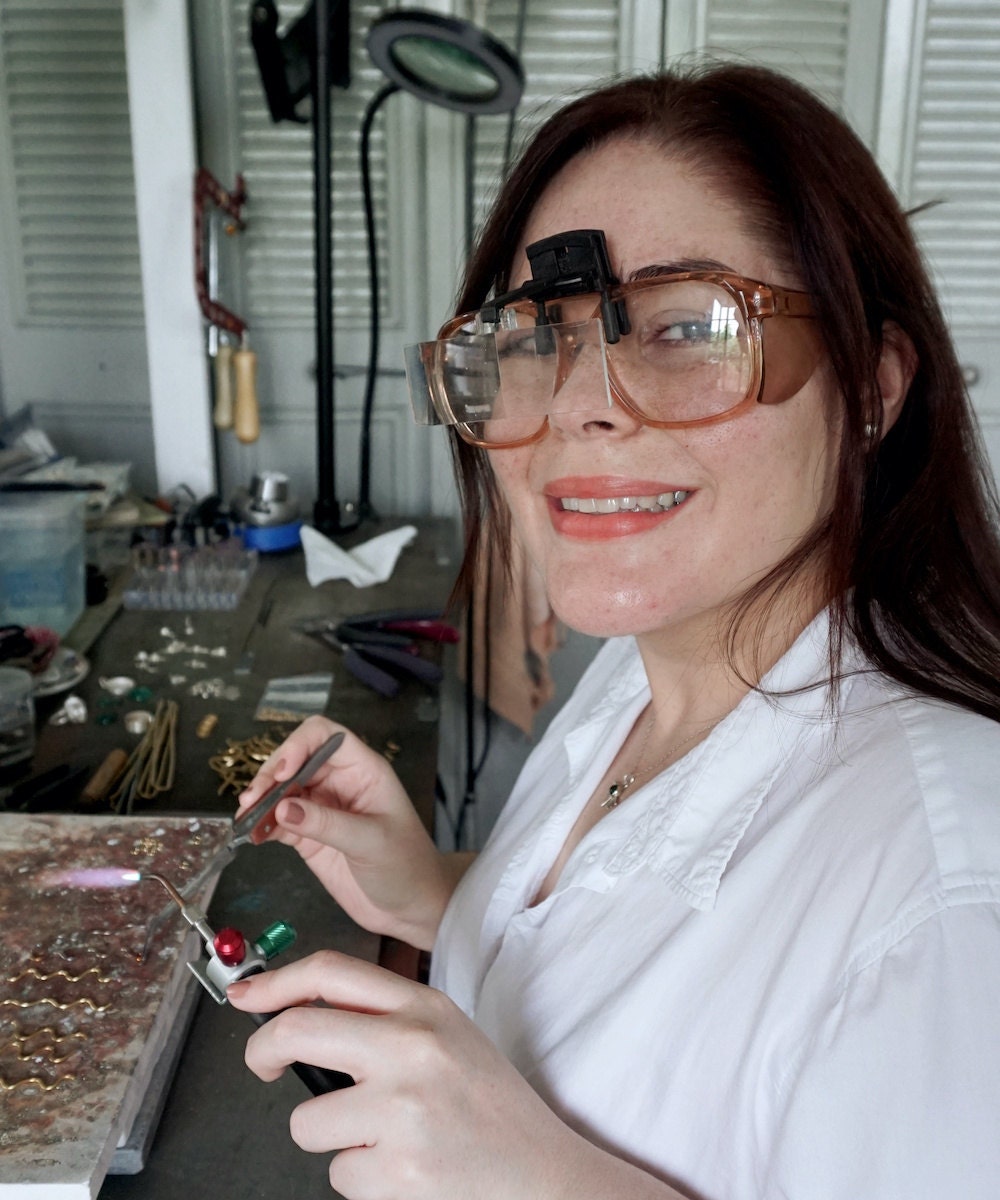 What is most meaningful to you about running your own business?
In these times, I sometimes feel like, "Oh my god, I'm trying to sell jewelry when the world is super crazy," and it can feel like what I'm putting out there isn't necessary. People are going through some hard stuff. And yet I get these messages saying, "Oh, I felt so happy when I got my package!" Or, "I feel cute when I wear your jewelry and it helps me cope with other things I'm currently living with." These messages are really encouraging and they're a push for us to continue doing what we love and putting our work out there.
Follow Aleishla on Instagram and Facebook.
Photographs courtesy of Aleishla unless otherwise noted.