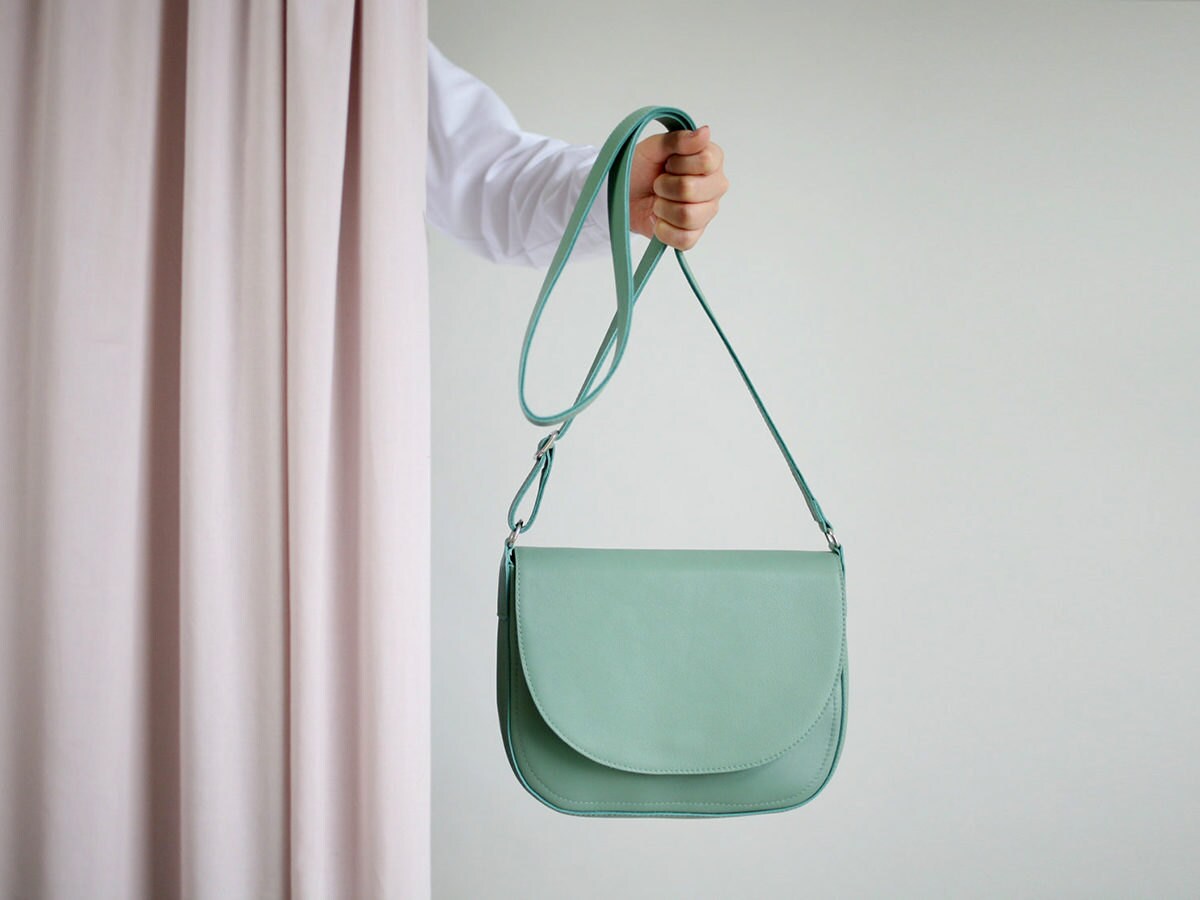 In our Featured Shop series, we shine a light on a standout shop from Etsy's talented seller community, offering readers a behind-the-scenes look at their process and story.
"The greater the risk, the greater the reward." "Nothing ventured, nothing gained." "Fortune favors the brave." Sure, the quotes are cheesy, but the sentiment stands: the only way to know how something will pan out—how truly amazing it could be, or, yes, how spectacularly it might fail—is to actually take a chance and give it a shot. Just ask Alex Bender, the talented designer behind the Berlin-based leather goods line of the same name.
Explore the Alex Bender collection
In 2011, Alex was working part time as a seamstress sewing custom bridal gowns; on her days off, she worked on her line of colorful leather handbags. Underpaid, overworked, and at the mercy of an unkind boss, she reached her breaking point. "I decided: Okay, I can quit and just try to make a living off my bags," she recalls. Despite lukewarm early sales, Alex handed in her notice and committed to give the fledgling business her all.
The risk paid off. "The funny thing was, as soon as I quit and put all my energy into my own project, it worked from the beginning," she says. "It was very satisfying for me. Six years later, it's still working very well."
Read on to learn how Alex fell in and out of love with sewing, discover her all-time top selling tote, and shop the collection.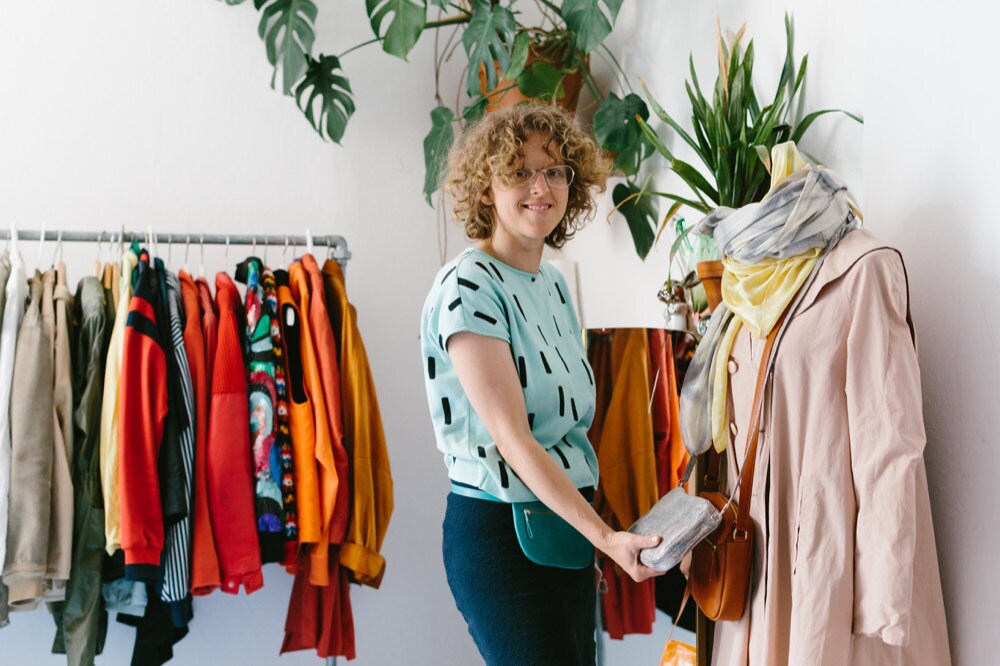 How did you first learn to sew?
I've always been creative. When I was little, I loved painting and drawing—wanting to be an artist started quite early for me, but after I finished high school, I wasn't sure exactly what to do next. My mom gave me a note from the newspaper about a company searching for seamstresses, so I left home to train in the middle of the German countryside.
It was a really big company, and learning to sew with them was very frustrating. After two very painful years, I decided that I wanted to focus on the more creative side of the business, so I enrolled in school for fashion design.
And how did you find your way to bags?
After design school, I moved to Australia and spent a year working for a small fashion label and practicing my English. It was the first step to being able to sell my own line worldwide, though I didn't realize it at the time.
When I came back to Germany, I happened to pass by a shop in Nuremberg which sold beautiful handmade leather bags. I'd always loved leather during my studies, and like all girls, I loved bags. I wanted to learn everything there was to know about working with leather, so I went in and asked the owner if I could apprentice with her for a few months. I made my first leather bags there and discovered a love for sewing I never knew I had.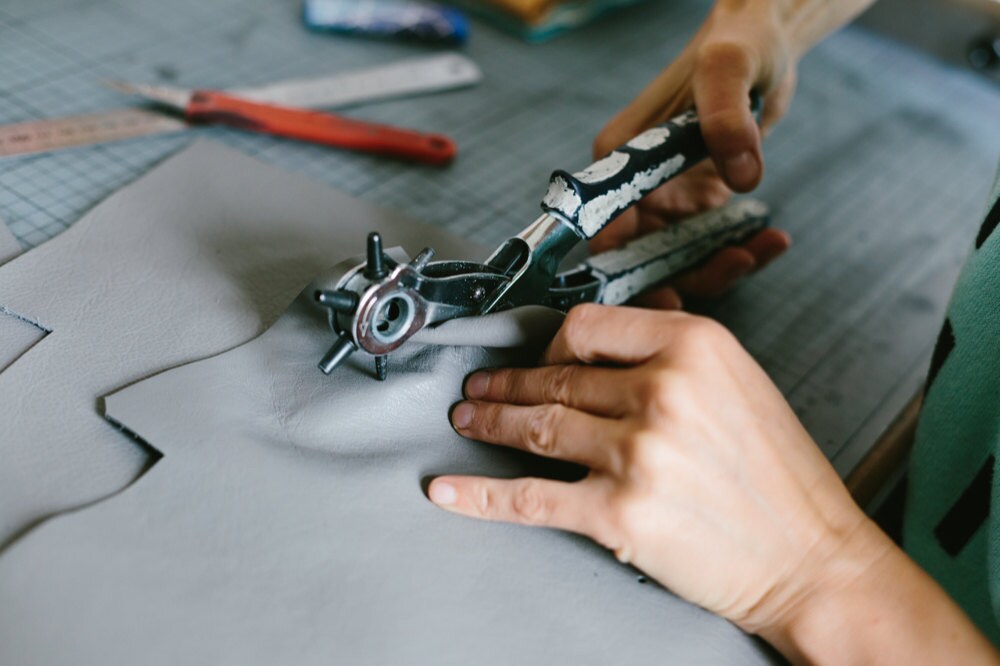 How has your line evolved over time?
When I started out, I didn't have the idea of putting out a new collection every six months—I just made a new bag every now and then. Now I do a new collection twice a year. I always try to make new products and remove listings from the shop that aren't working as well, but I hold onto designs from previous lines if they're still selling well.
What's the most popular item in your shop, and how did that design come to be?
The all-time top seller from the last year is the small fanny pack in black. I offer a lot of colors, but every second order is a black bag—I think it's because black is easy to order online. Another good seller lately is the saddle bag—I make it in bordeaux leather and in cognac brown and they both sell quite well.
What role does color play in your line?
Color is very important for the collection and the overall look of my shop. I try to switch things up seasonally—the colors in winter are a little darker than those in the summer—but black always remains.
I like the current range of colors, but I think I just have to admit that I love pastel shades. Sage green is one of my all-time favorite colors, and the soft pink shades, too. And the yellow—I like all the colors.
What are your go-to sources of inspiration?
Berlin is very inspiring. I've lived in the city for 10 years now, and it's developed a lot and become a lot more international. I love just walking through the streets and looking at other people's bags—the city is full of interesting people. It's a great place to see what people are wearing, and it's always interesting to see how people interact with their bags.
How do you think about the relationship between form and function when it comes to your bags?
A bag is a product that has to be functional; some styles look nice, but they don't work. It's very important that a bag isn't too heavy and that it lasts a long time. My small bags don't have a cotton lining because it's always the first thing that breaks and gets dirty, so I prefer to just use leather. It's often hard to find stuff inside your bags, so my bigger bags always have key loop and a zipper compartment for your phone.
For me, the design has to be very minimal—I don't like when things are over-designed. I think minimalist design and function work quite well together. A bag doesn't need too many things on it. It's a natural way for me to design, and it also makes the products look modern.
You just passed 2,000 sales on Etsy. What did you do to celebrate?
I celebrated by myself (I'm very bad at celebrating special things). But it made me very proud—I just feel really thankful that I can make a living doing what I love. And it feels like I'm making people happy with my products, which makes me happy, too.
Follow Alex Bender on Instagram and Facebook.
Photographs courtesy of Alex Bender.
Editor's note: This previously published post has been updated with fresh products for the 2020 season.