by Aleksa Brown
Stylized symbols in silver and brass from Santa Fe-based jewelry and accessory brand Almanac for June.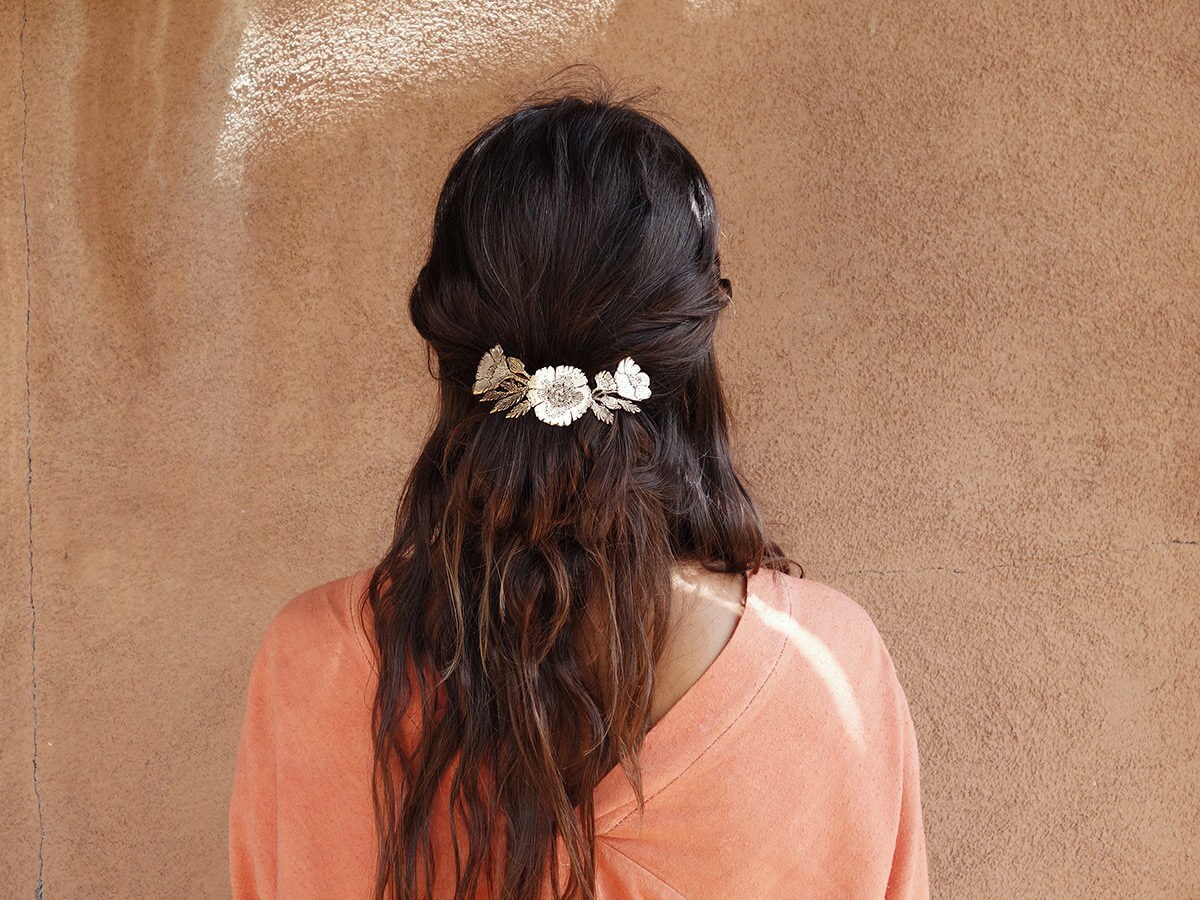 From printmaking to welding to pottery to jewelry making,
Almanac For June
designer Jieun Reiner has covered quite a bit of artistic territory in the time since she attended the 
Rhode Island School of Design
as an undergrad. "I'm kind of all over the place in terms of the things I make," Jieun explains. "I like writing, painting, photography, and bookmaking; I feel like myself and really happy when I'm actively learning a new thing." And with Jieun's recent move to Santa Fe, New Mexico, the New York native has been expanding her geographic range too.
Explore the Almanac for June collection
But no matter her medium (or her zip code), an abiding interest in natural elements and universal symbols—from the tiniest insect to the ever-present moon—provides the common ground for her creative output: these days, mostly outdoors-inspired jewelry and hair accessories, cast from her hand-carved wax designs. Even if her works are all ultimately open for interpretation: "I like the idea that people can see the same thing and form a completely different narrative from it, that these symbols can mean multiple things," Jieun explains. "And jewelry can be an especially powerful medium—people assign meaning to it, and it can have power and energy like a talisman."
Read on to learn more about Jieun's jewelry practice and shop new items from her collection below
.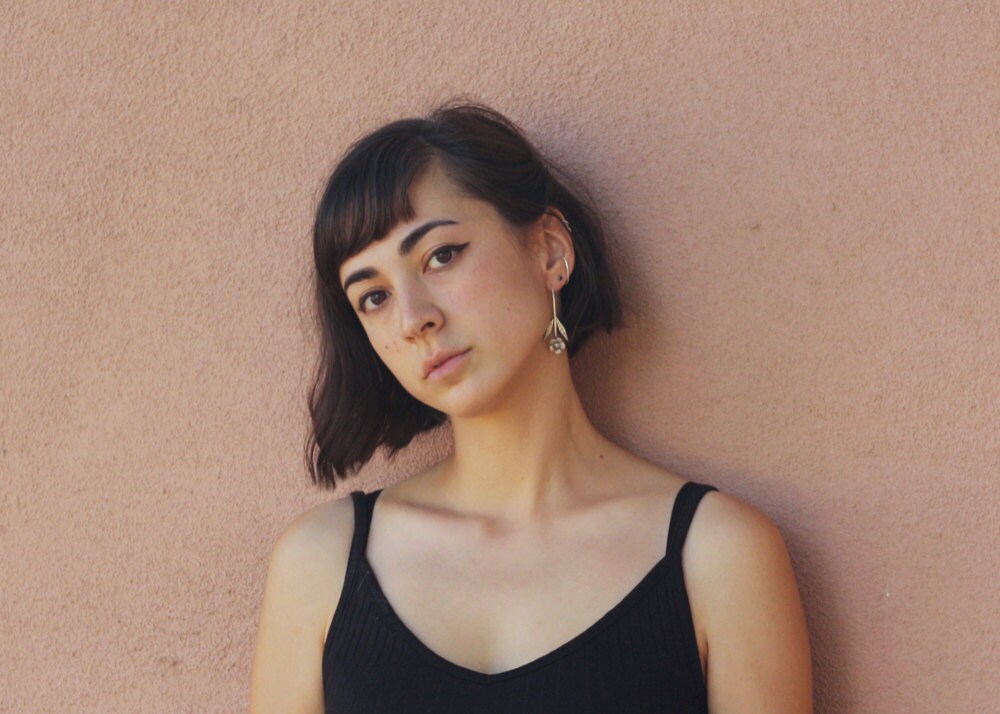 How did you get started making jewelry?
After I graduated from college, I learned how to weld and how to do metalwork and steel fabrication. That was really fun. I had never worked with metal before, and I was surprised by how forgiving and malleable it was. I was doing large-scale stuff once in a while at a foundry, but I realized that I wanted to work on a smaller scale and be a little more controlled and detail-oriented, so I started making
jewelry
.
How did you pick up the skills of the trade?
I'm self-taught as a jeweler. I took one weekend workshop about wax carving, but on the metal end of it, I read books and watched YouTube videos and just kind of figured it out. Realizing how thick things needed to be in order for them to be strong, things like that—it was a lot of trial and error.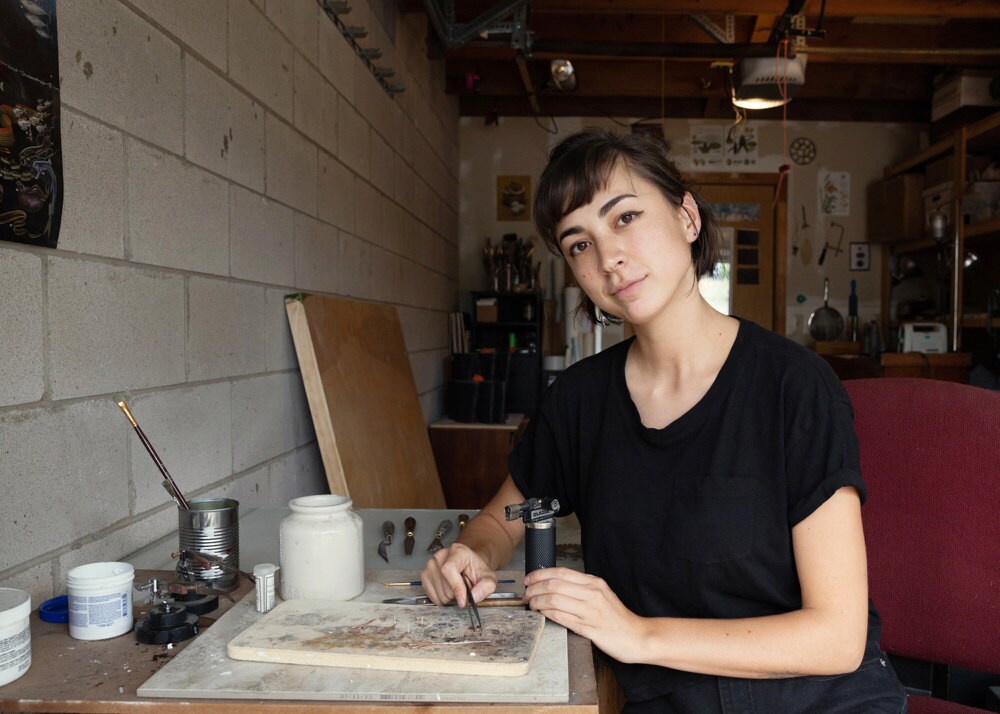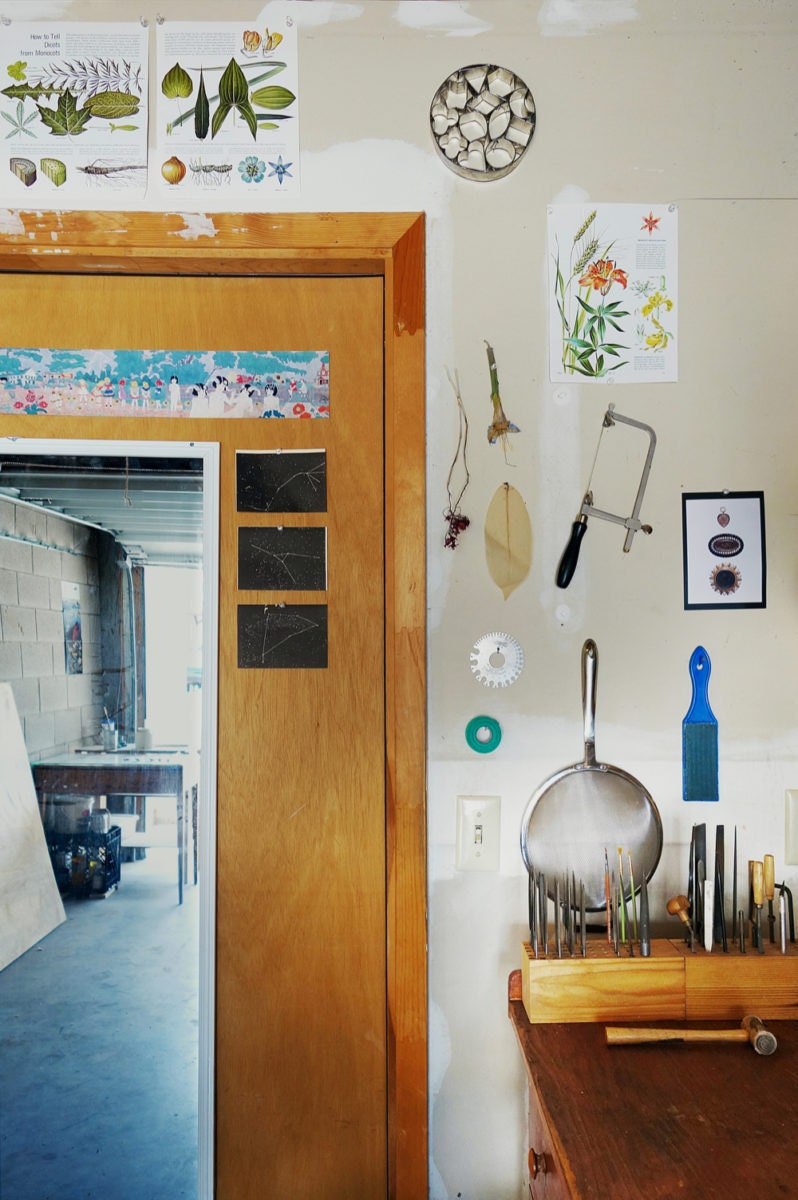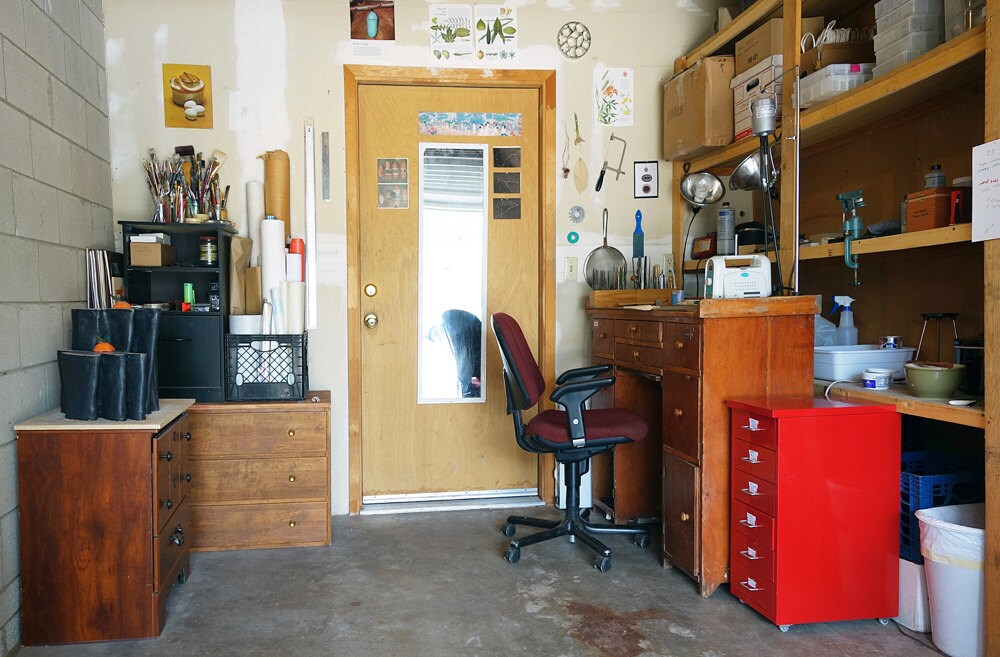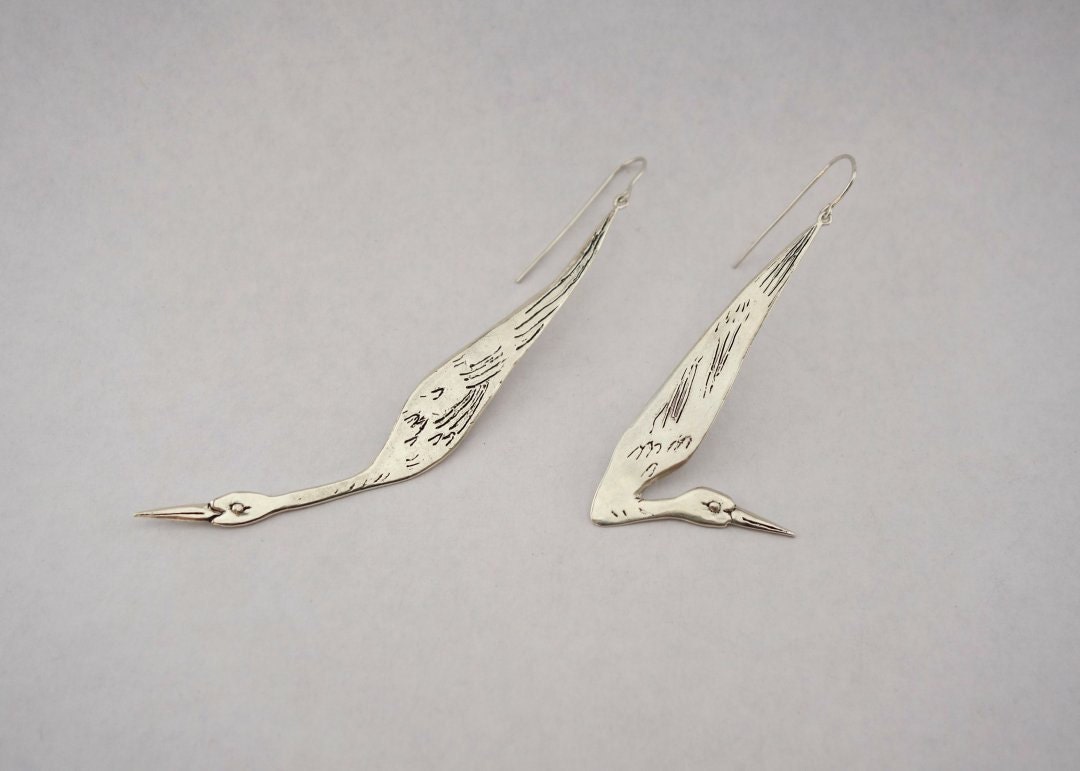 >
What inspires you?
Symbols are something I think about a lot, especially in
my jewelry
work. The moon, for example: It embodies so many things—the passing of time, light and darkness, a sense of the tides, the cycle of life. I also draw from myths and legends, books, and nature; I imagine a lot of people say nature, but it's an amazing thing that can be really mysterious and thrilling. Every time you look at a natural landscape, it's never going to be the same. It exists in time, so even a really simple thing like a leaf falling off a tree means that tree's not going to grow in exactly the same way again. Nature as a shifting and constantly evolving thing that you're lucky to see in that moment is very inspiring to me.
What's your production process like?
For my jewelry, I mostly use the lost-wax casting process, so I carve things in wax and then have them cast. I don't do the casting myself, but I do everything else. I work on prototypes when they're in metal form, and then they get molded so I can make multiples. I finish each of those, sand them, file them, patina them, polish them, and seal them, and do the soldering for earrings and pins. Just this year, I took my first jewelry class, so I'm getting into a little more into fabrication from sheet and wire. That's been really fun, and it's lent itself to a different aesthetic.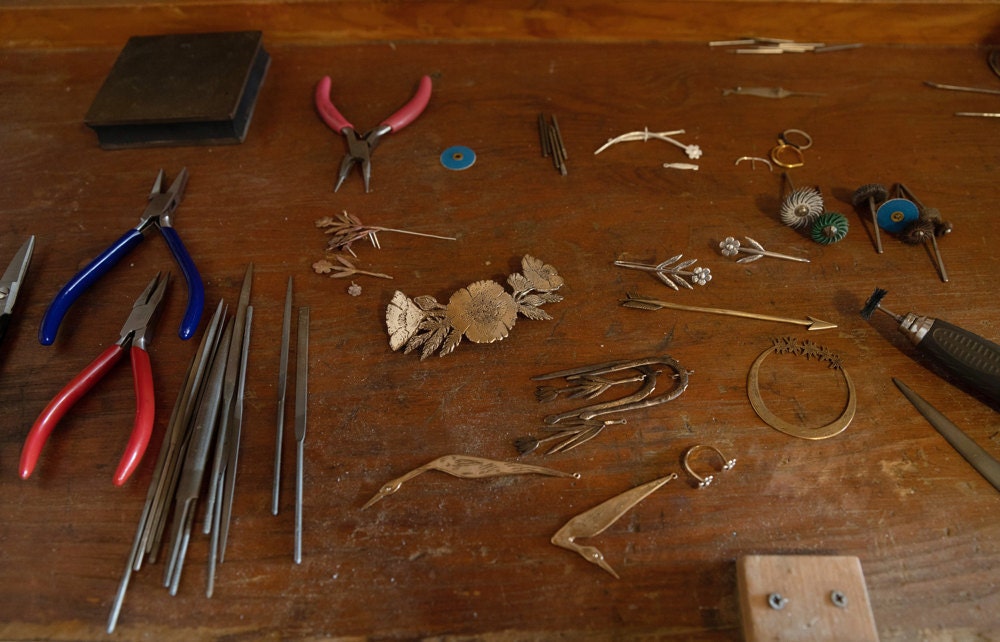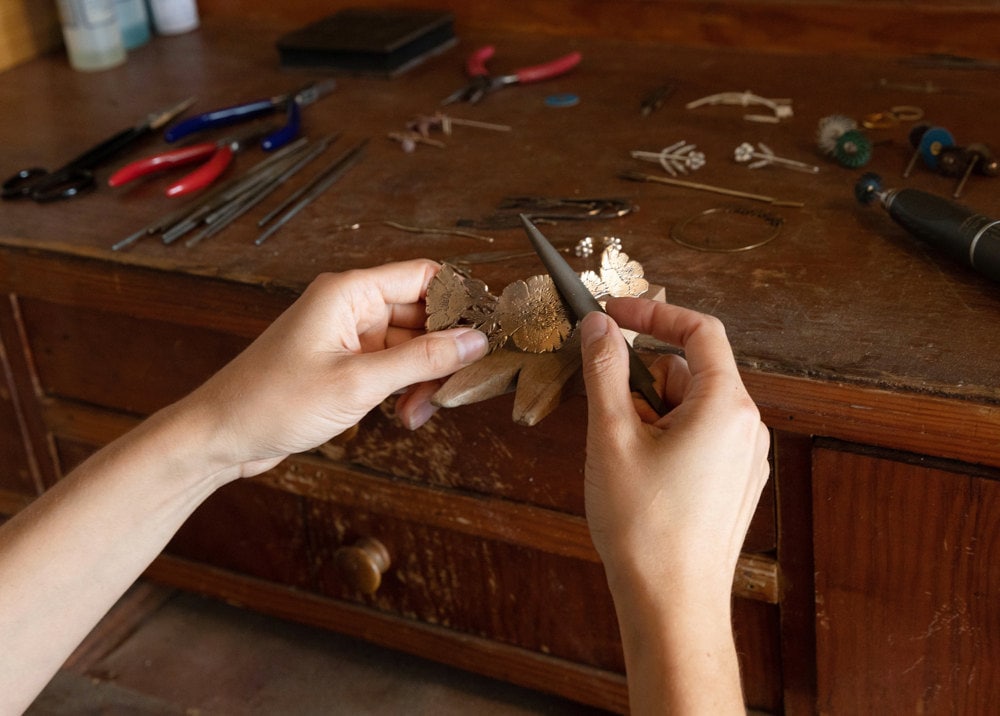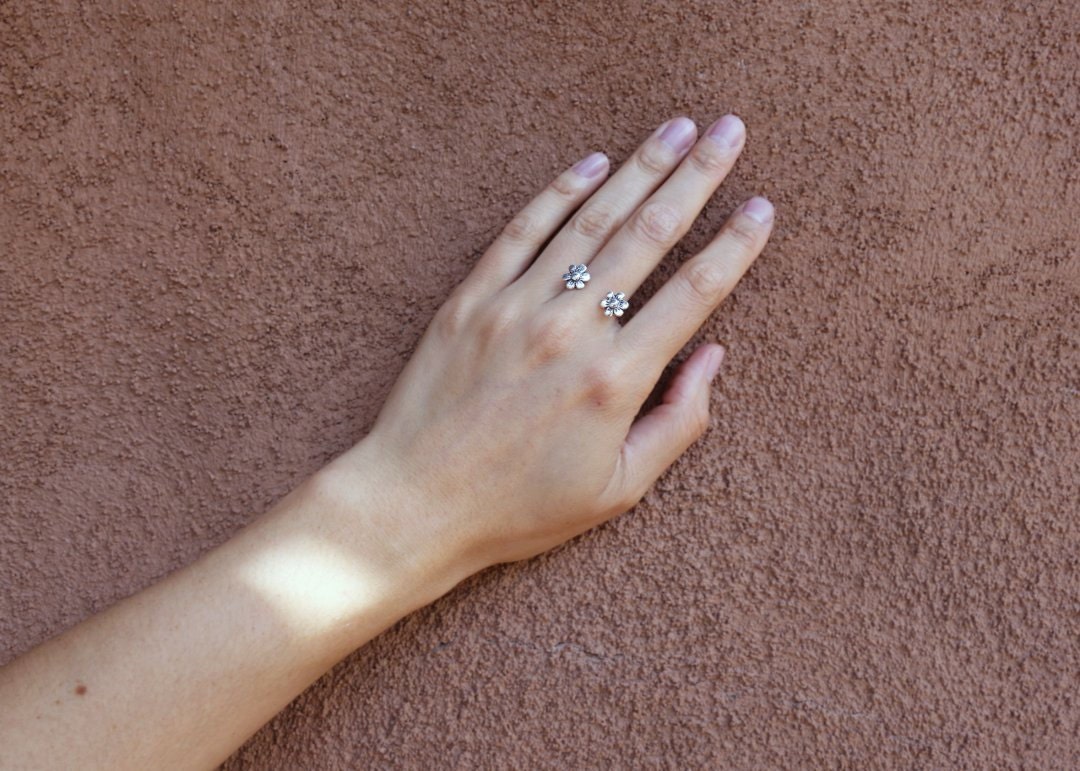 >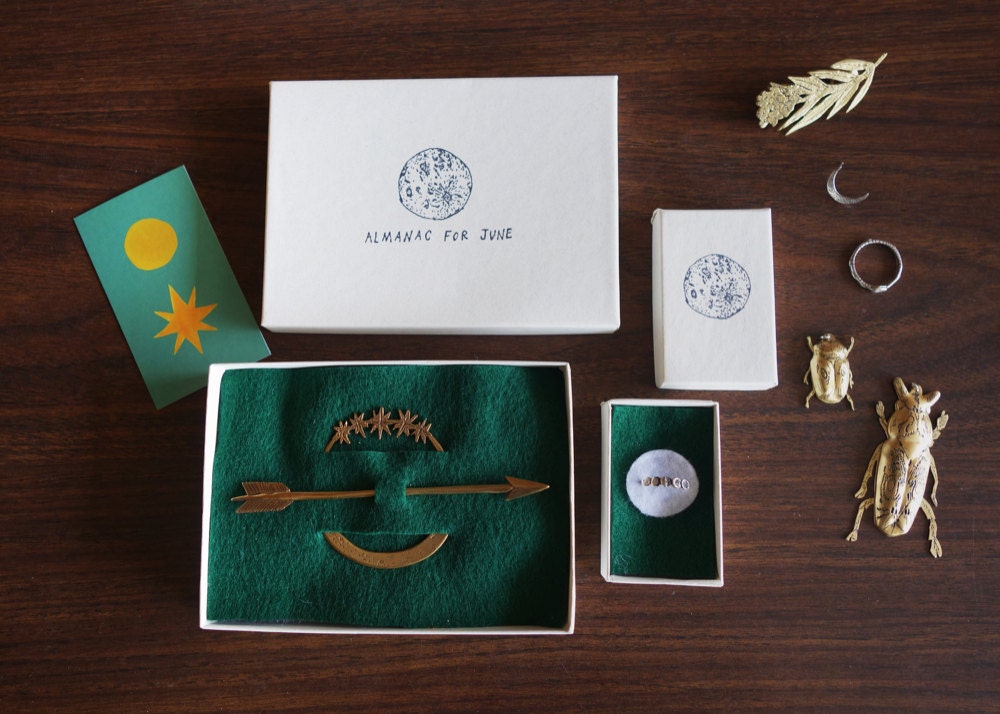 How has your move to New Mexico influenced your work?
I moved to New Mexico from the East Coast two years ago after coming here on a road trip and falling in love with it. I'd never been to the Southwest before that trip and I felt like I really needed to spend more time here, which is a feeling that I have with a lot of different places. New Mexico has a really unique type of beauty. The state slogan is "the land of enchantment," and I feel like that quite often when I'm in the landscape—it feels like I'm walking through a dreamscape or something. The colors here are really different from the East Coast—the flora here is so beautiful and pastel—but I love them both equally for different reasons. There's also something about the pace of life here that has really changed things for me. It wasn't an easy adjustment, but ultimately, it's been really beneficial to the way I'm working and the amount of
work
that I'm doing. I think it has something to do with the openness of the landscape. It's very calm. It's a different type of beauty that has made me grow as a person and experience more as a person, even subconsciously.
Do you create art every day?
Most days, but not necessarily every single day. There are definitely days that I take off. I love being in nature, so I try to do that as much as I can. Being self-employed has given me a lot more flexibility in terms of being able to experience the world, which is a really important thing for me. I've been thinking a lot about the act of making things and putting things into the world versus experiencing the world and seeing what's there already.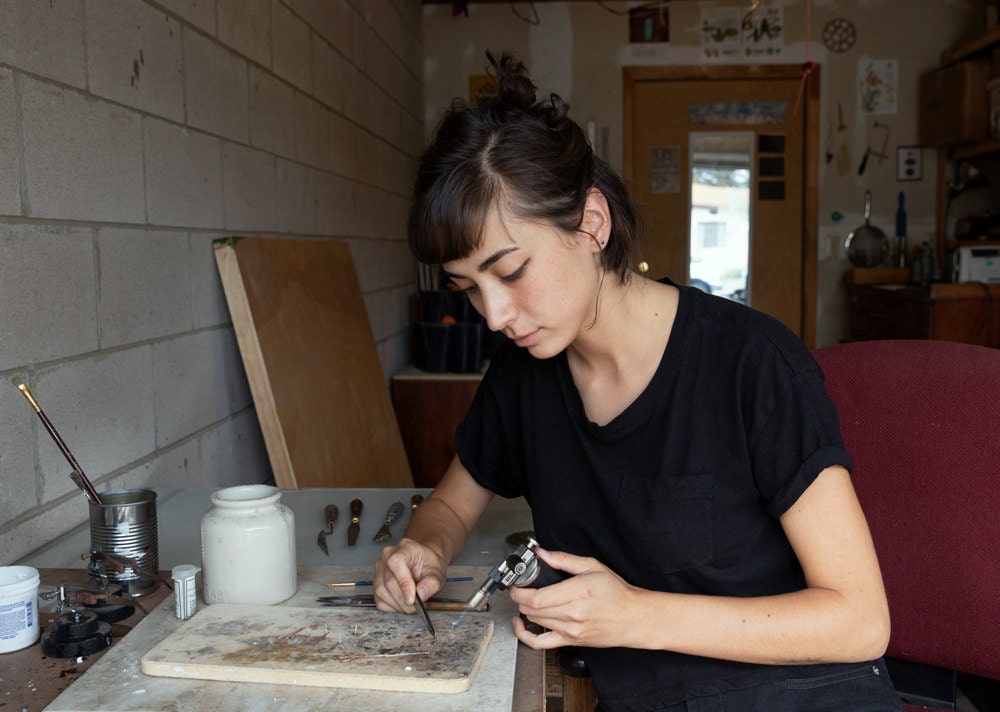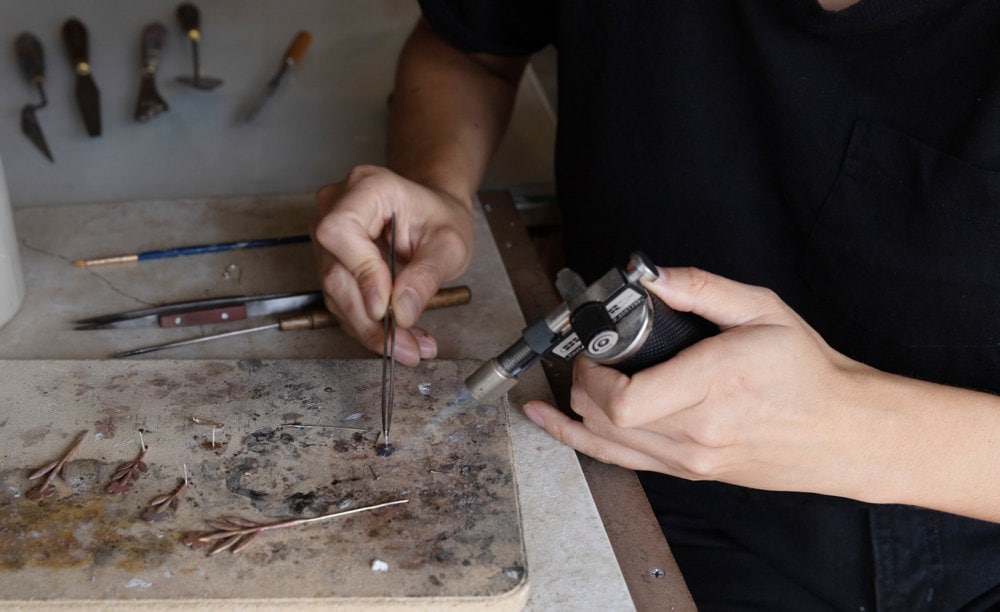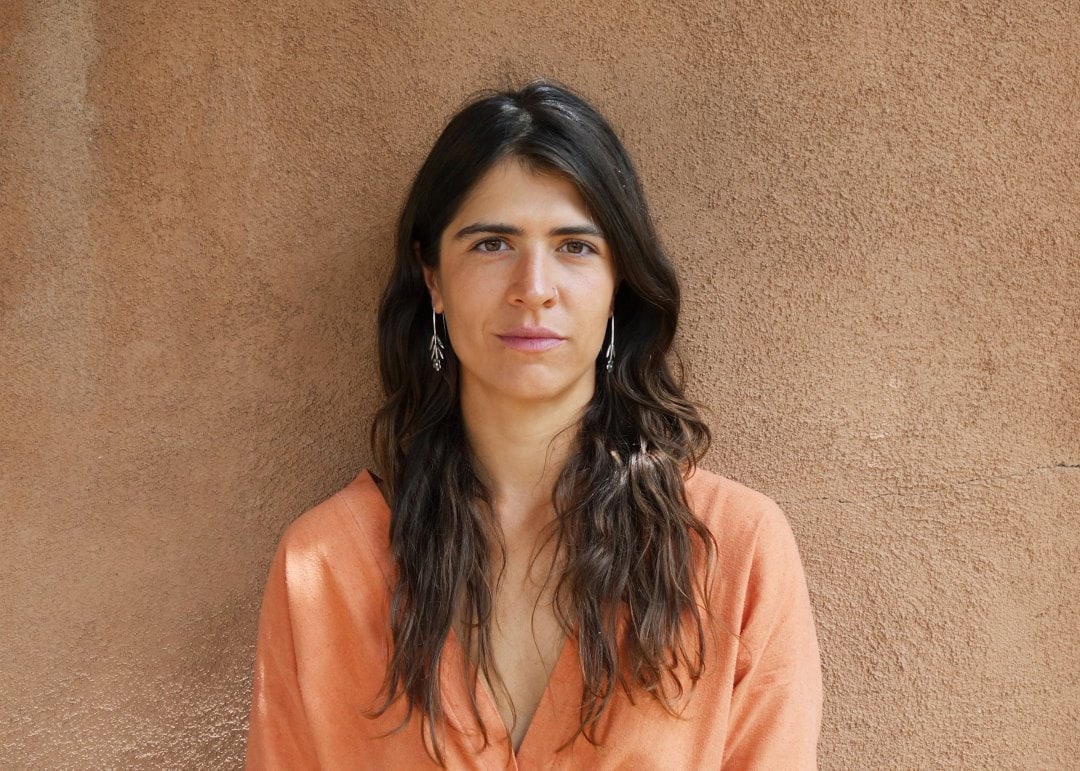 >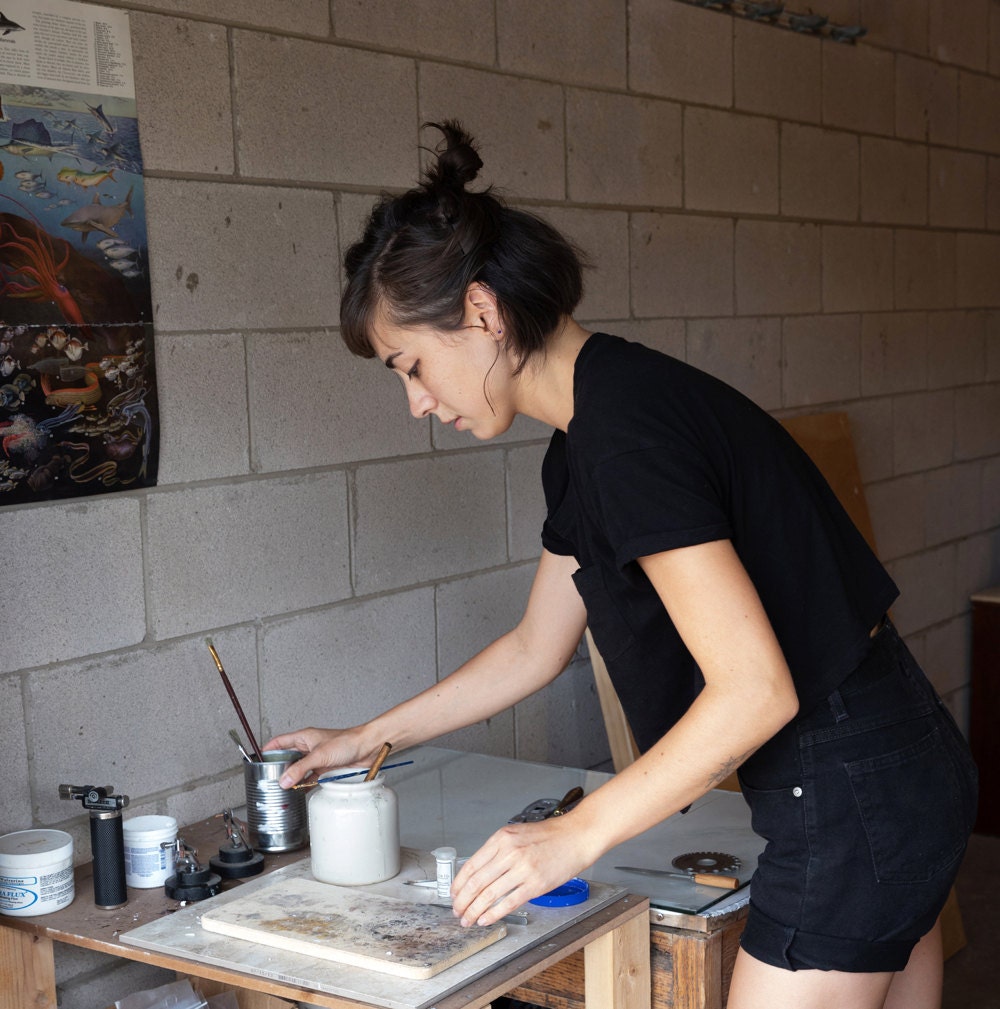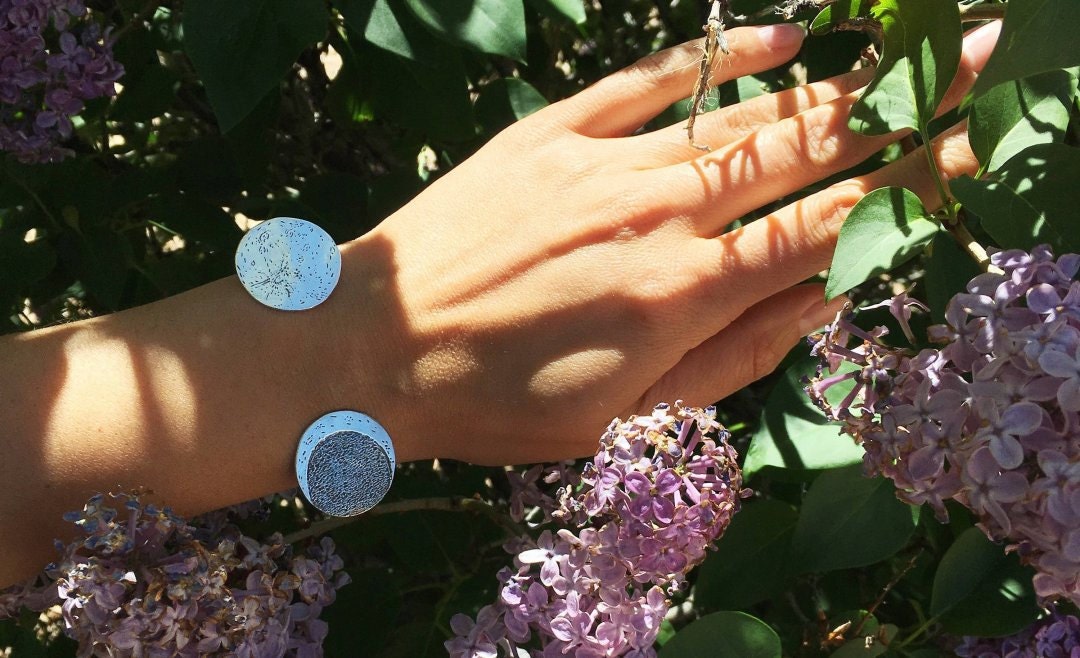 >
You opened your shop in 2013. How has your work evolved since then?
I think with time I've developed more of an understanding of the way metal works, and my interests have shifted in a natural way. I'm getting to a point now where I feel more comfortable with the medium, and I feel excited to play around a bit more. In the
new stuff
that I'm making now, I'm working a lot with snakes and flowers as motifs. As symbols, I like that they're kind of opposites, at least when you see them as a pairing, although in some ways they're also similar. One is kind of sweet and the other is kind of sharp, but they both have a linear quality to them, like the stem of a flower and the snake's body, so I'm playing around with the geometric aspect of that, the form and line. I'm starting to get into things that are a little bit more abstract, even though I'm still definitely using a lot of figurative elements. I'm moving toward incorporating the two.
What are some of your goals for the future?
I moved to the desert with a car full of rocks—I love stones and minerals, and I have a ton of them, both specimens and gems that I've accumulated to use in
my jewelry
. I really want to start incorporating stones into some of my pieces and also adding the element of color, which is something I've done for myself but haven't produced for sale yet. I also want to make functional metal objects like knives and tools. I have so many things I want to make outside of jewelry, too, like paintings, books, and longer-term projects. And travel—I really want to see and experience as much of the world as I can.
Follow Almanac For June on Instagram.
Studio and process photographs by Lindsey Kennedy; all other photographs courtesy of Almanac For June.