by Valerie Rains
This Swedish sculptor found her ultimate medium in metal clay — and considers the pieces in her eponymous jewelry line nothing less than wearable art.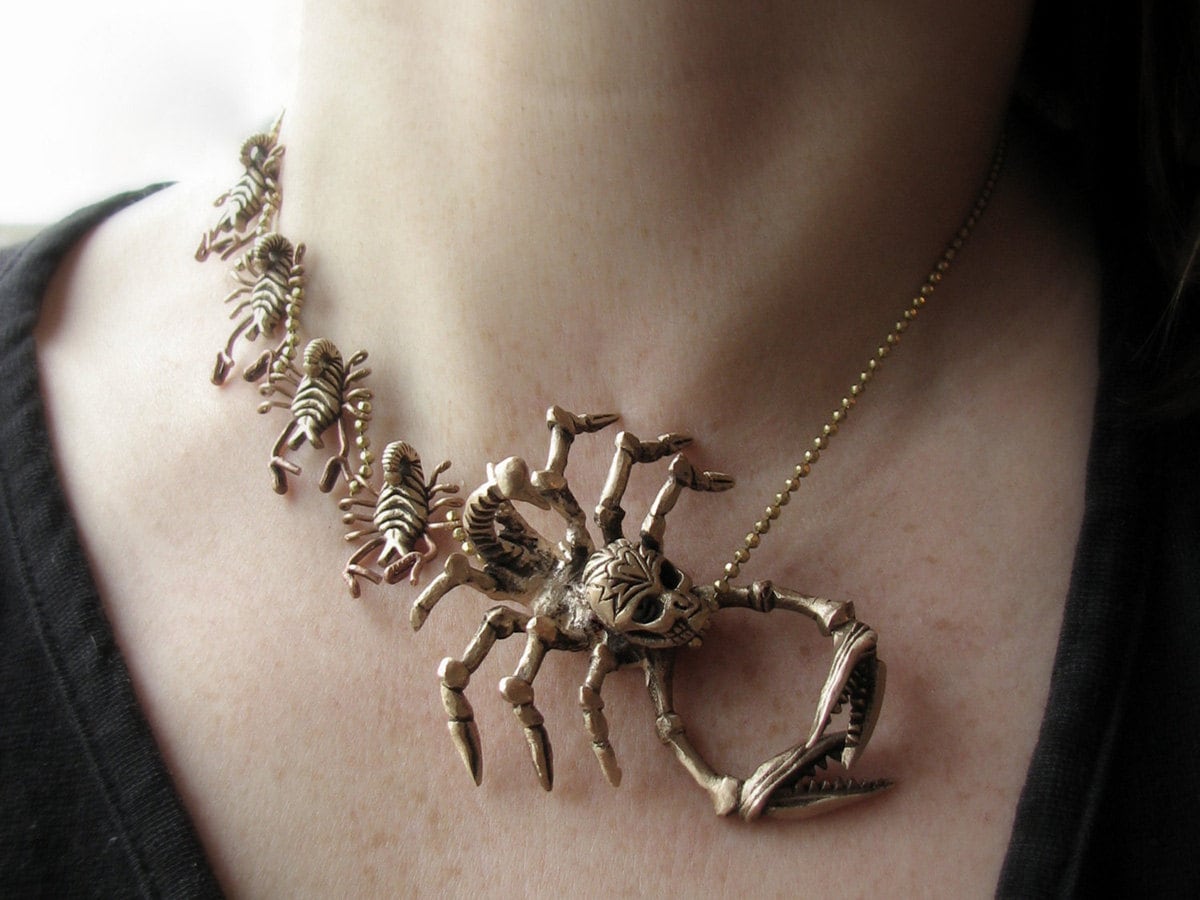 If someone had told a six-year-old
Anna Siivonen
that she'd one day earn a living sculpting tiny animals and fantasy creatures out of clay — her absolute favorite activity at the time — she probably wouldn't have believed you. The young adult Anna Siivonen probably wouldn't have, either, given the roadblocks she'd faced in her pursuit of an artistic career: rejections from art schools, publishers, and job opportunities. And yet, since 2013 this self-taught sculptor and jewelry maker has been wholly self-supporting with her eponymous line of "wearable art" — detailed
spider earrings
,
skull brooches
,
octopus-tentacle hair sticks
and more, each hand-carved from metal clay, then fired and polished to a shine. Instead of outside instruction, Anna has relied on experimentation and iteration to move her craft forward, gradually working her way toward a dream career. "When I sculpt something new, I have almost a love affair with it. When you get in the flow and then there's something you've completed and you can touch...I just love it," Anna says. Her ultimate goal? Simply, to keep going. "I think I've gotten quite far, and I just want to be able to keep making art for a living," Anna says. "That's my main thing."
Read on to see how Anna forged her own successful creative path and shop the collection.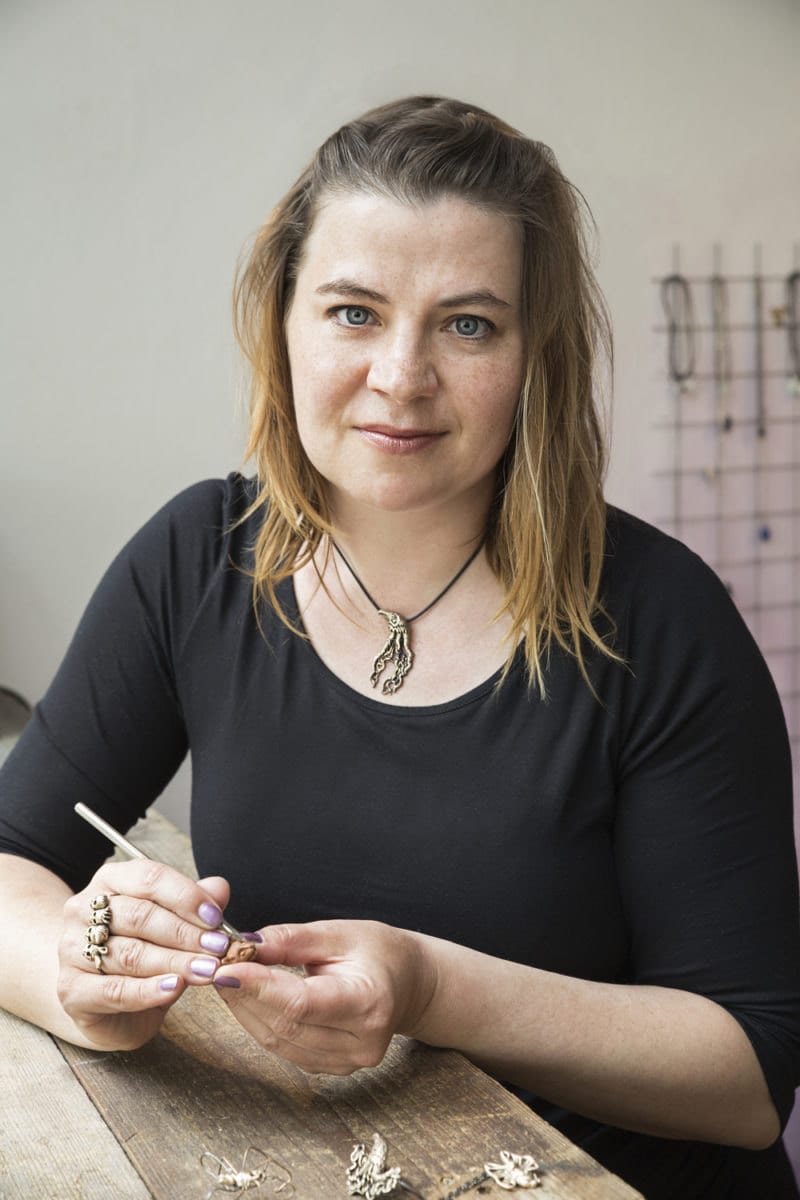 You took your first ceramics class at the age of six. How did that early creative experience set you on the path to what you're doing today?
From a very early age, I wanted to be an artist; even before I started working with clay, I was always drawing things. Then when I discovered clay, it just felt right. I'm a very touch-y person, I want to mold things. Working with clay made me realize how much I liked sculpting — and all kinds of other stuff too, but that's the thing I always fall back to.
So, what came next? Did you continue working with clay throughout your childhood?
Yeah, I kept working with clay once a week in ceramics class until I was nearly 20. By then I had ceramic pots everywhere, and I felt like I was making things just to throw them away. I got tired of that and started trying other things, like painting and drawing. I still wanted to work as an artist but I didn't think it was possible. What got me back to sculpting was when I discovered
silver clay
.
Tell me about that!
I was searching the Internet for something to work with that was ceramic-related, and when I came across silver clay, it made me really curious. At first I thought it was just a clay that was silver colored, but when I realized it was actually metal I was intrigued and wanted to know everything about it. Metal clays hadn't really gotten to Sweden yet; there was only one silver clay class offered there, and it wasn't in my town, so I had to do my research online. But I tried it out and I thought it was really inspiring. It got me experimenting and learning a lot of new things. The next revolution for me was when base metal clays, like bronze clay, came along. Nowadays I don't work a lot with silver clay because it's very expensive, and when I sculpt I use up quite a lot of material.
My pieces
aren't flat and super tiny, they have dimension and size. The bronze clay is much less expensive, and some brands also shrink quite a lot, so I can sculpt bigger and it will shrink down in size.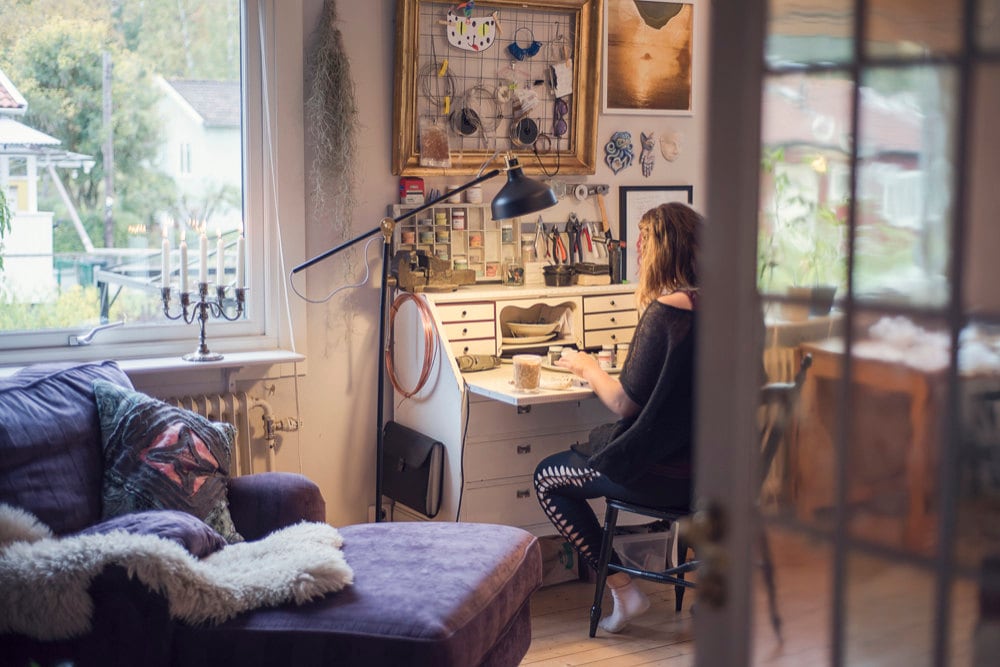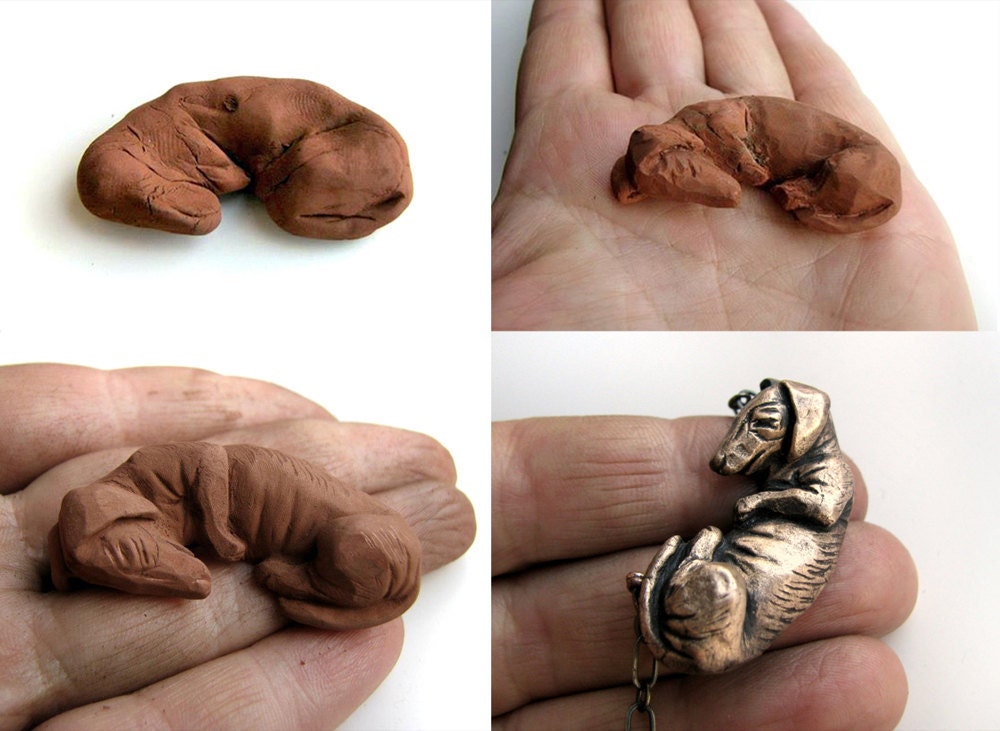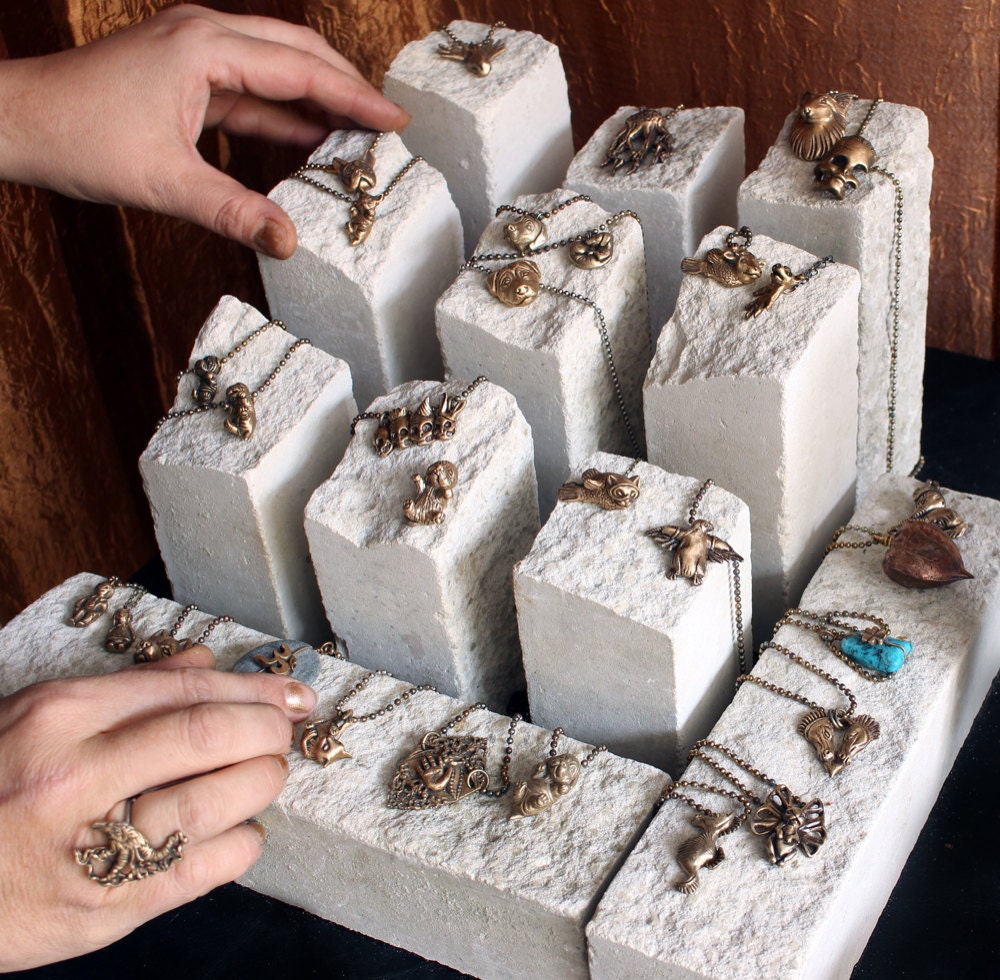 Once you got into working with metal clays, how did you begin creating jewelry? Did you already have an interest in jewelry design?
I hadn't really been that interested in jewelry before; it was more that I wanted to make art in some fashion, and this was the means that made it possible for me. I would love to make big sculptures, but I thought there was no way I could do that as a business; making
small, wearable sculptures
felt like the kind of art I could support myself with. Actually, in the beginning, I didn't think I would be able to support myself with making jewelry, either — I just thought, 
Maybe this could work
.
When did you start selling on Etsy, and how did that affect your approach to your art?
When I started back in 2010 I made one-of-a-kind things, and they were quite different from what I make today. I was experimenting with styles and techniques and still learning. I thought of Etsy, then — and I still think about it a little bit this way, now — like art and business education. You can see,
Oh, this works, so I'll make another version of it.
 I also soon realized that it was really difficult to make one-of-a-kind things and get back the time — to really support yourself that way. Before Etsy, I tried to sell my work at art fairs, but there weren't that many of them and most of my things just ended up in my drawers. That wasn't really motivating me to make more stuff. Etsy helped me get motivated to finish things, and then to make even more things.
You have more than 400 listings in your shop right now — how do you come up with so many different designs?
Most of them are made in similar techniques, and I get a lot of ideas from the act of making itself. For everything I choose to do, there are a lot of things I don't do, and that starts me thinking,
Oh, what if I did it like this, or like this?
So a lot of
my designs
are versions of other designs that I continue to build upon. I think that's one of the things Etsy helped me with: realizing that while it takes me a long time to sculpt a brand-new design, once I've done it, I can usually use my designs in different ways.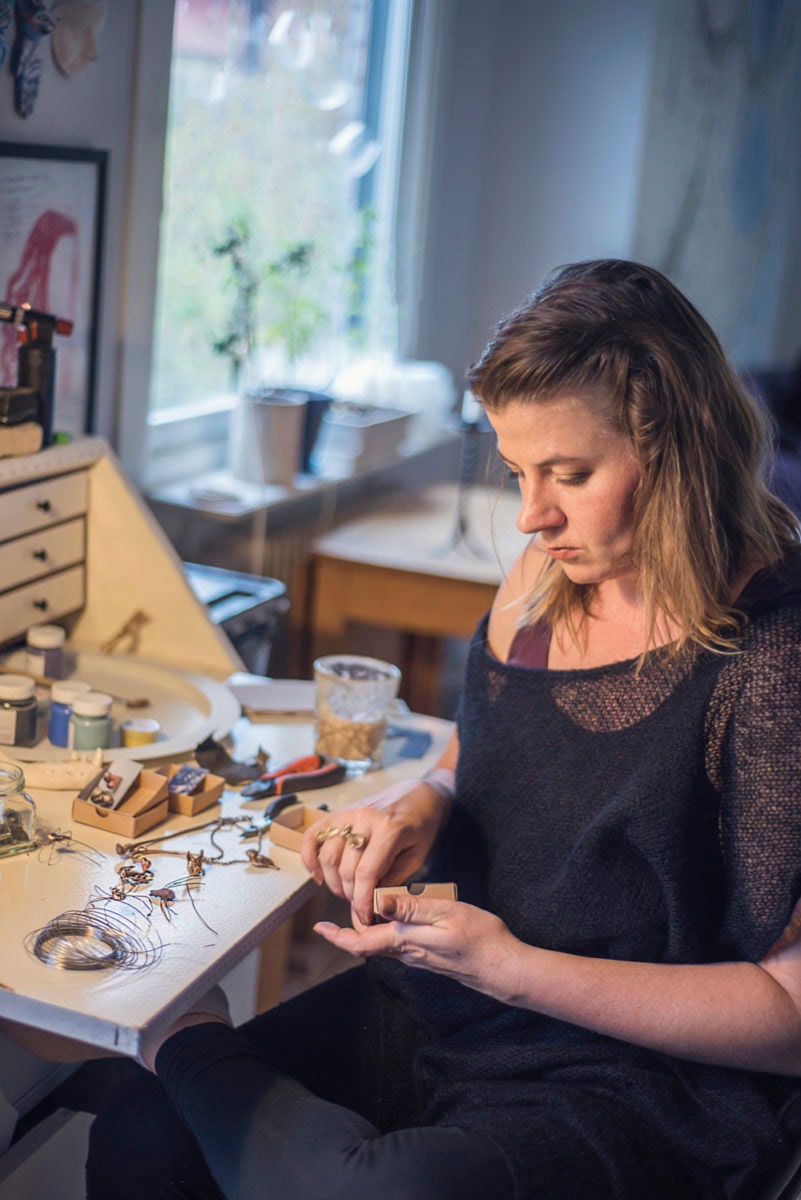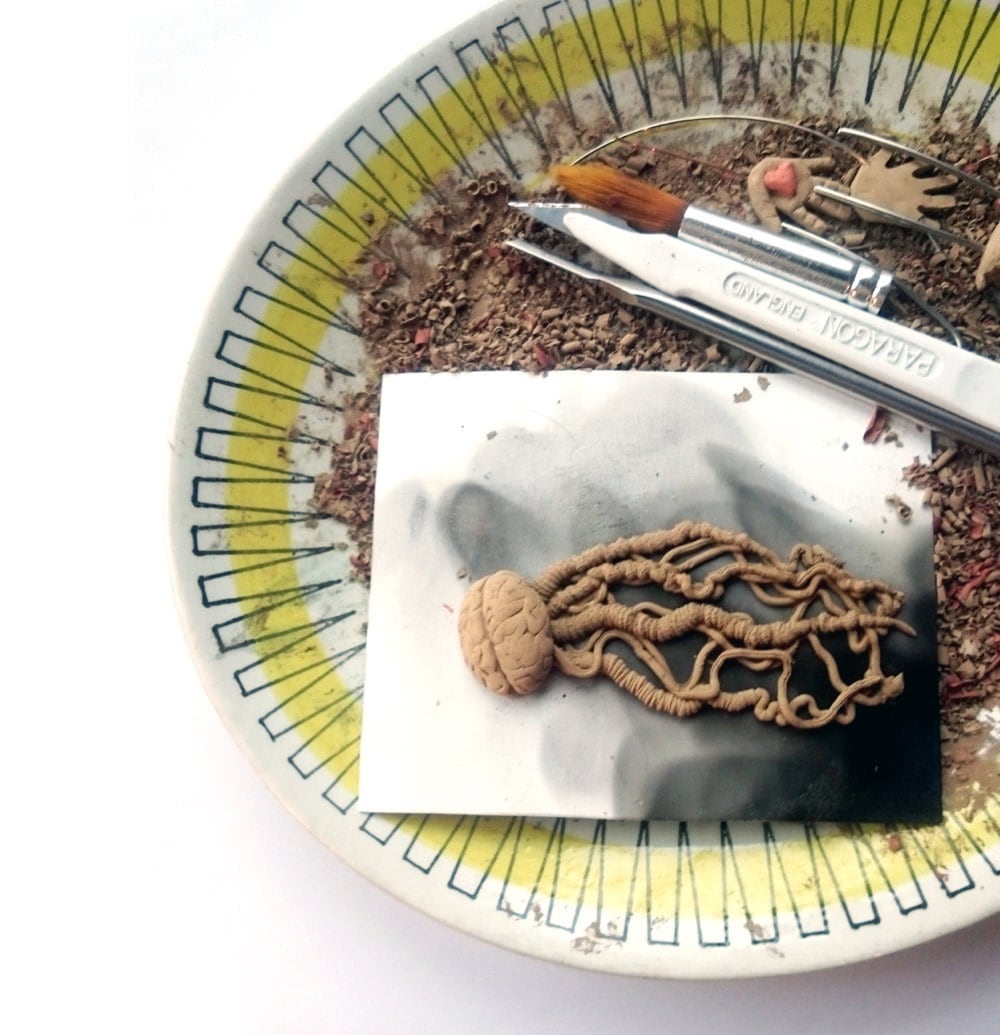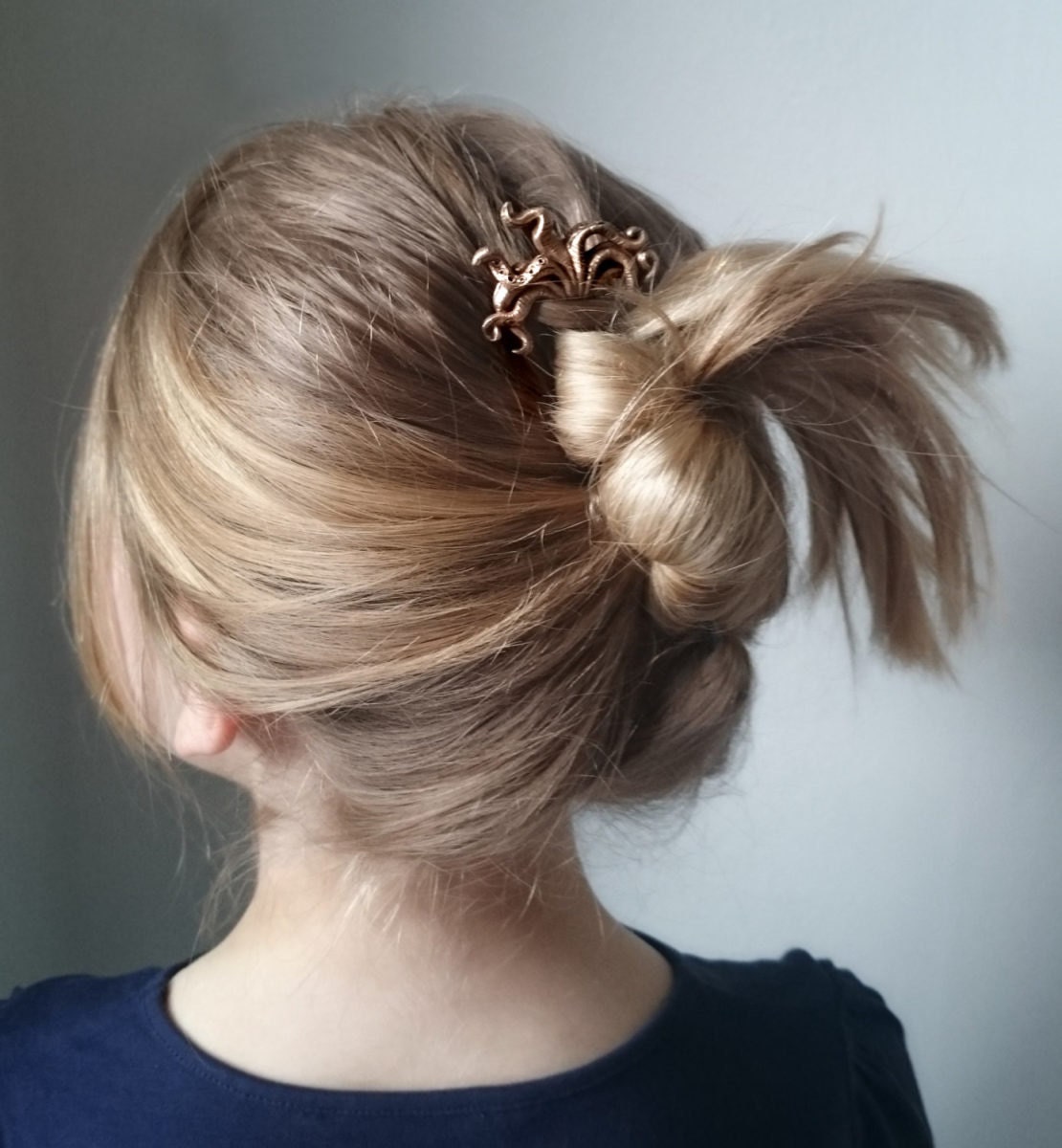 What else inspires you in your work?
I like coming up with solutions and funny ideas, like what I did with my
spider earrings
. When people first see them, they think,
Oh, they're super creepy;
 then they absorb the full design and say, "That's such a fun idea to use the leg as the earring hook!" I like finding unexpected design solutions — to the point that I almost forget about the subject itself. My customers are another big source of inspiration for me. I end up doing a lot of
animals for my shop
 because customers ask for them.
How long does it take you to make a piece of jewelry from start to finish? Can you walk me through the process?
It depends if it's a brand-new design that I'm sculpting or something that I have already made. It takes me a long time to sculpt a brand-new design, but once I've made it I can usually reproduce it more quickly. For a new design, I hardly ever sketch; if I do sketch, I sketch in clay, just pressing it together and forming it. If I'm going to sculpt a
specific dog breed
, I will look up pictures online. Otherwise, I just make a rough shape out of clay with my fingers, dry it, and then carve into it with a scalpel: add and subtract, add and subtract. Usually I have multiple things going on at the same time, because even if I could finish a new sculpture in a day, it gets better if I put it aside and return to it later. Once I have the sculpture ready, I fire it in my kiln at 800 to 900 degrees and then polish it.
Do you have a studio in your home or do you have a separate studio?
I have a studio at home. Because I like to change things up, I have a small work station with my tools on a tray so I can move around; if it's nice weather, I might work outside, or I'll sit on my sofa in front of the TV while I'm polishing my pieces. I also have a small shared studio with three other designers and sometimes I bring things there to work. Compared to many others I know, I have a very minimal setup. I'm not too interested in tools or equipment — I like to use really simple, small things. Aside from my kiln and my polishing supplies, the scalpel and my fingers are my main tools.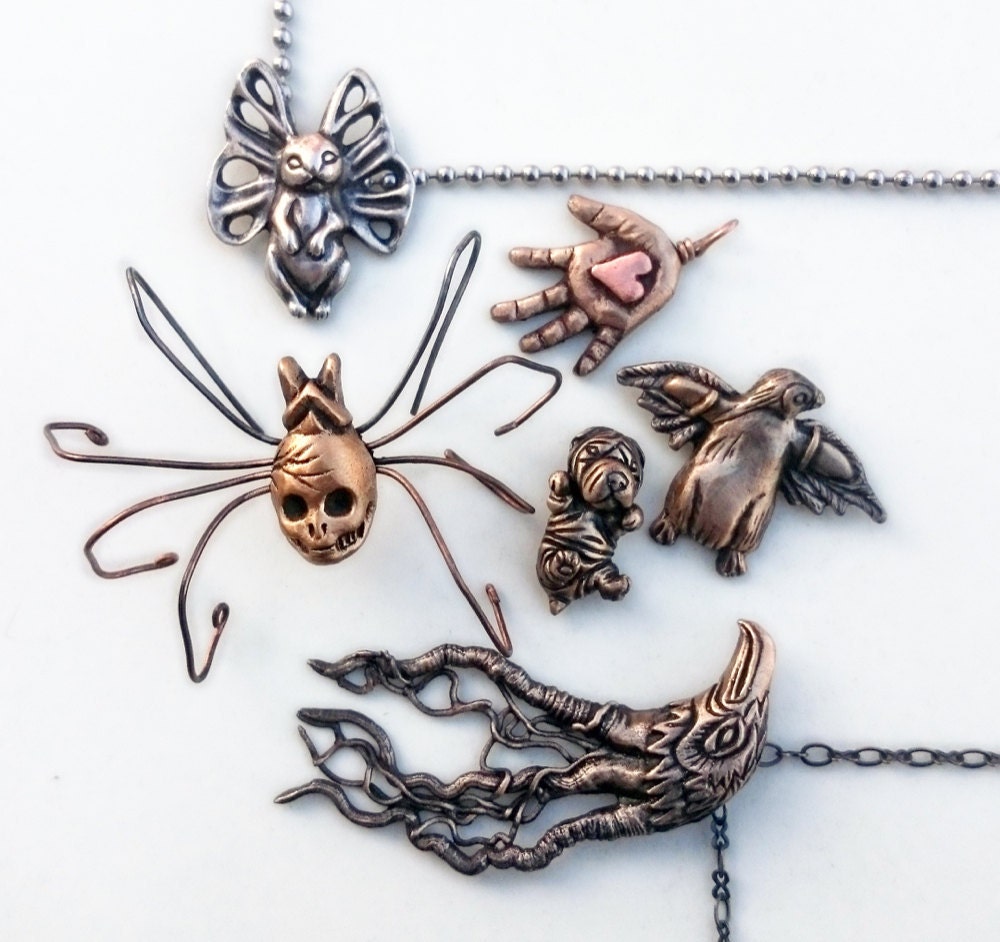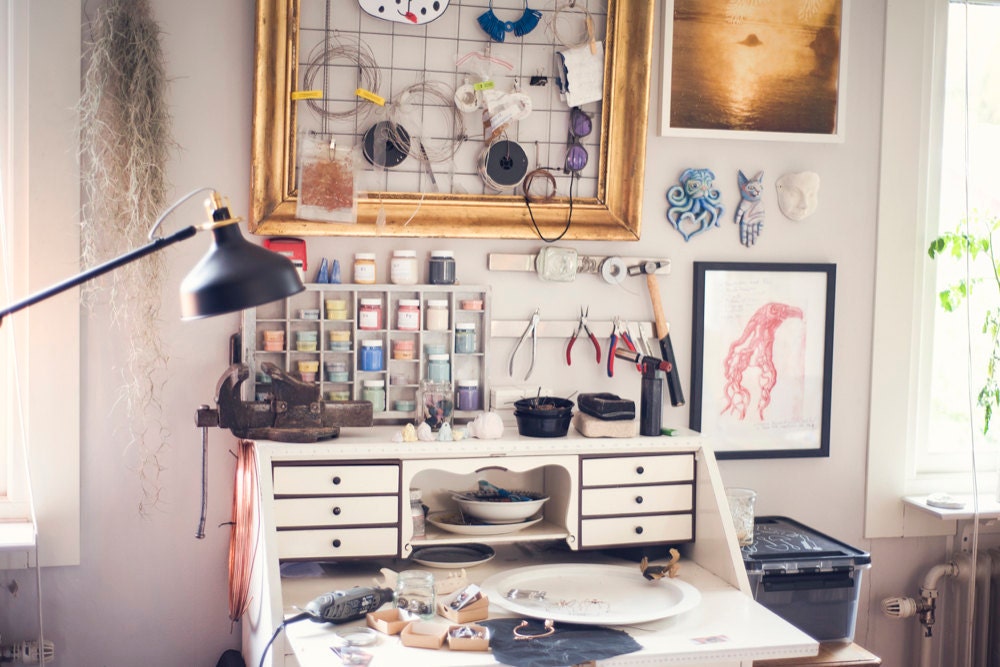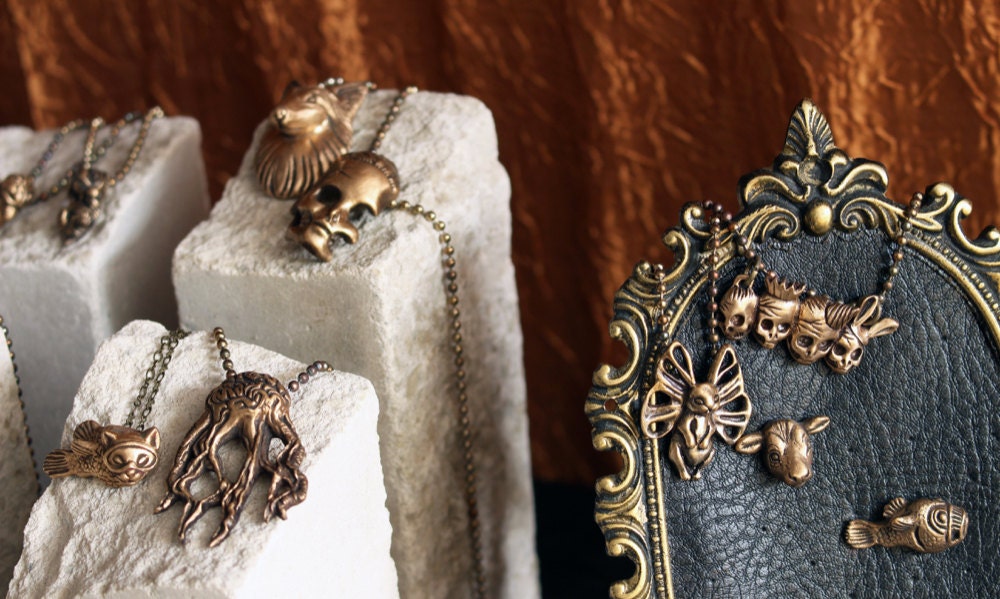 What is your favorite thing about your job?
I like the variety — to not do the same thing all the time — and I like making all the decisions. I also really like running a business. When I started out, I thought having a business was a necessary evil to be able to do my creative stuff and get some money in return. But once I started doing it, I realized that running a business is really, really creative and stimulating. It's so fun to see your ideas become something. Because my day-to-day job can be repetitive, I like to have some larger things every year that I can work on for months. For example, I wrote a book while I was learning to work with silver clay, because as soon as I heard about the material, I wanted to know every option and did loads of experimenting. Also, I did a pop-up shop last December with six other designers, which I enjoyed. I like to do projects with other people when I can, because I work alone most of the time.
What's the most elaborate or time-consuming metal clay project that you've worked on?
I think my
scorpion necklace
is the most elaborate. I have done other time-consuming things too, but that's the most recent. It was for a metal clay competition, and I had to figure out a lot of things while making it. It took about a week, but I think I could reproduce it much faster now because I learned so much. Along the way, some parts didn't turn out exactly as planned, so I had to make changes as I worked. Since I started supporting myself by selling things I make, I usually restrict myself on how long I can work on one thing. But sometimes, just to learn more and indulge myself, I like to use contests as an excuse to spend more time on a single object.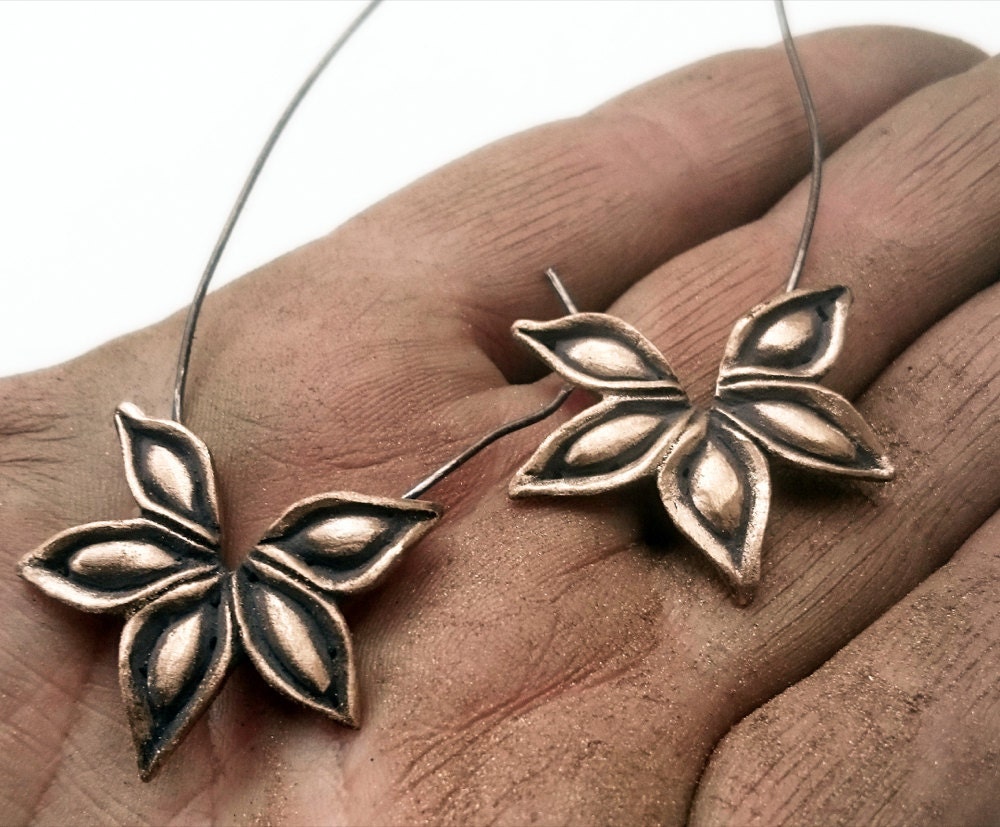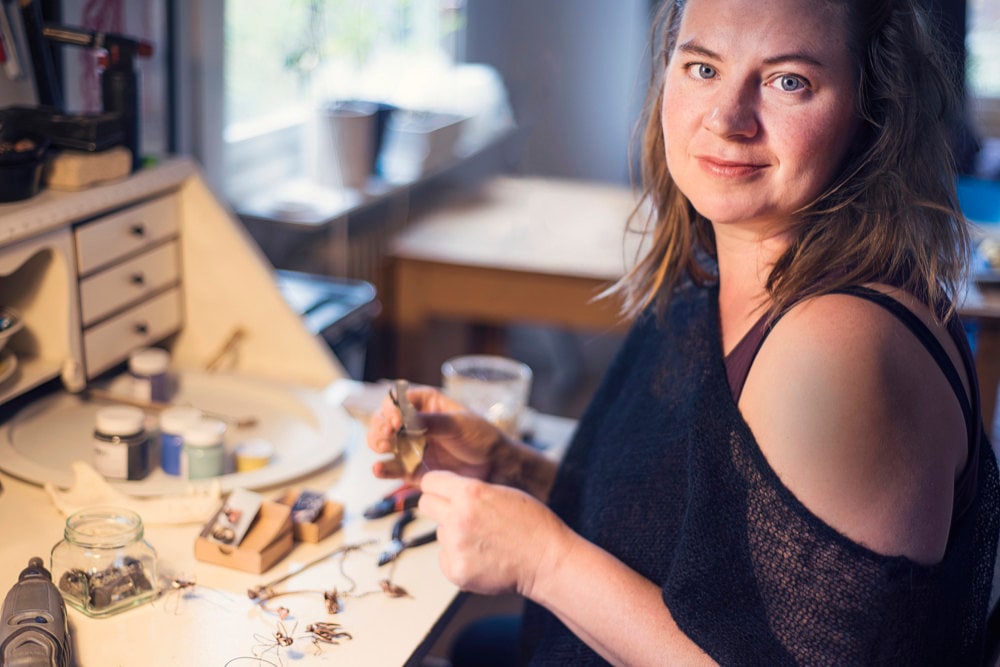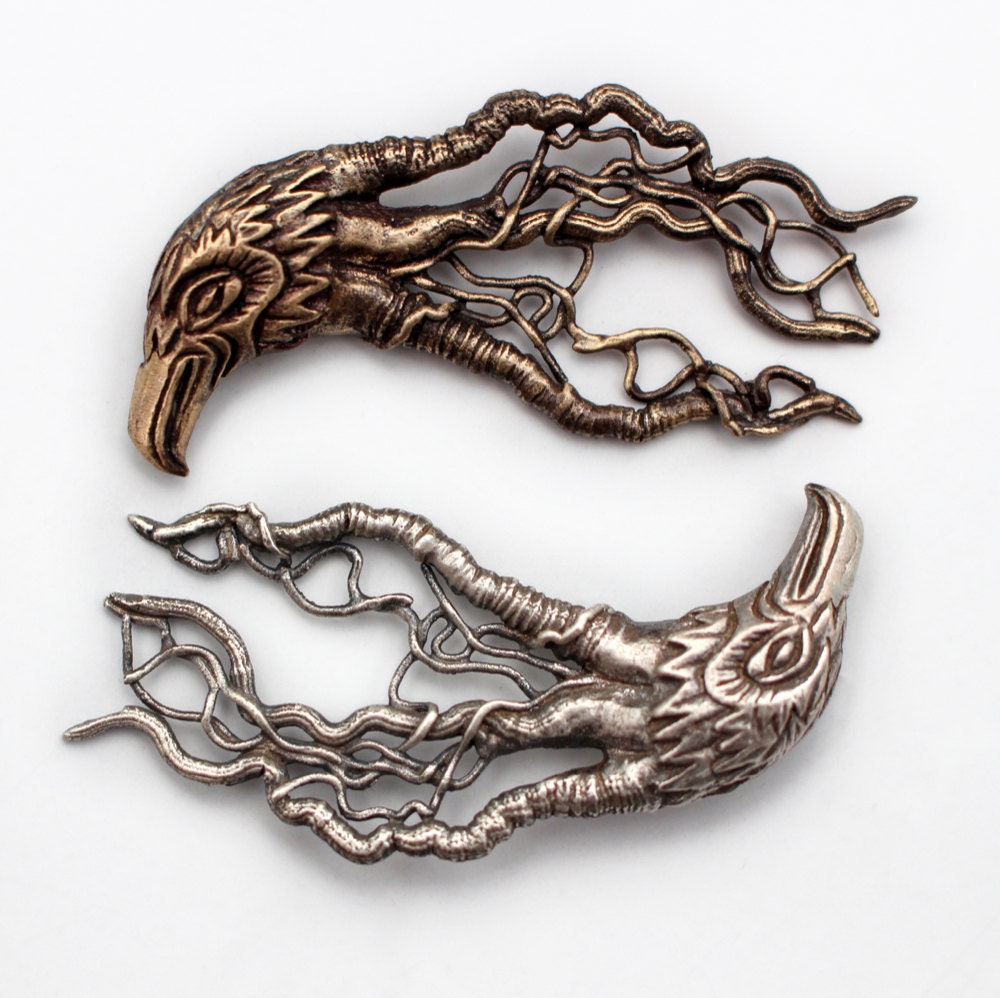 What other creative pursuits do you enjoy?
When I began, I worked in all kinds of media and my work was all over the place. But I can't really get good at anything when I do everything, so I just decided to do what I like most, which is sculpting. If I had the opportunity, I would love to sculpt larger, but I don't want to sculpt bigger things and just put them in my garden — I'd want to show them. Still, I love doing all kinds of creative stuff and trying new things, and I have periods when I do allow myself to experiment just to learn more and further myself.
If you had to choose one thing that makes your work really different from everyone else's what would it be?
I think perhaps it's how creative I am and how many different designs I make, and maybe the strong style of them. Usually you can see
one of my pieces
and recognize that it's mine. I also like unexpected combinations and to add a bit of humor when I can — which I think is quite rare when it comes to jewelry.
Are you working on any new products for your shop now? Is there anything coming soon that you're excited about?
I want to make some sculptures that will not only be for jewelry, so I'm going back to ceramics again. I recently found colors to use on ceramics that are quite bright and fun, so I am looking forward to getting some colors into my shop. I have some pieces nearly finished, but I'm still experimenting. Hopefully they will be in
my shop
in a month or so.
Follow Anna Siivonen on Facebook and Instagram.
Photographs by Anna Siivonen and Elin Eriksson.