by Karen Brown
See how this line of handcrafted, vegetable-tanned leather bags comes to life in Artemis Leatherware's Hong Kong studio.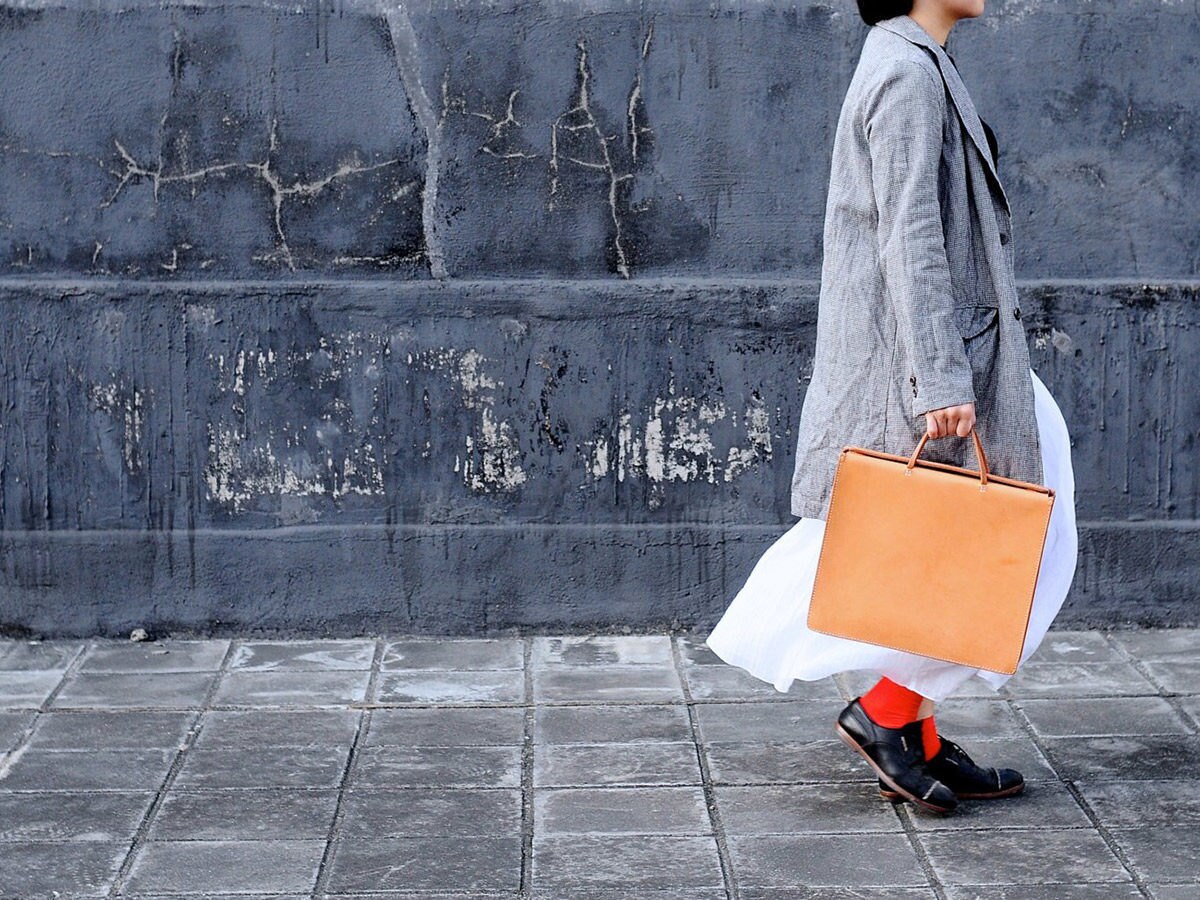 Handcrafting fine leather goods might seem like an atypical career choice for someone who was educated as an industrial engineer. But designer Joe Wong of
Artemis Leatherware
made the unlikely transition through one of the most delightful routes possible—by shopping artisan markets in Hong Kong. "It all started about seven years ago," Joe recalls. "I was browsing in a local market with a friend, when I discovered a handmade leather bag that I really loved." As soon as she got home, Joe began researching leatherwork online, and experimenting with the techniques she was reading about by making small gifts for friends. "They loved what I made," she says. "Some of them even asked me if they could place custom orders."
Explore the Artemis Leatherware collection
So why did she choose Artemis, the Greek goddess of nature and chastity, as the guiding symbol for her brand when she opened shop on Etsy six months later? "In our work, we strive for purity and a strong connection to the environment by taking the most eco-friendly approach we can. We do this by selecting the finest and most environmentally-conscious leathers and dedicating ourselves to the highest level of quality," explains Joe. "Artemis is also the goddess of the moon," she adds. "And we work some very long hours. In fact, many of our orders are rushed out at night, under the glow from Artemis's moon!"
Read on to learn how Joe cuts and sews her timeless bags (alongside her trusty studio cat, Yoshi), and shop the Artemis Leatherware collection.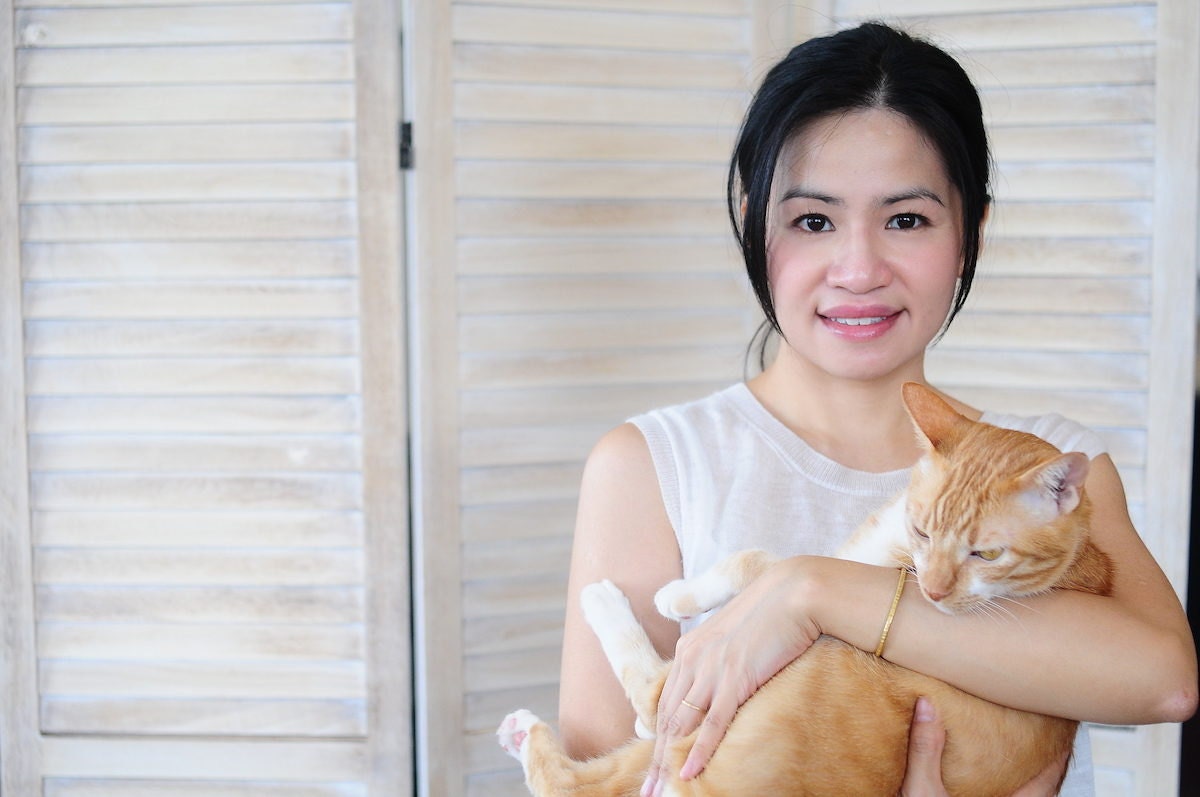 All of the items in your shop are hand-cut and hand-stitched. How does handcrafting add to the value of a bag?
A
handmade bag
is a totally special thing. Hand-stitching is more durable and beautiful than machine sewing. The edges of a handmade leather bag are more polished and smoother than a machine-made bag. And because it's made by hand, each bag is unique—you can't find two handmade leather bags that are exactly the same. Altogether, I believe the handmade process results in a better product—in something stronger, more refined, unique, and beautiful.
What are some of your most popular styles?
The
large doctor bag
is always a best-seller. It's unisex, classic, and good for daily use—and it's also the perfect carry-on bag if you're flying. Other popular styles are from my geometry series that launched last year. This series includes
rectangle
,
circle
, and
square–shaped bags
. Customers love the classy and simple designs.
What are your recommendations for the perfect bag for fall?
A
leather backpack
is a good choice for fall and winter. Why? Because when you're wearing heavy winter clothing like sweaters and coats, it can be a difficult to wrestle a tote bag over your shoulder, so a backpack is the perfect choice.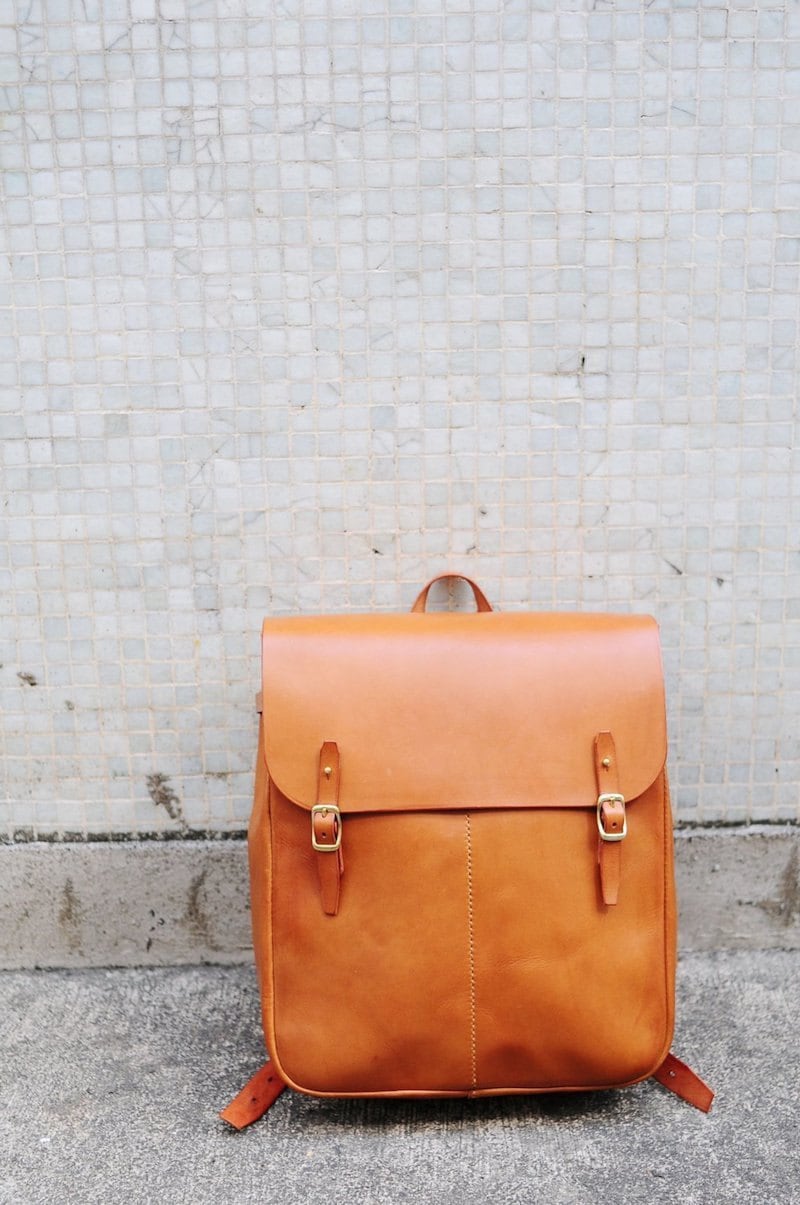 >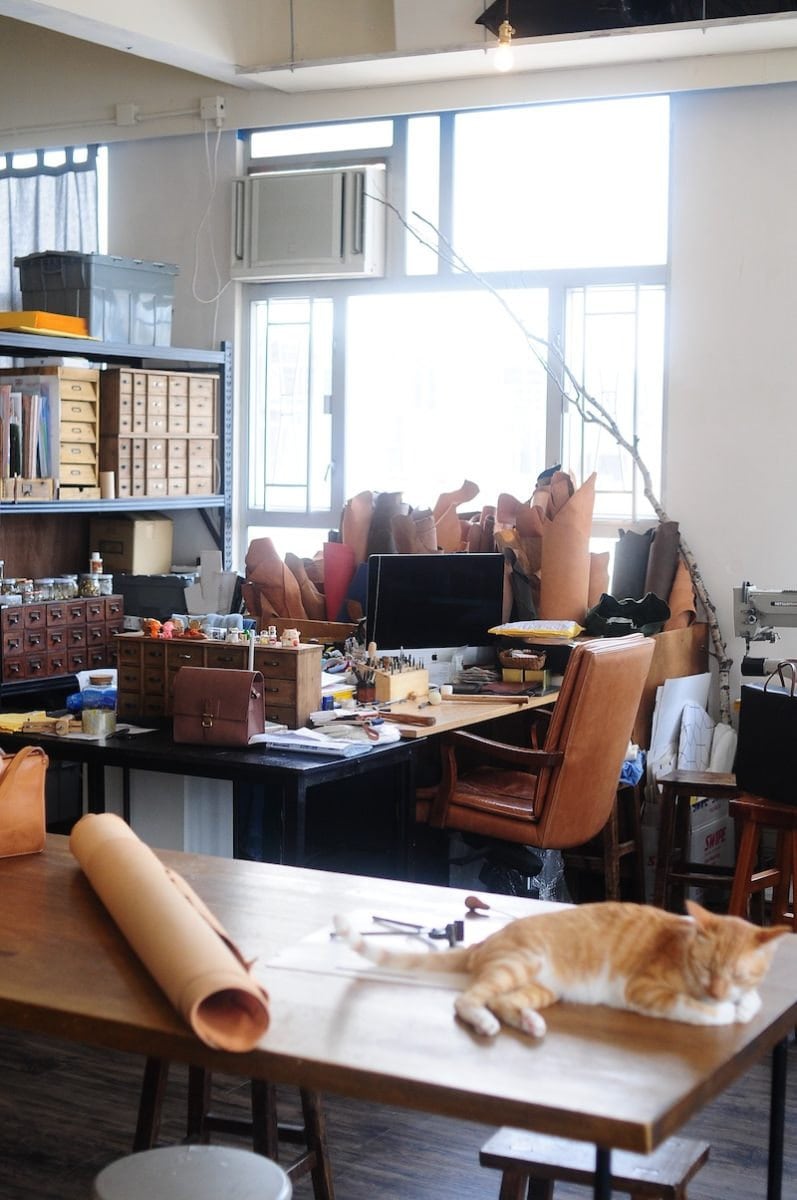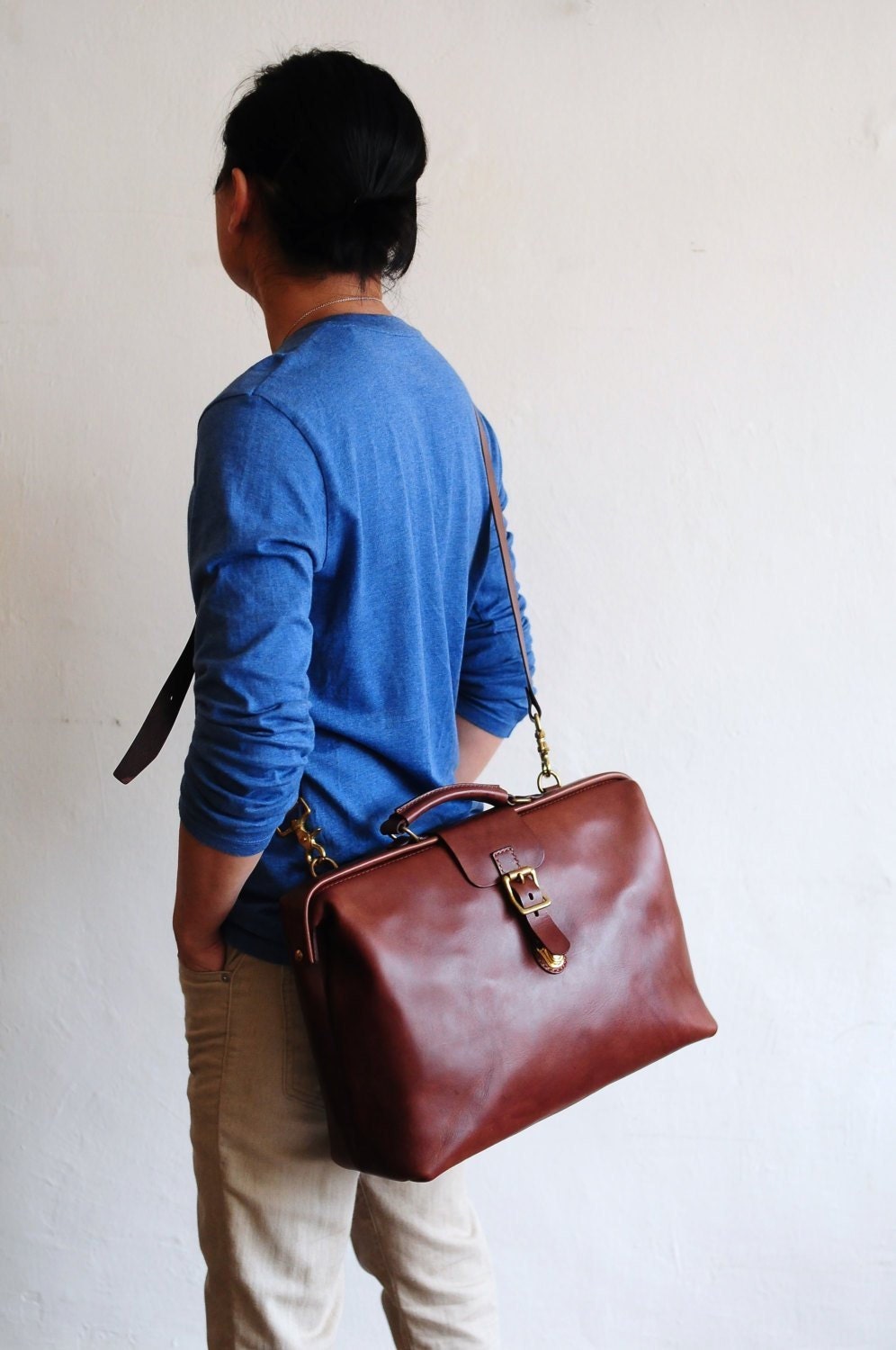 >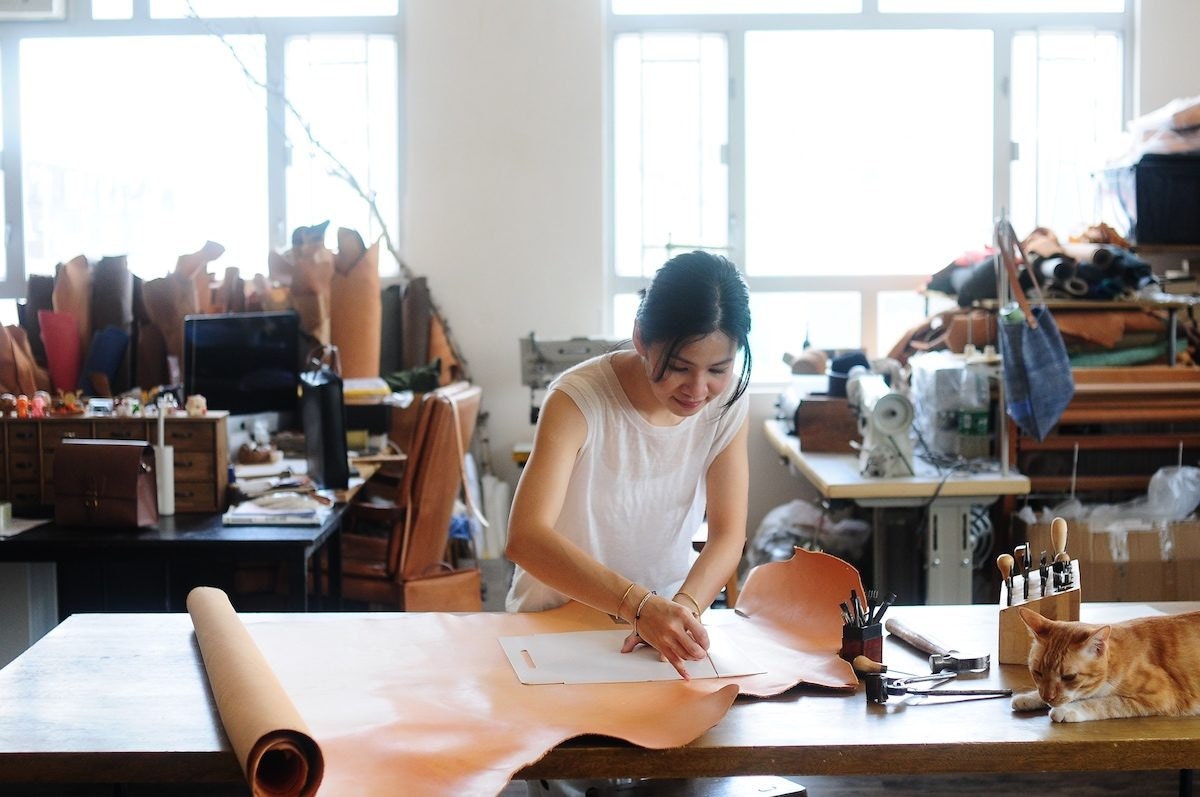 Some of your pieces are 100% leather, and some are leather and canvas. When should a shopper choose one or the other?
The main difference is the weight. Canvas is much lighter. So if weight is a concern, we suggest buying 
a canvas and leather style
.
How does the feel and appearance of a fine leather bag change with time?
We like to say that we have only completed about 80% of the bag by the time it leaves our shop. The remaining 20% is completed by the customer when they wear it. Normally, as things age they lose their value. But the more you use an
Artemis leather bag
, the richer its look becomes and the more its value increases. Because we use vegetable-tanned leather—a high-quality natural material—the leather acquires an unmistakable warmth and brilliance that becomes more intense with time. As you use the bag and it begins to age, the look becomes part of your personal expression.
Can you walk us through the process of how one of your bags is made?
First, we cut the leather to the pattern. Then, we treat the inside of the leather to make it smooth. Next, we punch the sewing holes and use linen or nylon thread to sew the pieces together according to the design. After that, we trim it carefully and polish the edges to make them smooth. Finally, we clean and polish the bag. Done!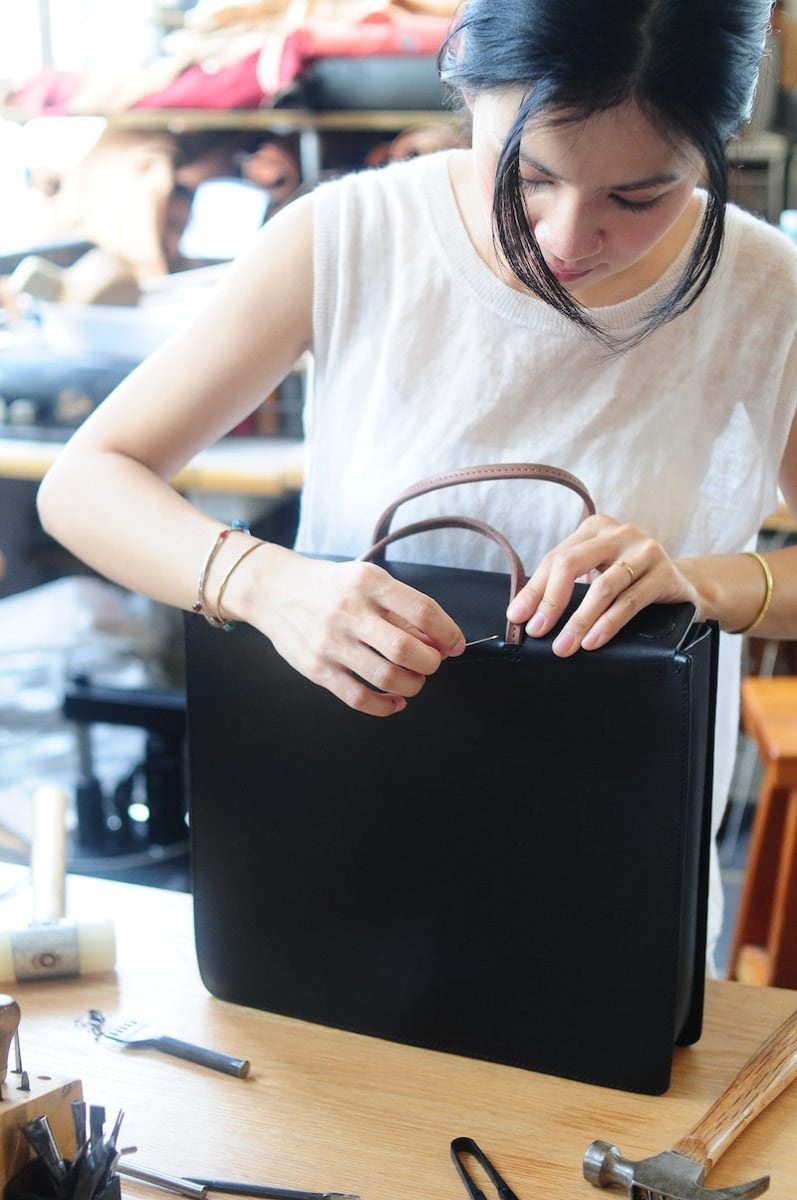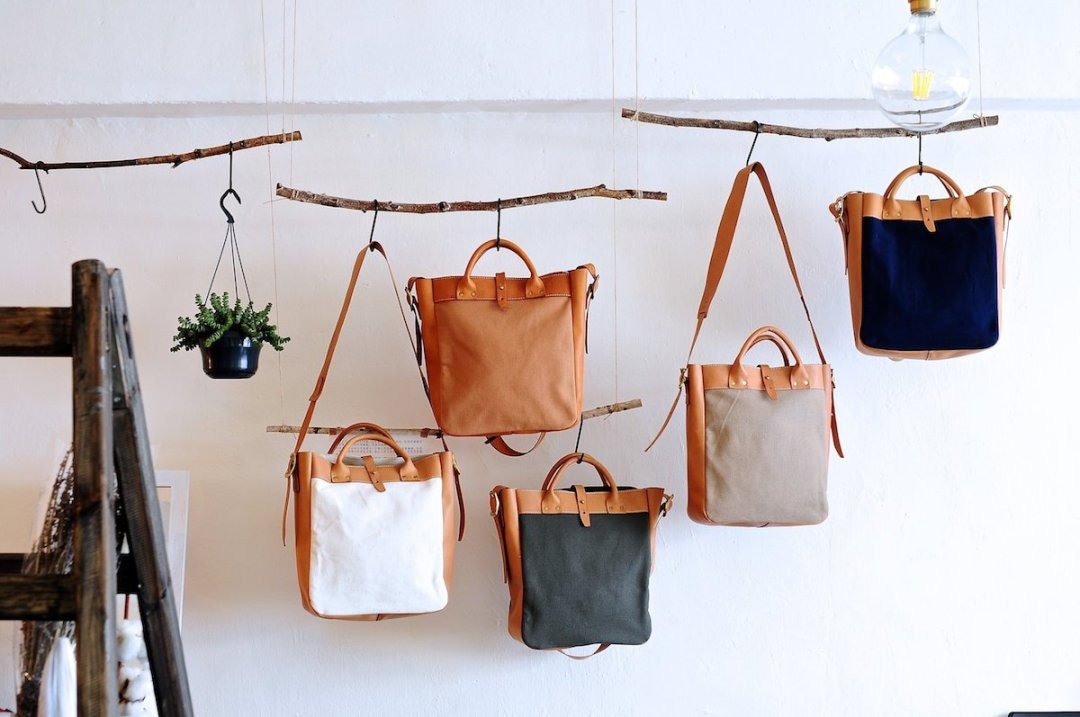 >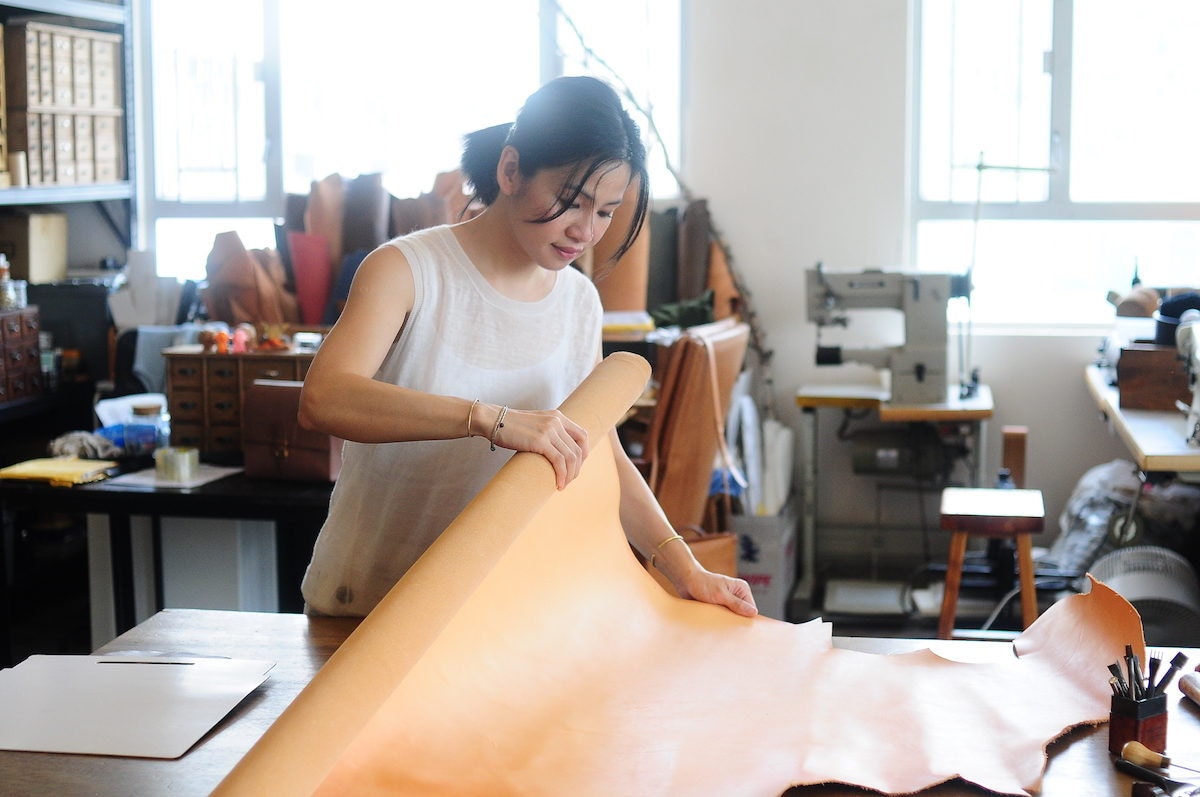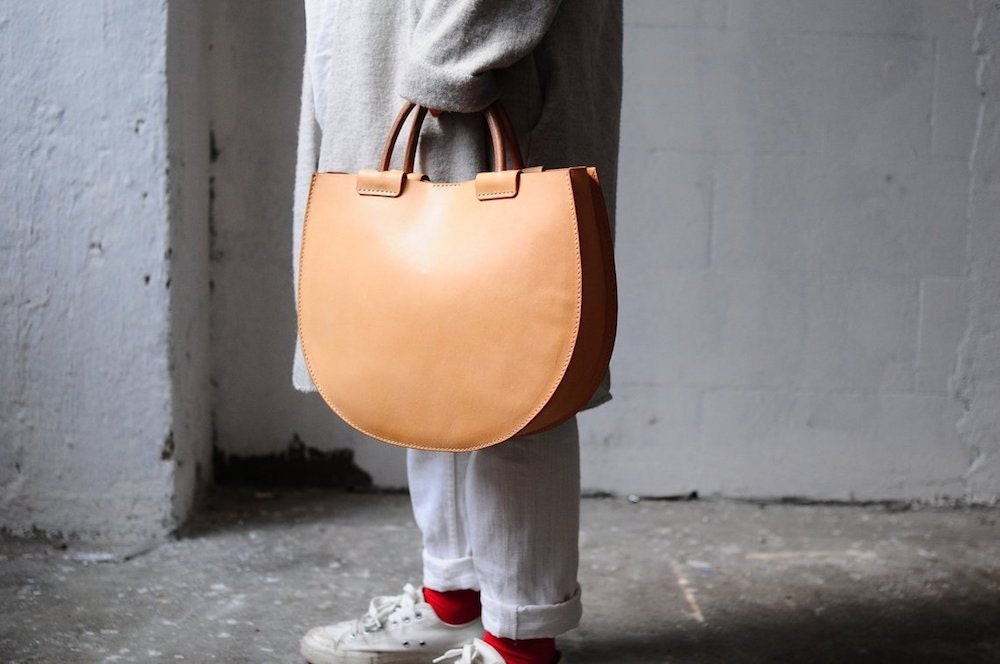 >
How does your commitment to eco-friendly production methods come into play?
The production cycle for our leather is strictly monitored to ensure a lower impact on the environment. For example, no animal is killed for its skin—the raw hides used by our tanneries are the discarded byproducts of the food industry that produces meat for human consumption. And the tanneries we work with have also invested in purification and waste recycling systems that respect the environment. This means that many of the outputs from the vegetable tanning process are recovered, recycled, and reused in different ways. For example, hair removed from raw hides is recycled into agricultural fertilizer, and other outputs are reused in the construction field to make bricks.
Why do you use vegetable-tanned leather, specifically? How does it add to the value and beauty of a bag?
Vegetable tanning is the traditional tanning method refined by the Spanish, Italians, and French during the Renaissance. But today, it accounts for only 10% of leather produced. Because it doesn't use potent or toxic chemicals, vegetable tanning takes much longer to complete than commercial tanning—usually several weeks as compared to as little as a day for tanning done with metals like chrome. As a result, this high-quality leather can be more expensive, but it's worth it. Vegetable-tanned leather looks natural, smells sweet, and develops a beautiful patina over time.
How do you select the hardware for your bags?
We use Japanese hardware for all Artemis products because we believe in their safety and reliability. This includes YKK zippers and solid brass buckles.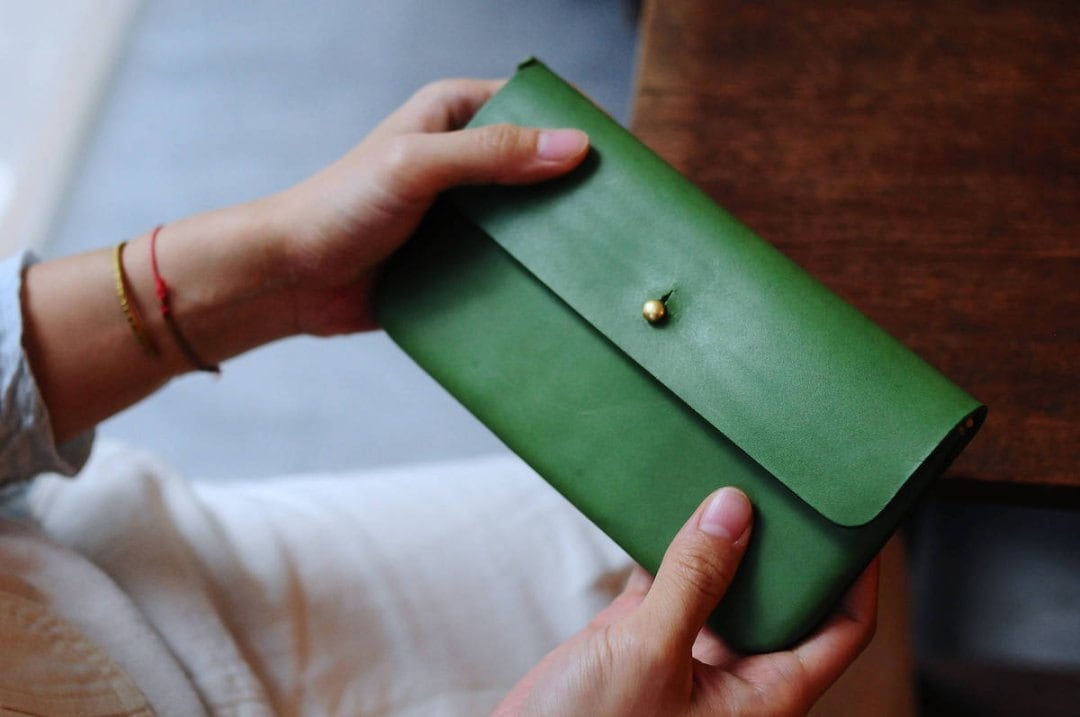 >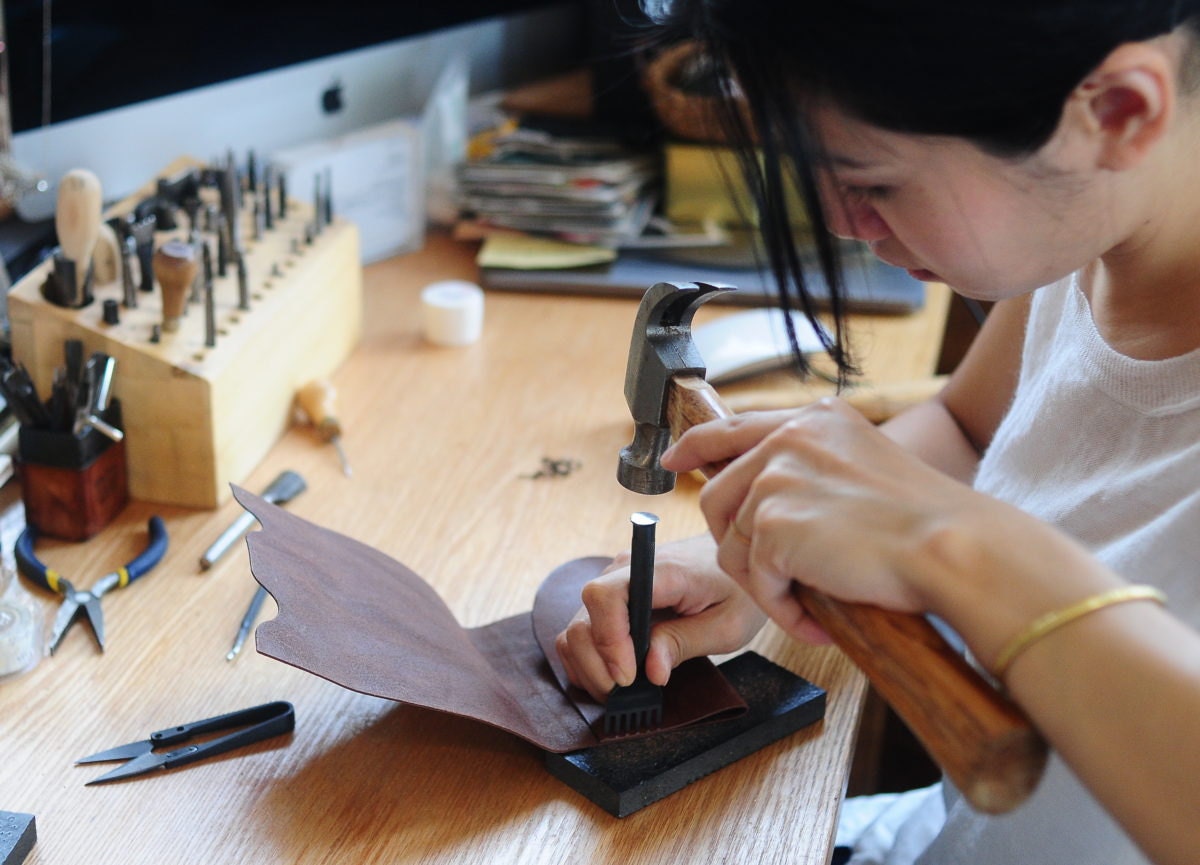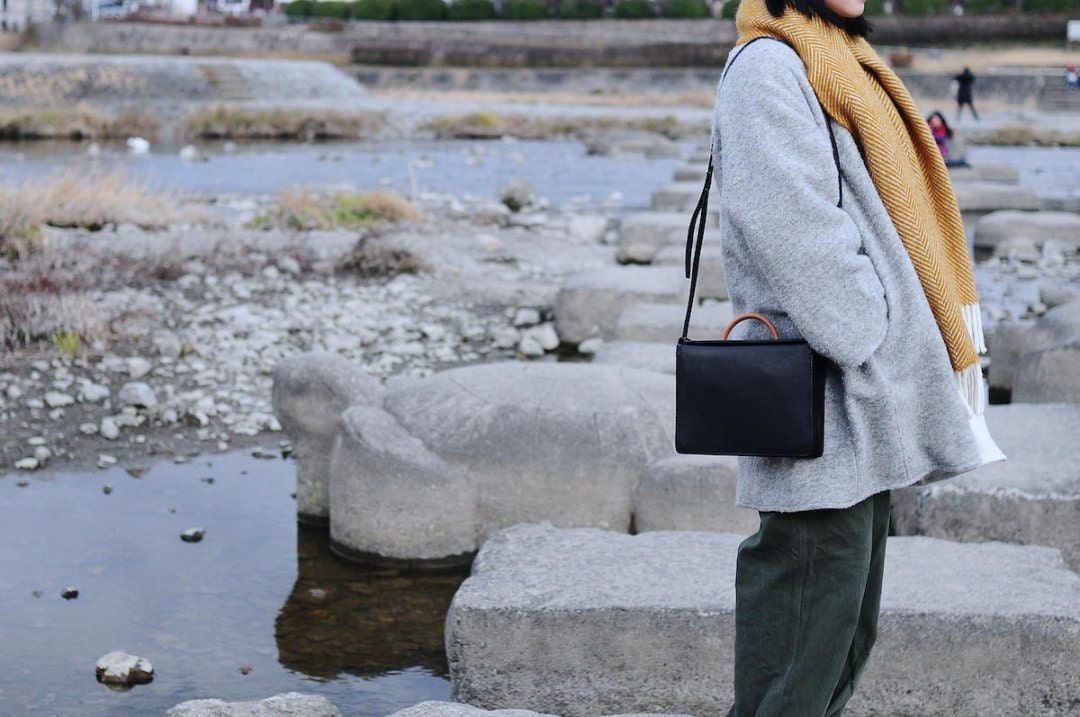 >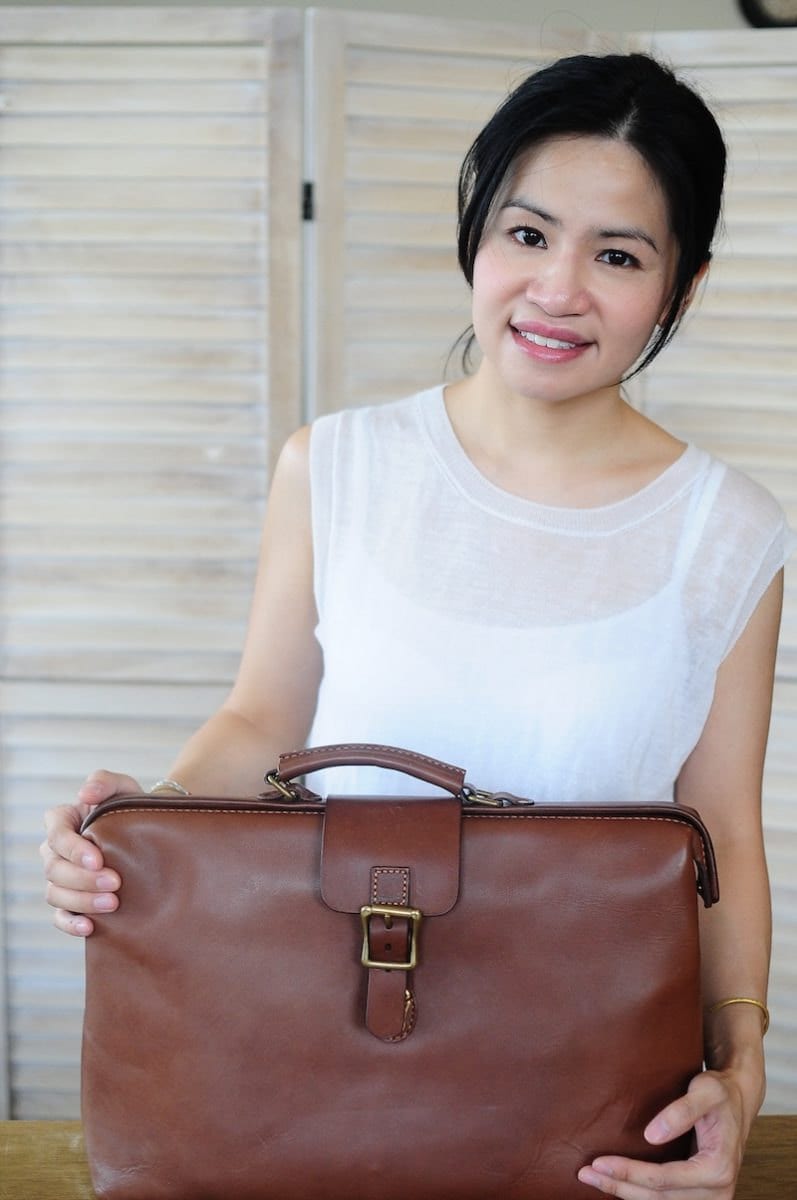 How many people work for Artemis Leatherware?
We're a team of three: two partners and myself. I focus on designing bags and managing the
Etsy shop
. My partner, Jacky, takes most of the photos for Etsy, and my other partner, Dennis, helps manage our materials stock. And all of us cut and sew the bags, too.
Hong Kong is famous around the world for fashion and fine tailoring. What's it like working in a place where handcrafted items are valued so highly?
There is keen competition in Hong Kong because there are many excellent handcrafted products and brands. We just try our best to do good work, promote our brand, and let people know what Artemis has to offer.
So what's next for Artemis Leatherware?
Our goal is someday to have a brick-and-mortar shop in Hong Kong and a bigger staff. And, of course, to make more bags!
Follow Artemis Leatherware on Instagram and Facebook.
Photographs by Jacky Mak.