by Jaime Buerger
When fine-art photographer Barbara Perrino turned her eye to textile design, this line of modern, minimalist quilts was the (beautiful) result.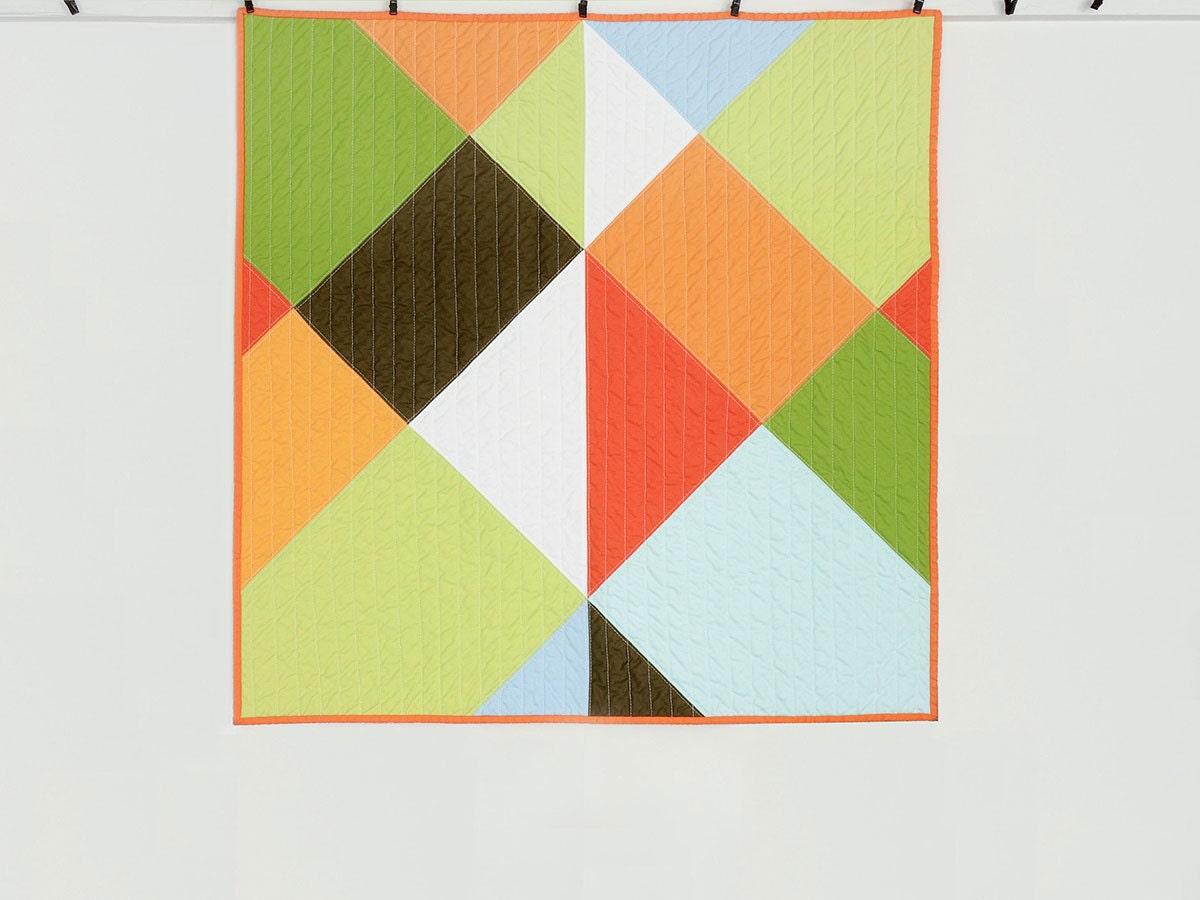 Barbara Perrino was a fine art photographer specializing in platinum/palladium printing when her agent adopted a little girl. Because the family already owned several of Barbara's prints, she wanted to give them something different, but just as special. She decided on a quilt for the new baby and, as an avid DIYer—"that's the
Capricorn
in me," she says—she knew she wanted to make it herself. The problem? "I didn't know how to sew," says the Rhode Island–based artist. "Unless you count the stunning pullover top I made in my seventh-grade home economics class!"
Barbara soon found that
quilting
scratched an itch that photography—and especially the darkroom process—didn't. "I loved spreading out my materials and putting my hands all over them, which is something you can't do with a picture." At the same time, digital photography was lessening the demand for platinum prints, so in 2011 she shifted to quilting as
b/perrino handmade
full time. "There are still some people who, when you say, 'I'm a modern quilter,' think of what their grandmother was doing," she says. These people clearly have not visited Barbara's shop. With an eye toward minimalism—a trait, she says, that translated from her photography days—Barbara creates quilts that are fresh and geometric, with simple shapes and clean lines that feel right at home in the 21st century.
Read on to learn how Barbara made the leap from one artistic medium to another, then shop her collection of modern-minded quilts.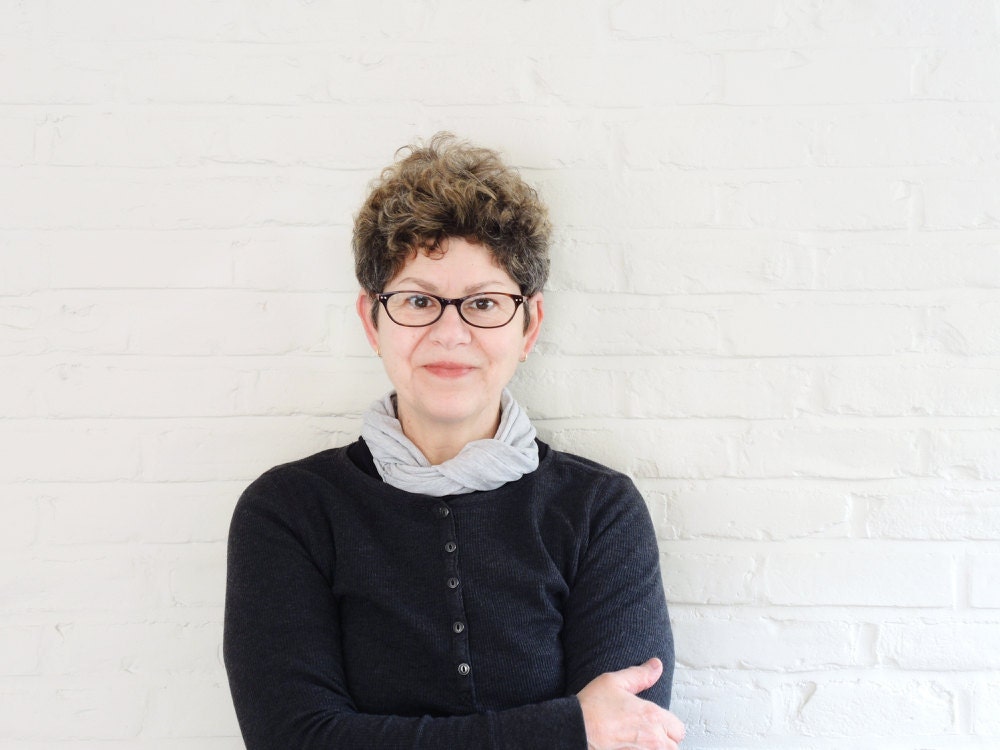 Photo by 
Kathy Kennedy
You're a self-taught quilter. Was there a huge learning curve for you?
Not really. I'm good with reading instructions, so I just plodded my way through it. And between books and magazines, then blogs and videos, I just kept practicing and going back as many times as I needed to until it clicked, which is something you can't necessarily do in a classroom setting. The biggest challenge, though, was space. You just need a lot of space when you're
quilting
. I love my studio now, but it's never enough room, never enough surface.
Speaking of workspaces, what's yours like?
It's a semi-attached, one-car garage on my property. When we were looking to buy a house, I was like, "There has to be a garage, period." Otherwise, it was a dealbreaker. We found this place, and it was just calling out to me. Turns out the man who lived here before us was a tinkerer, so he had already put up shelving in the garage and was in the process of converting it. We took the garage door out and put in French doors and added walls, heat, and insulation. The garage gets lots of natural light, which I'm thankful for. I have some of my photography in cabinets and drawers, but most of the room has been taken over by fabric and machines. There's a large table in the center so that I can work from all sides. And I use a felt quilting design wall, so that as I'm piecing things together, I can stick them up and step back and have a look at the layout.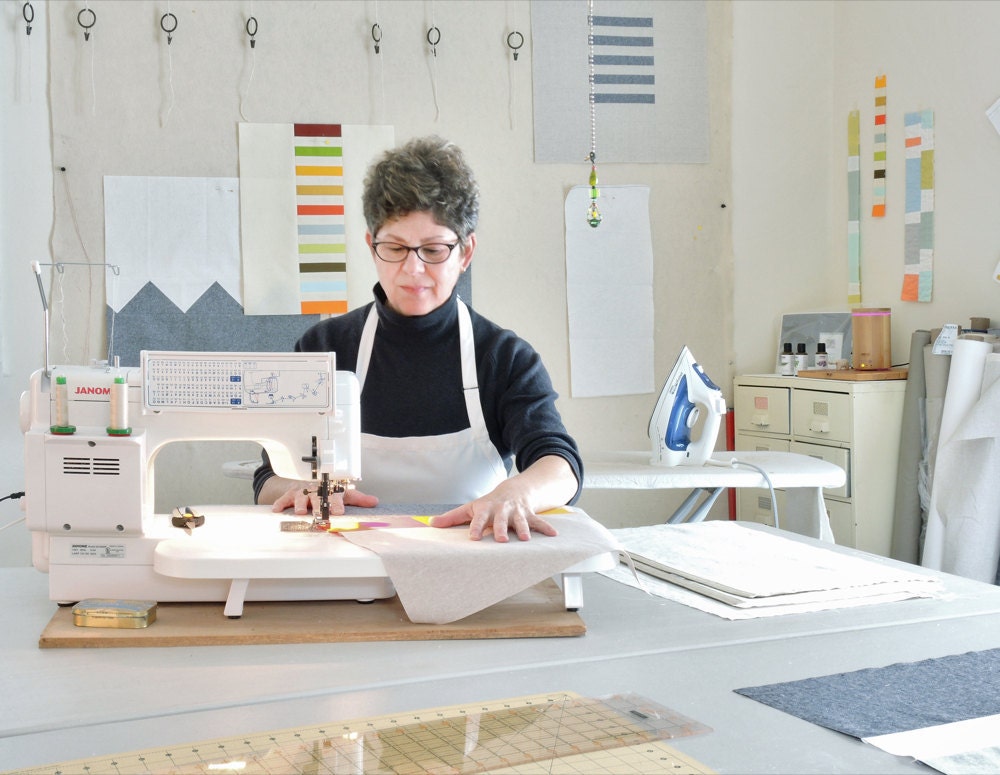 Photo by
Kathy Kennedy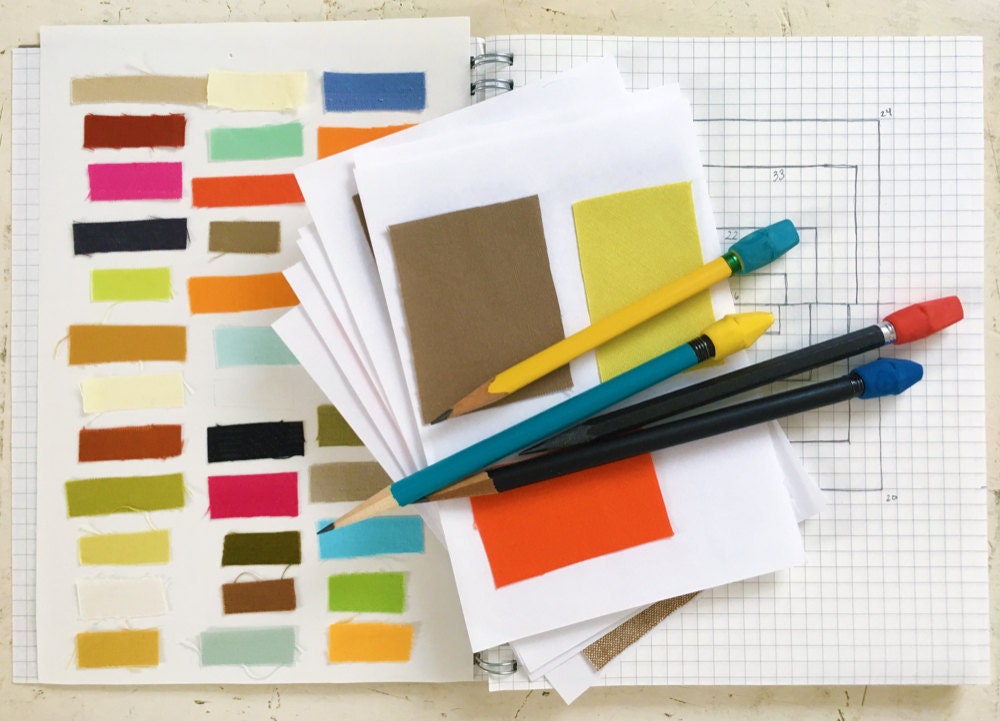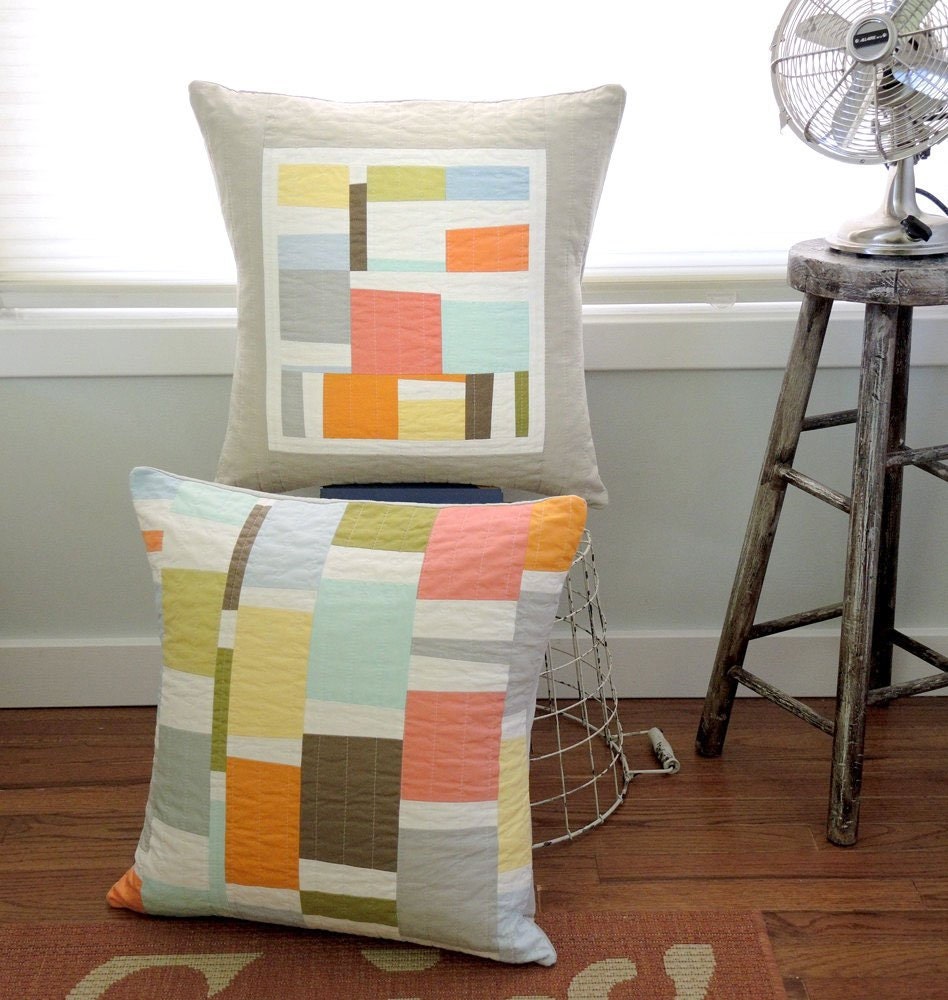 >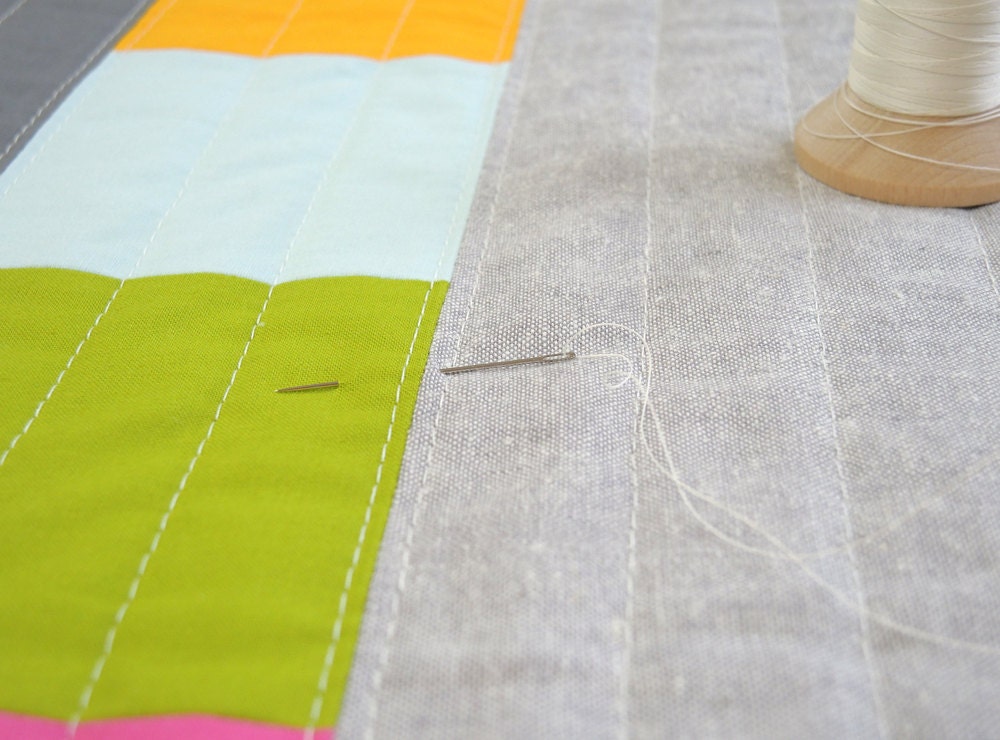 What's a typical day like for you?
I try to work every day. The challenge—and not necessarily with quilting, but with being self-employed in general—is the self-motivation to get up and do it every day. I sometimes stumble in that department. But I try to get out here, because I find that even if I'm feeling lazy or I'd rather be in bed reading or whatever, once I get out here, then it's like, "OK." I want to touch my stuff and play with my things and lay this or the other out. Basically, if I can get out the door, I'm pretty good. Obviously, this is easier when I have a number of orders, because then there is no question—I have to get up and get at it. One of the holdovers from my photography and printing days is a work apron. I come out here and put on my work apron, and then I just hope something happens!
Can you walk us through your creative process?
I start with a sketch using graph paper and pencils. Then I take a picture of the sketch and send it to my iPad, which allows me to plug in colors and play around. Usually, the things that pique my interest first are color combinations. Then the actual
design
, or a set of shapes, comes next. And really, that's it. The colors will come to me, and then I go to the graph paper and my tablet, and I'm off to the races. I'd rather have my hands on things than on a keyboard, although I do like fooling around with Photoshop. But at this point, I think I'd even rather sit in front of a computer screen than be in the darkroom all the time. There's something nice about working in the daylight.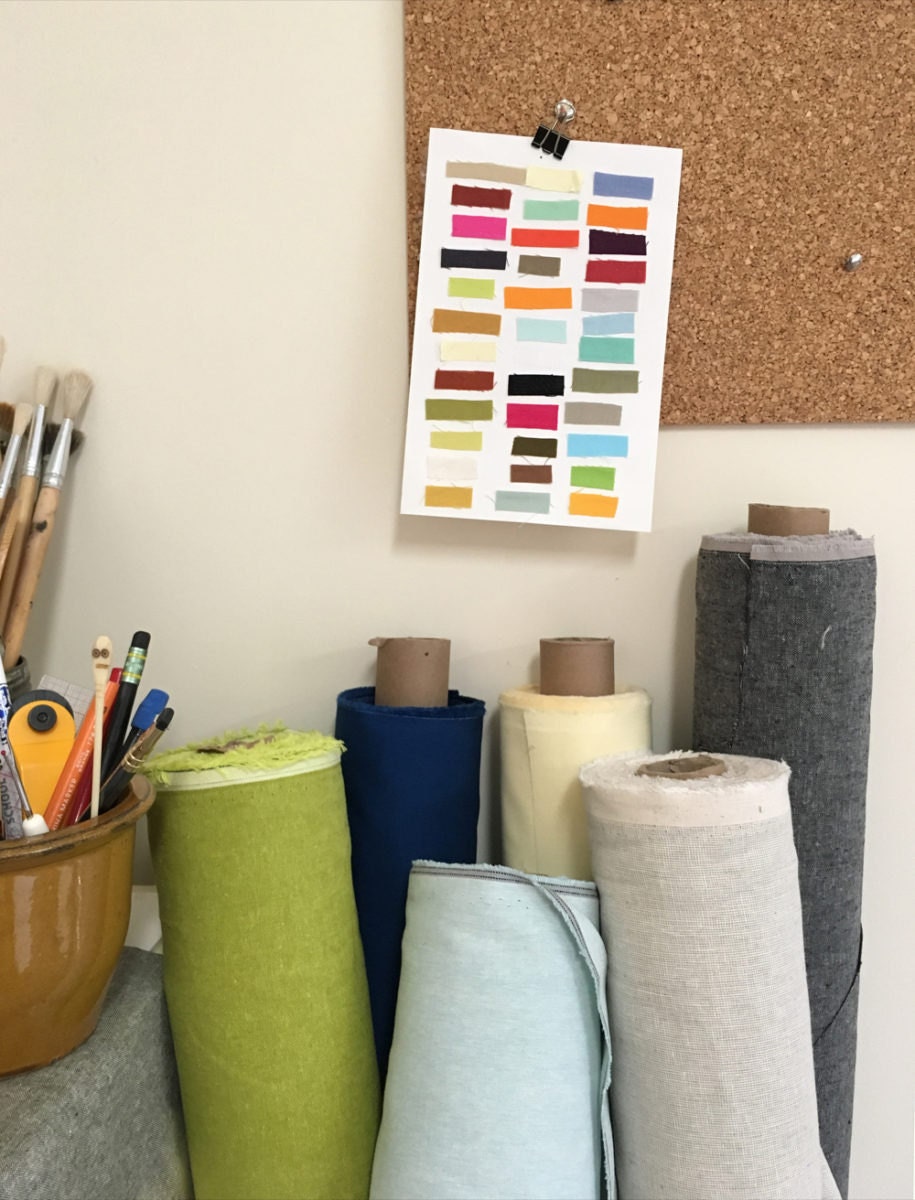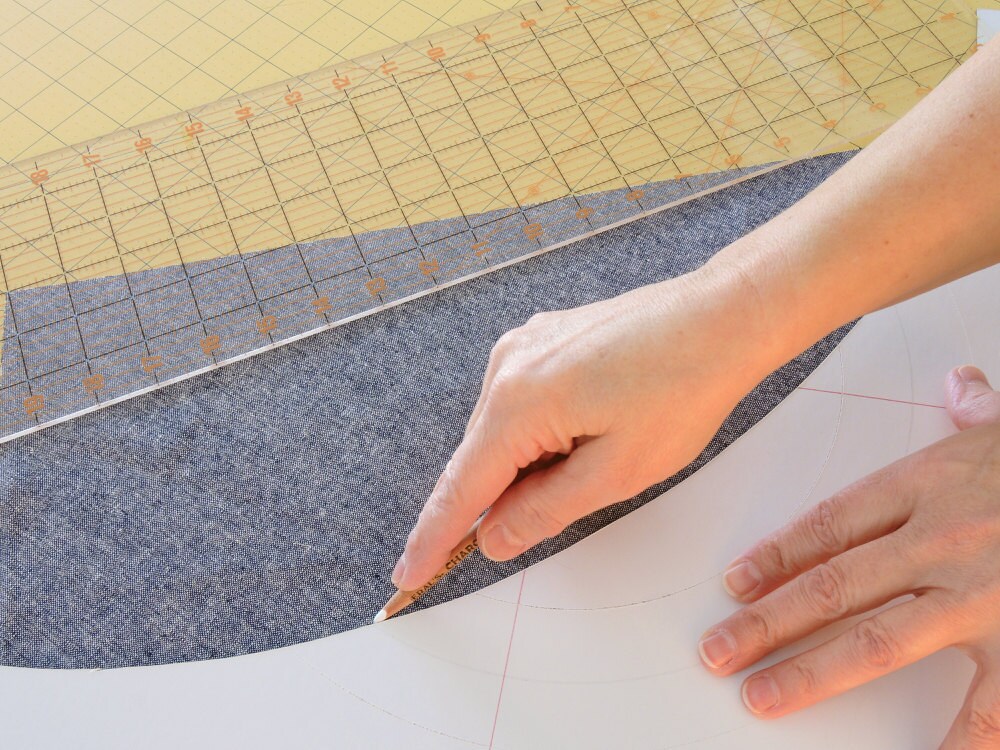 Photo by
Kathy Kennedy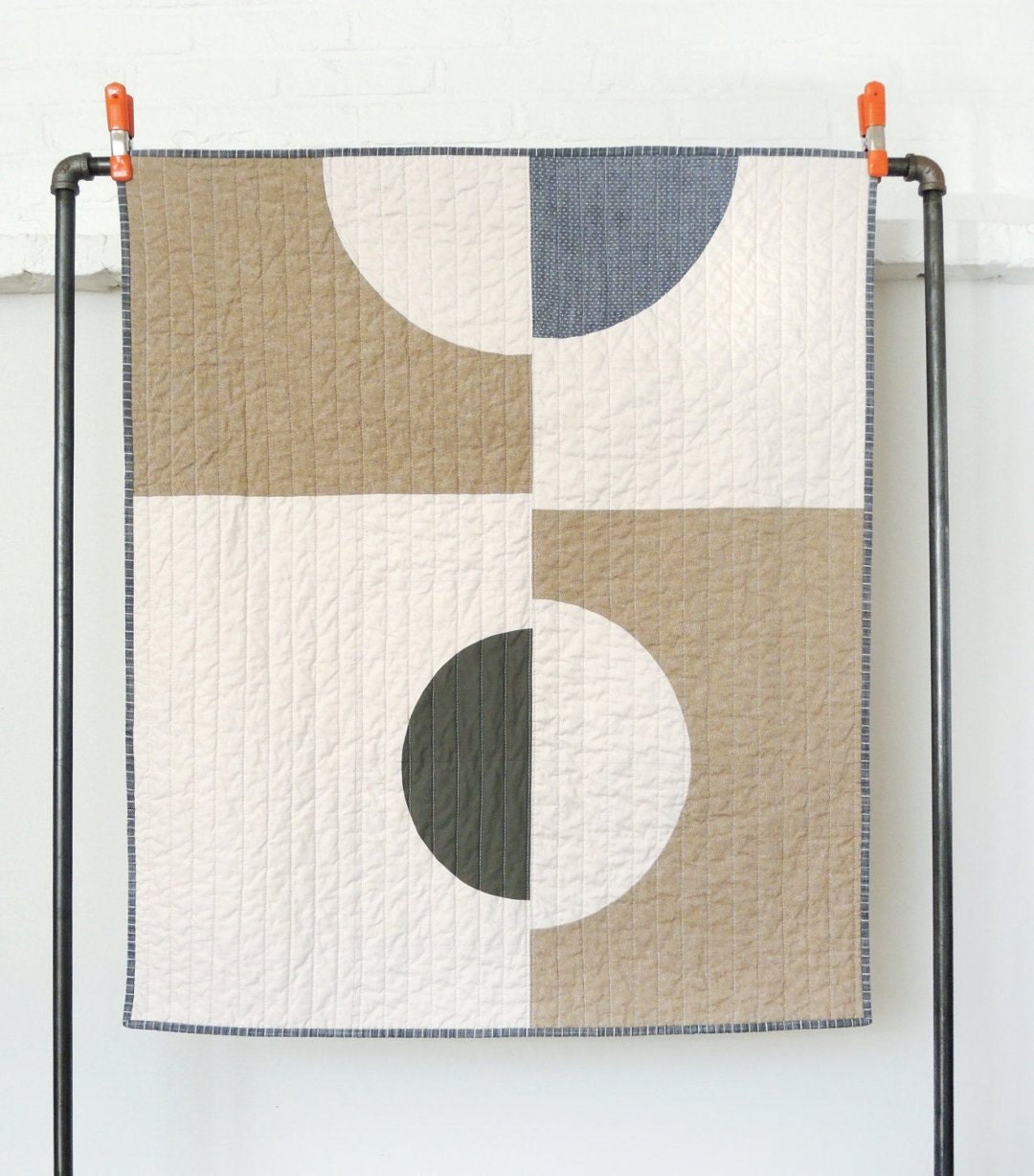 >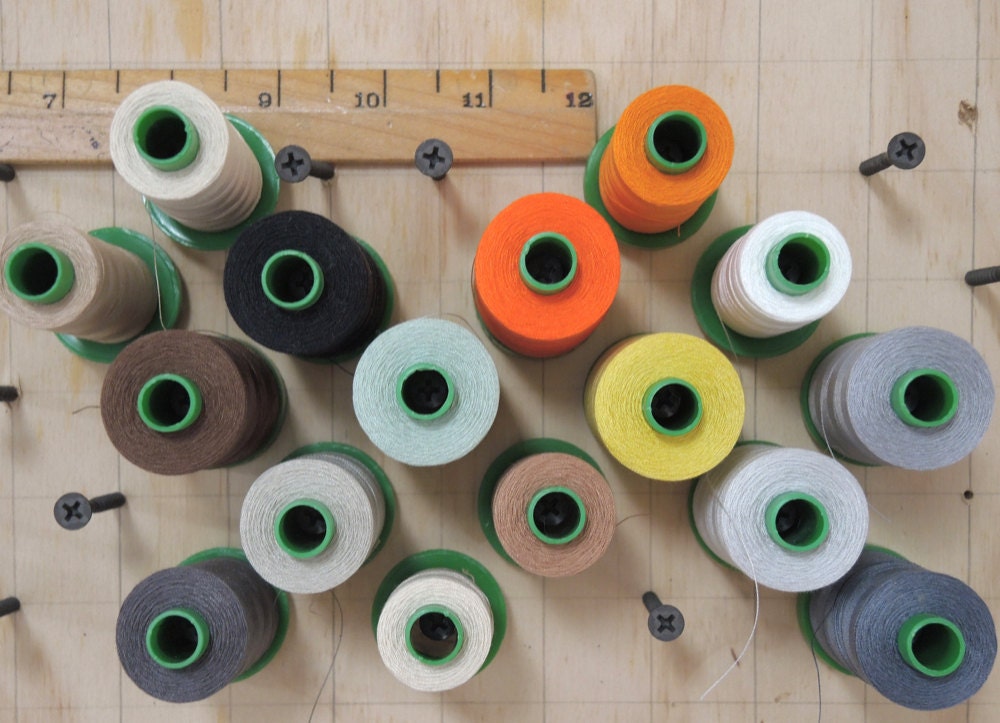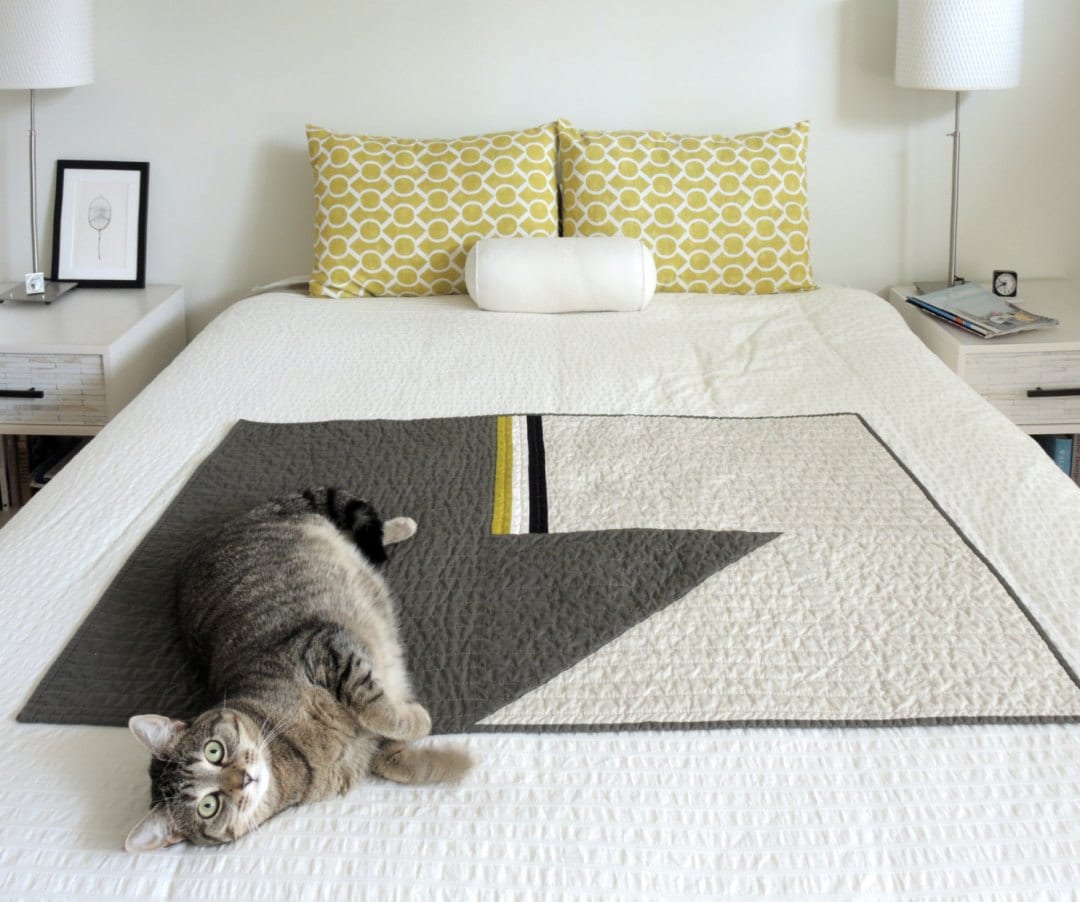 >
What's the best part of your job?
I really enjoy collaborative projects. It's the most fun for me when someone finds me and says, "I like this, but could you do it this way, or could we try something else?" It's all a blank slate, and I try to decipher what it is that they're really looking for. People often come to it thinking they have absolutely no design sense or talent for design and then, by the end of it, we've devised a plan and worked out a
design
together. When customers appreciate that collaboration, that means I've succeeded in walking them through the process and they've enjoyed it just as much as I have. It's really gratifying.
On the flipside, what's the most challenging part of your job?
I'd say the aloneness that comes with running an e-commerce business. When I'm busy, I'm out here by myself. It'd be nice to have an extra set of hands or a conversation once in a while, but I'm not complaining, certainly. I'm very fortunate to do what I do.
Follow b/perrino handmade on Instagram.
Photographs courtesy b/perrino handmade unless otherwise noted.