This family-run shop crafts heirloom-quality wooden rattles and teethers your little ones won't want to outgrow.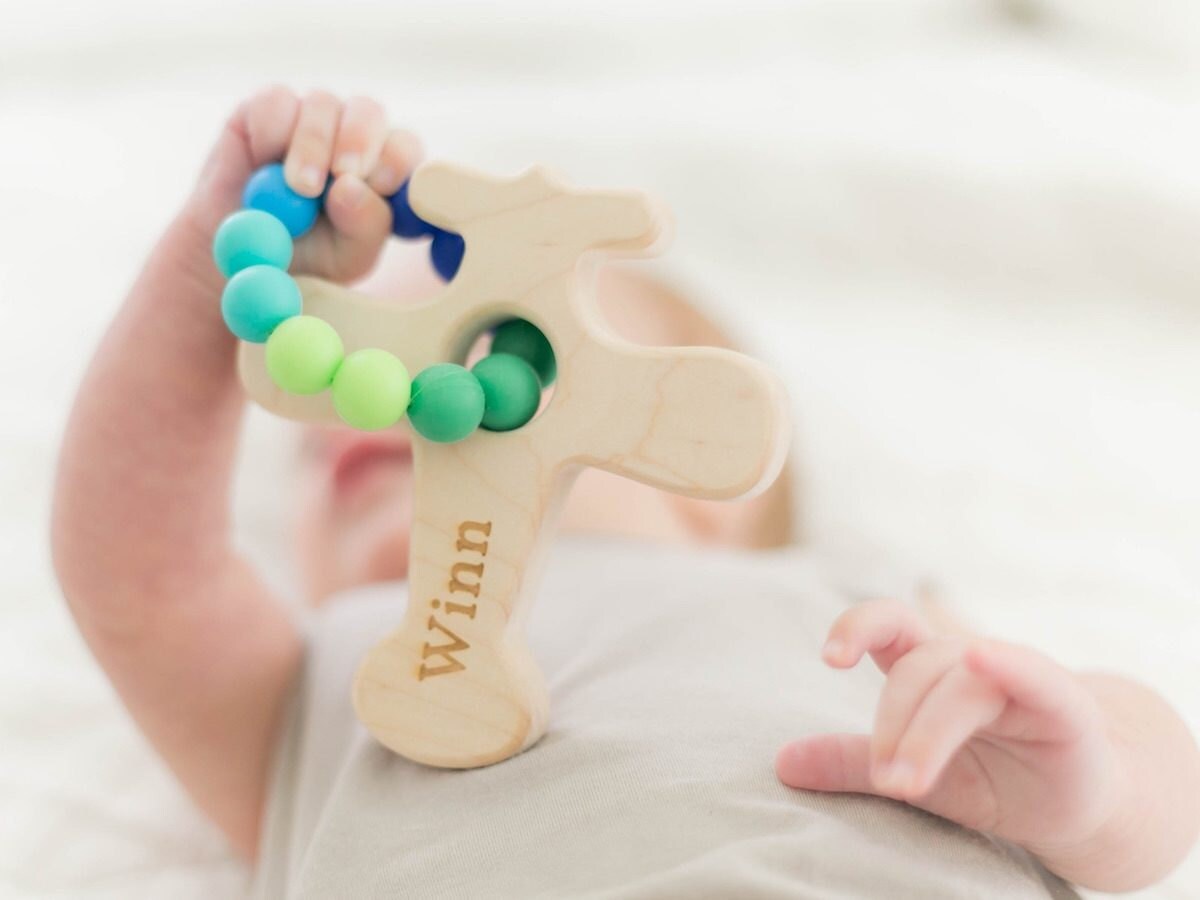 In our weekly
Featured Shop series
, we shine a light on a standout shop from Etsy's talented seller community, offering readers a behind-the-scenes look at their process and story. One surefire way to earn instant favorite grown-up status with the tiny tots in your life
and
their parents? Show up to your next baby shower or birthday party with a handcrafted
wooden rattle
,
monogrammed teether
, or
personalized set of blocks
from Iowa-based operation
Bannor Toys
. Founded by former daycare owners (and parents of three) Stacey and Jesse Bannor, the shop features Montessori-inspired nursery staples beloved by
kids and babies
for their simple, lightweight shapes designed to let little imaginations run wild.
Explore the Bannor Toys collection
The draw for design-conscious moms and dads? The toys' understated natural wood finishes and curated range of customizable accent colors. That happy combination is likely responsible for the 18,000-plus sales Bannor Toys has racked up since the shop opened on Etsy in 2011—and for the enterprise's expansion from a workshop in the couple's two-car garage to an 11,000-square-foot warehouse with a dedicated staff of 10. "This business is kind of like my fourth baby," admits Stacey. "It's more than just a job—it's a passion."
Read on for more from Stacey on what sets their line apart—and shop the Bannor Toys collection.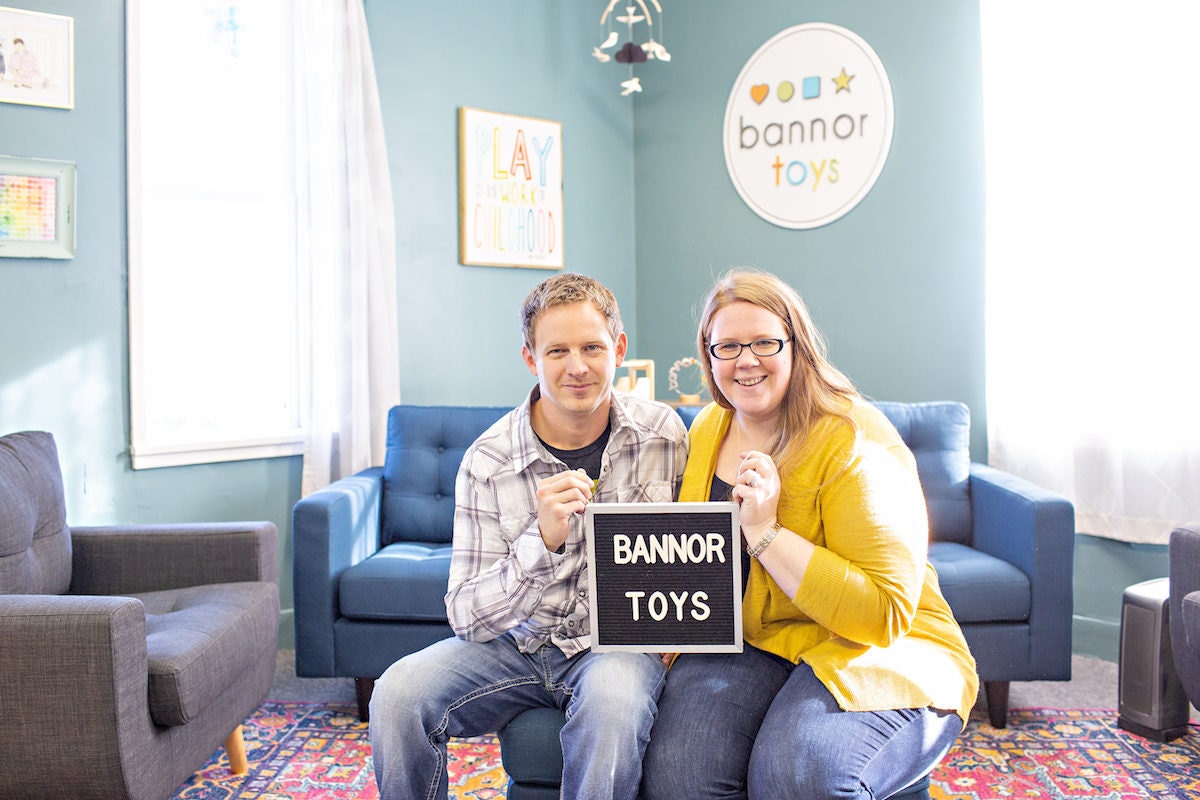 How did you get started making toys?
Back in 2011, I was running an in-home daycare and my husband had a finance job that he hated. One day he came home and I'd gone through all the toys in our house found a ton of plastic ones that were broken. I asked him to fix them, but instead he went out and bought a scroll saw and decided to make some new ones. He didn't have any woodworking background, but he cut out this little wood truck. And I looked at it and said, "Hey, that's really cute! Maybe we should sell these." That was eight years ago.
How did your experience with toys as a daycare owner inform your approach to creating your own?
When we got started I had six or seven daycare kids, so we started making toys that would let them be creative and really work their imaginations—toys that didn't tell kids how to play with them. We'd make a
simple set of blocks
, for example, and the kids would decide to build a city, or turn the blocks into cars and drive them down imaginary roads. We lean a lot on the Waldorf and Montessori principles of open-ended play. There are no instructions; there's no right or wrong way to play with something. When we saw all the creativity and the imagination spark up in them, it just made sense to keep going. That's how we wanted to raise our kids, and we realized that it could benefit other families as well.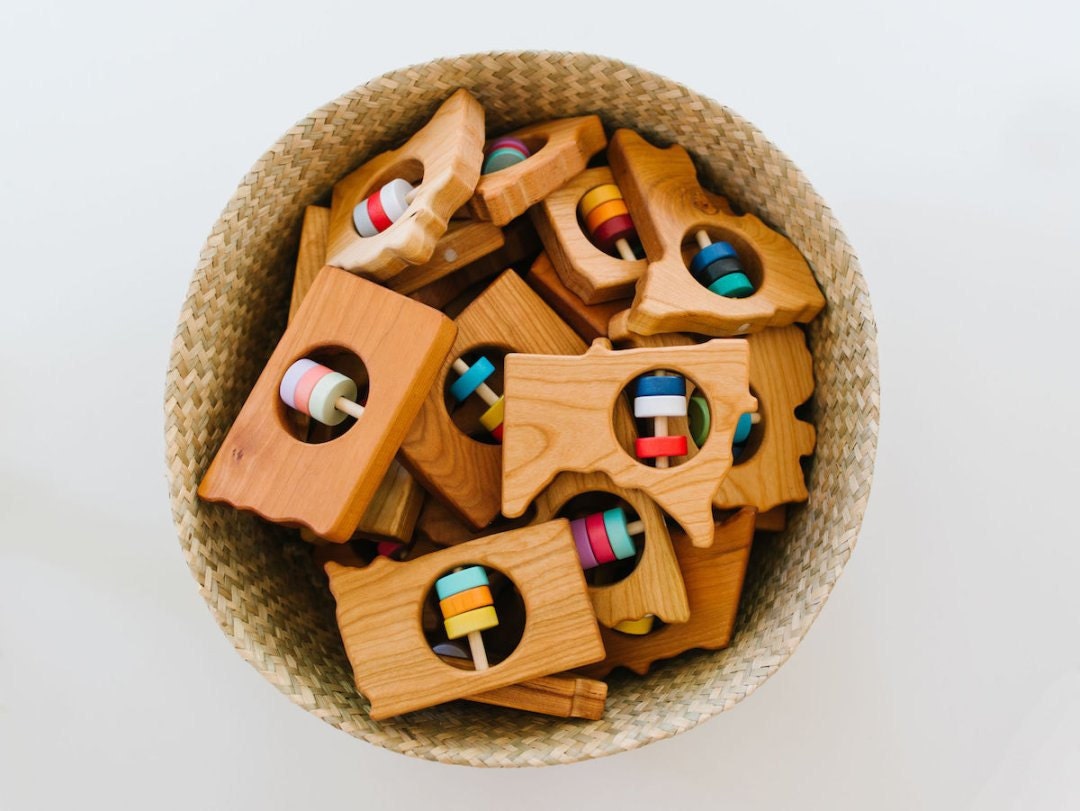 >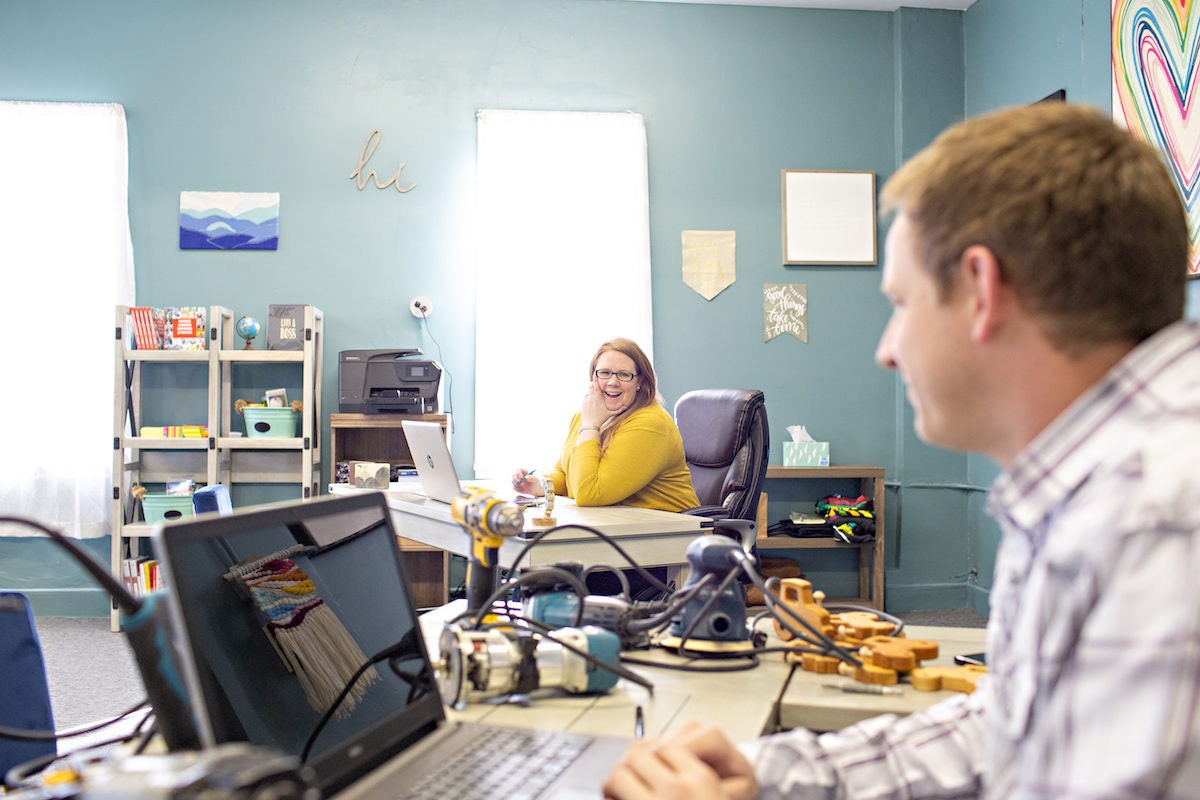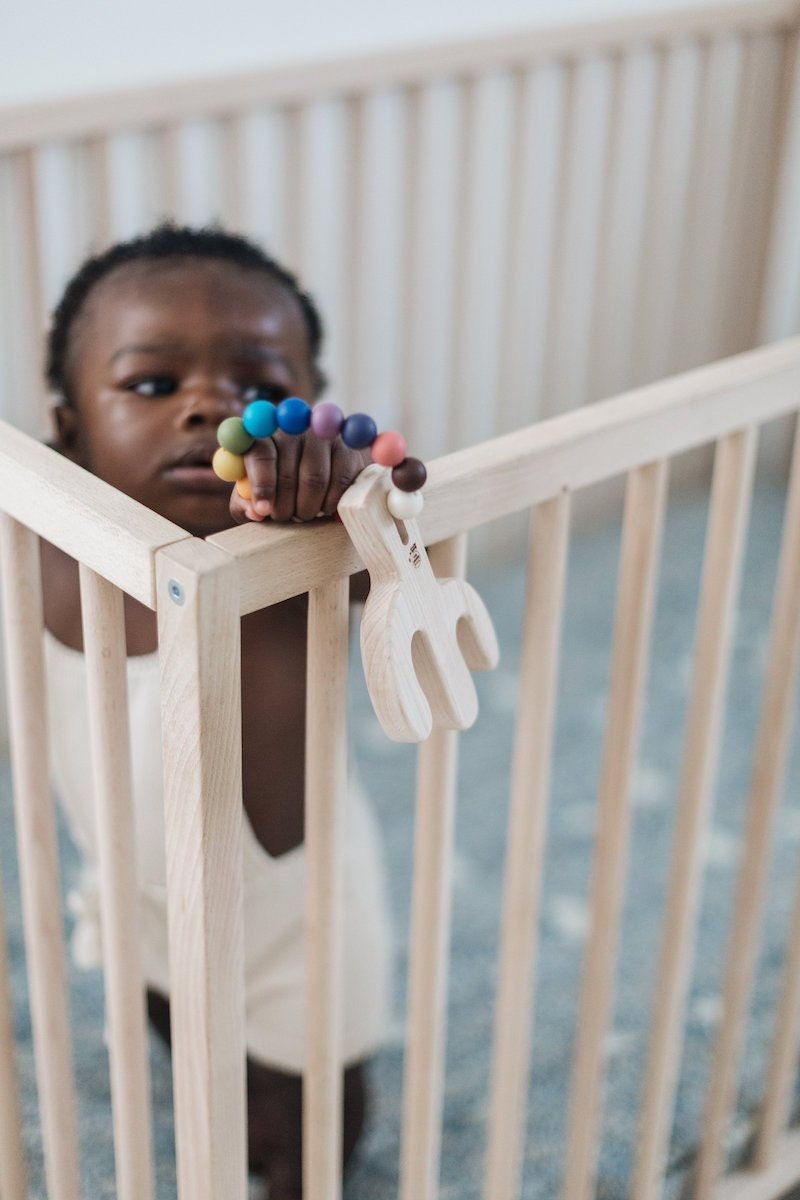 >
Photograph by Samantha Broderick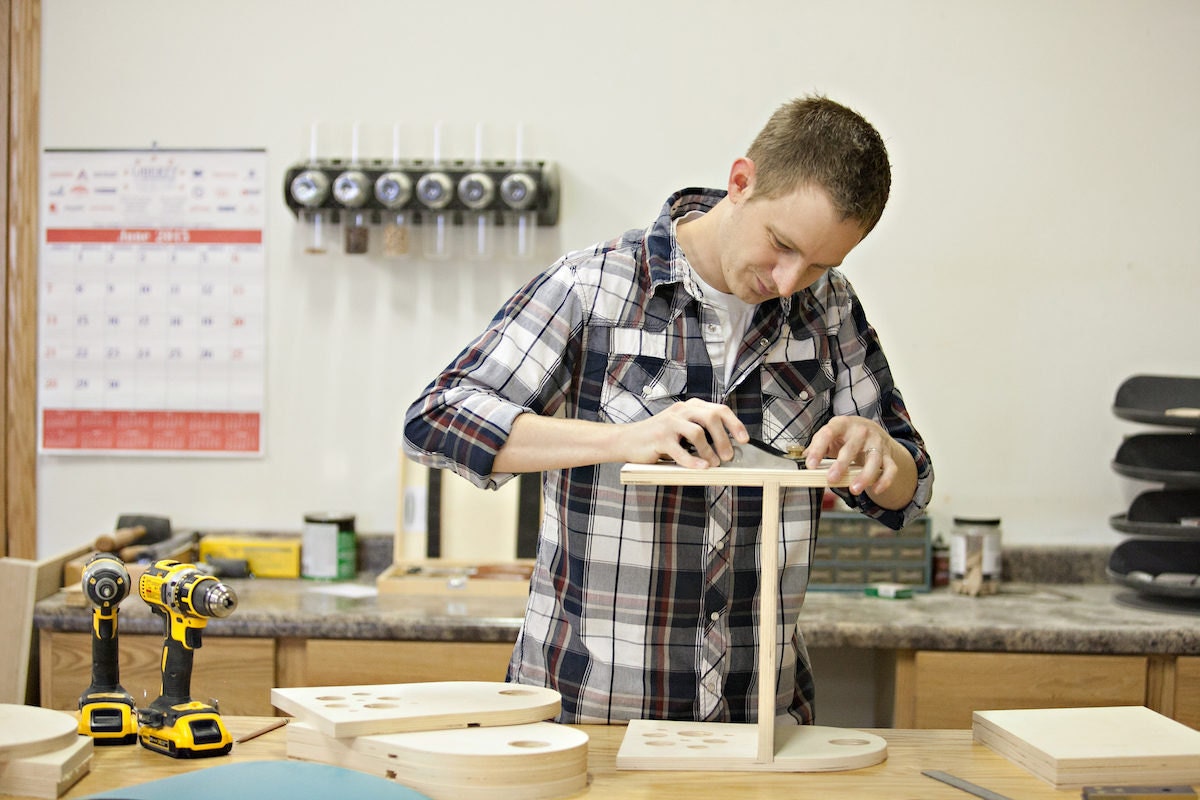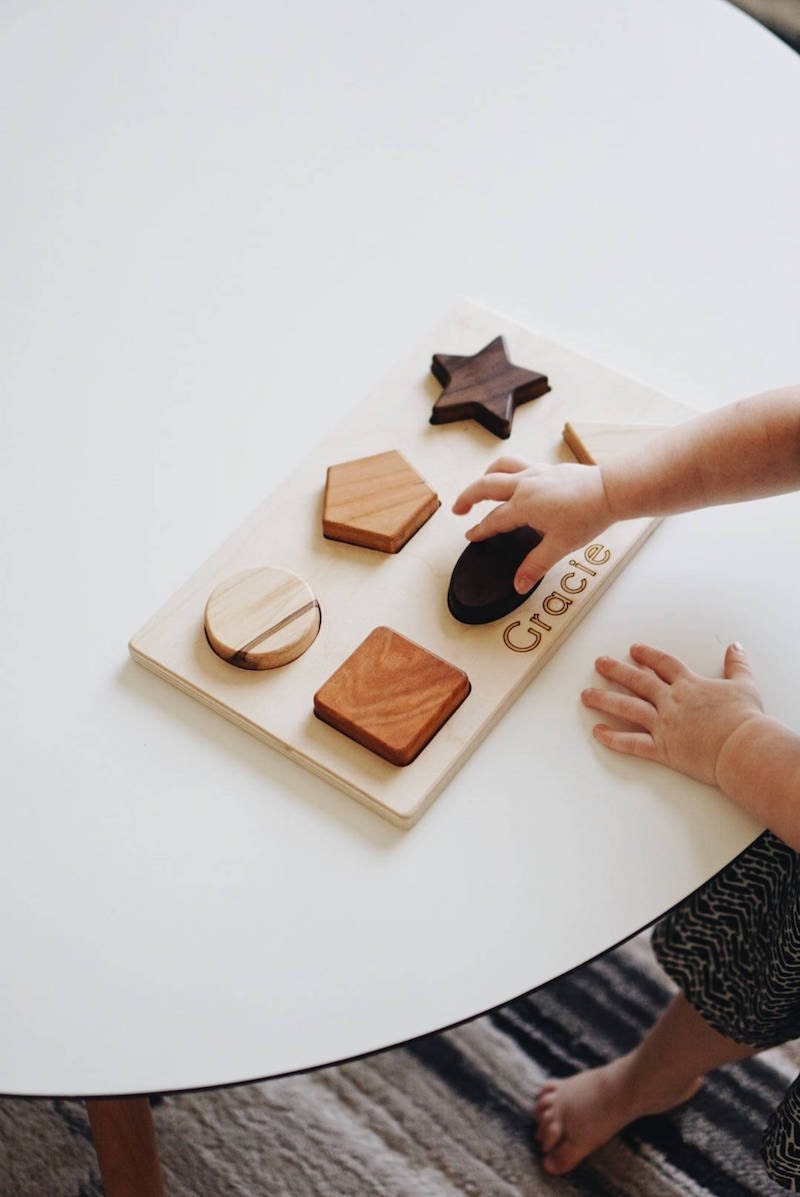 >
What would you say sets your products apart in the world of toys?
The main thing that differentiates our line is color. Most wooden toy companies have used the same three woods—maple, cherry, and walnut—for the last 50 years. They're naturally anti-bacterial, which is great, but there aren't very many companies that also incorporate color. We've sourced an organic, non-toxic, water-based paint that's completely safe to be used in kids' toys, so we throw in splashes of color with the natural wood and it makes the pieces stand out a little bit more. We've also recently started adding silicone to our
teethers
, which is nice for babies to chew on. You can choose between different colored silicone rings and beads.
What are some of your most popular products?
Our
state rattles
are kind of our thing—they've been our number one seller for years. Our
teethers
have also really shot up in popularity since we started offering the silicone add-on option—people just love the different textures and colors. Our
airplane teether
is especially near and dear to my heart because I hand-drew the original design back in 2013 and it's been a top seller ever since. And then our
blocks
! Blocks are always crazy-popular because you can get an alphabet set or a personalized box with your child's name.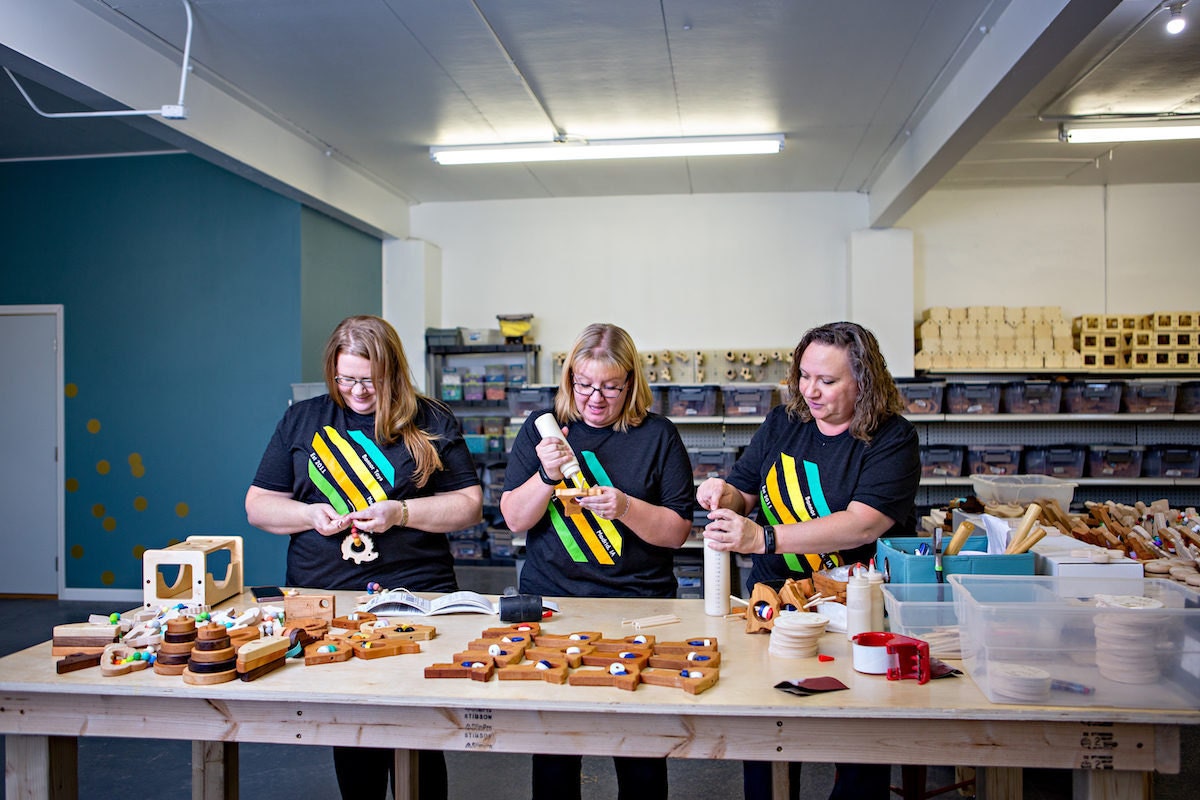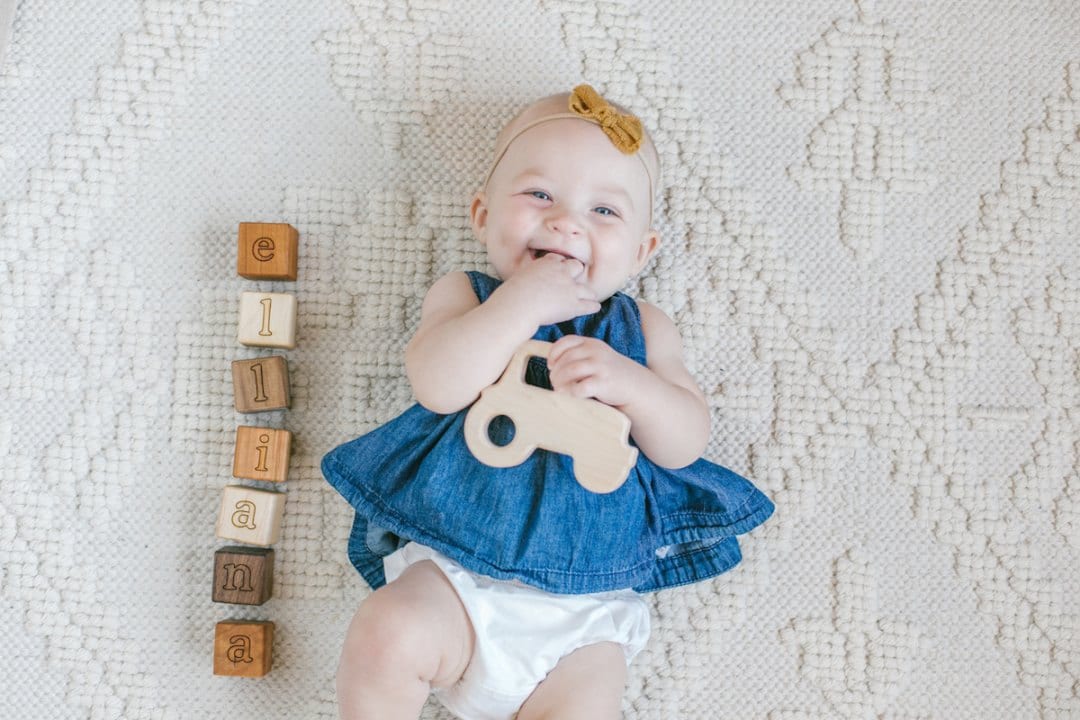 >
Photograph by Lauren Westra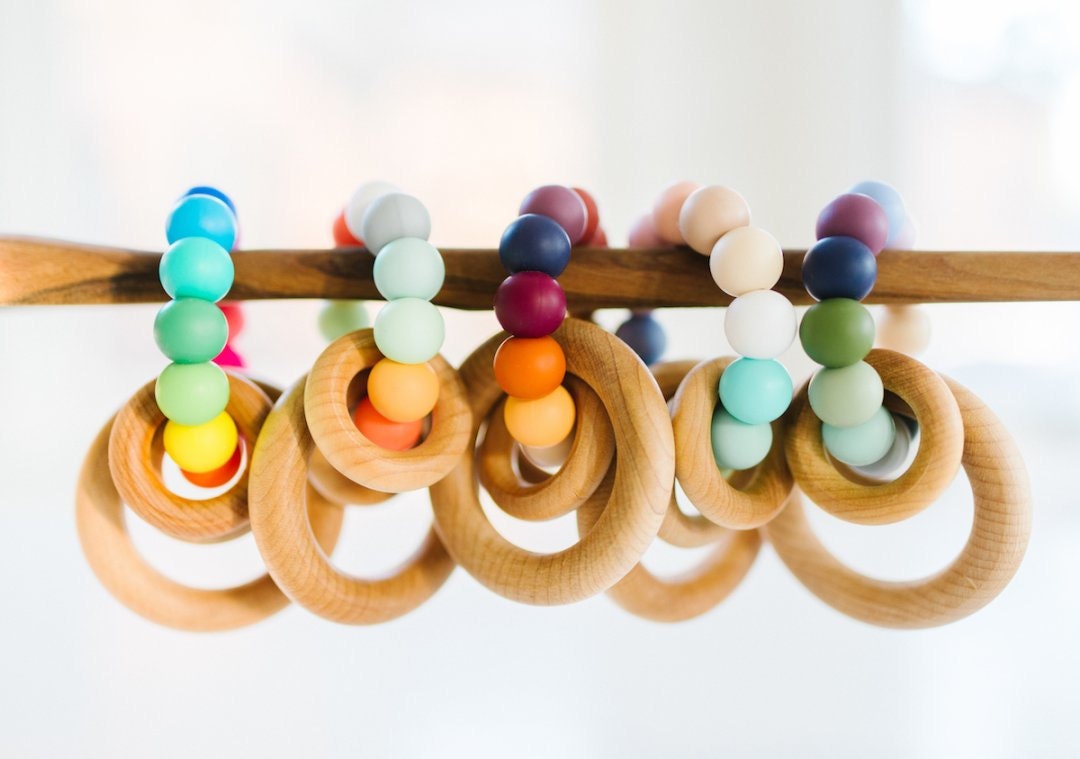 >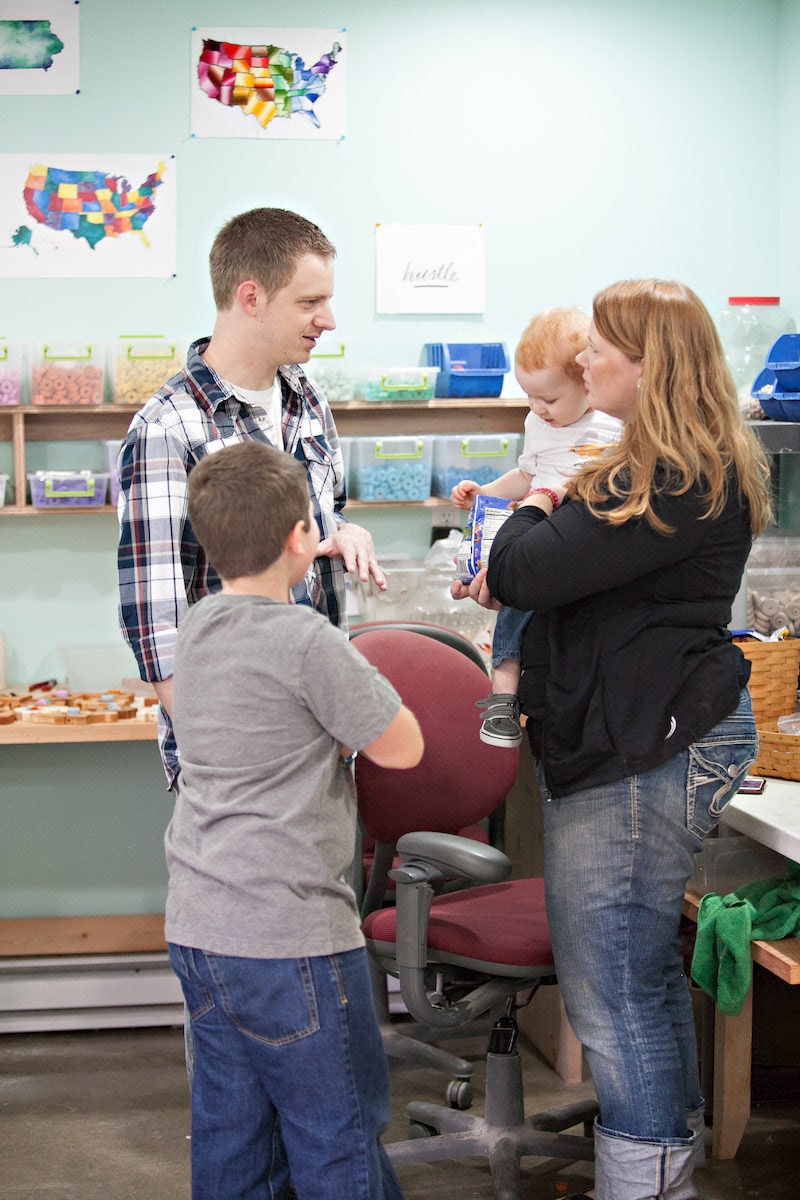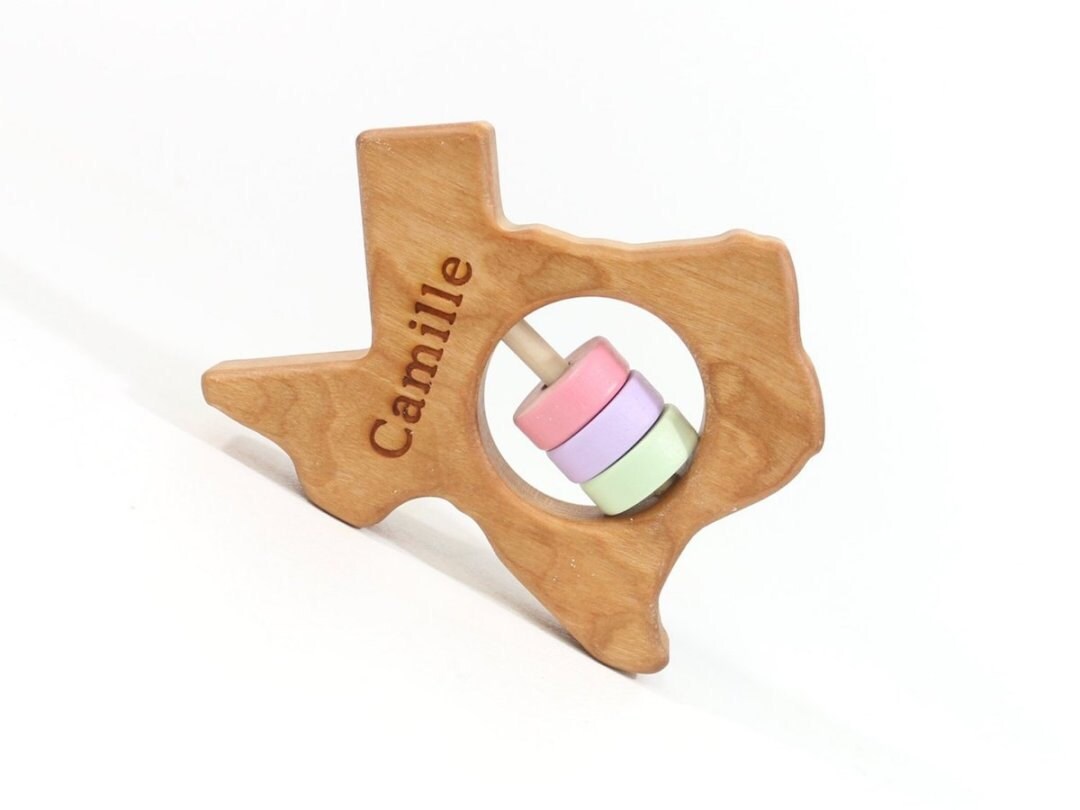 >
Can you tell us a bit more about the different personalization options you offer?
I would say that between 85 and 95 percent of our orders are personalized—it's kind of incredible to see how much people like that option! We have laser engravers, so we offer single name personalization as well as a handwriting option if, say, you have a birthday card from your grandma and you want to engrave her actual handwriting on the item. We also do a lot of birth stats—on our
state rattles
, in particular. They're great keepsakes to pass down to grandkids or just hang on to.
What role do your own kids play in the business?
We're a family business, so there's no aspect that our kids are not a part of, from cleaning the shop to helping package toys. Our warehouse right now is across the street from the elementary school, so our kids just walk over here after school. When they get here, if Dad needs help sweeping the shop, they go down there and help out, or if I need help counting inventory, they'll pitch in. We're trying to teach them that we have what we have as a family because of this business, and they're a part of that, too.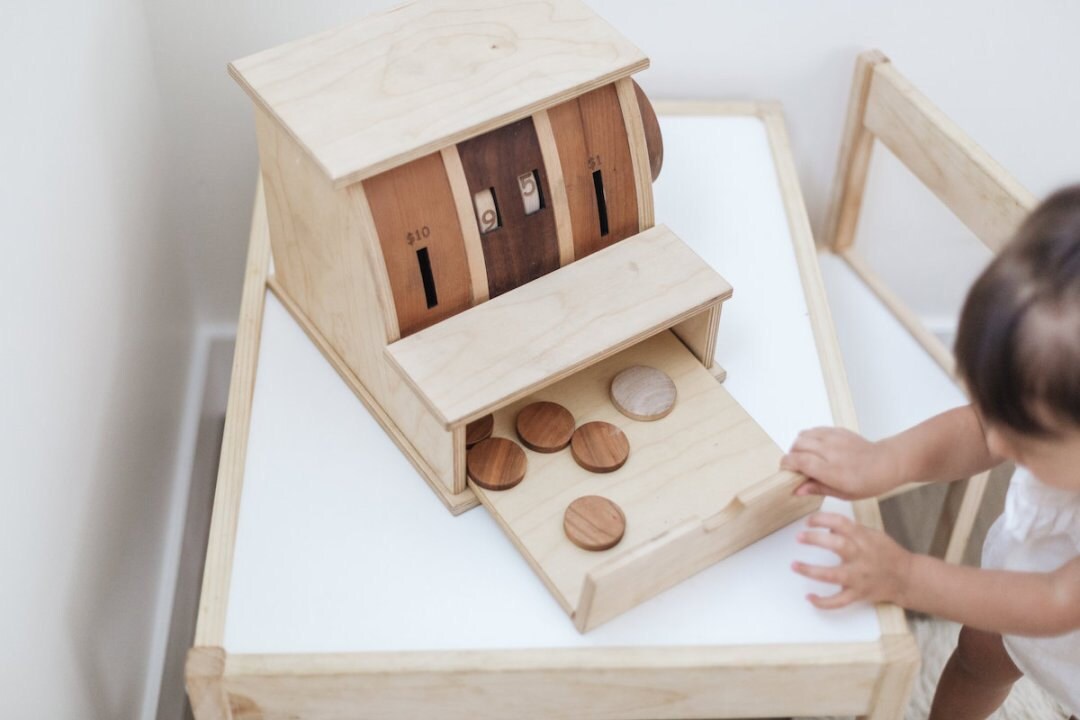 >
Photograph by Samantha Broderick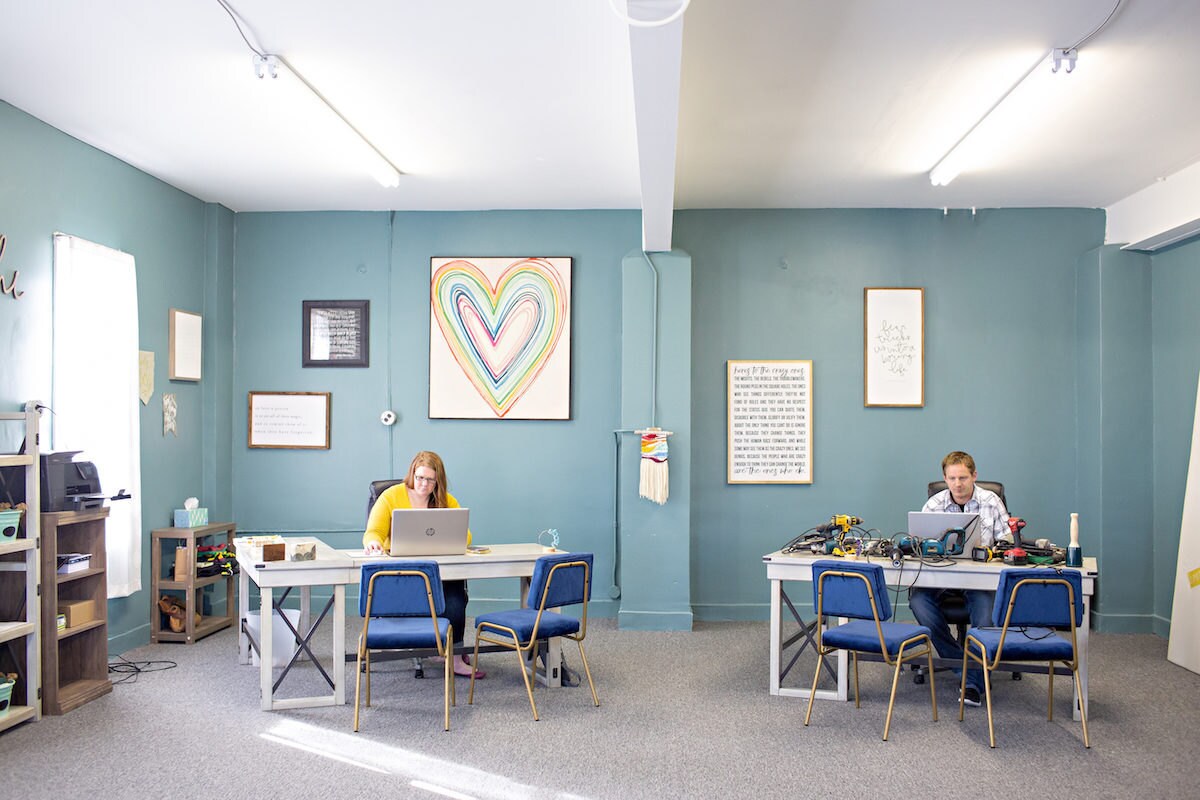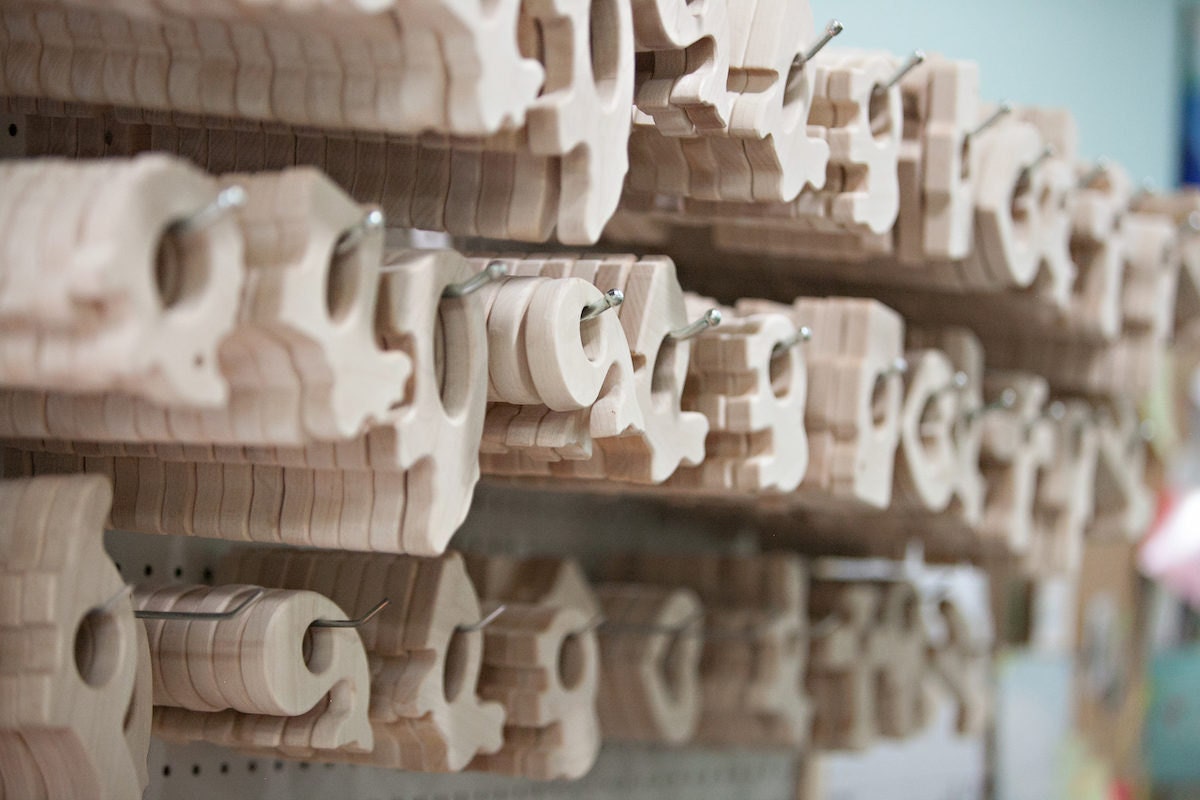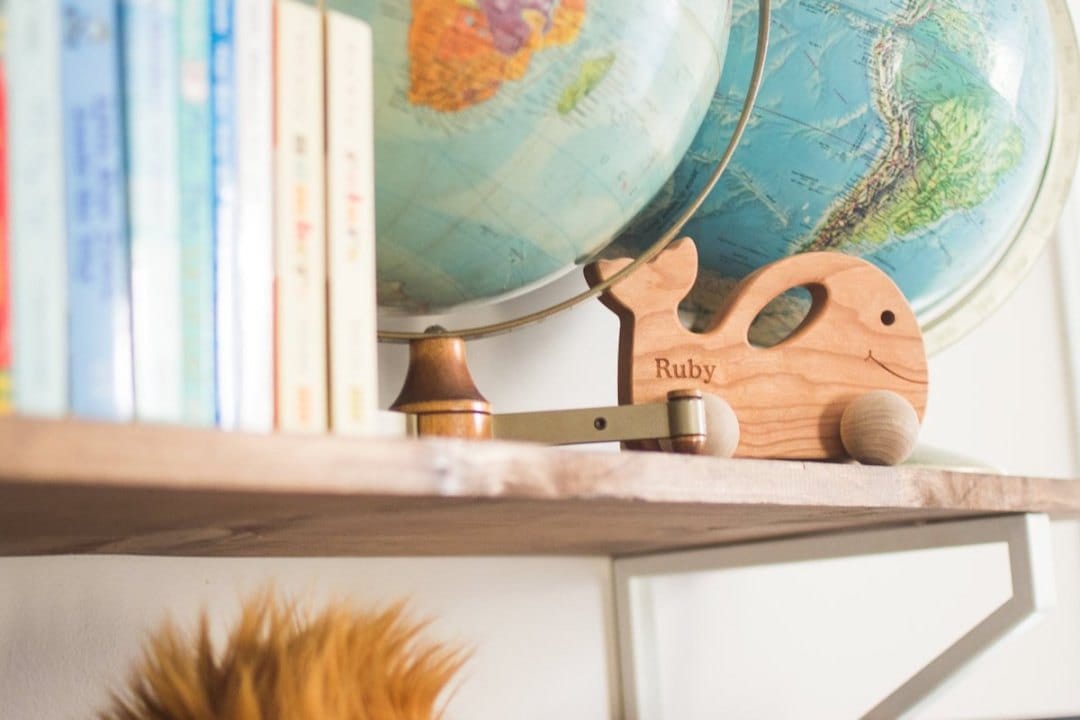 >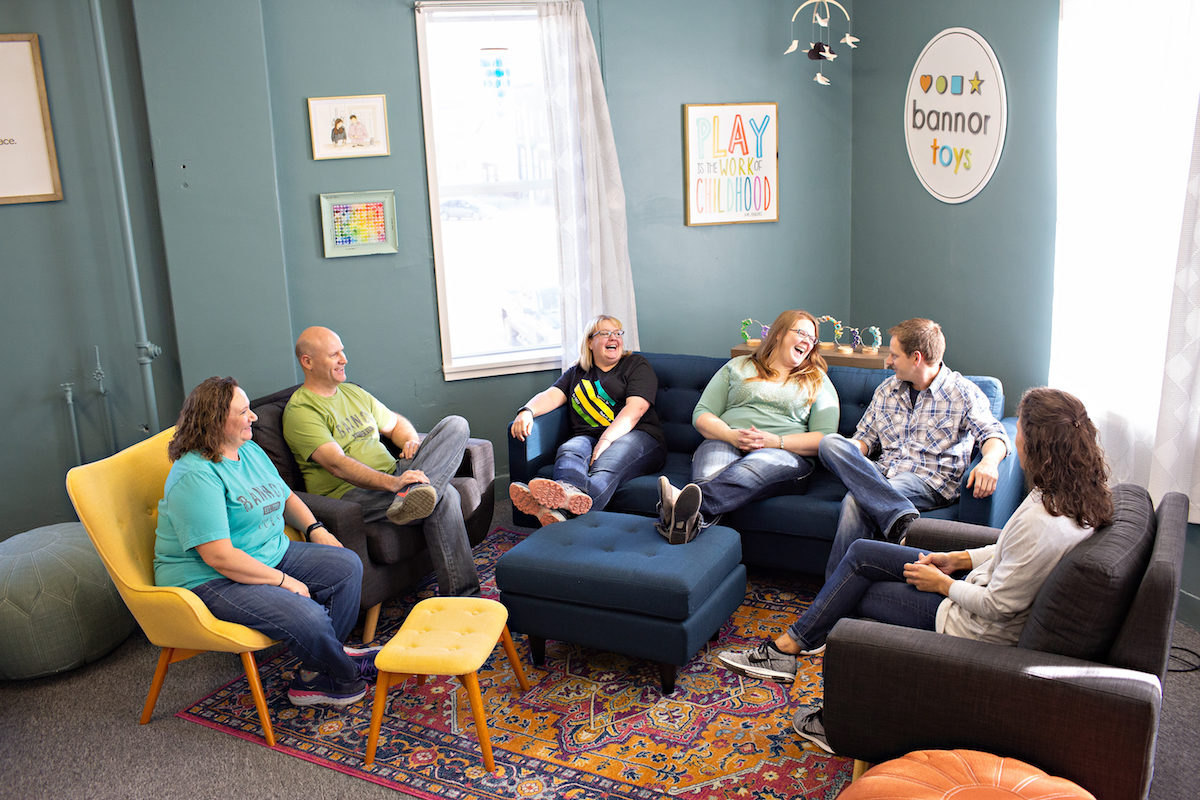 In what ways do your kids influence the product line?
Any time there's been a
train
, it's because of our youngest son, Eli. He is train-obsessed. He's almost five, and he's been our toy tester for all our
rattles
and
teethers
since he was born. He's very opinionated about what he thinks is good. If we design a shape that he doesn't like, he's not shy about telling us.
What's your interaction like with your customers?
We go down to Texas a couple times a year for vendor shows, and we've gotten the chance to meet up with some of our customers there, which is really neat. We've seen their kids growing up online, and then we get to meet them and hug them in person. And we have a Facebook group for customers. I think most of them joined initially to get the inside scoop on sales, but it's turned into more than that. It's a community where moms can connect with other moms—they're asking about car seats and baby weaning, trading tips and advice. There are so many real relationships that have come out of this company—it's really been a phenomenal part of the job that we didn't expect when we started.
Follow Bannor Toys on Instagram, Facebook, and Pinterest.
Studio photographs by Lucky Soda Photography, product photographs by Emma Parkinson Photography unless otherwise noted.