This fashion photographer and knitwear designer brings her unique eye for style to her own line of on-trend, handmade sweaters, tops and accessories.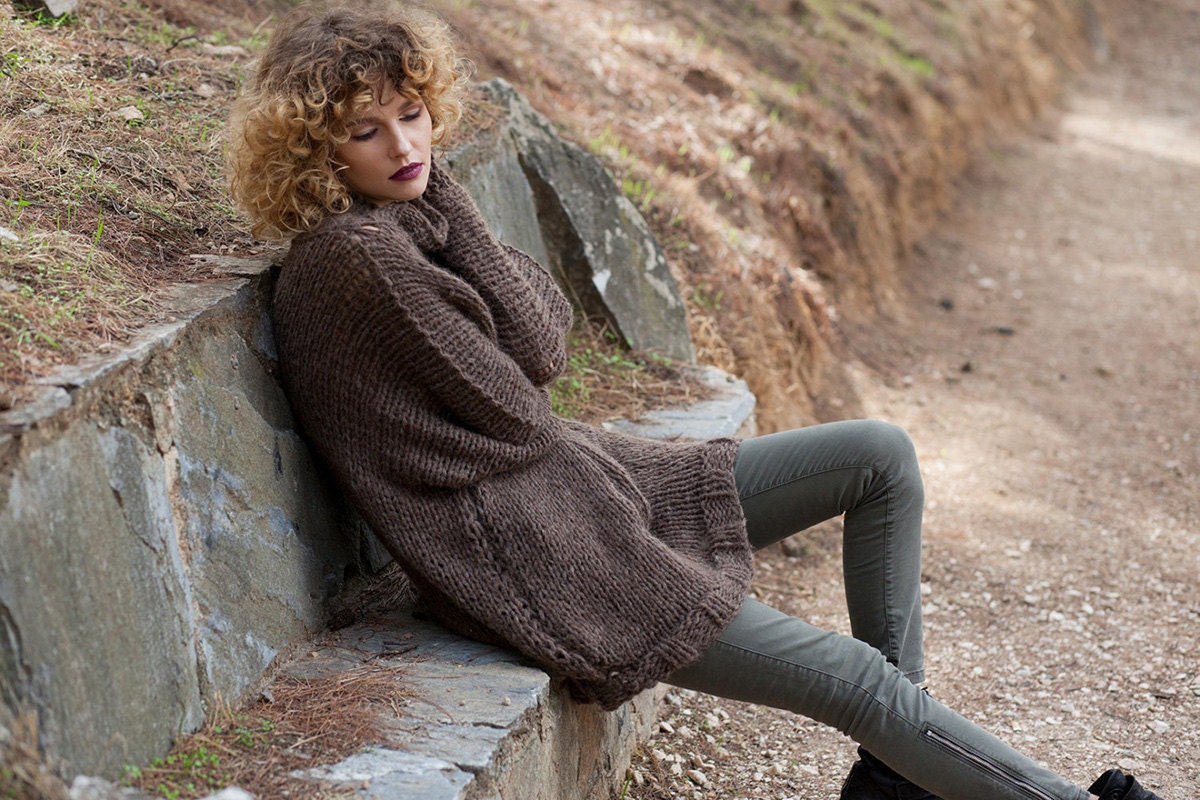 With her cozy live-work studio right in the historical center of Athens, Greece, and a thriving career as a fashion photographer with clients all over the world, Fenia Labropoulou of
Be Woolen
 already had a life plenty of creative people would envy. But after rediscovering her childhood love for knitting, Fenia felt fate tugging her in a new direction. "I started looking at my knitting as a way to fulfill my dream to quit my job and go live on a Greek island and work from home," Fenia says. "That is my dream now. I had other dreams that I was lucky enough to fulfill in my life, but now I want to get away from the city and all this buzz, live exactly ten steps from the seaside on a sandy shore, have my garden and my dogs, and knit. If I can do that, I'll be really happy."
With more than 200 sales in her first year alone, it seems like only a matter of time. Read on to learn how Fenia found her current calling, and shop the collection.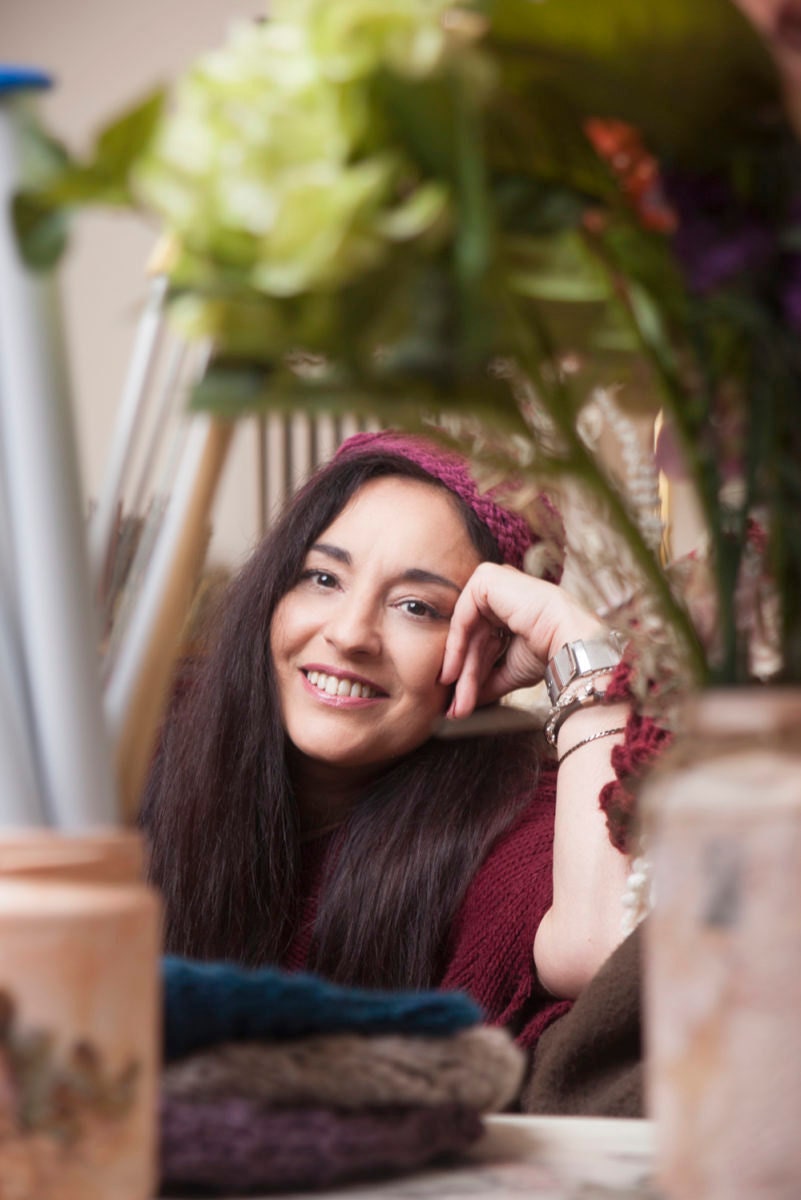 How did you get started making and designing knitwear?
I first learned how to knit from my grandmother when I was seven years old, but that was always just a hobby — nothing I thought of as a future profession. Then in 2015, my mom had to have a very serious heart surgery and was in the hospital for about three weeks. I was staying with her all day and night, and I had to do something with my hands to relax. I got out my needles and started knitting like crazy. Fortunately, my mother came through the surgery just fine, and I returned home with about 10 sweaters and five scarves.
Were you making these sweaters and scarves for anyone in particular or just to keep busy?
I was making them because I had to make
something
. But when I got back home I started thinking, "What am I going to do with these?" I wanted to show them. At first I was sharing my work on Facebook, and then by chance
I found Etsy
. I thought, "Okay, why not? Let's list them and see what happens." When I got my first order 20 days later, it was like a party. I was so happy, and that got me started thinking more seriously about my work. As time passed, I began to look at it as a profession.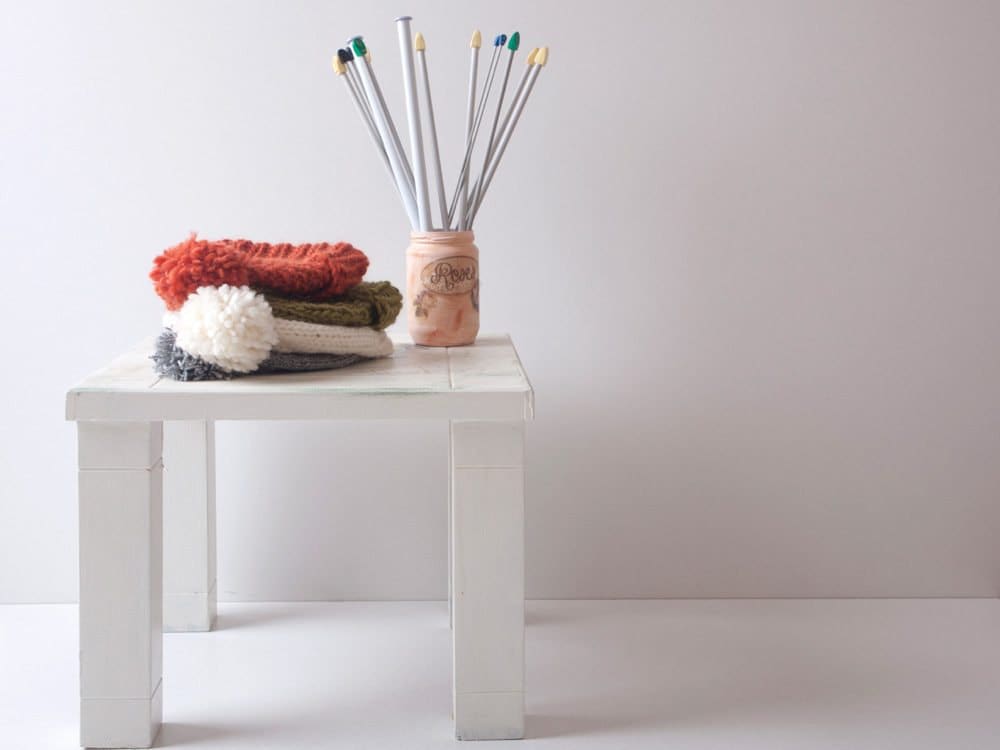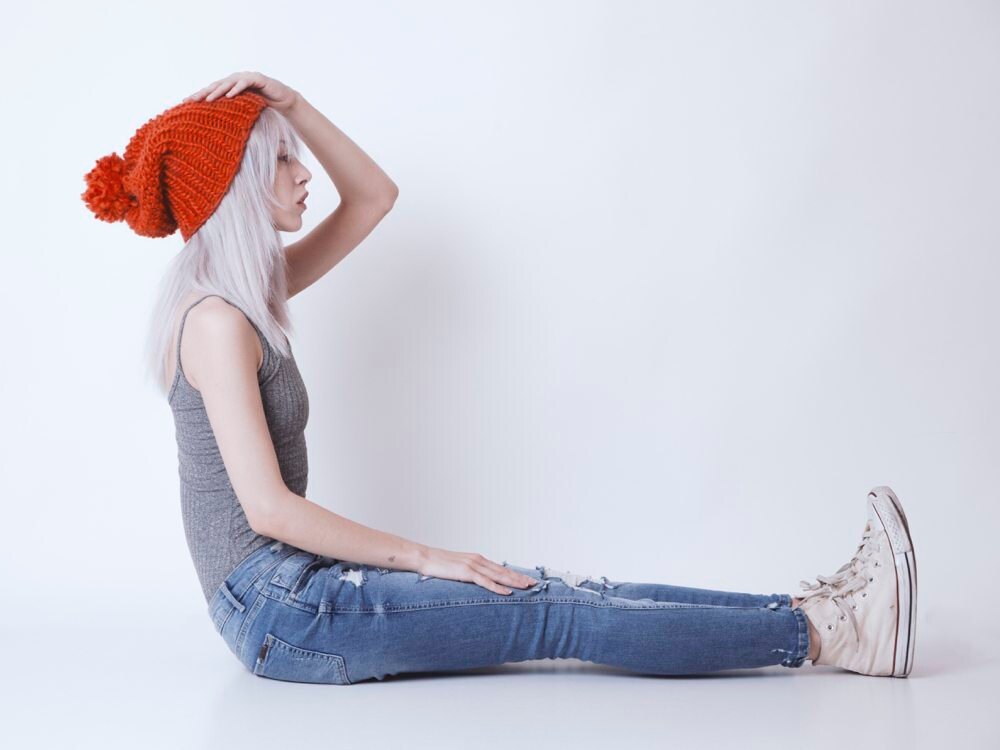 How do you make time for both photography and knitting? Do those two lines of work complement each other?
They are both creative jobs, so for me they are just different ways to express myself. And they go very well together because I know lots of fashion models to work with, and I can shoot all my knitwear myself. I live in my studio, so I have everything I need right here. As for how I manage to do everything: I don't sleep. I sleep four hours per day. Usually I have to shoot in the morning and then do some Photoshop for my other job; after a while, I stop and start knitting. Then I go back to Photoshopping, and then I knit again. It's a crazy, crazy life right now, but I manage it because I love to work and to do these things that I enjoy.
Have your designs evolved over time?
I do think my style has evolved; I think it is evolving every day. When I started, I made more traditional scarves and tops, but then I started doing things differently. I love to experiment — in all aspects of my life, not just knitting — and I love trying new things. Even though I started only one year ago, that early work has nothing to do with
what I do today
, and I think it will be the same with tomorrow.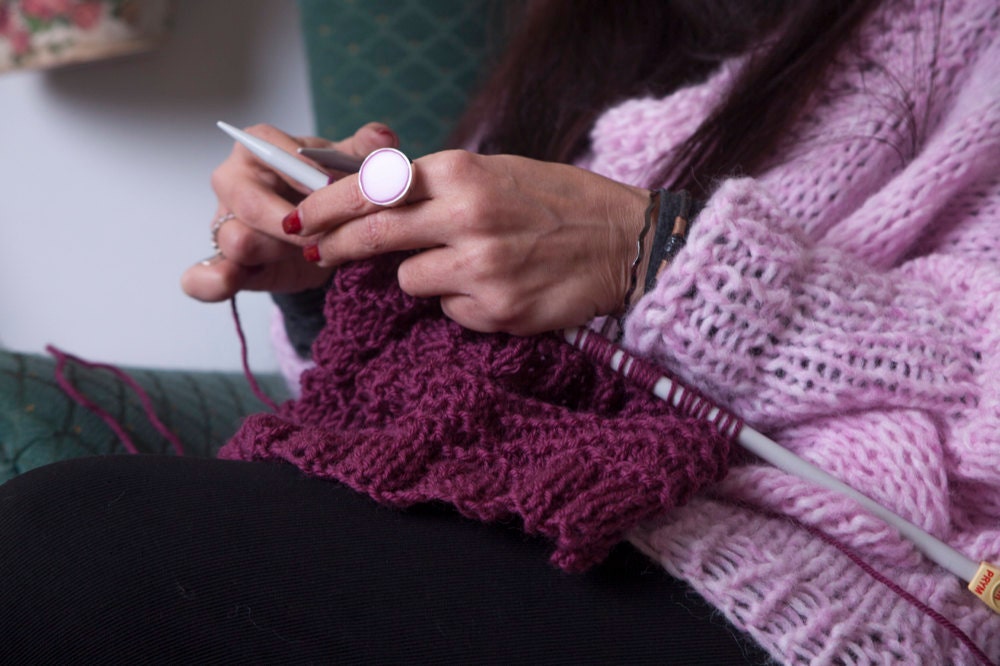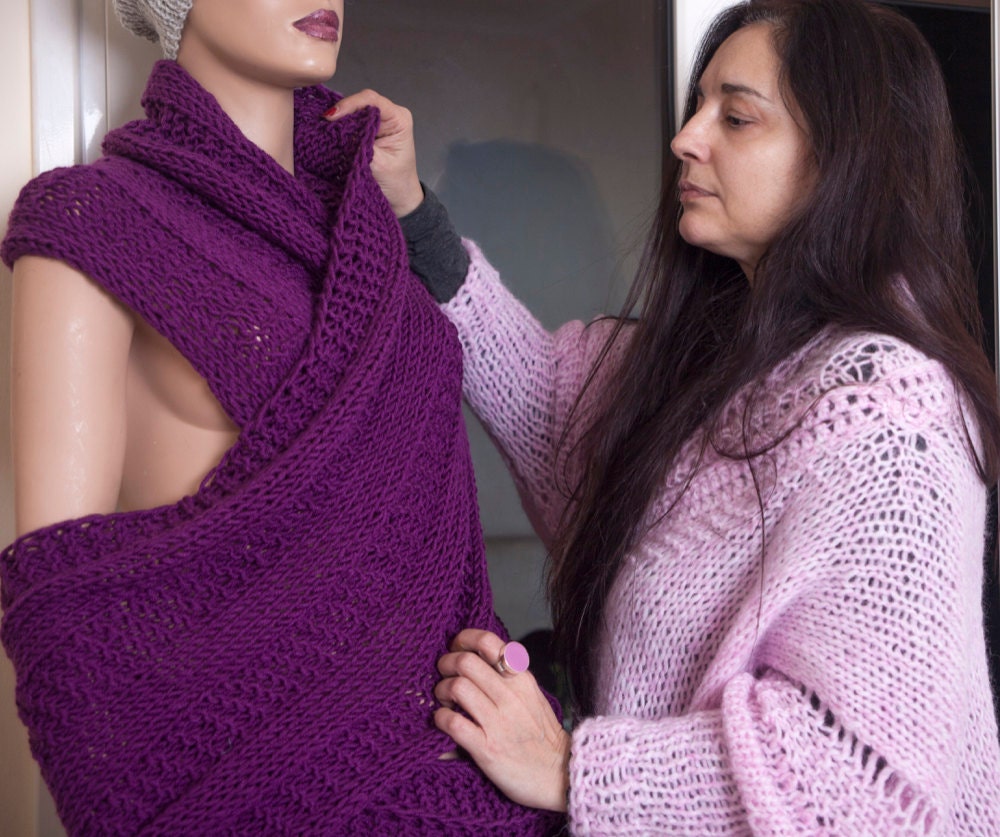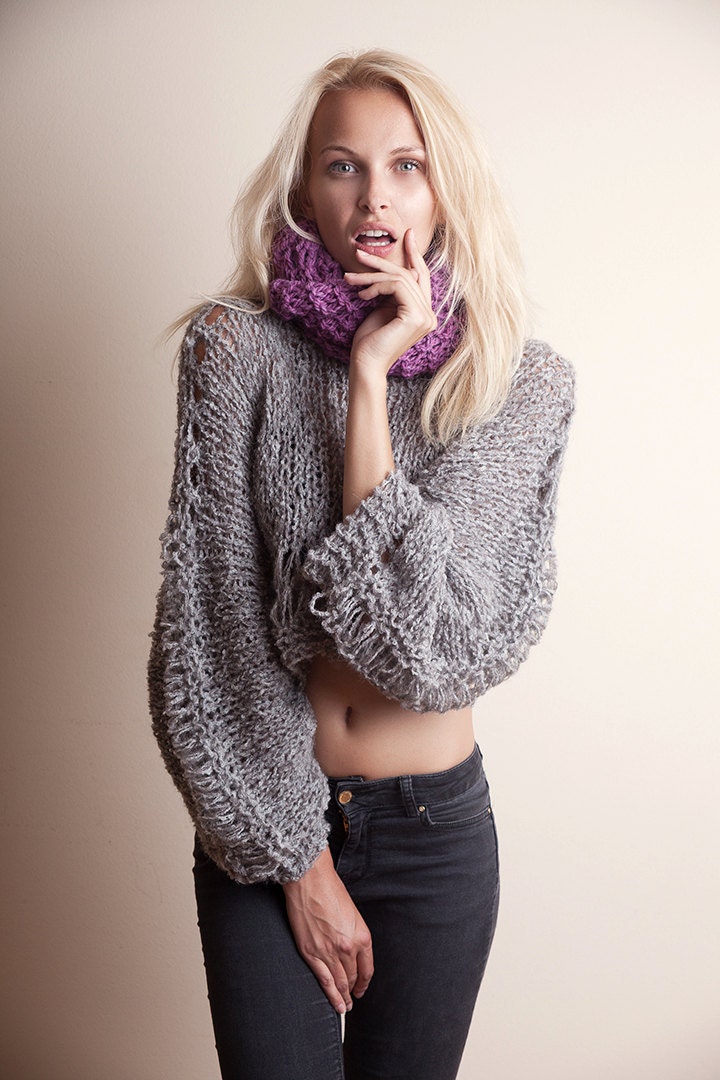 What is your design process like? Did you have to learn how to develop knitting patterns or did you already know how?
Whenever I think of a new design, I make a little sketch, and then I start searching on YouTube to learn the stitch that I have in mind. From there, I start creating a pattern — but to be honest, I still don't really know how to make a pattern or read a pattern. My patterns are something that only I can read. Basically, I start knitting and I write everything down — every line, every little row, everything — so I can knit it again when I finish. That's how I do it; it's not like I've been taught how to read or how to make a pattern. I did try very hard to create a pattern for
my best-selling sweater
to list in the shop, and it took me three months to do it in a way that other people could understand. And it's a really, really simple pattern.
Where do you find the inspirations for your designs?
I get inspired by many things. First of all, I get inspired by my job in photography. I make a living from fashion, so inspiration is all around me. I also get inspired by movies and theater; I'll see something I like and totally change it in my mind to fit my style, until something new is born. Other times I get inspired by my dreams; that's something I do in photography, as well, to develop new concepts.
What knitwear trends are you most excited about right now? What do you think is going to be the next big thing?
I
love
cables. I'd love to start creating more cabled sweaters — oversize ones with huge cowl necks. For me, that is going to be the trend in 2017 and
what I'm going to be working on
. That is, if I have the time — because orders are piling up on me now. I have five projects waiting for me here, all cabled.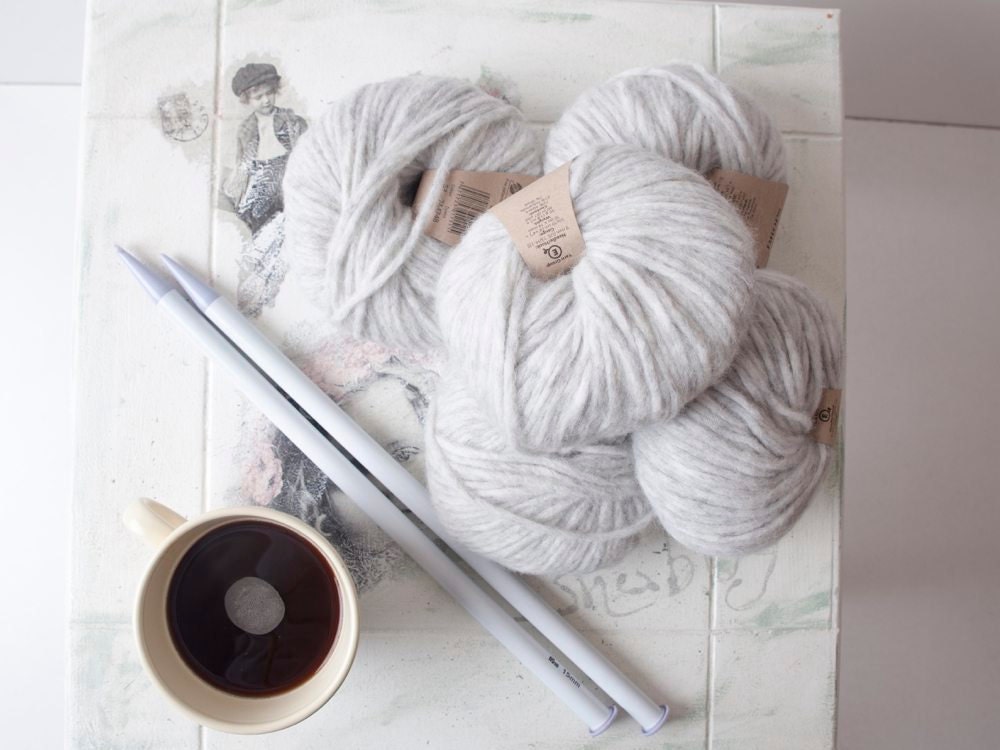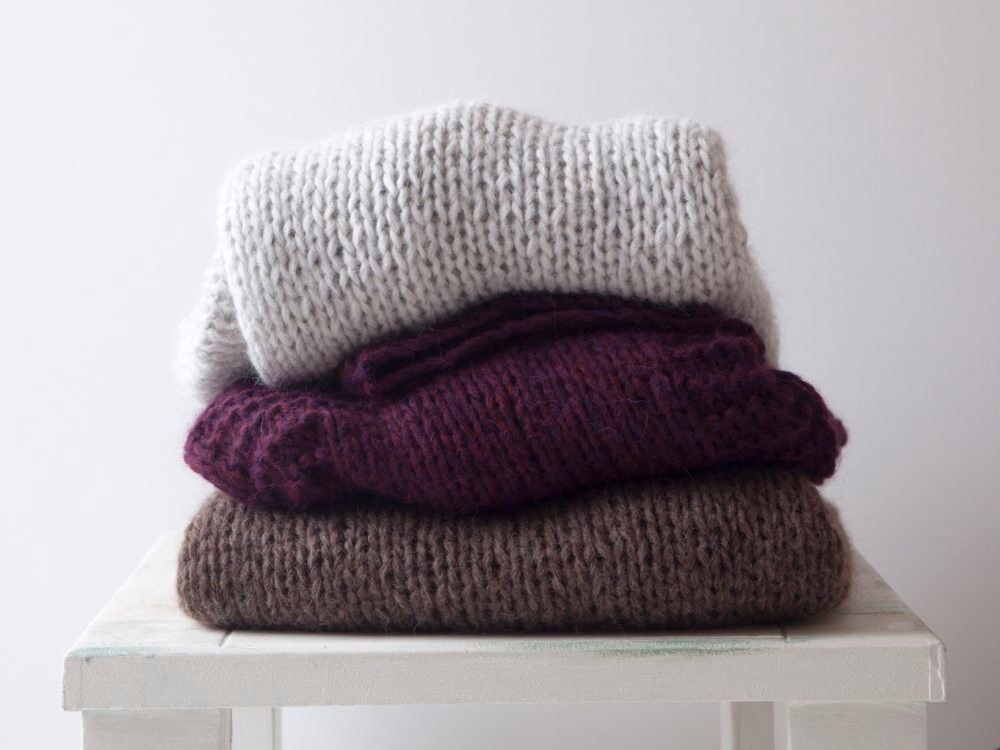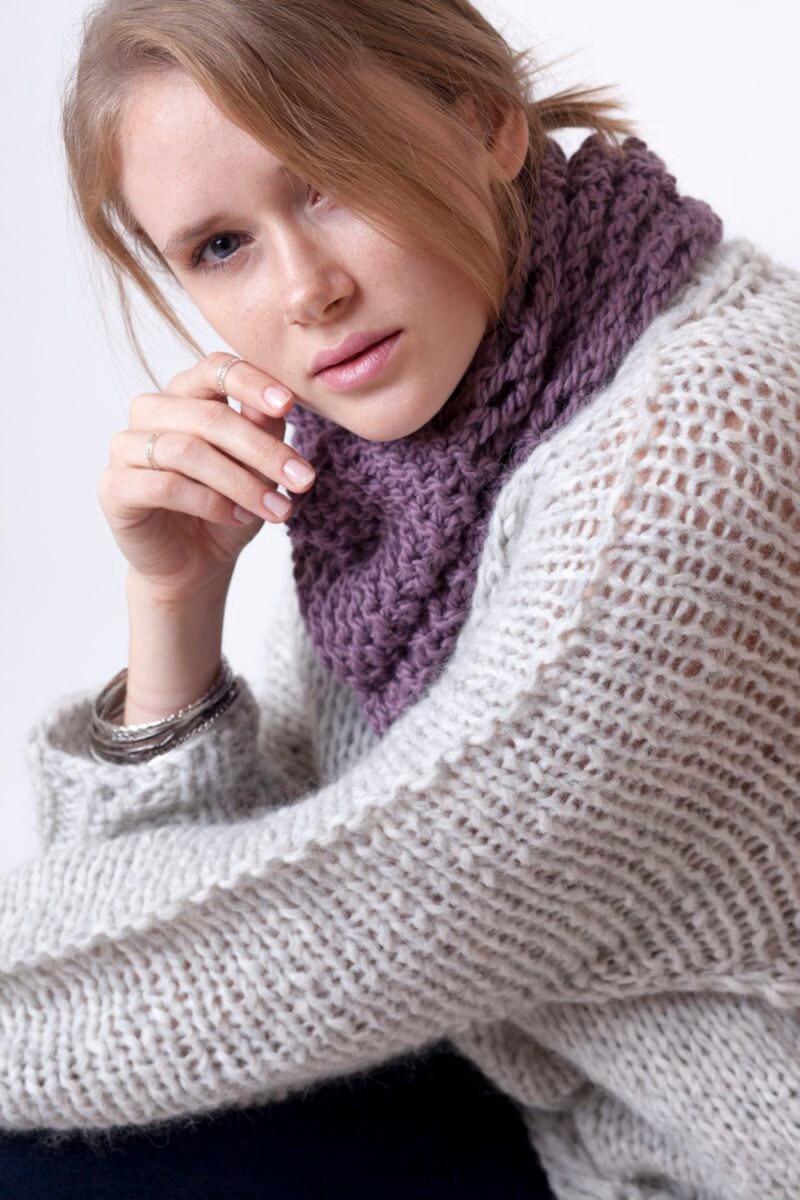 You mentioned that you made a pattern for your most popular design. Will you tell us more about that style and why you think it was such a hit? And is it your favorite, too?
It's
a cropped, loose-knit sweater
with dolman sleeves and a really, really loose shape so it fits every size. That makes it easy to sell online because it's not structural and it doesn't have to be a perfect fit. That started as an experiment, and when I finished it, a week after I listed it, it was featured on Etsy. Since then, I've never stopped knitting it — everybody wants it, and in all different colors. It's really soft and beautiful. That's my best-selling sweater, but it's the people's favorite, not mine — because to be honest, I get really bored of knitting it. My personal favorite is one of my new designs, which is
an oversize ash gray sweater
 made from alpaca and merino wool. The first one I made, I kept for myself; I didn't want to sell it.
What's your workspace like? Do you work from your home or have a separate studio?
My home is half photography studio and half living space — and the two parts have very different styles. My favorite corner to knit from is on my couch in front of the huge TV in my living room; I love watching TV while I knit. It's where I feel the most comfortable; all the other rooms are set up for photography or filled with yarn. Even my bedroom is full of yarn!
Do you have a favorite kind of yarn to work with?
Yes: I love alpaca wool, especially when it's bulky. Above all, the yarn must be soft. I have very sensitive skin, so if I touch a yarn that I'm considering using and I feel like I could wear it myself, that means I can knit it for others.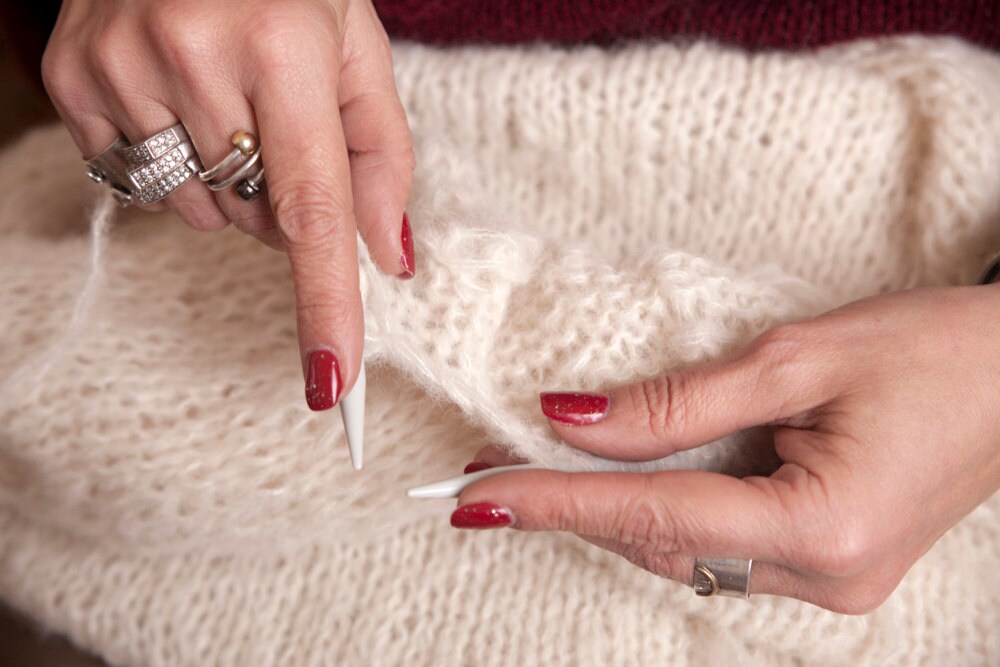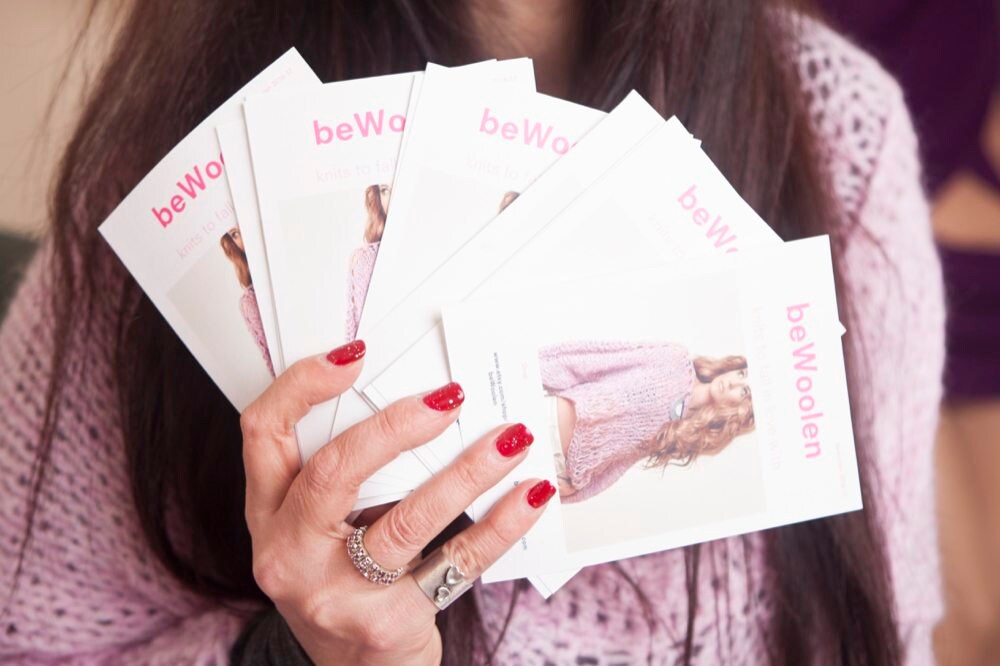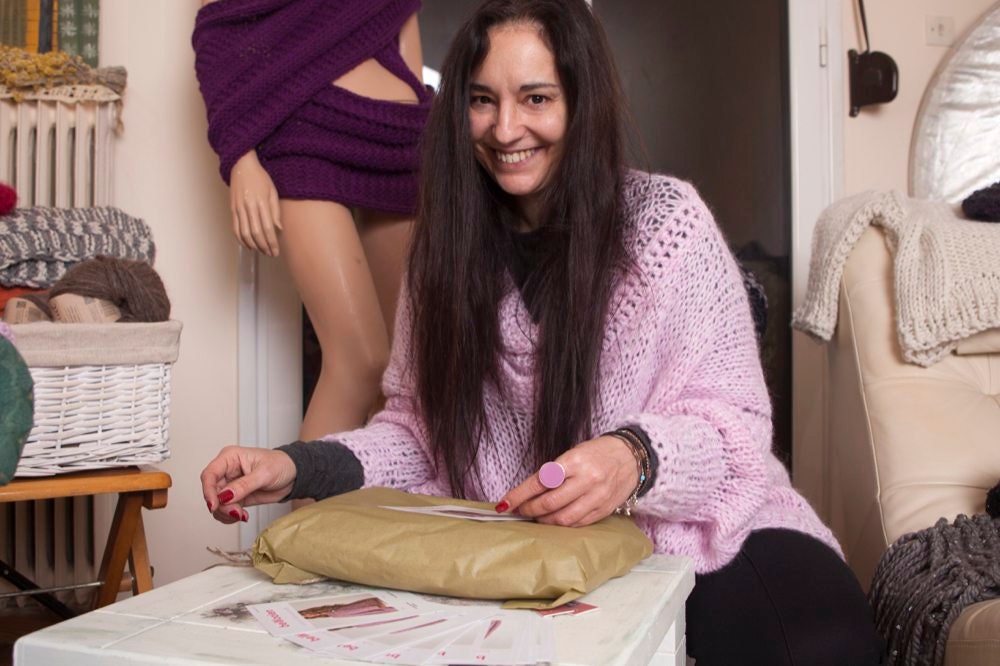 What's your favorite part of this job?
My favorite part is knitting
new designs
, but I also love interacting with my customers online. I love it when they ask me how to style an item, or which color of something they should buy. I love talking with them and guiding them to the best item for their style or their needs.
Do people ever send you photos of themselves wearing what they bought from you?
Yes, and I totally love that. Something that I made with my hands here in one part of the world, when I imagine someone in another part of the world wearing what I made, it's magical. I love that feeling.
Follow Be Woolen on Facebook, Instagram, Pinterest, and Twitter.
Photographs courtesy of Be Woolen.