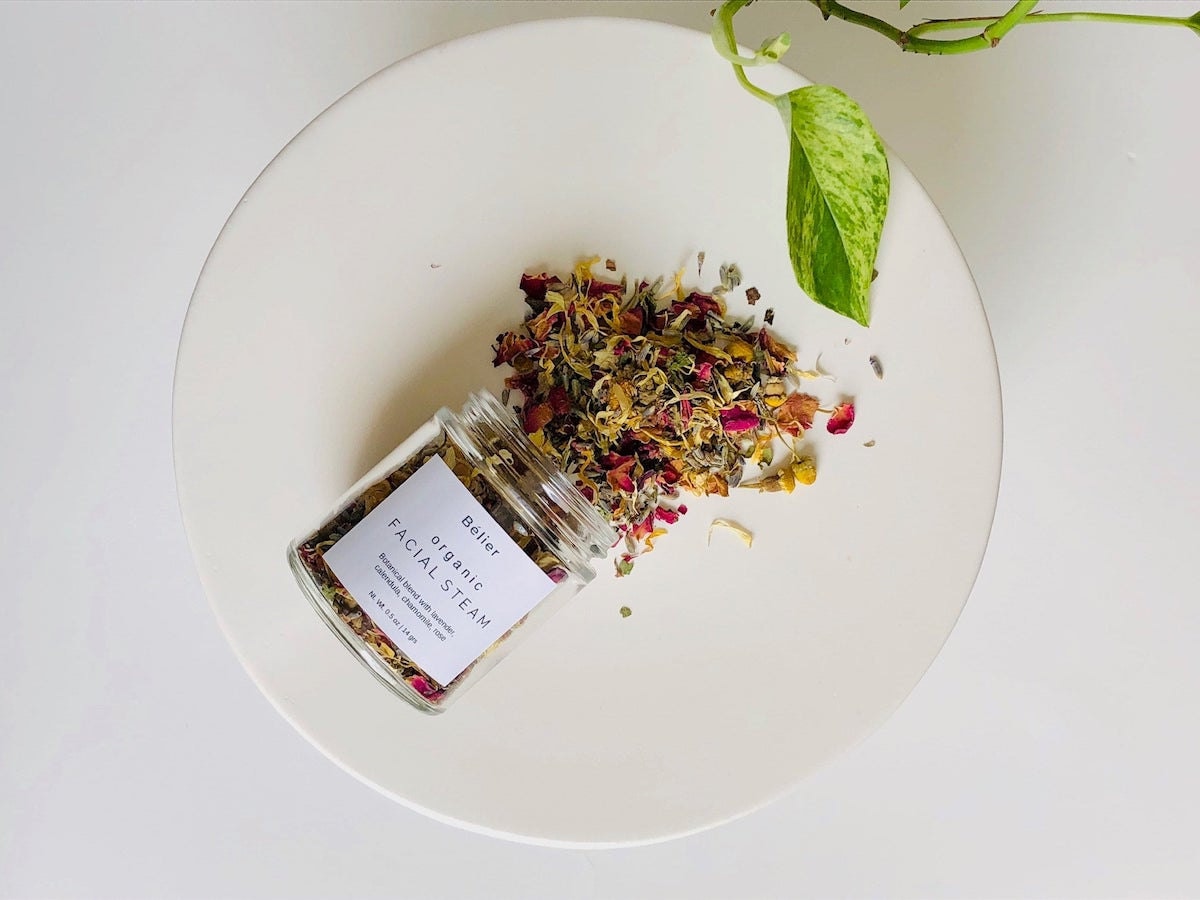 In our Featured Shop series, we shine a light on a standout shop from Etsy's talented seller community, offering readers a behind-the-scenes look at their process and story.
Everyday activities like taking your morning shower and washing your face at night feel extra-special when you're using the good stuff—like the thoughtfully designed bath and beauty essentials from Bélier Handmade. Crafted from a medley of plant-based ingredients, each all-natural soap, scrub, bath salt, and facial steam in this Earth-friendly collection is expertly conceived to maximize its nourishing benefits. "I want to make products that are good for every body," says Adriana del Bogno, the North Carolina–based master blender behind the business.
Explore the Bélier Handmade collection
But Adriana's vision doesn't stop at self-care: Complete with options for gift wrapping and personalized cards, Bélier Handmade's extensive selection of pre-assembled and customizable gift boxes make it easy to share the love with family and friends. Even if you can't be there in person to celebrate special occasions together, sending the gift of a restorative moment to a beloved guardian, mentor, or friend for Mother's Day (or any day) shows you're thinking of them. And really, is there a better present than that?
Read on to discover Adriana's personal self-care regimen, then shop the Bélier Handmade collection. 
What led you to start making all-natural bath and beauty products?
It all started because I wanted to live a healthier lifestyle when I was pregnant with my daughter in 2012. I was working in a nail salon at the time and I suffered from allergies caused by the chemicals. I started replacing my conventional cleaning products with natural versions and that helped a lot—then one thing led to another and I started experimenting with making soaps and scrubs.
When I made my first batch of soap I was like, "I've discovered my passion. This is it." I was obsessed! It changed everything. Now my family lives in the North Carolina countryside with a dog, 11 chickens, and a lot of beautiful nature around us, and I make my products from a small, dedicated home studio.
What are some of your bestsellers?
The things I sell most are my gift sets, which make it easy to find great pre-assembled care packages. People like to give them as presents or buy them for themselves. I have a lot of options for different occasions, like Mother's Day gifts, birthday gifts, thank-you gifts, and get-well gifts. I also offer greeting cards for every special occasion, and I love writing the personalized messages that people request. When they open the gift, I want the whole package to be pretty and feel special.
As a mother yourself, what would you say makes your products a good Mother's Day gift?
It's about self-care. When you're a mother, you don't always have time to relax or take care of yourself. So having one of these gifts makes you think, "Oh, now I have this product, I want to make some time for myself. I'm going to go relax, light up this candle, make myself this face mask." It's special because it's about them making themselves a priority.
How do you curate what goes in each gift box?
I start by thinking about the experience: If you want to have a little "me time," you might want to use bath salts. And if you're going to have bath salts, it's great to light a candle too, right? So, I put bath salts, a candle, a soap, and a body scrub in the spa set, for example. But a lot of people don't have bathtubs, so I have gift sets without bath salts, too.
Can you tell me about the ingredients you use?
When I'm creating a new product, I start with the ingredients first. I use 100% natural ingredients in all of my products, and I love plant-based ingredients. My favorites are essential oils, herbs, shea butter, clays, and oils like argan oil, grapeseed oil, and coconut oil. They all have something special about them.
I don't use any preservatives. For the candles, I use wooden wicks, and I don't use palm oil in any recipes for sustainability reasons. I research each ingredient to make sure it is healthy for the Earth.
How else does your business consider the planet in its practices?
I use minimal packaging, which can be recycled or reused, and I use crinkle-cut kraft paper for cushioning in the gift boxes. The boxes and greeting cards are also recyclable. And I use glass packaging for the candles and all the other products, with metal caps, not plastic. I try not to use plastic at all.
How is all-natural, cold-processed soap like yours different from a bar of commercial soap?
When you use a natural soap, you'll see the difference right away. Many conventional soaps dry the skin out because the glycerin is stripped out, so you'll need lotion afterward. But when you use a natural soap, you don't need that because the glycerin is still in there. Your skin will feel soft and moisturized.
What does your personal skincare regimen look like?
Let's say you want to do the whole routine: Start with a facial steam. That's going to open up your pores. Then, you can apply cleansing grains, which contain kaolin clay, oatmeal, almond meal, and lavender powder. They're going to act like a scrub and remove dead skin cells, without being harsh on the skin. I use them daily. Just scrub them in a little bit and either wash them off right away or leave them on for 10 minutes like a face mask. After you wash them off, apply face oil.
Any other inside tips or tricks?
I keep body scrub on my bathroom sink because I have dry hands. You can apply it daily to your hands or once a week in the shower to your whole body. It's very moisturizing.
What's the most special thing about running Bélier Handmade?
Running my own business gives me a lot of flexibility and freedom. I can make my own hours. I can work from home and take care of my two kids. And making the kind of natural bath and body products I make, I'm creating something that is good for people and for the environment.
Follow Bélier Handmade on Instagram, Facebook, and Twitter.
Photographs by Bélier Handmade.