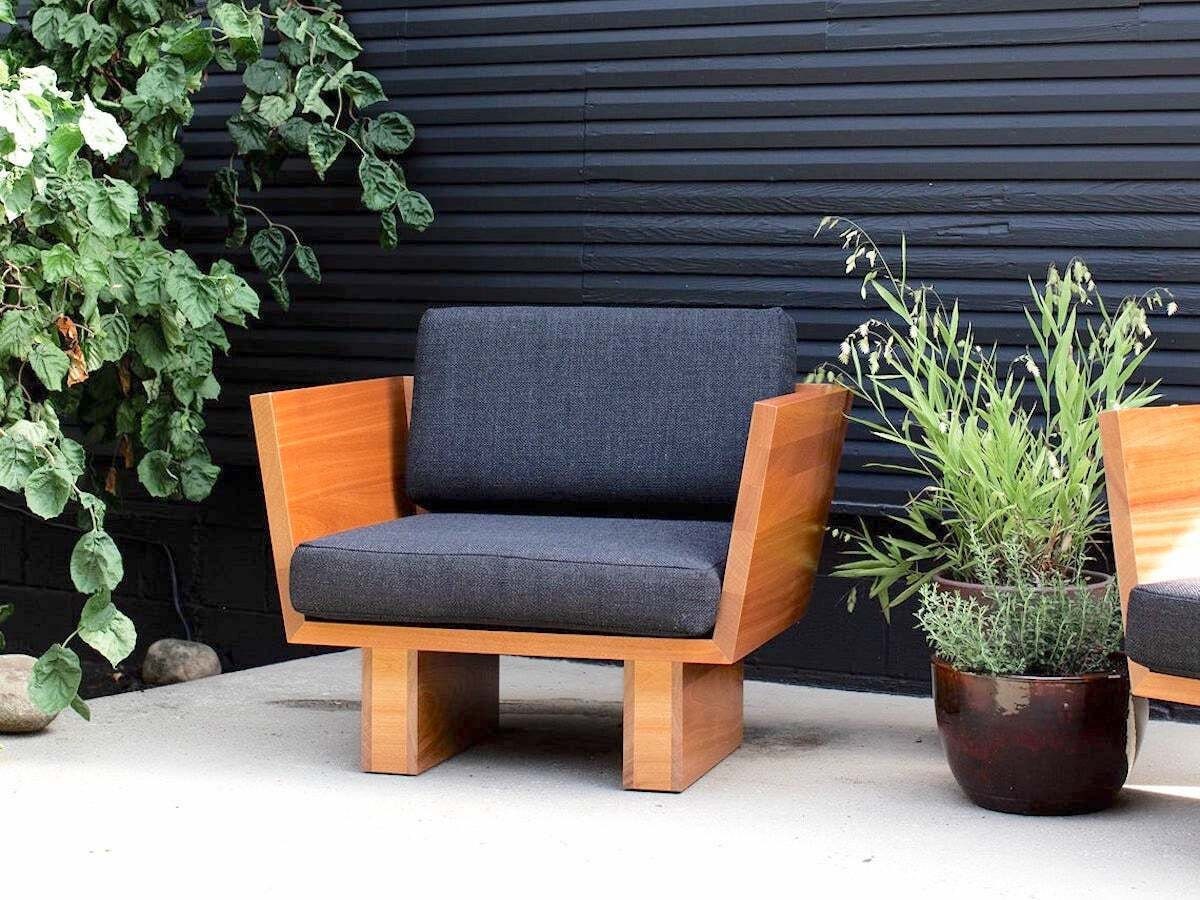 In our Featured Shop series, we shine a light on a standout shop from Etsy's talented seller community, offering readers a behind-the-scenes look at their process and story.
Good news for those in search of a little R&R: A refreshing respite might be as close as your own backyard. Whether basking solo in the sunshine with a juicy summer read or toasting marshmallows with loved ones under a ceiling of stars, getting outside is a chance to reset and reconnect with nature, ourselves, and each other. "To me, an outdoor space is like a little getaway," says Gretta Jones, the creative mind behind Ohio-based handmade indoor and outdoor furniture company, Bertu Home. An interior designer by training, Gretta believes in the power of a thoughtfully arranged space to cultivate an inviting and relaxing atmosphere, everywhere from your living room to your front porch.
Shop the Bertu Home collection
Inspired by mid-century modern design, Bertu Home's customizable furniture is made to order and built to last, with well-considered designs that highlight the natural beauty of solid woods—a style Gretta calls "organic modern." Using locally-sourced materials, including their signature Ohio black walnut wood, Bertu Home's handcrafted farmhouse tables and desks bring comfort and style inside the home, while their newest line of outdoor furniture extends the vibe alfresco with a range of lounge-worthy wood-framed seating. No matter where you're putting your feet up, Bertu Home furniture is synonymous with quality and craftsmanship. As a recent customer wrote in a review, "I never thought I'd consider a sofa a piece of artwork, but this one is."
Read on to discover Gretta's pro tips for designing a beautiful abode—then shop the Bertu Home collection.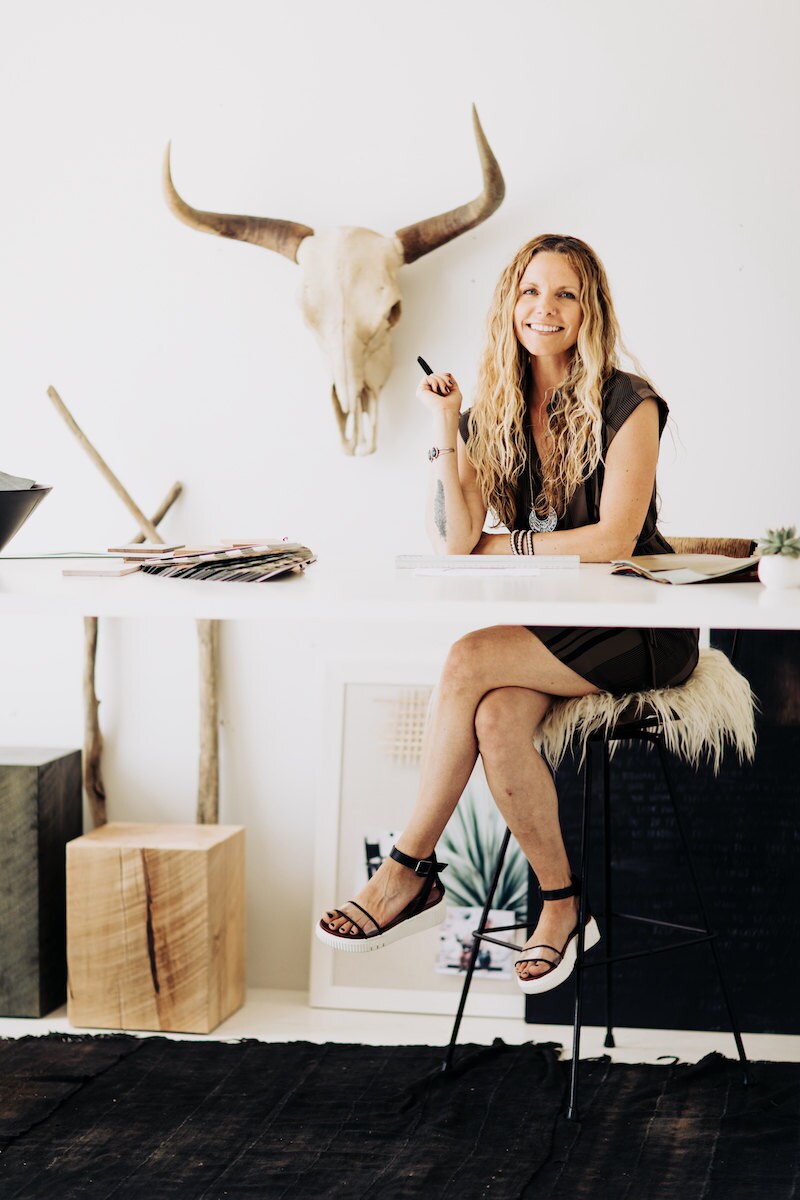 How did Bertu Home come to be?
Me and my husband Israel Jones have a modern day love story: We met on Instagram over our love of furniture. When I moved to Ohio to be with him, his family let me take over the business which wasn't getting as much attention at the time, and it's been my baby ever since. Now we run it together and make everything in-house with a small team.
What sets your business apart?
We use only solid woods and we don't deal with veneers. All of our pieces are finished with a commercial-grade coating, so they're suitable for hotel and hospitality use and residential use, too. We really care about people receiving top-quality, made-in-America products that last. These are truly solid pieces of furniture that we pour our hearts and souls into. Any of our sofas, dining tables, or side tables are solid planks that we glue together—and if it's a stump table, it's literally a solid piece of wood directly from the tree.
What are your tips for creating an outdoor space that feels inviting?
An outdoor space is an extension of your house, but also that place where you can walk outside and put your feet up, or entertain. When it comes to creating an outdoor space, I always tell people, don't feel like you have to be really matchy-matchy. I love using different materials, like wood, wicker, stone, and metal, and mixing and matching a little bit. Have some versatile pieces, like tables or ottomans, that you can move around. Keep it simple and uncluttered, and focus on creating an environment that you want to hang out in—one that feels relaxing.
What about for city dwellers with tiny patches of yard?
When I think of outdoor space, a word that comes to mind is "intimacy." I actually think it's not a disadvantage for people in cities who only have a little patch, because you have an opportunity to make it cozy. If you're in a concrete jungle, maybe you want to add plants and lots of greenery. For comfort, make sure you're not using only metal furniture. Upholstered pieces add that fabric element. Put out a basket of throws or some extra pillows to add to the comfort level. Also: hanging lights. Those are a favorite of mine.
What's your process for creating a new piece of Bertu Home furniture?
The process always starts with inspiration. A lot of my designs are inspired by my love for travel. Inspiration could come from a rugged landscape, the colorway of an outdoor umbrella, or a stitch detail on a dress. I collect these images and inspiration points, and I make mood boards. When I'm thinking of a new piece, I want it to be fresh without being super trendy.
Once I have an idea in my head, I hit the research train and see what's out there. If I feel that it's not already well represented in the market, I make drawings and start prototyping, considering factors like thickness and angles, different body types, wear and tear with dogs and kids, all of those things, because we want these pieces to last. Once we're satisfied, we prototype the piece in the wood, and we bring it to market.
What goes into designing furniture that's suitable for outdoor use?
We consider all the little details when it comes to the construction and materials. We use exterior wood, an exterior finish, and exterior glue. We use cushions with a fast-dry foam and outdoor fabric, and we put mesh bottoms on the underside of our cushions for proper drainage as well. If you live in a place where the weather is great all year, you can keep our outdoor furniture out year round. Same with our stump tables, too. Even in the harsh Ohio weather, I keep our stump tables out.
What's your advice for someone new to buying handmade furniture online?
Ask questions! No question is a dumb question. Send me a photo of your space or your inspiration. Because we're solely an online business, I try to give people the experience of going into a store. I'll send samples of wood or fabric, or photos from other clients so you can see the piece that you're interested in set up in someone else's home. I really work with customers to offer an experience that's close to being in-person.
How do you work with customers to customize pieces to their spaces?
Each piece is custom-made for each client, so not many things are off the table when it comes to customization. As an interior designer by training, I work very closely with customers. They can send me photos of their space and existing pieces and I work with them to find that perfect piece that's going to fit into their space and suit their needs. We can tweak our pieces to be in a slightly different orientation, for example, or put on a different finish. Just get the conversation started and I can pretty much always come up with something that will work for your space within our line.
Follow Bertu Home on Instagram and Facebook.
Photography by Addison Jones.