by Katie Hawley
With her line of air plant terrarium kits, Michigan maker Marianne Gardner combines her love of the natural world and a passion for entrepreneurship.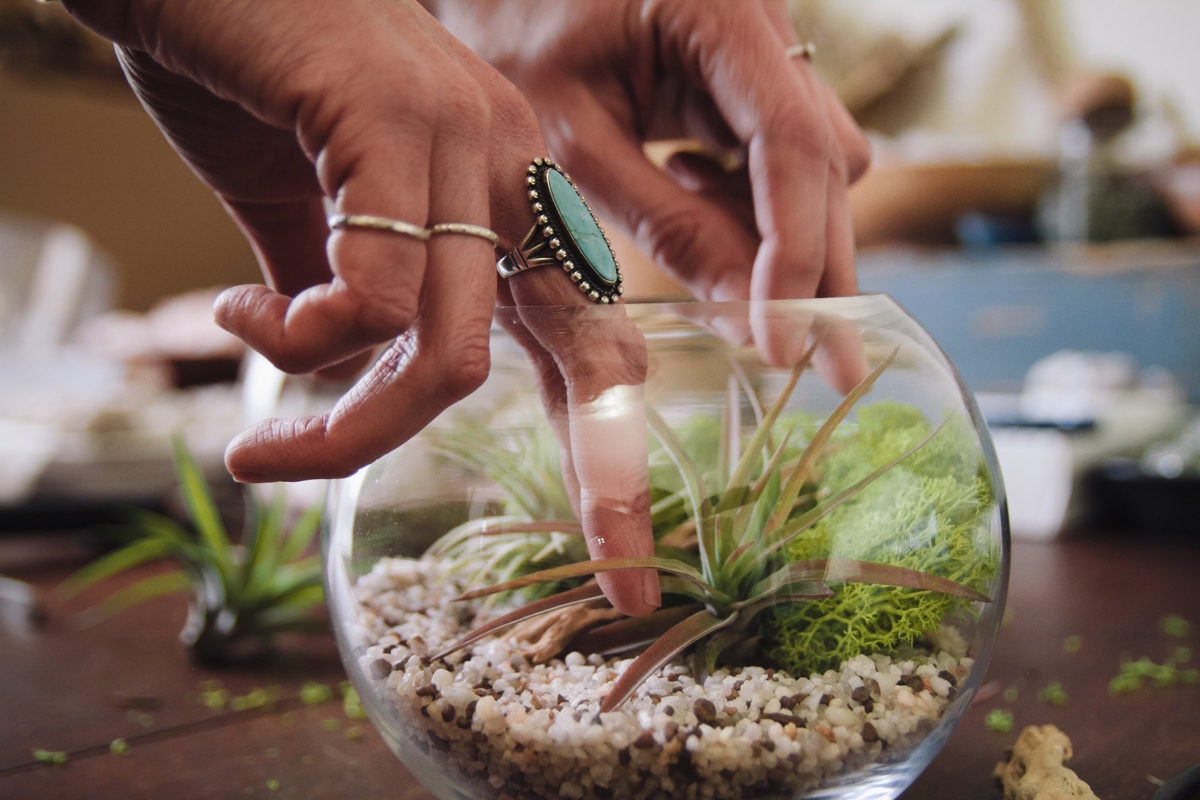 For some creative entrepreneurs, the "creative" part of the job comes more naturally than the "entrepreneur" bit—but Marianne Gardner, the Michigan-based founder of terrarium-kit company
Bird and Feather
, doesn't count herself among them. "I have this natural entrepreneurial spirit," she says. "My first job back in high school was for a little independent fast-food shop. That was the beginning of my experience with small business, and I developed a real passion for it." After college, Marianne's interest in entrepreneurship guided her to the Grand Rapids Public Library, where she worked connecting patrons to the Small Business Development Center, and in 2009, she temporarily relocated from her native Michigan to Los Angeles to work for an eco-friendly home decor company. It was there, immersed in the natural beauty of the West Coast, that the idea for her own business was born. "I was surrounded by all these beautiful southwest plants and stones that we didn't have where I grew up, and I was totally captivated by them," Marianne recalls. "It was around the time when terrariums were starting to crop up, and I had this specific vision of a terrarium with little air plants and other natural items. I had this intuitive, 'if you build it they will come' feeling. And I kind of got obsessed with the idea." Marianne set out to turn her vision into a reality, debuting her own line of terrariums at
Unique LA
in 2012. Later that year, she
opened shop
on Etsy, selling her first kit the same day she went live and officially joining the ranks of entrepreneurs around the world. "Everything I've done feeds into entrepreneurship," says Marianne. "I think it was inescapable for me, but it took me a while to allow myself the idea that I could be creative and make a living from it."
Read on to learn more about Marianne's signature crystal and air plant kits, discover her favorite unexpected terrarium ingredient, and shop the collection.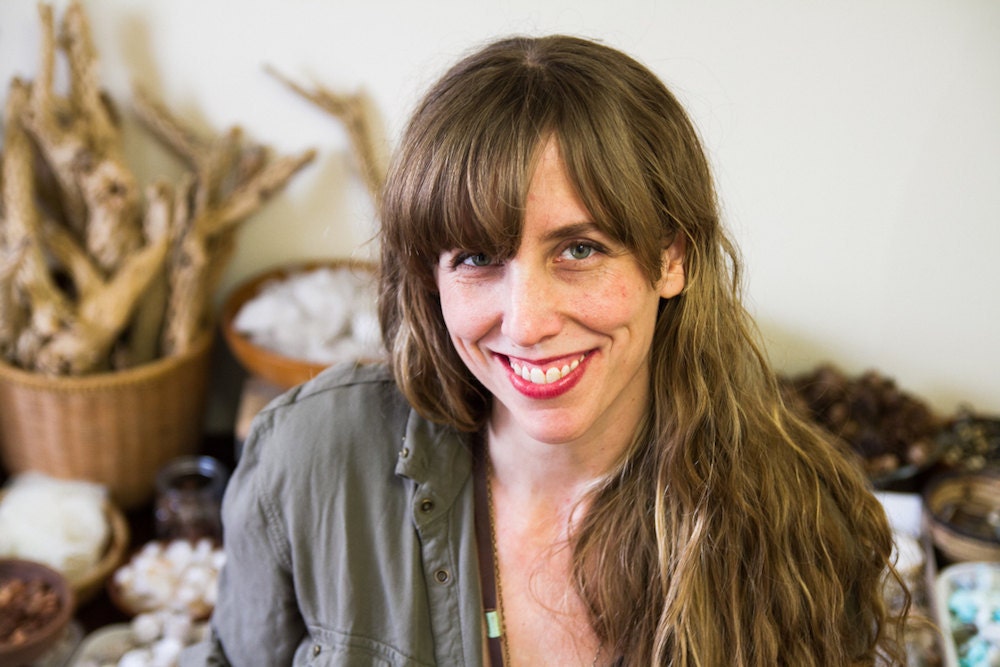 Your entrepreneurial drive was there from the start, but what about the creative side of the equation? Did you grow up in a creative household?
As a child, I colored and drew and was very creative. I loved art classes, but my parents didn't really encourage me in that direction—they encouraged me in a more academic direction. Being creative wasn't presented to me as a viable option for the future, so I sort of went along and did the things I thought I was supposed to do, and got a job right out of college. But even though I wasn't raised that way, I've come to terms with the fact that I'm an artist. The way I grew up also meant that I didn't have any preconceived notions about how my creative life should look, so I got to create it for myself. In some ways, it almost took the pressure off.
Why did you opt to sell DIY kits over readymade terrariums?
A big part of the decision was about ensuring that everything would arrive intact. Packaging was one of my initial struggles—it took me a little bit of time to figure out how to get plants there alive and the glass there intact, while shipping them with rocks and other heavy items. So it was more of a practicality thing. I really love making the terrariums myself though, so I still make them and sell them in person locally.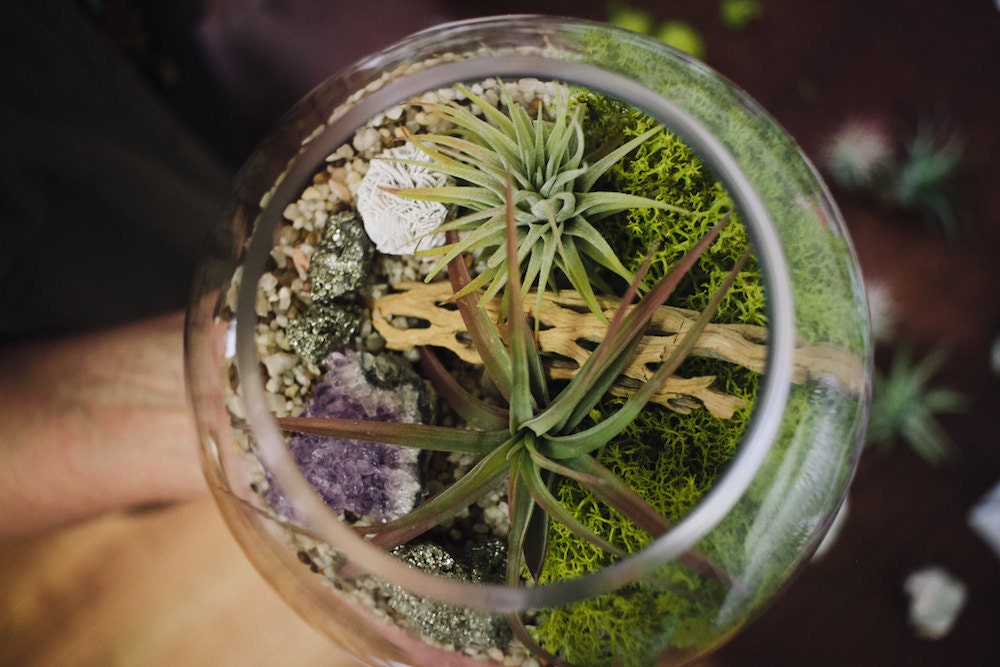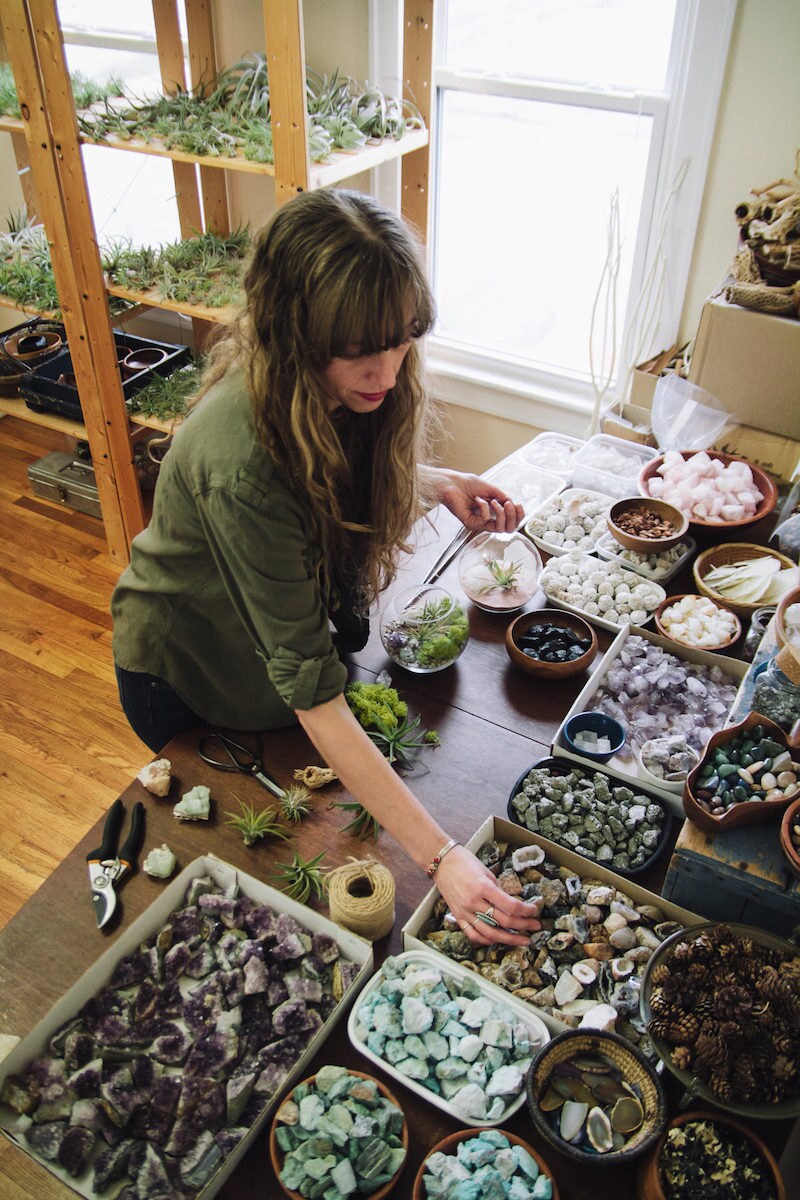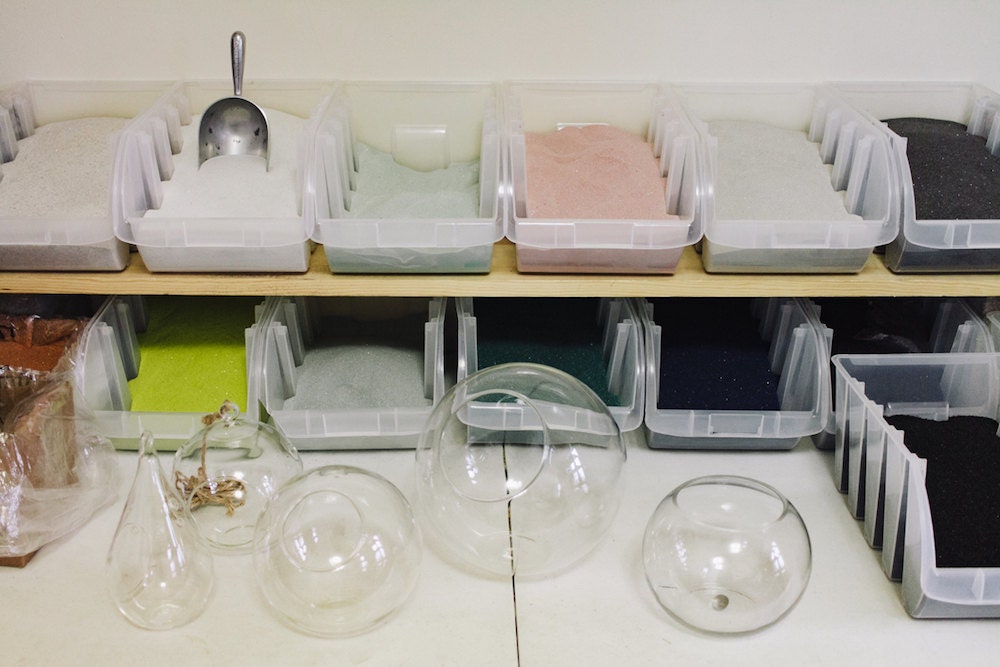 Aside from the secrets to shipping fragile materials, what else have you learned about running a business along the way?
I've learned a lot about how to solve problems, and about how to be adaptable and allow things to flow. For example, sometimes I'll have a vision of how I want a stone to work in an arrangement, but it just doesn't work that way. I could either spend an hour frustrating myself trying to get it right, or I could say, you know what—maybe this stone is meant for somewhere else, and set it aside to come back to later. Obviously, you need to focus and you need to get things done, but you don't have to do them in the exact way you thought you would when you set out—there's some ease and freedom in letting go.
You're known for incorporating crystals in your arrangements, but what's your favorite unexpected ingredient to add to a terrarium?
I like to work with different pieces of weathered wood, like driftwood; I also really like
cholla cactus wood
. When the cholla cactus dies, it leaves behind this beautiful wooden skeleton—they're primarily found in Arizona.
Would you say that you have a typical customer?
I think everyone is charmed by the magic of
terrariums
! They're these tiny worlds full of little curiosities. When I'm out selling in person, every walk of life comes by. When I first started out, I pictured a typical Anthropologie sort of shopper, but in practice it absolutely transcends that. And I have a lot of male shoppers, too.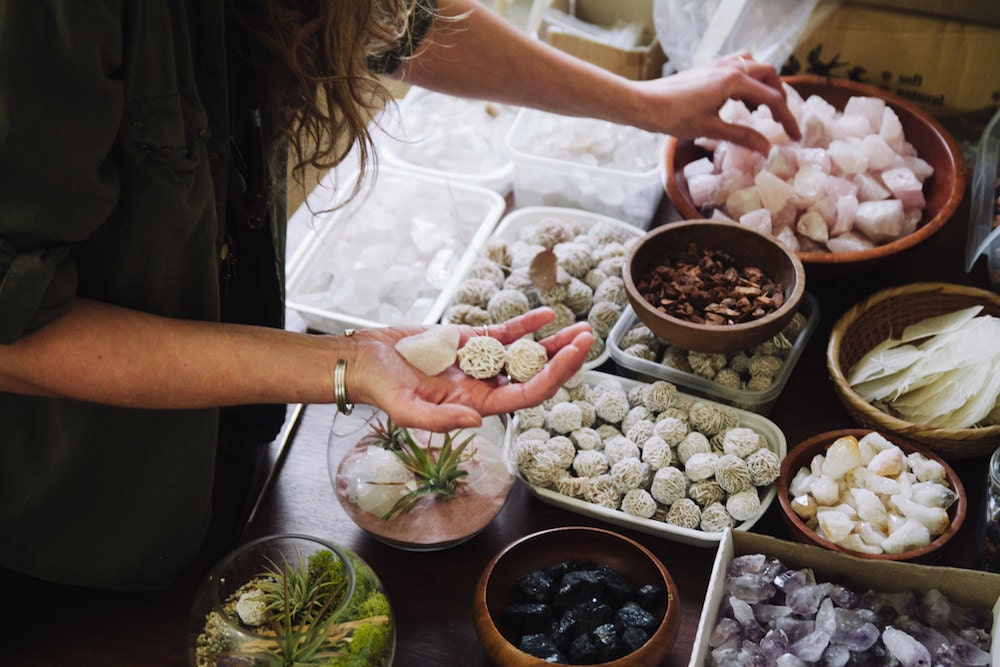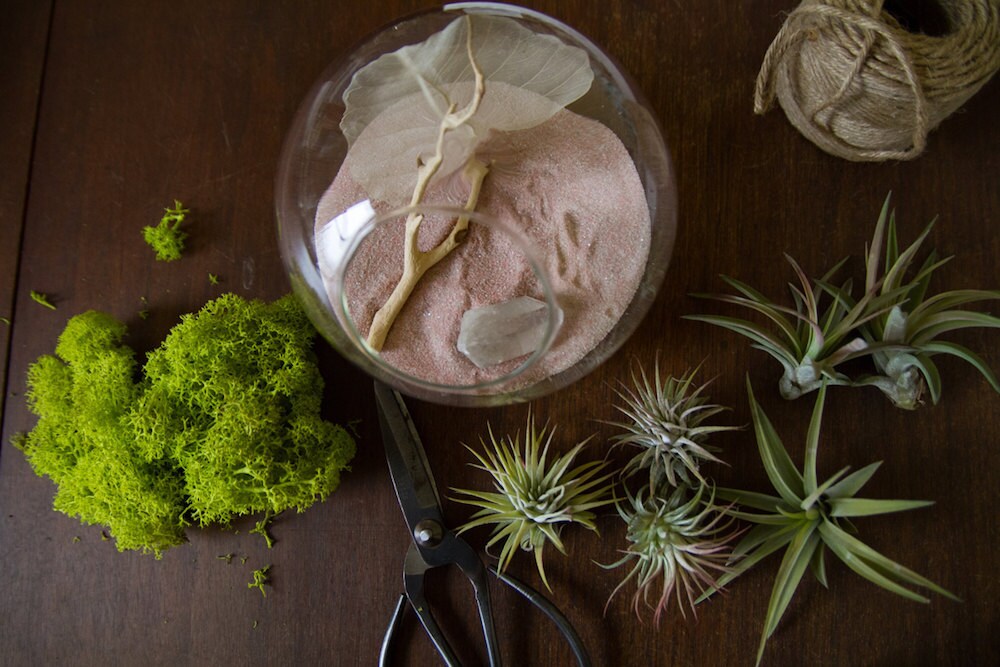 How would you describe your aesthetic?
I am highly influenced by the nature that I'm working with. So while I like a minimalist aesthetic and
modern
, clean lines, the natural world introduces all these beautiful organic elements. No two plants are the same, and no two crystals are the same. I like to let the natural items influence my creative process. Their shape defines the end product, so it's kind of like a collaboration between myself and the natural elements.
What's the most popular item in your shop?
It used to be the
geode and pyrite kit
, but right now I'd say anything with the
amethyst cluster
in it. People go crazy for it—and honestly it's so gorgeous, how could you not? I love my little amethyst clusters. I'm obsessed with
crystals and rocks
 right now, and you can expect to see a lot more from me in that direction.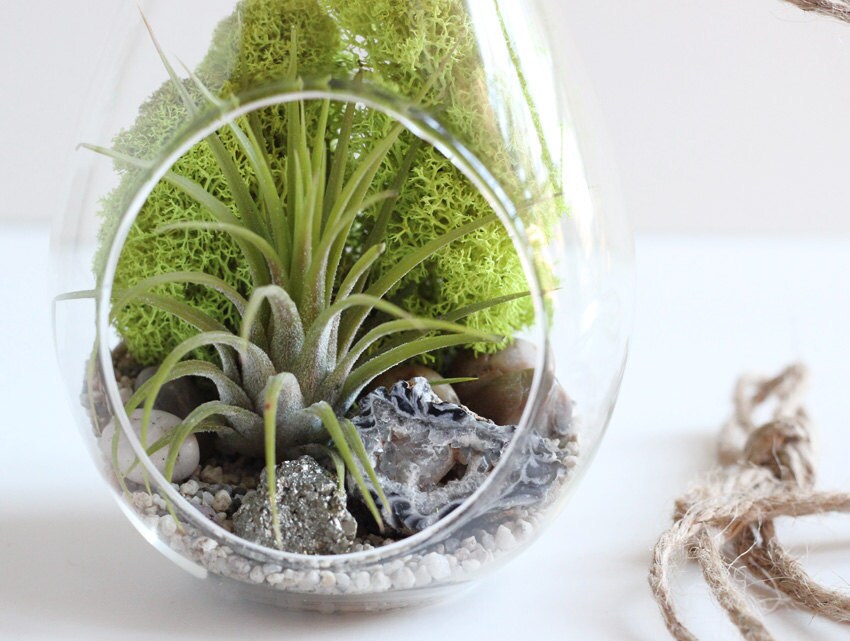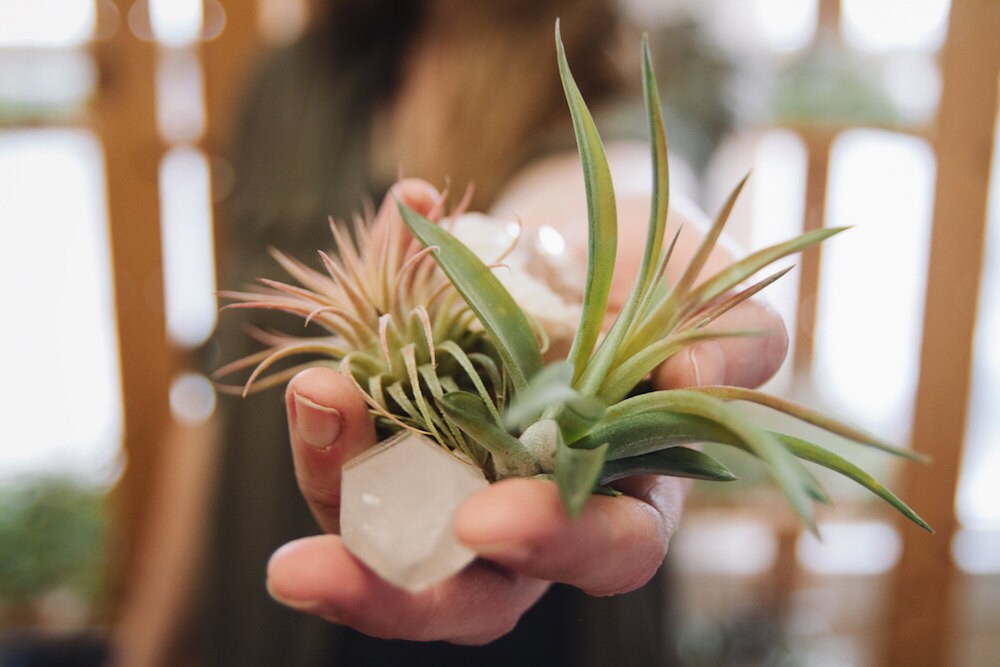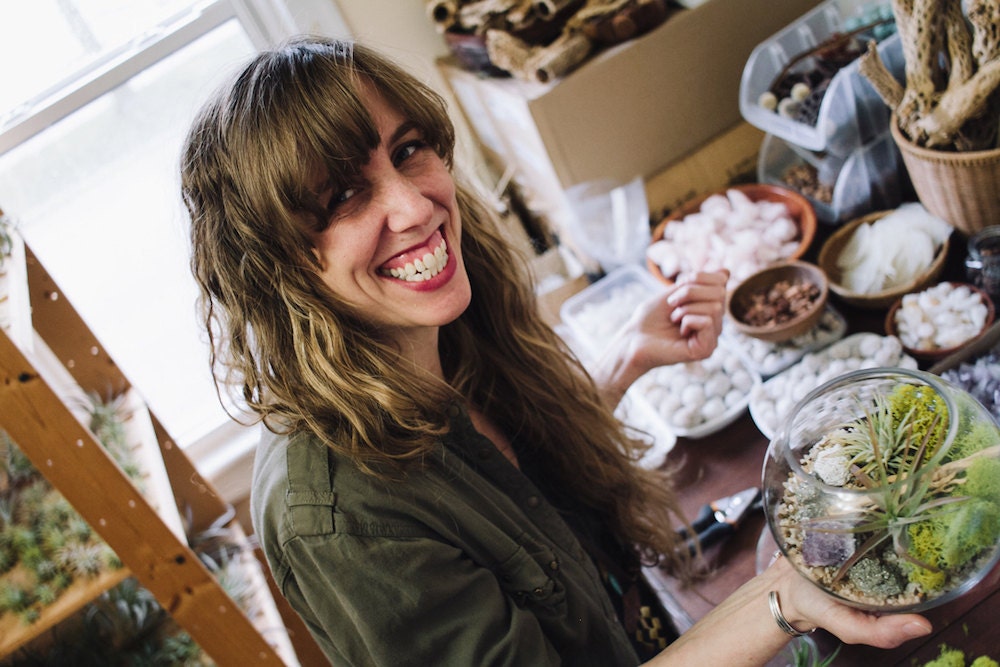 Speaking of crystals, do you have a favorite?
I'll go through phases. For a while, I was obsessed with putting
gypsum desert rose
in terrariums, and also
rose quartz
. In person, people have been very captivated by the
desert rose
—I think it's the texture of it and also that you can't quite tell what it is. Is it a rose? Is it a living thing? People often think they're mushrooms. They inspire a lot of curiosity in people.
I'm going to be focusing more on crystals, but stepping outside of just the terrariums and going in the direction of natural, modern
home goods
. I'm beyond excited—I'm having another one of those moments where I can feel the wheels of change turning. It's good.
Follow Bird and Feather on Facebook and Instagram.
Photographs by Jaimé Johnson.