Discover a world of sophisticated linen loungewear handmade in Kiev, Ukraine.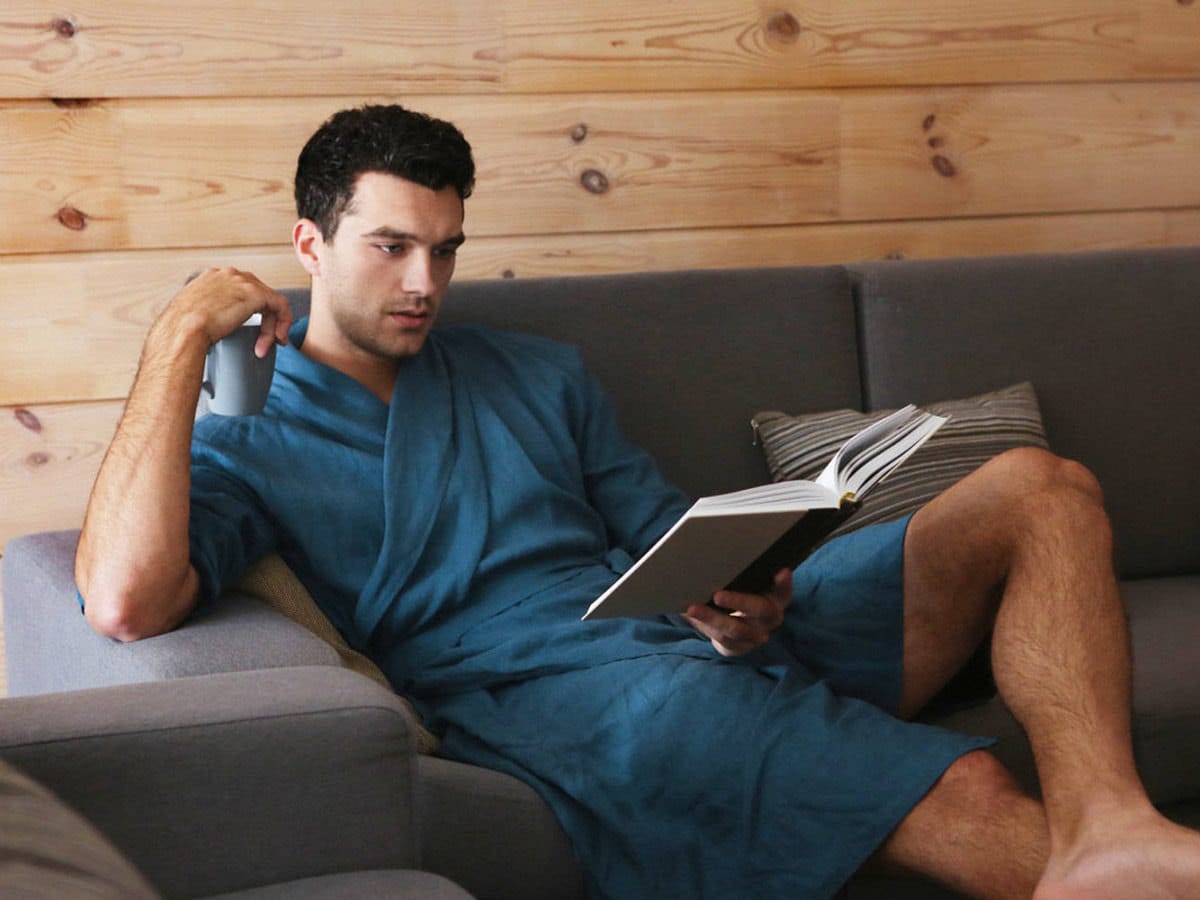 For many creative entrepreneurs, the process of launching a business begins with pure passion for a particular art form or medium. Next comes the development of a product line, and finally the tackling of practical tasks—cobbling together a marketing strategy, figuring out product photography, and fine-tuning the identity of the brand. But for
Black Ficus
founders Ann and Nikita Panisov, the narrative unspooled in reverse. The husband-and-wife team, a photographer and a graphic designer, were already working to bring other brands' visions to life, producing photo shoots and filming commercials for a variety of clients from their home base of Kiev, Ukraine. "From the very beginning, we were inspired by our customers' endeavors, and we wanted to create our own brand in order to better understand the needs of a person who has created a product and wants to share his idea with the world," Ann says.
While their path to launching a clothing line may be a bit less direct than some, Ann and Nikita's ultimate area of focus was driven by personal need, and shaped by personal experience. "I wanted to give Nikita a robe as a gift, but all of the ones I found were terry and plush," Ann recalls. "I wanted his to be comfortable, lightweight, and to make him to look handsome—not like a teddy bear." Nikita's mother, a technical designer and experienced seamstress, helped develop the first prototype, working through six iterations until the ideal version, with the best flat collar and the most comfortable linen fabric, was achieved. Today, Ann and Nikita's desire to understand the full entrepreneur journey—and to create a flattering, masculine robe—has blossomed far beyond a mere experiment into a thriving business, shipping hundreds of orders of understated men's and women's linen loungewear and casual wear all over the globe. But the duo still splits their time between their old jobs and their new ones, which has become a seamless way of working, with unexpected perks. "Nikita might be directing a commercial shoot while ordering fabric or chatting with a client about the length of his new trousers at the same time, and sometimes I use our products in photo shoots for other projects," Ann says. "Solving two tasks simultaneously is a pretty normal thing for us."
Read on to learn more about how this multi-tasking creative couple manages it all, and shop the Black Ficus collection.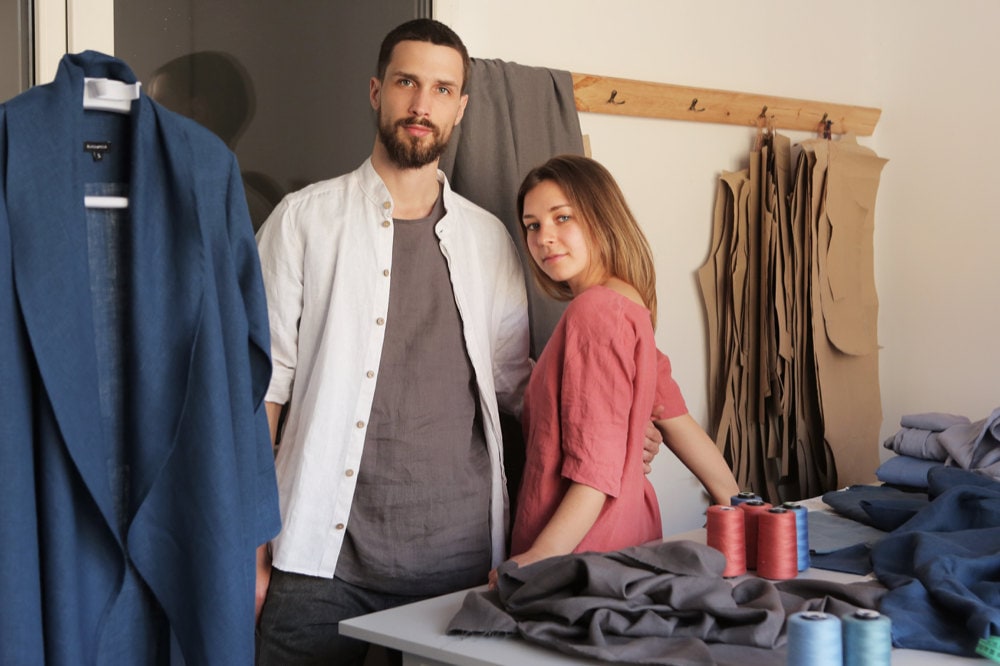 The two of you have a lot going on. What's a typical day like?
We've tried to create a way of working that's not monotonous. We alternate creative tasks with routine ones, usually starting the day with the creative stuff and then doing the things that take more discipline: sorting fabric, packing parcels, retouching photos, and answering emails. At the end of the day, we're tired but happy. And because this is a family business, we're able to solve complex tasks quickly—even when we're on vacation or at home.
Tell us a little bit about your team and your workspace.
When we first started, we did our sewing at my mom's cozy country house. Now we have a small workshop with many sewing machines that each serve a different purpose: one is for sewing straight lines, one is for loops, and one is for finishing fabric edges. We have a big work table that we love, where we can experiment with several types of fabric and patterns at once. In the room next to our sewing workshop, we have an office where we sometimes take pictures for our listings and do computer work. There are four people on our team: me, my husband, Nikita, and two seamstresses. I develop all our samples, our overall concepts, and our visual style, and I handle communicating with our customers. Nikita is responsible for shipping orders, sourcing fabrics, and for finance and marketing. Our lead seamstress manages our production process and ensures the quality of our tailoring, with our other seamstress's help. In the studio, we try to keep our lines of communication open at all times and resolve any issues quickly, because we believe the atmosphere in which clothes are created is important—clothes have their own energy, and we want shoppers who purchase
our products
 to feel positive emotions from them. We generally enjoy the process, and everyone shares the responsibility for the brand, so everyone does his or her best.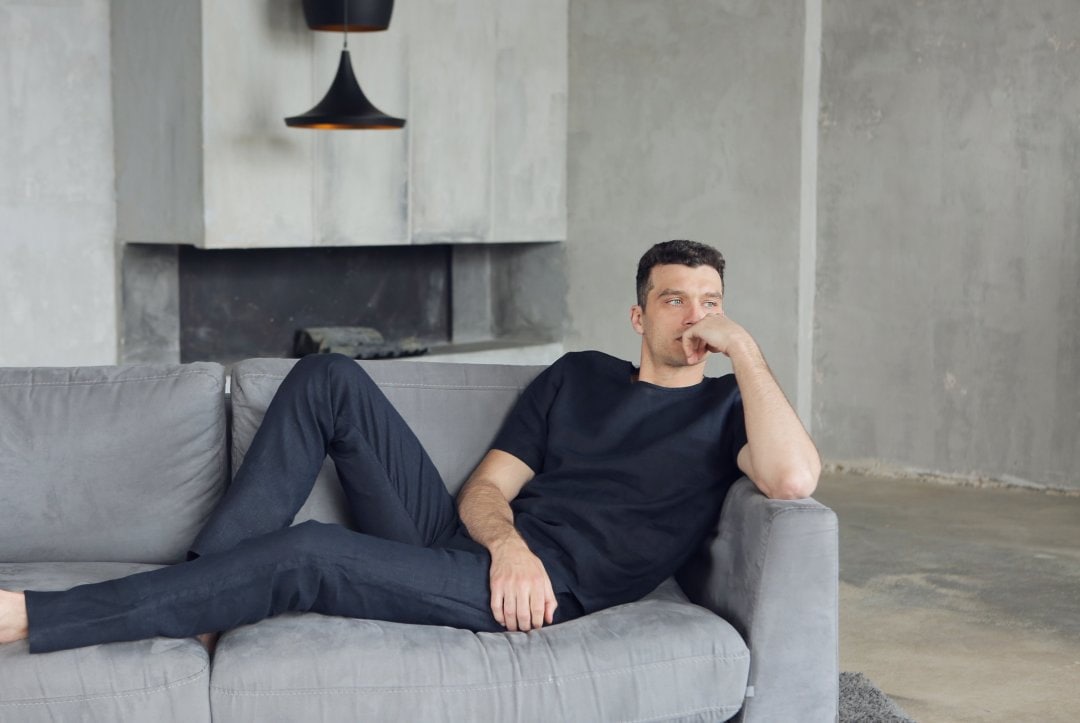 >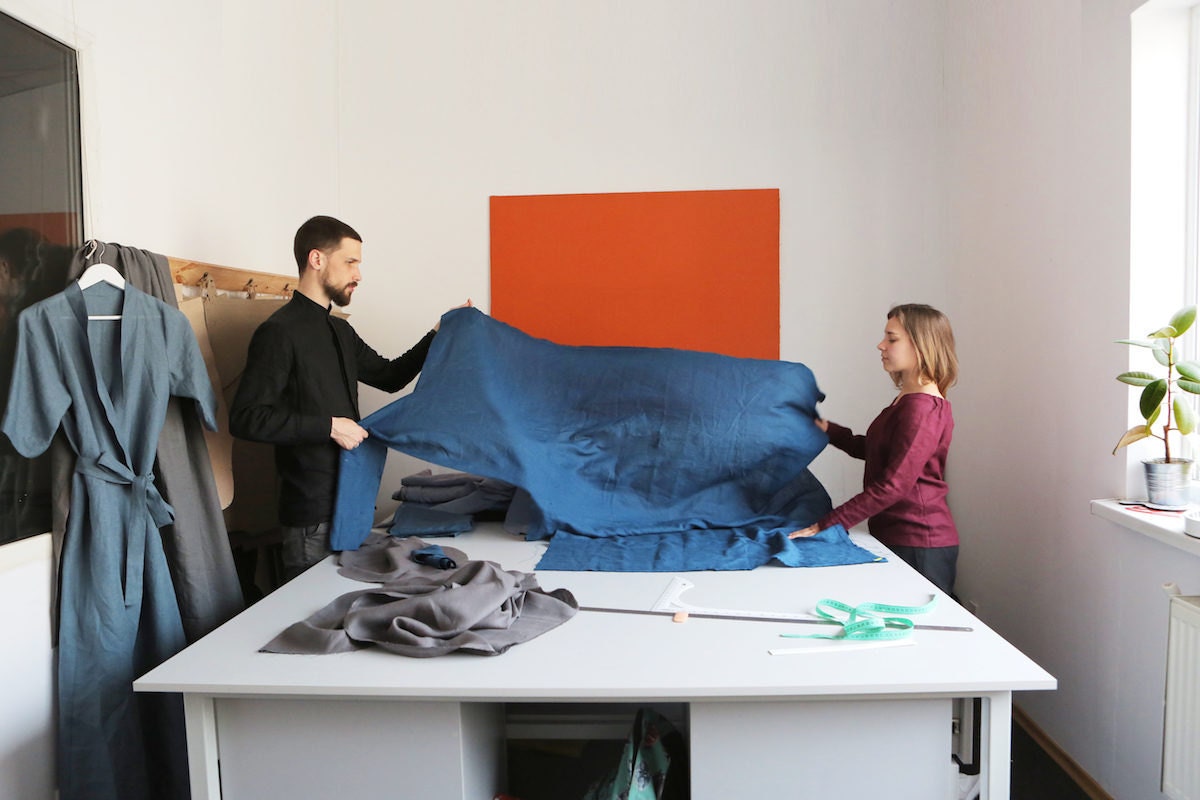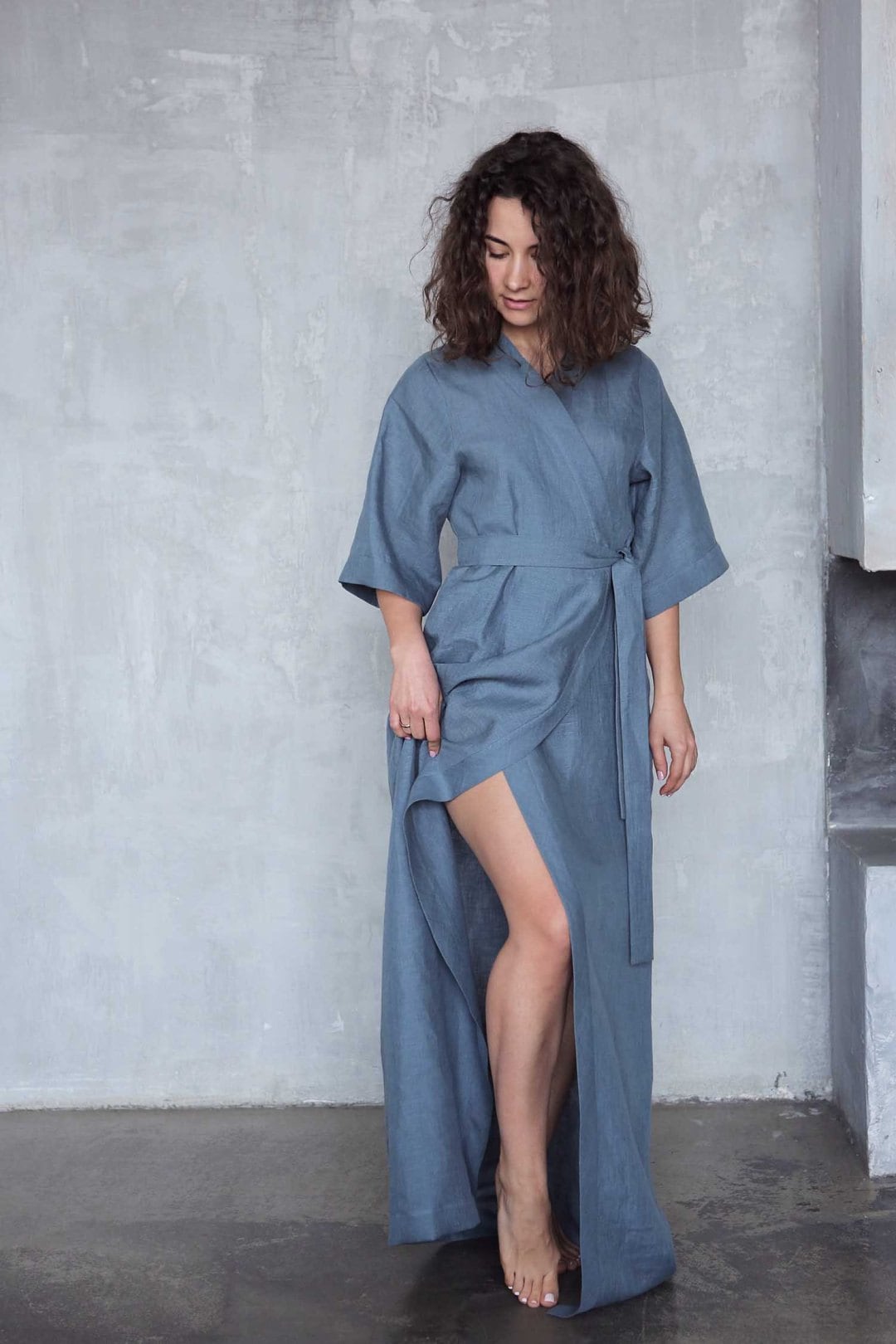 >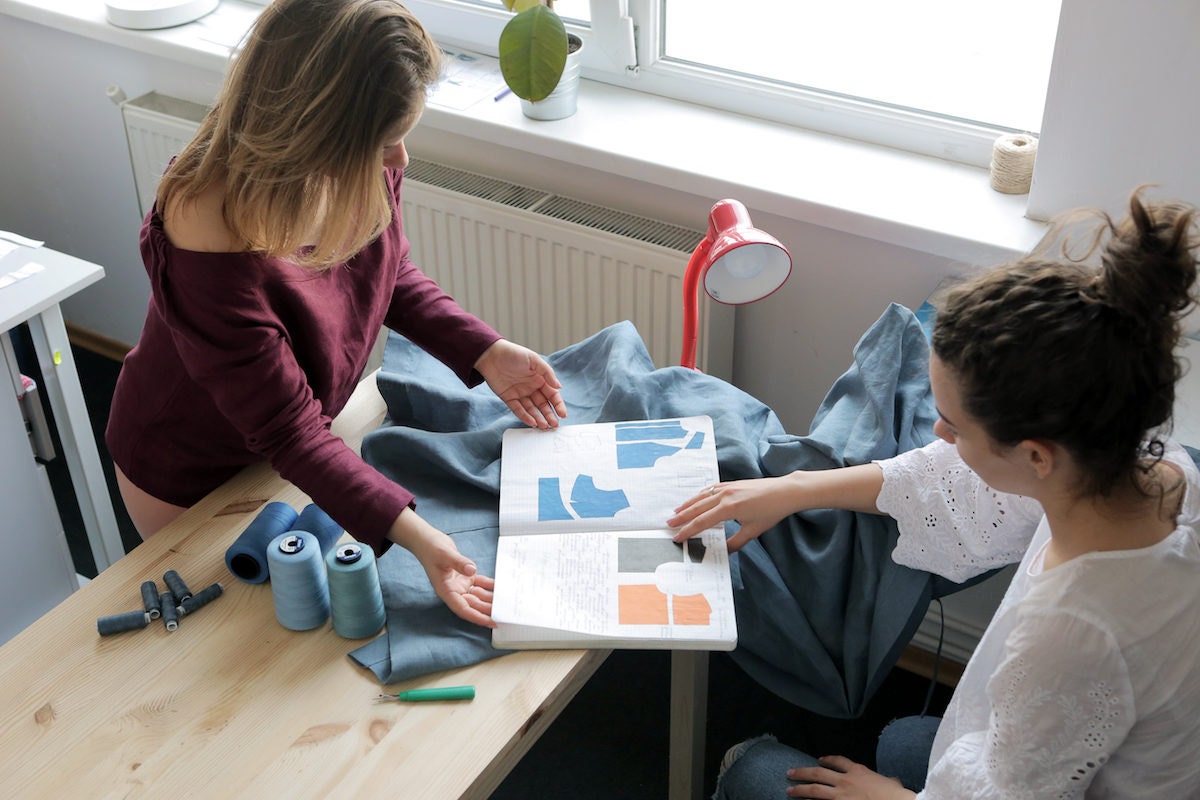 What's your process like for developing a new design? Do you start with sketches or dive right in with your materials?
There are two options: The first is to draw a sketch, sew a first sample, and make changes from there. Sometimes when we've finished, there's nothing left from the original sketch, because the design evolves in a way we never expected—in a good way. While it would be possible to make more complex silhouettes than we do, we find that the beauty is in the details, in the processing of the seam or in the direction of the thread, so once we have a basic design we turn our focus to those kinds of construction details. After that, we make patterns, sew samples from them, and wash and test
our designs
on ourselves and our friends. It's very important for us that our styles suit people who have different body types and sizes, and we're thankful for all the feedback our friends give us, and use that to perfect each piece over time. The other way we sometimes approach design is to build a new style from an existing one. That's how we developed our cardigan: We took our robe, shortened it and refined it, and that became the cardigan. Sometimes simply changing the color and thickness of the fabric can make a pair of trousers look like a completely new design.
How often do you put out new designs? Do you follow a traditional design calendar?
Developing
new designs
is a spontaneous, and for the most part, an ongoing process. We improvise, we don't focus much on the season, and we try not to get attached to the holidays. Often, ideas come to us when we're traveling. To us, part of what we love about this business is that we can work at a pace we enjoy, on our own schedule.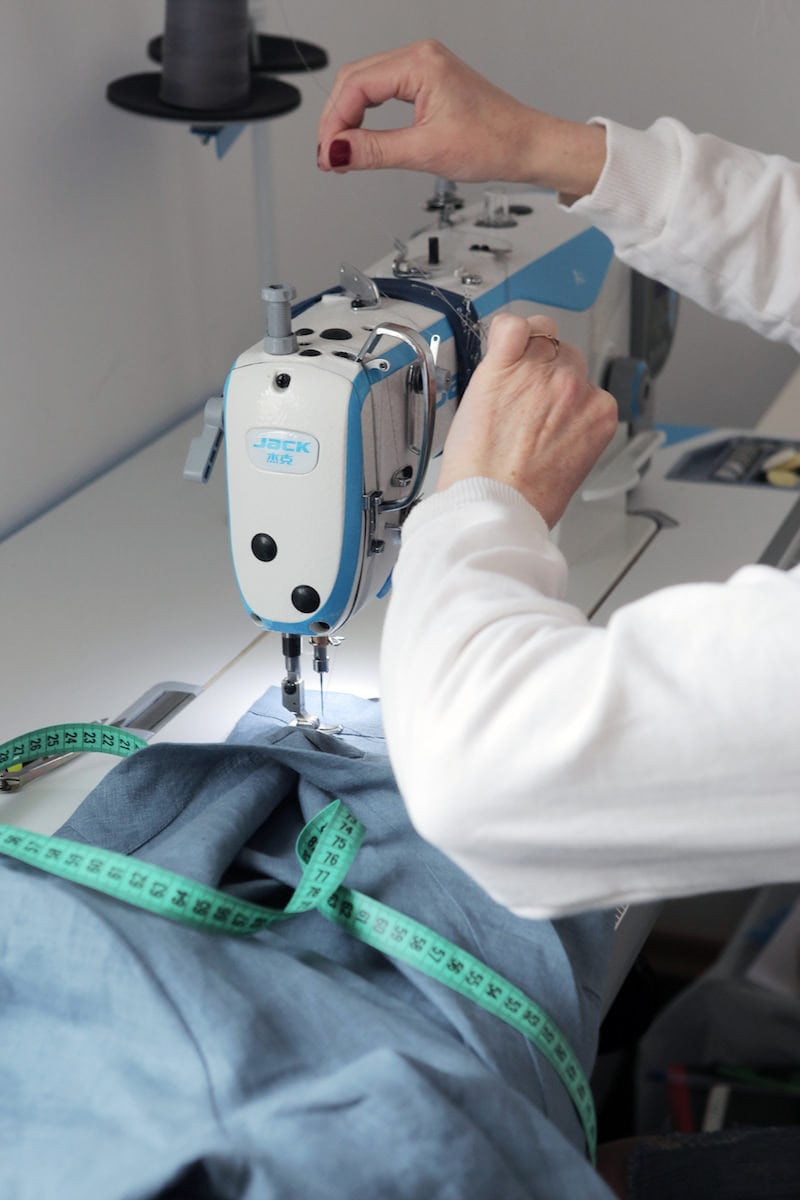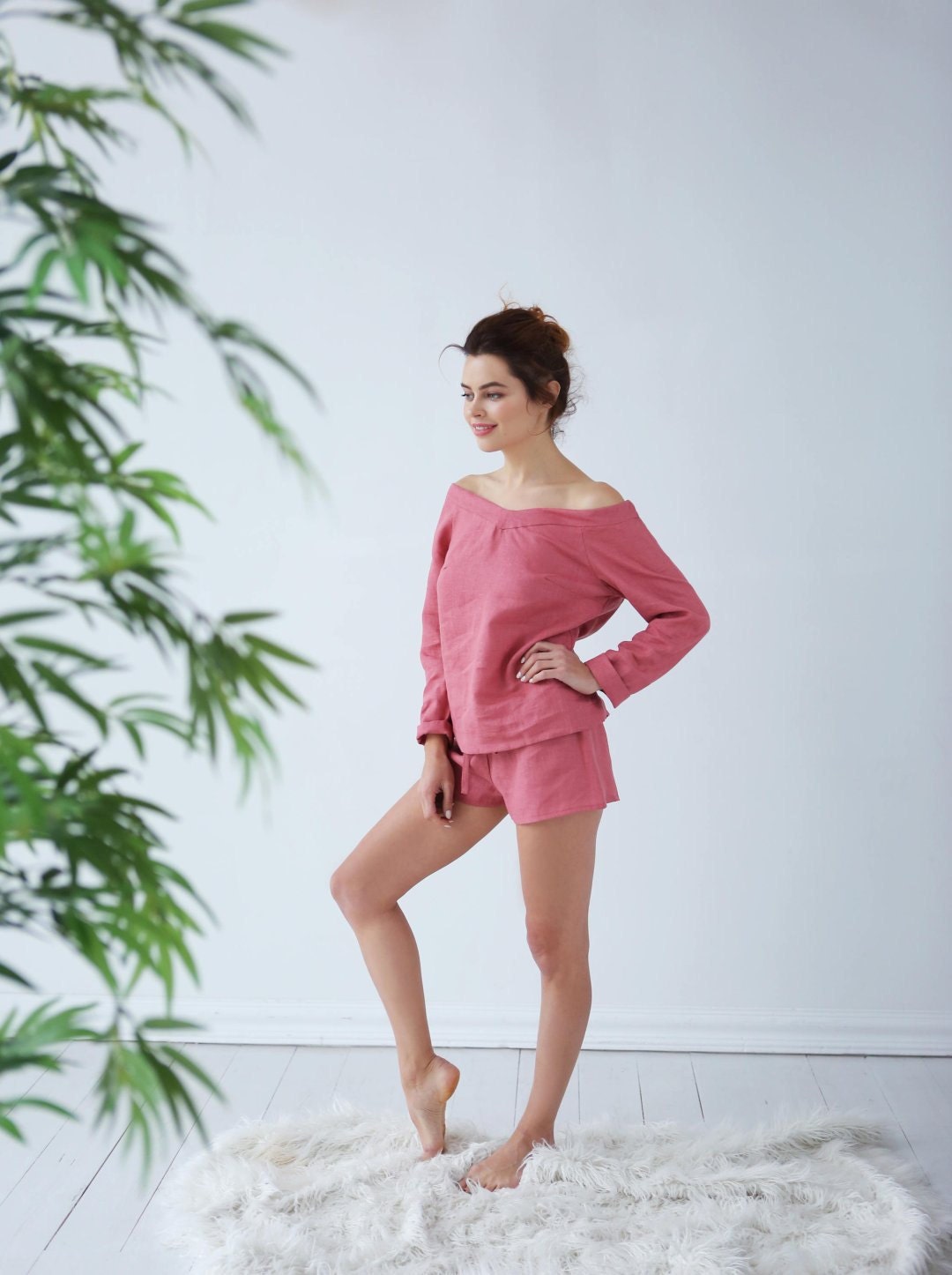 >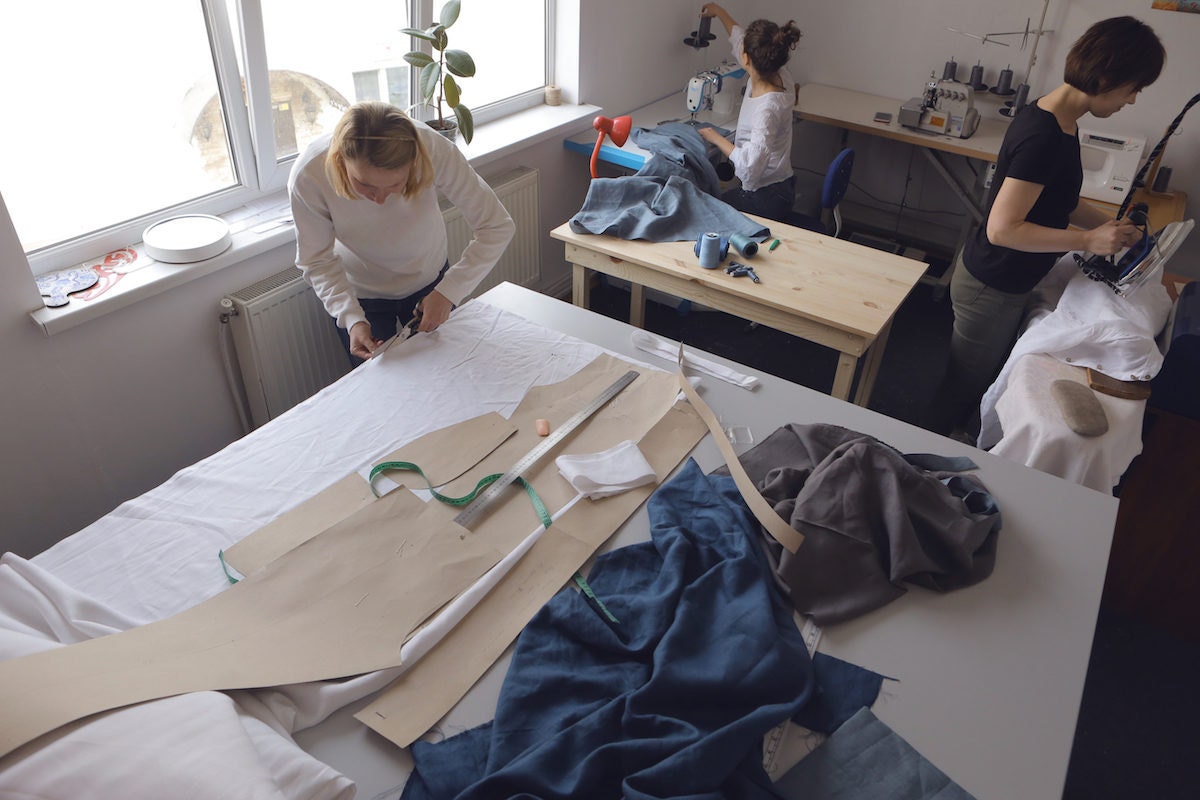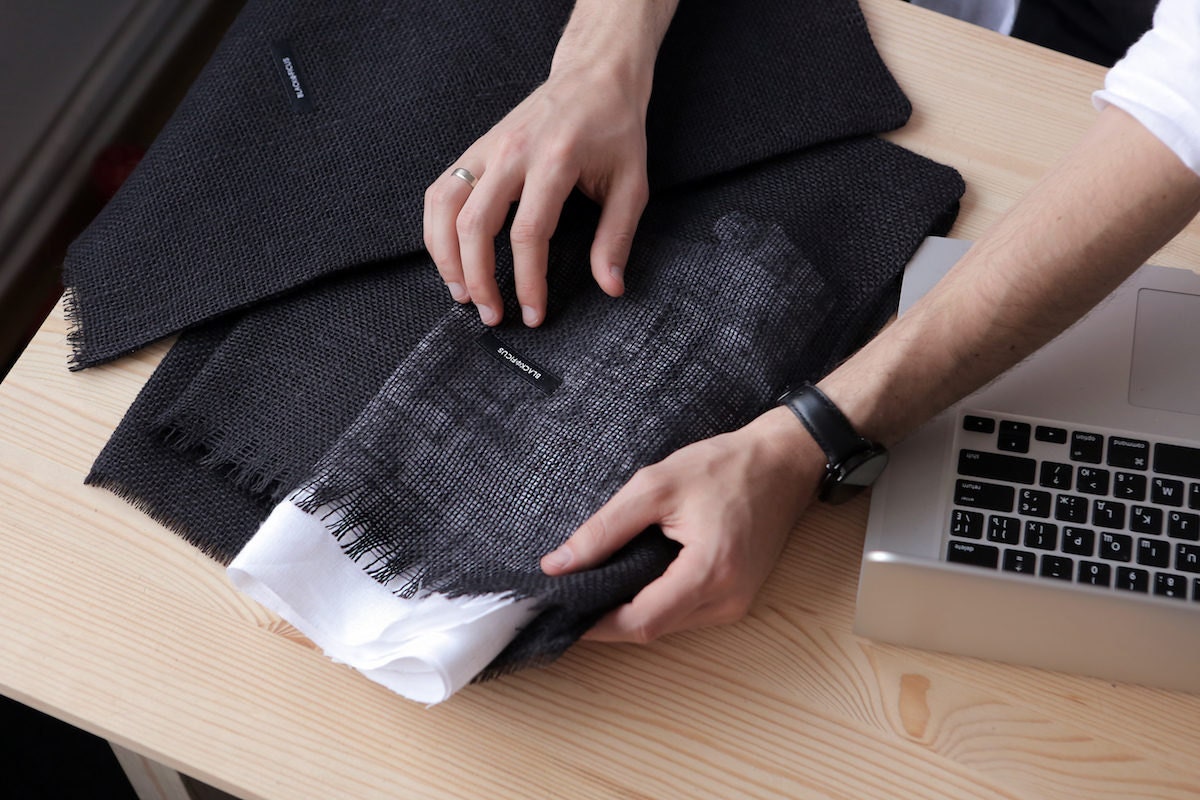 What do you love about working with linen?
Linen is a very special fabric: It's natural, it wrinkles elegantly and artistically, and it breathes and takes on the form of a body. But many of our friends and relatives don't have any linen clothing in their wardrobes—here, it's associated with traditional embroidered national costumes, not contemporary clothing. We wanted to broaden the perception of the material, to help it break away from stereotypes and make it more widely used and appreciated. We source all of our linen in Belarus, one of our neighbor countries, from a supplier that a designer friend passed along to us.
What are some of the pieces from your line that you wear the most in your daily life?
I wear our women's robe like a summer cardigan—I remove the belt and wear it in hot weather to protect me from getting a sunburn. Linen breathes well, so even with long sleeves I don't feel hot. Our products are great for travel, especially to warm countries. Since we live in a country that's cold six months of the year, here we wear our linen clothing mostly at home. But Nikita wears our shirts often—he tested them on himself, and now they're available in
our shop
. He and his friends also really like our men's trousers.
Which of your items are most popular for gifts?
Our robes, both for men and women, are very common gift choices—probably because it's a personal item that the recipient will see every day and be reminded of the person who gave it to them. Outside of gift-giving, our men's trousers are probably the most popular item in our shop.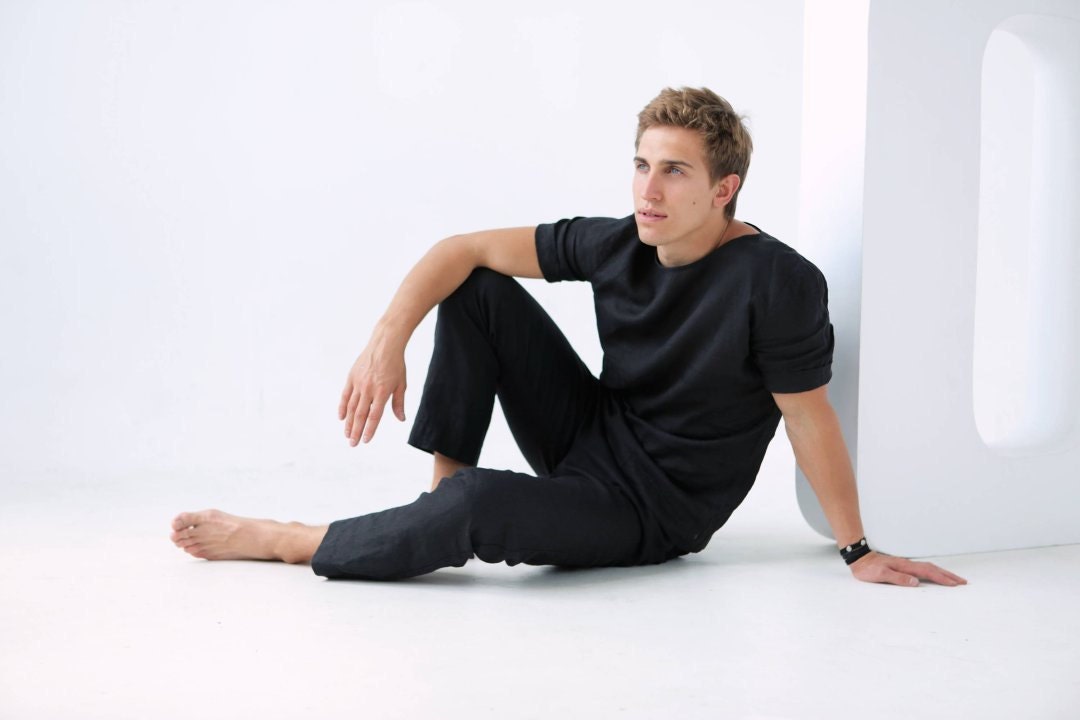 >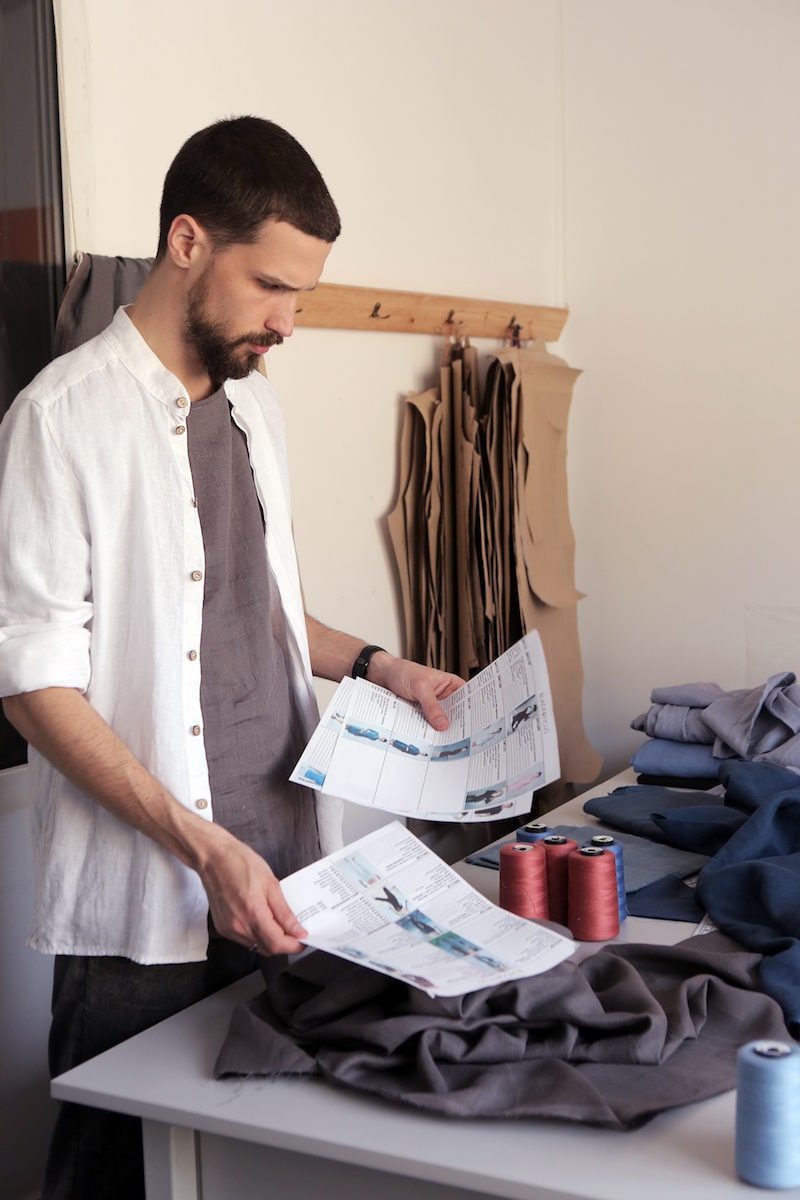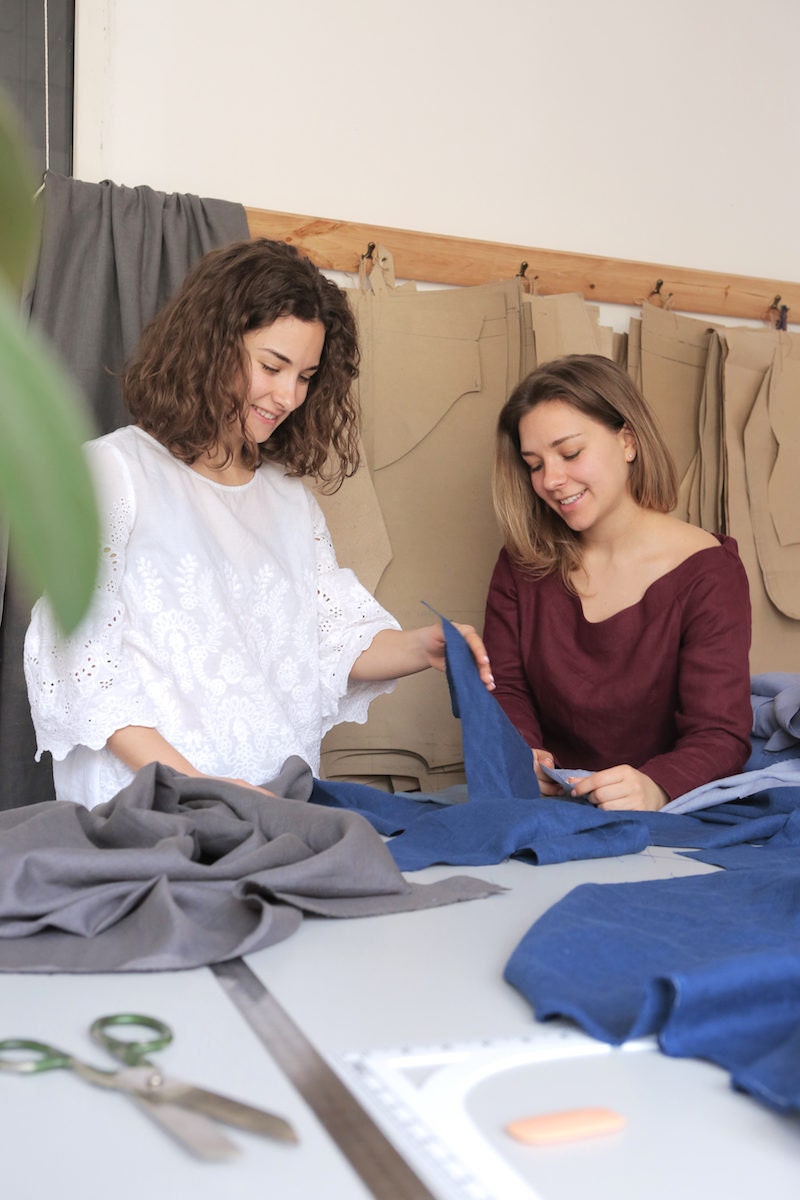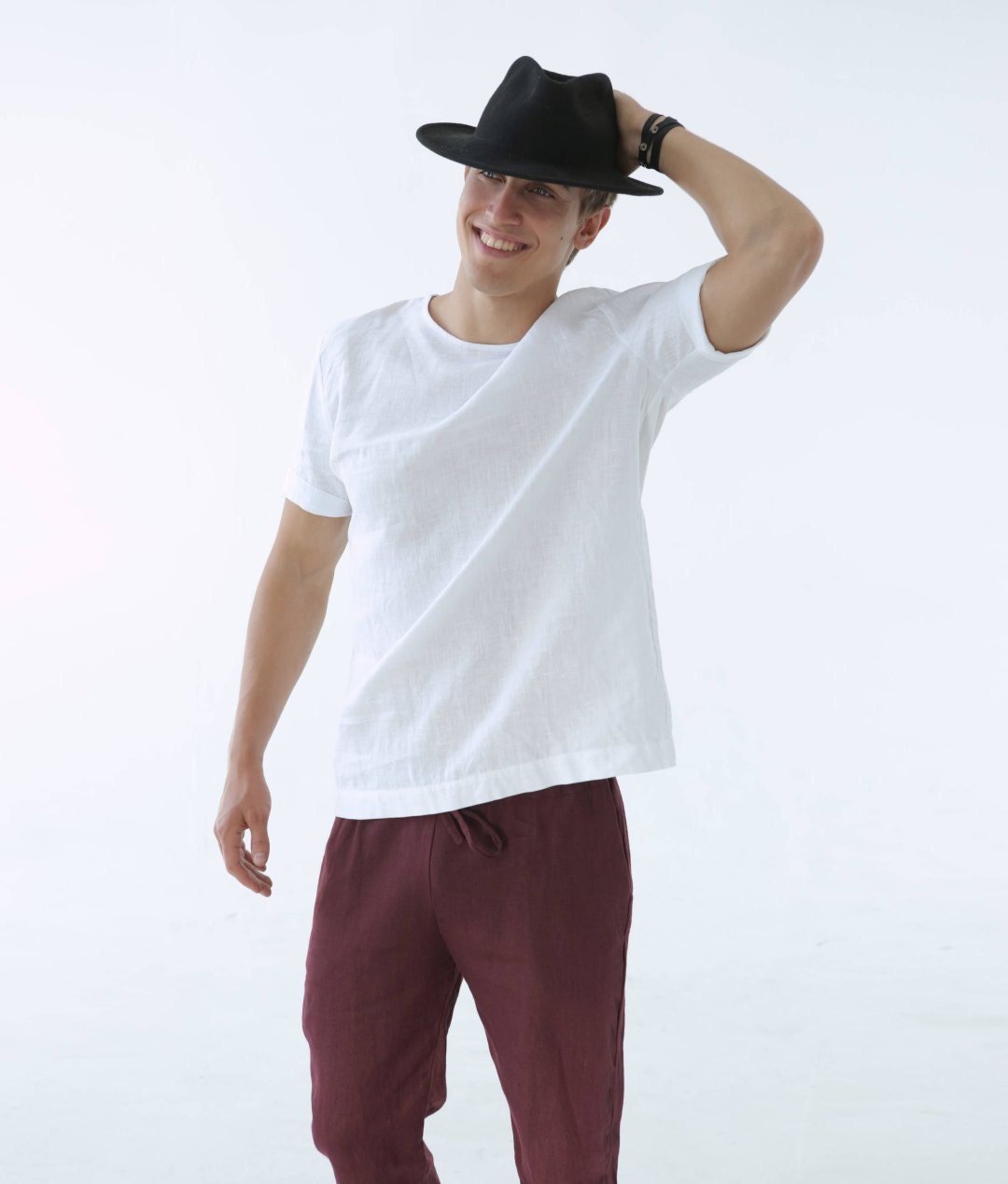 >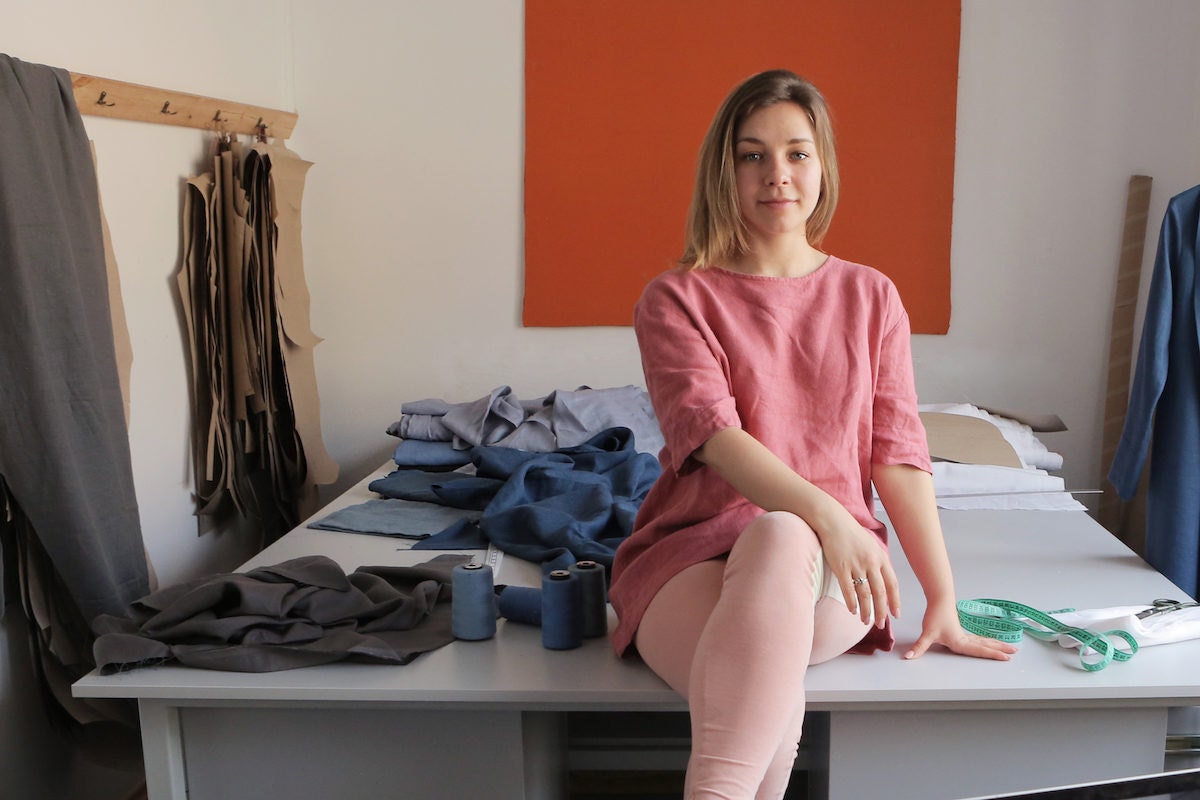 What role has Etsy played in the growth of your business?
If it weren't for Etsy, we most likely would never have opened a clothing shop in the first place. Etsy was a big discovery and a big boost for us. We almost couldn't believe that starting a business could be so convenient and so beautiful! When we listed our first item, a man's robe in several colors, we just wanted to see people's reactions—and I still remember that feeling of surprise when we received our first order from Hong Kong. To this day, it's still Etsy that inspires us to keep growing our business. We have time to nourish our creative process while Etsy makes
our products
available around the world.
Can you recall a time in the life of your shop that felt like a real breakthrough moment, or a big achievement?
The first time we got an order for 10 pairs of men's trousers for a wedding, we were so worried—it seemed like so many! And we were very proud that our trousers had been chosen to be part of someone's wedding. Now, shipping five to ten pieces in one order is pretty common for us. It also made us really happy when we started to get repeat customers returning to our shop for more.
What's next on the horizon for Black Ficus?
Our main focus right now is to adjust our workflow so that we can handle a larger number of orders while still maintaining the quality we want. We're also working on expanding the range and adding more women's clothing.
Follow Black Ficus on Instagram, Facebook, and Pinterest.
Photographs courtesy of Black Ficus.