by Valerie Rains
When Matt Reynolds couldn't find golf accessories to suit his needs (or his style), he decided to design his own. Discover Bluegrass Fairway.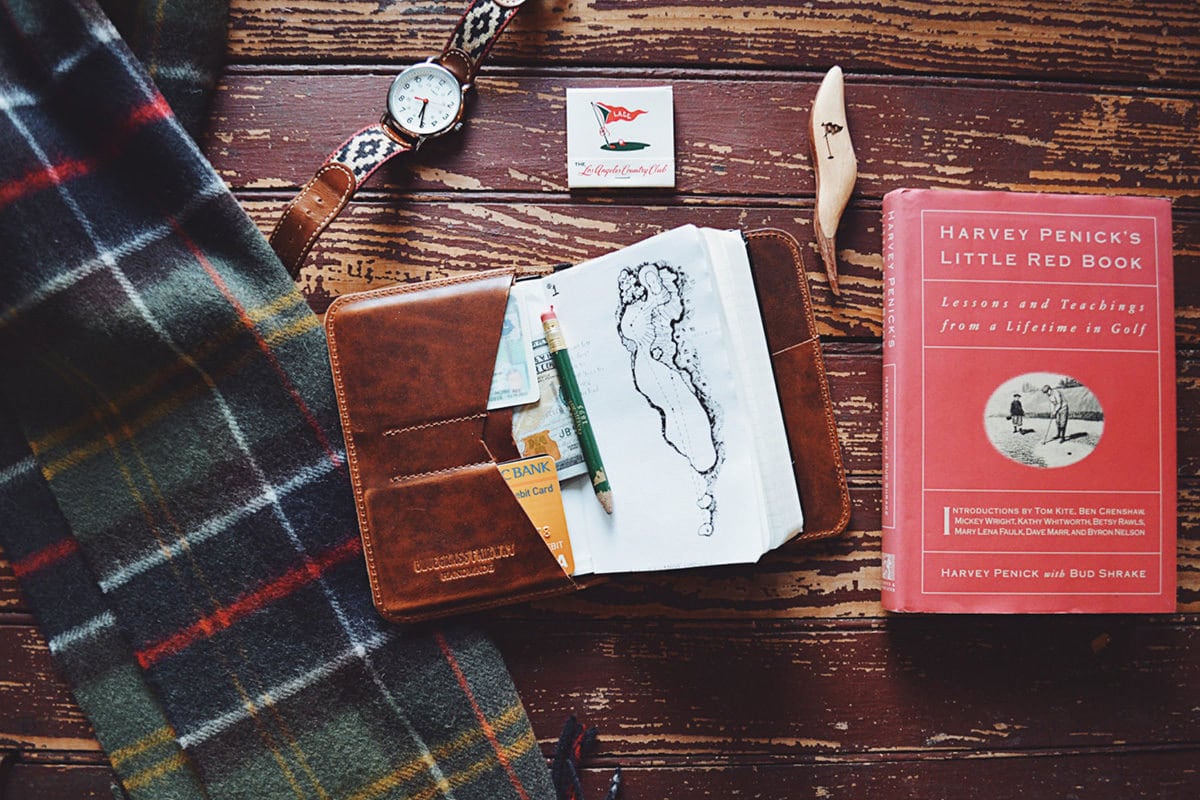 For some people, it might be a favorite pair of shoes they've re-soled time and again. For others, it's a beloved bag that's on its fourth shoulder strap. For
Bluegrass Fairway
founder Matt Reynolds, a trusty yardage book and scorecard holder—which he'd used to carry vital course info as a competitive golf player on the tournament circuit—was the treasured object that he chose to repair (and remake), rather than replace. And in his case, that accessory attachment became the beginning of a thriving business. "The first scorecard holder I had, I bought at a golf course; it was kind of cheaply made, and eventually I lost it," Matt recalls. "I went through a few more after that, until I found one I loved—and then used it until the inside pocket ripped out." At which point he took it to a local cobbler to see if he could sew it back on, and a creative idea began to take root. Matt spotted some other leather colors in the cobbler's shop and started making custom requests, working closely with the cobbler to tweak the holder's design until they ended up with something completely bespoke. "It took us about three times, but we finally got one that I really, really liked," Matt says. And he had a hunch other folks might, too.
Read on to learn how Matt found everything he needed right in his hometown—from production partners to materials suppliers—to bring his dreams of a different kind of golf-goods line to life, then shop the Bluegrass Fairway collection.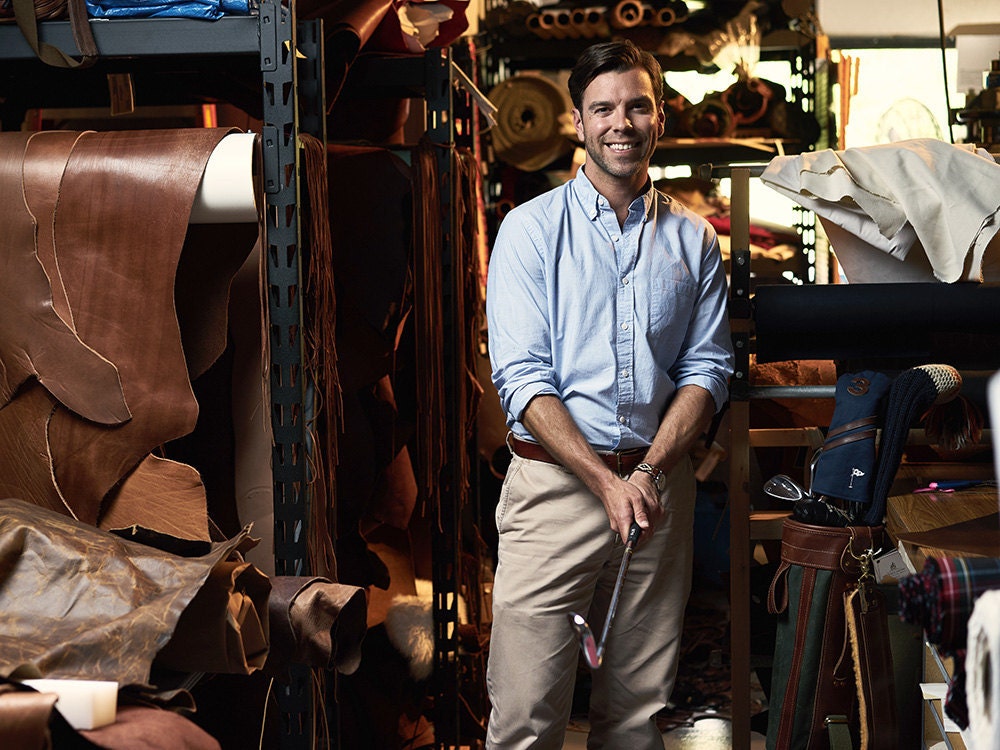 Let's start at the beginning. How long have you been a golfer?
I guess I started playing golf when I was around 8 or 9—my dad would play every Wednesday in a league, and while I wasn't a natural by any means, I was able to become a pretty good player in my late teens and early 20s. Now, I'm absolutely in love with the game. I love the beauty of the walk, taking in the course architecture and seeing what the architect gave you for each and every hole, how he wanted you to play the course. Then, obviously, the competition and the camaraderie with your friends on the weekends are always fun. Those are the things I enjoy the most about golf.
So once you'd created your ideal scorecard holder, how did you decide to turn designing golf accessories into a business?
Right away, when my friends saw
my scorecard holder
, they started asking, "Hey, where'd you get that? And can you get one for me?" We ended up making about four more of them for some buddies, and they loved them. Then one of my friends said, "Hey, my wife sells on Etsy—you should try selling them there." I had no expectations whatsoever, but we listed the holders and I went down to the shop every day after work to help make them. For the first little bit, maybe the first month, I think I had one sale. And I was so excited, like, "Oh my gosh, someone wants my stuff!" And then came November and December, and I got around 100 sales in 40 or 50 days—it was crazy. That's when I knew I had to do something different, because my cobbler and I weren't going to be able to make these together fast enough. A friend suggested I talk to a guy named Will who had a local golf business; Will took me under his wing, and now we work together out of his shop. That was great: We were able to knock out orders so much faster, and we were able to make even better quality products. Meeting Will and having him teach me new techniques was huge—I really owe a lot to him for that.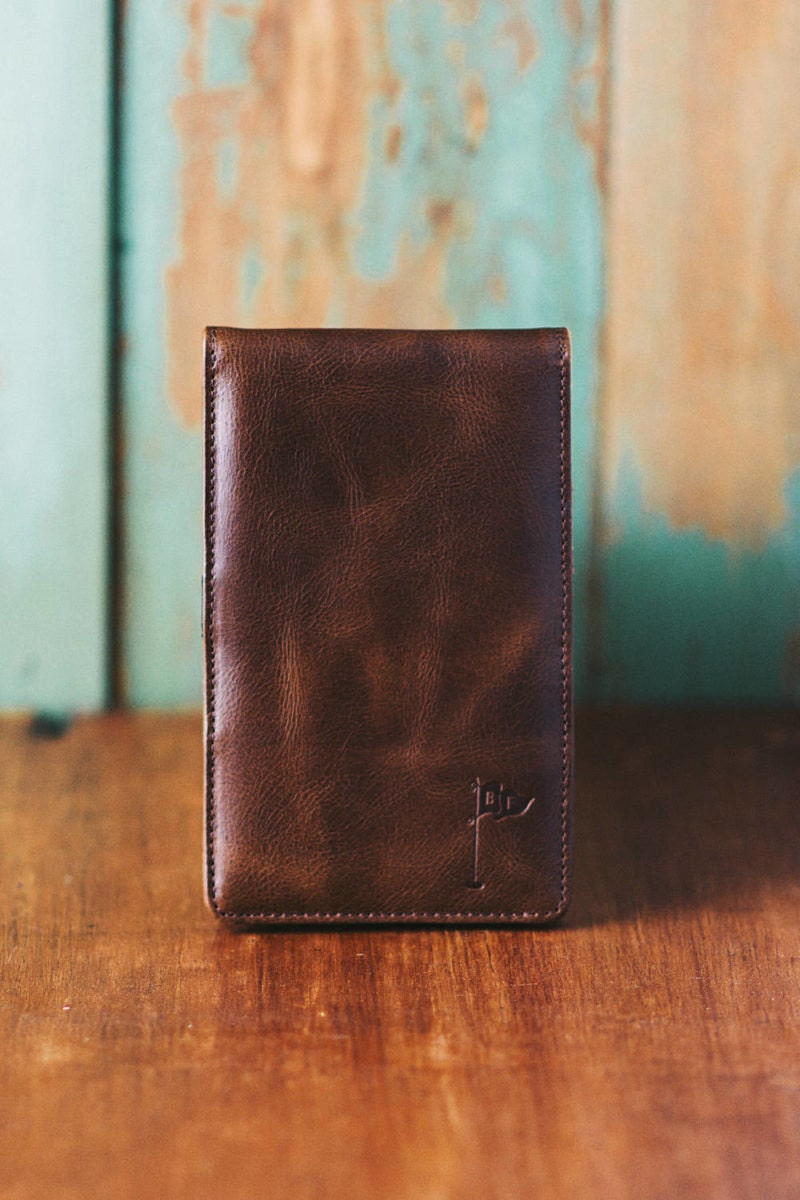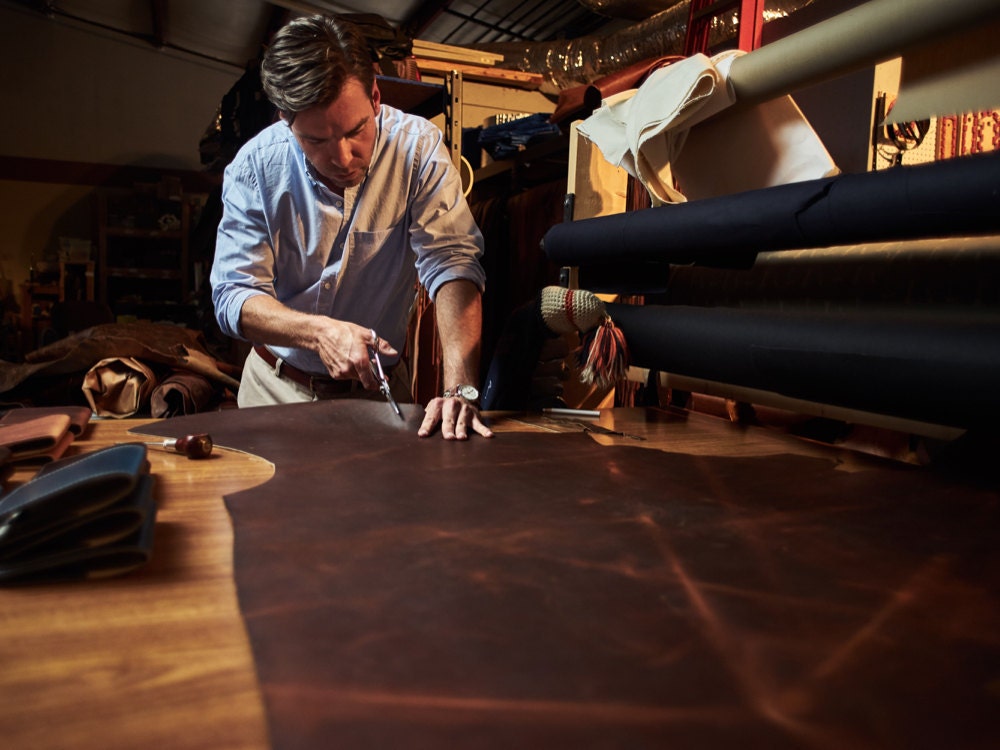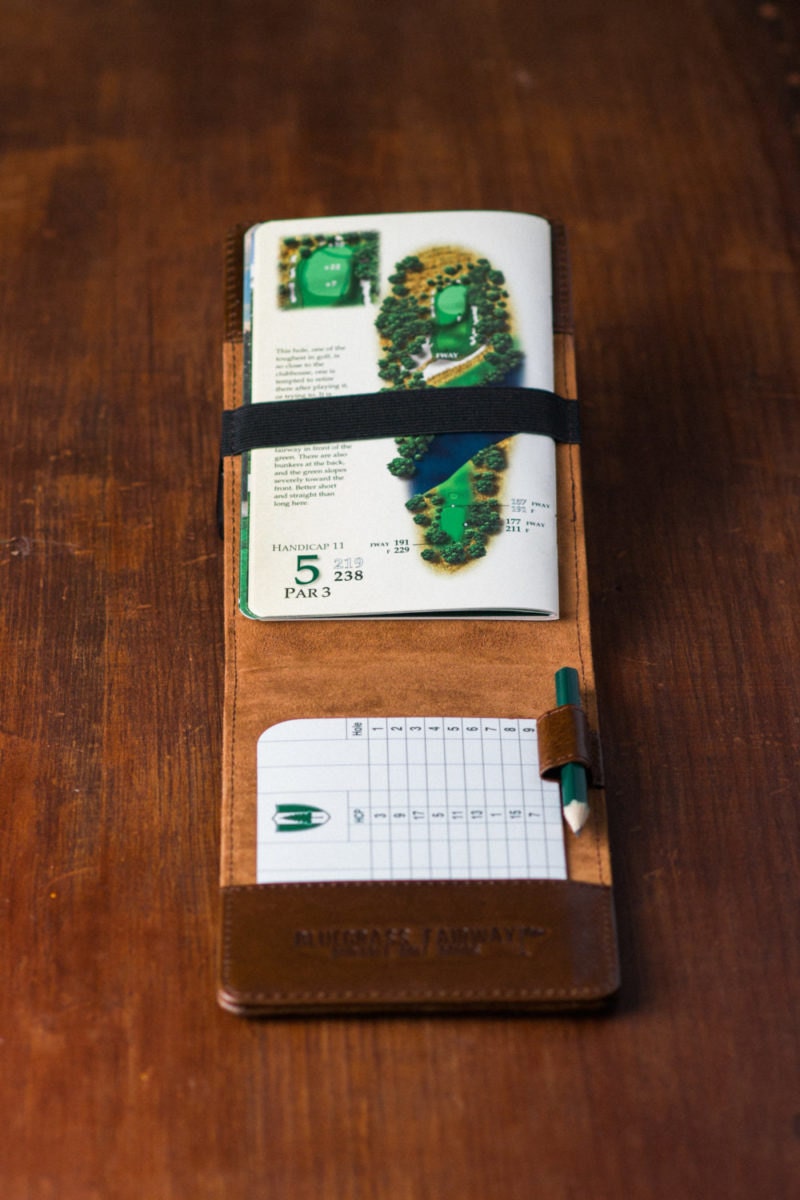 That's great. Who else is part of the Bluegrass Fairway team?
At Will's shop, Will's daughters Meg and Jane both help with the sewing, and I help a little bit too. My grandmother and her five sisters were pretty renowned quiltmakers—they made quilts for senators and governors, and their quilts have made their way all over the world. I remember my grandmother teaching me how to sew a straight line when I was a kid staying over at her house. So I get in there some, but Meg and Jane are really phenomenal at what they do; they really pay attention to detail, and that's what I think you'll see in our product.
After the scorecard holders, how did you decide what products to make next?
I kind of took an inventory of what I used on a daily basis on the golf course and what I would like to make with my own touch. The golf business right now, if you go into a golf store, it's all neon colors and fluorescents, and that's just not my style. I've always loved waxed canvas; probably my favorite jacket of all time was a Barbour jacket, and they use a waxed canvas layer. I knew I wanted to make
valuables pouches,
and I realized that waxed canvas would be a great material to use for that. Will and I brainstormed what would work best: what size they should be, what weight of canvas we should use, and what the interior material should be. We wanted to make products that didn't just look good, but that would really hold up; we wanted to design durable equipment that would be with our customer for a long, long time—and maybe even be passed on to the next generation, like an heirloom. We chose a soft cotton lining that won't scratch a watch or anything else you put inside it. Because I have always loved leather and waxed canvas together, we did a really nice bison leather bottom for our zippered pouch; it's a great contrast with the waxed canvas, and they complement each other nicely. And the waxed canvas has some water-resistant properties to it, so it keeps out the moisture.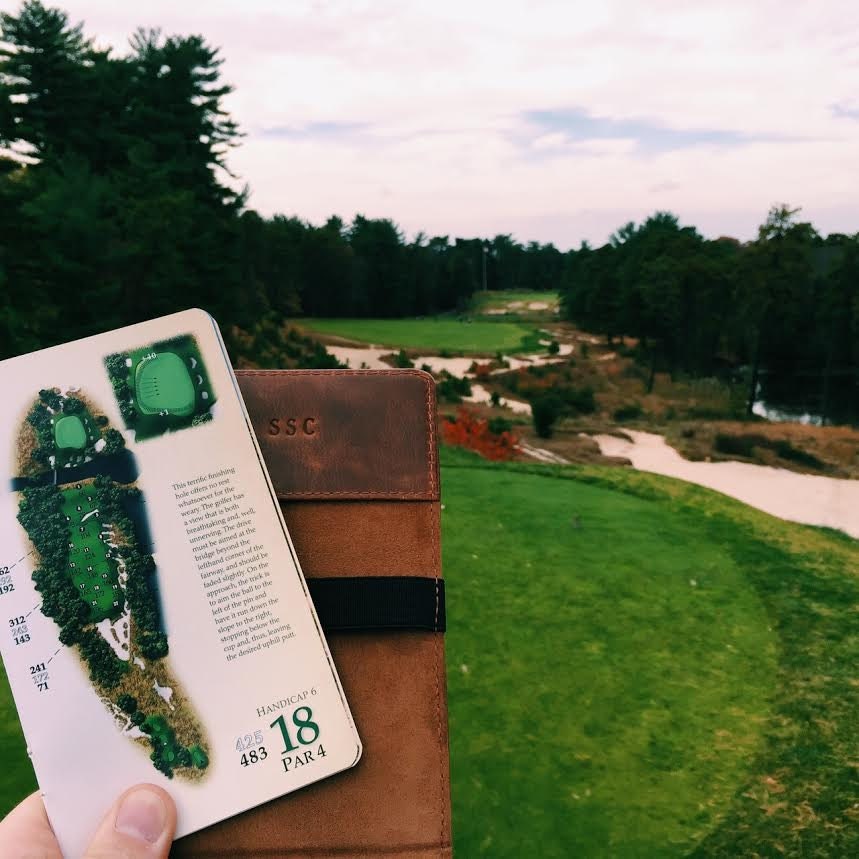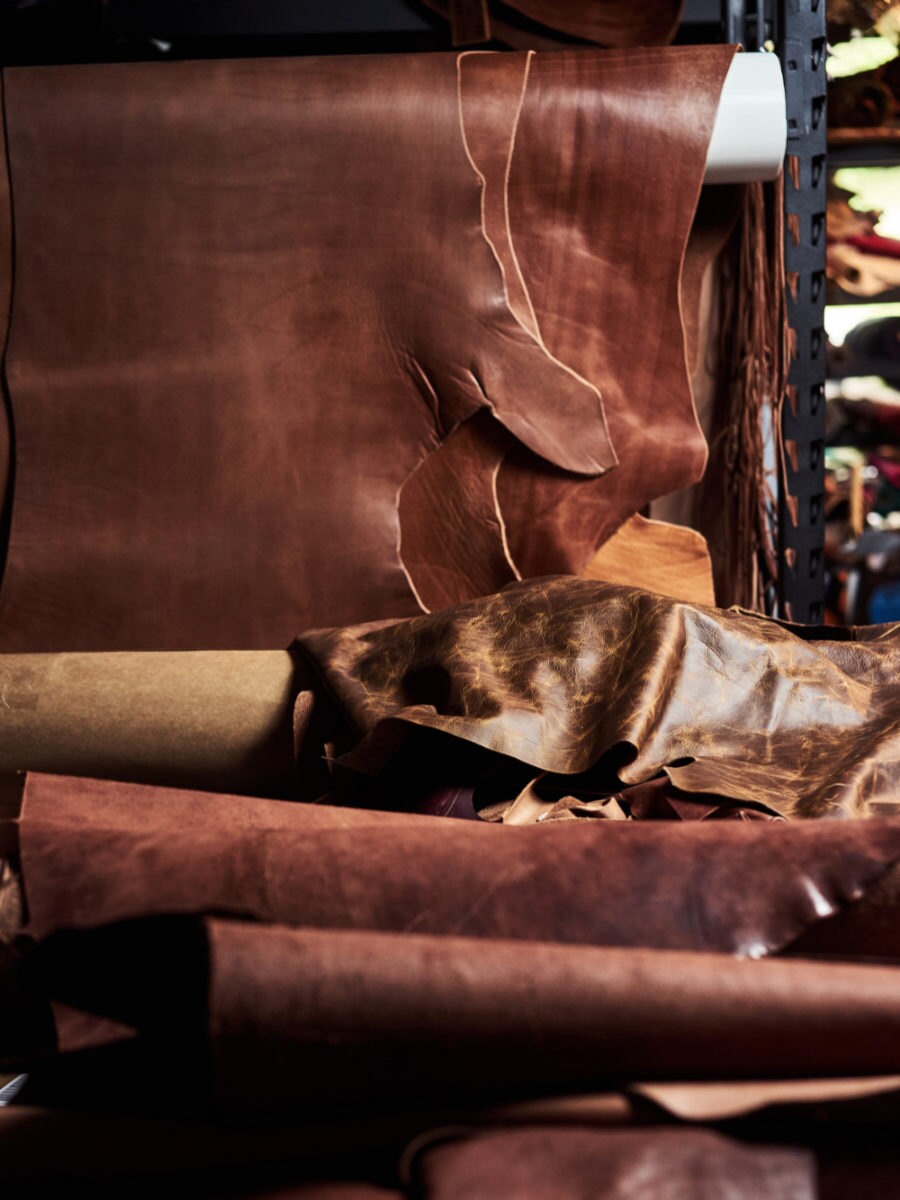 What have you been working on recently?
Our scorecard holders are definitely our top-selling product, no question about it, but more recently we have started making
head covers
, and we have a whole new line of those coming out any day now; we're really excited about that. We have also made different size scorecard holders to fit the needs of people who just want to house the scorecard and maybe not the whole yardage book. I have probably 60 score cards from a lot of the top 100 golf clubs in the United States, and most of the scorecards out there are going to fit one of our models. We have also been branching out into using some new leathers. It wasn't until two months ago that I started getting leather from Horween, a tannery in Chicago. I absolutely love that leather; it wears in really nicely, so you're going to get a great patina after a few rounds of using one of our products. It gets such a cool, worn-in look to it.
Where else do you source the materials for your line?
One of the most fun things for me is going to the tannery and hand-picking the hides. We have three tanneries that we use: Horween in Chicago, another tannery in Tennessee, and then Thoroughbred Leather here in town. It's a large, well-known tannery and it's right down the street from us; it's wonderful to have them right here in our backyard. We get quite a bit of our leather there, and we use that leather for the numbers for our head covers and for some of our pouches as well.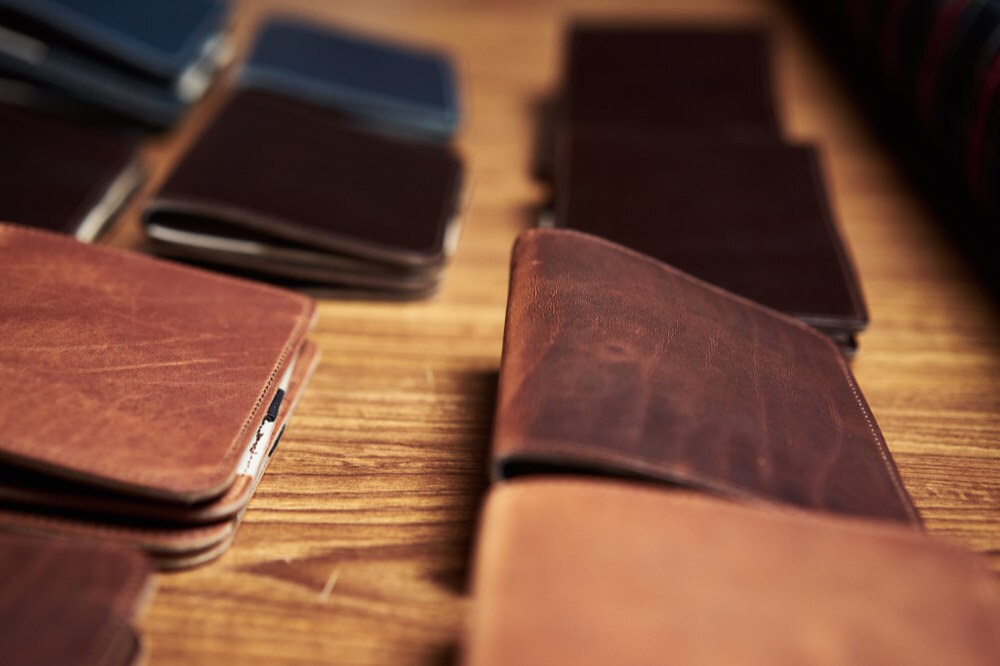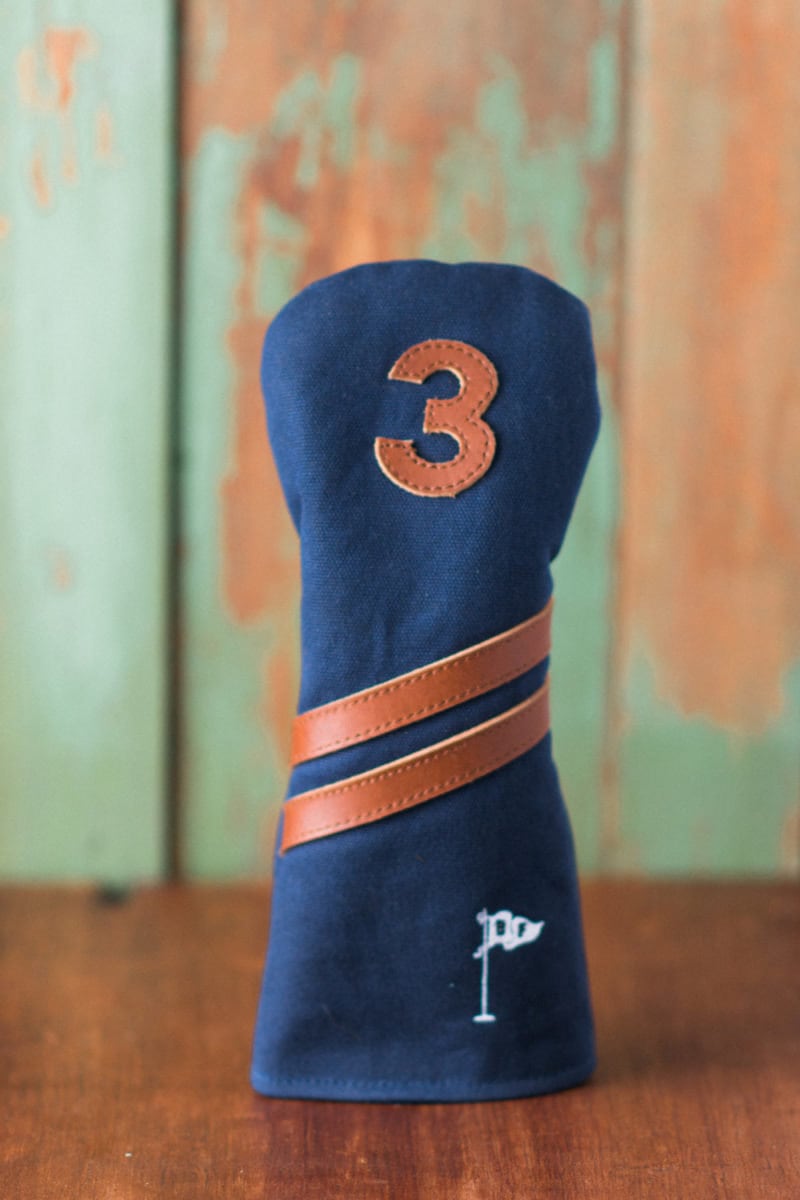 Have you ever gotten an especially memorable custom order request?
The third month I was in business, the Orlando Magic basketball team contacted me. We worked together to create scorecard holders with their logo for a golf outing they were doing with their customers, so that was really cool. But one of my most notable orders was when a guy who'd received one of our scorecard holders as a gift from his fiancé asked me to make groomsmen gifts for their wedding. I'd done a few things for groomsmen before, but never quite this many: We made a set of
wallets
with each of the groomsmen's names, we made head covers, and we also created valuables pouches customized with a special logo we helped design for the couple. It was really awesome; when you have customers who instill their trust in you to be part of such a special day, I think that's so important.
What do you love most about running Bluegrass Fairway?
I know it's a business and I'm super excited about it, but at the same time I don't want Bluegrass Fairway to get too big. We like being the rock band only you and your buddies know about, that buried treasure, and I think our customers really like that as well. We're not mainstream, and that's why we have the customers we have, and that's what I love most about it.
What's next on the horizon for your shop? Any big plans or goals or new developments coming for 2017?
We are contemplating putting a golf bag together—we've already started designing it. It'd be great if it happens. For the future of Bluegrass Fairway, we like flying under the radar, and we're just going to keep flying. We're super excited, and we're growing every day.
Okay, bonus question: What's your favorite place to golf in the whole world? And what's on your list that you haven't had a chance to play yet?
My favorite golf destination in the world is
Pinehurst
in North Carolina. The first time I went to Pinehurst I was 22 years old; a buddy and I just got in a car and drove there from Louisville, Kentucky—about a 10 or 11 hour drive. He had a friend who was an assistant pro at the resort, and she let us play all eight courses in the complex. At that time, I'd never really been to a nice course outside of the state, and there's so much history there; so many major championships have been played there. When you walk the halls of the clubhouse, the nostalgia of the place is amazing, and the architecture of the golf course, especially Pinehurst #2, it's just fantastic. One place that I haven't been that I really want to get to is
Bandon Dunes
in Oregon. It's a really special place, right on the ocean, and every hole is breathtaking. It's the kind of place you could walk all day and never get tired, it's just so beautiful.
Follow Bluegrass Fairway on Facebook and Instagram.
Studio photographs by Ryan Noltemeyer; all other images courtesy Bluegrass Fairway.