This Tennessee printmaker is on a mission to bring people together over the pleasures of a home-cooked meal and a beautifully curated table.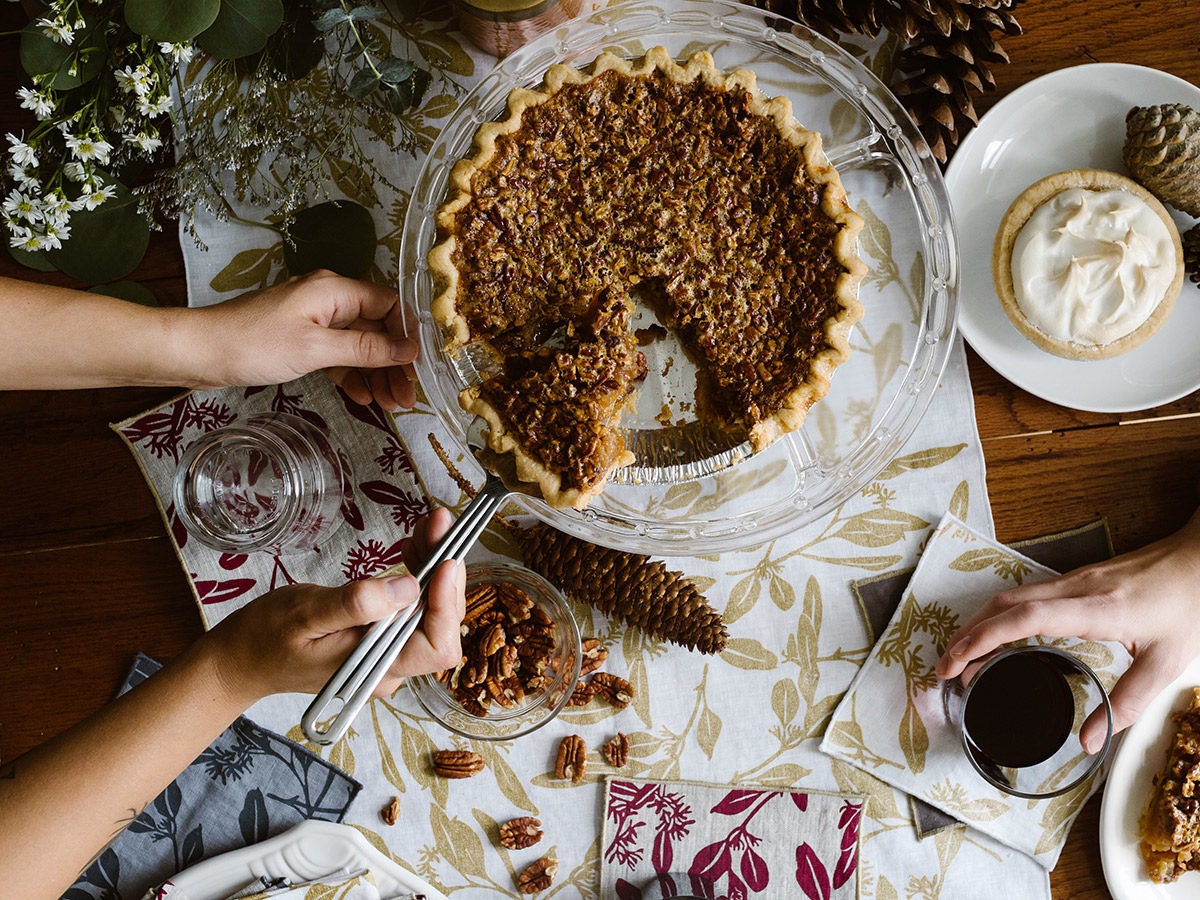 String lights twinkle in the dusk. Mint juleps clink in glasses. Kids yelp and run around, while friends tell stories and laugh on the front porch and strains of bluegrass music lilt on the breeze: This is printmaker and home goods designer 
Bonnie Kaye Whitfield
's picture of party perfection. Bonnie grew up in the suburbs of Atlanta, and her childhood was steeped in home cooking and southern socializing. "My parents are the most hospitable people I know," Bonnie says. "They were always having friends over for dinner." Young Bonnie would help her mom prep in the kitchen and grew ever more enamored with cooking, and with bringing loved ones together around a table.
Explore the Bonnie Kaye Studio collection
Now, with a young family of her own and an entertaining-focused design business that she runs from the brick-walled basement of her Johnson City, Tennessee, home, Bonnie still finds hosting and gatherings at the center of her adult life. "A table physically draws us together, making us sit and slow down. It unifies," Bonnie continues. "For me, it symbolizes that we belong to a larger whole. It allows us to be human for a while, to share stories of victories and struggles, or even just our ordinary days. The conversation can be just as nourishing as the food and drinks—but a good glass of cabernet doesn't hurt either." You could say the same for a beautifully laid table, adorned with Bonnie's understated screen-printed linen table runners, placemats, and cocktail napkins.
Read on to learn how Bonnie designs and prints her distinctive, nature-inspired home goods and gift wrap, then shop the Bonnie Kaye Studio collection.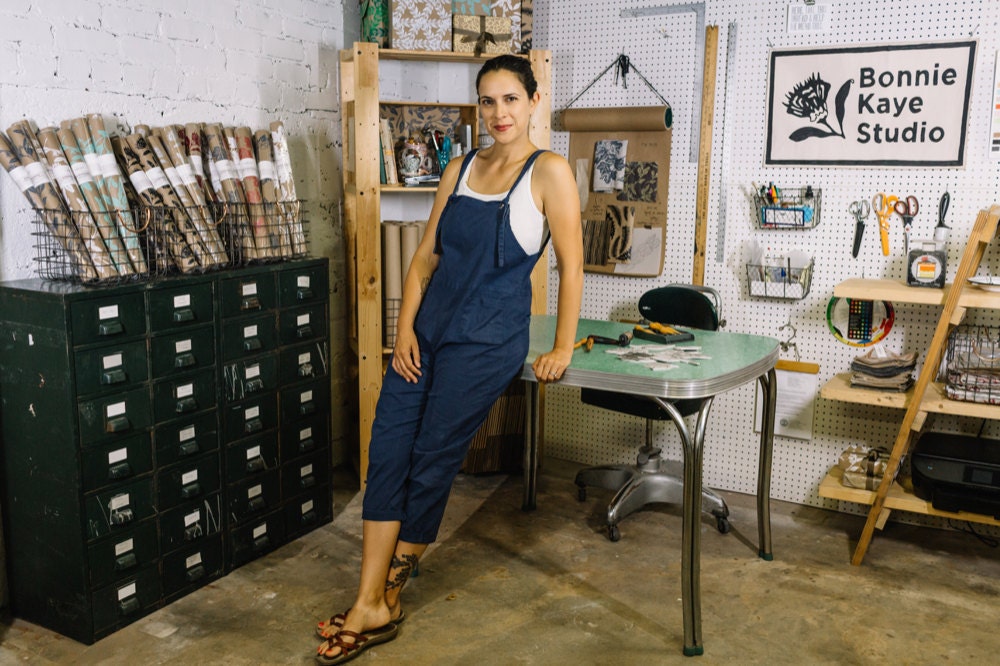 Where do you find inspiration for your prints? 
I go on a lot of walks with my daughter and my dog and I spend a lot of time on the front porch, so I get daily inspiration that way. When I started the business in Philadelphia, I was very active in a community garden in my neighborhood. I really reconnected with nature in a way that I had been missing in the city. I didn't intend to exclusively focus on
botanical patterns
, but once I started, it's been hard to stop. The inspiration is endless.
What's the process behind your designs?
I like things that are labor-intensive or have a lot of steps. I don't know if that's the
Virgo
in me. My patterns always start from sketches. A lot of them are inspired by travel or trips to botanical gardens. I'll take my favorite sketch and transfer it to a linoleum block, carve it, and print it manually in my sketchbook to test it. Once I find a design that works, I scan it into Photoshop, create the repeating pattern, get it burned on a screen, and start printing. It often feels like there's a lot of time between the birth of the idea and the design and actually getting to put it on something. But I like that process. I like that
my pieces
are labors of love. I like that I am making them in my home, knowing that other people are going to use them in their homes. Because there are all these steps involved, I think it makes the finished piece even more special.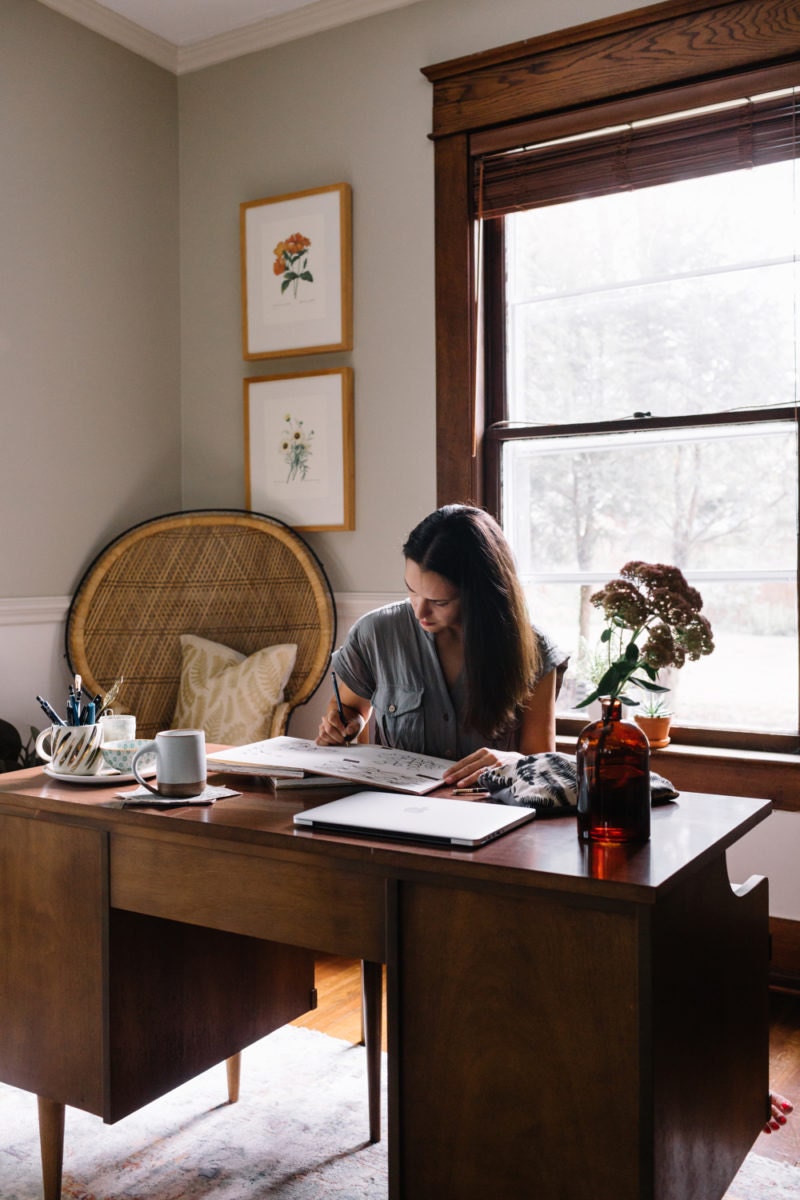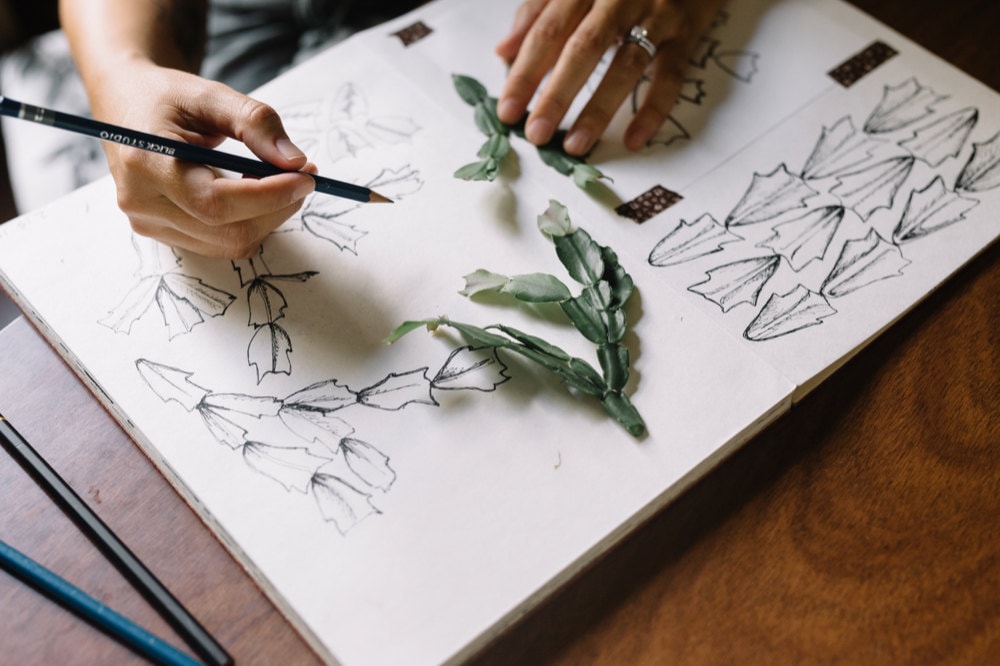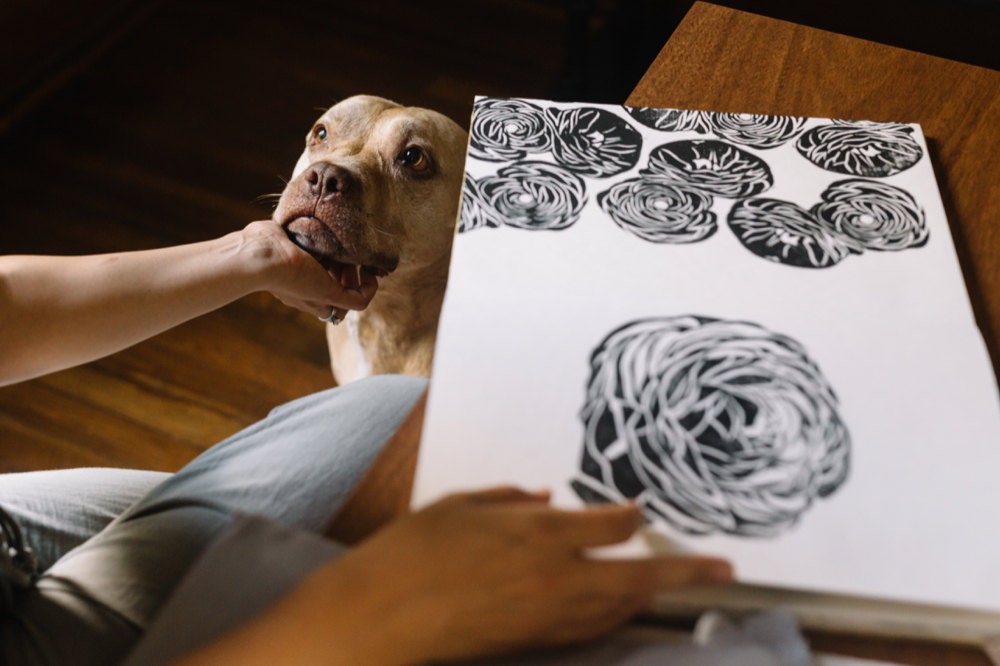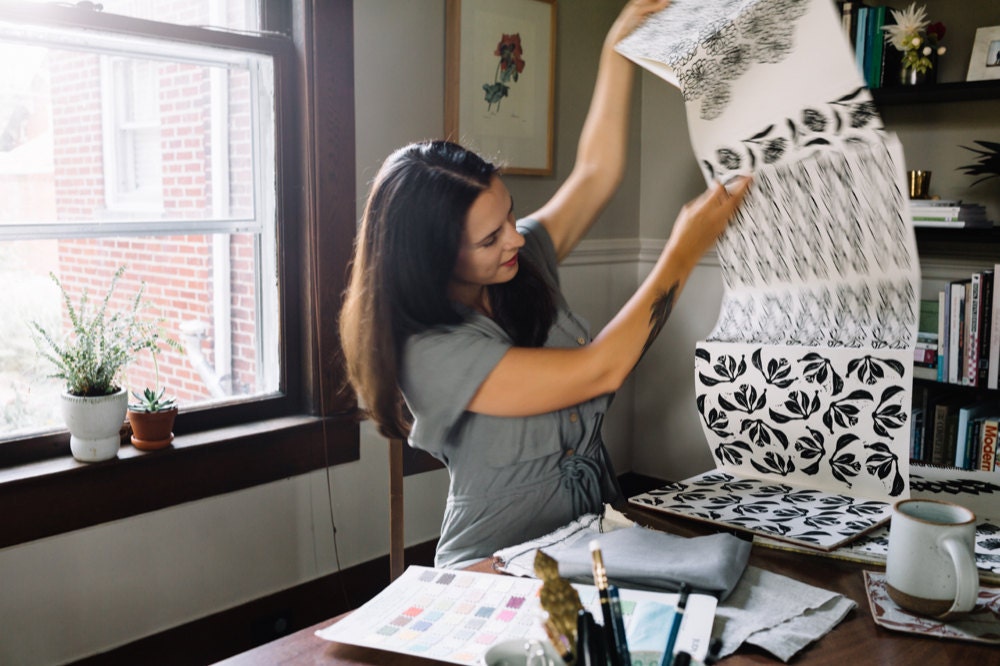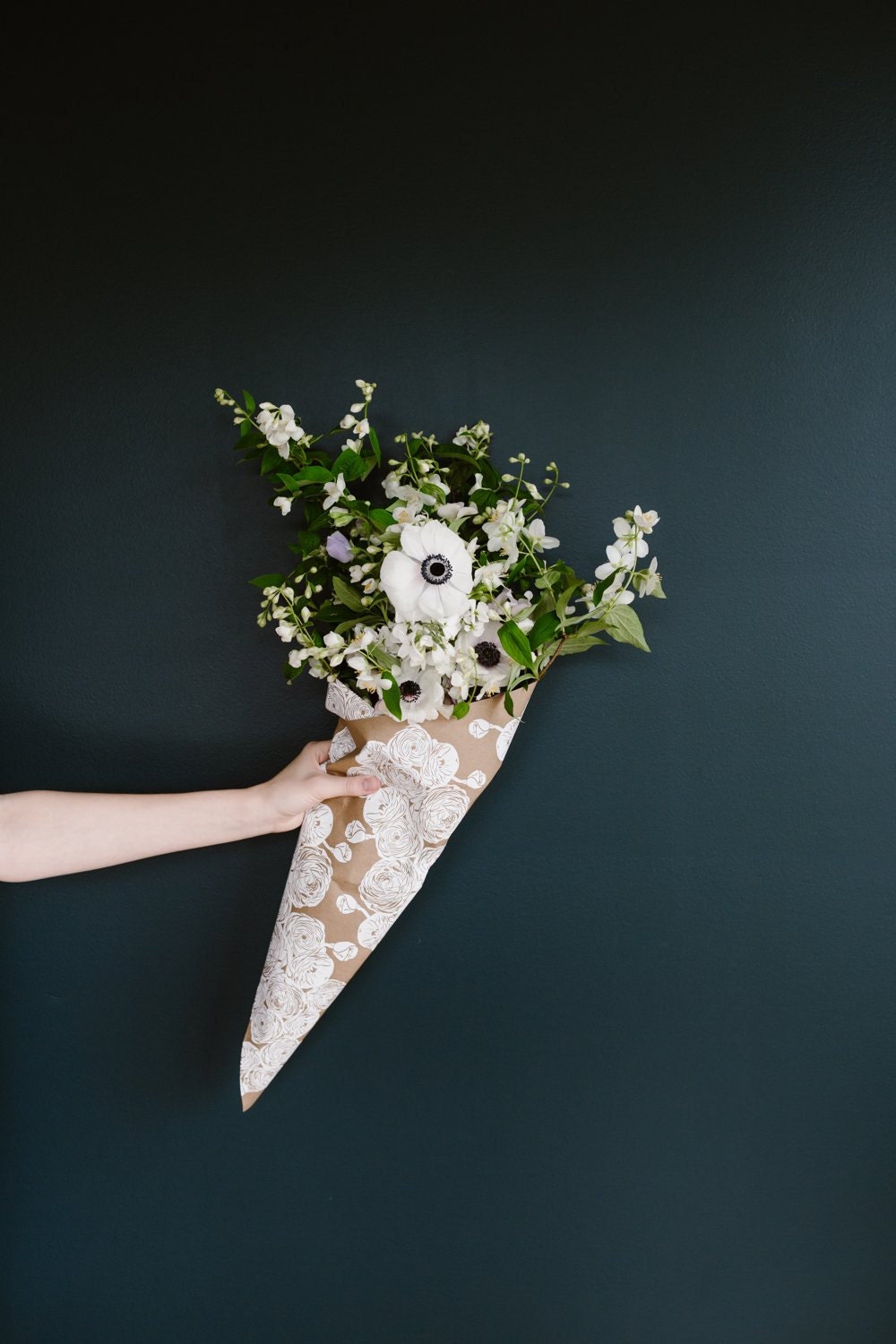 >
What are your tips for incorporating your products into holiday entertaining season?
The wrapping paper makes a really great recyclable table runner—and if the wine spills, you don't have to panic. My square double-sided
cocktail napkins
are super fun, not only at a party, but as
hostess gifts
that pair well with a bottle of wine. I've had customers use the wrapping paper to make garlands, name cards, and other items to
decorate their homes
and give as gifts.
Are there other creative ways people have used your products?
I got an awesome photo from someone who had used some of my metallic
printed paper
to line the back of her kitchen cabinets. There's a photographer who uses my paper to wrap up the portraits that she sells. I've also enjoyed working with several brides who have used my wrapping paper as table runners. I'm really open to printing my patterns in colors that I don't normally print them in because the options are endless. And I get to see really great photos from the
weddings
!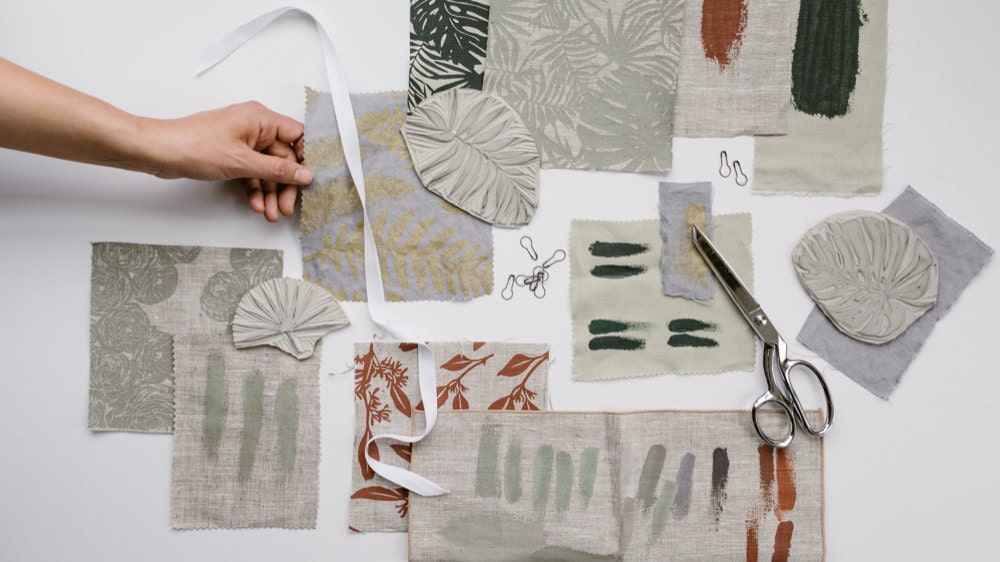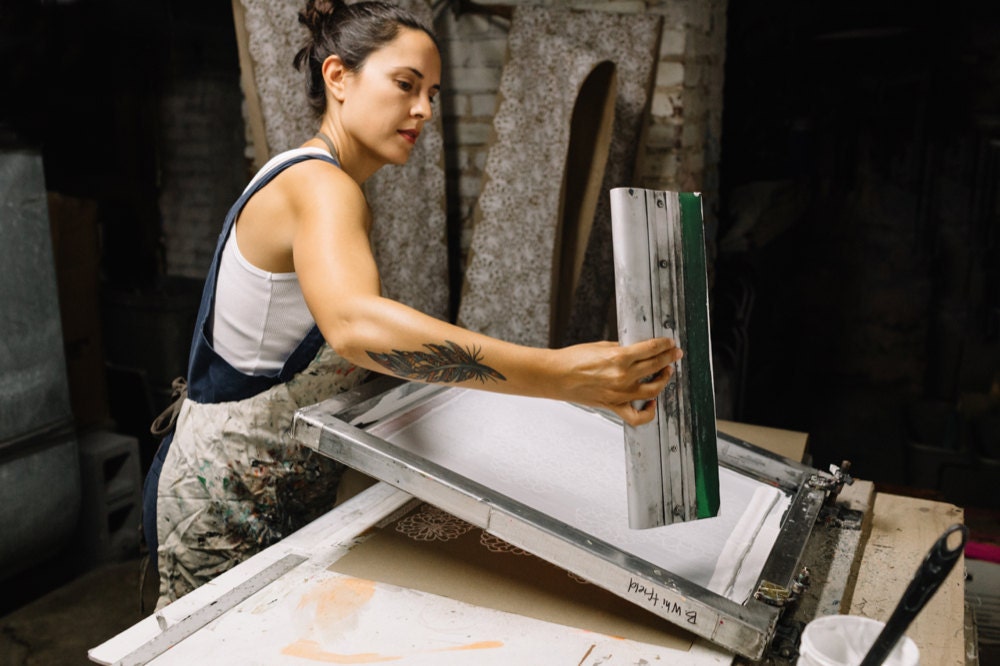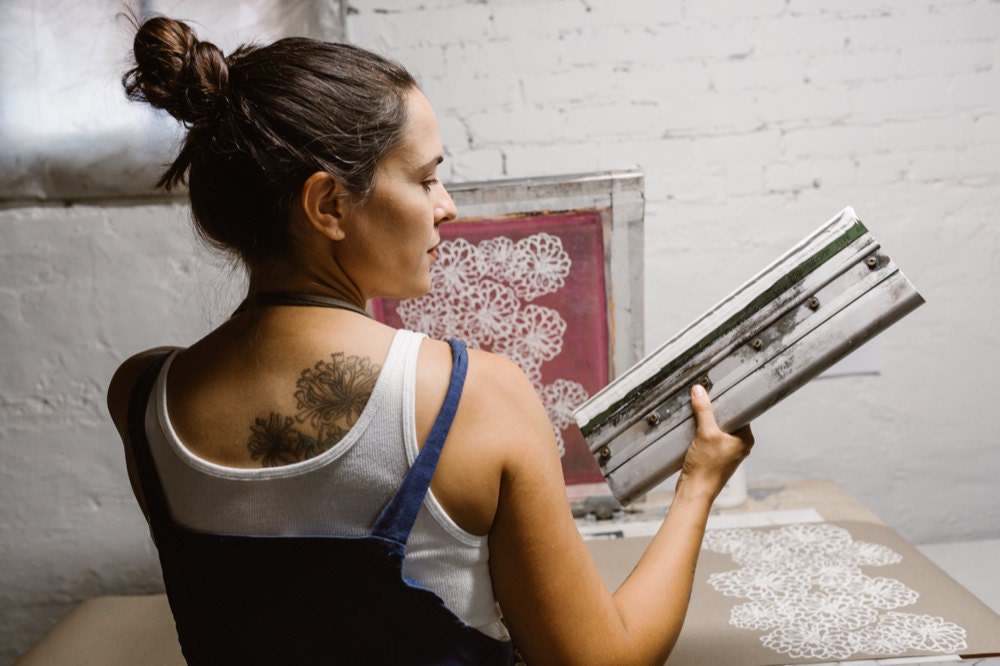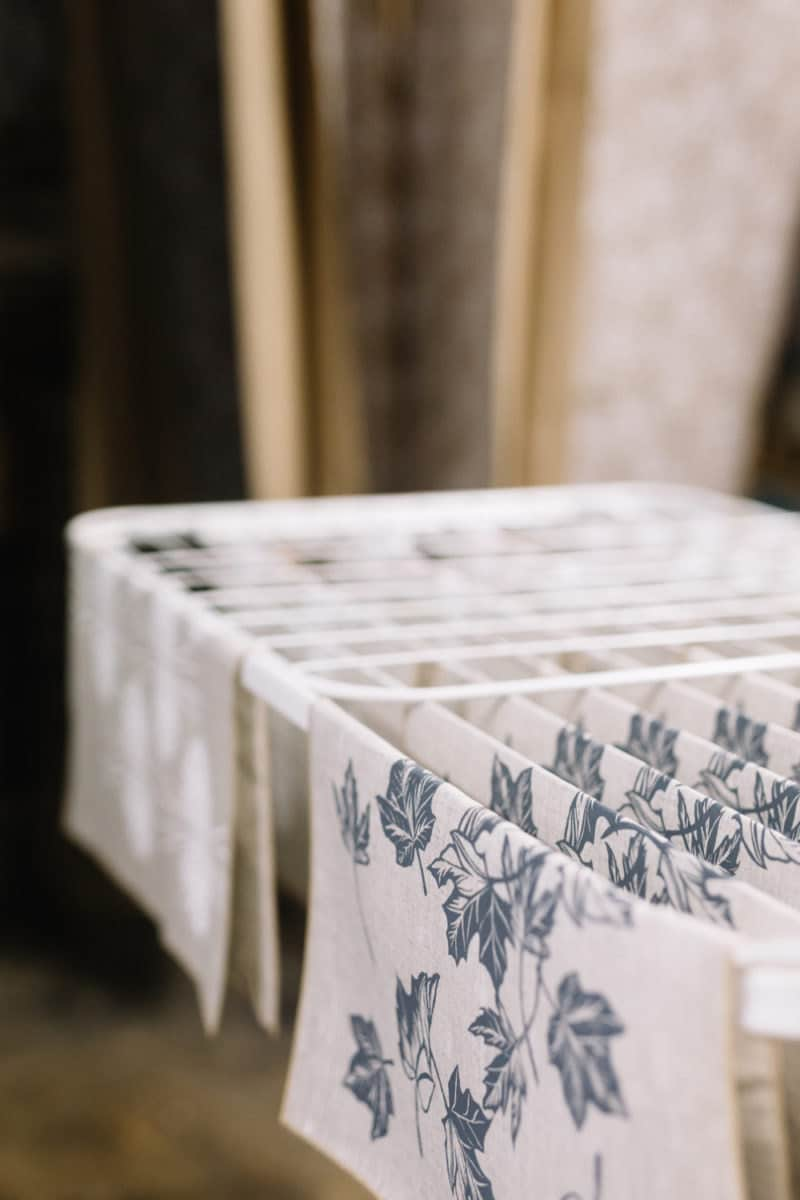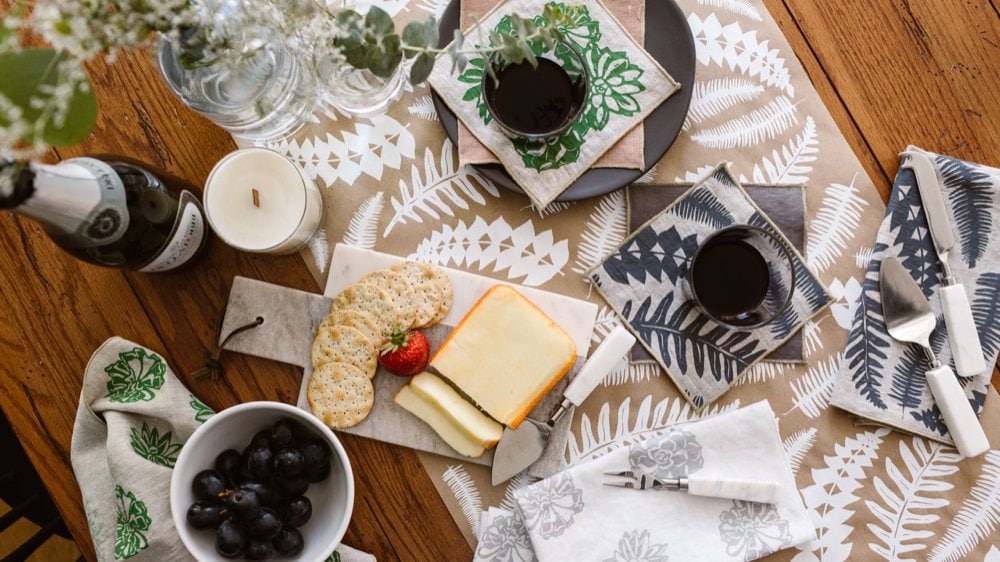 >
What does a typical workday look like for you?
Every day is really a bit different. I had a little girl, Magnolia, in December, so that's been a huge change. At this point, a lot of the work I get done is during her nap time, so it allows me to be a dedicated mom when she's awake and then I hop down into the studio when she's asleep to send emails, update my website, take product photos, and package orders. I also have 15 hours of childcare a week now. I focus on
designing and printing
during those hours. Having a baby has actually made me all the more focused and efficient in the studio. Sometimes I wonder what I did with all that time in the studio before Magnolia!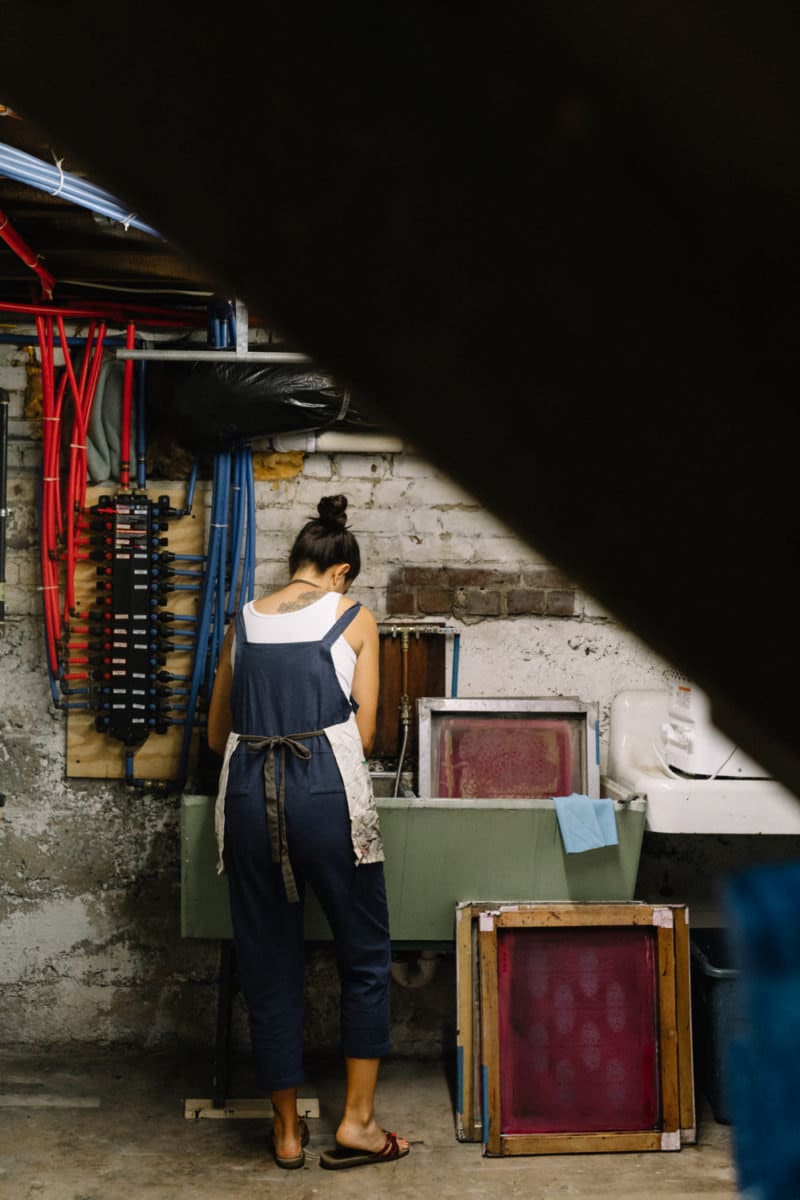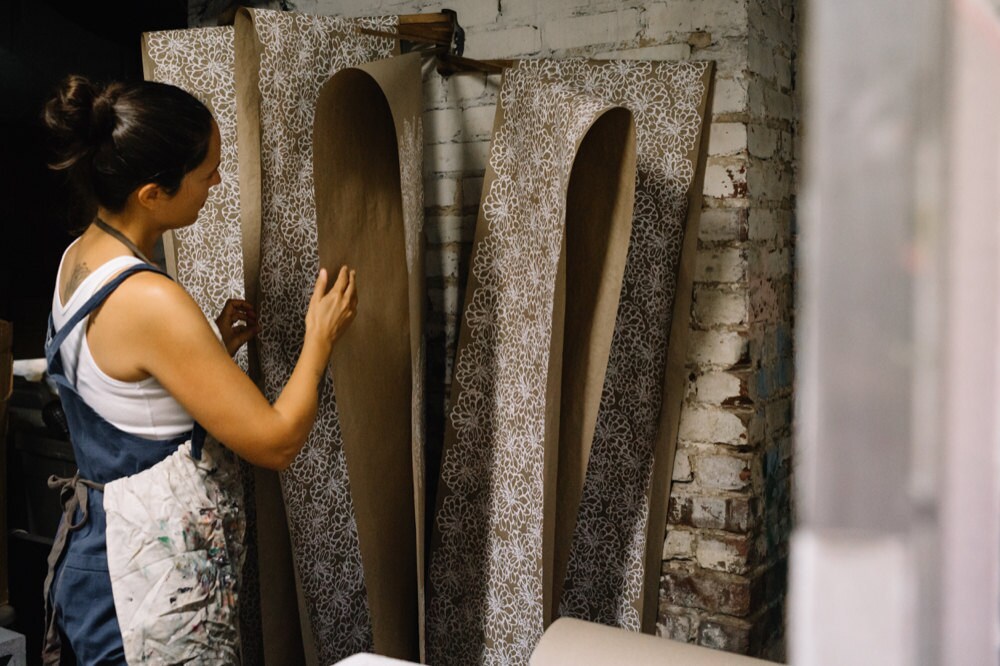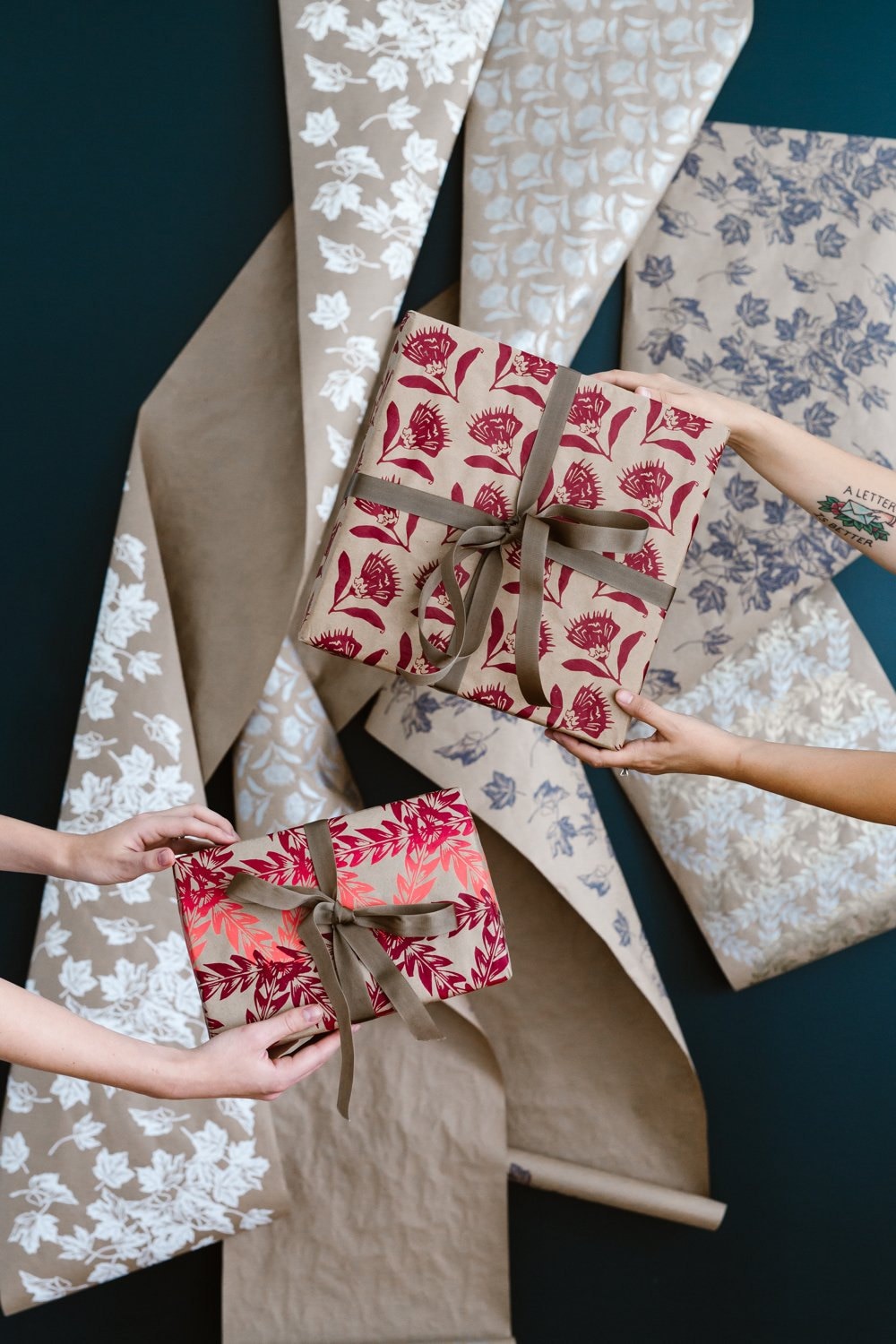 >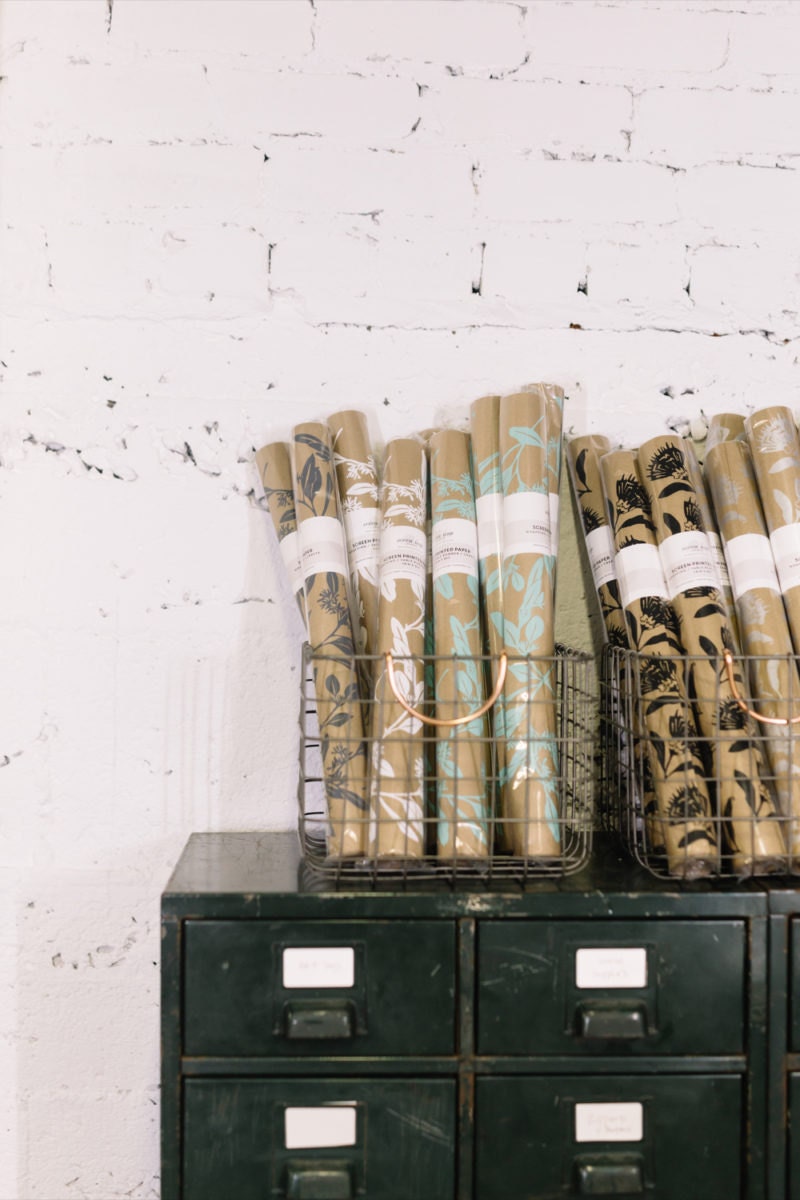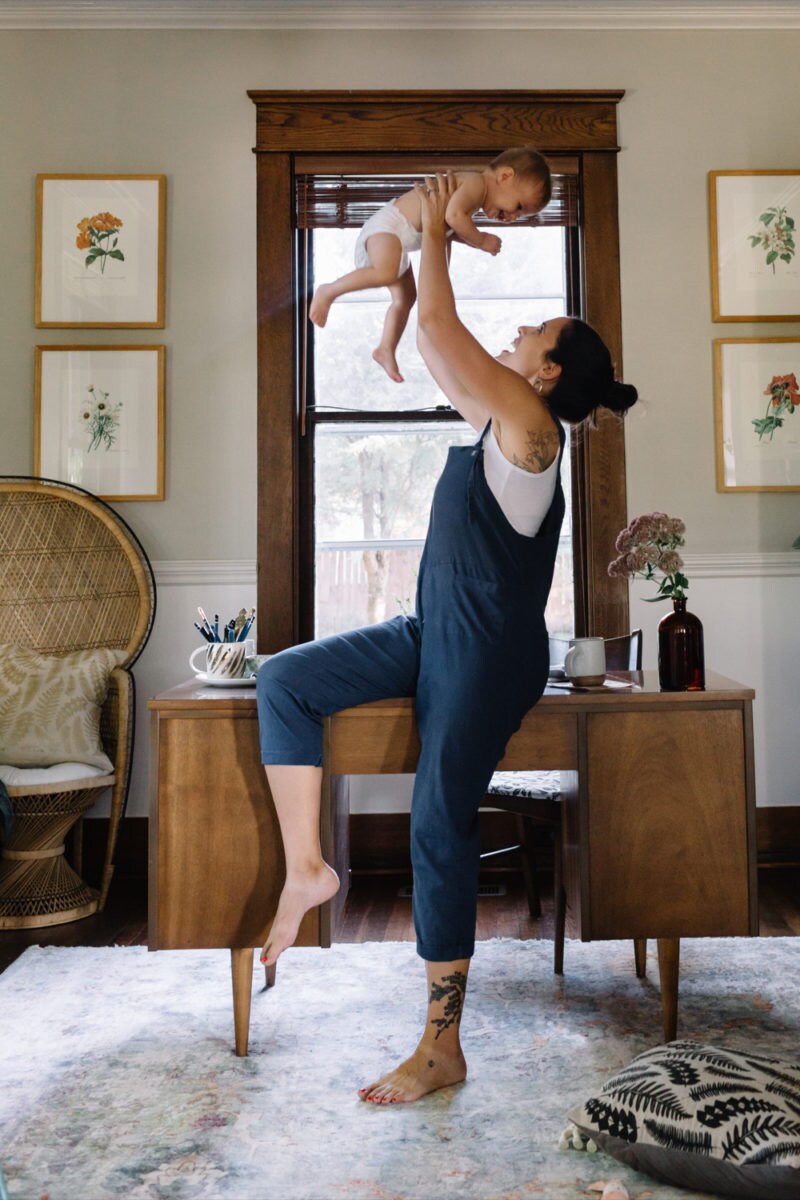 How has your approach to entertaining changed after becoming a parent?
My husband and I love to have people over for cocktail parties and bonfires—with kids running around, because that's our new phase of life. I love potluck-style gatherings because they take the stress off of everyone, and everyone gets to contribute. They're smaller and more low-key than the elaborate dinner parties that we used to have. But we know that life is short and at the end of the day, we want to break bread and drink a cocktail with our friends and family. So we really try to prioritize it.
Follow Bonnie Kaye Studio on Facebook and Instagram.
Photographs by Anna Hedges.