by Karen Brown
Hand-stitched wallets, leather-wrapped flasks, and sleek camera straps are just a few of the gift-worthy items you'll find in this artisan's shop.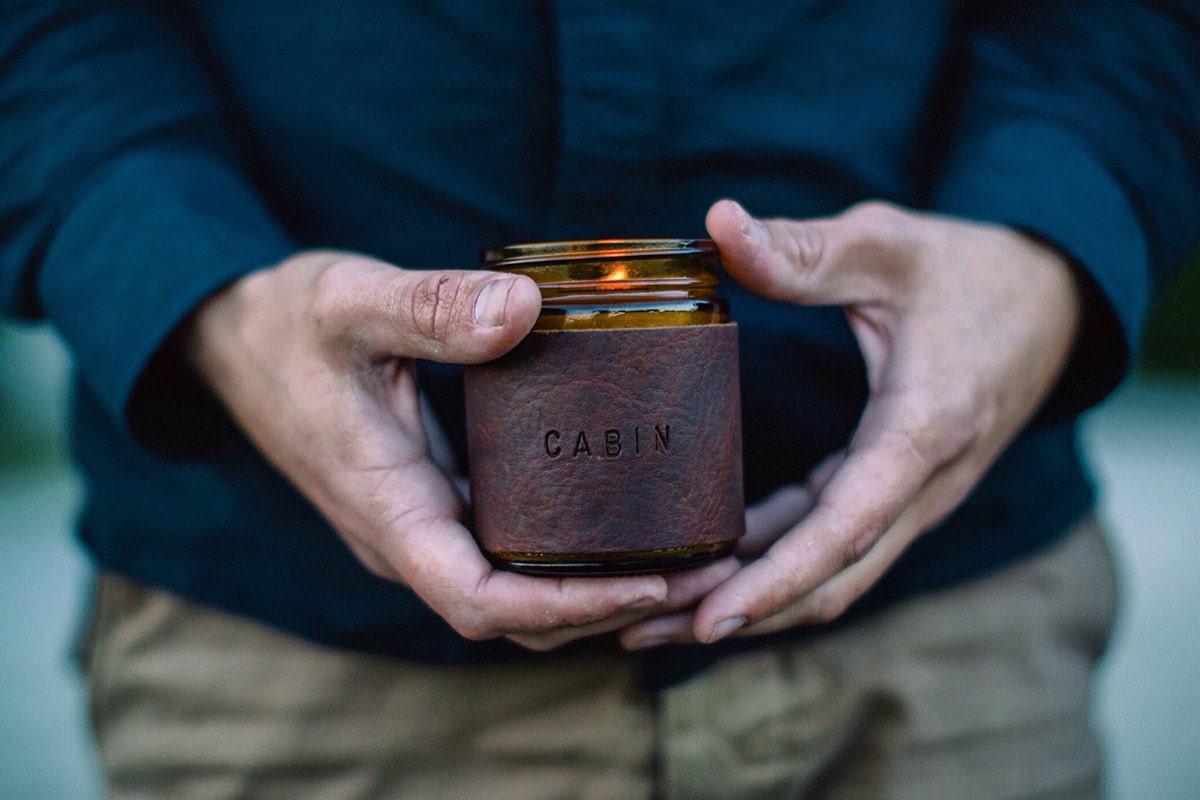 A truly creative person can get his start anywhere. Take Jordan Derhouson: Diagnosed with a rare genetic disorder, Jordan underwent a liver transplant at age 27 that took him out of circulation for close to a year. But during his convalescence his creative energies never stalled, and he learned a new skill — leather craft. "I was really sick," Jordan recounts. "At first, I thought I could get back to my job as a respiratory technician in about a month. But when it turned out to be more like a year and I wasn't working, I had to move back home. My mom bought me an iPad so that I could play games. I needed a case for it, but they were all totally out of my price range. But that got me thinking about cases, and how I would like to make one." One day during his recovery, Jordan discovered a small leather distributor nearby. "The store owner sold materials, and he had a ton of knowledge," Jordan says. From there, both a hobby and a camaraderie bloomed. "The store owner was about to retire, and he took some time and taught me a lot. We're still close friends." Today, about three years after his surgery, Jordan is in good health and supporting himself through
Brand & Iron
, his line of handmade leather goods and accessories. And he hasn't stopped there: In addition to leatherwork, Jordan now counts candle-making, scent design, and even dog shampoo development among his skills. "I'm always dabbling," he says.
To learn how Jordan's devotion to dabbling turned into a new life path, read on and shop the collection.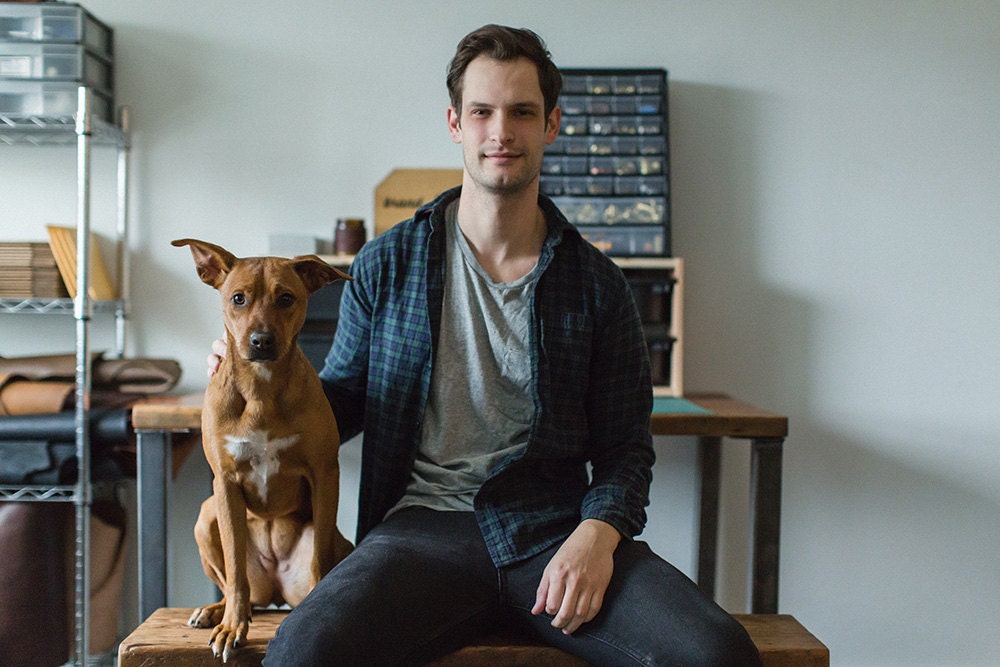 How did you decide to open your Etsy shop?
In November 2013, it was prime time for Christmas and I thought maybe I could sell some of the things I'd been making. I set up an
Etsy shop
and I got some sales! I added some more things and got some more sales. I thought, "Hey, maybe there is something to this." I kept trying new things and adding things, and about a year ago I was making enough money to be able to quit my full-time job as a respiratory technician.
Was that a difficult transition?
It was actually a huge blessing that I was able to support myself with
Brand & Iron
. My technician job required a lot of patient contact. Due to the transplant I have to take anti-rejection medications for the rest of my life, and these make me incredibly susceptible to colds and flus. A person on these medications can easily end up hospitalized because of a common cold; post-transplant, it wasn't ideal for me to be around so many people.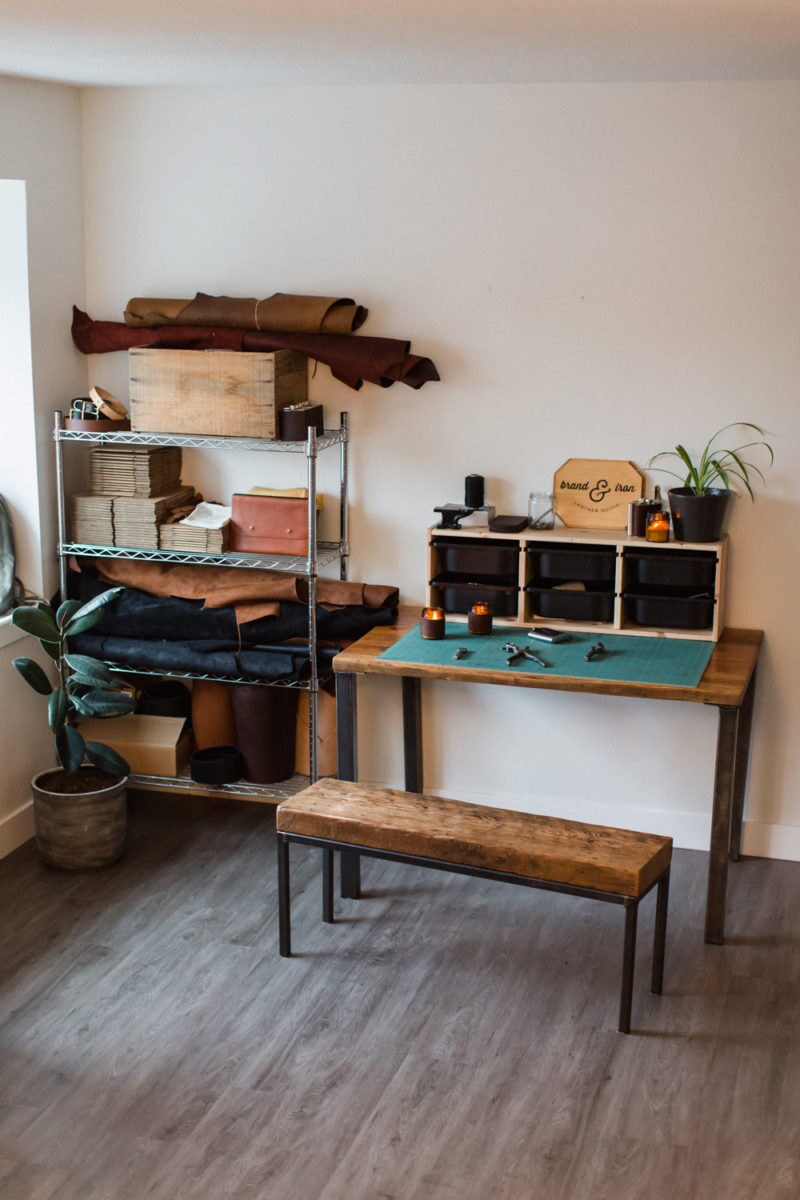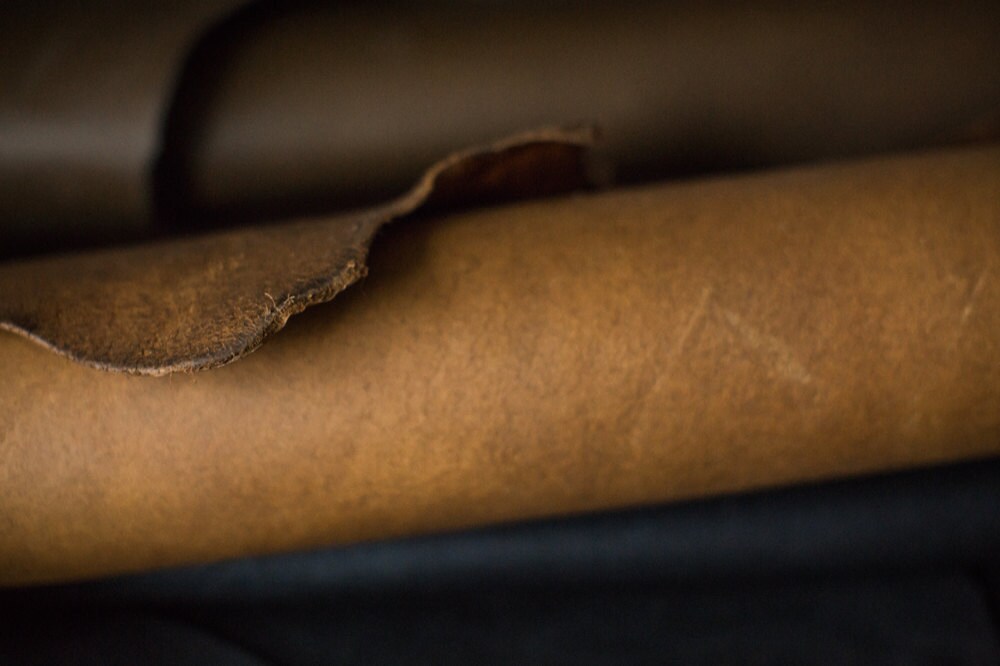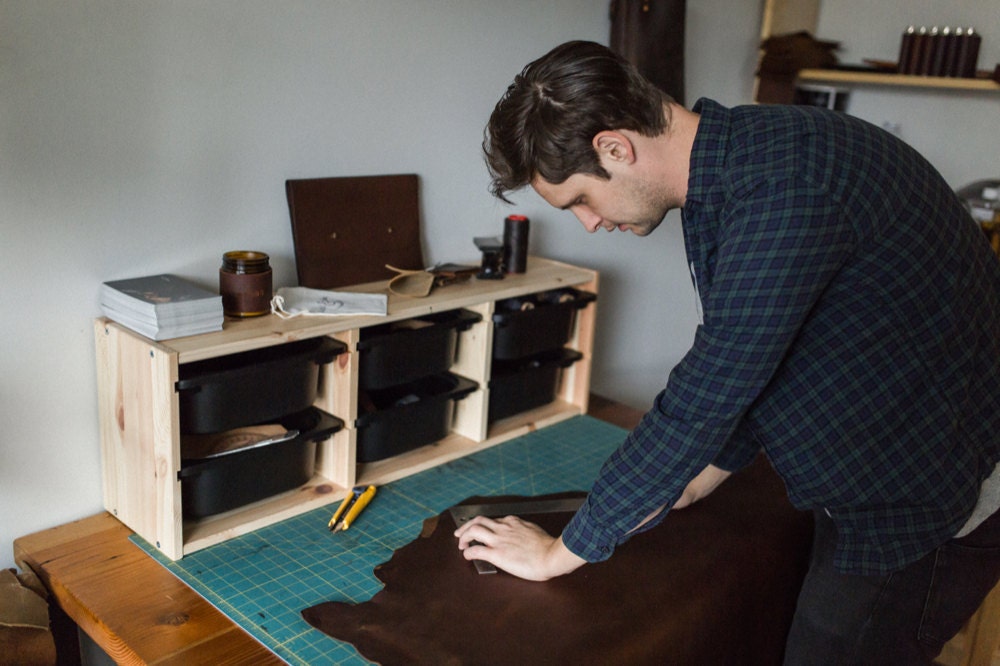 Leather is such an interesting material. It's incredibly tough, but it can also be buttery and silky. How do you select from all the different kinds of leather to find what's right for your projects?
I spend a lot of time trying out different materials to see what works. I'm not picky about a lot of things in life, but I'm picky about materials. They really need to feel right or it won't work. It helps having a distributor close by because I can always touch every piece before I buy it to make sure it is right. When it comes to color, I dye all the leather for the
key chains
 myself. That's how I am able to keep color consistency on small batches. Having been sick at one time, I like to stay away from chemicals in general, but I'm committed to the key chains so I do that part myself.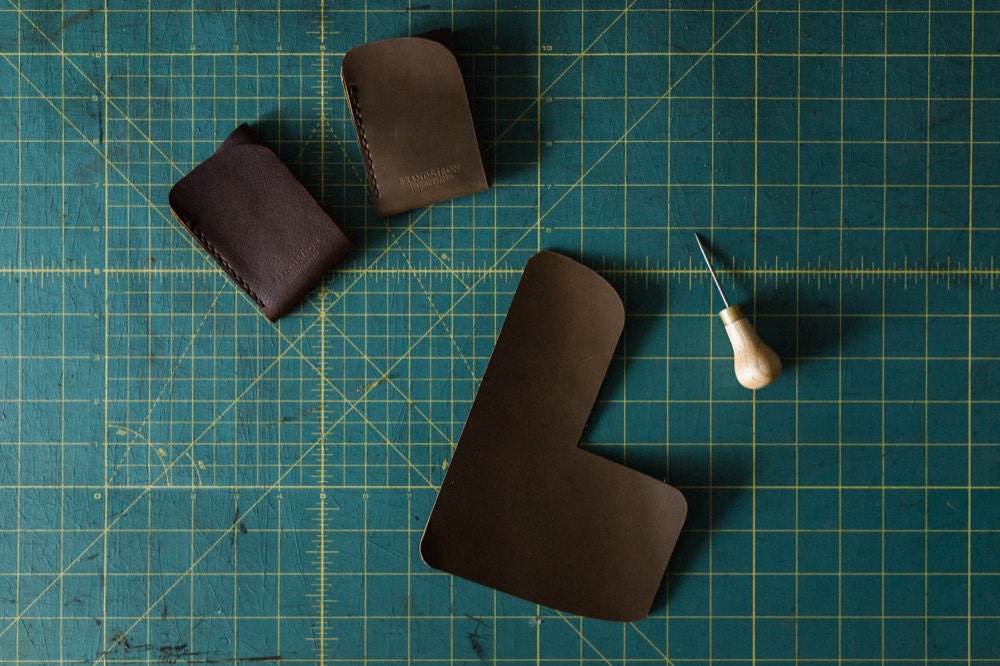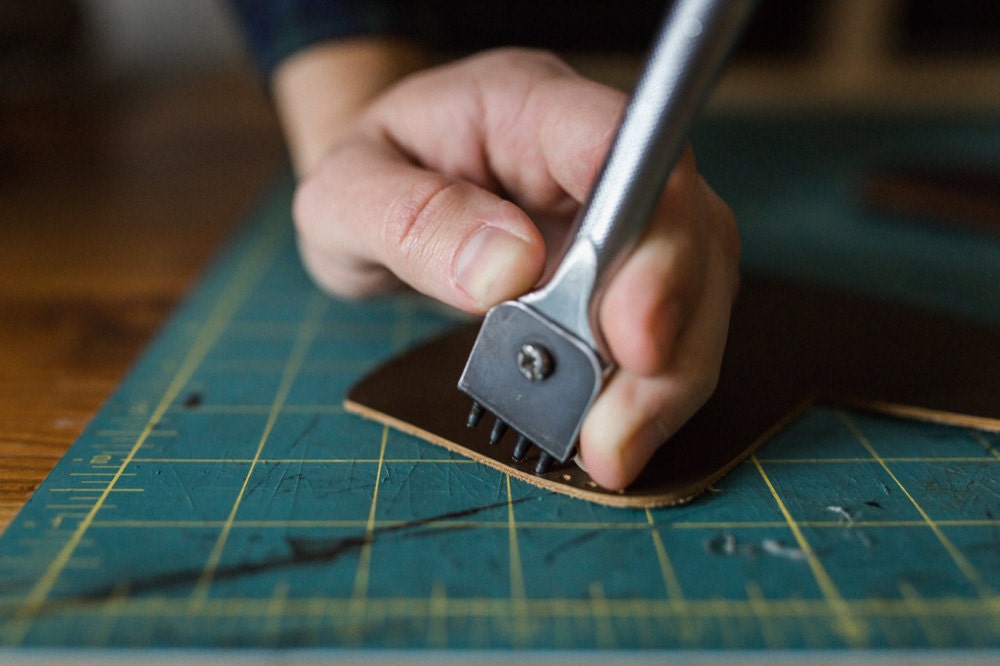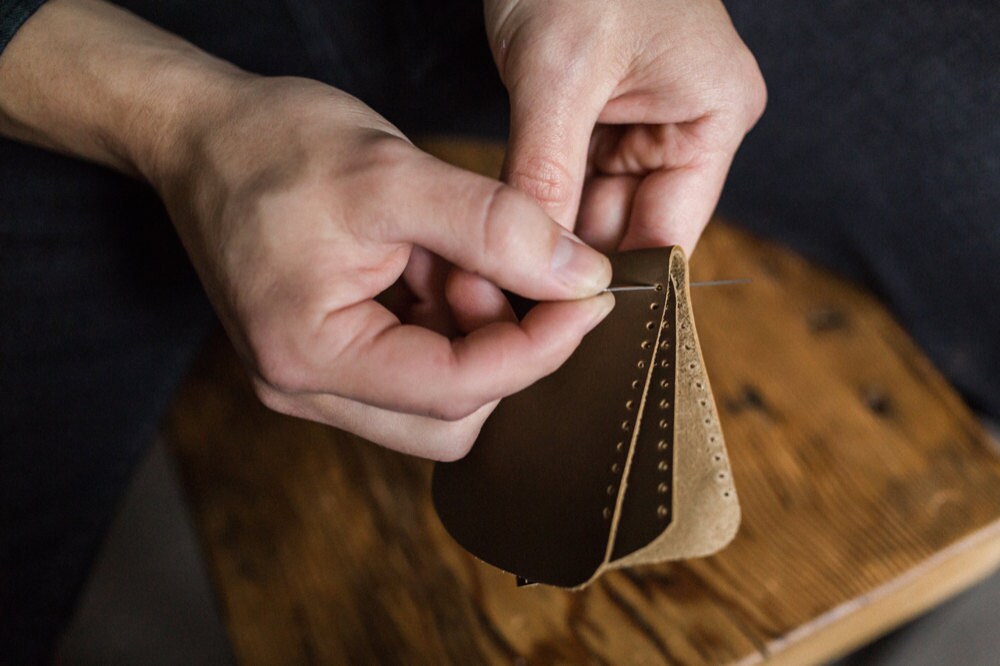 In your shop, you emphasize the handmade quality of your goods and stress that all your work is done without machines. Can you tell me a little about your process?
Some leather tools are expensive, so I was forced by default to be more old-school. Bigger companies can mechanize punching patterns, using tools like a clicker press which is like a giant cookie cutter. Some people use a laser to do it. Not me — I cut all my pieces by hand. One of the first construction techniques I learned was traditional saddle stitching. It's done with a piece of thread that has a needle at both ends. Leather really needs something strong and durable, like saddle stitch. Then I learned that handmade is something that people actually look for.
Was it all made by hand?
That has value for people.
Do you design for both men and women?
As time goes by, I do more and more. I'm rebranding a little bit, and trying to do more
unisex pieces
. I would say I started by thinking more about guys, but now I want to start moving more to the middle. Part of having a business like this is putting something out there, seeing what works, then changing a little and seeing what happens.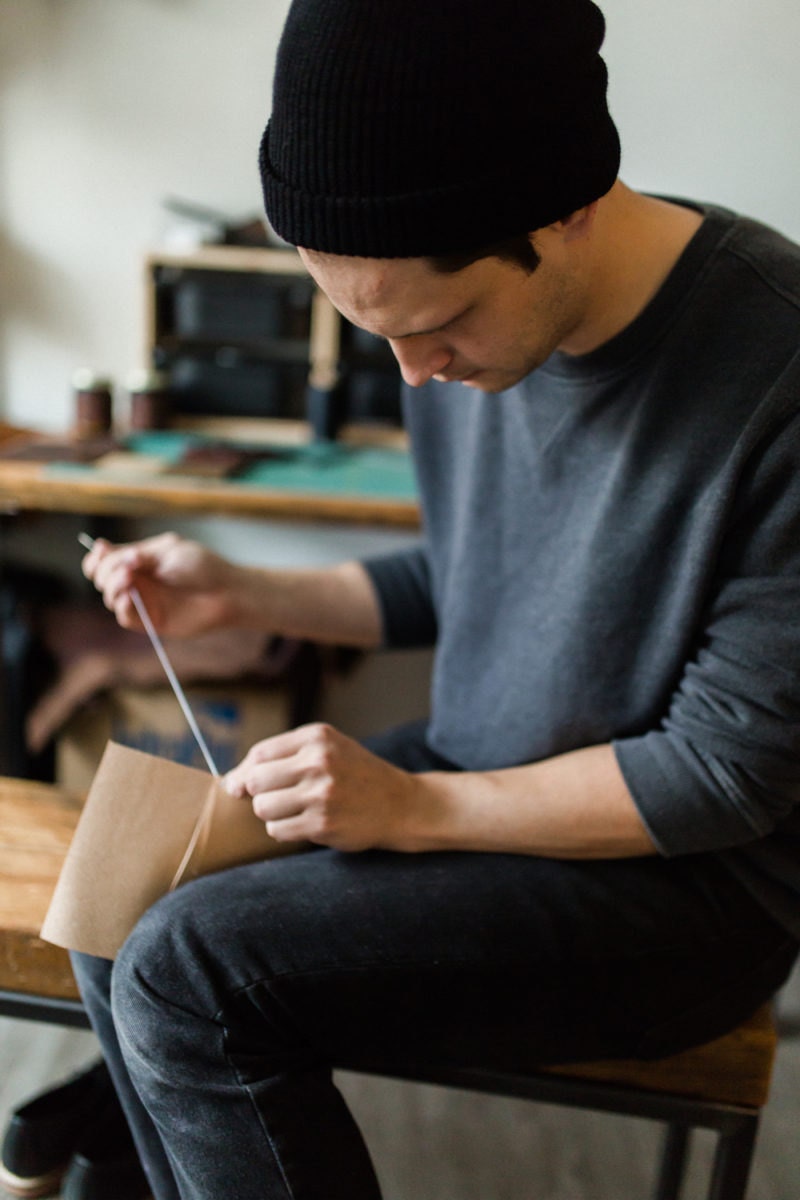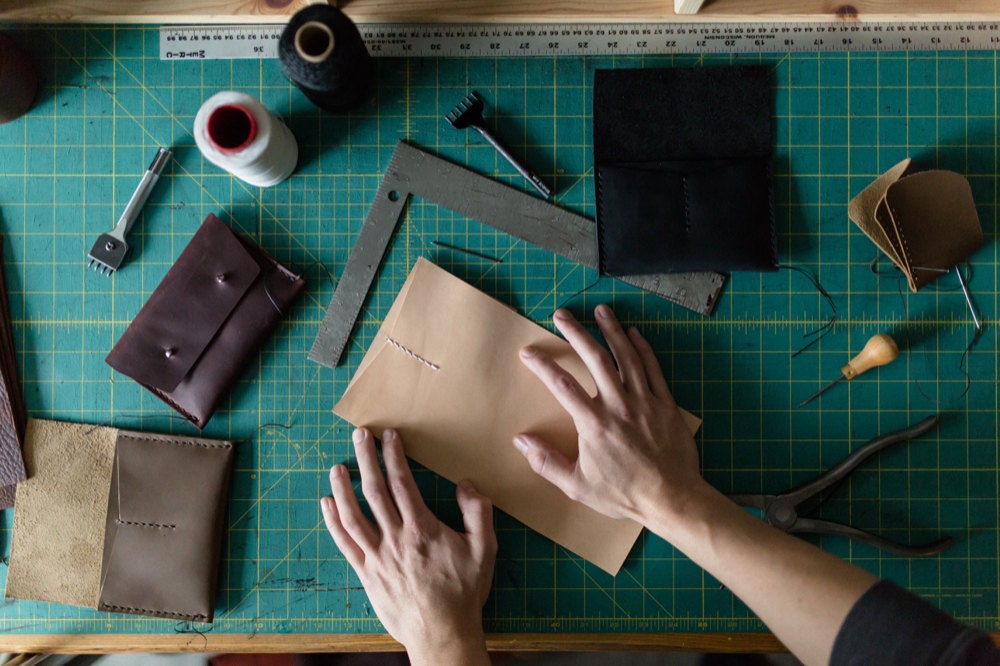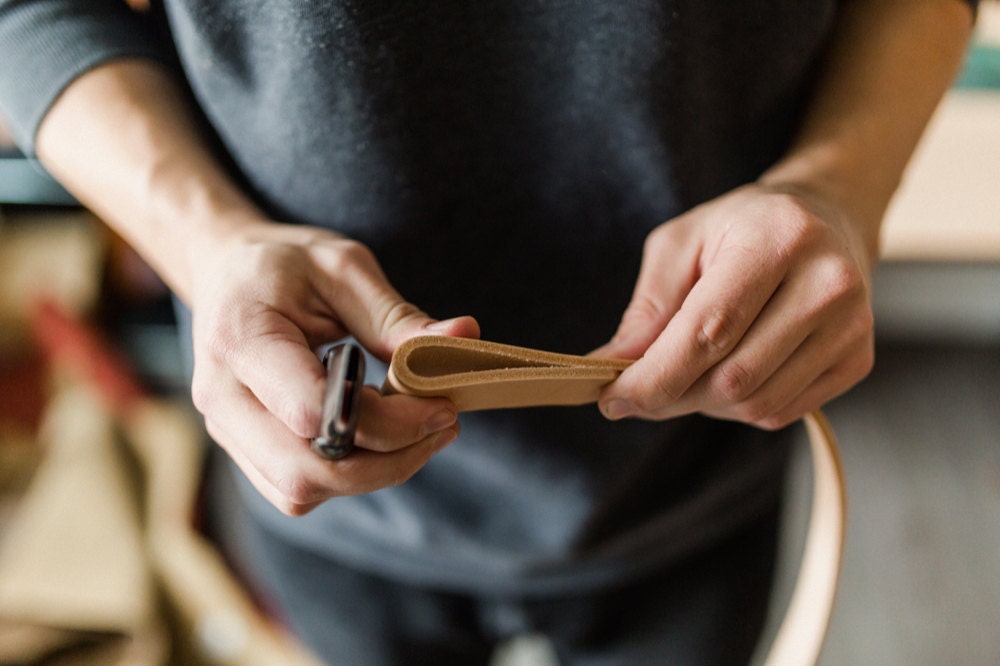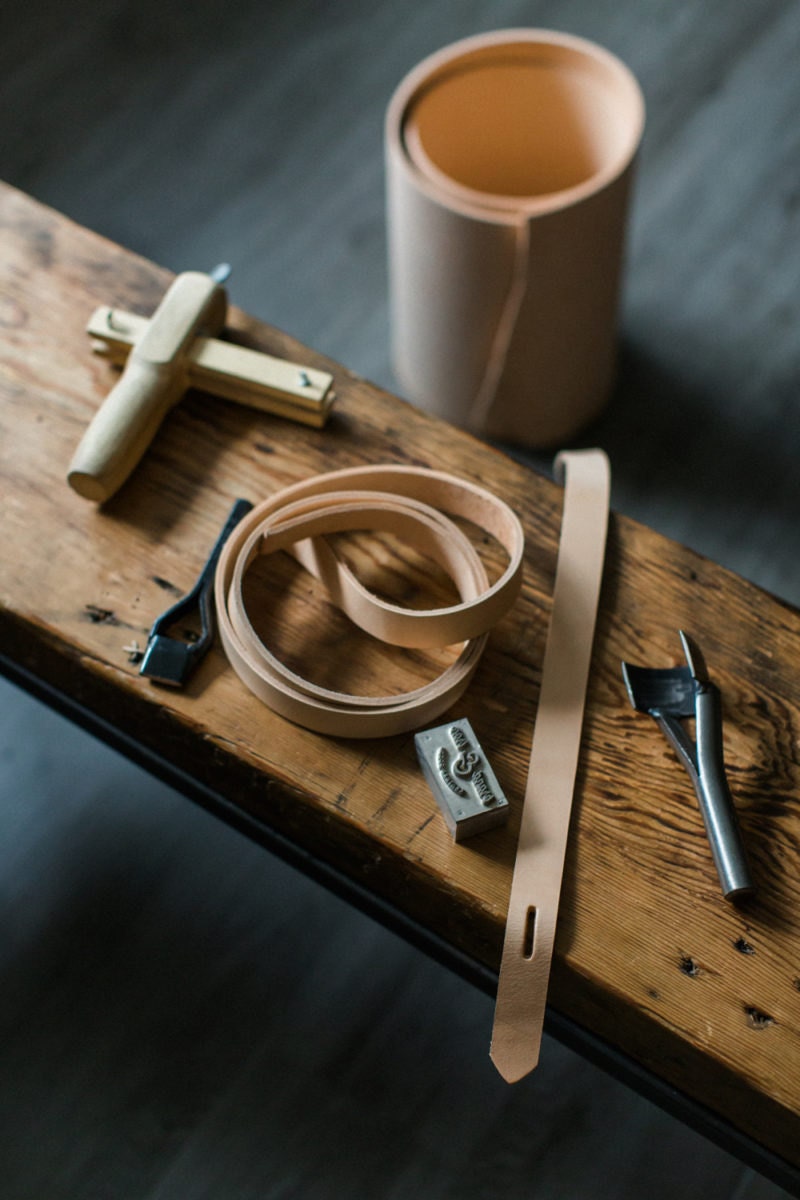 Your items cover a wide range, from belts to dog collars to bottle openers and flasks. What are some of your favorite things to make?
I really like the
candles
, and I make those by hand, too. I pour the wax and I personally formulate the scents. I have a friend who makes aftershaves, and I learned how do to this from her, using essential oils and playing around for fun. One thing led to another, and after I came up with the candles I started a dog shampoo company,
Hound and Company
. To be honest, for every product I sell or have designed there are 10 that have been scrapped and ended up in the garbage. I guess what pushes me outside the bounds of what I'm actually capable of is a brain that says, "Oh, I can do this...I can make that," which is usually wildly inaccurate. When I do get what I think is a good idea I harass my close friends for their input. And I try to keep everything local. For example, when I finally got a design I liked for the bottle opener, I called on a friend who makes them for me here in Vancouver.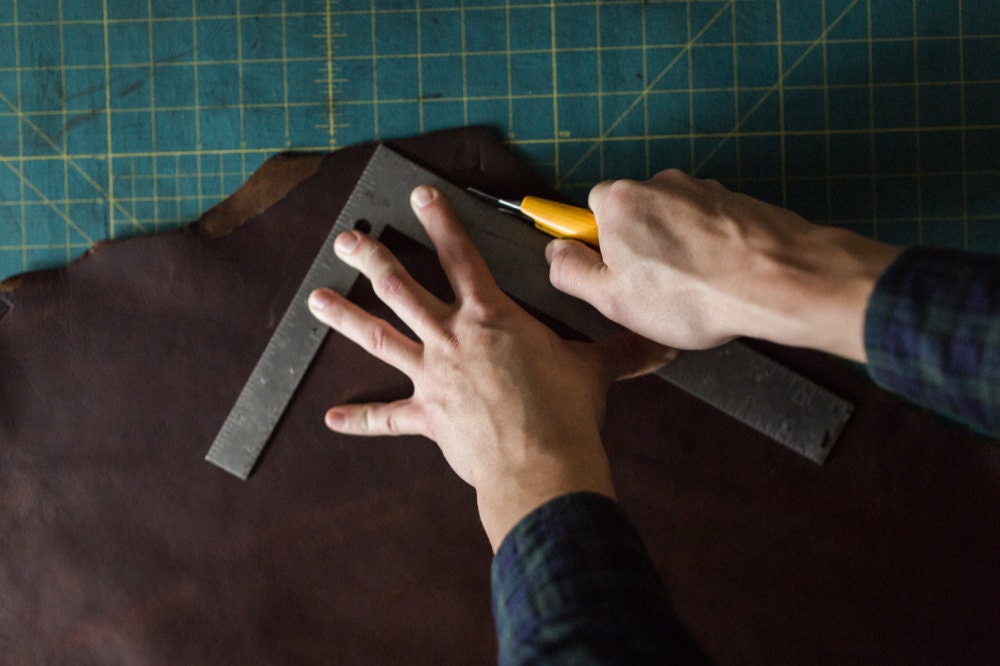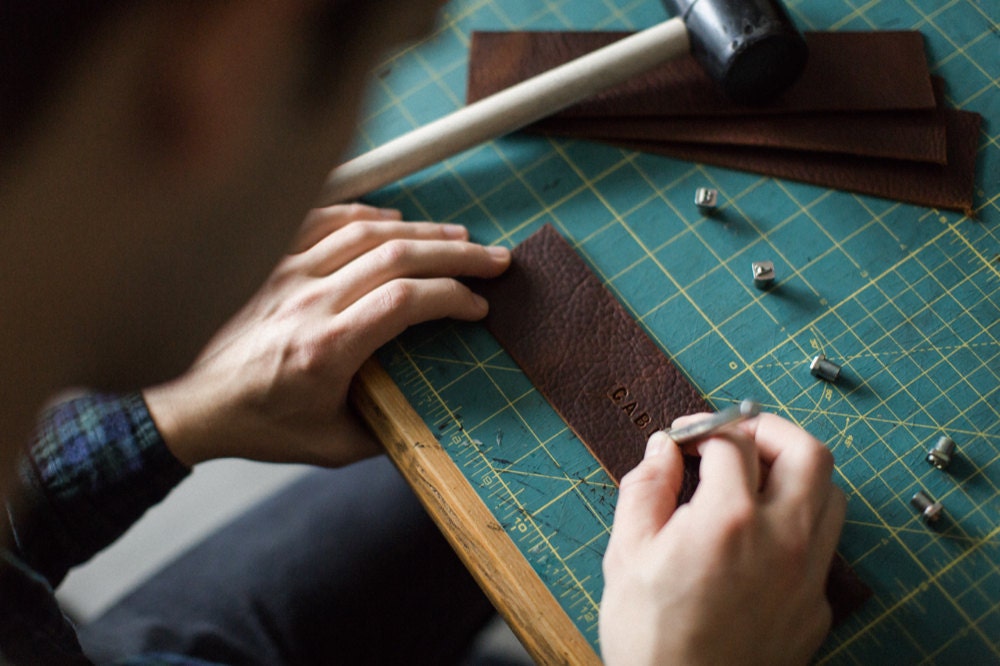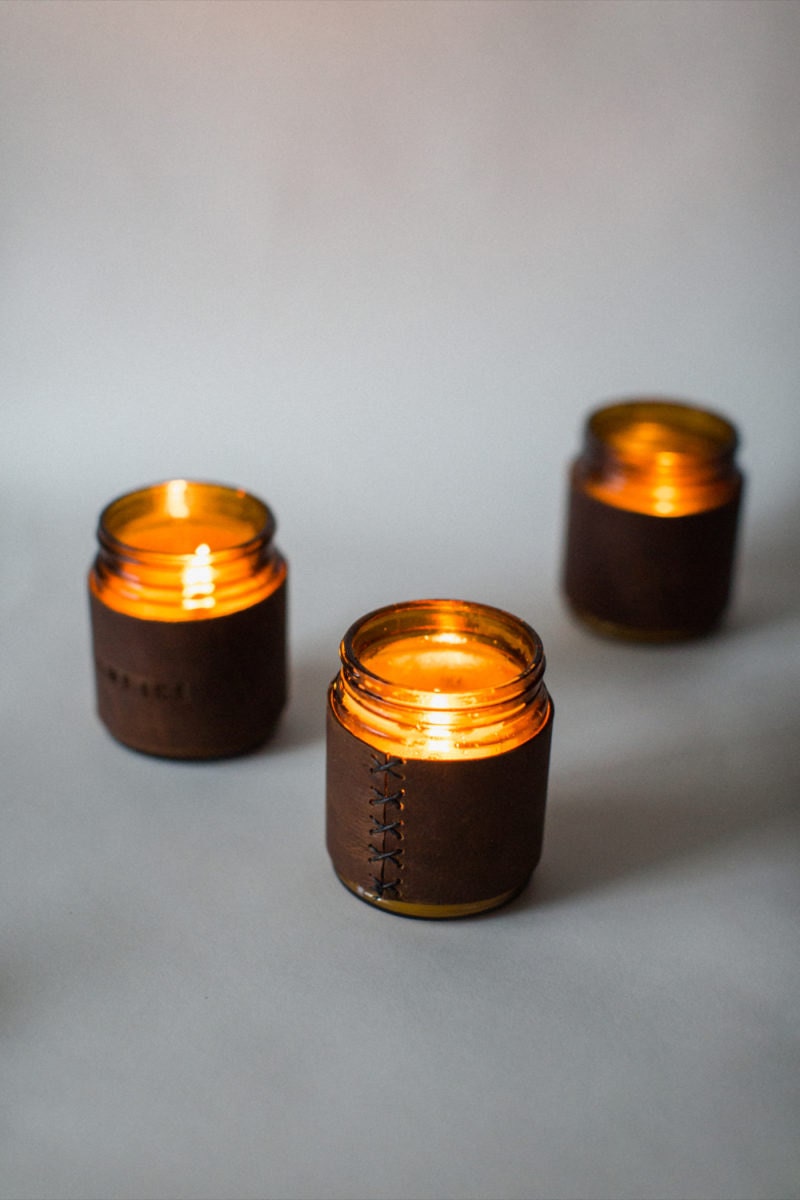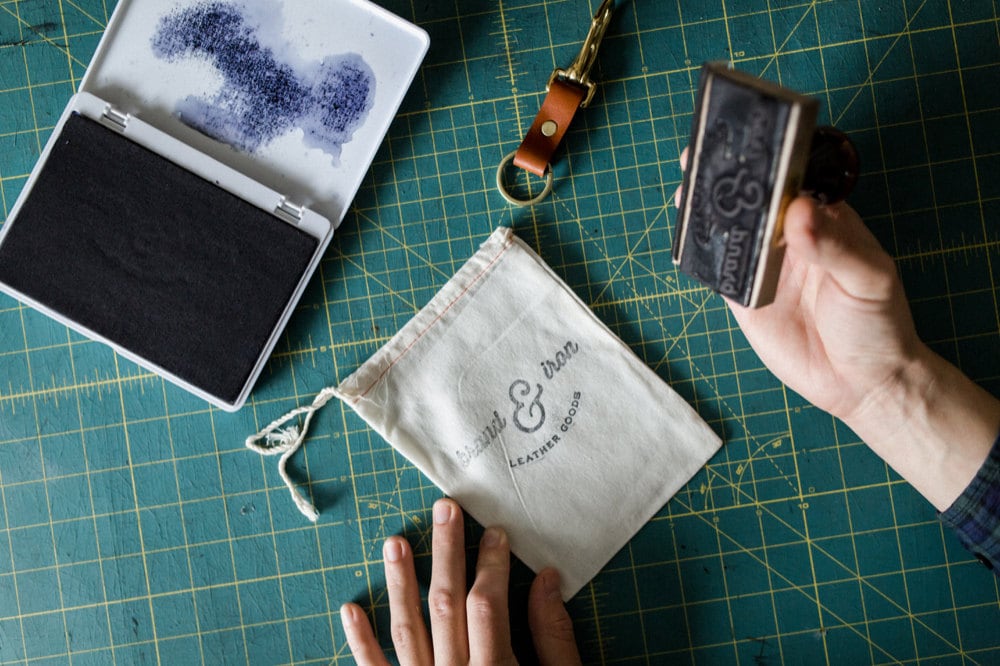 Your shop is really pretty. Do you do all your own photography?
For the most part, yes. I didn't go to school for it, but when I was 15 to 18 years old I had a little freelance web and graphic design company. I like to dabble. It's a lot cheaper than hiring someone!
What would you like to do next with your shop?
I might like to be less leather-focused at some point. I took a ceramics class recently; that might be cool someday, to be creative in other ways. The challenge is to discover what makes it cohesive and what makes sense. I keep saying it because it's true — I'm always dabbling with something.
Follow Brand & Iron on Facebook and Instagram.
Photographs by Brand & Iron and James Escobar.