by Etsy Staff
This bold boho jewelry is made in Athens, Greece, by a tax consultant-turned-metalsmith.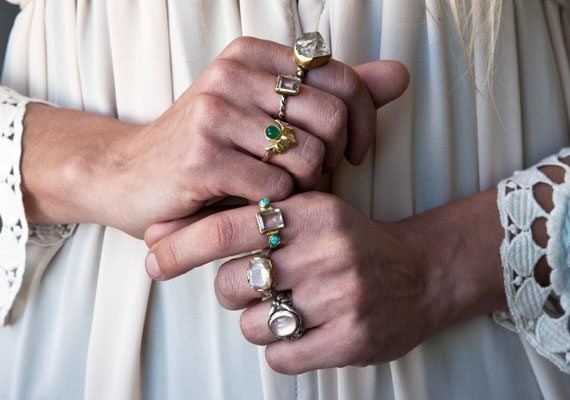 Before she started designing bold, boho jewelry for her brand,
Break A Stone
, Aggelika Karali spent seven years working as a tax consultant. "I was never into tax – who is, really? But during that time, I learned a great deal about myself as a professional and as a person," Aggelika says. "I was brought up in a society that considers working full time at some kind of firm as the main way to be successful. I always wondered if I could just quit my job, 'break this stone,' and start working on something based on creativity and hand work." Then, about four years ago, Aggelika decided to put this question to the test. "I rented a small space at the center of the city and had a friend who studied metalsmithing come over for a few hours to show me basic stuff, like metal soldering and tools," she says. "I took it from there, practicing and experimenting on the bench for hours and hours at a time. Those were my first steps in making and designing jewelry; since taking that chance, I don't think I have ever been happier." Today Aggelika, who is based in Athens, Greece, splits her time between working on
her business
and raising her eight-year-old daughter, Irene. "There's not a lot of time to do much else, but that's okay, because I'm pretty satisfied with both," she says.
Take a peek inside Aggelika's studio – and hear more about her passion for crystals, her process for designing, and her goals for the future, below.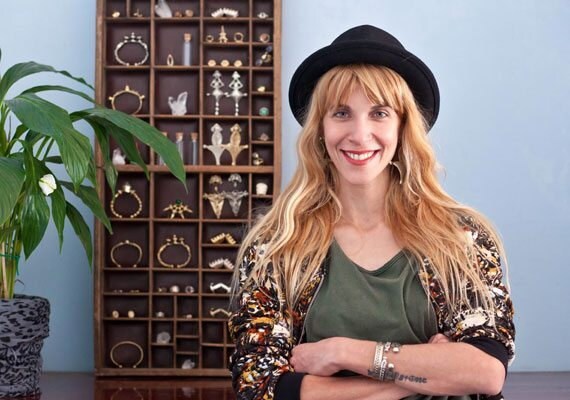 What made you want to start making jewelry?
I've been a huge fan of jewelry for as long as I can remember: It reflects the style and personality of its owner, it can be worn for so many various occasions, and it can be passed down from generation to generation. For that reason, I set out to start making my own.
How long have you been practicing your craft?
I created my first piece about four years ago, and I opened
my Etsy shop
a few months after that. About a month after I opened my shop, my first order came in. Traffic grew gradually, which was convenient for me, given that I was still pretty new to all this. As time passed, I started growing both professionally and technically, and my business began to flourish. My work gained acceptance much faster than I ever could have hoped.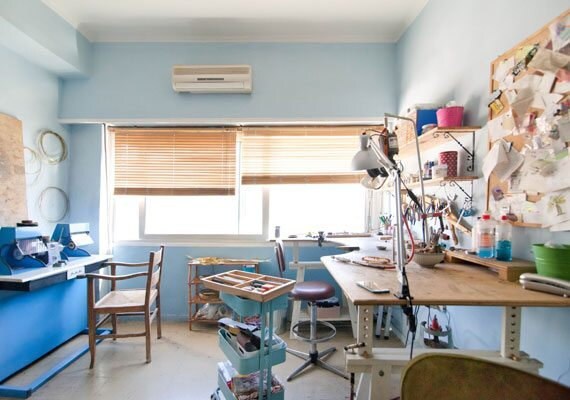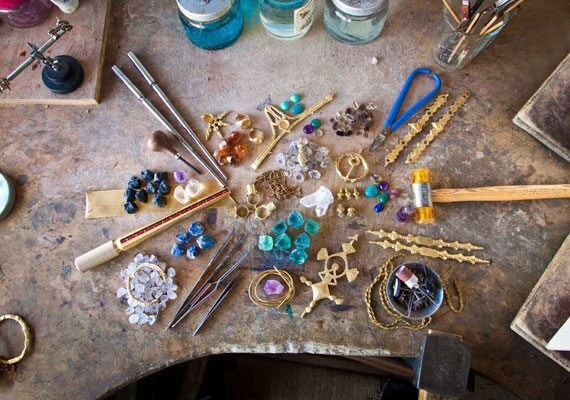 Where do you create, and what is your creative process like?
I make jewelry in my studio, which is near the historical center of Athens. My pieces are made using basic metalsmithing techniques, like soldering, casting, wax carving and stone setting. I design some of my pieces on paper first, but usually I have a general picture of what I want to make in my mind as I start producing. From there, I make any necessary alterations or adjustments to my first idea until it's just right.
How long does it take you to make a single piece?
One piece can take anywhere from one to five hours to create, depending on its complexity and uniqueness. I personally love really unique pieces; I use natural raw crystals in many of my designs, which means that they are made from scratch and created around a single, individual stone. I also devote a lot of time to communicating with my customers, as I have a lot of custom orders coming in. Other than that, I also make prototype pieces which I then reproduce in collaboration with a small casting business here in Athens. Still, most pieces need to be worked on more — setting the stones, for example — after being cast.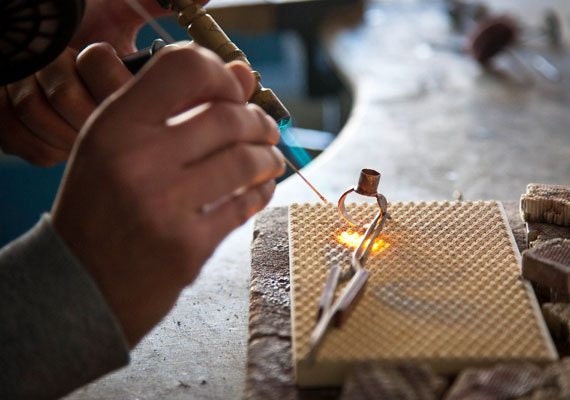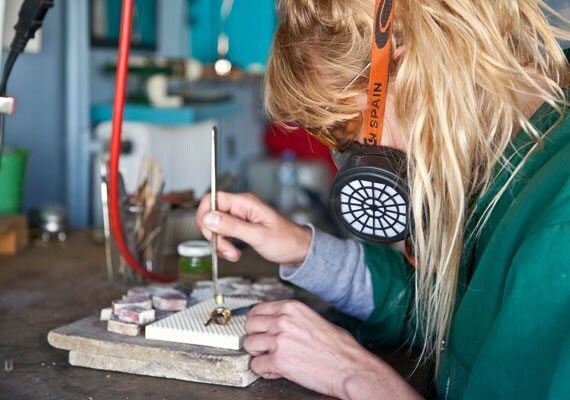 What are some of your favorite materials to work with?
I love working with natural crystals – I find them truly magical, and I believe in the properties that each one holds. I most often use sparkly
Herkimer
diamonds, white quartz, amethyst, onyx, and fluorite. My other favorite material is metal. Even though it's the most basic material I work with, it gives me certainty that a piece is going to last forever and accompany its owner everyday, everywhere.
Do you have a favorite piece in your shop? Or a best-selling piece?
My
minimalist joint ring in silver
has sold pretty well considering it came out recently. As for my personal favorite, that's something that's always changing! I'm really enthusiastic with my new designs when they first come out, and then after a while, I'm in love with a new idea. Some of my all-time favorites are my
Moroccan-style statement earrings
, though.
What inspires you?
I am inspired by nature, fairy tales, art nouveau and anything medieval – from small objects to buildings. Metalsmiths did quite amazing work back then!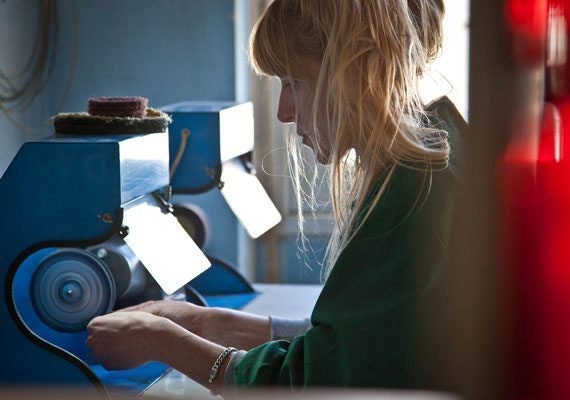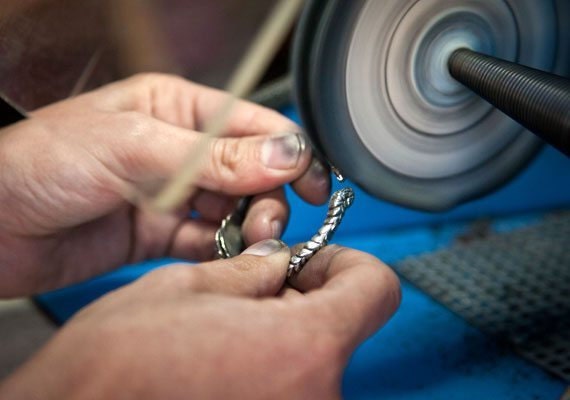 Will you tell us about some of the other artists, designers, or Etsy sellers whose work you admire?
I am a huge admirer of
Kevin Coates
, the goldsmith and musician. His work is neither modern nor totally traditional; it consists of brilliant jewels, medals and small sculptures. He literally creates visual poetry — it's really difficult to say anything about the artistic value of his work without falling into the banal. Every inch of his pieces is perfectly executed.
What is your favorite part of your job?
If I had to choose, I would say my favorite part is when I set out to make something new. I'm always impatient until I see what the final piece looks like, and how close to my expectations it will be! I shouldn't leave out the part when I receive happy customers' messages and feedback – that also gives me huge motivation. Selling online can be tricky; even though I take extra care in my product photos, pictures can't always tell the story of an object's features, like its weight, texture or the way it feels in your hands. The good news is that most people think my pieces look even better in real life, so I'm much more confident now than when I first opened my shop.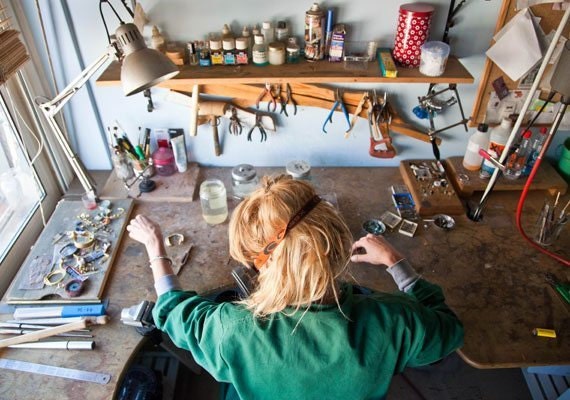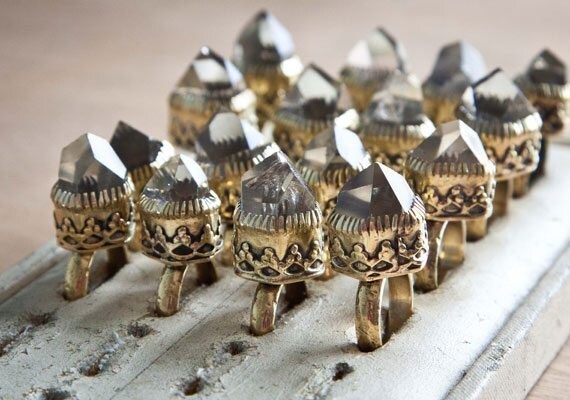 What does Etsy mean to you?
Etsy has been my work's window display to the world! It gave me the opportunity to communicate with people in different parts of the globe, grow some strong business relationships, and collaborate with brands I never would have dreamed of collaborating with. I don't want to fall into cliché here, but I don't think I would have made this huge turn in my life without Etsy. Both budget-wise and business-wise, I've always felt secure and certain that things are being taken care of, and that I am part of a big community that will never fail me. For that, I am grateful.
What are your goals for the future?
I definitely want to keep working on my technical skills; that's a never-ending process, so it's always going to be a goal and a motivation for me. Other than that, I would love to be able to better balance my personal life with work. My Etsy shop keeps me busy most hours of the day, due to the fact that my one-off pieces take hours to make and I'm still a small business without much help. A bigger working space is also one of my next steps. Stay tuned!
Keep up with Break a Stone on Facebook, Pinterest and Instagram.
All photos by Danai Issaris.