by Aleksa Brown
From symbolic necklaces and rings to sleek hair pins and functional barrettes, this jewelry designer has a style all her own.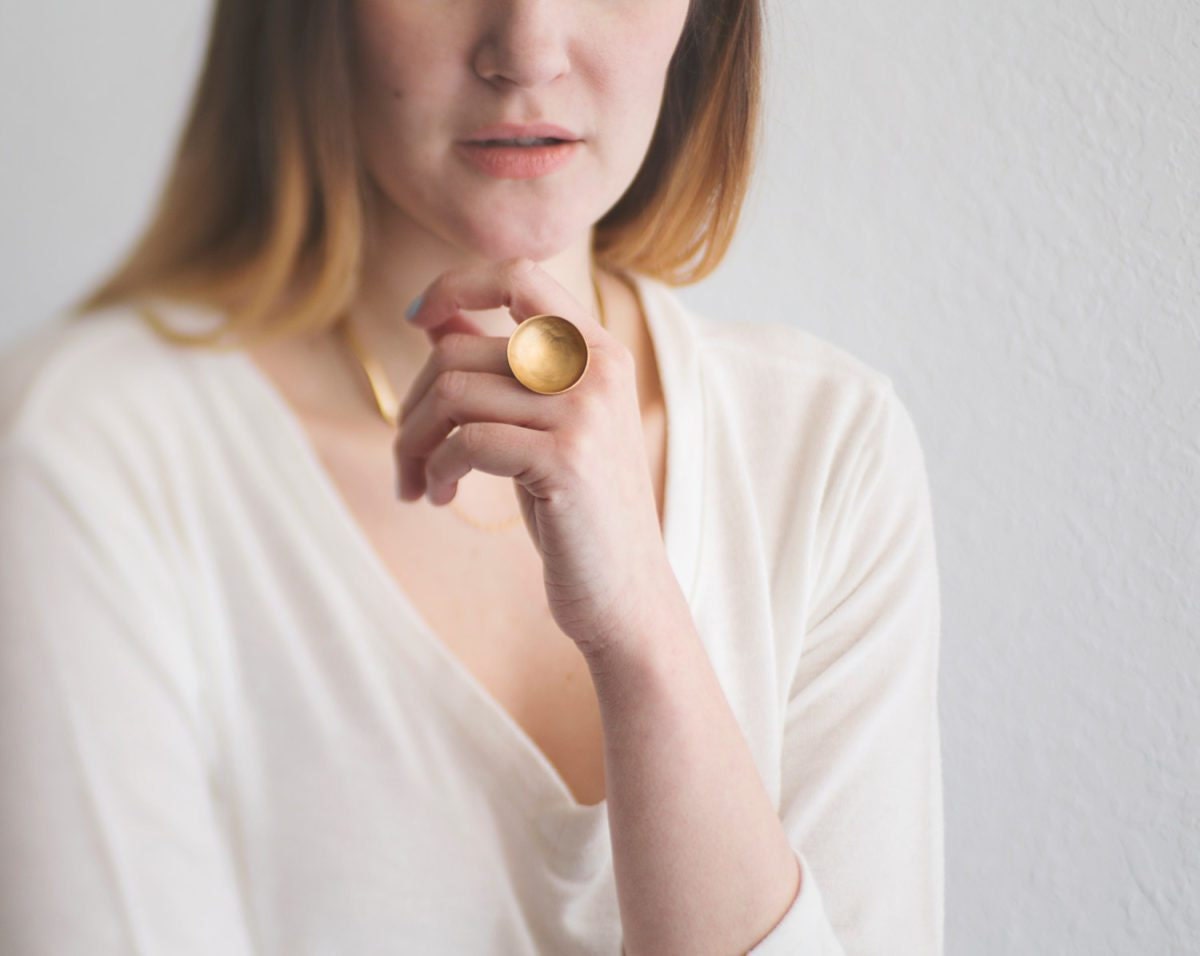 For designer Cire' Cross of
C. Alexandria
, making jewelry has been a constant since high school. She picked up the craft while working at an antique mall in her hometown of Stoughton, Wisconsin, back when it was her job to repair any broken vintage necklaces or bracelets that came across the store's counter. The perk? Whenever a piece was past the point of being fixed, her boss would let her take the beads home, unknowingly feeding the curiosity and creativity that led Cire' down the path she's on today. "I started putting together my own pieces using vintage beads from broken pieces, and soon, I discovered that I kind of liked it," Cire' says. "After wearing some of my pieces to work, people started asking where they could buy them, so my boss let me put a few pieces in the store. That's how I got started." Though she's been making jewelry as a creative outlet ever since, it wasn't until she graduated with an interior design degree and spent a few years working at a firm that she decided to go full-time
selling her pieces online
and at craft fairs around the country.
Learn what tipped the scales for Cire' – and how she went from selling beaded jewelry to more intricate metal pieces, below.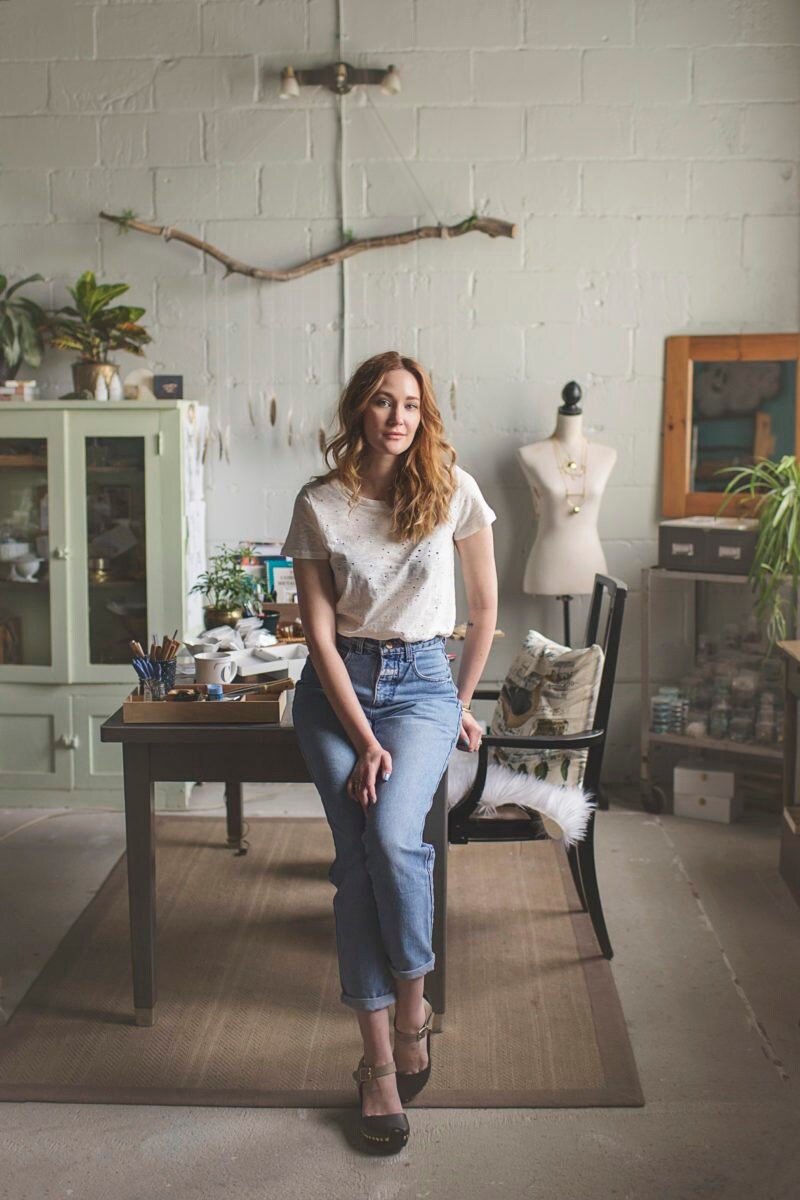 When did you first become interested in jewelry? I've always been drawn to fashion and adornment. When I was little, I wanted to be a fashion designer and a jewelry designer, so I'd draw sketches of clothing — and of course, all the matching accessories. Then when I was working at the antique mall, I'd see all these different kinds of jewelry from different time periods; everything had a history and a story to it that I really loved. You can tell a lot about a person by their adornments – what they're wearing or the bag they're carrying — and I just find it really interesting to see what people are drawn to. I really like the idea that you can finish an ensemble perfectly with a bracelet or a necklace or a beautiful ring or big earrings. Or it can be understated – it can be something that you love and treasure and wear every single day, and it's really tiny but still has a special meaning. I don't know, jewelry is just so cool and so unique to everyone. Everyone's got a distinct taste, and I love that.
When did you decide to take things to the next level?
For a long time, I made jewelry for family and friends just for fun, as a creative outlet. I studied interior design in college, and after I graduated, I worked at an interior design firm in Madison. The interior design business is really fun, but I found that it was way too stressful for me; it was like 10 percent creativity and 90 percent phone calls, and I just wasn't having a great time with it anymore. I was about 24 or 25 at the time, and I decided to move back in with my mom and figure out what I was going to do next. That's when I thought,
Hey, why not just do jewelry full time?
So I started making jewelry on her guest bedroom floor and signed up for some little craft fairs. Everything kind of grew from there, and I kept expanding my techniques and materials and trying new things. I'm totally self-taught, except for a few jewelry classes back in high school.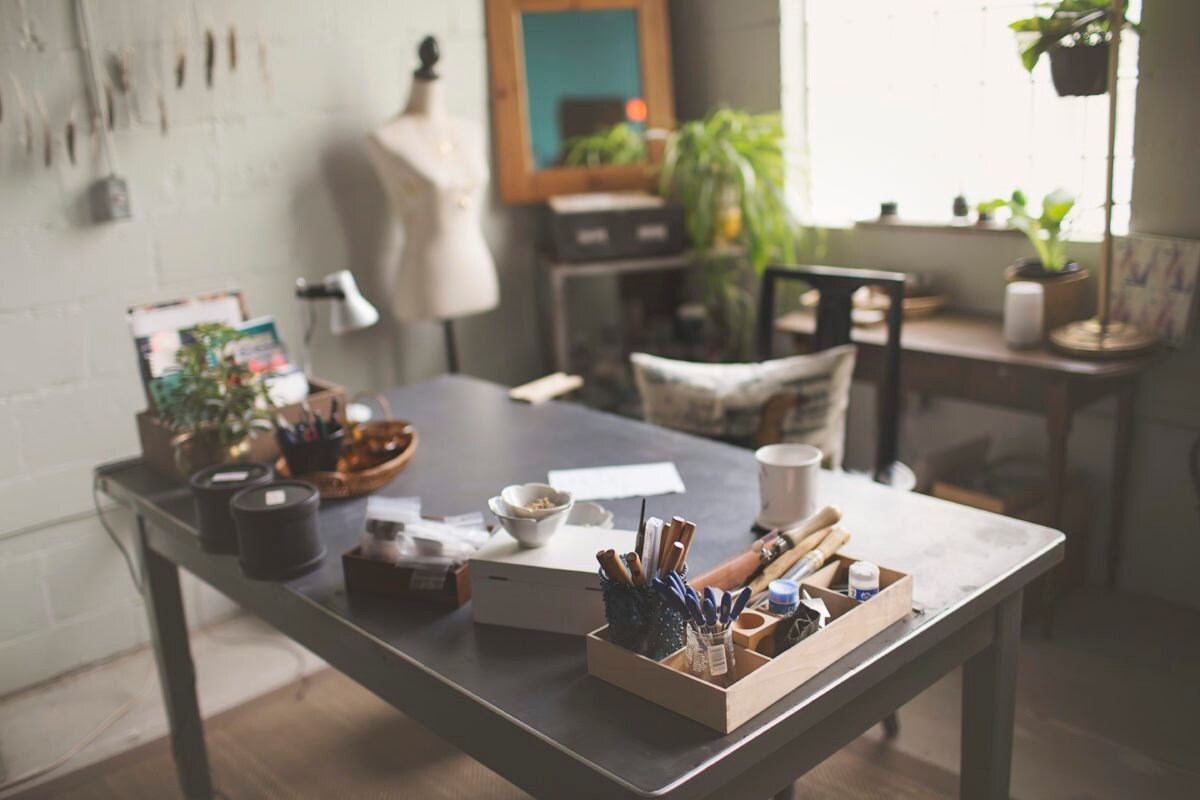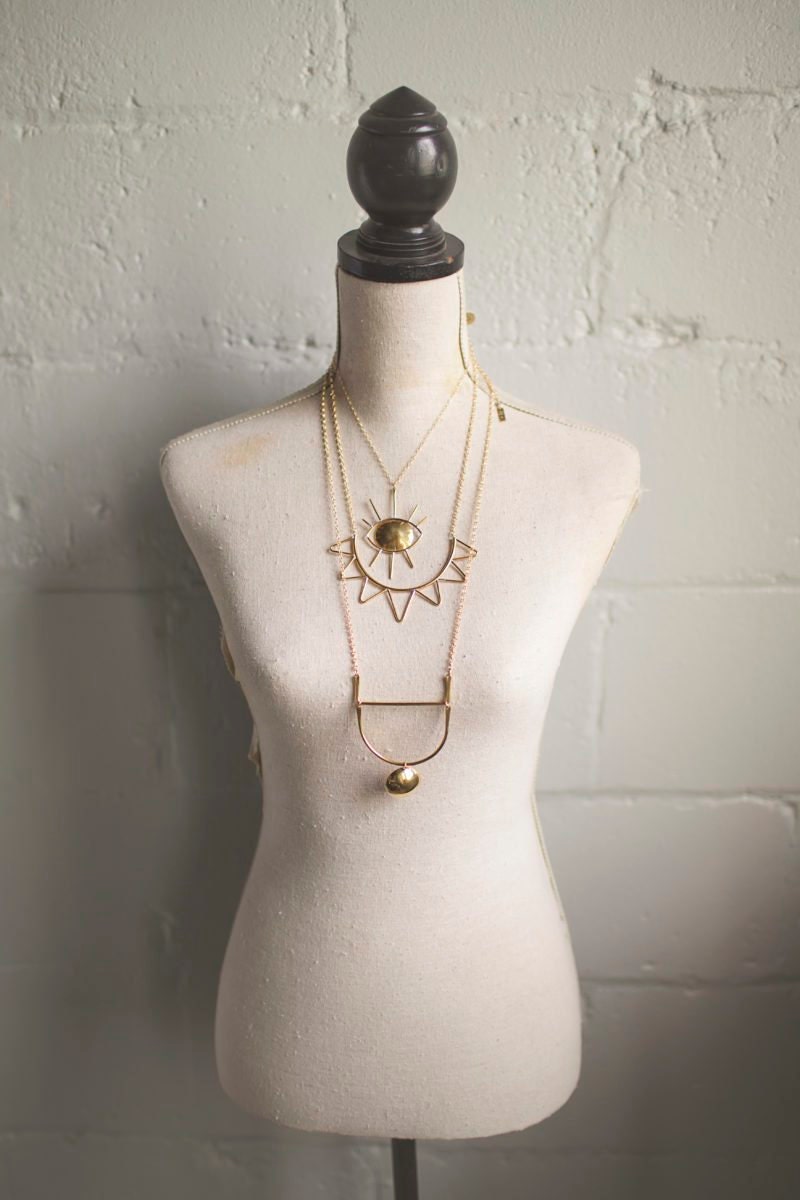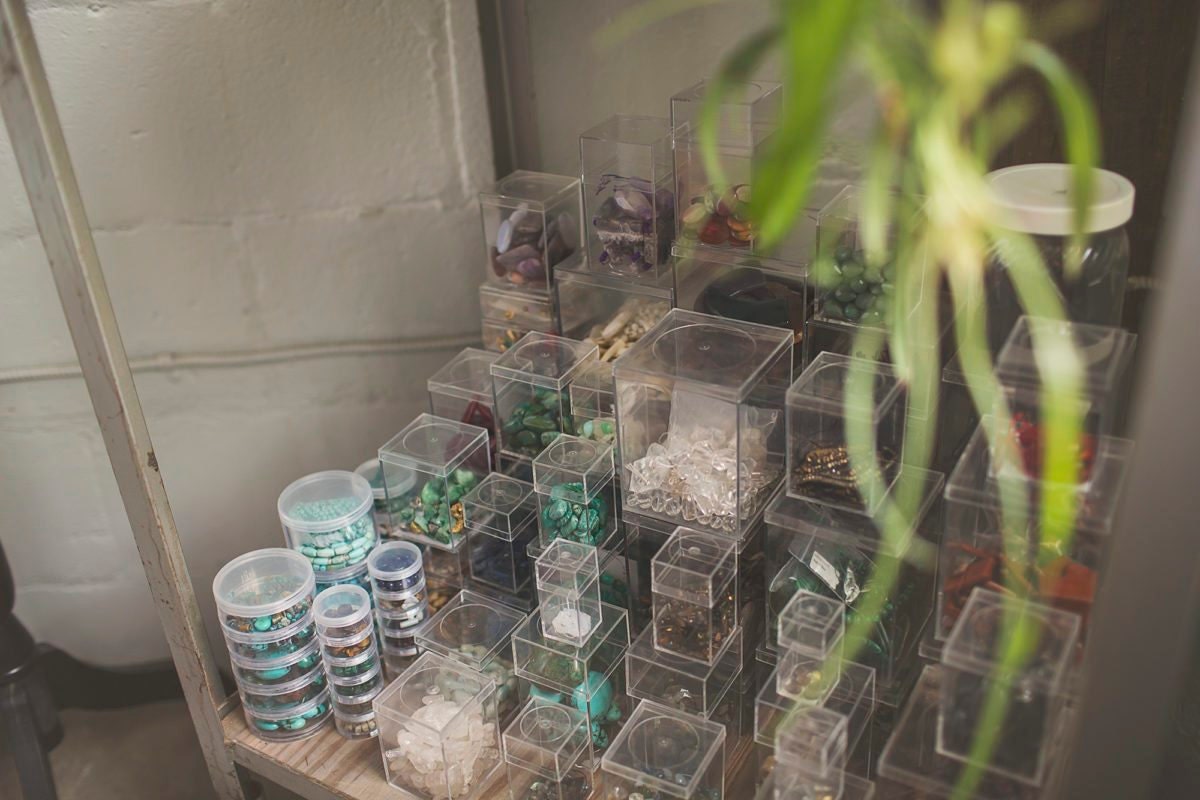 How did you teach yourself to make jewelry? When did metalsmithing enter the picture for you? When I started doing this full time, I was using a lot of vintage and reclaimed materials, and buying beads at Michaels or local bead stores, then putting it all together. When I started
selling on Etsy
 there was this huge myriad of shops that had components and beautiful charms, so I started sourcing my materials that way, but then I started to find that my work was looking like other people's, and I didn't like that. I remember thinking: If I want to make a living out of this, I have to find my own voice again, like when I first started. That's when I became curious about making my own components. Around the same time, I started sharing a studio with a girl I knew who went to Howard Academy, a metalsmithing school. She was like, "You can absolutely borrow my torch or any tools!" She was so helpful: She would send me links to YouTube tutorials or tell me what materials to buy. Once I started practicing, I fell in love with it, and eventually I got all my own stuff. I've been doing metalwork and stone setting ever since – about two years, now.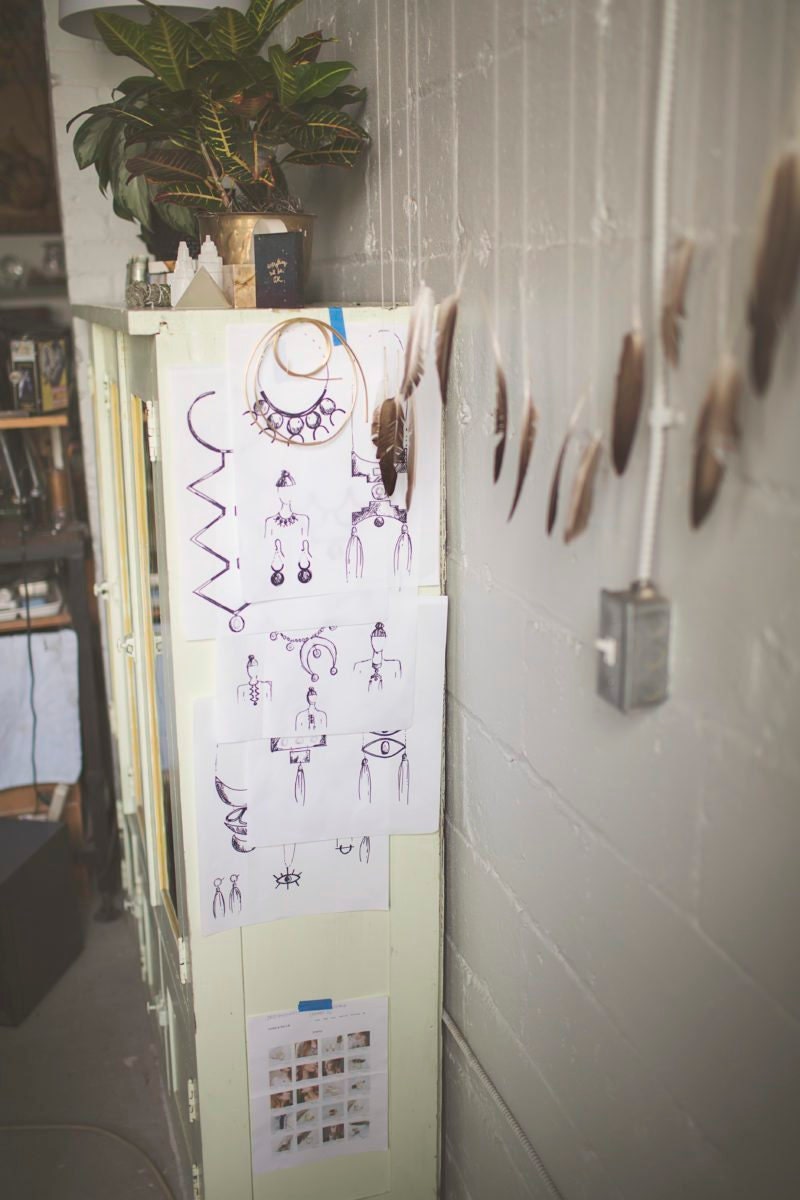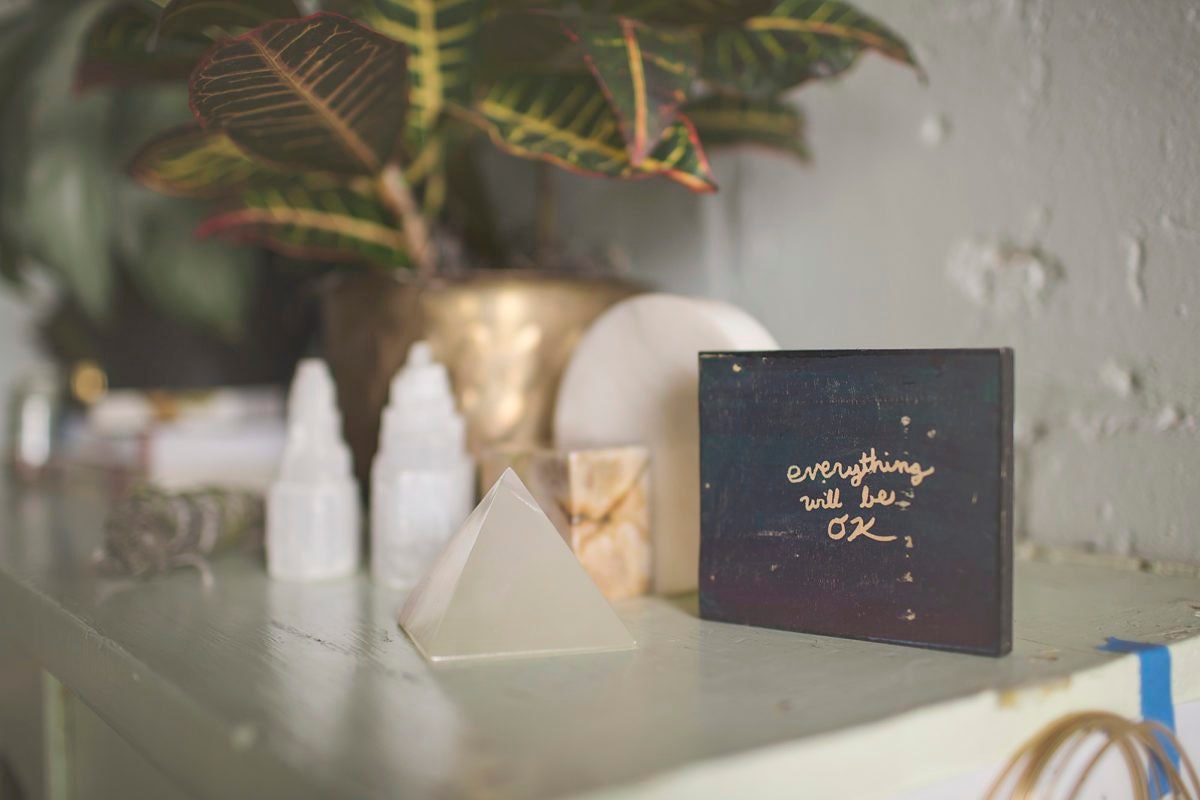 Do you have an imaginary customer or person in mind when you make work? When I sell at fairs, I have people coming into my booth who are anywhere from 16 - 70. There's a huge range of people that like my work – I've tried to narrow down who my customer is, but I just can't. I make jewelry that I want to wear. I make jewelry for me, and I'm super lucky that other people like my aesthetic. How would you describe your aesthetic?
My jewelry
is uncomplicated and stylish, but it's distinctive, and maybe kind of curious. I use symbols, and I just kind of make up my own language. Sometimes people are like, "What does this mean?" and it doesn't necessarily mean anything. With that said, I love when my customers give meaning to a piece, or see something in it that I didn't put there. I love it when a customer makes a piece their own.
What is the story behind your moth collection?
People either love it or hate it, and they're like, "Why would you make a moth?" The thing is, I made a moth because butterflies get all the attention – they're so bright and beautiful; everybody loves butterflies. I'm a neutrals person – I don't use a lot of color – so I am especially drawn to the moth. I also love how moths are drawn to the flame. I think it's a beautiful thing.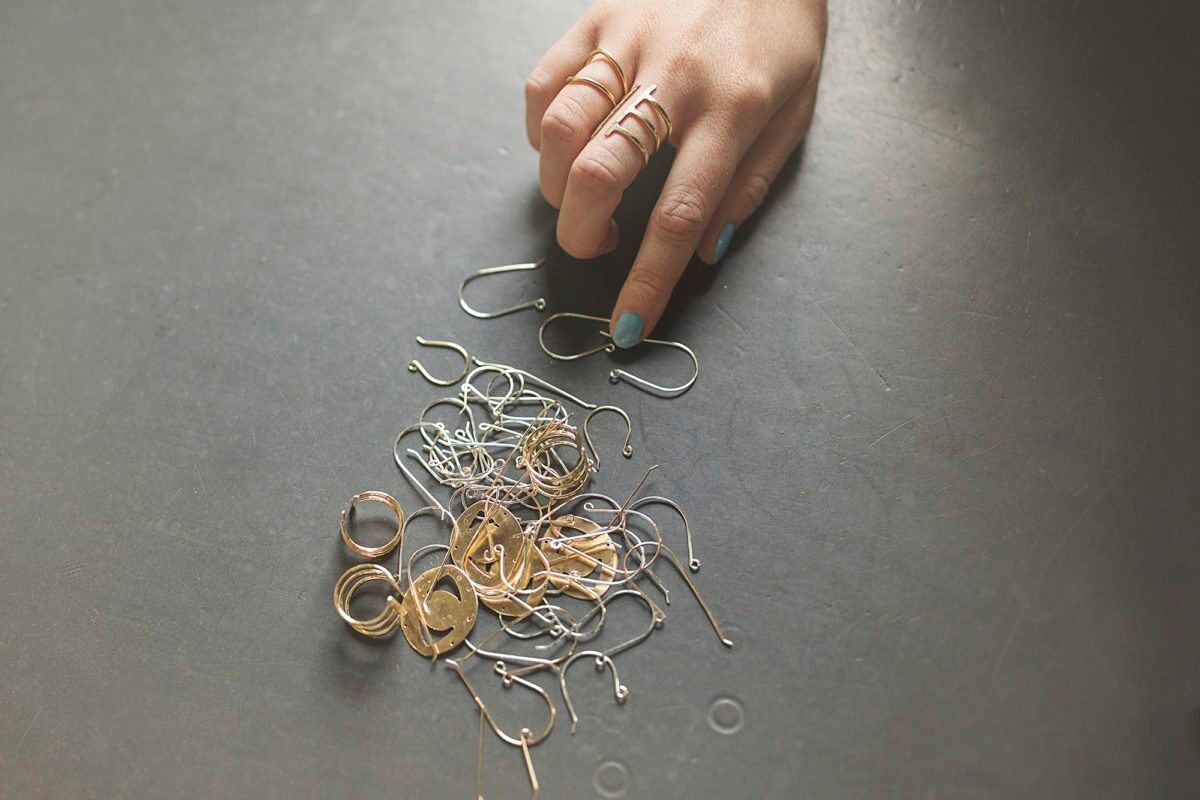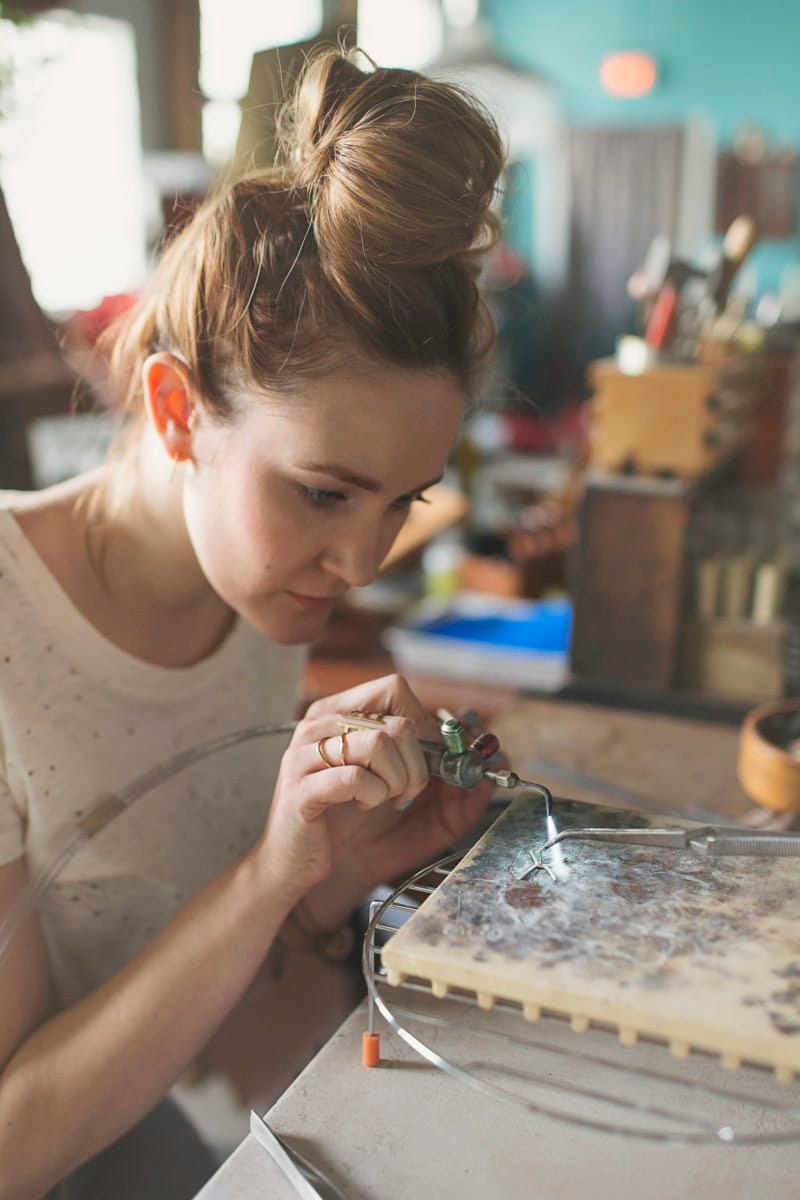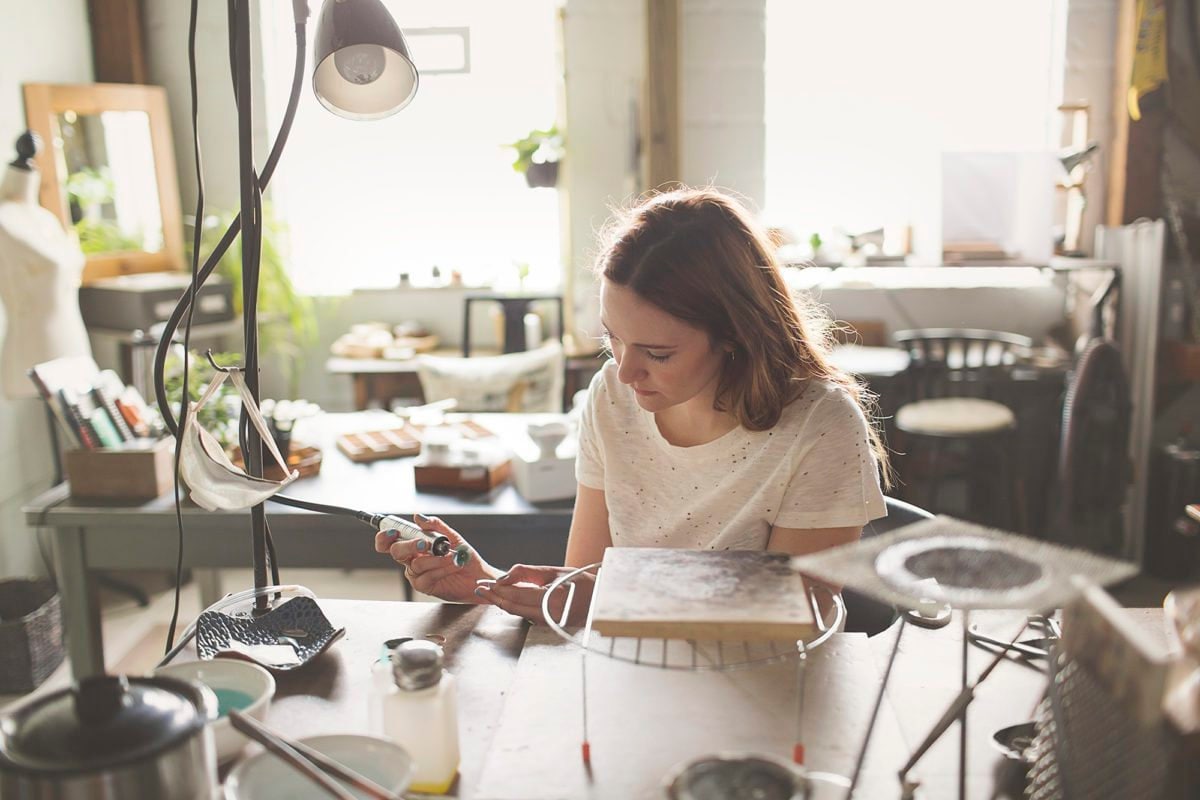 What is your most popular item? As of late, it's definitely been
the hair accessories
: The
hair cuffs
, the
barrettes
, and the
hair sticks
have been really popular. Where do you find inspiration? I'm inspired by nature. I really love leaves and flowers, but then I also find inspiration in darker things, like symbolism, ancient writing, hieroglyphs, and history. I really love ancient history, and it's going to sound totally nerdy, but when I went to the Louvre this winter, my favorite exhibit was the Roman and Greek statues and jewelry. I loved looking at the technique.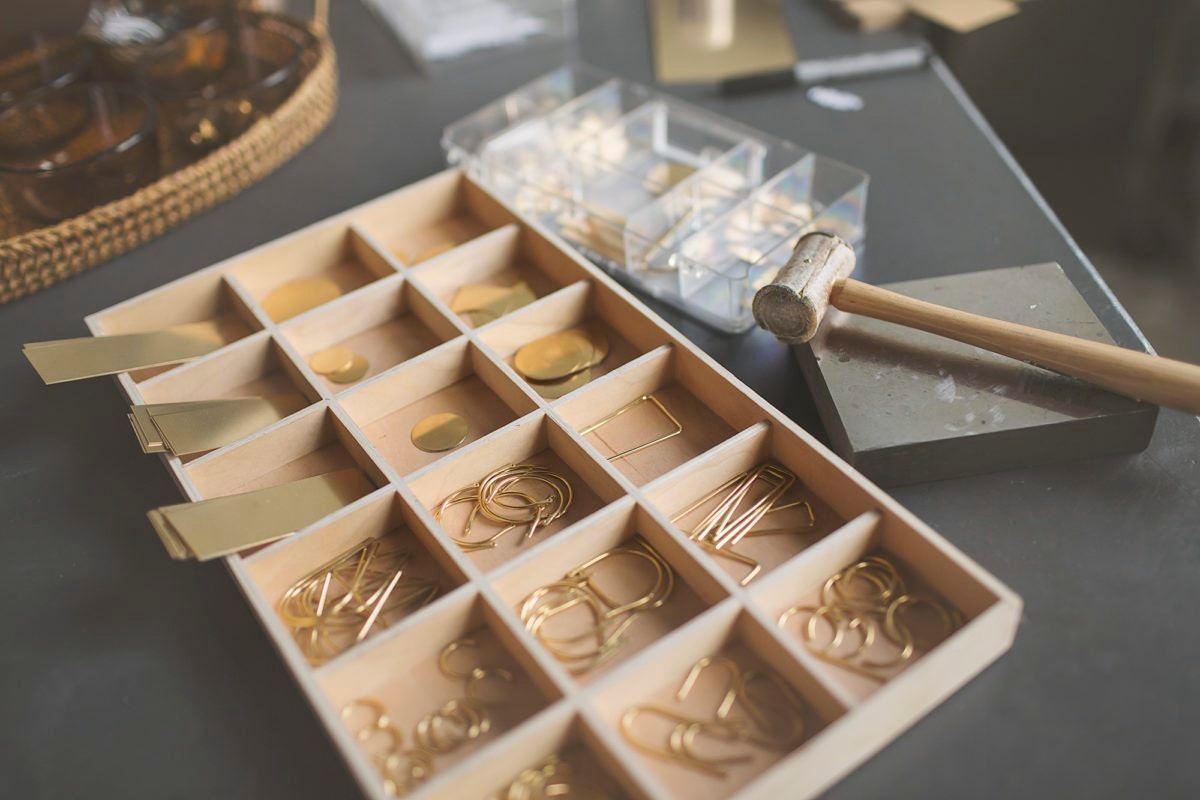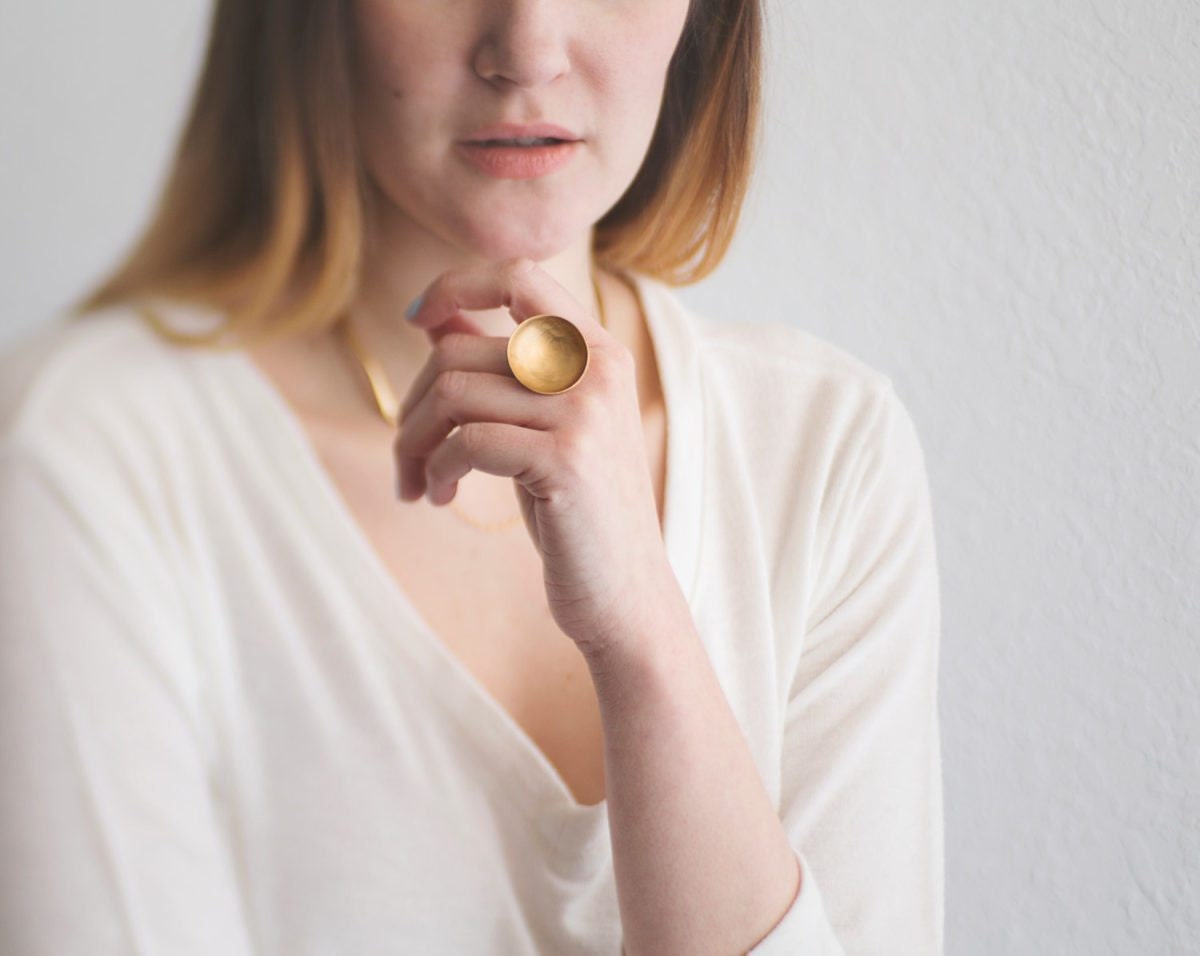 Can you tell us a little bit more about your design process? I design two ways. One way is to do a collection: I'll sit down and sketch, and then make the pieces in my studio. When I'm building a collection, I want it to be cohesive. I want to create pieces that work well together, so that people could wear the necklace and earrings together, or the bracelet and earrings. The other way I design is to just let the materials on my desk create themselves, and play with things until they feel right. What is your favorite part of the process? I really like it when I get on a creative roll. Don't get me wrong – there are definitely days when I'm not creative, but then there are days when I feel like I could work for 24 hours straight, and it's awesome. I love my process on a creative day, because I'm like, GO! GO! GO! and my mind is filled with ideas. On days like that, my hands can barely keep up.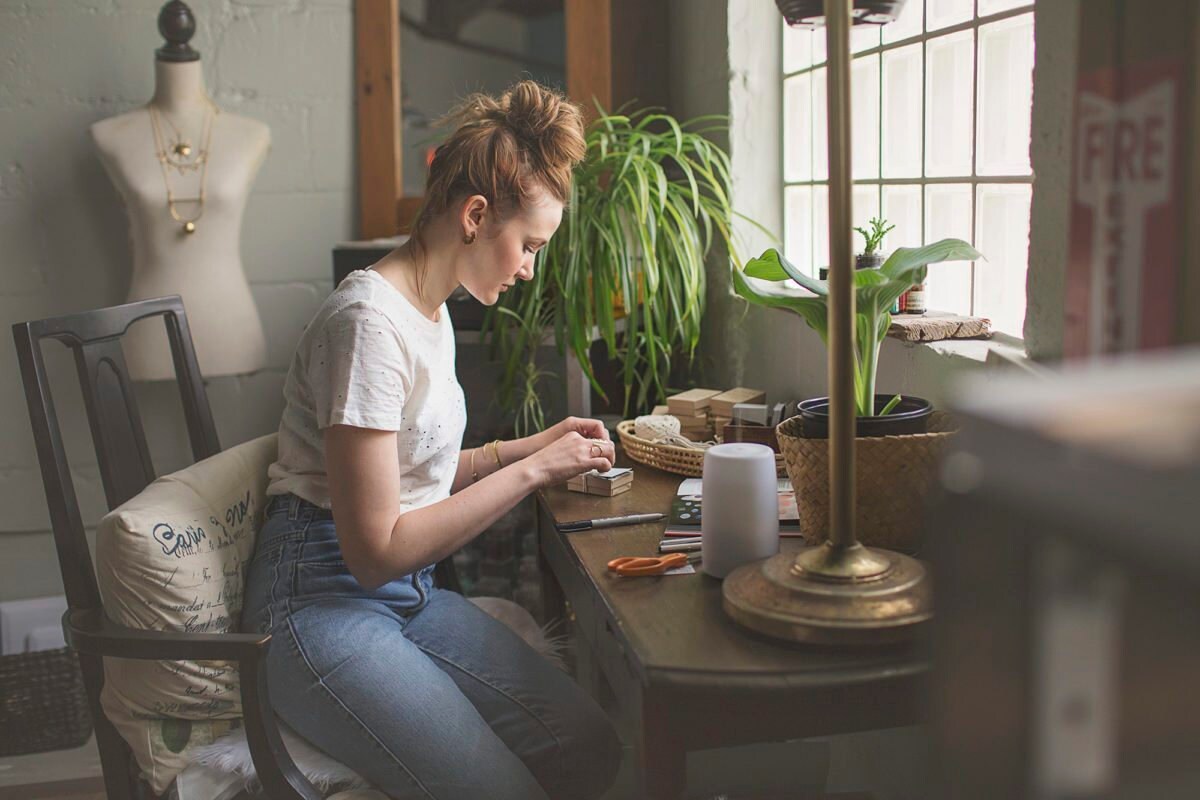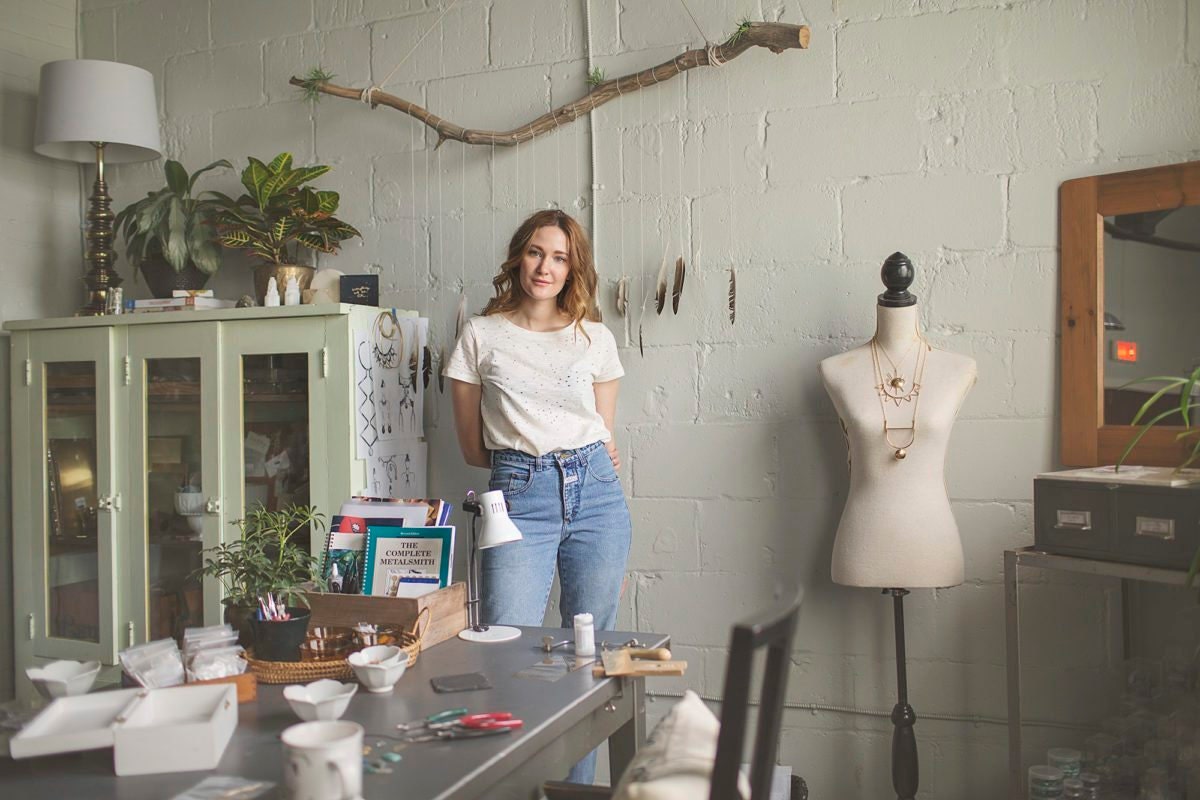 What are you working on right now? Is there anything in the works that you're really excited about and want to share? Yes! When I first started making jewelry, I did a lot of statement pieces – big, fun, funky stuff — and then kind of scaled it down to smaller things. Now, the pendulum is swinging back for me: I'm currently working on a new collection of big statement pieces that incorporate stone setting, silk, leather, and metalwork. They're kind of like big chest pieces, I guess; I'm really excited about it. I needed to do something big and bold. What are some of your goals for the future? One goal of mine is to have a retail space for my jewelry and little vintage home goods. I'd also like to do a few less art fairs, because they're really hard work and I'm getting burnt out; plus, I think my husband and I may want to have a baby in the future, so if I could stay put that would be really nice.
Follow C. Alexandria on Instagram, Facebook, and Pinterest.
All photographs by H. Claire Photography.
  Save Save Save Save Save Save Save