by Julie Schneider
Shake up your regular meal rotation with small-batch spices in signature flavor combinations from this cooking-obsessed son-in-law, mother-in-law duo.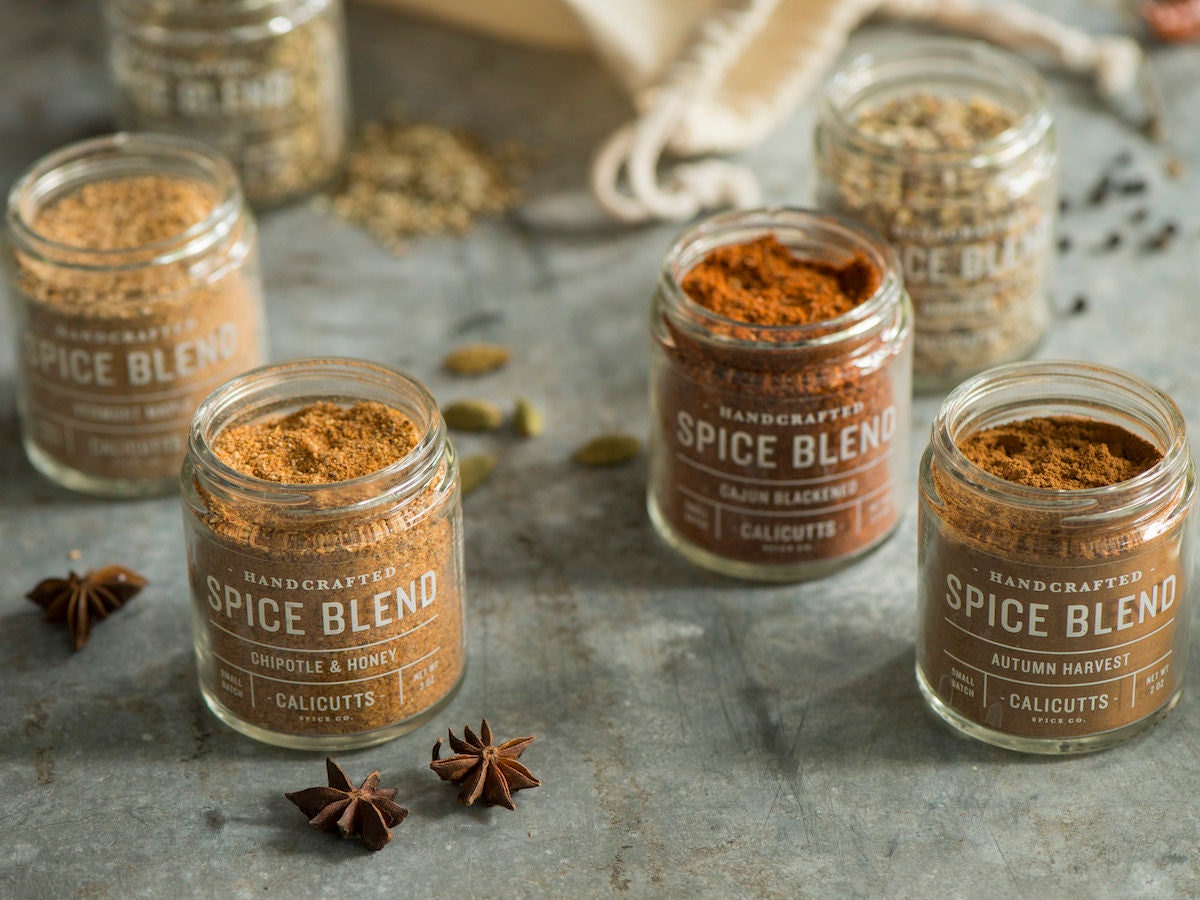 Editor's note, May 2020: In our Featured Shop series, we shine a light on a standout shop from Etsy's talented seller community, offering readers a behind-the-scenes look at their process and story. And as we spend more time at home these days, getting cozy and catching up on our reading lists, we're taking a moment to revisit some of our favorites—like the story behind this Pennsylvania-based spice shop from May of 2019.
When you twist open a jar from Calicutts Spice Co., out wafts a rich, vibrant aroma evocative of old world spice markets. Each herb, stem, and seed that goes into these small-batch seasonings is meticulously sourced directly from family farms, and then roasted, toasted, ground, and hand-mixed by co-owners Robert Orth and his mother-in-law, Autum Ellis, in their storefront-workspace. Fittingly, it's located at a flavorful address in Hershey, Pennsylvania: 130 West Chocolate Street. And yes, alongside a palette of global flavors—turmeric from India, nutmeg from Spain, chipotle chili from Mexico, to name a few—they do offer their own chocolatey blends too.
Explore the Calicutts Spice Co. collection
"A little bit of our spices goes a much longer way than something you'd buy in the grocery store that's been sitting on the shelf forever," says Robert. "What we make is produced every single week, so the flavor and freshness is completely maximized. You can instantly smell the quality difference, and you can taste it." Available as blends (think fire salt and ras el hanout) and single-origin spices and herbs, as well as sets, Calicutts Spice Co.'s seasonings are ideal for adding a fresh kick to your favorite recipes—or giving as tasteful gifts.

Read on to discover which blend makes a delicious dry rub and which one makes a great topper for your sundae—plus hear Robert's go-to picks for Father's Day—then shop the Calicutts Spice Co. collection.
What inspired you to start a family-run spice company?
I always say it's about family and flavors. In addition to running Calicutts, I'm a father to nine-month-old twins, a full-time assistant professor, and I also do criminal justice consulting. While I was scaling my career, I got really into cooking and barbecuing and experimenting with flavors as a creative outlet. I sat down with my wife and was like, "I'm thinking about starting a business creating spice blends."
At first my family thought I was crazy, but now we have a really unique setup in that I work alongside my mother-in-law, and we've really been encouraged to make a go of it. She always says that I'm the brains of the business, but she's the absolute heart of the business. She makes it run.

What makes your spices superior to supermarket options?
When you go to the grocery store and you buy a spice off the shelf, you don't know who the producer is, where it came from, when it was made, or the specific ingredients. But we believe in transparency. We share every single ingredient that's in our spice blends, which is helpful to people with dietary concerns. Our spices are gluten-free, chemical-free, and MSG-free.  

We also do things a little bit differently than some commercial companies. If you buy cardamom in the grocery store, you might notice that it's tinted green. That's because the entire cardamom pods were ground. But inside the pods are these little black seeds where the flavor lies. By mixing in the fibrous green outer pods, the flavor gets diluted, so we painstakingly open each pod by hand, take out the little seeds, and grind only those seeds. If we have to take that extra step to get to a better quality product, then that's what we do.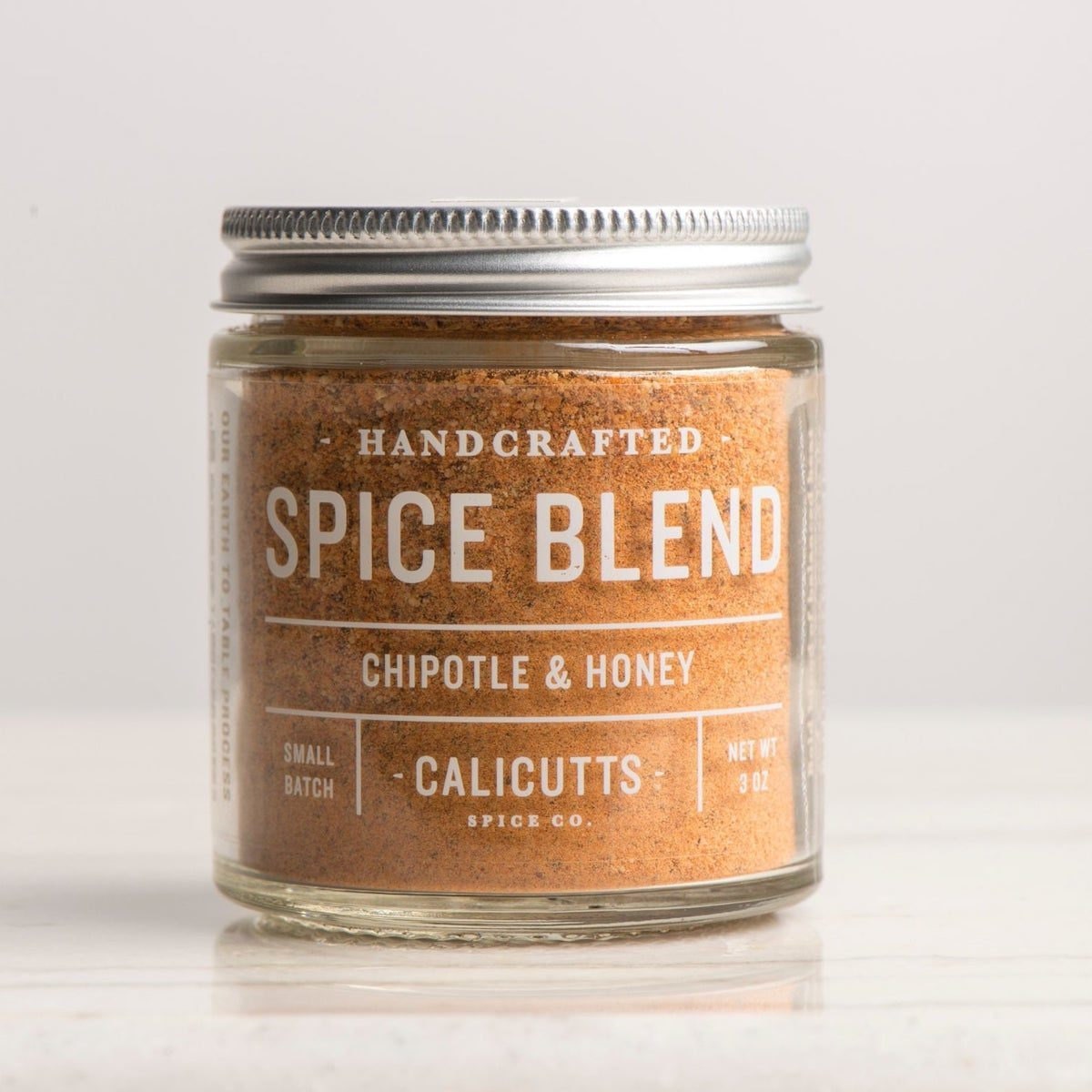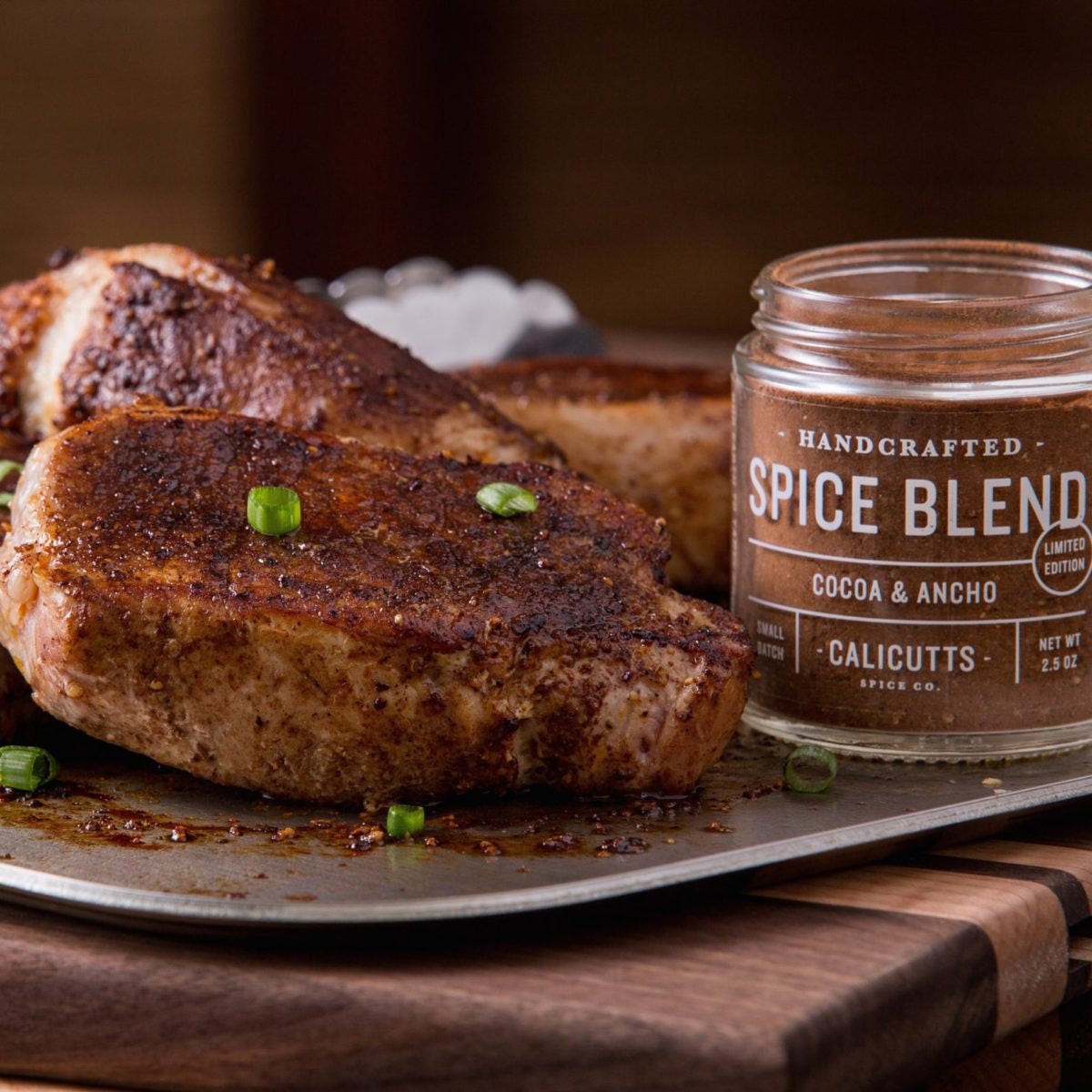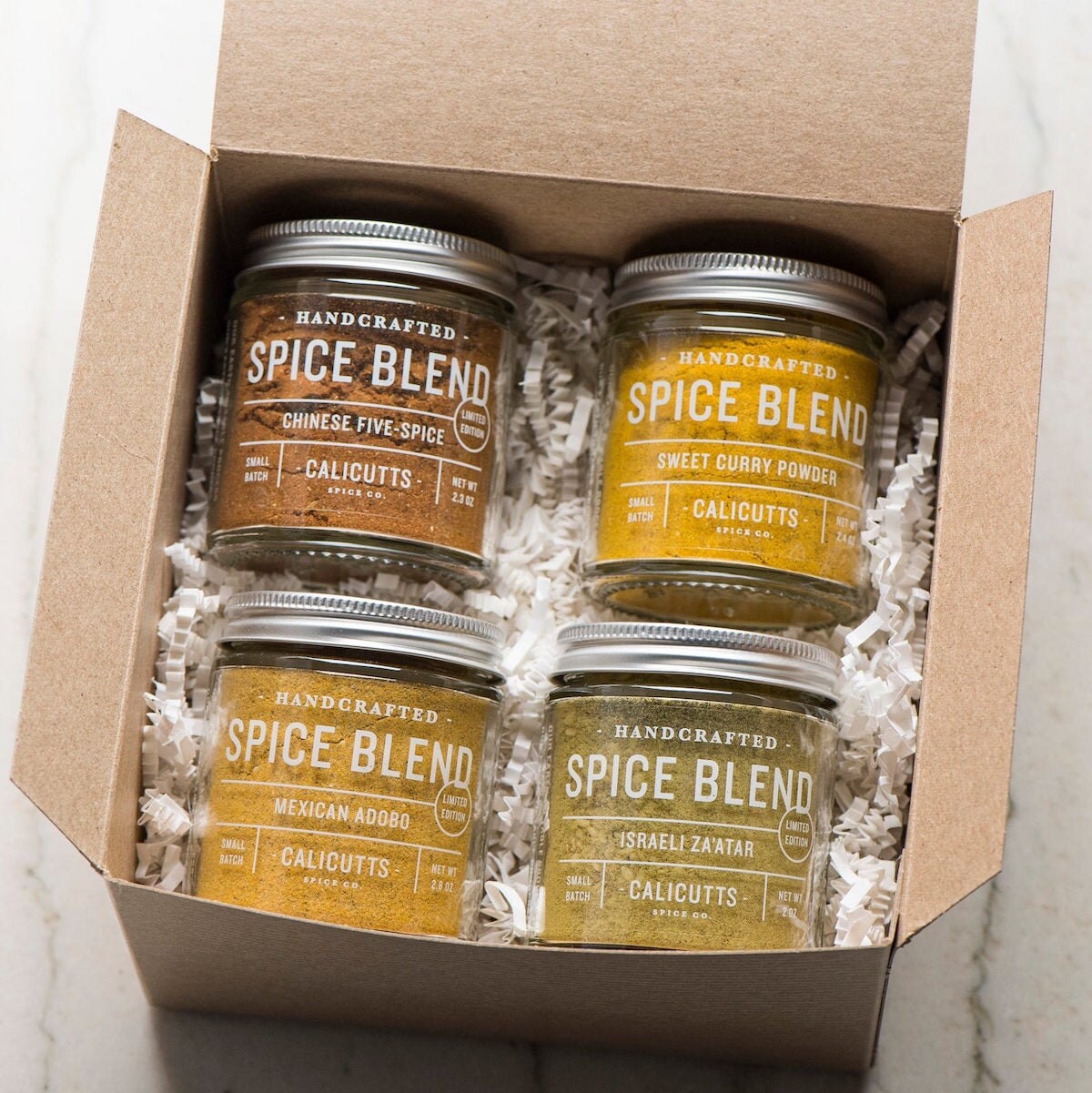 Where do you source the whole spices and herbs that you work with?
We work with small, family-owned farms all over the world to source 70 different whole herbs and spices. We get our vanilla beans from Reunion Island off the coast of Madagascar. Our coriander comes from Morocco. We have white peppercorns from Borneo, dill seed from Canada, herbs from the Napa Valley and France. It's all over the place.

The other way to source spices is to buy from a wholesaler, but I really prefer sourcing right from the farmers, which is kind of unusual. The spice industry is still one of these archaic systems where like 20 different people touch the spice before it reaches the end consumer. We cut that out and go straight to the source. So, we're able to disrupt the industry in a way. The first two years of running the business was just about sourcing, vetting, and making sure we had good relationships with good partners. We're diligent to do right by the farmers and by our customers.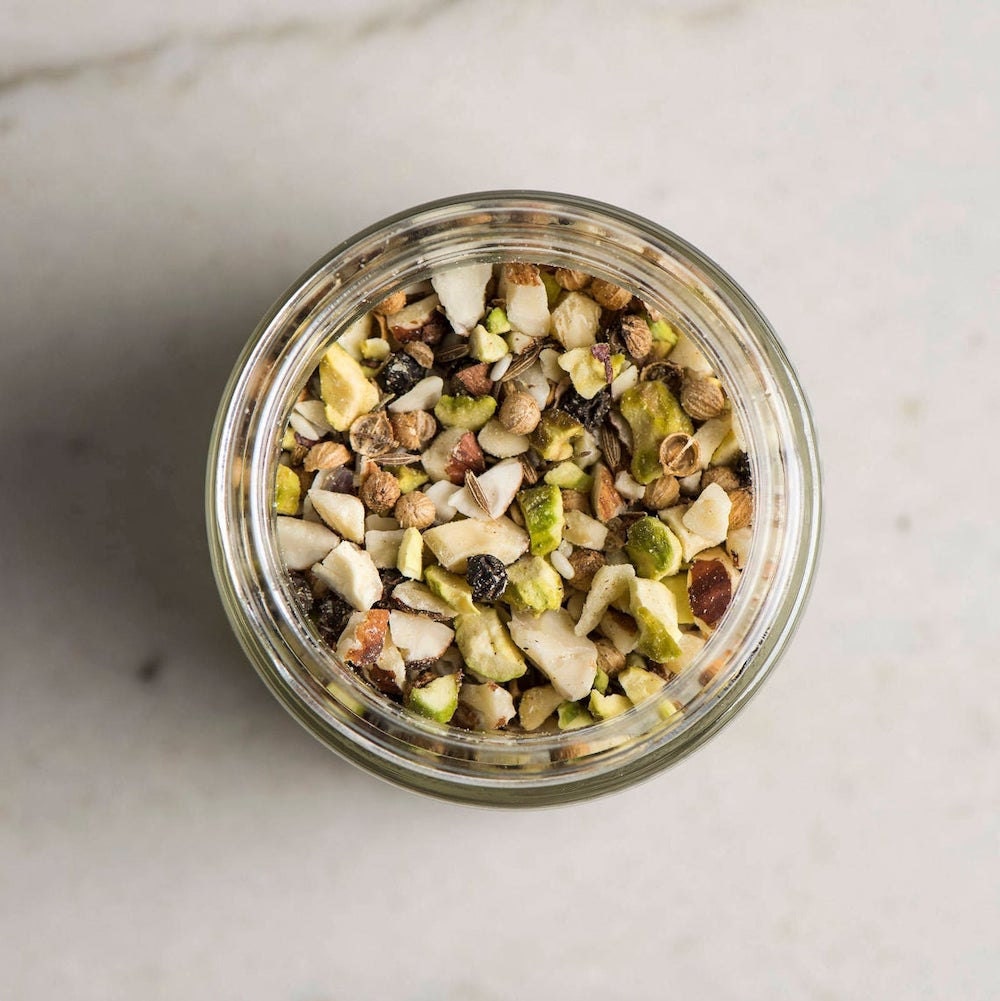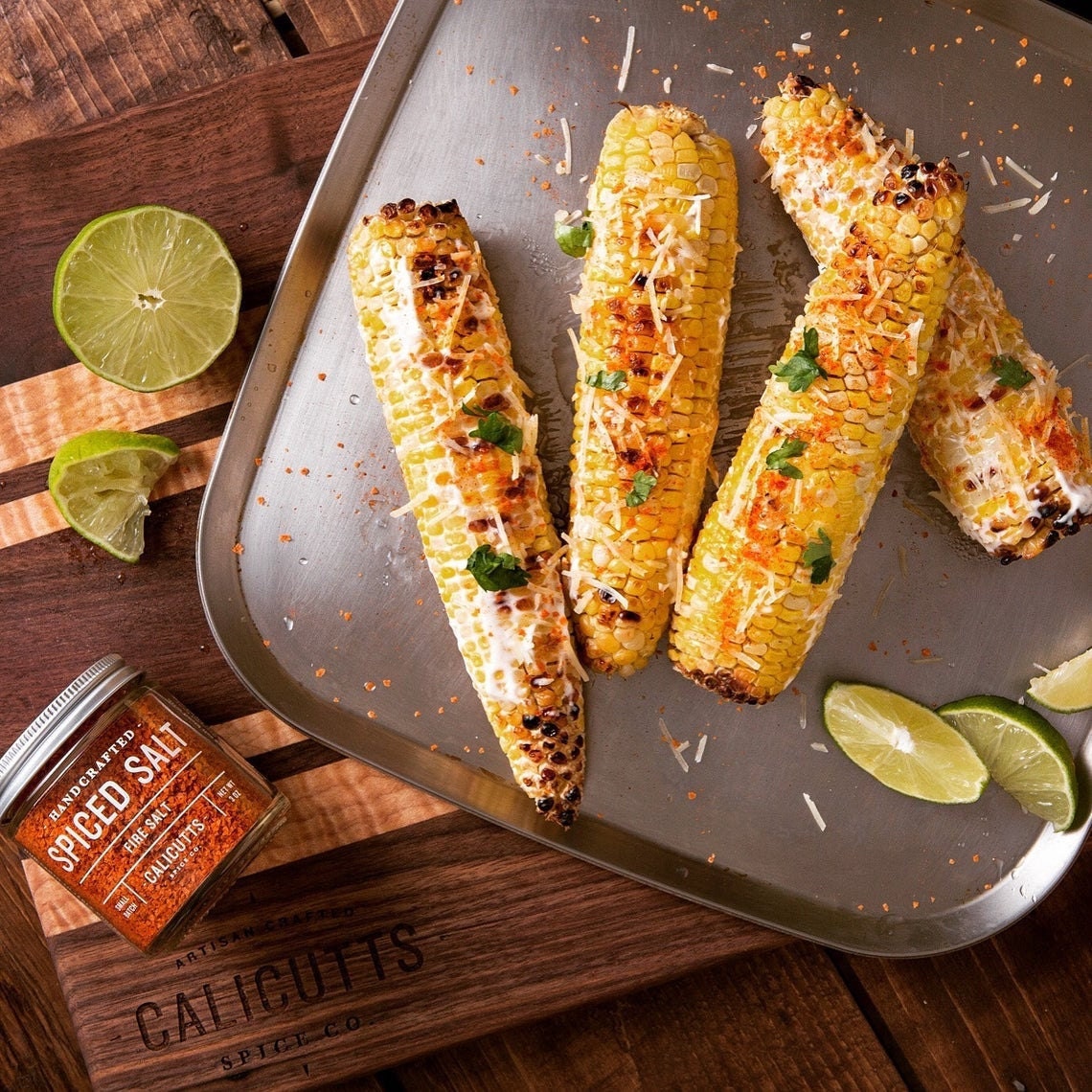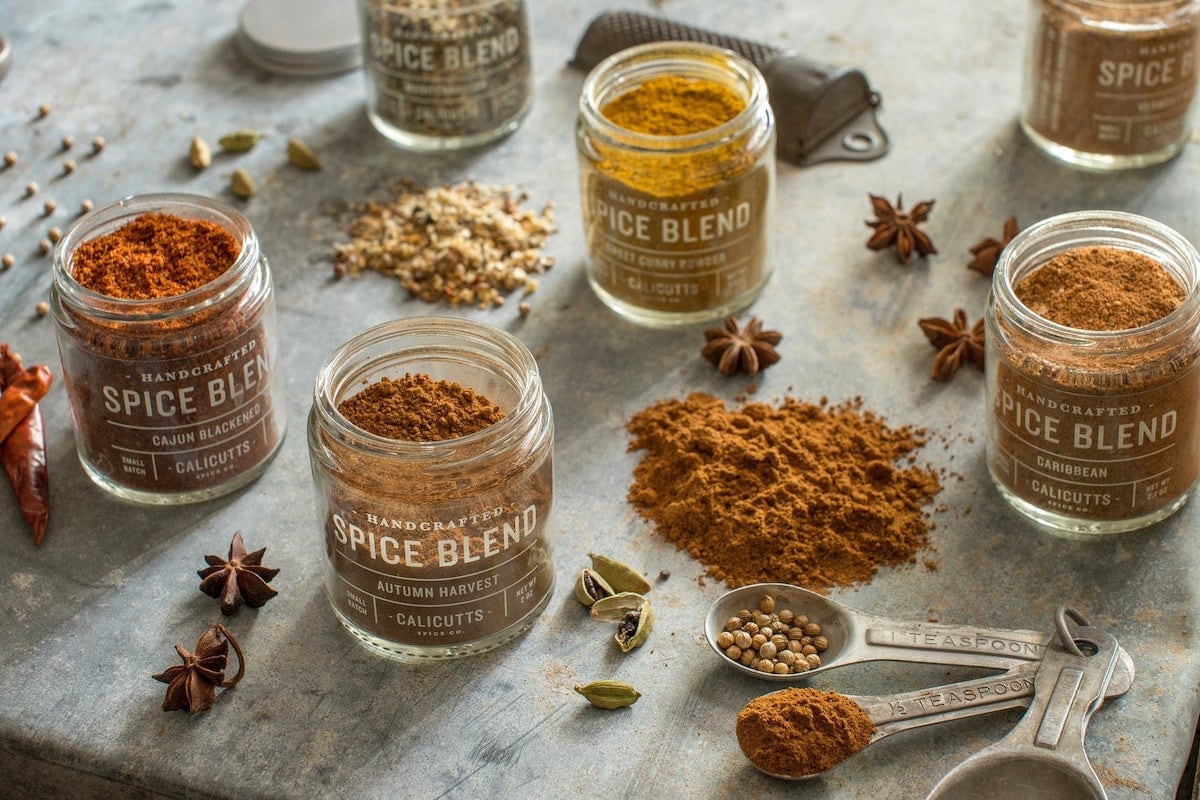 Do your spices have a shelf life?
Yes, they're good for over two years. The best time to use them, though, is within the first six months; that's when the flavors are the most potent. But if you store them at room temperature in a pantry—away from light and changes in humidity—they'll keep for a really long time.
Any cooking tips? Or recommendations for how to let these flavors shine?
Right on the label of every jar we have suggested uses, and we also offer recipes on our website. We design everything to be all-purpose, so our spices work on any type of vegetable, meat, grain, pasta, soup—and a lot of them are great for desserts, too. I use Ceylon cinnamon in curries, for example, but I also like to sprinkle it on top of vanilla ice cream.
We've had people use our spices in astonishing ways that I would never have dreamed of. We have a cardamom coffee blend that's literally coffee beans mixed with cardamom and some Middle Eastern spices. It's meant to be a dry rub for beef, for example, but one gentleman likes to add it to his chocolate cupcake batter. He also makes cream cheese frosting with our sweet curry powder.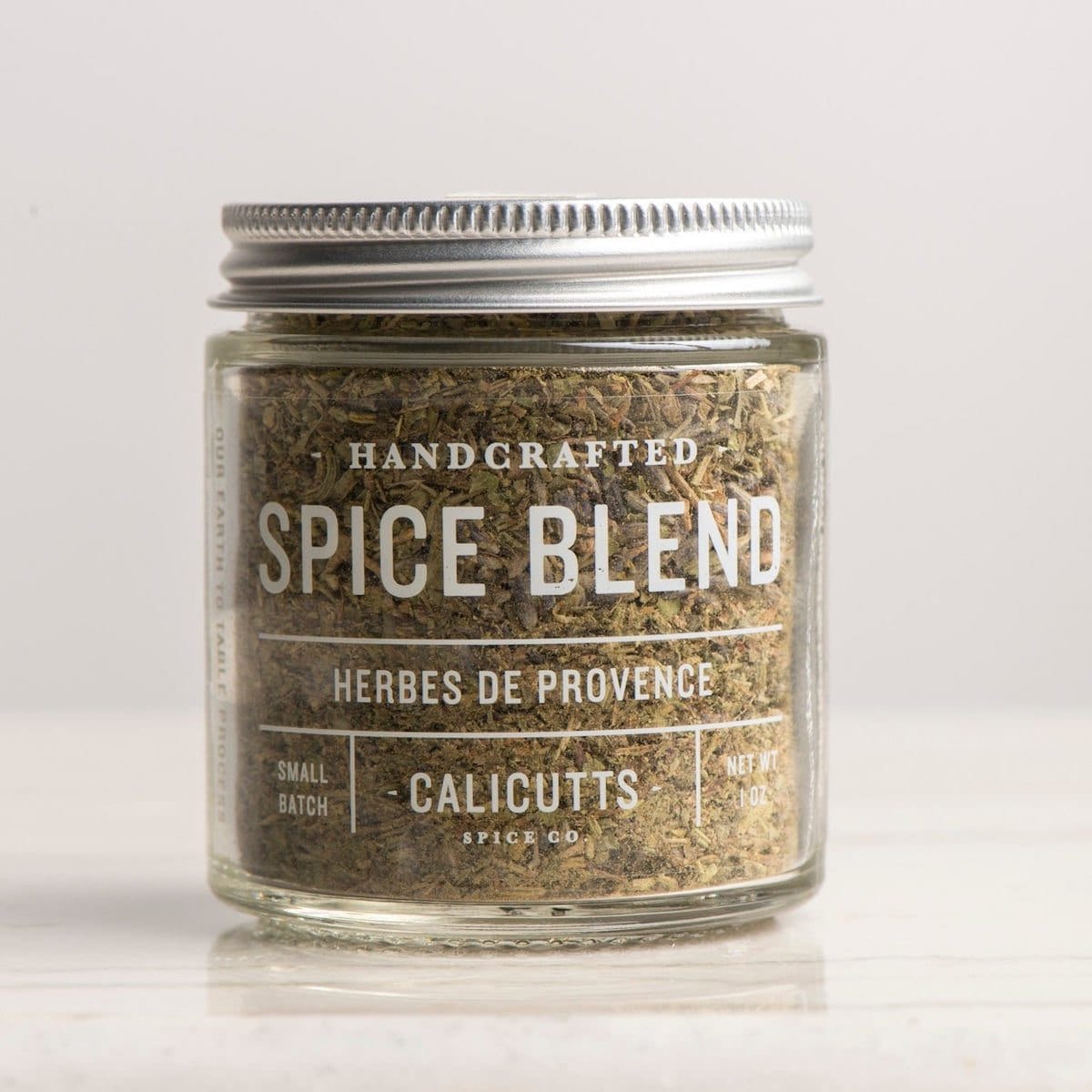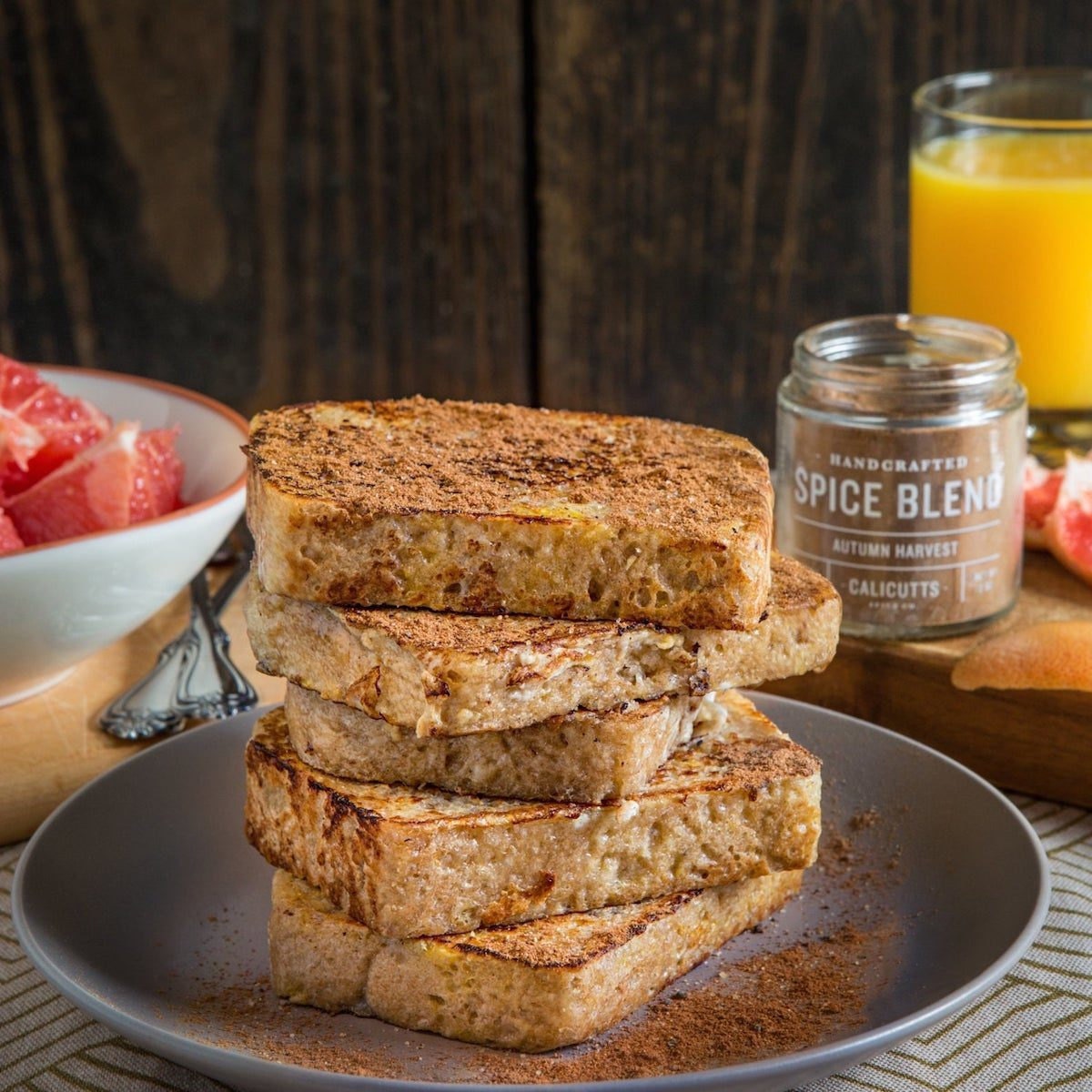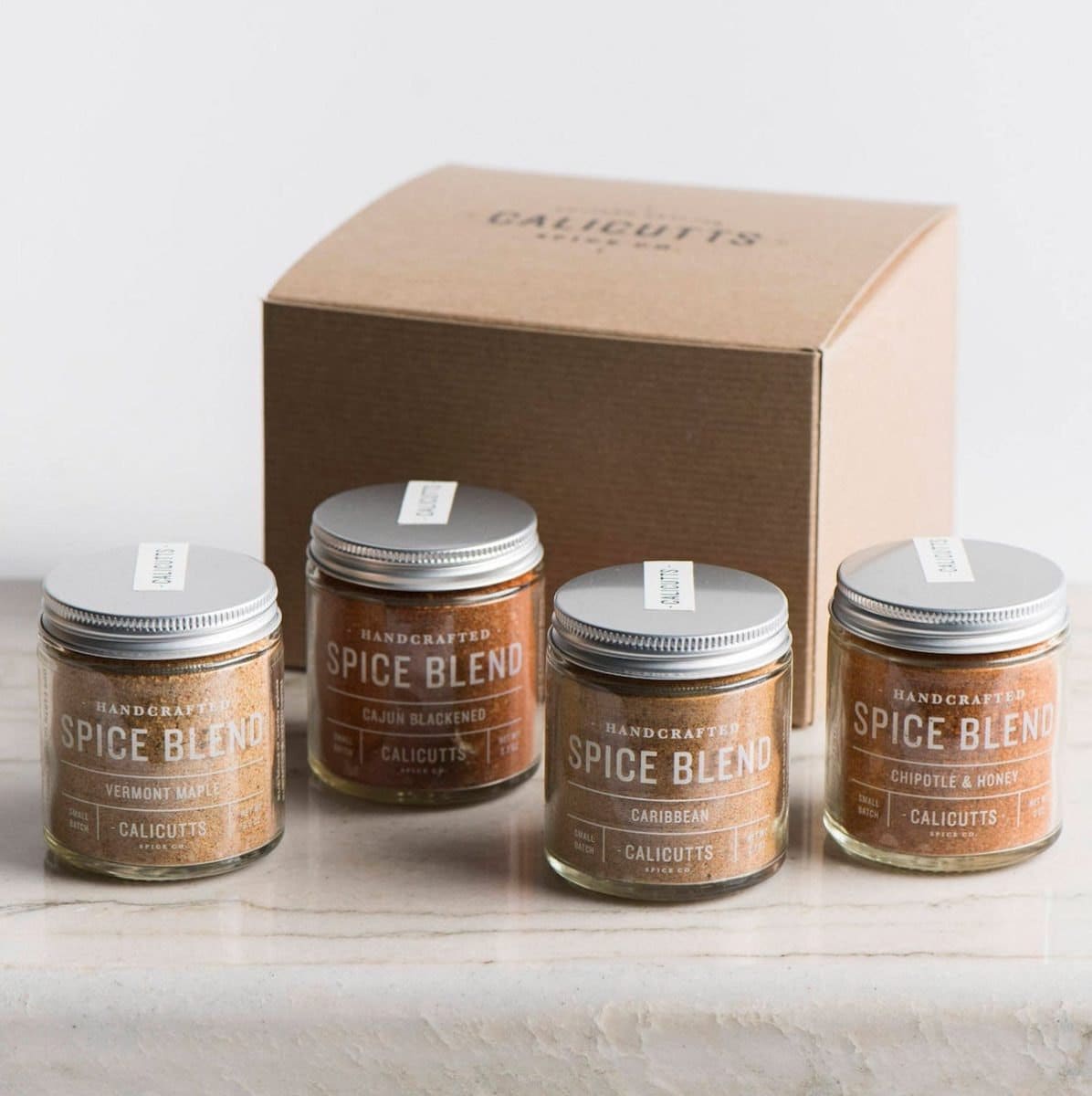 What makes your spices great Father's Day gifts—and gifts, in general?
They're incredibly unique and a good value. You get a lot of spice for the price. It's a bit of a male stereotype: grilling and Father's Day, but we have a great gift set called the Grill Master Box that's been one of our bestsellers. It includes our four most popular blends: Chipotle & Honey, Cajun Blackened, Vermont Maple, and Caribbean. It's very versatile.

And you know what? Our gift sets look ridiculously good. They come in a lovely gift box that's been personally hand-stamped by my mother-in-law. We're always excited to read our reviews and see how people are using our spices and know that a gift went over swimmingly and people loved it. That's the icing on the cake for us.
Follow Calicutts Spice Co. on Instagram and Facebook.
Photographs courtesy of Calicutts Spice Co.