Meet the modern fiber art that adds instant depth, texture, and coziness to any room.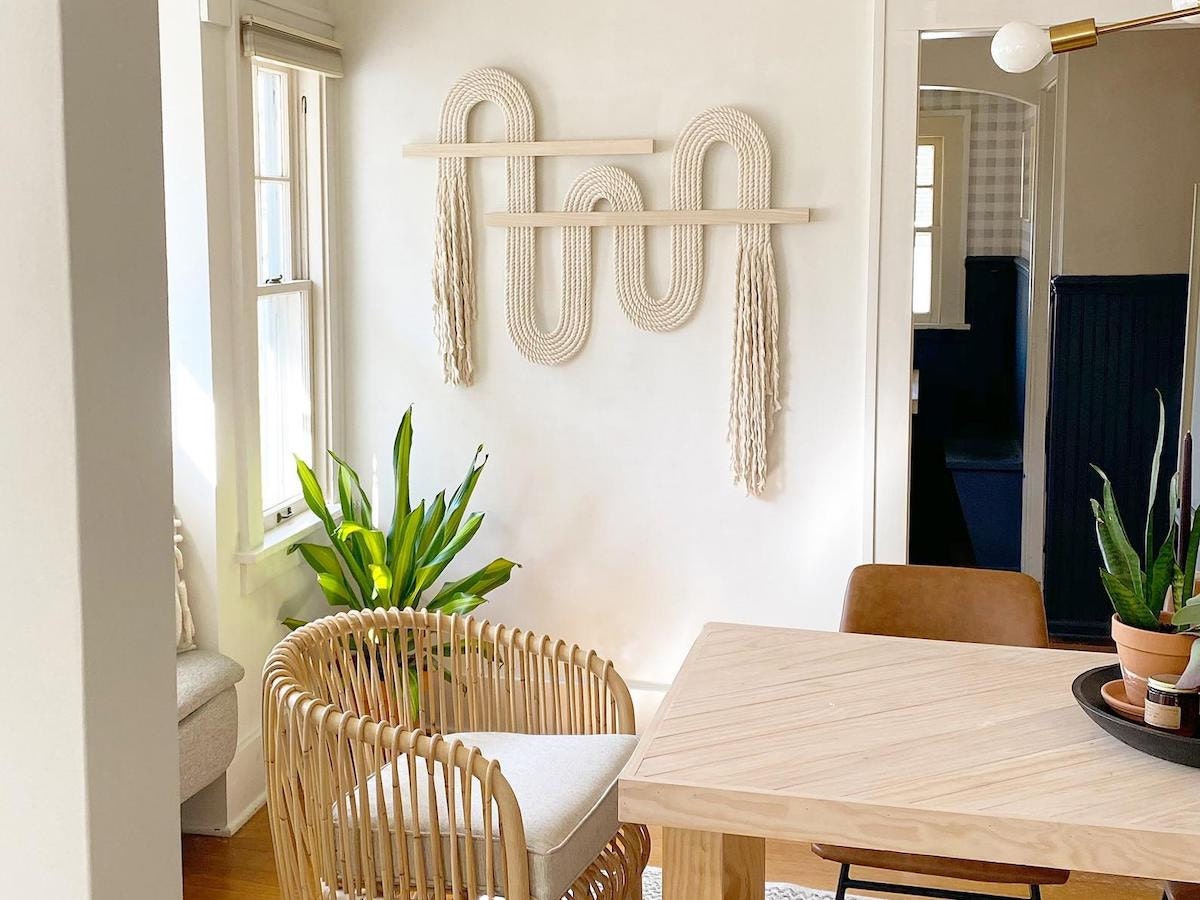 In our Featured Shop series, we shine a light on a standout shop from Etsy's talented seller community, offering readers a behind-the-scenes look at their process and story.
Styling an empty wall can be somewhat akin to facing a blank canvas: It's full of possibility, but where to begin? That's where Candice Luter | Art + Home comes in. Armed with a knack for knotting chunky strands of rope and an eye for interior design, shop owner Candice and her talented team of seven work closely with customers to create one-of-a-kind, macrame-inspired art installations that can be tailor-made to suit your space and taste.
Explore the Candice Luter | Art + Home collection
Whether it's a soft cascade of fiber to hang above the crib in the nursery, a fringed half-moon mirror for the bedroom, or custom dip-dyed wall-hanging for your entryway, Candice's invitingly tactile creations instantly fill a room with loads of cozy texture and dimension. "It makes me feel like I'm like a part of a customer's story when they bring my pieces into these special places in their homes," says the Iowa-based maker. "I even have people who come back and add to their collection in different areas." Melding the homey warmth of textiles with the clean lines of mid-century modern design, these oversized conversation pieces are bound to transform any space into a comfortable, inviting haven for all seasons.
Read on to learn more about picking pieces that perfectly suit your space, then shop the Candice Luter | Art + Home collection.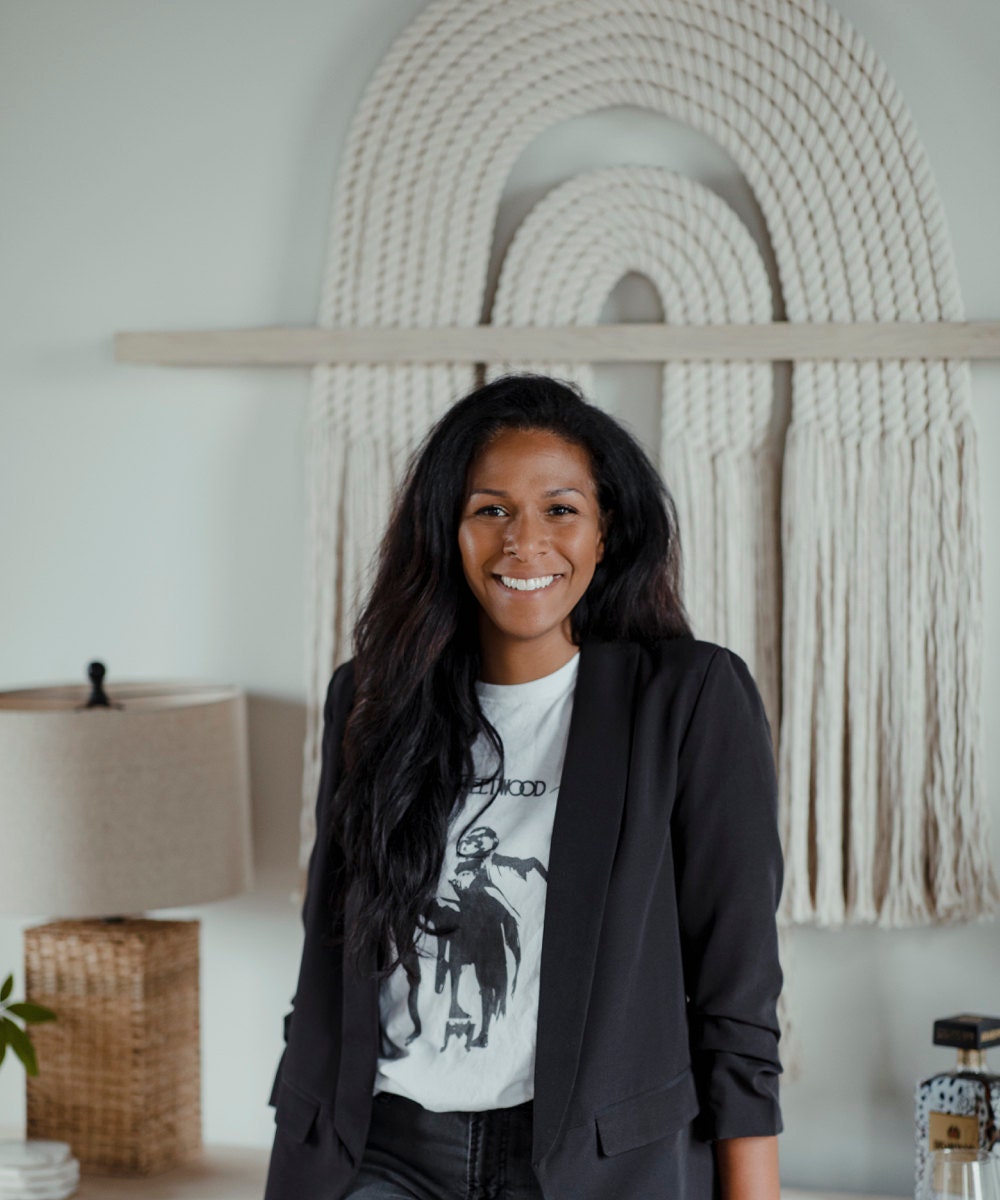 What led you to open your shop? 
Growing up, "entrepreneur" wasn't a word that anyone was using—instead it was "starving artist." So I decided to try the whole corporate America thing, but I always felt this pull to go back to my creative side. At first I got into power tools and making furniture by upcycling fabrics scraps. Then, when I bought a house for my daughter and I—our first house—I started making art for the walls because I couldn't find what I was looking for. This led to me opening my Etsy shop in early 2019, and since then it's grown into a full-time job for me and the team of creative women who work for me. As I like to tell them, "It's never too late to start over."
How did you develop your aesthetic?
I looked at macrame with admiration and thought, "Maybe I can manipulate rope to make the shapes that I want." I don't have a specific design style, though I definitely have some Japanese and Scandinavian influences, and I love boho, modern, and mid-century decor. Sometimes I'm drawn to a shape or I'm addressing a specific need. I try to keep a lot of different styles, prices, and sizes in mind while I'm designing new pieces.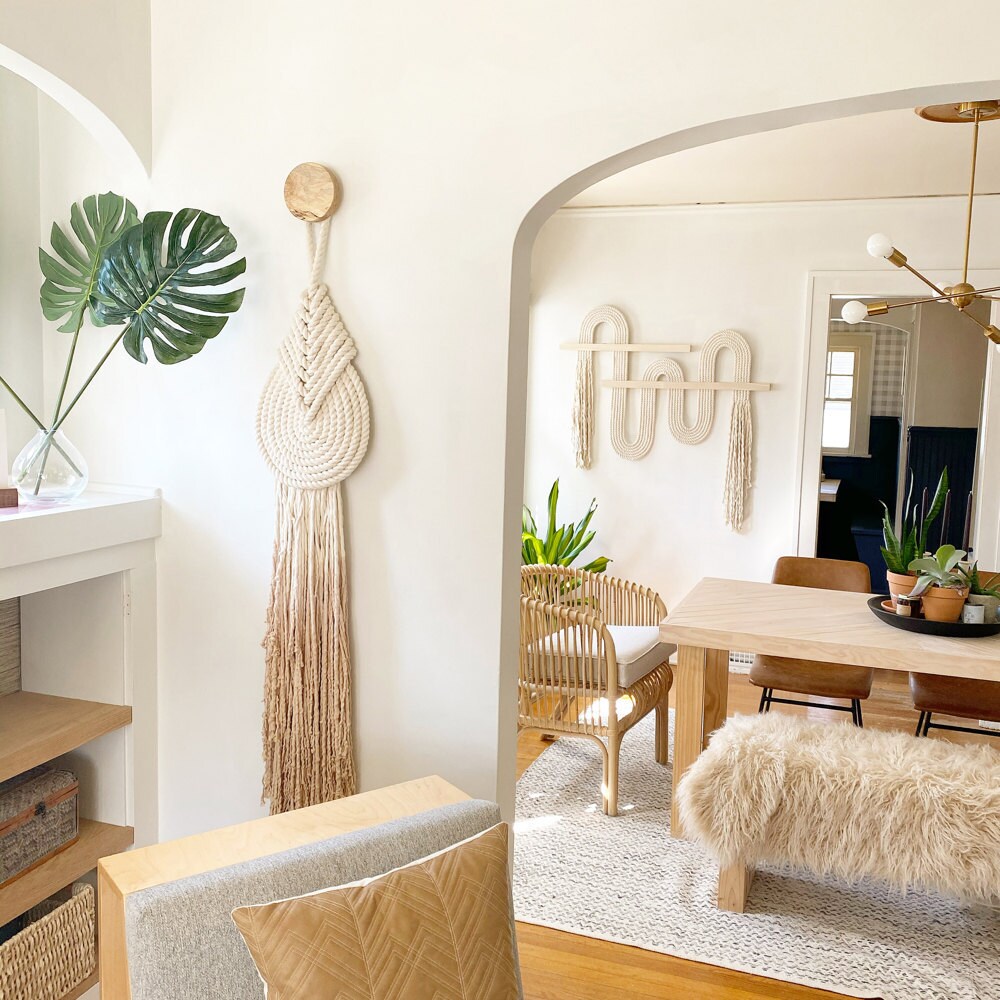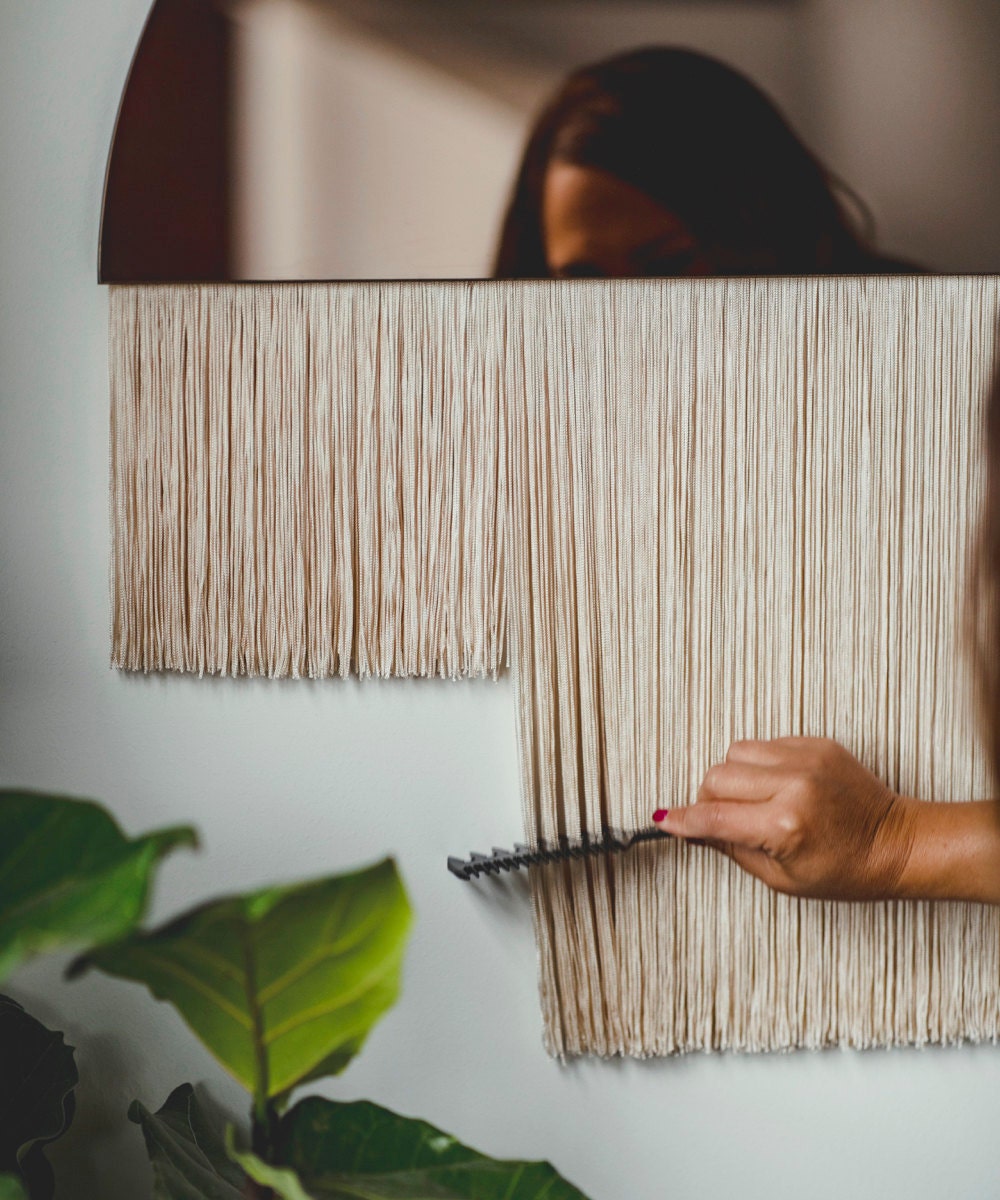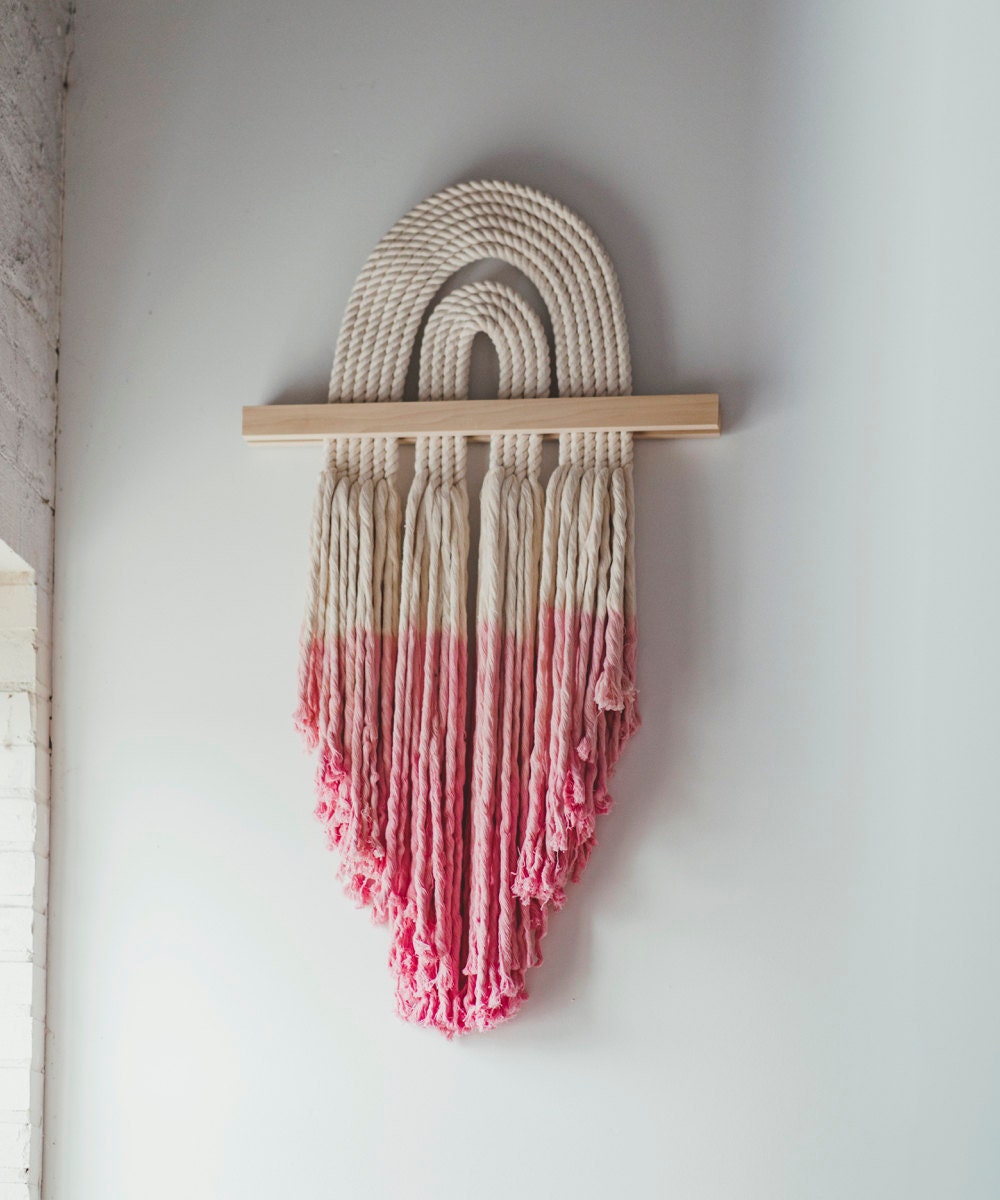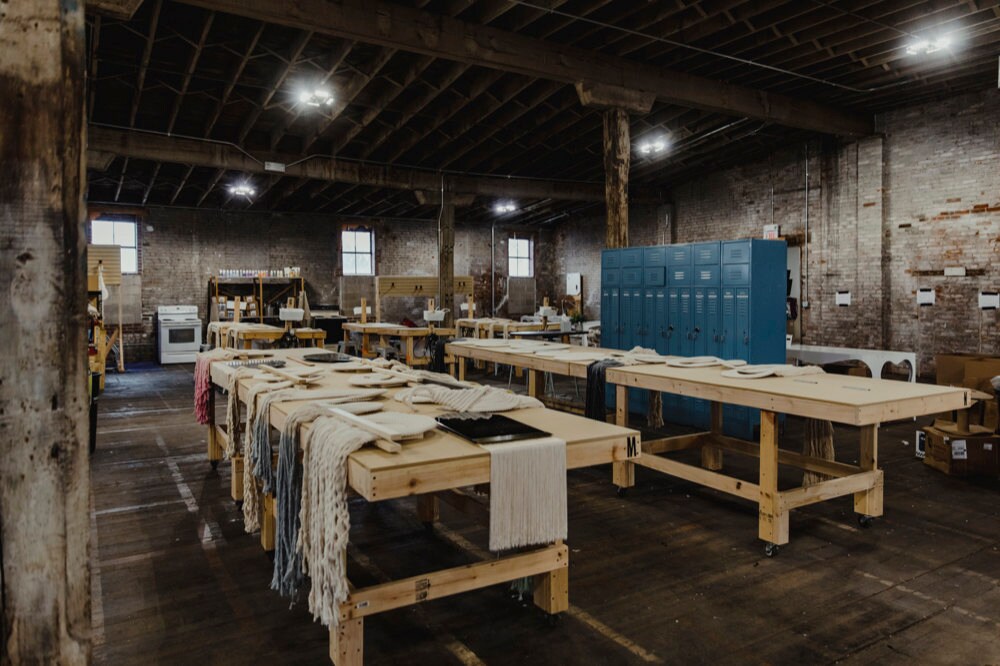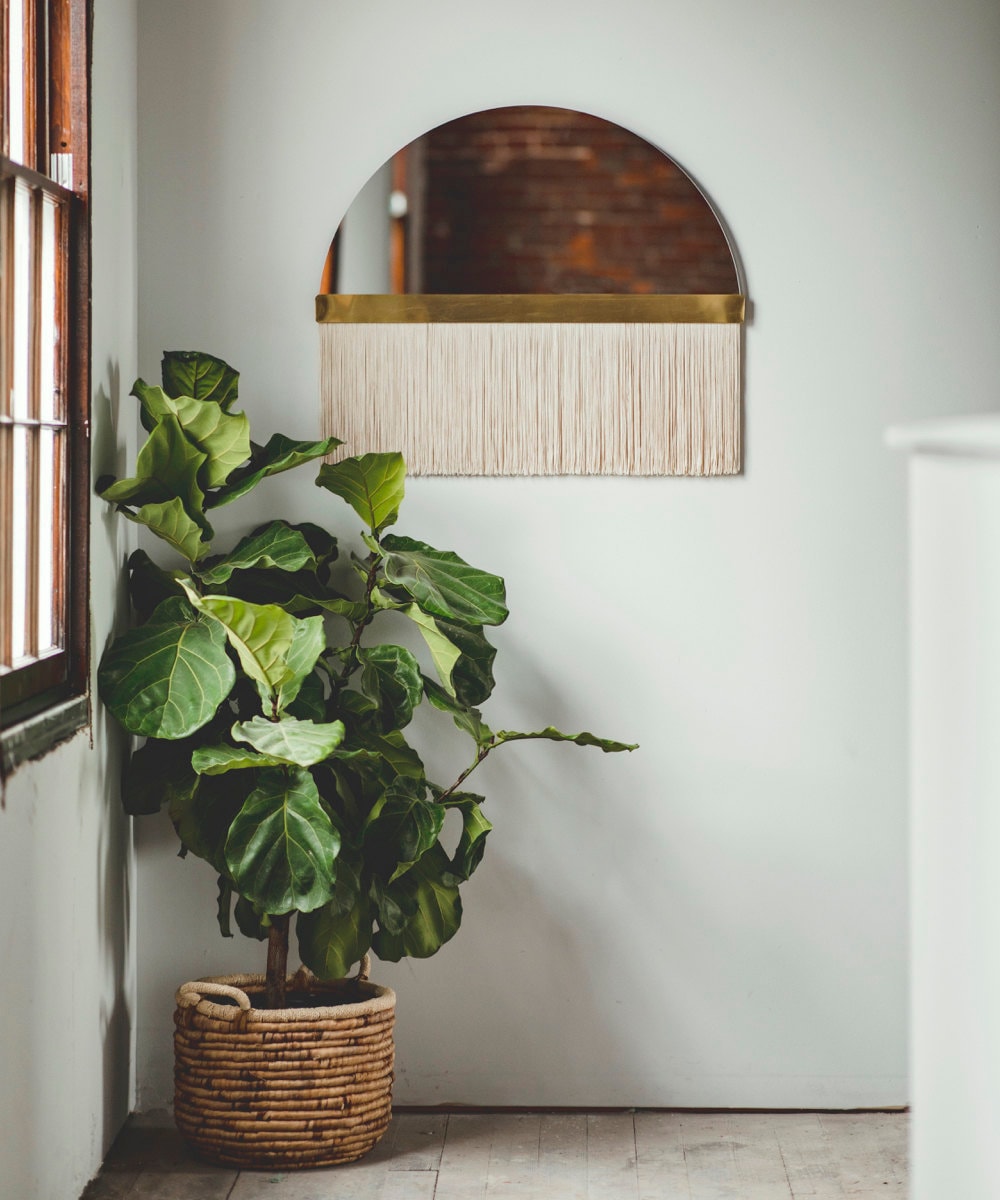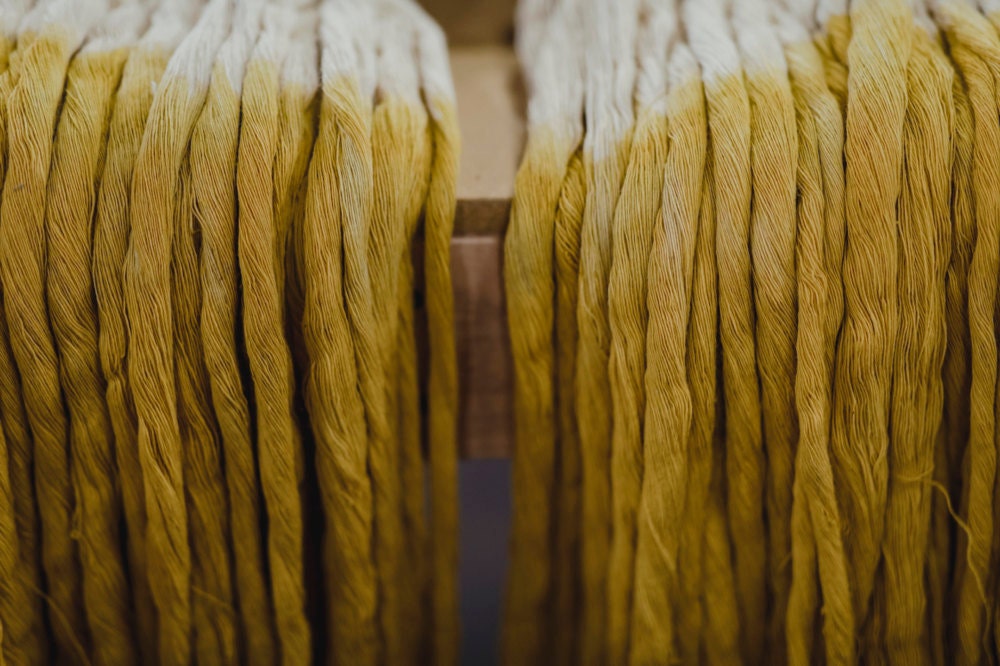 What customizations do you offer?
My clients have the option to customize the size, the dip-dye color of the fringe, and the stain on the wood bar. It gives them the ability to make a piece their own and design something that's right for them and their home—something that they can't find in other stores. I also say, feel free to trim the fringe!
How do customers know which of your pieces will look best in their  homes?
I do a lot of consulting on Etsy. I'm here to be a sounding board. People send me pictures of their bedrooms and ask, "What size do you think would work well here? What colors do you think would work best?" That's why I love Etsy, because you can get a one-on-one experience. I help customers scale pieces properly to their walls and tell them why I would suggest it that way. I think it gives them a lot more confidence in the purchase.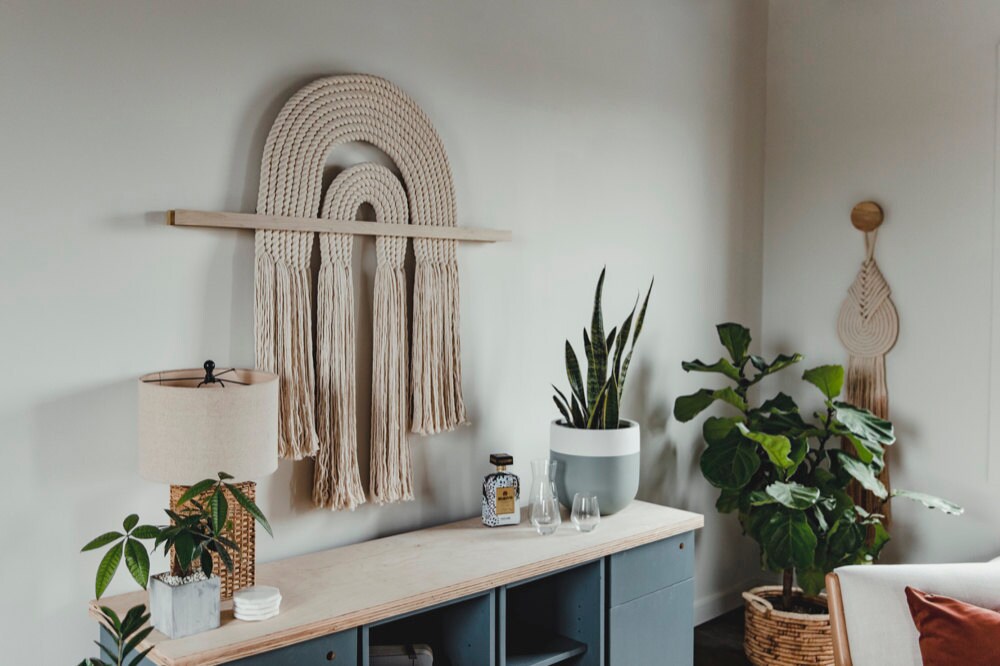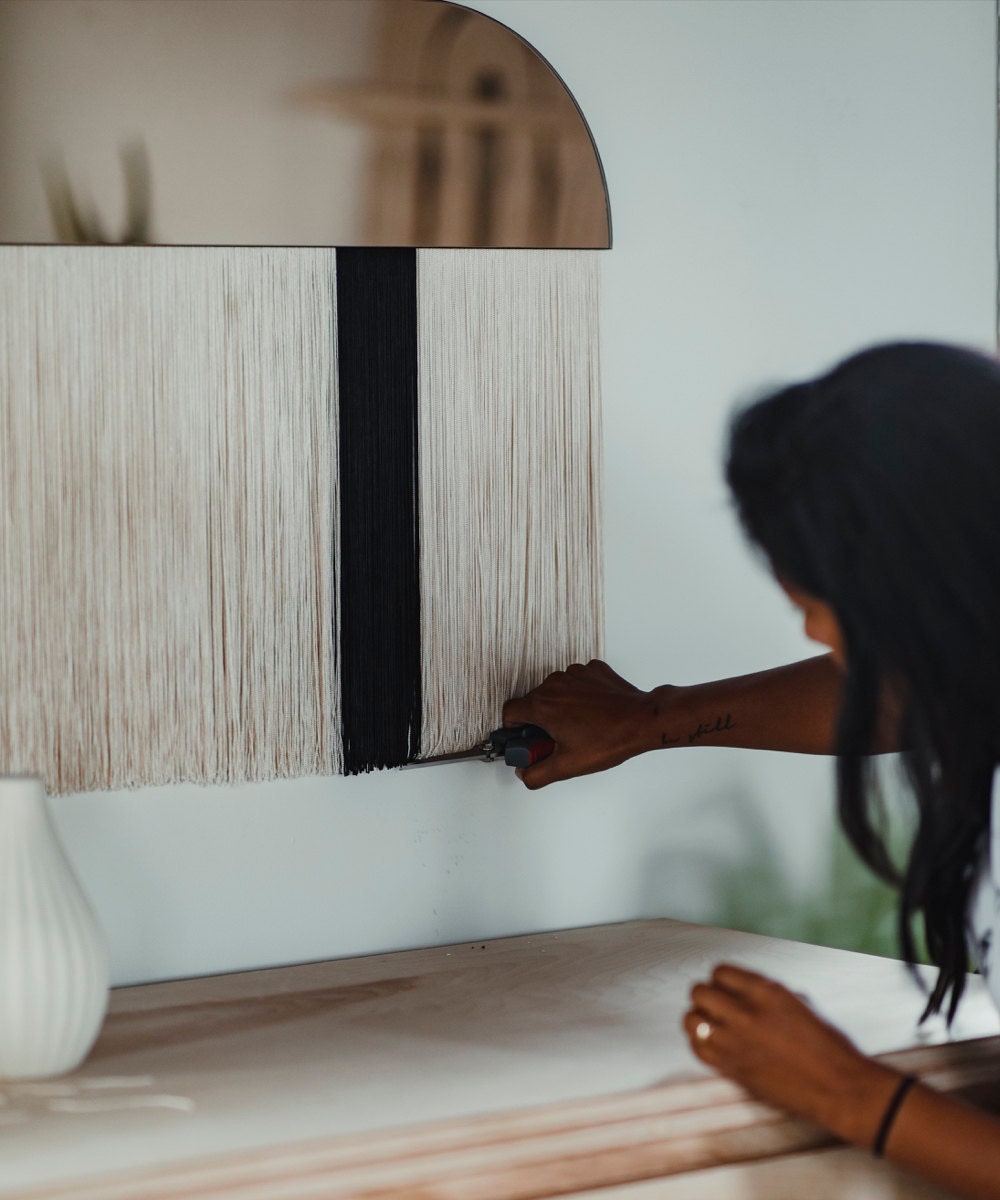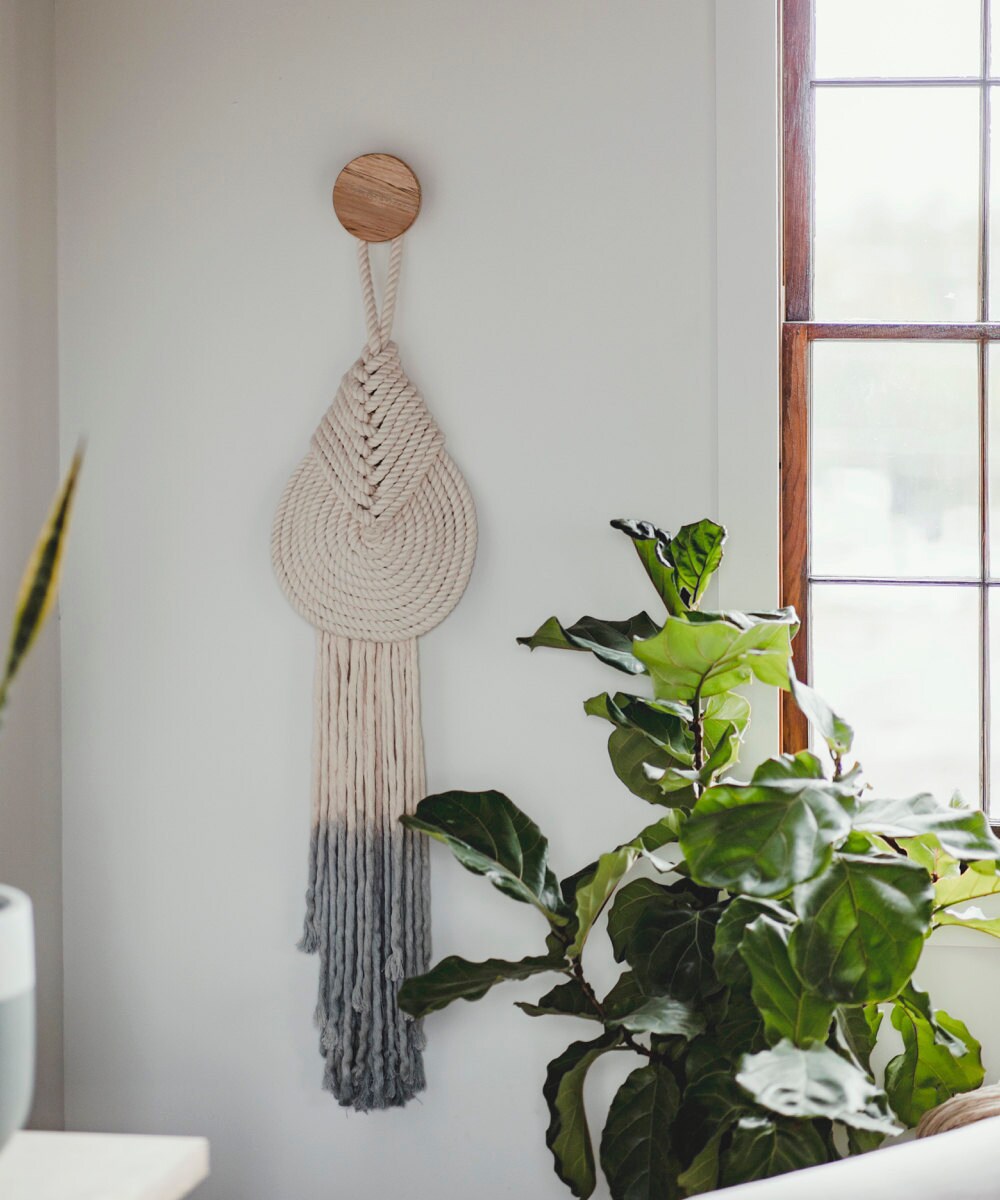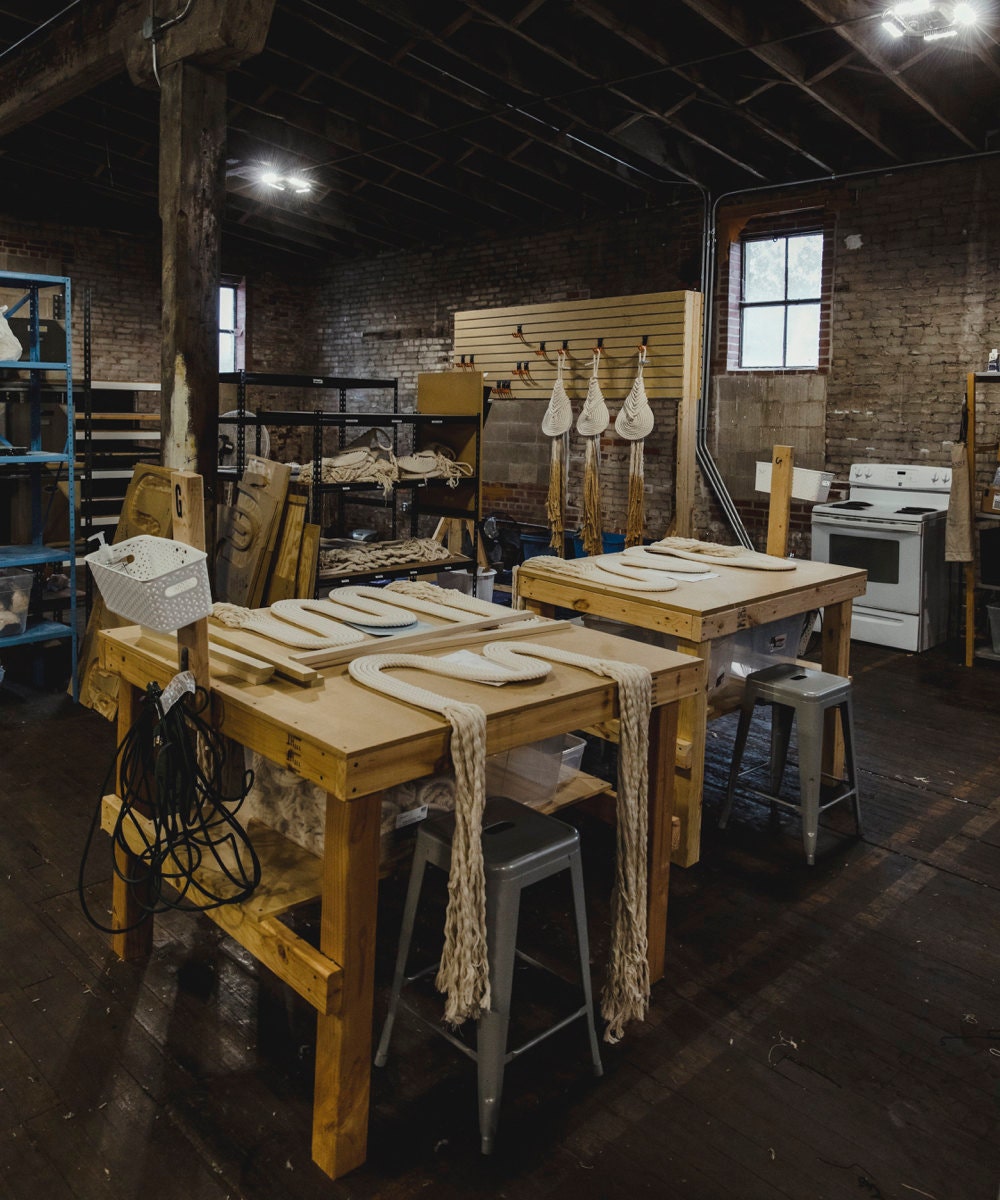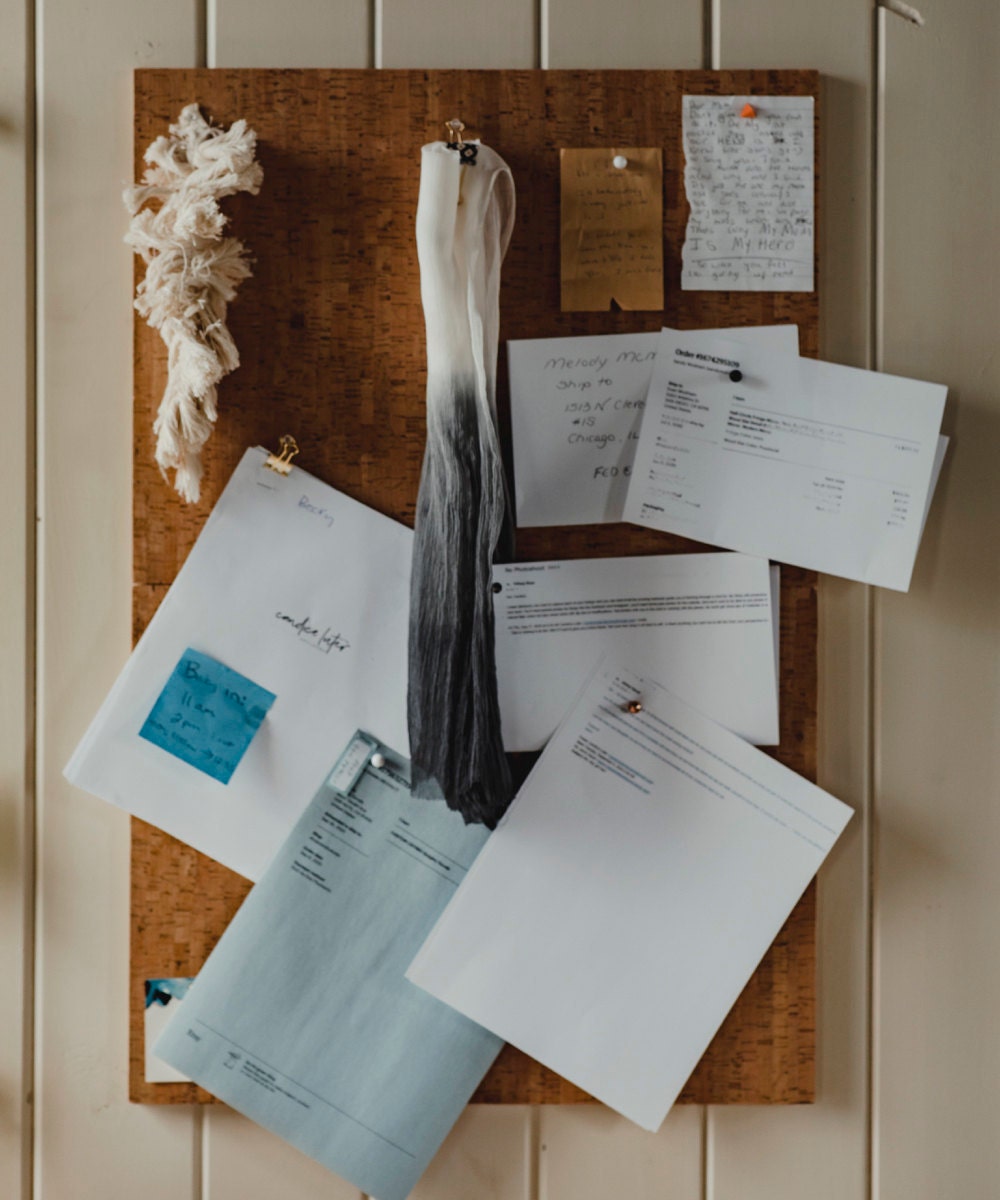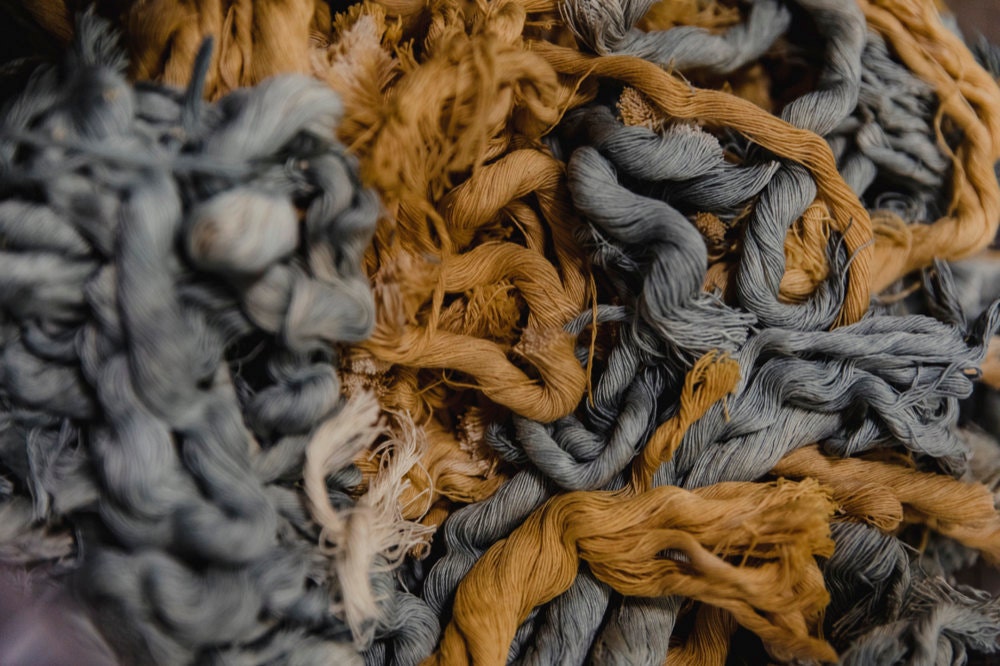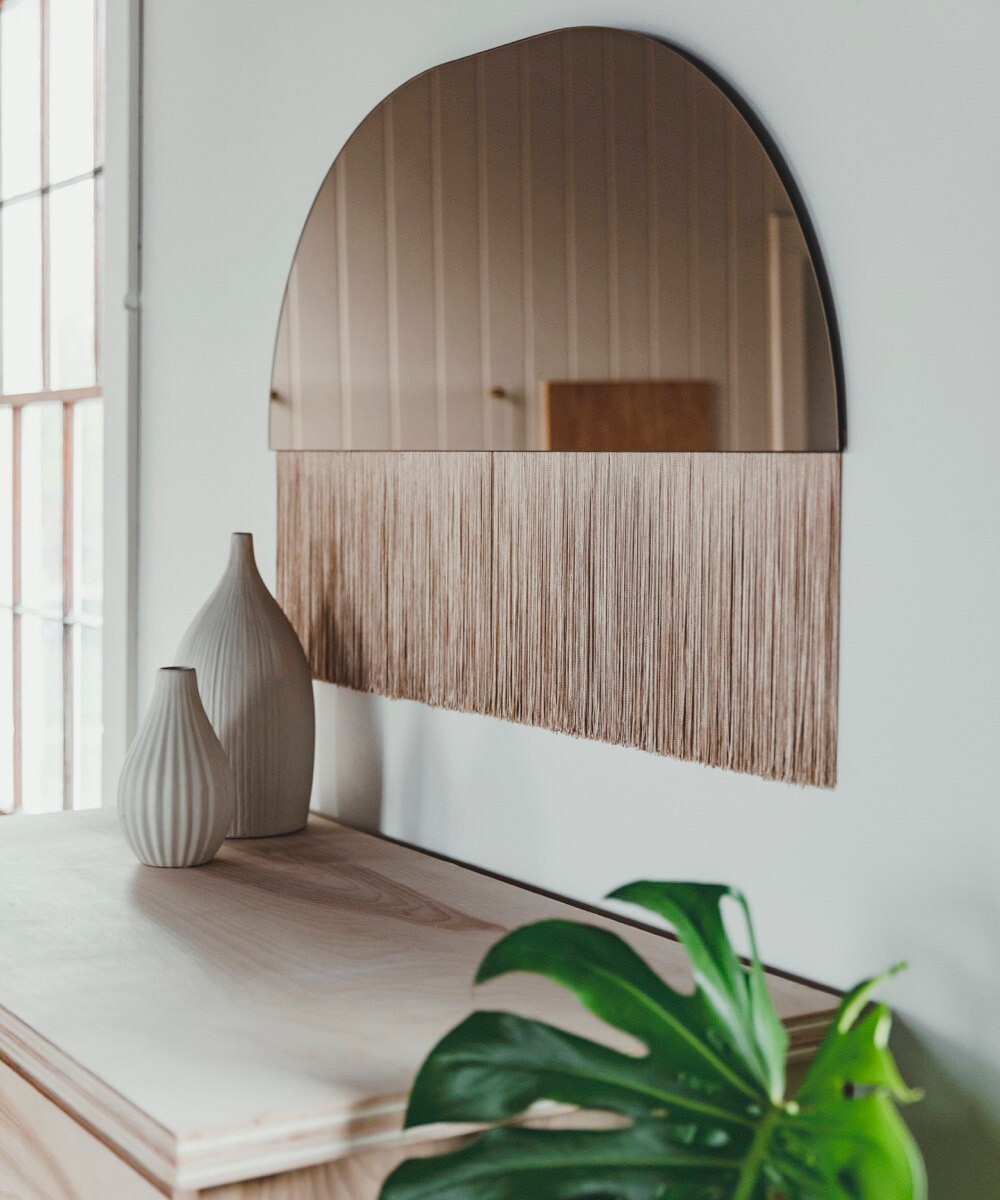 Any bestsellers? 
Lyric has been really popular because it's just the right dimensions for those small walls that aren't very wide. The Aria with the single-tiered fringe has been a crowd-pleaser, too. We also recently launched a piece for the the JoJo Fletcher x Etsy collection, and that's been crazy popular.
I imagine working with rope might be heavy. How much do your pieces weigh?
Overall, our pieces are pretty light, which is kind of surprising. Even some of the bigger pieces which look like they would be super heavy actually aren't. For example, Vibrato is only about 15 pounds—but it looks substantial, which I think is why people love it.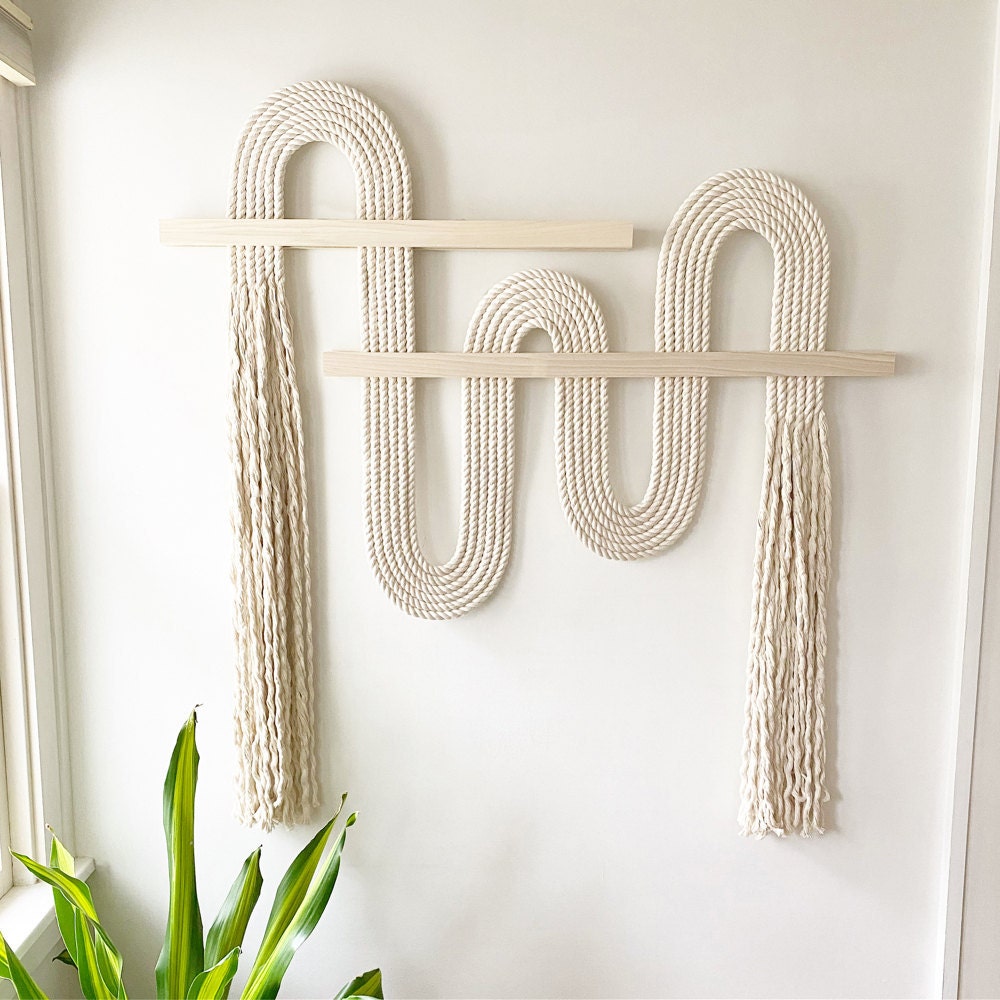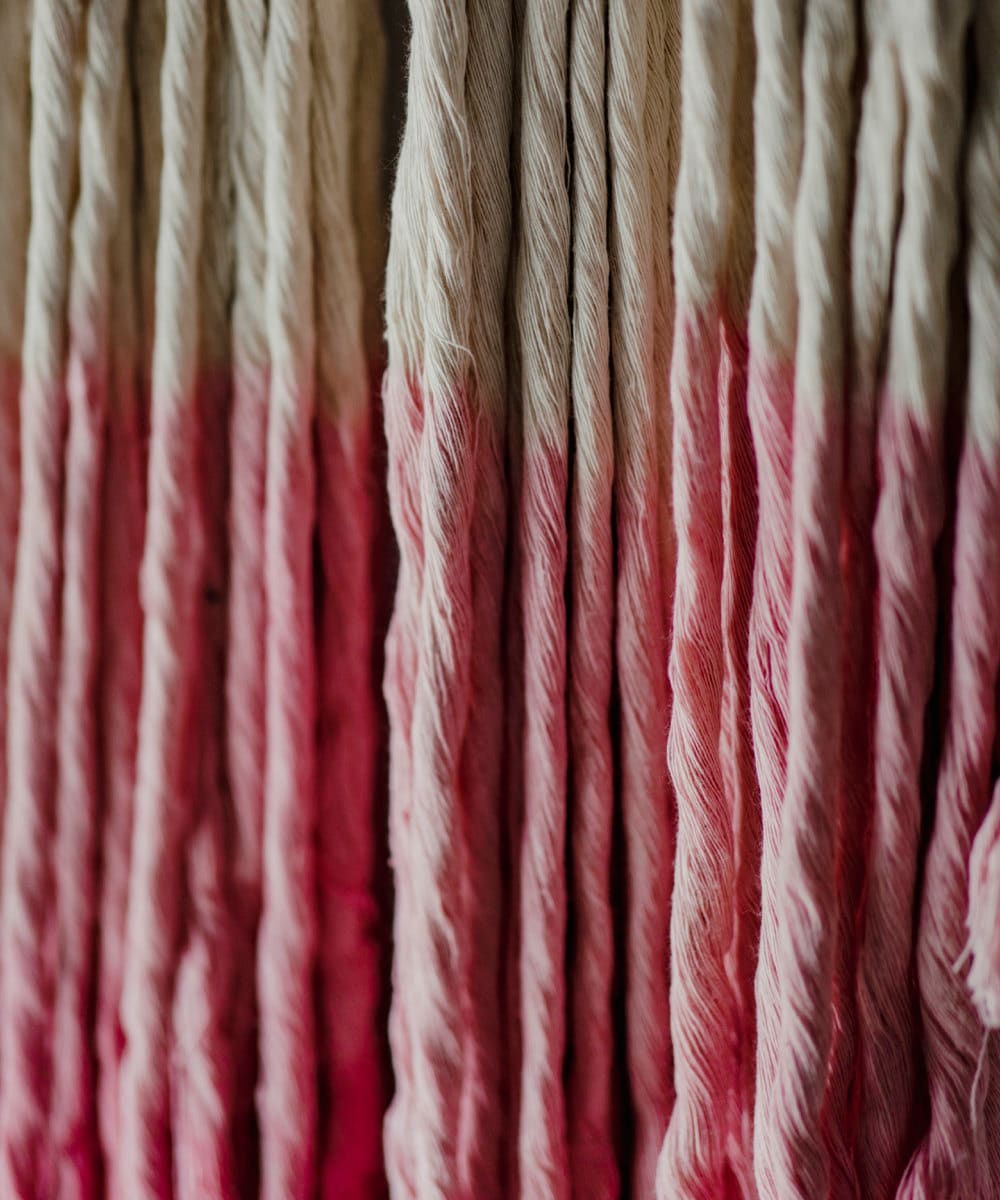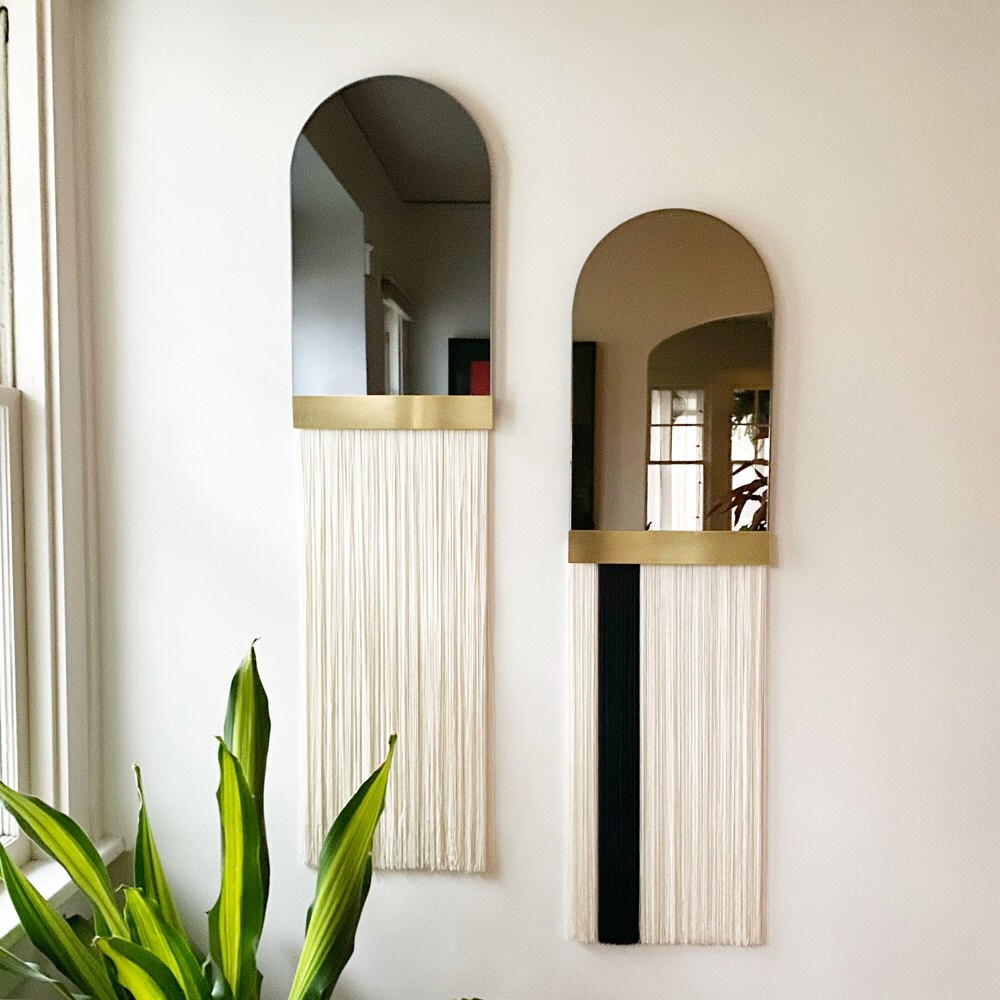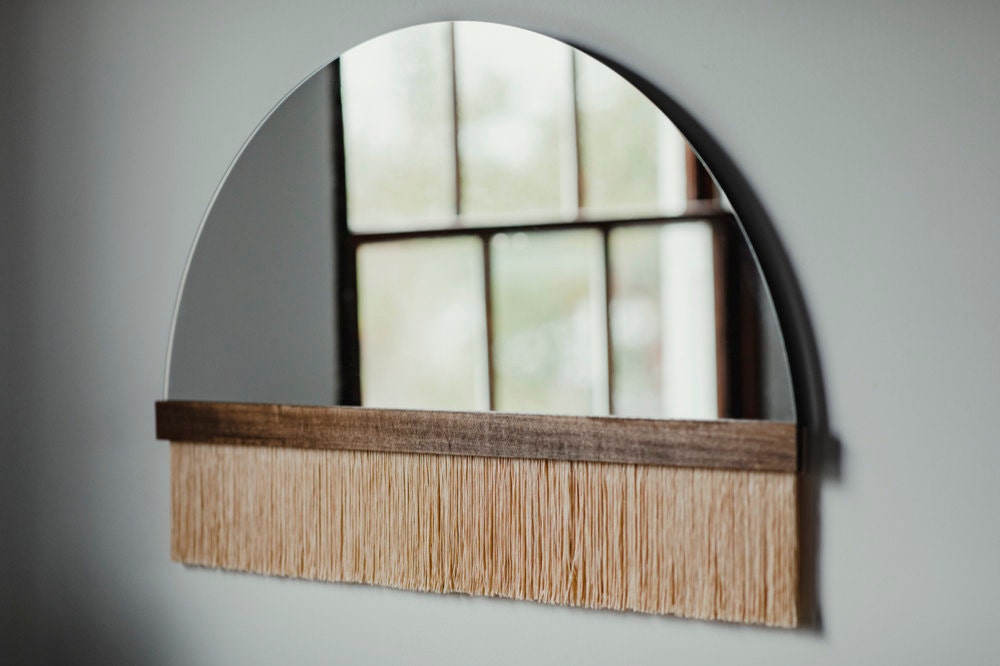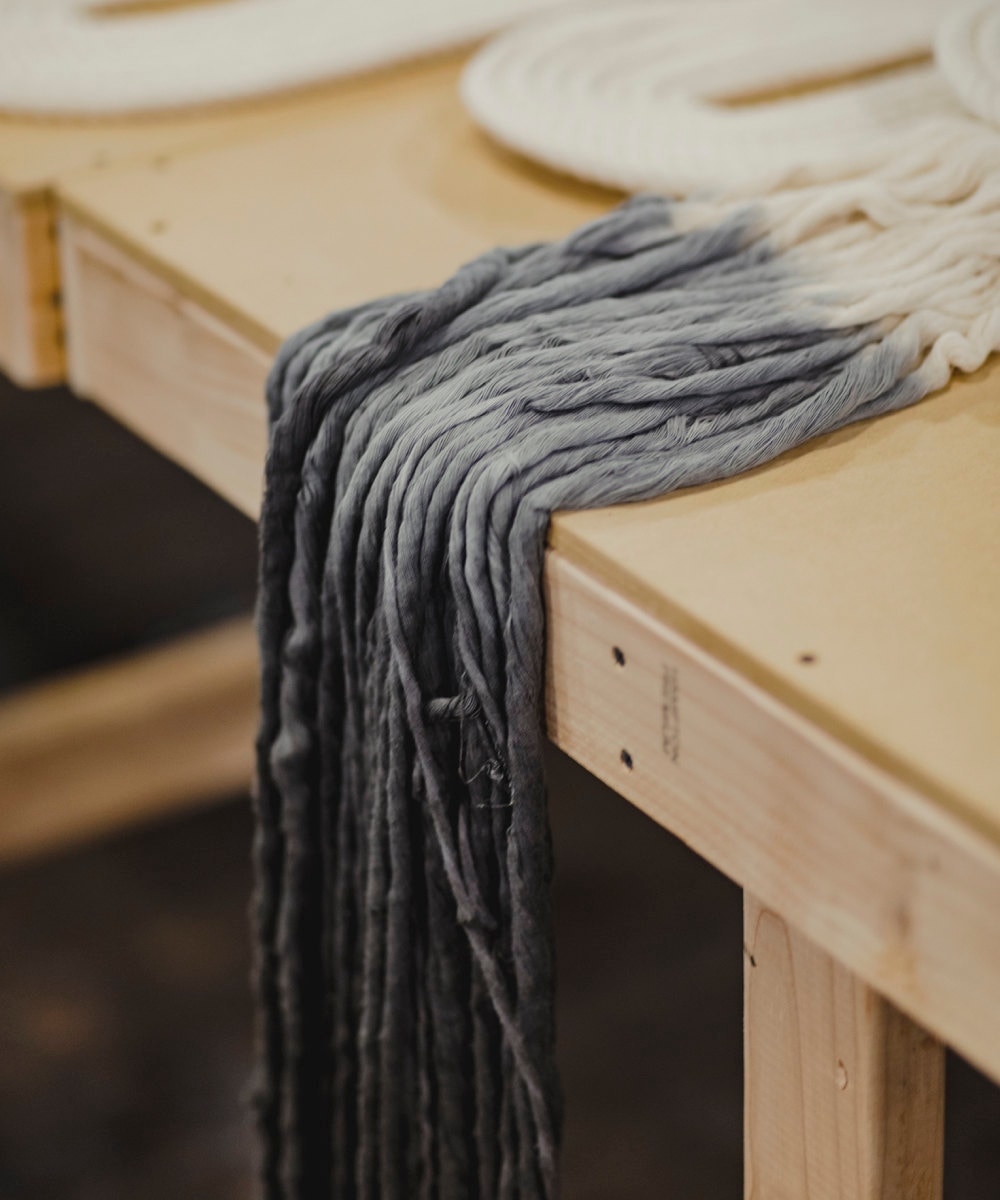 Who are your customers supporting when they buy something from your shop? 
Candice Luter | Art + Home is a community of seven women who have come together for a common purpose: to support one another and to support the brand itself. Yes, my name is on the business, but it's a "we" thing—a team thing. We're in this together. We brainstorm together and everyone's involved in the process: One woman schedules our production flow, another dyes, another pulls all the orders and makes sure all the details are right before each piece ships. Some women have cross-trained in different parts of our production, and others stick to certain wheelhouses based on their skills. The business is totally changing based upon our accumulation of talents and ideas. 
How has your shop evolved over the last year or so?
I went into this business thinking of myself: What do I want to do? What designs do I want to put out? Then one day, I looked at all these women in our workshop talking and laughing with each other and I said to myself, "This is what it's about." It's not just about the rope art. It's about creating this community of women that's growing, thriving, connecting, and learning from one another across backgrounds, age, culture, and color differences.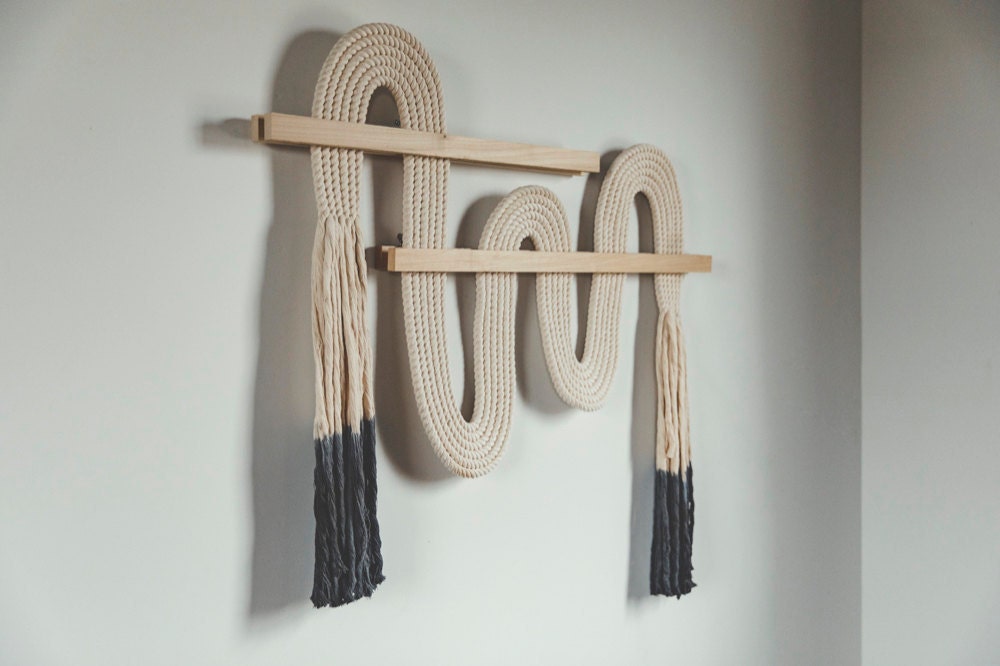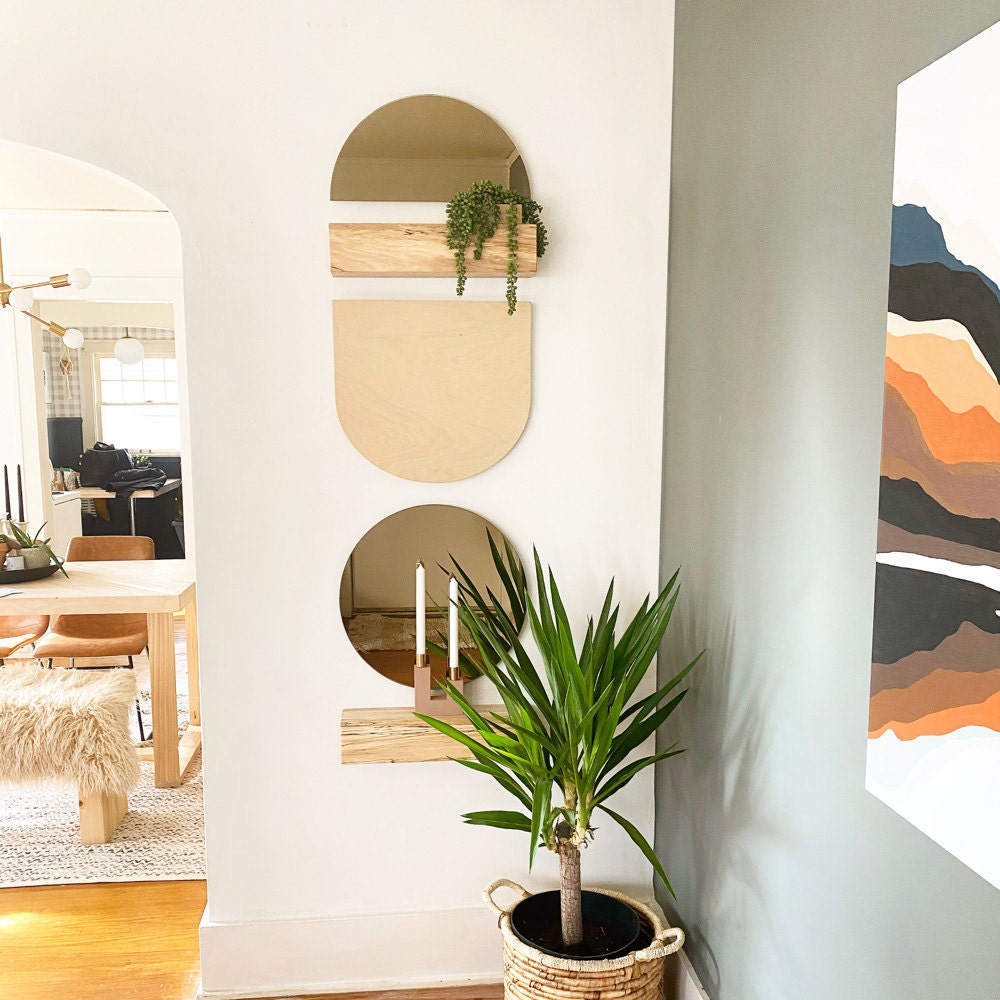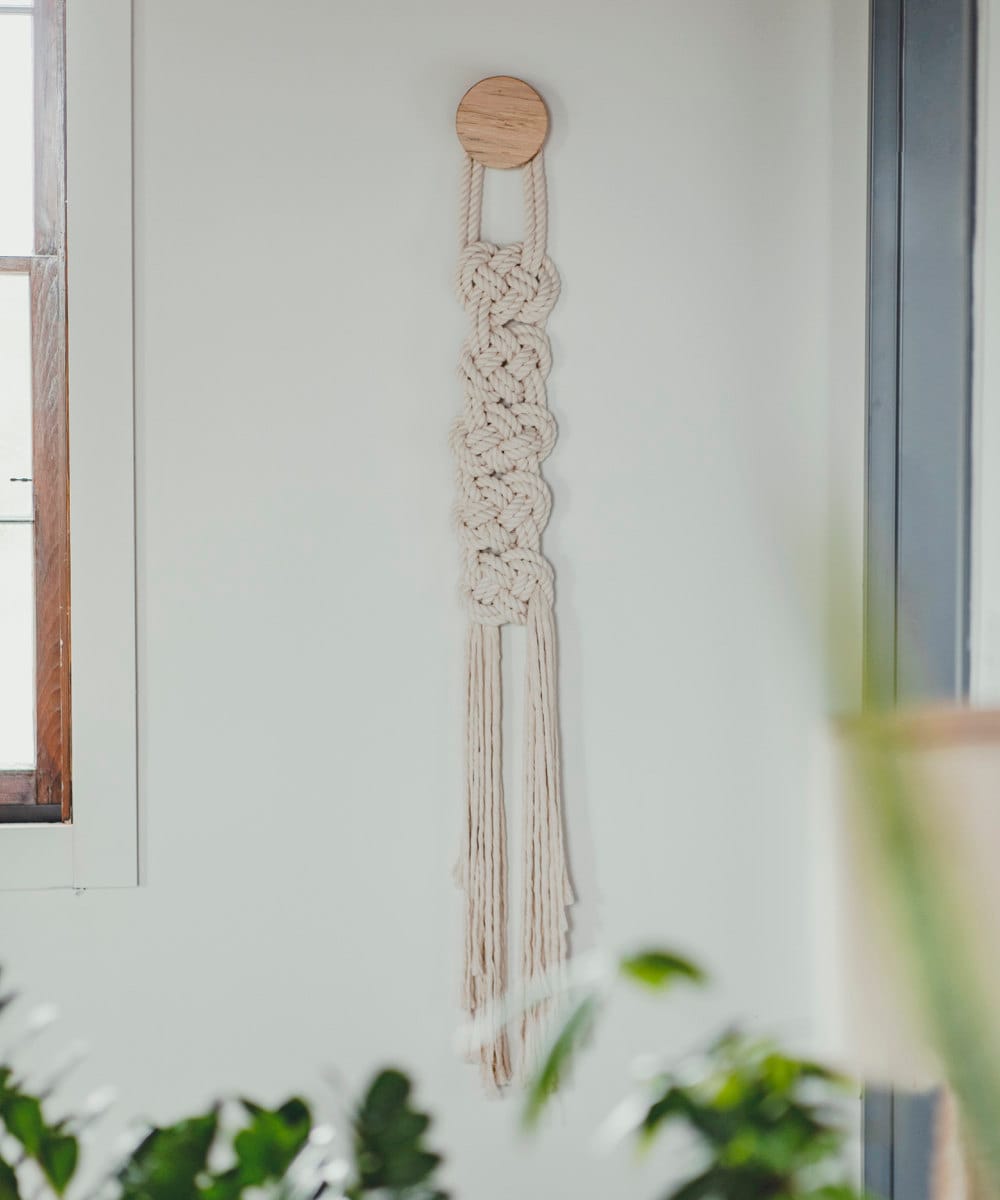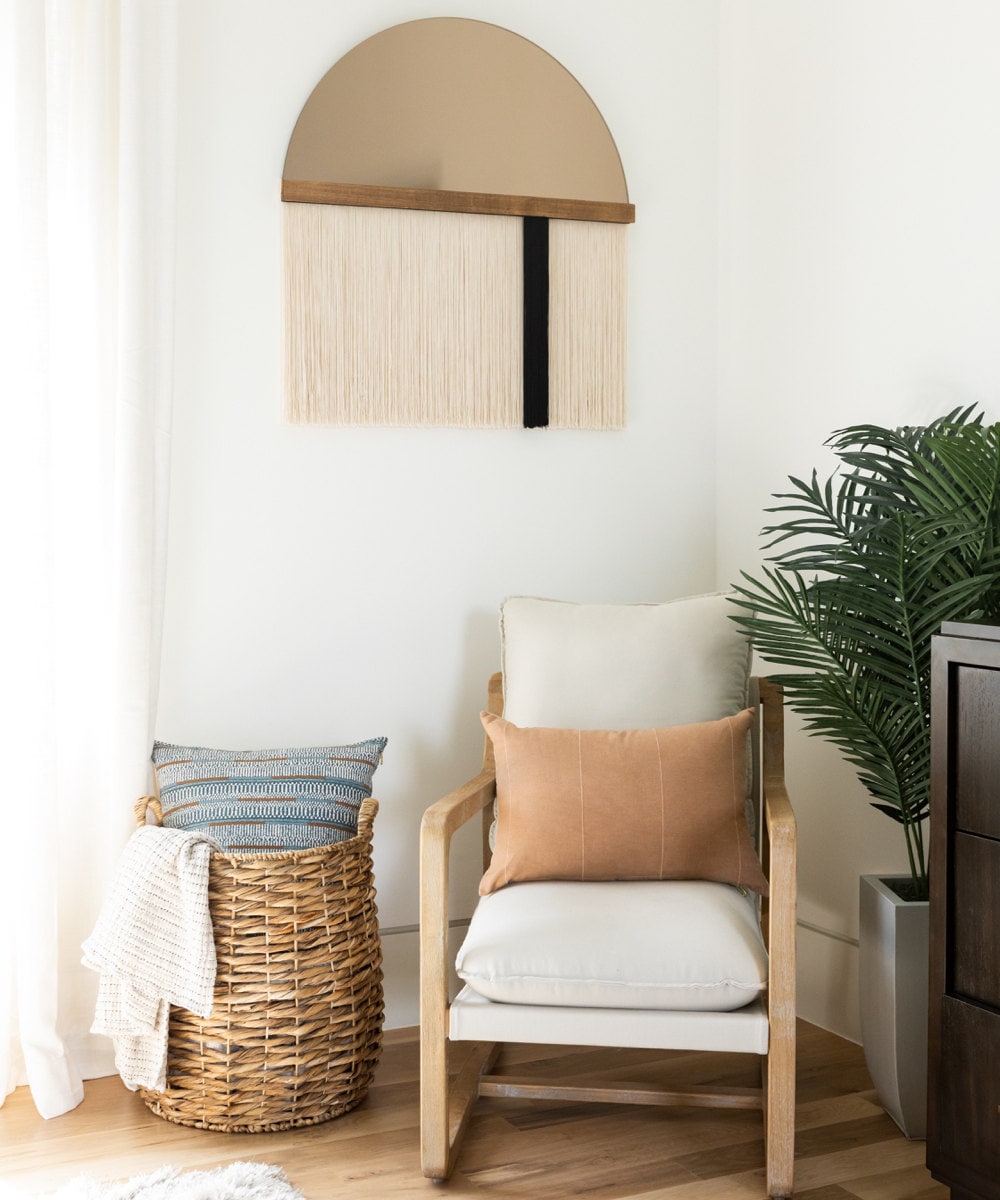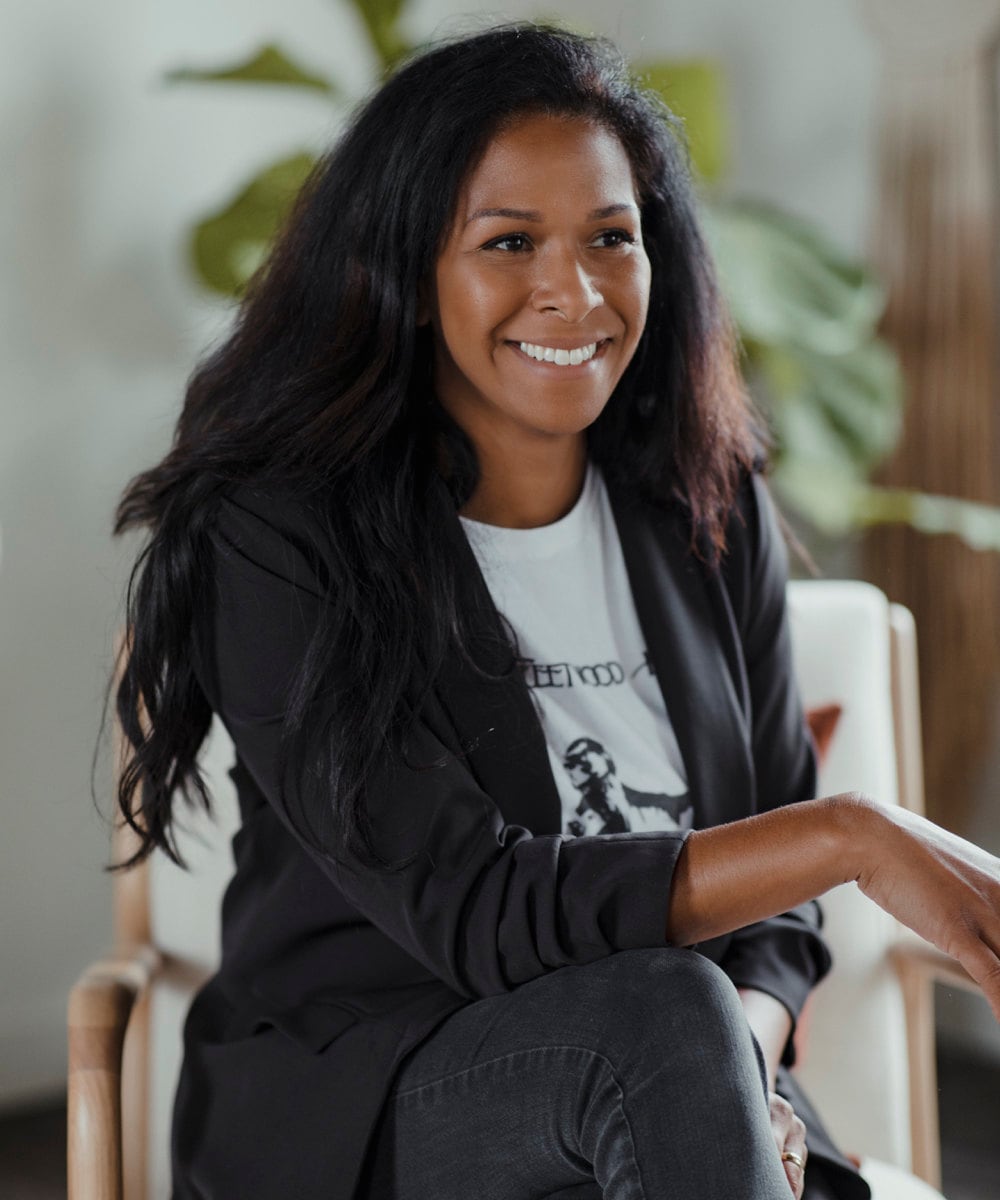 What's your vision for the future of Candice Luter | Art + Home?
We have so many cool ideas, I'm just trying to find the time to do them. In terms of product, I'd love to get back into furniture. I have a couple of cool coffee table ideas that I'm drawing up some prototypes for. 
I also want it to be a safe place for the women who work with me to be able to grow their own creative endeavors. I would love to see each of them use their skill sets to create different branches of their designs under the Candice Luter brand. I think it's important to invest back into this network of women and see what we can really do together. 
Follow Candice Luter | Art + Home on Instagram.
Photography by Dan Rolling unless otherwise noted