by Valerie Rains
Personal details are at the heart of everything wedding designer and 3-D paper artist Michelle Kann creates.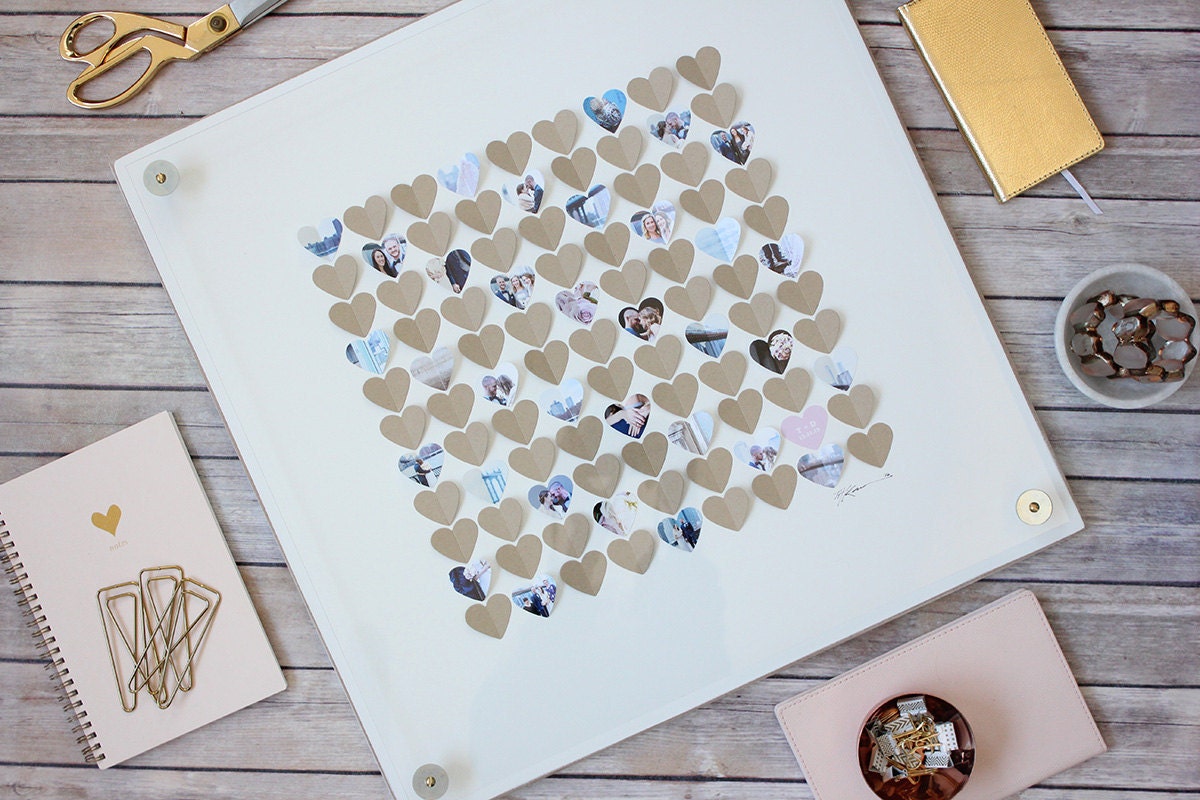 Anyone who's held onto a paper menu from a memorable dinner or a twine-tied stack of faded love letters knows that ephemeral objects can be some of the most powerful — and personal — treasures. These are the types of keepsakes that inspire the wedding guest books and sentimental wall art in Michelle Kann's line, 
Celadon Home
. A lifelong maker, Michelle sold animal figurines made from shells as a child before graduating to jewelry making (and craft fairs). Later, after studying interior design and studio art and establishing her own design firm, Celadon Studio, Michelle heeded the call to return to her hands-on roots, launching a line of decoupaged wood frames that gradually evolved into a standalone business specializing in
gifts and keepsakes for weddings, anniversaries, and more
. From framed wedding guest book alternatives featuring die-cut snapshots of family and friends to three-dimensional paper sculptures fashioned an original letter or beloved song lyrics, personal details are at the heart of everything Michelle creates.
Read on to learn how Michelle launched her business and finds connection with her customers.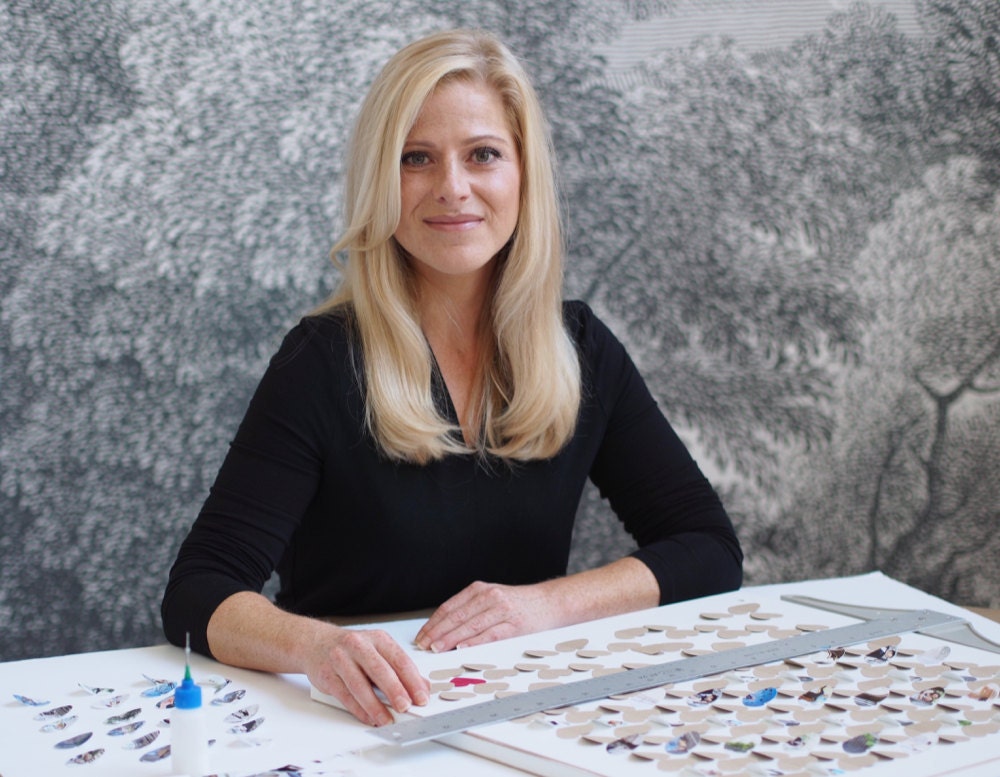 What are some similarities between the kind of work you did as an interior designer and your work for Celadon Home?
I love hearing people's stories, and I think that with interior design, a lot of people have the idea that it's about pulling fabrics and paint swatches and it's just this fun thing — but it was so much more. It was really about connecting with people. They're inviting you into their personal space, you're hearing about these very personal things going on their lives, and you form these bonds. I loved that, and with
this art
, I am touching back on that again.
Are there are customer stories that were especially memorable for you?
I often have people who will buy a guest book for their wedding, and then I'll hear from them a couple years later when they want a piece for a baby's nursery. That's exciting. And I had one gal in the very beginning who wrote me a very, very long message saying how much she admired my work, and that she'd been putting aside money to buy one of my pieces even though she'd had a very rough first year of marriage and money was so tight. I worked with her to create a custom piece, and she was just in awe when she received it — she told me she walked all around the house looking for a special place to hang it. She was actually in tears, it meant so much to her to receive one of my pieces and to be celebrating their first year of marriage — that even though it was such a trying time for them, they'd made it through.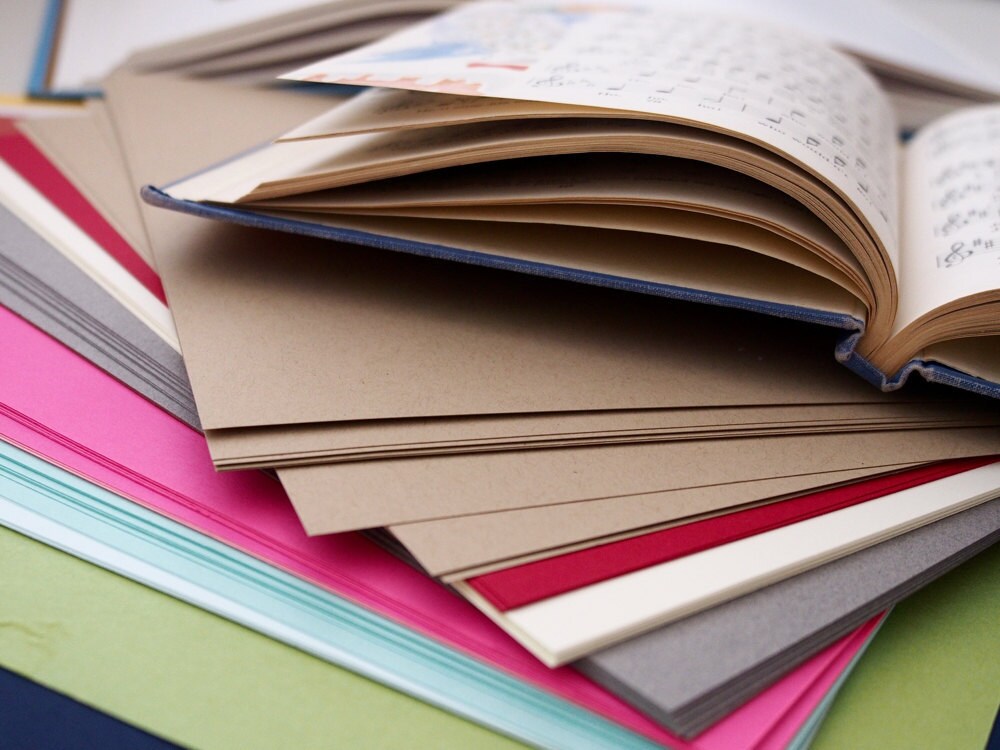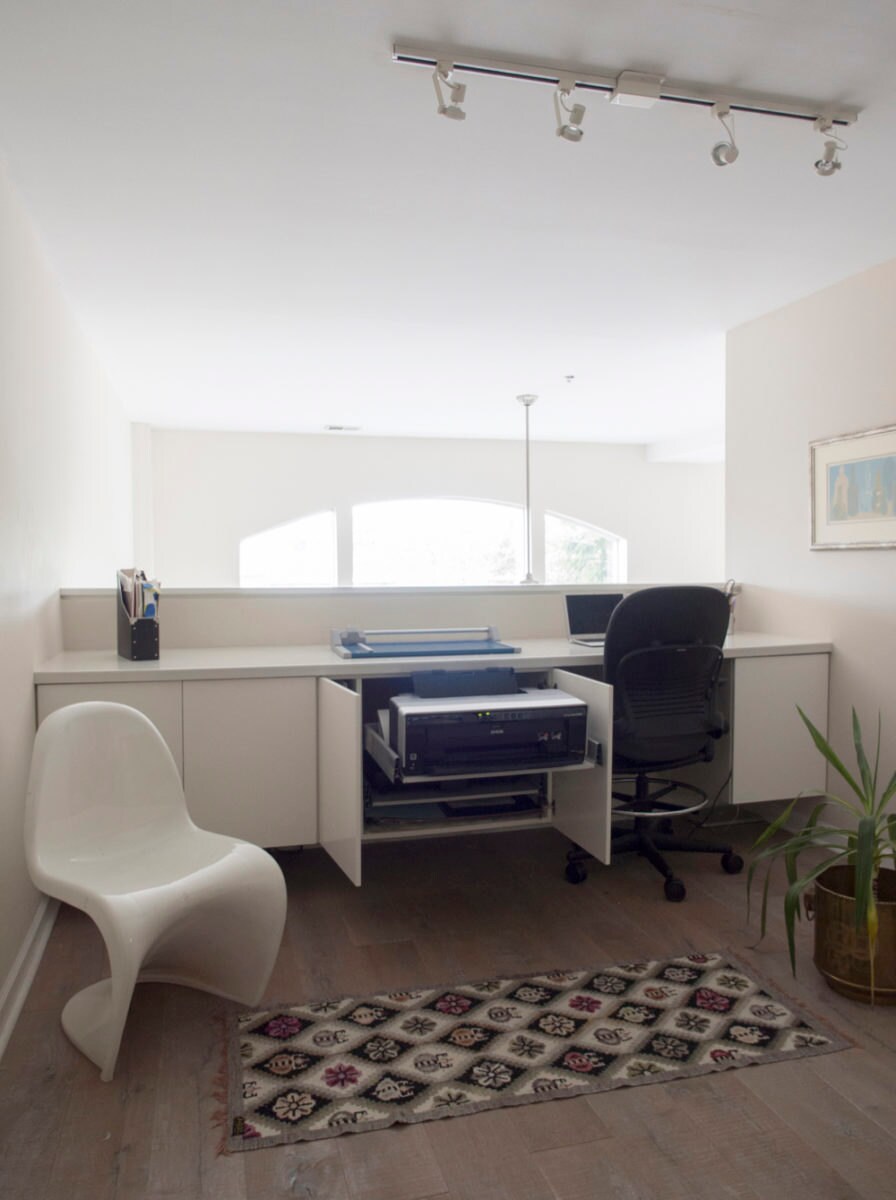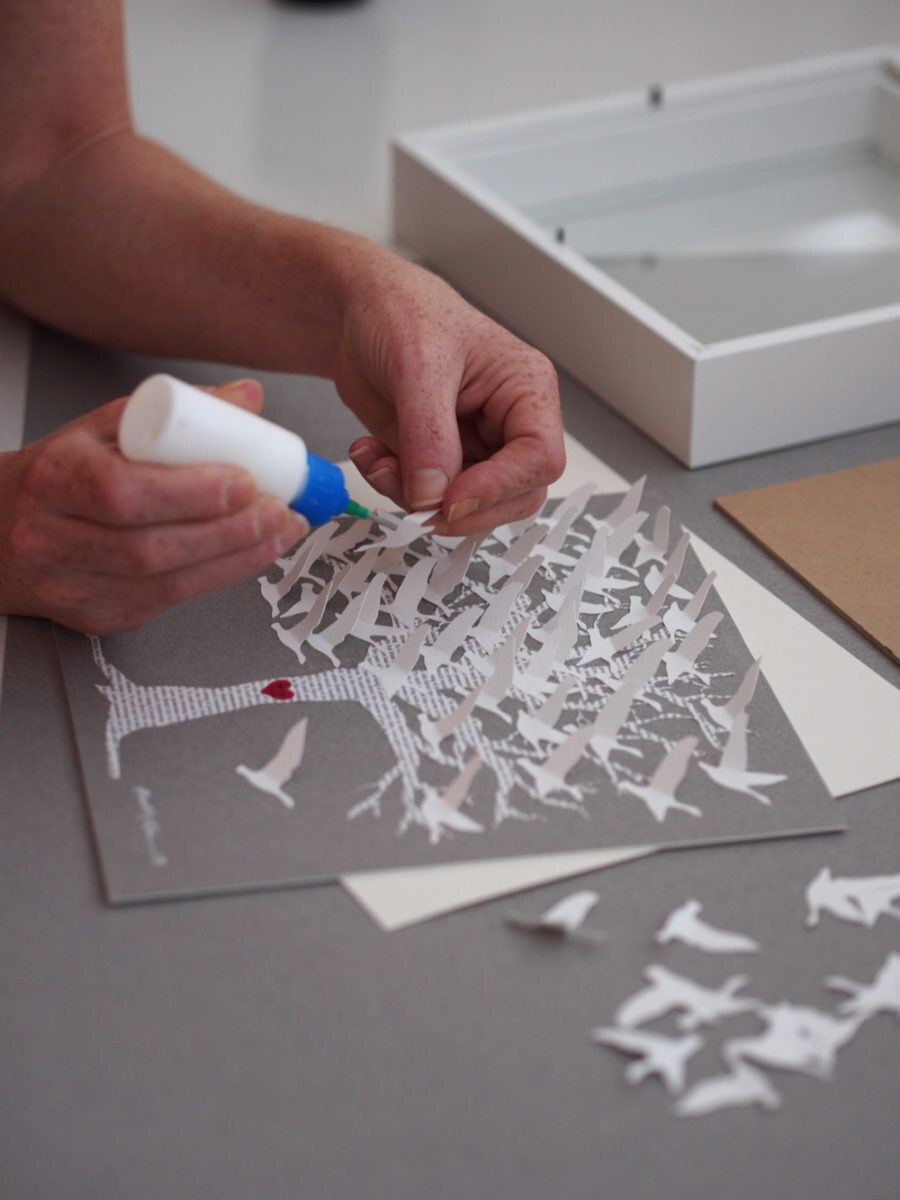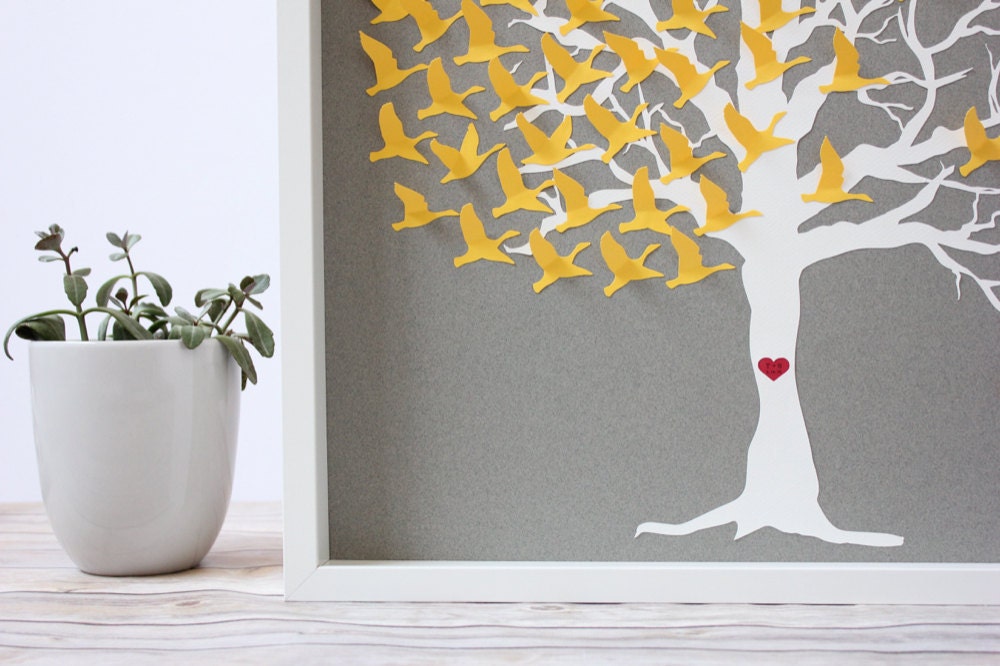 Were any of the designs in your shop inspired by a custom order or a special request, or has customer feedback played a role in the development of any of your designs?
Yes!
My generations piece
was inspired by a customer's idea. Someone approached me and said, "Hey, I want a piece with all of my grandparents, and my parents, and myself." And so all of their initials and wedding dates were incorporated, as well as their first dance songs, and it just brought everything together. It's really a piece about celebrating the love and the marriage within one's family. Sometimes people come to me with a definite idea of what they want and other times it's a real collaboration between myself and the customer.
My 3-D heart made of hearts
was also inspired by a customer. I think I might have been working on a guest book, and I had this huge pile of hearts that were cut and folded and sitting next to me, and I looked at it and thought, 
That's kind of created a shape of a heart — that's cool.
 I remember taking a photo, which I do a lot; I always have my phone so I can take a snapshot of something that's inspiring. Then somebody saw the photo and said, "I want an art piece made out of that." It took me a while to figure out how to make something that looks like it's just kind of thrown together but is actually a finished piece. I always keep a notepad next to me when I'm working to jot things down, to sketch out ideas. I also keep one next to my bed, because often I don't sleep well and I might wake up in the middle of the night and have a great idea,
like the guest book
.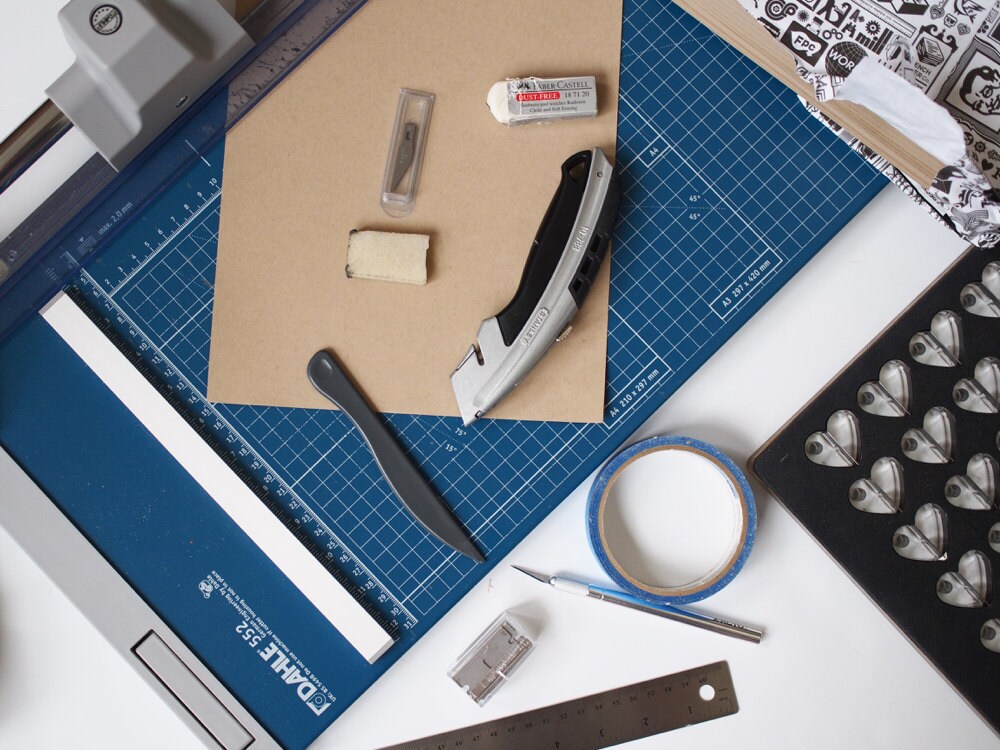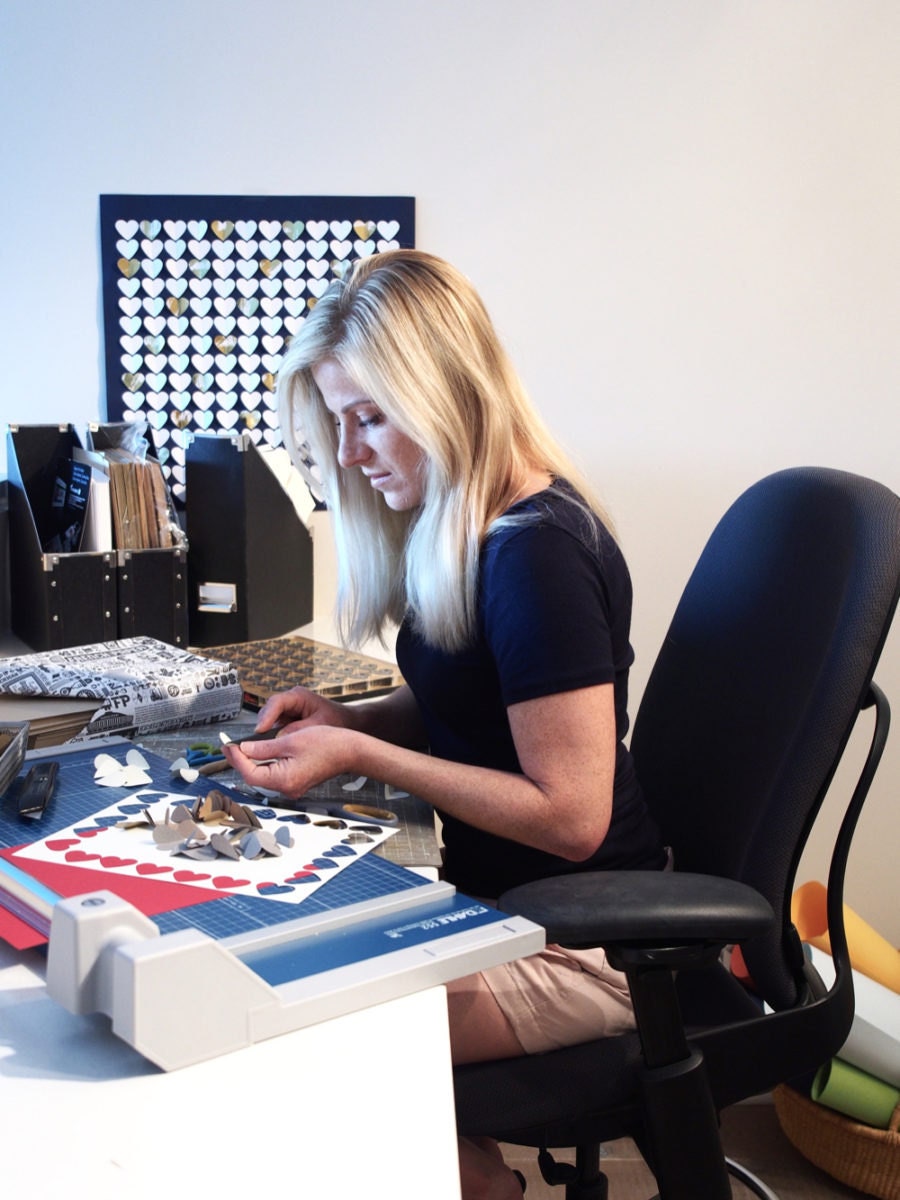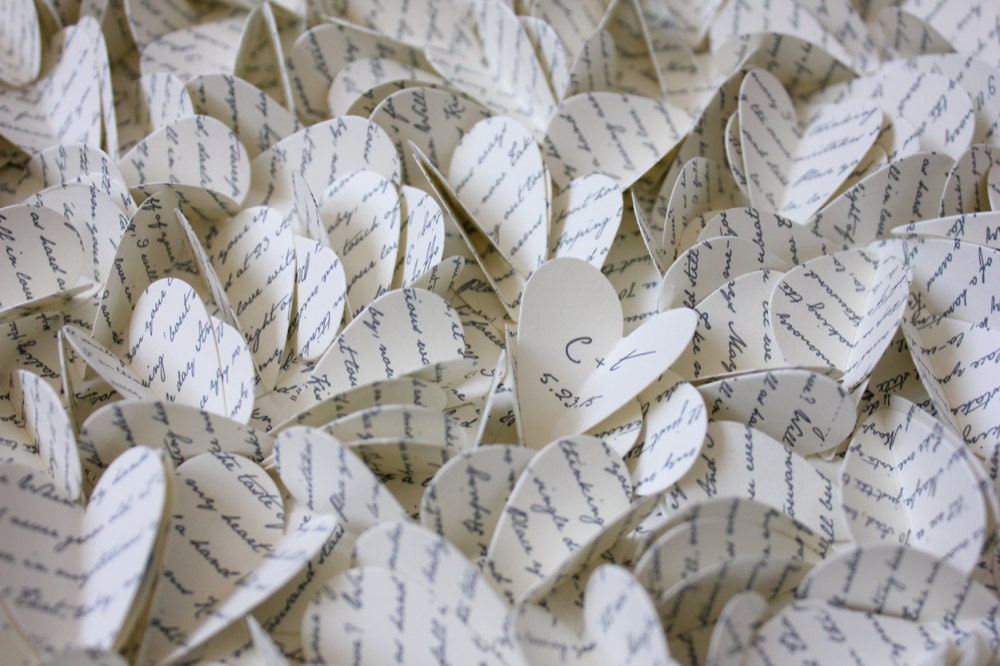 Ooh, tell us about that!
The biggest thing that really pushed my business forward was coming up with the
guest book alternative
, which was back in 2010. At that time, the idea of a guest book alternative wasn't as big as it is now — and there were certainly no three-dimensional paper-art guest books. That was an idea that I had at about three o'clock in the morning, and it's probably one of the designs I'm most proud of. The idea has evolved over time. I originally started with blank hearts mixed in with hearts cut from the pages of a vintage dictionary, and then I moved to using people's first-dance song lyrics, then people's wedding vows, and then it became using people's photographs. That's probably my favorite product to create, because you're really getting to know the people; it's not like somebody's coming to your shop and just ordering an item. I might have 20 or 30 different convos back and forth trying to figure out what they're looking for, what photos will work. You really get to see who you're working with, and it is amazing to me how much people will share, you know? Which I love.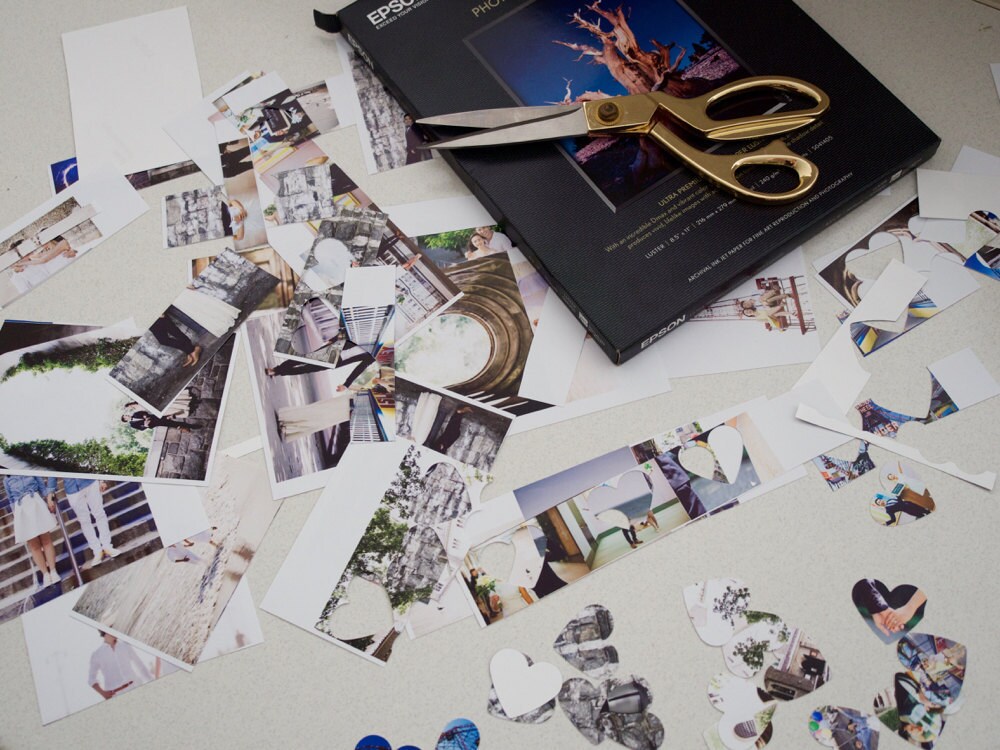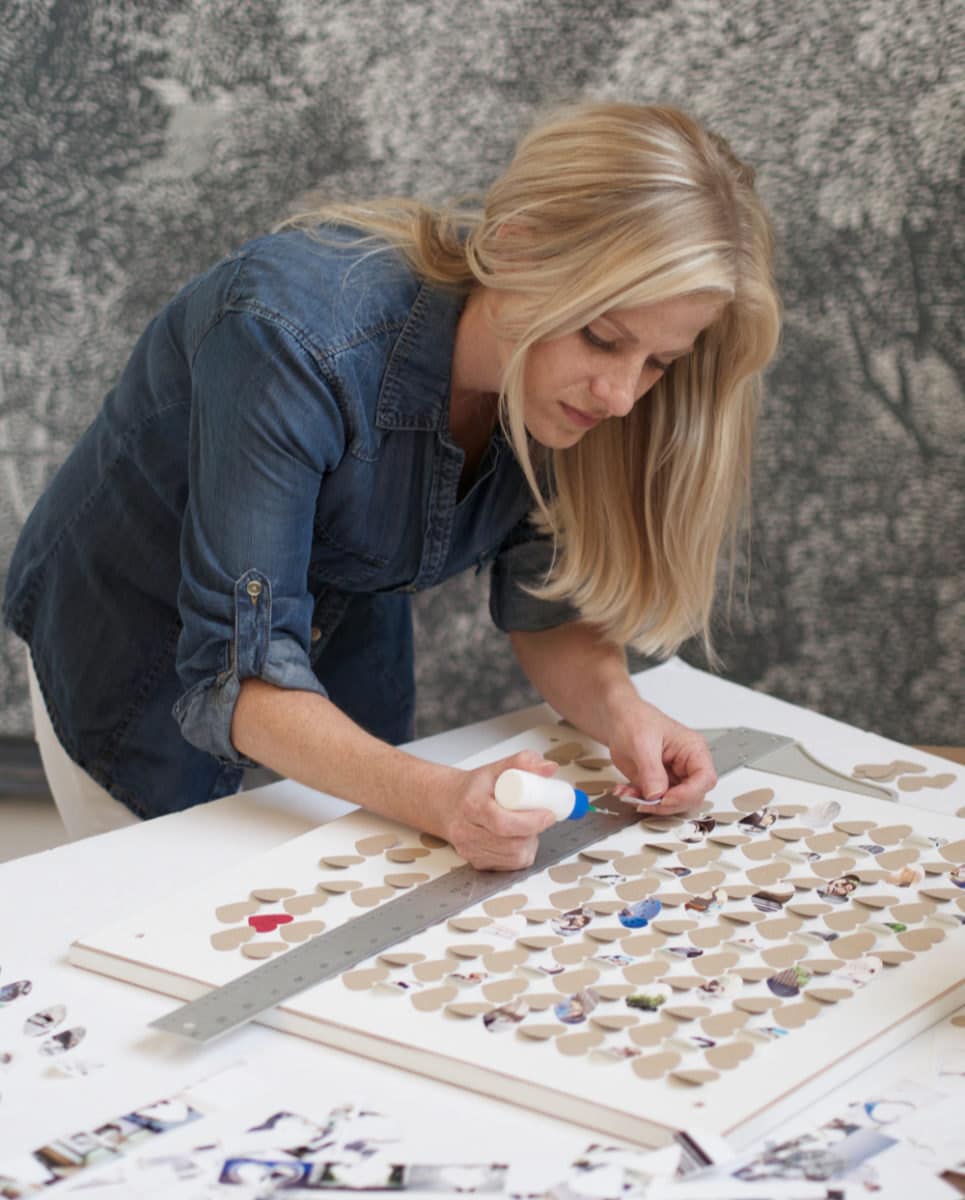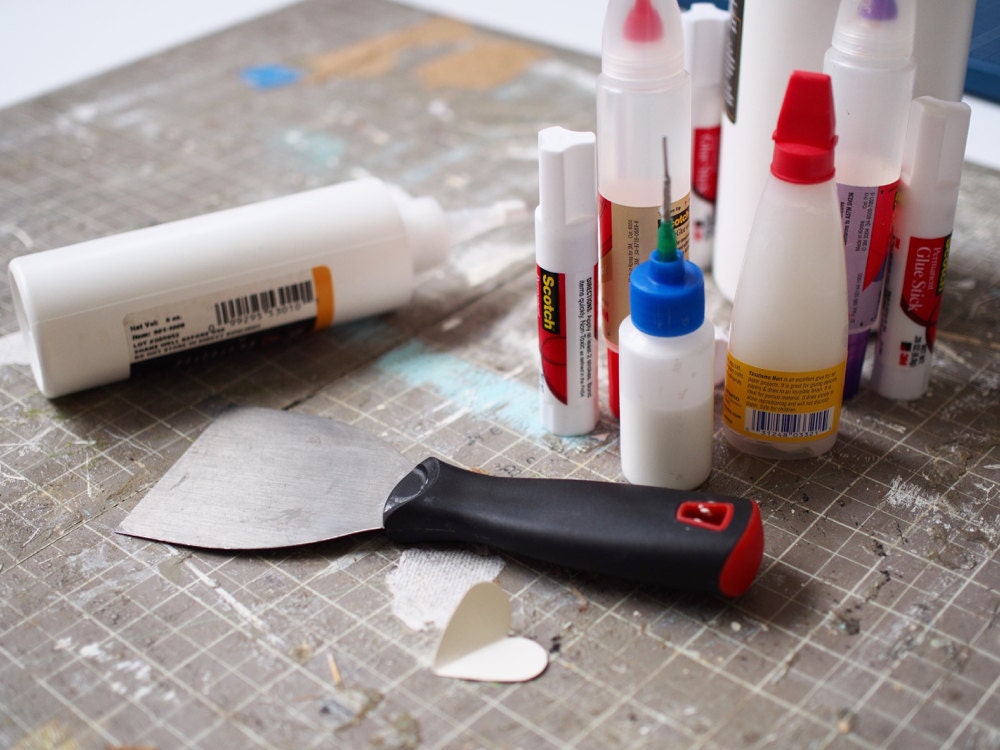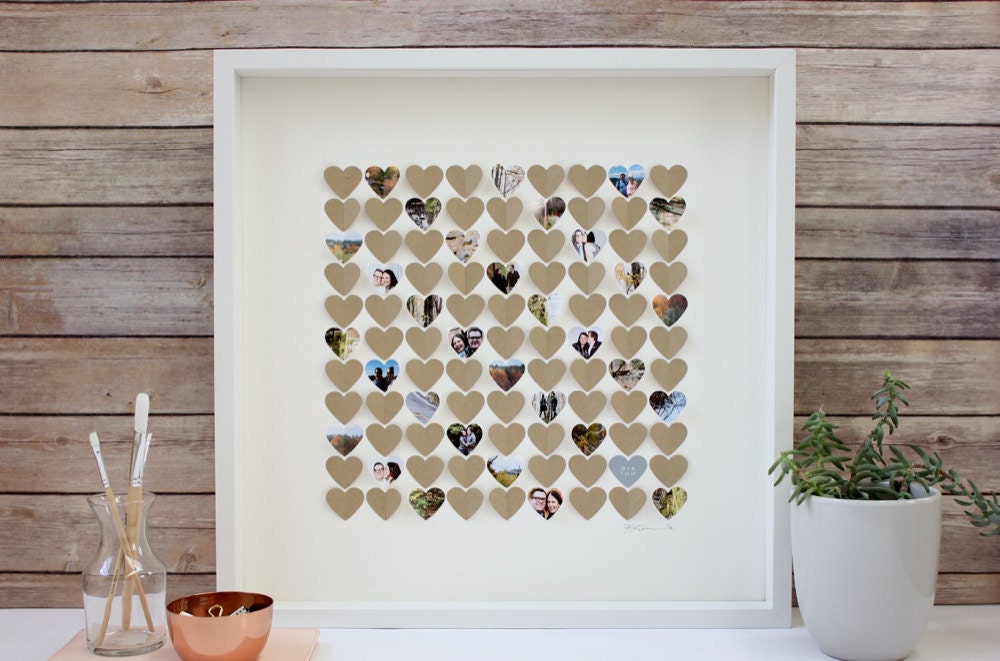 Are your inspirations usually of the middle-of-the-night variety, or do you ever sit down with the goal of putting some new ideas on paper?
I have tried to sit down and say,
Okay, I'm going to take this block of time and just sit down
 — and it backfires. I've tried very hard to think like,
What would be cool, what would people want?
and it does not work. I do find inspiration in so many different things, though. It might be taking a walk outside with my "assistant" Izzy, my Cavalier King Charles. And actually, I just got back from spending a few weeks in Bali, Indonesia, and it was an amazing trip. I've traveled quite a bit but it had been awhile since I'd gone anywhere, and it was so inspiring. I think, for me, I find inspiration when I'm not expecting it. A lot of my pieces, as you can see in my shop, are very muted — there's not a lot of color, there's just this very soft, romantic, ethereal look to them. And going to Bali, everything was just completely different: very bright, vivid, colorful, vibrant. So I've already been sketching and thinking of different ideas to incorporate, and hopefully in the next few months that will be injected into
my product offerings
.
What's your workspace like? Do you have a separate studio or do you work at home?
My studio space is a loft area within my home, and I spent a very long time designing it. It is an open area, so it was very important to have a spot for everything. Because I am an interior designer by trade and have done construction in the past, I actually did a few Ikea hacks. I took some kitchen cabinets, like the ones that would go over the refrigerator, and mounted those to the wall to make a floating desk that's probably 10 full feet long; that's my work surface. Then I have a niche area where I took Ikea armoires and had them completely built in, so it looks like custom cabinetry, but it was all done on a budget. Everything is enclosed, so I can walk through and it doesn't look like there's anything going on. I needed that: I needed the order and not this complete chaos. Overall, it's a very clean space, and that creates a calming effect for me when I'm working. I love listening to classical music, and I'll often put that on to help me zone out. When you're gluing 200+ hearts down, you tend to daydream a little bit.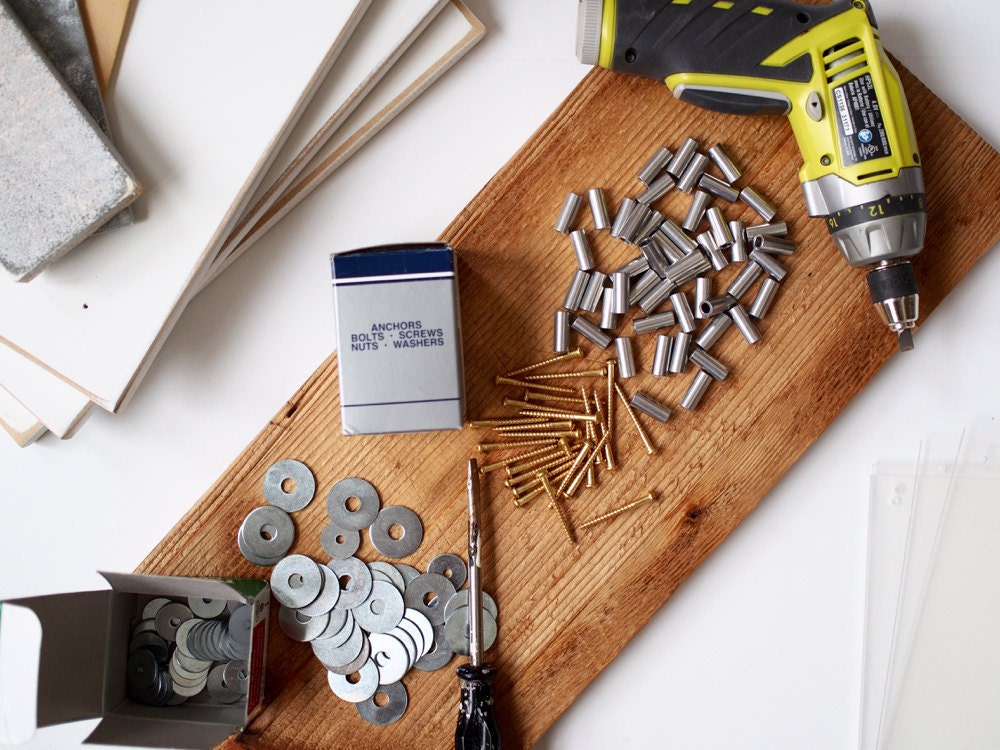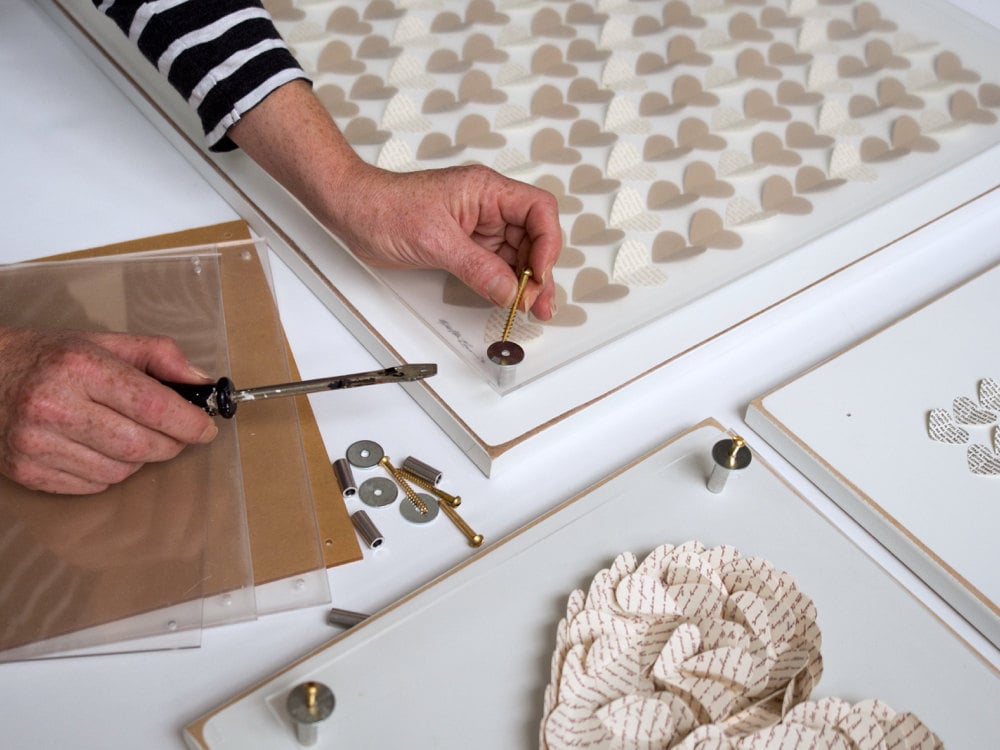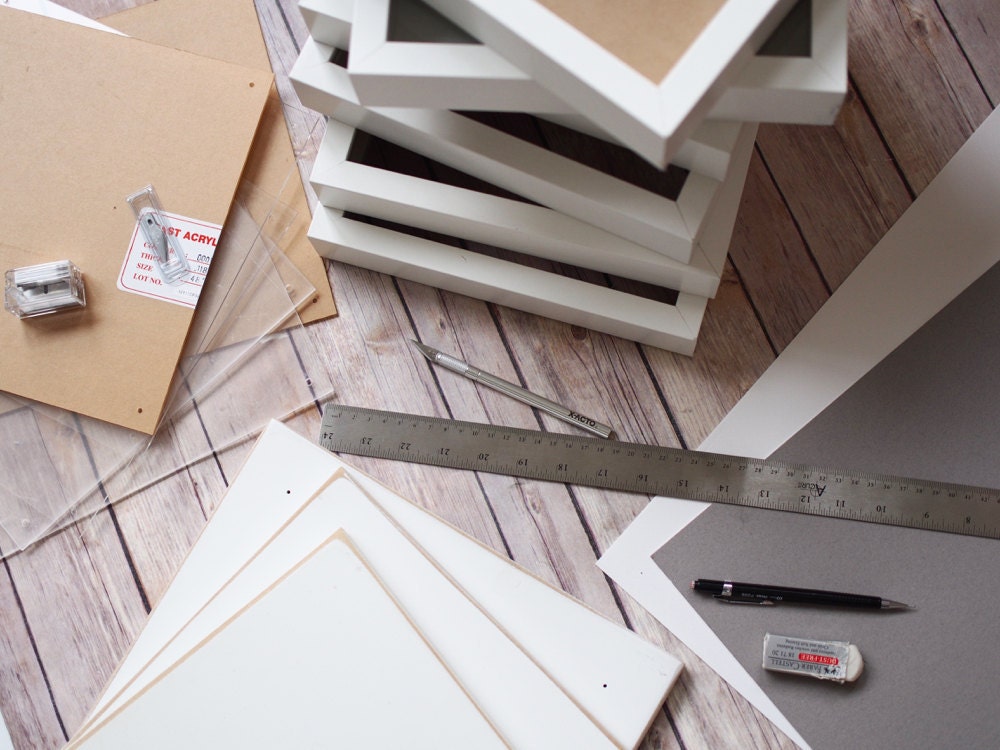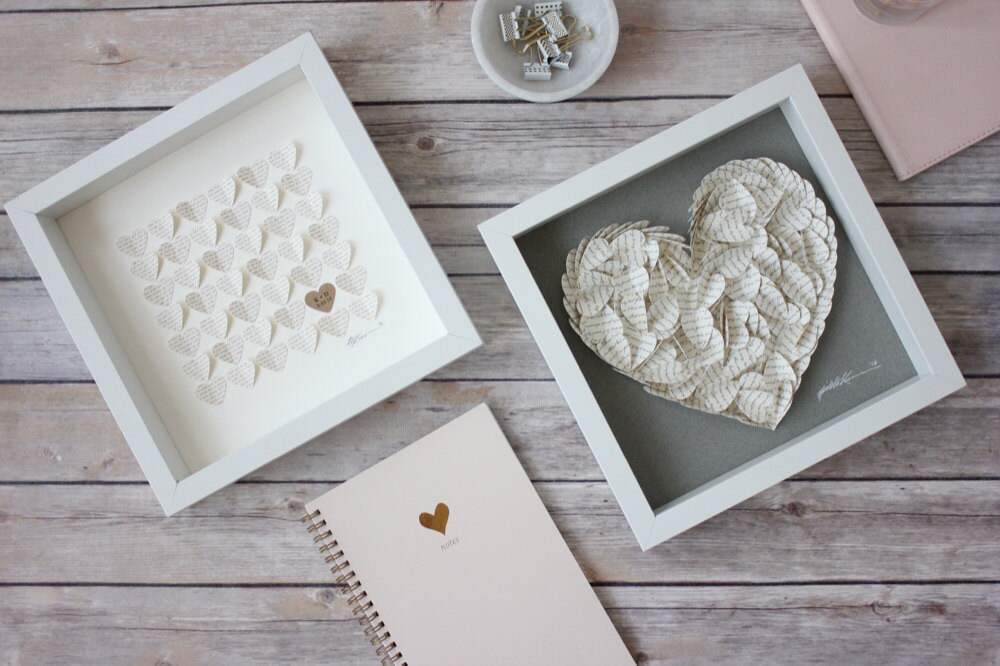 What's your favorite part of your job?
My favorite part is working with the customers. I absolutely enjoy that interaction. Somebody will come to me and say, "I've admired your work for some time, and I finally got engaged, so now I can finally buy a
guest book
!" That always makes me smile, and I have a lot of people that say that. Really, the best part is once they receive it and I get that response back: "I'm the stressed-out bride and I have all these deadlines to meet, but you were the best person to work with. I didn't have to worry about anything, and this is my absolute favorite element in my entire wedding." That's a great feeling: that I've been able to really help with their big day. Customer service is so important to me, not just because I'm doing a personalized thing but because I want the experience working with me to be personal, too. I want it to feel like my customers are coming to a shop, and that they know me and can trust that I'm going to deliver the product on time.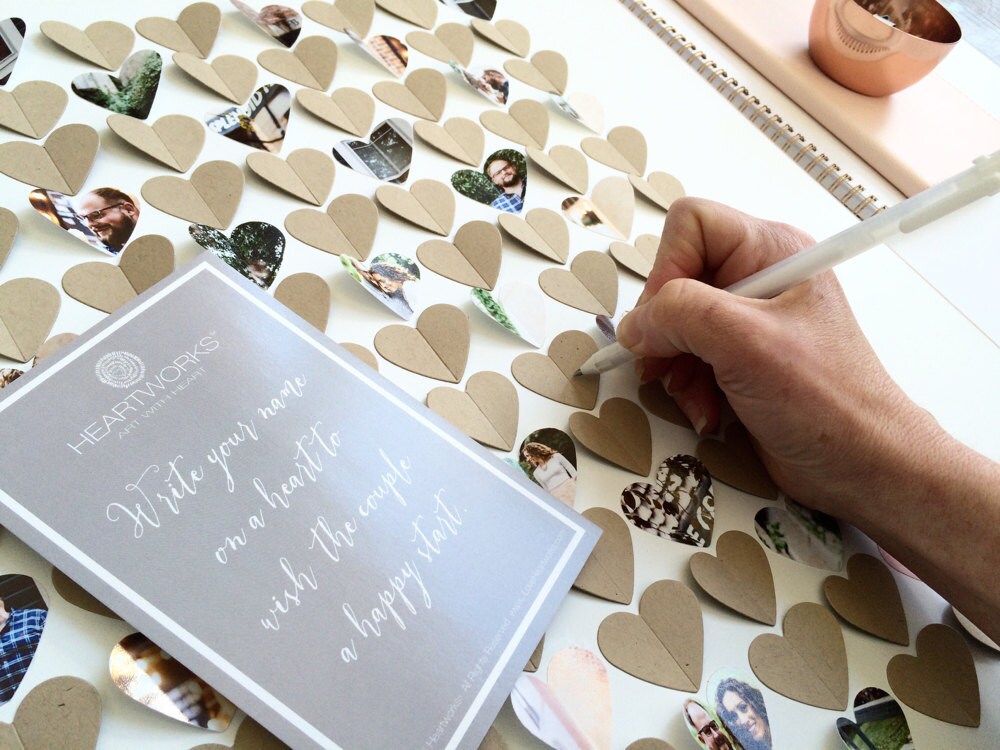 What's next on the horizon for your shop?
When I originally had the idea for
Celadon Home
, I planned to have a full line of products for home interiors, so I'd love to dabble in some other arenas and come up with some more accessories — not just wall art. I have piles and piles and piles of sketches, so it's a matter of taking the time to do the engineering that needs to take place to figure them out. I do have a few new things I'm hoping to debut in the coming months that touch on metallics, which I think will be great for the holidays. Even the pieces I do that are commemorating an anniversary or a wedding can also be a wonderful family gift for a couple — during the holidays or anytime. I'm also looking into a couple of different art forms that play in with some of the photographs that I work with — like encaustic art, which I absolutely love. There are lots of possibilities for the line to expand.
Photographs courtesy Celadon Home.