Cindy found her calling for metalsmithing later in life; now she spends her days working with sterling silver in her backyard she-shed.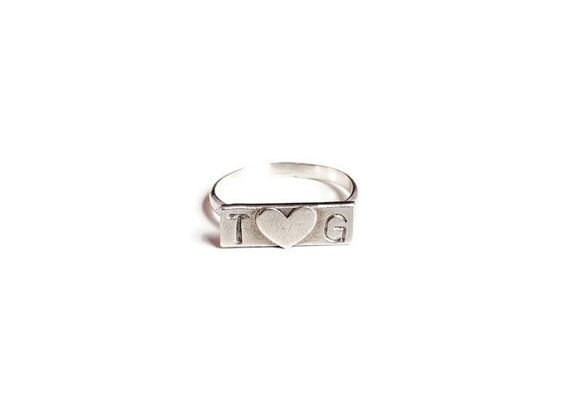 For Virginia-based jewelry designer
Cindy Liebel
, the inspiration to make jewelry struck sometime around 2007, while she was expecting her first daughter. "When I found out we were having a girl, something kind of clicked," she explains. "It was like, 'We're having a girl! This is going to be great. I need to make jewelry now.'" Cindy followed that impulse, stringing and beading her own jewelry designs for years. Then one day, she enrolled in a metalsmithing class at her local bead store, completely unaware that it would change the course of her life forever. "Once I learned how to solder pieces together, I was hooked. I took another course, and I haven't looked back," she says. Since then, Cindy's passion for jewelry-making has evolved into a
fully fledged business
, with a focus on designing and making sterling silver jewelry in many forms:
geometric hoops
soldered by hand,
personalized necklaces
,
minimal rings
, and an assortment of beautiful
bracelets and cuffs
. "I kind of wish I had started doing this when I was younger," Cindy says. "I'm forty-something and just now starting my own business. But it's never too late. I'm a big dreamer, and the idea of being able to put this dream into the world and run with it has been a great, emotional ride for me."
Learn more about Cindy in our interview with her, below.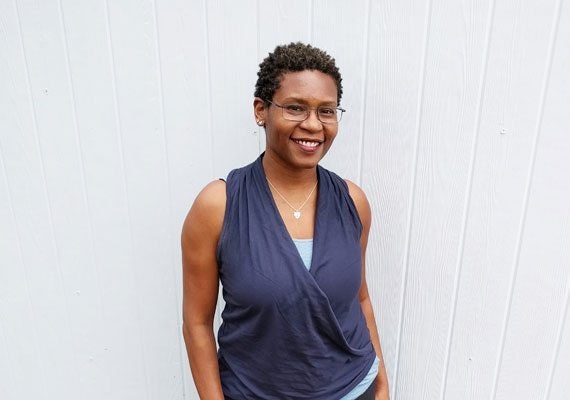 You have a background in photography and fine arts. Will you tell us more about that?
My grandfather inspired me to get into photography. Growing up, over years of military travel with my family, I would snap pictures of our journeys driving from coast to coast. That really sparked my joy for photography all through high school, and I went on to study photography and fine art at a community college in Virginia Beach. Today, I really love portraiture; I snap photos of my children all the time. I've also been scrapbooking for 15 years now. I like to express my photography skills through memory keeping.
So, what sparks your creativity? Where does your desire to take pictures, design jewelry, and make scrapbooks come from?
It's gratifying. To me, photography is a way of documenting memories that will last a lifetime. That plays a big part in my jewelry designs as well. I am inspired by my surroundings – from shapes and colors and facial expressions to a person's hands, which is where my addiction to rings comes from. I could be watching television and then something that somebody's wearing or something that they say makes me think, 'Oh, I need to go create that.' Once inspiration strikes, I sketch everything out; when I sit down to create the design, I let the material take its own course. My designs don't always turn out the way I had planned, but the end result is great in most cases.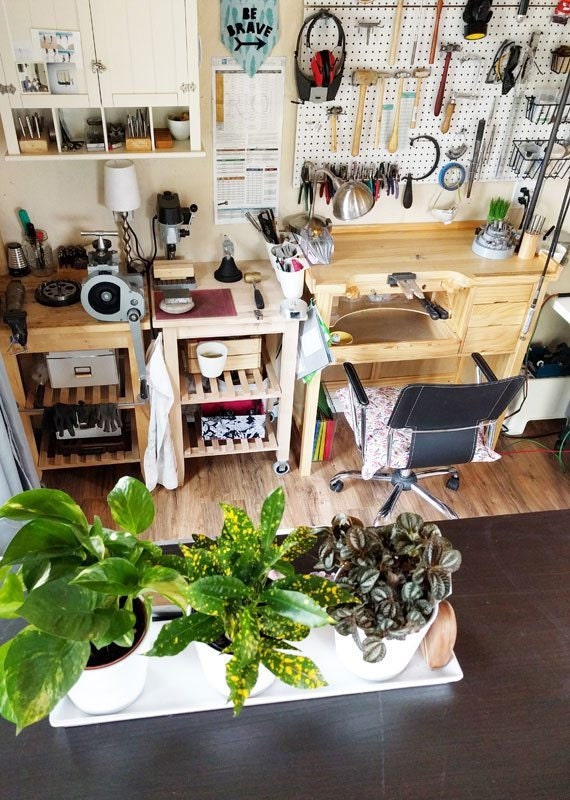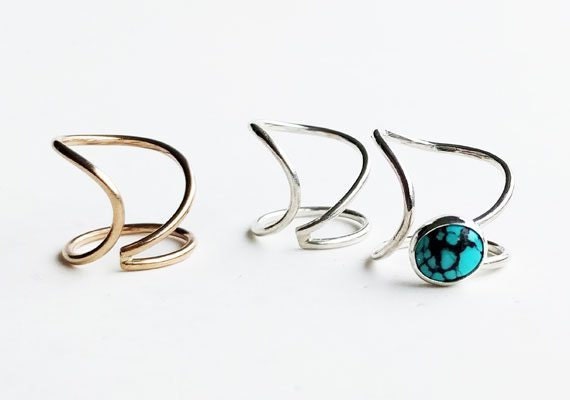 Do you have your own studio? What is your workspace like?
Last summer my husband built me a she-shed. It's 10' x 8', and it's my backyard studio: It has a jeweler's bench where I work and another desk where I sit down and piece everything together. I started out working in our laundry room, metalsmithing on this little flea market desk. When my husband kicked me out into the garage, I said, "You're going to have to build something for me!" So he did. He's handy and crafty like that – he designed and built my she-shed from scratch.
How did making jewelry go from a hobby to a business?
I started out making jewelry pieces for my friends. One day, after reading more and more about metalsmithing, I joined some jewelry groups online. From that point on, I started getting a lot more into it, and as I started receiving more orders, it hit me: I think this is really it, this is what I want to do. A couple years ago, I received my first wholesale order through Etsy Wholesale. When I got the email that there was a store in Minnesota that wanted to buy my jewelry, I was mind-boggled, but excited, too. Ever since then, I've been like, "Okay, I really need to take this further."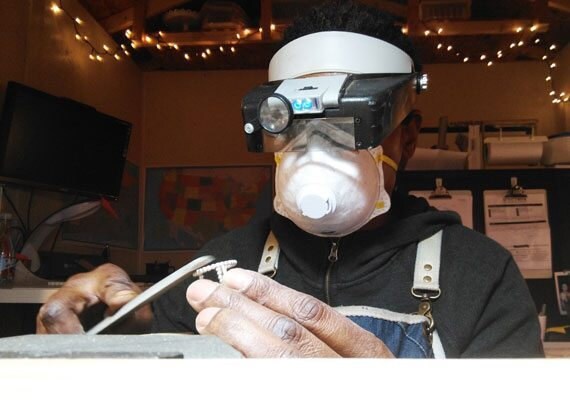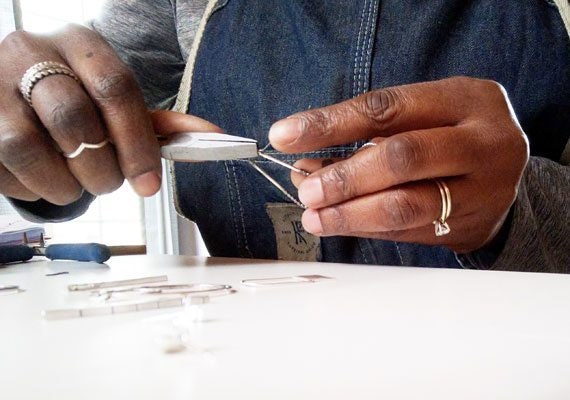 How has your line evolved since you started out?
Technique! My line has really expanded to a point where it looks so much more well put-together. I started out working with beads, and then I got into soldering. Understanding the process of how the raw materials are made, and having them be recyclable and sustainable has become very, very important to me over the years. I really try to reuse what I have, and to create something new in that way. I hope that's reflected in my work.
Can you tell us a little more about the recycled materials you work with?
In terms of sourcing, I make sure that I purchase my raw materials from places that recycle. If I'm in the studio and I need something like a sheet or wire, and I don't have it, then I will melt it down and roll it out myself. I have a rolling mill, so I basically take my metal scraps, melt them down, and roll out a flat sheet or wire in whatever thickness I need. It's so fun!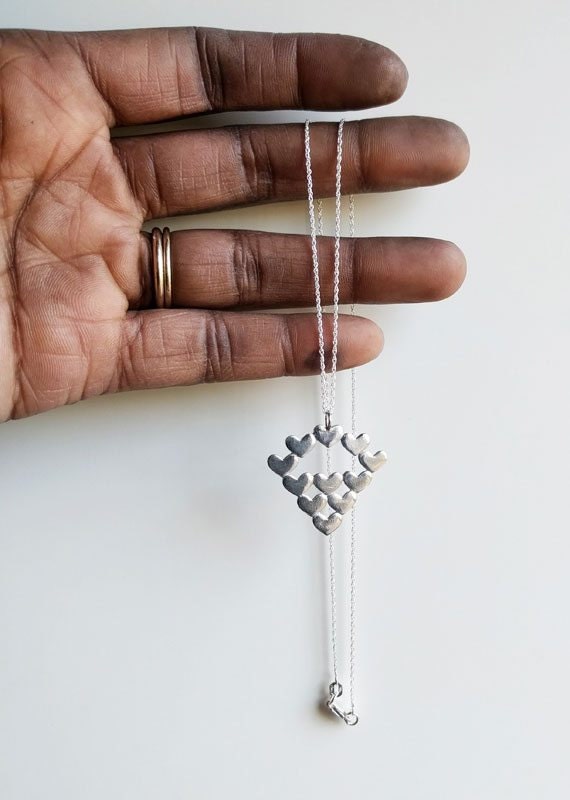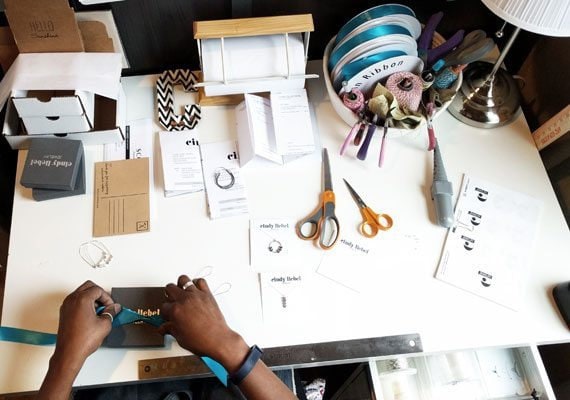 What's the most popular piece in your shop?
My most popular pieces are definitely from my
Love Eternity collection
. I really enjoy making those pieces because they're personalized; there's a lot of meaning behind each heart, whether it's a child, brother, sister, or friend. I actually started out hand-sawing each heart when I first launched that collection; then during the 2014 holiday season, I got so busy that I said to myself, "I need to find someone who can make me a heart punch." Luckily, I found a supplier on Etsy who makes custom stamps and cutters, so I invested in one right away. It's been a lifesaver ever since!
Do you have a specific person in mind when you design? 
I design for someone who's kind of casual, laid-back – maybe she's even a mom, like myself. Someone who may not always get to dress up on a day-to-day basis, but loves to put on a piece of jewelry and feel pretty. I focus on bringing out her inner beauty and confidence. I try t0 make sure the jewelry isn't too overpowering, but kind of minimal. I think the materials really help with that – sterling silver is very simple, it's clean. I also like to throw in a bit of brass, bronze, or gold fill to add a pop of natural, neutral color to the mix.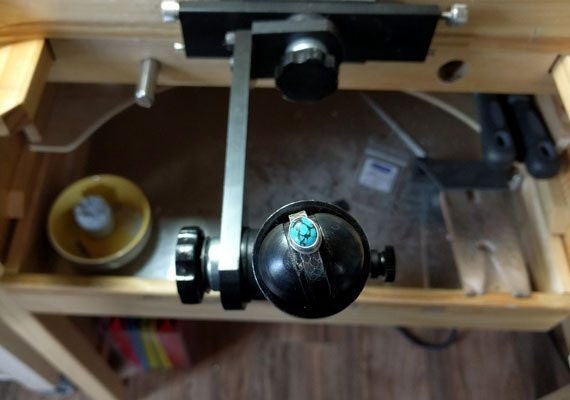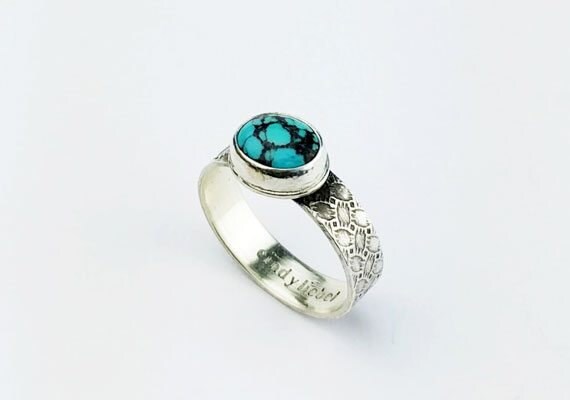 Are you experimenting with any other materials?
Yes. I'm currently taking metal clay classes. Learning and understanding precious metal clay is very interesting; when you create with it, the look is completely different. I like the way you can form clay, compared to sheet and wire. It's more pliable, though not necessarily that easy to work with, because you have to really shape your creation before it dries out.
What are some of your goals for the future?
I want to continue to grow, but not too big. I enjoy being small, but I would love to have someone here to assist me. I also want to expand on my materials and techniques. In addition to learning about metal clay, I'm taking casting classes for the next six straight weeks. That's why I love metalsmithing: There's so much more to it than just making jewelry. You're always learning something new, always expanding your knowledge. That's my ultimate goal – to expand my knowledge.
Follow Cindy Liebel on Facebook, Twitter, Instagram and Pinterest.
All photographs by Cindy Liebel
.