When this illustrator designed a custom comic book-style invite for her own wedding, she never dreamed it was the beginning of a booming business.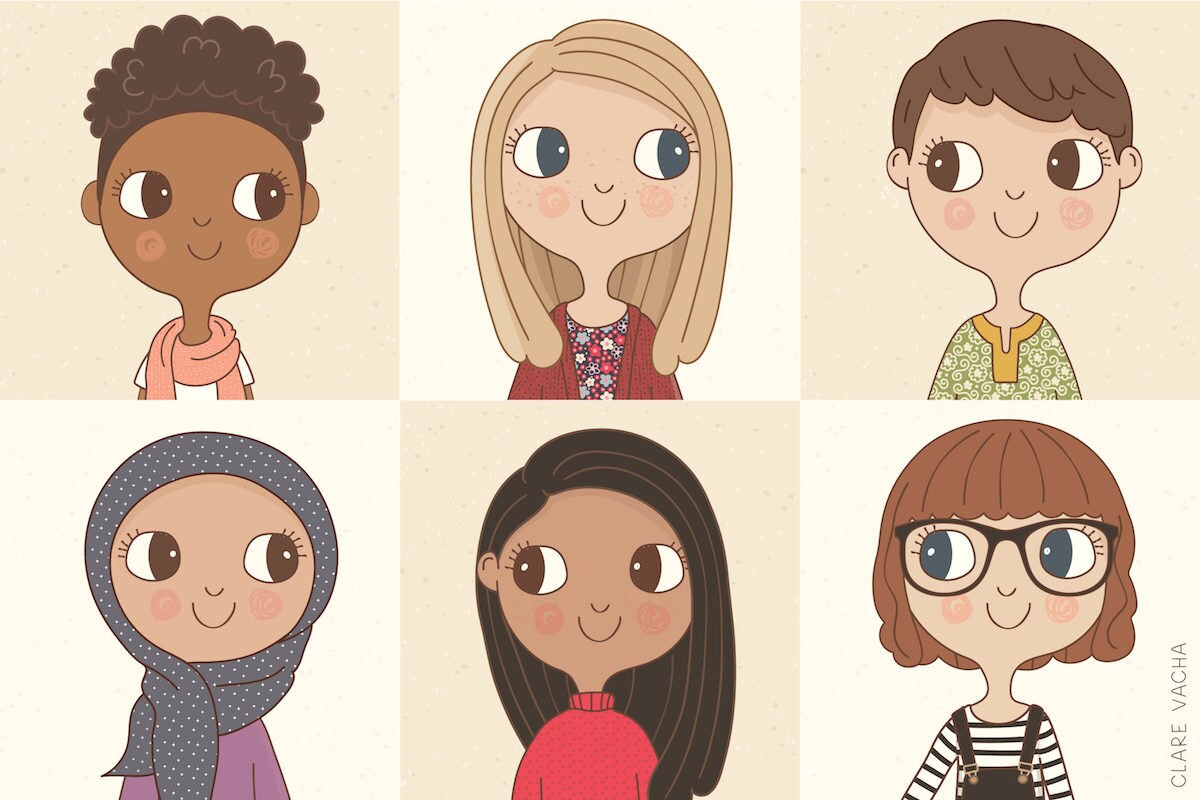 Great romances aren't typically known for doubling as business launch pads, but every love story is unique. Take it from London-based illustrator
Clare Vacha
. In 2013, Clare—a native of Australia, who spent time living in Japan and backpacking in Europe before meeting her now-husband in the UK—set out to design a wedding invitation that captured the complicated and travel-laden tale behind her big day. "Our story wasn't just your typical: meet, fall in love, and get married," Clare explains. "It was quite difficult. There was lots of visiting, and a lot of planes." After two years of long-distance dating while visa paperwork panned out, there was plenty to celebrate, so Clare created a comic book-style
"love story" invitation
 to trace their journey to the alter. "Originally my husband wasn't too keen on the whole invite—he thought it was much too excessive," says Clare. "But then everyone we sent one to really liked it, and he was quite pleased." When a friend requested a custom love story invitation of her own, and one of
her
friends followed suit, Clare realized she'd stumbled onto something. In 2014, she opened her 
eponymous shop
on Etsy to sell custom wedding invites and family portraits featuring her trademark line of cheerful, wide-eyed characters. "It's been really exciting to watch people like my stuff from all around the world," she says.
Read on for a glimpse into Clare's process and discover her favorite kind of portrait to draw (hint: it's furry)—then shop the collection.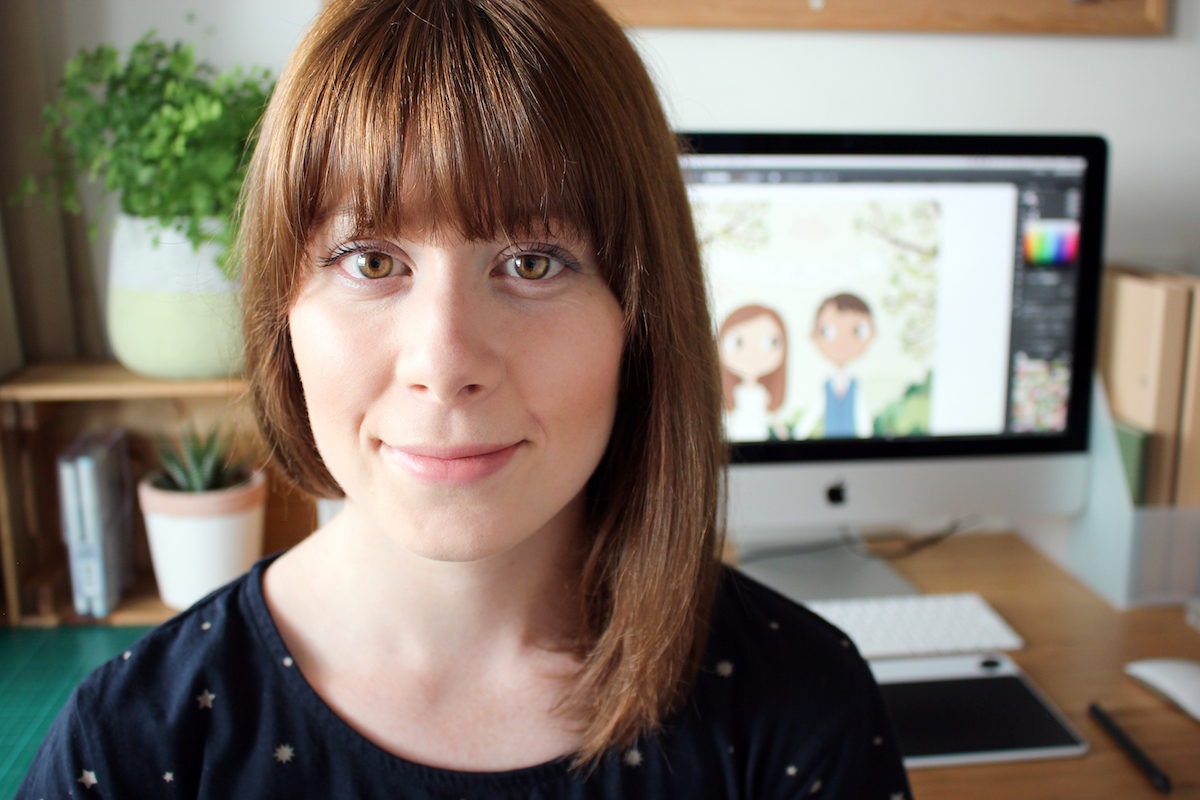 It all started with your wedding invitation. How has your product line evolved over time?
I started on Etsy with just a few little
cards
, and then I added the
portraits
and the
little love stories
. A lot of the new products came about from customers asking for different things. With the portraits, for example, someone would ask, "Could you do it in this style?" And the
save the dates
came from people requesting their portraits in save the date form. So I've just added little bits and pieces along the way.
Has the style and look of your line changed as well?
A lot of the backgrounds and
pets
are still the same, but the characters' faces have changed a little bit. I know my characters all have quite crazy eyes now, but they used to be really ridiculously cartoony. They're also more detailed than the original characters that went up. I think I've gotten neater in the way I work. And the colors I use have changed as well; I'm using less really bright colors now. I took a couple illustration and design courses, which were really helpful for demonstrating how to use patterns and neutral colors in your work. Now my colors are lot more muted.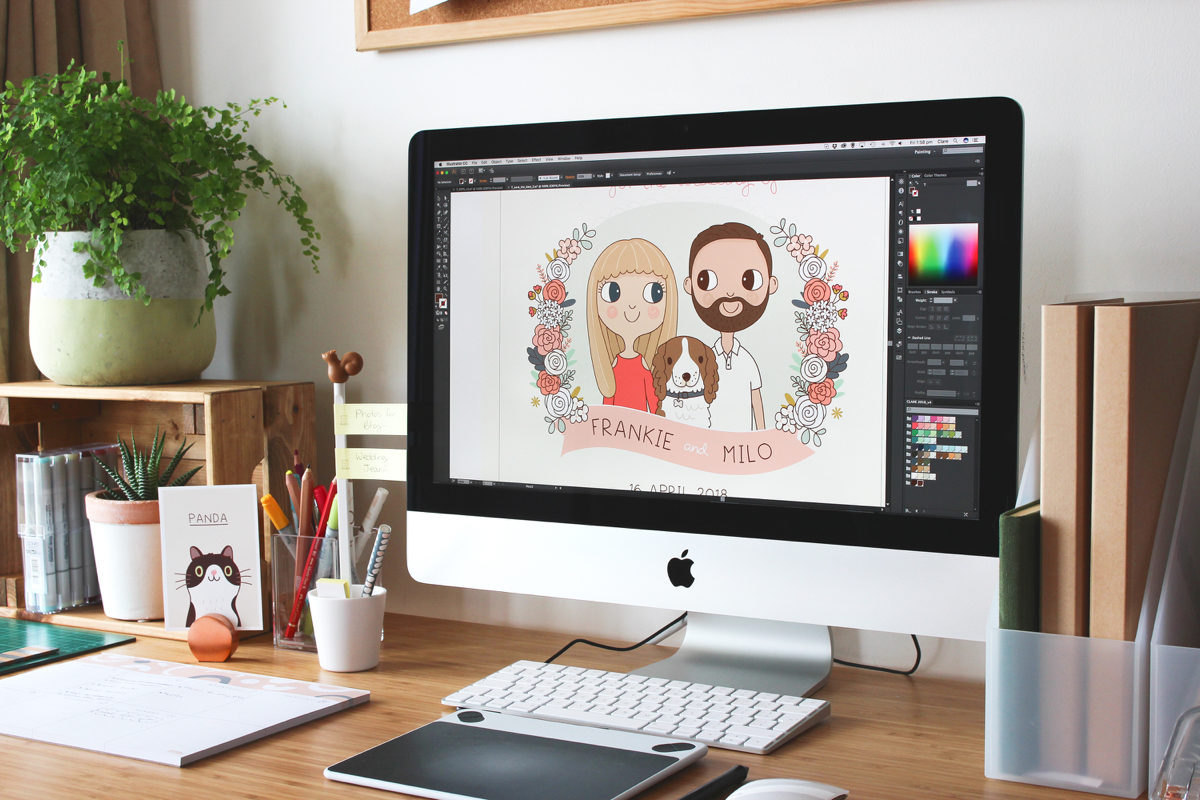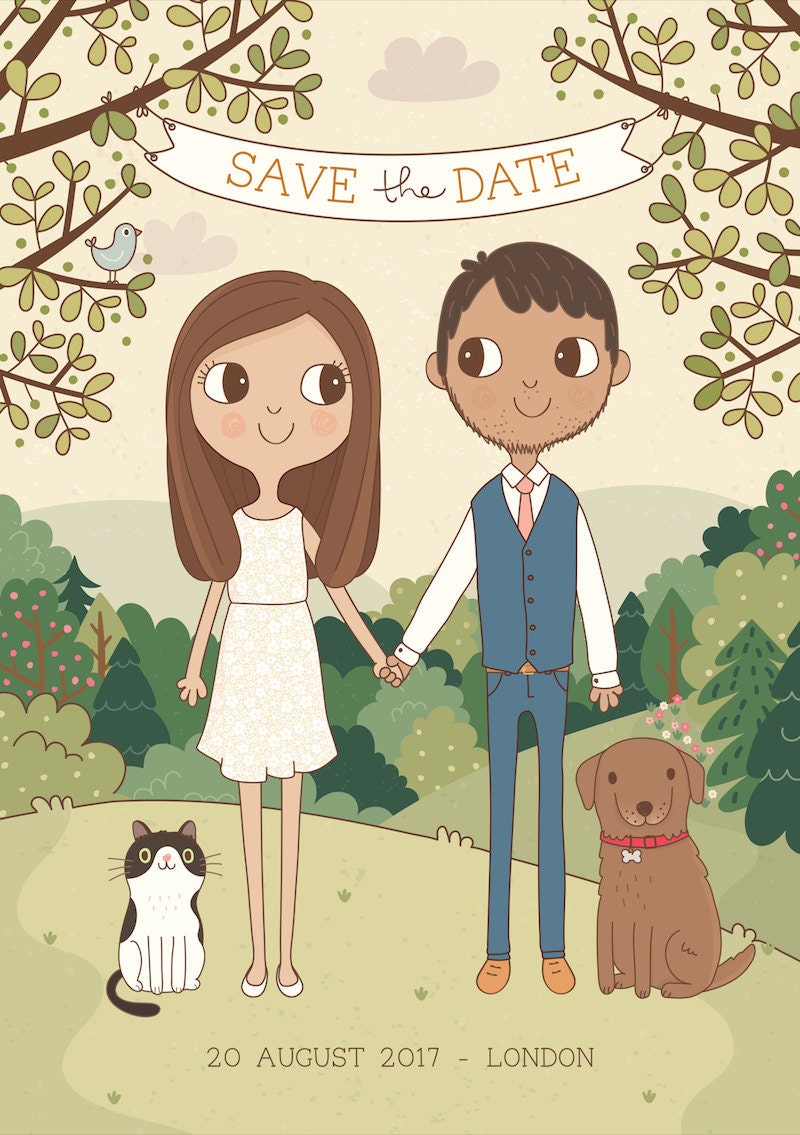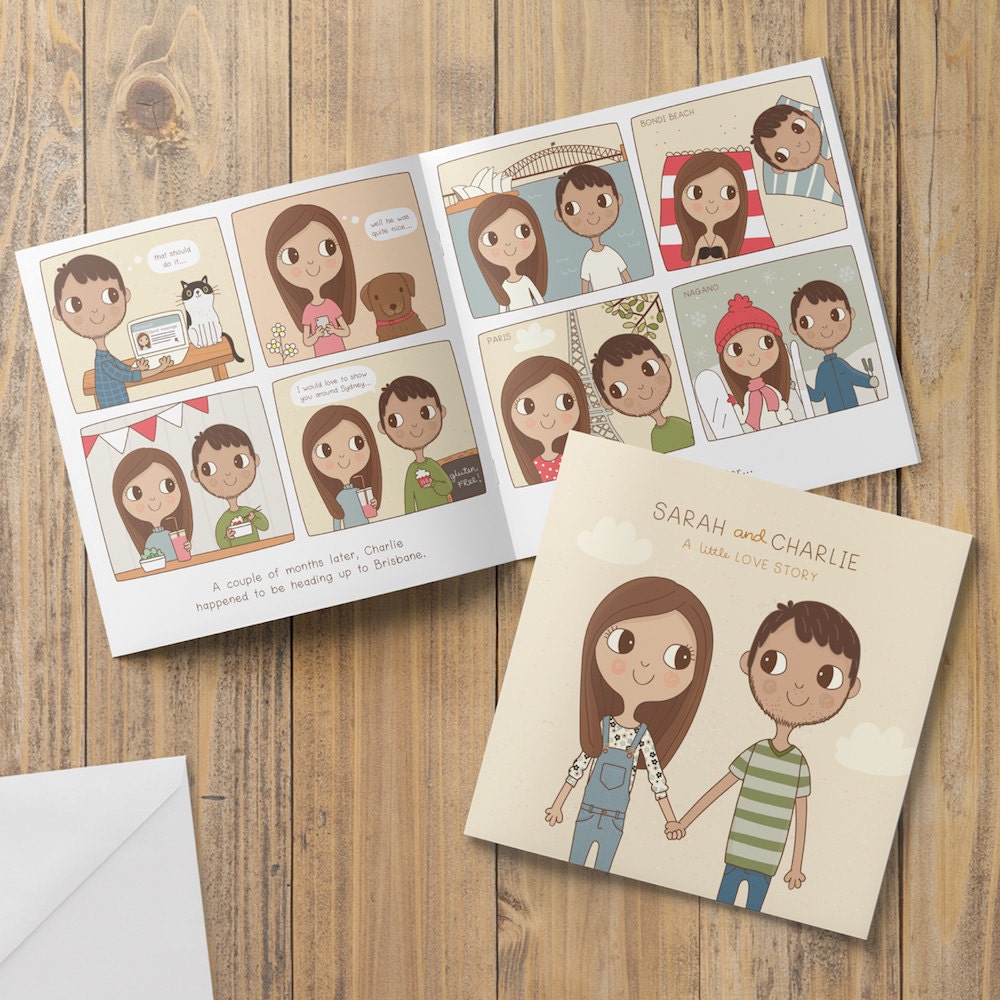 Can you walk me through the process of how a little love story invitation comes to be?
They require a
lot
of emails back and forth with the customer. To start, a couple will send me a few different photos of themselves, and I'll use those to draw their characters up. And then we work on an outline of the story together, and figure out what they'd like to communicate on each little page. Once we get the outline right and have the story we want to tell, then we work out the text to go with it. For the the last few ones I've done, the customers have told me basically everything they want to include and I've just drawn it, but other people need a little more help with the text or with ideas. After we get the story and characters right, I go ahead and design the whole thing. I work almost entirely digitally. I'll start with some rough sketches, but it's basically all scribble—then I go straight in using my little drawing tablet which I love. I'll create everything, and then send the customer the first full proof. After that, I usually allow two big rounds of edits, in case they want to change anything.
It sounds really collaborative. Do you enjoy all the back and forth?
I really enjoy working with people. I think there's something nice about having something created personally for you instead of just making a one-off piece that fits everyone. I really like making things
personalized
—I think adding all the little details is what makes something special. It's quite an honor to have someone let you create something for their big day. All of the invitations are really special, but with the
little love stories
I create, sometimes after I finish I feel like I actually know the couple. I've gone in and seen the photos of all the special moments in their lives. I just think it's really nice, and at the end I get kind of sad that I'm not going to see these people again after studying their faces for a good couple weeks.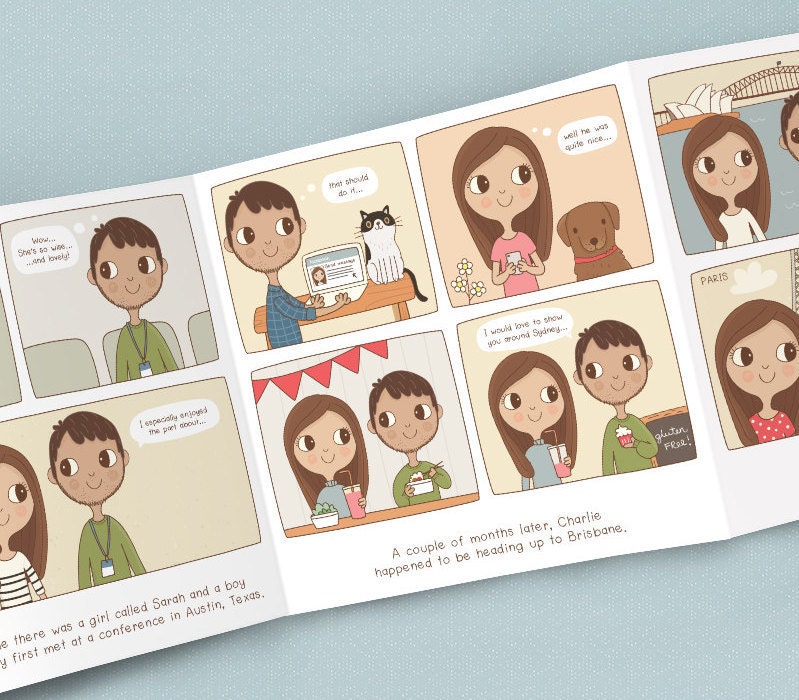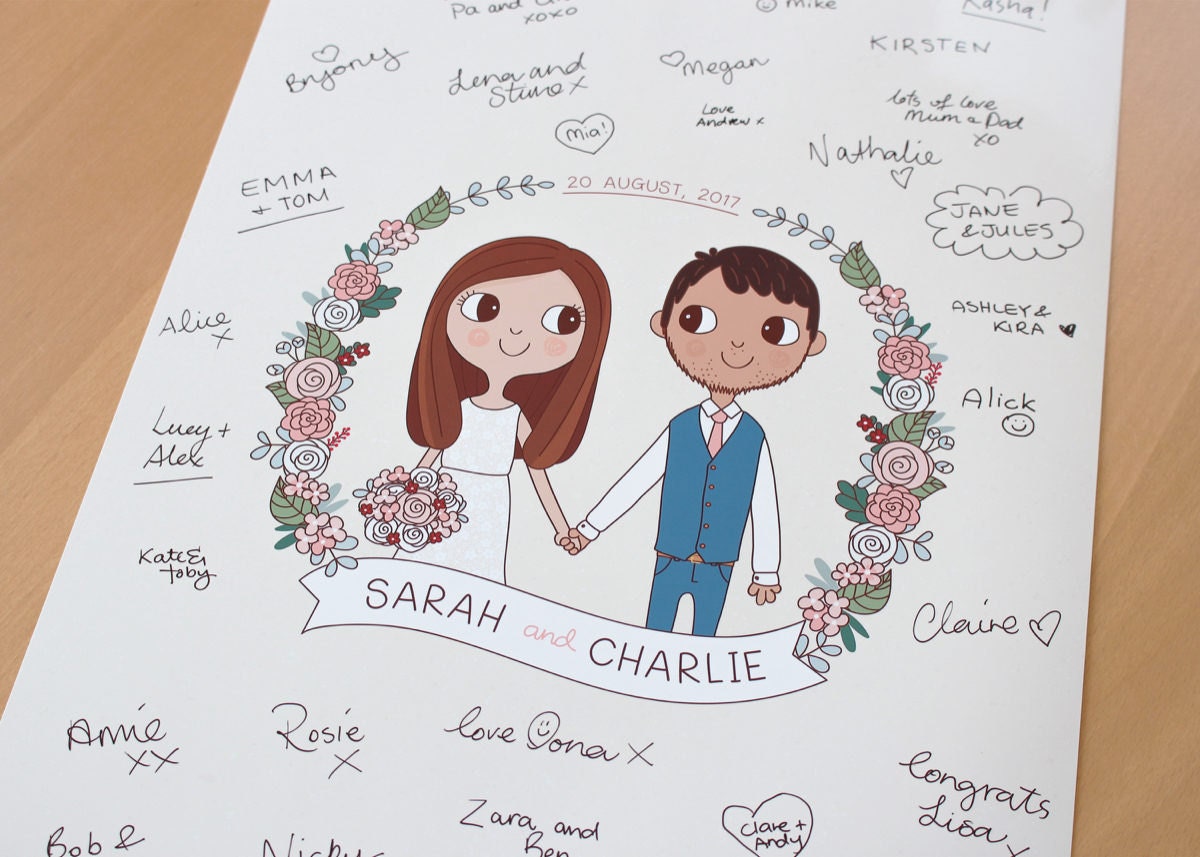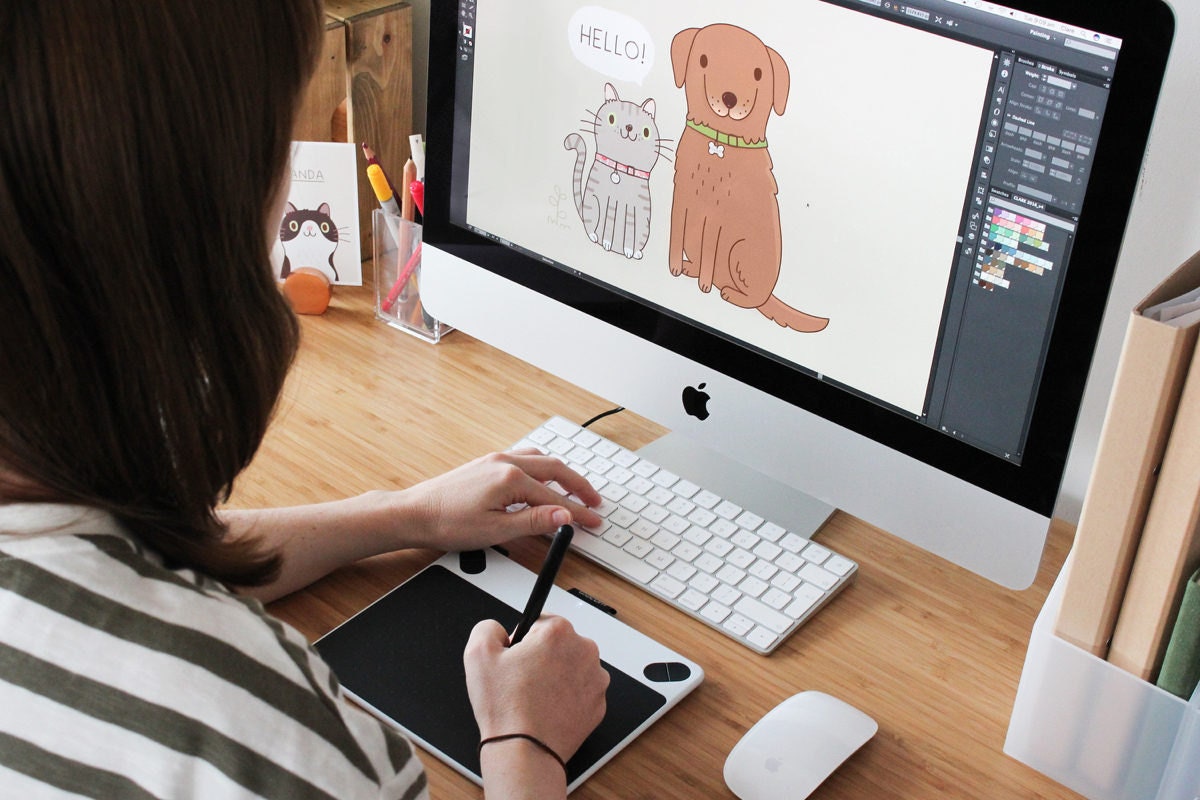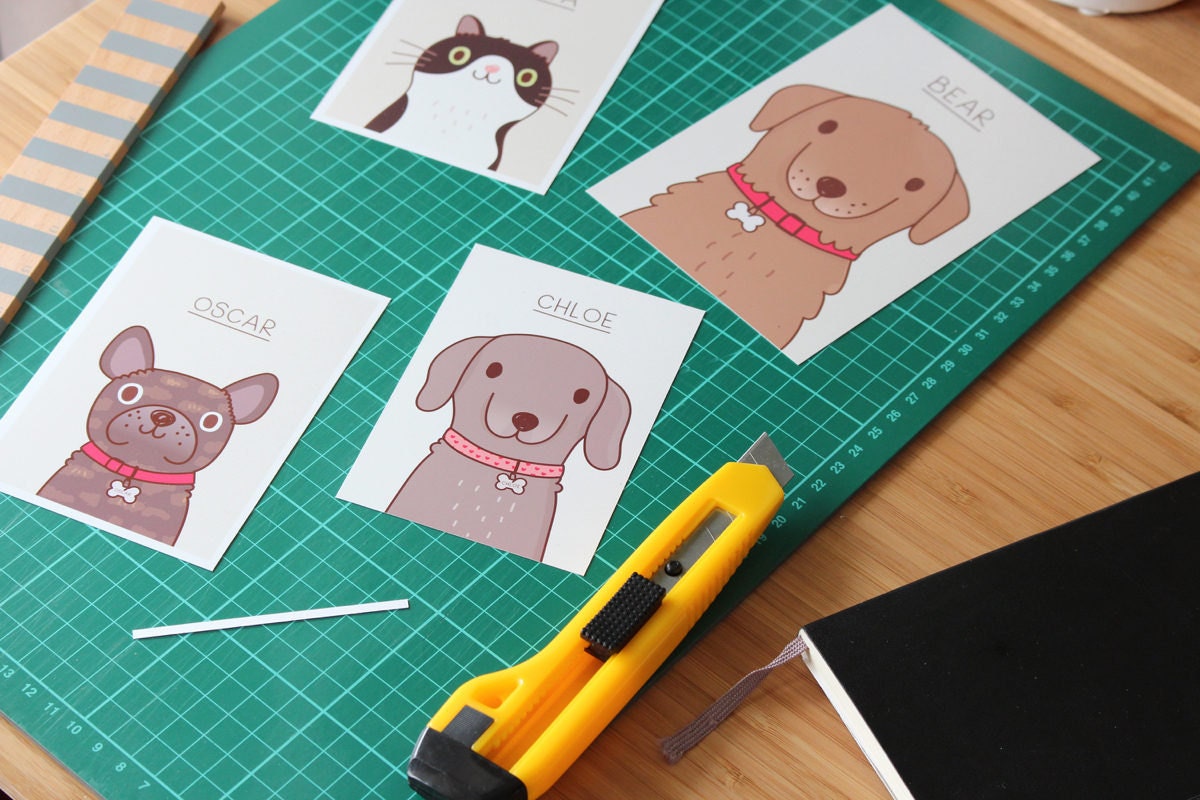 What's your favorite kind of illustration to make?
I enjoy all of it, to be honest, but I quite like drawing
pets
. I'm a sucker for all the animals, so whenever someone sends me a photo of their happy pet to draw, I'm always grinning at their little faces. Lots of cats and dogs, and I've even had some pigs, chickens, and goats—the animals really make me happy. They're super popular, especially at Christmastime; they make quite a nice gift. I've drawn so many pets that I have this library now—I save them in this one really happy file to use as a reference if I have to draw another labrador, for example. I've got loads of them now with all the different breeds.
Do you have any pets of your own to draw, or do you live vicariously through your submissions?
At the moment our flat doesn't allow us to, but as soon as we're allowed I think we'll have a whole farm. Back home we have a chocolate labrador, so he features in some of my examples. Sometimes I'm very jealous of the pictures that people send in.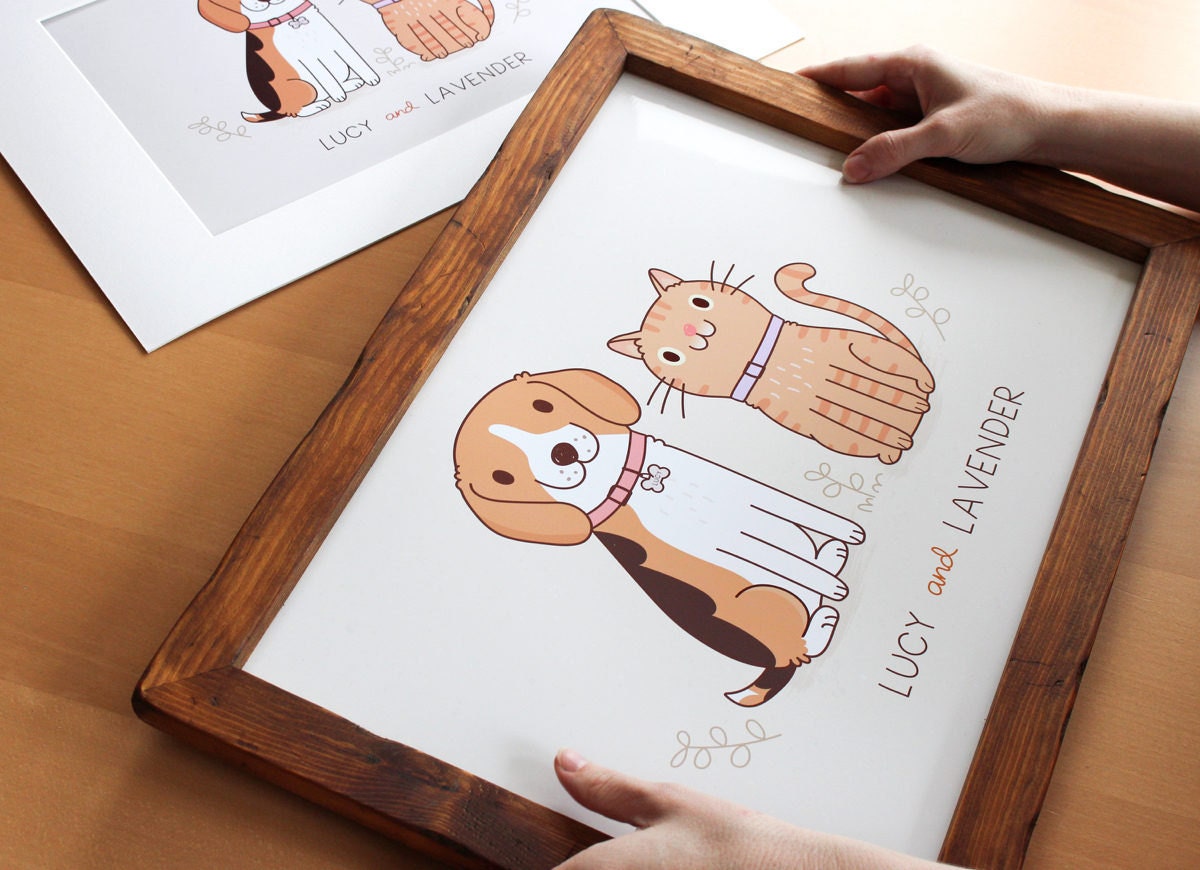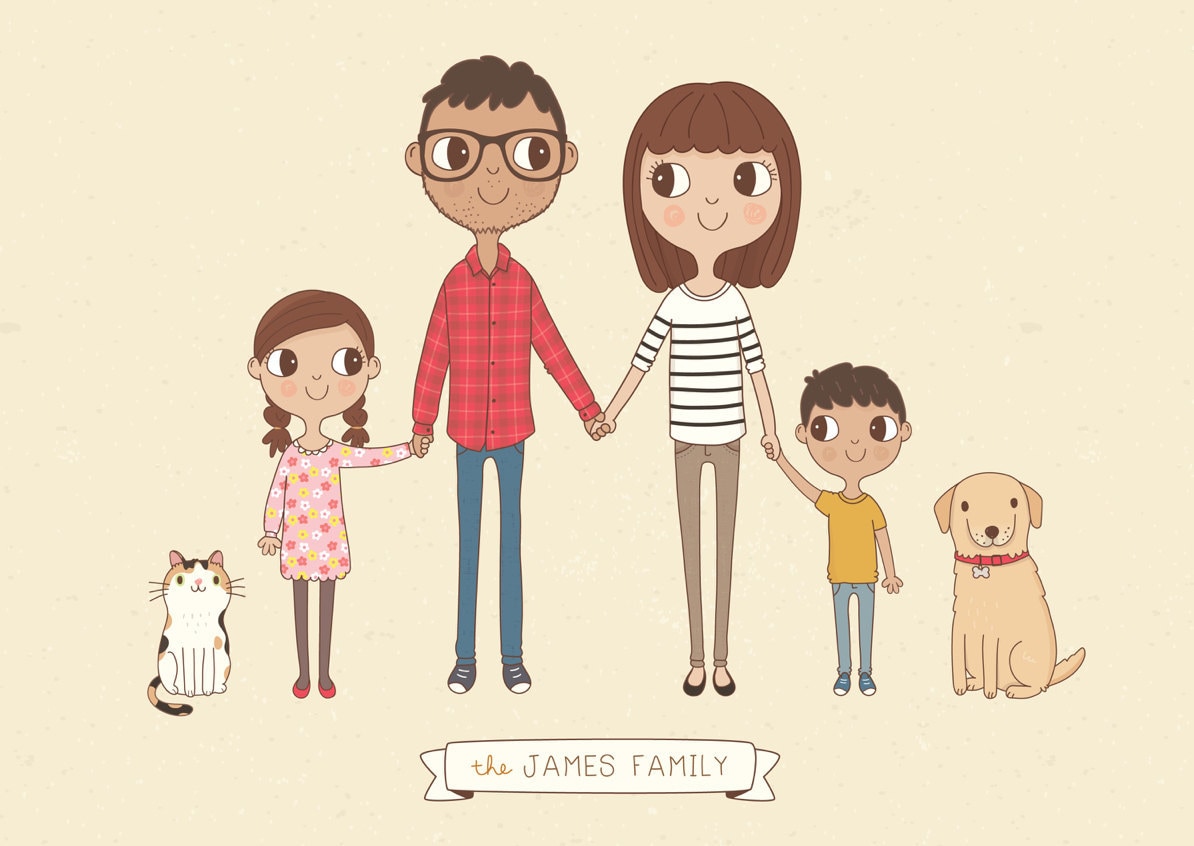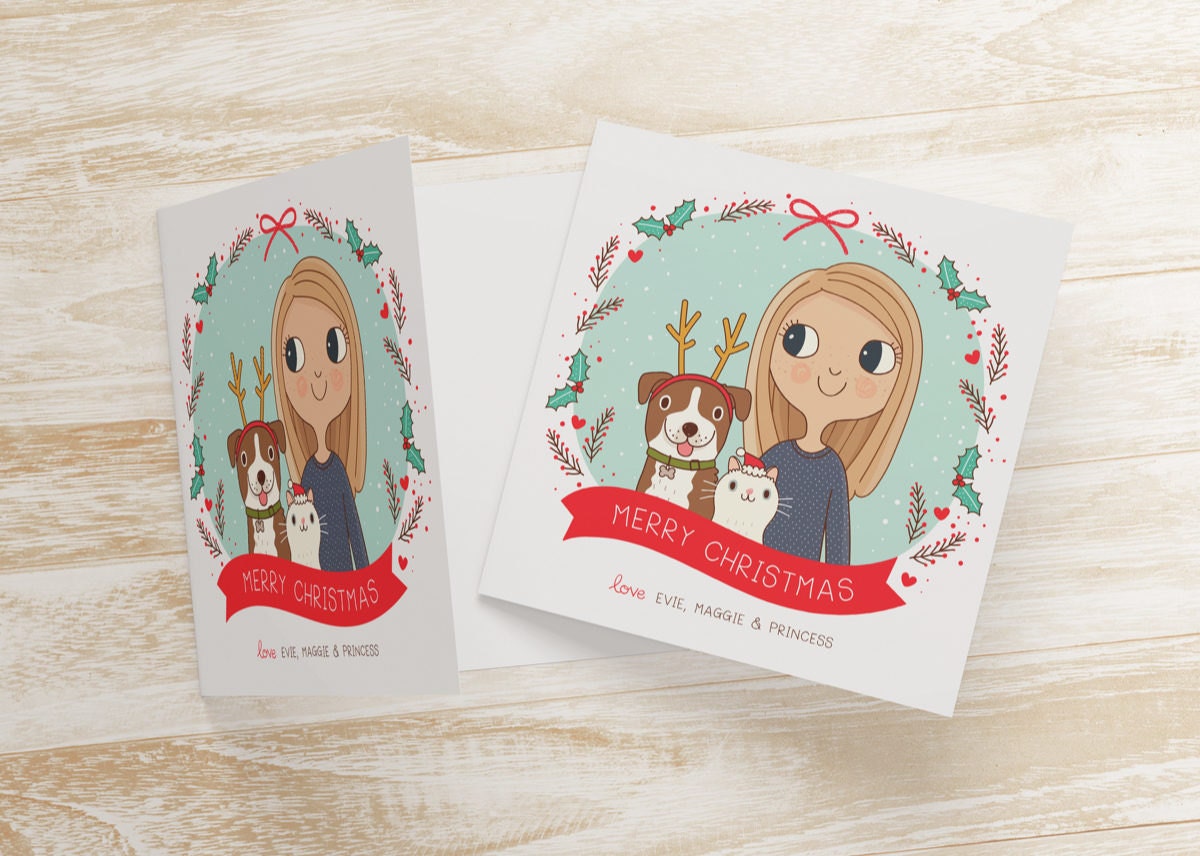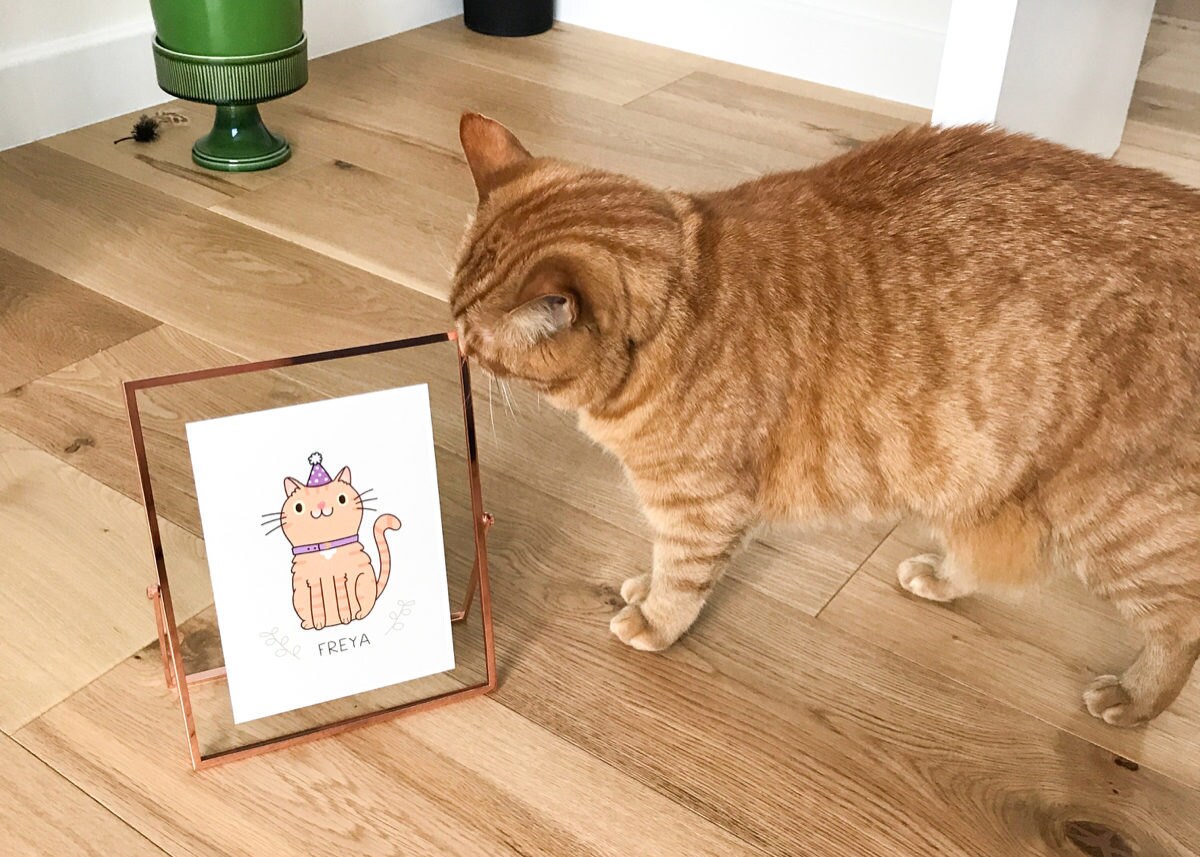 A happy customer admires his self-portrait. Photo by Sue Lee.
What do you love most about your work?
I really love drawing. You know when you start a task and you realize five hours later that you're still really concentrating and you don't even realize where the time's gone? That's something I really enjoy. I also really enjoy being my own boss and working my own hours. For me, I've always been quite independent, so I really like being in control of my day.
Follow Clare Vacha on Instagram, Facebook, and Twitter.
Photographs by Clare Vacha, unless otherwise noted.