by Julie Schneider
Dial up the vibrance and joy this season with super-snuggly, ultra-imaginative stuffed animals, hats, and scarves from this Maryland-based maker.
In our Featured Shop series, we shine a light on a standout shop from Etsy's talented seller community, offering readers a behind-the-scenes look at their process and story.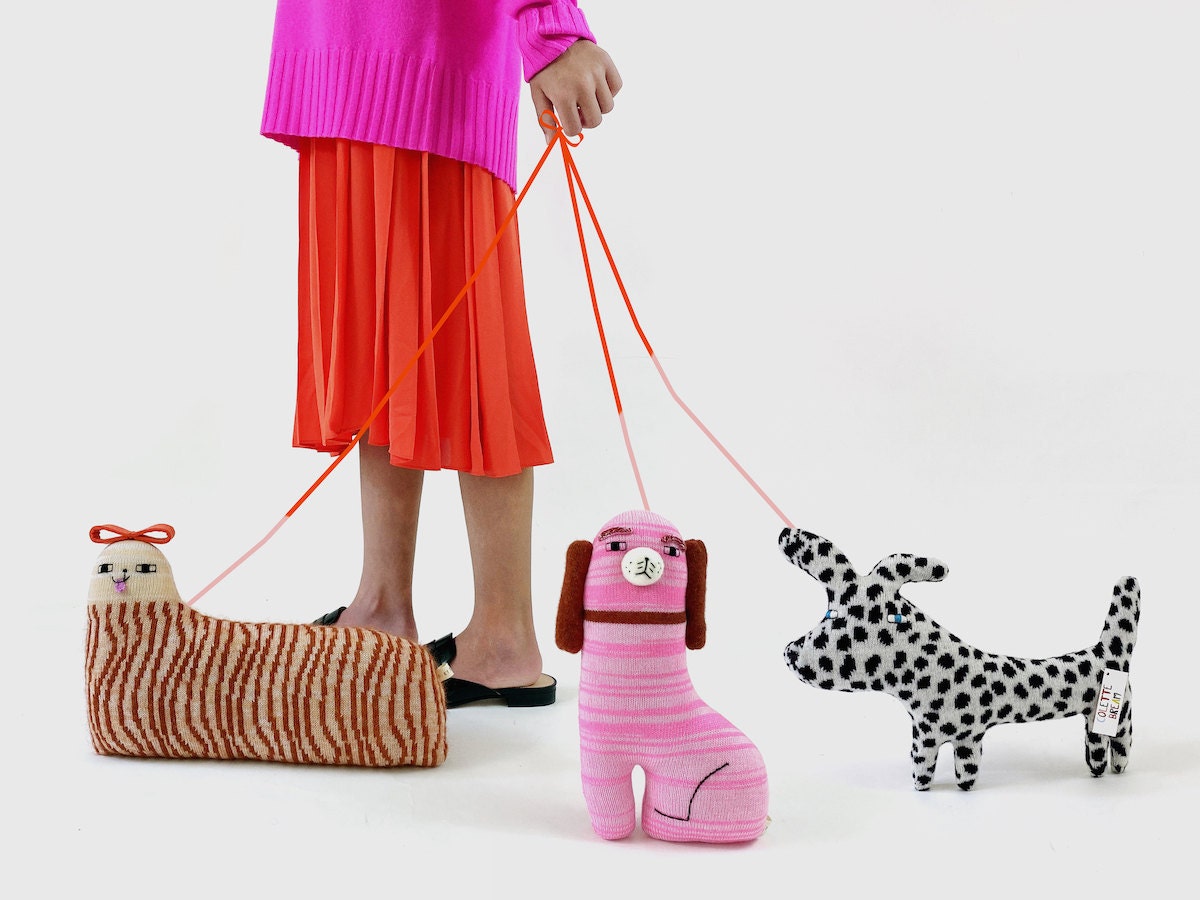 Young or old, the moment you enter the whimsical knitted world of Colette Bream, you'll know what it is to believe in magic. Stocked to the brim with a colorful assortment of cuddly creatures, snuggly pillows, and quirky-cute accessories, the Maryland-based knitter's eponymous shop encourages us all to take a more playful approach to the everyday. "When something makes you happy and brings you joy, there really isn't an age restriction on that," Colette says of her fanciful collection, which includes soft offerings for kids, adults, and even pets. Knitted in small batches, one at a time, from Colette's own custom-made fabrics, each warm, woolly scarf and plush stuffed sausage is a totally unique handmade gift from the heart.
And because each piece is a Colette Bream original, that also means customers have plentiful options for personalization. From lovable critters that can be stitched up in custom colors to vibrant knit hats paired with pick-your-own pom-poms, each one-of-a-kind item is an invitation to express your own creativity—and show how much you care for your recipient. "When I first started my business, my motto was 'What shall we play today?'" Colette recalls. "Whether it's the toys and pretend tails or handmade board games, it was always my goal to spark imagination."
Read on to learn how Colette's signature sausage is made and get her tips for picking the perfect present, then shop the Colette Bream collection.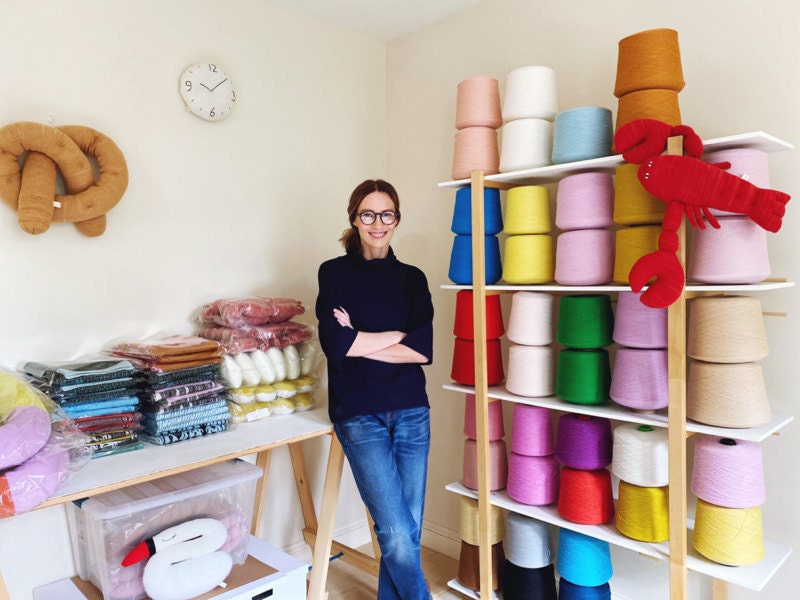 What inspired you to start your Etsy shop?
My daughter, who is my greatest gift. My love for handmade was instilled in me when I was young, by my very crafty grandmother who taught me the basics of sewing, knitting, and embroidery. Then when I had my daughter, she reignited the creative spark I had in me as a child. I started making toys for her, and as the soft animals and plushies started to pile up, I wondered if there was a way to sell them. In 2011, I decided to give Etsy a try. I started designing for children, but over time I realized that many of my products resonate with people of all ages, so now I make sure to keep that in mind.
What makes your products so gift-worthy?
Handmade gifts are meaningful. If there is a story behind a gift or if it creates conversation, even better. Because I'm in control of the entire process from start to finish, I'm able to offer personalization—whether it's just a simple tweak on an existing design, like a color variation or added embroidery, or a completely custom design. By doing this, my customers become a part of the creative process. They're putting their heart into it, which shows they truly care. That's what makes a gift stand out and be memorable.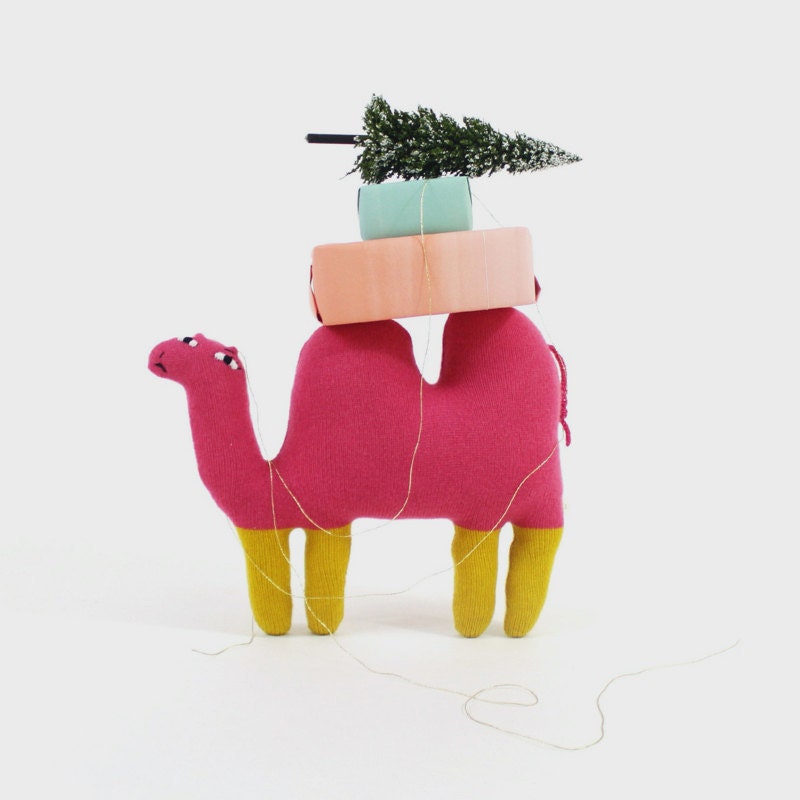 SHOP: Camel plushie from Colette Bream, $64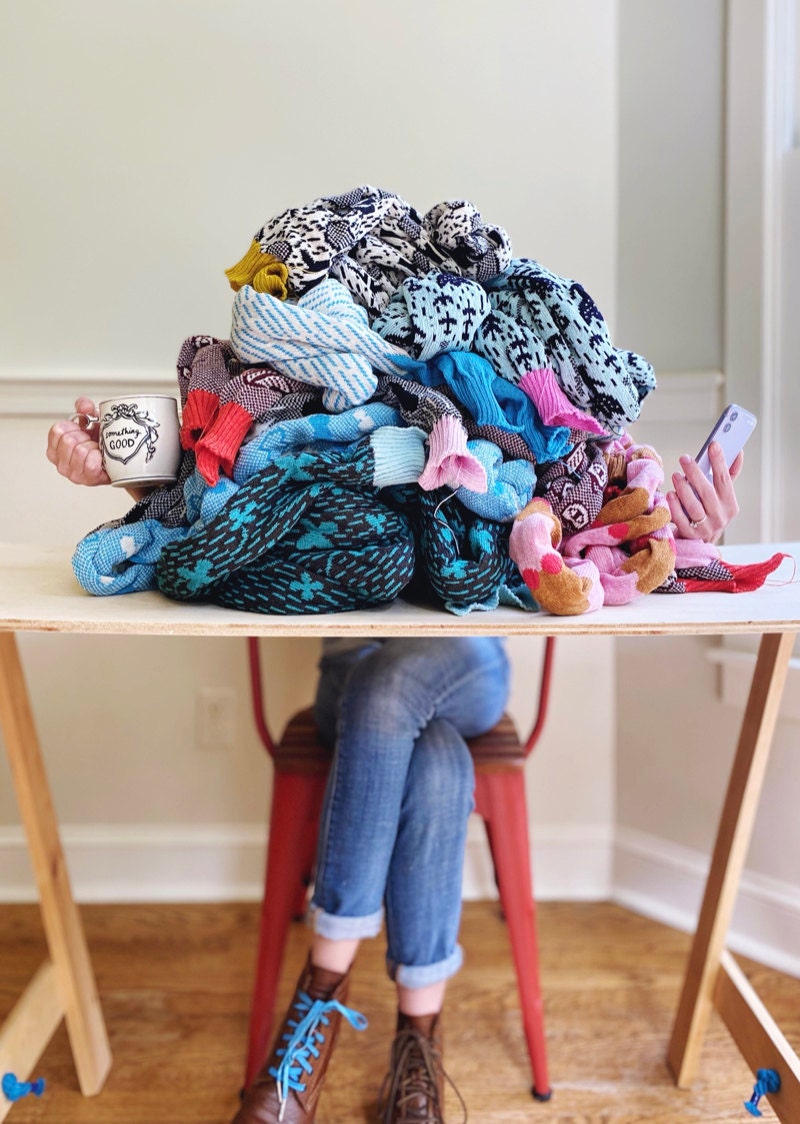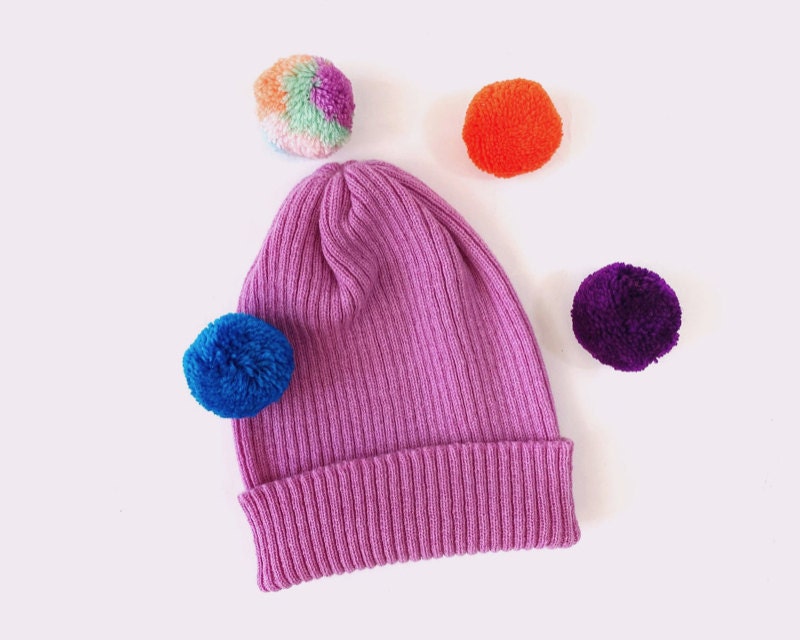 SHOP: Pick-a-Pom beanie from Colette Bream, $38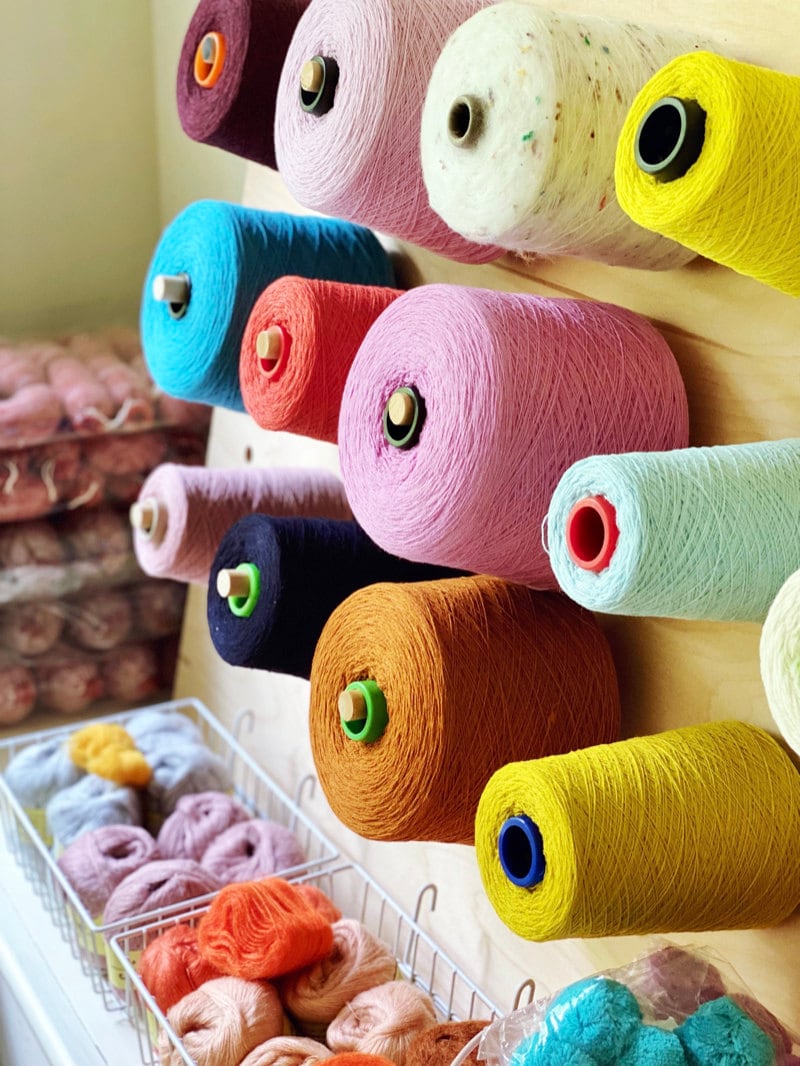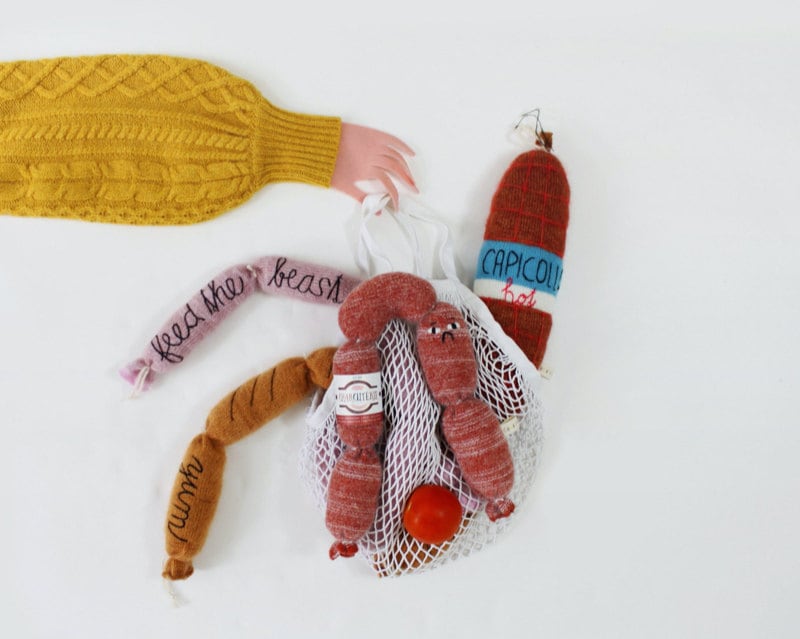 SHOP: Charcuterie plushies from Colette Bream, from $46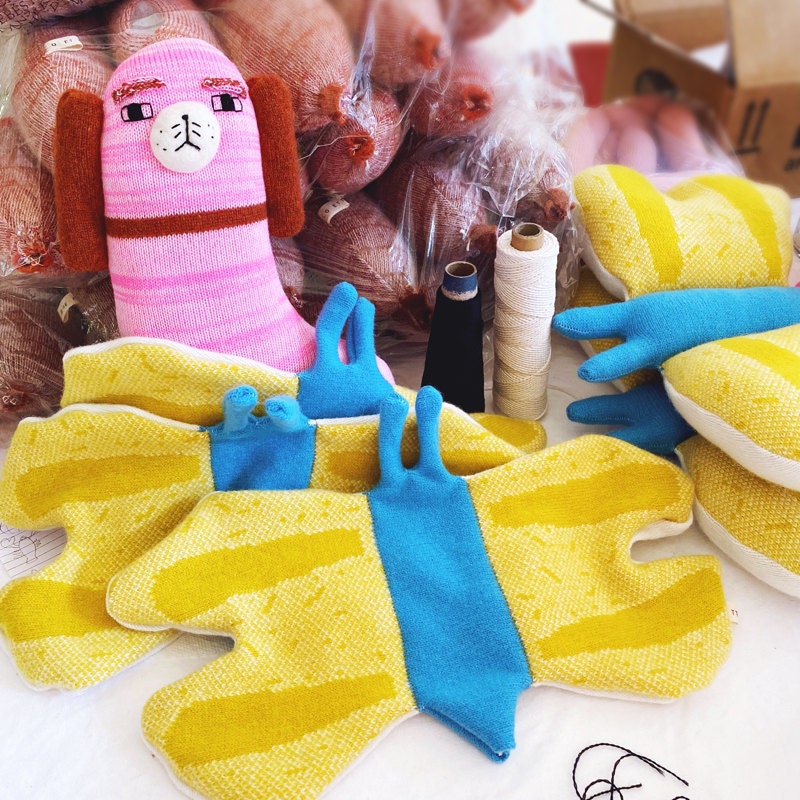 SHOP: Assorted plush creatures from Colette Bream, from $36
Any tips for someone who's considering a custom order for the holidays?
Know your person: What are their hobbies, interests, values? Any important milestones coming up? That way, when the occasion arises, you can customize. A house-shaped pillow with a custom house number embroidered onto the fabric would make a thoughtful housewarming gift for someone who recently moved, for example.
Also, plan ahead. It takes time to create something special. I love getting custom requests and am happy to accept custom orders, but that also means that in order for me to fully focus on this one-of-a-kind item, every other aspect of my business—running an online store, answering conversations, marketing, packing, shipping—it all goes on pause. I pride myself on my customer service, so the moment I receive an order, that order becomes my number one priority.
Your pieces are so lively and full of character. Where do you find your inspiration?
Sometimes when I design a product, I imagine it being used by parents and children in active play. For example, the handmade collection of board games was inspired by my own family's game nights. Other times, I imagine a new baby, their little fingers grasping a baby rattle, making it jingle softly, just enough as not to interrupt their peaceful slumber. I see a colorful scarf standing out against the gloomy days full of city slush and snow. And sometimes, I just want to create a simple display piece; it can be as easy as that.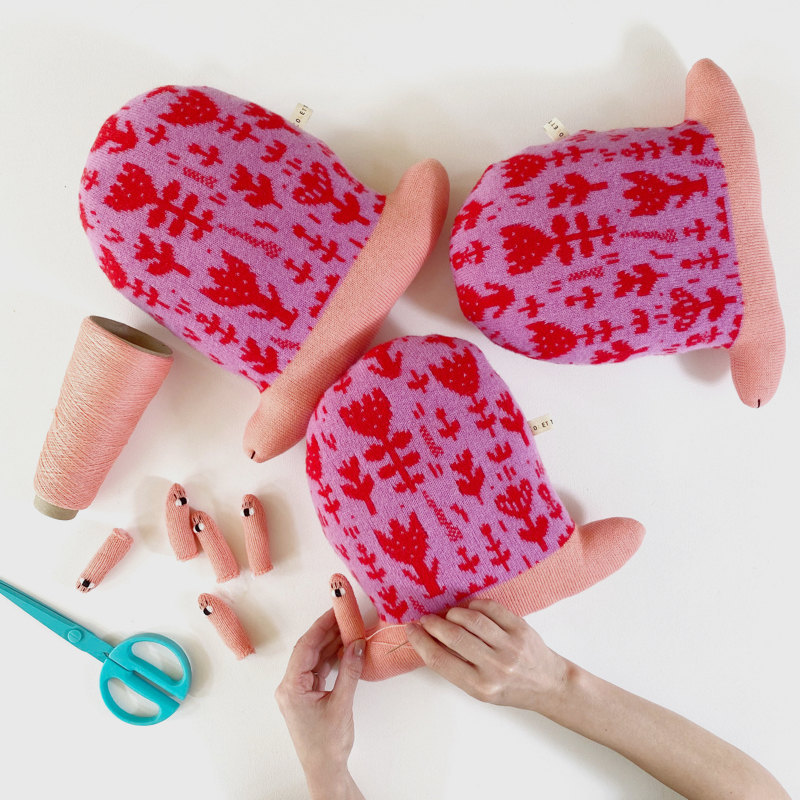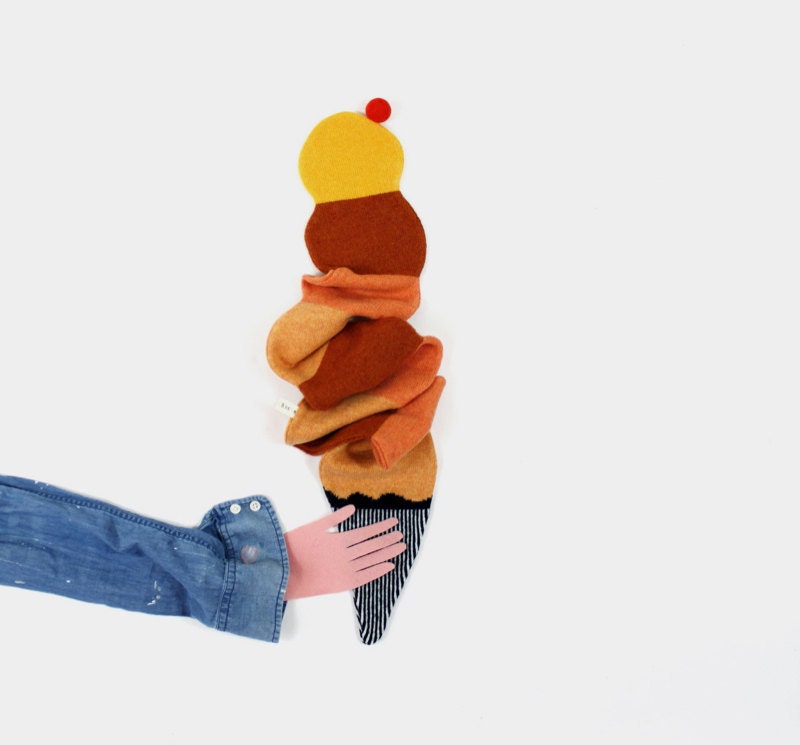 SHOP: Ice cream scarf from Colette Bream, $68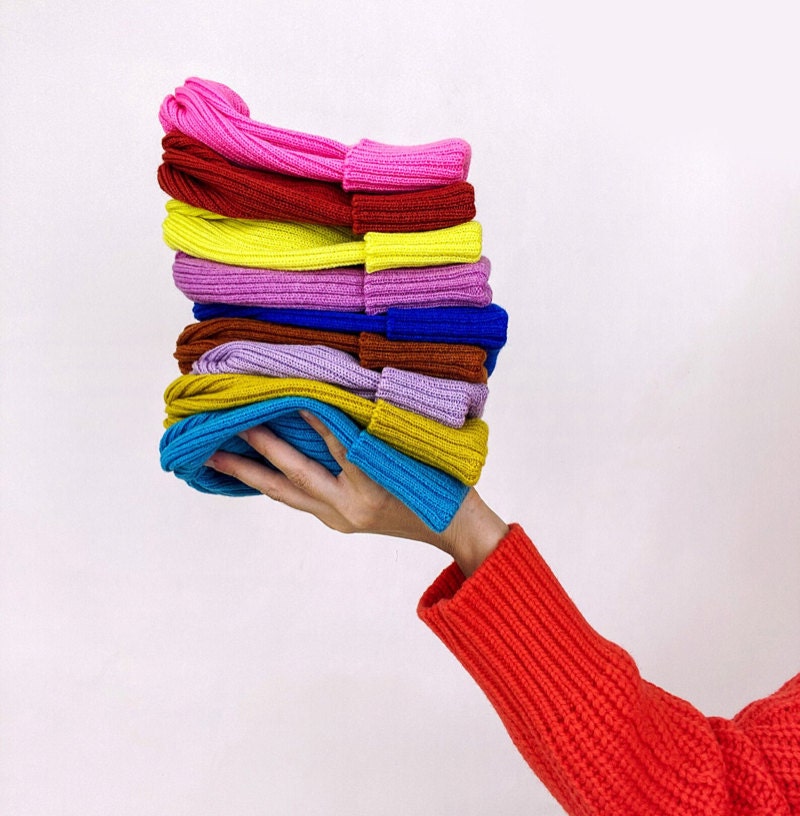 SHOP: Knitted Pick-a-Pom beanies from Colette Bream, $38 each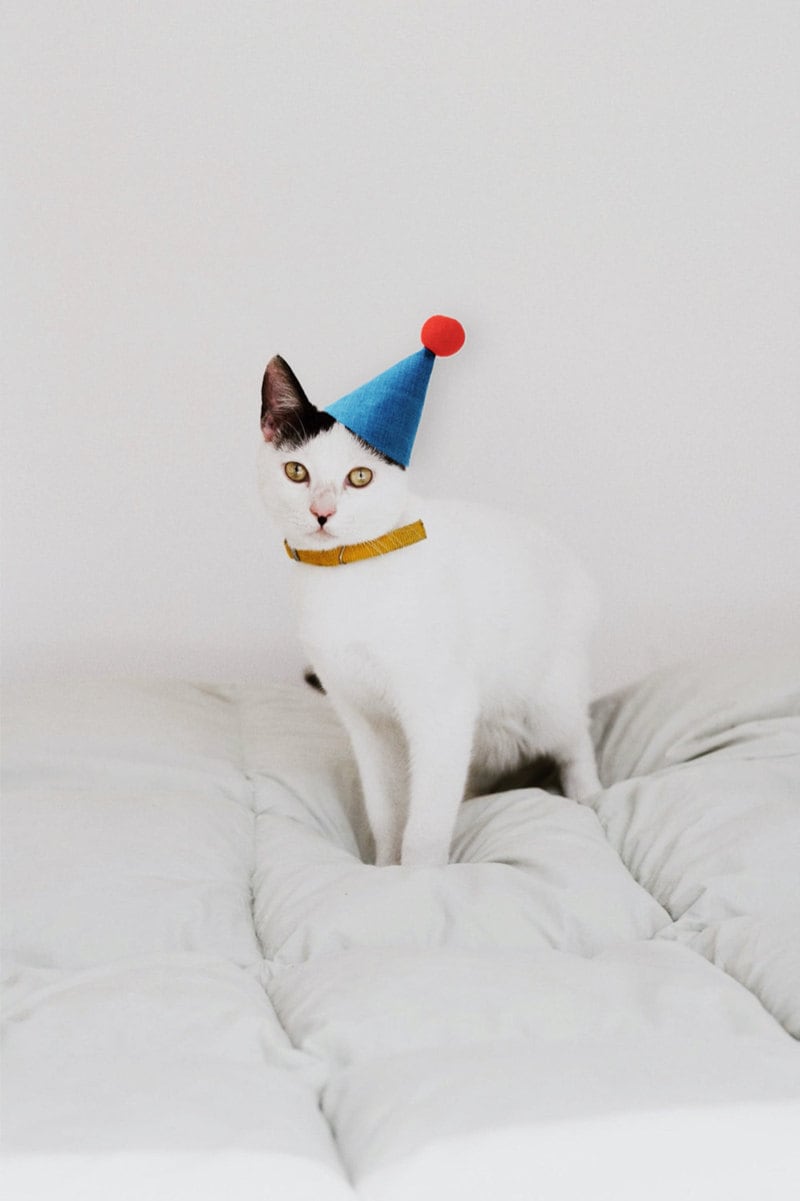 SHOP: Pet party hat from Colette Bream, $18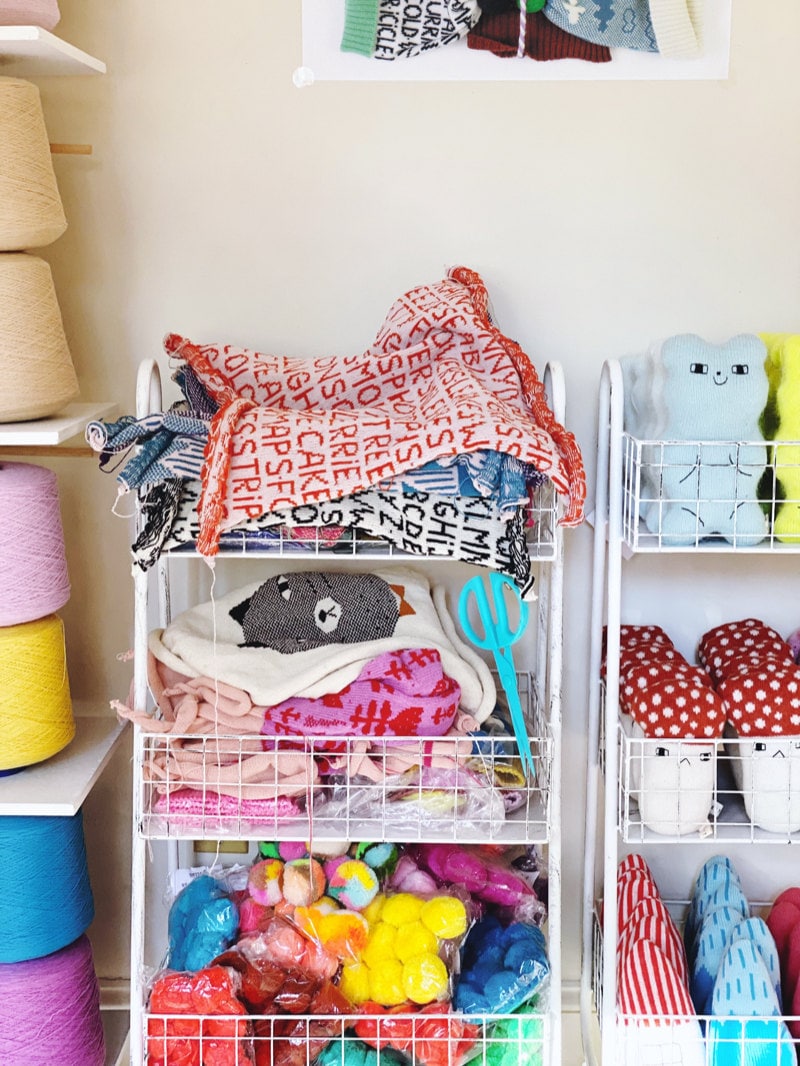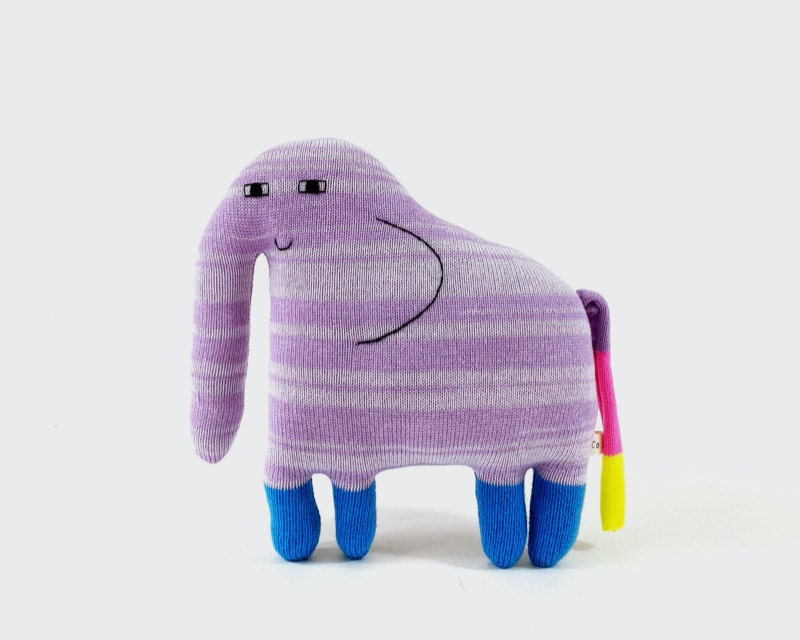 SHOP: Elephant plushie from Colette Bream, $56
Do any designs have a particularly memorable backstory?
It's true that the best ideas are the ones we didn't expect, and oftentimes happen by accident. Once, I was working on an idea for a new soft toy: a happy hot dog. I knew exactly what I wanted it to look like, but I wasn't happy with how it was coming together. It was the bread part that was giving me the headache. My patience was wearing off, and I was getting really frustrated. I didn't want negativity to enter my creative space, so I decided to toss the bread. I ended up with just the hot dog. I looked at it and laughed. That was the moment the Angry Sausage was born. This character inspired me to create an entire collection of knitted charcuterie products, which turned out to be extremely popular.
Are they still among some of your bestsellers?
Right now, yes, people are really liking them! I've seen my customers' reaction to them at in-person events, and they always make them smile.
The linen party hats are also always popular, since it's always someone's birthday. My customers like that they are sturdy and well-made, which makes them perfect keepsakes.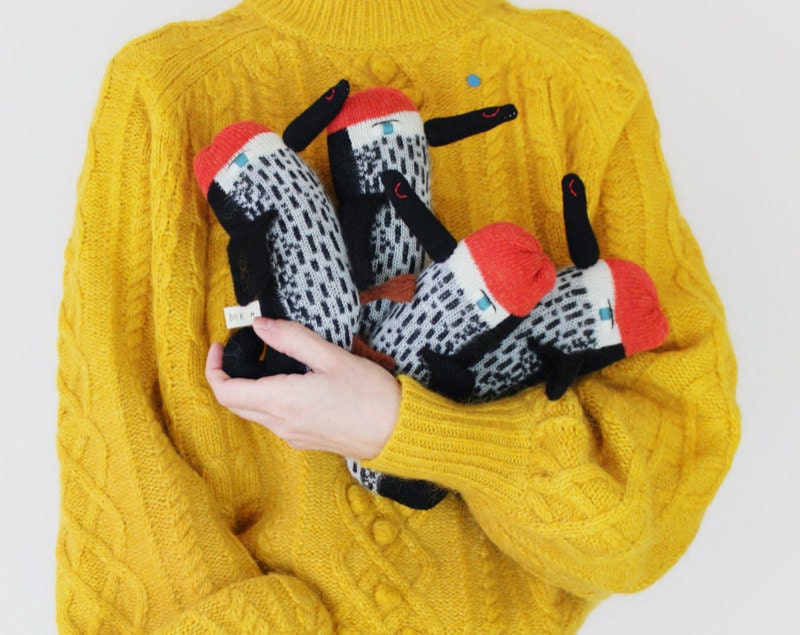 SHOP: Bird plushie from Colette Bream, $50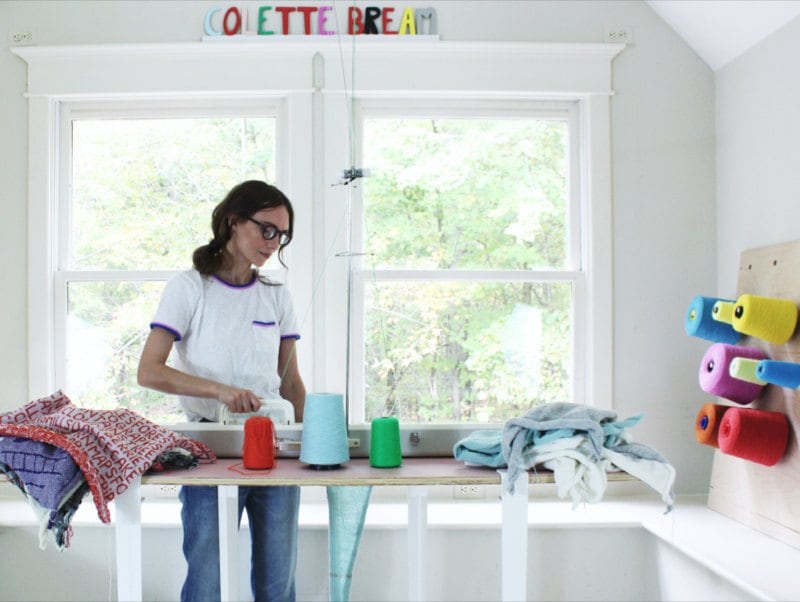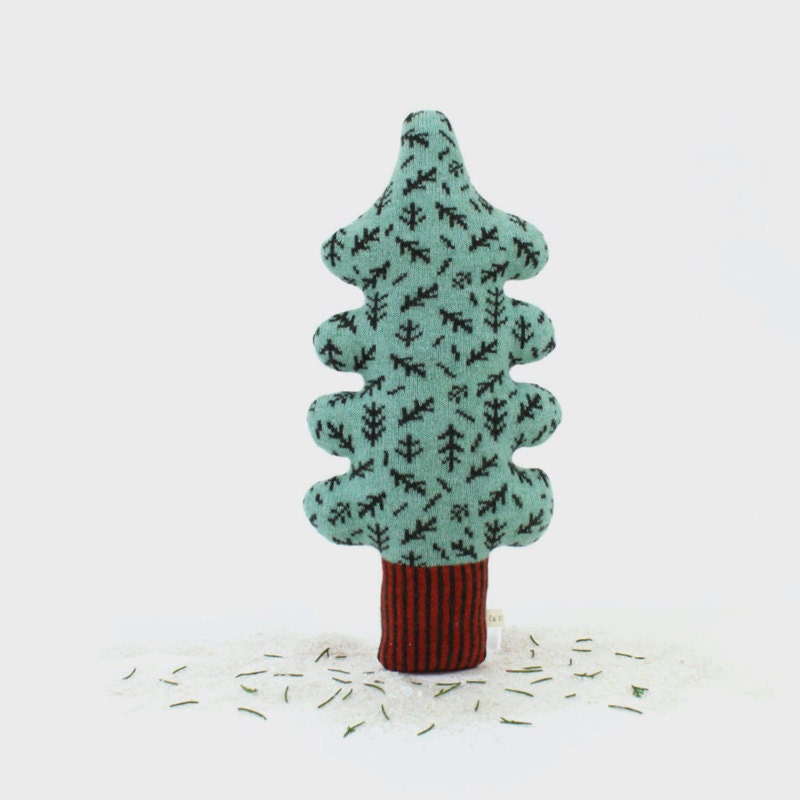 SHOP: Christmas tree pillow from Colette Bream, $64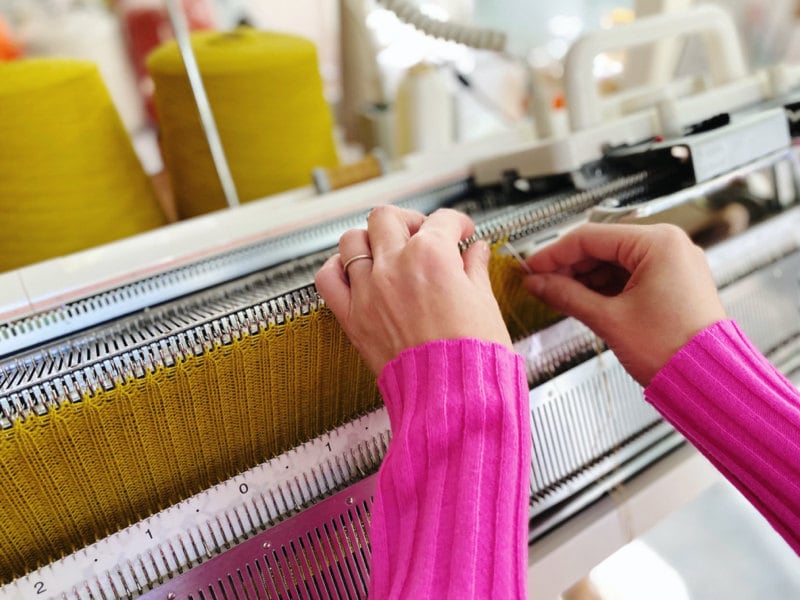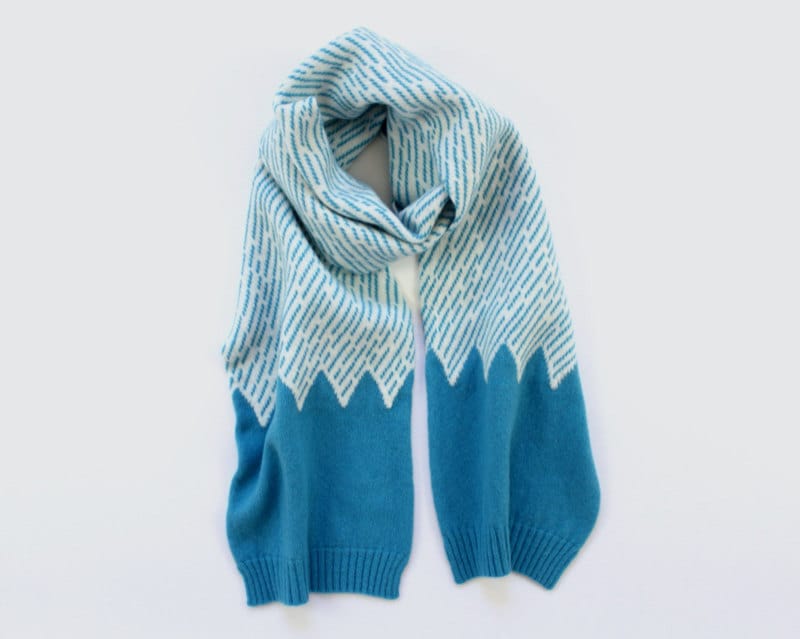 SHOP: Mountain scarf from Colette Bream, $68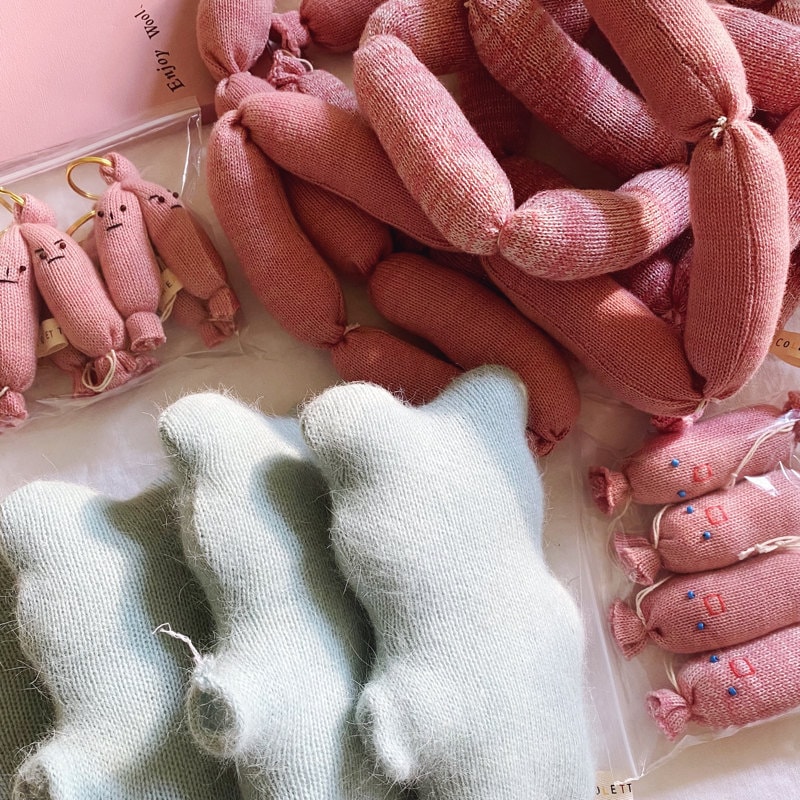 I love that you create your own fabric. Can you tell us a little bit more about that process, and your overall workflow?
I knit the fabric using a domestic, manual knitting machine, making fabric that's unique to my shop. I love combining different types of yarn in different colors to achieve certain textures and hues. Once I'm ready to turn the fabric into a toy, my first step is to draw a little sketch on a piece of paper. I use a template to trace its shape, cut it, and use a serger to sew the pieces together. I fill it with hypoallergenic stuffing and hand-stitch the opening closed. The last stage is adding details and finishing touches, which are all done by hand.
How do you achieve your products' signature softness?
I work with the finest quality wool: Australian merinos, Italian mohair, and British lambswool for all knitted products. I also use luxury mill end yarns (such as cashmere), which are very limited, if I can get my hands on them. To make the very popular party hats, I use European laundered linen. This is a very special fabric woven in small batches in a mill in eastern Europe that runs on green energy and is Oeko-Tex certified.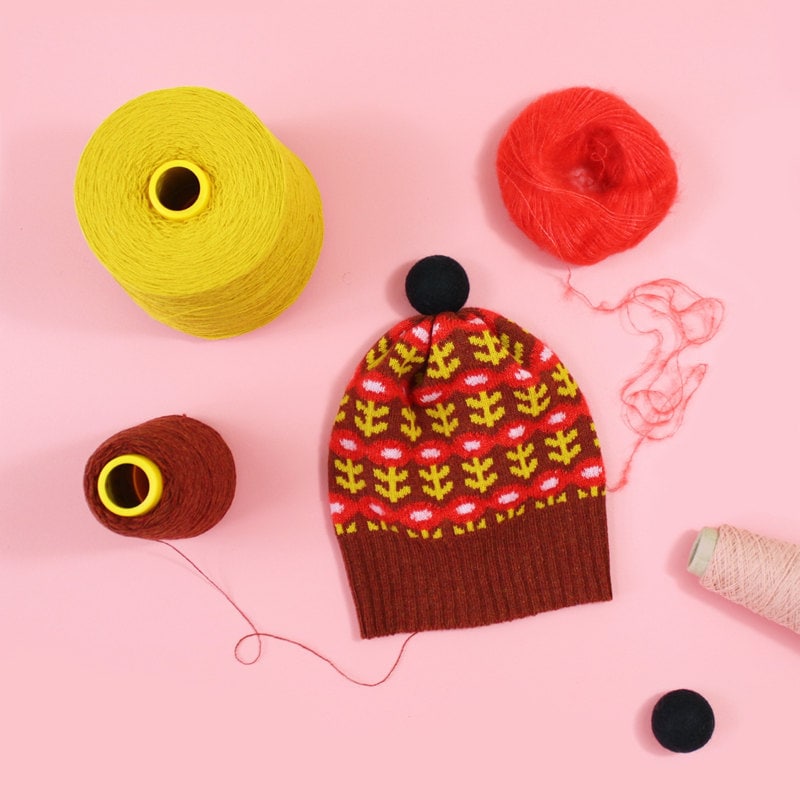 SHOP: Knit winter beanies from Colette Bream, from $38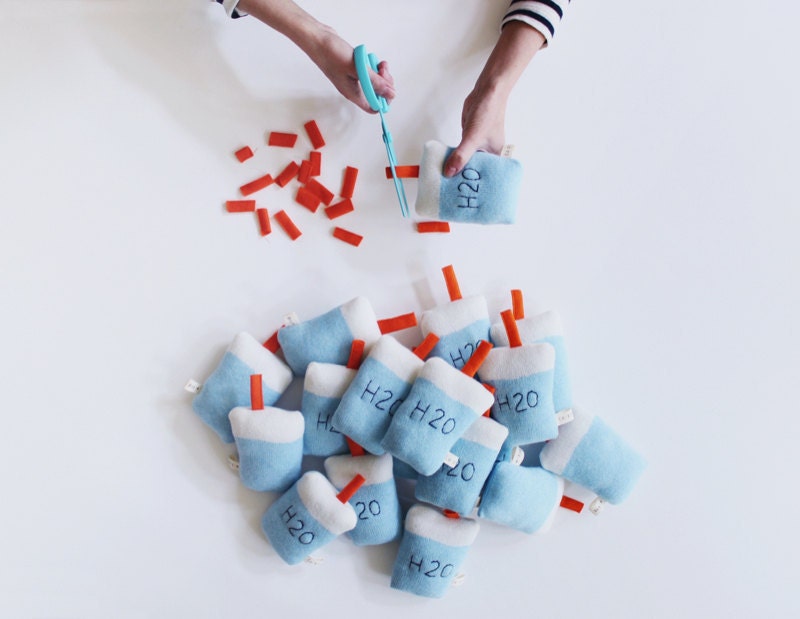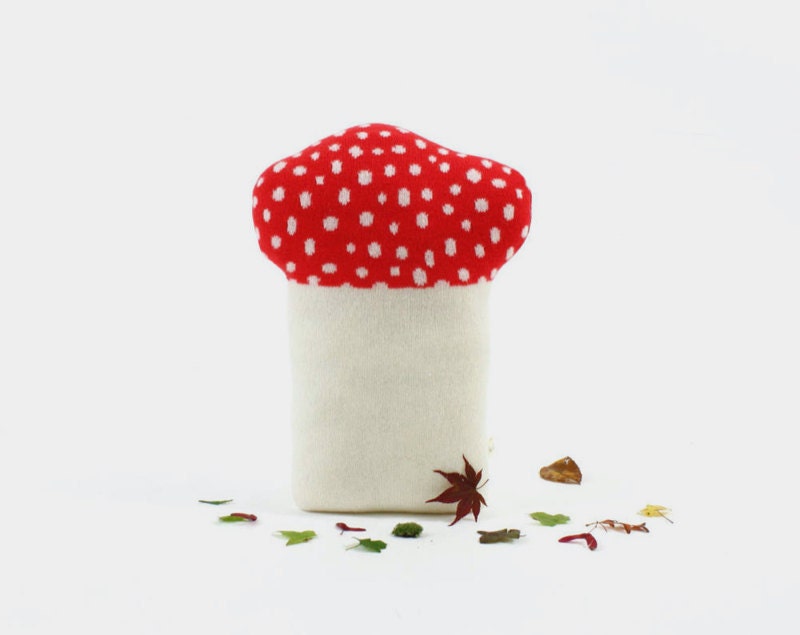 SHOP: Plush mushroom pillow from Colette Bream, $64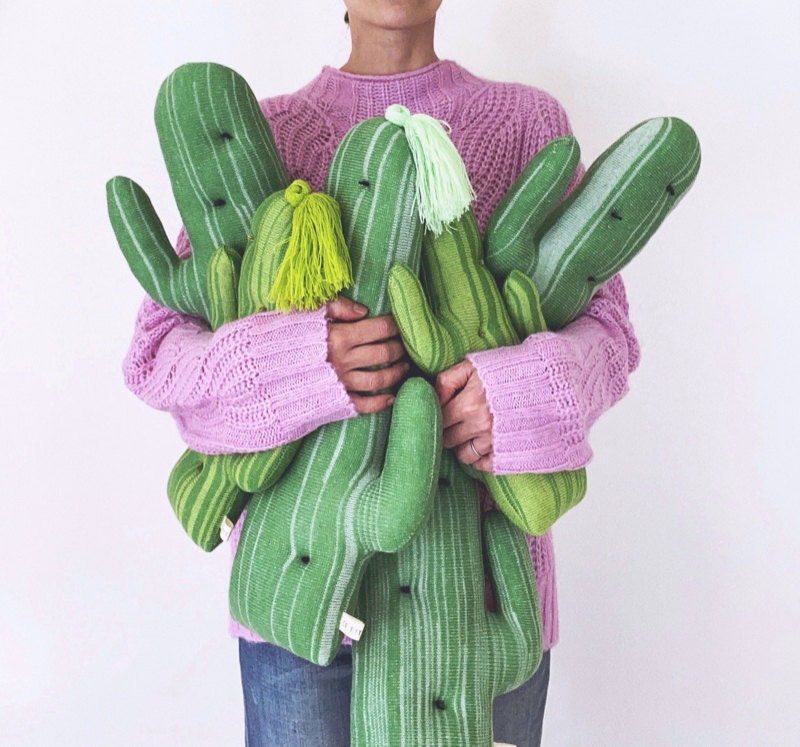 SHOP: Cactus plushies from Colette Bream, from $56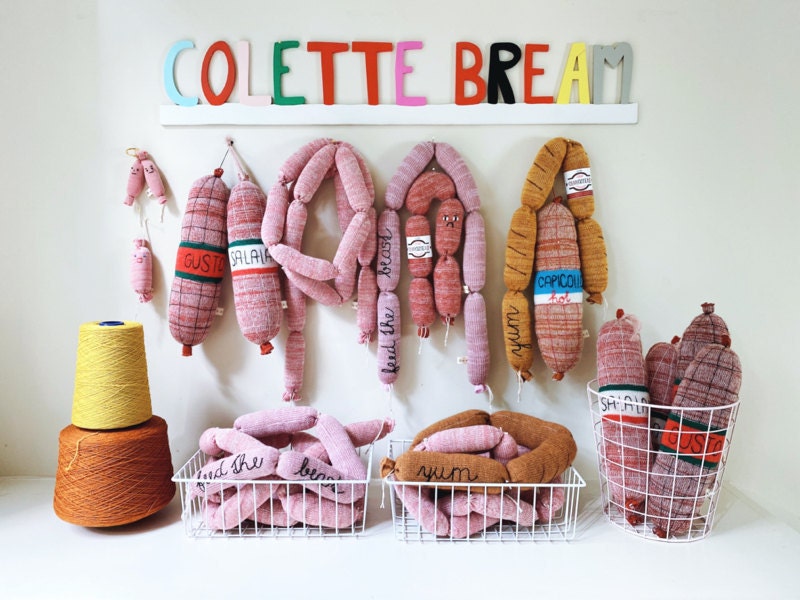 SHOP: Charcuterie plushies from Colette Bream, from $46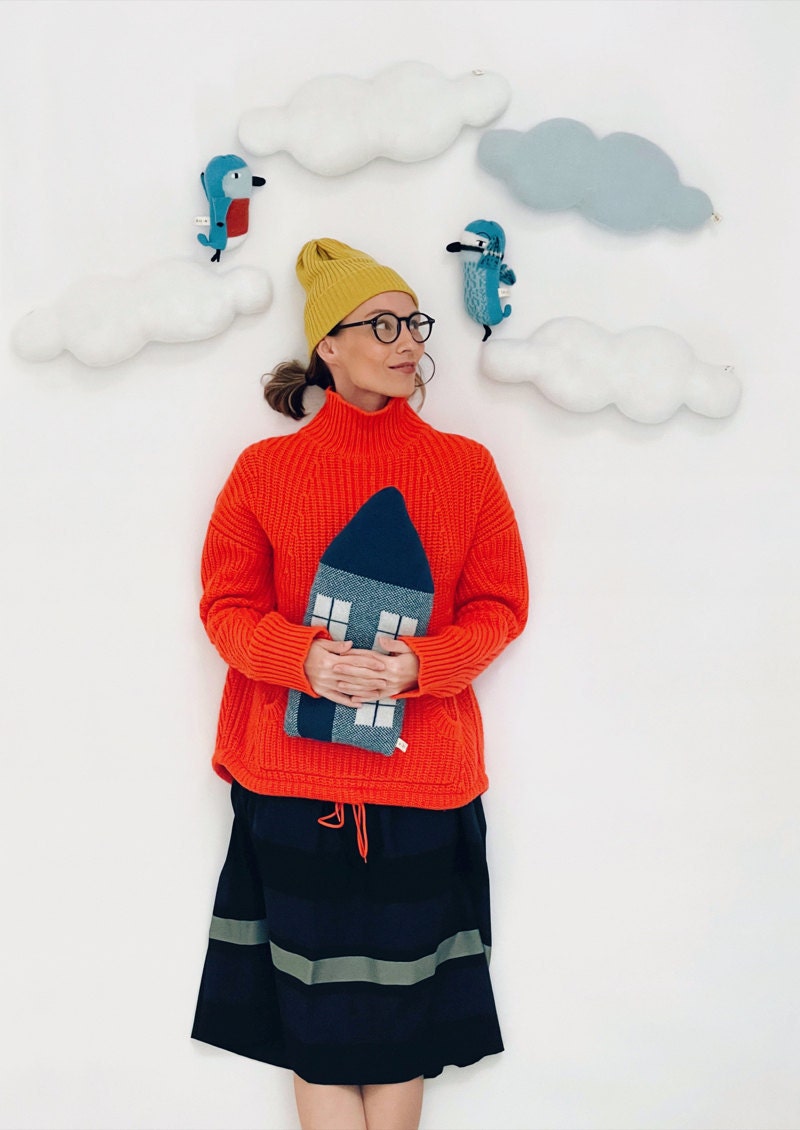 What is meaningful to you about running your own creative business?
I am an extremely private person, a hopeless introvert. My creative business is a way for me to open up and speak to the outside world. Etsy is special in that it offers something that other major e-commerce platforms don't: the direct connection to the customer. Also, there are so many amazing artists! The sense of camaraderie is real. I love being part of the Etsy community.
Follow Colette Bream on Instagram and Facebook.
Photography courtesy of Colette Bream.