by Katie Hawley
This Indiana-based designer dreams up vintage-inspired swimwear to make women of all shapes and sizes look and feel beautiful.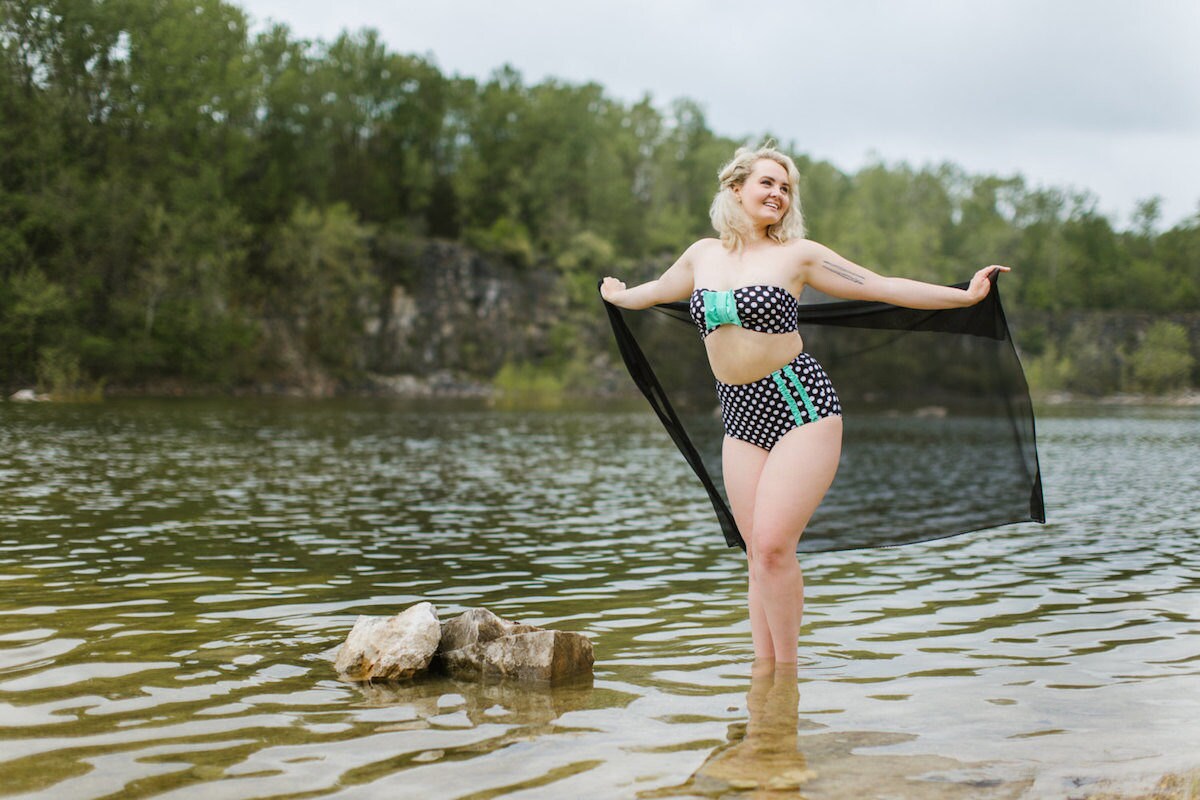 "What is more terrifying and dreadful for the majority of women than swimsuit shopping?" asks Ashley Nixon, the talented designer behind
Collective Hearts Swimwear
. For many women, including yours truly, the answer is a resounding: nothing. "Swimsuit shopping has always been hard for me," says Ashley. "As a curvy woman myself, I know how discouraging it can be to go shopping for a swimsuit and have it not even come close to fitting. I wanted to change that experience." And change it she has, with her colorful, brightly patterned line of vintage-inspired swimwear. Available in mix-and-match sizes ranging from 2 to 32, they're designed to make women of all shapes and proportions look and feel beautiful. "The feedback I've received is just incredible," says Ashley, who opened shop on Etsy in 2012. "Women send me messages saying it's the first time they've felt beautiful in a bikini in years, or that they finally feel confident enough to wear a swimsuit in public. And that's kind of amazing—you can really change someone's confidence just with some fabric."
Read on to discover Ashley's favorite swimsuit style and her unconventional approach to model casting, and shop the Collective Hearts collection.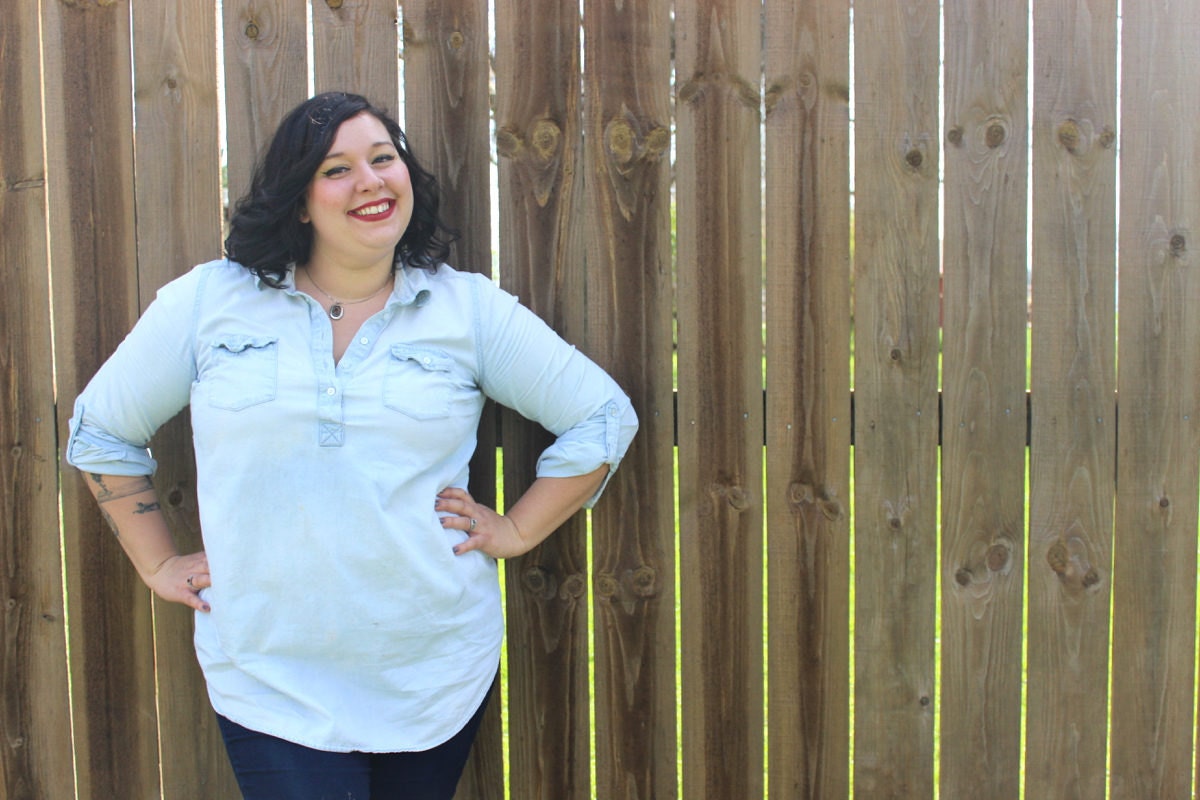 How did you get started designing swimwear?
I went to school for apparel design in Indiana, but as you can maybe imagine, there's not much out there in Indiana for fashion. There is, however, a weird amount of show choir—show choir was actually invented in Indiana. I started out cutting costumes, and ended up getting into management. Then, when the show choir company I was working for decided to move to Florida, they held a big fabric sale. There was a ton of swimsuit material that they used for dance costumes, and I just knew it was a challenge I wanted to tackle. It was July 2012 when I listed my first suit on Etsy; I got a pretty good response and kind of fell in love with making
swimsuits
.
How has your line evolved over time?
Over the years, I've definitely gotten more organized with patterning. That was my weakest spot at the beginning—I was being a little lazy with it and only creating the different patterns as I got new orders. But now when I make a new design, I'll pattern every size. I also think my design aesthetic has evolved; it still stays true to where I started, but it's not just totally girly anymore.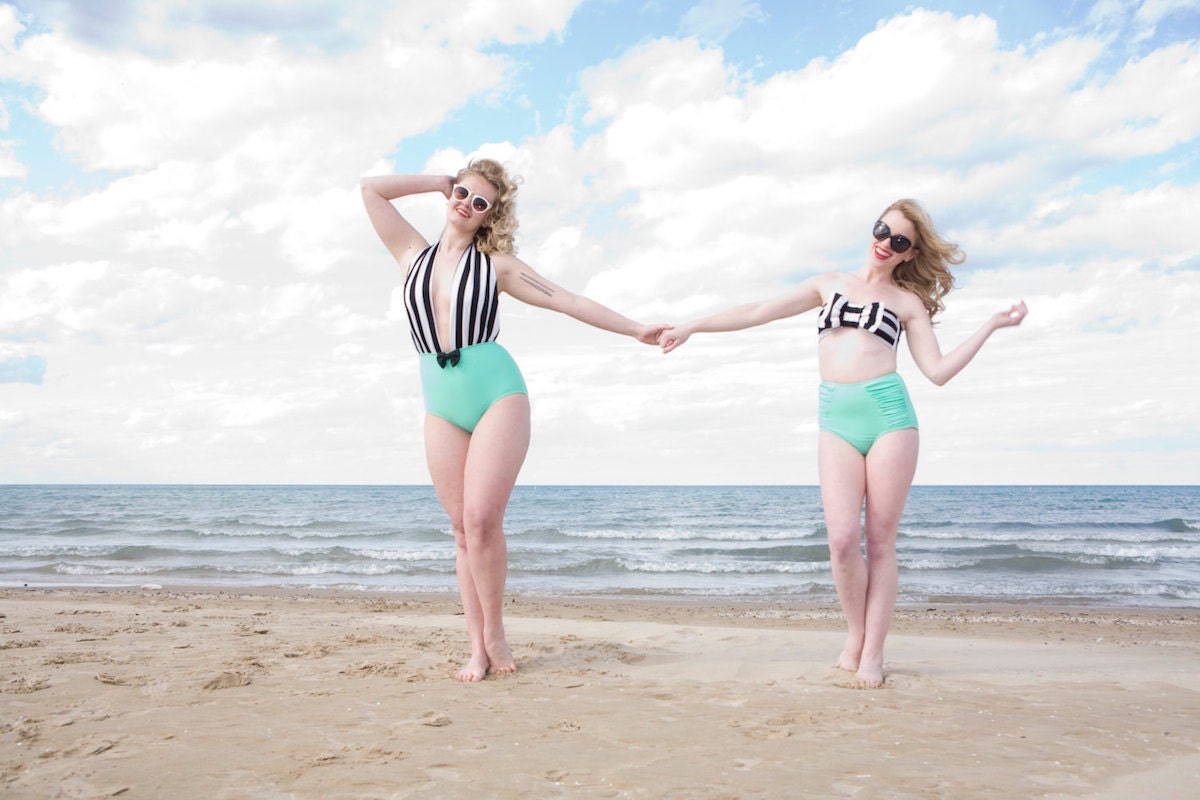 Photo by Karla Hughes.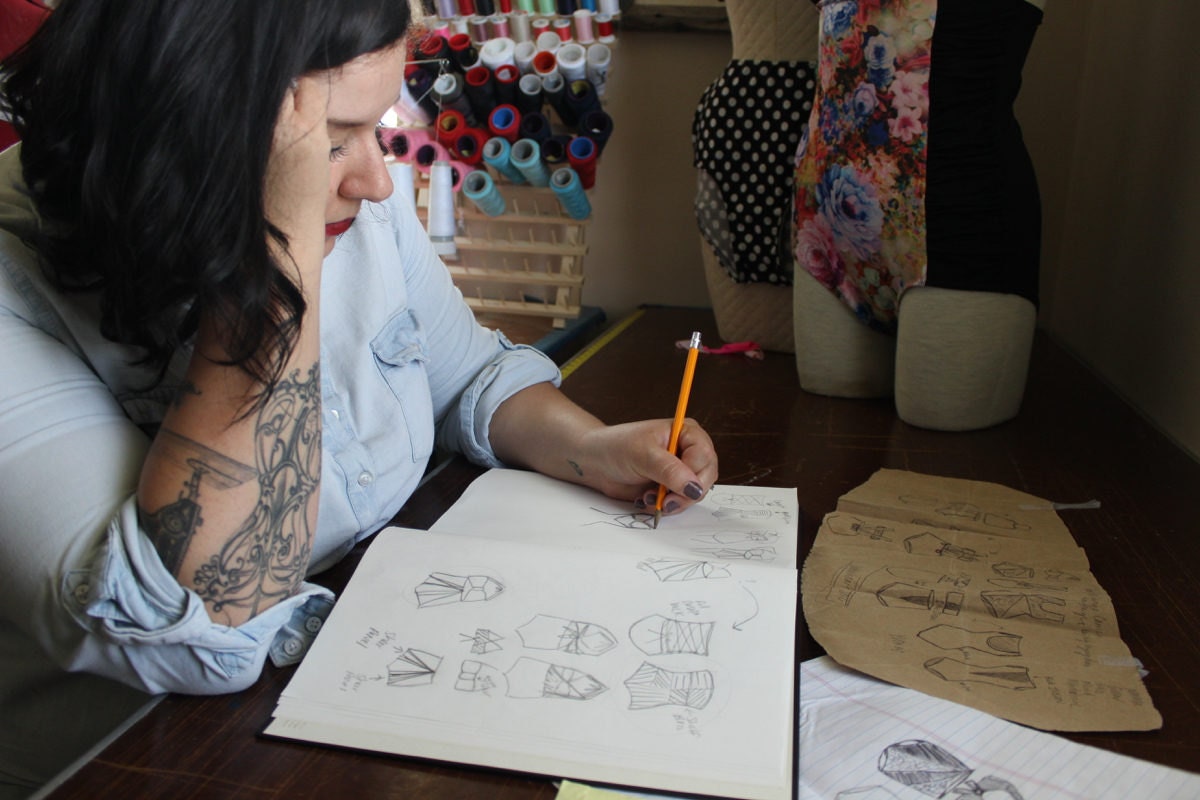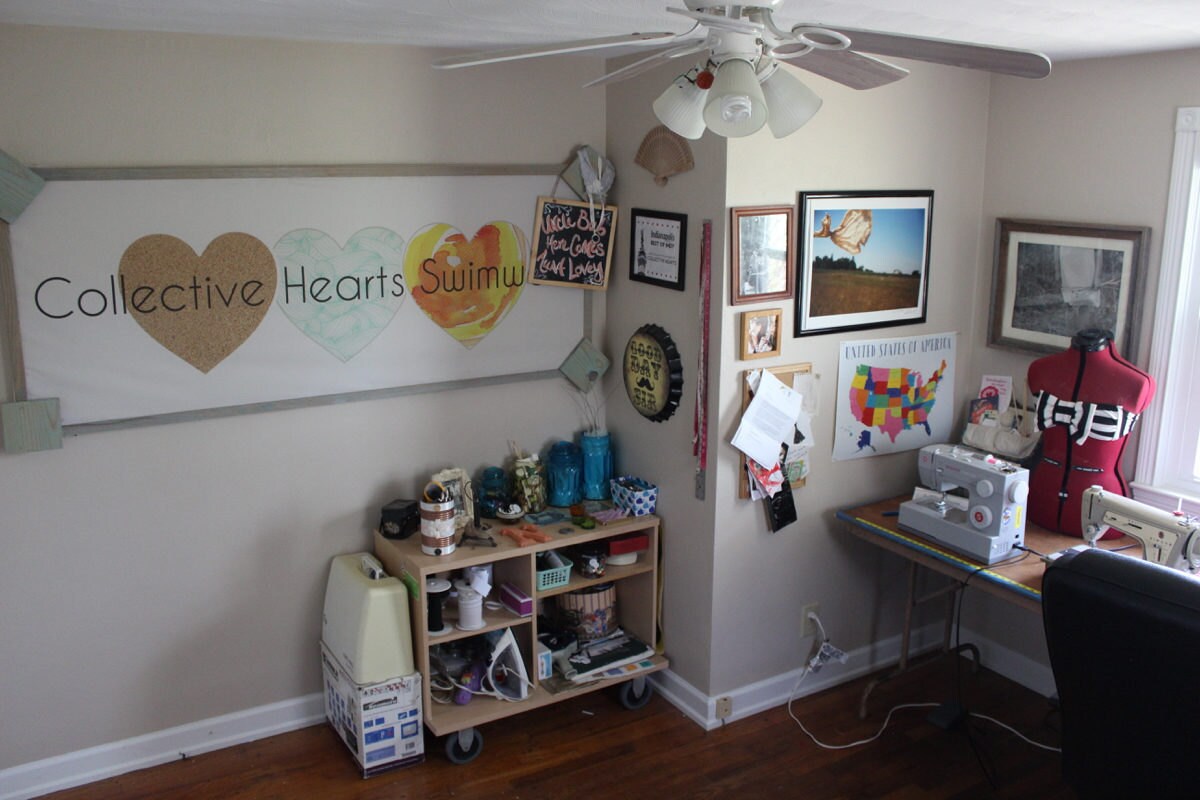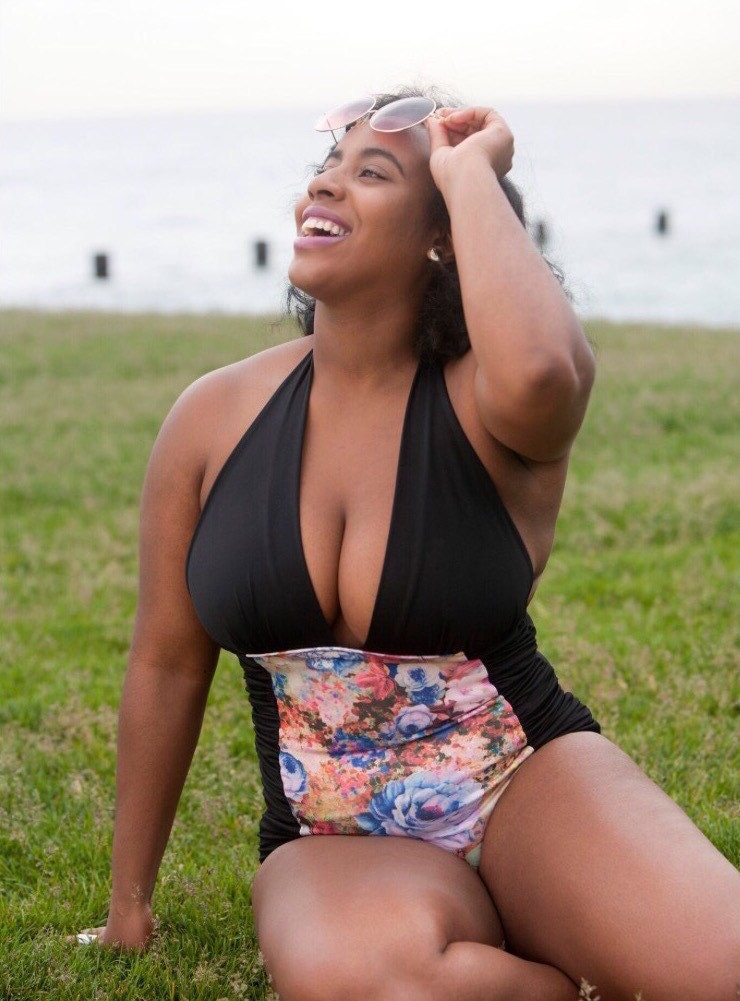 Photo by Karla Hughes.
So how would you describe your aesthetic today?
I still love girly things—bows and ruching and all that—but I've moved towards other design aesthetics. I love to color block. I don't usually do a lot of patterns; I have polka dots and stripes and a few other things, but I really like solid colors more. And if I'm going to have a bow, I want it to be a woman's bow, versus a little girl's. I want it to feel womanly—semi-modest, but still sexy. I also love
vintage styles
. That's where a lot of my inspiration draws from, but I try to keep it pretty modern with my designs and colors so it's not too kitschy. I still keep with that retro vibe, but I want my pieces to be seen as garments for 2017.
Where else do you look for inspiration?
I like to look to old movies sometimes. I actually got inspired by
Jaws
a lot this year, which is kind of creepy, but it's my husband's favorite movie. I love looking at the costumes and all the old swimsuits. I drew a lot after I watched that movie; I just felt really inspired. I also look to everyday fashion, and follow along with the different fashion weeks. I like to see what's predicted for upcoming
trends
and then try to put my own twist on them.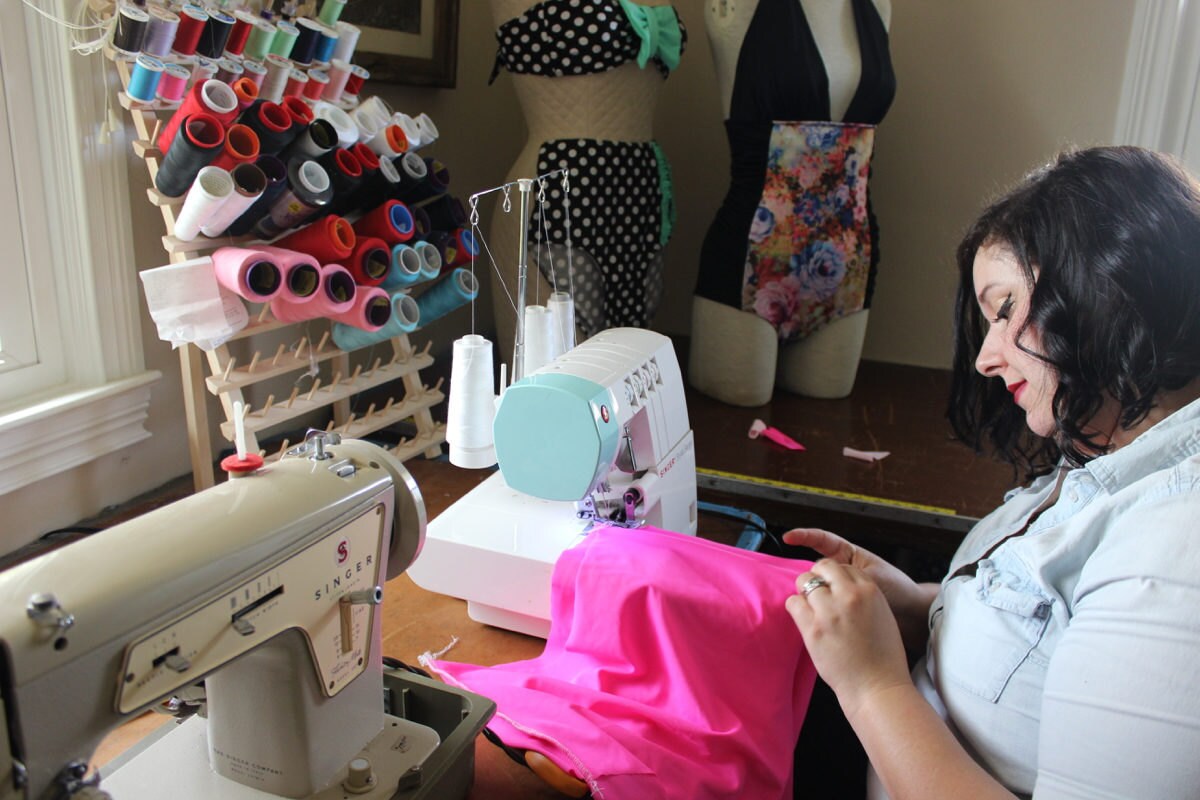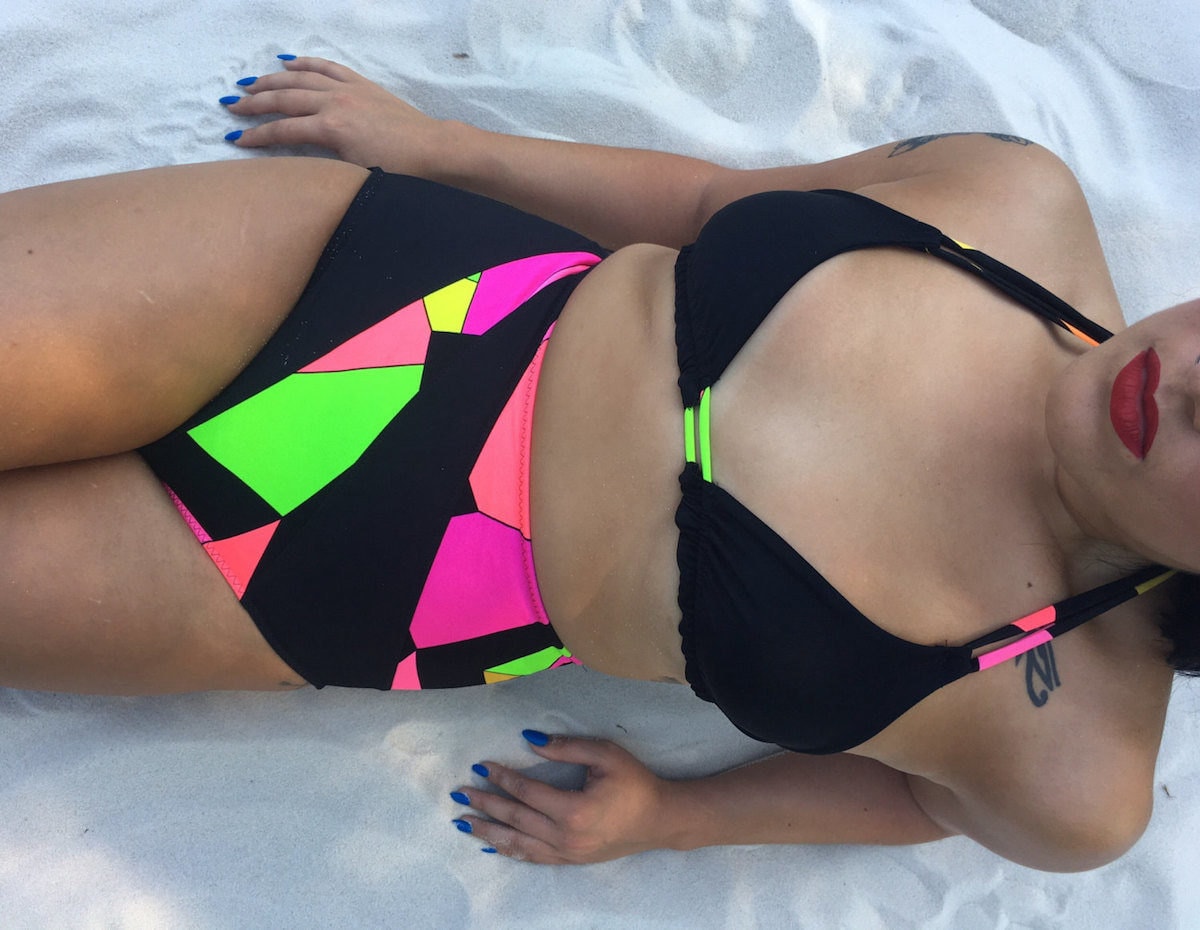 Photo by Ashley Nixon.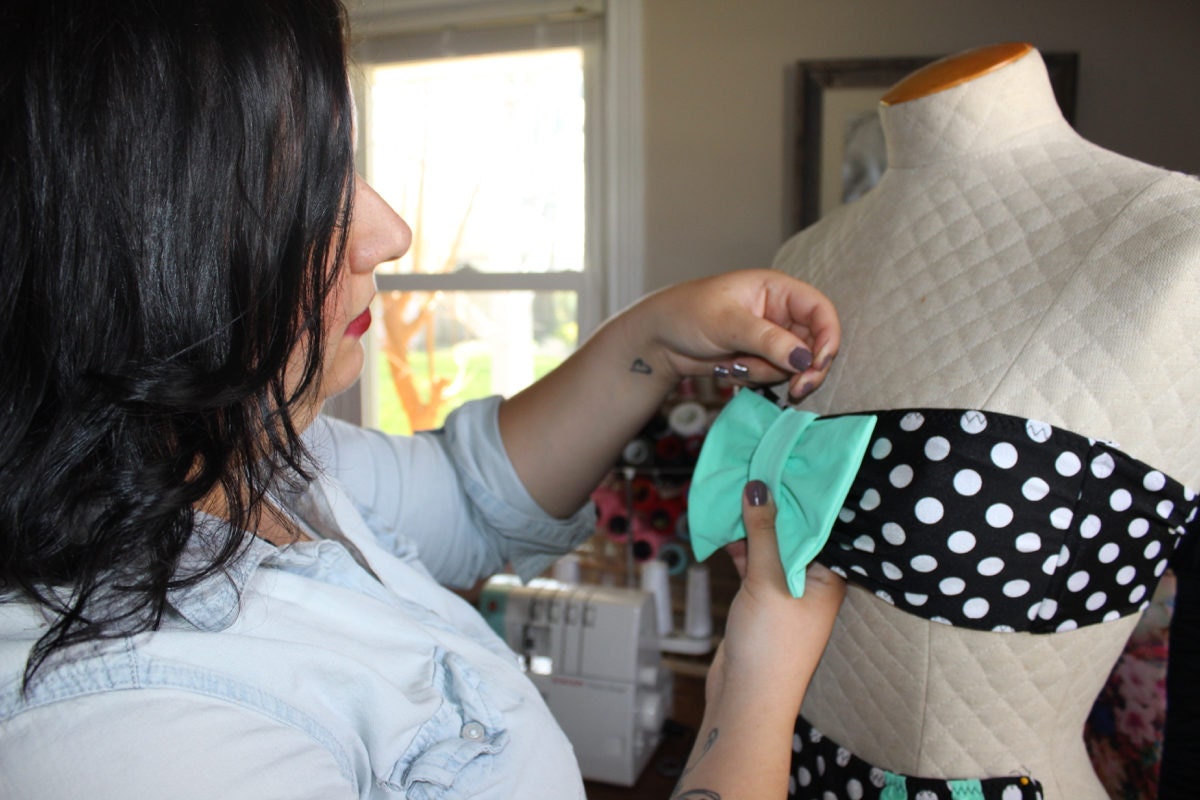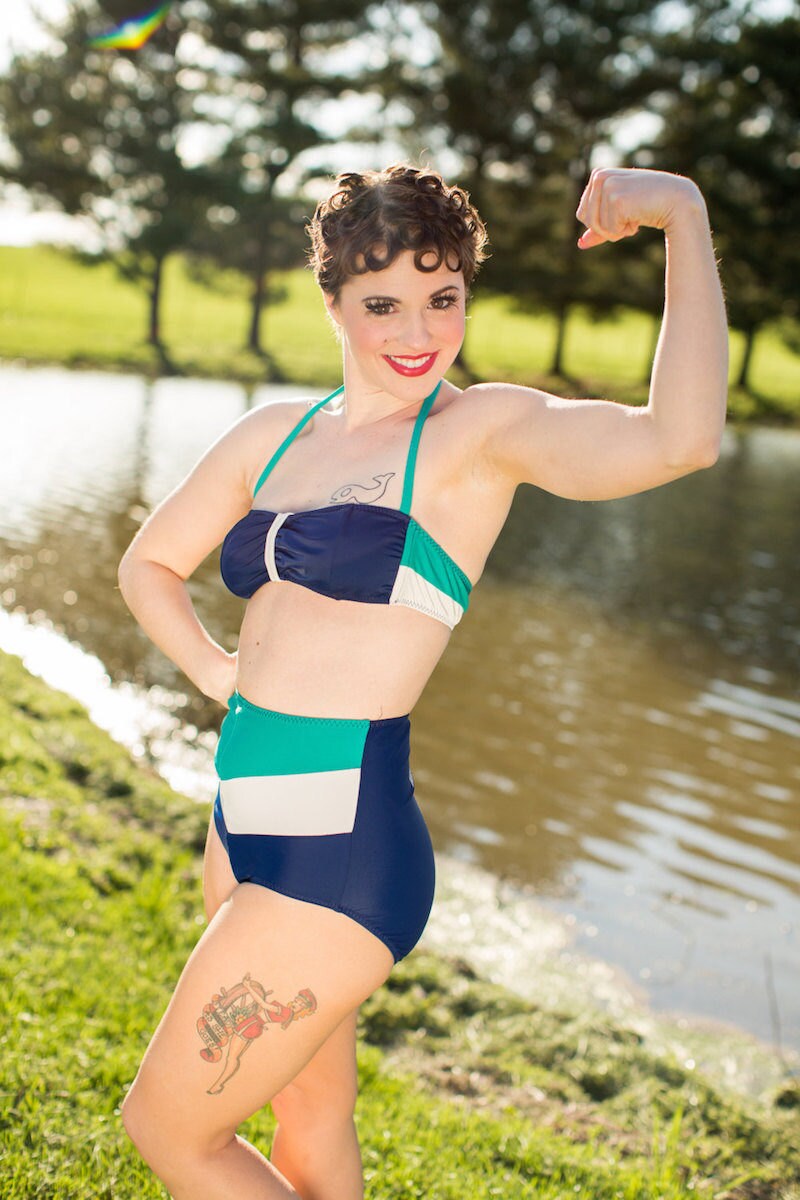 Photo by Micala McClain.
Speaking of trends, what's popular in the world of swimsuits this season?
From what I've seen, it looks like
high-waisted suits
are really coming up. It also seems like pieces with a lot of straps are pretty big right now. I have a couple ideas in that vein that I'm going to try to make for this year. And I'm seeing a lot of sheer fabric cut-outs too, which is fun.
What's your personal favorite style?
I think that
high-waisted swimwear
was the best invention for swimwear, ever. Especially for me as a new mom, I'll probably never go back to anything but high-waisted. It's not about hiding your body; it's making you more comfortable. When I first started in 2012, I didn't really see that style anywhere, but luckily the world has caught on a little bit. I love being able to help women feel confident in a two-piece swimsuit—that's definitely one of my goals. As a woman, there is so much pressure to be wearing a bikini, so I wanted to make a suit that you could be confident, sexy, and comfortable in.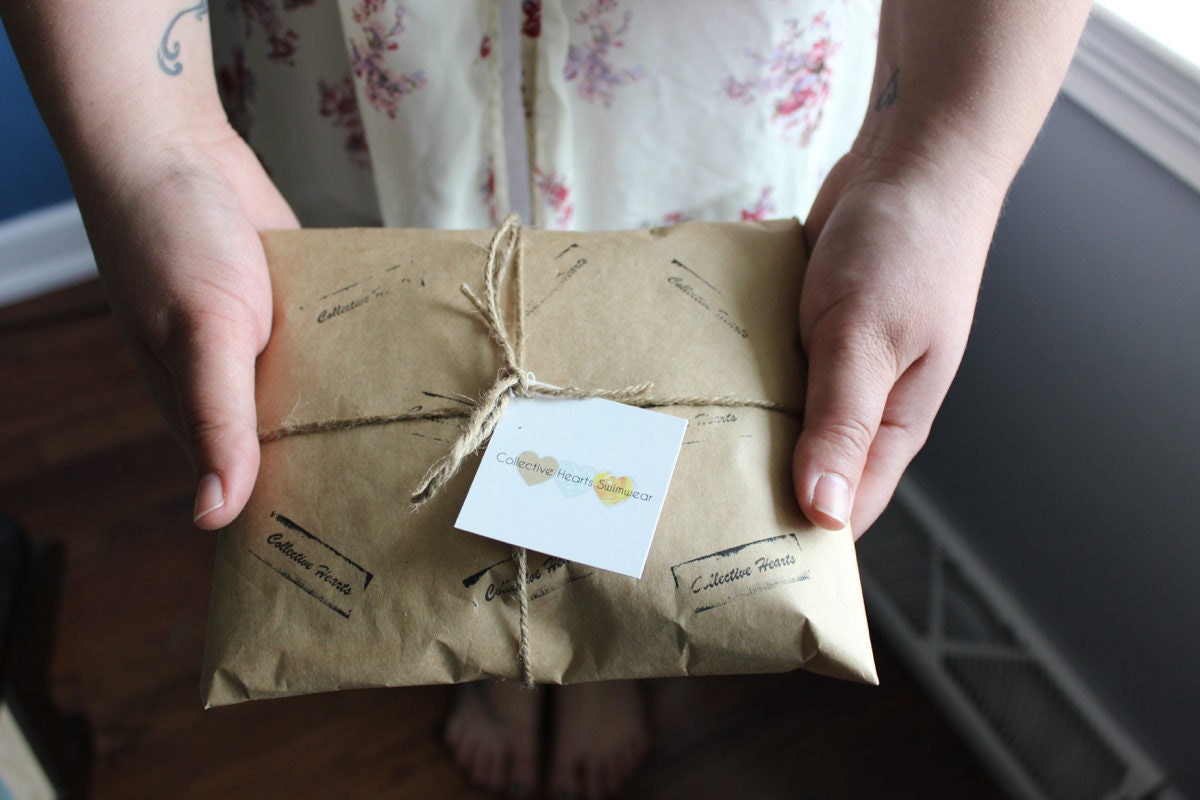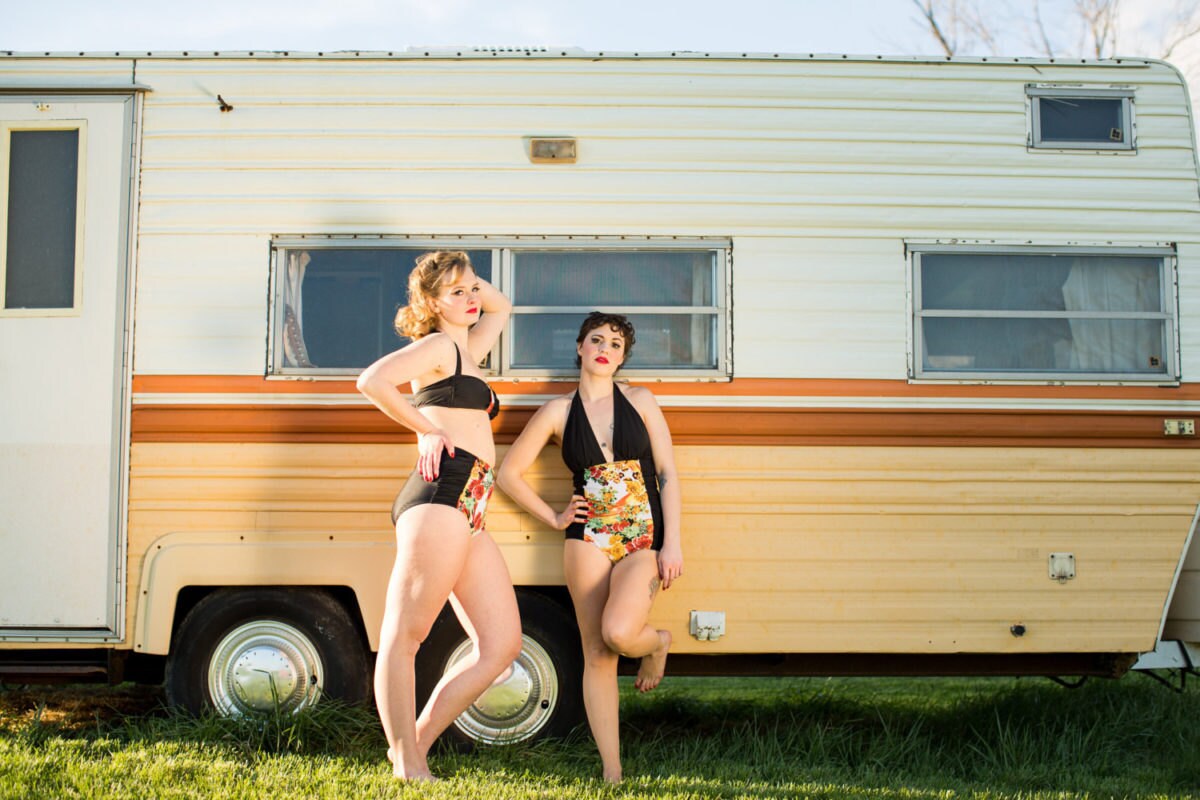 Photo by Micala McClain.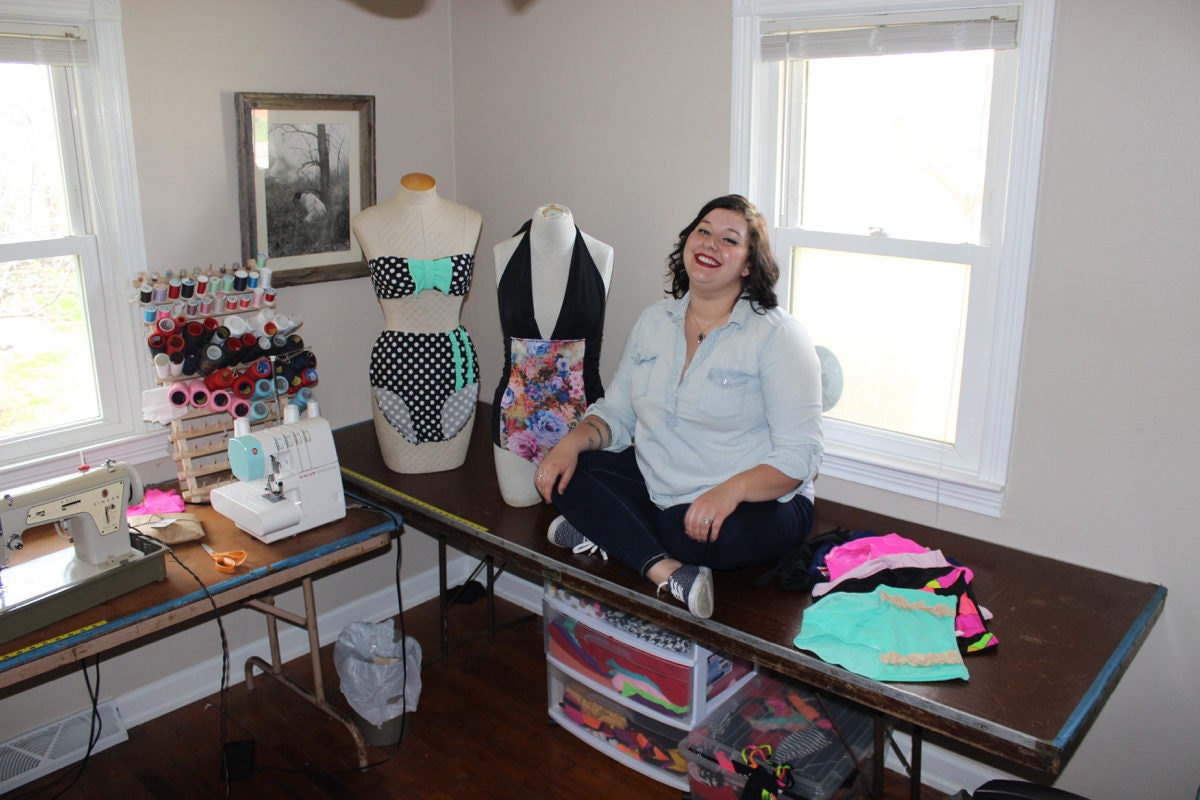 Confident is exactly the word I'd use to describe your models. Where do you find them?
When I have photo shoots, I really want to show all women. I want to show women with big thighs and women with small chests—I just want everyone to know that they're included in this line. And when I have gone about finding models, it really is everyday people for the most part. One girl that I've used continuously was a bartender that I met. And a couple people I shot in Chicago, I met on the street the night before and just said, "I'd love for you to model for me." It's amazing how people open up and say yes.
I would always like to be doing this. My whole end goal is to help women love their bodies. That's really what I aspire to do, to help you feel comfortable in your own skin and not worry about how you look to the world. I want you to feel beautiful. That's my goal.
Follow Collective Hearts Swimwear on Instagram and Facebook.
Photographs by Kayleigh Nixon unless otherwise noted.