by Elizabeth Brownfield
The perfect project to occupy those long summer days? A colorful embroidery DIY designed to delight both expert stitchers and first-time crafters alike.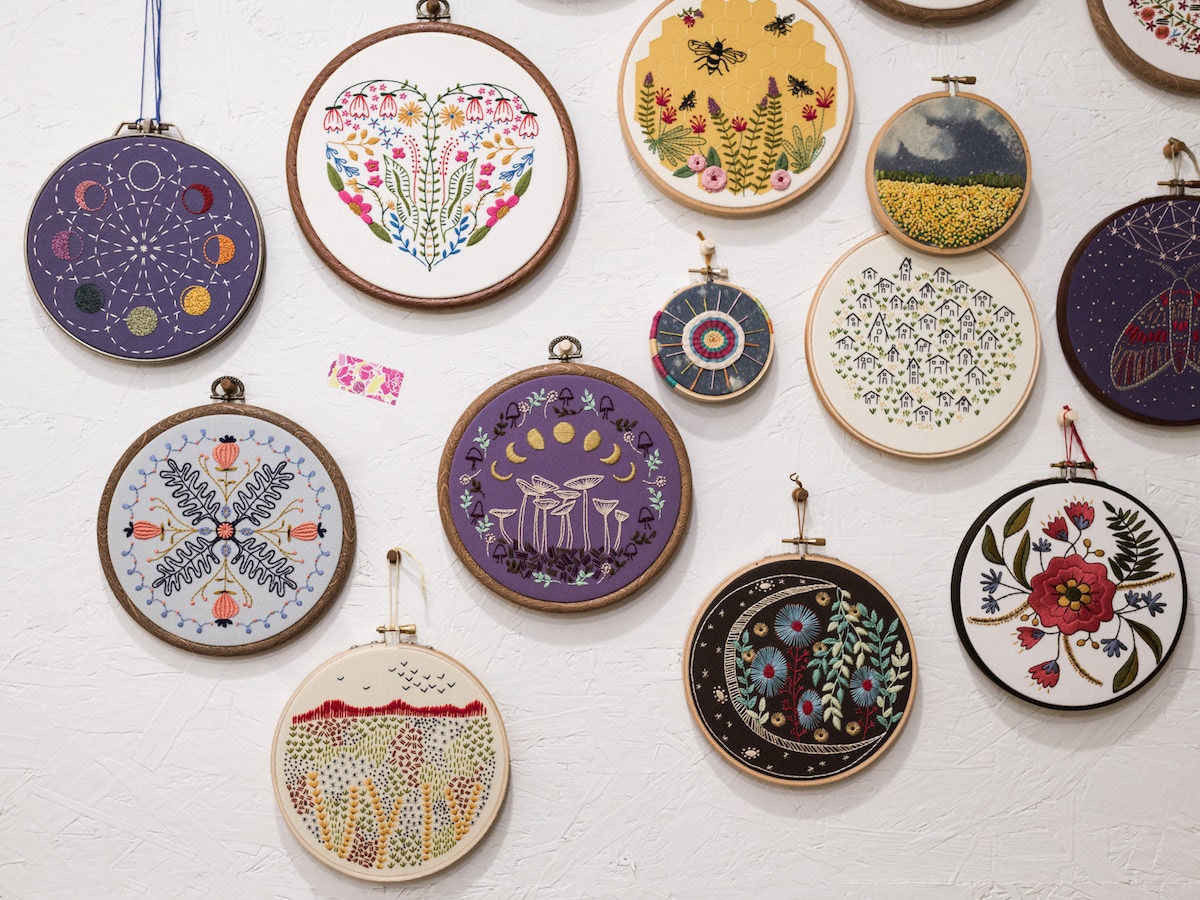 In our weekly Featured Shop series, we shine a light on a standout shop from Etsy's talented seller community, offering readers a behind-the-scenes look at their process and story.
"Slow down, get cozy, get crafty." They're the kind of words you wouldn't be surprised to find stitched onto an embroidery hoop and displayed on the wall: a daily reminder to enjoy life's small wonders. For Cozy Blue founder Liz Stiglets, it's this personal mantra that inspires her popular line of embroidery patterns and DIY kits, each one a colorful encapsulation of the everyday magic that surrounds her in the picturesque mountains of Asheville, North Carolina, where she lives with her family in a quintessentially cozy blue house.
Explore the Cozy Blue collection
The way Liz sees it, whether you're a lifelong embroiderer or have never set a stitch, a lovingly assembled kit can help you connect with your own inner artist. "Embroidery is a really accessible way to be creative," she says. "My job is to make it as easy as possible for folks to jump right in, and then to support and cheer them on along the way." With intricate design options ranging from modern moon phases to rustic cottages, each Cozy Blue set comes fully stocked with all the tools you need to make your own hand-stitched hoop—perfect for a summer project or a heartfelt housewarming present. Although take it from Liz: Once you complete a piece, you'll likely be looking for a place in your home to proudly display it.
Read on to learn all about the therapeutic power of stitching, then shop the Cozy Blue collection.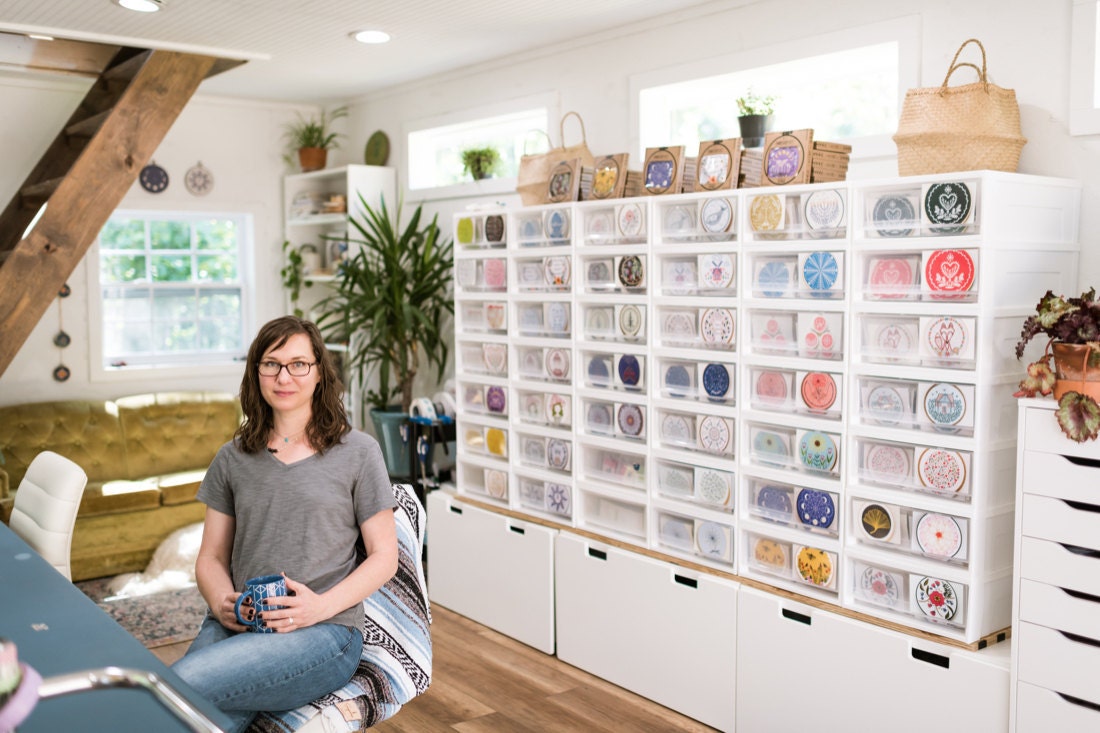 How did you get started with embroidery? Did someone teach you?
I first started experimenting with it as a teenager, stitching little designs onto my backpack and my jeans. I put it away for a while, then came back to it years later when my kids were very young, and I pretty much never stopped! I'm completely self-taught. Sometimes I'll look things up in books or online, but for the most part I really enjoy figuring things out on my own and experimenting with what I like and what works for me.
What will customers find inside one of your kits?
The kits include everything you need to get started. The pattern is pre-printed on the fabric, and the floss, needle, and hoop are included too. I also tuck in a Getting Started Guide, which walks you through setting up your hoop and prepping your embroidery floss. And then my How-to Guide includes diagrams for a handful of my favorite basic stitches. I give notes for each design, including which stitches I used where, so folks can replicate my example photos if they want to—or they can do their own thing.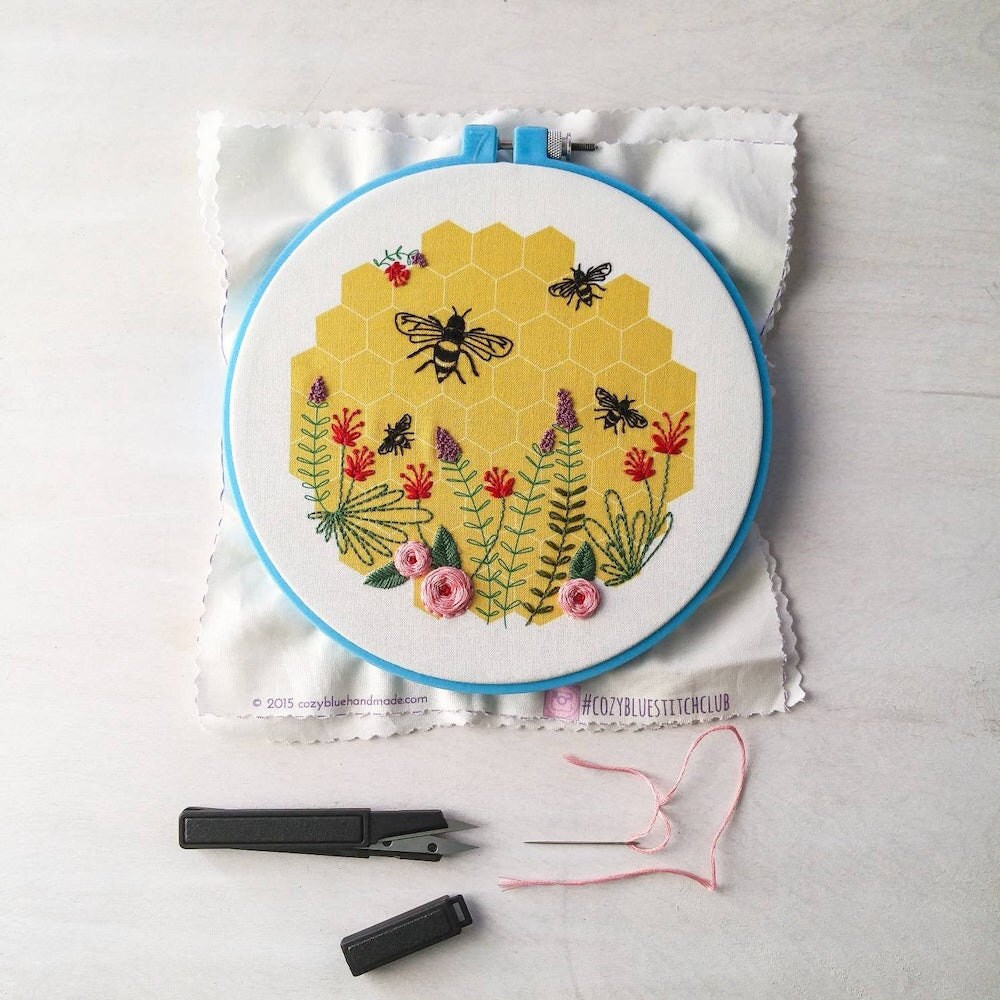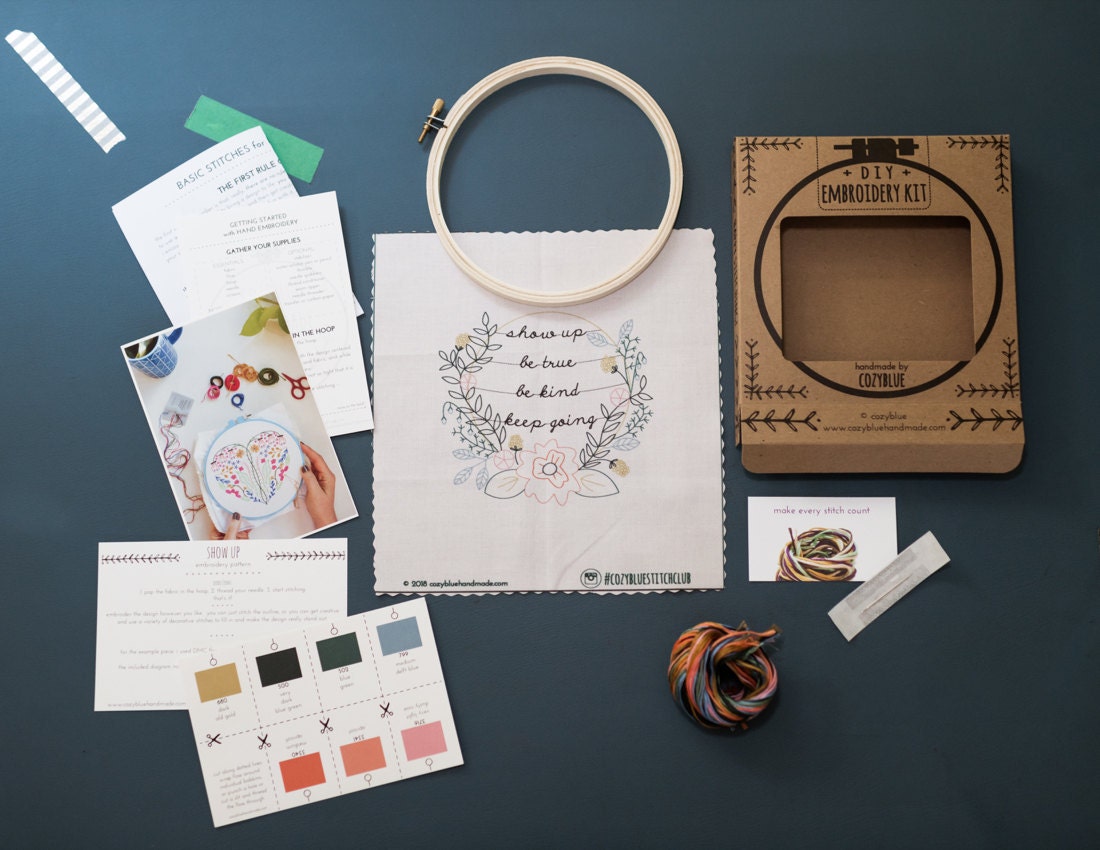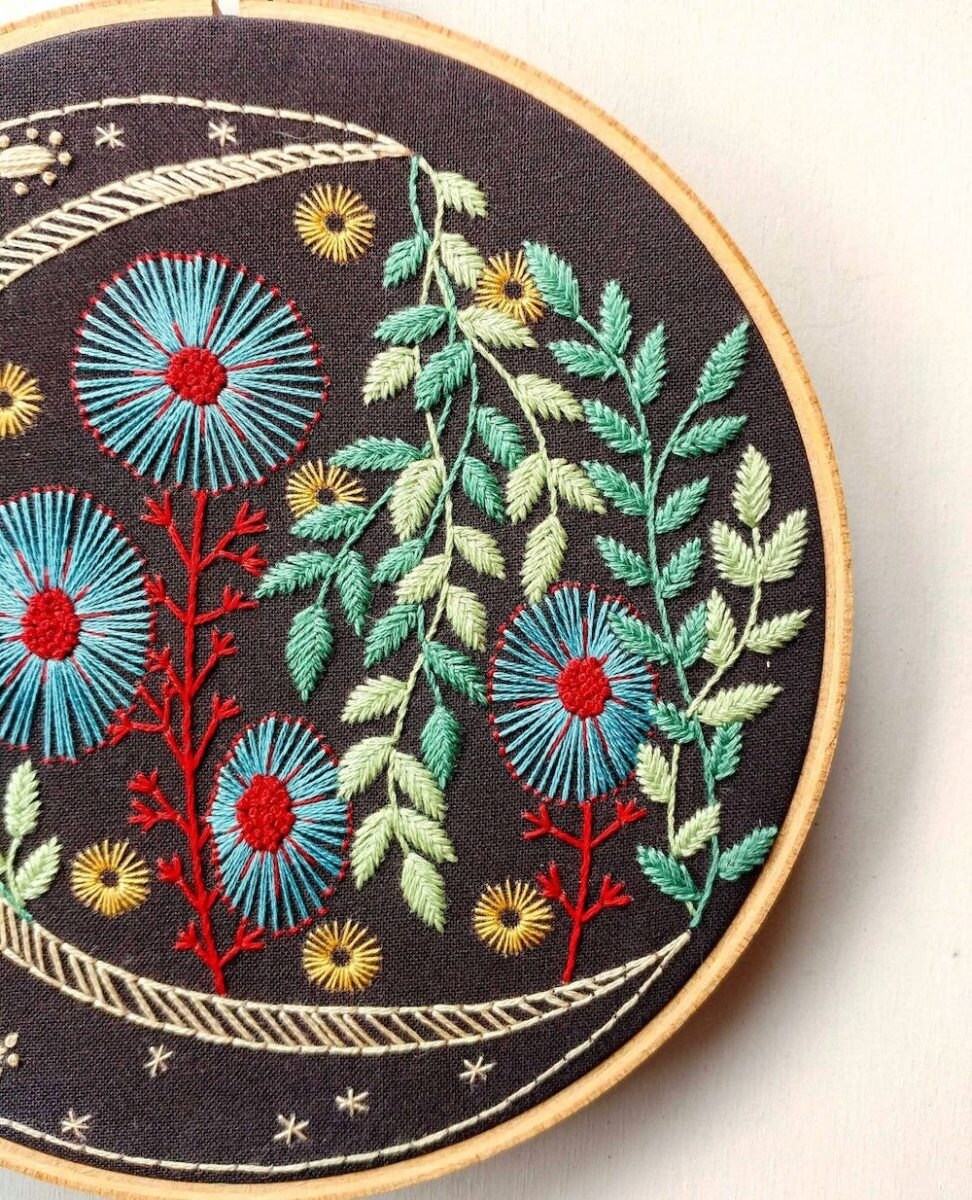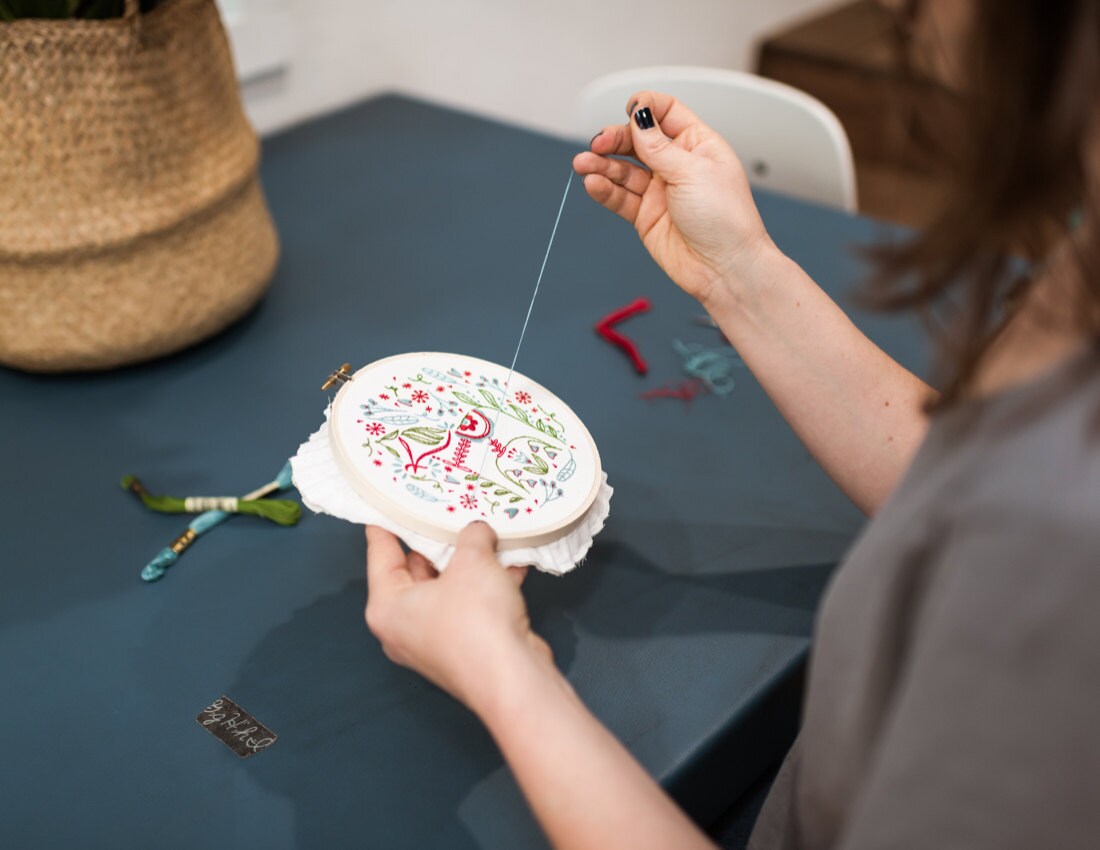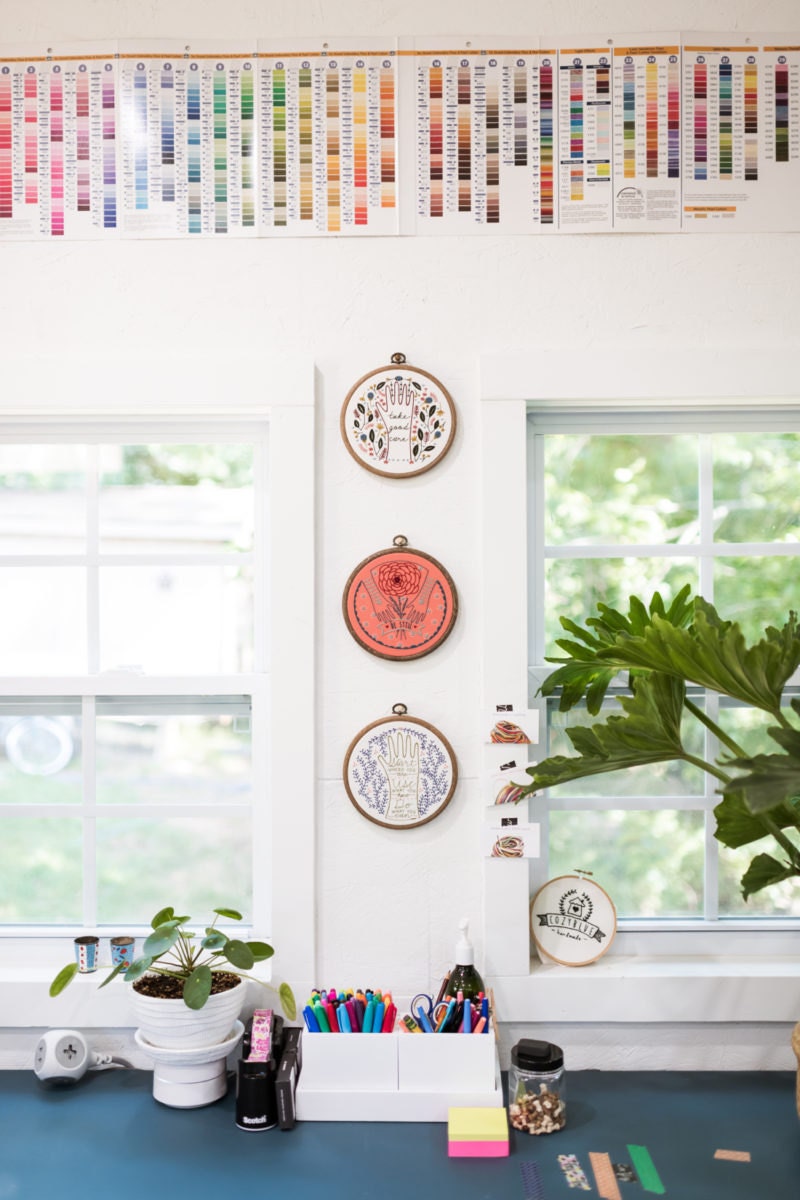 What's your favorite thing about stitching?
There's so much that I love! It's wonderfully portable—you can just throw all of your supplies into a bag and take them with you anywhere. It's easy to pull it out when you have a few minutes here, a few minutes there. There's no counting or keeping track.
I also love the versatility. There are thousands of different embroidery stitches, and a thousand variations on them. You can make them longer or shorter, thicker or skinnier, change the orientation or color, and combine them in unexpected ways. There are just so many options, and they all offer chances to be unique and creative.
For someone who's never tried embroidery before, how would you explain the benefits?
I find it to be really meditative. When you sit down to embroider, you have the opportunity to kind of take a step back from whatever's going on around you and bring your focus to your stitches. The repetition is soothing.
Scientifically speaking, there's also tons of research showing the positive effects of crafts and creativity on the brain, and on mental health. It is absolutely a path toward happiness, self-expression, and growth.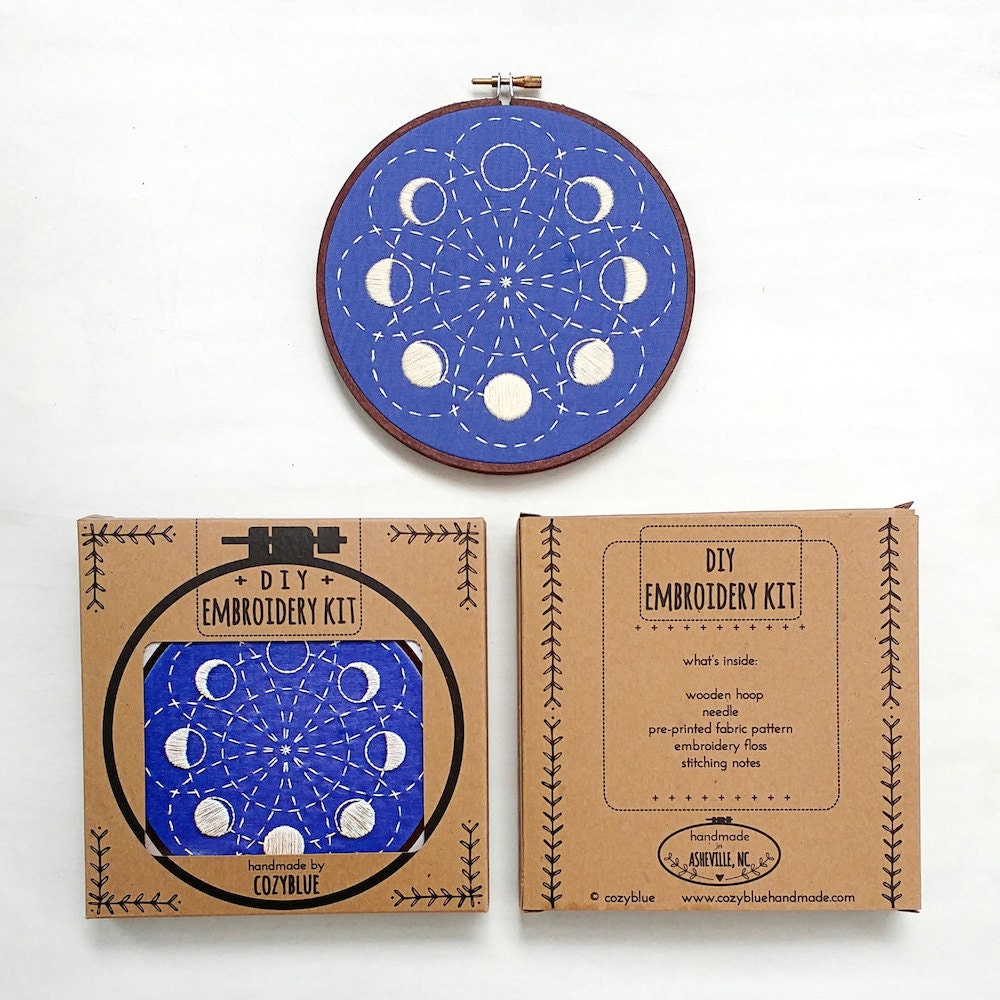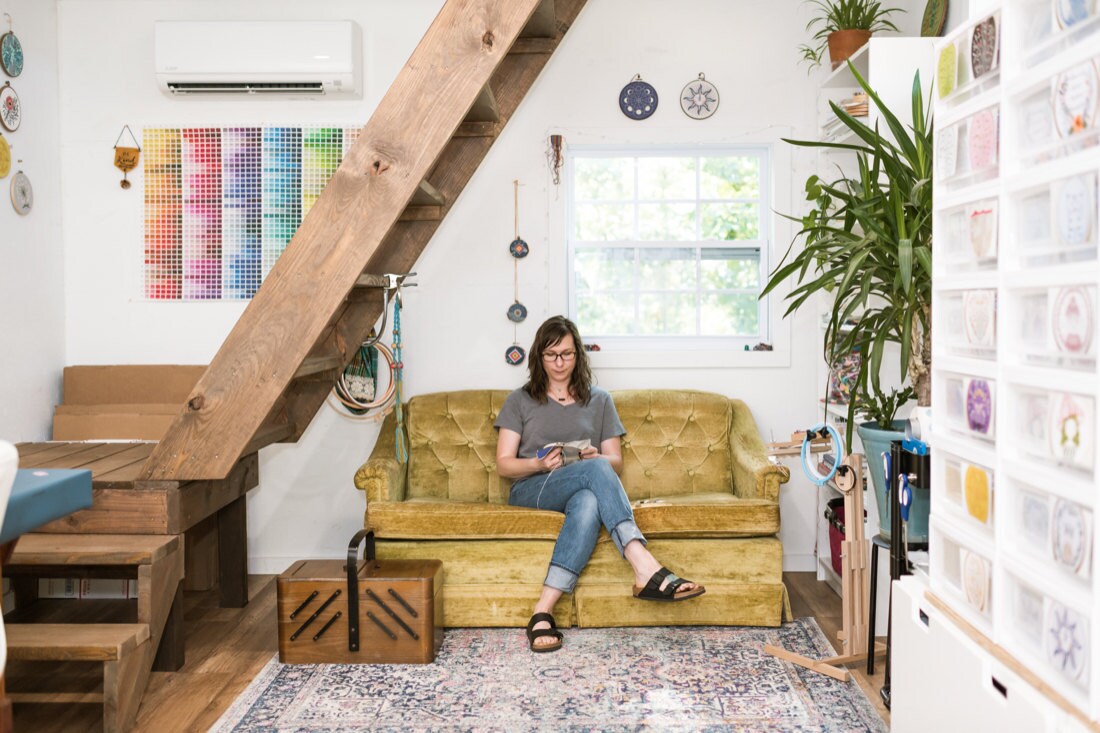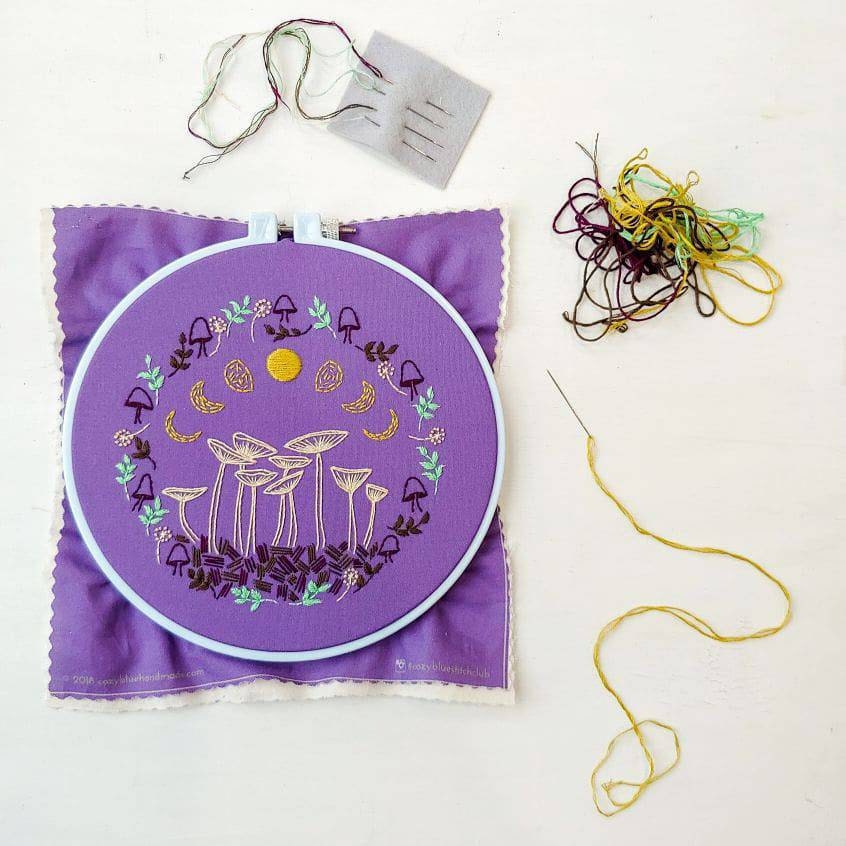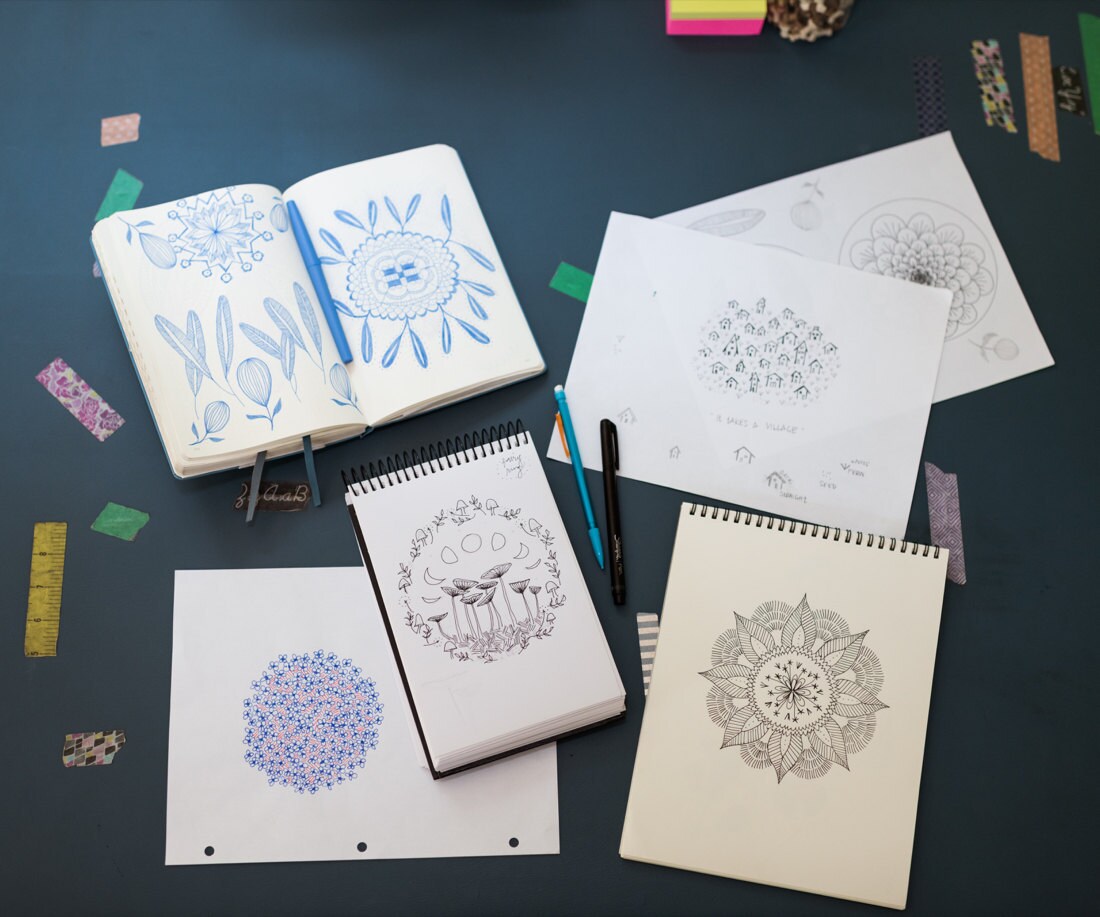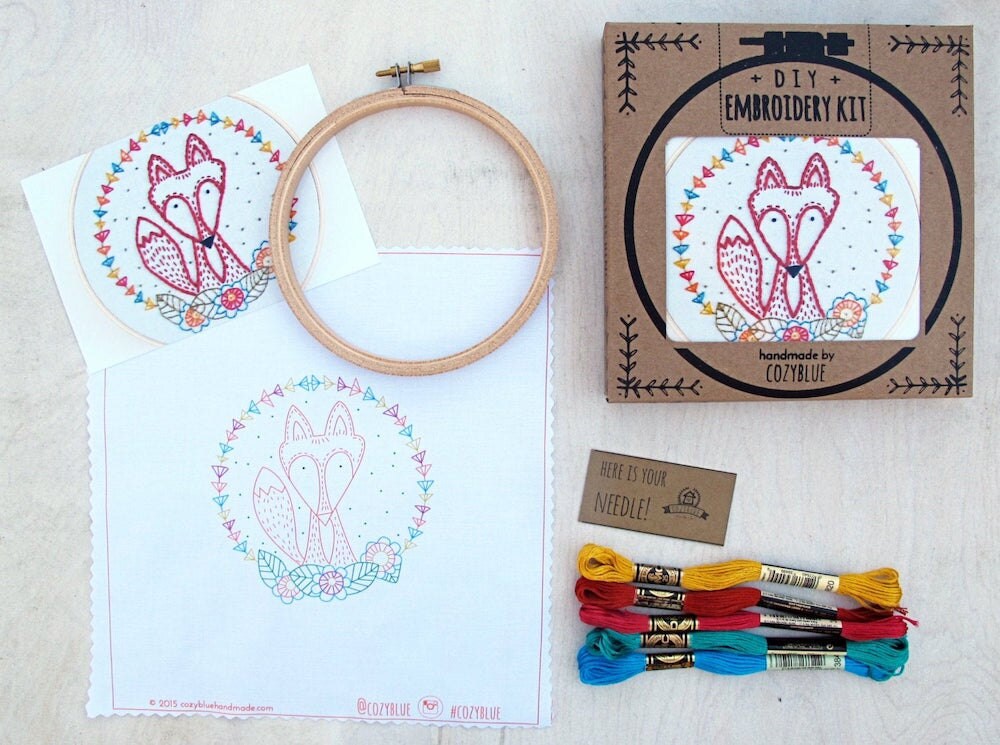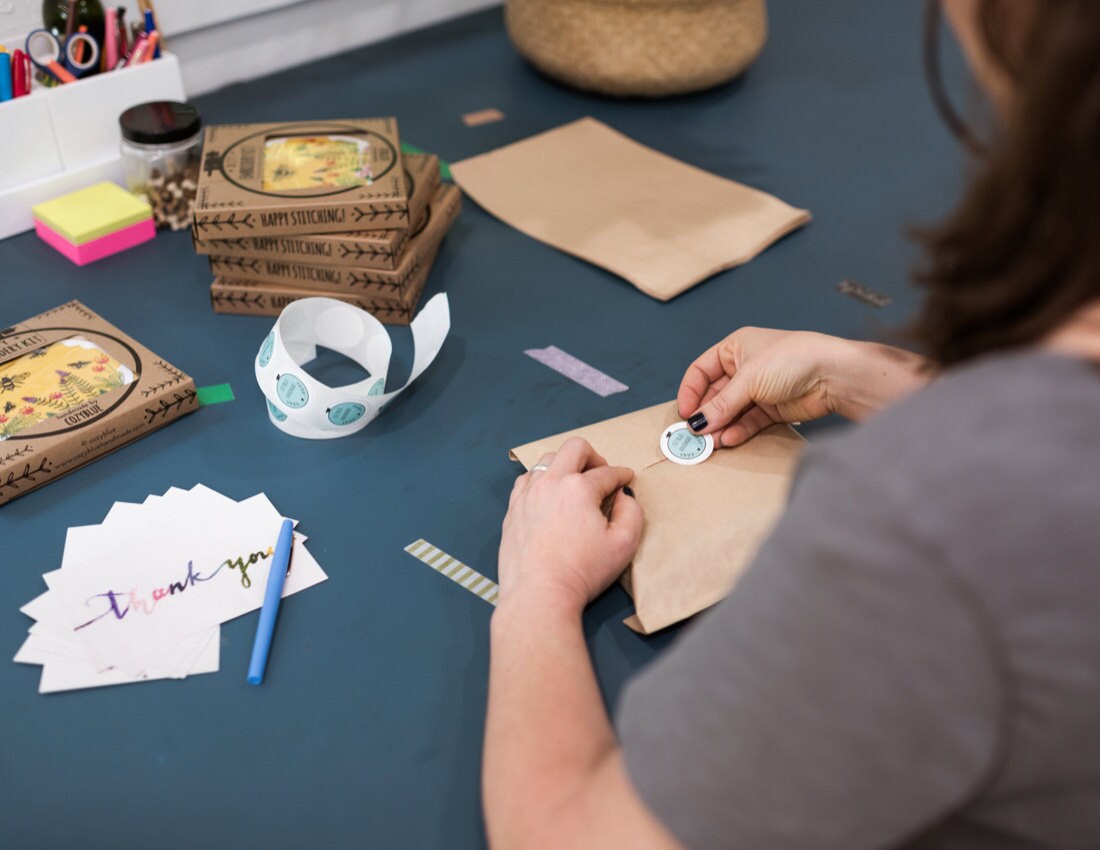 Where do you find the inspiration for your designs?
I always keep my eyes open as I go about my days. I'm a "noticer." My mind is constantly on the lookout for ways to connect different ideas and elements, color combinations, shadows, and the shapes of plants and flowers.
And of course there is art everywhere we look—from logos and packaging to animation, social media, fine art, architecture: It's literally all around us! I also draw from the vibrant art scene and natural beauty of Asheville. There are mountains and forests, a rich history, and tons of street art, music, and creative people. It's definitely an inspiring place to live.
Which of the items in your shop are the most popular?
Bee Lovely, Sea Captain, and Lunar Blossom are customer favorites. And more recently, Night Garden and Fairy Ring too. Everyone loves the moons and mushrooms!
Last year I made my Show Up design, which is kind of my own personal mantra for living my best life. The words "Show up, be true, be kind, keep going" are the focal point. It's been really nice to see how those words resonate with a lot of people.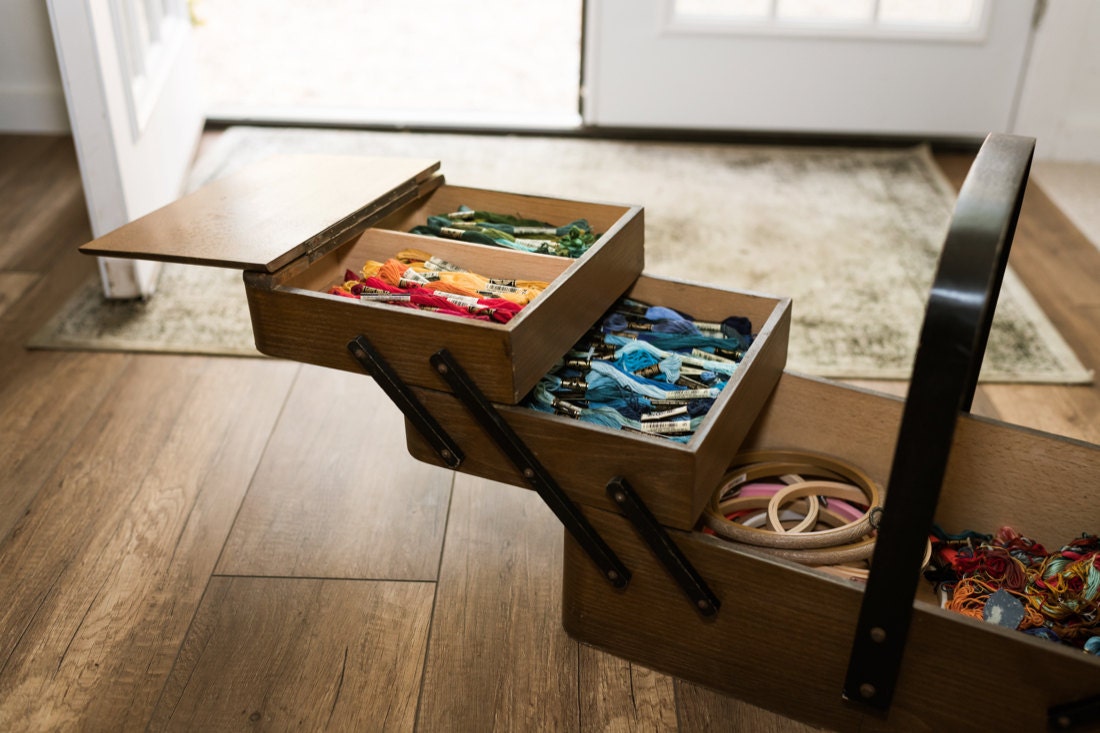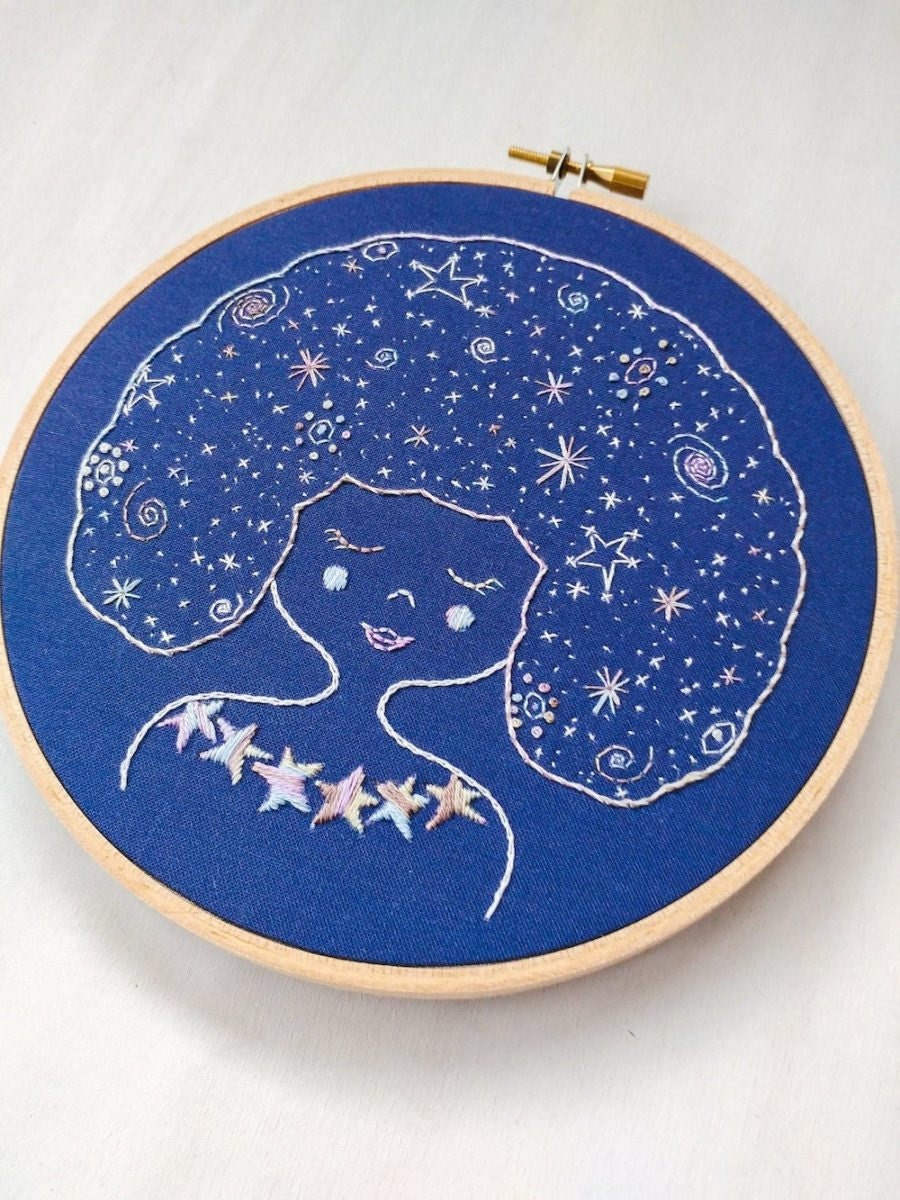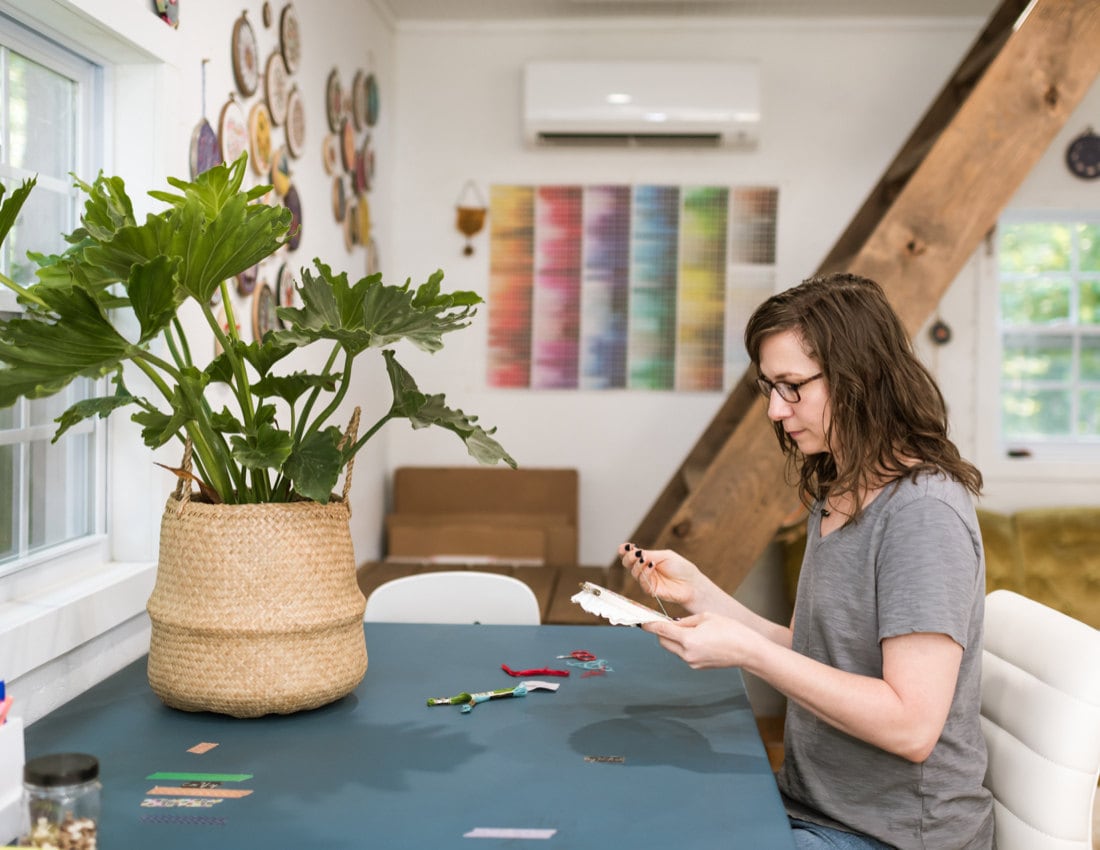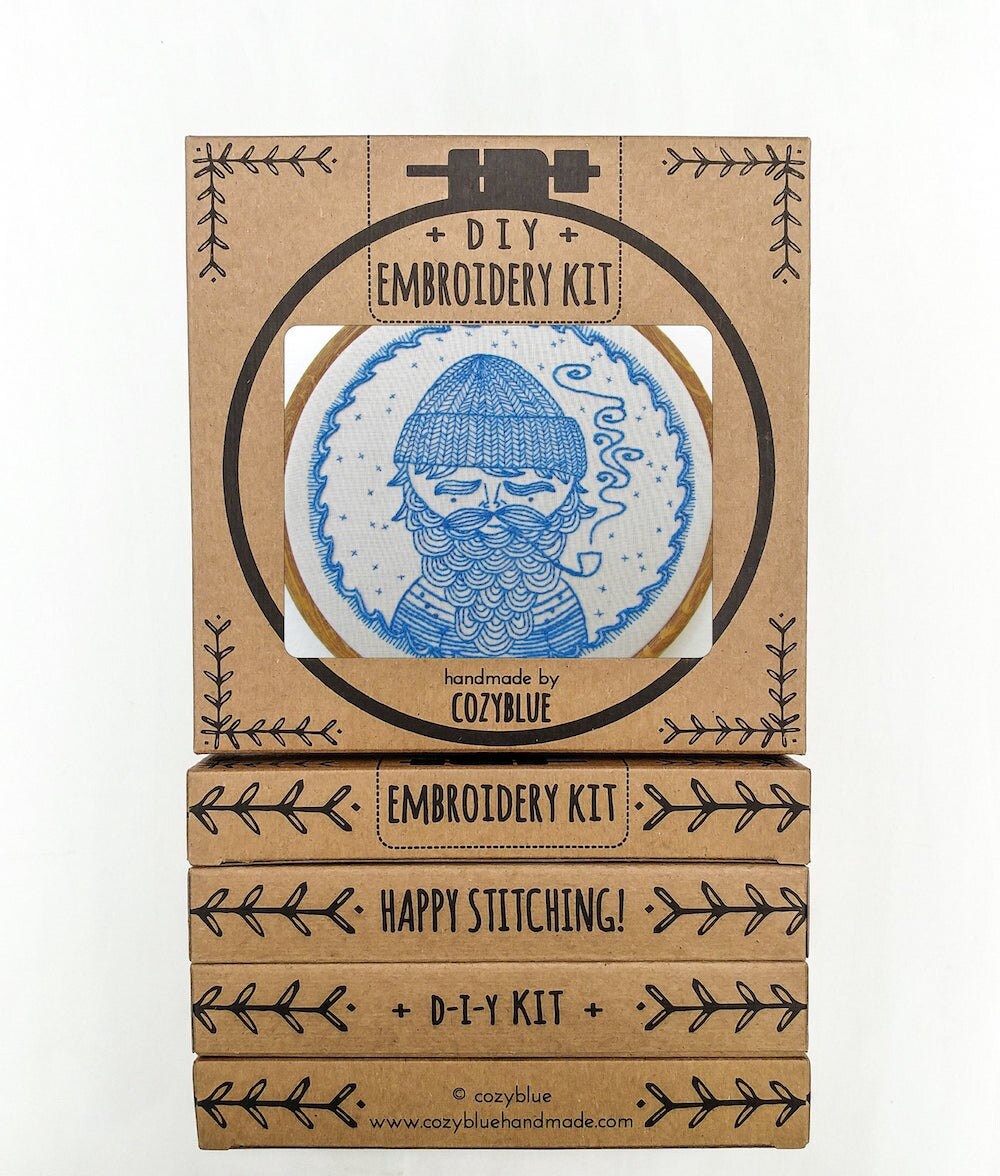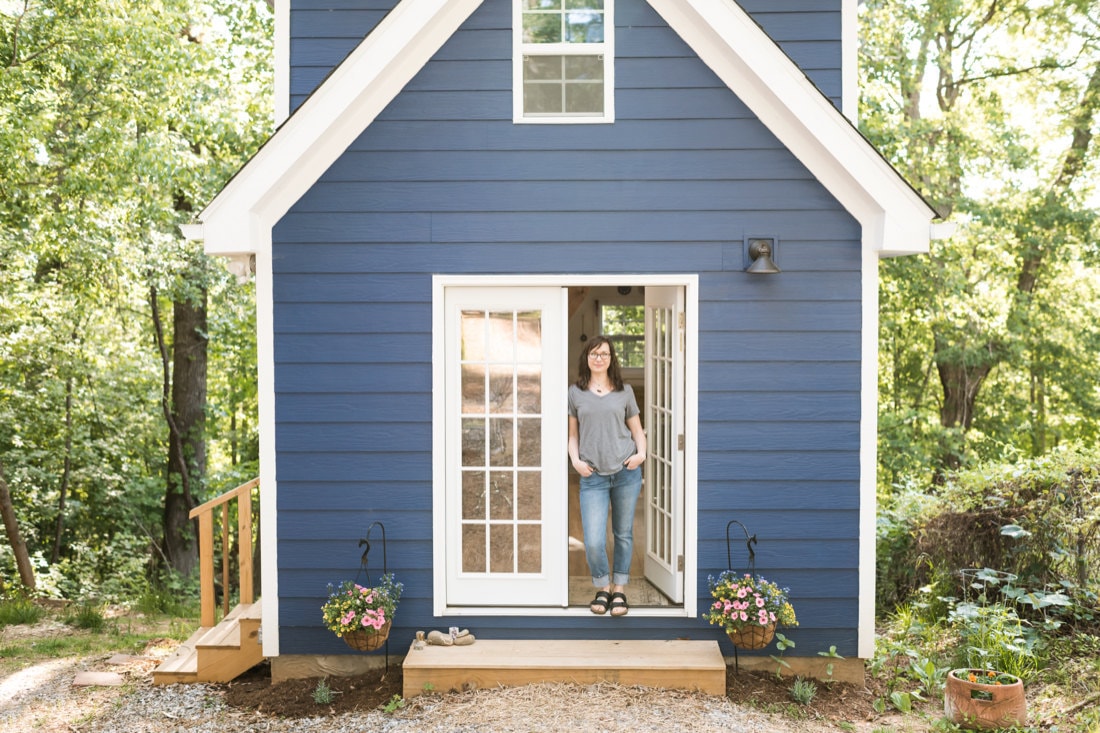 What do your customers say draws them to your work?
I think the thing that initially attracts them is my use of color, and my overall style. But what really grabs people is the way they feel when they look at certain designs. Sometimes a piece will remind them of a special person or place in their lives. For others, it's the colors that speak to them and make them feel happy, or moody, or nostalgic. But what it all comes down to, I think, is a feeling—something that they want to feel more of. It's a really sweet and personal thing.
What do you love most about what you do?
I appreciate having the opportunity to connect with so many people through my work. I really, truly believe everyone is creative, and I do my very best to encourage everyone that I meet to slow down, get cozy, get crafty. I think it's so important to take time to nurture the creative parts of ourselves. When I can help people tap into their creativity and find some quiet and joy in their day, that makes me really happy.
Follow Cozy Blue on Instagram, Facebook, and Pinterest.
Studio photography by Chelsea Lane Photography. Product photography courtesy of Cozy Blue.