by Valerie Rains
Learn how Heather Parker's passion for fostering rescue dogs developed into a bona fide business plan.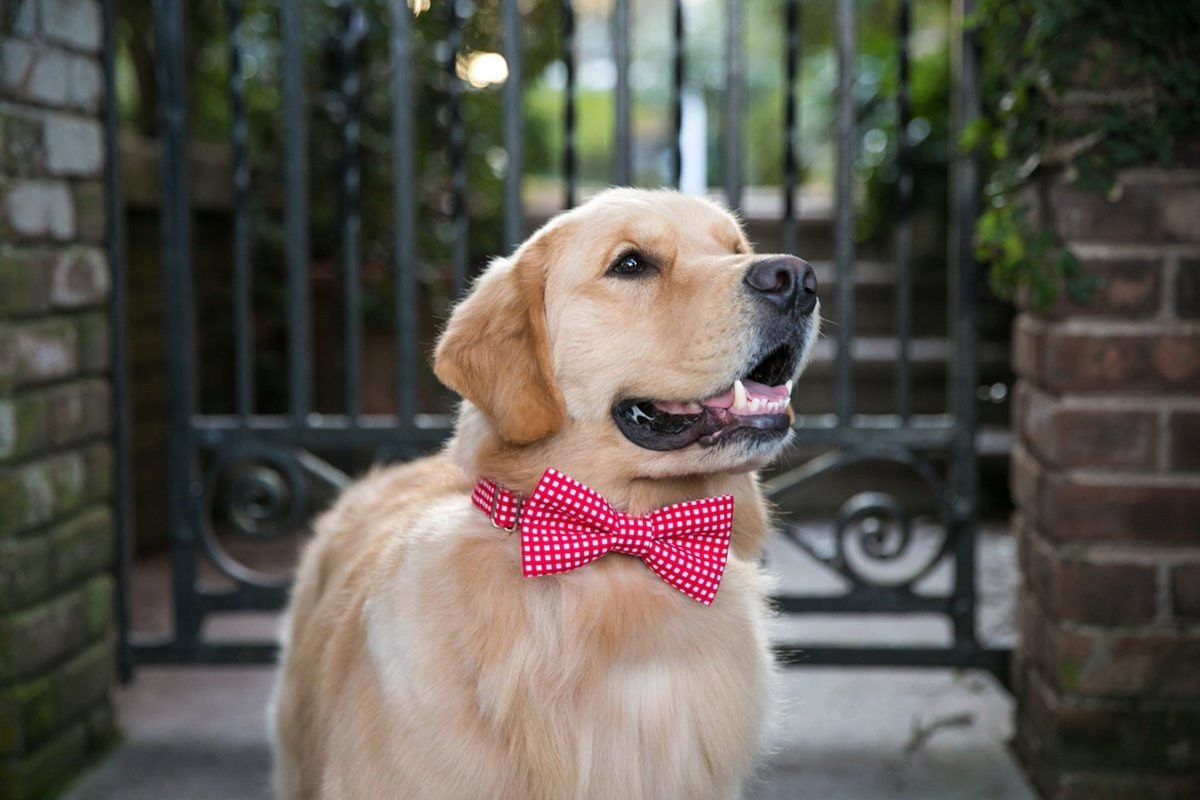 If the story had started and ended on the day of Lucky's adoption, it still would have been a heck of a tale. Heather Parker, a native southerner and longtime foster mom for dogs (then living in Seattle), was beginning to fear for the future of one notably unlucky rescue pooch who kept getting passed over at adoption events, due to his tendency to hover at Heather's side instead of connecting with other humans. "After about four months, I said, 'Okay I have to market him differently,'" Heather recalls. "So I made him a little bow tie with a collar, and that Saturday at an adoption event, this little girl came up with her parents. They noticed the bow tie first, but once they talked to me and spent some time with Lucky, he got adopted that day." As it turns out, Lucky finally finding a forever family was only the first chapter. "So many people responded to that bow tie that I thought maybe I should start doing this for all my foster dogs," Heather says. "Then that got so much attention that, one morning, talking to my husband while we were walking our dogs, I said, 'What if I really tried this?'" Heather started
Crew LaLa
 later that day, and in the five years since has sold more than 1,500 collars (and other canine accessories), hired four employees, and launched her own brick-and-mortar retail space in the front of her Charleston, SC, studio. But the memory of that first collar — and in fact, the collar itself — is never far from Heather's mind. "I actually keep Lucky's original collar in my desk, to remind me where I came from," Heather says.
Read on to learn more about this rescue mission-turned-retail success story.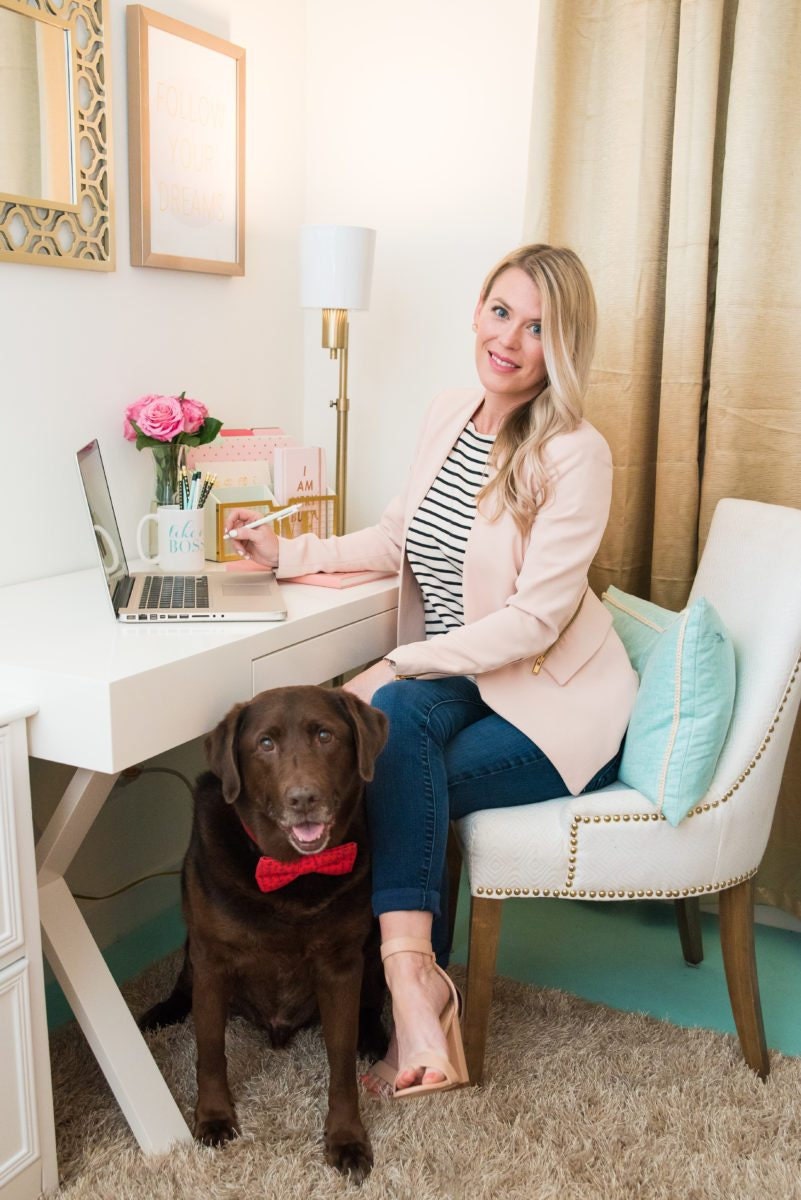 Tell us about your sewing background: Had you sewed much before you launched Crew LaLa? Did someone teach you, or did you learn on your own?
I was actually inspired by my grandmother: My grandmother has sewn all my life, and she used to make matching clothes for my mother, myself, and my Cabbage Patch dolls. And my mom sews, too — but I didn't actually ask to be taught until around 2008, right before we moved to Seattle, where my husband was stationed with the Air Force. My mother gave me one lesson and I made a little shift dress. Then once we moved, my husband was deployed immediately, and I didn't know anybody; that's when I really started sewing and finding my passion there. Once I started, I just couldn't stop. I was constantly asking my mother questions on Skype, or I'd YouTube it if I got stuck.
You went from sewing a single collar for a rescue dog to running a thriving retail business with several full-time employees. What has that experience been like for you? 
I started
Crew LaLa
in my sewing room in our house, and to see what it is now — we have a staff of five, and we've got not only a full workspace, but we also just built out a little retail shop in the front so we can serve our local clients — I really never knew that it would get this big. I just thought it would be something I would do on the side to help out foster dogs. But actually, both of my parents and my brother are all small business owners, as well. My mother, who's really my biggest inspiration and the one who gave me the courage to break out on my own and do this full time, she worked in a law office until she was in her 50s. She retired early and started a gourmet pecan company; now her stuff is everywhere, and she just did a big deal with Marks & Spencer in the UK. I come from a long line of creatives and people who really put themselves out there, and I get a lot of my strength from them.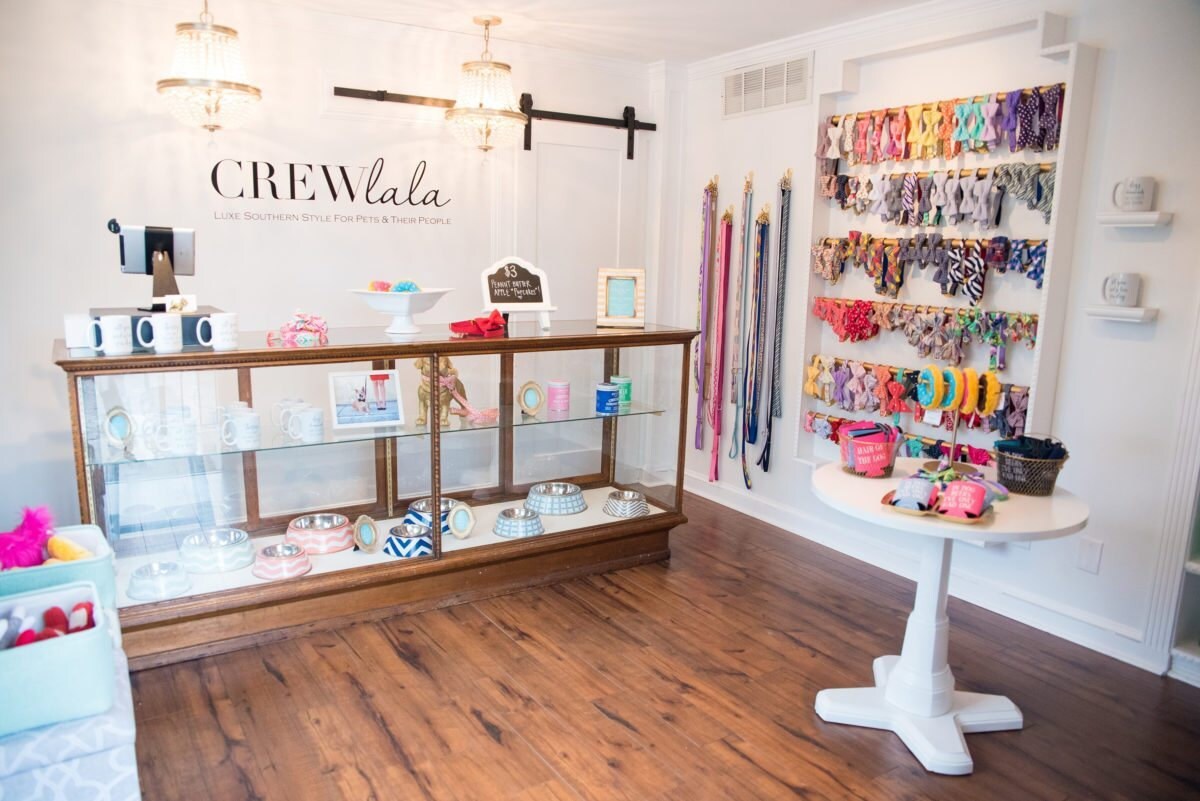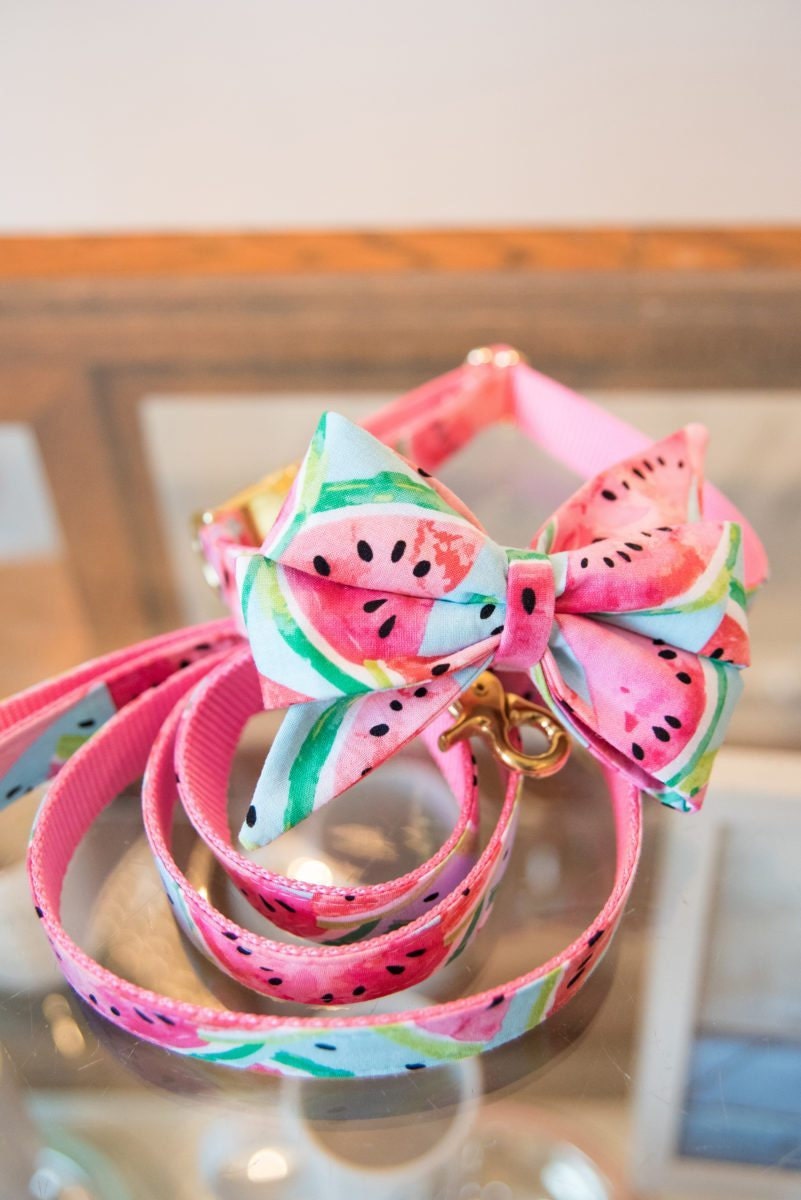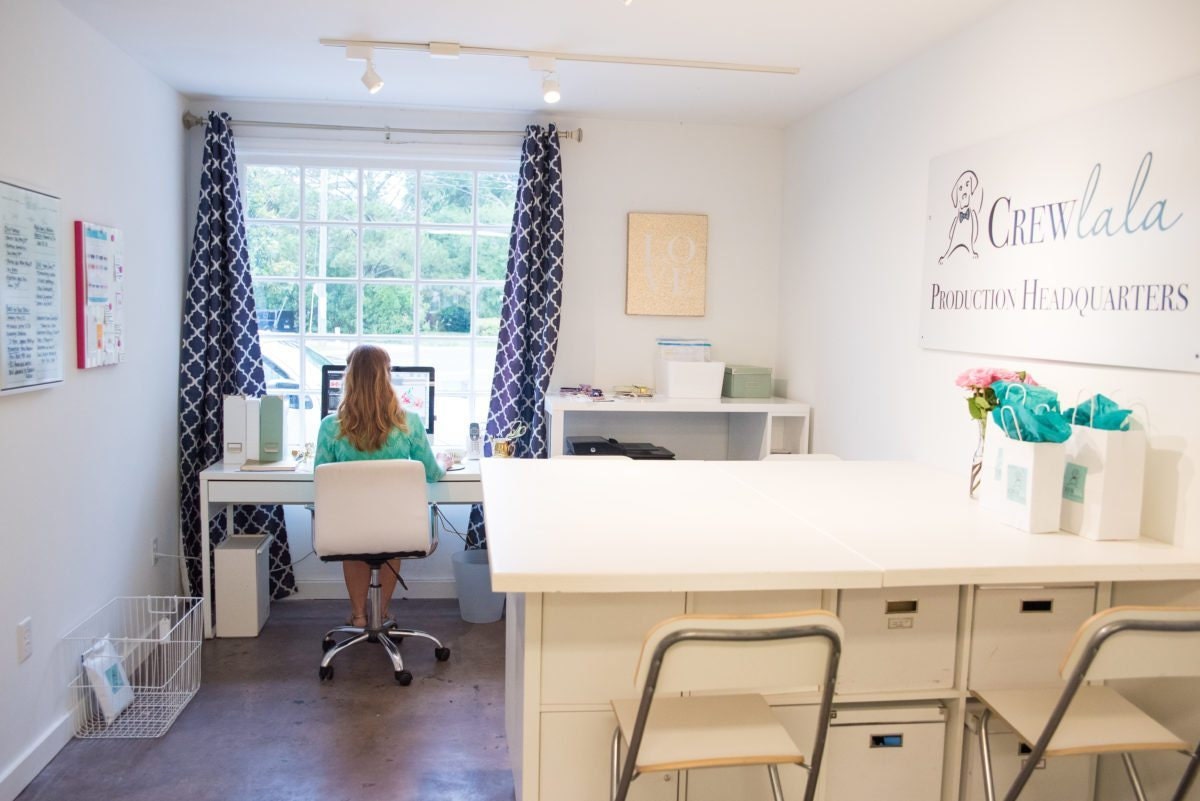 What's your workspace like? What do you love most about it? 
I actually own the house across the street, and I'd had my eye on this space ever since we bought our house. We're in a very neighborhoody downtown area with a bunch of bars and restaurants, and I can just walk across from home to the shop, which is really nice. I have an office in the back of the studio, but I'm still very hands-on, in the work area and sewing every single day. We have a big white production board, and that's how my production staff knows what we need to be doing that day; we have a quick meeting every morning to talk about what's on the board and kind of spread out the volume into realistic goals. Then we all put our headphones in and start working — we're all in our own little zones. Then we have the very small retail space up front, and the great part about that is that when the bell rings, it's normally a client who's coming in with their dog and looking for a new collar or something. So that's like getting a nice little surprise that kind of breaks things up. I also bring Crew and Ellie, my two dogs (and the source of my shop's name), to work every day — this is like their second home, and they're usually curled up next to me somewhere. The way we have the space set up, it just feels really nice; it doesn't feel like work to me.
Do Crew and Ellie wear Crew LaLa every day? Do they ever go naked?
They are always with a collar, that's for sure. And they wear it very well, I will say. Whenever I go fabric shopping, I can't wait to get in there and try out the new stuff, and then I can't wait to run home and try it on my two dogs. They have more collars than they know what to do with.
Where do you find inspiration for your designs?
Before I started
Crew LaLa
, I was working for a marketing and advertising company in Seattle, and my husband, who is a pilot, was on active duty in the Air Force. From Seattle, we moved overseas for a little bit, and that's when I really started branching out with my designs; I used to go to Paris to pick my fabrics. The time that I spent in Italy and France was a big inspiration: just the traveling, walking the streets, seeing all the clean lines and the old architecture. That classic feel is what I really strive for with my designs. I really love all the bright, fun stuff I have in the collection, but the items I have in my Paris line, those are all made with traditional men's shirting fabrics. I really wanted to have something that no other person in the marketplace had at that time.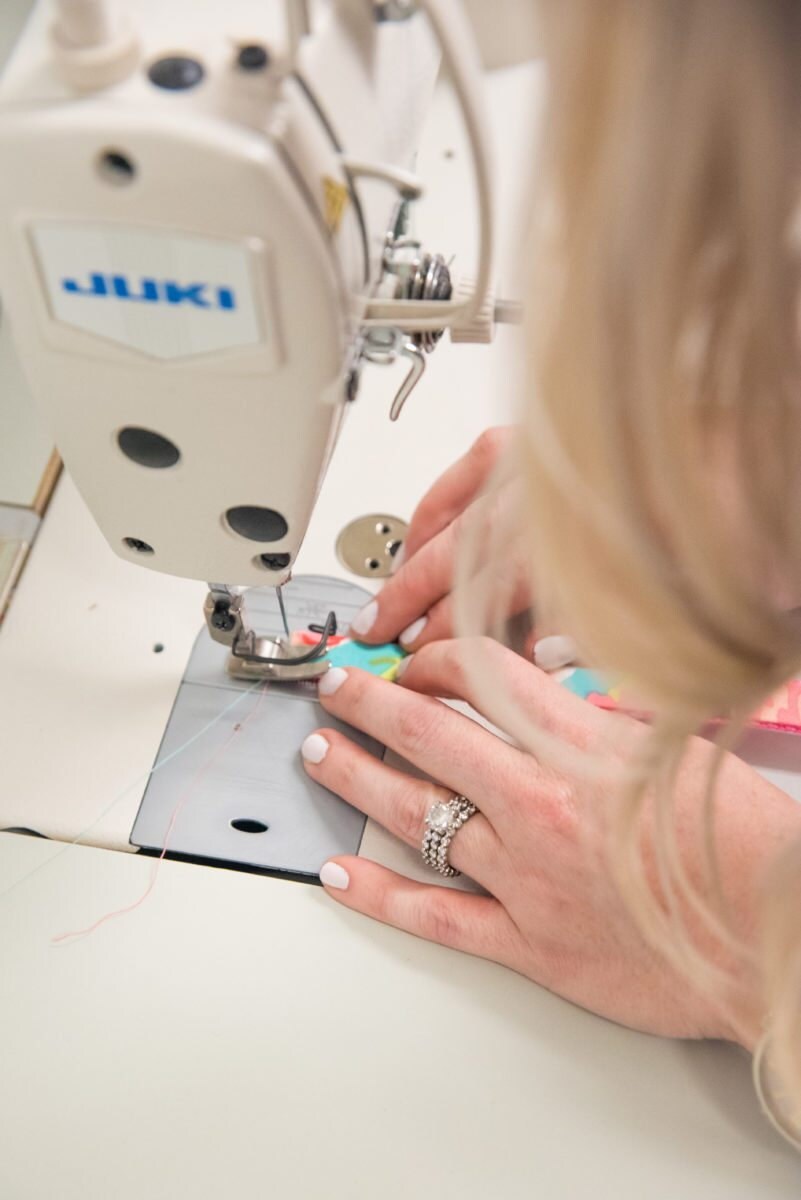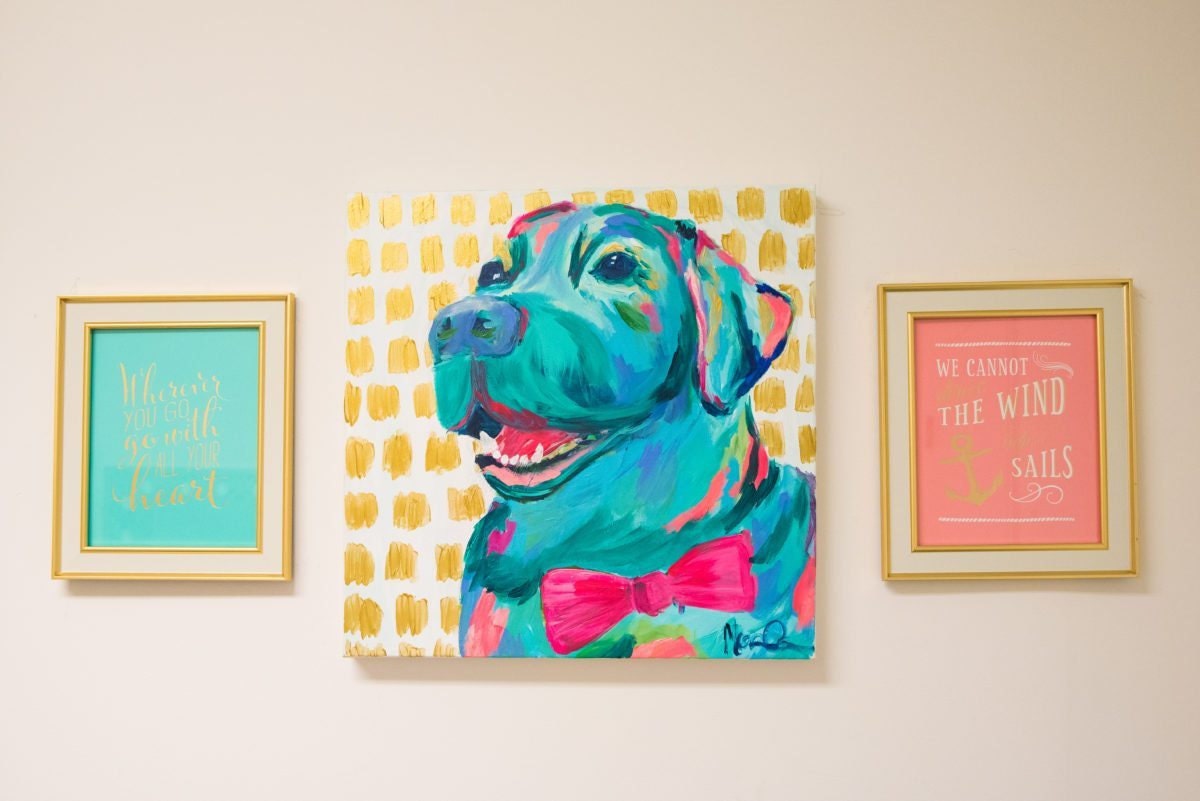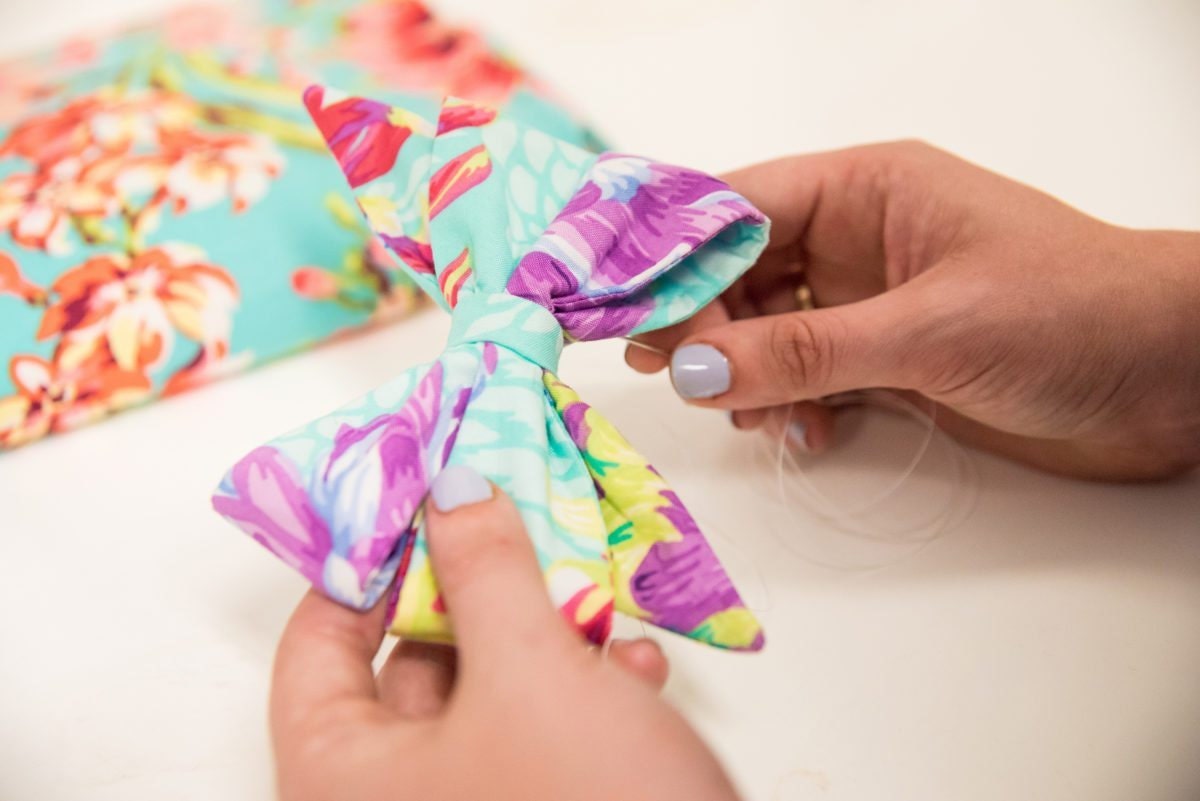 What's the most popular item in your shop, and how did that design come into being?
Our two best-sellers are our
navy seersuckers
 and the
patriot collar
. I've had the seersuckers from the beginning — living in Seattle, living overseas, I really wanted to stay true to my Southern roots, and that's just the classic style — and those have always been popular. The patriot collar has been more of a surprise: I thought it would be a big seller around the 4th of July or those kinds of holidays, but it is big year-round. What's interesting, too, is that originally I started with the bow ties, but customers were always asking about designs for girl dogs, so I designed what we call the Belle Bows; they wear them off to the side and they're super girly. Even though we haven't had them as long, they're doing very well — I would say that it's probably 60/40 bow ties and 
Belle Bows
— which really excites me.
Do you ever do custom orders, and if so, are there any special commissions that stand out in your memory?
We do a lot of custom work, and one commission that's very fresh in my brain that I really love was from a woman in Texas who contacted us a couple of months ago. She said, "Hey, I'm doing a family photo shoot with my dog; I have a Lilly Pulitzer dress and I would really like my dog to have a matching collar — can you do that?" We thought she was going to send us fabric, but she actually sent a brand-new child's dress and had us deconstruct it and make a collar, a leash, and a Belle Bow to match. It was really sweet. She's a good longtime client of ours, and she sent us the photos and we all loved them. Then the other day, she emailed us again to say that her dog that she loved so much had to have emergency surgery and had passed away; she wanted to thank us for being a part of her dog's life and to tell us that the dog was always so proud...ah, it's going to make me cry. You know, you make something and you hope that it means as much to other people as it does to you, and the fact that she even thought of us, and then thanked us for being part of her and her dog's family, was just really, really special.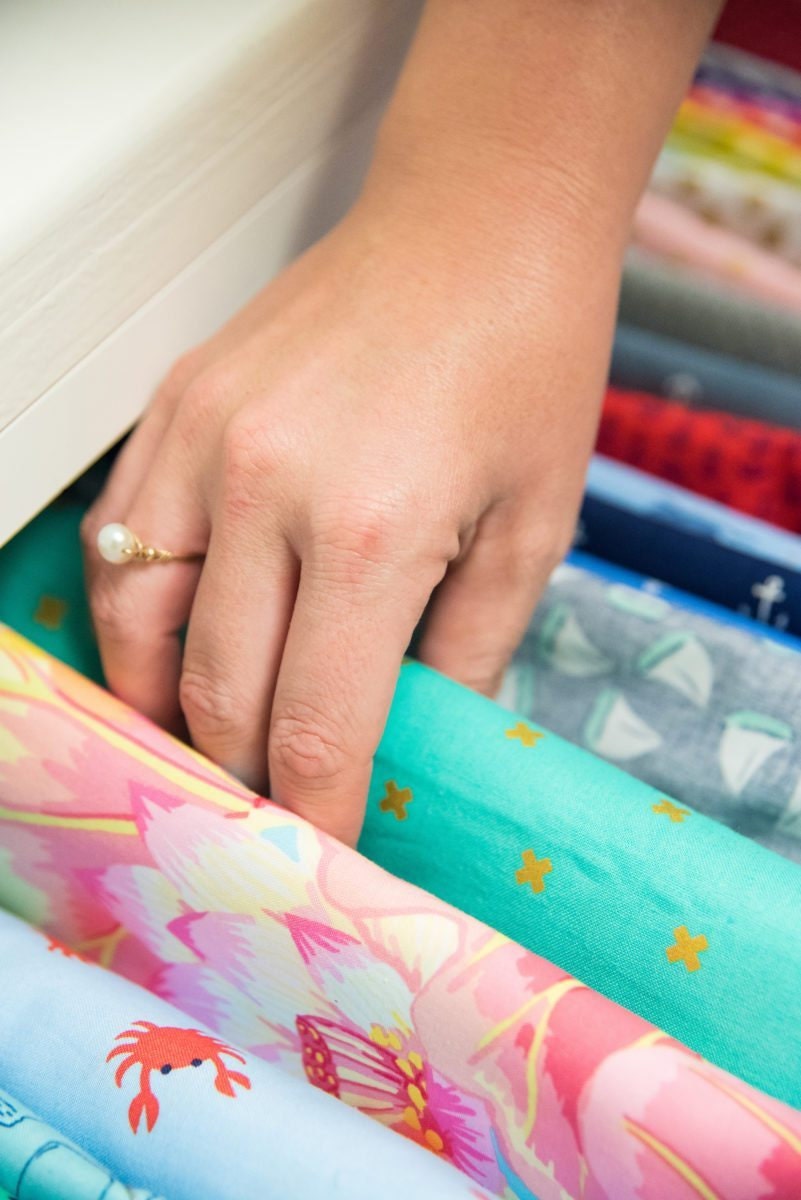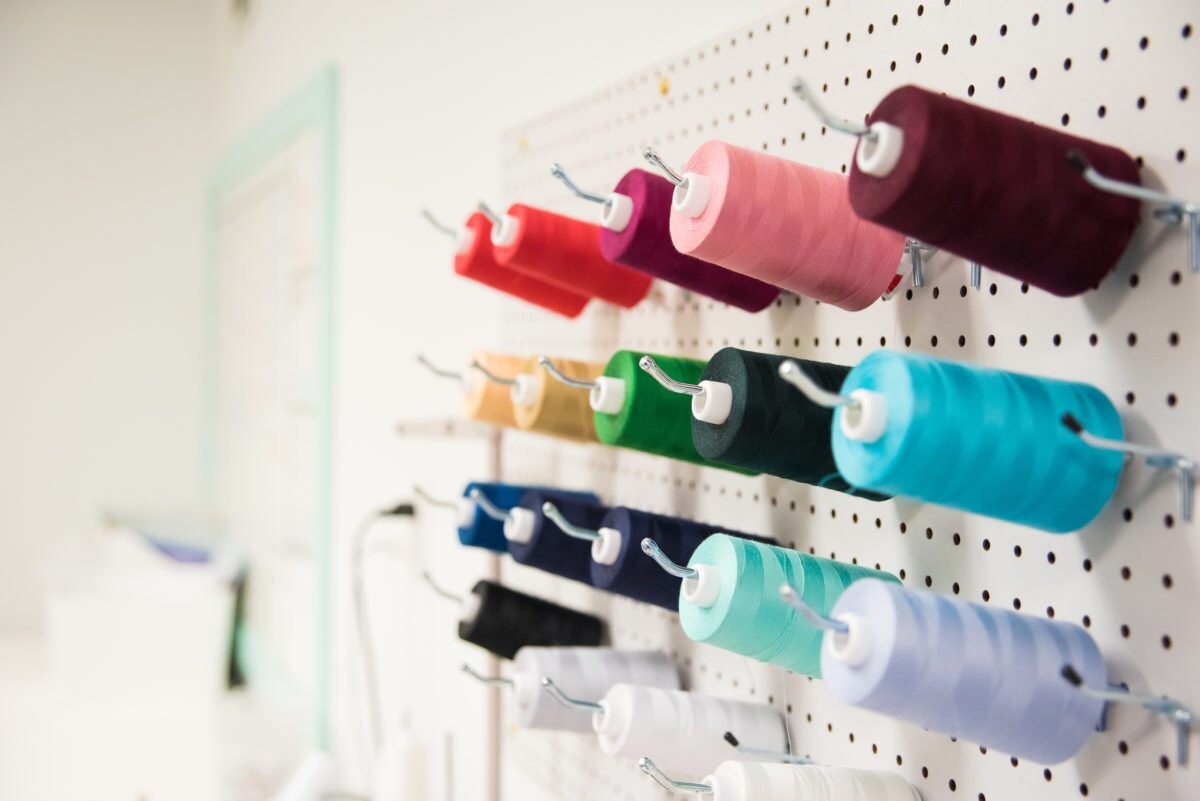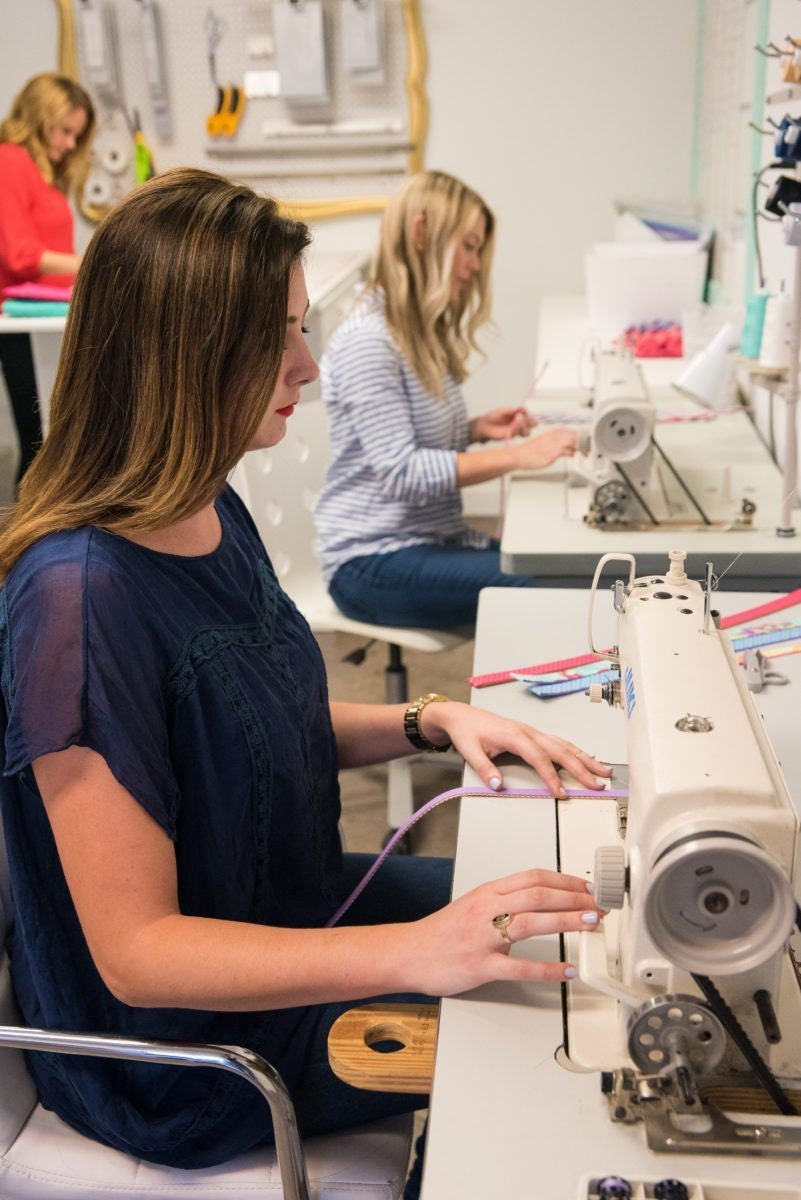 Your Dog of the Day series of clients' photos on Instagram is just delightful. Has that yielded any surprises for you? And are there other dog-centric social media feeds that you love to follow?
I'm always very surprised at how many engagements that we're a part of, and I get such a kick out of the birthday posts — they can get so elaborate! One of my favorite Dogs of the Day is a black and white French bulldog: He's really cool. He travels around with his mom and they take all these great photos in all these different amazing locations. He always wears the same thing: one of our collars with little red hearts and gold buckles. For some reason, on that black and white dog, it just looks so classic — I always enjoy seeing their pictures and they post almost every day. Oh, and then 
Timmy the Yorkie
, who lives in Spain. He's always wearing our bow ties, and he also travels all over the place. He has probably 15 different collars that he changes out.
What do you love most about your work?
I love that it combines my favorite things, animals and design, and the fact that I can combine the two to make a product that people really respond to. Getting that reaction and seeing the actual product on the dogs in everyday use is really special to me. And I really do love when clients see us at an event we're doing here in Charleston and come up and say, "Oh my gosh, Crew LaLa — we have three of your collars, and I didn't even know that you were in Charleston!" That happens more often than you would think, and they're people who found me on Etsy and have been longstanding clients; to run into them in day-to-day life is really special. I also really love that this company that I've made is very casual and full of love. Me and my staff, we're all really close. They love the work. All of them — one is an architecture major, and two of the others are graphic designers — they graduated college, they went to their 9-5 jobs, and every single one of them in their interviews told me, "I just didn't feel like this was what I was supposed to be doing with my life; I really want to go a different path." I think it's really special to be able to pull all those people together, and that they've all decided there can be a mix of work and pleasure at the same time.
What have been some of the most exciting moments or proudest achievements of your creative career thus far?
I think the first time that we were ever published was really meaningful for me. And every once in a while, when people ask about how I got started and I get to tell the story from the beginning — from having started on Etsy, making these in my house in my free time, to now having a staff of five — that's another one. Every two weeks when I do payroll, I'm always very, very proud that I'm able to have a staff and to have this nice building — it's just grown so much in the last couple of years. You forget, because it's your everyday life, but sometimes I kind of have to pinch myself.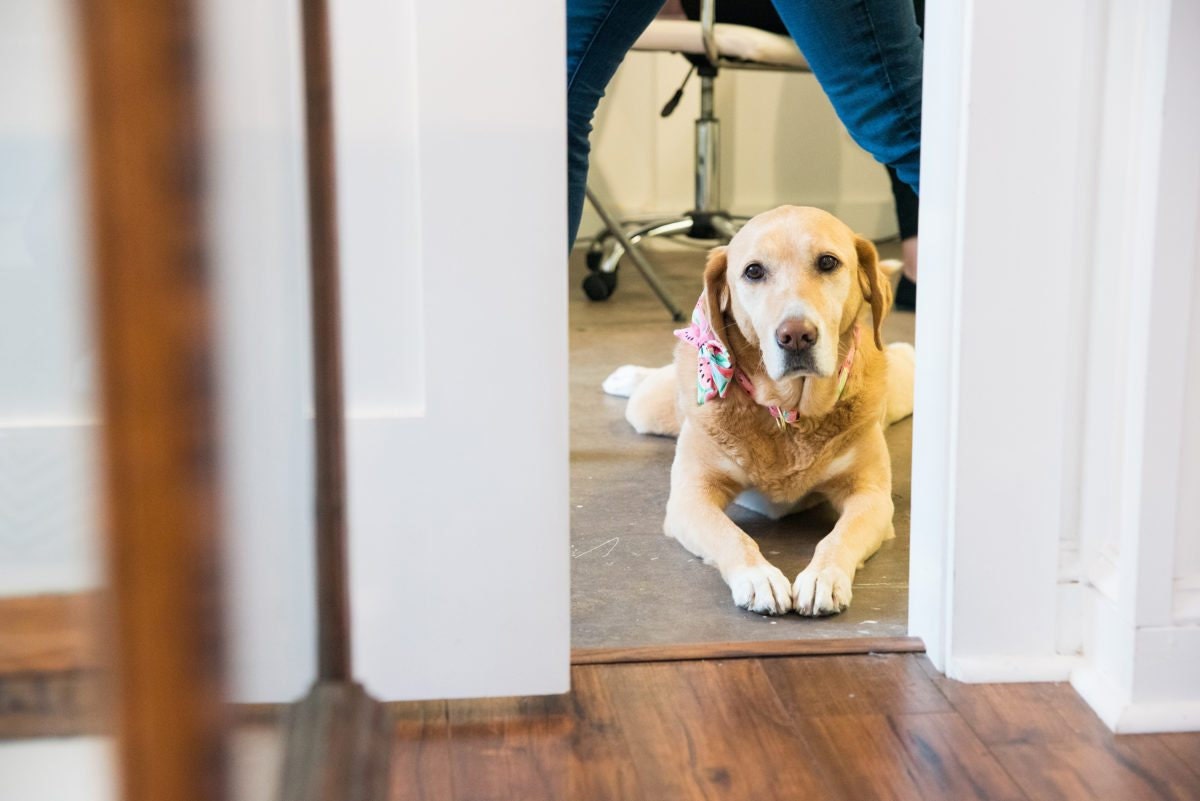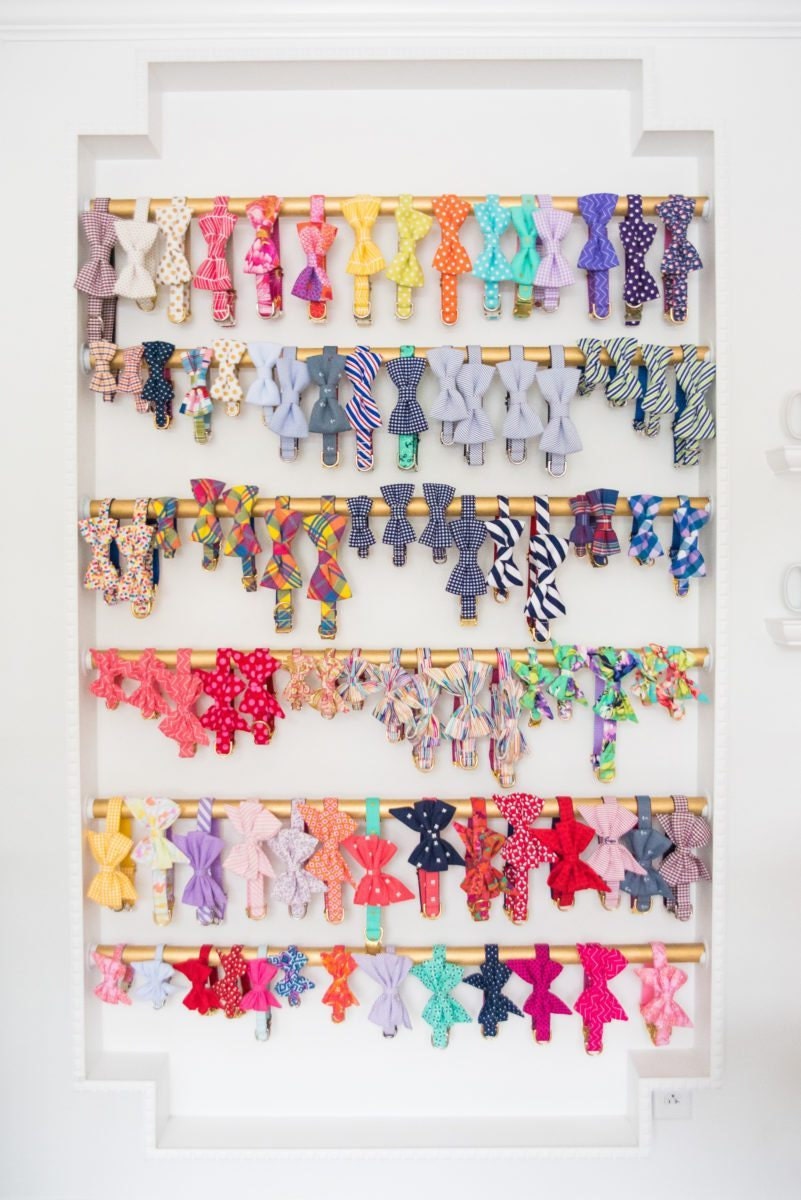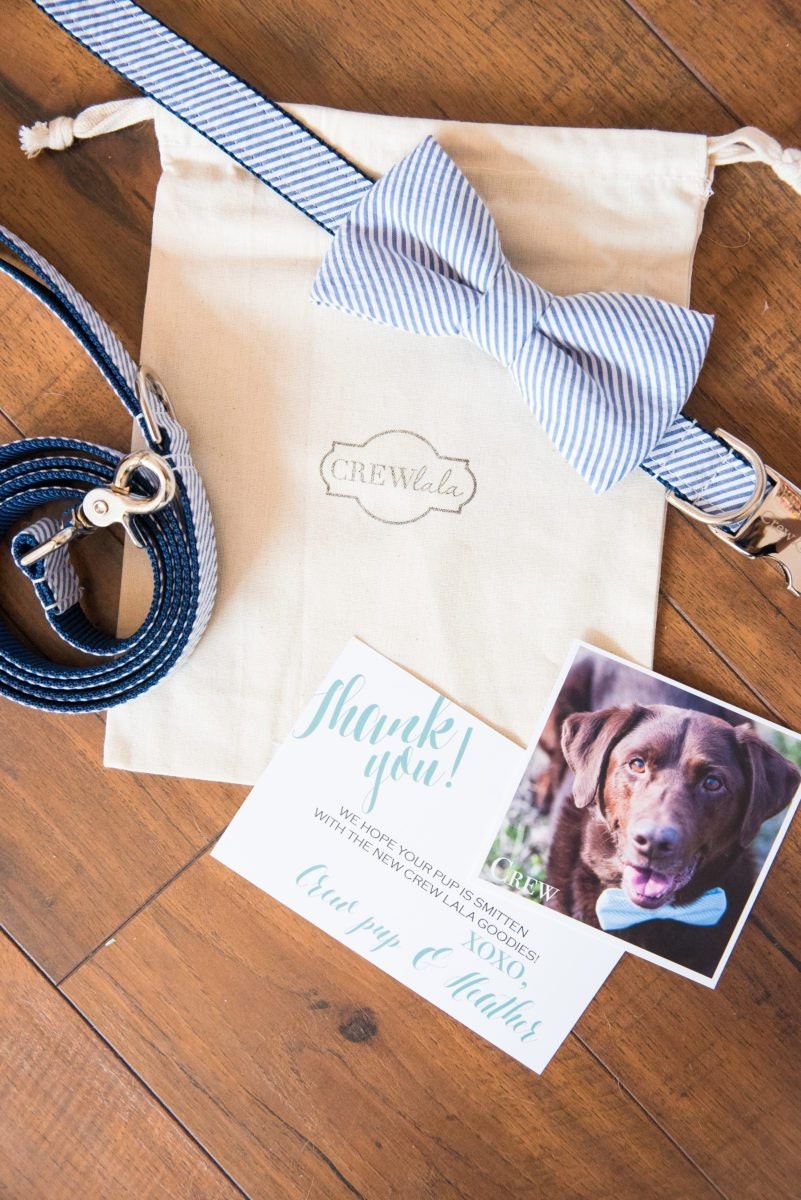 What's next for CrewLaLa?
Opening our retail space in February was huge, and the next thing that I'm really excited about is branching out into dog beds: That's going to be our next product line. We really want to focus on making a quality product that looks almost like a designer piece of furniture, with fabrics that don't stand out, but that have a classic feel — something that looks like it belongs in your house. We have already done the design work and made the first test model; now it's about finding the time to put it into full production. For that, we will need to hire another seamstress; hopefully in the next couple of months, we'll be able to bring it to market.
Follow Crew LaLa on Twitter, Facebook, Instagram, and Pinterest.
All photographs courtesy of Sloan Photography.
  Save Save