by Lisa Butterworth
Inspired by equestrian style and time-worn patina, these makers are creating a line of design-conscious accessories meant to last a lifetime (or two).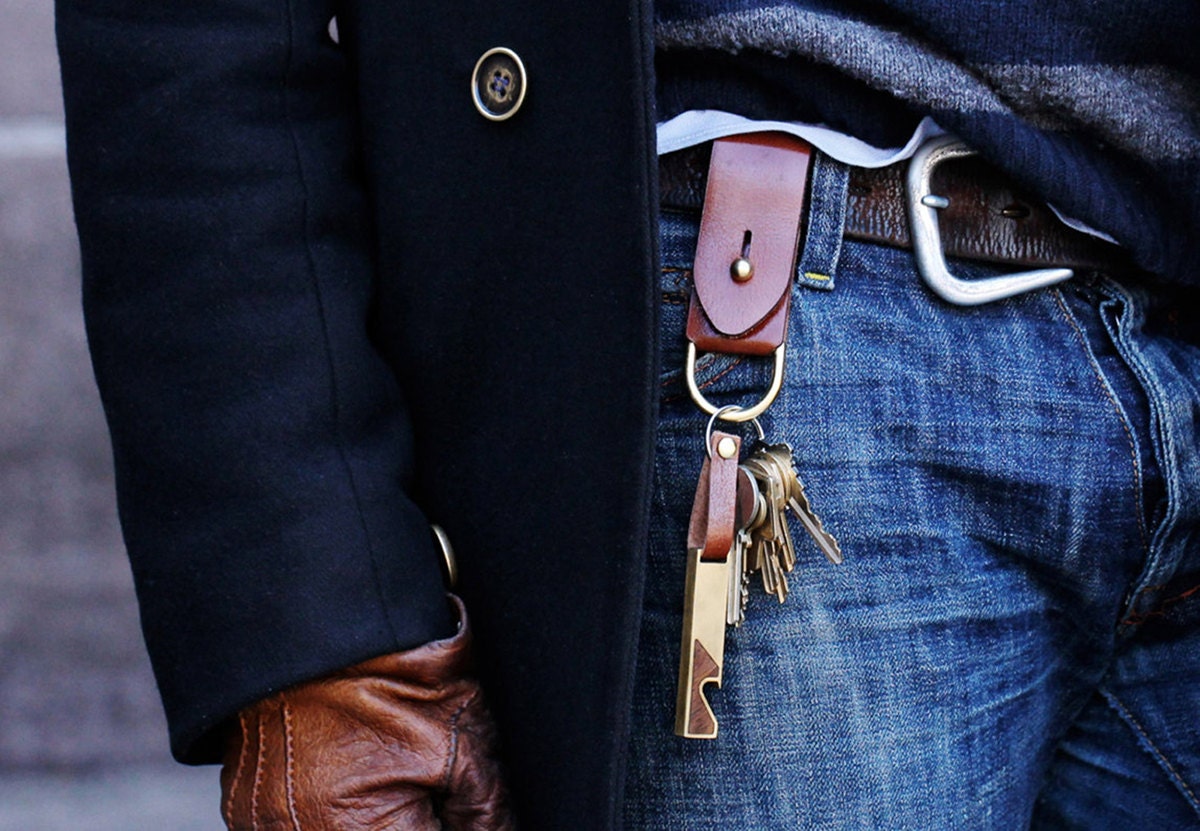 Brittany Dolence and Konrad Giersz were kind of kidding when they talked about doing a Kickstarter campaign to launch a 
line of design-conscious key fobs and bottle openers
. "And then we were like, 'Well, actually, that's not a bad idea,'" Brittany recalls. When their Kickstarter campaign raised 33 percent more than their goal, they knew they were on to something. Hoping to keep that momentum going, Brittany and Konrad decided to open an Etsy shop, 
Design Unsanctioned
, next — and they've been hard at work on their brand and products ever since.
Today, the makers live in Philadelphia, where they utilize a collaborative maker space that gives them access to all kinds of machinery to assemble and finish their distinctive line of manly accessories. Though big design is the focus of their small products, this pair's also working on exciting new stuff that won't fit in your pocket.
Read on to find out what's in store for their evolving line and shop the current collection.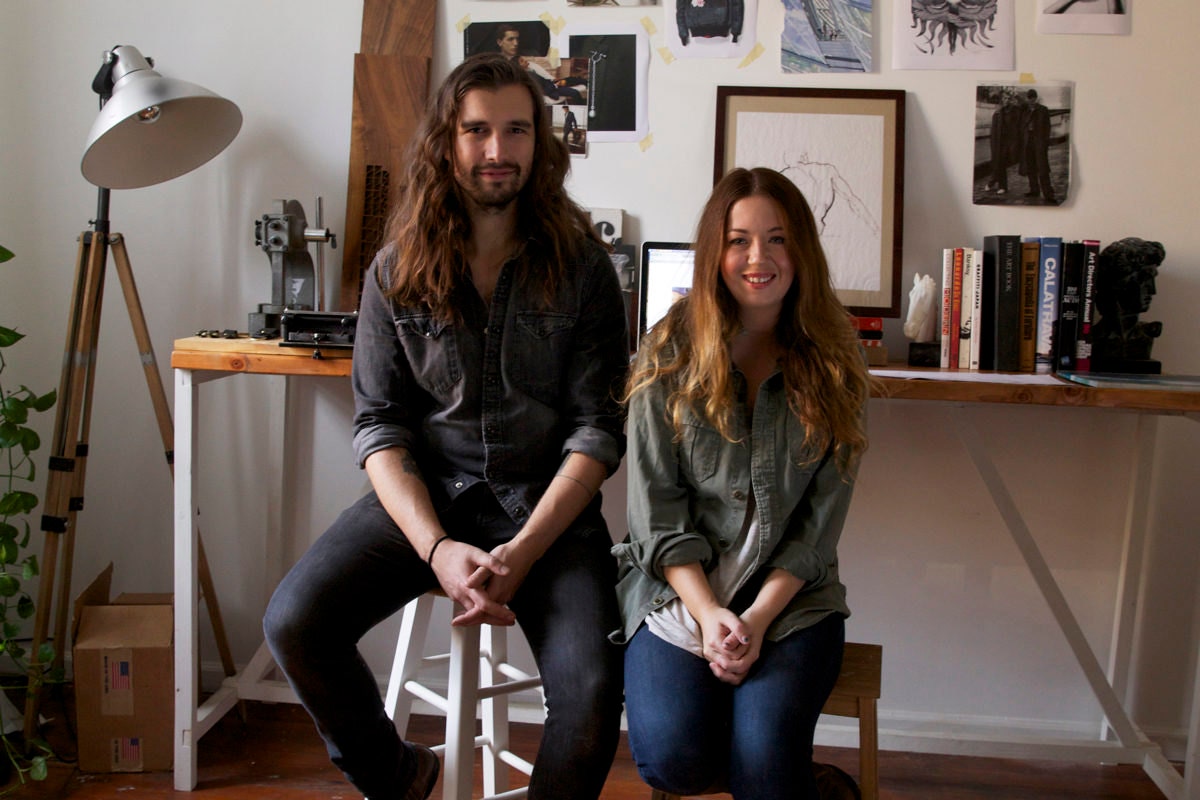 Tell us about your backgrounds and how you divide your work on Design Unsanctioned.
Brittany:
My background is in graphic design and art direction. I've always worked within the fashion and luxury industries — for companies like Free People, Anthropologie and Nordstrom. I do all of the packaging and photography and styling, and Konrad is the product designer.
Konrad:
I have a background in industrial design. Since graduating from
Pratt
, I've been doing commercial design, but metal and wood have always stuck with me in my personal work. Since I have the product design background and Brittany has art direction, we complement each other.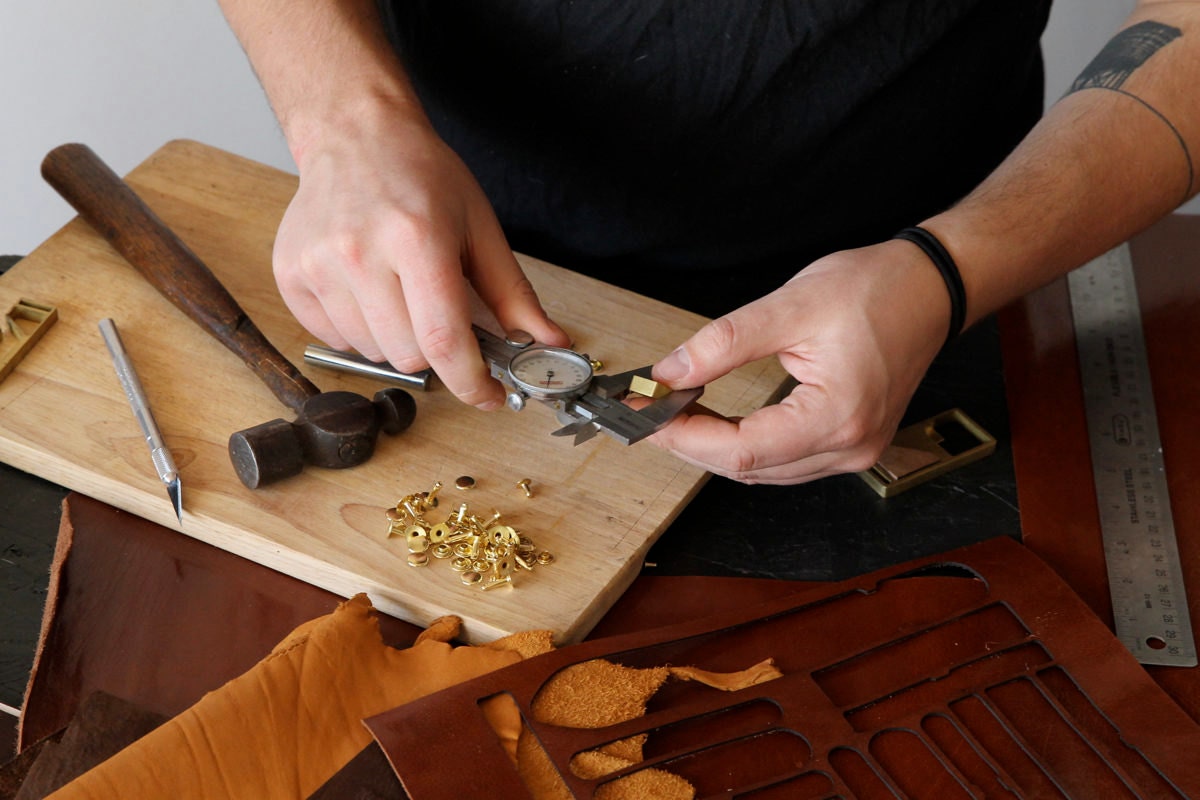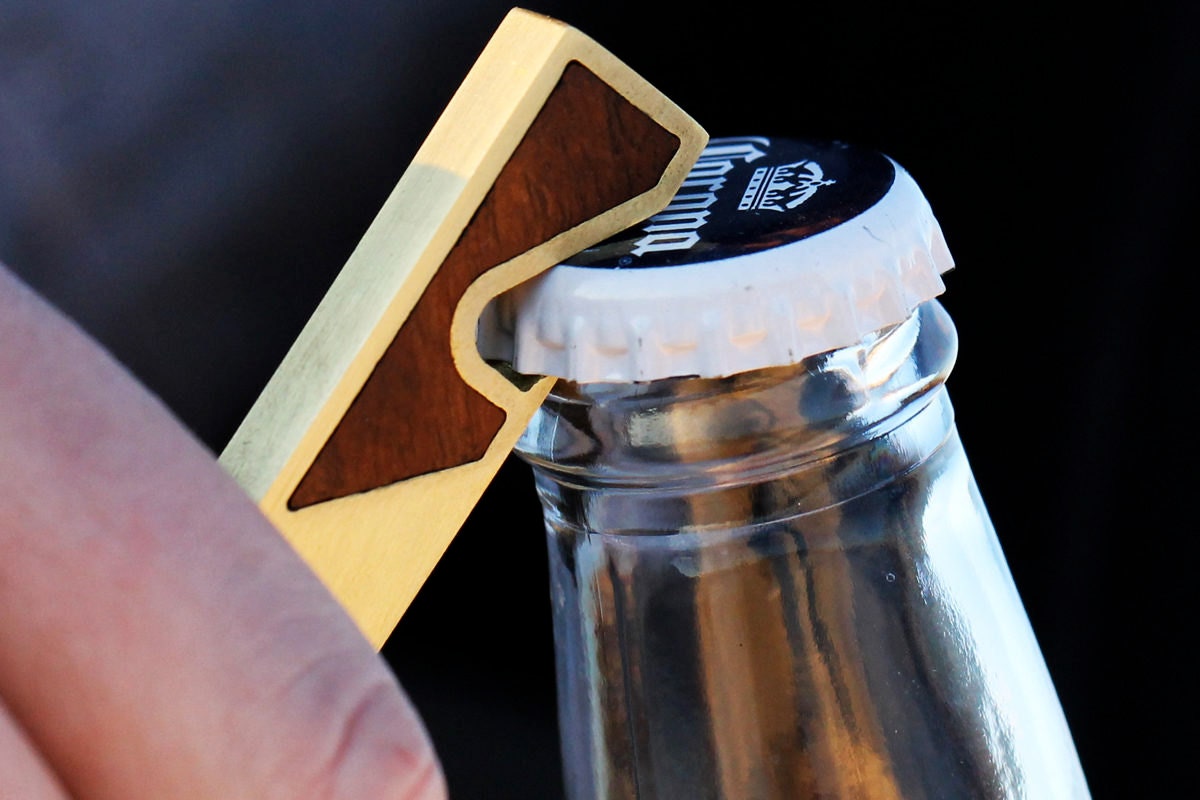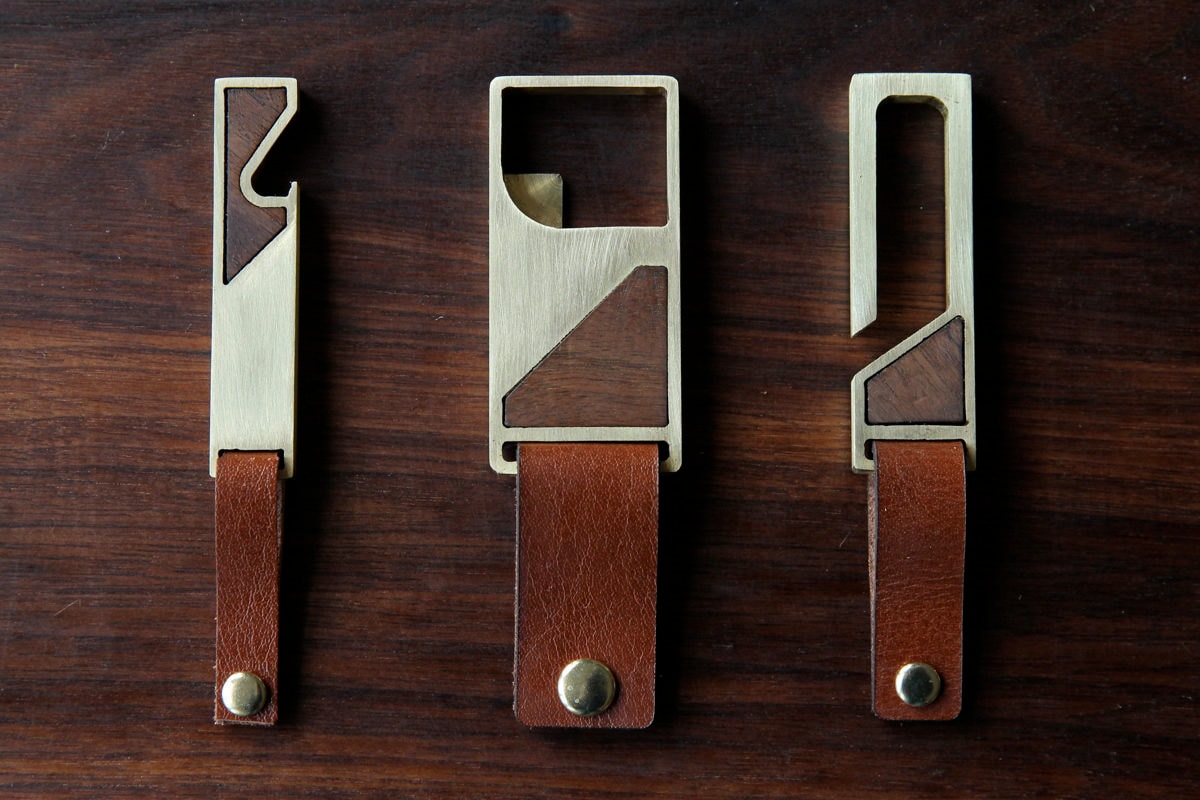 Why did you start an Etsy shop?
Konrad:
We felt that Etsy would be a really good fit, just knowing how the Etsy customer appreciates the quality and craftsmanship that go into these products. Through Etsy, we get to talk to so many people that are interested in our products; some really appreciate the utilitarian aspect and others appreciate the aesthetic. We talk to people from all different parts of the world, with different points of view.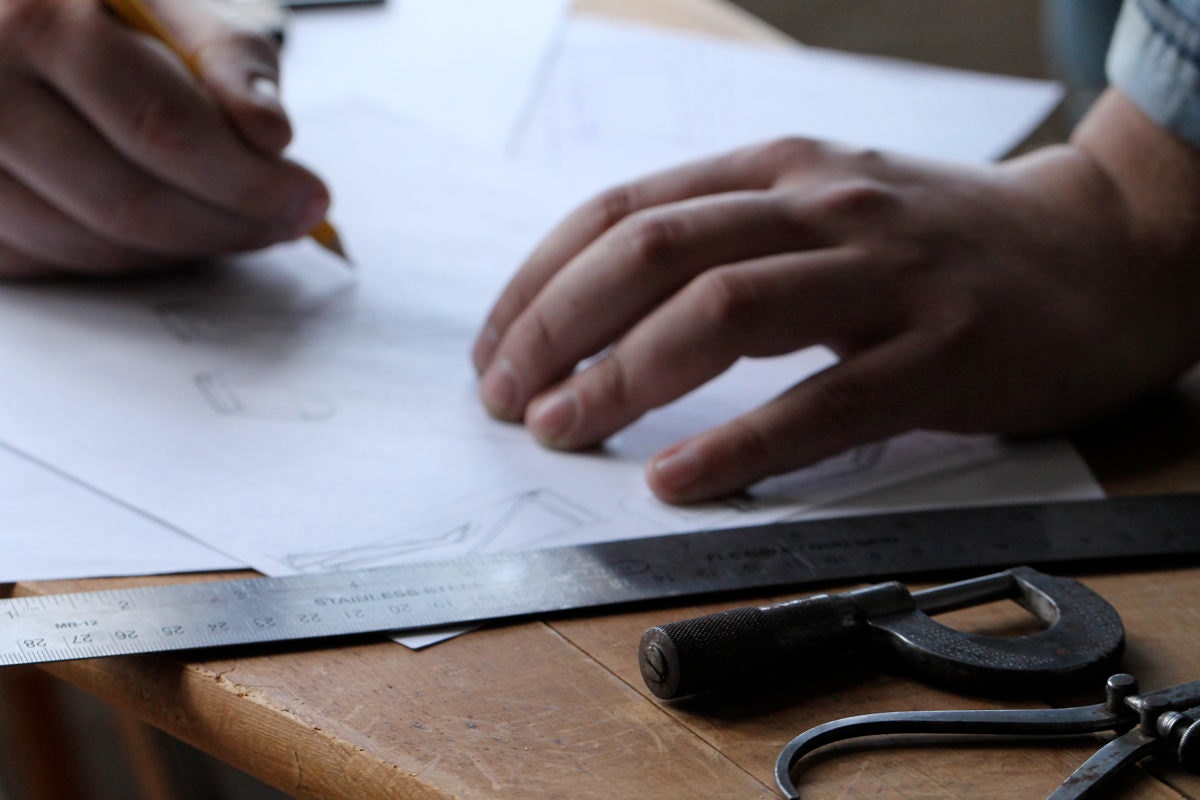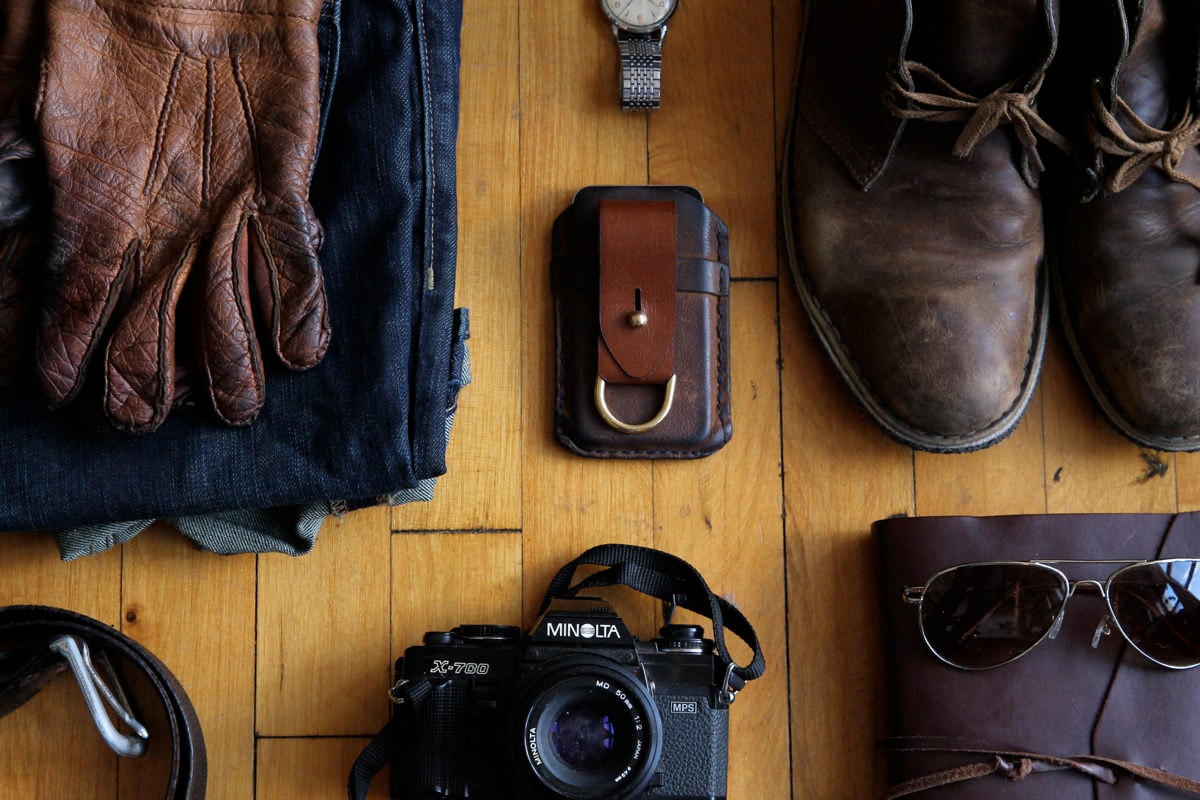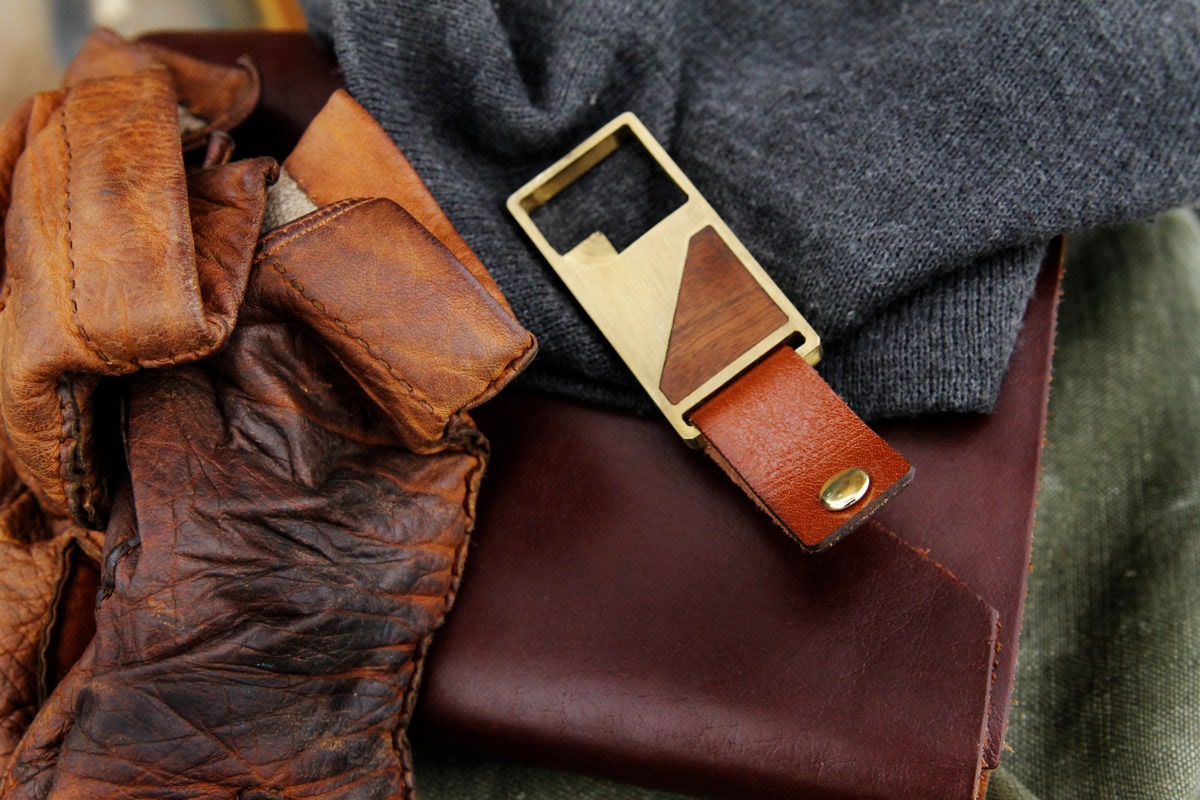 How would you describe Design Unsanctioned's aesthetic?
Brittany:
We wanted to stick to classic materials with a modern vibe.
Konrad:
It's very important to us that these objects are really being used by the owners and that they show wear in a very graceful way. Brass and leather are our chosen materials for that reason.
Brittany:
The concept of a personalized patina is something we really wanted to play with. So for example, we use raw, exposed brass — none of it's coated. It's only shiny when it arrives to someone. We hand-brush it and pristinely polish it and we handle it with gloves — no one touches it until the customer opens the package. From then on, every patina that happens is strictly from that person.
Almost like a fingerprint.
Brittany:
Yeah, it is! And if they don't like it, they can polish it off too.
Konrad:
It's important that our products become a highly personal object. And that they last a lifetime or two.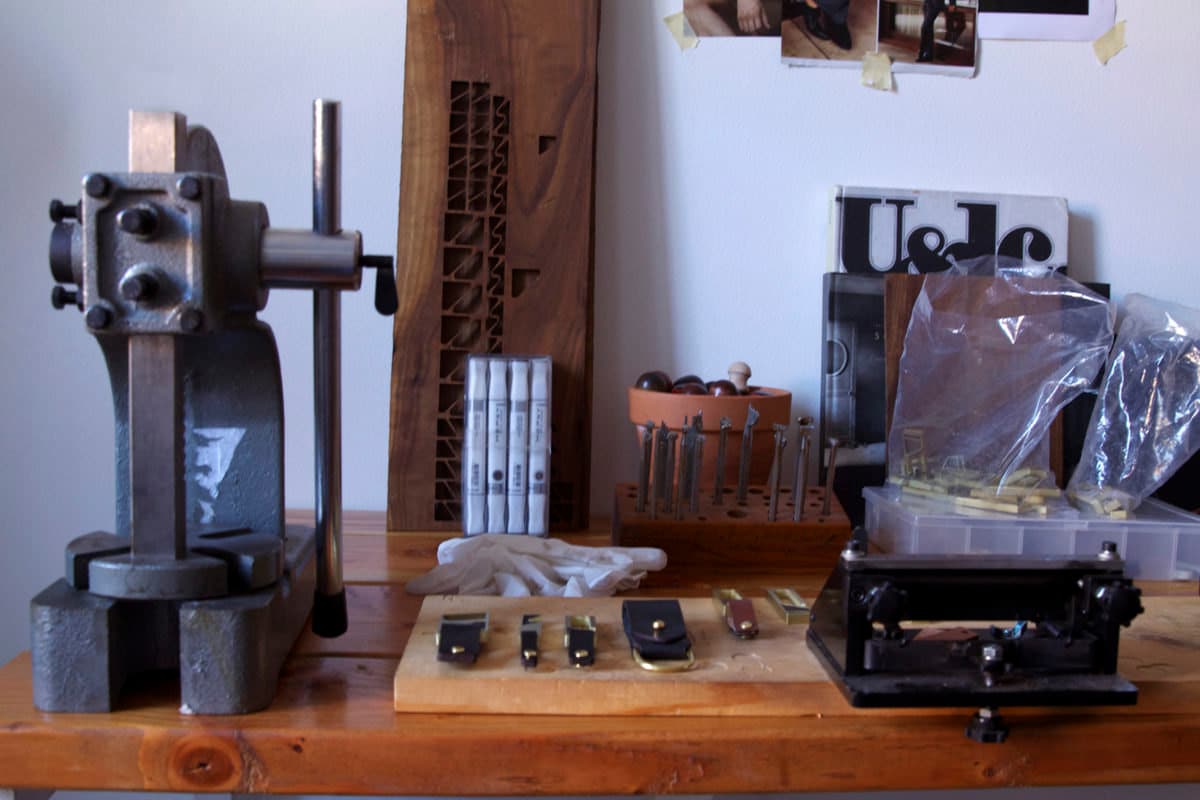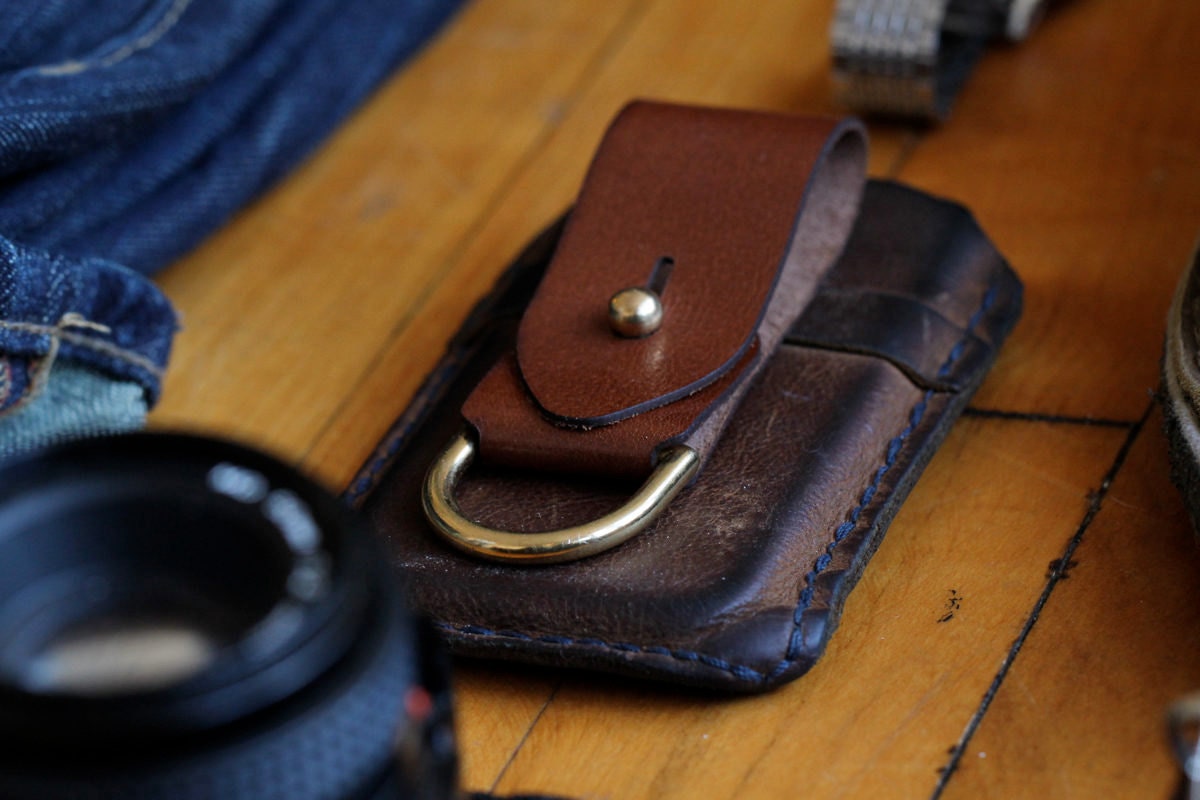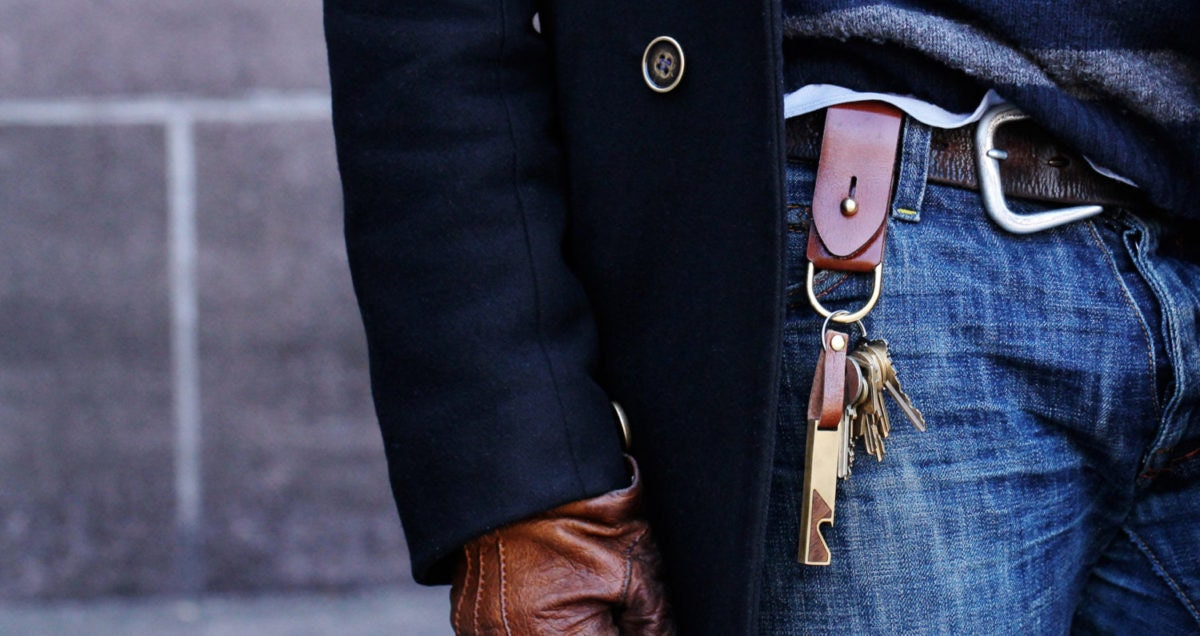 Can you describe the idea behind "everyday carry"?
Konrad:
It's a movement dedicated to what people carry on themselves on a daily basis.
Brittany:
It includes a lot of
all-in-one tools that go on your keychain
, like Swiss army knives, bottle openers and stuff.
Konrad:
It's about being ready for pretty much any situation, at any time. It's a very utilitarian movement but we wanted to introduce a little bit of flair to it.
What do you like most about working as a couple? What are some of the challenges?
Konrad:
We've been together for five years now, so at this point we can almost read each other's minds. But the hardest part is when we don't agree on something. That's sometimes problematic because we're both...
Brittany:
…a little on the stubborn side. One of us always caves sooner or later and then it's no big deal. What I like the most is that we work on totally opposite sides of the spectrum. He's embedded in form and function whereas I'm the visual person. And if we have disagreements it's because of that. I'll be arguing for what will make it prettier and he'll be arguing for the shape.
Konrad:
It's interesting because this whole process has helped us learn a lot about ourselves.
Brittany:
I wouldn't trade it.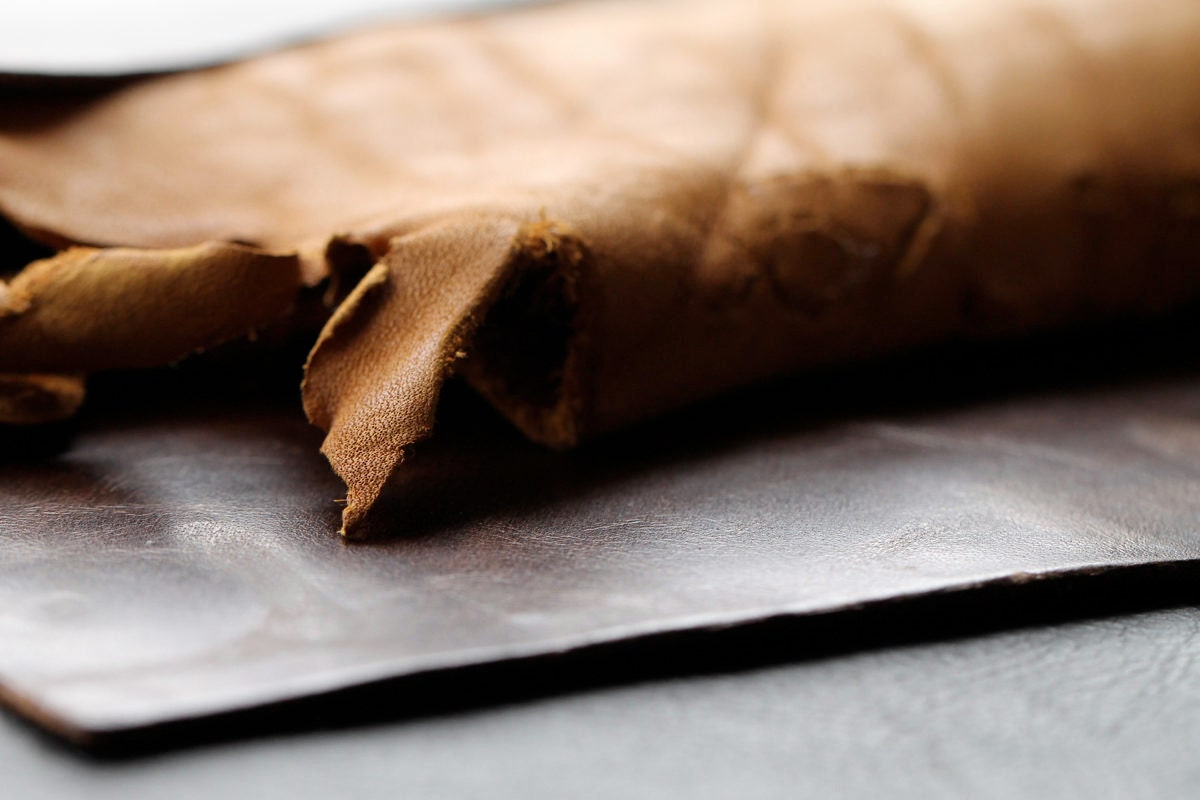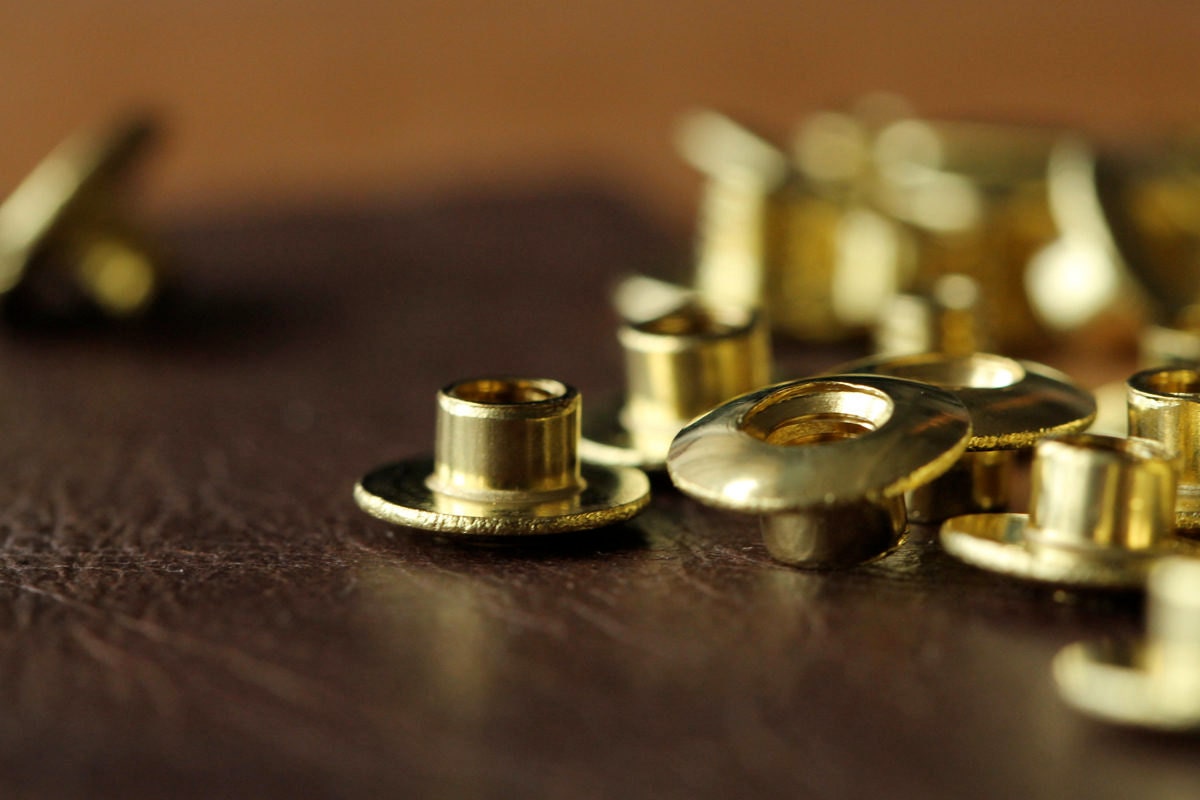 What are your plans for the future of Design Unsanctioned?
Konrad:
We are working on some new leather goods that we're hoping to start releasing soon. We want to expand beyond the keychain and the pocket. We're also working on designs for the home environment.
As you expand your product line, what are the core principles that will guide you?
Konrad:
Each item has to be crafted to very high standards of quality and finish.
Brittany:
And we'll still embrace materials in a modern aesthetic.
Konrad:
It's very important to maintain that story of the thumbprint — an item that will age with you. So whether it is a piece of furniture or a leather bag, that will be something that will stay the same in all of our products.
Follow Design Unsanctioned on Instagram.
Photographs courtesy of Design Unsanctioned.