Learn what inspires this globetrotting, 28-year-old jewelry designer.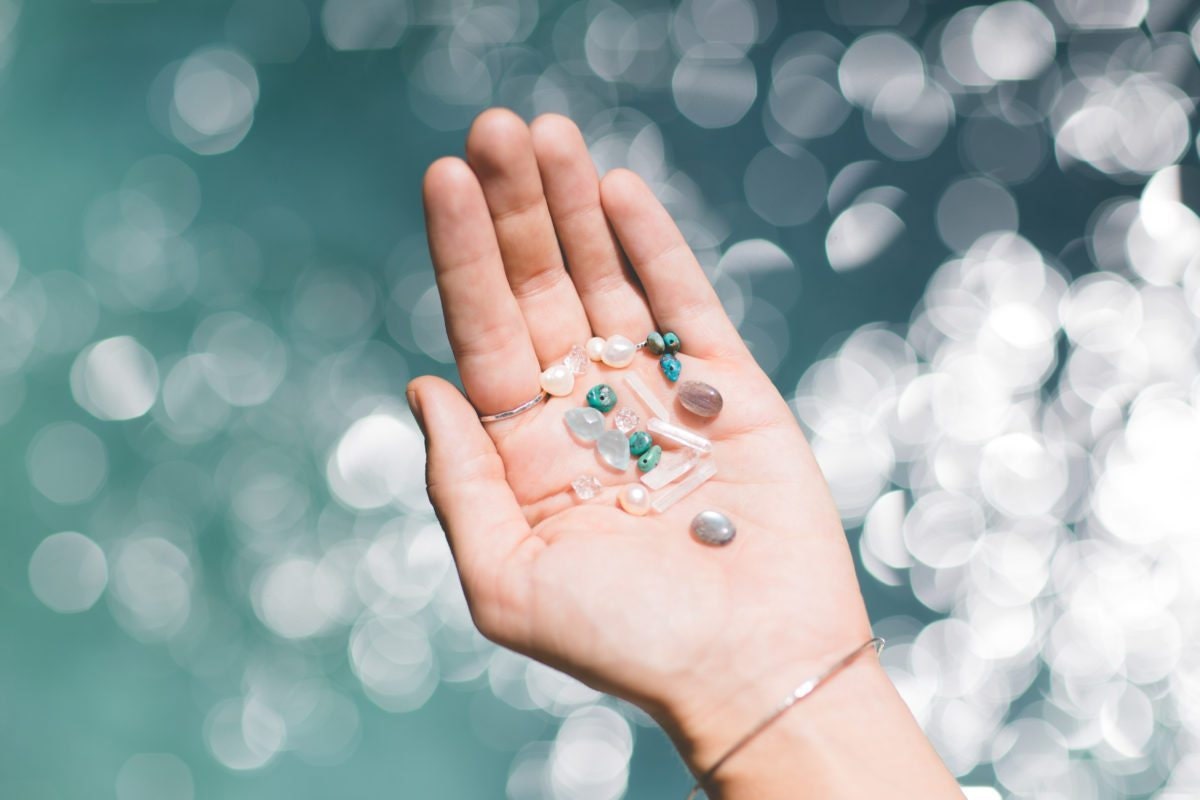 Kristy Highness, the Minnesota-born maker behind the boho jewelry line
Dreaming Tree Creations
, had her career-defining aha moment at age 21, while she was studying abroad in Australia. A marketing major then, Kristy had an experience that afternoon that led her down an entirely new path – one that brought her to the life she has today, as a small business owner and jewelry designer. "It was this quintessential moment where everything aligned: the music in the car, the wind blowing through my hair, being surrounded by good friends," Kristy explains. "We were driving back from the beach, and I saw this tree that was perfectly illuminated by the sunset. At that moment, I realized that the corporate-America lifestyle I was gearing up for wasn't for me, and that I couldn't wait to get home and start creating my own business, instead." The business that she's built for herself –
Dreaming Tree Creations
– is named for that moment; many of the
rings
,
necklaces
and
bracelets
in her line are inspired by similar instances of alignment, revelation, and connection.
Read on for more about Kristy's story and process, and get a peek inside her bright, sunny workspace in Australia.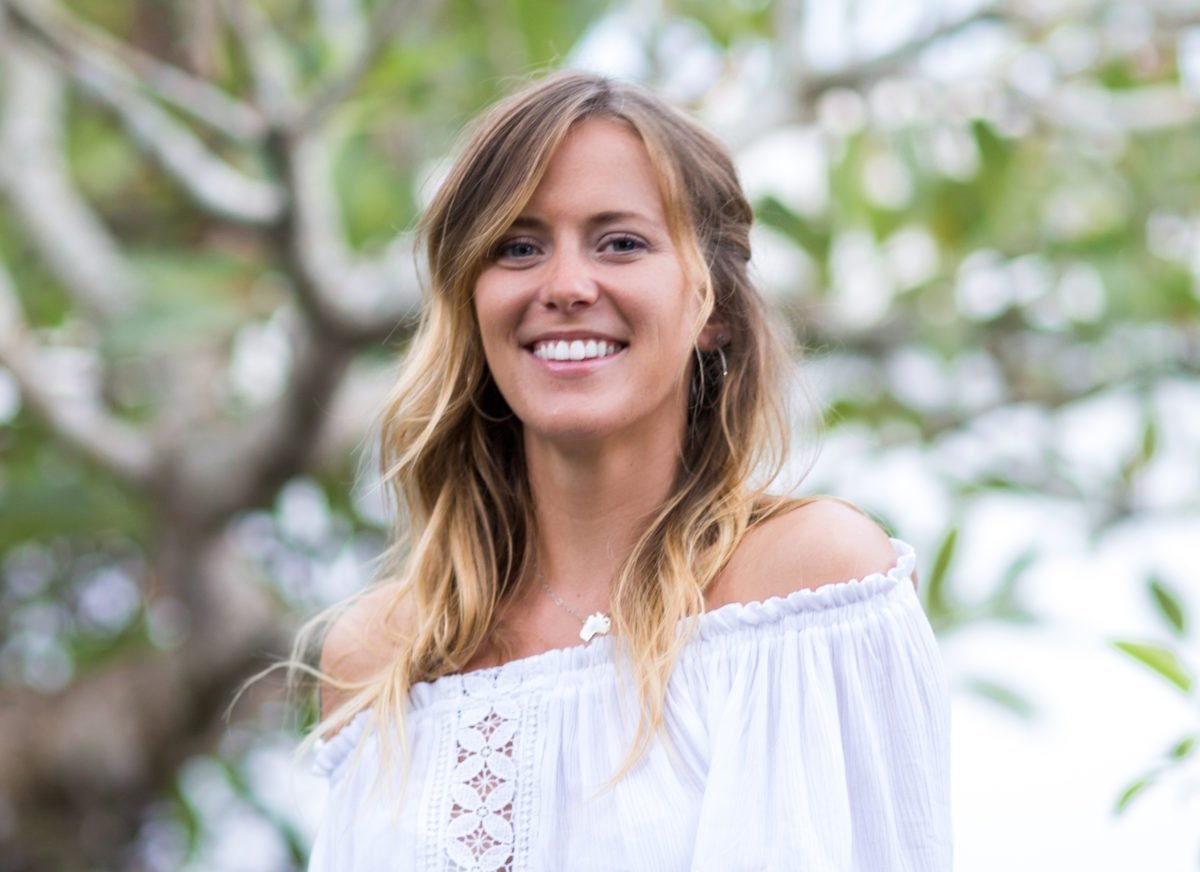 Can you tell us a little bit about your evolution as a silversmith? I started learning my silversmithing skills during a mixed-media class in high school. My favorite project was the silversmith ring that we made in class – I spent probably 30 hours on that ring. Then my mom ended up quitting her corporate job and starting an art studio and coffee shop. When she was thinking about the mediums that she wanted to use in the art studio, there was a lot of glass work and painting, and I suggested that she get the equipment for silversmithing because I had loved it so much. So she did that, and she hired instructors to teach in the space. That allowed me to take hobbyist classes, usually in three-hour time frames, and really hone my skills. Eventually, I ended up teaching there as well. What were some of the first items you learned how to make? Aside from the high school class, the first skill I learned was
stamping
. I still do a lot of stamping today, and it's a really versatile and personal way to put meaningful words or people's favorite quotes onto a piece.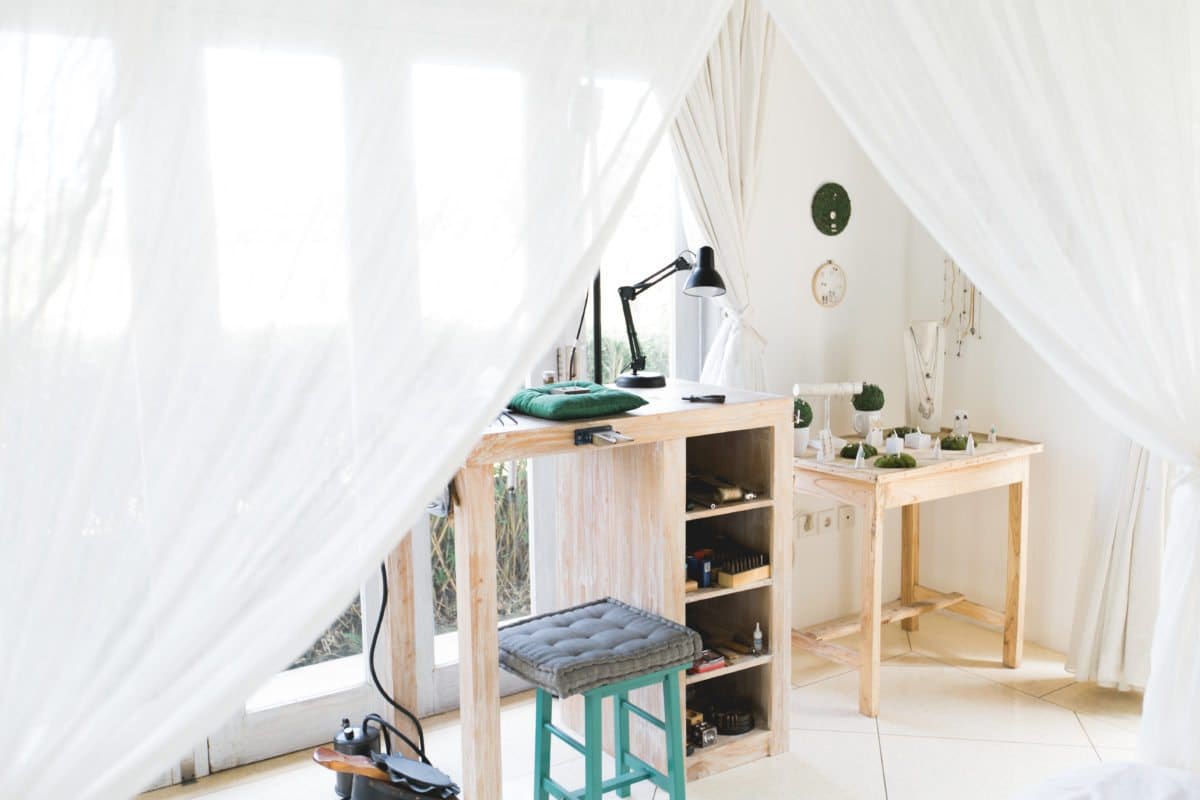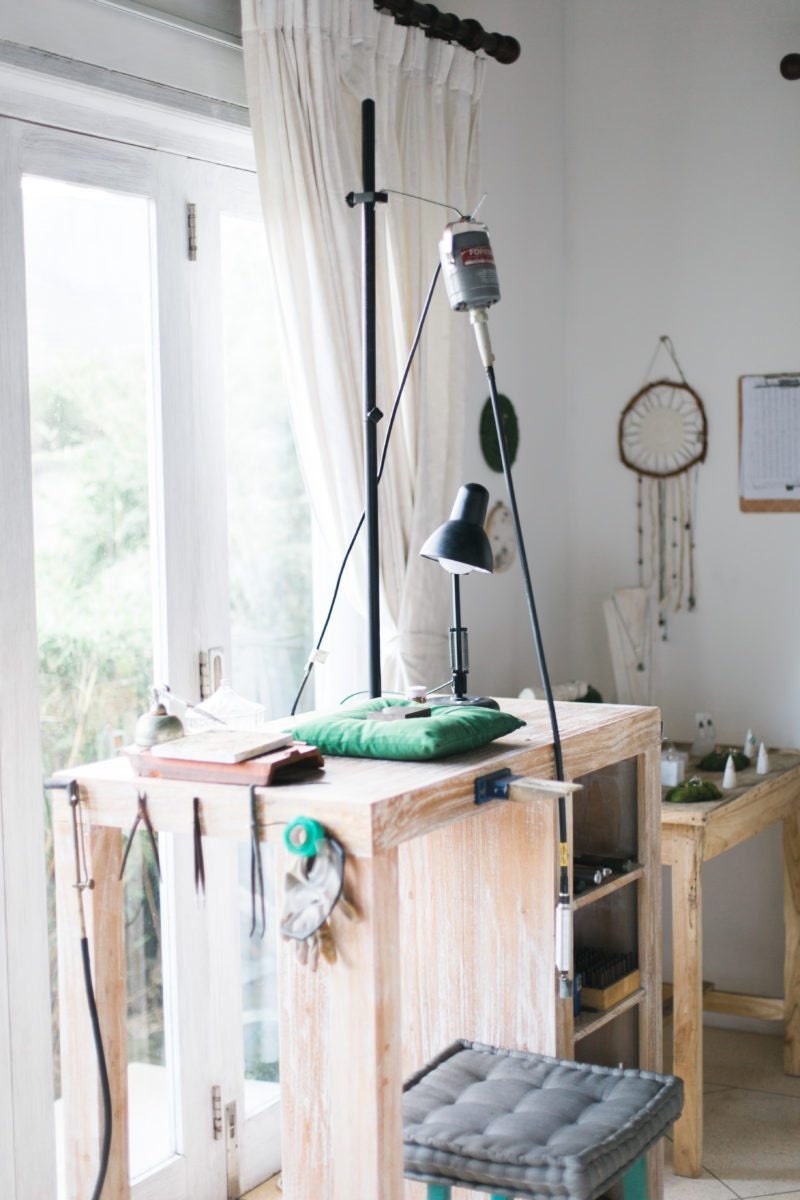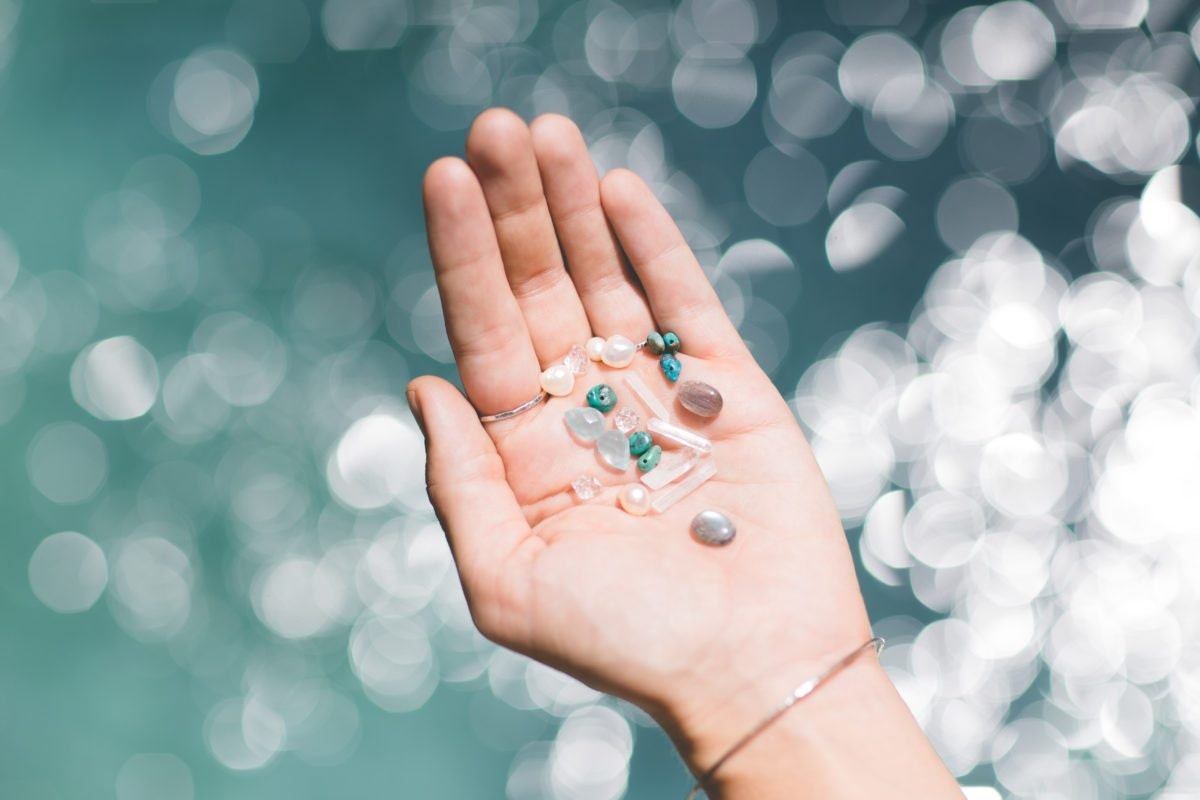 How did you end up back in Australia? After I graduated from university, I realized that your life is in your hands; you have the freedom and ability to follow your dreams. So I moved to Australia in 2012. I've traveled around quite a bit since then, too: I've done a lot in Southeast Asia, Malaysia, Thailand, Indonesia, and Singapore. That's where I get a lot of my inspiration from, as well: There are powerful moments that can happen when you travel. Sometimes everything aligns and unexplainable coincidences happen, and it shakes you, and continues to set your path. How does the inspiration you gather during your travels show in your work? Inspiration can be a hard thing to explain, because it can really come from a moment. One example is my
State Love ring
, which has been a really major ring for me; it's the design that supported me for the last several years. That came to me as I was walking around in Minneapolis. I saw a traffic sign that said 'One way,' but someone had crossed out 'way' and written 'love.' I had just been thinking about my love for Minneapolis, and for my hometown in Minnesota, and at that moment I had to run home and make the State Love ring. I've never created anything so fast; I got so excited about it, and that design was what catapulted me into being able to do this.
Aside from travel, what else inspires you?
I'm a really simple girl, so a lot of times it's just about living in the moment and appreciating everything: a leaf fluttering down to the ground, moss growing on a rock, or when you're going for a run on the beach and the water kisses your feet. Those are the things that really drive me – just being in the moment and feeling full and happy.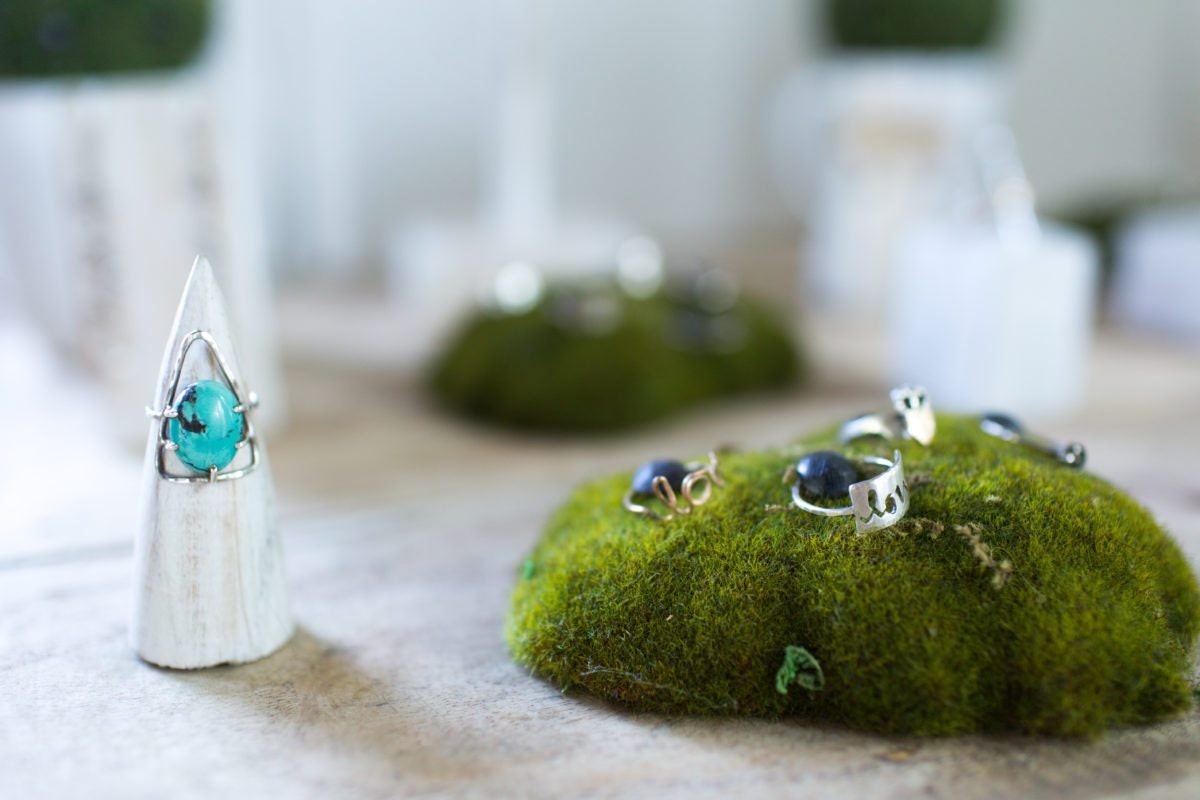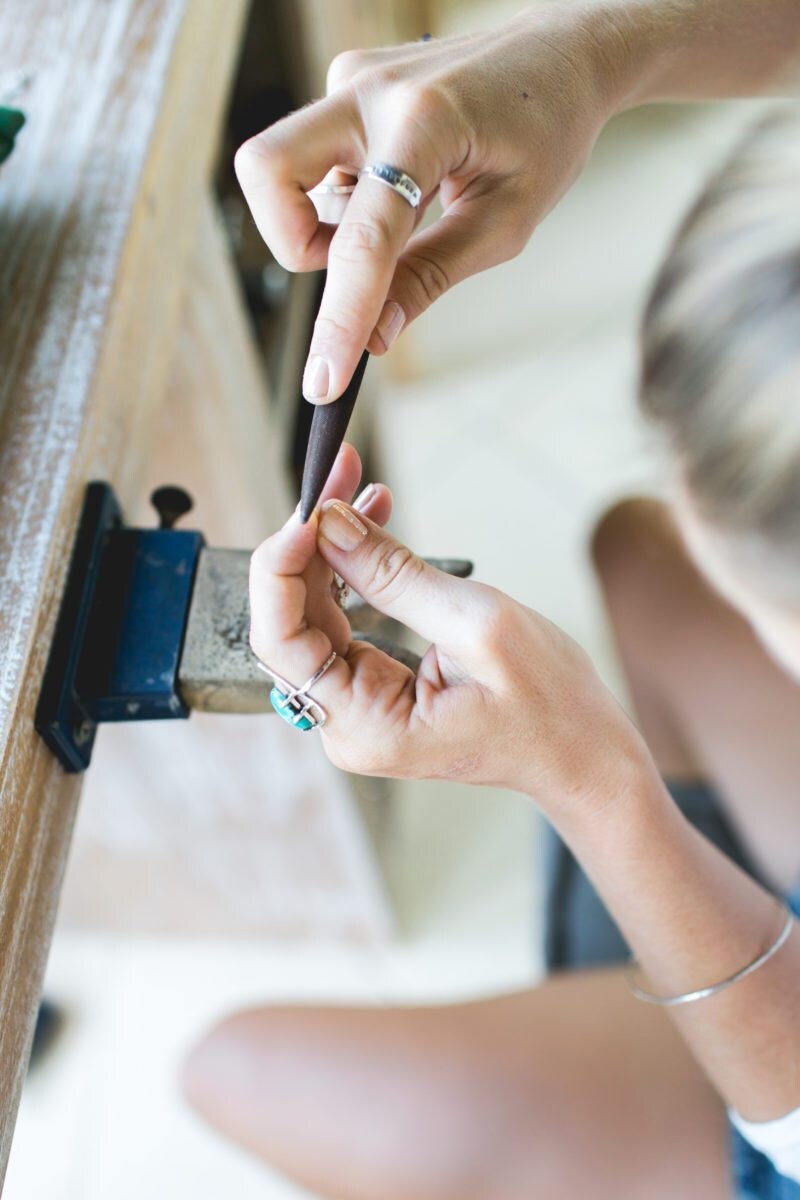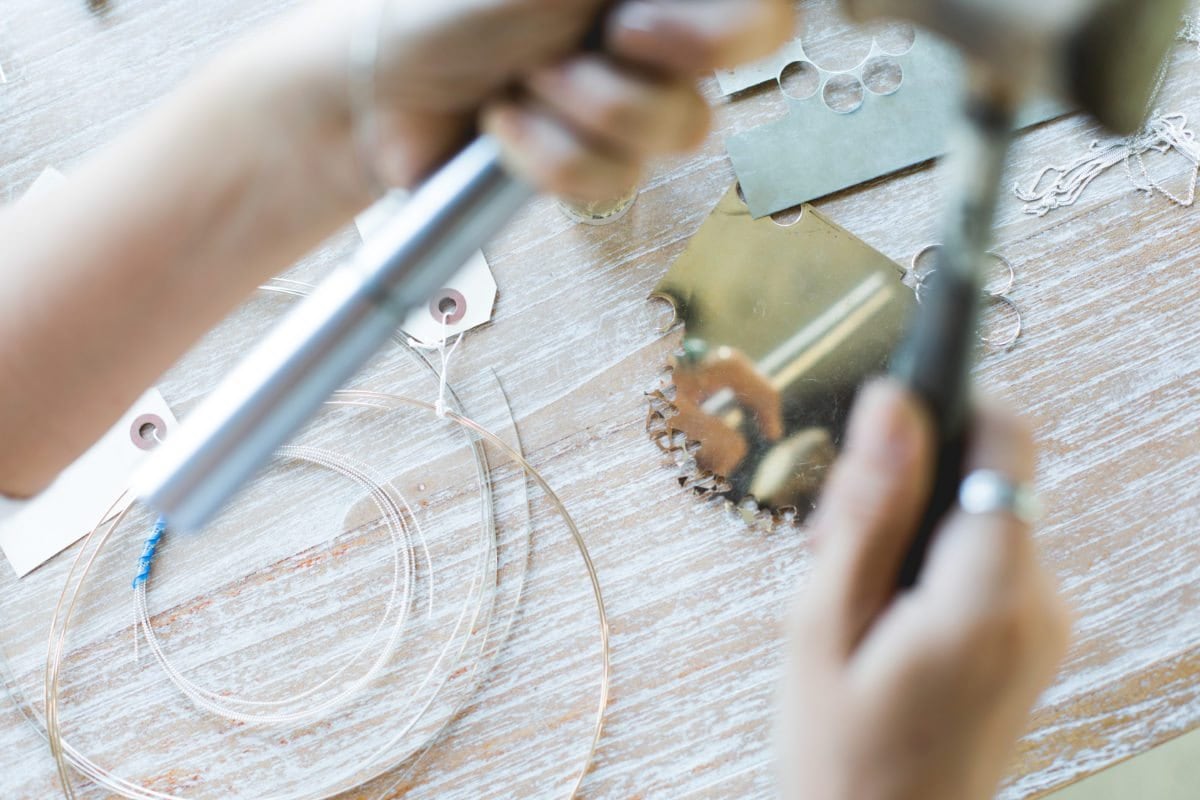 Tell us about the space where you create. Do you work from home, or do you have a studio? I've had so many studios over the years: I've worked out of my house, my garage, and my mom's studio before I had my own. Also, when I'm traveling around, my backpack's always really heavy because it's filled with steel blocks and hammers and stamp sets. At the moment, I work out of my bedroom. I can work anywhere that my bench and all my tools fit. My home is where my tools are. What is your design process like? A lot of times it starts with people, honestly. So many of my designs have originally been gifts for a friend or family member. One of my favorite rings right now is my
Wild and Free daisy ring
, and that one started as a 30th birthday gift for my old roommate in Australia. She always wore this daisy necklace, and so for her birthday I wanted to make her a similar ring. (I'm kind of the
ring
queen; I love rings!) The inside of the ring said 'wild and free,' and watching her face when she opened it, she was absolutely floored. Do you have a favorite part of the process when you're working on a new piece? I really enjoy watching it unfold. Sometimes I'll start with something and it looks pretty hideous, and then when it gets to the final sanding, it's finally turned into a complete piece. It goes through such a huge transformation, and that is probably my favorite part: the moment at the end when you have that tangible object in your hand that's completely different from how it started.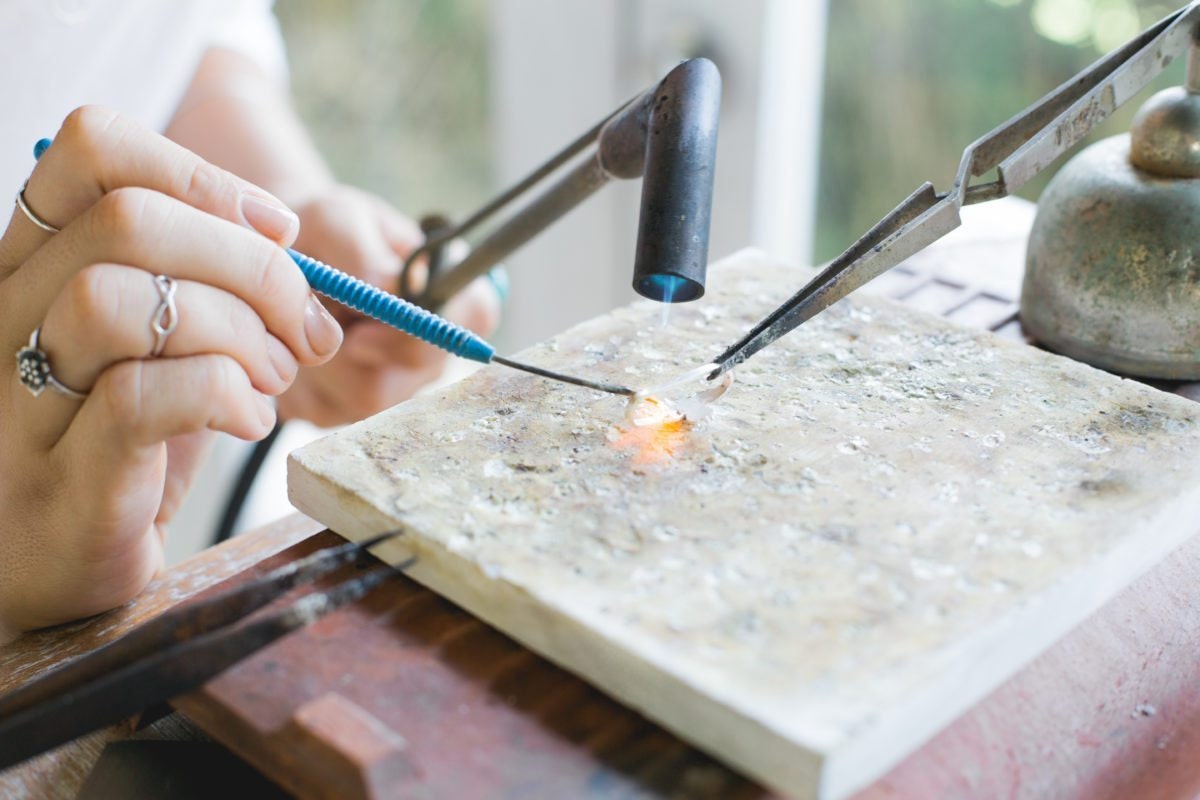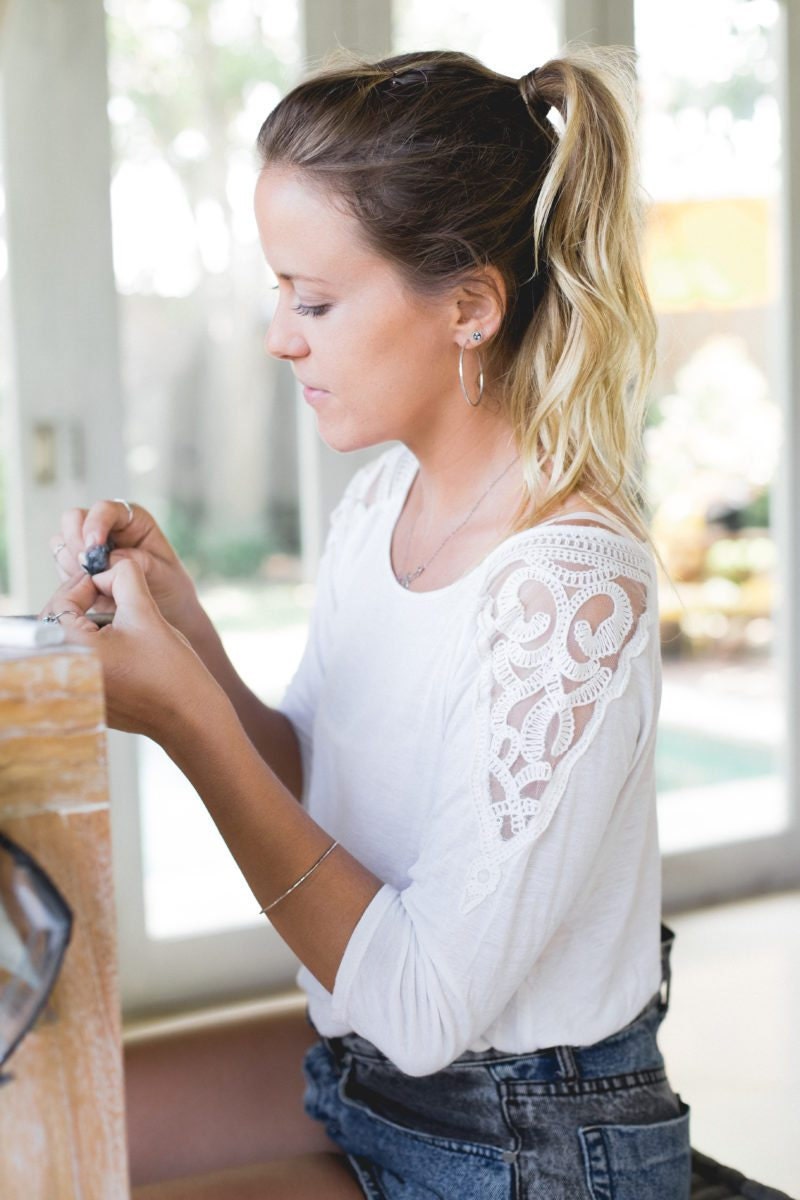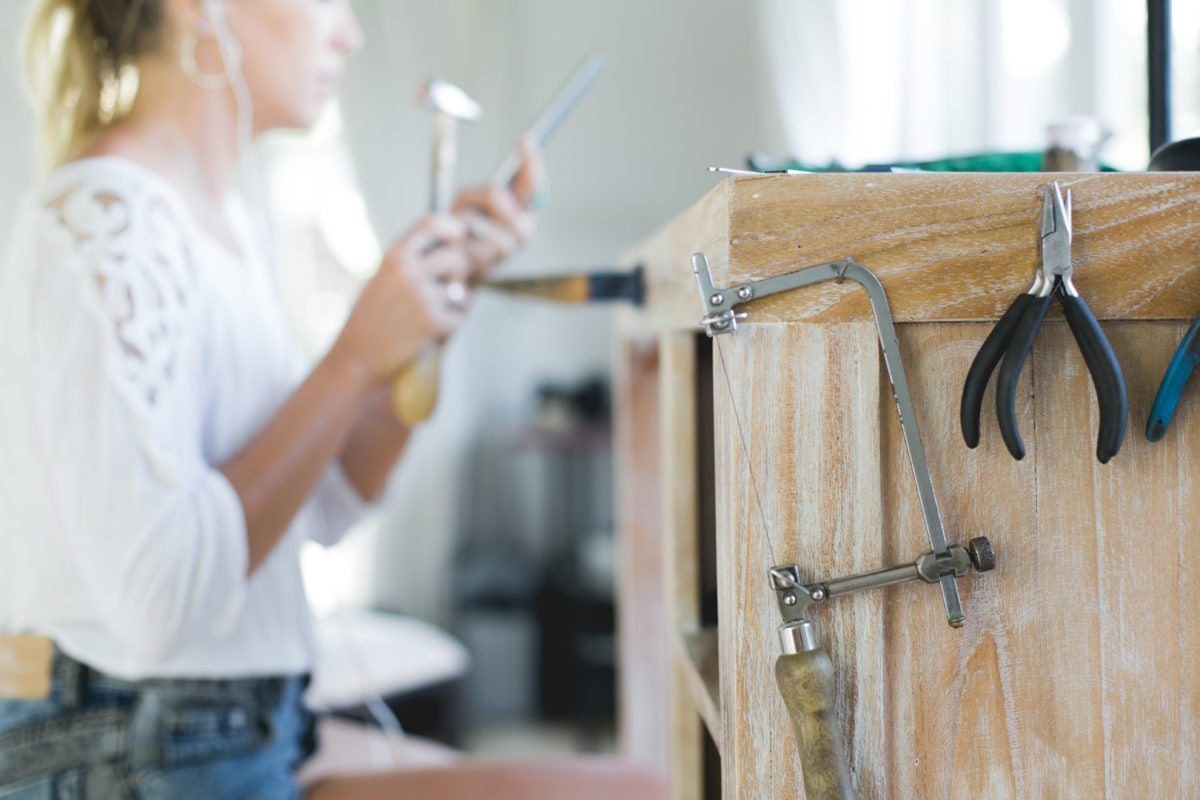 Do any of your items hold a special meaning for you? There's one item that I haven't put into my shop that I've thought about putting in, which I made for my grandma just before she died a couple of years ago. I was living in Australia at the time, and it was really important to let her know how much she meant to me, so I wrote her a long letter explaining everything. She always wore a long cross necklace – she was a religious person – so I made her a necklace that was reversible. One side had a heart on it, and on the other side, in the negative space of the heart, was a cross. It was my way of telling her that she was always in my heart. It arrived just a couple of days before she died, so it was really meaningful. Likewise, I get so many custom order requests from people in similar situations. I mean, it's jewelry, but it has so much more sentiment when you're able to connect with people. That's the beauty of Etsy: You're connecting person to person, and people share their stories. I get a lot of bereaved mothers, or people who have had someone they love pass away. Also, anniversaries and other special occasions: I once had a guy request a piece to tell a woman that he loved her. That's powerful. In 2012 when I was super, super busy with orders, my dad would sit on my floor and help me answer Etsy messages while I was sitting at my bench, creating. He's a big guy, but even he would read messages like those and start crying. He would say, "Kristy, I can tell that you feel like you can make a difference doing this." And he was right. For me, it's about that connection with people; everyone's human, and everyone's beautiful, and everyone has pain, and a jewelry piece can encompass that. It's really incredible, actually, the power that a piece of jewelry can have.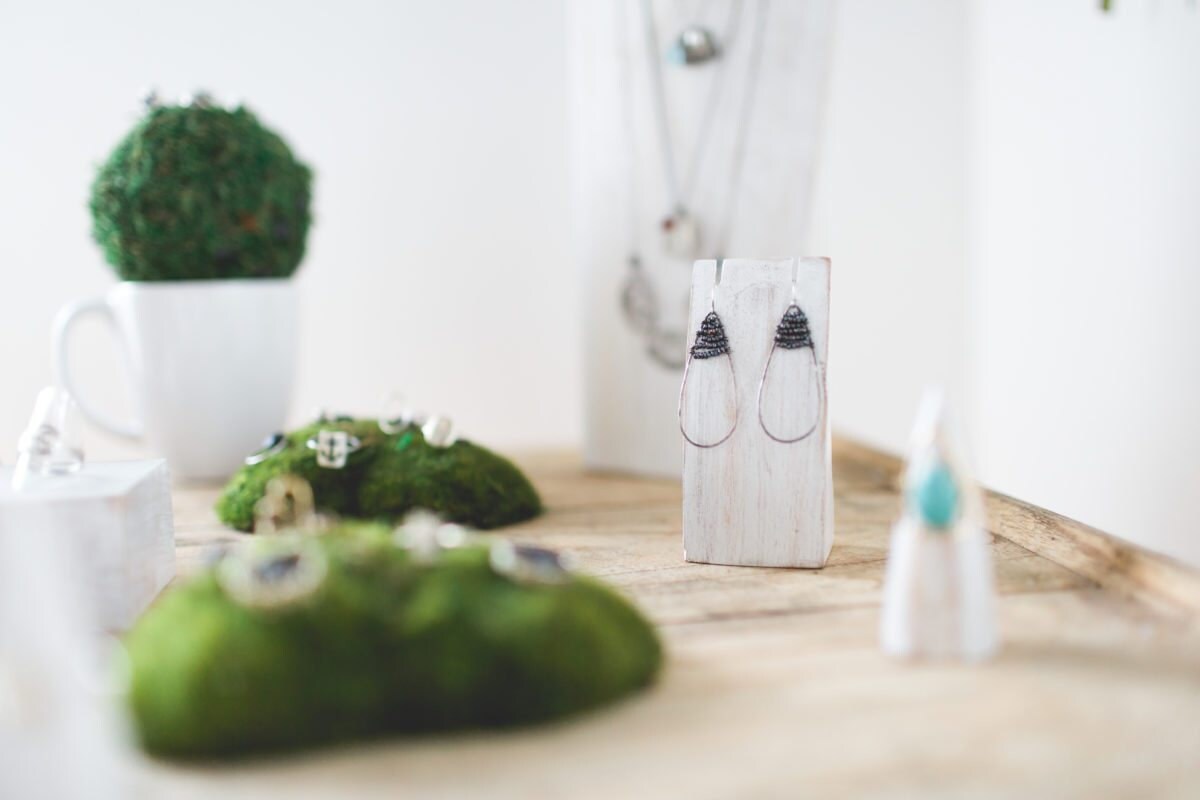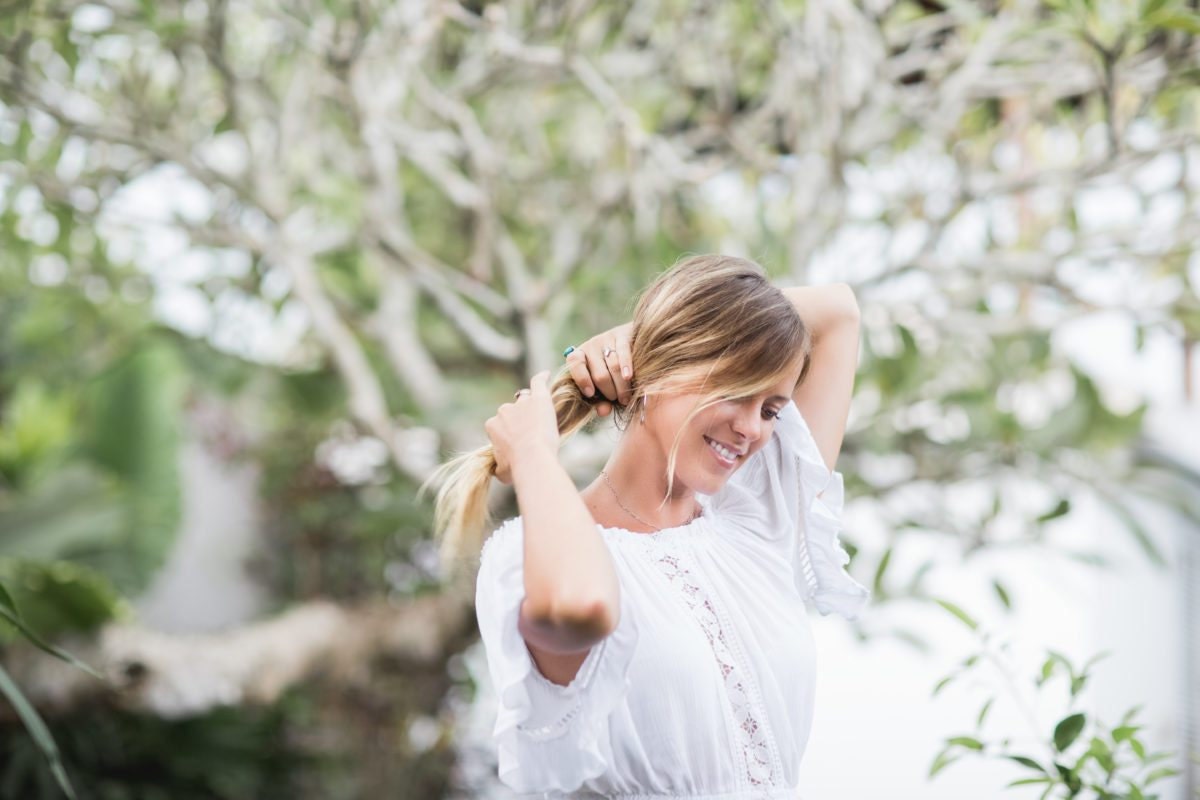 What about your goals for the future? What types of things do you want to accomplish? I'd love to have a website and a blog, so that I'm able to share more of my own stories and inspirations, my day-to-day life, and my travel pictures. I'd also like to be in more retail outlets so that my work is a little more accessible to people. Oh, and I'd love to do more photo shoots and work with other creatives, and collaborate with bloggers and photographers who are doing incredible and amazing things. What has been the proudest moment of your journey so far? My proudest moment was probably designing for Free People, which is a brand that I hold in the highest light. I love boho fashion, and I was really proud to be designing and creating rings for this brand that I really admired. But there are also little victories that I hear of, like when my friend from high school was at a pool in Texas, and this girl at the pool was talking about a necklace she had ordered on Etsy — which turned out to be one of mine! Little victories like that are really special.
Follow Dreaming Tree Creations on Instagram, Facebook, and Pinterest.
All photographs by carazvisuals.