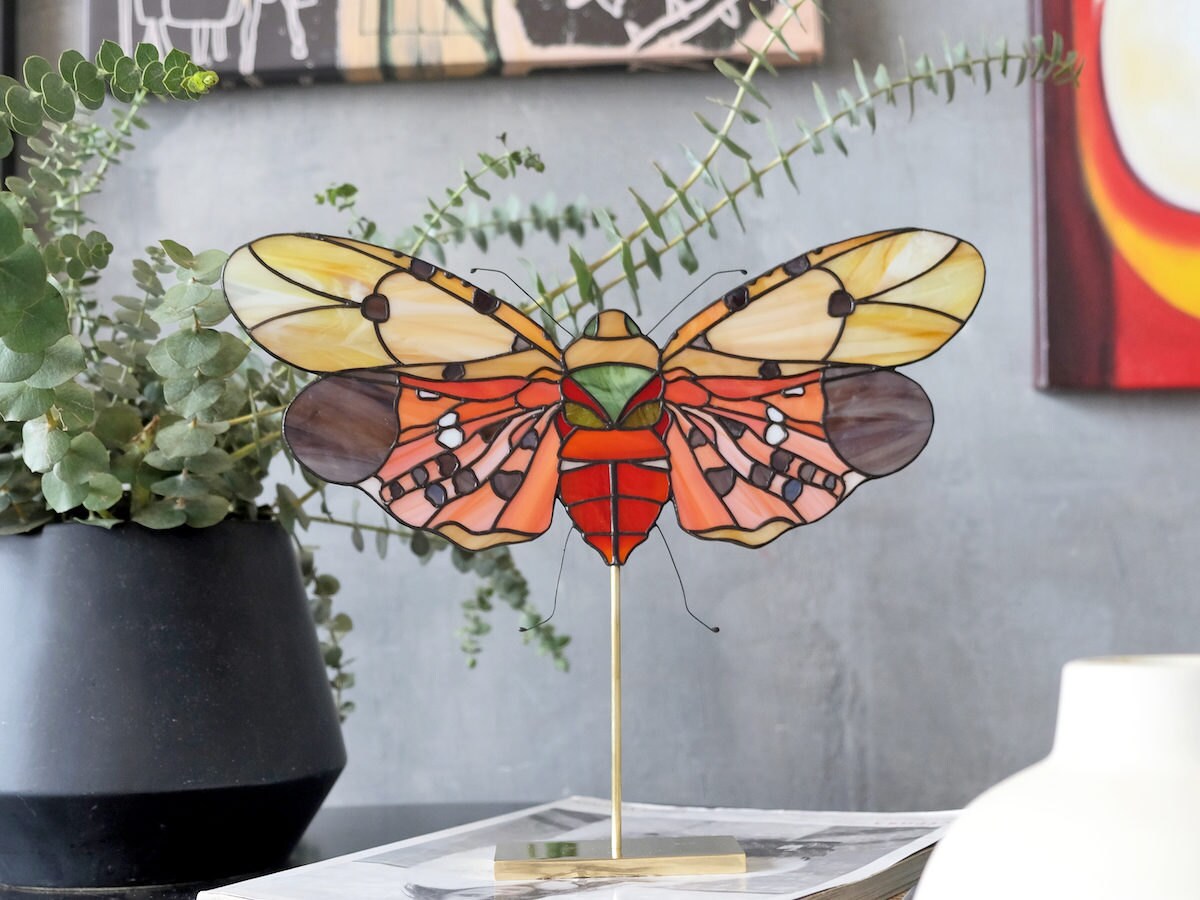 In our weekly Featured Shop series, we shine a light on a standout shop from Etsy's talented seller community, offering readers a behind-the-scenes look at their process and story.
For millennia, we've marveled at the kaleidoscopic beauty of stained glass in the domes of cathedrals and the ornate mosaic windows of some of the world's greatest architectural wonders. It's an awe-inspiring art of historically grandiose proportions—and one that Elena Zaycman wants to bring into your home on an elegant, intimate scale. After years of constructing large, highly complex stained-glass pieces for residential buildings, in 2017 the Saint Petersburg-based artist decided to find a way to put that same level of precision craftsmanship on display in the form of intricate, freestanding suncatchers and objets d'art. "I wanted to create items that people could easily incorporate in their living spaces—without an elaborate and complicated installation," Elena explains. 
Explore the Elena Zaycman collection
Light-catching and luminous, each delicately scaled moth wing and rippled tropical leaf in Elena's nature-inspired line—many of which come propped up on museum-quality brass bases to better study and appreciate—makes a stunning, conversation-sparking statement. And much like any well-admired work of art, Elena believes the true value of each piece is in what her customers bring to it. "It's all about the feelings, experiences, and memories it stirs up in people," she says. "That moment when someone sees something in my work and responds to it."
Read on to learn how Elena's love of geometry and technical drawing influences her work, and shop the Elena Zaycman collection.
How did you get started in the stained-glass business?
I have an older sister who was a painter since childhood and eventually went to art school. While she was living away she started learning stained-glass techniques, and when she moved back to Saint Petersburg we decided to open our own studio together. We developed our skills constantly, and even took a master class in Moscow where we learned lots of useful trade secrets. 
During that time, we used to create massive works for apartments and houses that required complicated, multi-stage installations. But after four years, my sister decided she wanted to pursue interior design instead. I thought I would try something new too, but after a few months away from stained glass, I realized that it wouldn't let me go so easily. By then, I had enough experience to do it on my own, so I decided to reopen the business in an entirely different format. 
How did your line of freestanding suncatchers evolve from there?
When I began working independently, I started with small suspended pieces, but I wanted to take the idea of hassle-free installation even further and create something where people wouldn't need to worry about nails or drilling holes in walls. After a lot of musing, I came up with an idea for how to neatly attach a stained-glass piece to a brass bar. A bit later, I added the brass base and achieved an absolutely independent object that could easily be brought into peoples' homes.
Tell us a little bit about your background in science and math. How does that come into play in your work?
I studied math at university, and geometry and technical drawing at school. I appreciate the precision and clarity of exact sciences, and I like how they require perseverance and intense concentration. Having an understanding of geometry is useful in calculating complex shapes. Being practiced at technical drawing helps me achieve precision in my sketches. I like them to be accurate, and I don't eyeball anything, because it affects every other stage of production. 
Walk us through the steps of how one of your designs comes to life.
Before I sit down to sketch a design, I'll already have an idea in mind. While I'm sketching, the idea may stay the same, but it might also transform into something new. Often I'll come up with a completely new collection. 
Once a sketch is ready, I print out two copies with the segments numbered. One of the copies I leave intact and use as a template for assembling the final piece. The other I cut up to use as a paper pattern, placing the pieces on the glass, tracing around them, and cutting the glass according to the contours. The numbering of the pieces is necessary for me to understand where each one sits on the template, since my designs are usually very detailed.
Your color combinations are so unique. How do they come to be?
While I'm sketching I'll imagine the overall color scheme for the design. I start with the glass color that I'm most certain I want to use, and once I've cut all the pieces in that color, I'll move on to the next, holding up color options alongside it to see how well they fit. 
What measures do you take to ensure the construction of your work is top quality?
To achieve the most accurate and sturdy assembly, I do grinding and copper foil application steps in parallel. First I grind one piece of glass to the exact shape I need, making sure it fits very tightly with its neighboring pieces. The tighter the fit, the stronger the work will be. Then I apply copper foil along the edges of that piece, which I use to solder everything together—doing one piece at a time gives me greater control. After I solder all the segments together, I wash the final piece and polish the seams to make them smoother and patinate them. Then I rub the work with a special finishing wax, which helps prevent oxidation of the seams, and gives the work a shine. 
How do you judge the quality of your glass?
I measure the quality of the glass not only visually, checking for color and cleanliness—or the lack of any extra coating—but also by touching. Glass should be pleasant and smooth. For some exotic colors, it's challenging to find pieces that fit these requirements. I usually purchase glass and other materials in specialized shops in Saint Petersburg, but sometimes it's necessary to go to Finland if it's impossible to find something in my city.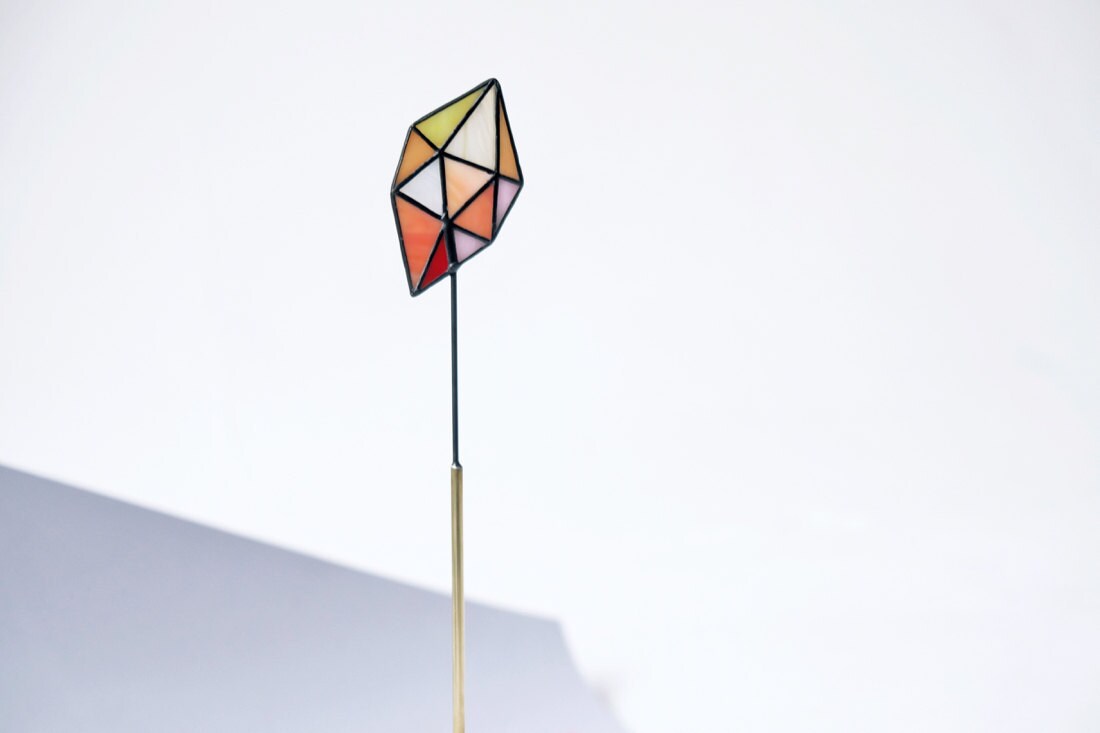 Where do you find inspiration for your designs?
There's a widespread opinion that inspiration is something that comes and leaves by itself. In my opinion, inspiration comes when a person begins engaging with a subject. And pretty much anything can hook me: nature, anatomy, microcosms, paintings, fashion shows, sculpture. Where I'm from, we have a saying that appetite comes with eating. In the same way, inspiration comes with exploring. 
That said, I did insert some deep personal meaning into my Bali line, which was inspired by my trip there last November. While we were there, we found a stray puppy and spent a lot of time caring for her, but the day before we flew back, she ended up passing away. Her sweet soul made a big impact on me, so I wanted to immortalize her in my work. She had ginger fur and the cutest tail with a little white tip, a small detail which I've interwoven into every design from my leaf line using gold and white glass.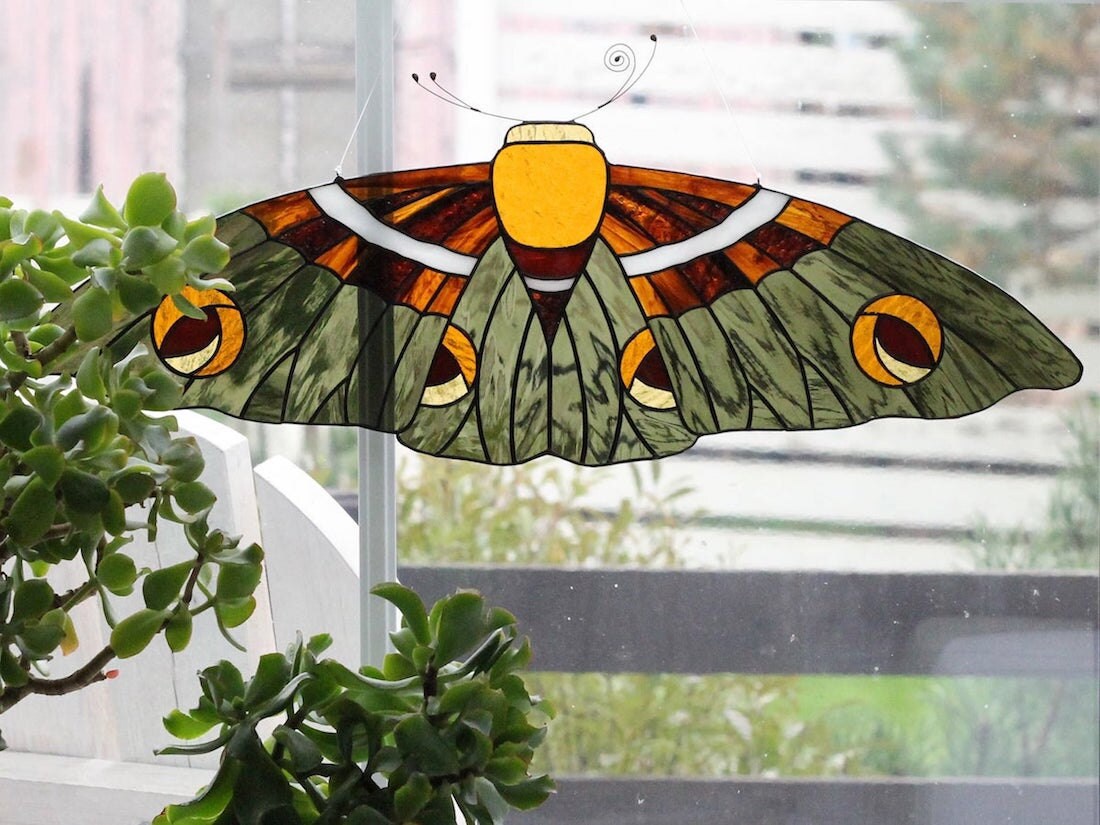 What's been one of your proudest moments since starting this business?
I'll never forget the day when I got my first Etsy order. In July we have white nights in Saint Petersburg where it never gets completely dark. It was 4am and I was in bed, trying to sleep. That was when, for the first time, I heard the "cha-ching" notification sound on my phone. At first, I didn't even realize what happened. But eventually, when I understood that—five months after launching my shop—I finally had a sale, I couldn't sleep anymore. Right then and there, I got up and began to prepare the order!
Follow Elena Zaycman on Instagram and Facebook.
Studio photography by Olga Mitkova. Product photography courtesy of Elena Zaycman unless otherwise noted.